Bring a touch of charm to your projects with our exquisite collection of cute and realistic baby animal color pencil sketch clipart, featuring adorable creatures nestled in flowers! This exclusive compilation includes over 380 vivid PNG images, radiating life and color to inspire your creativity. Discover our cute, realistic baby animal color pencil sketch clipart collection, featuring over 380 vibrant PNG images. These adorable, lifelike sketches are perfect for various uses, from graphic design to craft projects. Each image is high-resolution at 6144 x 6144 pixels, providing excellent clarity and quality for all your design needs.

What you'll get in this pack from Mimoza Studio? This bundle includes 380 high-resolution images or digital stock images. The high-resolution files ensure that your projects maintain their quality across a variety of mediums, including digital design, printables, apparel, and more. Each image comes with a extended commercial license, giving you the flexibility to use them in your projects freely. Perfect for print designs, stickers, cards, posters, marketing materials, educational content or website enhancements.
With this deal you get:
380 colorful & cute animal illustrations – Ai generated digital illustrations for your new poster, card, web or print designs!
Hi-res PNG images – 6144 x 6144 pixels
Take a look at what you can get: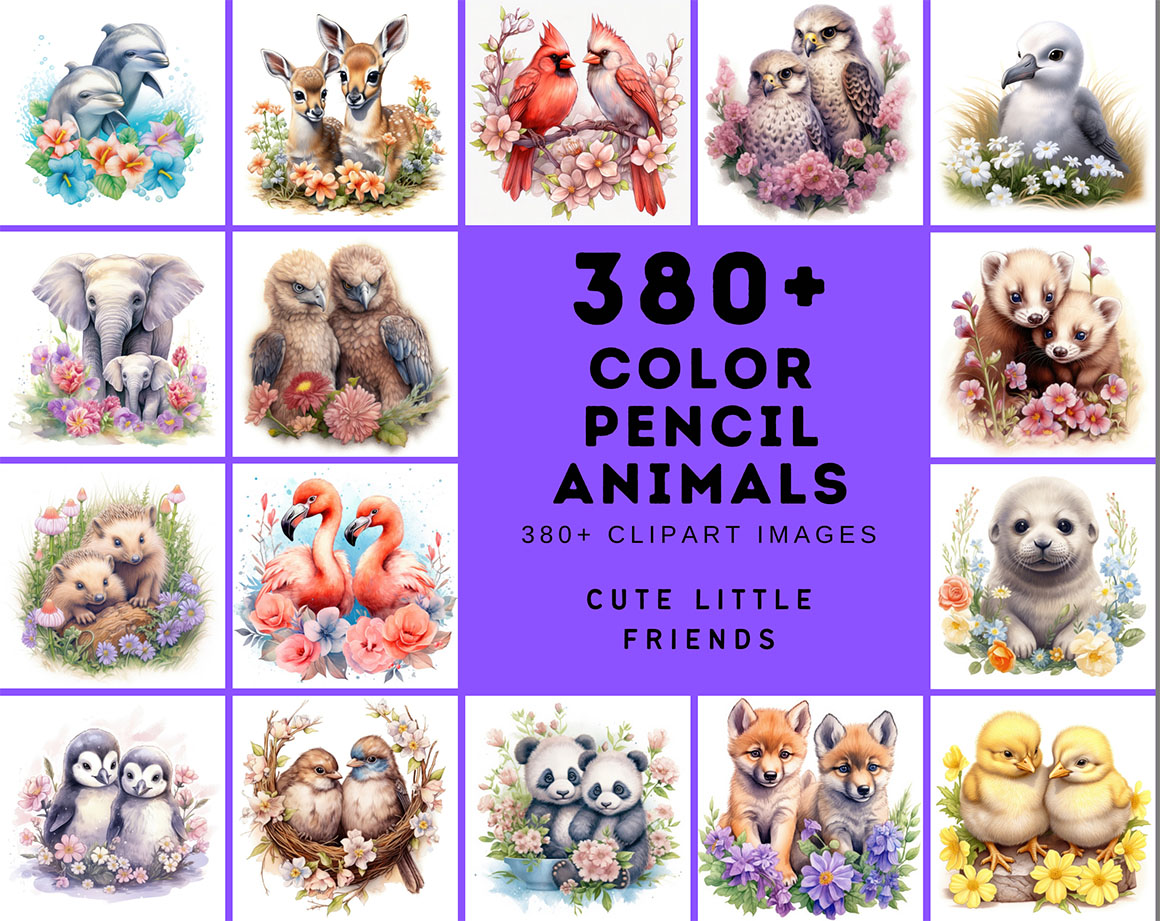 380 unique digital illustrations that will help you start up your business!
These Ai generated images are great for use as digital papers, backgrounds, cover arts, or printed on different objects. They are perfect for framing and decorating your space or you can use for graphic compositions.
This set of digital images is perfect for:
✓ Digital design projects
✓ Printables and wall art
✓ Crafting and DIY projects
✓ Various print or web design projects
✓ And so much more!
Dive into this unique assortment, including baby albatross, anteaters, badgers, bats, beluga whales, cardinals, caribous, chameleons, crabs, crocodiles, dolphins, dugongs, eagles, echidnas, elephants, falcons, ferrets, finches, flamingos, frogs, gazelles, guinea pigs, hamsters, hawks, hippos, hummingbirds, iguanas, jellyfish, kangaroos, koalas, lemurs, lizards, manatees, marmosets, meerkats, narwhals, ocelots, octopuses, orcas, ostriches, otters, owls, pandas, peacocks, pelicans, penguins, pigeons, porpoises, possums, pufferfish, rhinos, seahorses, seals, skunks, sloths, snakes, sparrows, starfish, swans, turtles, walruses, wolverines, wolves, wombats, bear cubs, beaver kits, calves, cheetah cubs, chicks, chinchillas, crias, cygnets, ducklings, fawns, foals, fox kits, giraffe calves, goslings, hedgehog hoglets, joeys, kittens, lambs, lion cubs, lynx cubs, owlets, piglets, porcupines, puma cubs, puppies, rabbit kits, raccoons, skunk kits, squirrels, sugar gliders, tiger cubs, and zebra foals.
For larger view – please click on image with right mouse – open image in new tab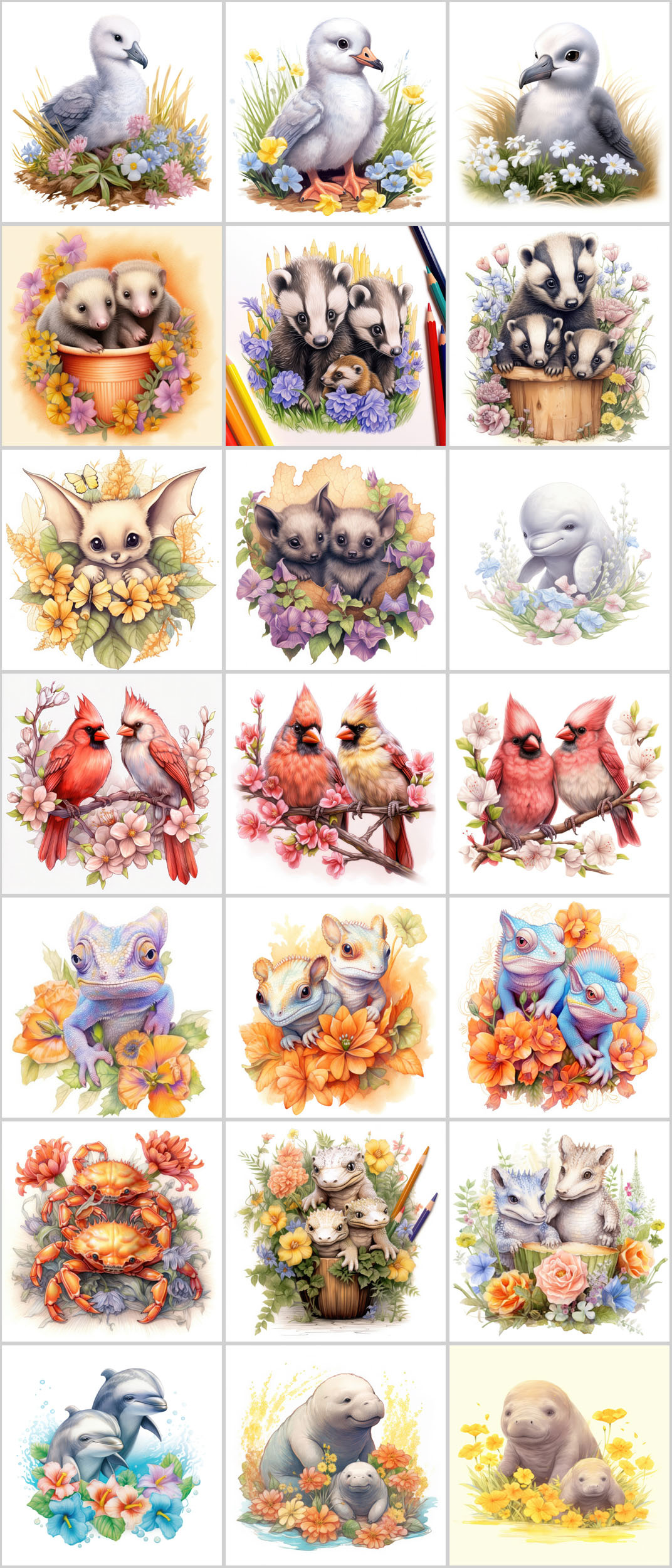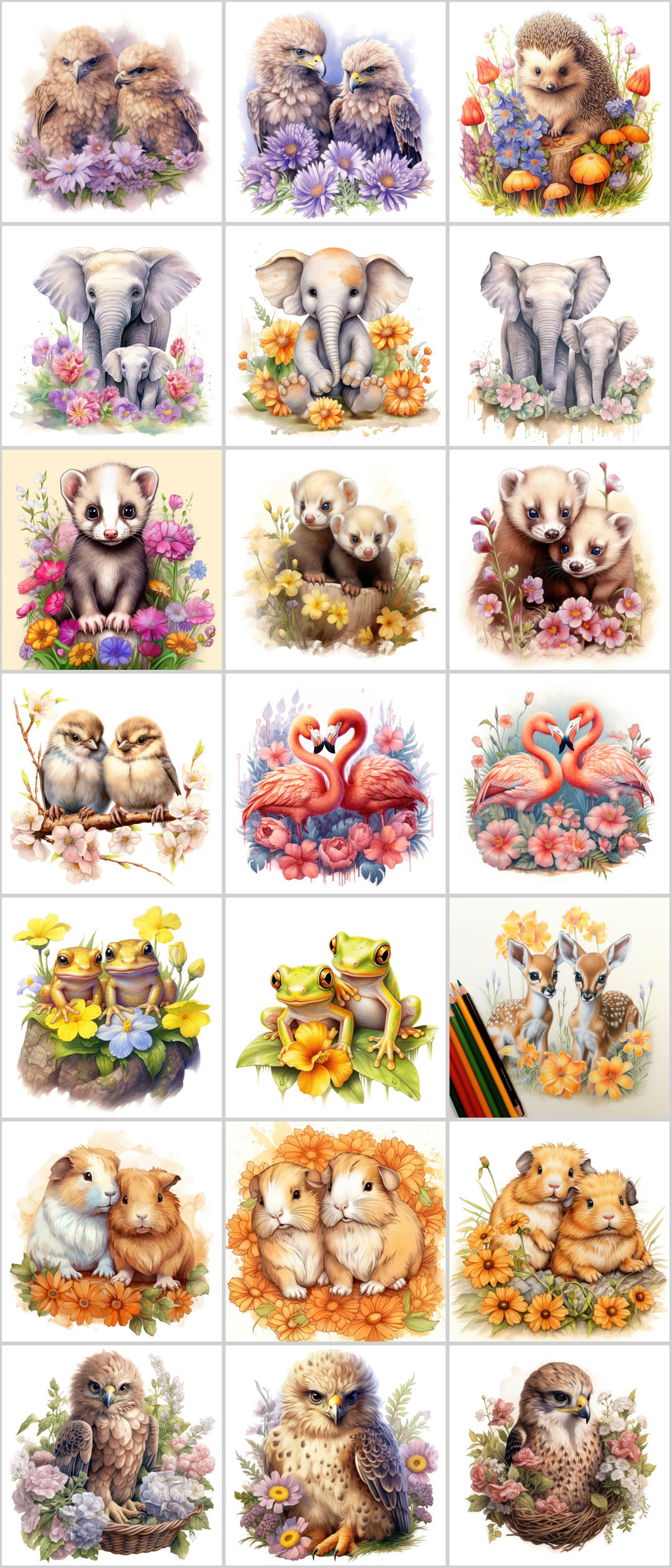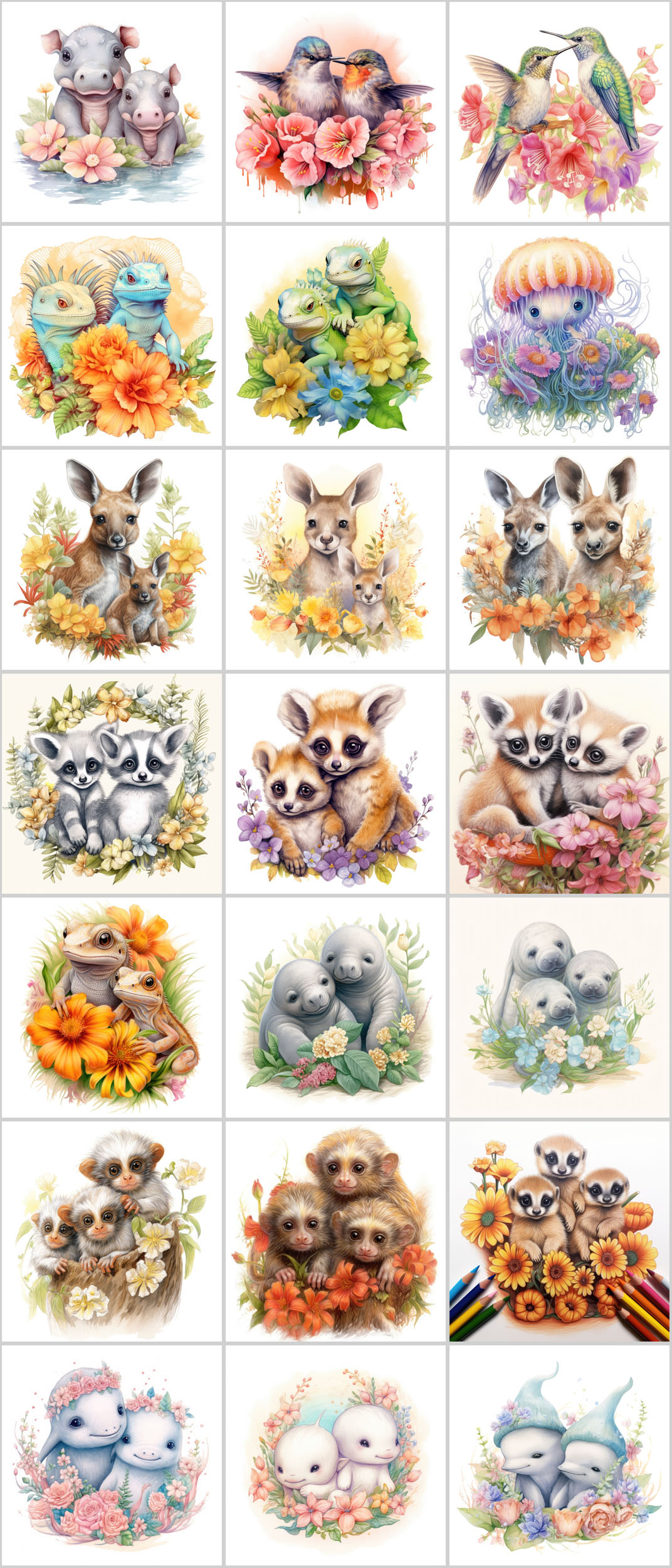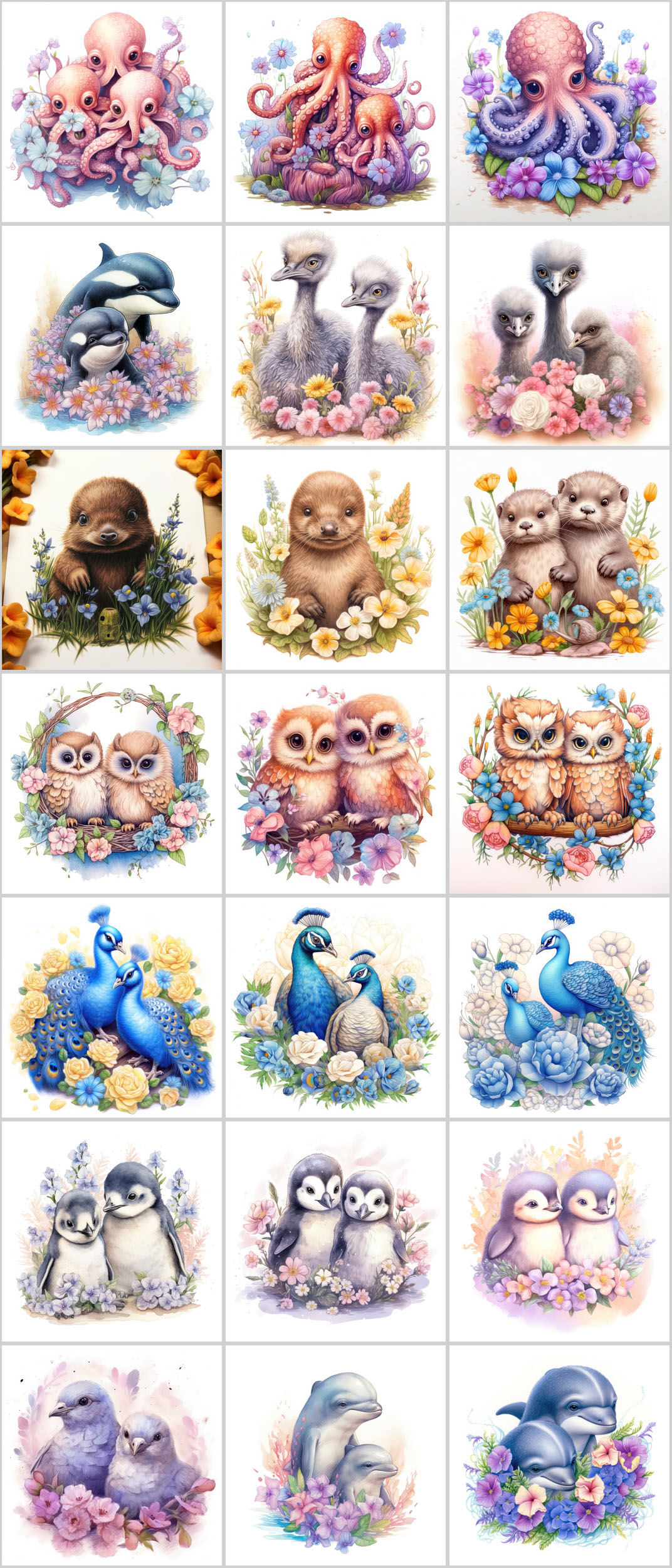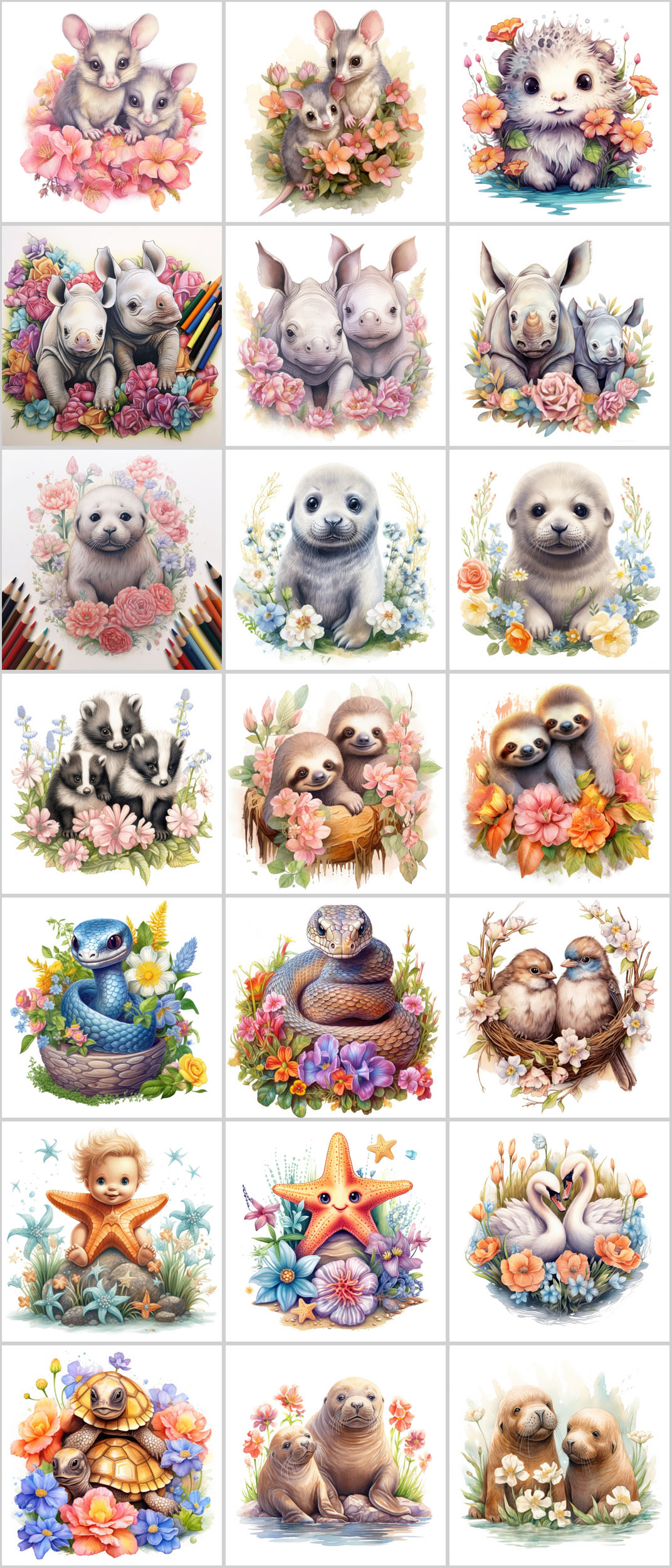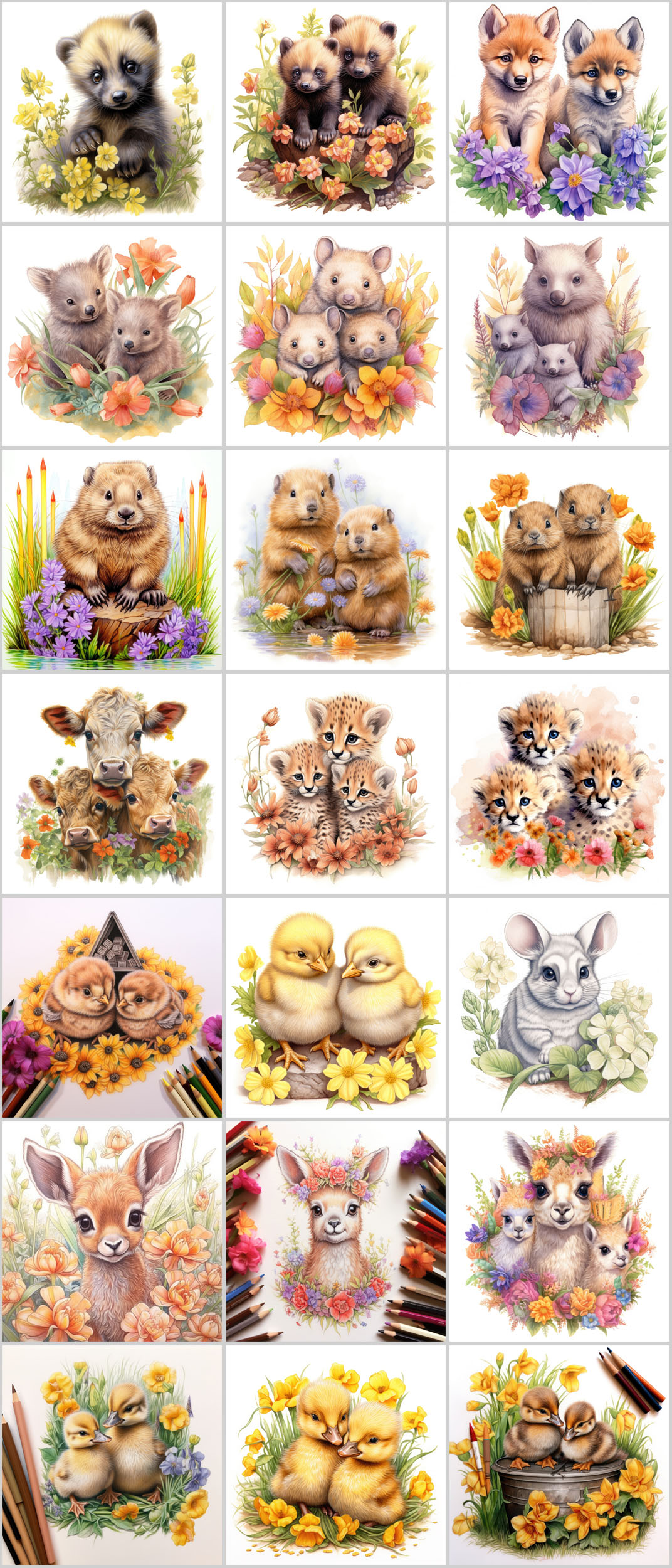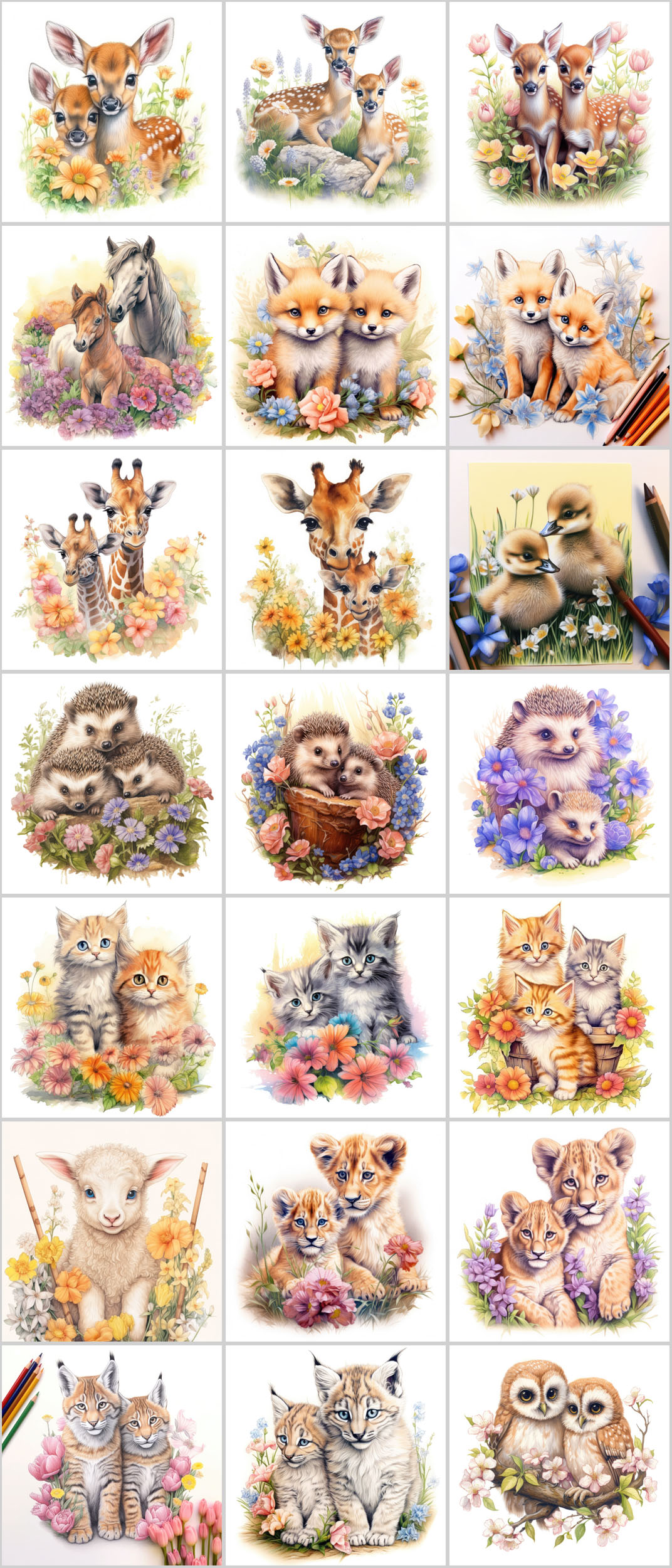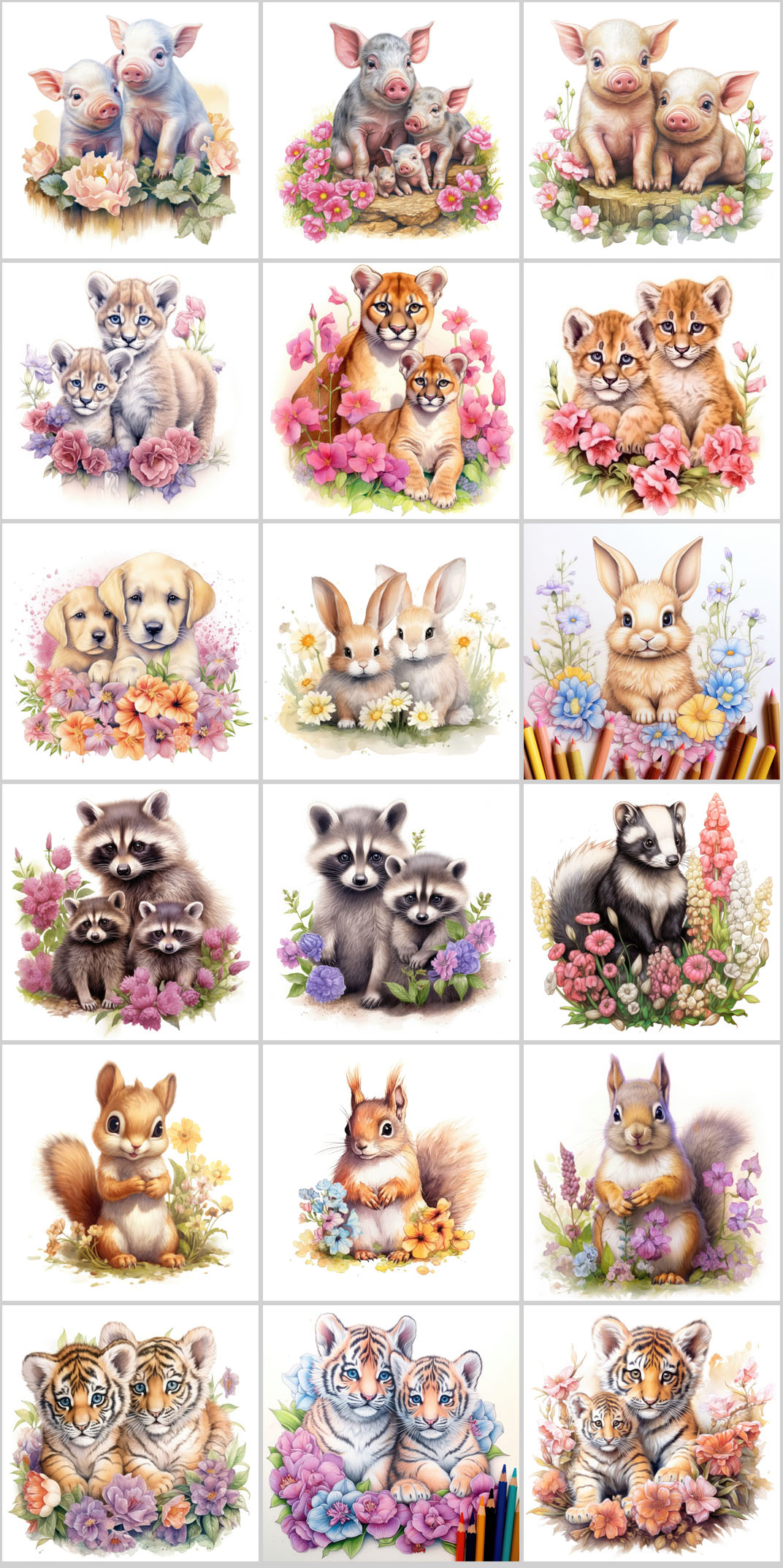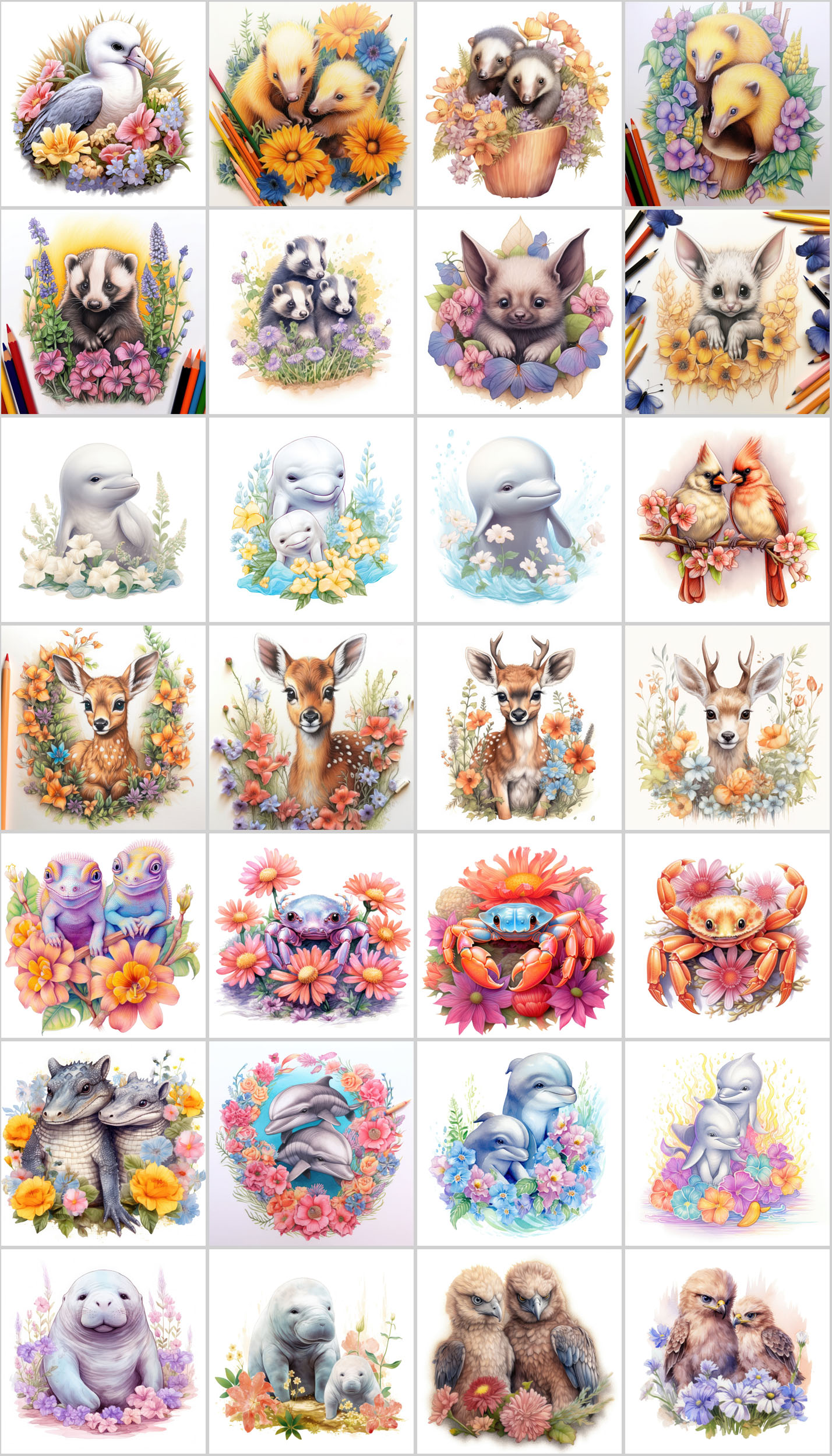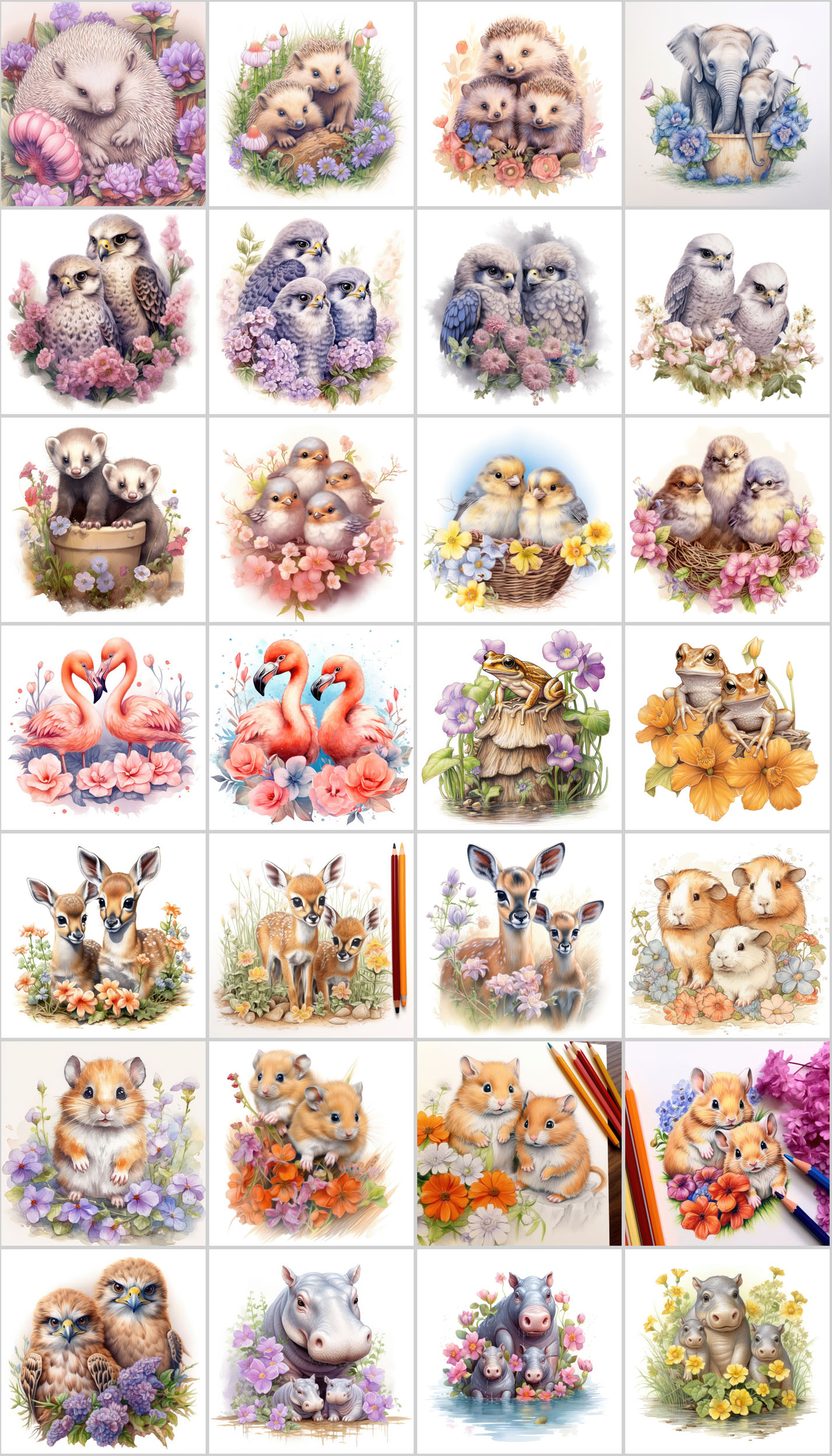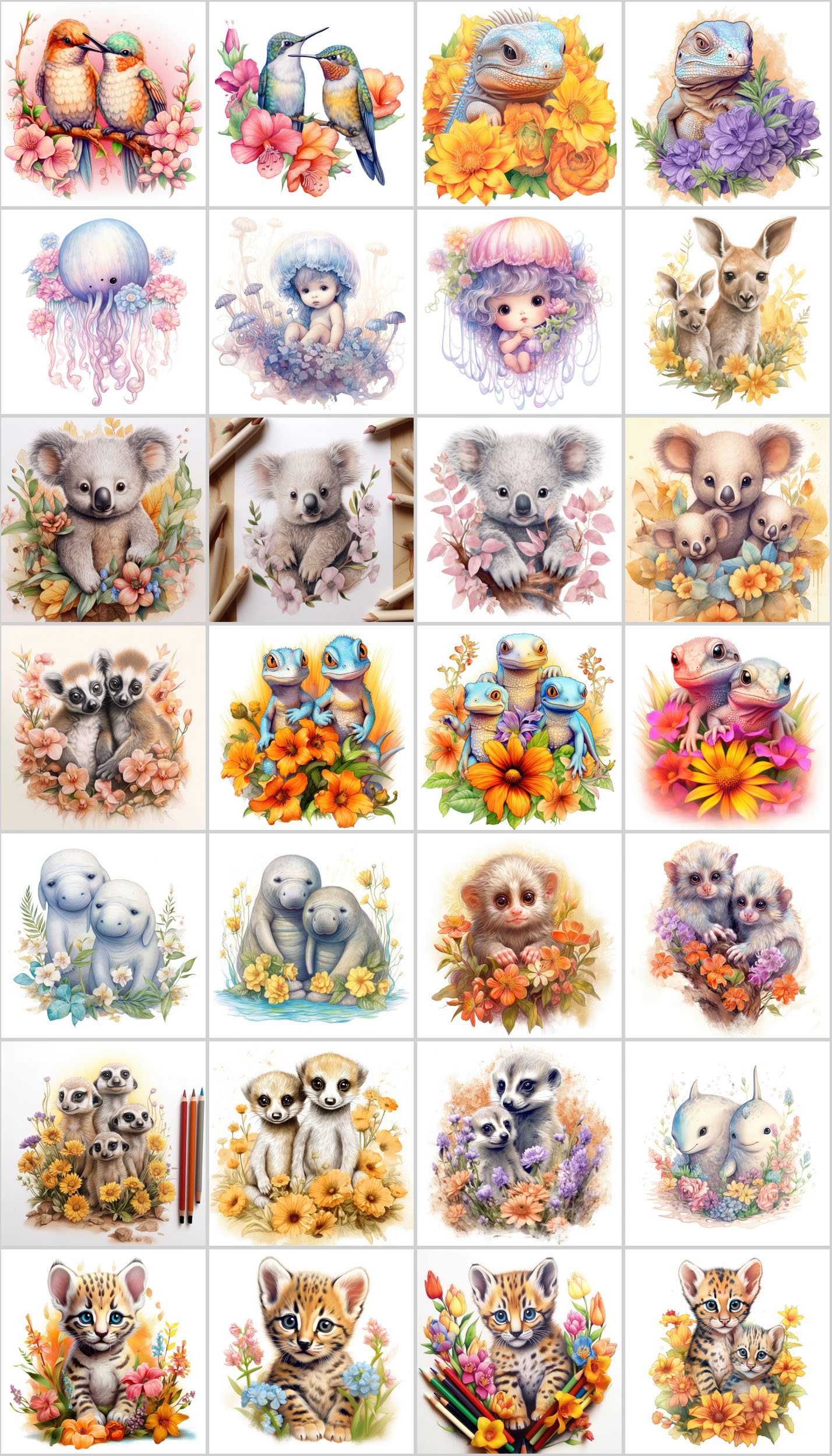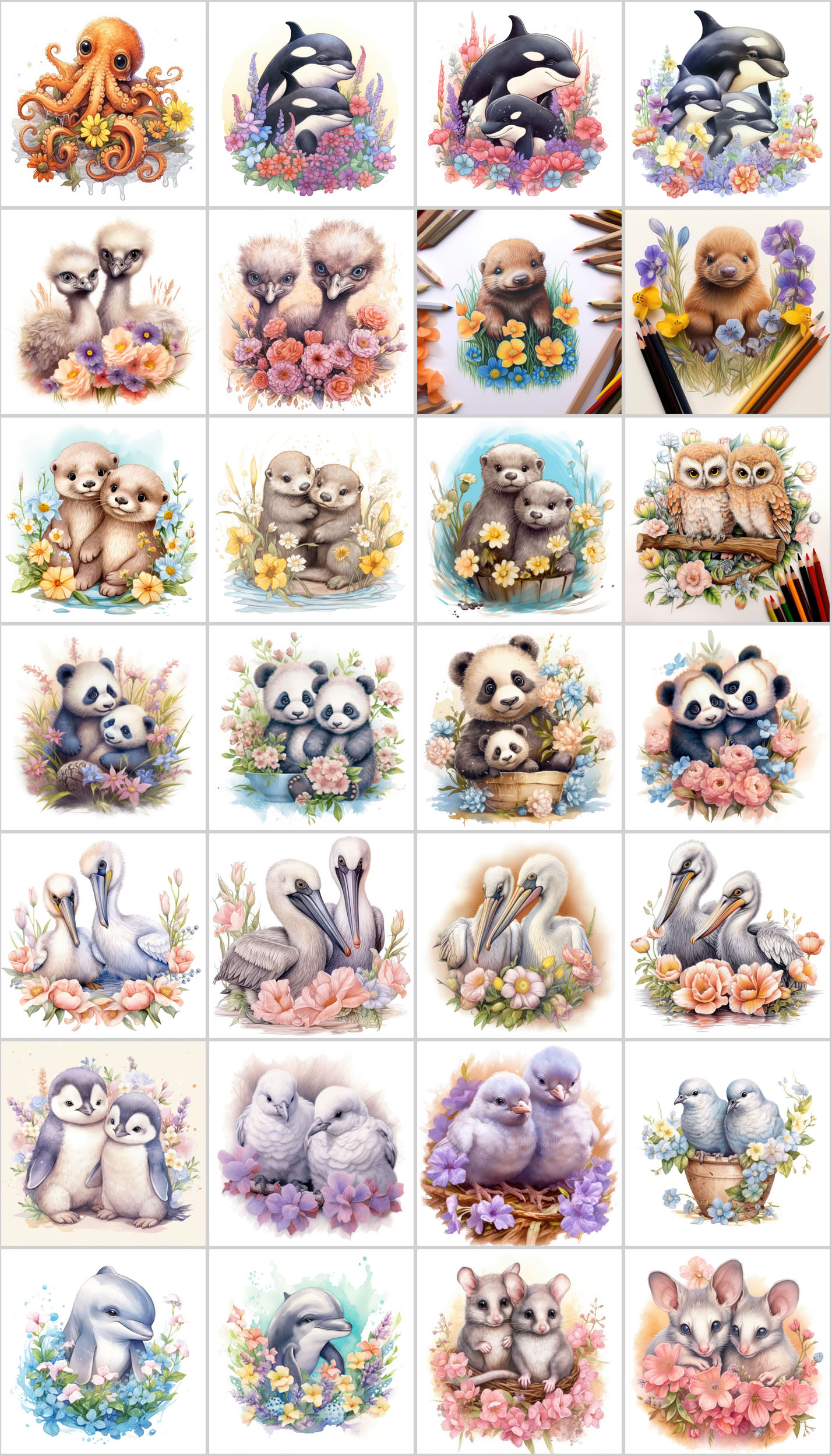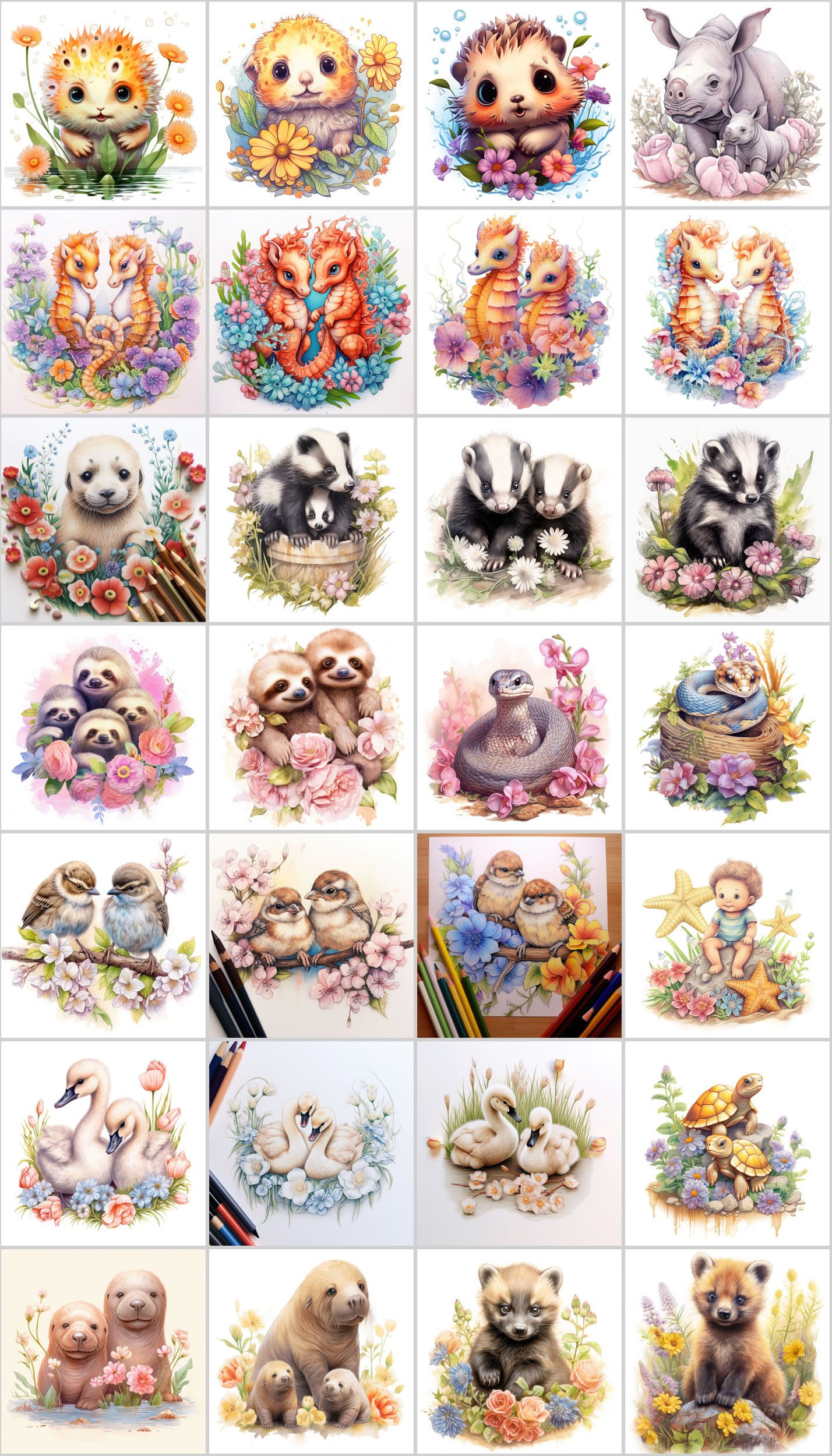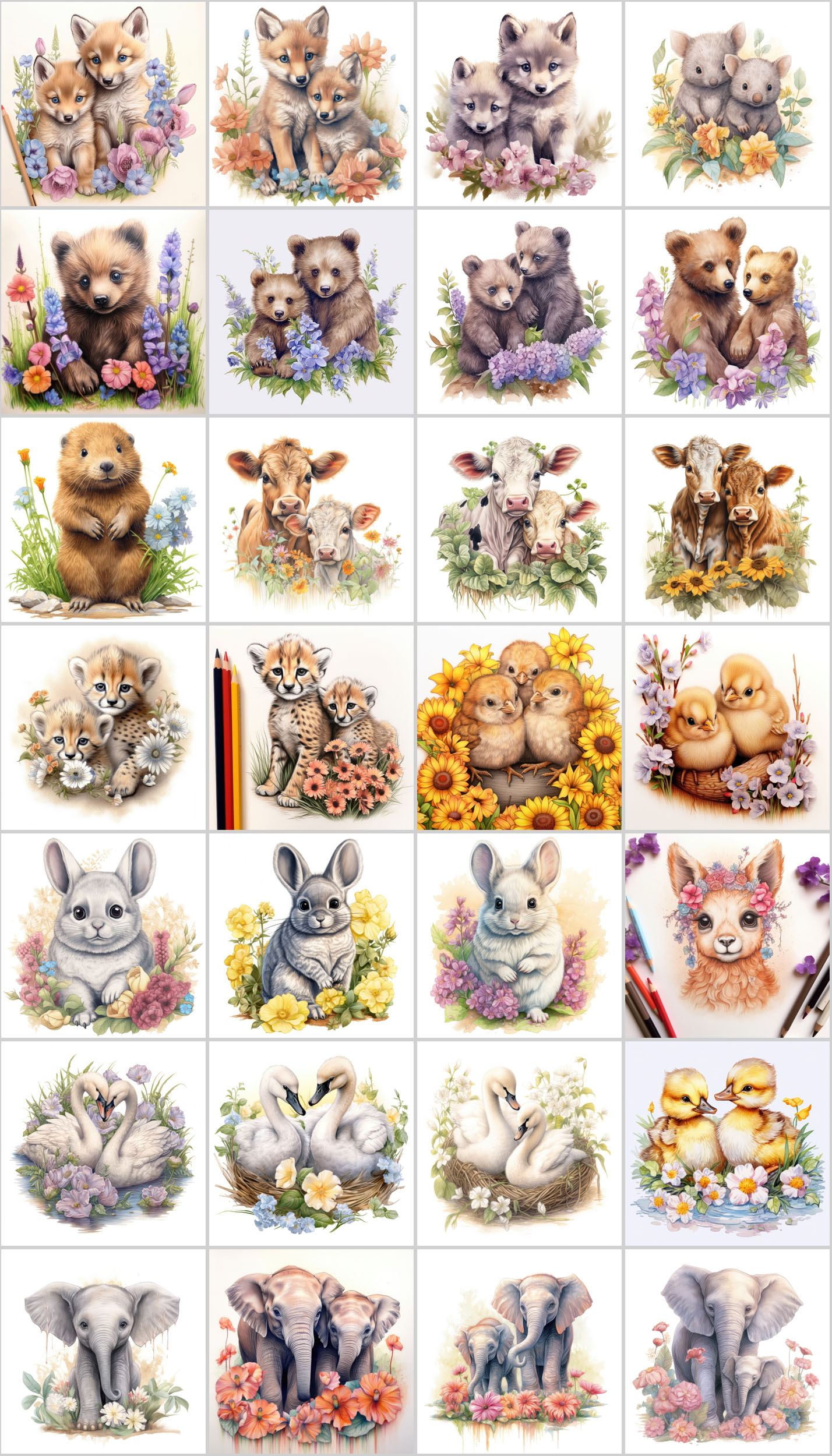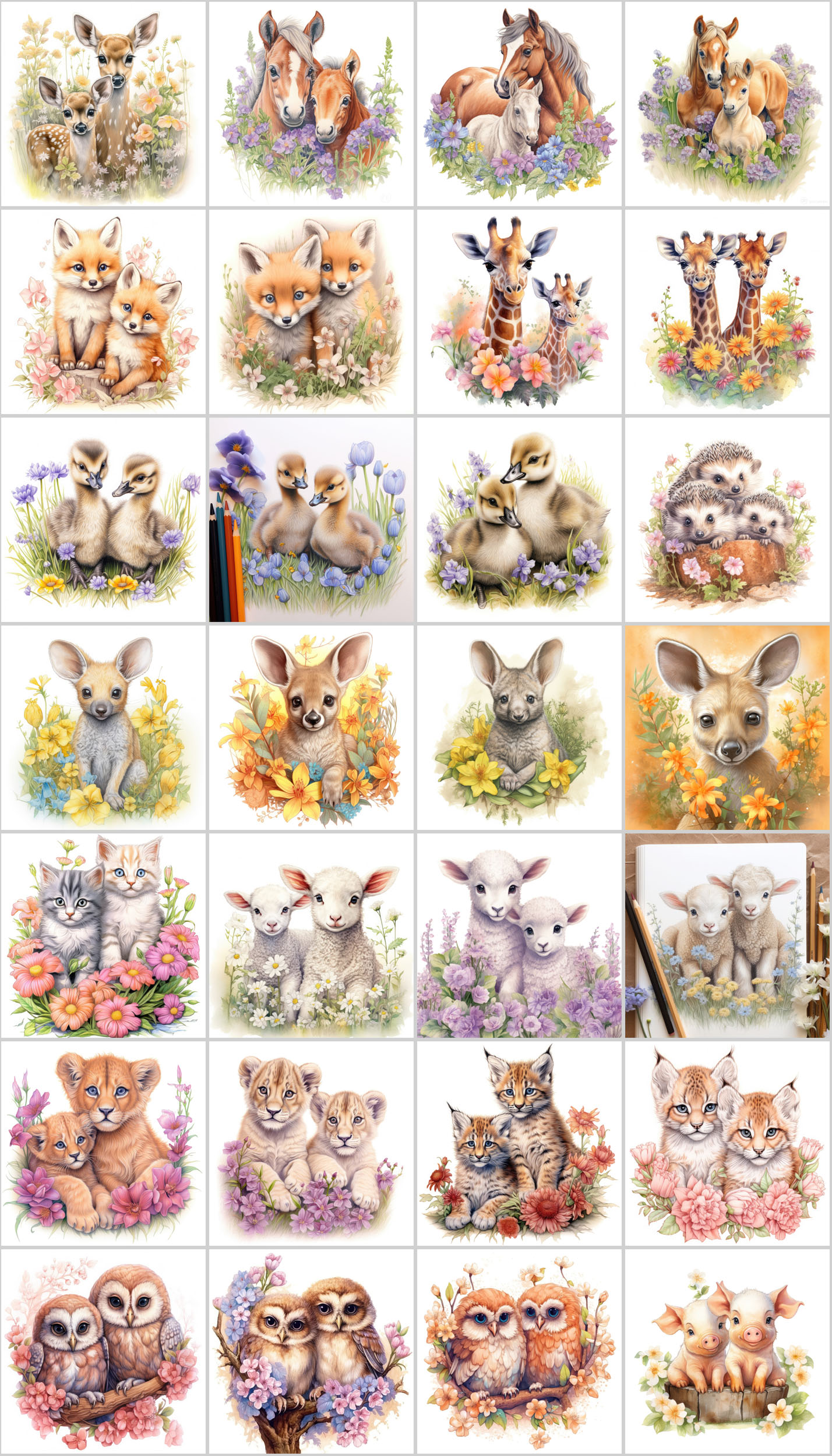 For larger view – please click on image with right mouse – open image in new tab
This bundle highlights:
380 colorful & cute animal illustrations – Ai generated digital illustrations for your new poster, card, web or print designs!
extended commercial license (like all of our deals): use for unlimited personal and commercial projects + you can also use them in designs/products that you sell. You can use all these items as a part of your non-digital or digital designs ( posters, t-shirt designs, stickers, web templates…). You cannot resell these files directly, or within items/goods where they can be extracted in their original form (like vector shapes, elements, fonts… – they need to be flatten into background or object in your digital item for sale). License is only for 1 person – you'll need to buy 2 licenses if 2 persons will work with these graphics. Please read more about our exclusive license!
Normally, these unique digital illustrations would cost you $49 (without extended license and already in bundle), but for a limited time only, you can get this unique collection for $14!
Deal Terms:
Delivered as an instant download, after completing your purchase.
All these images can be used for both personal and commercial purposes, for yourself or on behalf of a client, on their own, or as part of your new design for sale.
Cannot be sublicensed, resold, shared, transferred, or otherwise redistributed on its own.
You cannot share these resources with others. This is a single user license! You'll need second license for your colleague computer!