How about creating beautiful titles and artistic typography without the time and skills required by Adobe Illustrator or Photoshop?
Art Text 3 software for Mac from BeLight Software is a graphic design software specifically tuned for lettering, typography, text mockups and various artistic text effects. In no time you will achieve realistic 3D lettering, watercolor graphics, curved and bent headings, retro and stamped effects.

With this deal you get:
System Requirements: Mac OS X 10.10 or later. Not available for Windows.
• Quickly and easily design lettering and typography art.
• Design terrific title art for Powerpoint and Keynote presentations, logos, web graphics and buttons.
• 70+ ready-made templates to get you started.
• 750+ fill tools – gradient presets, textures and shading materials.
• Diverse 2D Effects: 30+ masks, adjustable shadow and glow.
• 1000+ Graphic Content: vector icons, symbols and shapes; flash, flare, sparkle and light trace objects; and backgrounds and textures.
• 400+ 3D Materials: textures, bump map surfaces, and environment map textures.
• Share picture captions on Facebook, Twitter and Instagram with just one click.
Take a look at what you can get: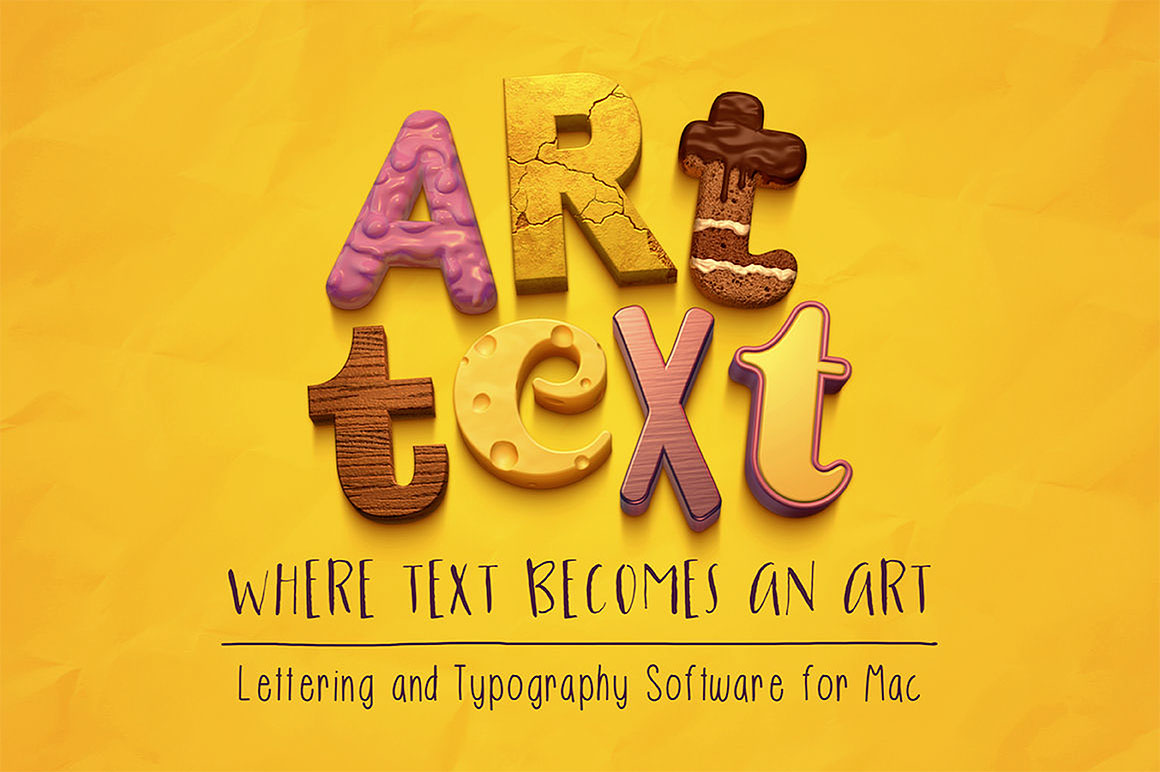 Key Features
Content
Gallery of 50+ samples vividly demonstrates Art Text capabilities.
70+ pre-designed templates aimed at the quick creation of headings, logos and buttons.
750+ supplied smart shapes, vector icons, symbols, signs and hand drawn shapes.
140+ ready-made 2D shading materials.
200+ 3D materials.
100 additional fonts (Extras Pack only).
30+ background images.
Working with Layers
Multiple layers supported for creating complex graphics.
Irregular shapes can be created by merging layers using Union, Subtract, Intersect or Exclude options.
Layer transparency is preserved when exporting to PNG, TIFF and PDF.
"Split into Letters" feature breaks word letters to different layers.
Layers tree lets you add, lock, hide an object in the design.
Preview layer content in the Layers tree, important for hidden objects.
General
Export into a file or clipboard in TIFF, JPEG, PDF, EPS, GIF and PNG formats.
Share the graphics on Facebook, Twitter, Flickr and more.
MacBook Pro's Touch Bar supported.
Multi-Touch trackpad gestures supported.
Quick Look support.
Ability to print the created artwork.
LinkBack technology supported.
English, German, French, Spanish and Japanese localizations available
3D Editing Tools
Colorize feature makes it possible to change 3D material color while preserving texture pattern.
3D materials can be customized by changing texture angle, position, scale.
3D materials support rough surfaces, choose from 140+ supplied bump maps.
Glow controls will let you adjust luminosity of 3D materials.
Advanced 3D material properties include ambient, diffuse and specular colors, and glossiness.
24 adjustable transformation shapes specific for 3D objects.
Focal length allows to partially blur 3D text with perspective view.
Depth Gradient options.
80+ environment textures or use custom image as texture.
Parallel Projection tool to create isometric-style graphics.
5 Chamfer types.
Lighting tool helps to create the light model — group of light sources with various parameters.
With just one click convert 2D text or shape to 3D.
3D objects have ability to cast soft-edged shadows.
2D Editing Tools
30+ masks give textures aged, scratched and many other effects.
540+ tileable photo textures and color fill options.
24 adjustable transformation shapes to bend, twist, curve text.
Stroke tool to create comic style texts.
70+ paint stains, watercolor blobs, spots.
30+ special objects that simulate flash, flare, sparkle and light trace.
20+ OS X blend modes help to set the way layers interacts with each other.
Adjustable shadow and glow tools.
Linear, Radial and Oval gradient tools with over 100 gradient presets.
Apply Inner Shadow for aquarell and incave/ingrave effect.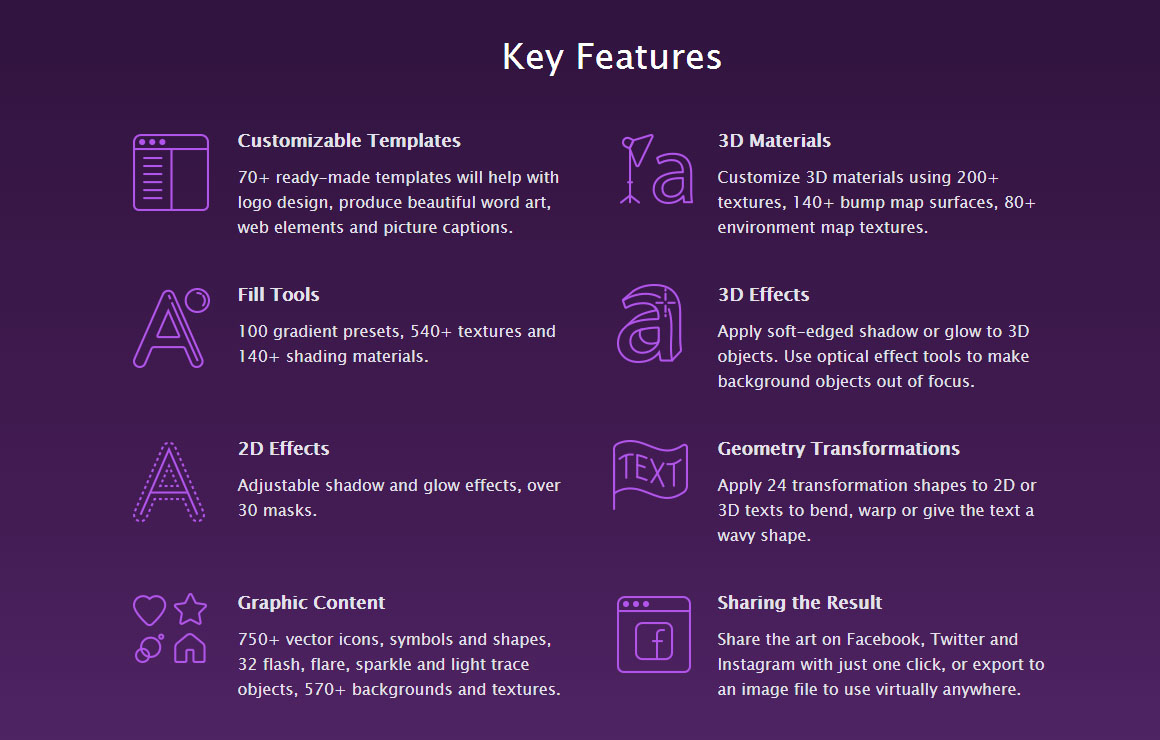 Styles and Materials
Art Text comes packed with a wide selection of text styles, surface materials, and effects. You are not bound by any of the presets, let your creativity take flight by playing around with textures, surface bump maps, environment textures, light spots and shadows, and other settings to come up with new materials.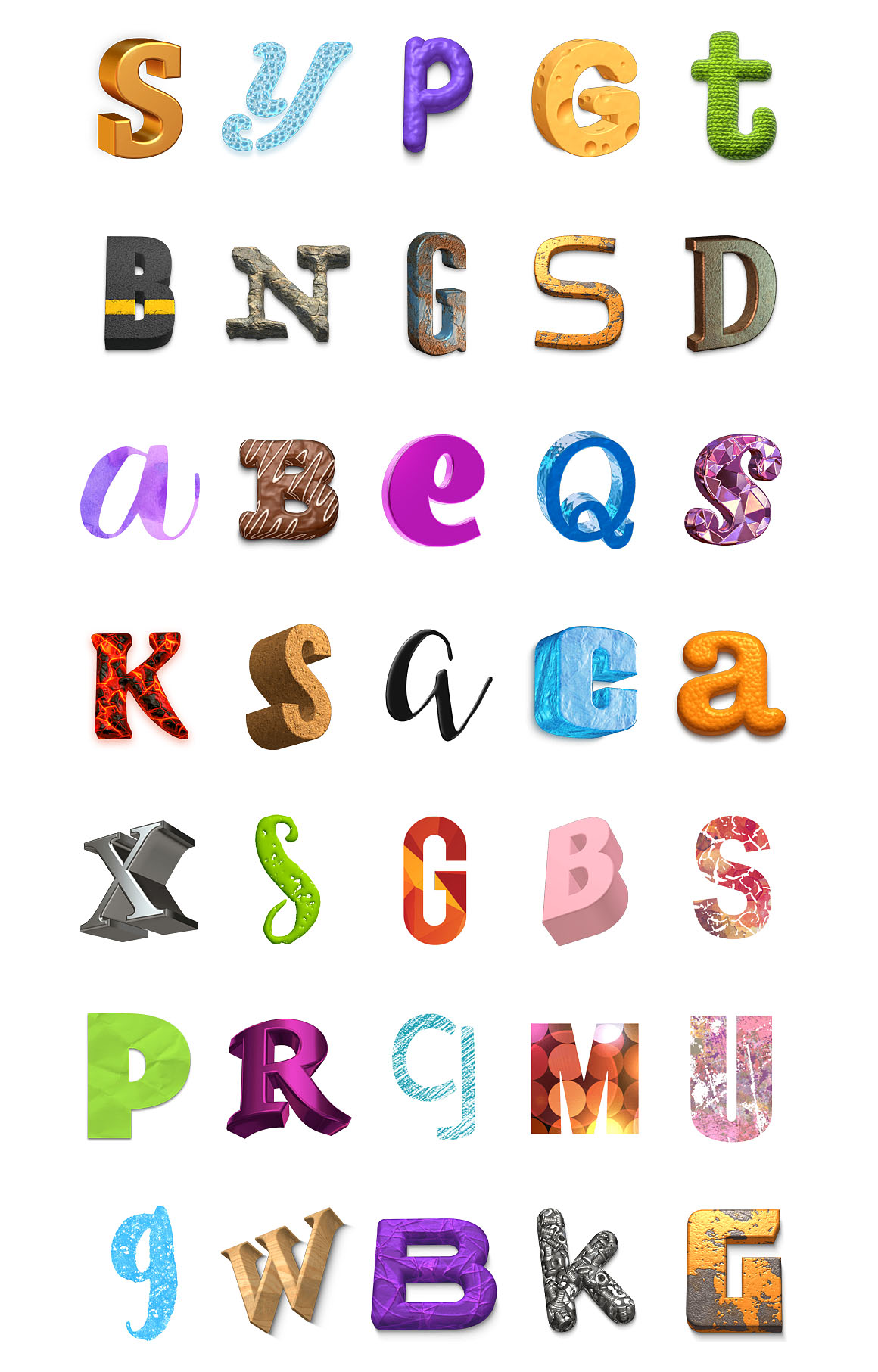 3D Text
Art Text implements 3D modeling engine which helps to convert any text, symbol or pictogram to 3D. Our graphic design software embeds 3D renderer together with tons of customizable 3D materials to ensure super realistic results every time.

Applying Masks
Tweak text finishing with a variety of masks to render an aged text or a scratched look, as well you may add a stamped effect with just one click. Easily experiment with settings and combine masks with other effects to get a somewhat unexpected, but impressive result.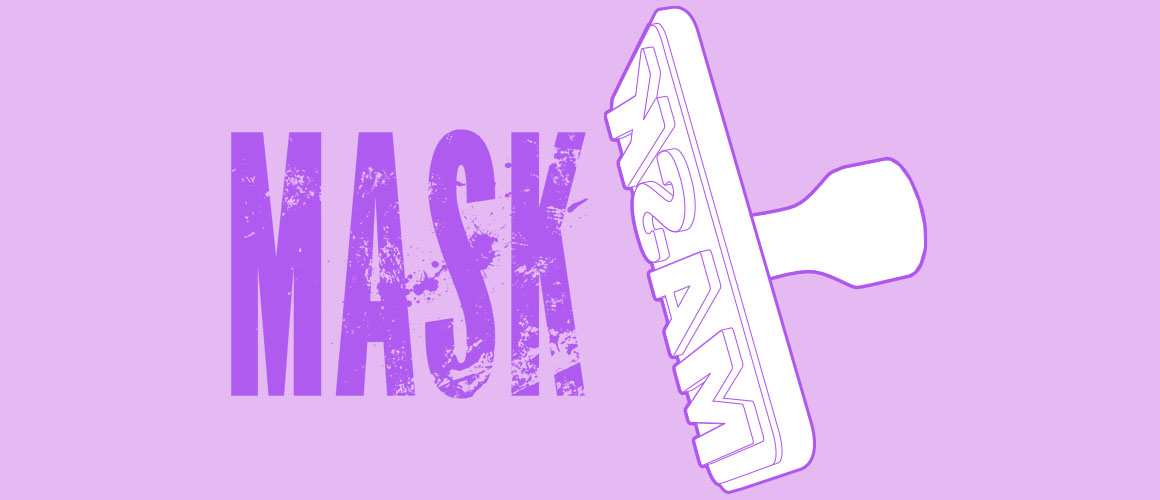 Shading Materials
Special 2D materials open the door to an array of visual effects, such as bumping or embossing, you may also apply a glass, plastic or gold finish, you can make the surface glossy, matted, bright or faded, as well as giving your graphic a fascinating watercolor, oil paint, pencil or drawing look. The most demanding users will find the material editor handy for creating their own Shading Materials.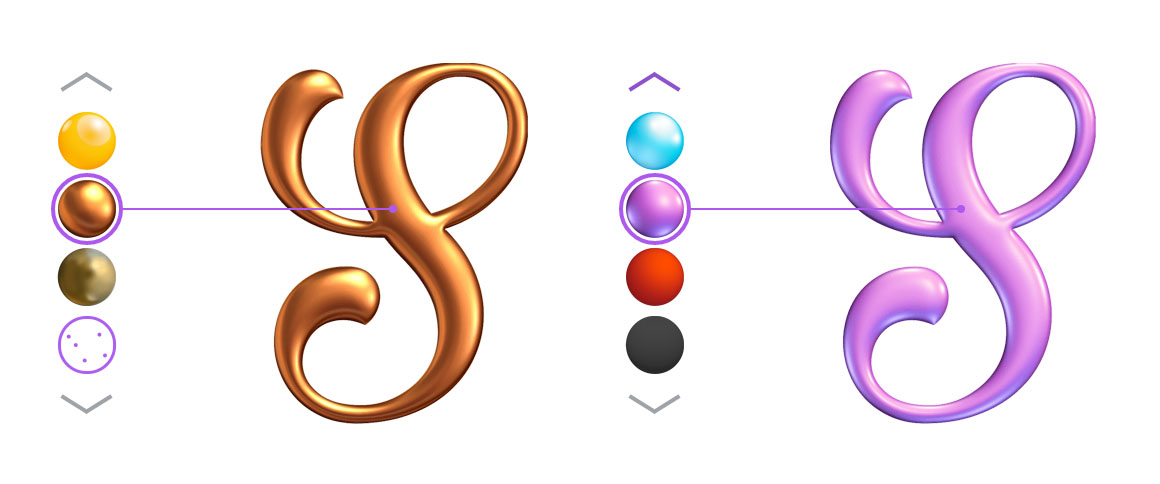 Photo Textures
Go beyond simple color fill by applying photo textures to give your text a grunge, nature, wood, paper, stone, or a watercolor texture as well as many more surfaces. All textures are tileable, allowing you to achieve uniform surfaces no matter the setting of the texture scale.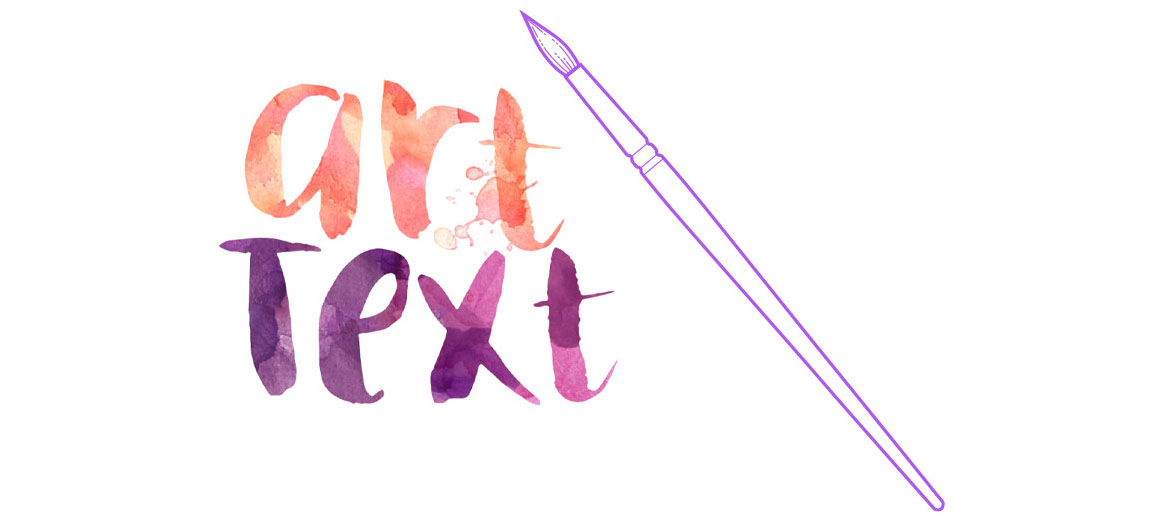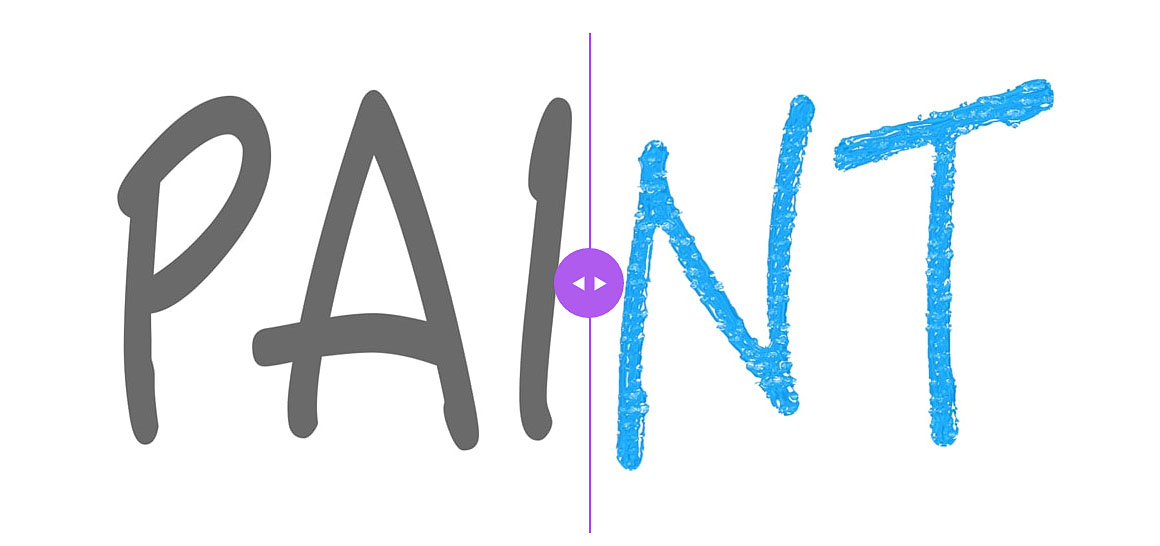 Bend and Warp Text
Using geometry transformations, you can give the text a wavy, slanted and inflated look or give it any other shape that you can think of.

Icons, Symbols and Shapes
Hundreds of preloaded vector icons, symbols, shapes, paint stains, watercolor blobs, and spots that can be used like LEGO pieces in logo design.
Tutorials
Software Samples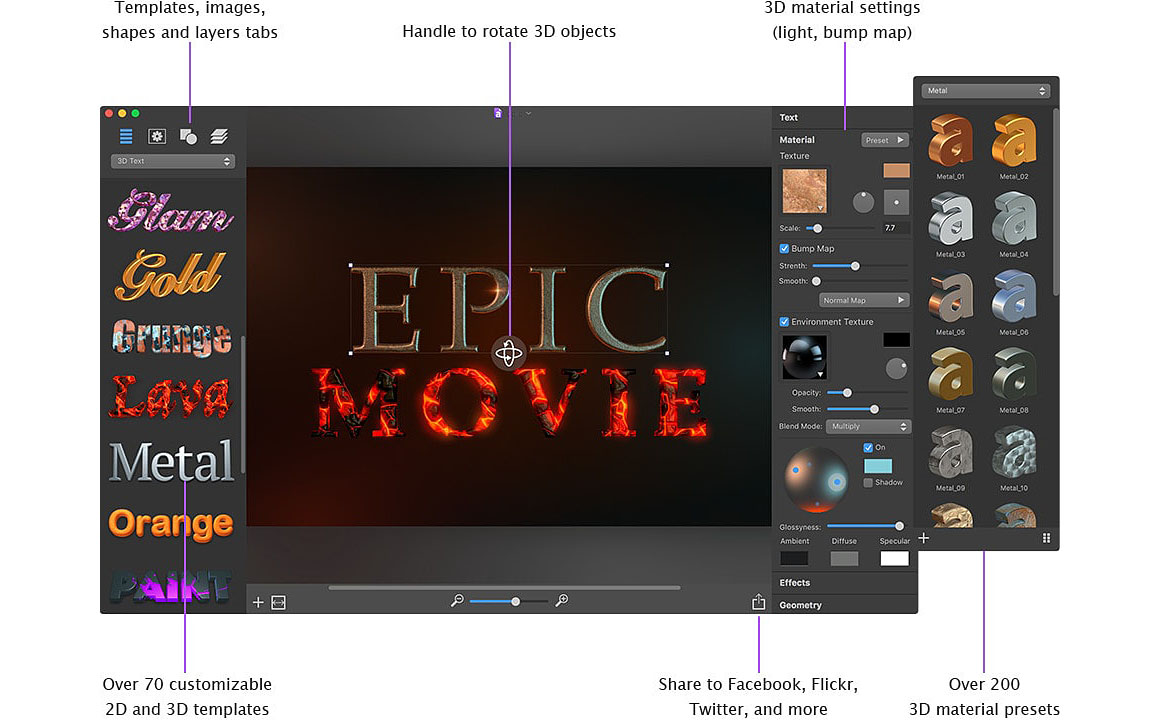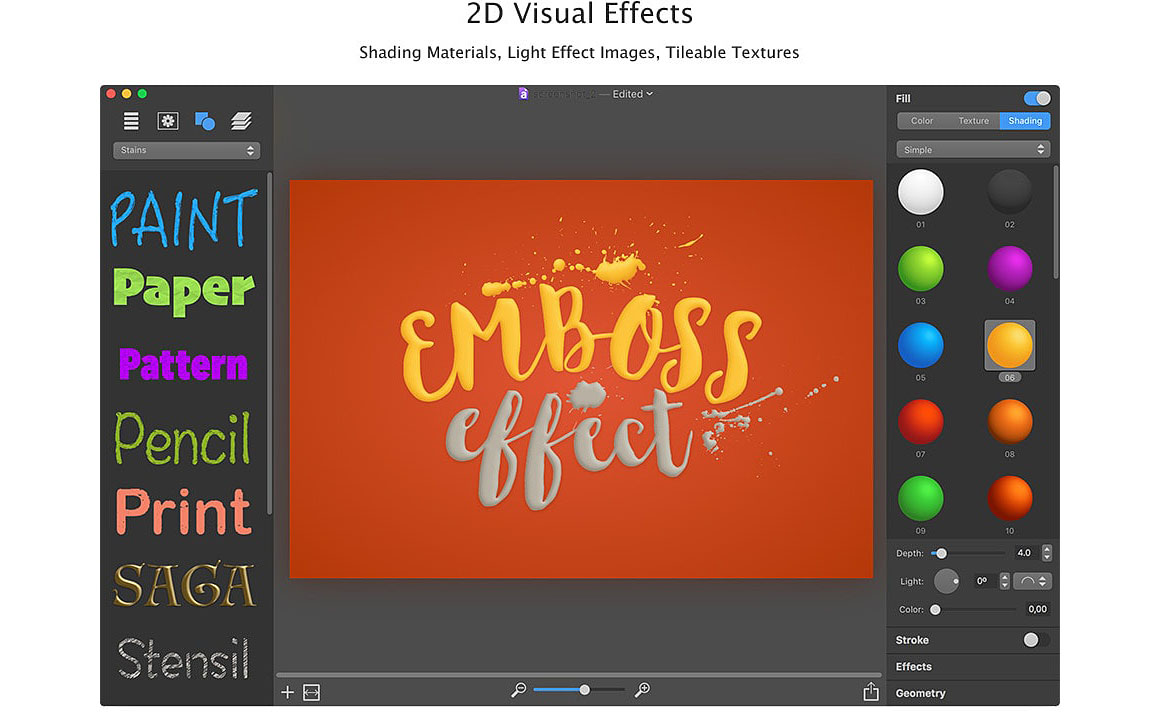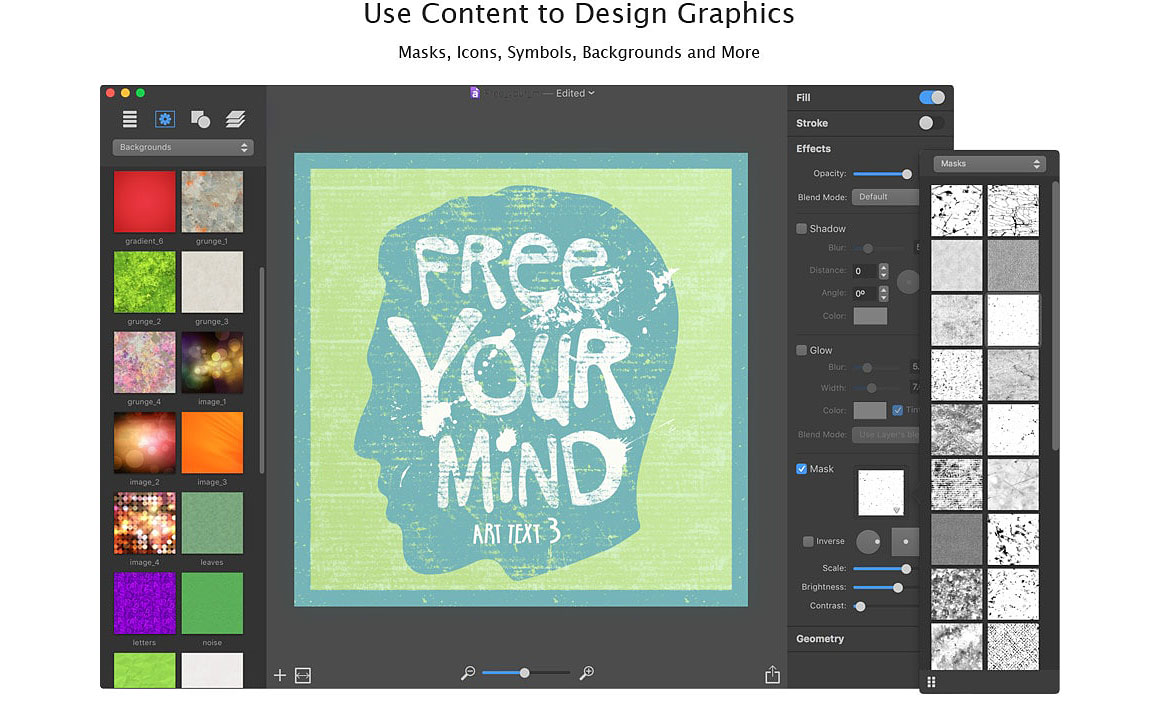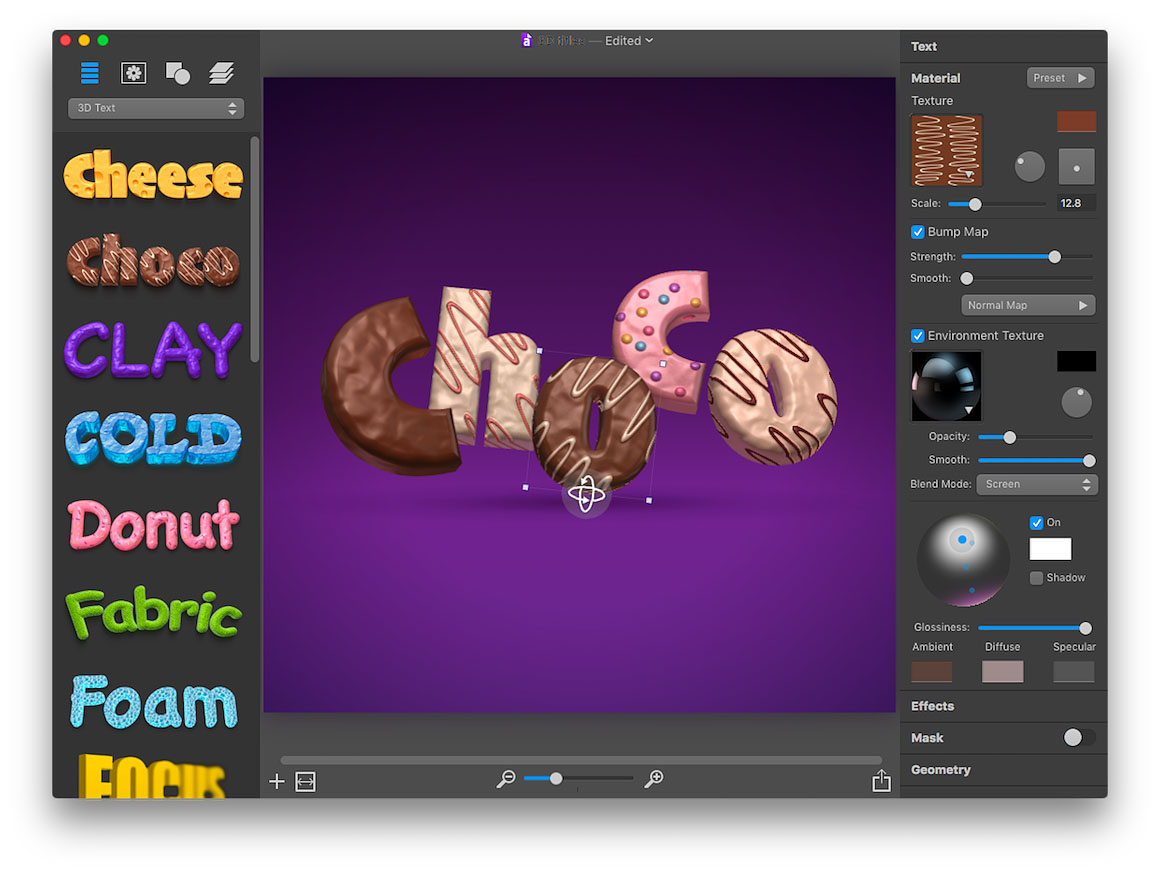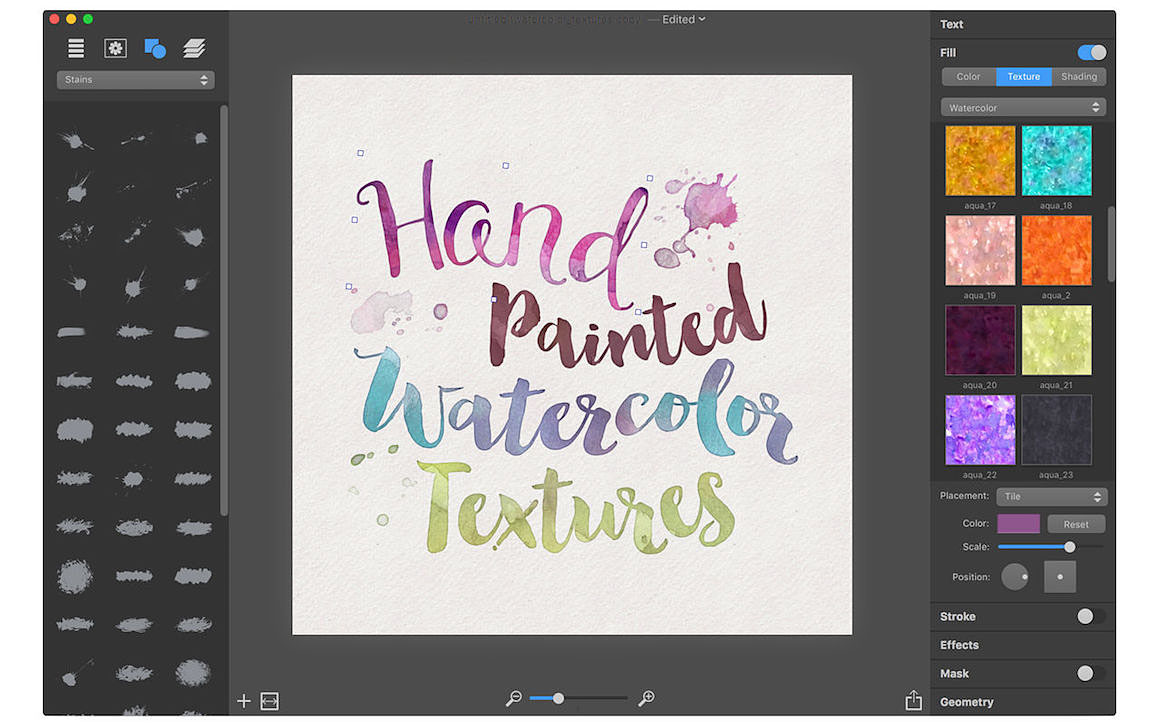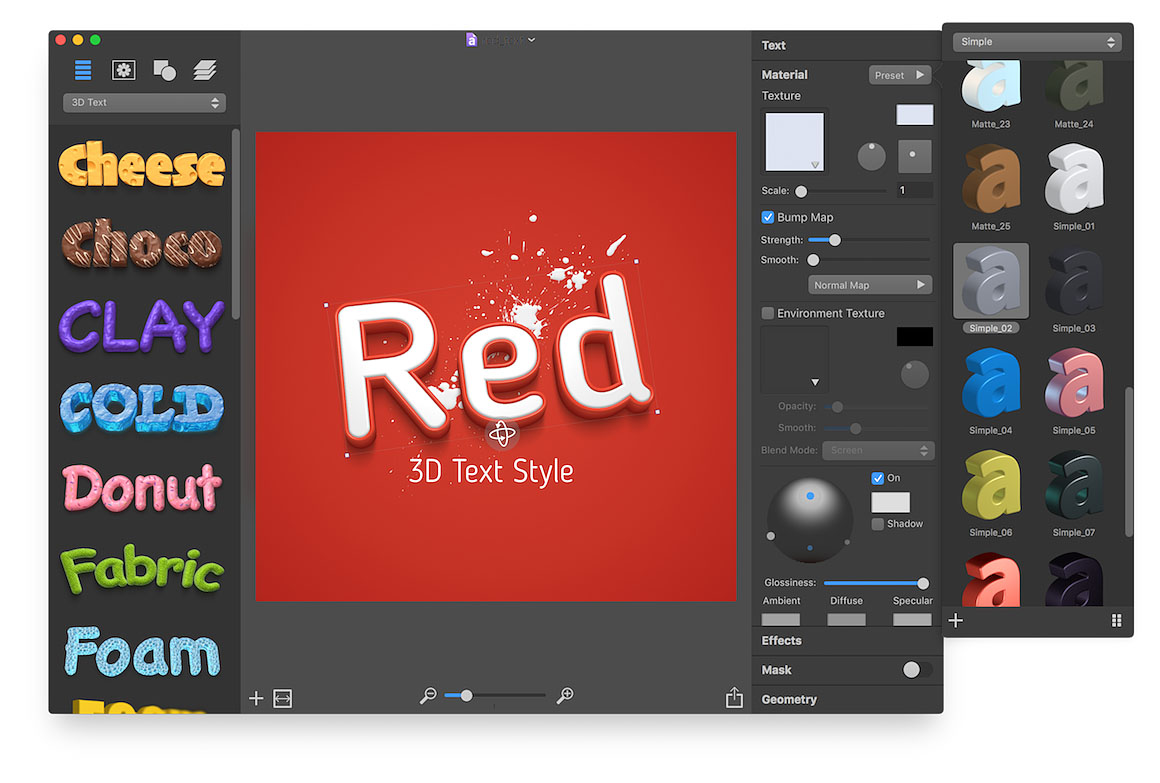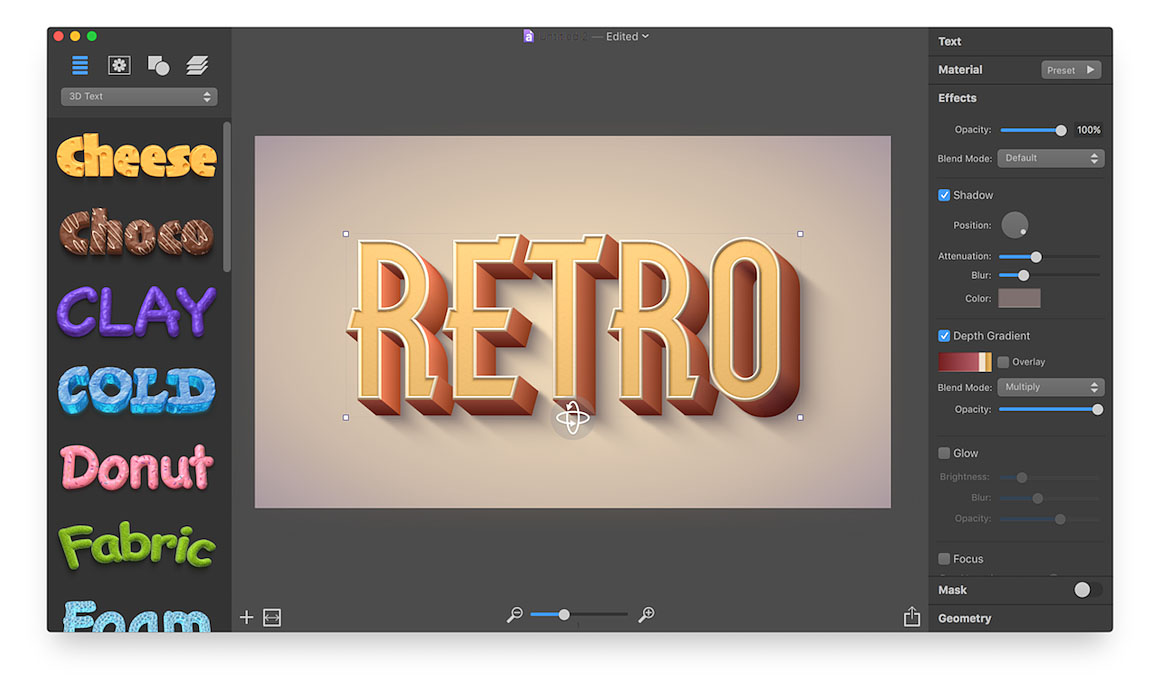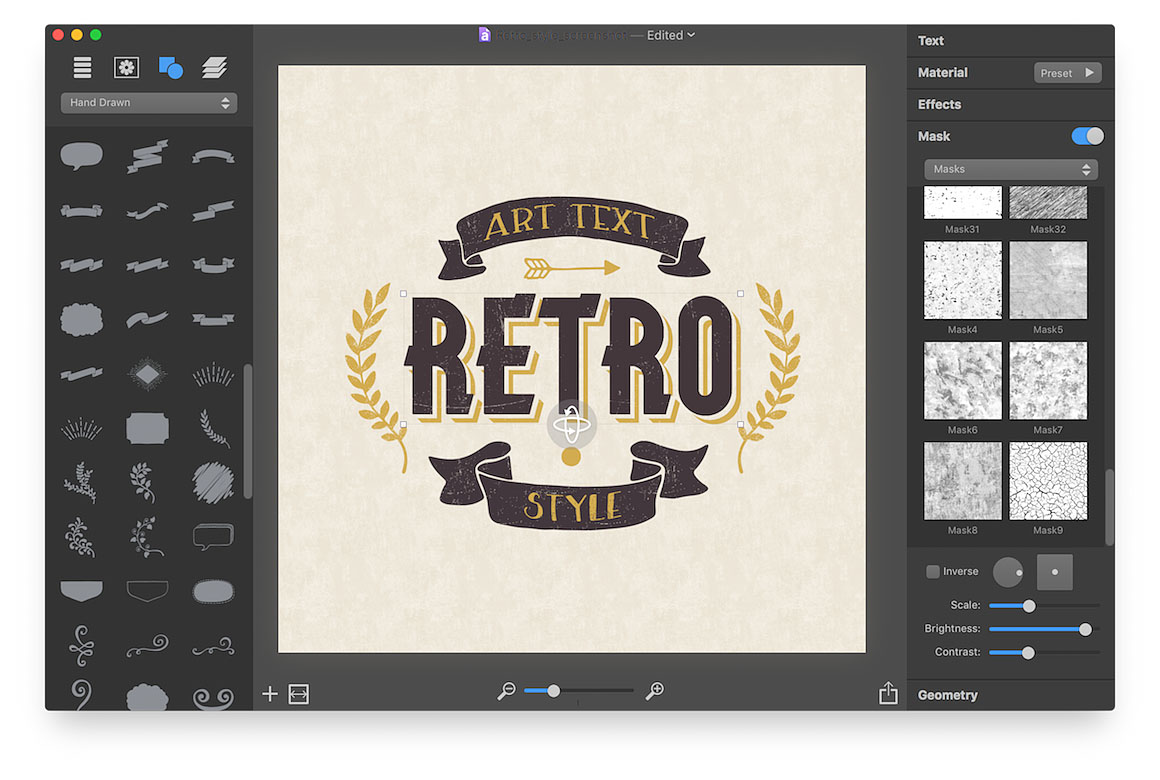 This Bundle Highlights:
Graphic design software for MAC specifically tuned for lettering, typography, text mockups and various artistic text effects!
extended license (like all of our deals): All results from this software: use for personal and commercial projects + you can also use them in designs/products that you sell. You can use all these items as a part of your non-digital or digital designs ( posters, t-shirt designs, stickers, web templates…). You cannot resell these files directly, or within items/goods where they can be extracted in their original form (like vector shapes, elements, fonts… – they need to be flatten into background or object in your digital item)
Pricing:
Normally, this cool app for MAC would cost you $30, but for a limited time only, you can get this unique graphic software for $20!
Deal Terms:
Delivered as an instant download, after completing your purchase – please check TXT file with instructions how to download this software!
All results from this software can be used for both personal and commercial purposes, for yourself or on behalf of a client, on their own, or as part of your new design for sale.
Cannot be sublicensed, resold, shared, transferred, or otherwise redistributed on its own.
You cannot share these resources with others. This is a single user license!