We have something really cool for you. Amazing stamp and dynamic brushes for ProCreate (app for iPad). With this bundle you can create artistic illustrations & graphics on your iPad with ProCreate app! Enjoy ;).
These 7 amazing brush sets are from Wonderbox Creative and ready for your ProCreate app! Please take a look at all preview images and you'll see how cool these brush sets are :)
IMPORTANT: These brushes are compatible only with the iOS app Procreate for iPad. They won't work in Photoshop or other digital drawing/editing softwares!
With this deal you get:
7 artistic brush sets for Procreate
Take a look at what you can get:

7 artistic brush sets for Procreate
01. Procreate Fashion Illustration Set from Wonderbox Creative
Procreate Fashion Illustration Set – instantly whip quick sketches or illustrate like a pro – all the tools you need are in this pack and then some more.
We are delighted to present you a very versatile and diverse set of tools for sketching and drawing various styles of fashion illustration on iPad with Apple Pencil. Just install the brushes and start drawing to get amazing results.
This set includes basic sketching and drawing tools like pencil and ink brush; artistic alcohol markers and watercolor brushes for painting and some very very special brushes that are going to make your designs really stand out. Tulle fabrics, lace fabrics, knit and woven fabrics are just a few of the brushes that will take your illustration process to a whole new level. They save loads of time and give impressive instant results!
Included in this set are 43 brushes for use with Procreate app, a set of 6 templates of female models to trace or use as reference for a quick start, a PDF Brush Guide and a PDF User Guide.
Some of the brushes are great for hand lettering too, so have fun and explore them.
Important – this set will work only with Procreate app on iPad Pro or iPad with Apple Pencil or compatible stylus.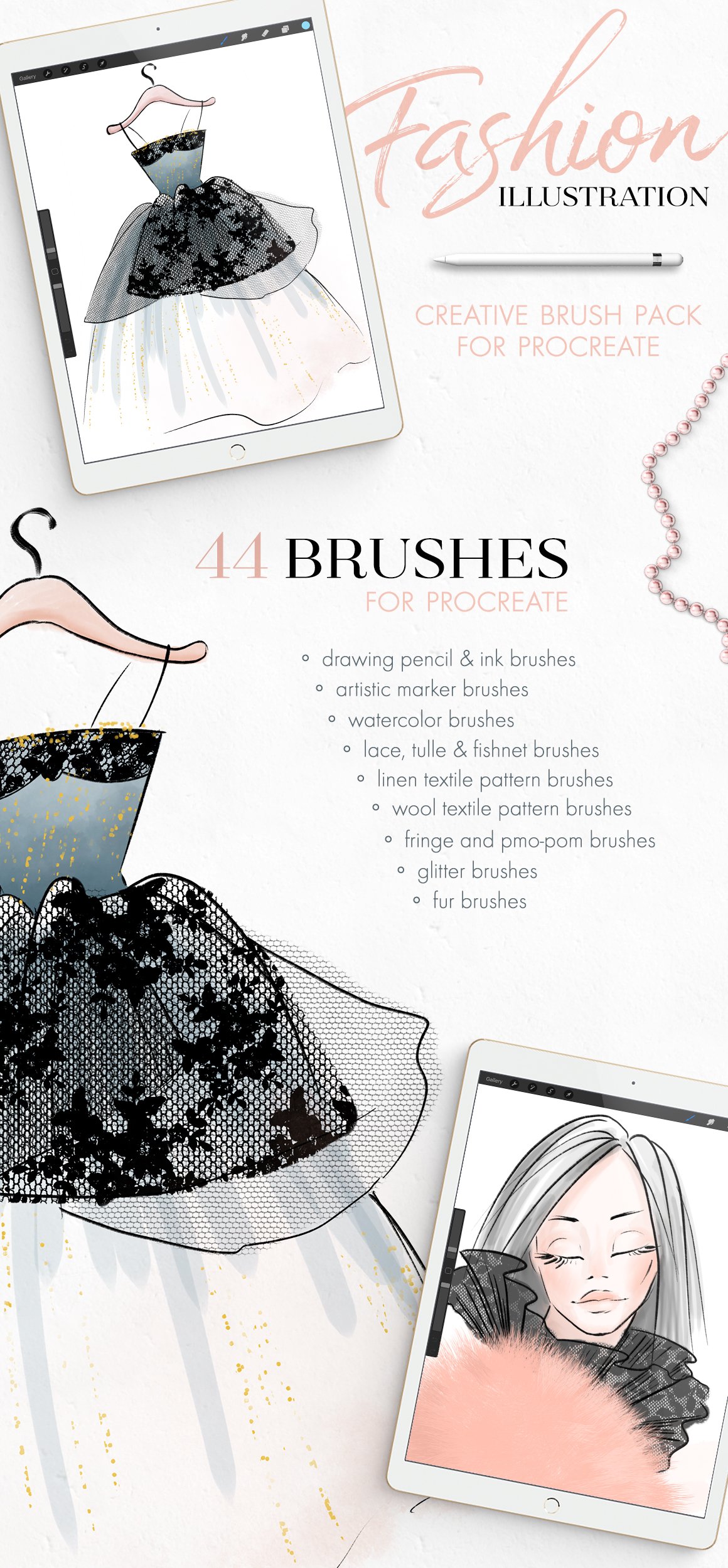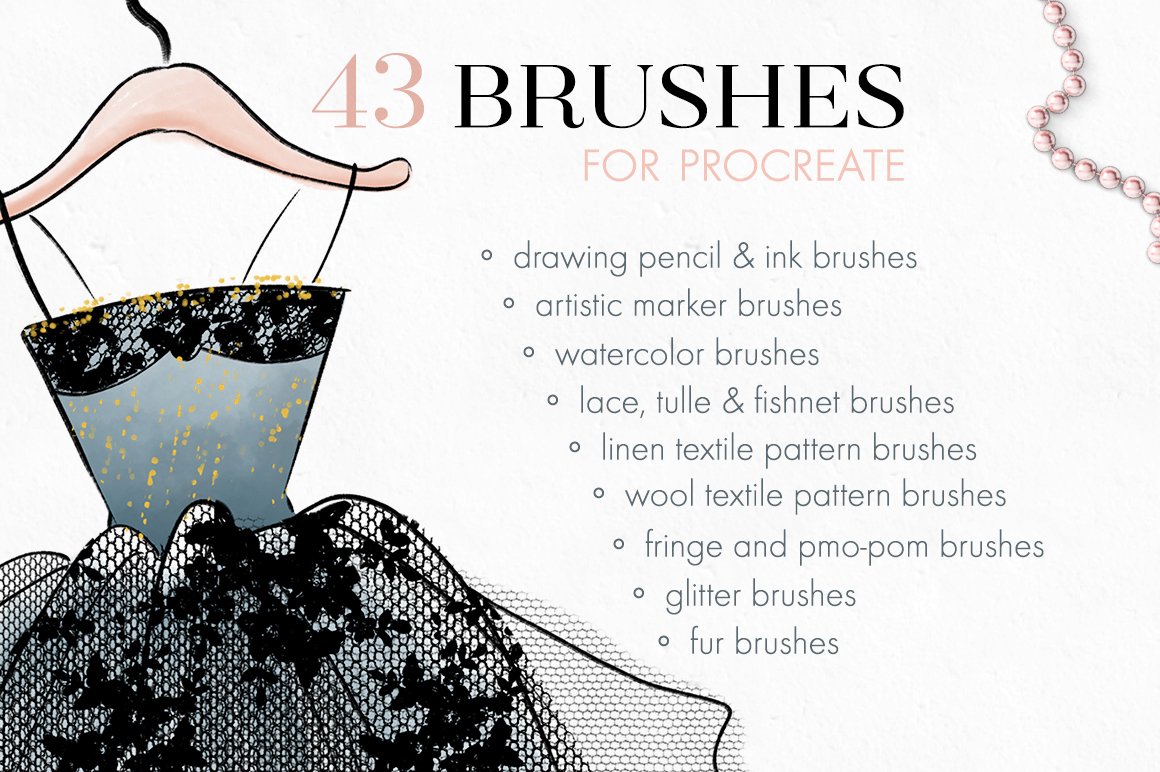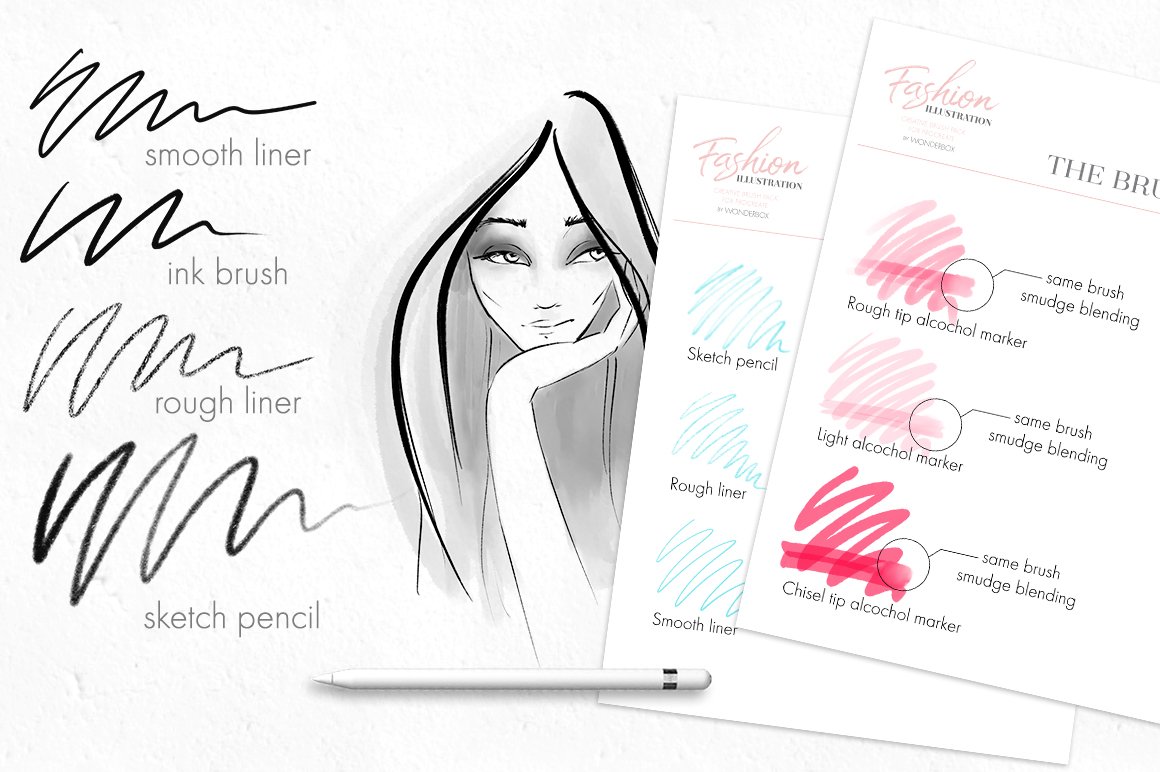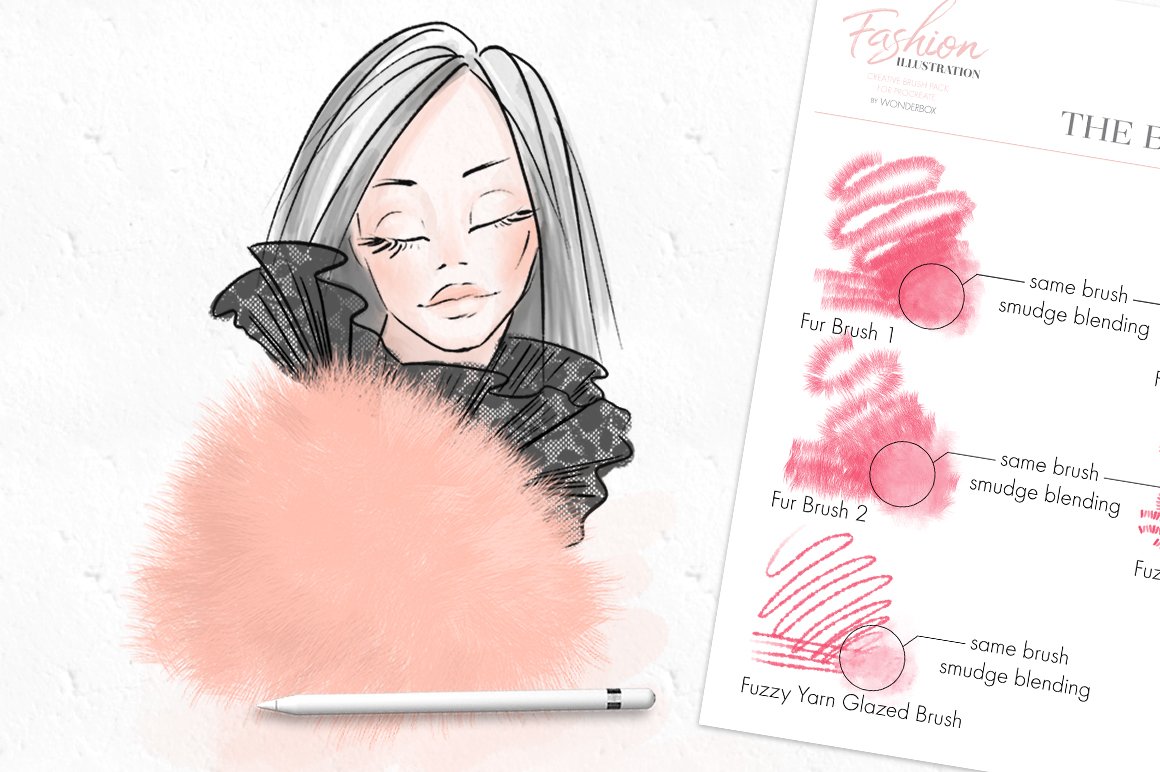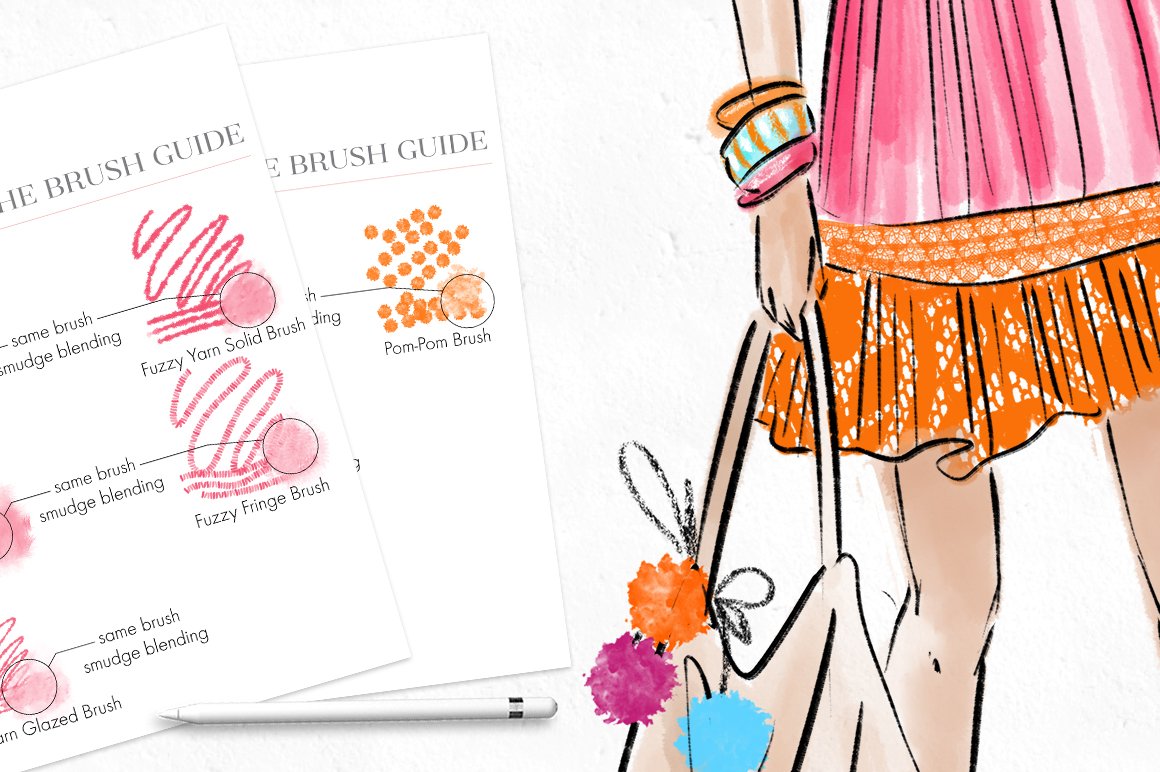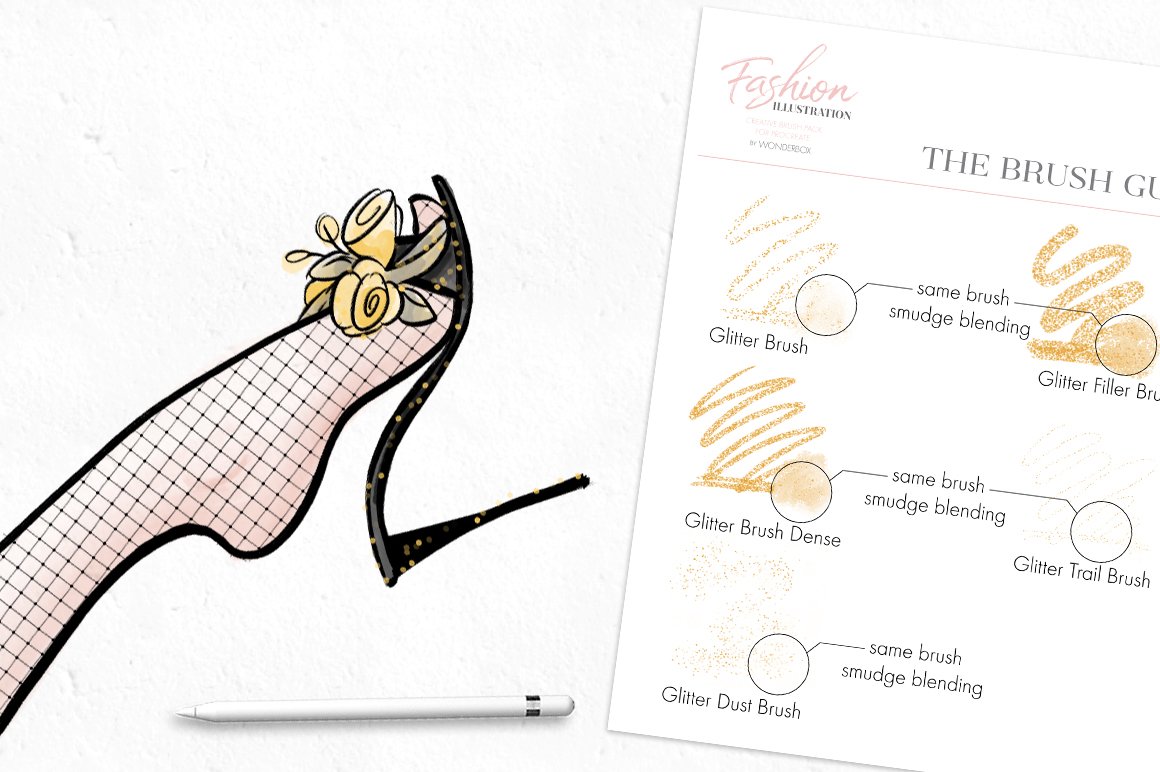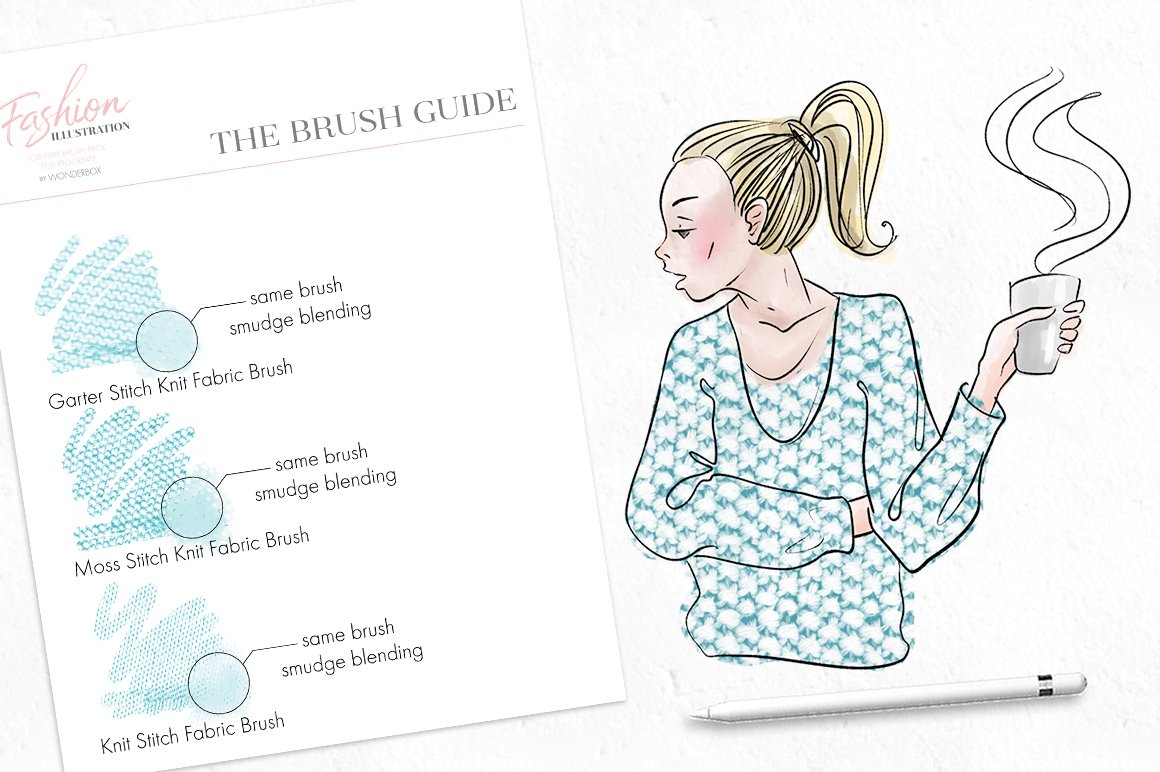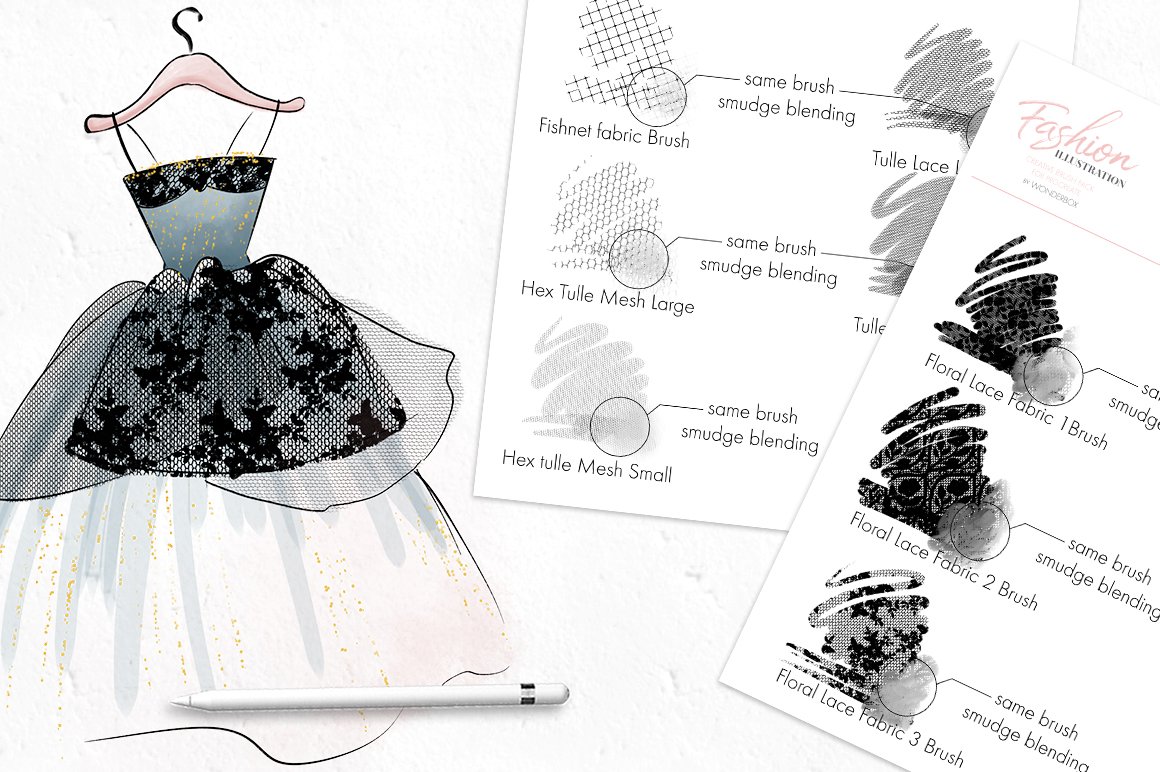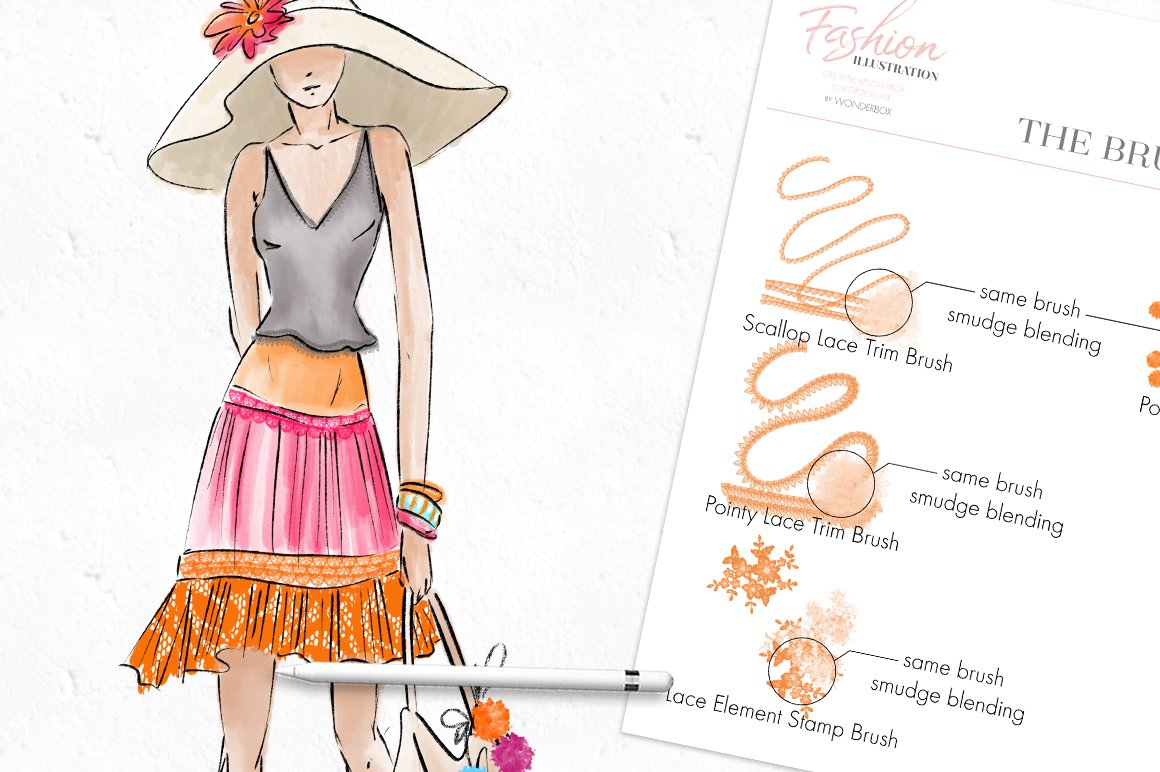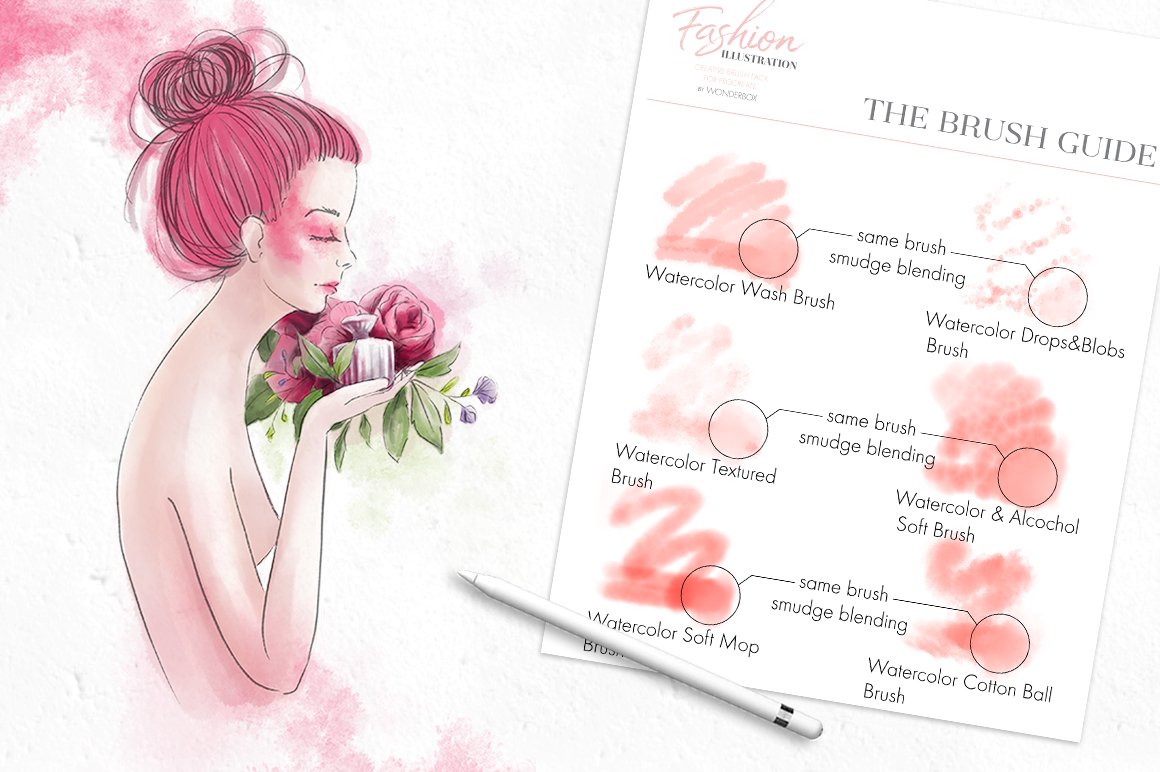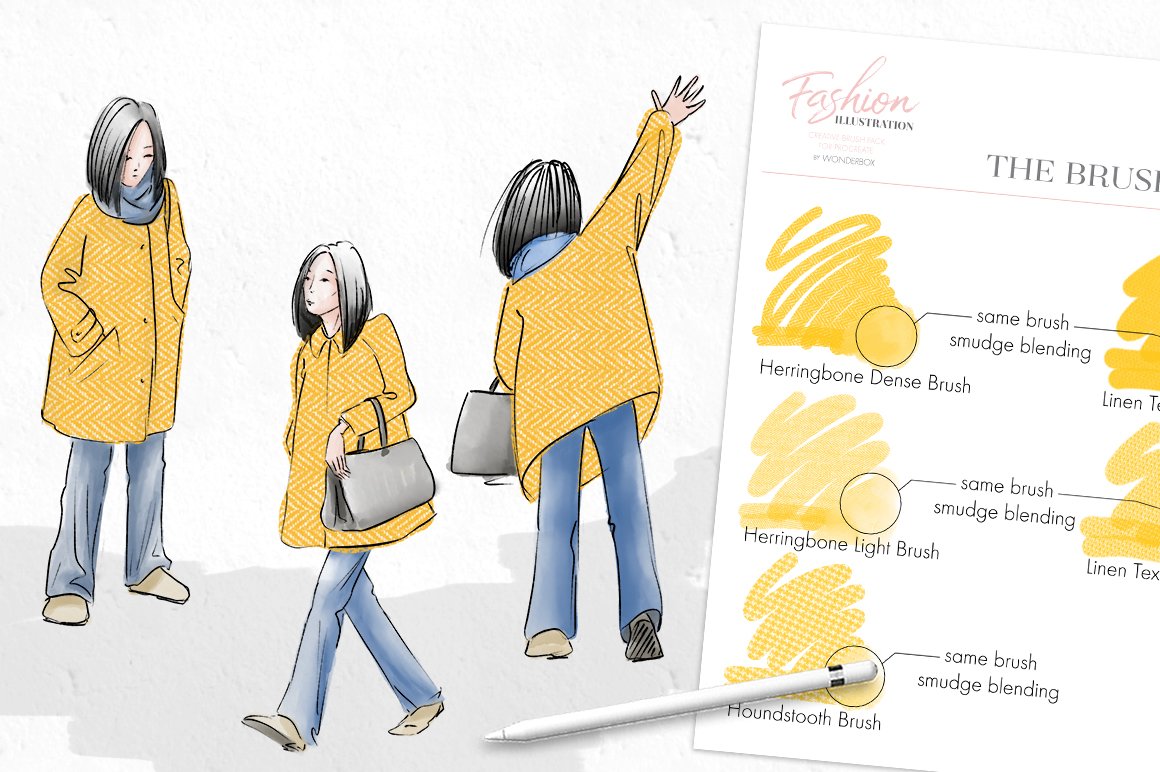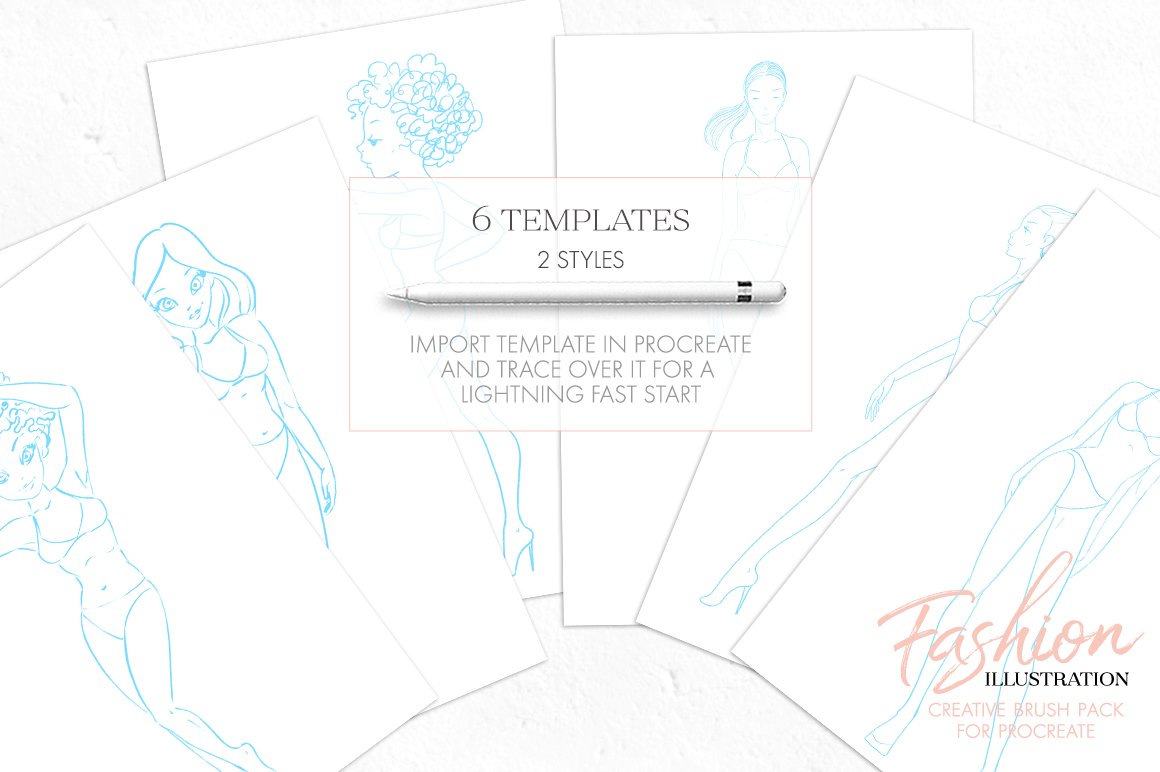 02. Procreate Watercolor Botanical Kit from Wonderbox Creative
Watercolor Botanical Illustration Toolkit for Procreate app on New iPad or iPad Pro
Procreate 5X compatible
Delighted to present a new toolkit for Procreate! This time we made some tools for botanical illustration. The toolkit has brushes, textures, templates, guides and even it's own photo reference library.
Inside is all you need to draw and paint gorgeous florals! Beginner or experienced artist, this toolkit will save you tons of time and the technique guide (and video) will show you exactly how to make the most of it.
Here's a list of all:
1 .brushset file for version 4.1 and higher users – install whole brush set with single tap
36 unique brushes – watercolor brushes, ink, pencil, special effects
5 canvas templates with pre-set texture layers – ready to use!
8 textures, so you can set up your custom canvas
48 photos of various plants in a reference library to get you started
PDF Content guide with valuable info on each brush and texture + quick view of reference photos
PDF Technique guide that will lead you through each step from start to end of illustration
PDF with user guide on how to install the brushes and set canvas
a video guide for the technique we used available on YouTube (links in text doc)
2 Procreate files with illustrations, that you can look at closely and replay timelapse
Important – this set will work only with Procreate app on iPad Pro or iPad 2018 and newer with Apple Pencil or compatible stylus.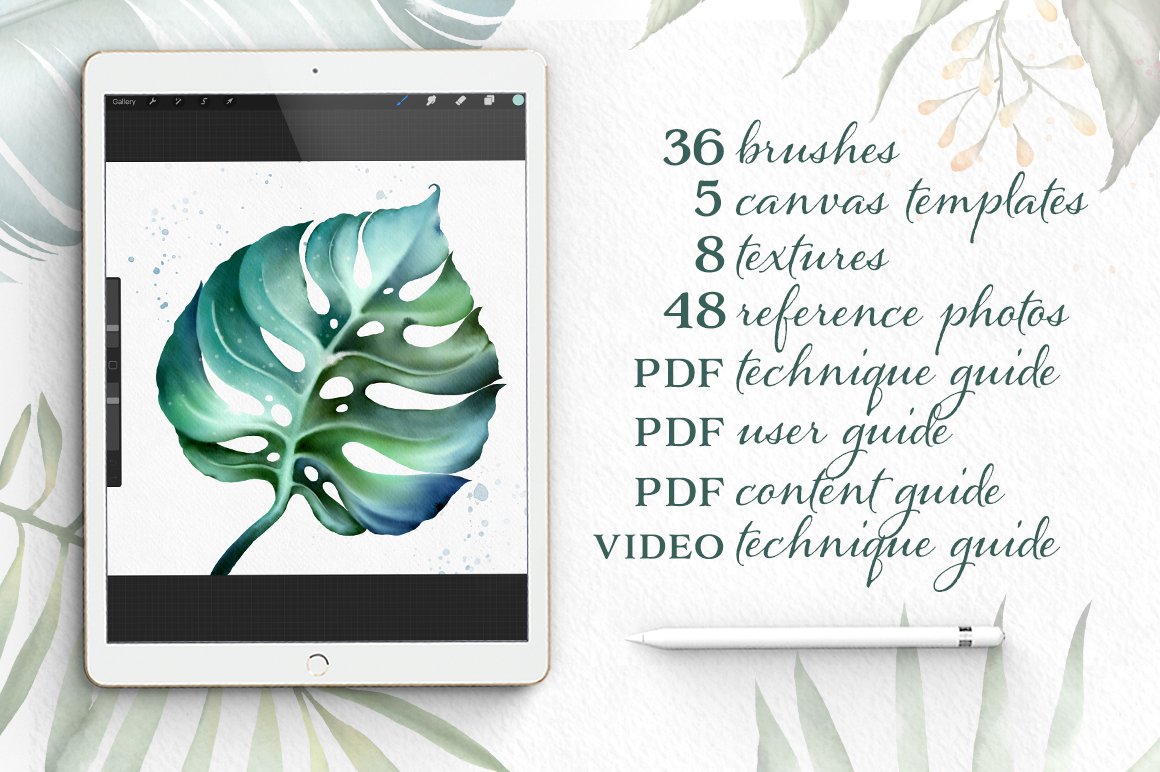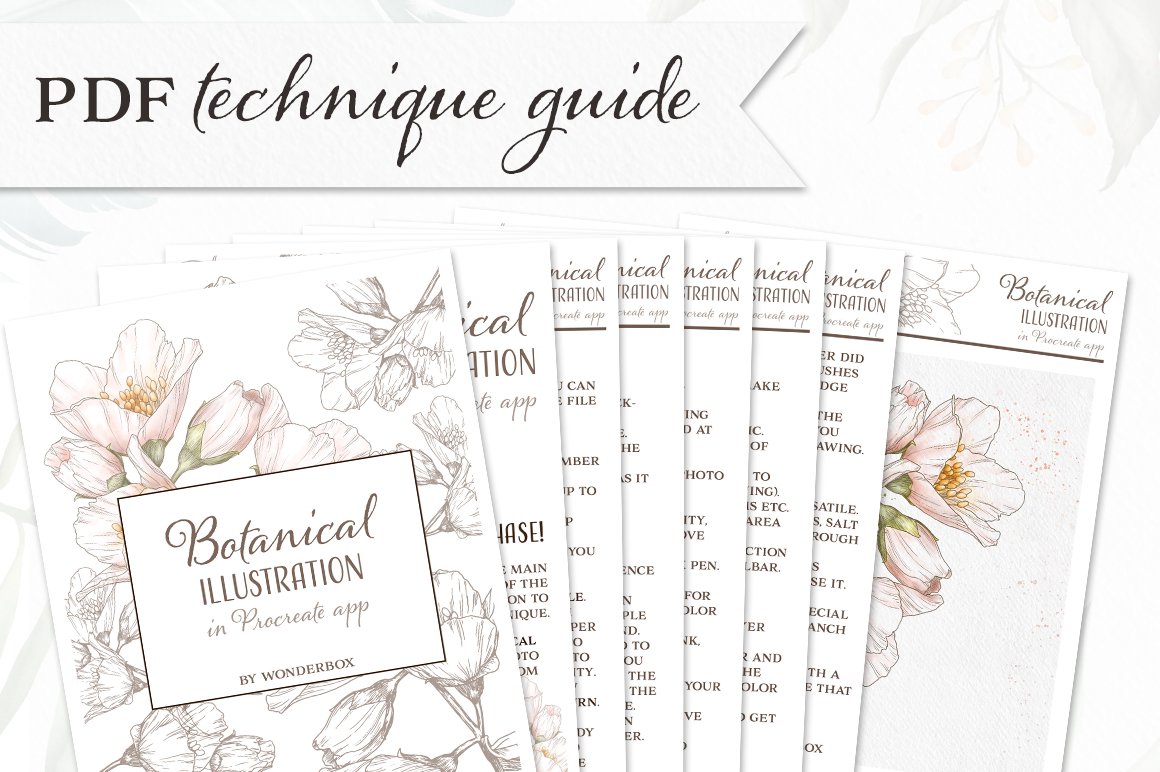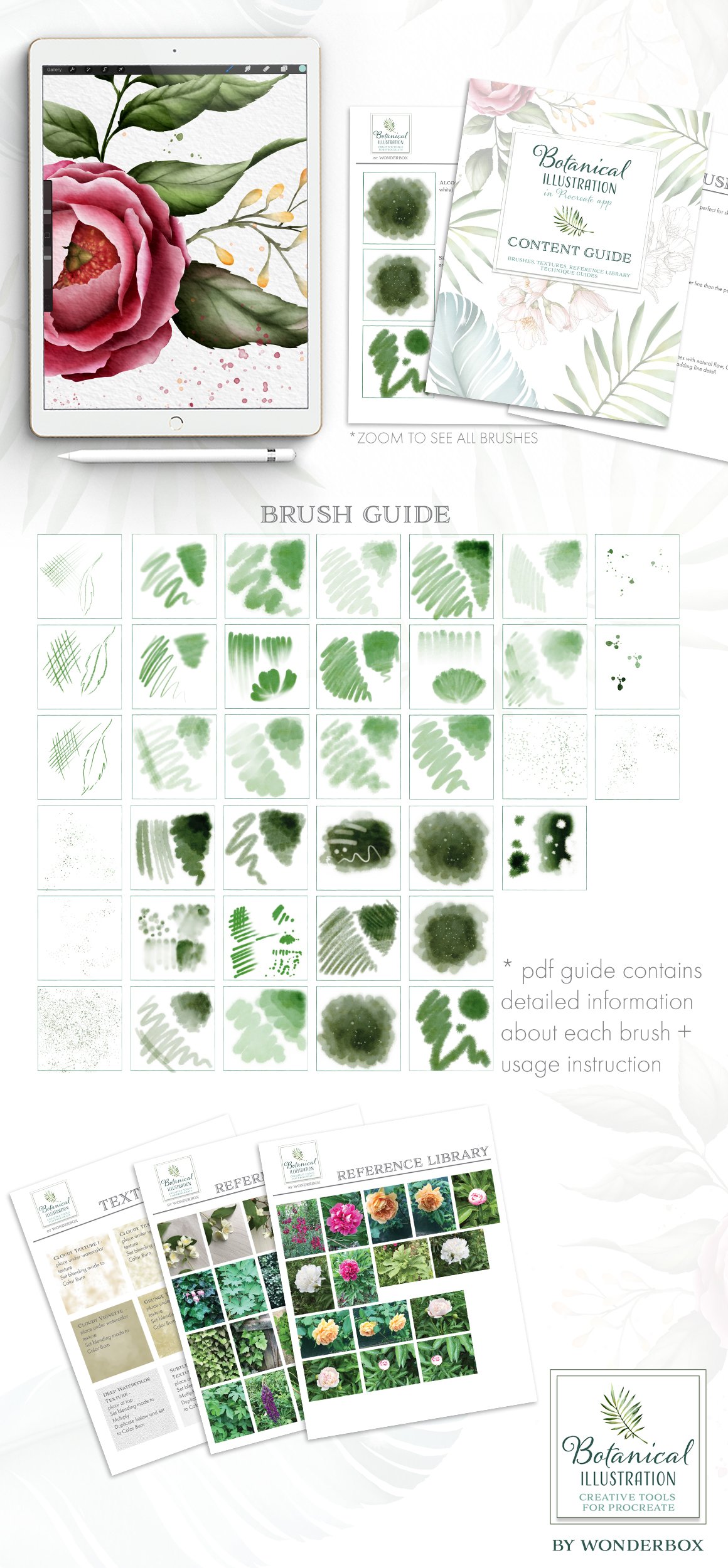 03. Dynamic Alcohol Inks for Procreate from Wonderbox Creative
Amazing set of brushes and techniques for painting with Alcohol Inks in Procreate app on iPad
We have made a set of 19 lovingly crafted brushes for painting with Alcohol Inks digitally and on the go! Also no fumes and no mess :)
To speed up your creative process we have made a reference Brush Guide PDF and an interactive epub with short videos showing the techniques we used to achieve the look of Alcohol Inks digitally. You can open and watch the epub in the Book app on the iPad. Check the YouTube video for additional demonstration.
These brushes will work only with Procreate version 4.21 and later.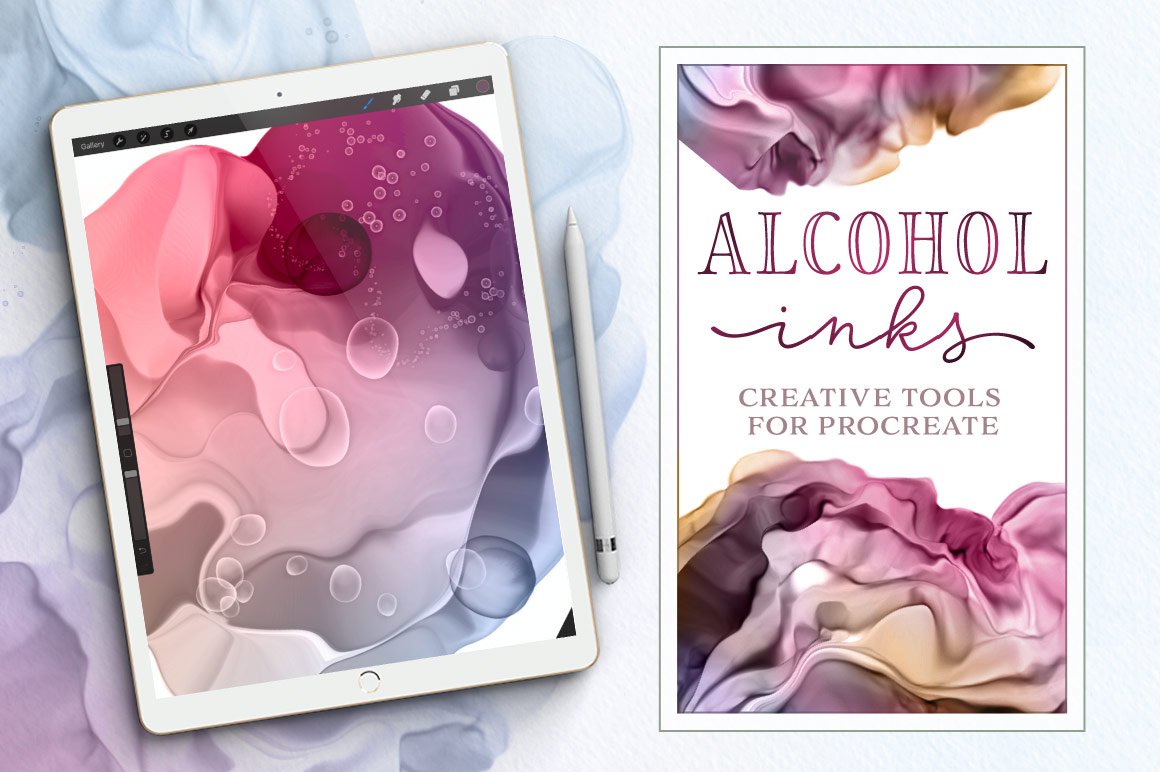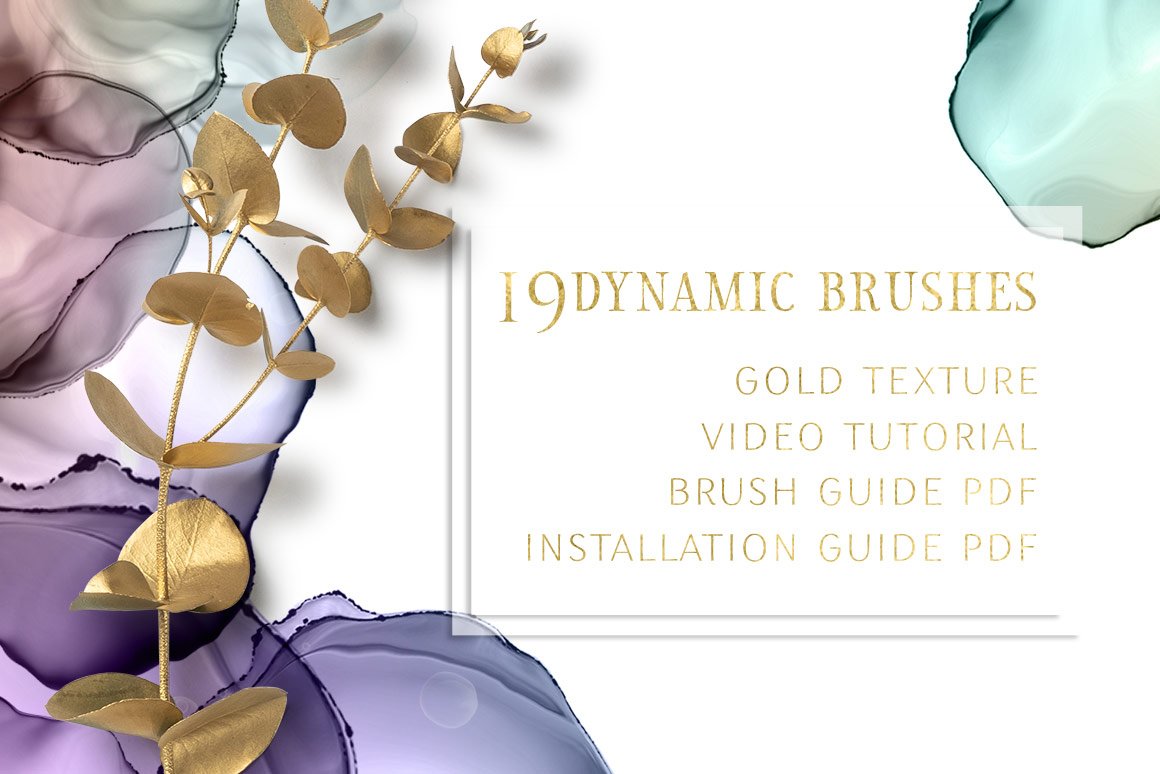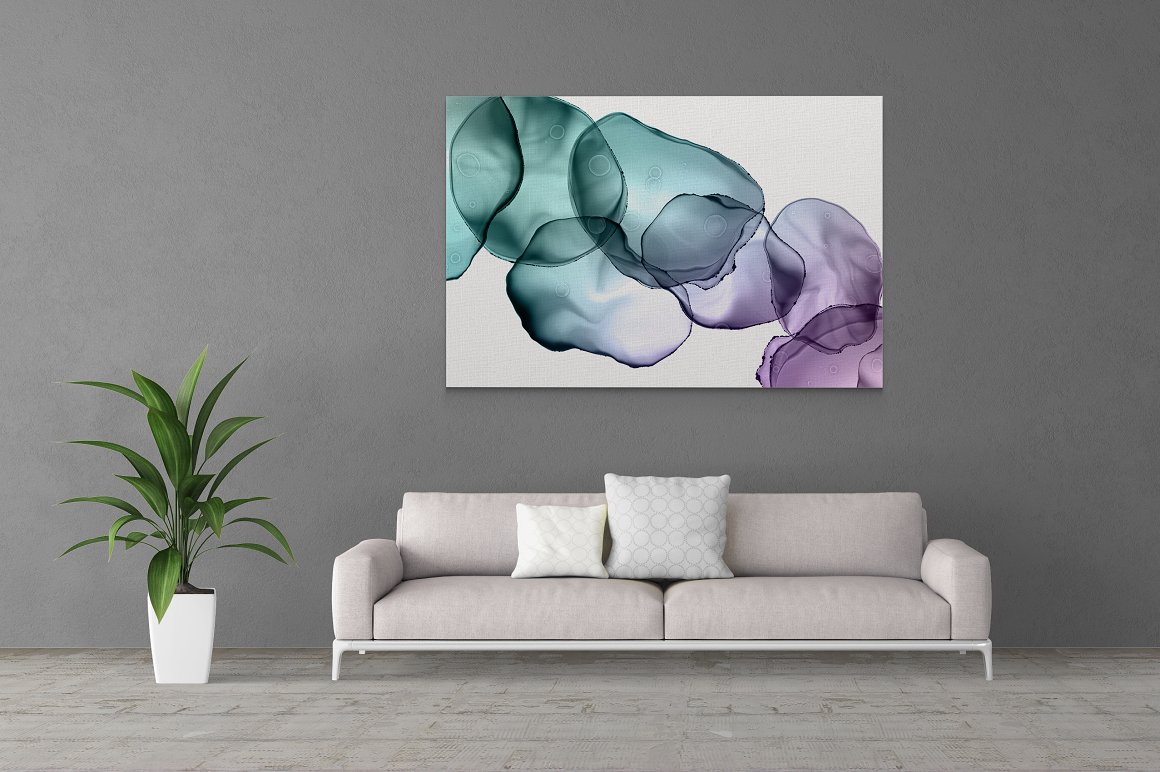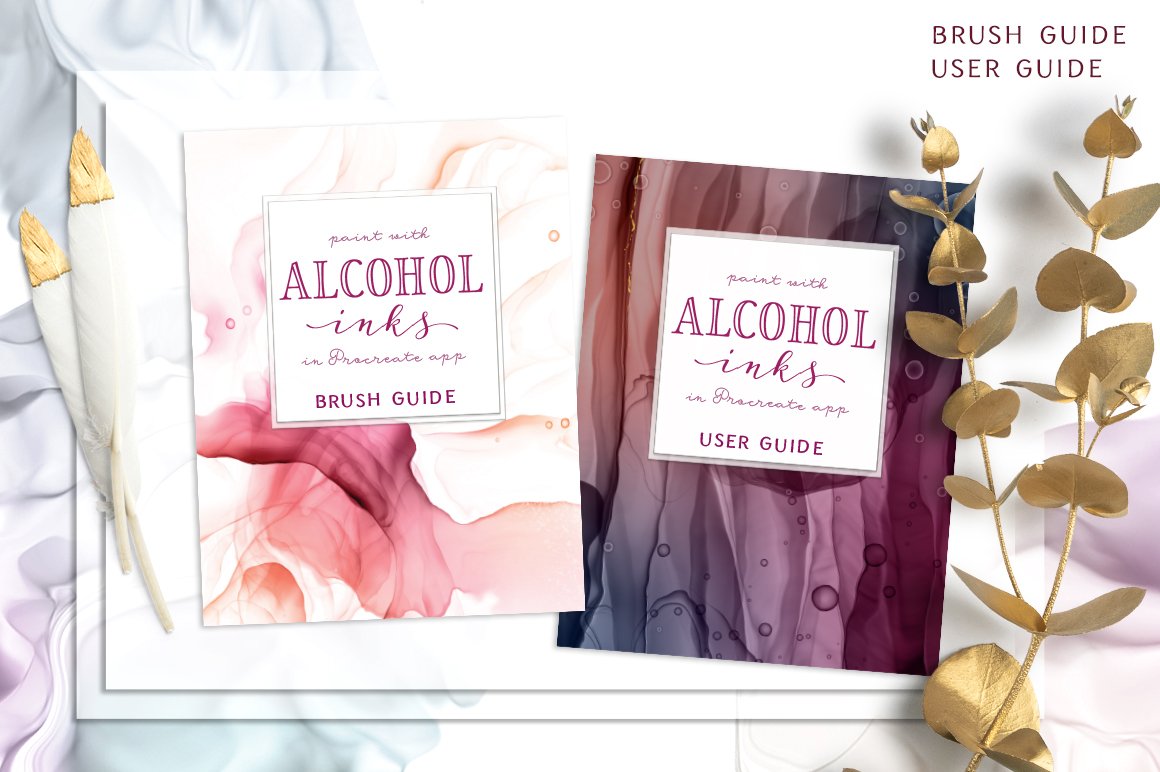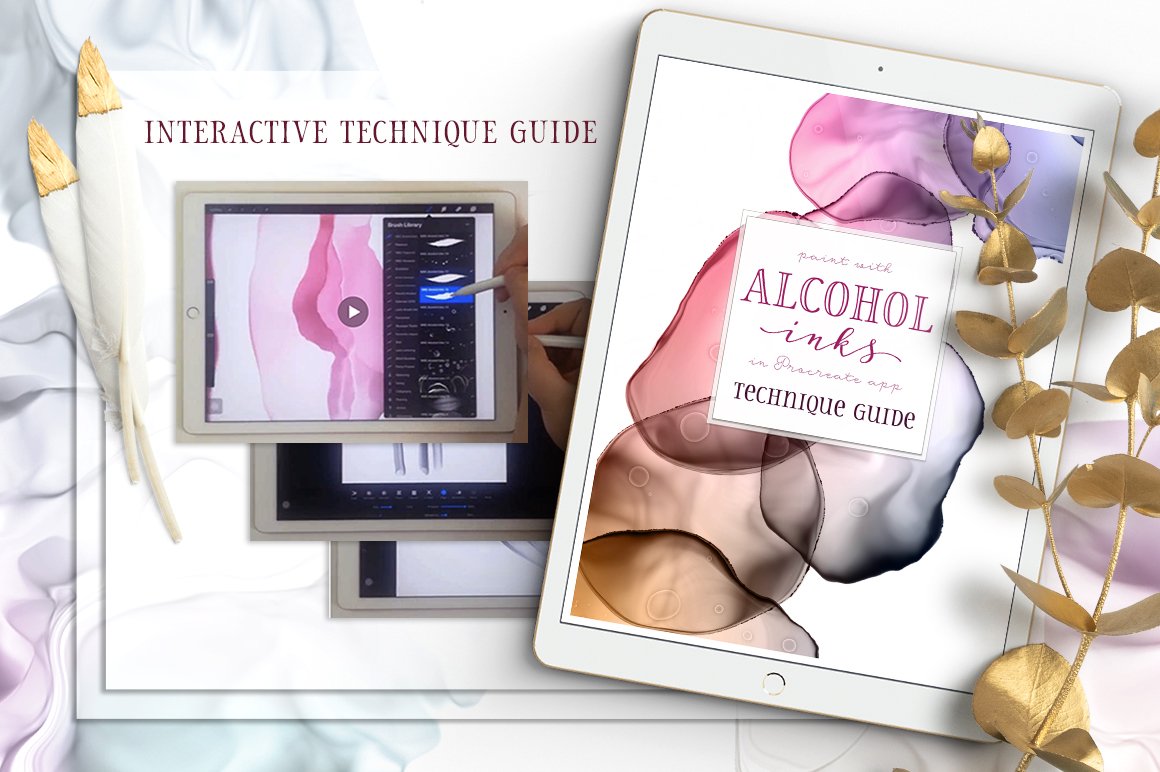 04. Big Snowflake Brushset for Procreate from Wonderbox Creative
Imagine creating a magical snowy scene with one stroke while sipping on a hot chocolate. Add an enchanted winter touch with the intricate lacy snowflakes to your social media images or artwork.
This collection of four sets includes stamps and dynamic brushes that combined create a truly charming lace veil of snow. Add them to your greeting cards or photos.
The 4 sets included are:
set of 12 stamp snowflakes – use these for greater control and precision of size and placement
set of 12 dynamic spray brushes – use these to create a busy snowfall
set of 12 dynamic spray brushes with glow – use these to create an enchanted glowing snowfall
set of 12 dynamic r-glow spray brushes – use these to create a calmer or distant snowfall
Layer spray over r-glow and glow to add depth. Add strong accents with the stamp brushes. Use metallic textures to make clipping masks over some of the accent snowflakes. Voila!
Check out our short video animation. These brushes were used to make the opening and end screens and the animated snowfall.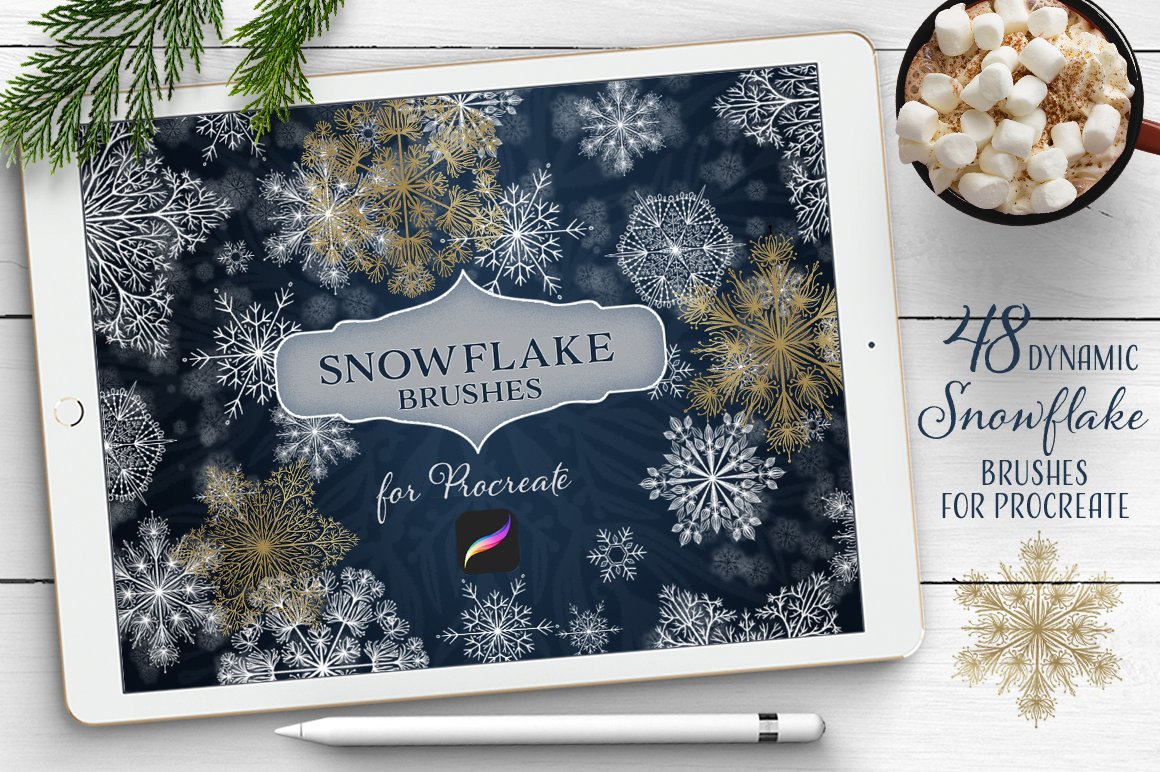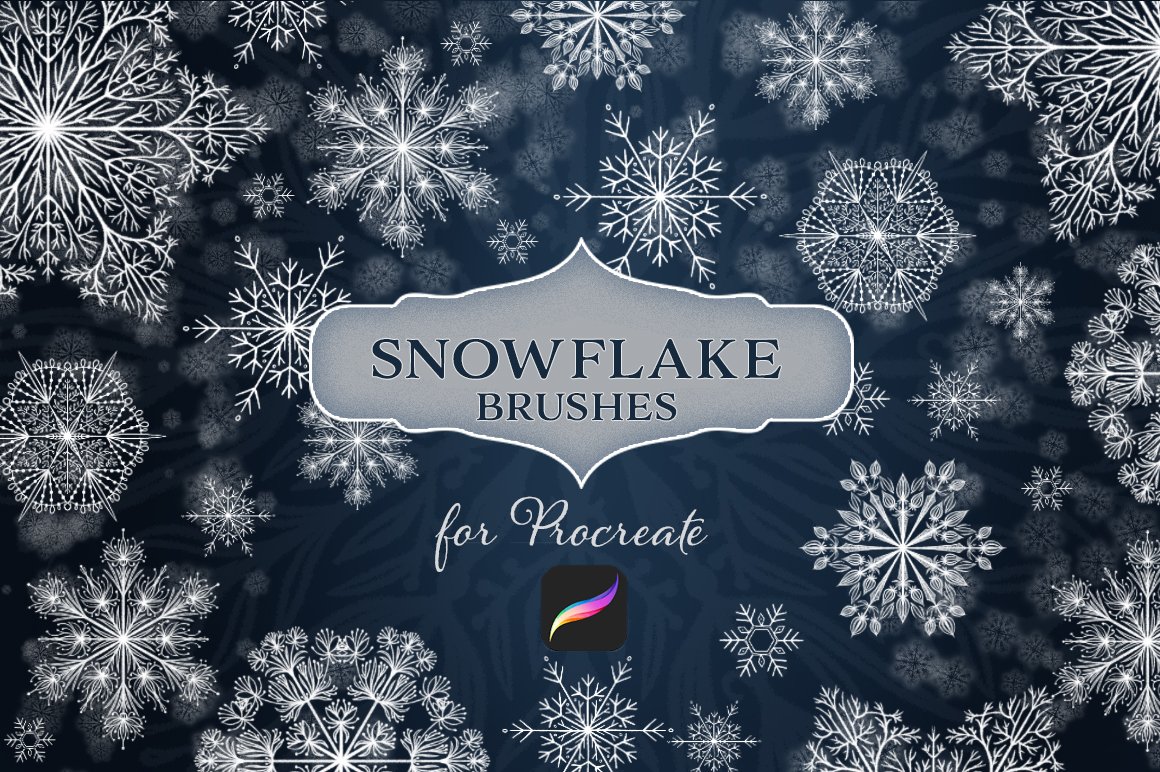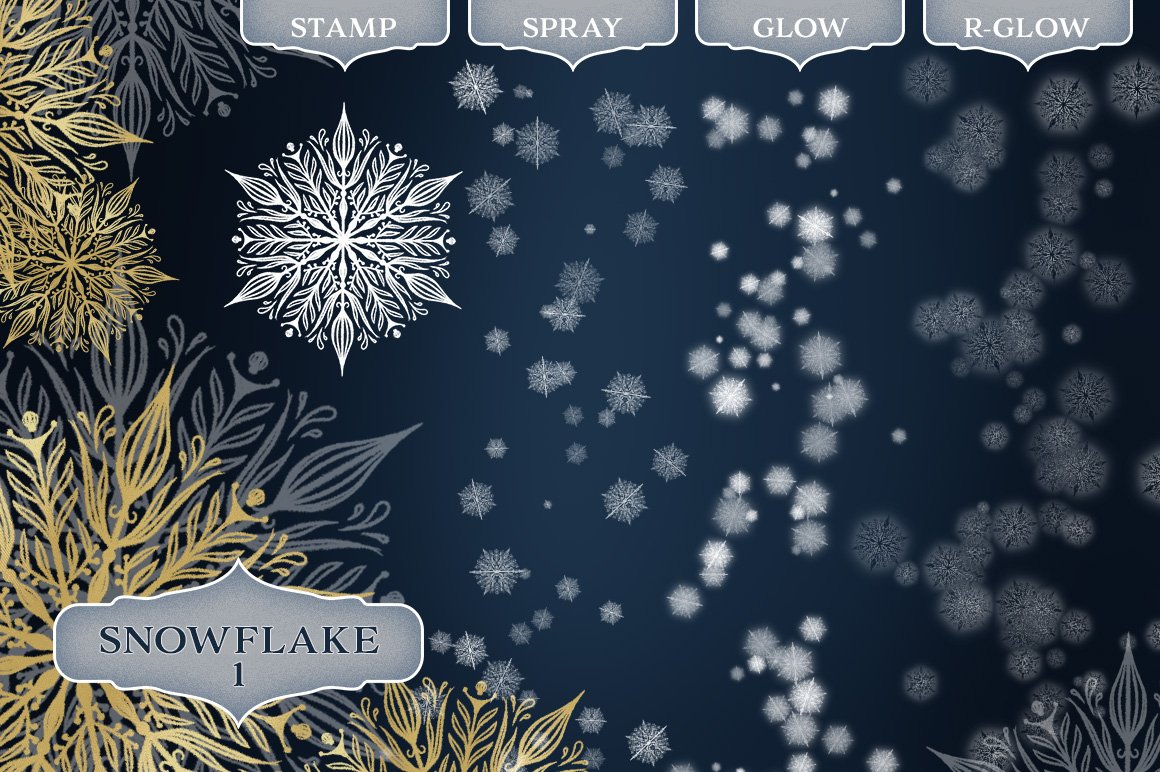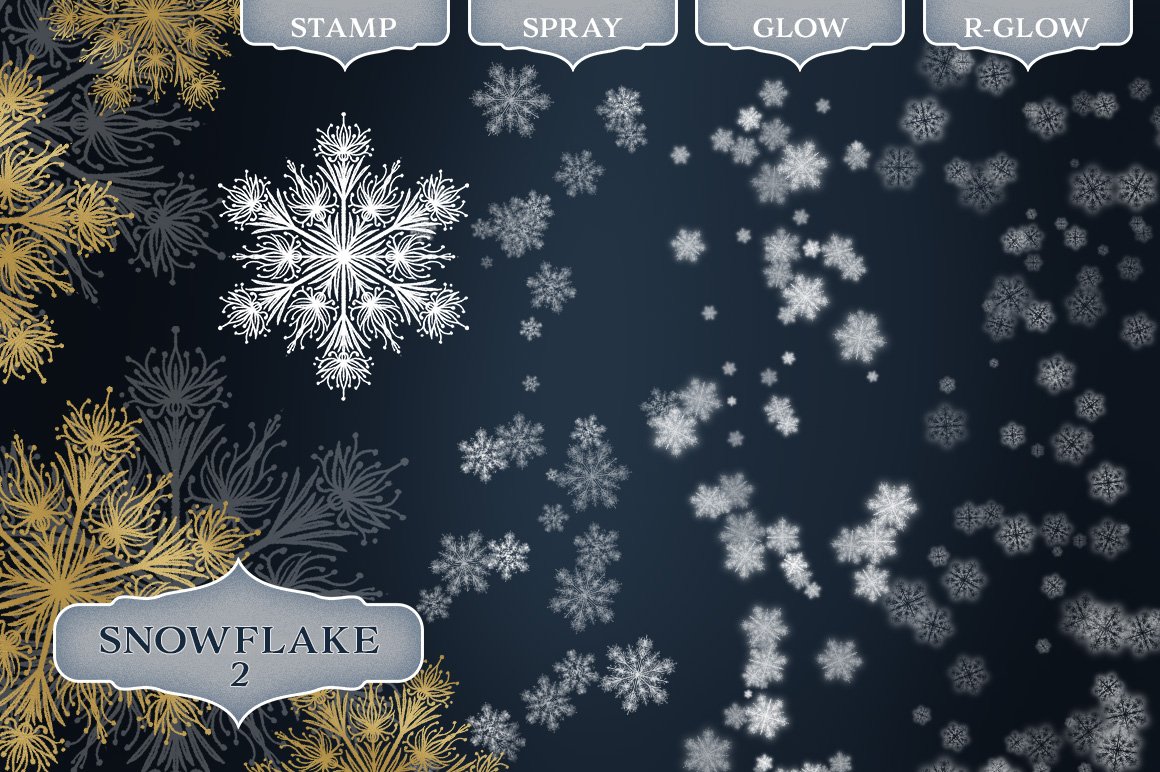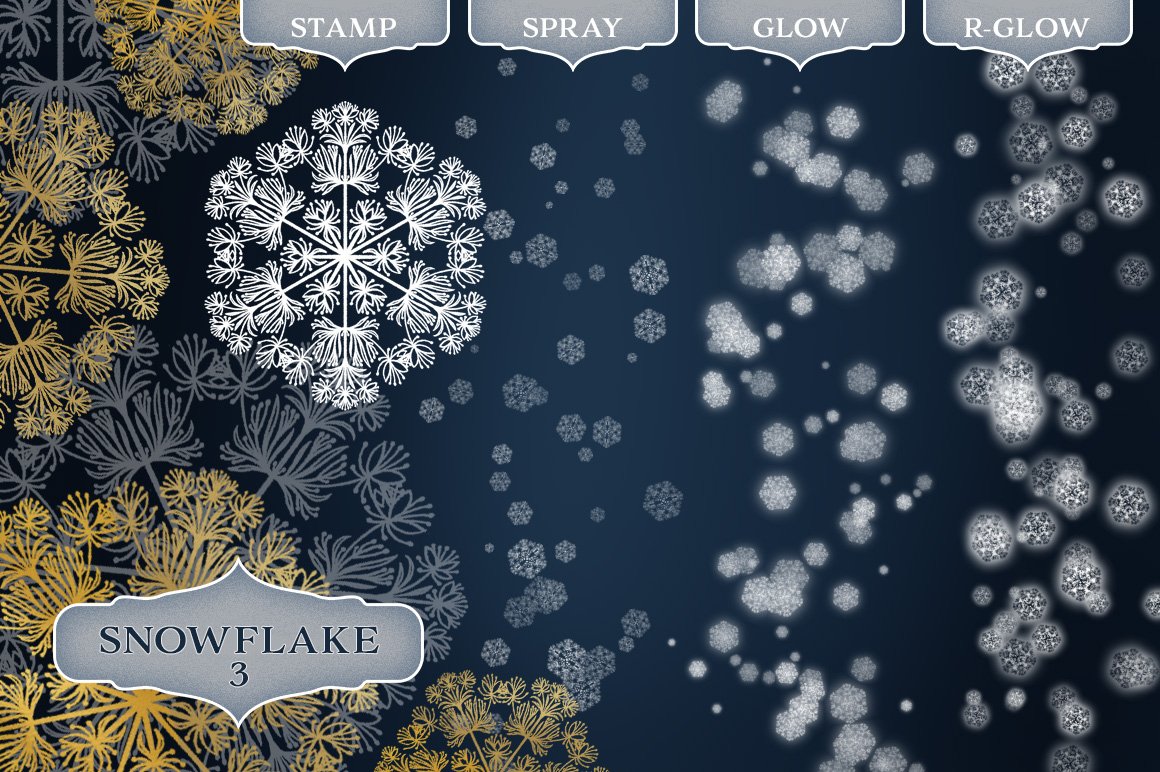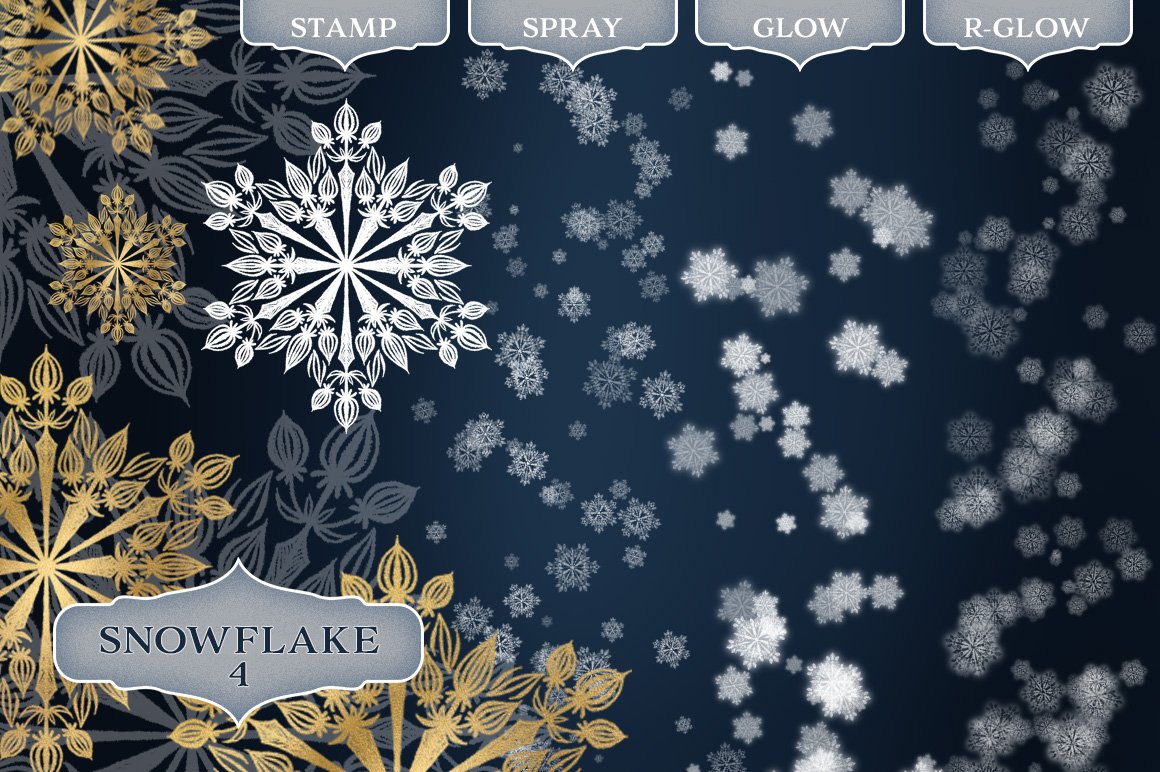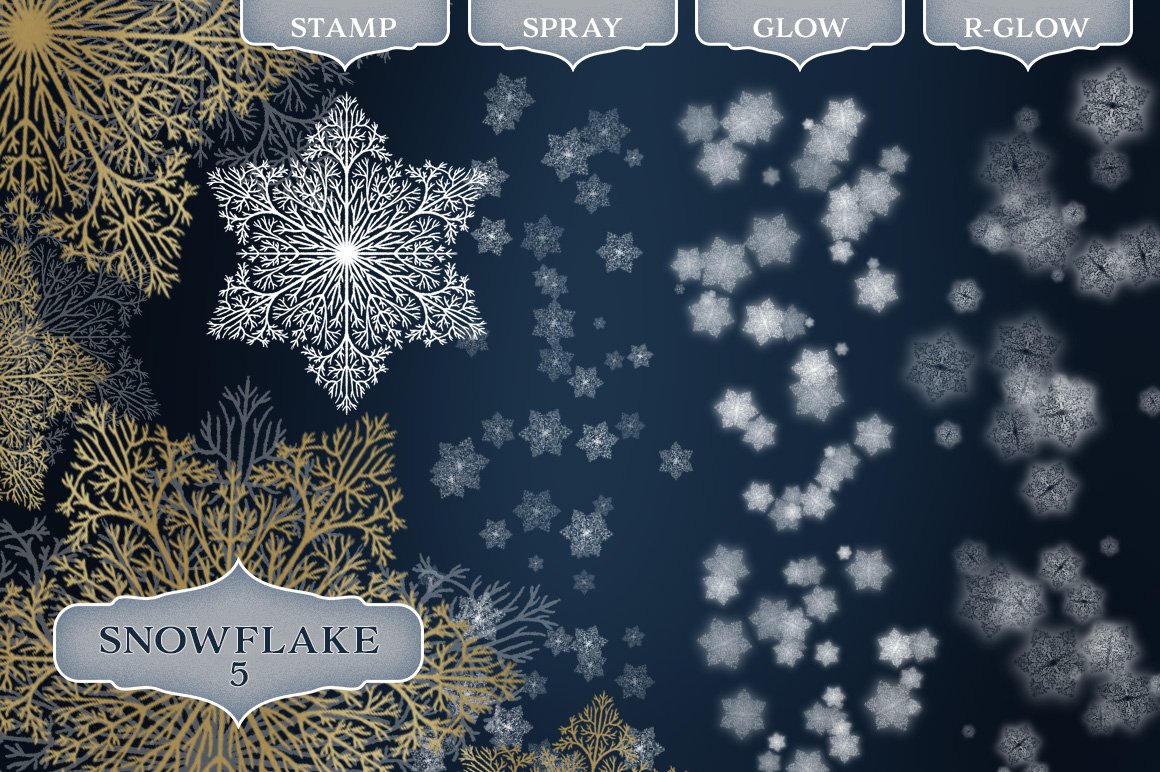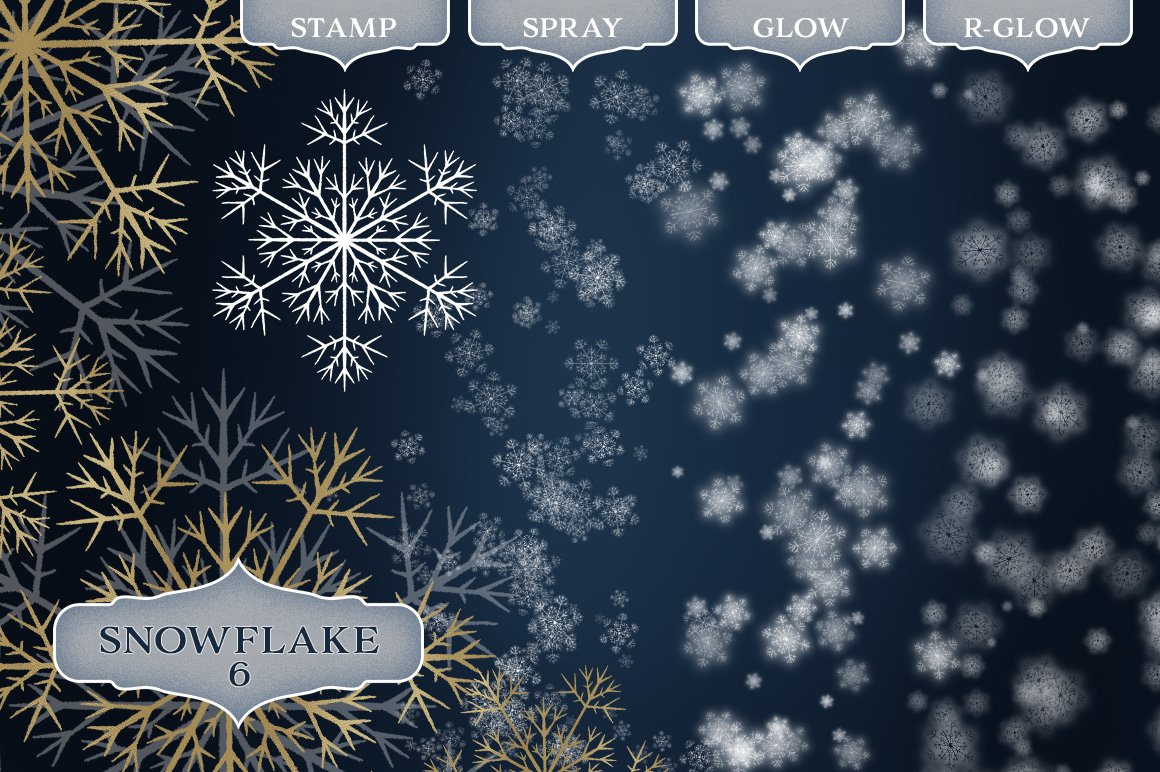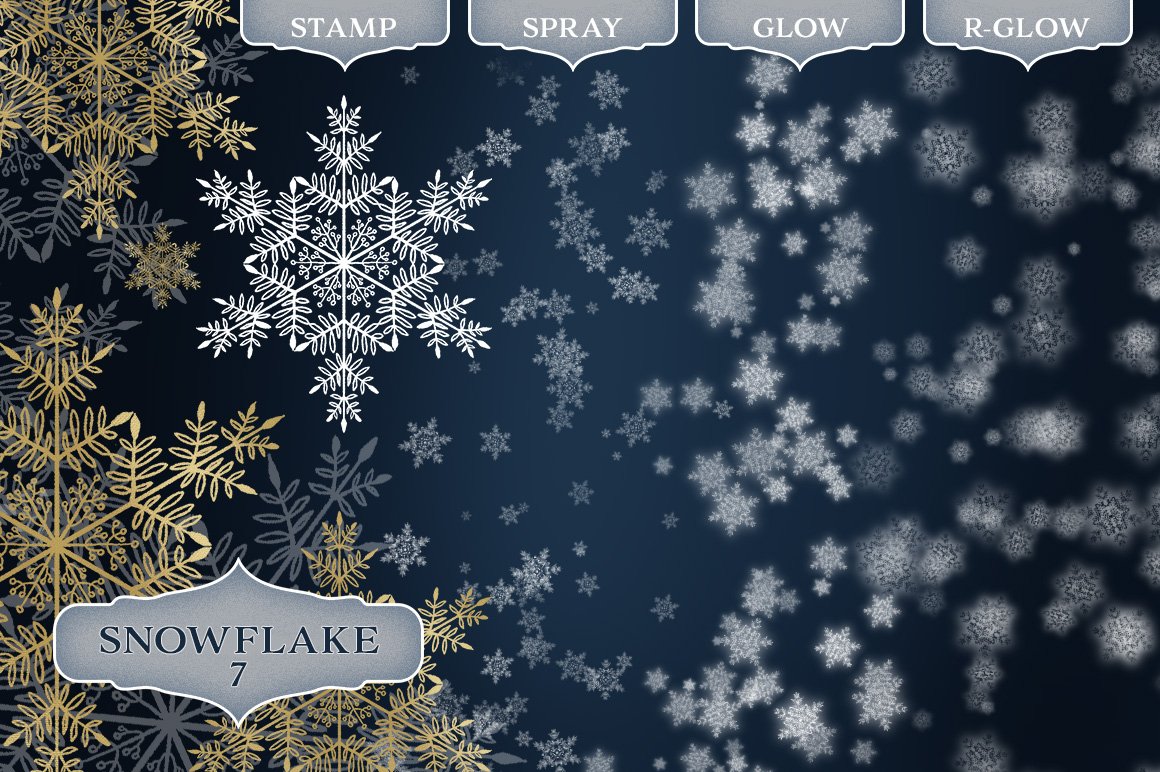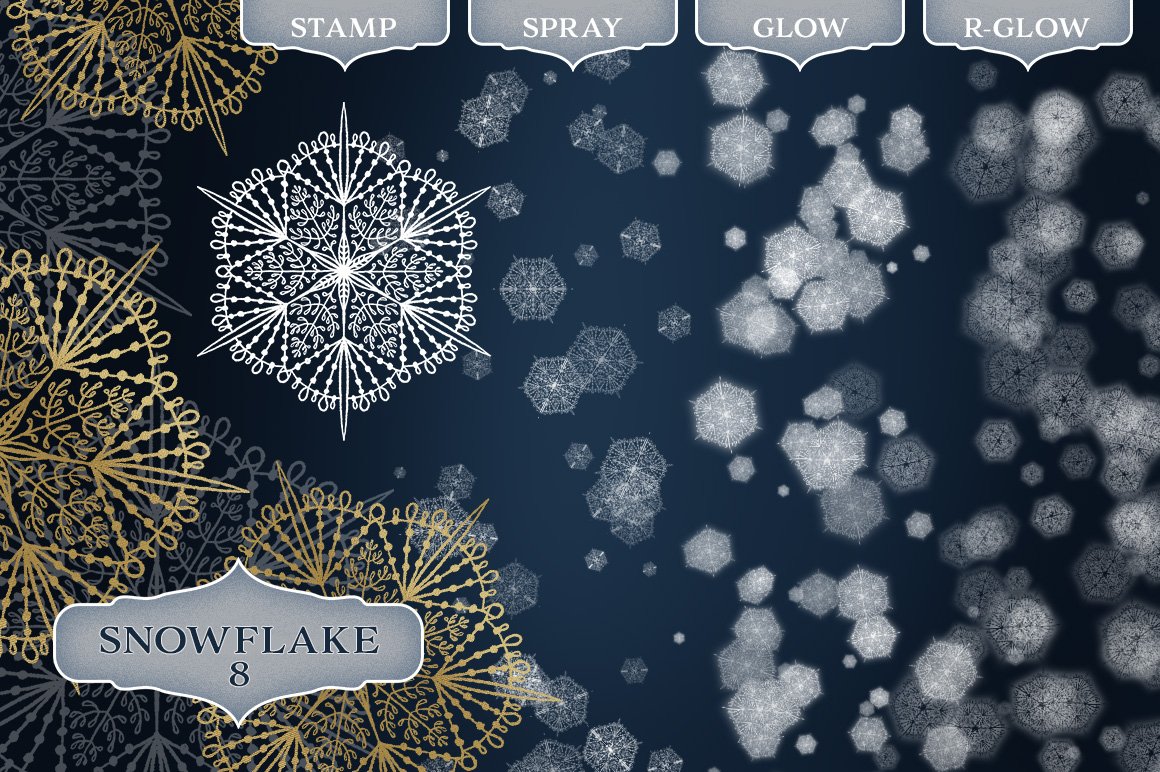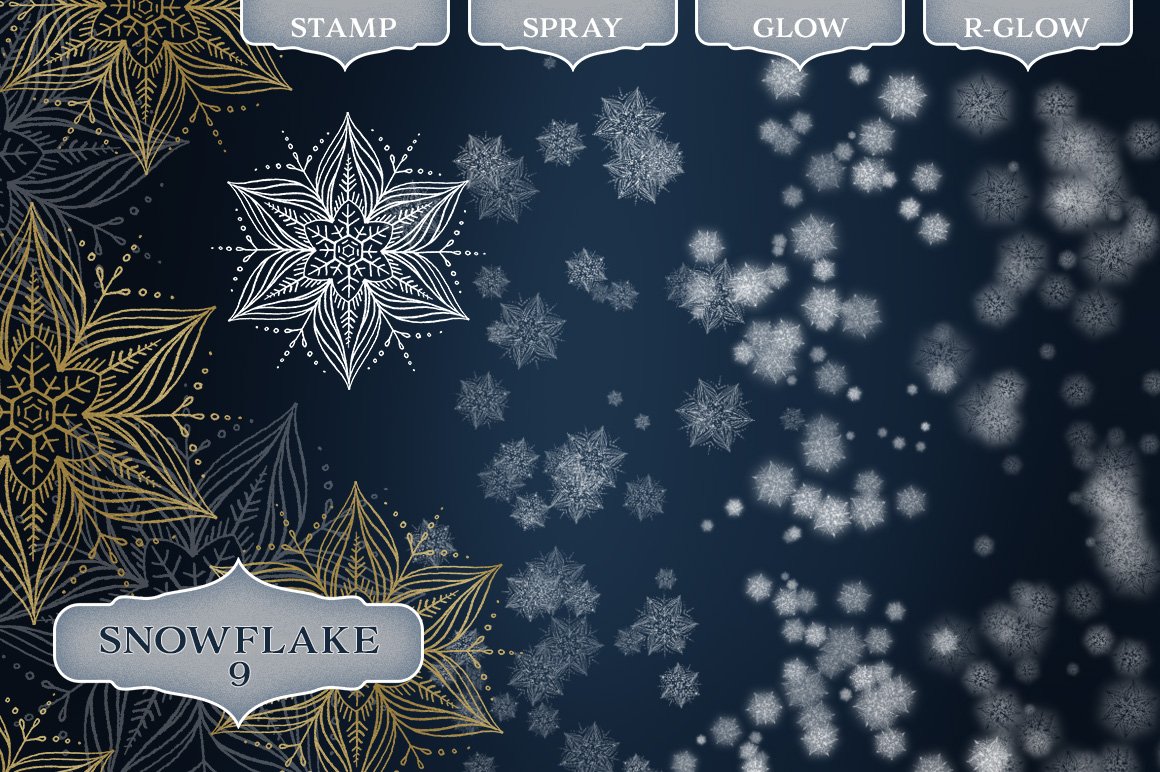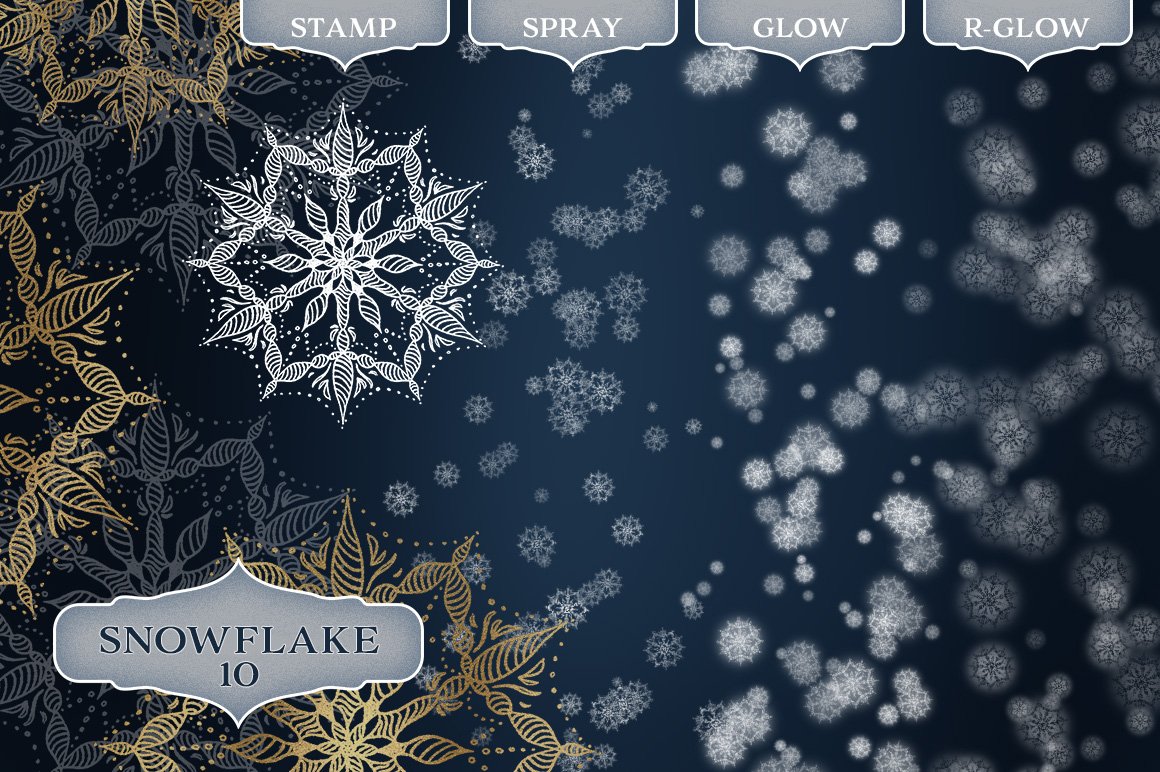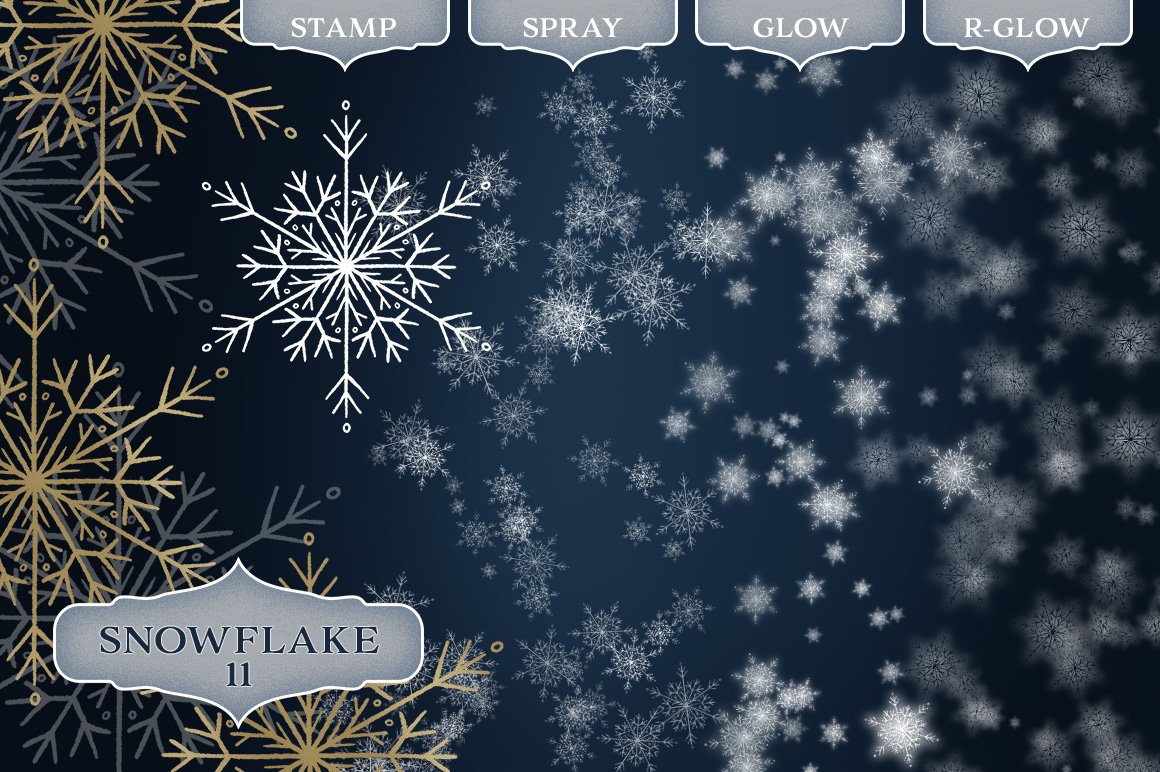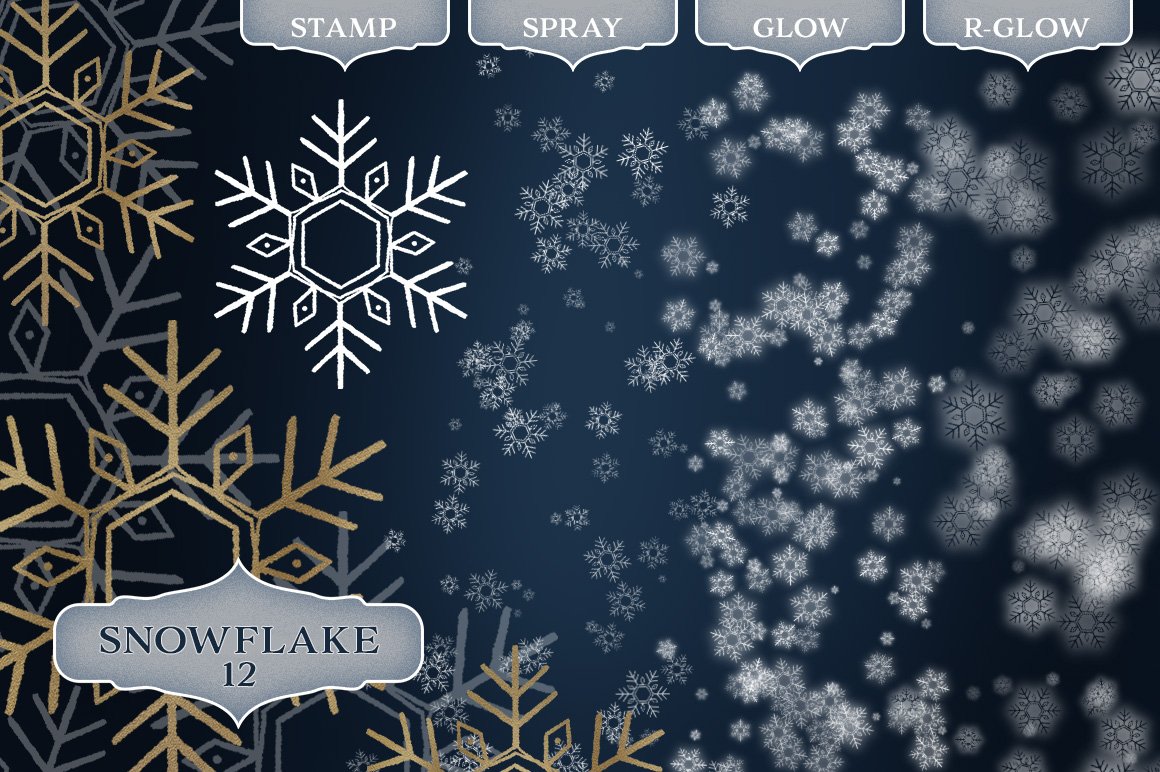 05. Skyscape Brush Toolkit for Procreate from Wonderbox Creative
Skyscape – brush toolkit for Procreate app with 75 brushes and 2 canvas templates with textures.
Whip a quick night sky background for your hand lettering or paint a universe – these brushes will do most of the hard work for you.
This set includes cloudy brushes for painting nebulae or just atmosphere clouds, stars, sprays, planets and moons, black holes, galaxies and all 12 zodiac constellations each in 3 variations. Check the image previews for all the brush samples.
Future updates will keep growing the variety, so make sure to let us know if you want something particular made to a brush and added.
How to use each brush is up to you and your creative mind. In the included PDF brush guide we have cataloged the brushes for quick reference and right next to each brush there is a short suggestion of how to use it. Additionally we have shot a video demonstration in 3 parts, that is available for you to watch on our YouTube channel and here in the image preview area.
Please note that these brushes will work only with Procreate on iPad. They aren't good for Photoshop or illustrator.
These brushes were tested to work as far back as on an iPad 2 (2011) with Procreate 3.12 without need of Apple Pencil.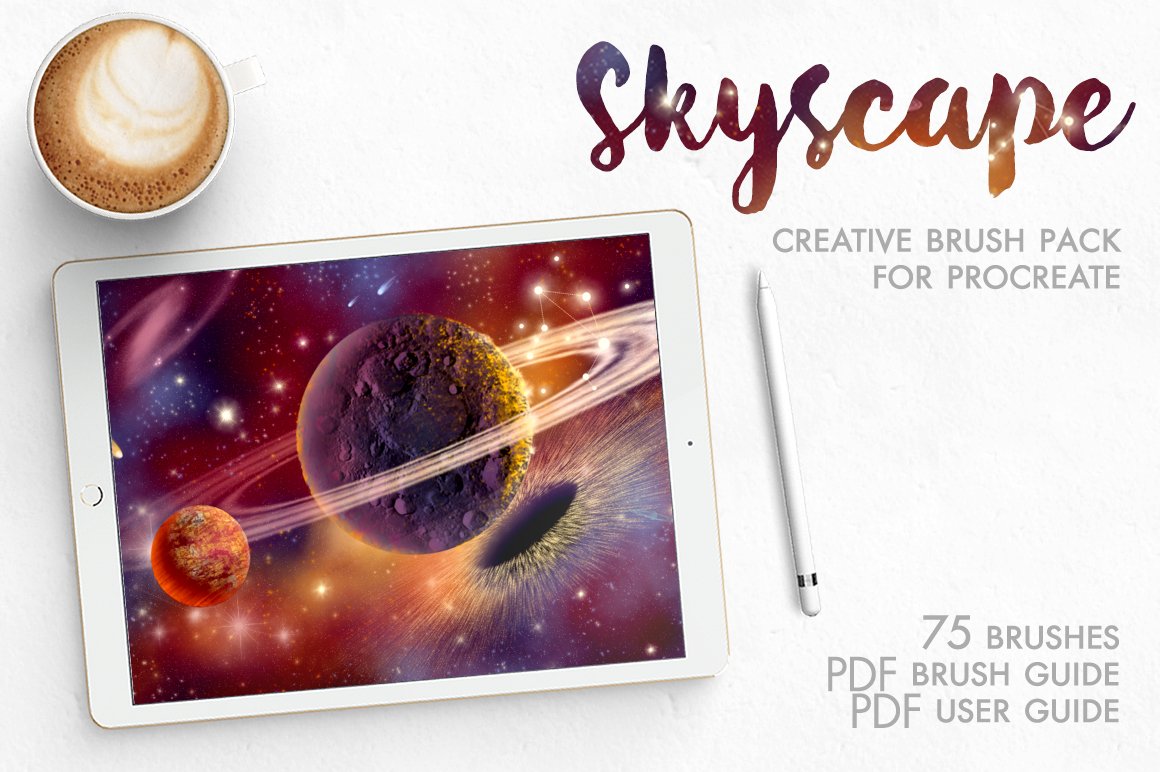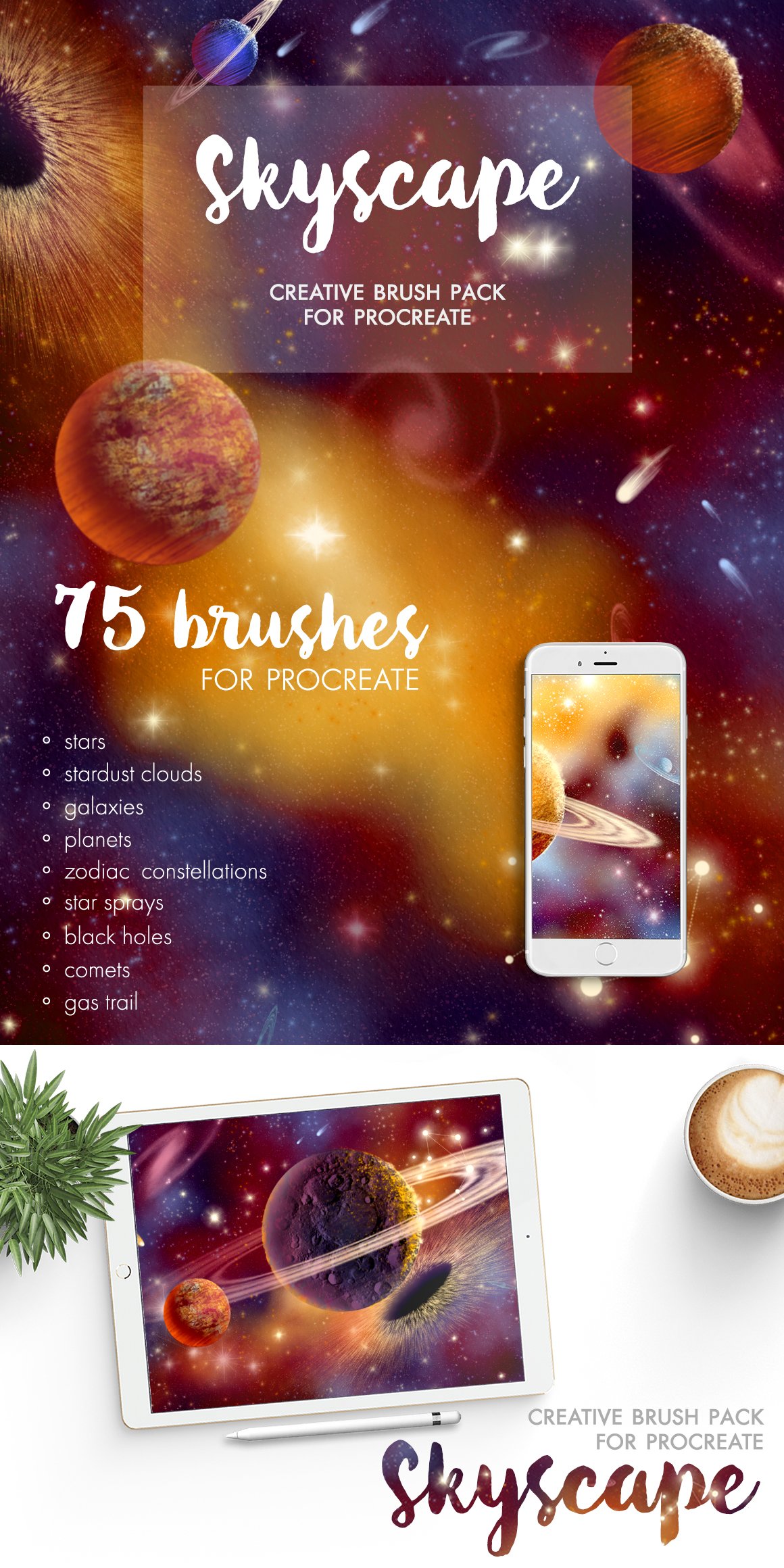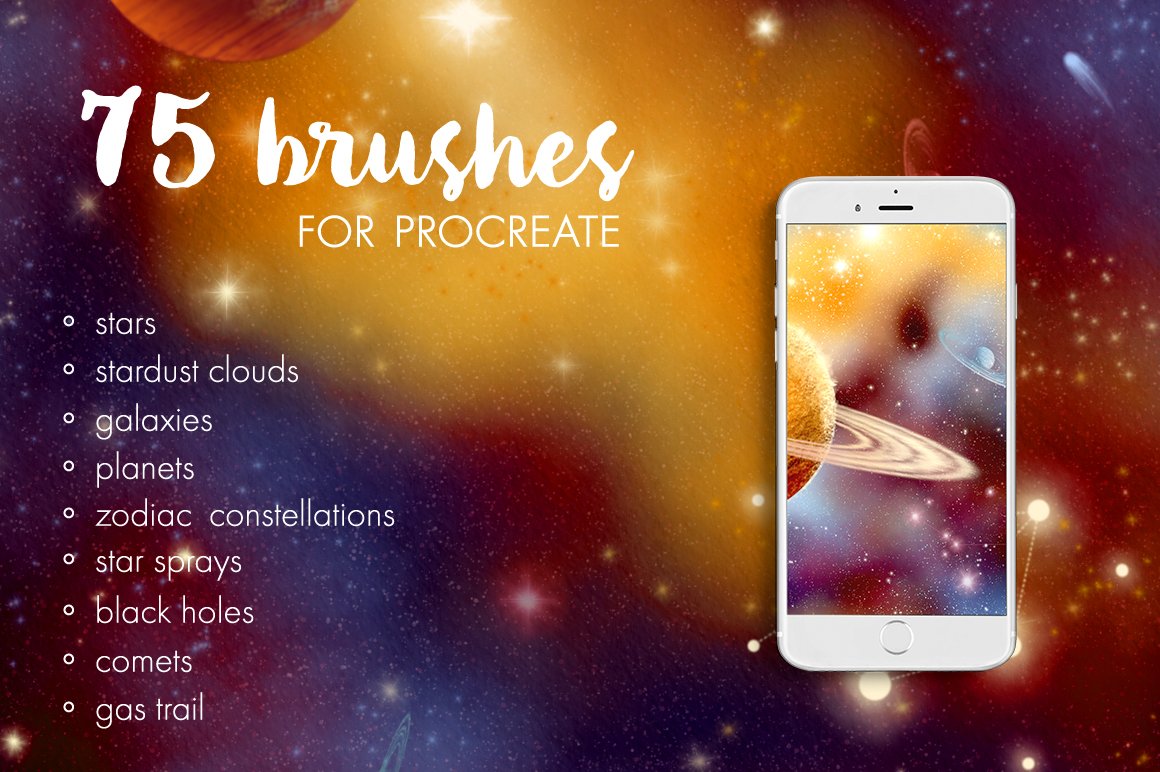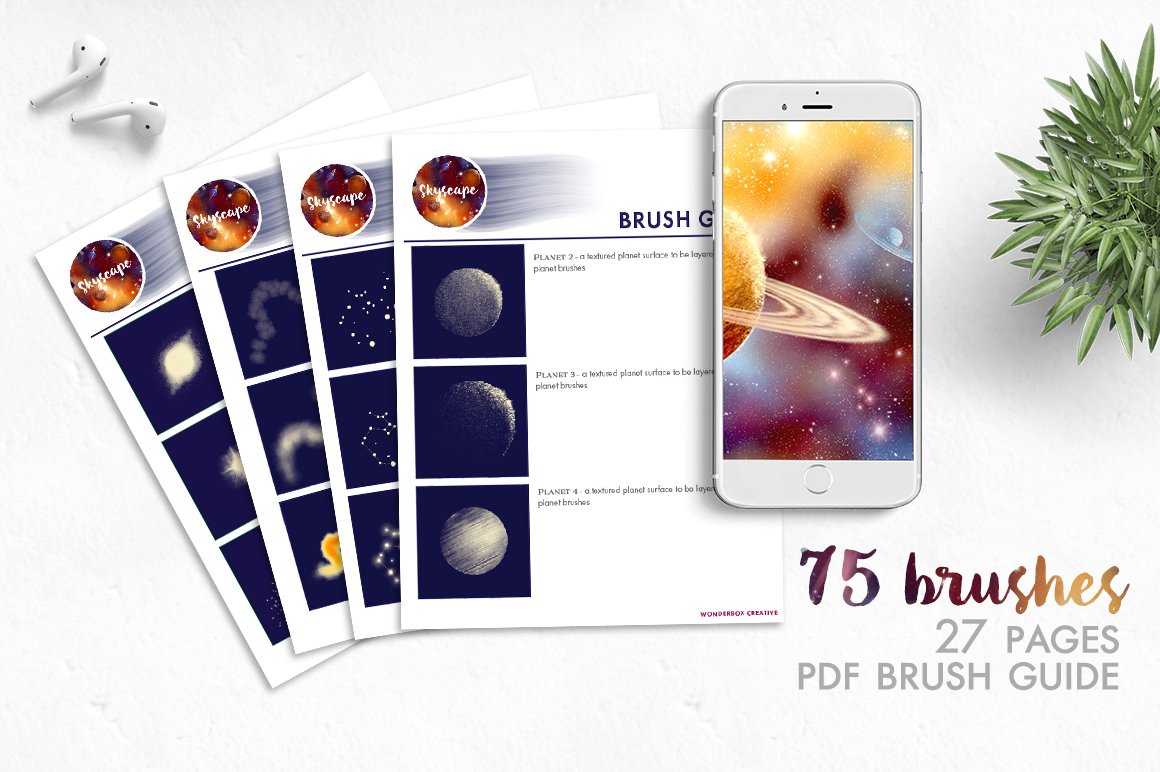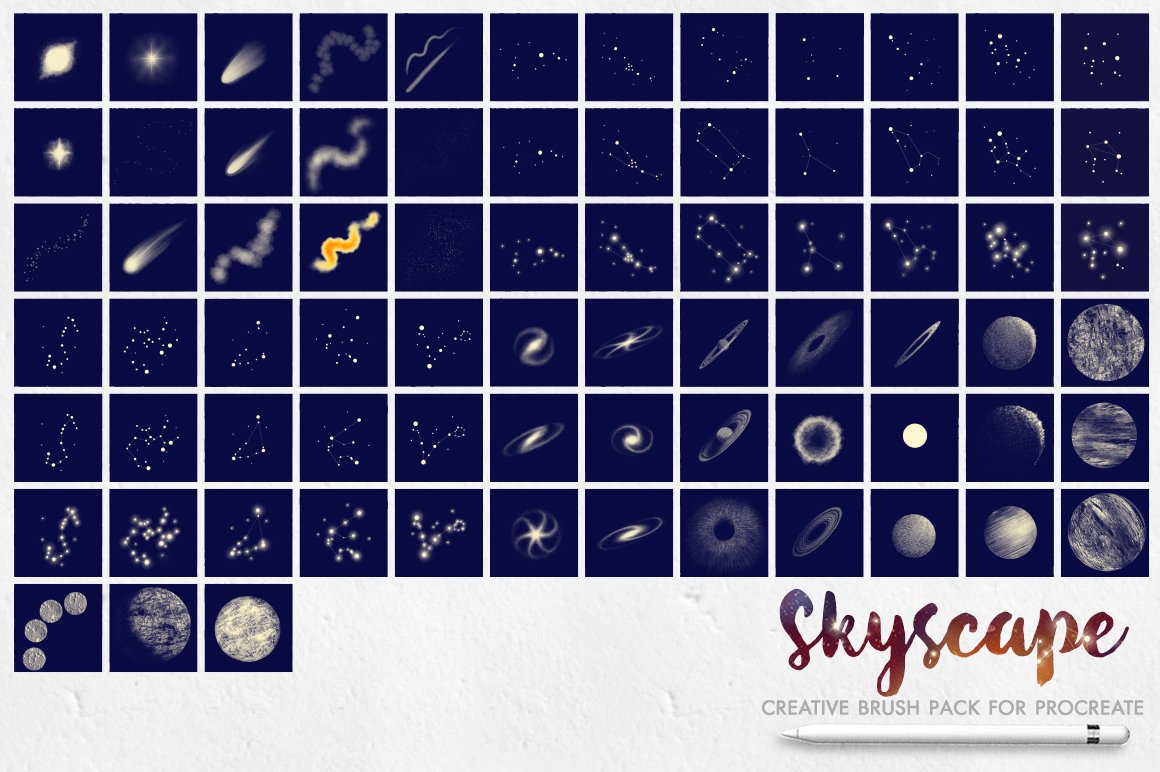 06. Procreate Brushes – Leafy Foliage from Wonderbox Creative
Leafy is a set of 27 fun brushes for Procreate app. Create instant backgrounds with just one stroke or have fun making wreaths for any season!
Add some foliage to your lettering or make social media graphics, use to add overlays to your photos or your planner pages. These brushes are quick and super easy to use!
There are a total of 27 brushes in this set as follows: 5 sketchy wreath base stamp brushes 2 leafy branch brushes 6 leaf sprays for backgrounds 6 leaf sprays with pressure control of the size 6 single leaf stamp brushes 2 berry spay brushes
There are also a PDF Brush Guide and PDF User Guide included in the set.
The brushes are included both as single files and as .BRUSHSET file for the Procreate version 4.1 and later.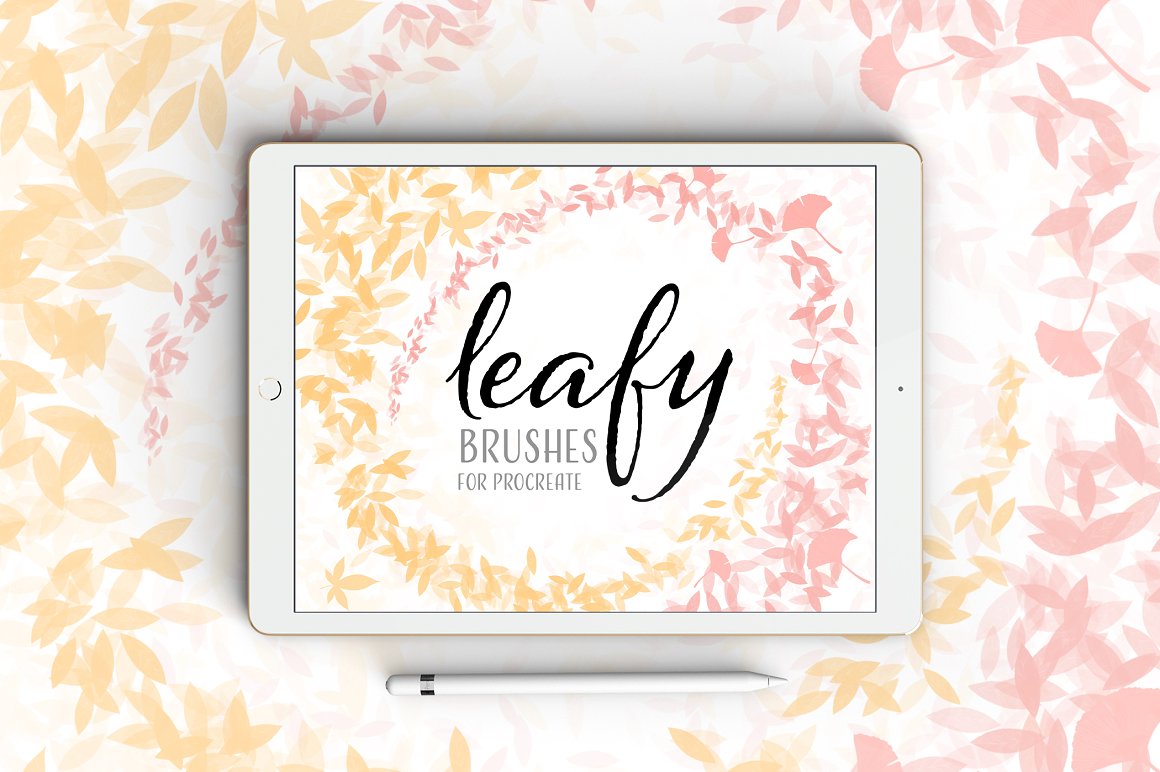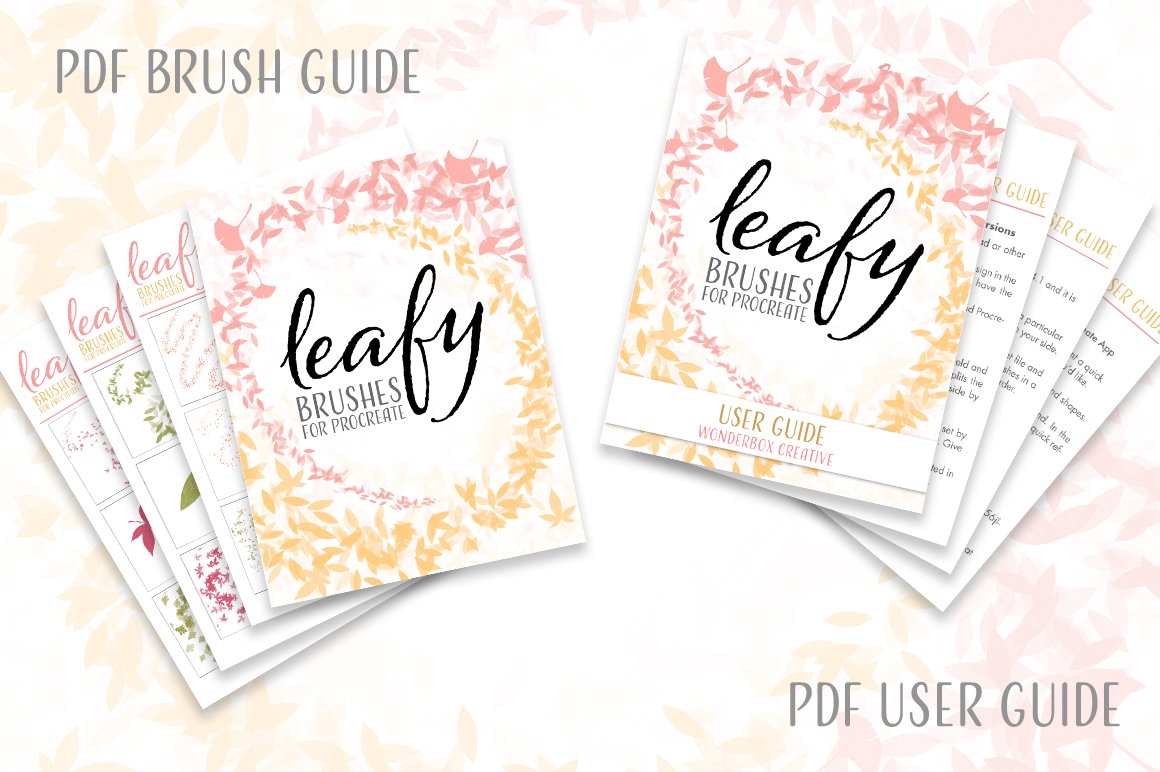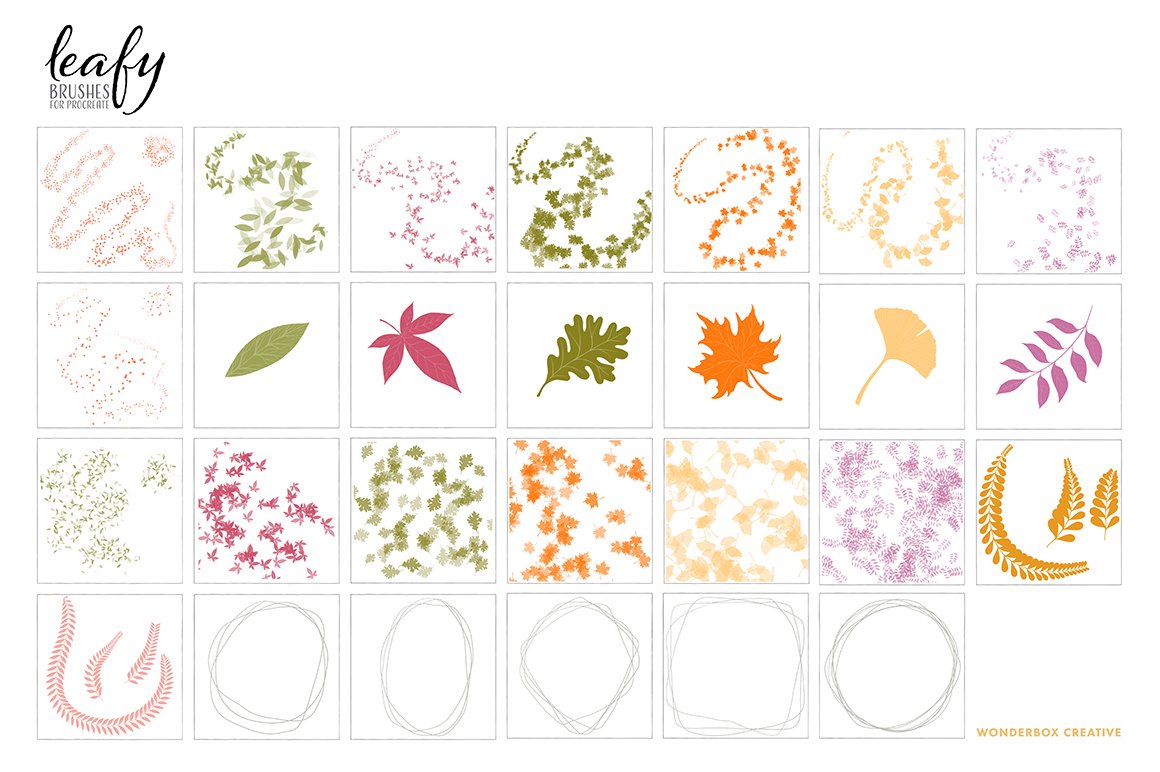 07. Lace Lettering Brushes for Procreate from Wonderbox Creative
A set of 7 creative brushes for Procreate app on iPad designed for modern script lettering.
The set includes 5 different types of lace, 1 solid smooth script brush, 1 solid mono line brush and 1 fun surprise bonus brush for you to experiment with :) The lace brushes vary in design and density of the ornaments. Interesting effects can be achieved by experimenting with the brush size.
You can see sample use of the brushes on the images above. All of these images were created in Procreate app on iPad Pro with Apple pencil.
Important – this set will work only with Procreate app on iPad Pro or New iPad 2018 with Apple Pencil or compatible stylus. The brushes are not going to work in other programs like Photoshop or Photoshop Elements. The brushes come packed in a single ZIP archive. You need to know how to unzip and transfer them to your iPad. PDF installation guide is included.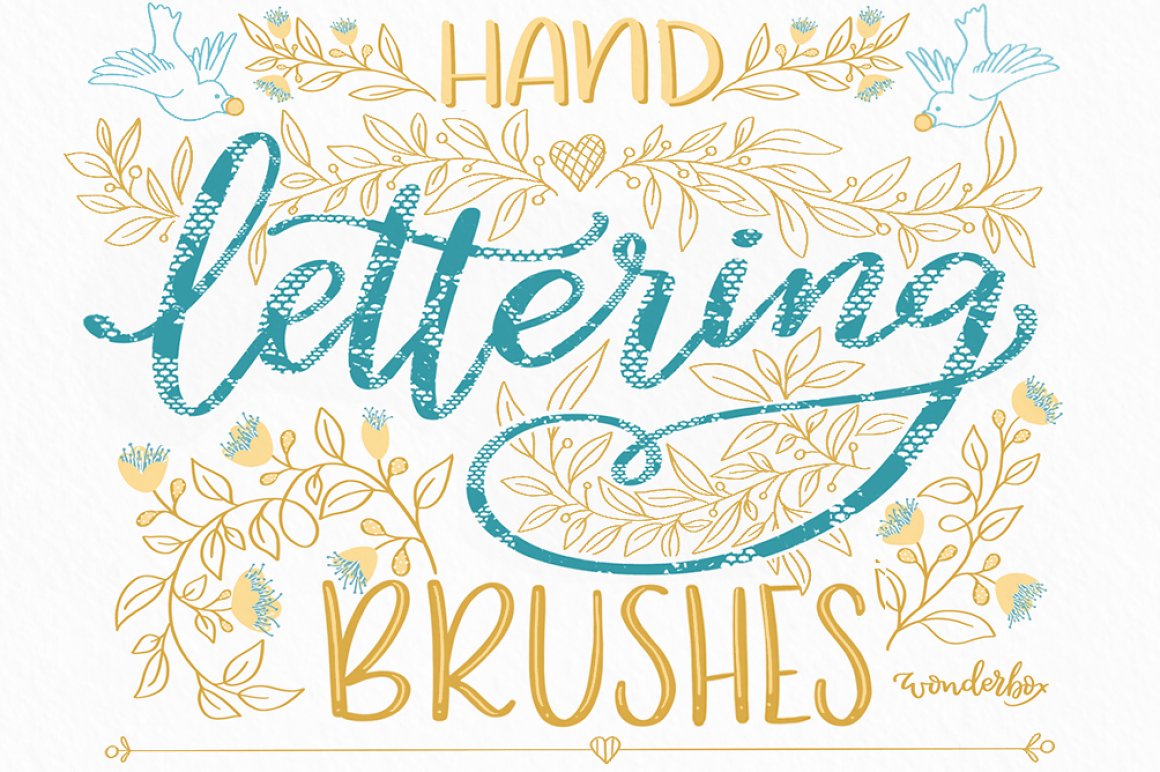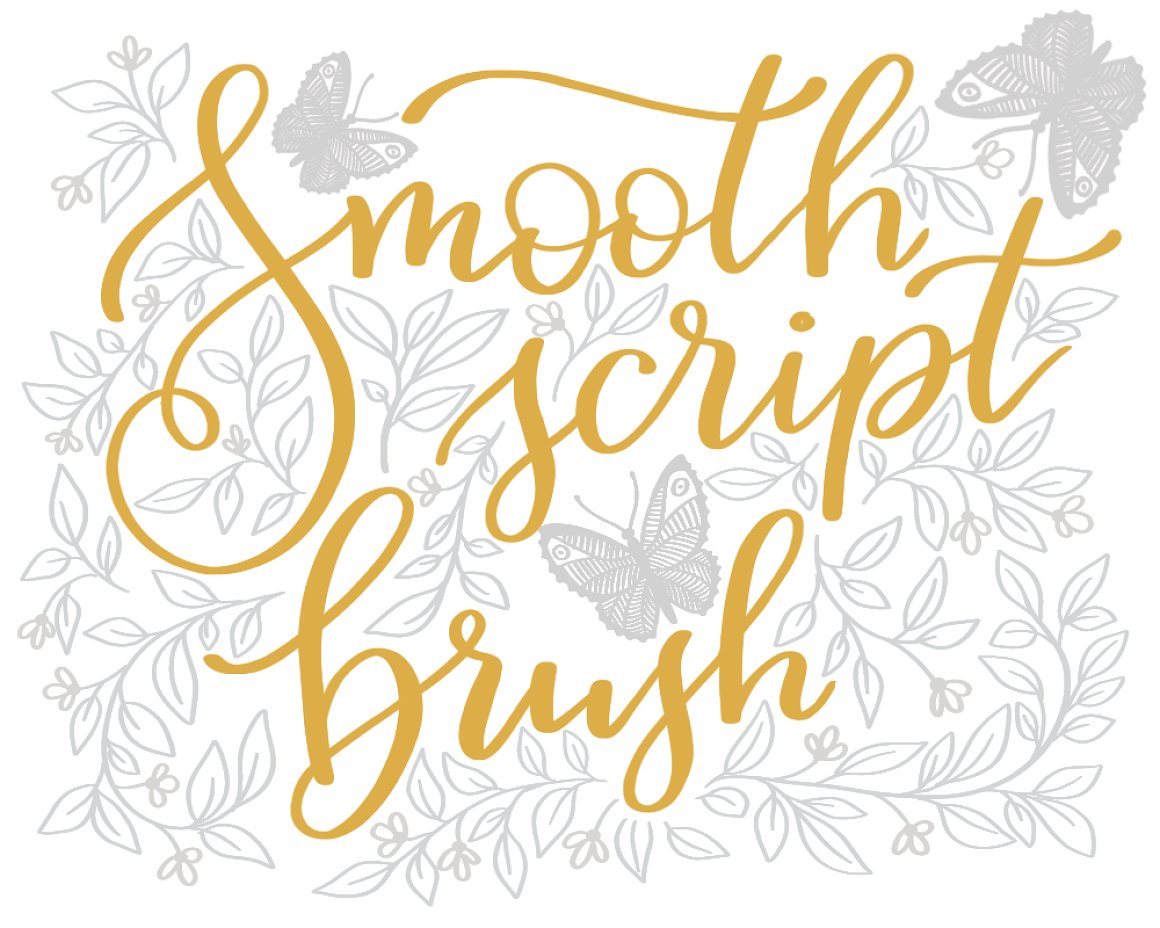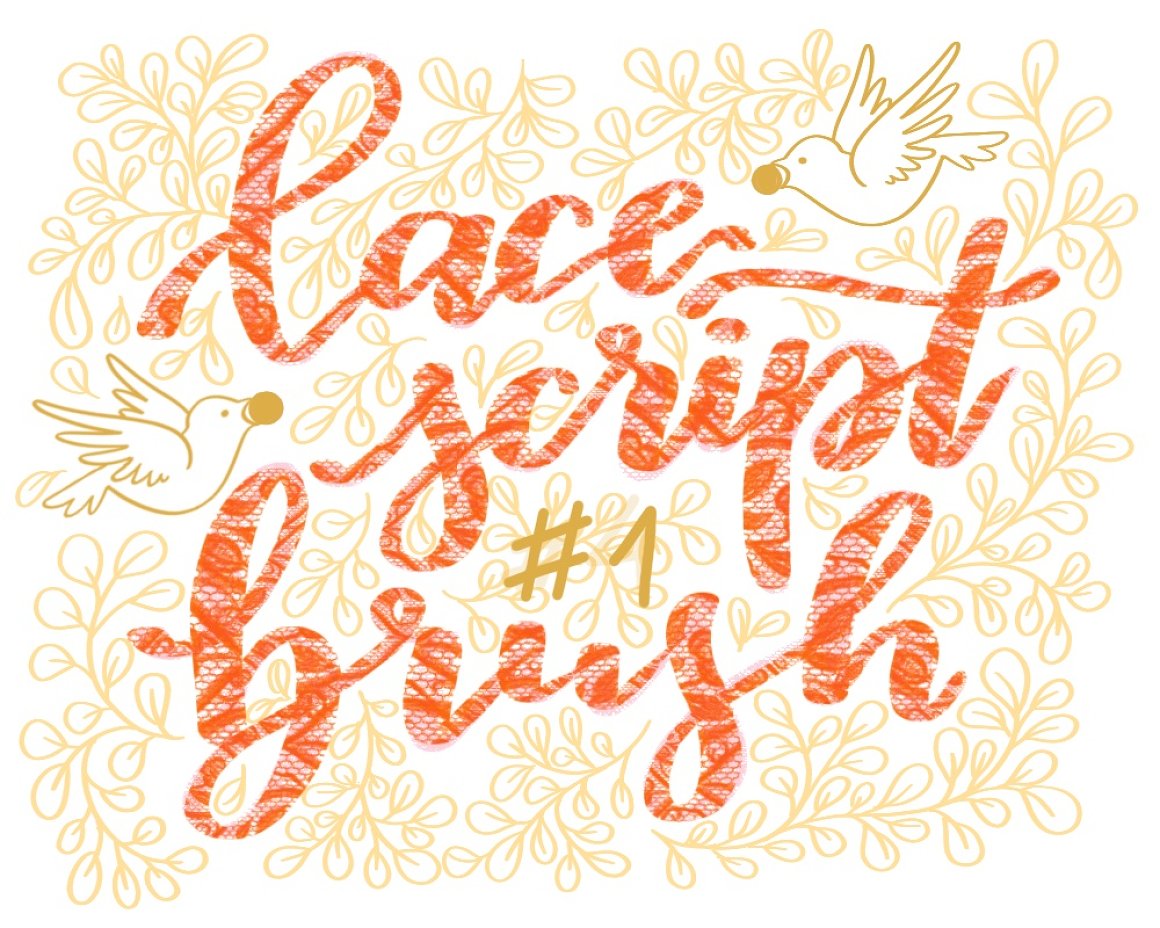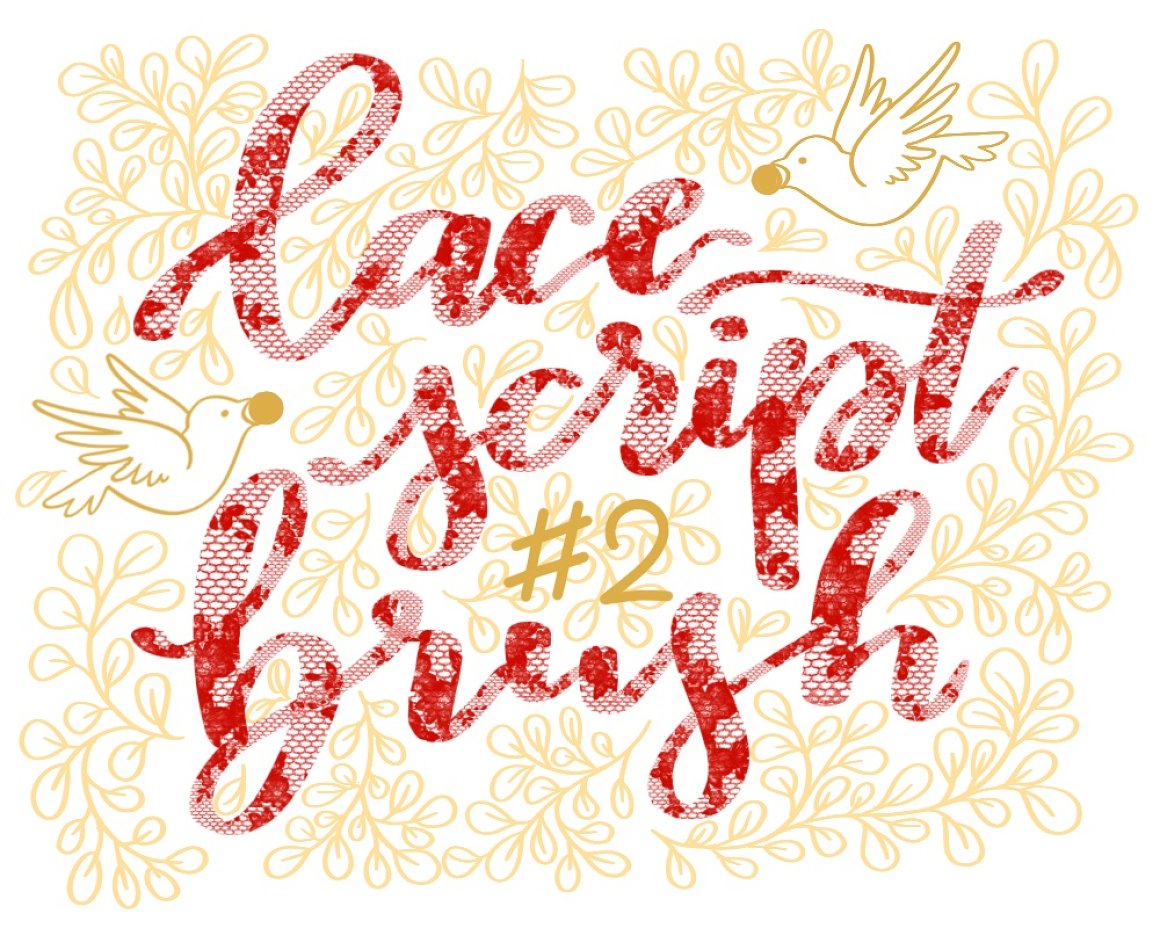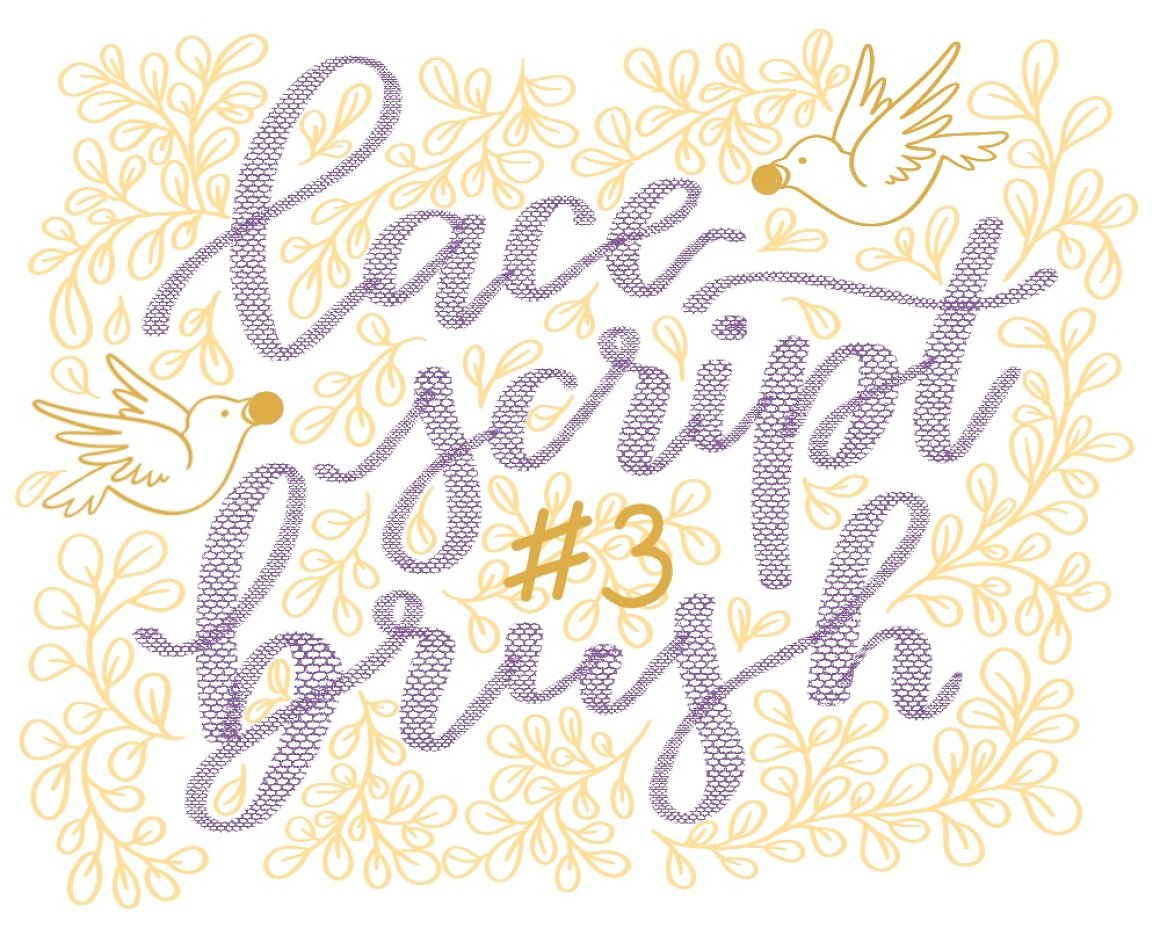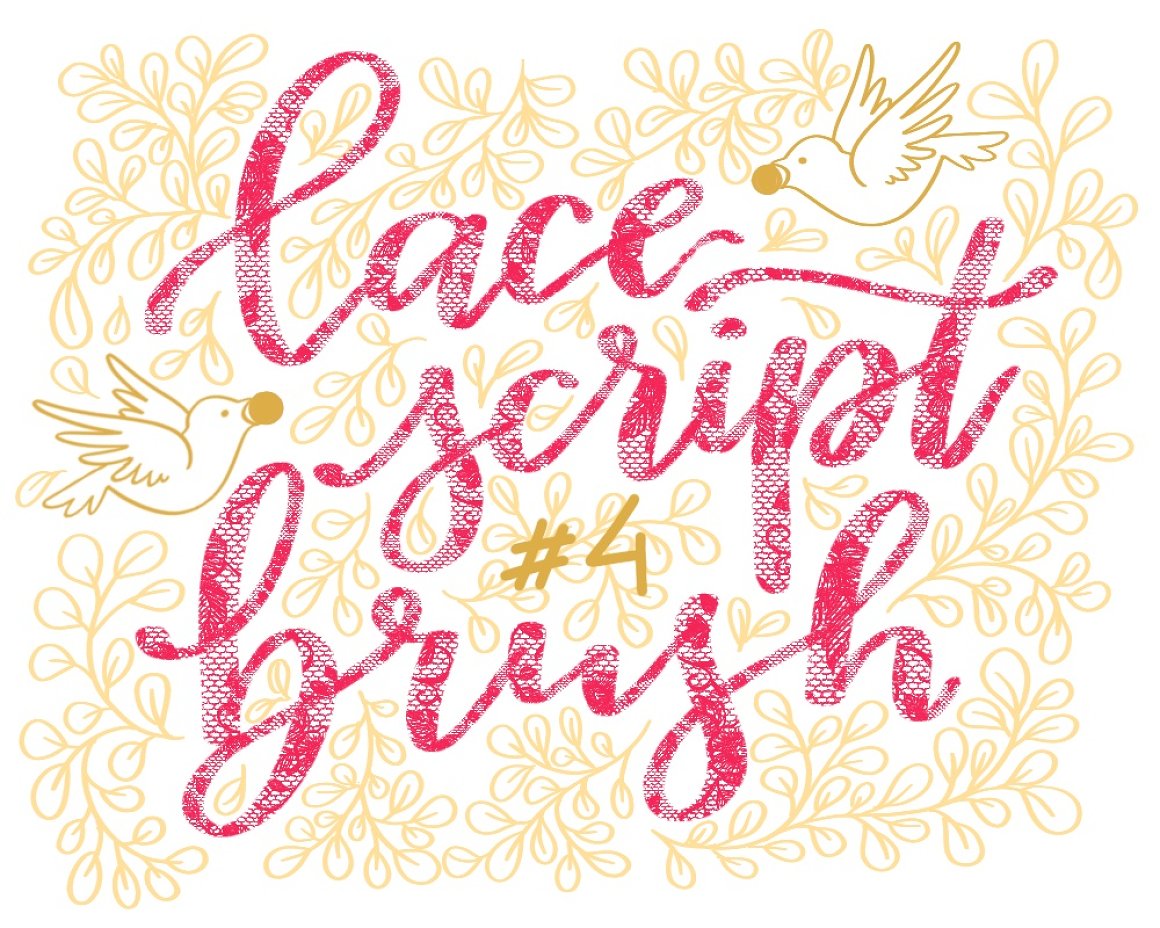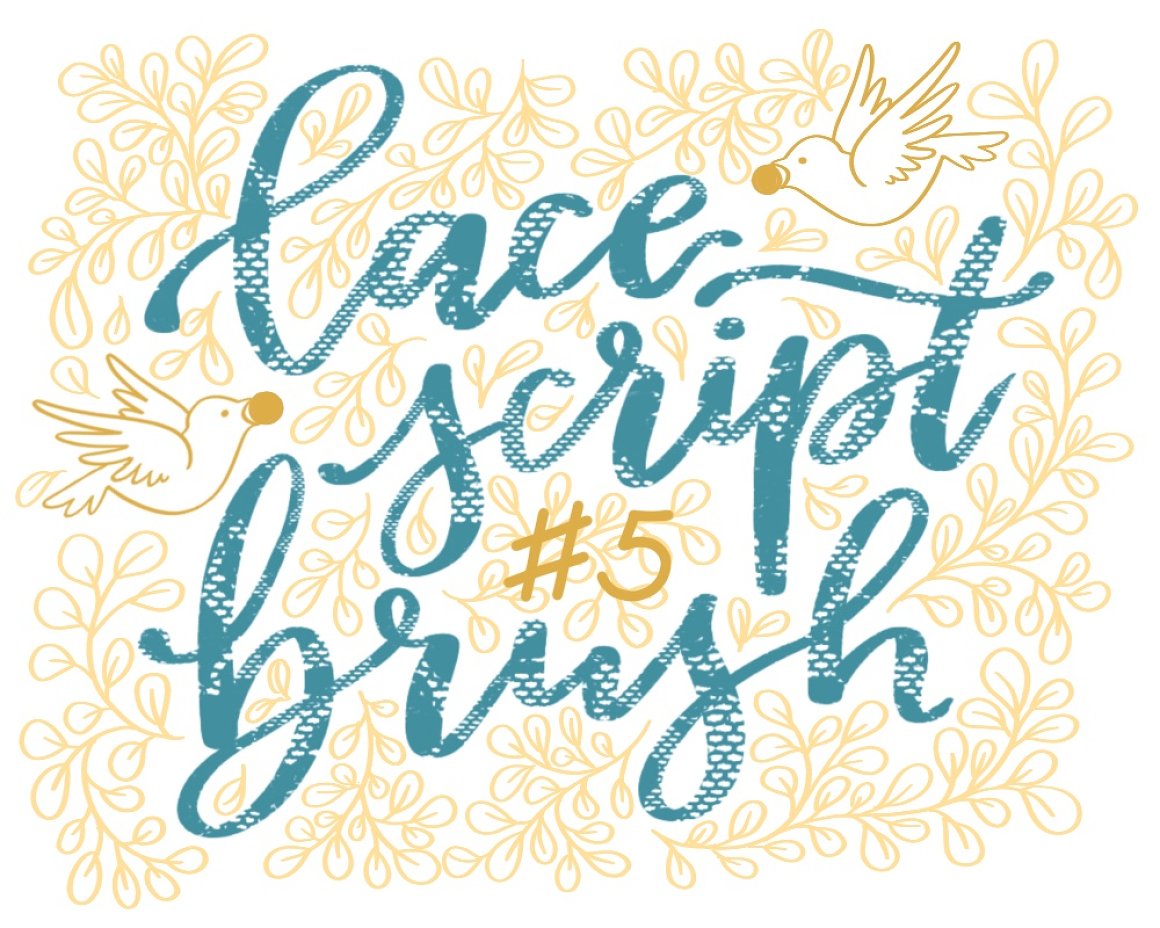 This bundle highlights:
7 artistic brush sets for Procreate
extended license (like all of our deals): use for unlimited personal and commercial projects + you can also use them in designs/products that you sell. You can use all these items as a part of your non-digital or digital designs ( posters, t-shirt designs, stickers, web templates…). You cannot resell these files directly, or within items/goods where they can be extracted in their original form (like vector shapes, elements, fonts… – they need to be flatten into background or object in your digital item for sale). License is only for 1 person – you'll need to buy 2 licenses if 2 persons will work with these graphics. Please read more about our exclusive license!
Pricing:
Normally, these 7 cool brush sets for Procreate app would cost you $98 (without extended license) & $316 (with extended license), but for a limited time only, you can get this unique bundle for $12!
Deal Terms:
Delivered as an instant download, after completing your purchase.
All results from these brush effects can be used for both personal and commercial purposes, for yourself or on behalf of a client, on their own, or as part of your new design for sale.
Cannot be sublicensed, resold, shared, transferred, or otherwise redistributed on its own.
You cannot share these resources with others. This is a single user license (for 1 user on any number of devices)! You'll need second license for your colleague computer!
https://dealjumbo.com/wp-content/uploads/edd/ArtisticBrushesProcreate.jpg
772
1160
peterolexa
https://dealjumbo.com/wp-content/uploads/edd/logo-povodne9-4.png
peterolexa
2021-08-15 06:13:04
2021-09-18 12:40:54
Artistic Brushes for Procreate