Take a look at all these funny & cute handdrawn illustrations & patterns with autumn, fall or Halloween style 😉 Whatever the case, this amazing illustration or watercolor graphics bundle with lot of handdrawn illustrations & designs is great source for all print or branding designers…. These graphics are in hi-res transparent PNG & JPG format so all are great for your new web design or any print design projects. Enjoy 😉
All these cool illustrations from Watercolor Woodland are ready for print or online use! MAIN USAGE: flyers, posters, greeting cards, branding, packaging, phone cases, bags and totes, wall art, fabrics, t-shirts, website backgrounds. Actually any place you love! Enjoy 😉
With this deal you get:
6 funny & cute illustration sets
Ready for print or online use

Take a look at what you can get: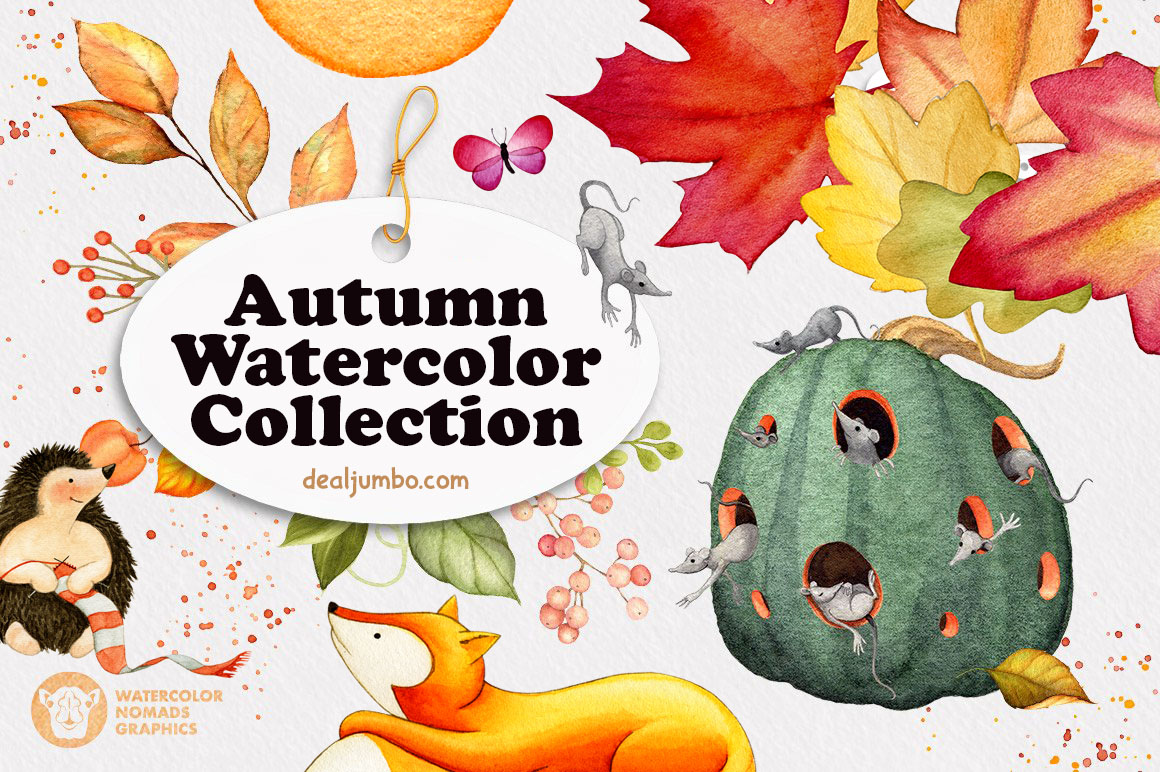 6 funny & cute illustration sets with autumn or Halloween style!
01. Watercolor Autumn Scene Creator Fall from Watercolor Woodland
Jolly Autumn is a watercolor fall scene builder. It includes a ton of autumn colored bushes, trees and branches that can build endless autumn landscape scenes. For your convenience we have pre-made few scenes and one border plus 4 geometric frames that are ready to use. What's inside: You get a total of 87 high quality PNG files made from real watercolors. All files are 300 dpi and with transparent background.
4 frames
5 scenes & 1 border
77 individual elements – most bushes are available in 3 variations – with light or dark branches and clean, which will allow for countless combinations and layering options.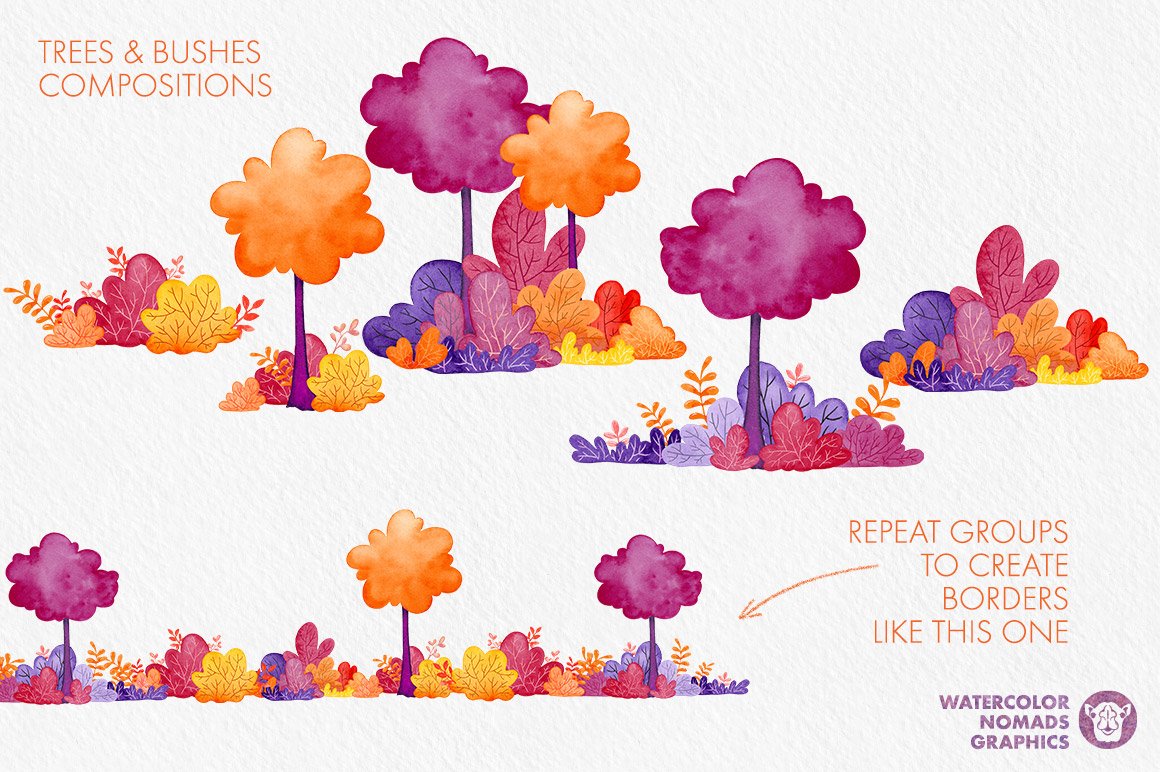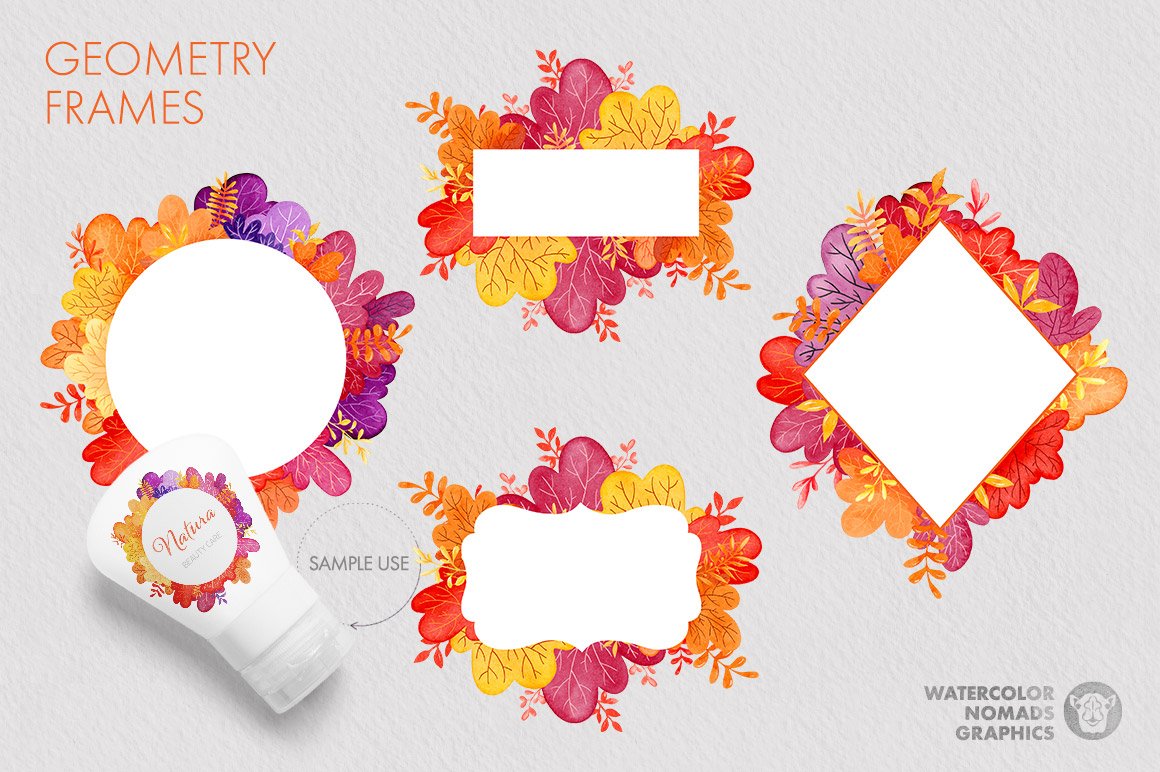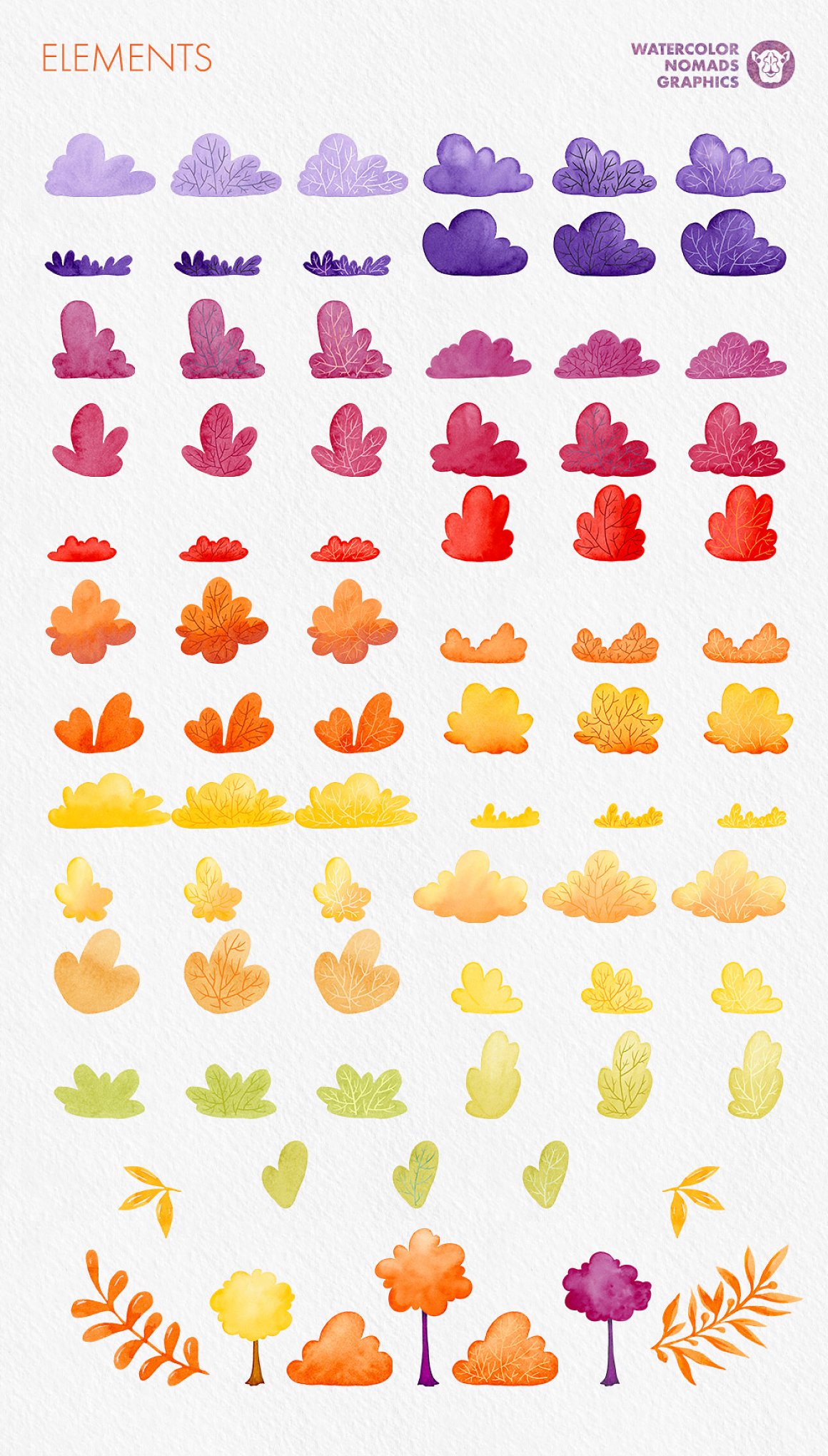 02. Sweet Halloween – Fall Watercolor from Watercolor Woodland
Sweet Halloween is a watercolor clipart collection we made especially for the small kids and babies, that enjoy mostly the sweetness of Halloween. We have invited three cute characters for the major roles and totally got rid of the spooky and scary for this season. Zoom the pictures and get to know Lilly, Spider Bear and Bat Fox. This big selection includes more than 120 elements, 7 seamless patterns and 6 layered PSD templates.
Here is a short list of what elements are included:
4 Lilly illustrations ( we named the girl Lilly )
5 Spider Bear illustrations
4 Bat Fox illustrations
4 witch hats – with and without the cute flowers
4 bats
1 Pumpkinman
3 pumpkins
2 sweet corn candy bits
1 candy apple
3 wrapped candies
1 big ribbon banner
1 pom-pom garland
2 bounty garlands
8 petrified branches with thorns ( not sure how these sneaked in!)
24 cute flowers
32 fall leaves
16 colorful branches and leaves
3 spiders
2 spider webs
2 frames with spider webs and an owl
3 mushrooms
The patterns are so colorful and catching that may be used on their own. All 7 patterns are included as 300 dpi 12"x12" JPG and in an instalable PAT file for Photoshop. To sweeten it, we have included the master tiles, so you have even more freedom. The 6 layered PSD templates include a photo-card, a harvest festival flyer, party invitation, birthday invitation, school poster for a party and a workshop flyer.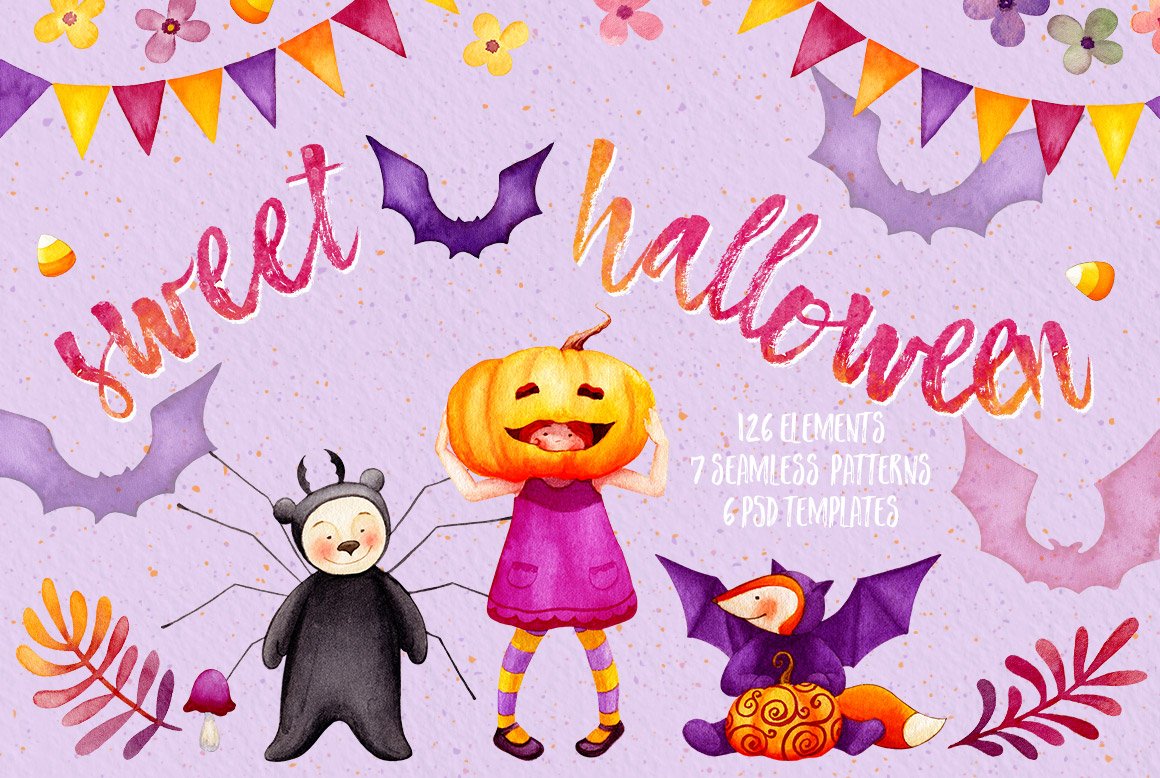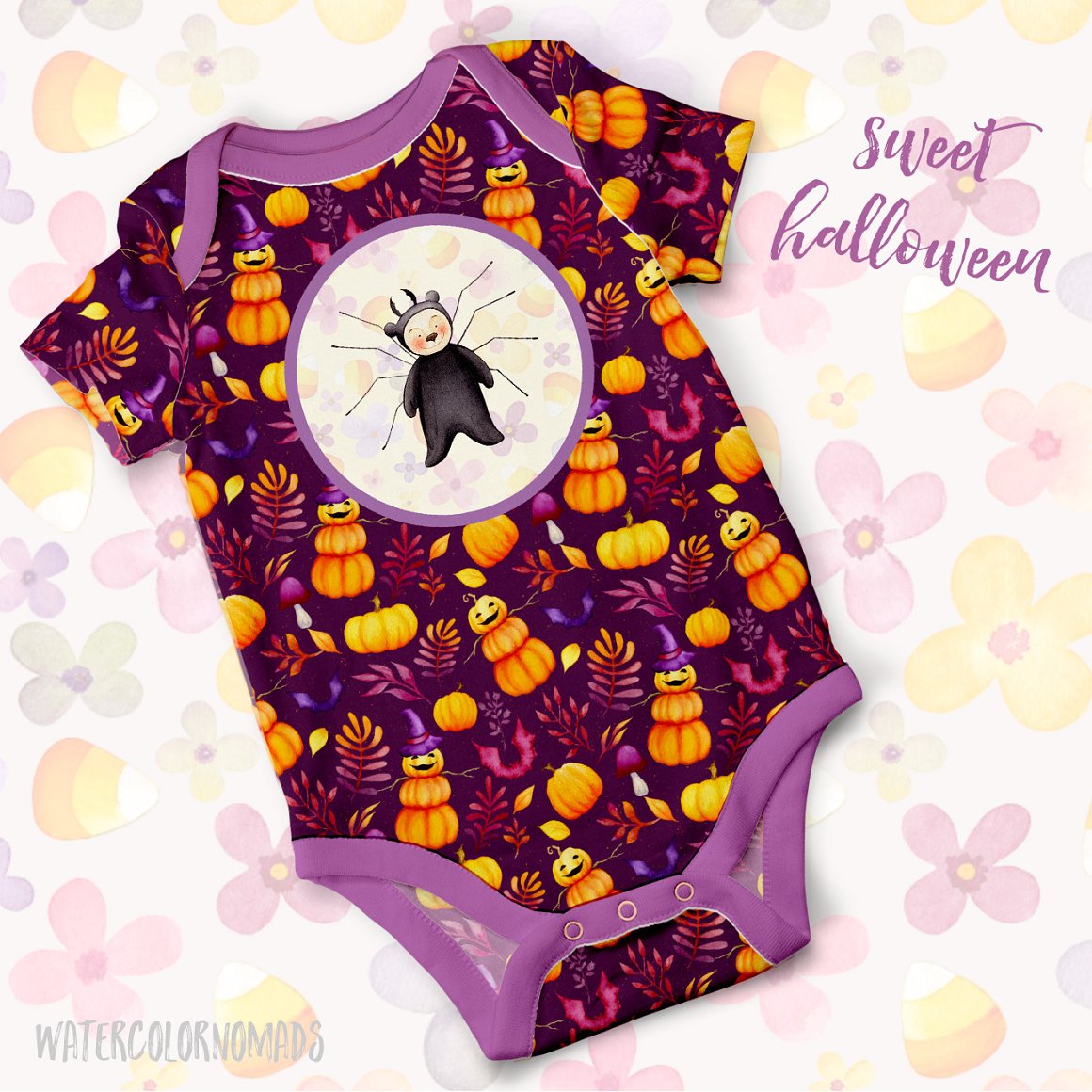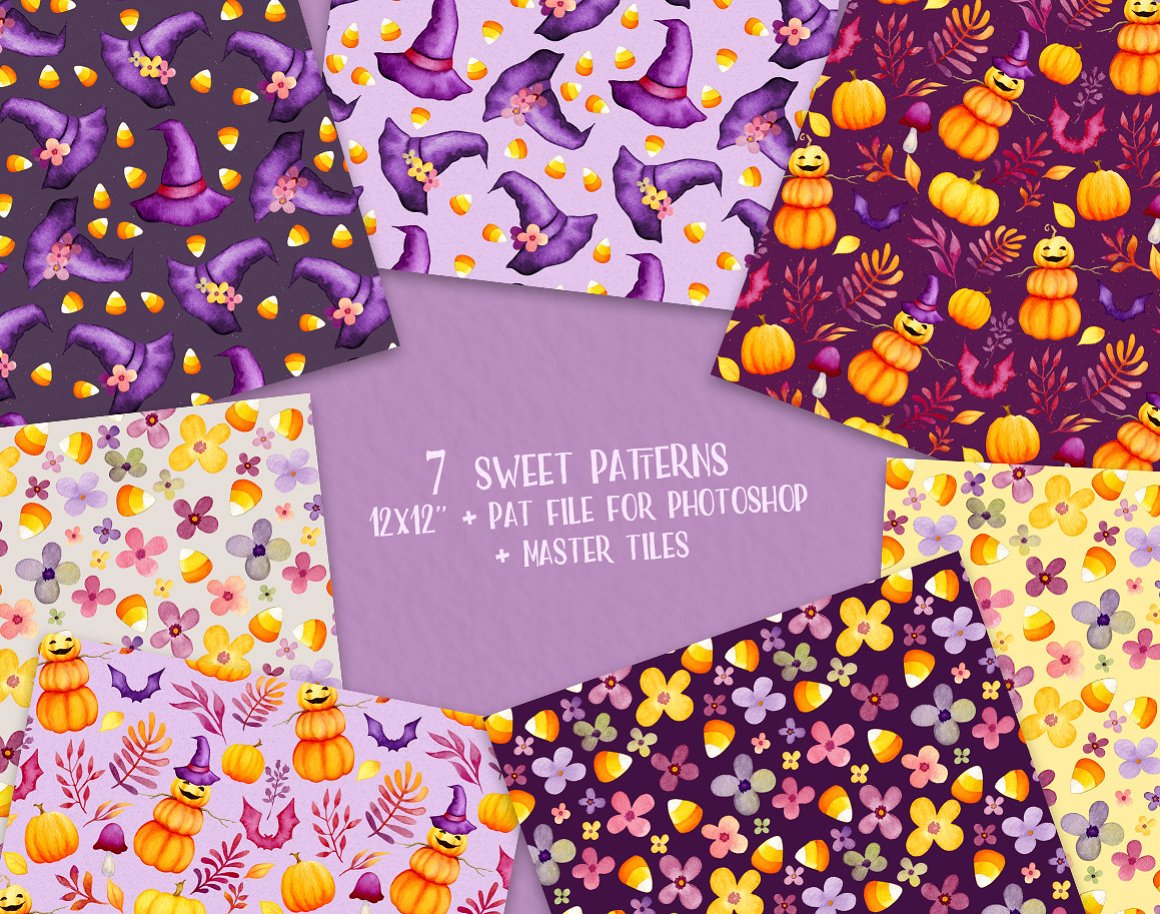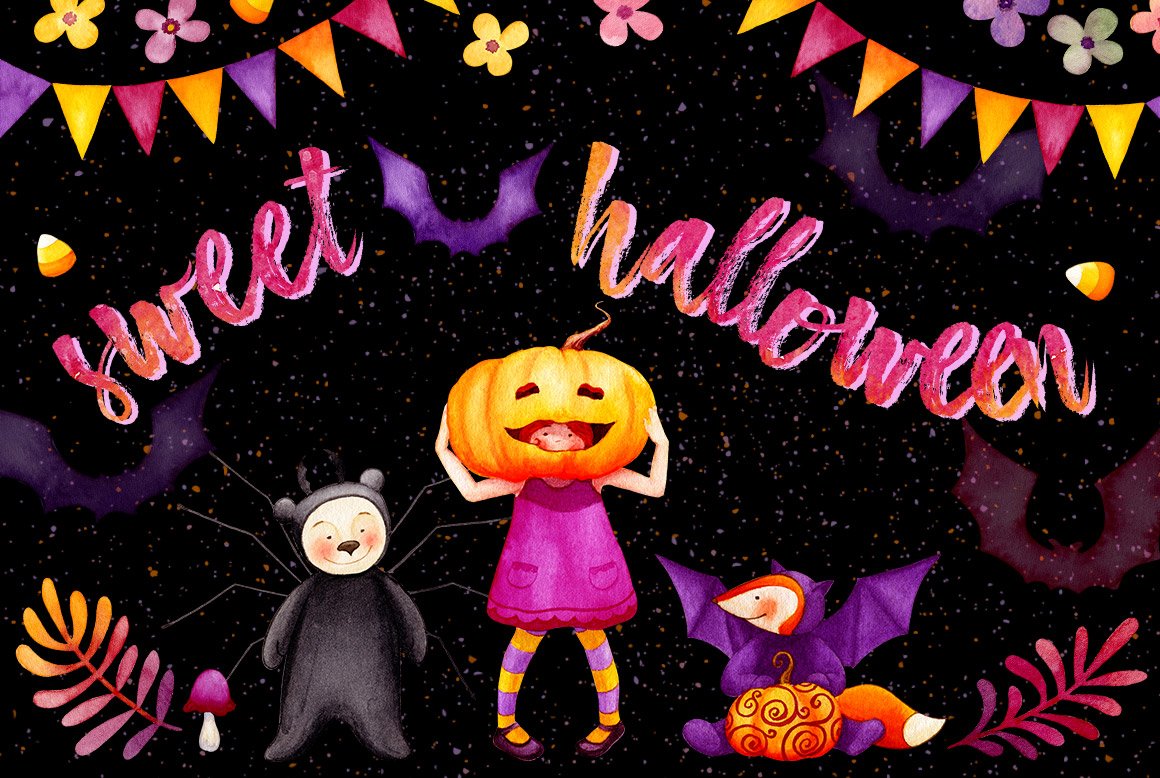 03. Fall Cuties – Autumn Watercolor Set from Watercolor Woodland
Fall Cuties is the cutest set of hand painted watercolor clipart for the funniest invitations, paper and fabric craft projects, party decor, printables, greetings card projects, scrapbooking, stickers, t-shirts, kids clothes, stationery, flyers and so much more! All images in this set are high quality 300 dpi PNG with transparent background and can be used against both light or dark backgrounds.
What's inside: a total of 26 elements and 12 patterns as follows:
8 pumpkins illustrations
3 mushrooms illustrations
2 accorn illustrations
6 oak leaves
1 big garland with leaves and accorns
1 sunflower
3 decorative elements to be used as text dividers or for frames
2 wood slices for making tags or placing text inside
12 digital paper with sizes from 2500px to 3600 px
PAT file for Photoshop or Photoshop Elements with all seamless patterns + a bonus pattern
Approximate size of elements 458 to 3600 px (1.5 to 12 inches at 300 dpi)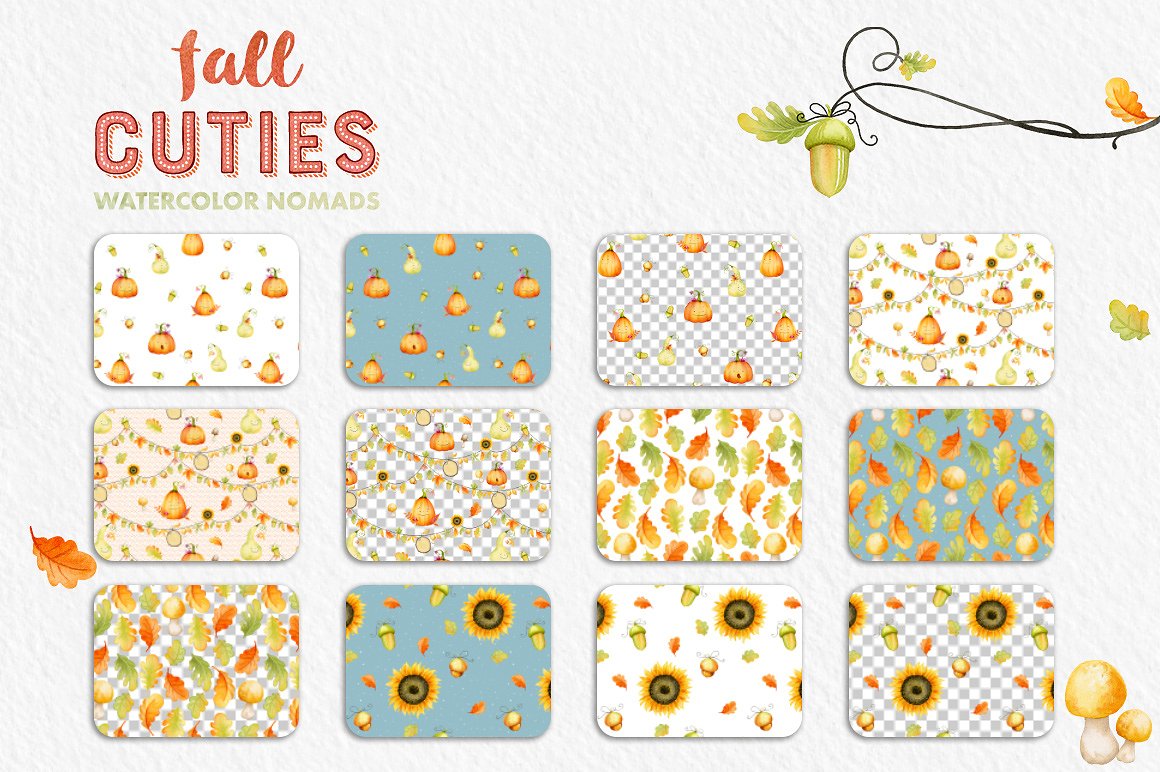 04. Cottontail Bunny Autumn Watercolors from Watercolor Woodland
Bright and cheerful autumn collection of watercolor clipart illustrations that will make your clients just love Autumn! Cottontail Bunny was designed to uplift and cheer in the sometimes gloomy Fall weather. No matter if on a card design or a t-shirt, it sure will bring sunshine back. Included in Cottontail Bunny are 70 PNG files made of high quality hand painted watercolors. There are 10 bunnies and bunny compositions, that you can see in the preview images. Make sure to zoom to see all. Plenty of leaves, flowers, apples, pumpkins and mushrooms support the main Bunny illustrations in a way that gives you countless possibilities to make cheerful designs in no time. All files are meticulously cleaned with attention given to each detail, so they work great both on light or dark background. Hight of the Bunny is 2100 pixels and the biggest element goes up to 3000 pixels. All at 300 dpi. Take the Bunny and do your magic 🙂 Enjoy!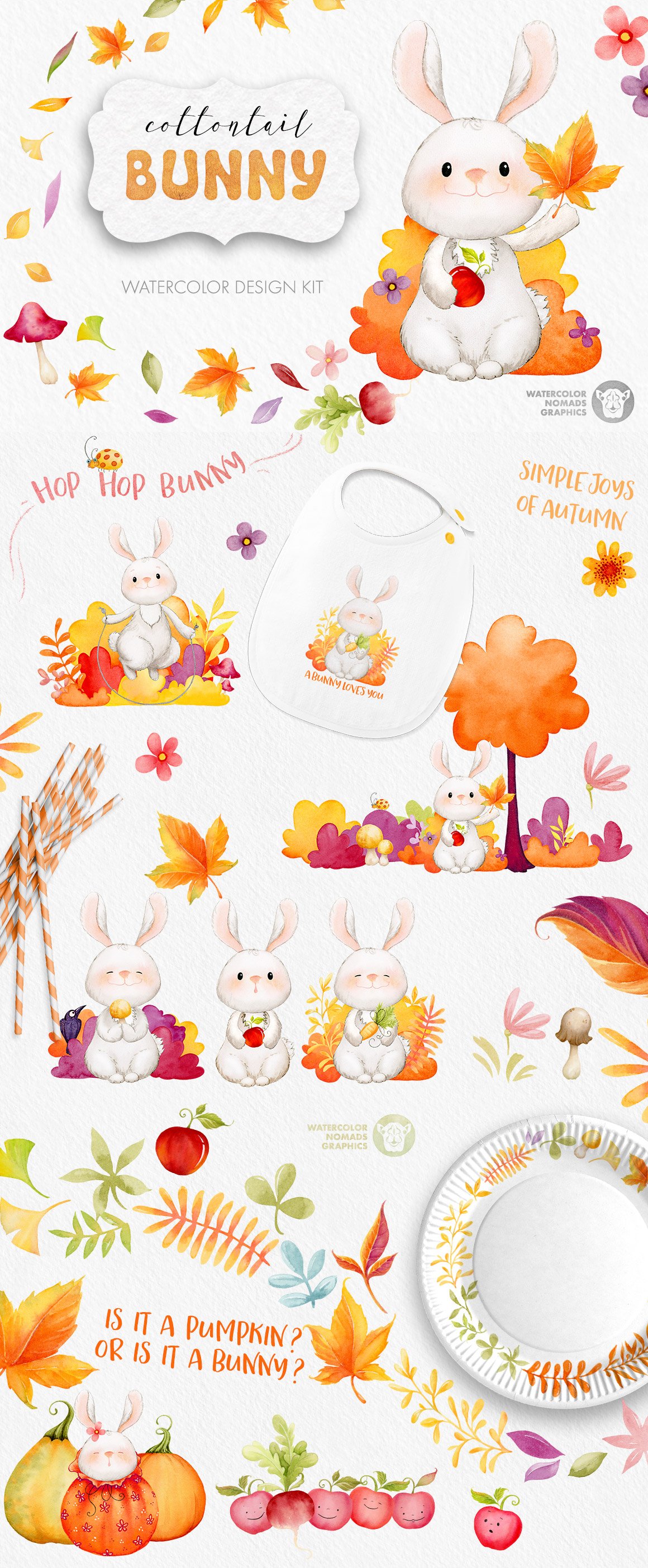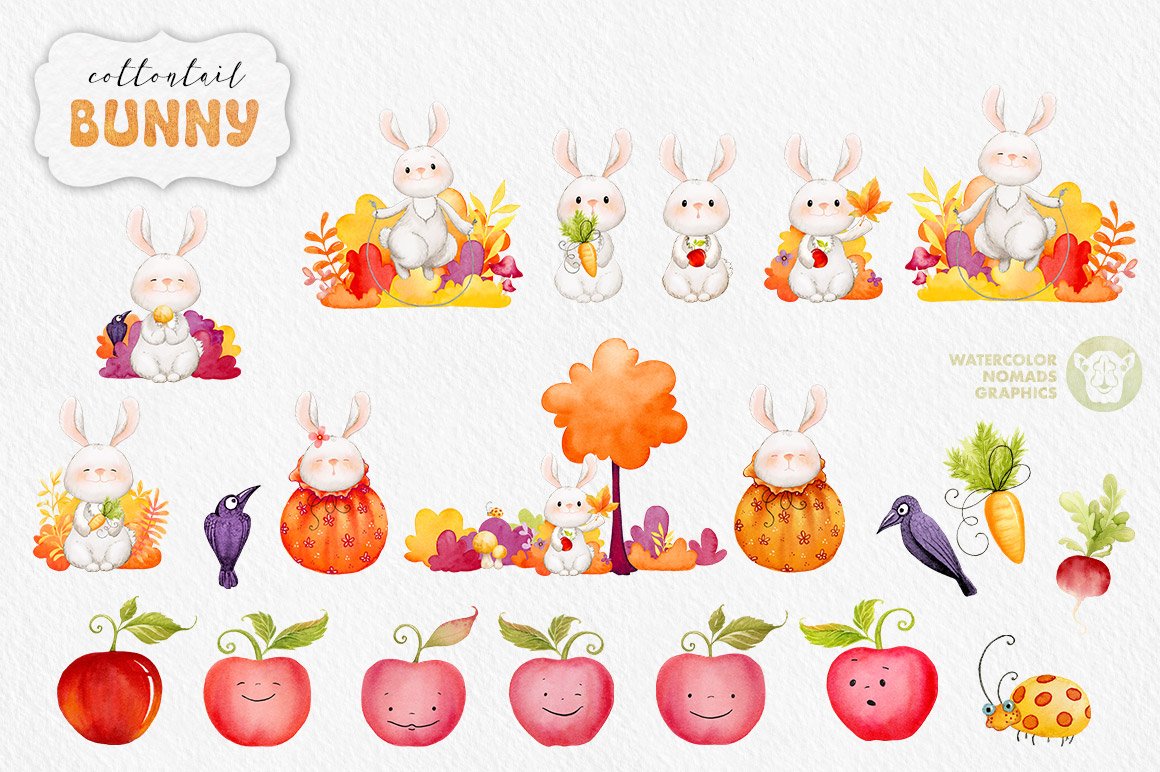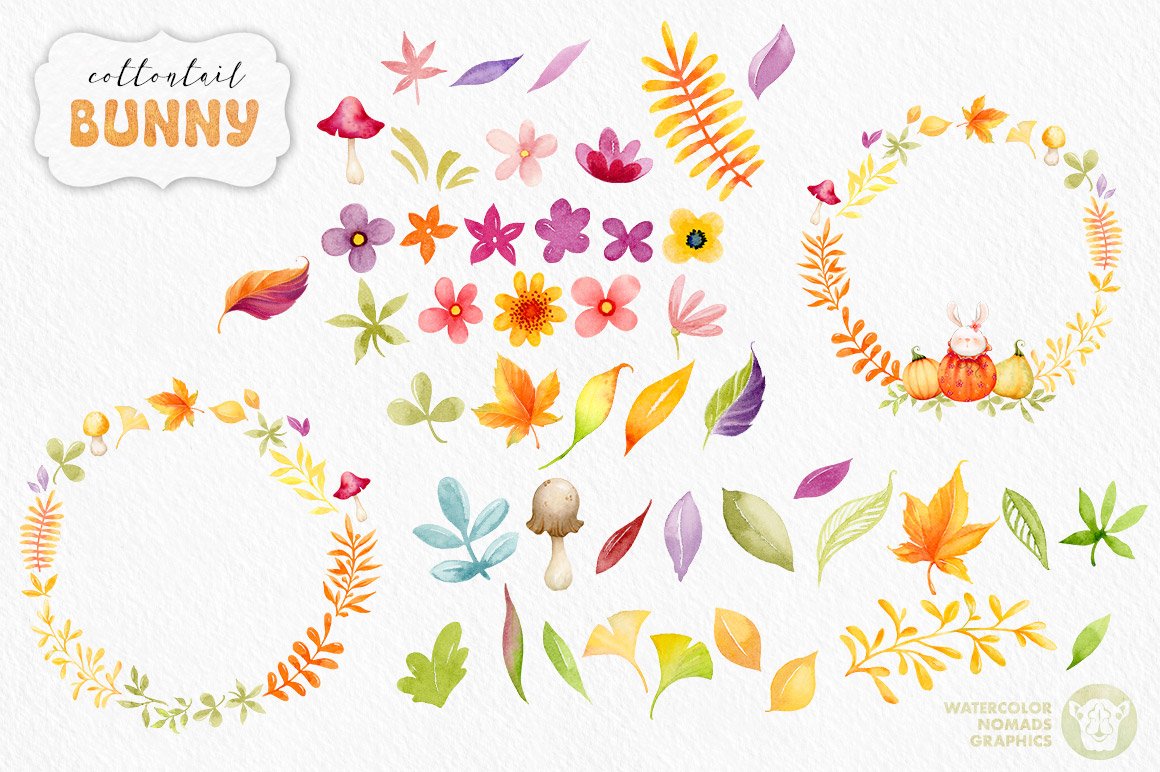 05. Pumpkin Season Watercolor Collection from Watercolor Woodland
Pumpkins and mice – adorable Autumn clipart collection – perfect for Halloween and Harvest posters, prints, party invitations, house decor, t-shirt designs, textile, scrapbooking and more! Jazz up your Fall designs with some playful mice and gorgeous pumpkins 😉 Included in this collections are 93 individual illustrations – check the additional images to see all. There are mice, pumpkins (of course!), Fall leaves and branches, sweet apples, sweet briar, berries, sprays and splatters and even some hearts. We have painted the mice separately, so they can be placed over the pumpkins, but you get to use the pumpkins on their own too. How awesome is that!
So here's what you get:
20 pumpkins
11 pumpkins with mice
1 wreath
3 apples
12 berry branches and other small fruits
9 fall leaves
1 fall leaves branch
16 separate elements with mice and mice hole to place over the pumpkins
1 composition of mice and holes to place over a pumpkin
7 vines
3 multi-color sprays
5 watercolor spots to use as backgrounds for text or as you need
1 splatter
3 small watercolor hearts
Enjoy the Fall!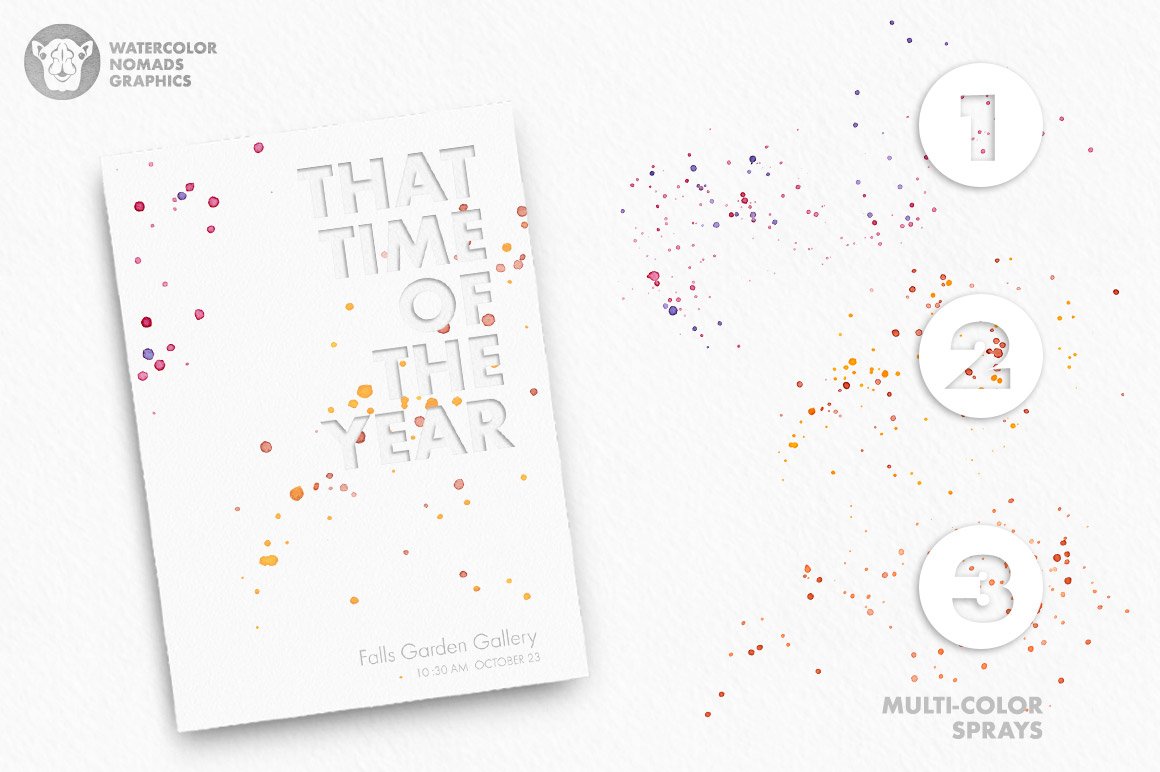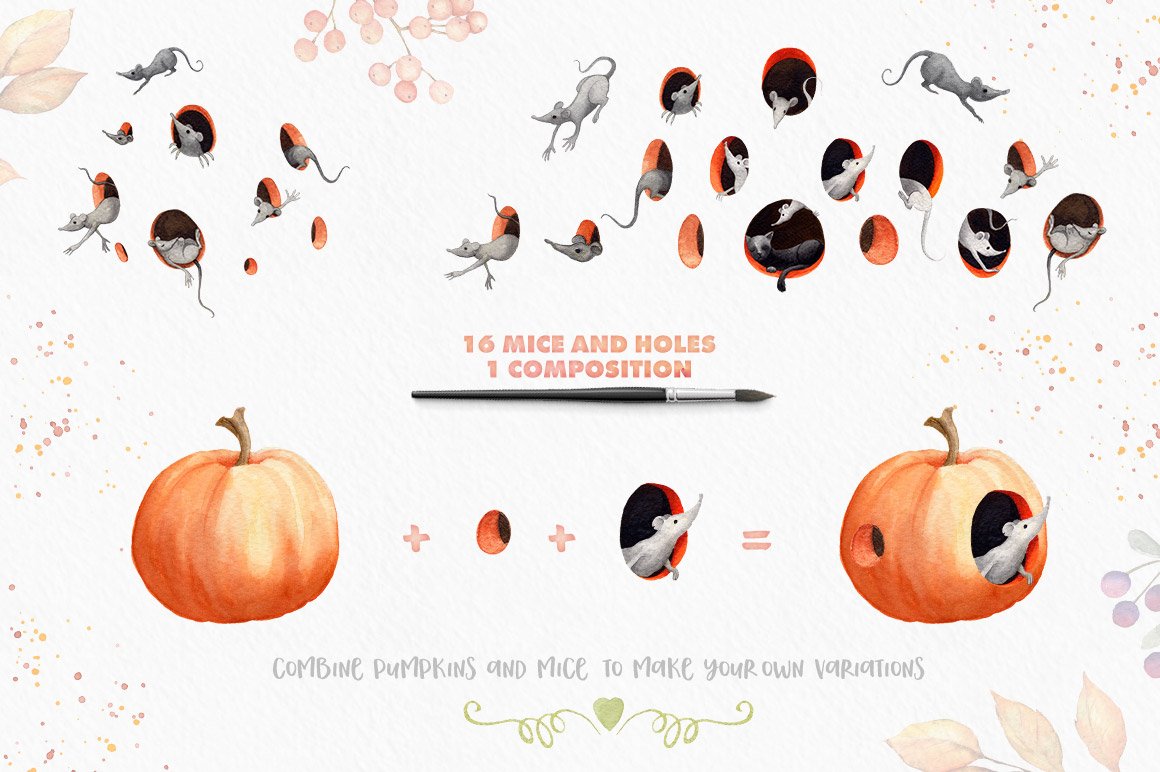 06. Autumn Charm Watercolor collection from Watercolor Woodland
Autumn is coming. So, we made this charming watercolor collection with hedgehog, fox and a bear. It is about the charm in everyday life, the small things and the Fall colors. It is a perfect resource for designing for baby and novelty. Pre-made designs: We have even included along with all the rest 10 pre-made designs of greeting cards, birth announcement and a nursery print. Just to make it easier for you. All designs are layered PSD files. Characters: Each of the 3 characters comes in 5 or 6 positions that can be combined with different frames, wraths and other supporting elements included in the set. oh, and there is a cute snowman too. Patterns: All geometric patterns are available both in vector and raster. So it doesn't matter if you prefer making your designs in Photoshop or Illustrator. The raster patterns come with 28 JPG files 12"x12", 28 jpg master tiles and a PAT file to directly load the pattern library in Photoshop. The vector patterns include an EPS10 file with all the master tiles, an AI ver.10 file and CC15 with all the patterns and colors. Same counts for the borders – there is a layered PSD and transparent PNG's for all the borders and also AI for Illustrator pattern brushes. Elements: Except the 16 character illustrations, there are so many (well around 150! ) supporting elements: -5 birds
1 snail
1 frog
13 mushrooms
8 hearts
2 starts
3 frames
5 ornaments
7 wreaths
8 banners and bounties
3 clouds + 3 raindrops
3 fruit crates with apples, mushrooms and pears
1 apple
1 pear
8 branches
3 pine trees
12 butterflies
3 ladybugs
3 pumpkins
24 autumn and decorative leaves
2 pairs of socks
2 pairs of mittens
10 dandelions
2 echinacea flowers
8 dots
4 flags
8 triangle shapes to make your own banners and few more tiny elements to help with filling empty spaces.
The combinations between the main characters and the patterns and supporting elements are countless and we hope you will enjoy designing with them.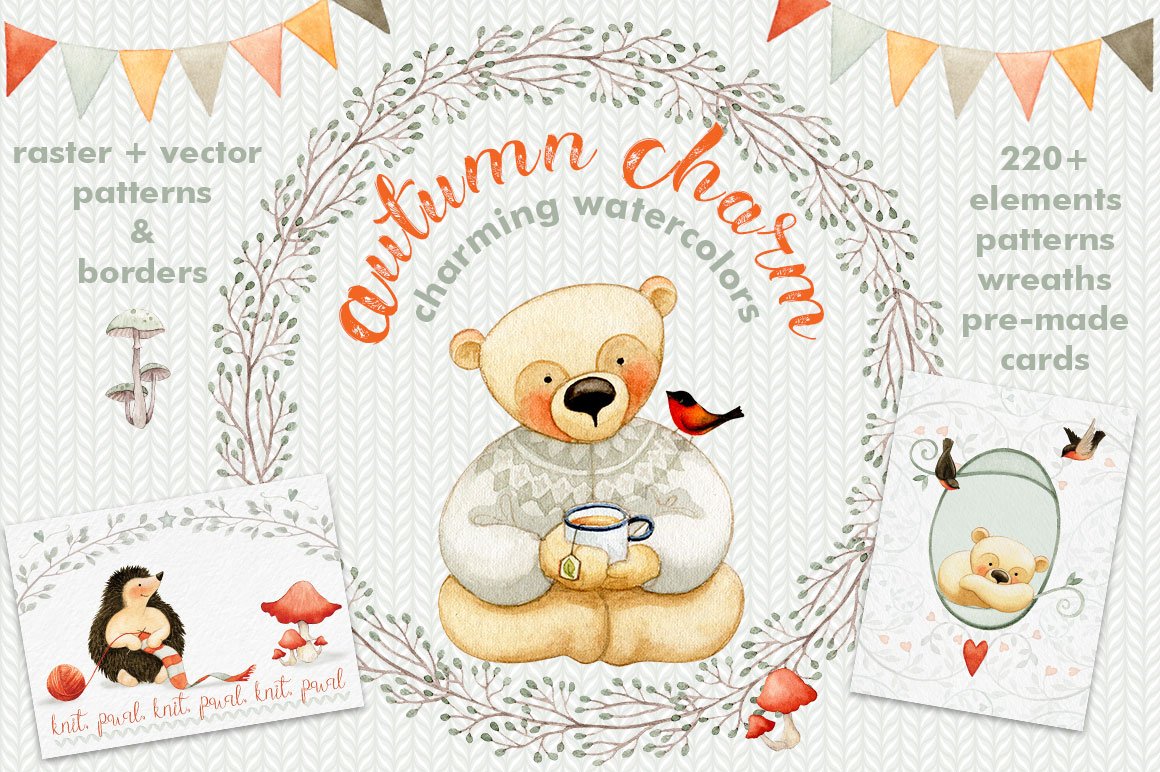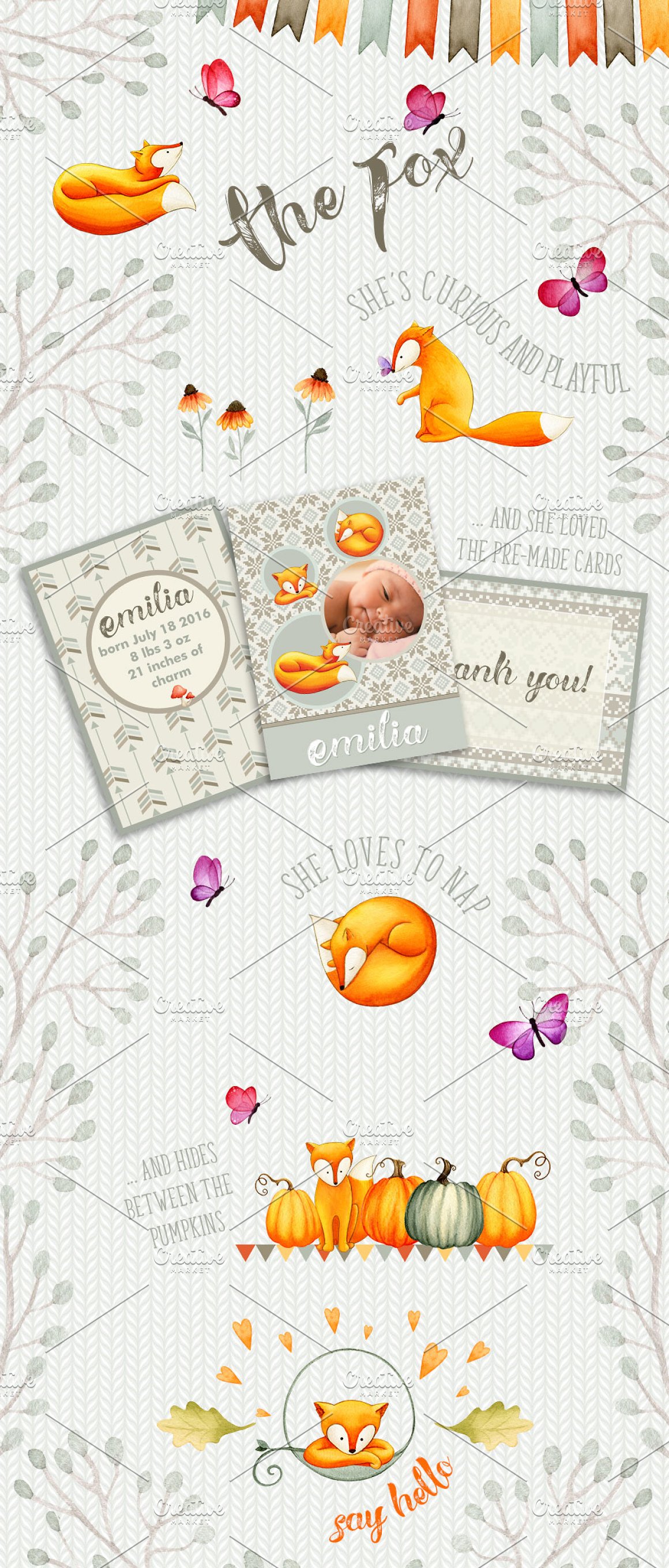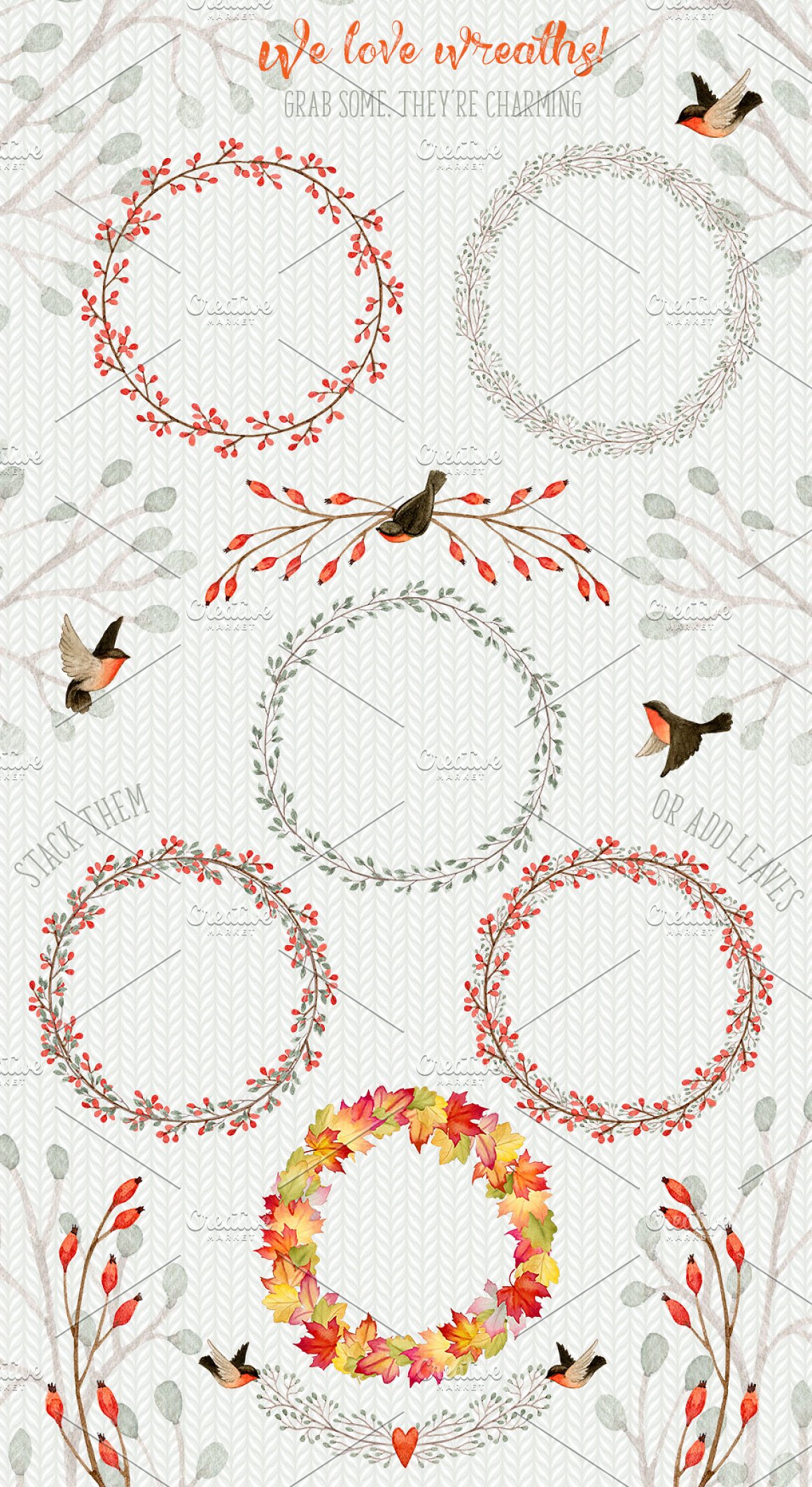 This Bundle Highlights:
6 funny & cute illustration sets
extended license (like all of our deals): use for unlimited personal and commercial projects + you can also use them in designs/products that you sell. You can use all these items as a part of your non-digital or digital designs ( posters, t-shirt designs, stickers, web templates…). You cannot resell these files directly, or within items/goods where they can be extracted in their original form (like vector shapes, elements, fonts… – they need to be flatten into background or object in your digital item for sale). License is only for 1 person – you'll need to buy 2 licenses if 2 persons will work with these graphics. Please read more about our exclusive license!
Pricing:
Normally, these 6 illustration sets would cost you original price $126 (without extended license) & $1270 (with extended license), but for a limited time only, you can get this unique collection for $16!
Deal Terms:
Delivered as an instant download, after completing your purchase.
All these graphics can be used for both personal and commercial purposes, for yourself or on behalf of a client, on their own, or as part of your new design for sale.
Cannot be sublicensed, resold, shared, transferred, or otherwise redistributed on its own.
You cannot share these resources with others. This is a single user license!