If you're a real cat lover you need to take a look at these funny & cute handdrawn illustrations & patterns ;) Whatever the case, this amazing illustration or artistic graphics bundle with lot of handdrawn illustrations & patterns is great source for all print or branding designers…. These graphics are in hi-res transparent PNG & JPG format or in vector formats so all are great for your new web design or any print design projects. Enjoy ;)
All these cool illustrations from Zooza Art are ready for print or online use! MAIN USAGE: flyers, posters, greeting cards, branding, packaging, phone cases, bags and totes, wall art, fabrics, t-shirts, website backgrounds. Actually any place you love! Enjoy ;)
With this deal you get:
16 funny & cute cat illustration sets!
Ready for print or online use

Take a look at what you can get:
16 funny & cute cat illustration sets – illustrations, patterns & stickers!
1. Autumn Cats collection from Zooza Art
It's a special collection for the long autumn, and let it be warm and bright with it!
Soft autumn cats in leaves and flowers will help you to create very positive greeting cards, children clothes, cute web design, mugs, invitations and many other useful things.
The collection includes:
53 elements in PNG and EPS vector formats
3+3 frames with respectable cats in PNG (720 DPI, 5000×7000 px)
3 patterns in EPS, PNG, JPG
2 wallpapers based on patterns – with leaves and flowers (JPG, 300 DPI,5900×3500)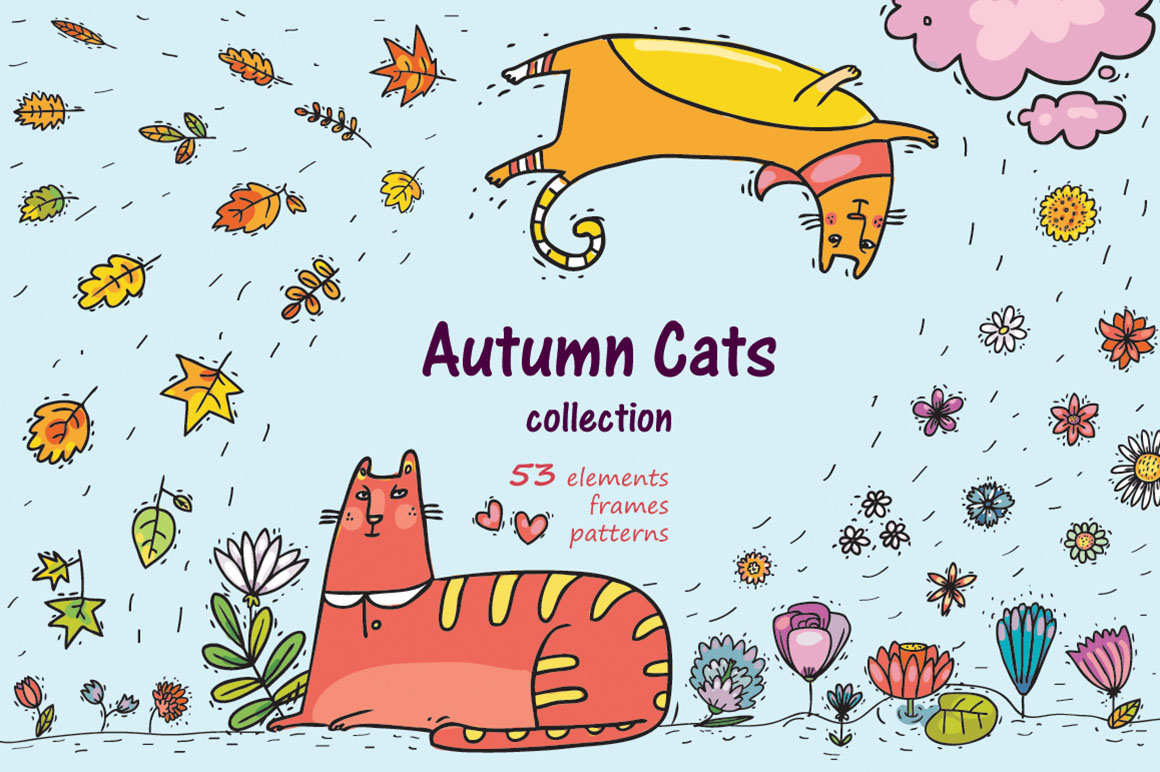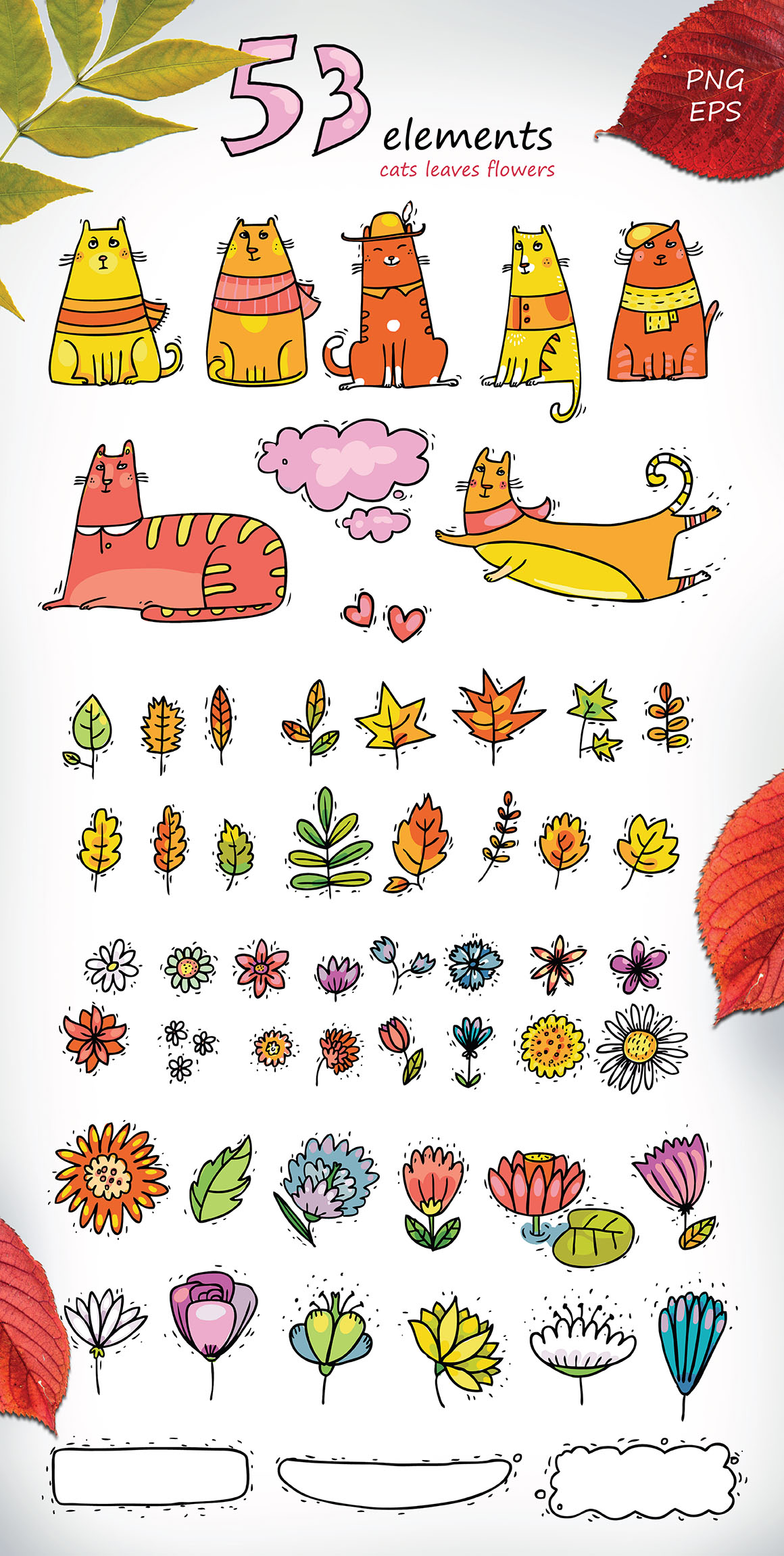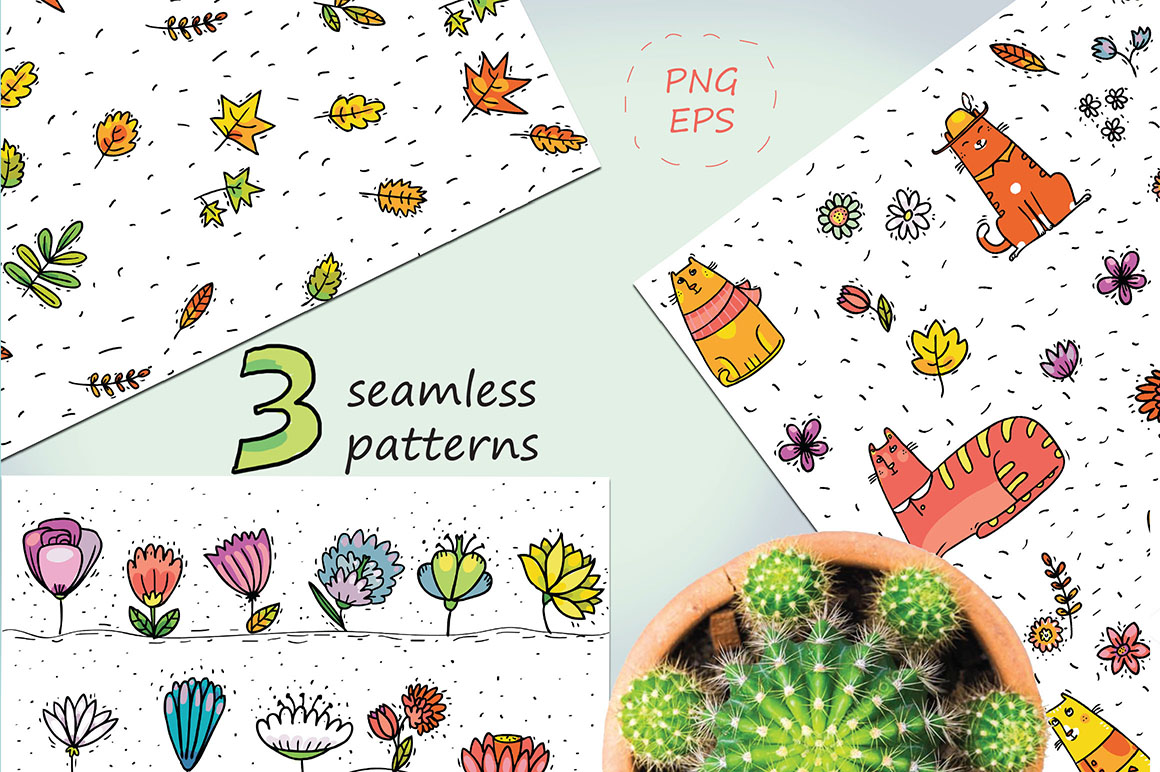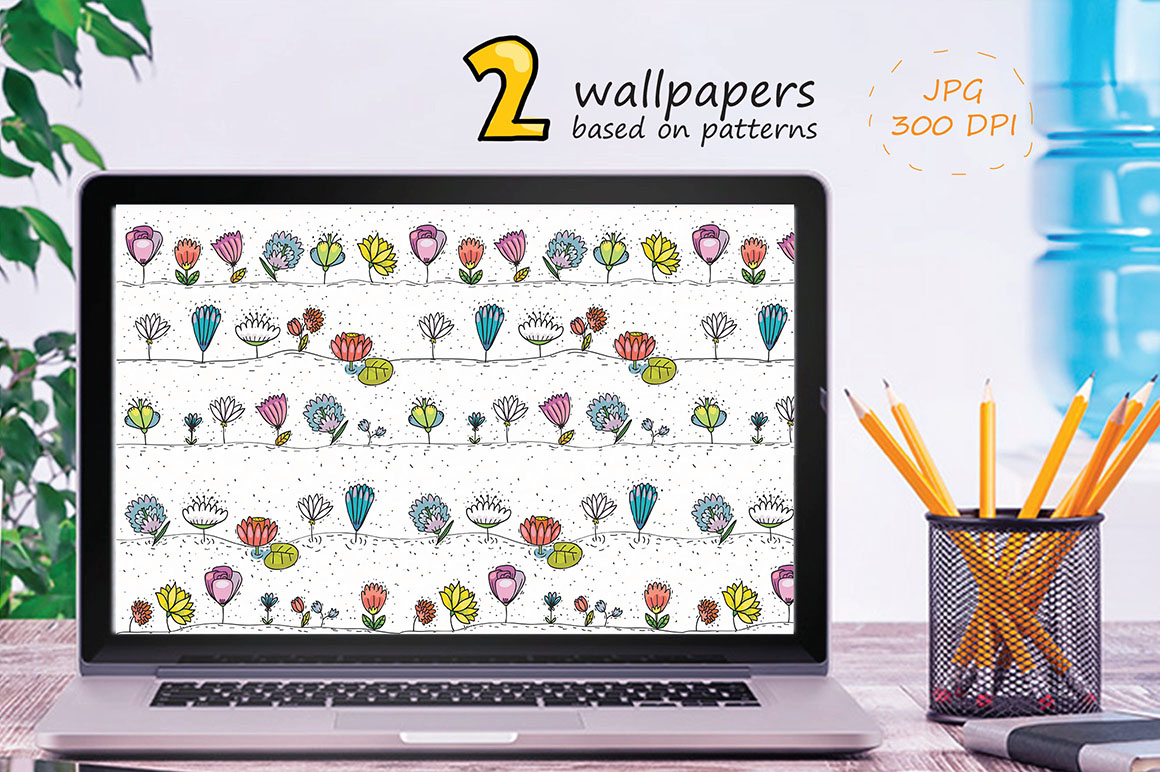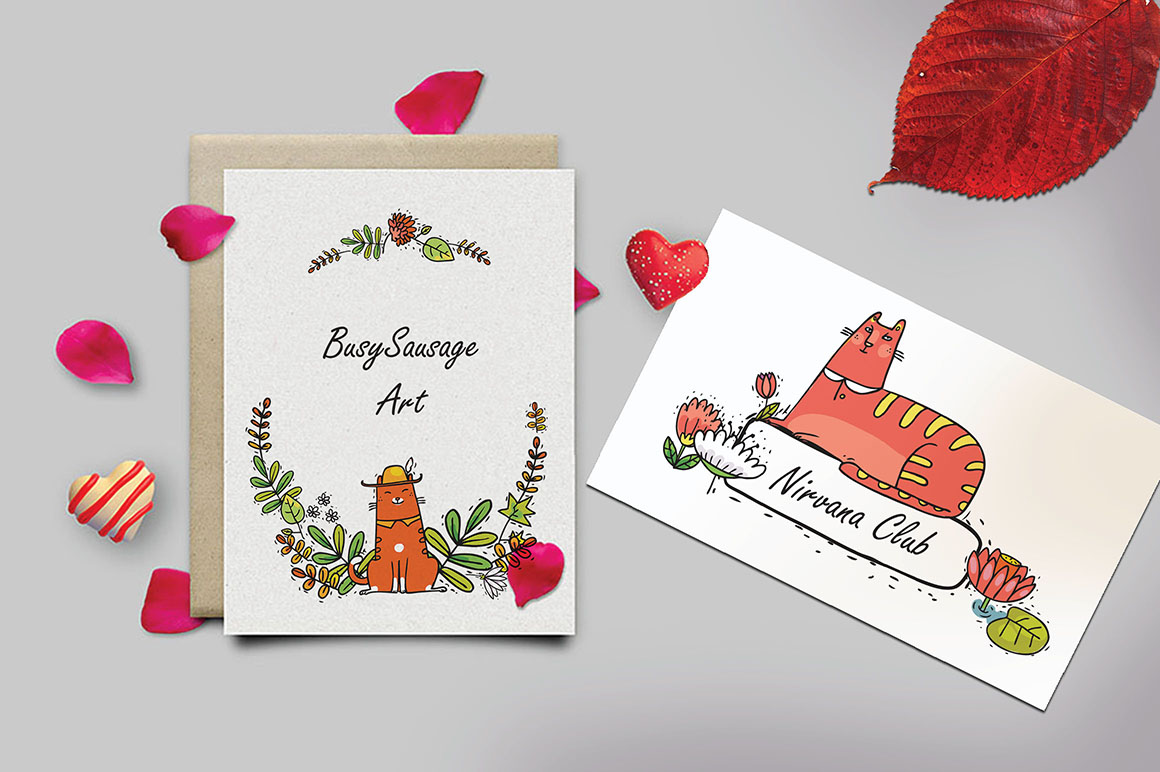 2. Wild Wild Cat – 14 illustrations from Zooza Art
Absolutely cute collection of Wild Wild Cats for everything you want to create! Bright author's illustrations in watercolor and pencils style will make your day and help to sell your goods very well. Create, present, enjoy!
The collection consists of:
14 PNG illustrations with transparency background (300 DPI, 3500×3500 px)
14 JPG illustrations (RGB, the same cats)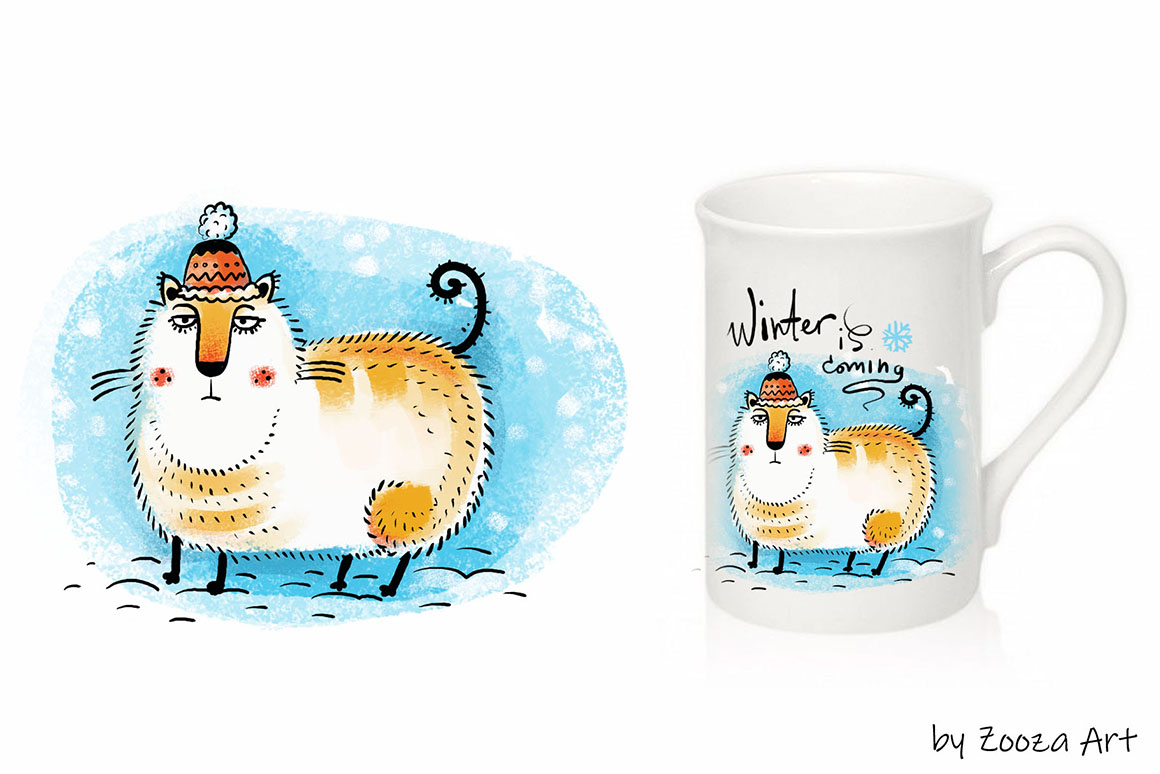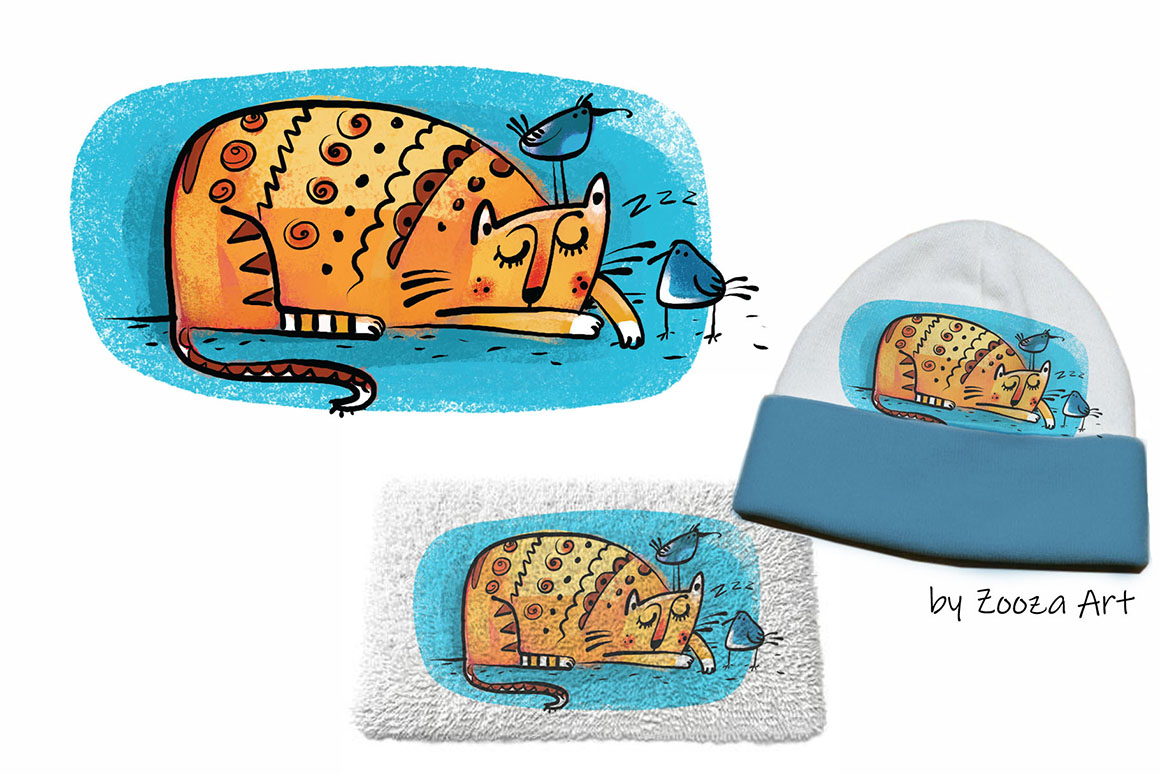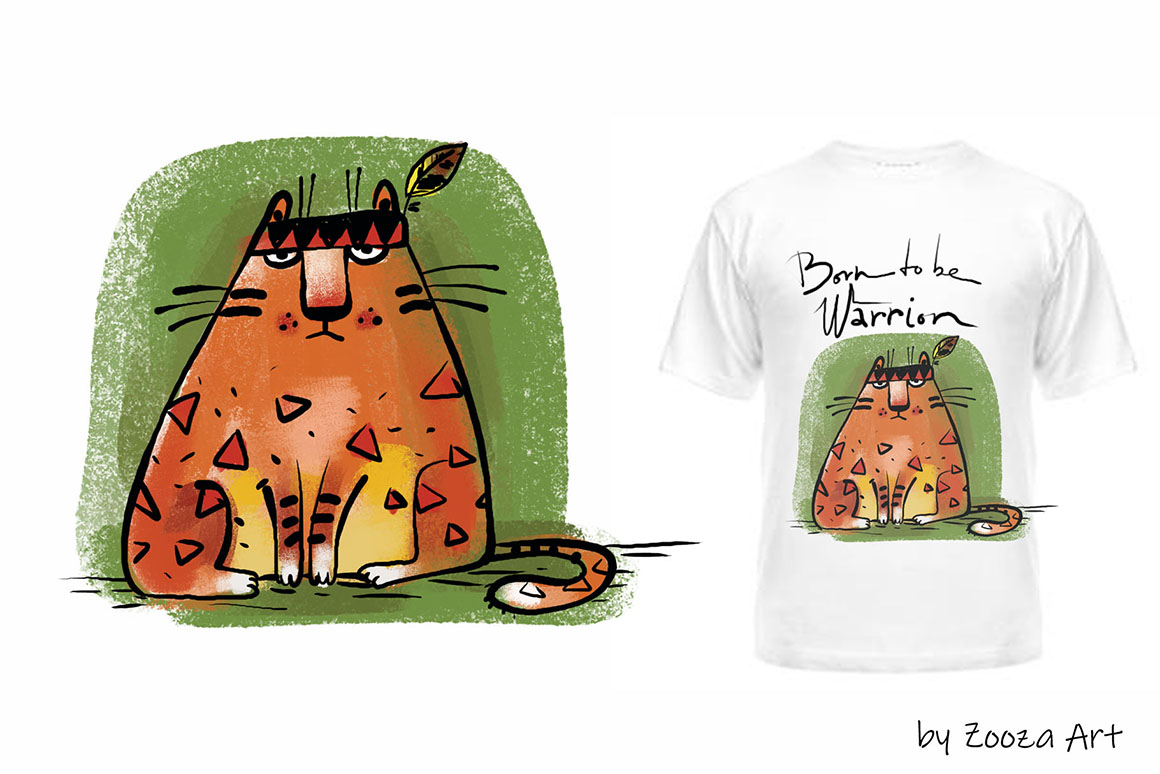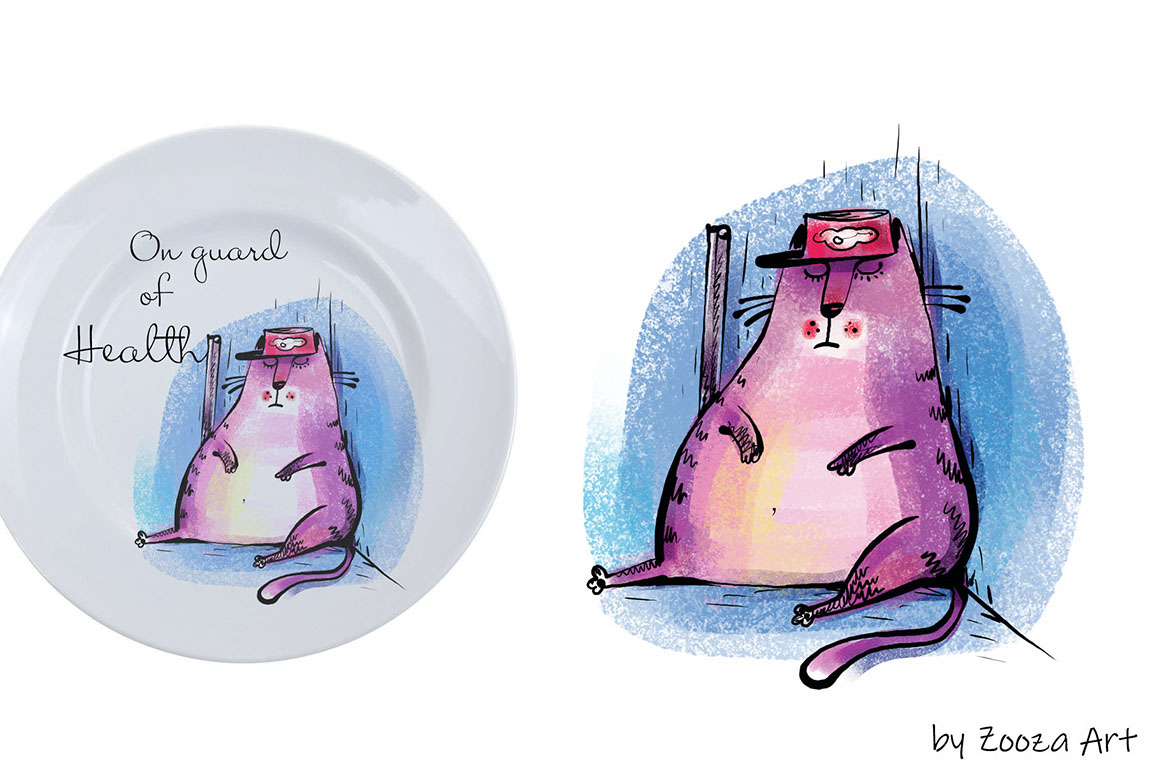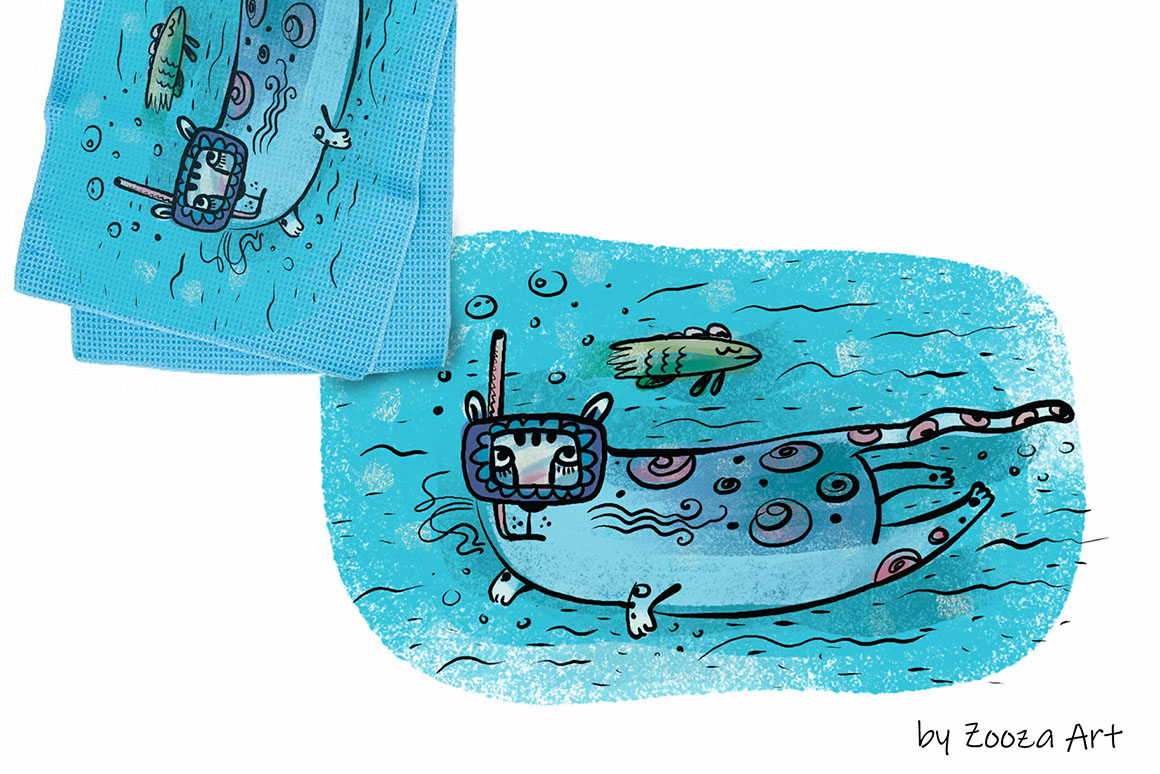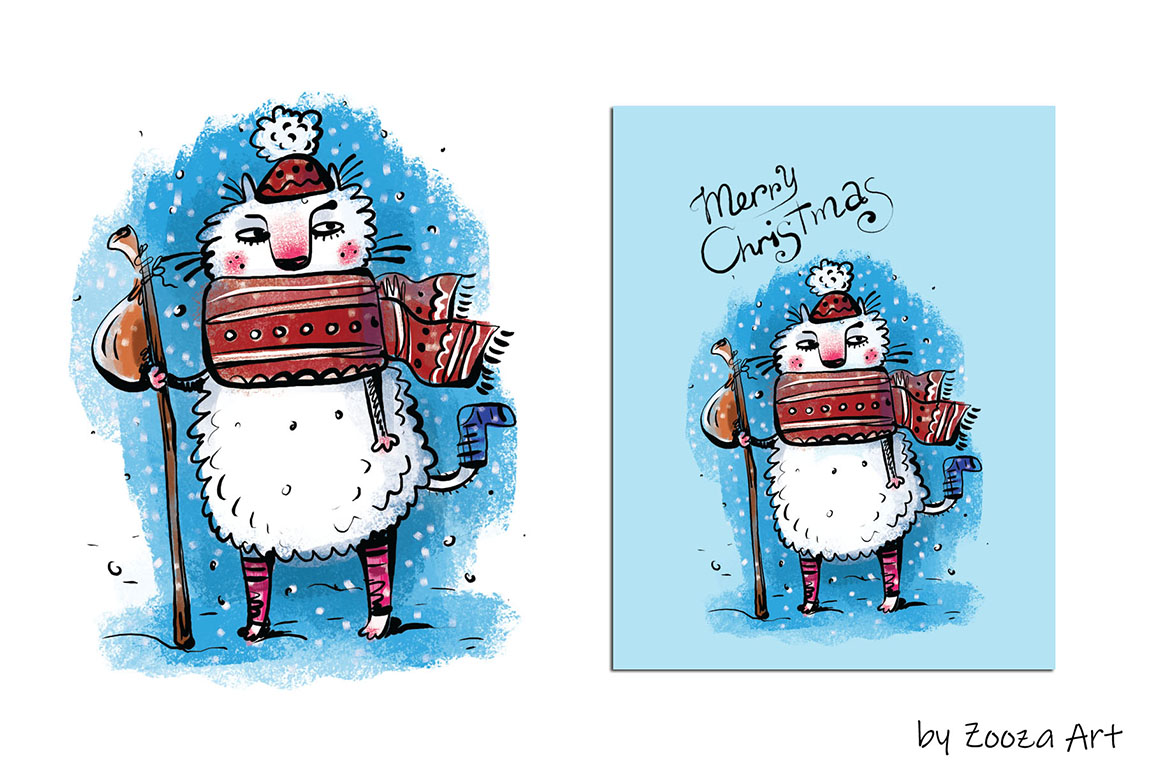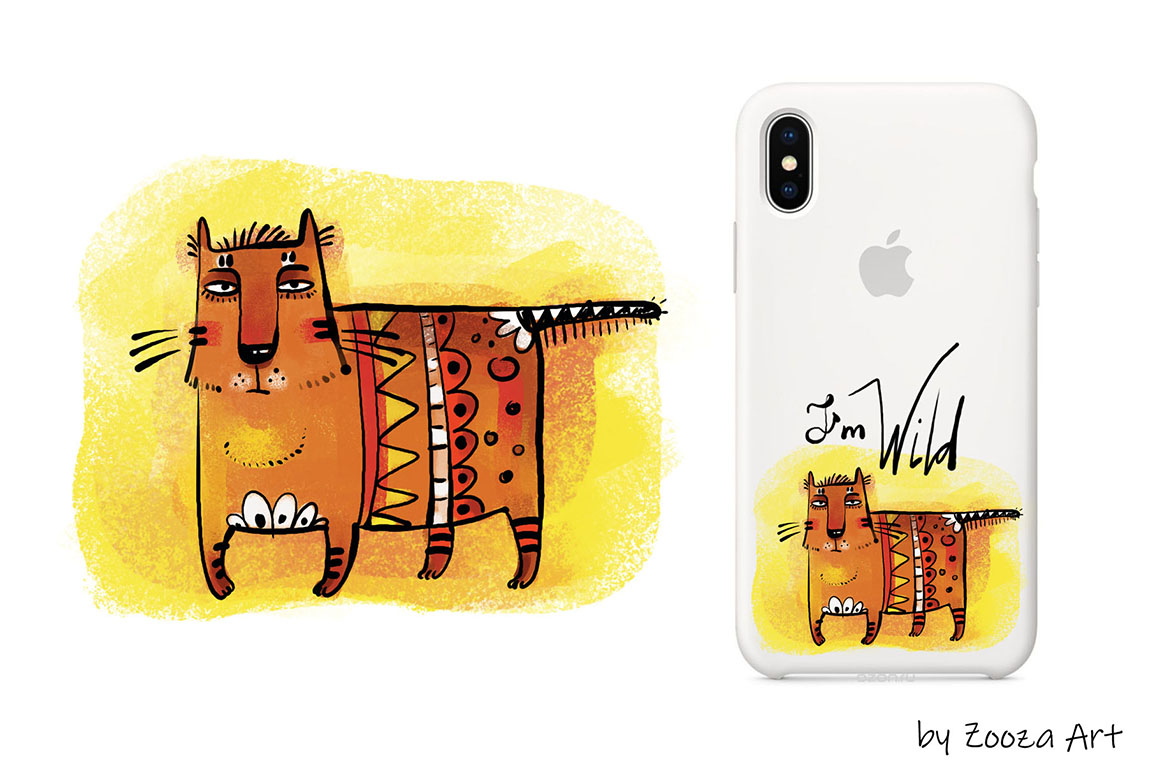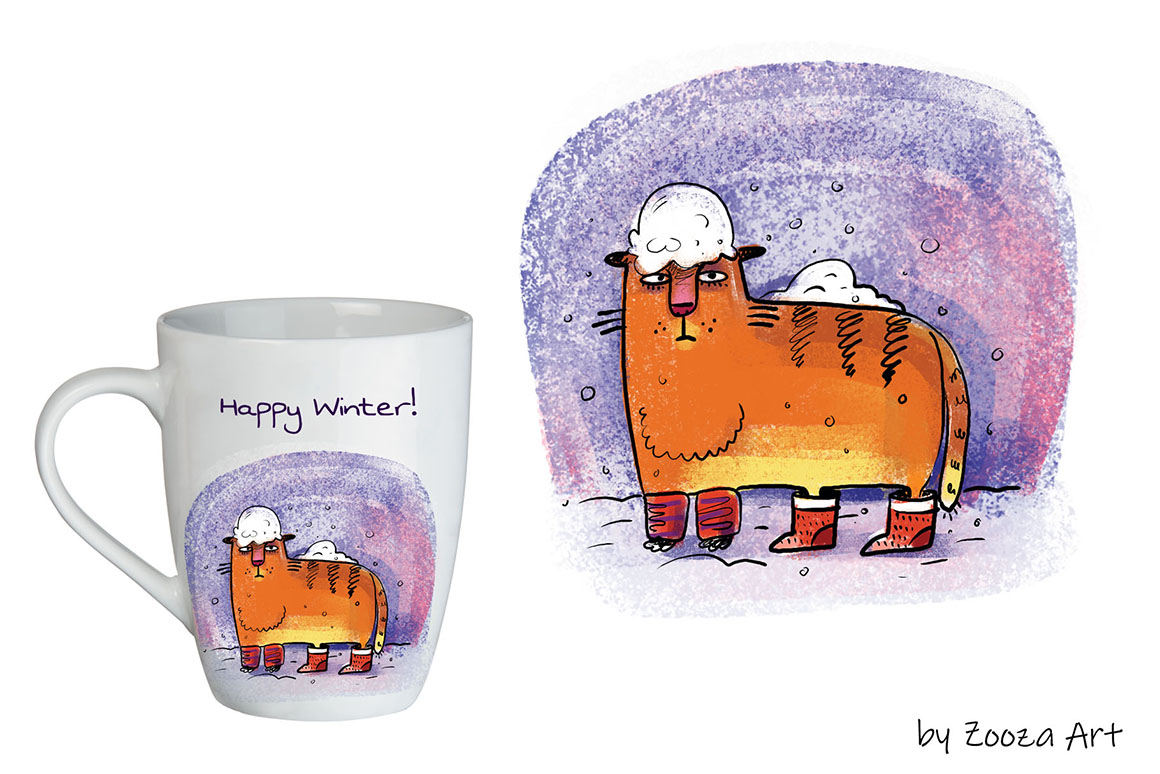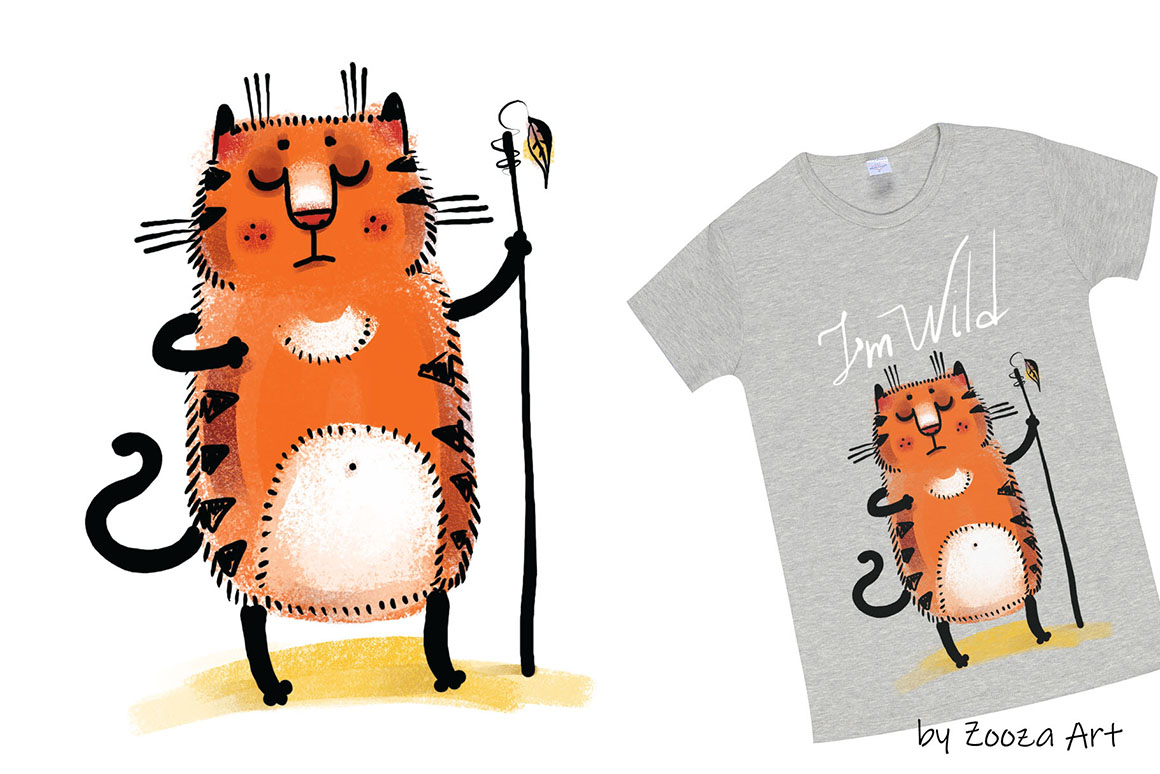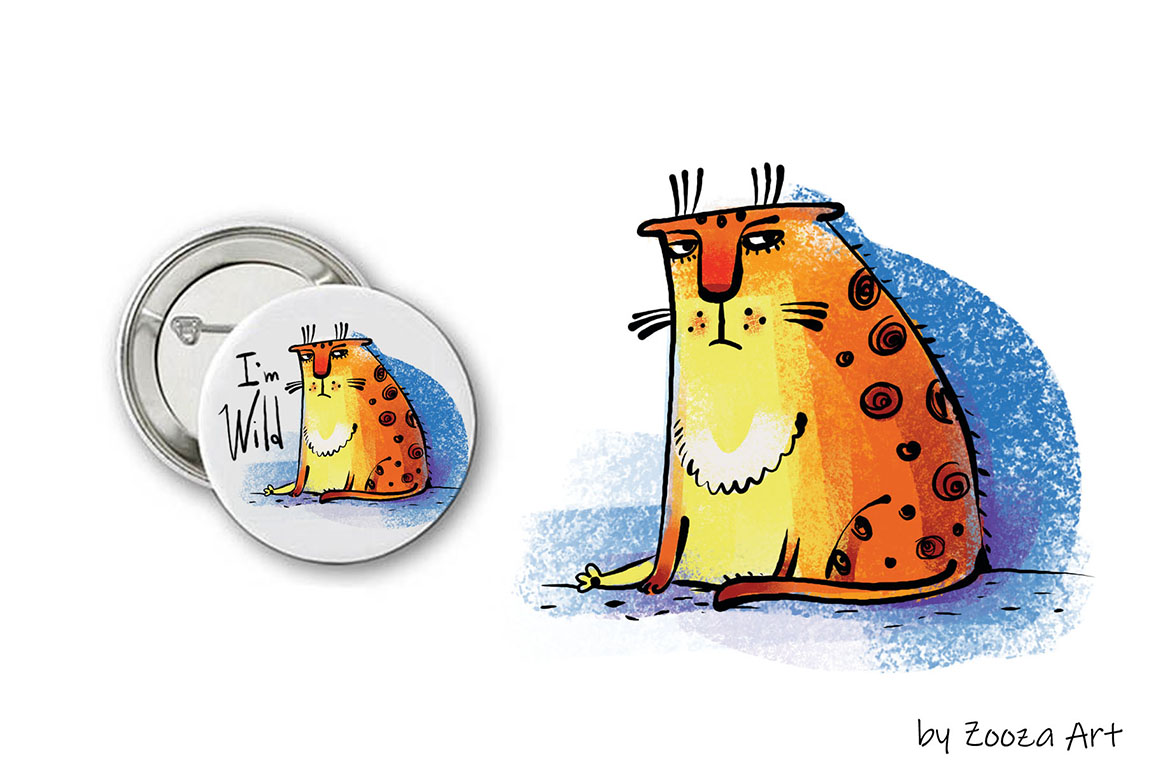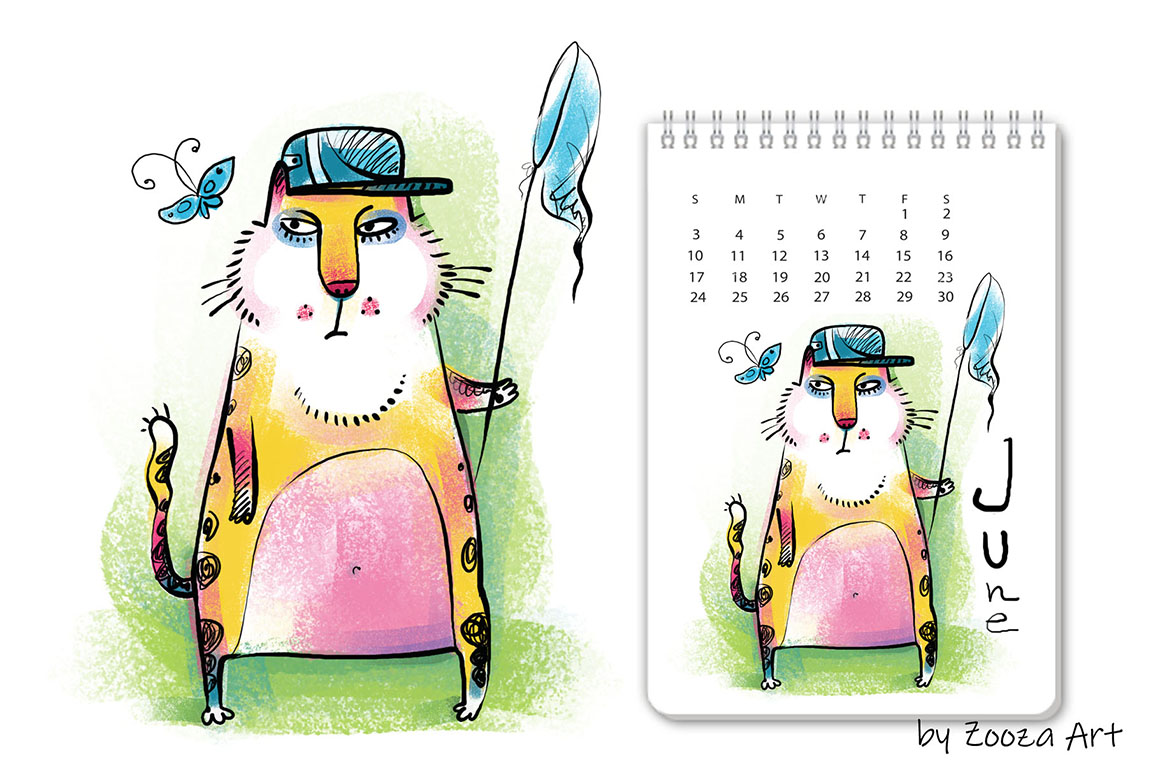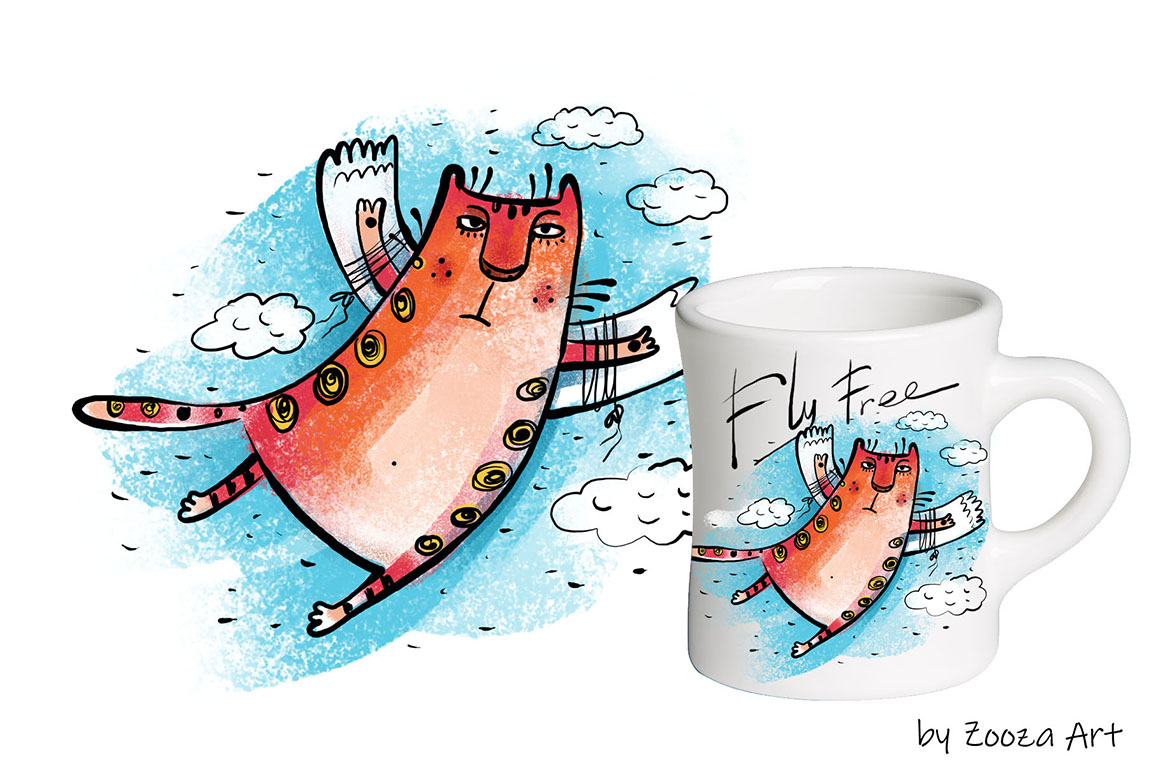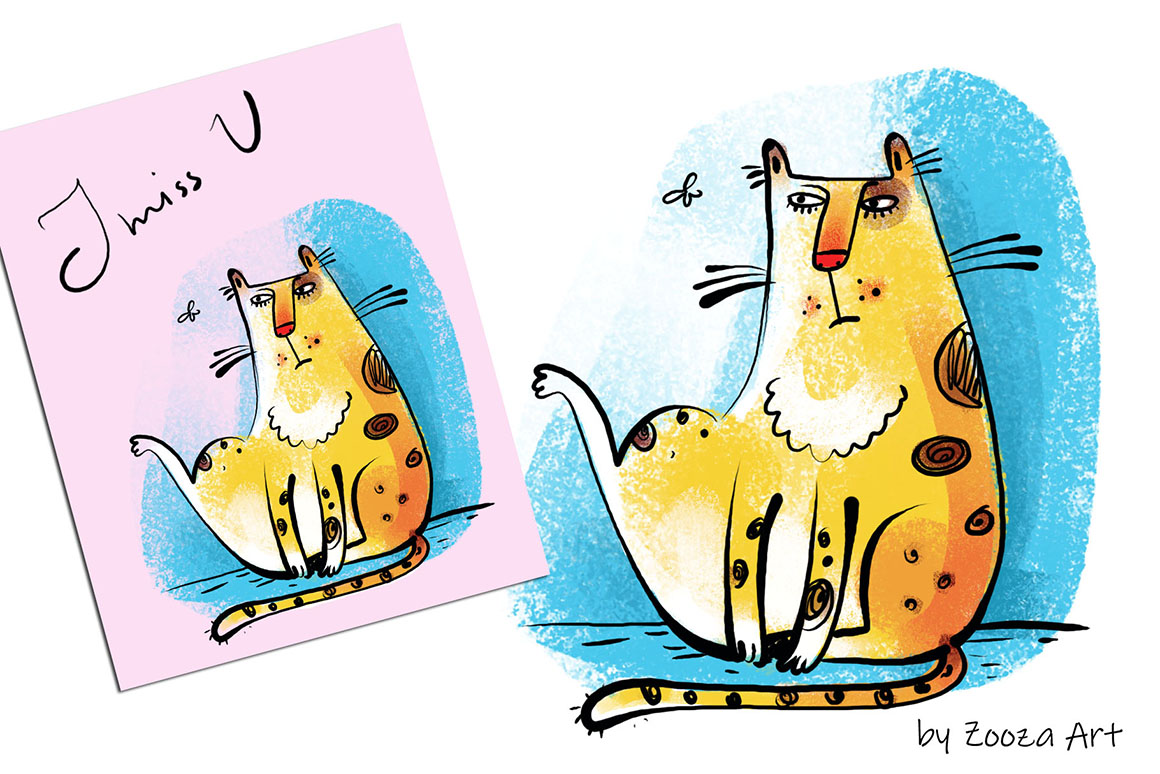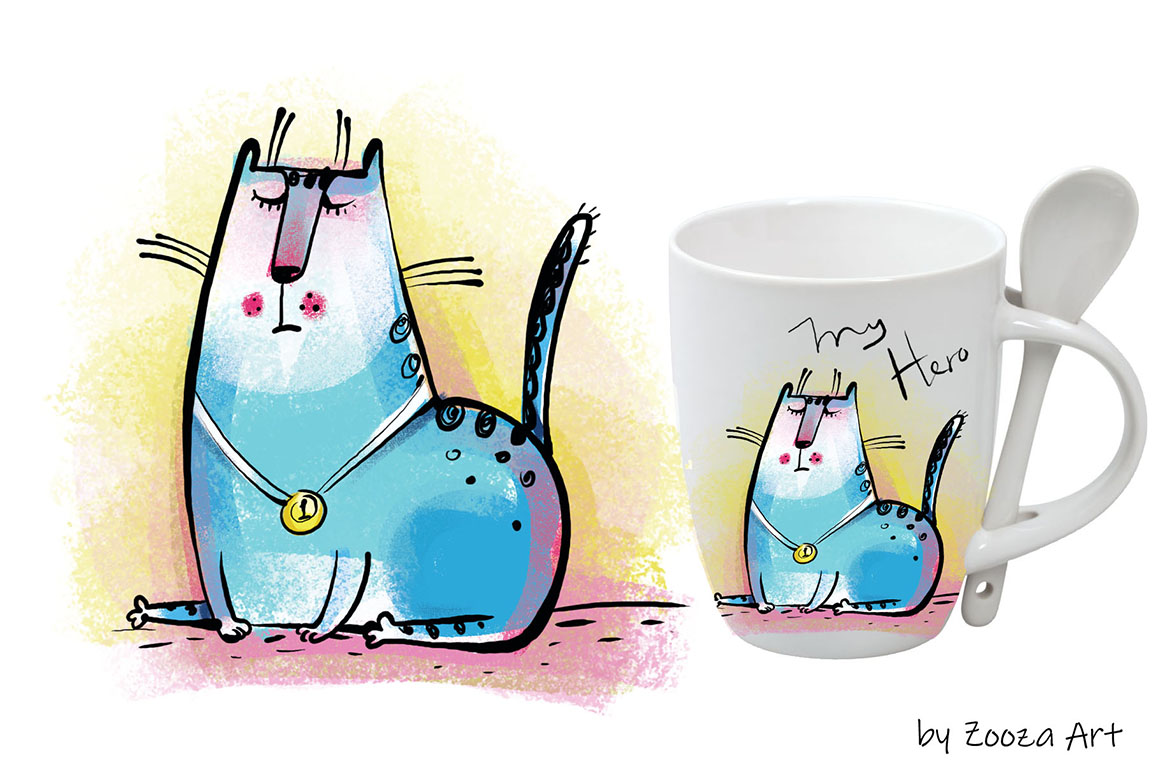 3. Cats patterns and frames from Zooza Art
Run, cat, run!!
How does your cat run, when it managed something wrong?:) These cats run very differently, and all of them are available as prints and patterns. Ideal collection for funny children clothes patterns, stickers and present cards. Use them for web design, avatars, mugs, copybooks, coloring pages, wallpapers, textile design also.
The collection includes:
16 PNG cats (2000×2000 px. 300 DPI)
2 files with all cats with different white spots (vector EPS, PNG, JPG, 4000×4000 px)
15 seamless patterns – 3 kinds, 5 colors each kind (4000×4000 px, vector black and white patterns, PNG black and white patterns with-out background, JPG, 300 DPI)
7 frames (4000×4000 px, 300 DPI, PNG, JPG)
2 lines (8000×2000 px, 300 DPI, PNG, JPG)
Enjoy funny cats!:)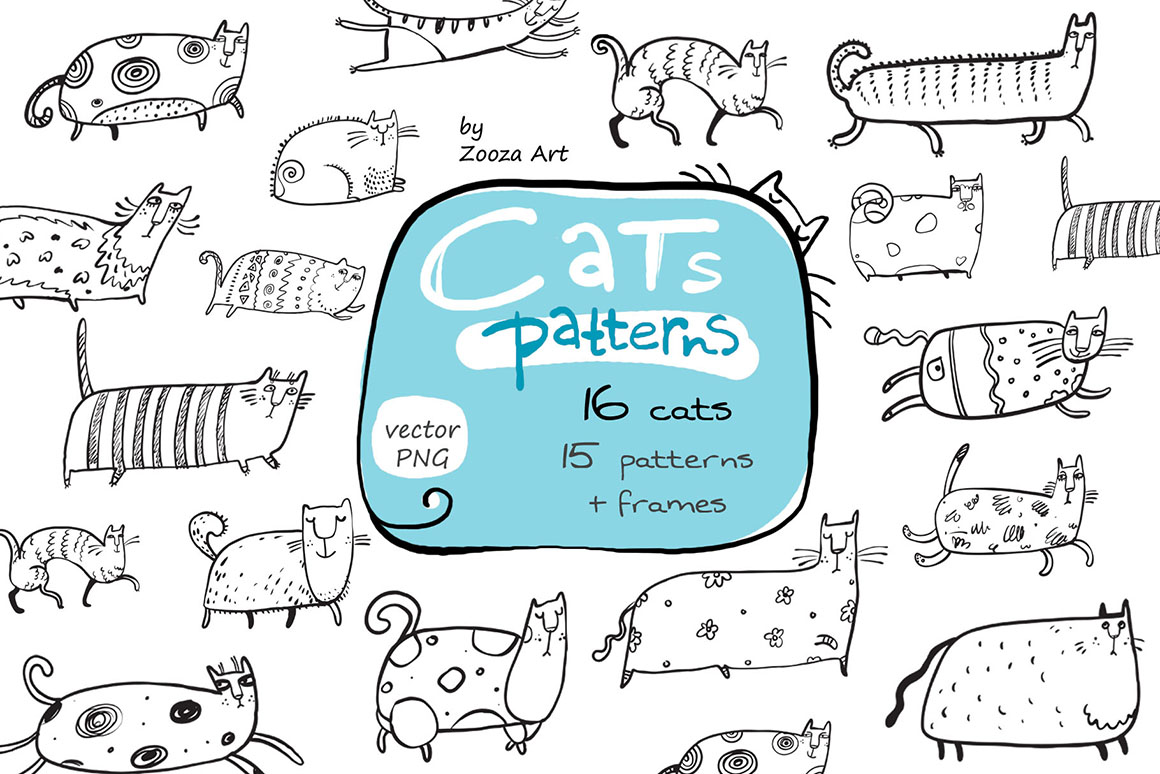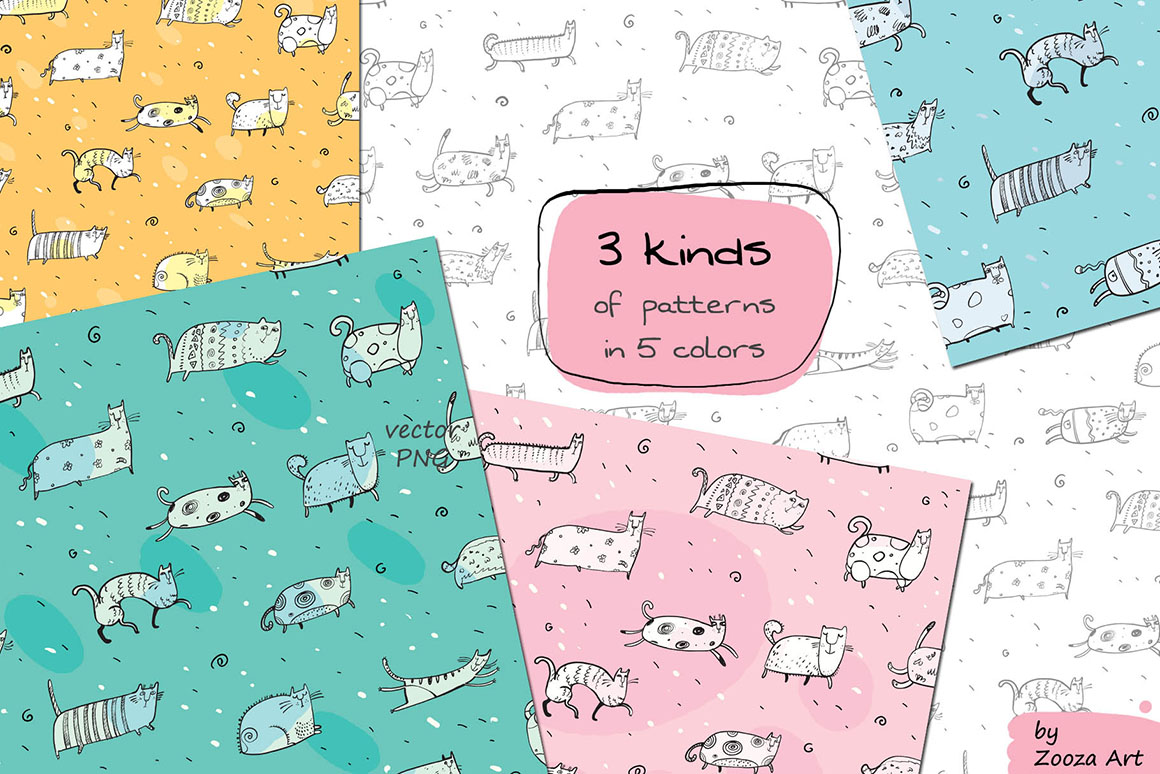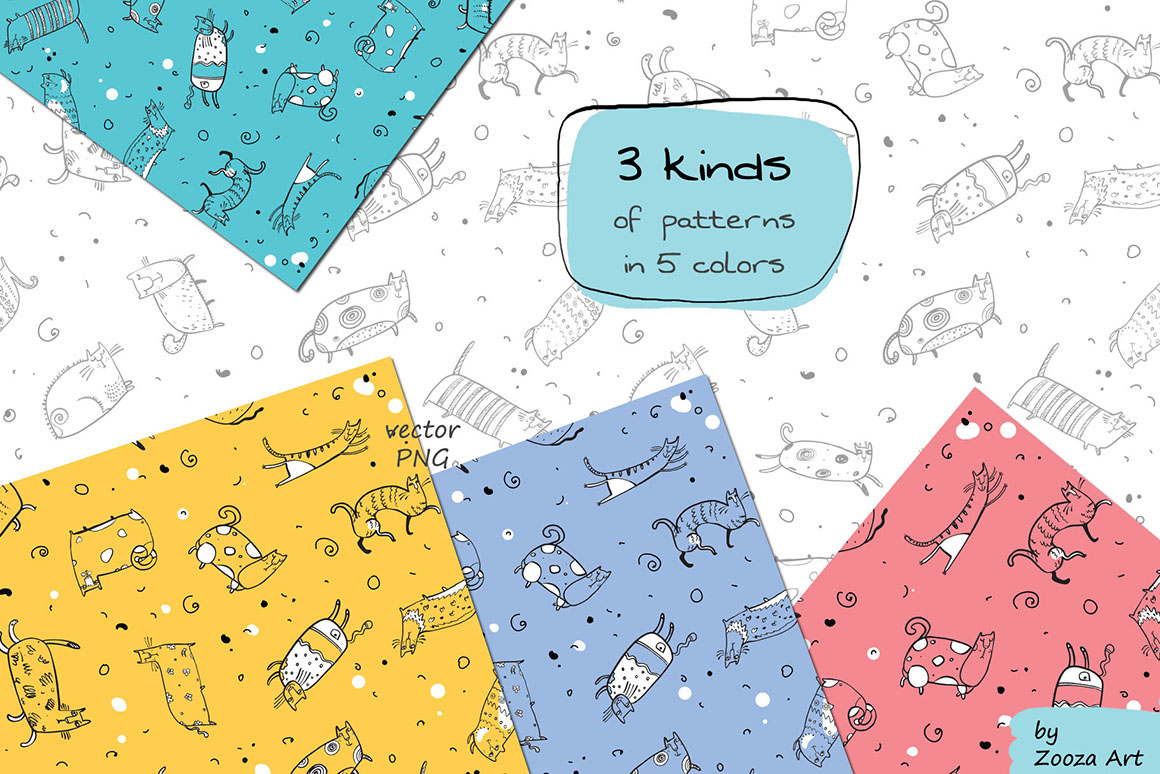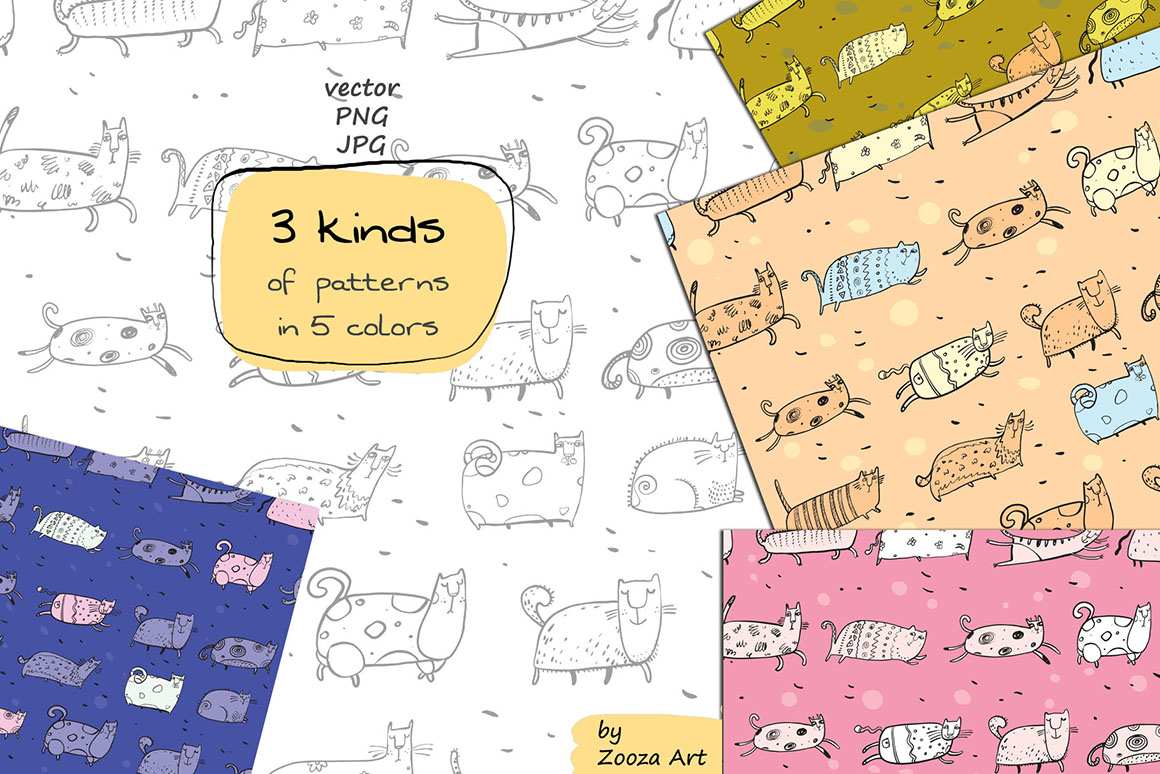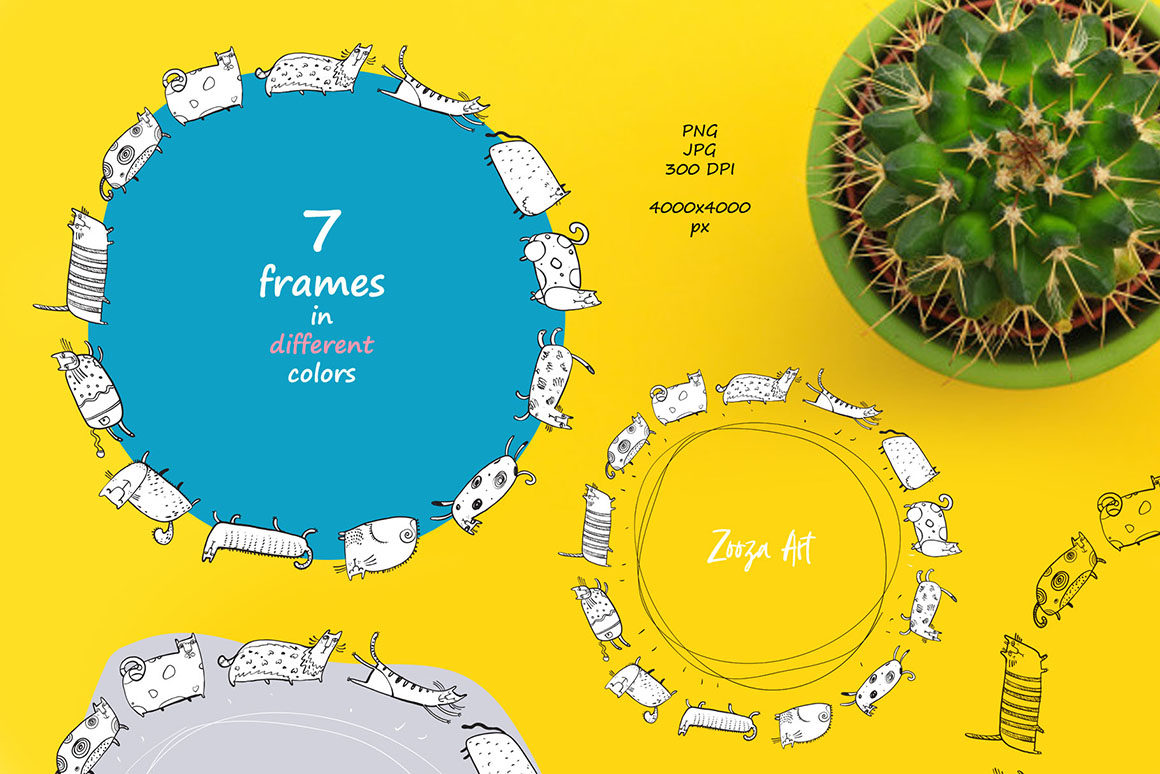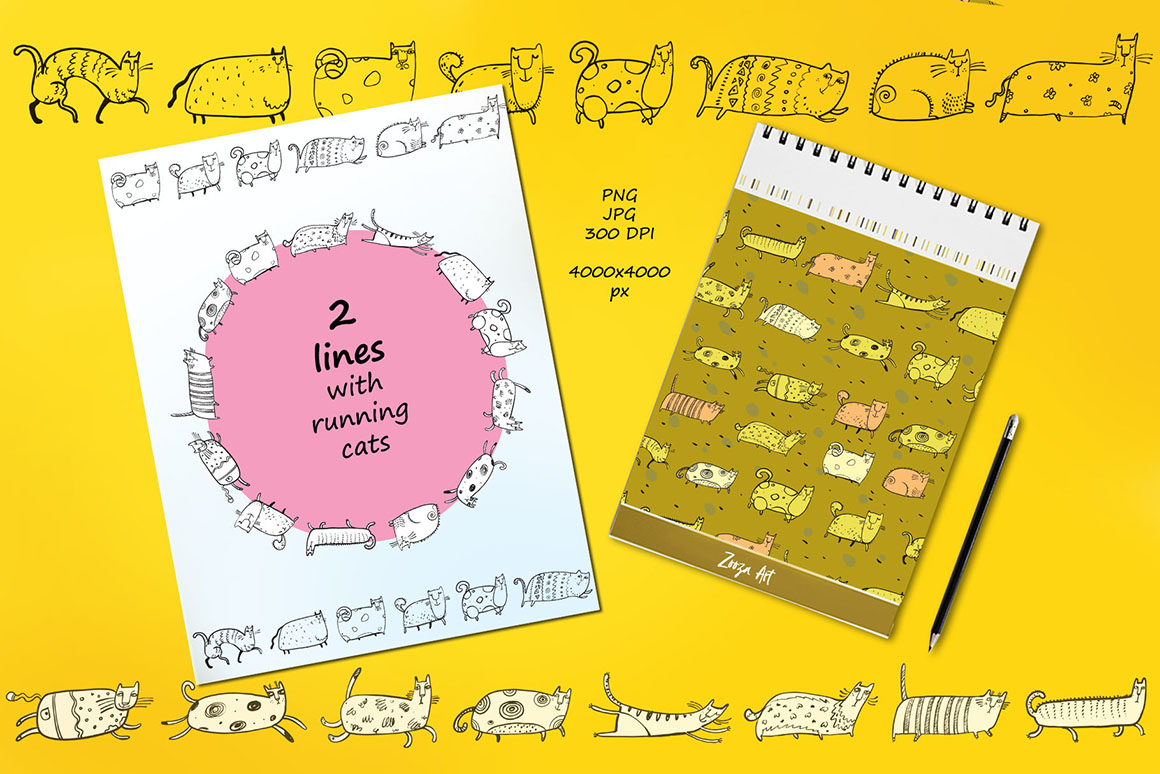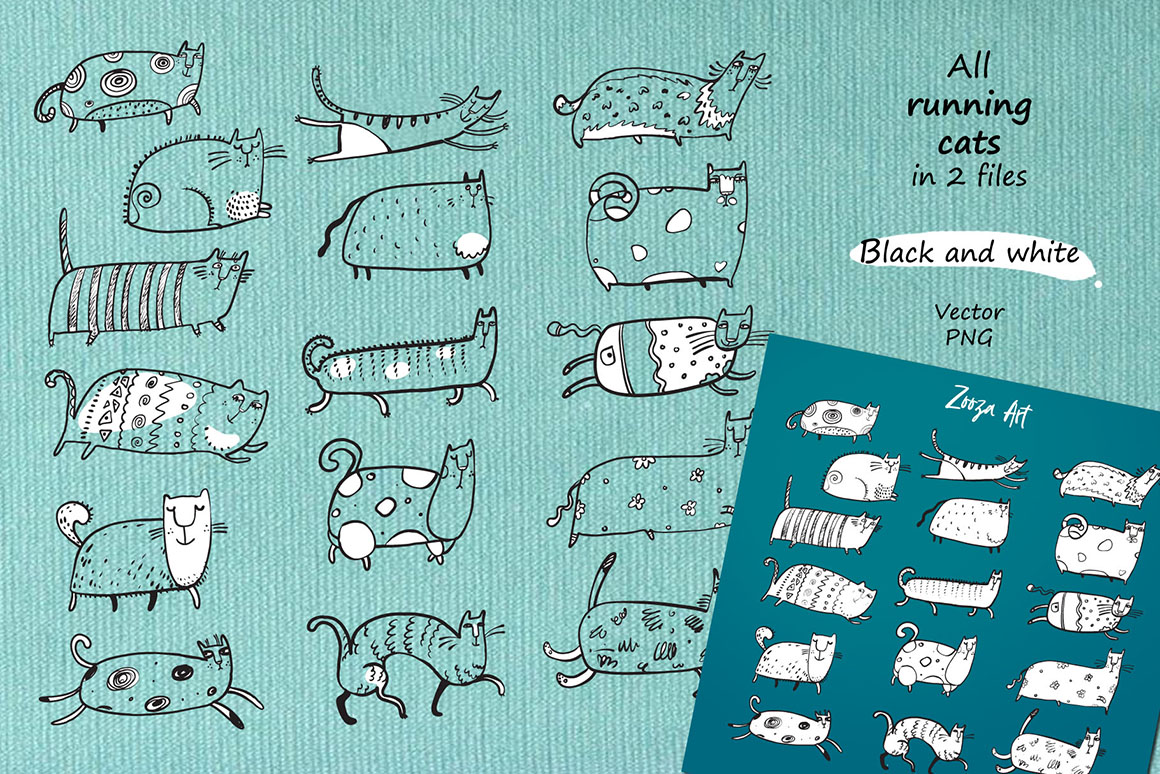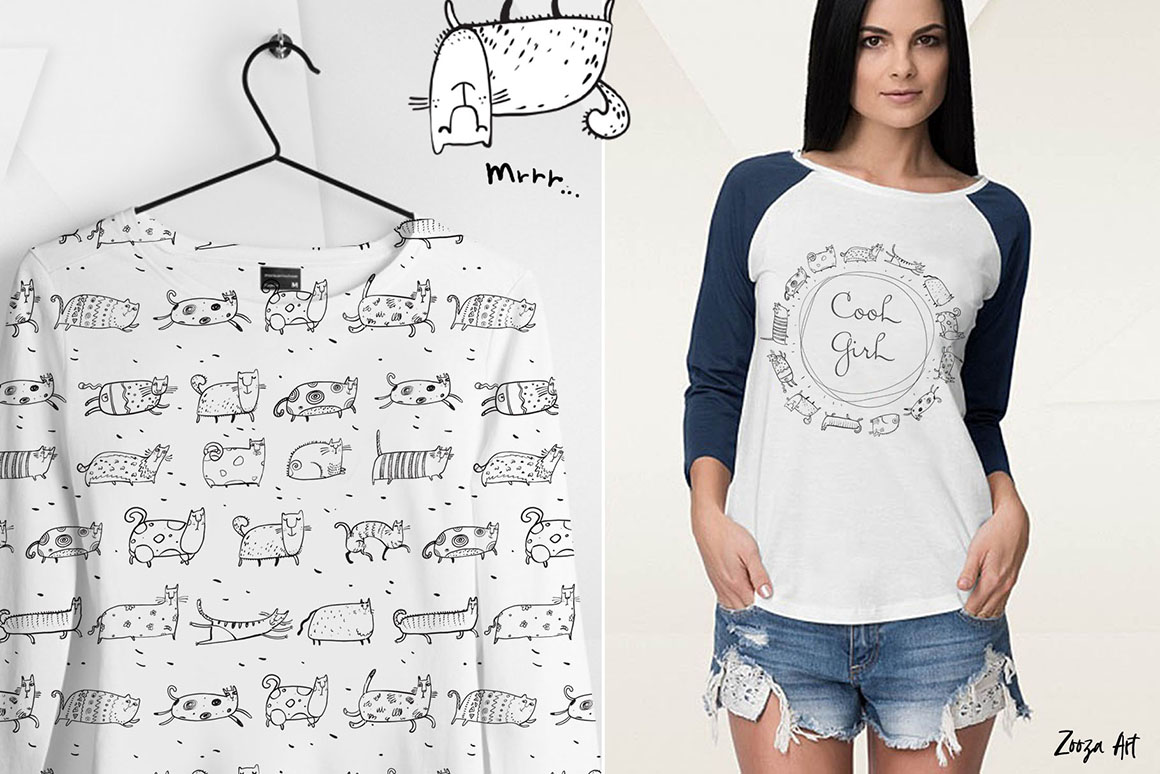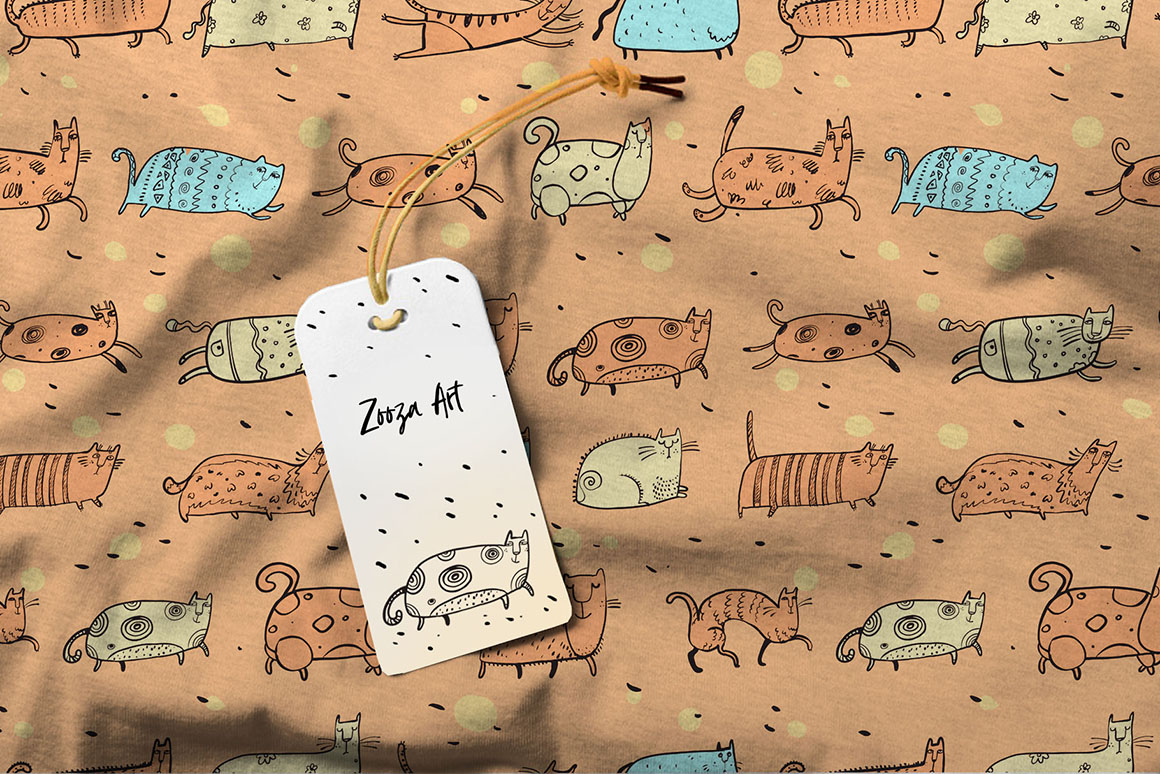 4. Serious Cat Collection – 40 patterns from Zooza Art
I present with joy the Serious Cat collection of nice patterns for your original design. You can use it in posters, business cards, postcards, notebooks, invitation or at home decor – pillows, bedclothes, towels, napkins and many other things. In collection you will find:
14 Line Cat patterns
10 Busy Cat patterns
11 Color Cat patterns
5 patterns with Serious Cat and his girlfriend
All files are saved in EPS and JPG formats.
Everything good for you, enjoy:)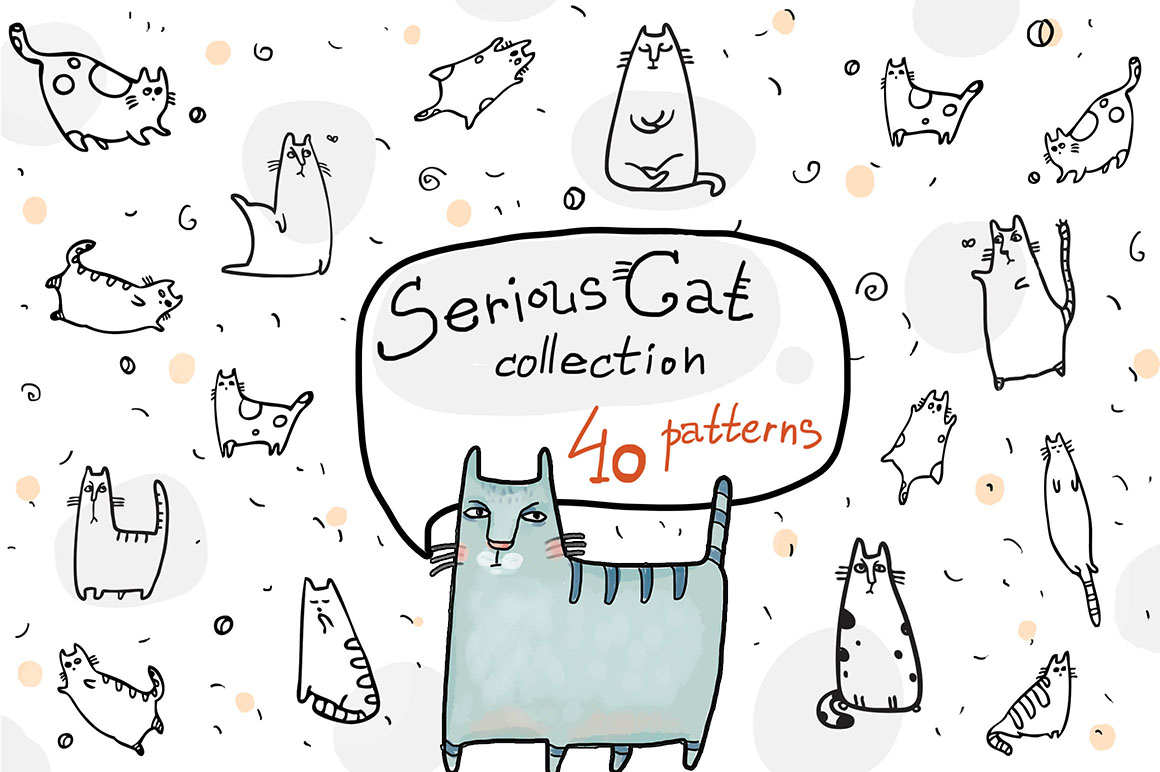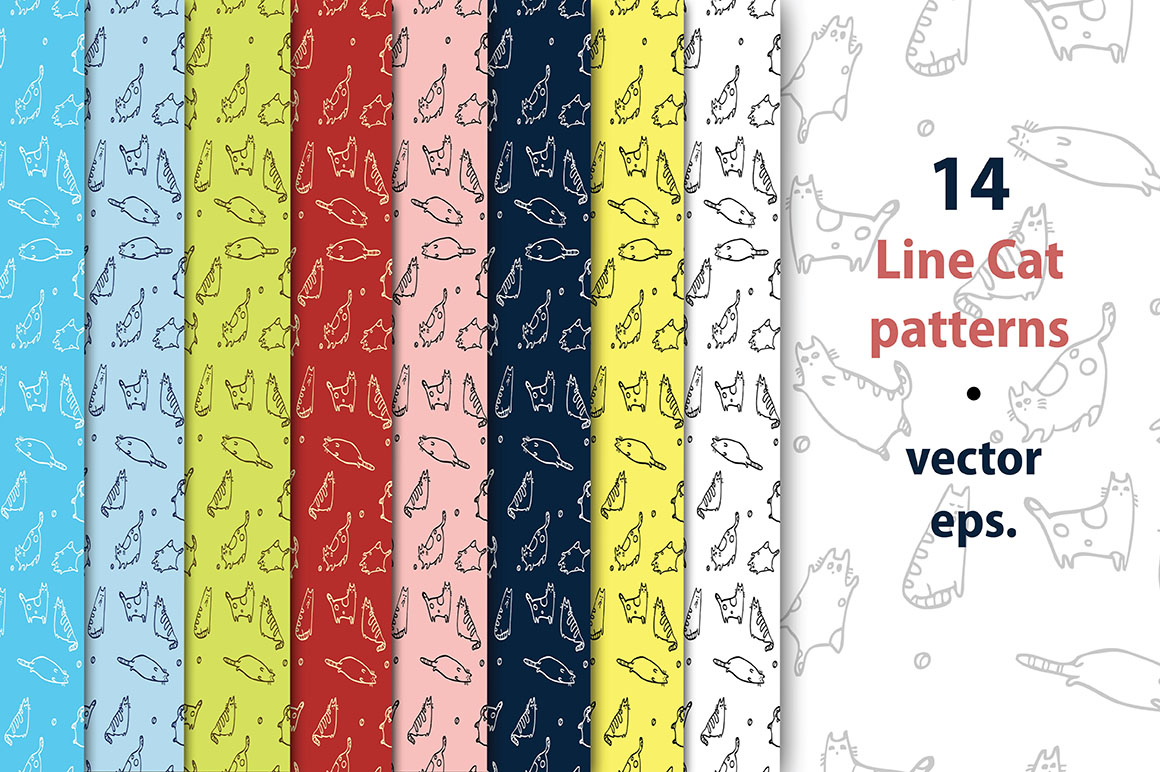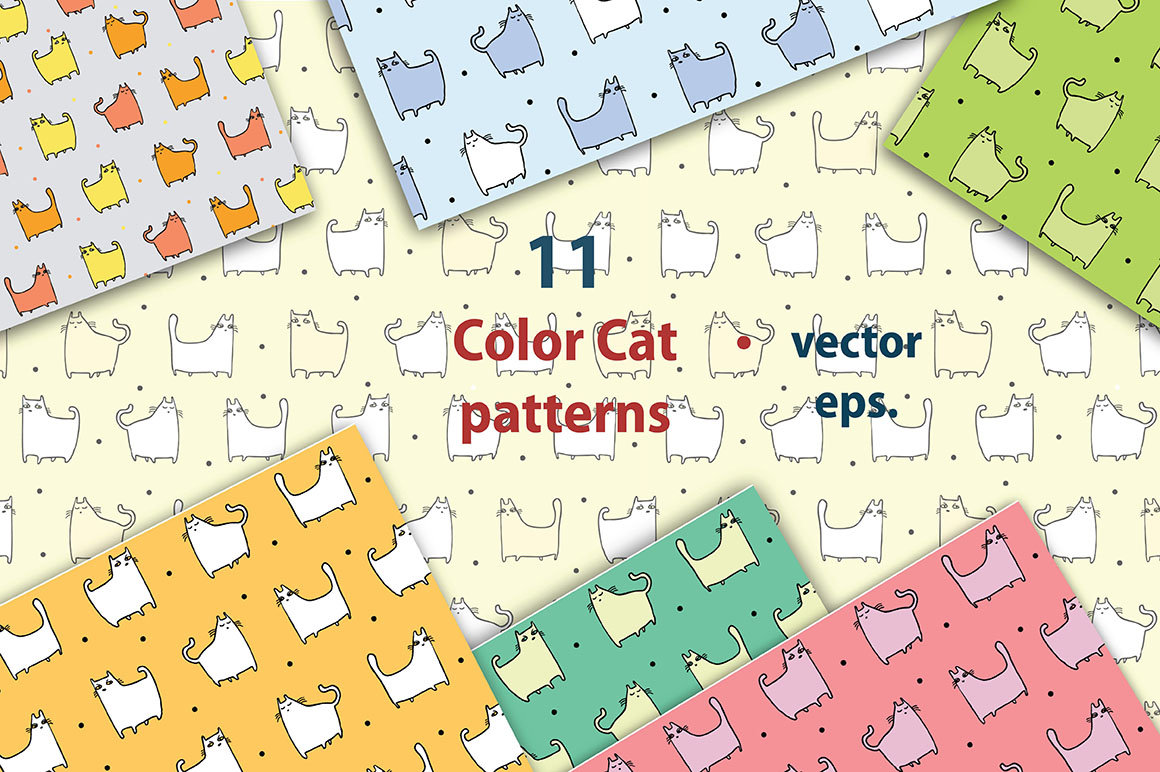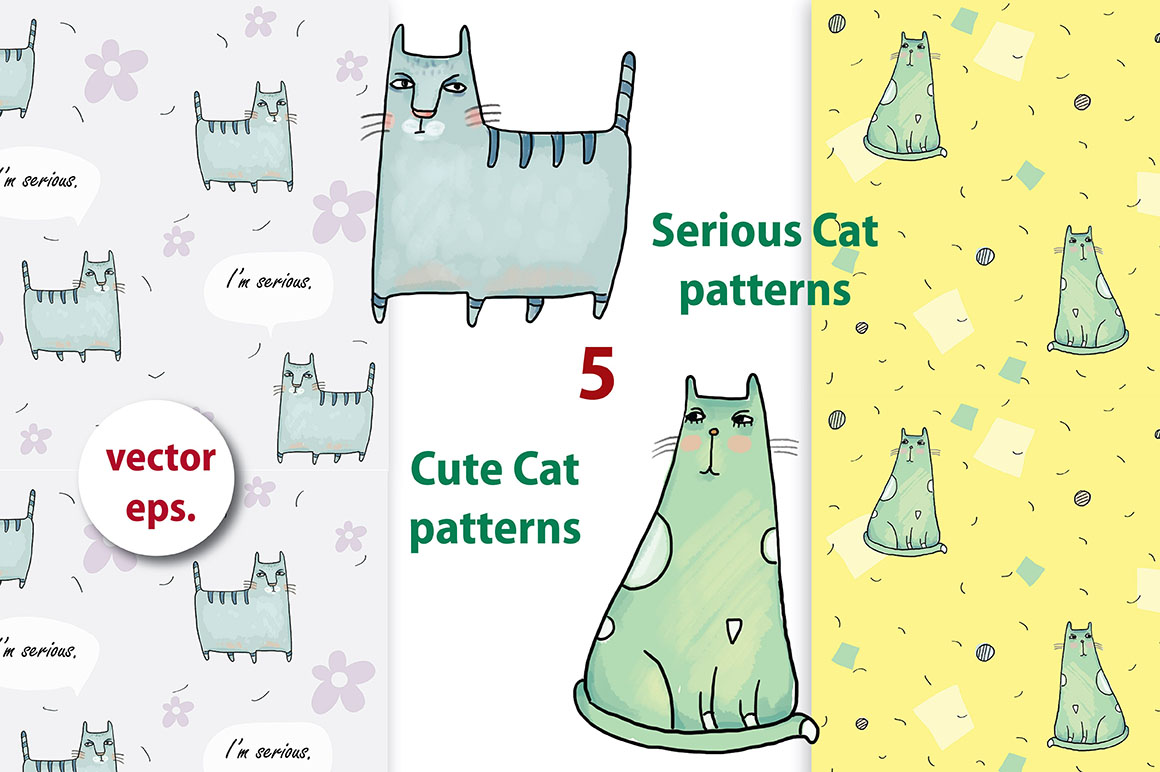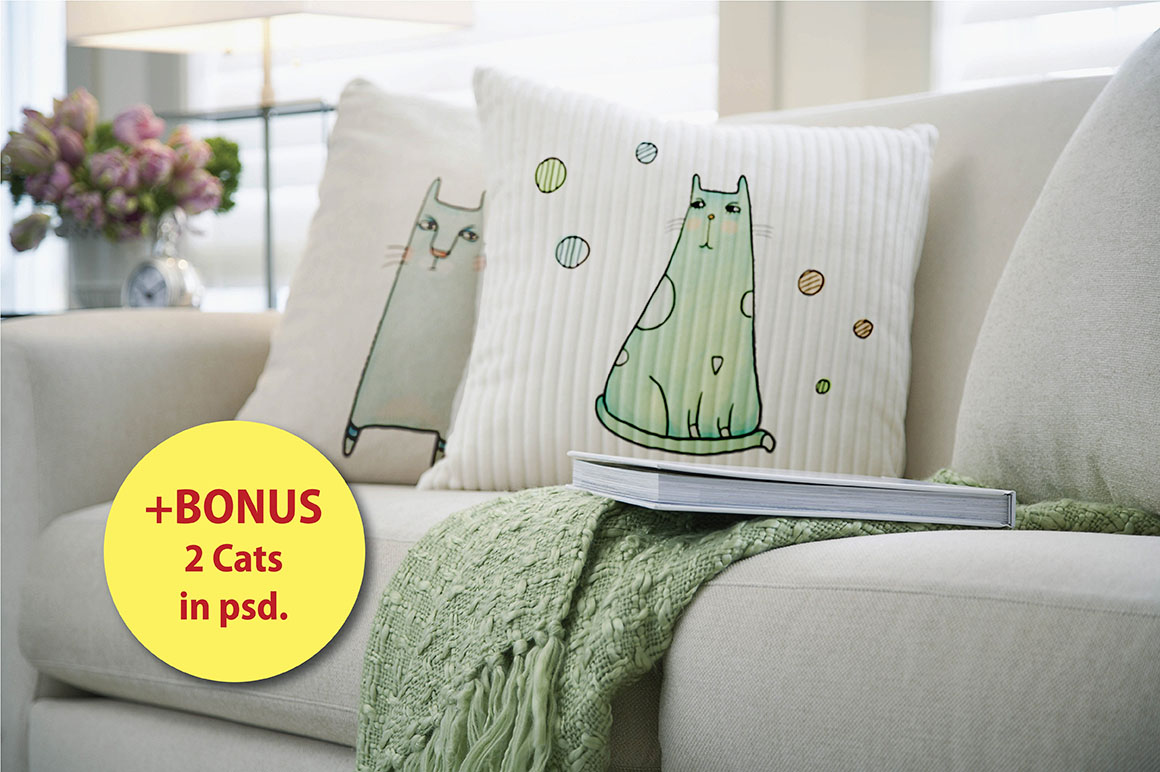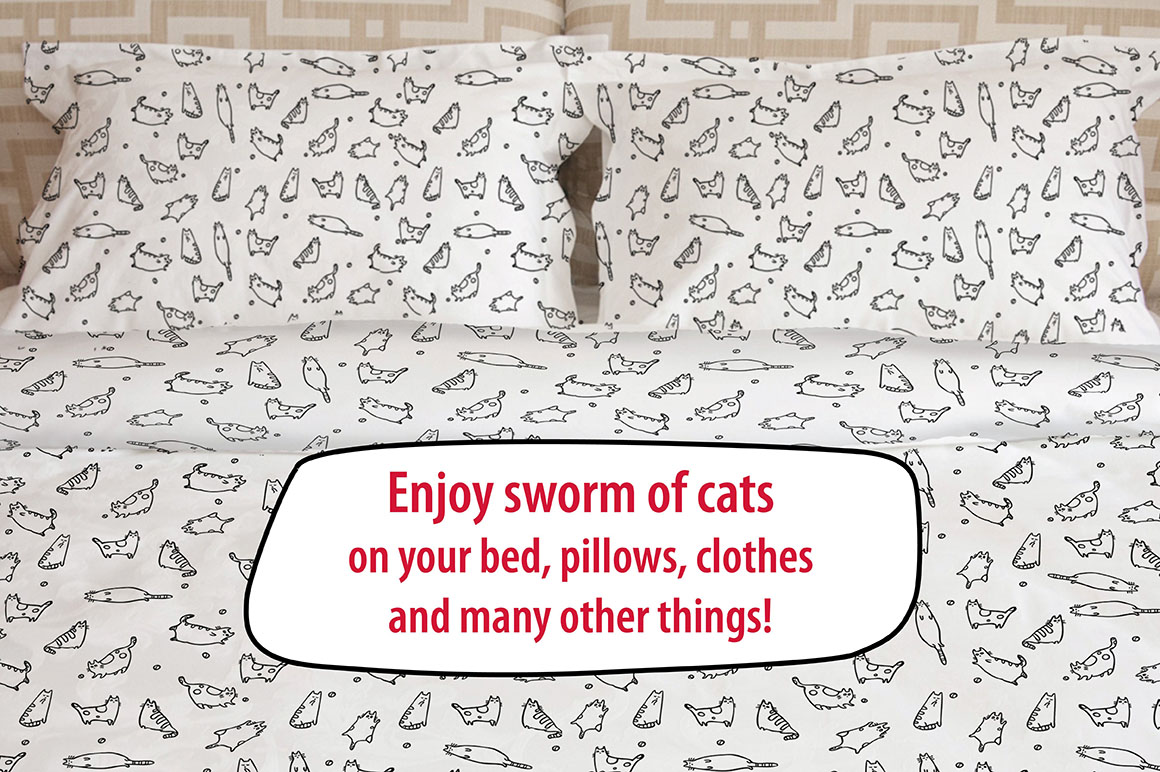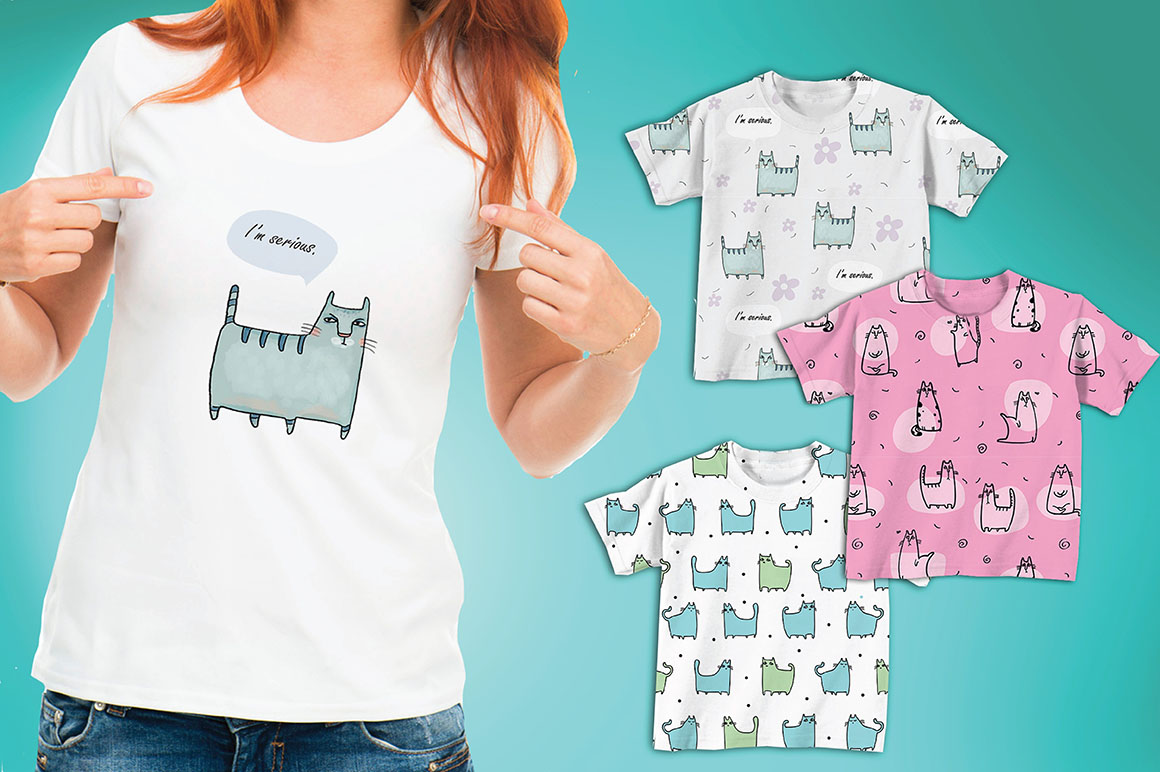 5. KotoYoga – patterns and prints from Zooza Art
New cats are ready for new design fantasies) Now they are relaxed and flexible, so you can use them as you want! Bright patterns will be ideal for children's and woman fashion, and also in web, greeting cards and many others.
10 patterns in different colors – EPS, JPG, PNG
7 another pattens with cats in lines, different colors – EPS, JPG, PNG
8 vector cats – EPS, PNG, JPG
3 illustrations with YogaCat (JPG, PNG, 2500x3500px, 300 DPI)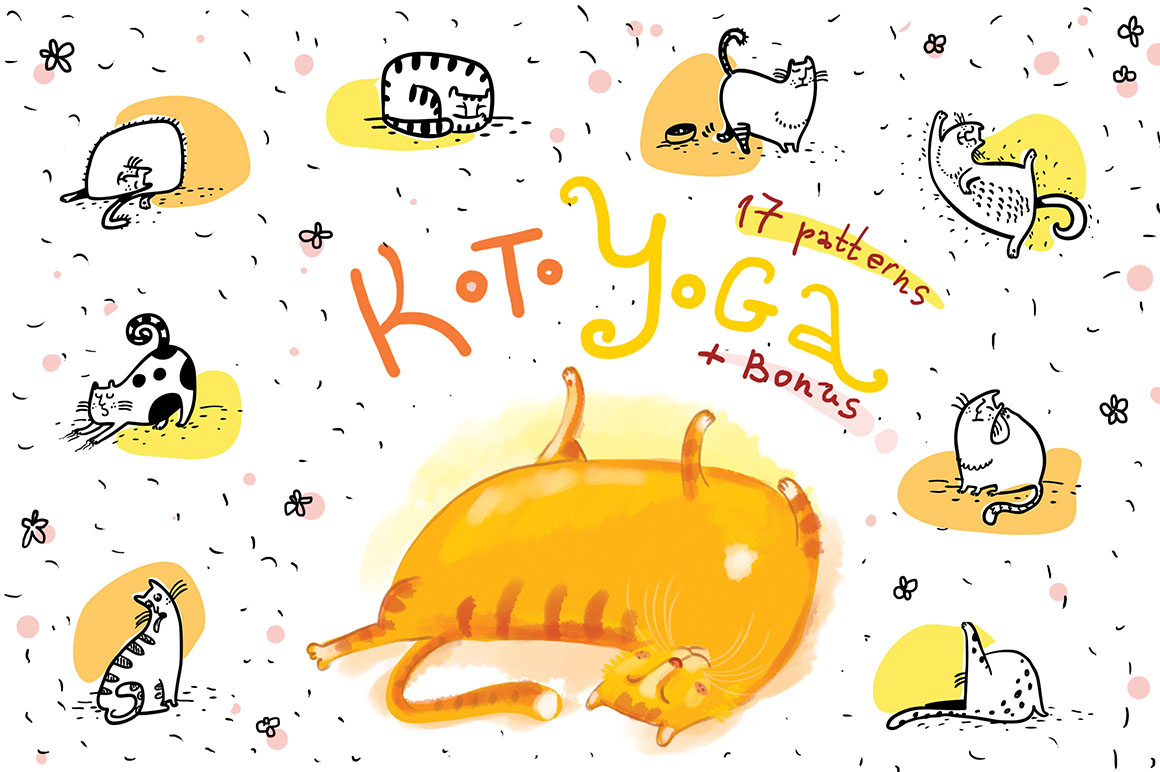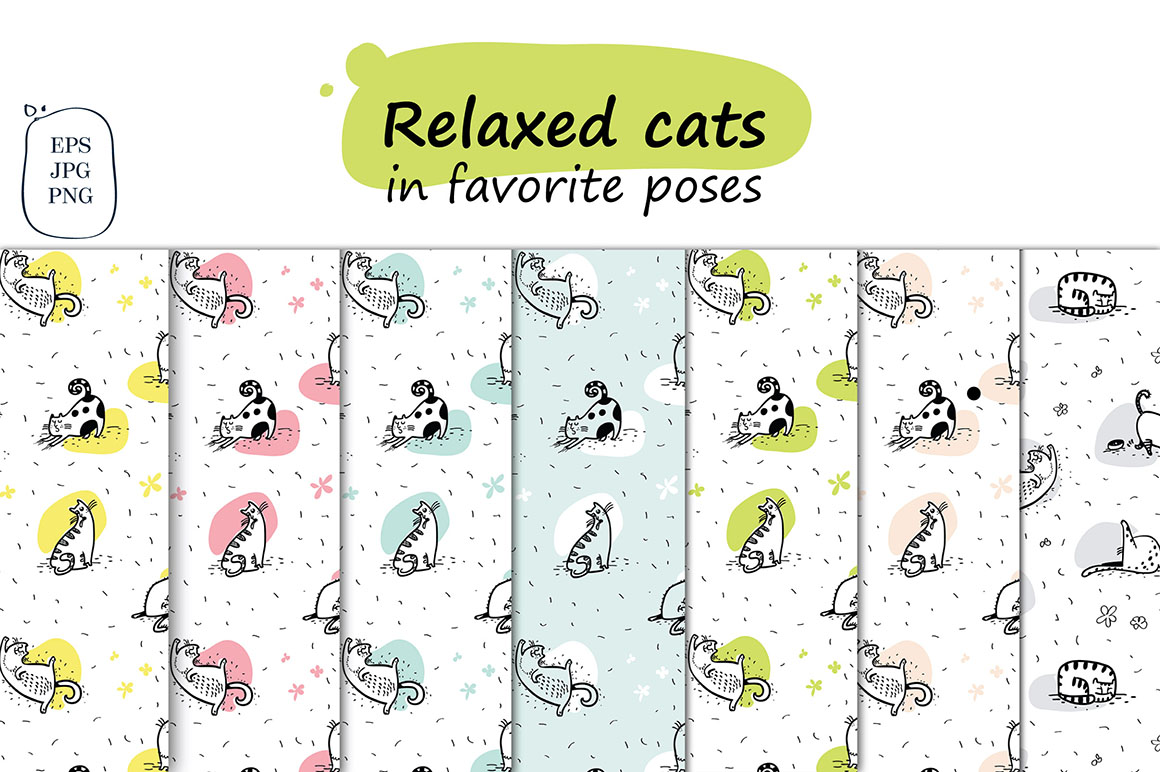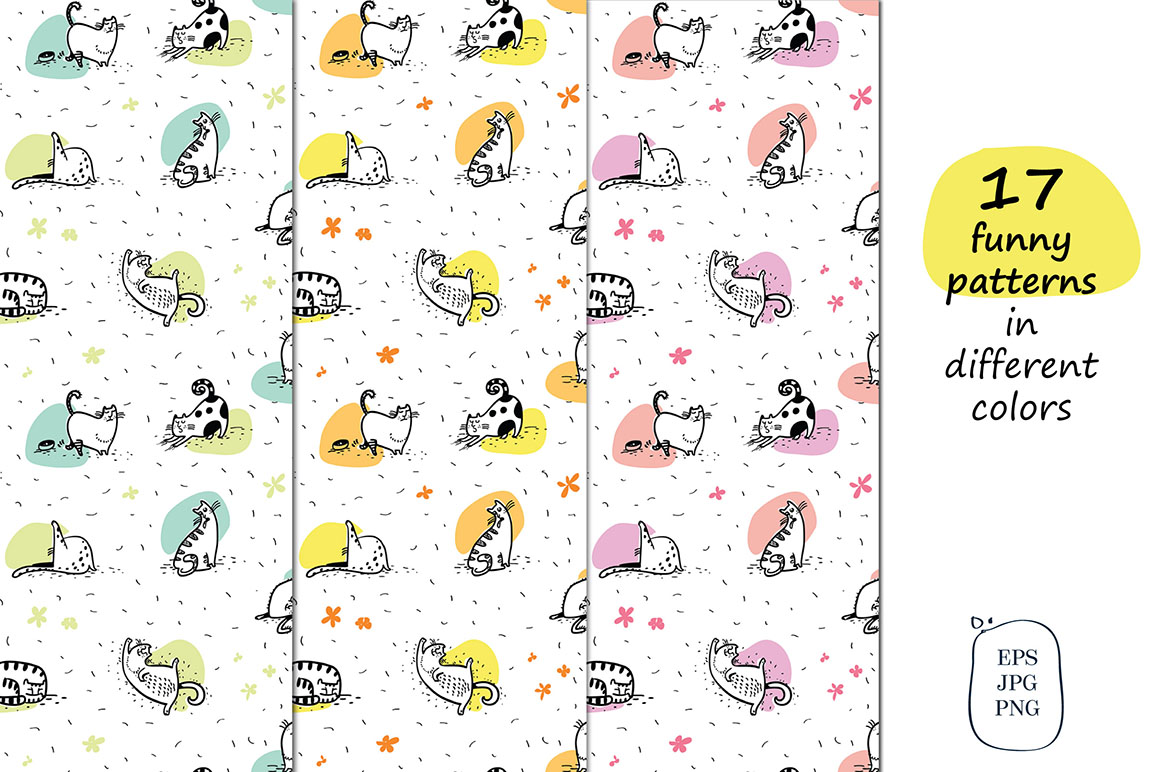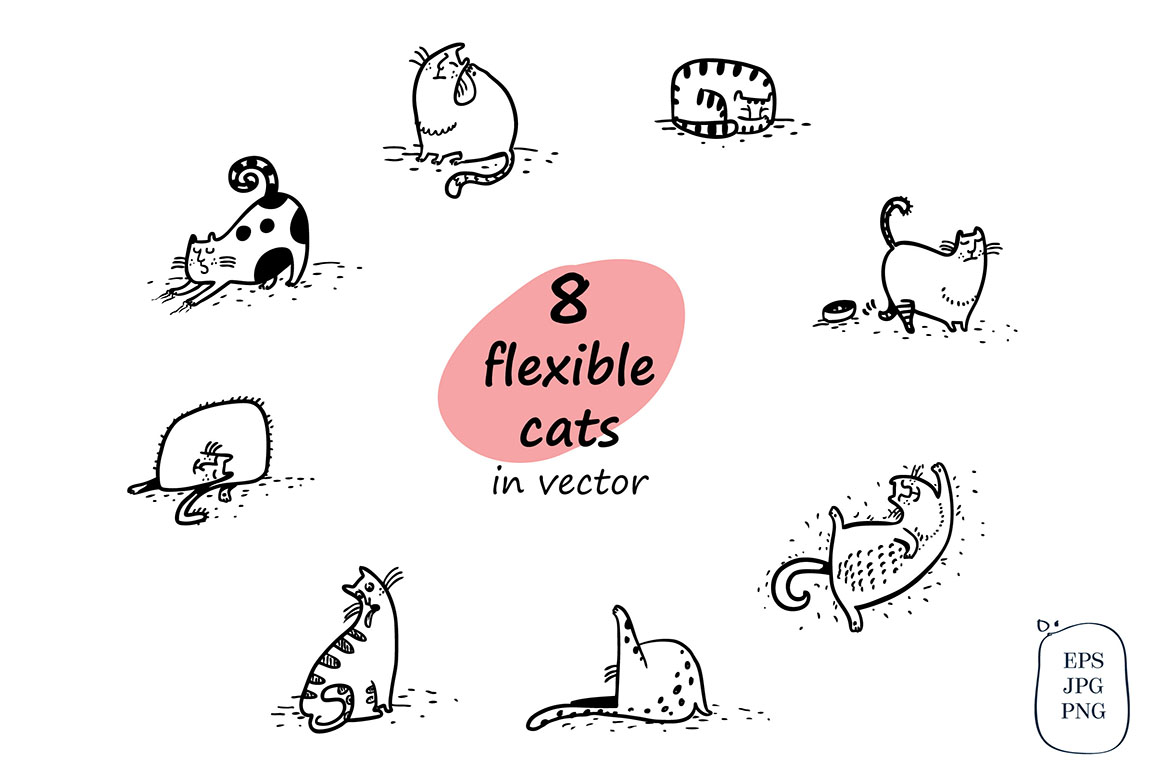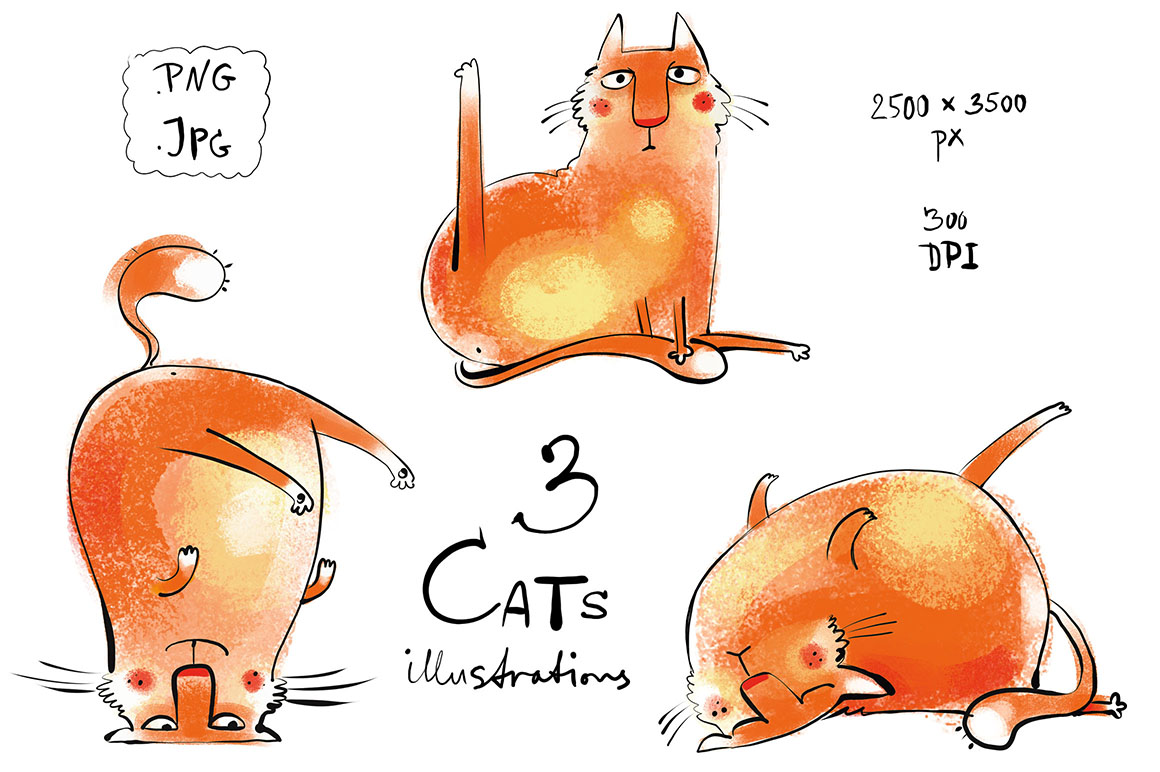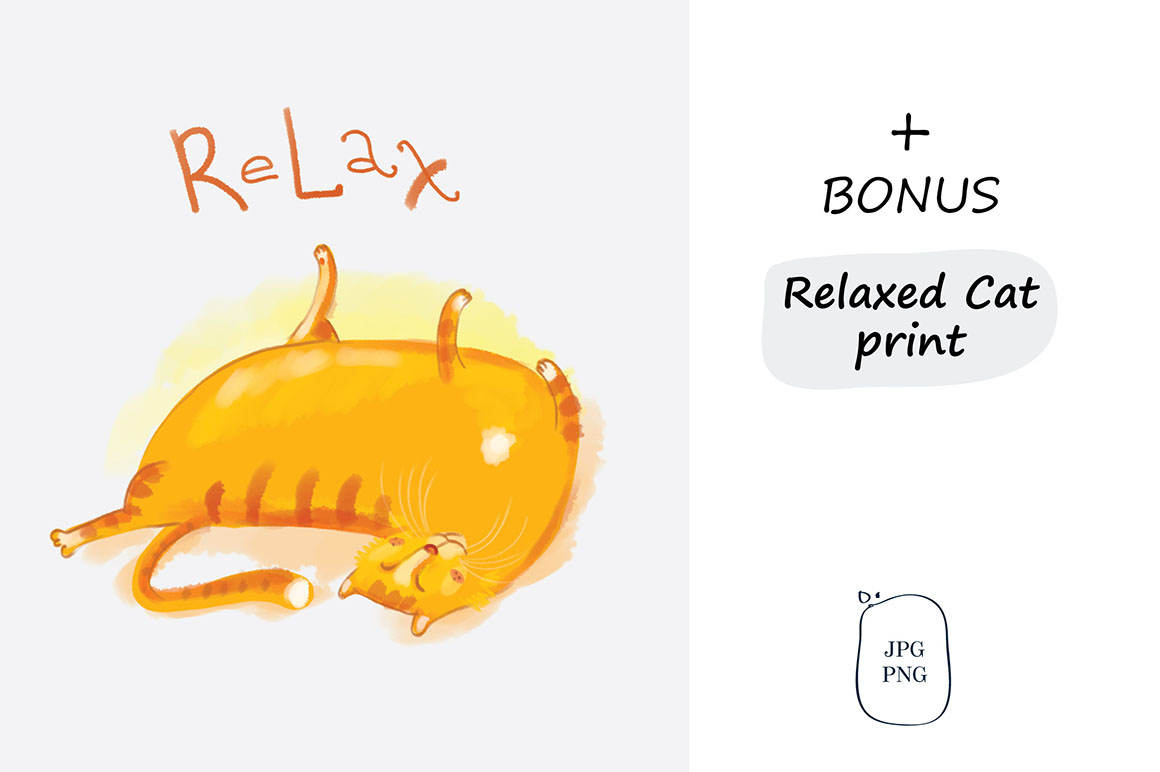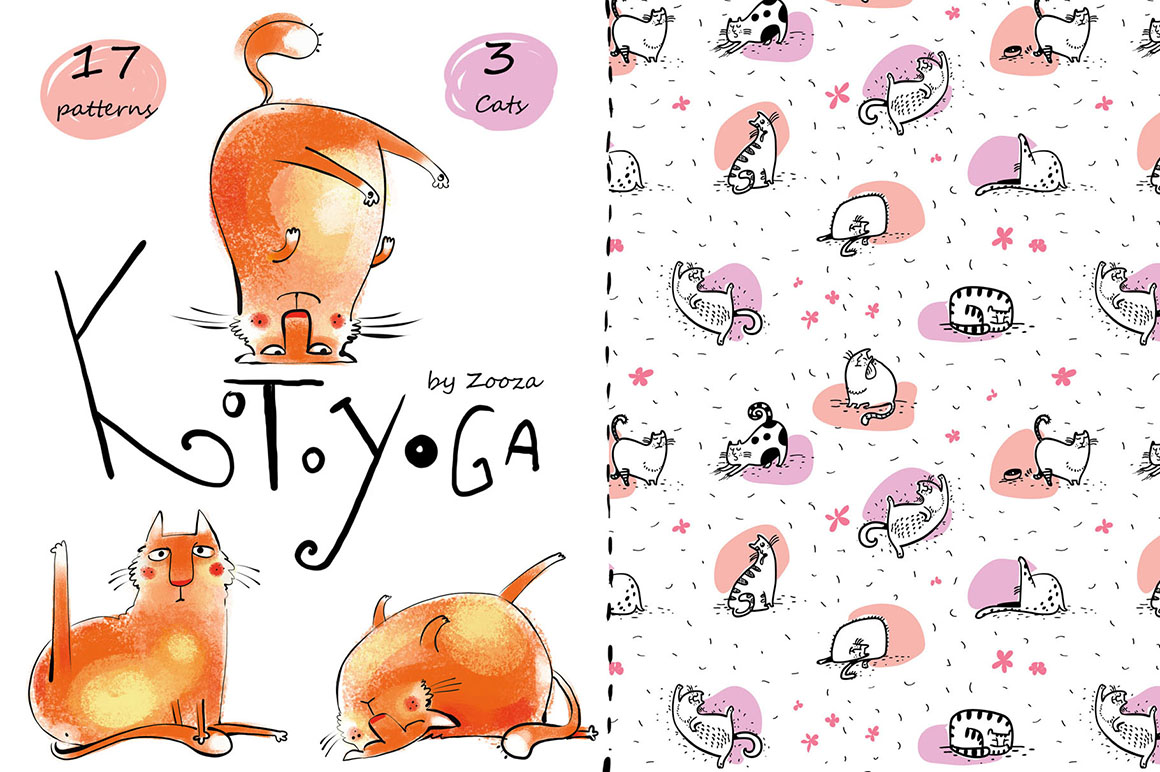 6. St.Valentine's Cats – 82 elements from Zooza Art
It's very cute and warm collection, which was specially created to February 14, but it is also wonderful for wedding, Birthday greetings, March 8 and for every Love moment. It's filled with a Spring mood, air and tenderness. Make your dears happy with romantic cards and invitations, funny mugs and pillows, bright wallpapers and screen savers. Gift love and enjoy:)
Here you'll find:
82 graphic elements in EPS, PNG formats
Romantic clip-art: 6 bouquets with cats (and with-out), 4 scenes of love, 4 frames with cats and flowers. All files are in EPS, PNG, JPG formats, 300 DPI, 6500×6500 px.
4 romantic seamless patterns (EPS, PNG, JPG)
A color picture for painting (JPG, A4)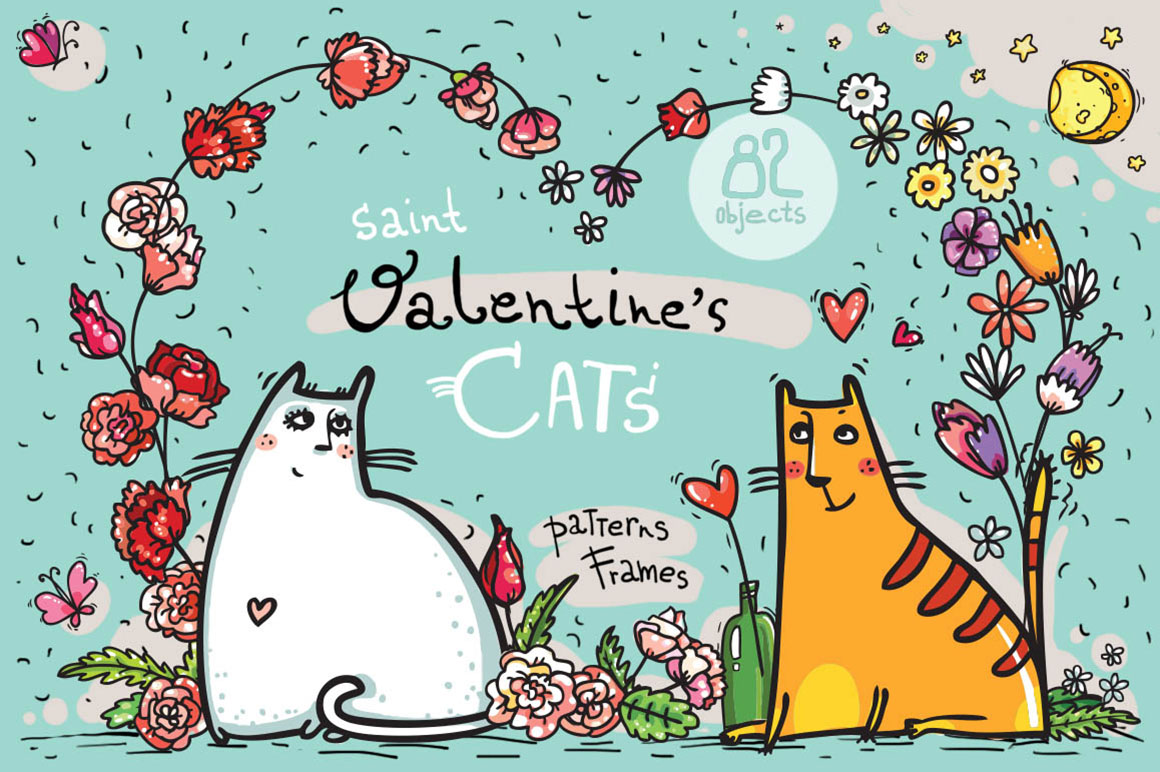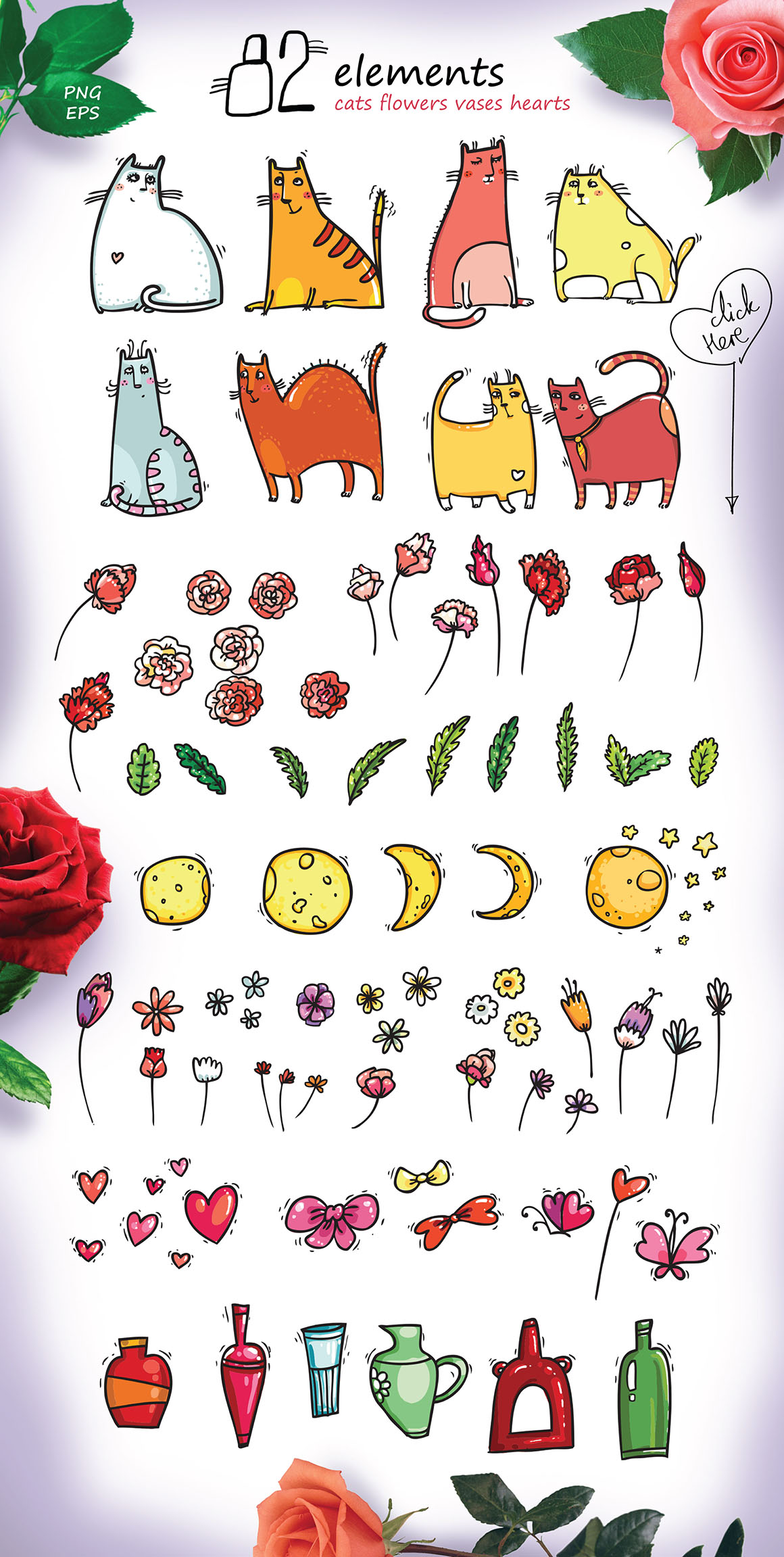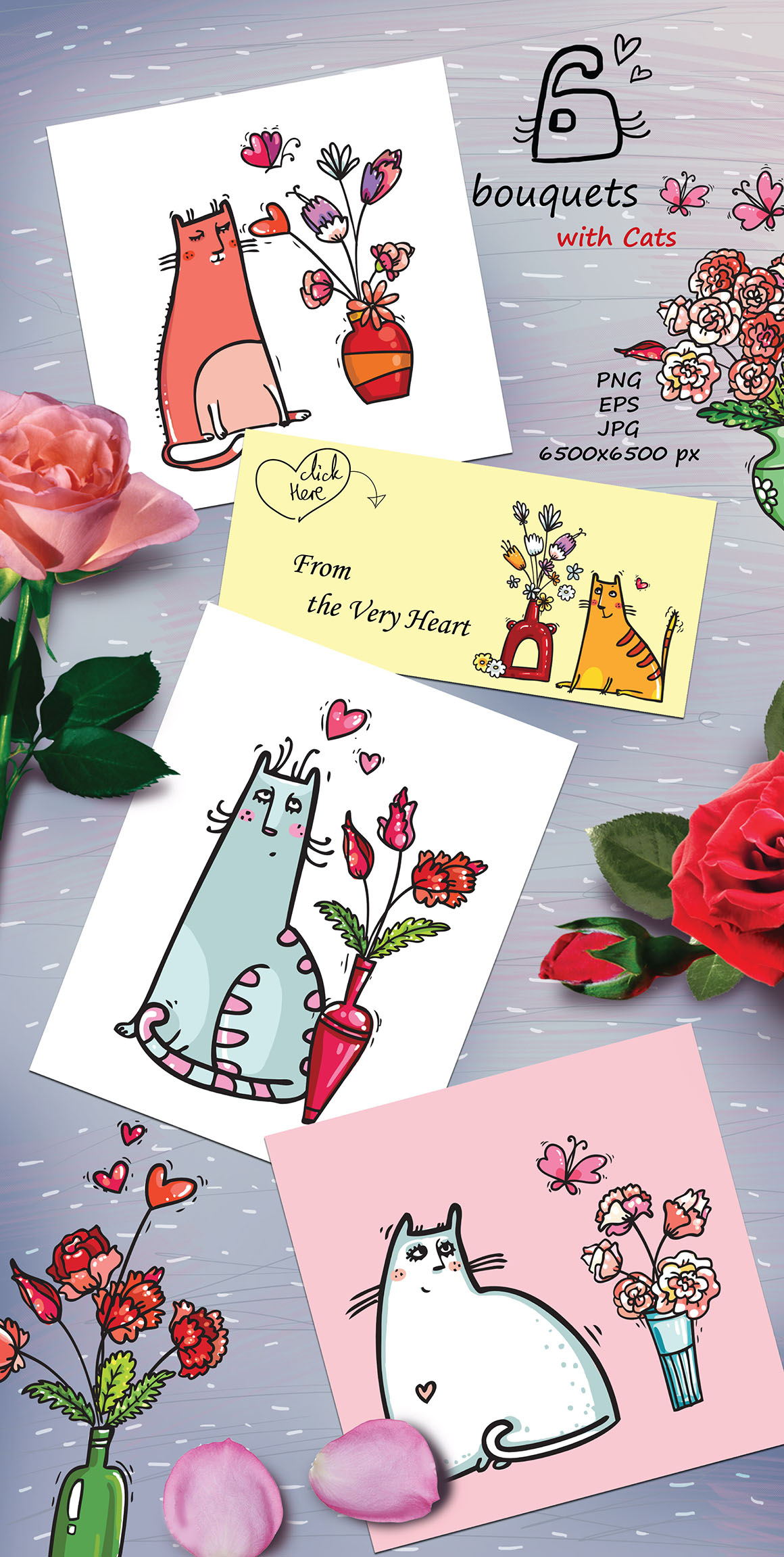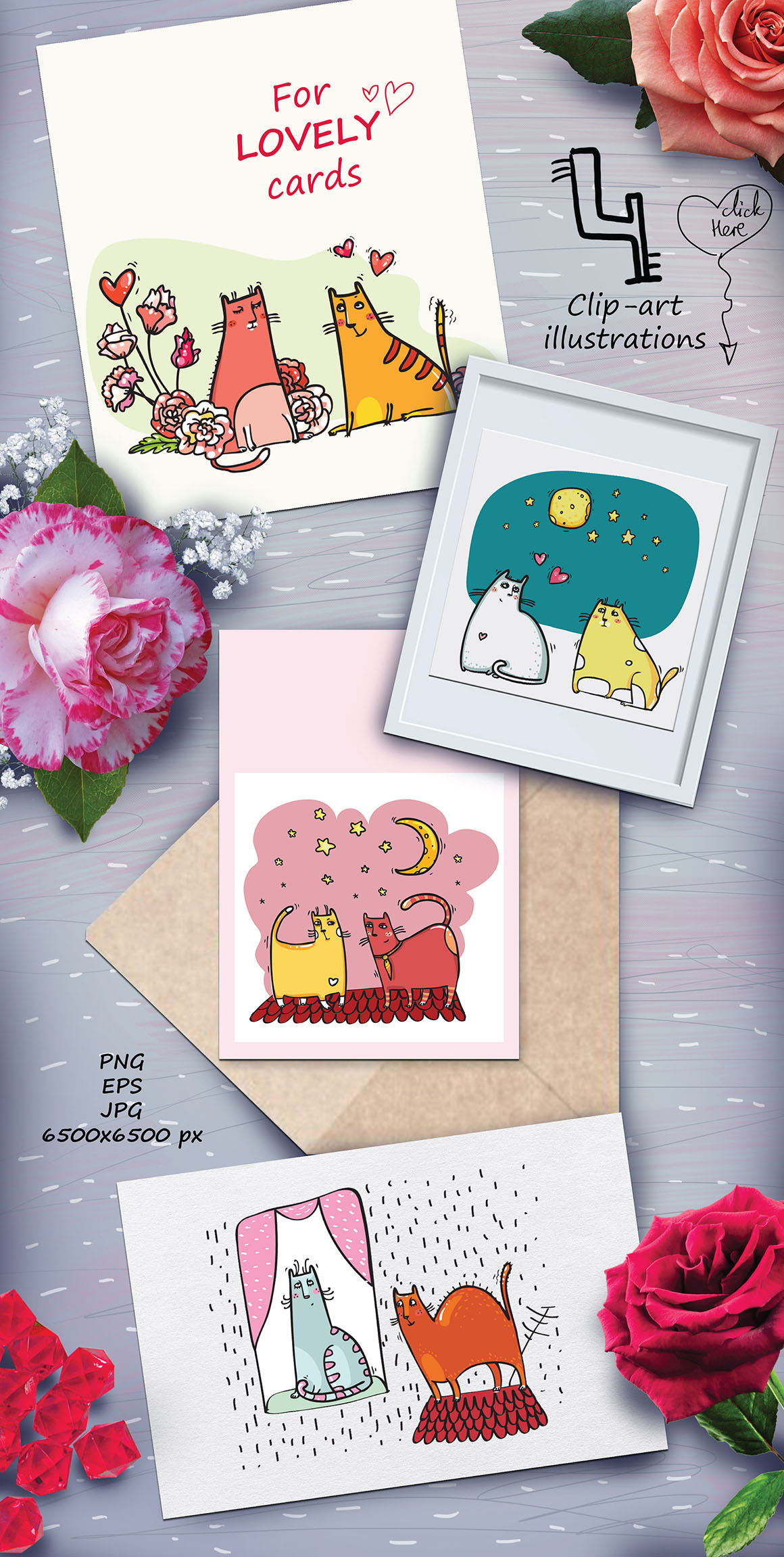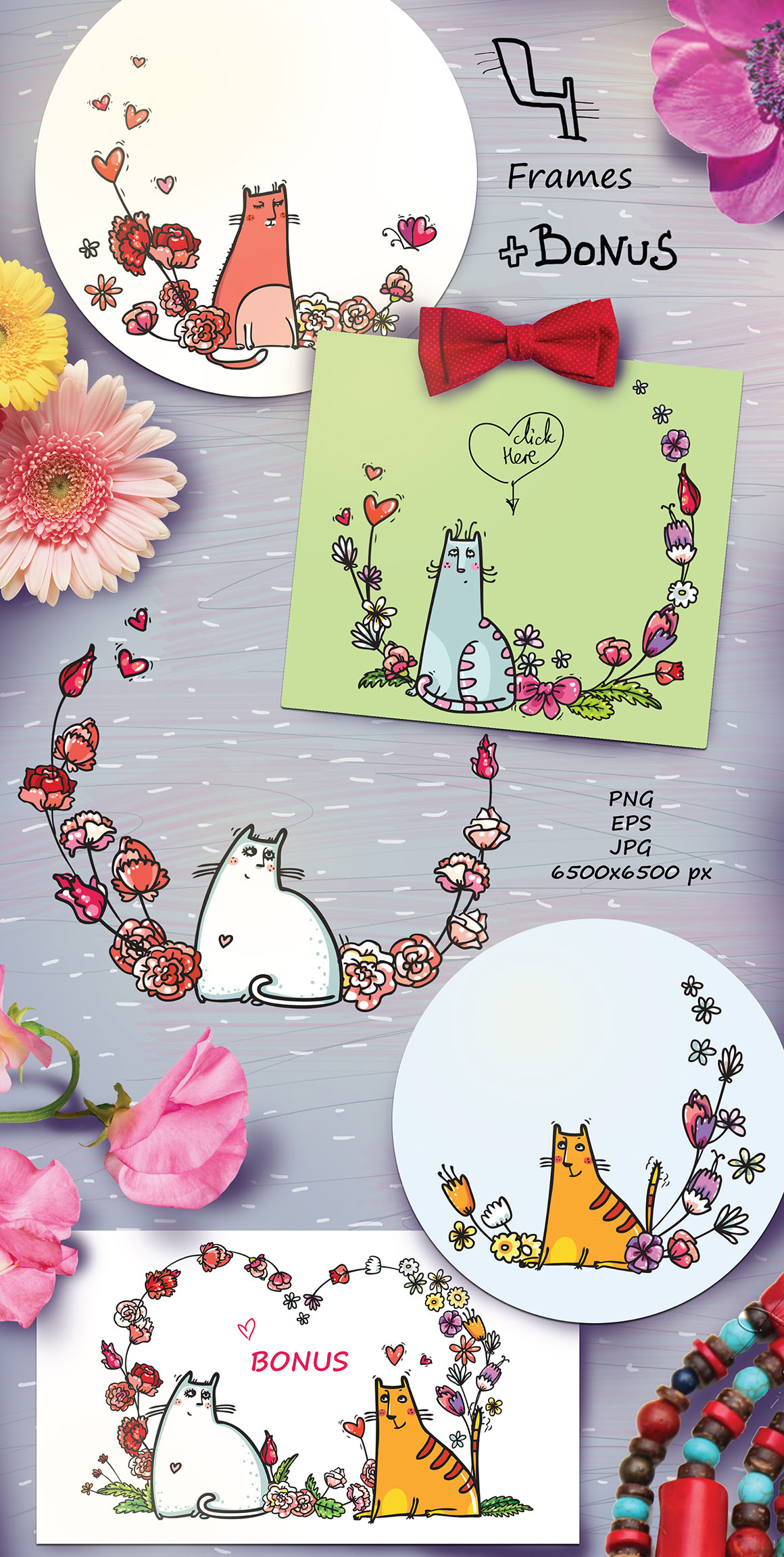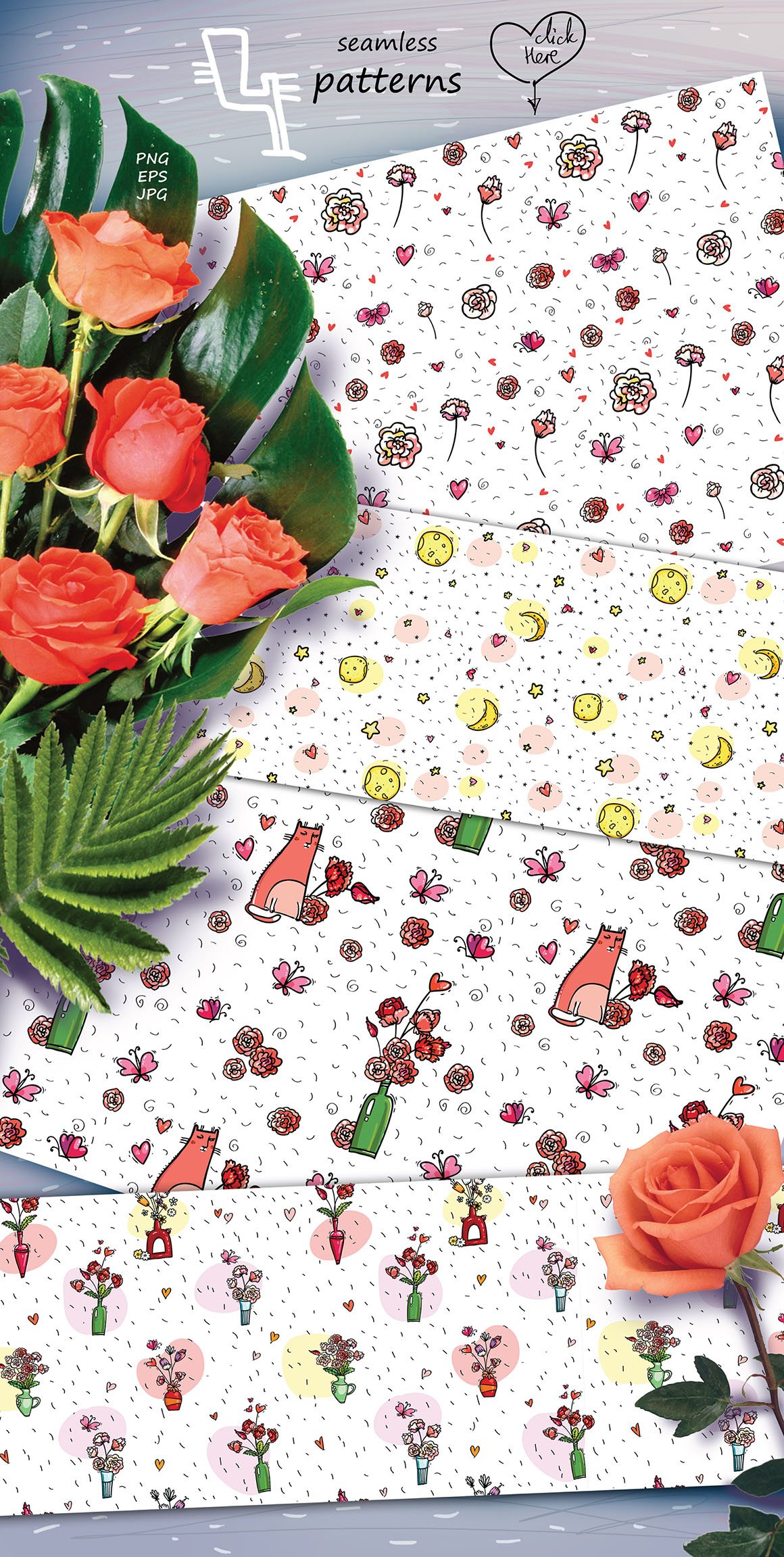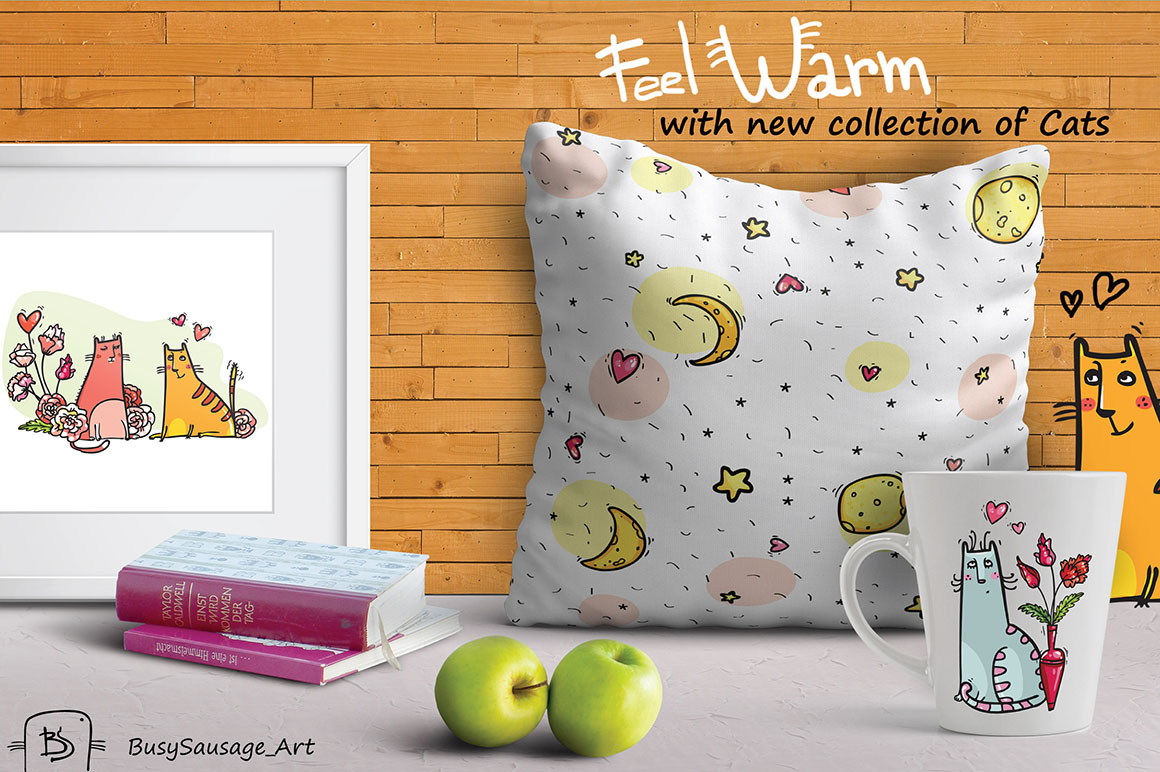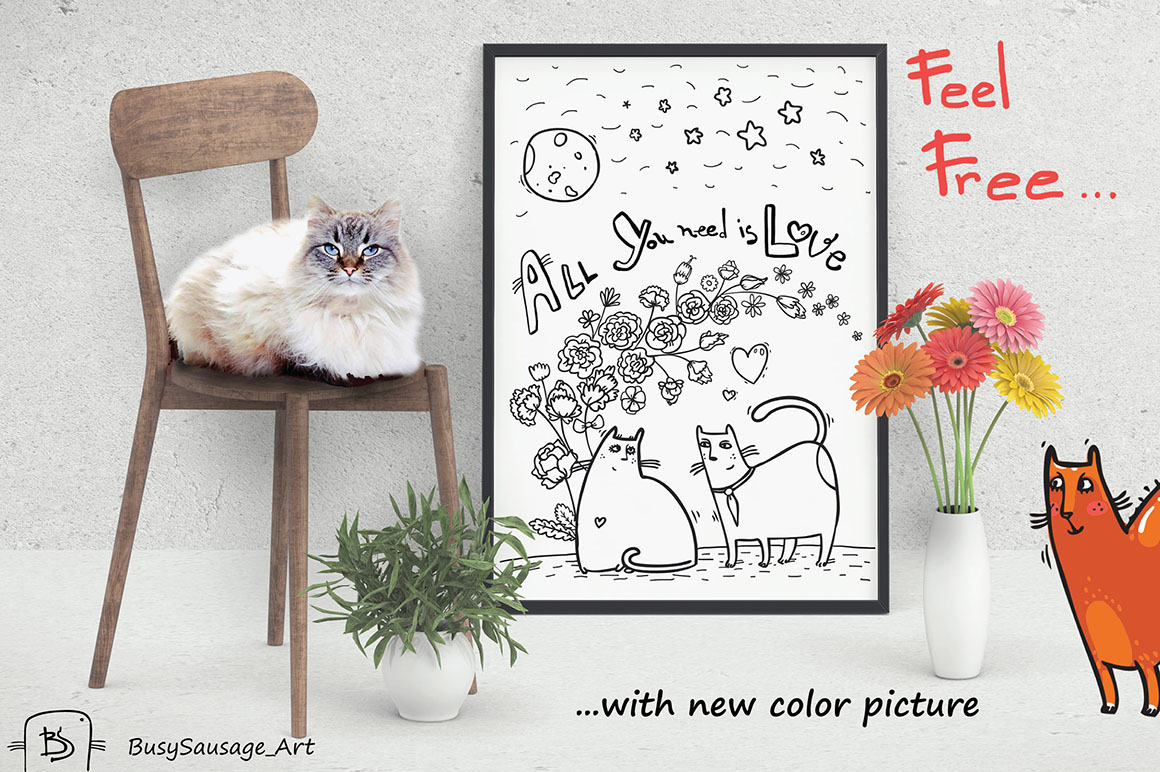 7. Cool Cat collection: patterns, print from Zooza Art
What every cat is usually busy with? He eats, sleeps, sometimes plays… And in the rest of the time he thinks, that he is cool. Cool, cool, cool. And handsome.
I propose to you the collection of really cool cats. I love it. Please enjoy.
8 and 5 patterns with cats in interesting color solutions (JPG, PNG, EPS)
2 prints for your T-shorts, cups or something else (EPS, PSD, PNG, 300 DPI, CMYK)
BONUS A poster with cool cat (PSD, JPG, 300 DPI)
6 cats in PSD and PNG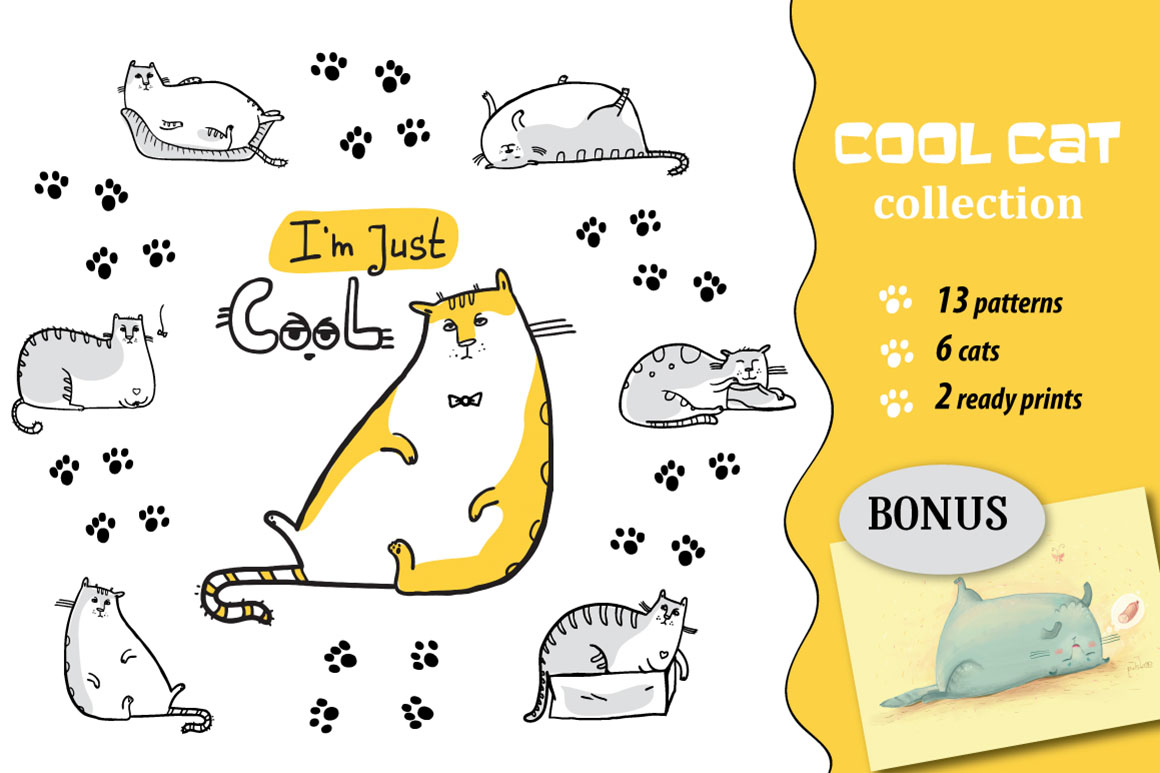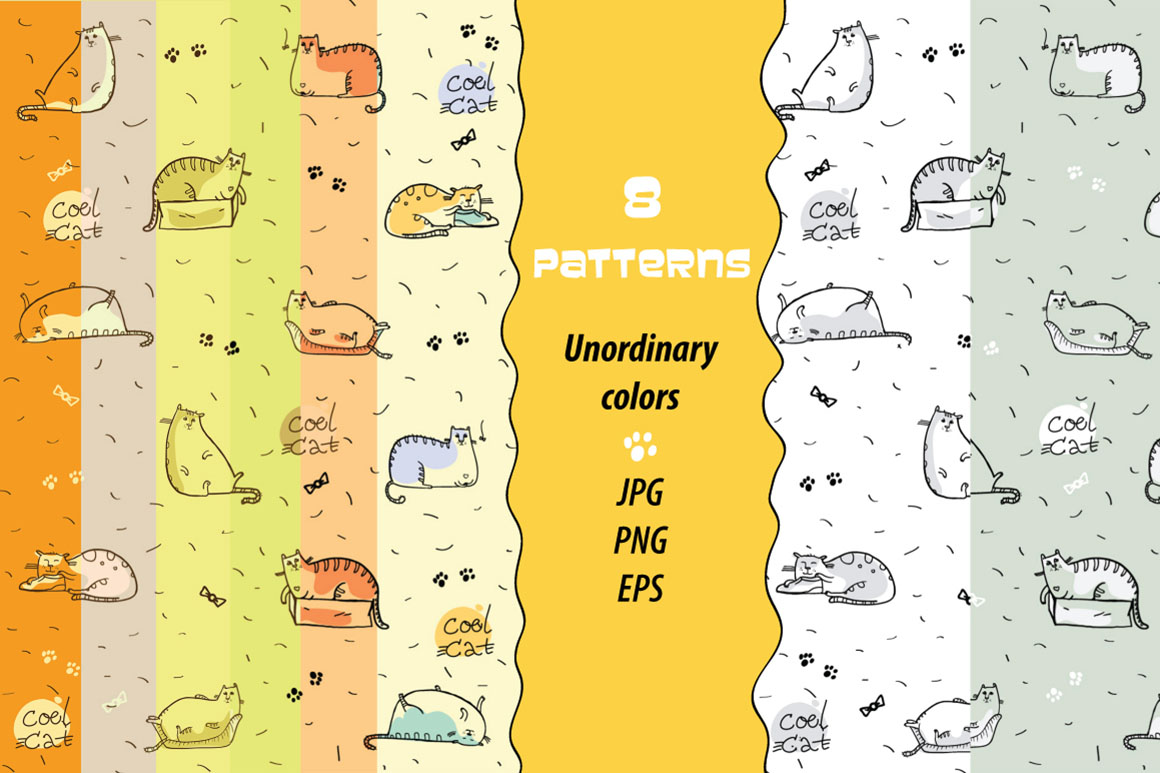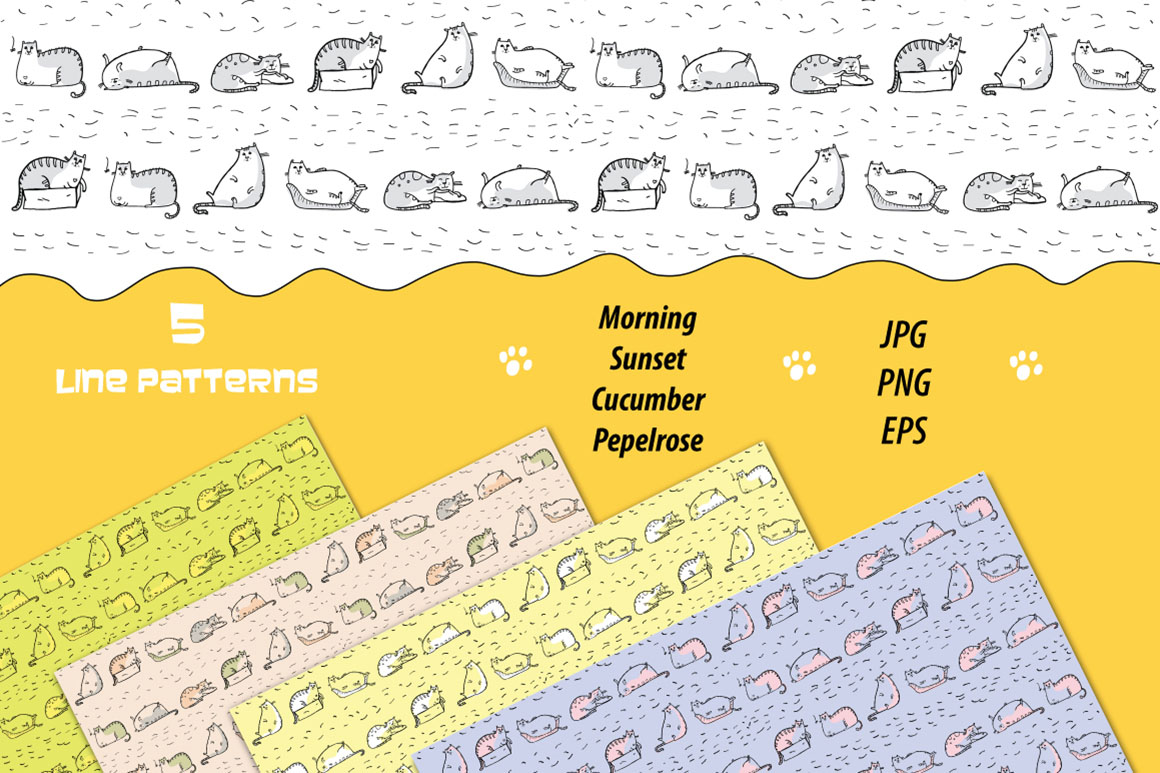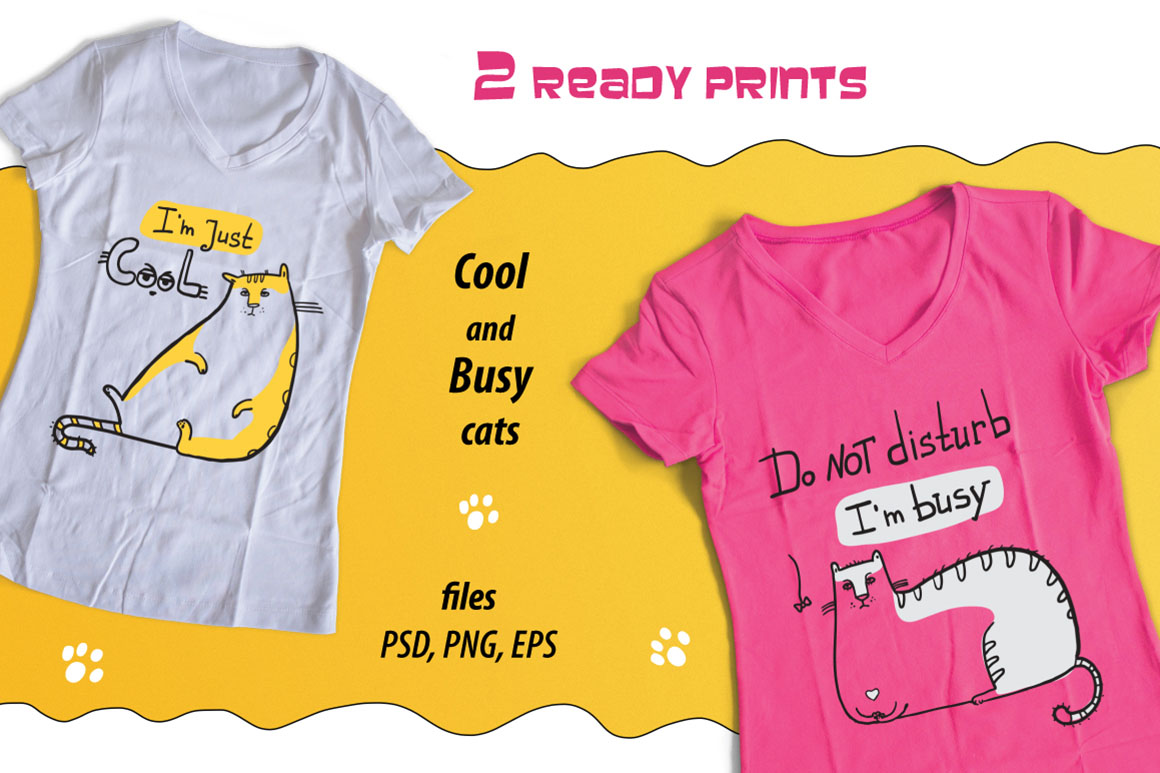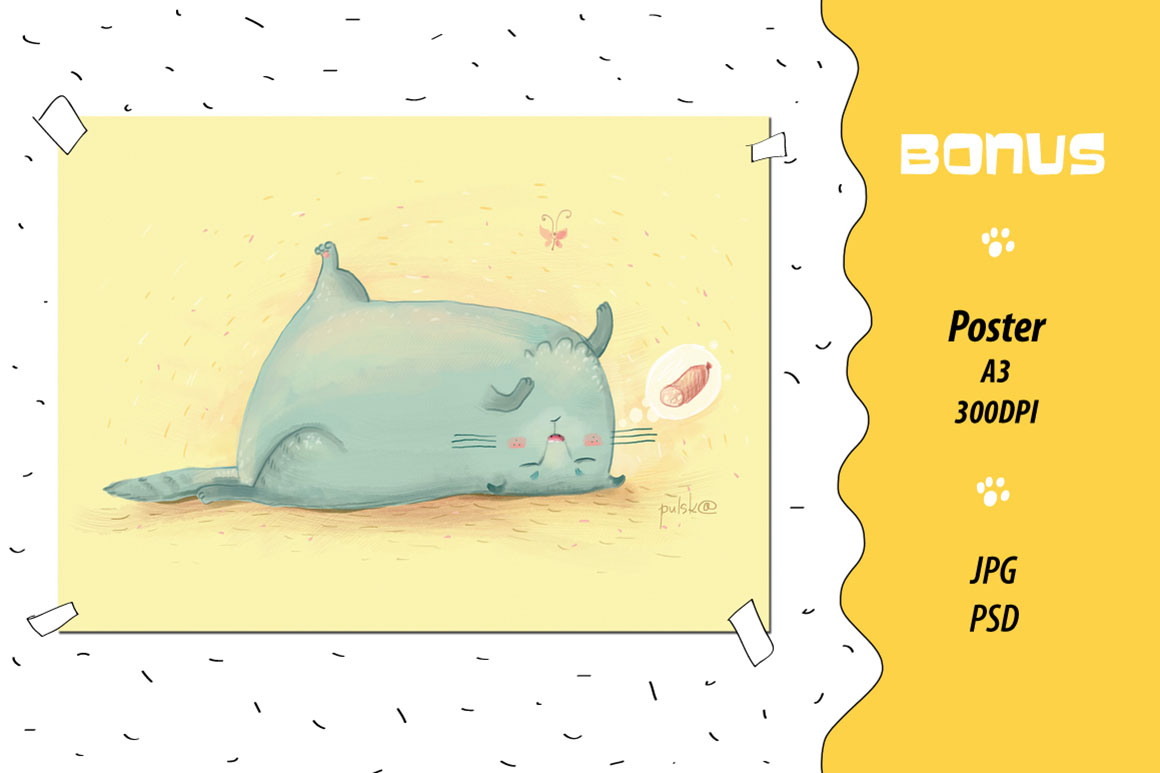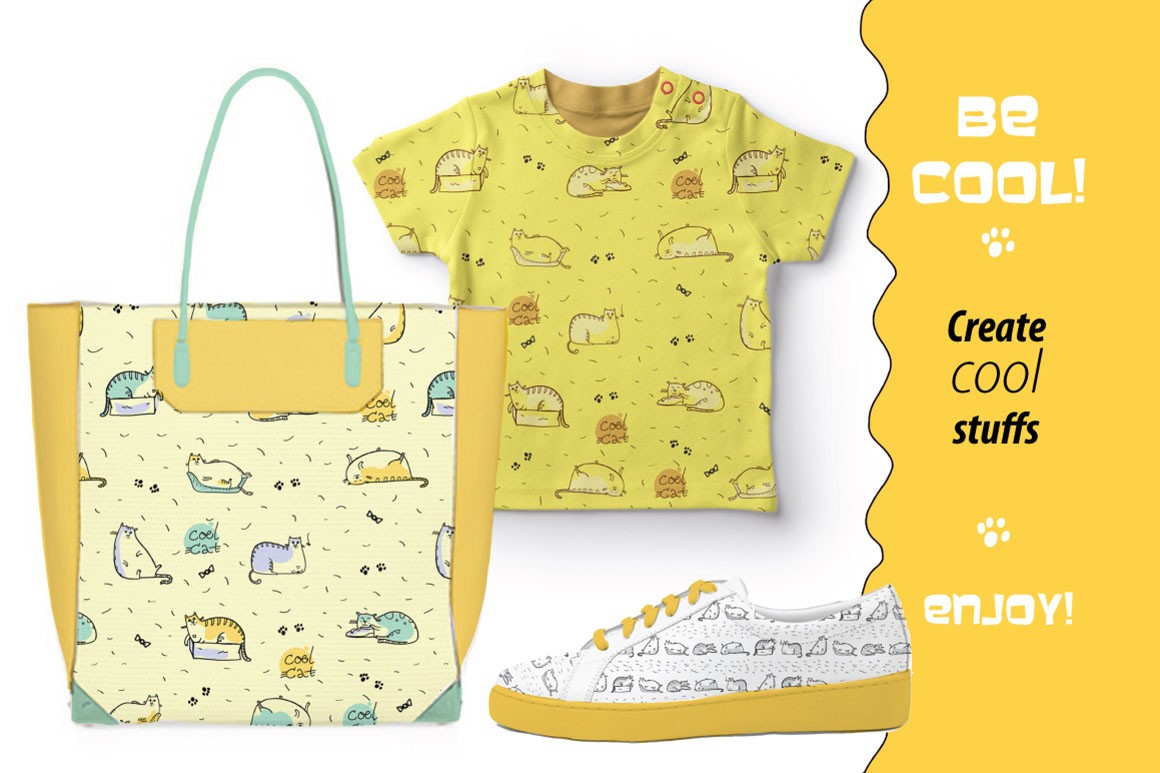 8. Flying Cats: patterns, illustrations from Zooza Art
Very cute collection of cozy patterns and tender illustrations with Flying Cats:
2 illustrations – transparent background, 300 DPI, 6000×6000 px, PNG, JPG
6 Flyinf Cats in 6 PNG and JPG files
3 patterns with Flying Cats in three colors (500×500 mm, 300 DPI, PNG, JPG, vector EPS)
15 patterns with white (8) and many colors (7) mini-cats (500×500 mm, 300 DPI, PNG, JPG, vector EPS)
It's ideal design collection for children's clothes, underwear, bedclothes, pictures and wallpapers for children room, or another cozy stuffs. Use it with joy:)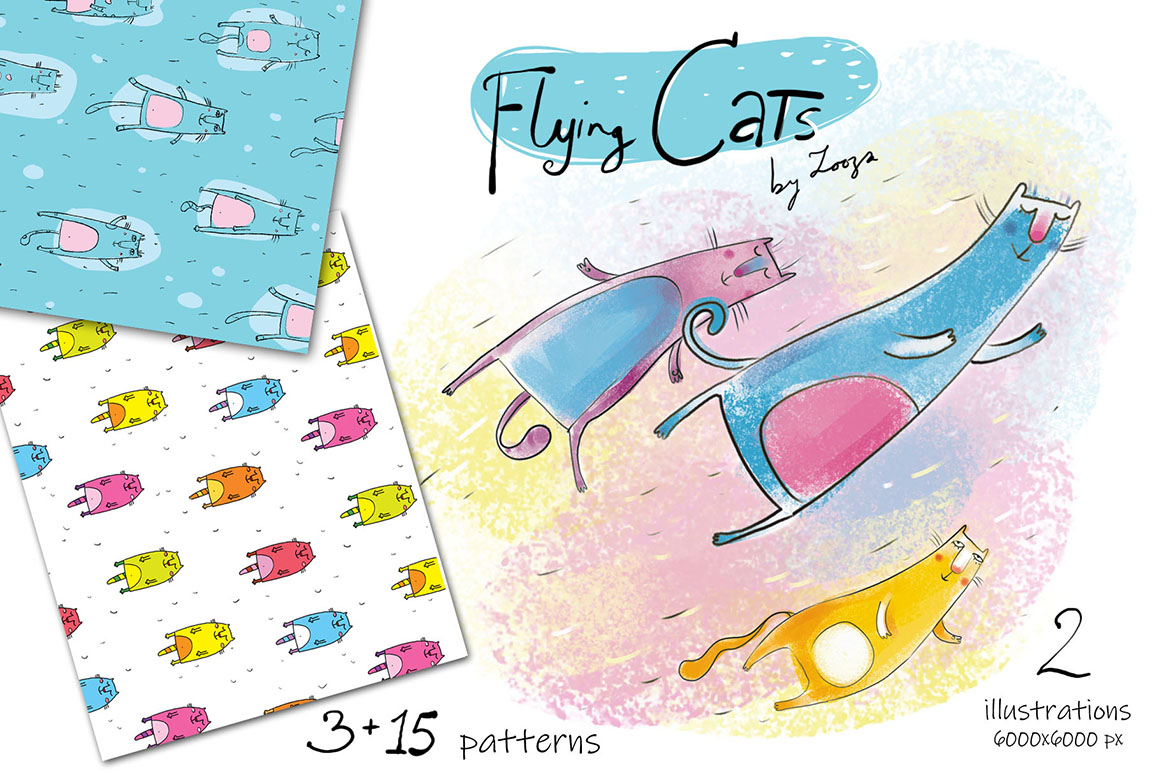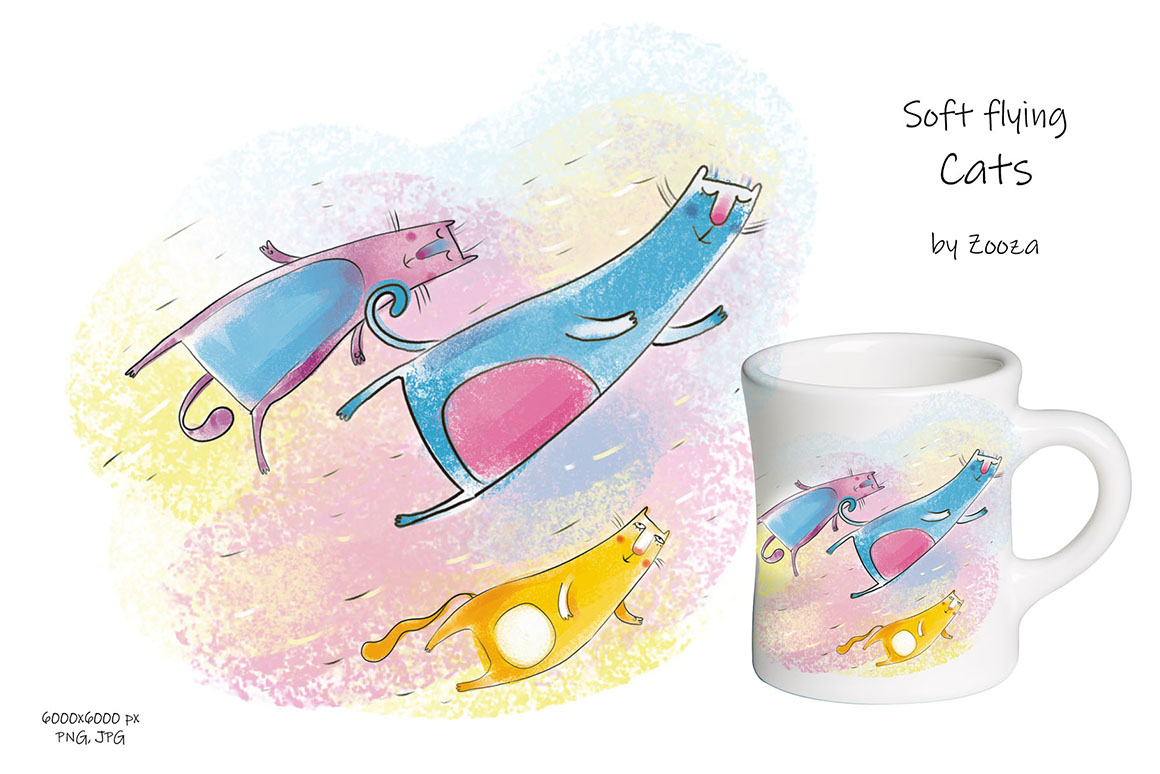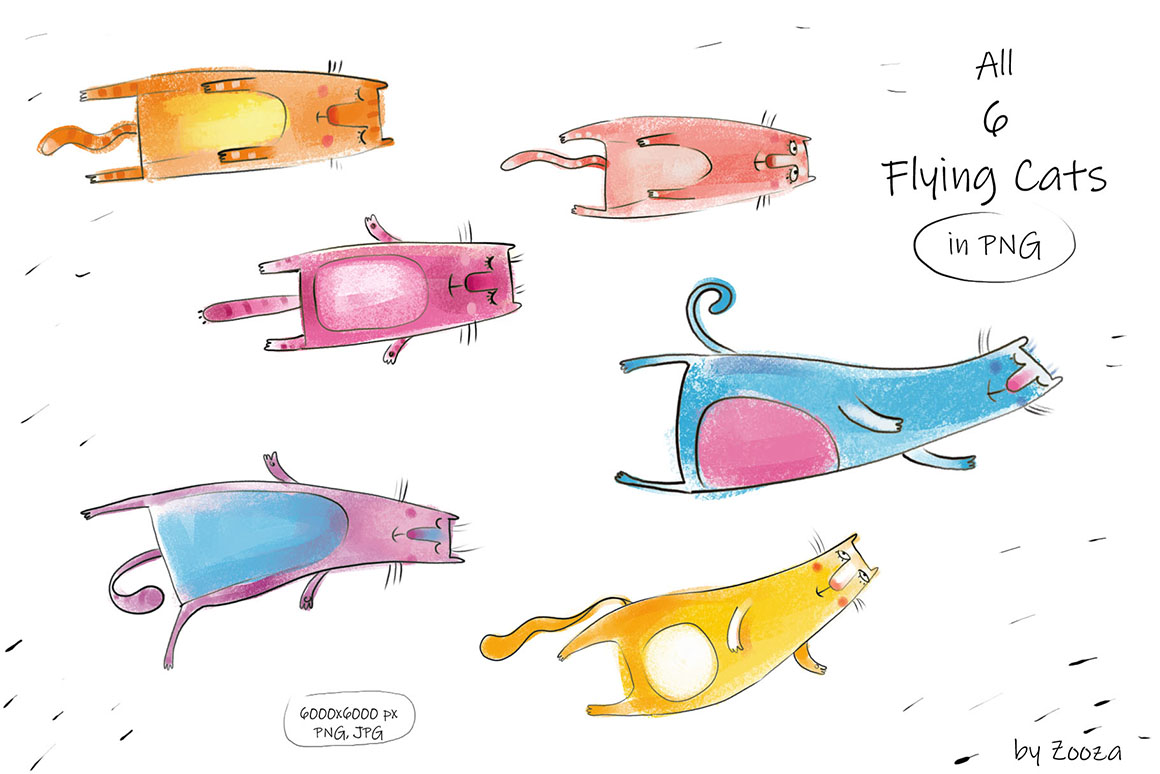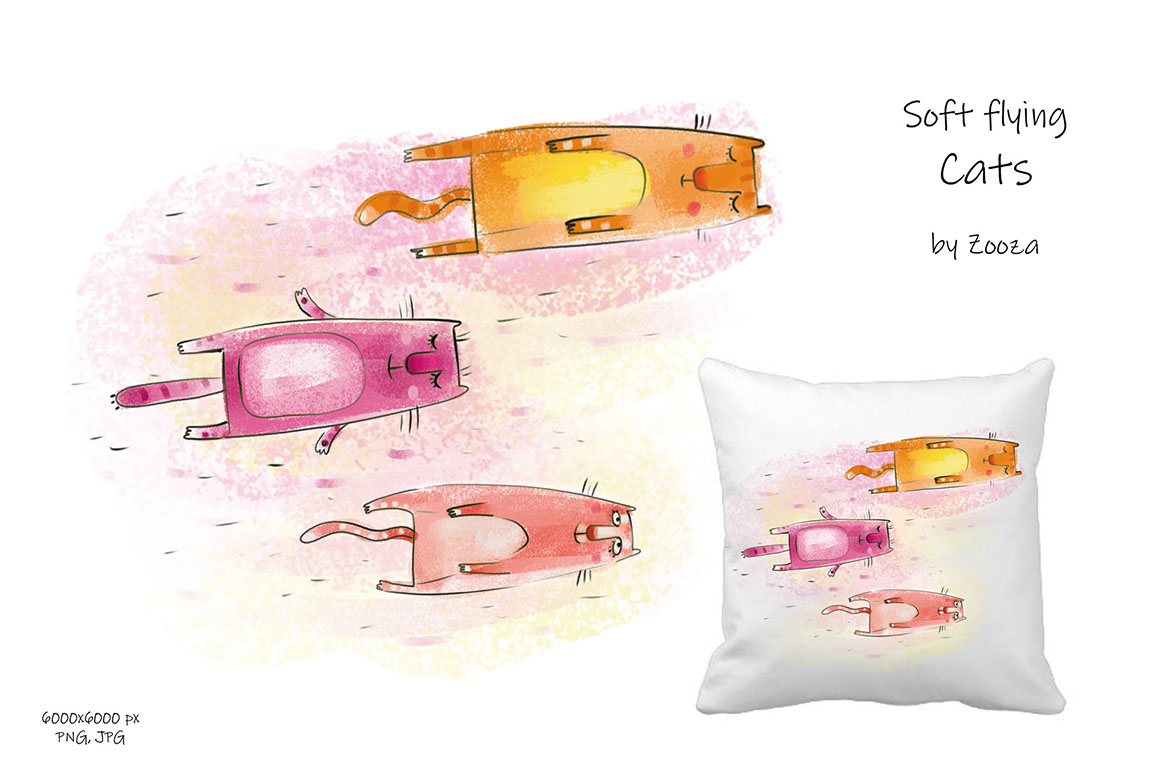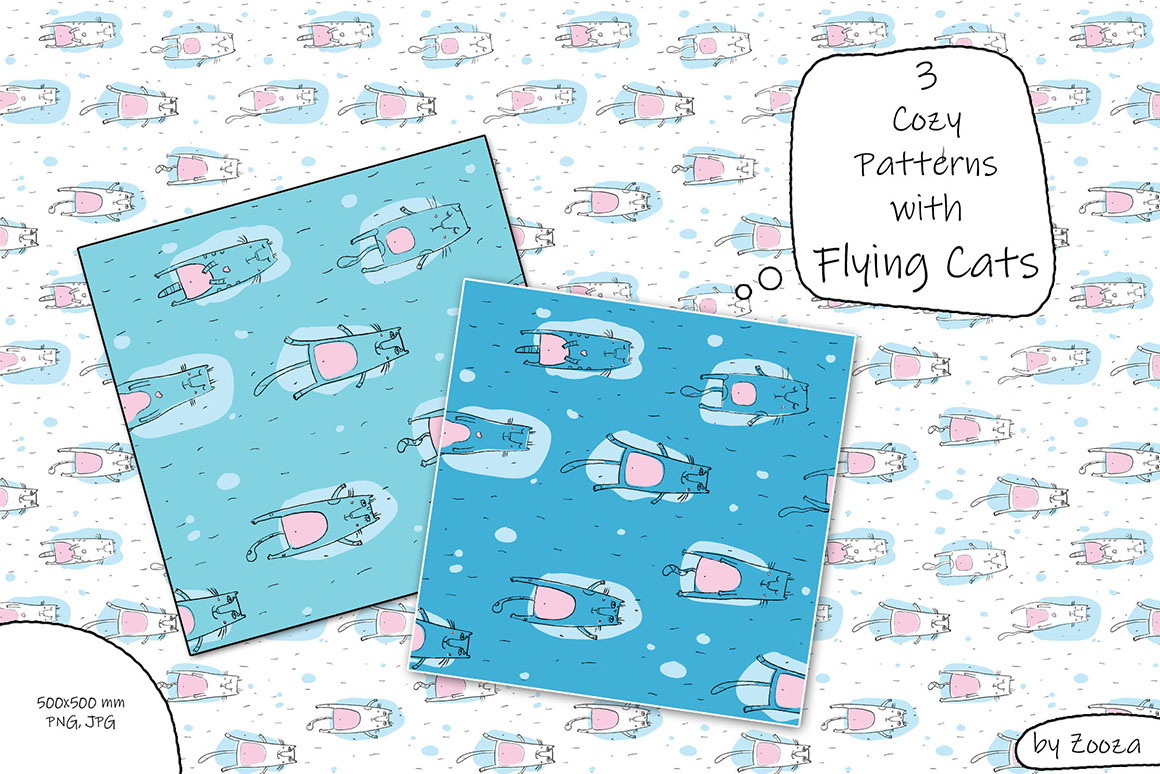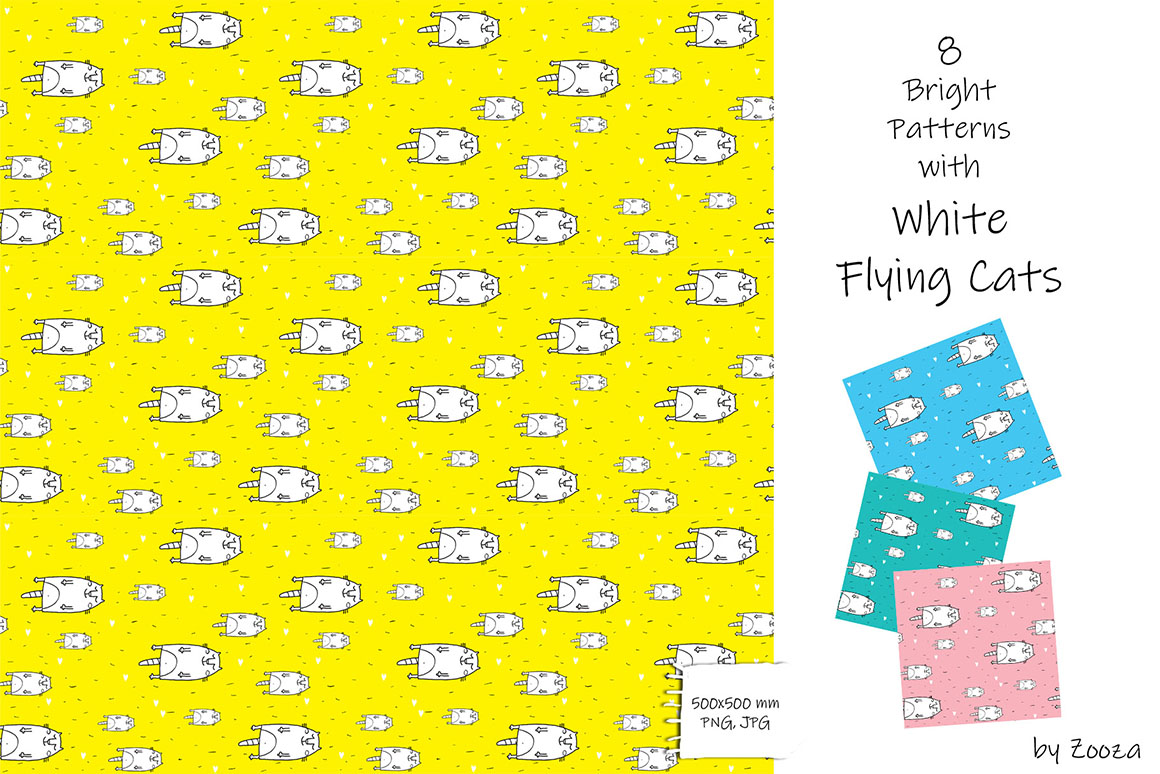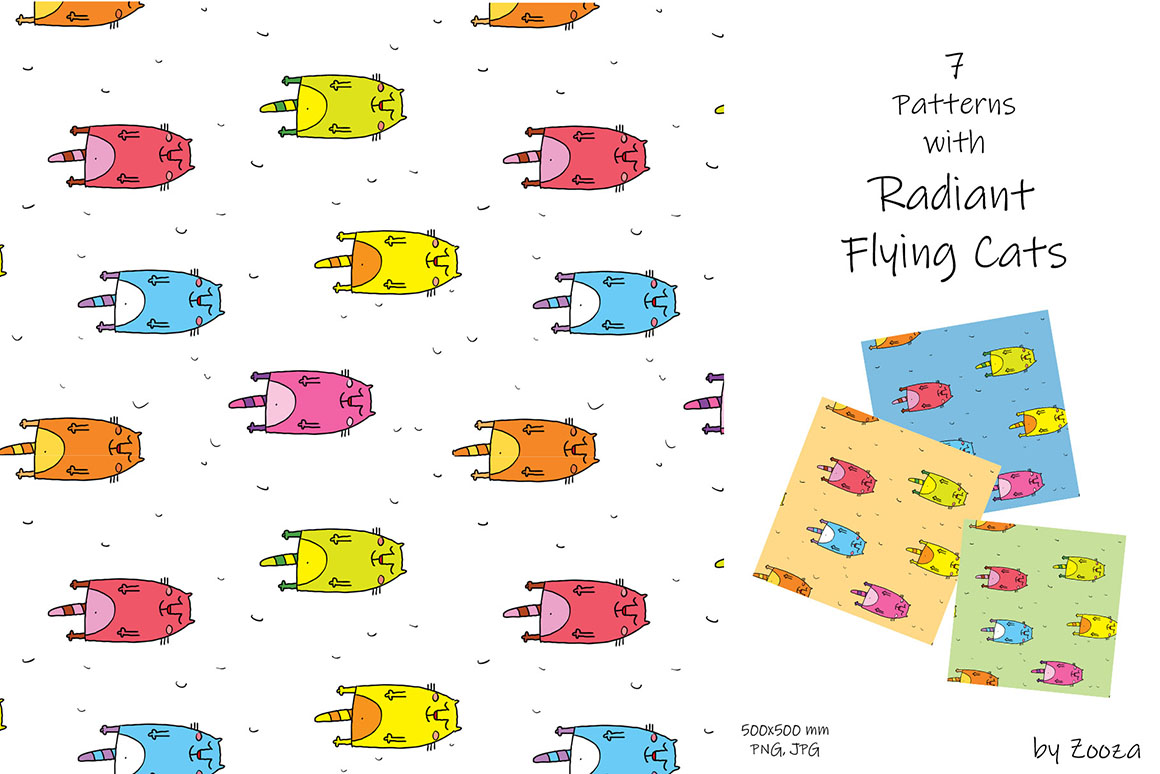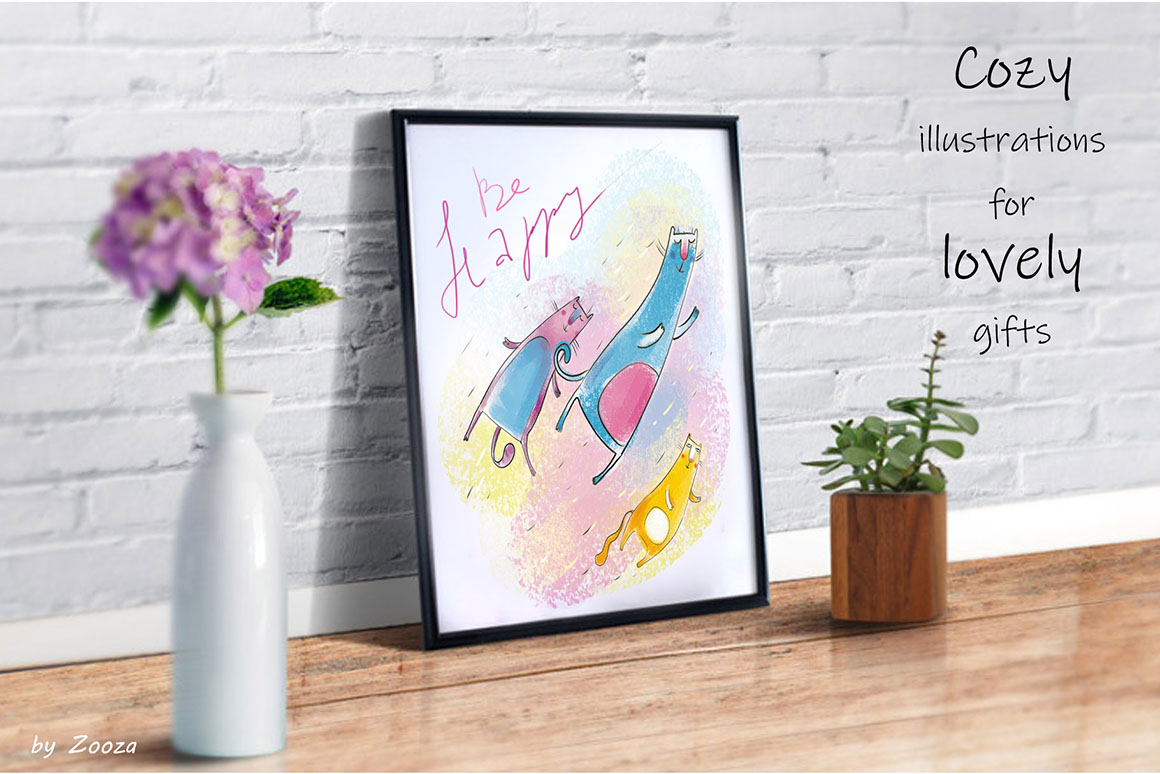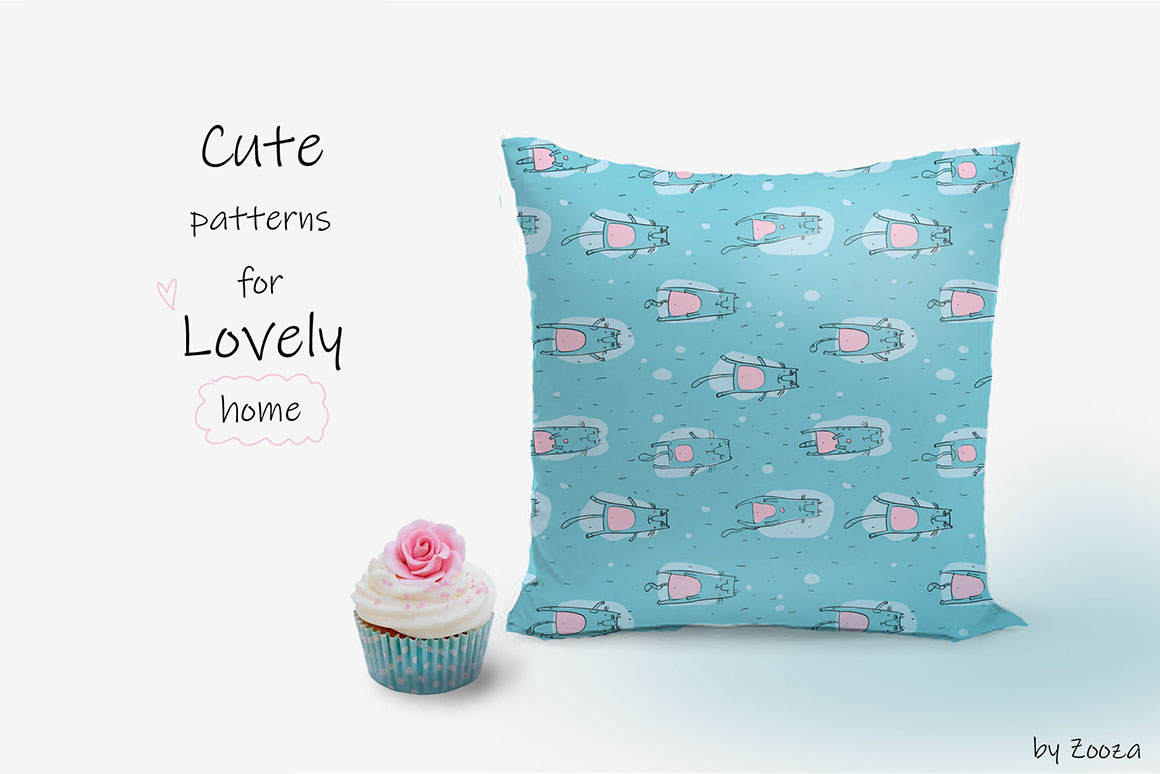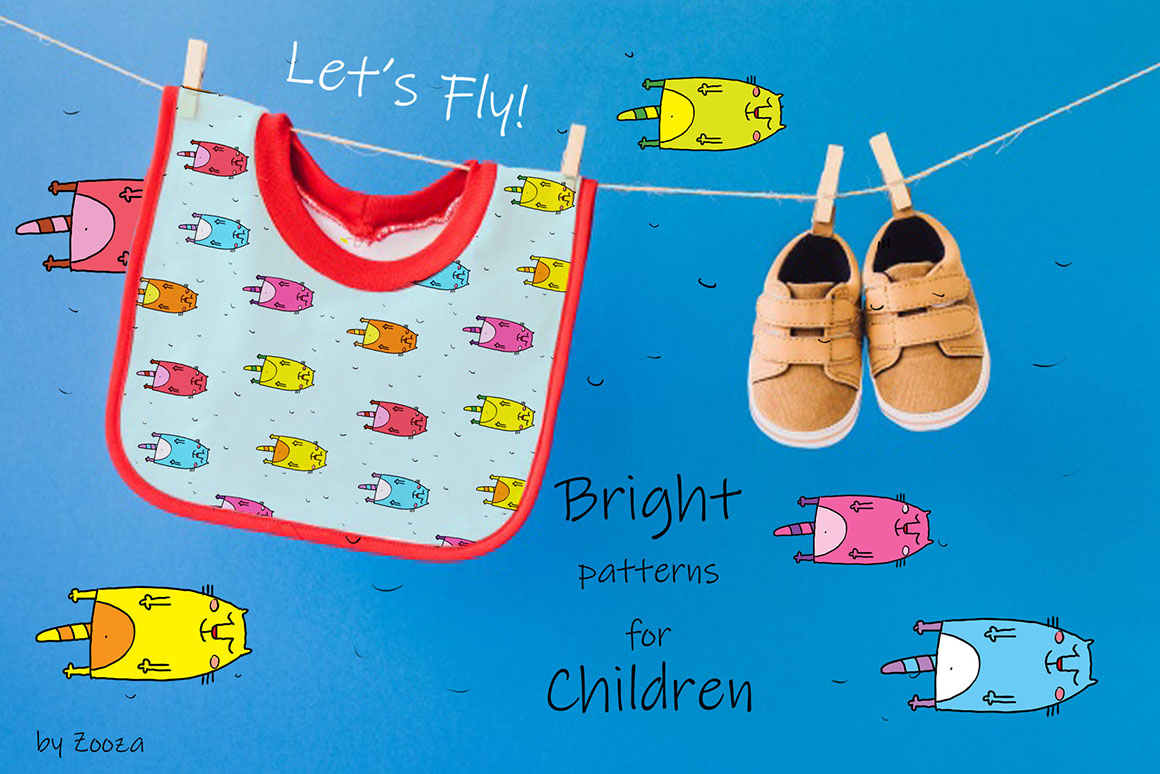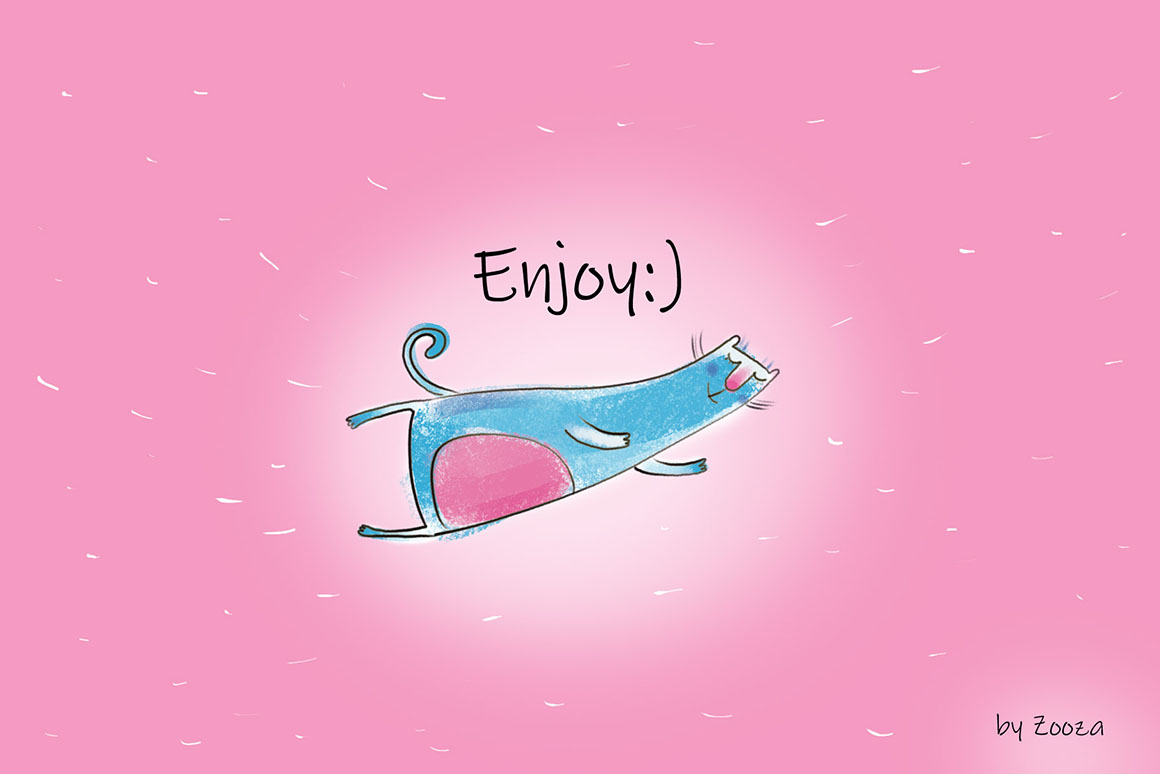 9. Spring Cats – 42 objects from Zooza Art
Cute spring collection of elements, patterns, frames and cards illustration. It's all about cats, now – about Spring Romantic Cats:) Use it for bright wallpapers, cards, web design, clothes, mugs, bags and everything others. Enloy!)
42 elements in EPS, PNG, JPG formats
2 happy pictures wuth flying Cats
10 cute frames
2 patterns in 3 colors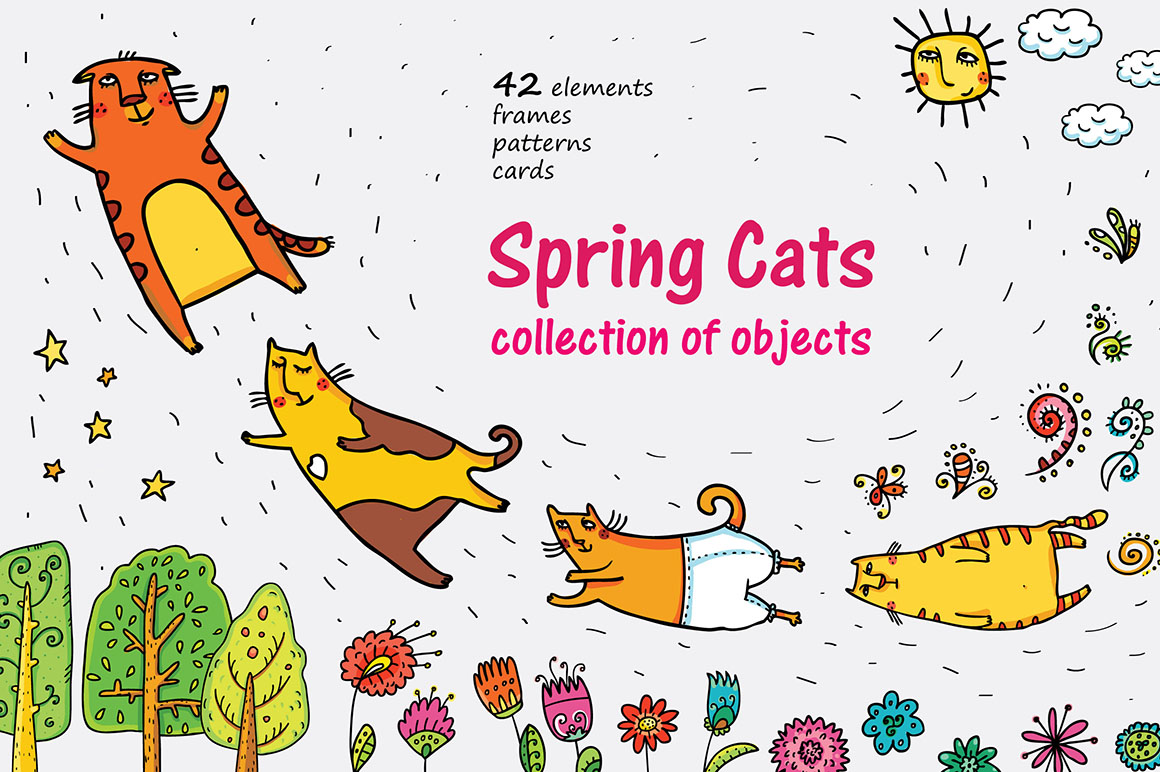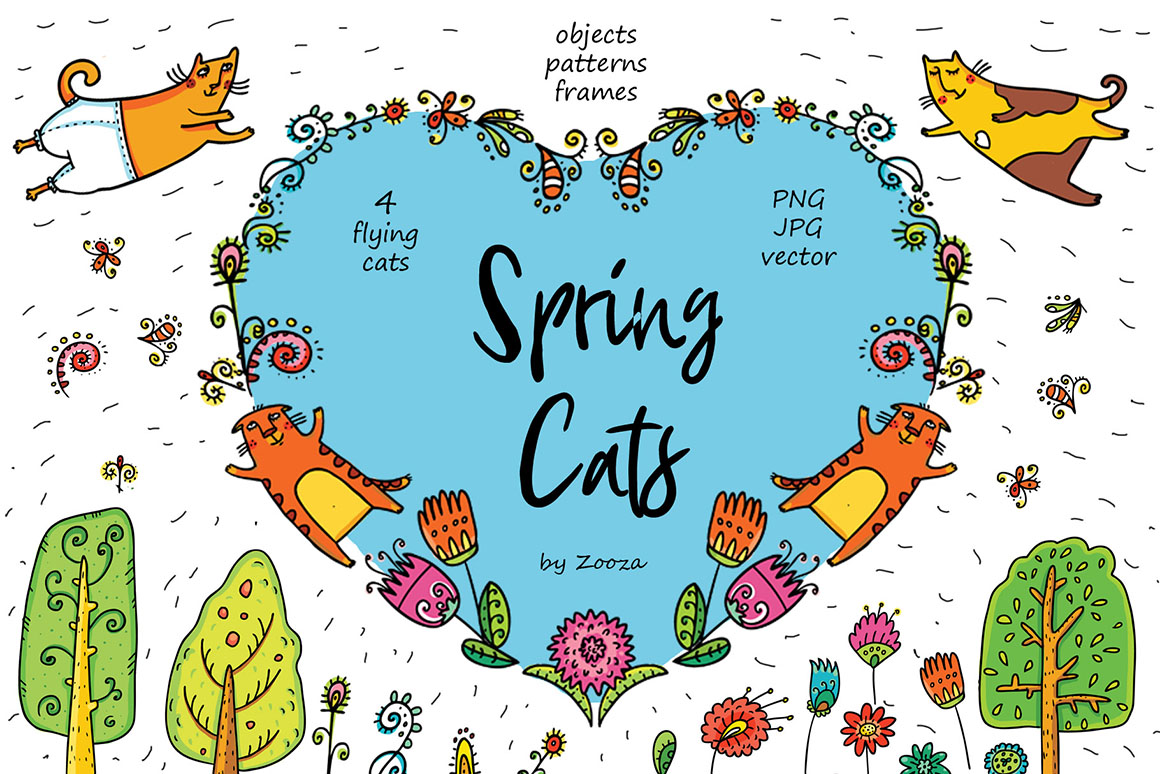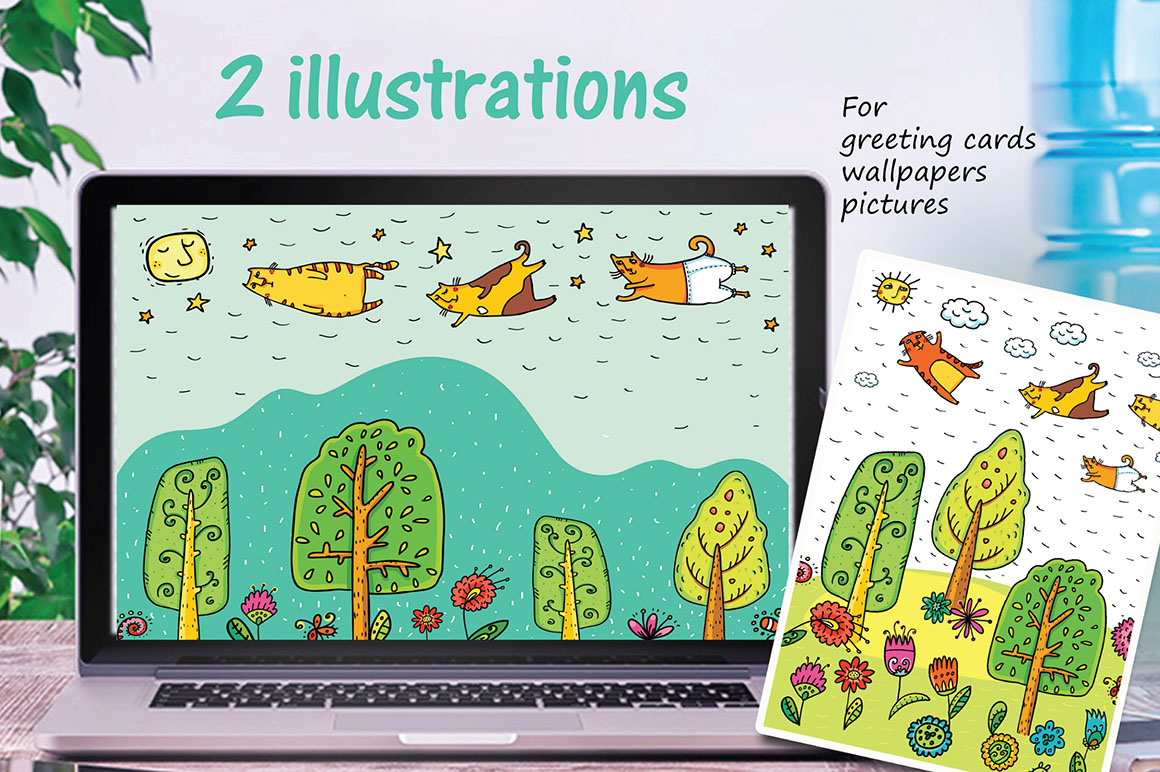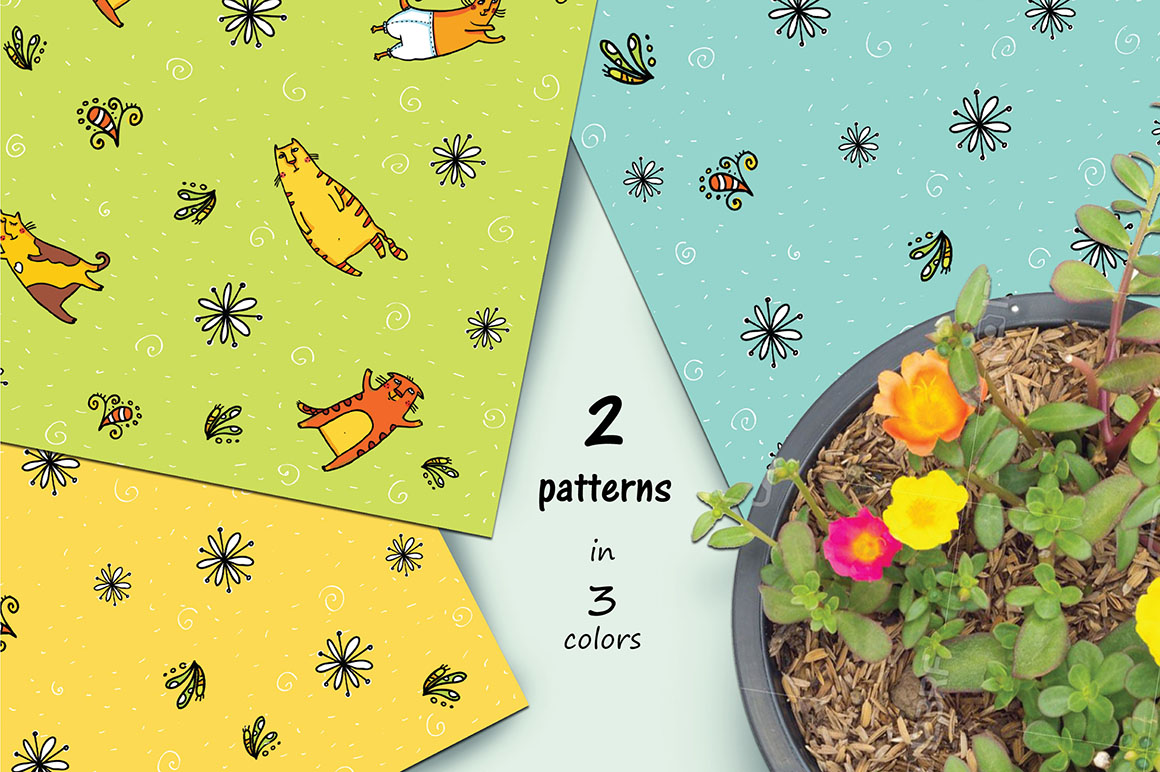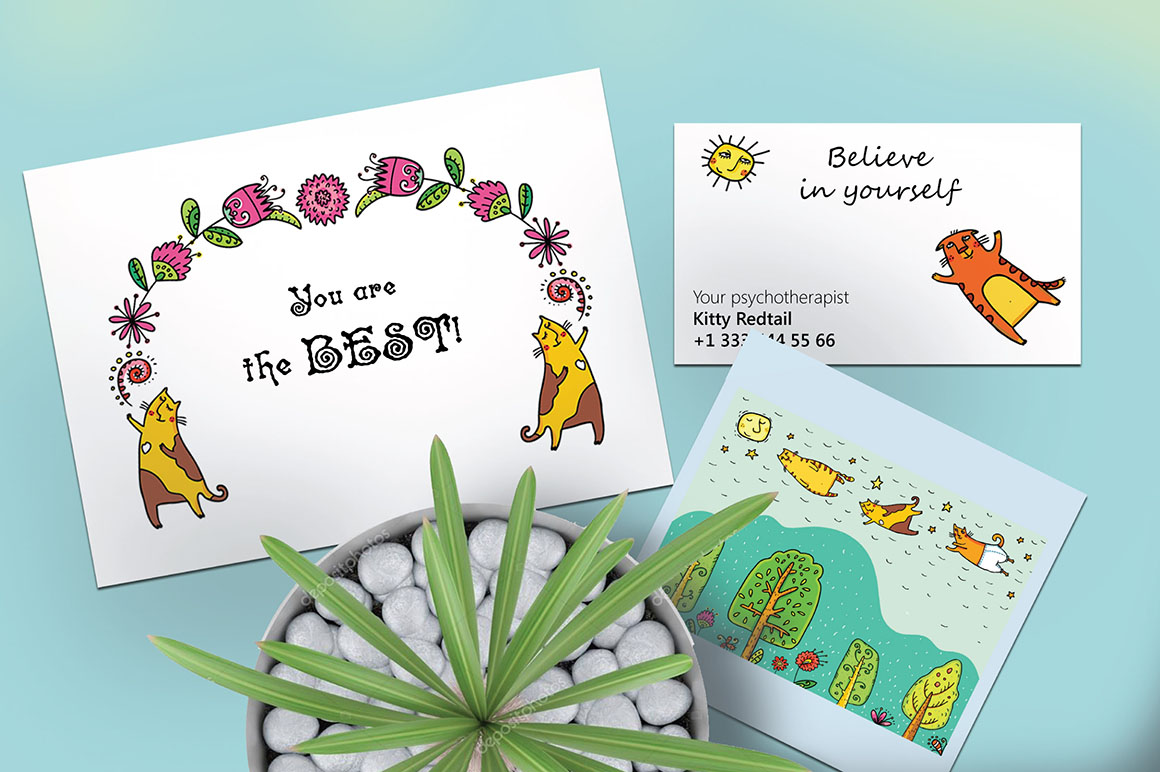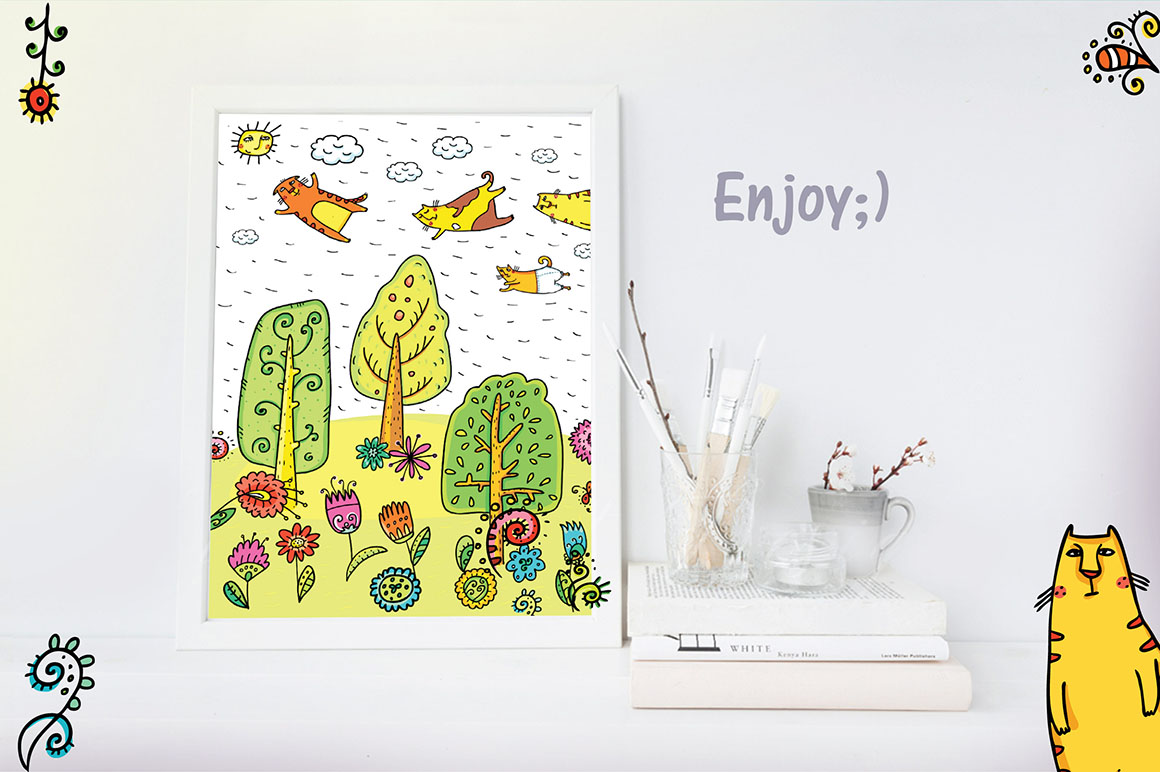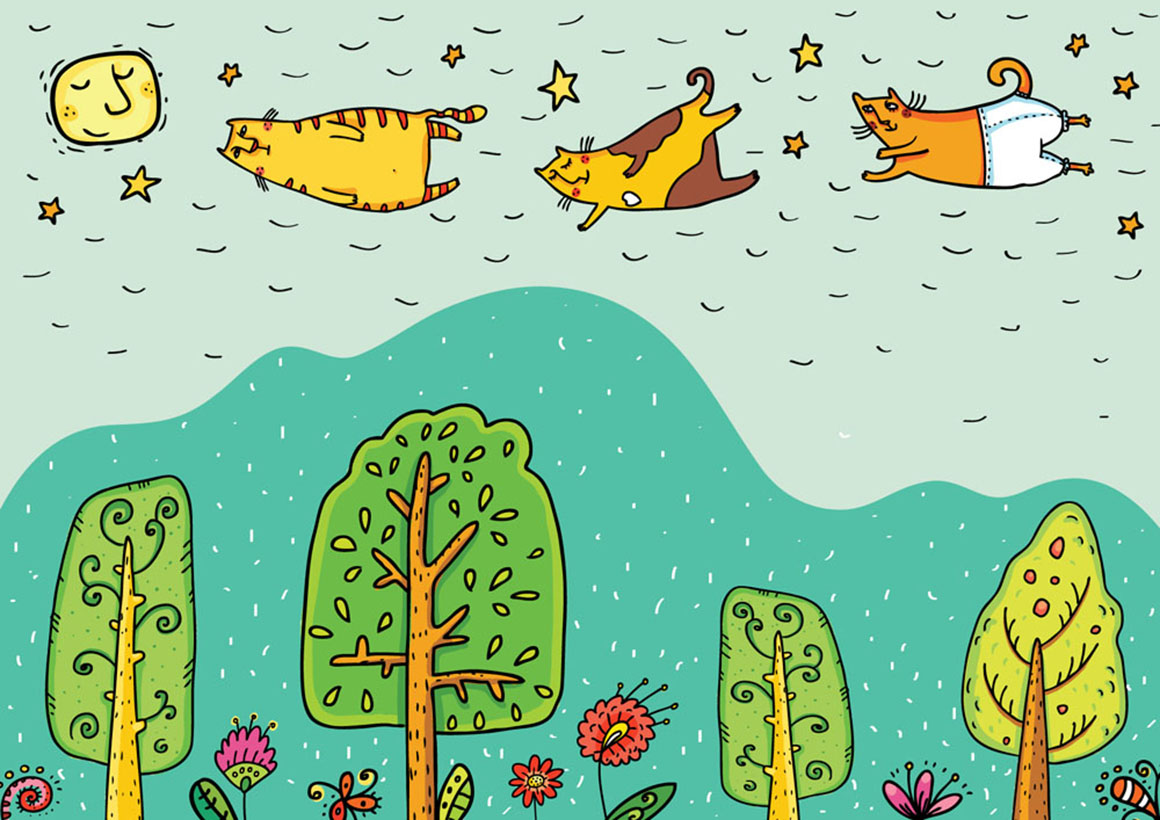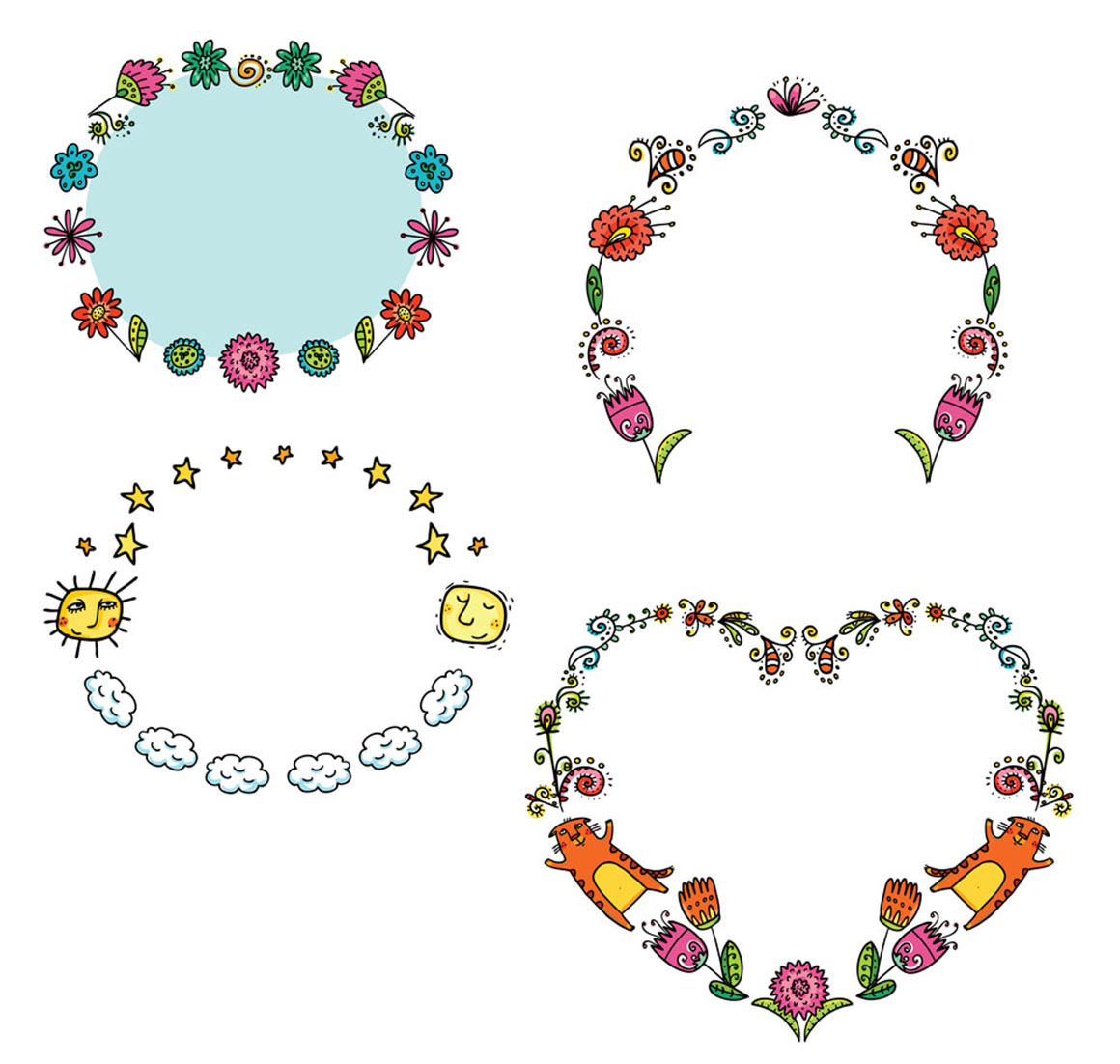 10. Xmas Cats: clip-art, patterns, cards from Zooza Art
Of course I didn't forget about Christmas Cats and Happy New Year cats:) They are three – Vasya, Main-Cun and Helen, and they sing very well, you'll like it:)
Now you can design your own super beautiful Christmas Tree and Wreath and present it to your friends. Or use ready clip-arts)
This collection includes:
4 cliparts with 3 cats (EPS, AI, 4 PNG, 4 JPG)
EPS file, in which you can design your super beautiful Christmas Tree (also in PNG)
The same with the Christmas Wreathes
4 ready trees (PNG, JPG)
5 ready wreates (PNG, JPG)
4 patterns (EPS, JPG) + 3 wallpapers with them (in JPG)
BONUS – 10 socks and a pattern with them (EPS, PNG, JPG)
2 ready greeting cards (JPG)
A coloring card (JPG)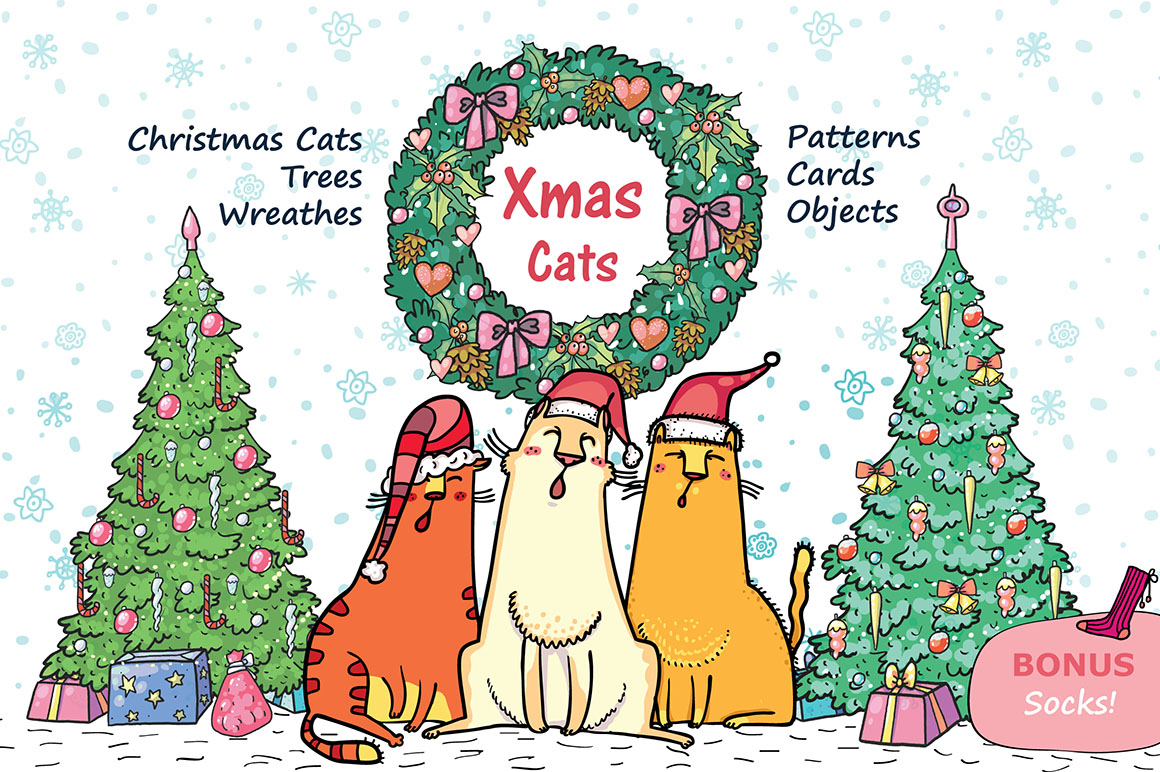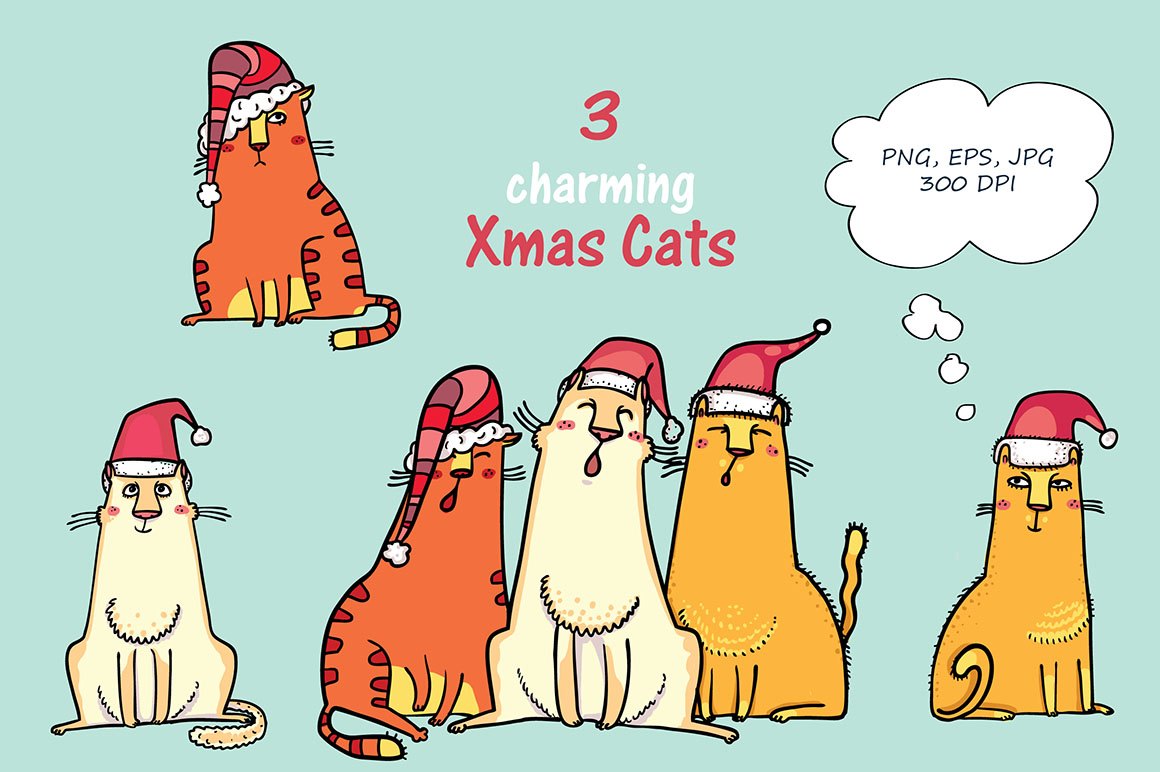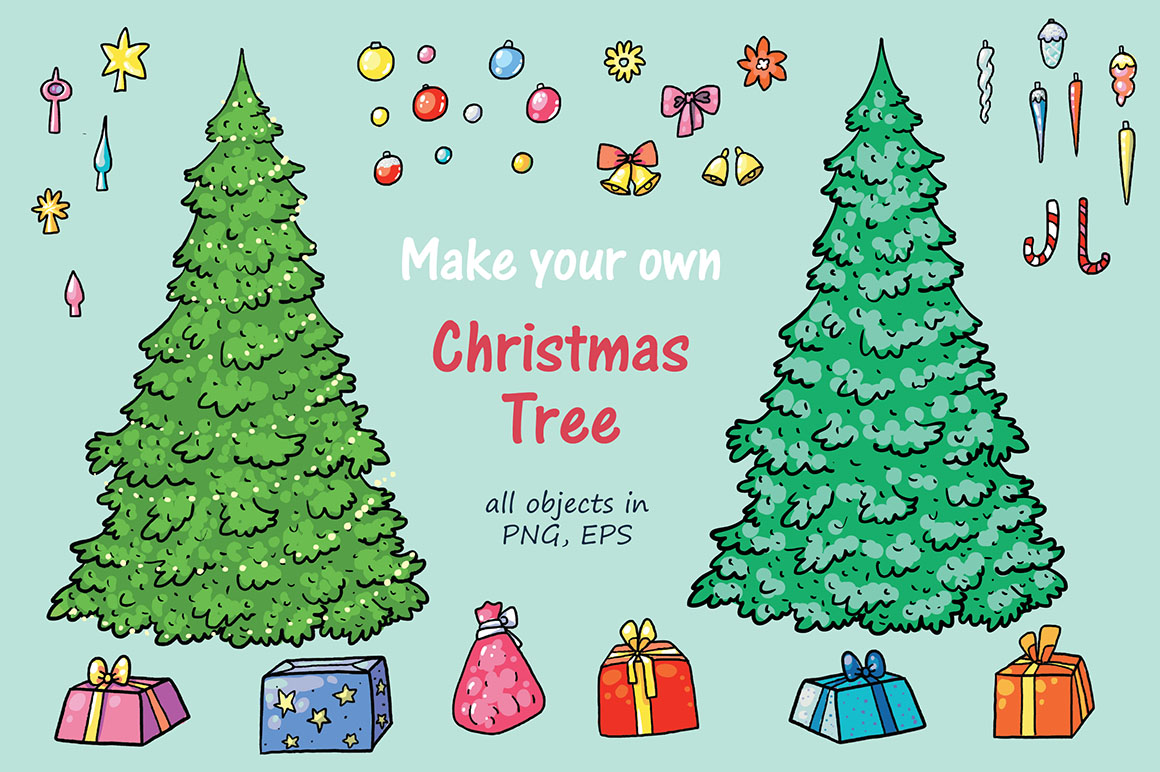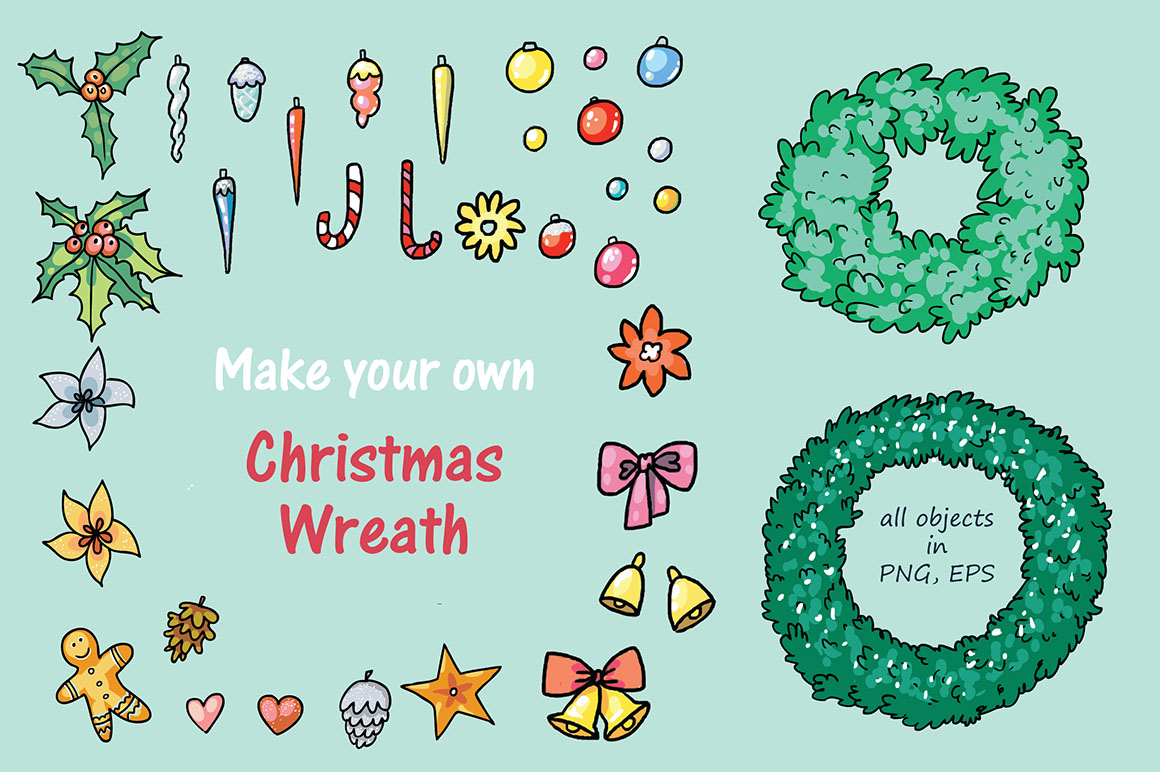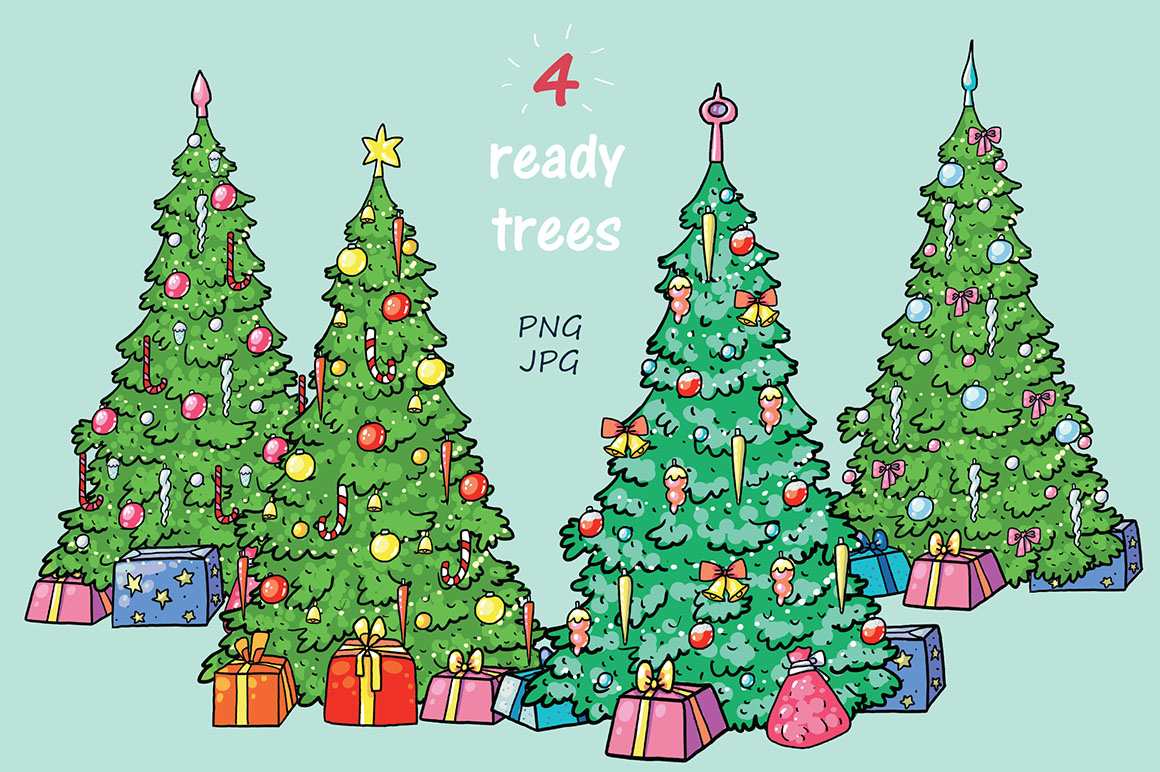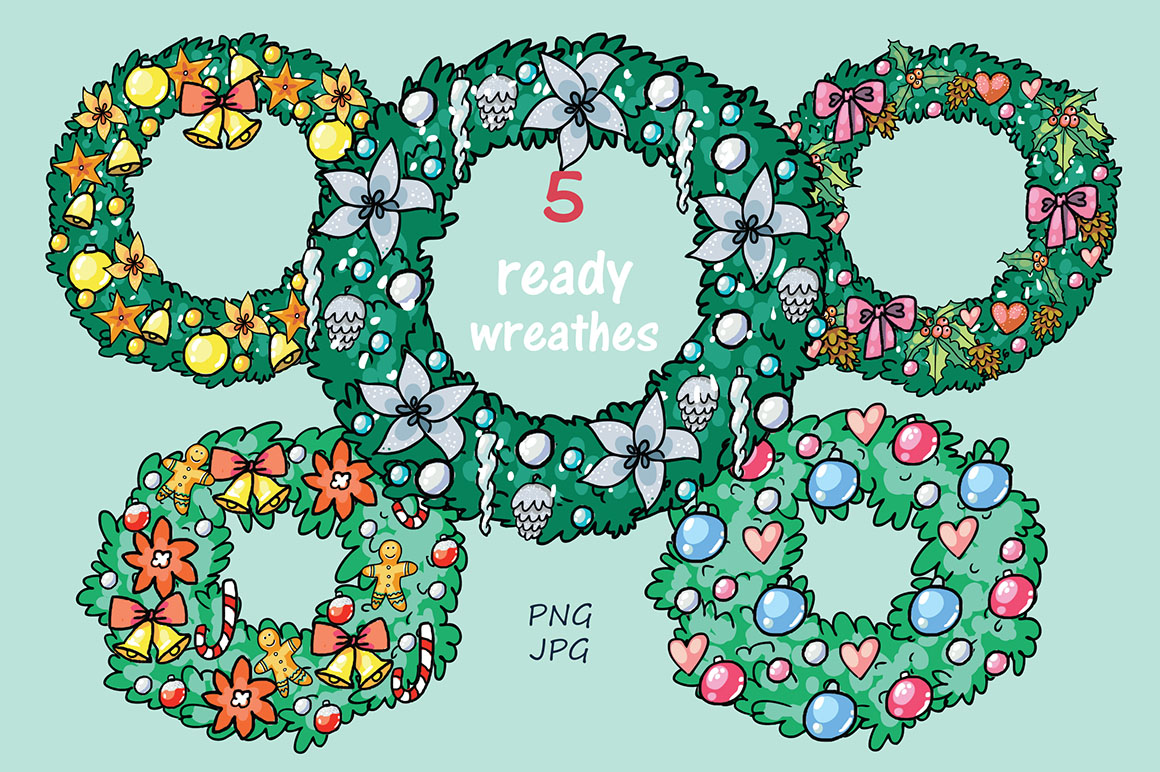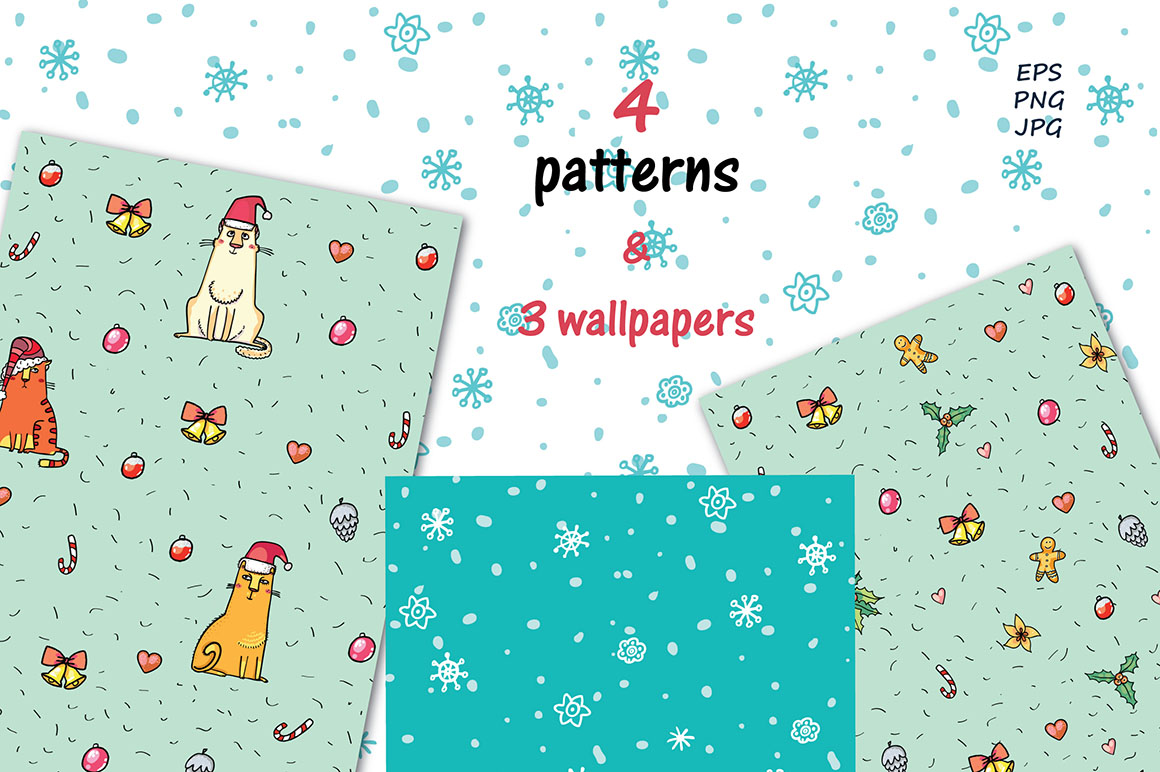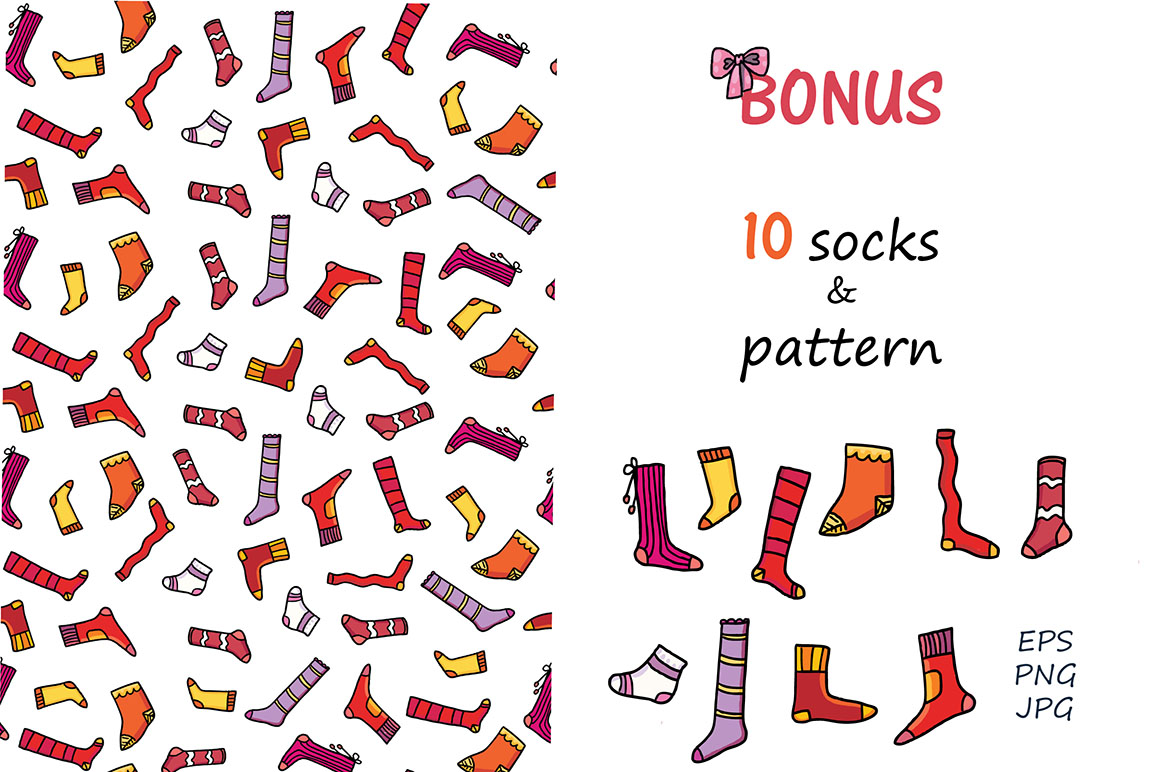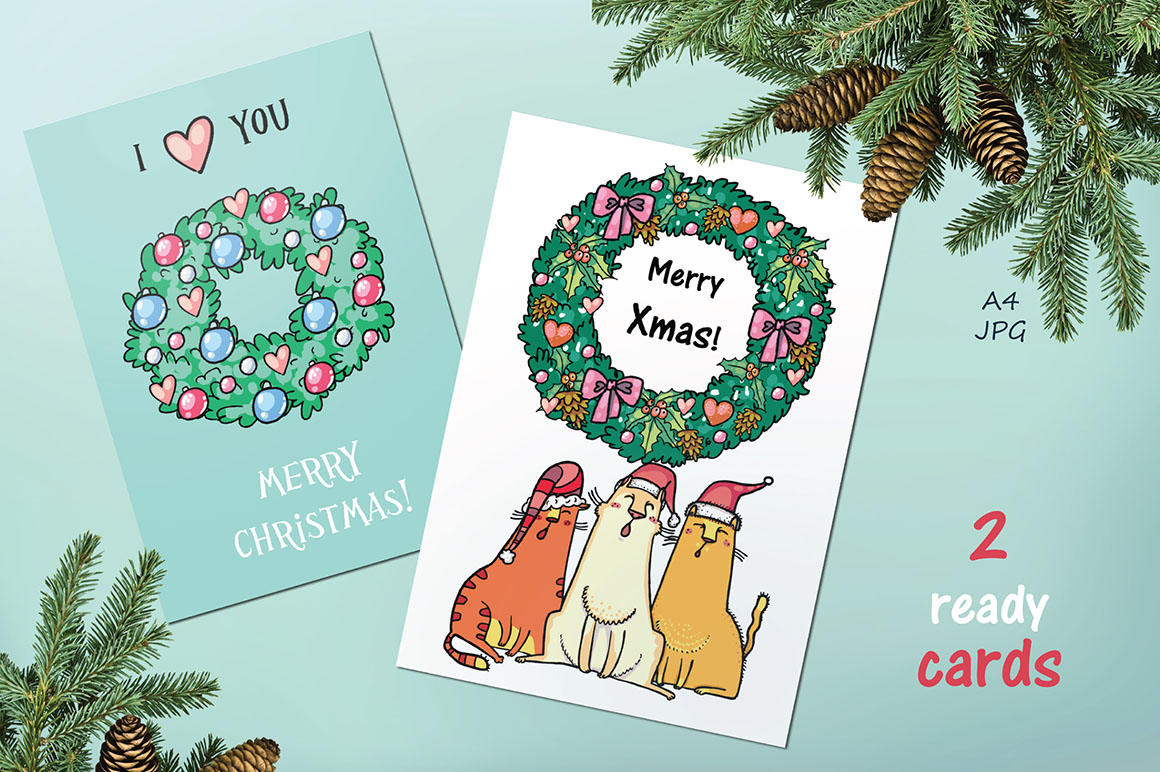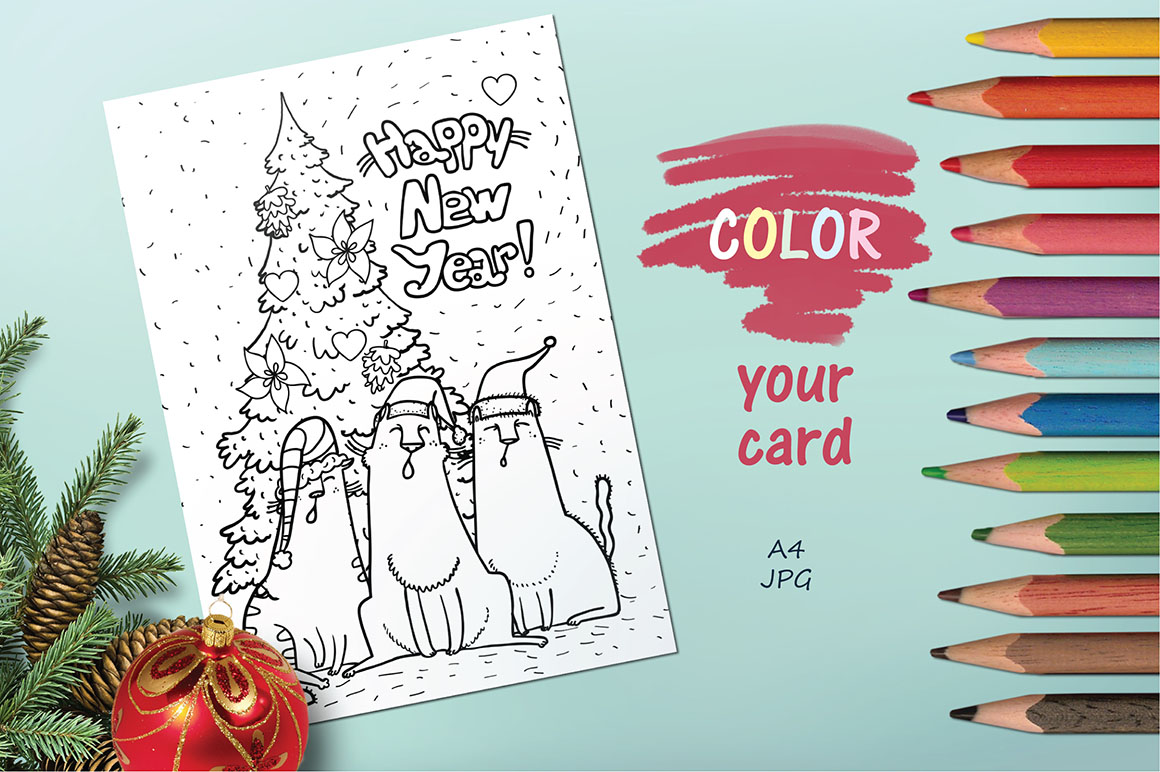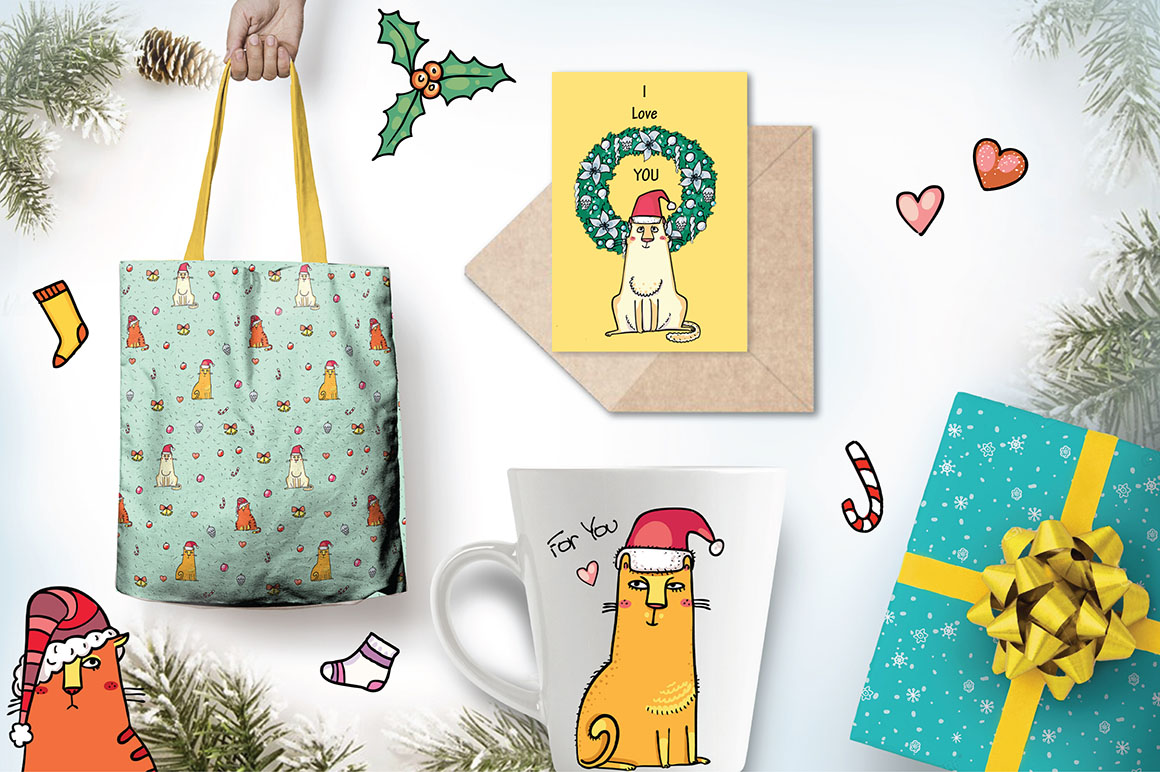 11. Cats in Socks & Wonder Flowers from Zooza Art
So I'm glad to introduce new bright collection with crazy cats and flowers in socks. I'm sure, you will find a lot of ways for using this unreal bouquets and serious cute faces, just let you fantasy play) Funny web design, letters, cards, wallpapers, cute invitations and children's clothes – that's a partial list of use cases. Enjoy and send your feedbacks!
The collection includes:
62 objects for exclusive design (EPS, PNG)
5 bouquets in 5 PNG files -4 frames in 4 PNG files
4 patterns (EPS, PNG, JPG, 300 DPI)
2 illustrations for greeting cards (A4, JPG, PNG, AI)
a coloring picture for creation an exclusive greeting card (A4, JPG)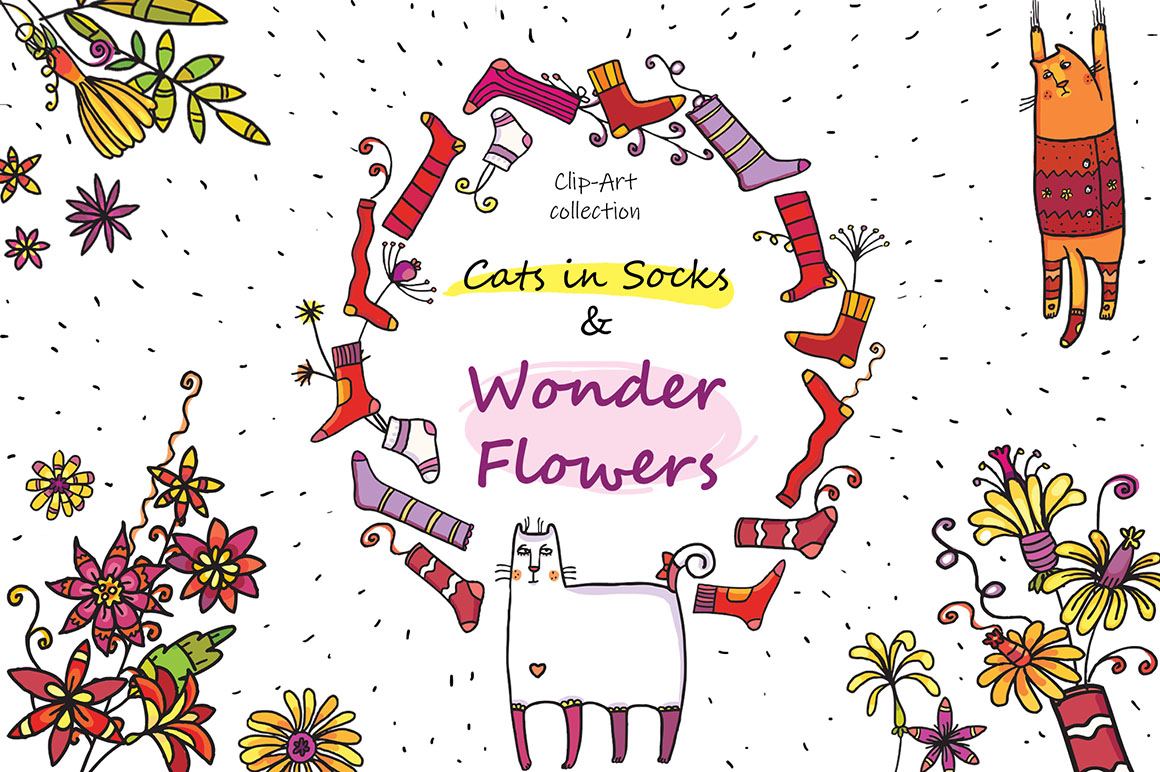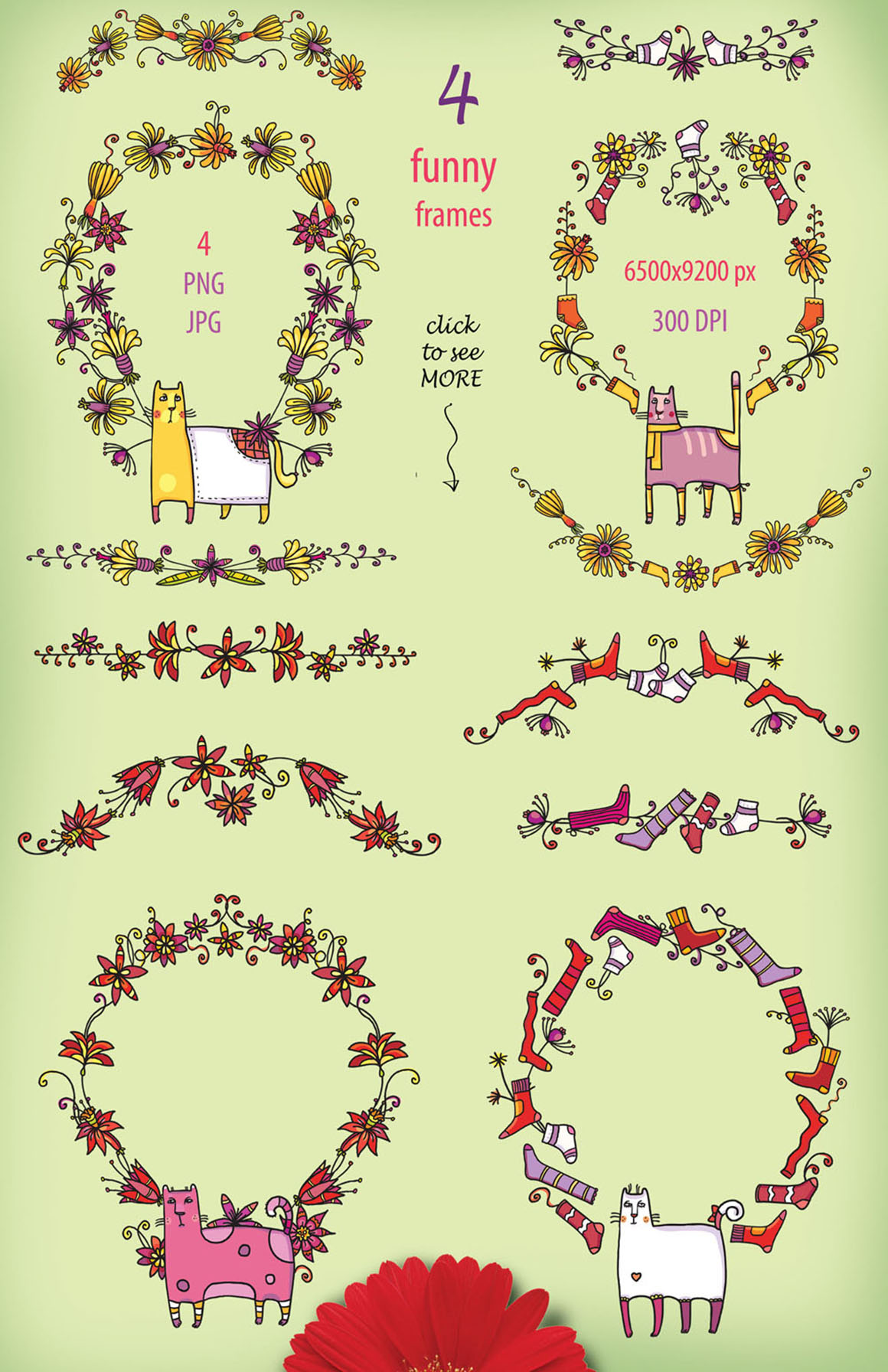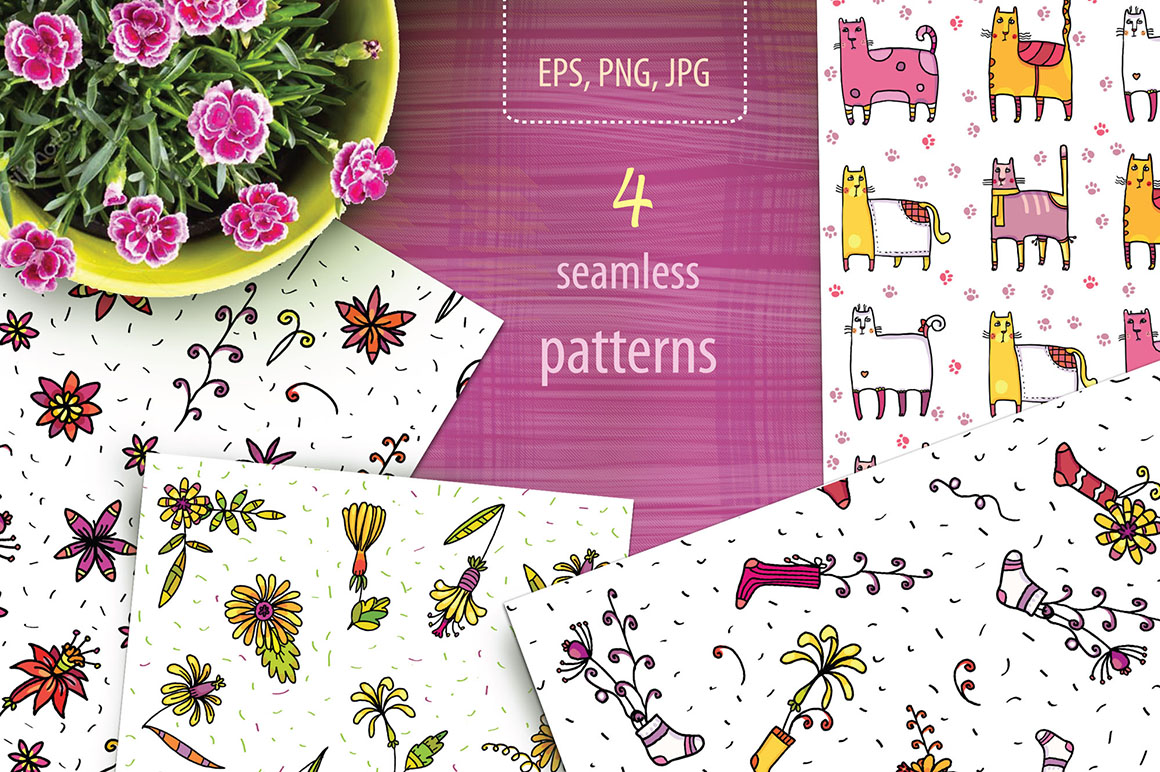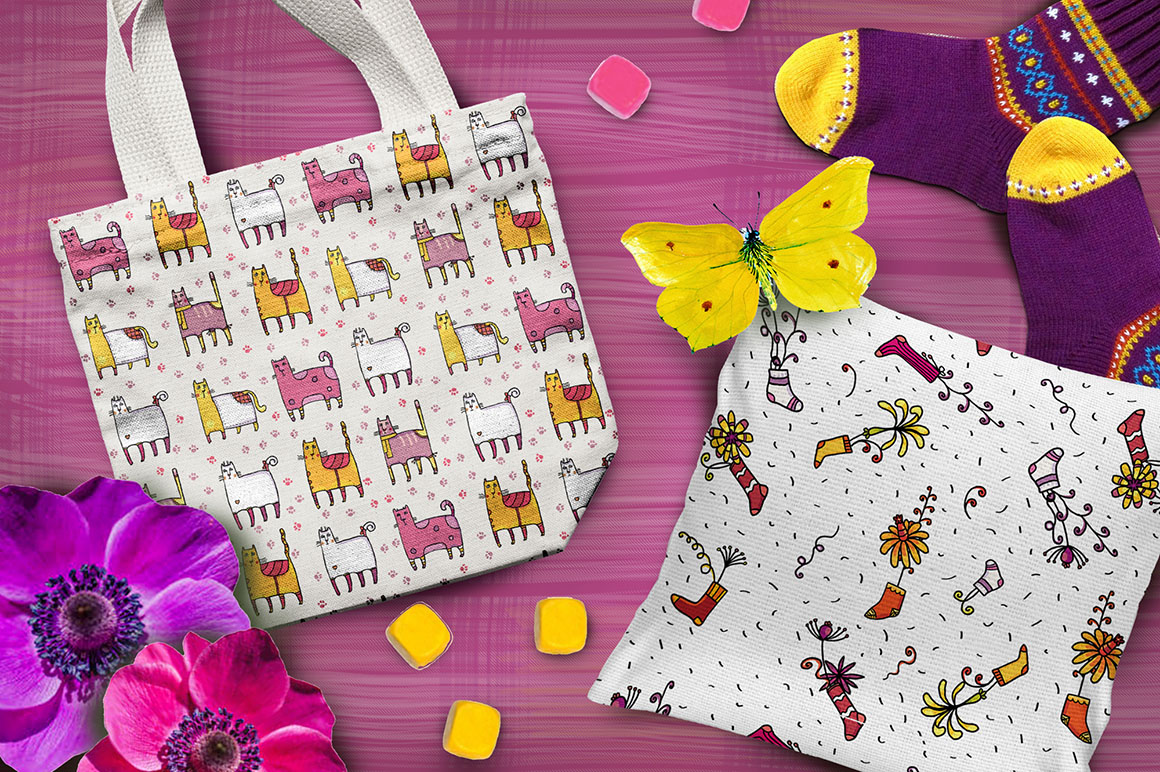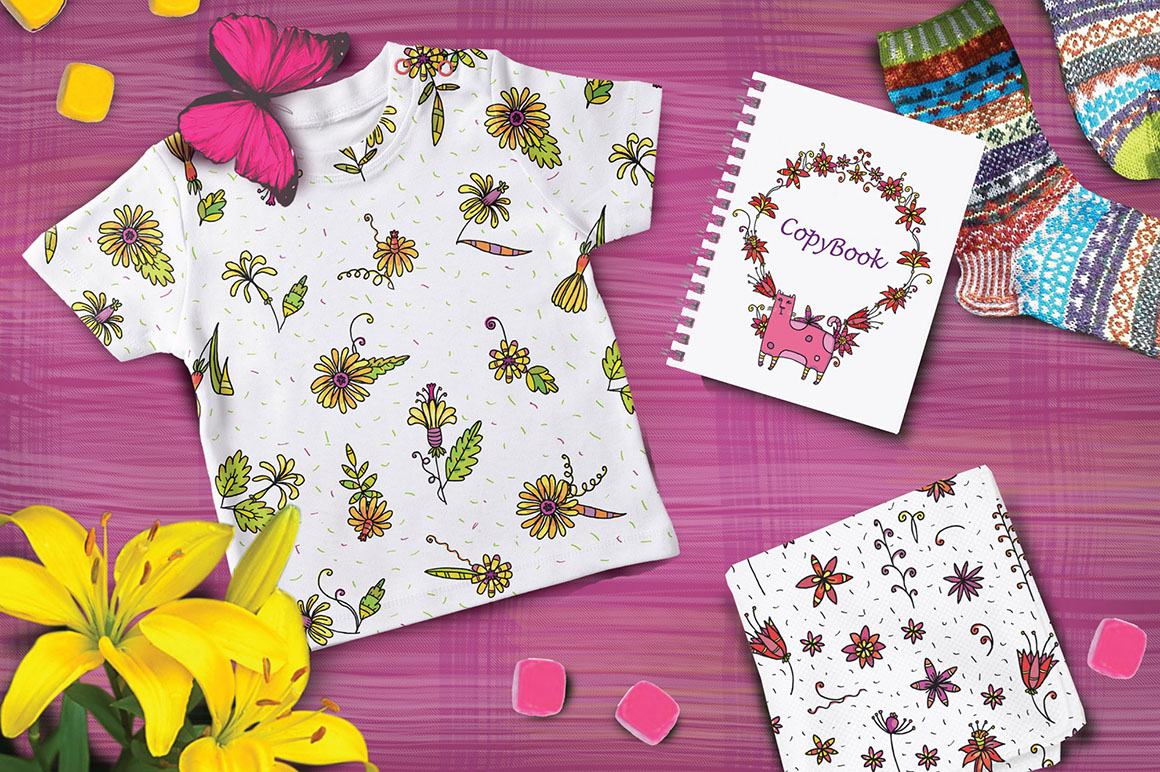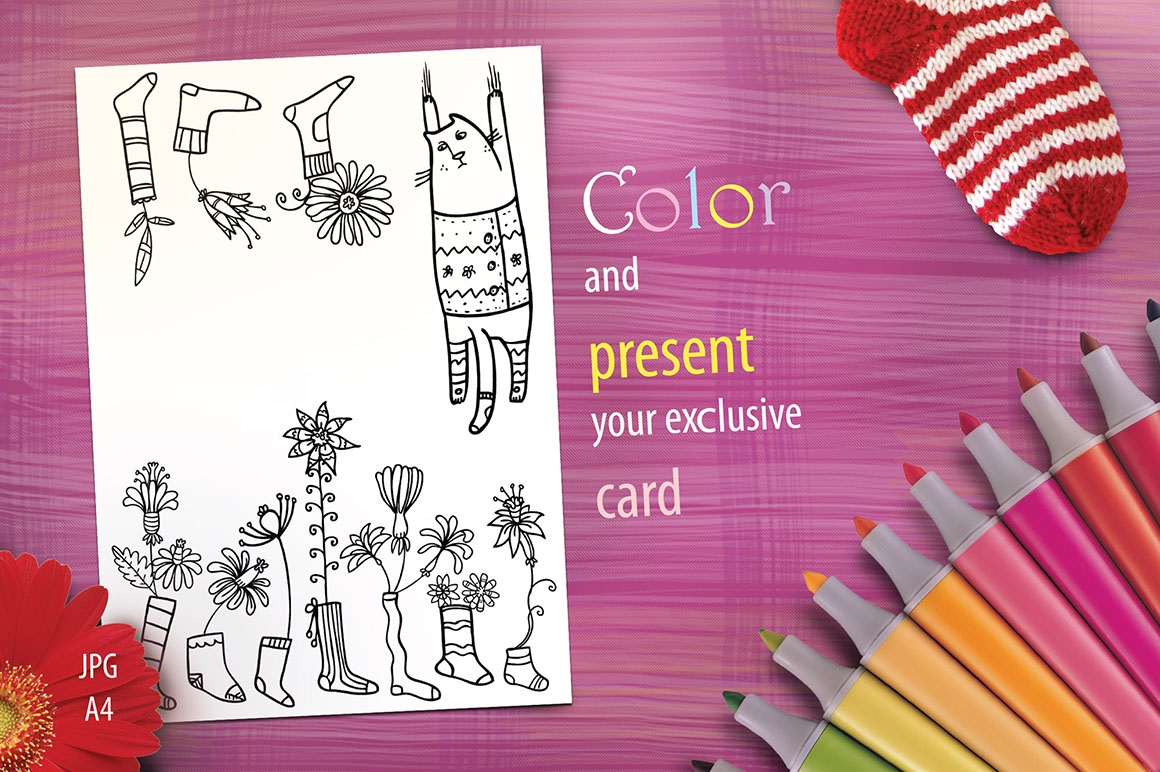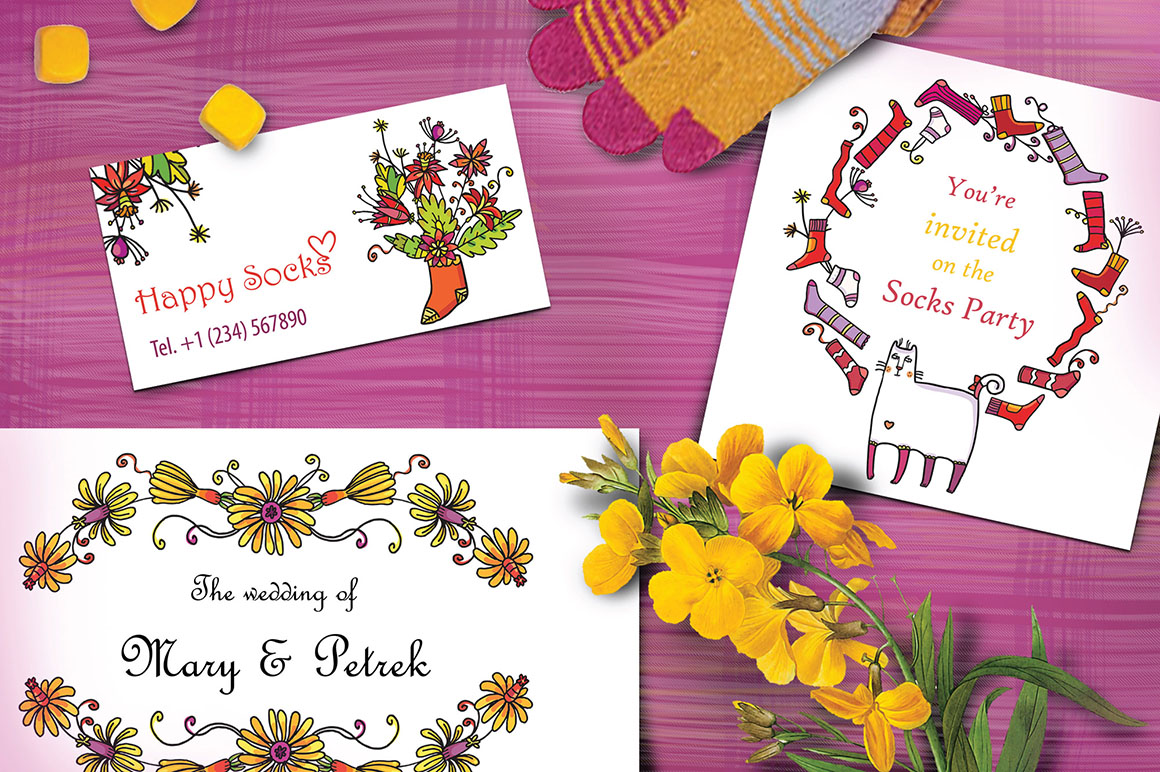 12. The Siberian Cat patterns from Zooza Art
I'm very glad to introduce the new collection of patterns with cute Siberian Cat with Siberian Scarf. You can use in your design:
3 seamless patterns with Cats and Scarfs
7 patterns with Cats
pattern with Cats like a Scarf
9 simple seamless patterns
One ready print and 2 prints with your text
A border with cats
7 frames and prints for your wishes
All 7 Siberian Cats in PSD and PNG formats
All patterns in PNG, EPS, JPG formats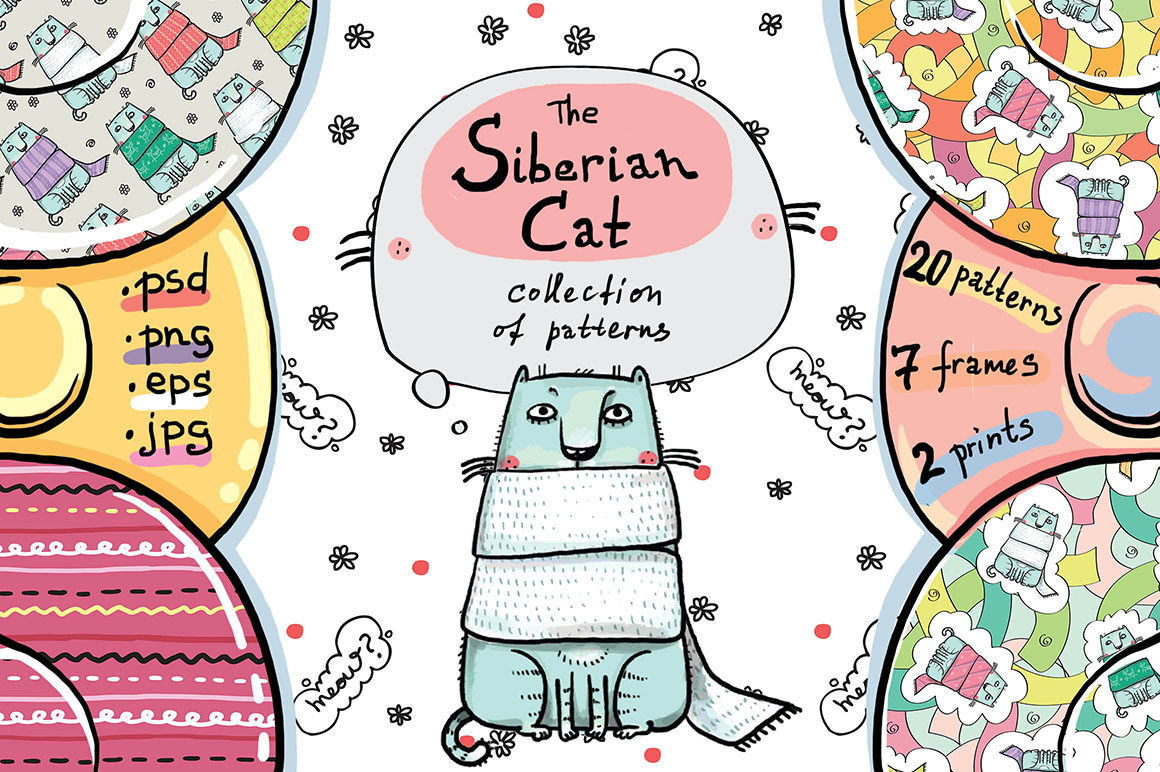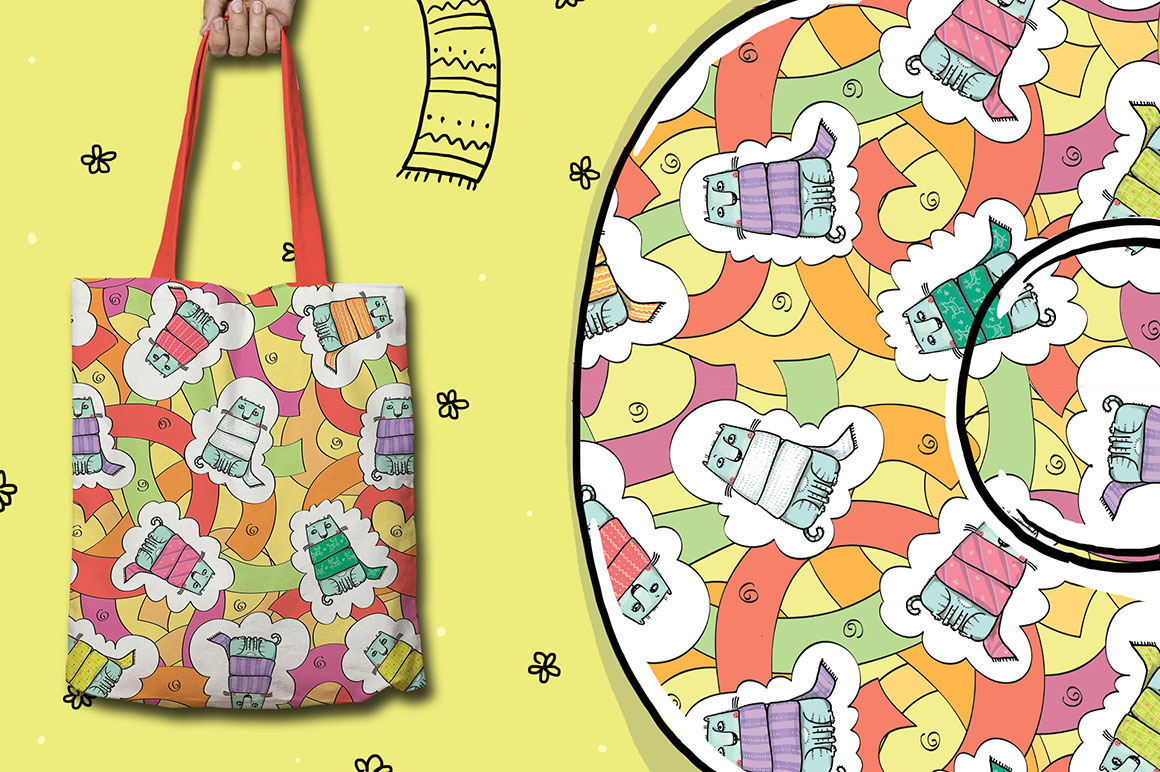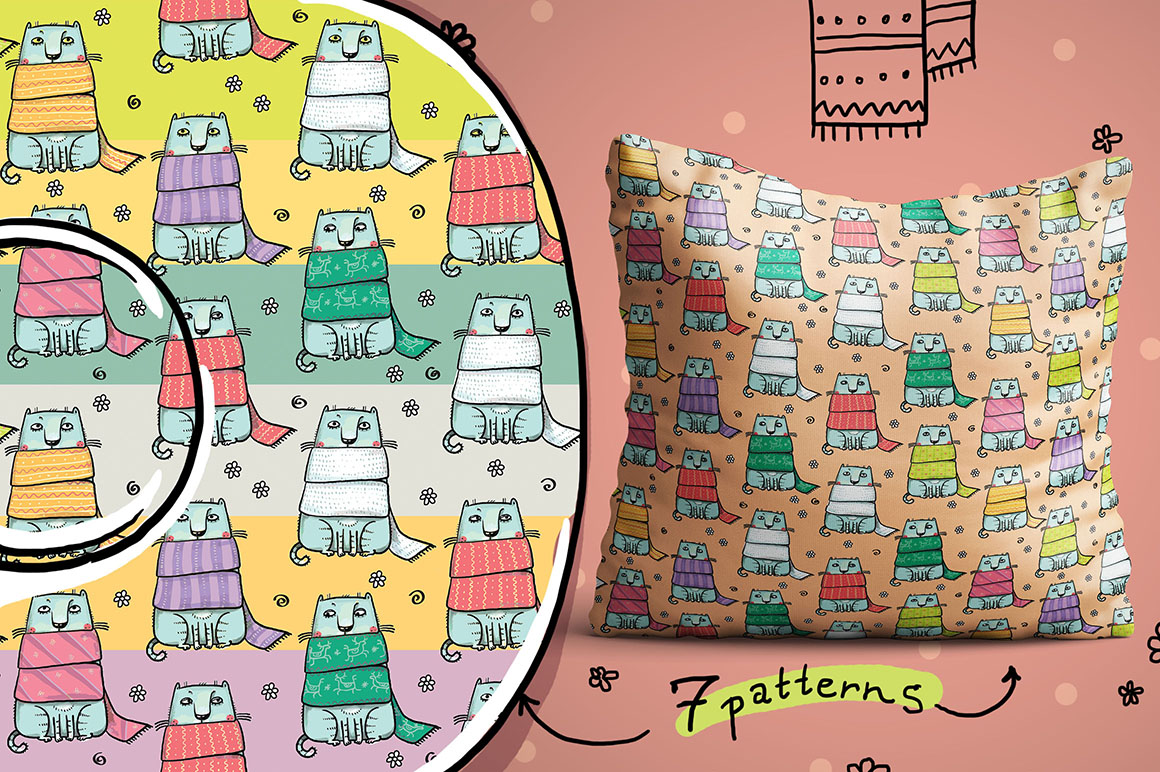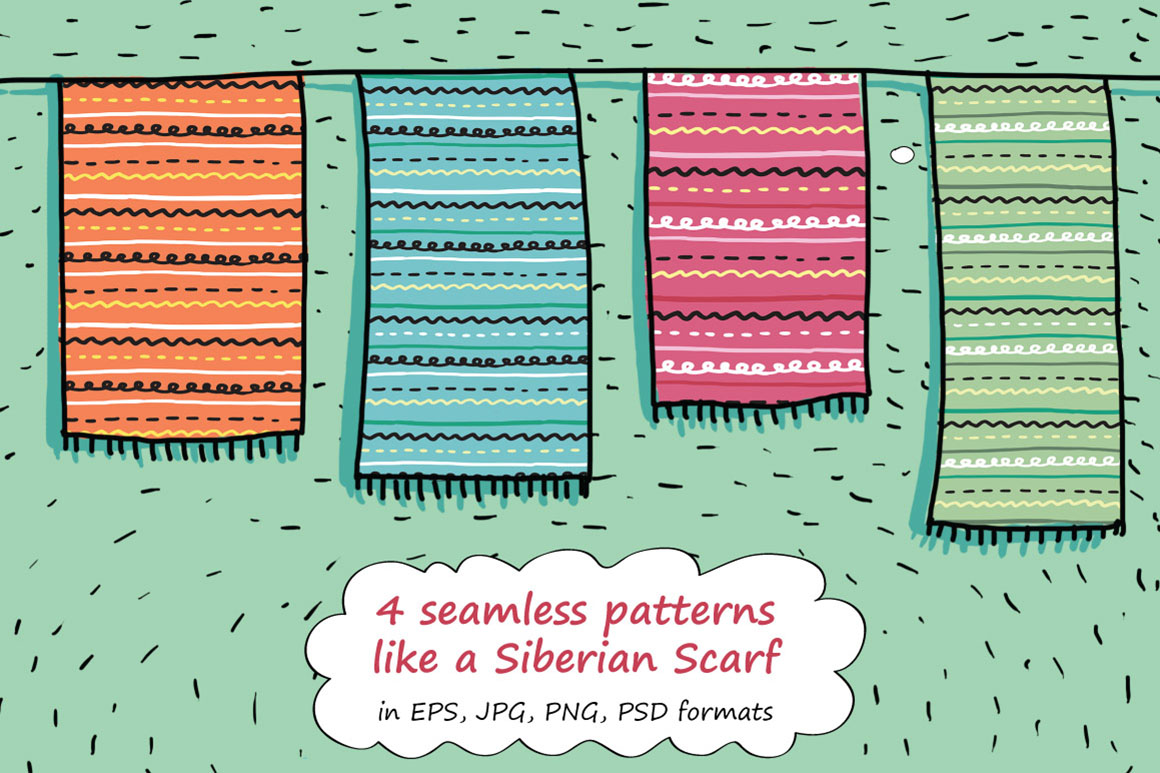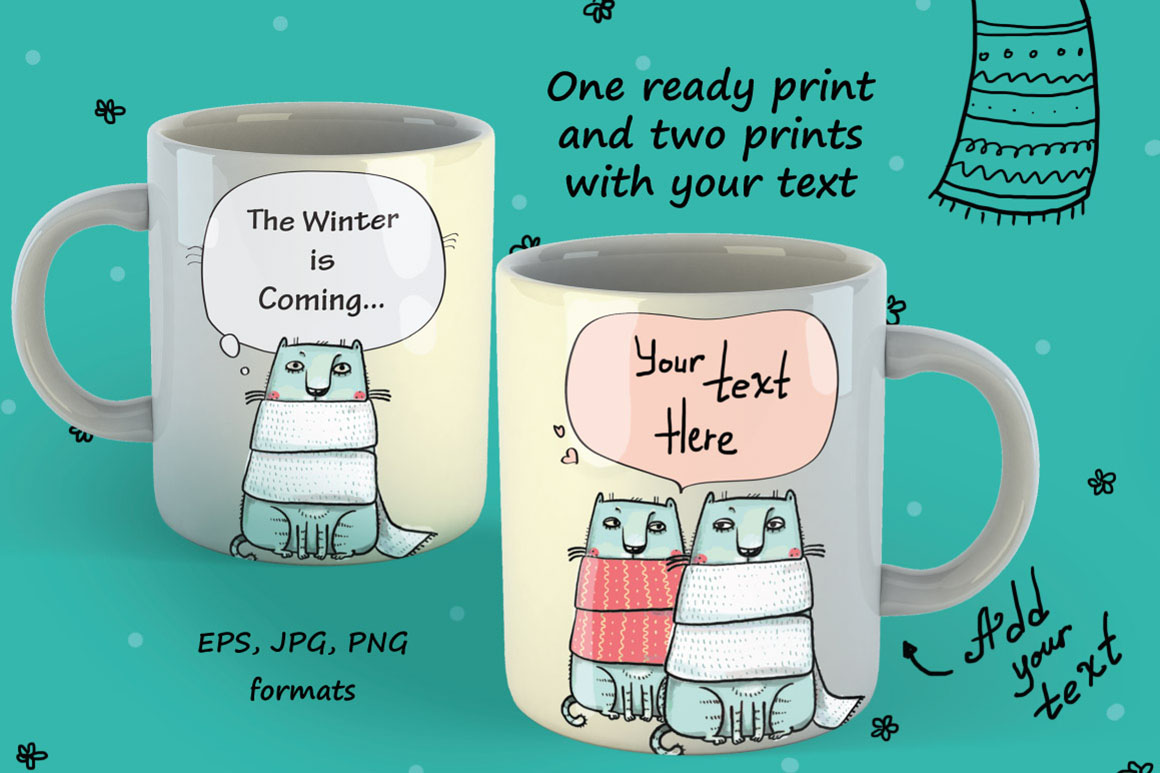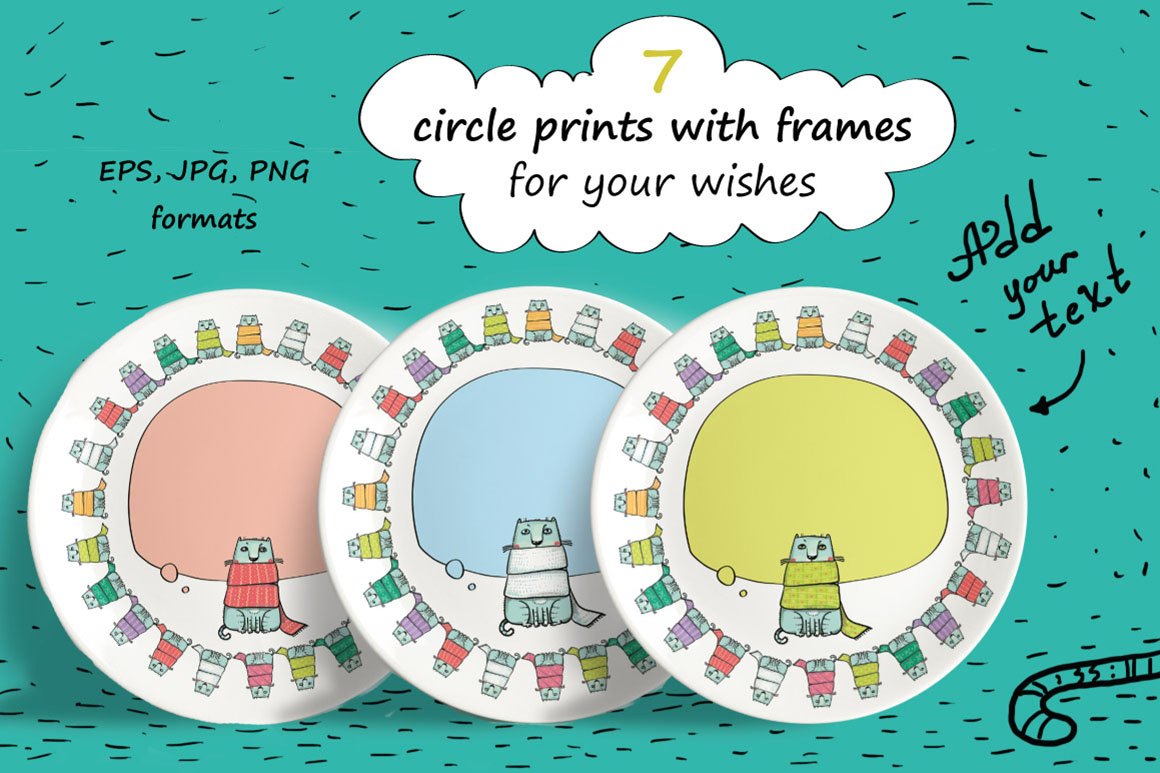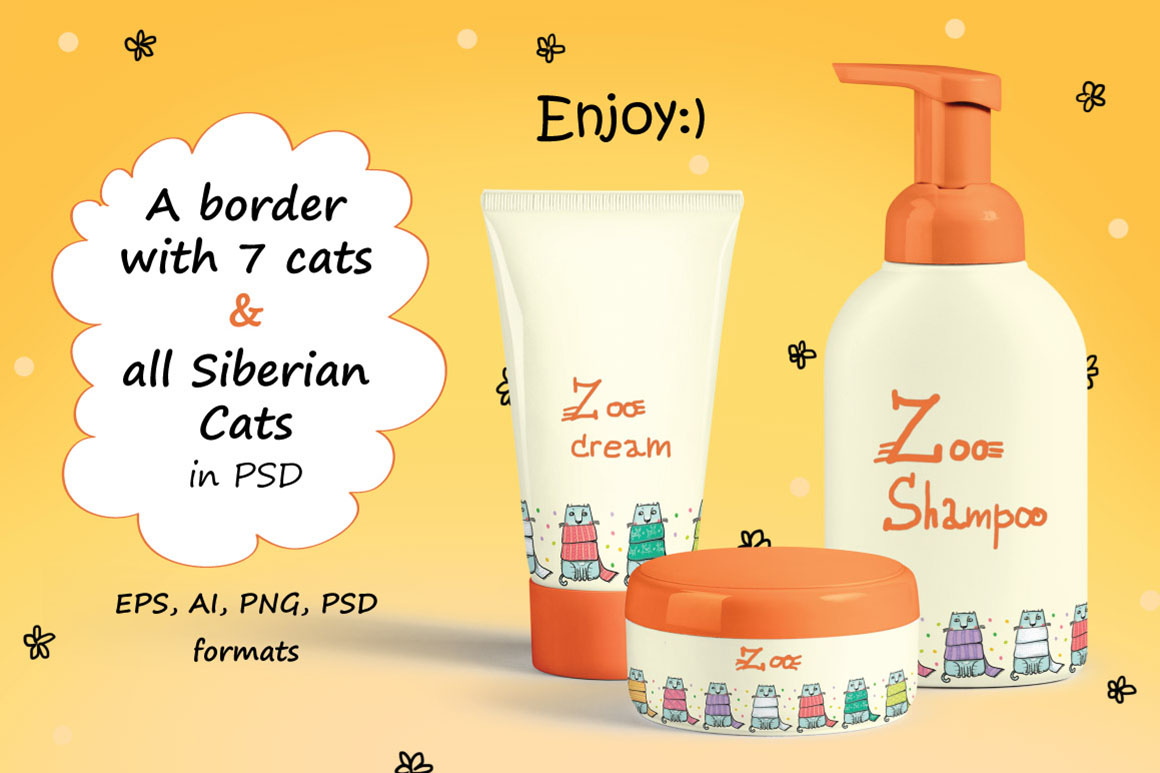 13. Deluxe cats with beautiful mind from Zooza Art
The second collection of cards with deluxe cats in clothes. Use ready cards or create your design with layered PSD files. Write anything you want in bubbles and make happy your close people)
Here you'll find:
6 cards in layered PSD, PNG with-out back and JPG files
300 DPI
850×850 px
6 ready cards with Buddhist quotes in JPG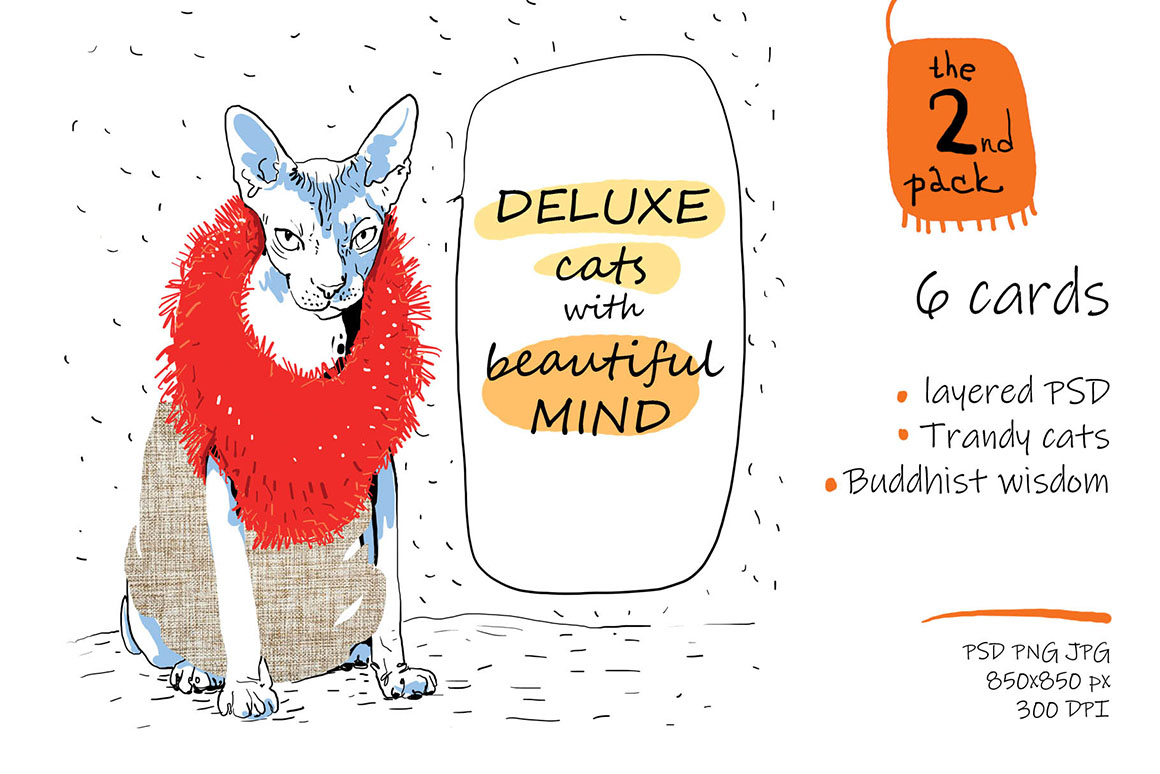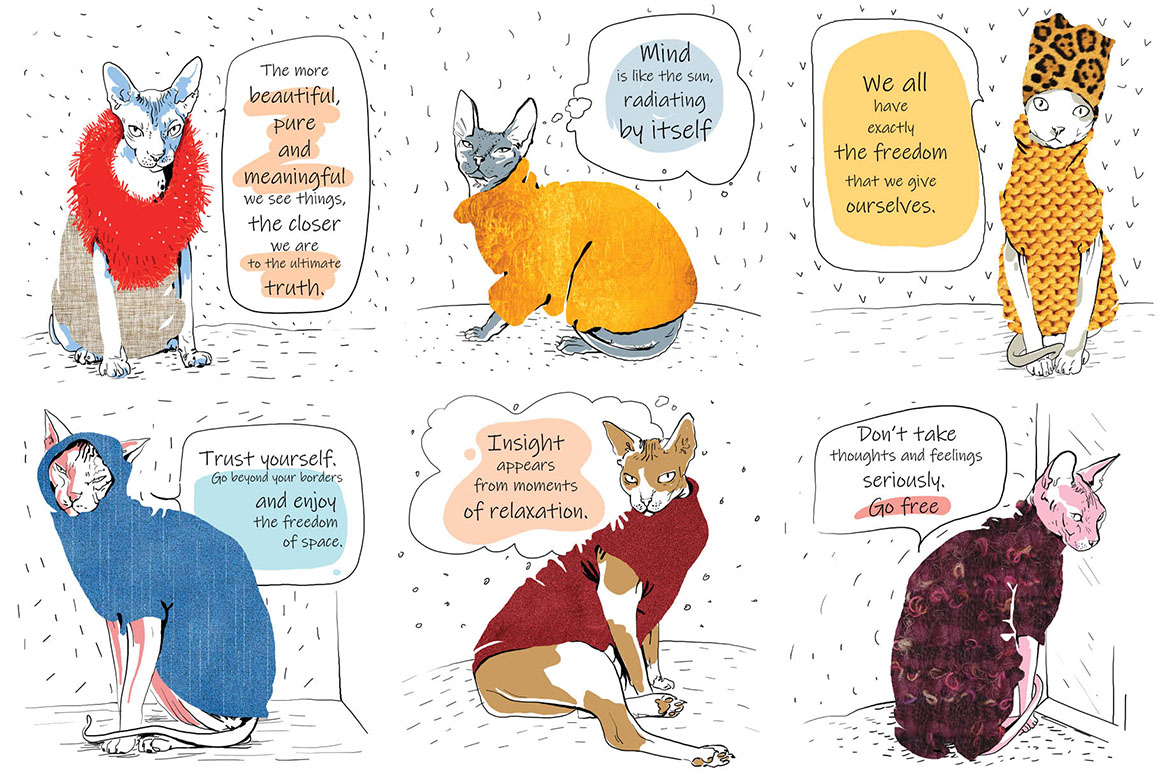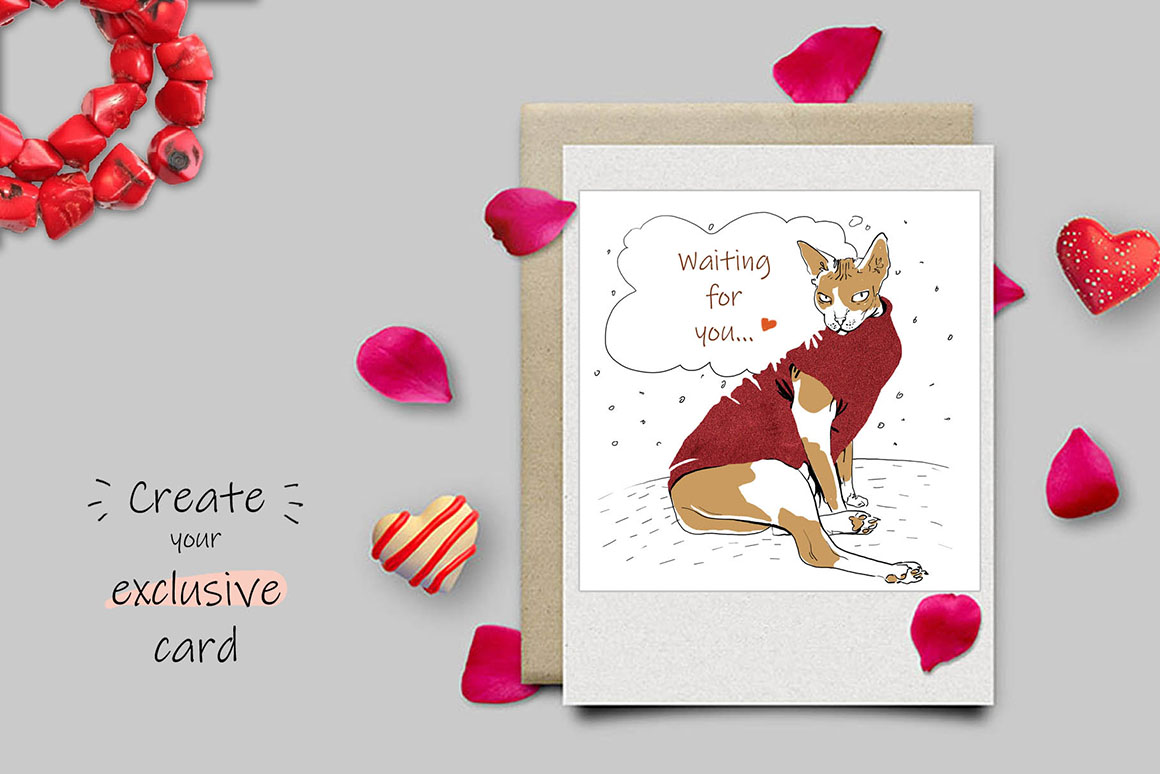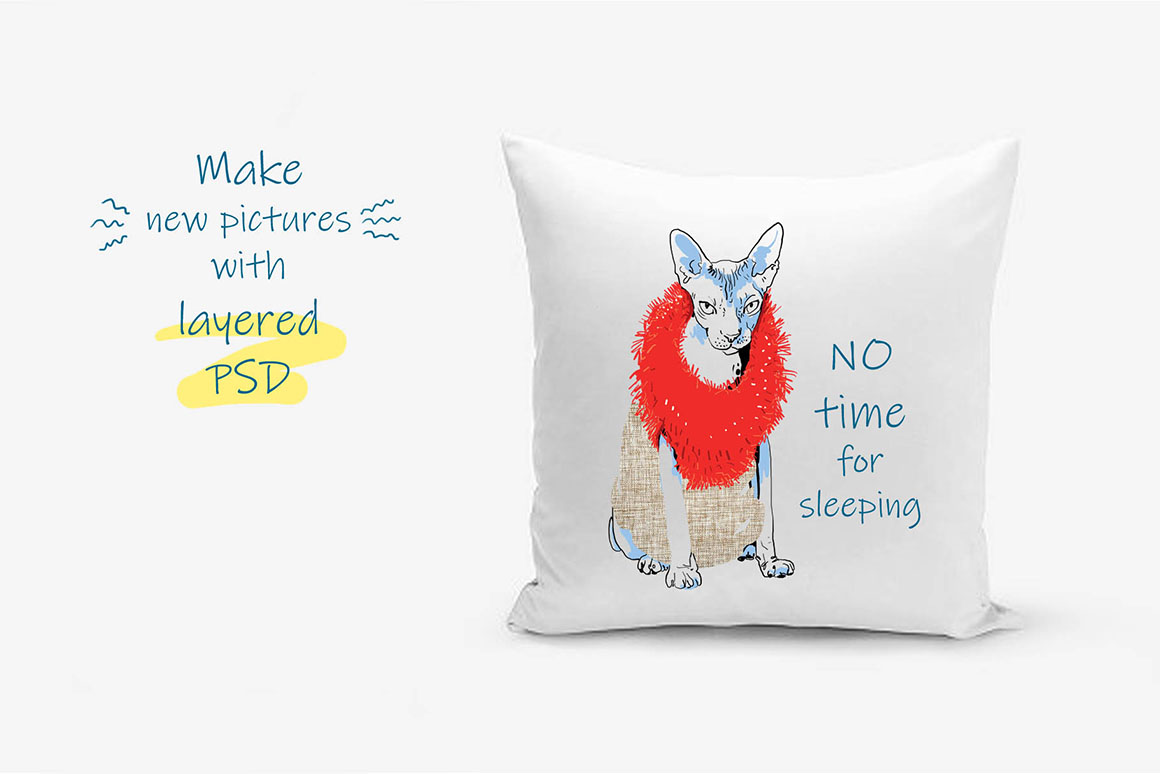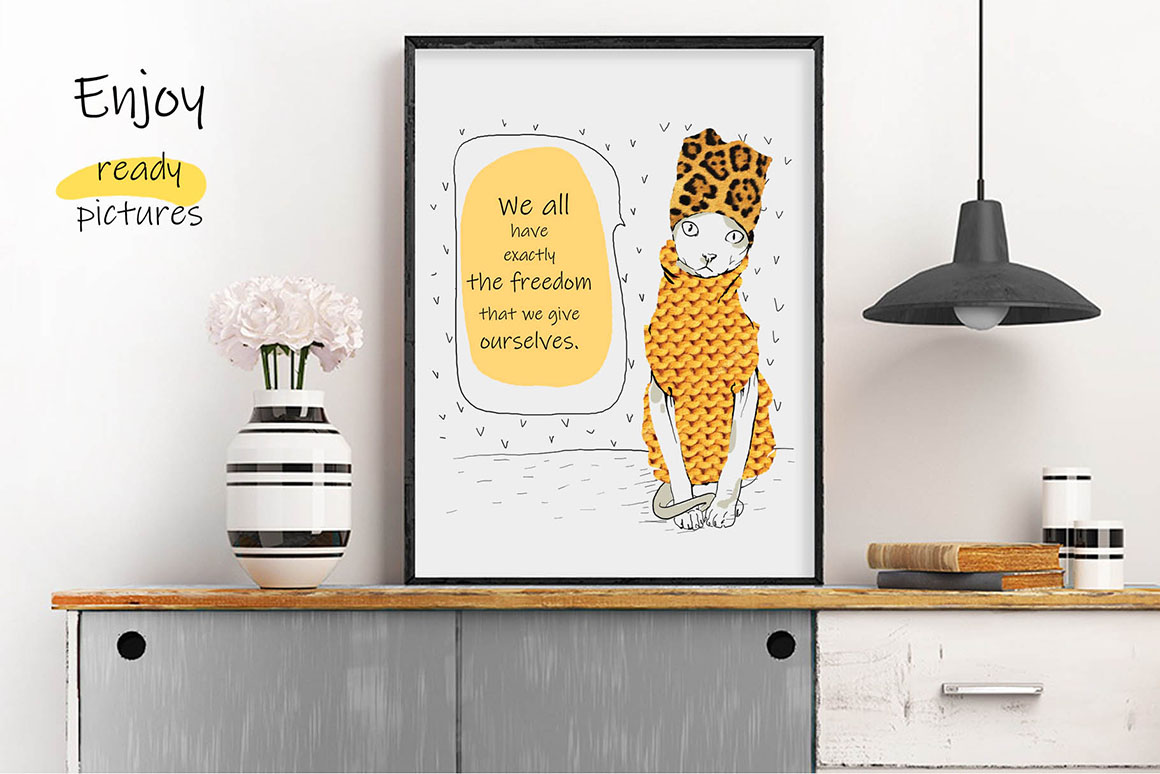 14. Koto-Letters – Alphabets+cats from Zooza Art
Very cute and elegance collection with cats and letters. You can decorate your home with graphical posters and print them for you child. Send mini-cards with lettering to you friends or design your site. Let your space be not so serious:)
Here you'll find:
108+ objects – cats, 2 stylish alphabets, some other objects (vector, PNG, JPG)
4 posters (PNG with-out back, JPG 300 DPI, A3)
6 cards (PNG with-out back, JPG 300 DPI, A3)
5 lettering prints (PNG with-out back, JPG 300 DPI, A3)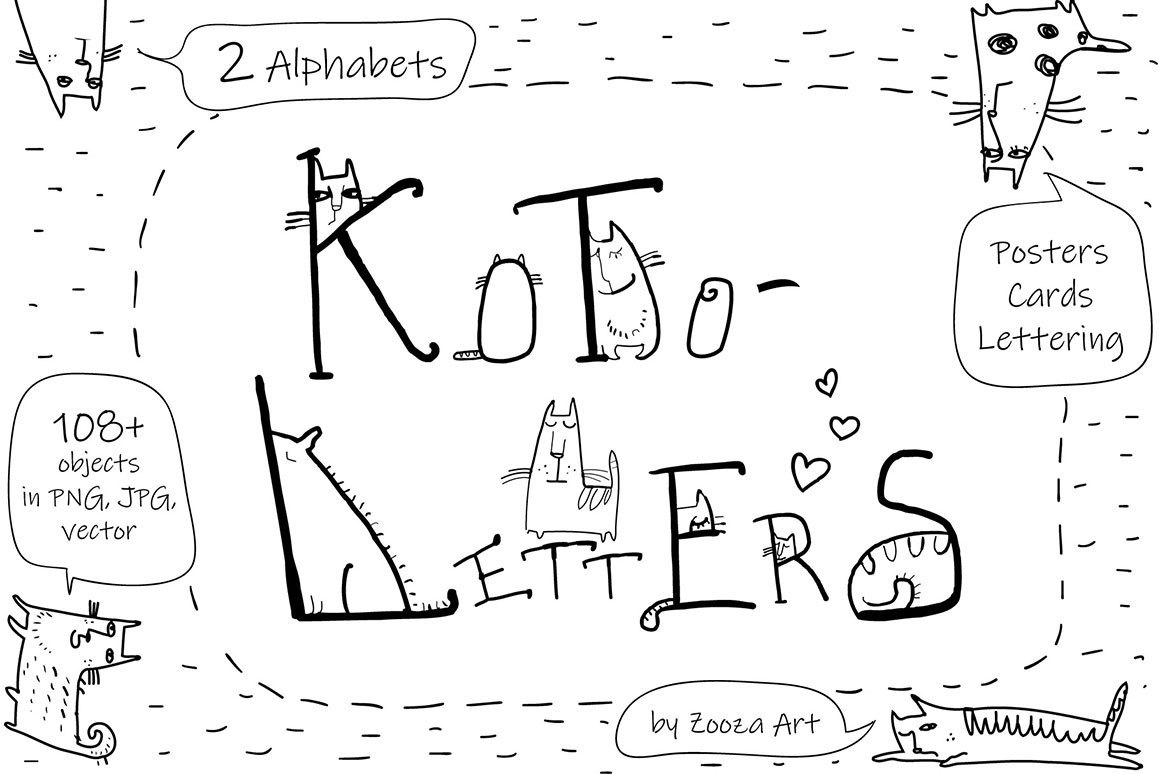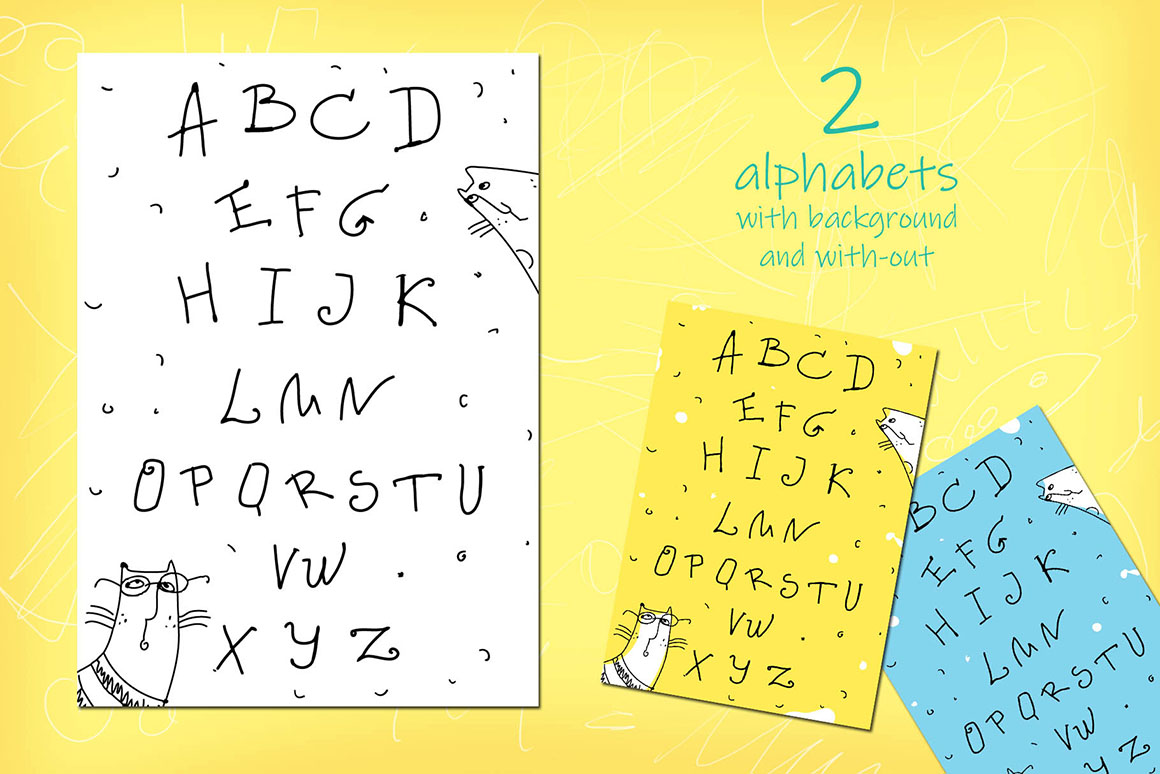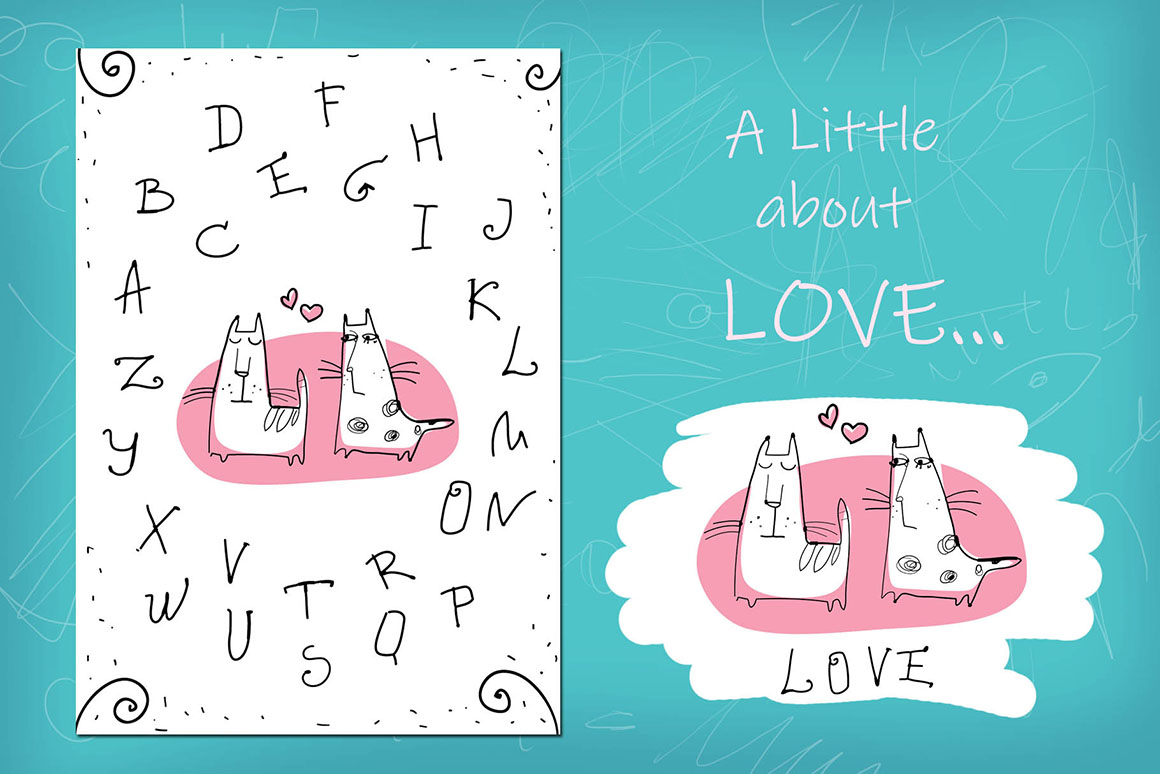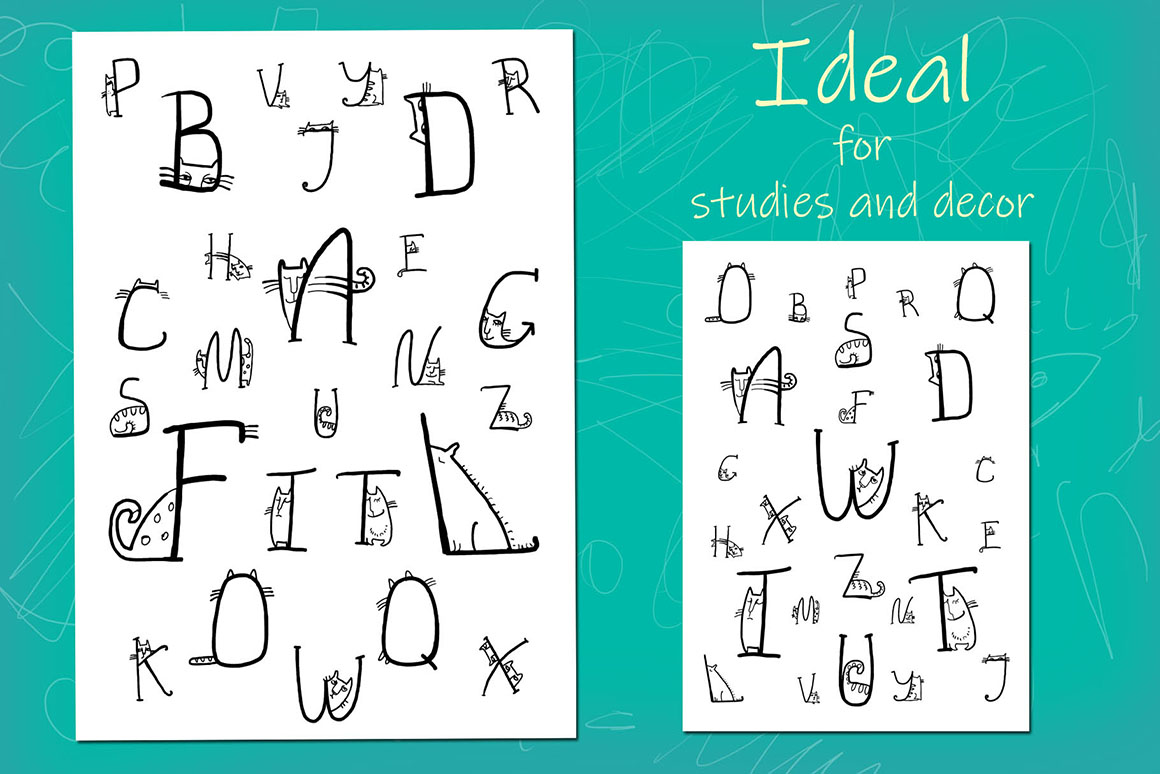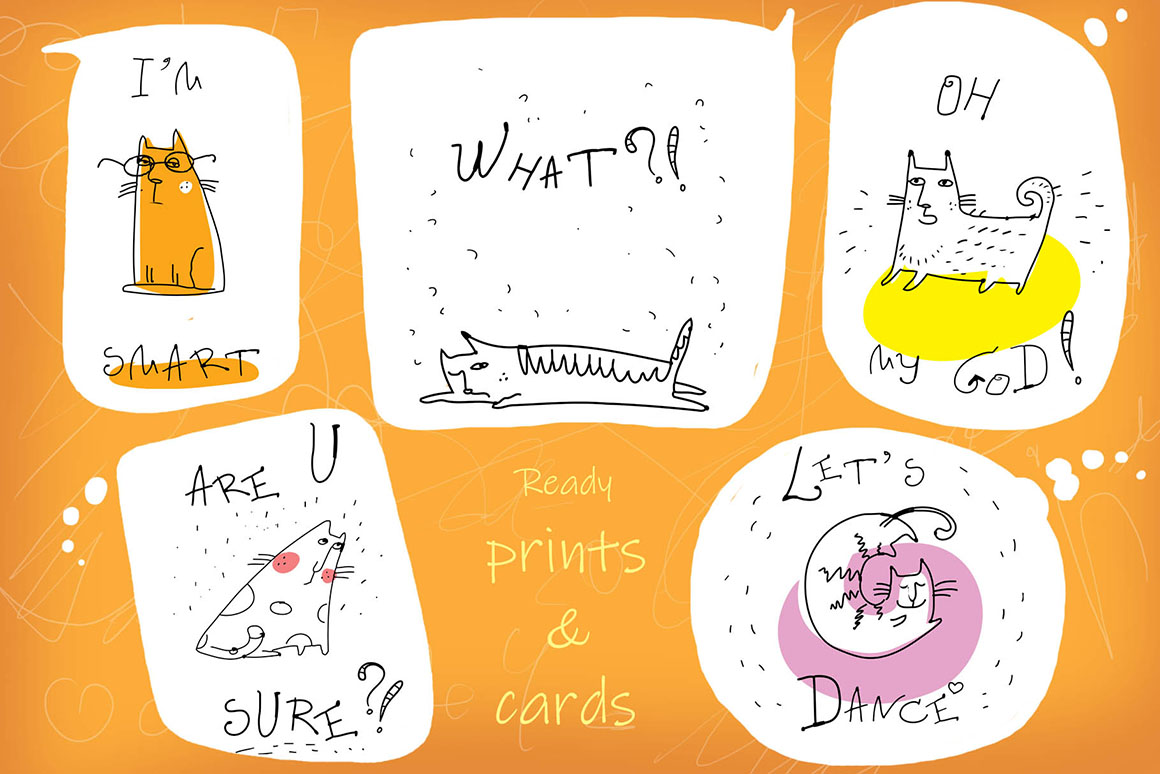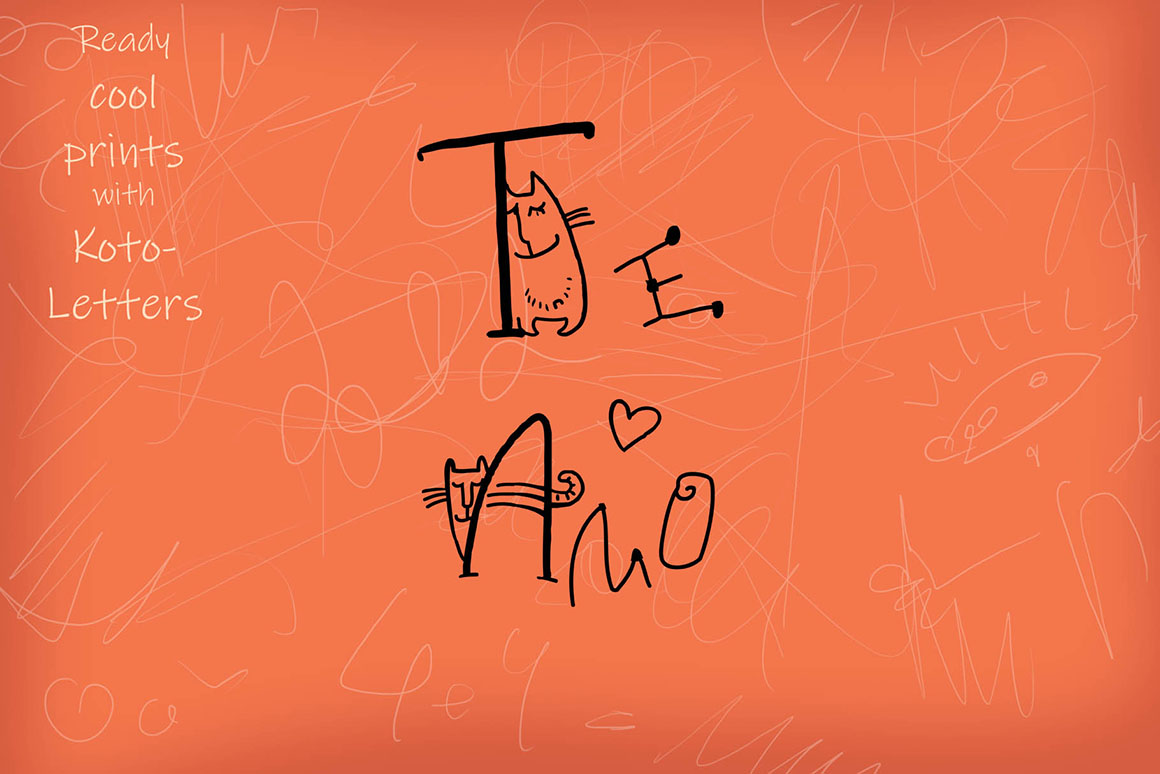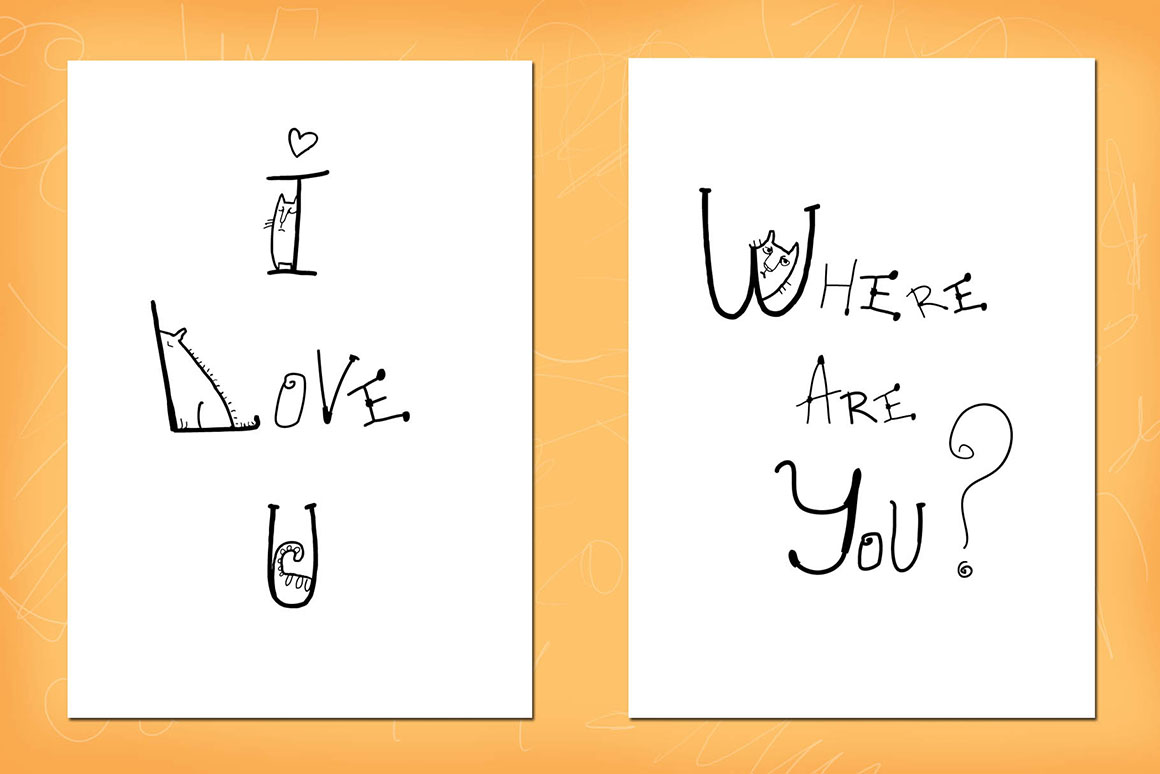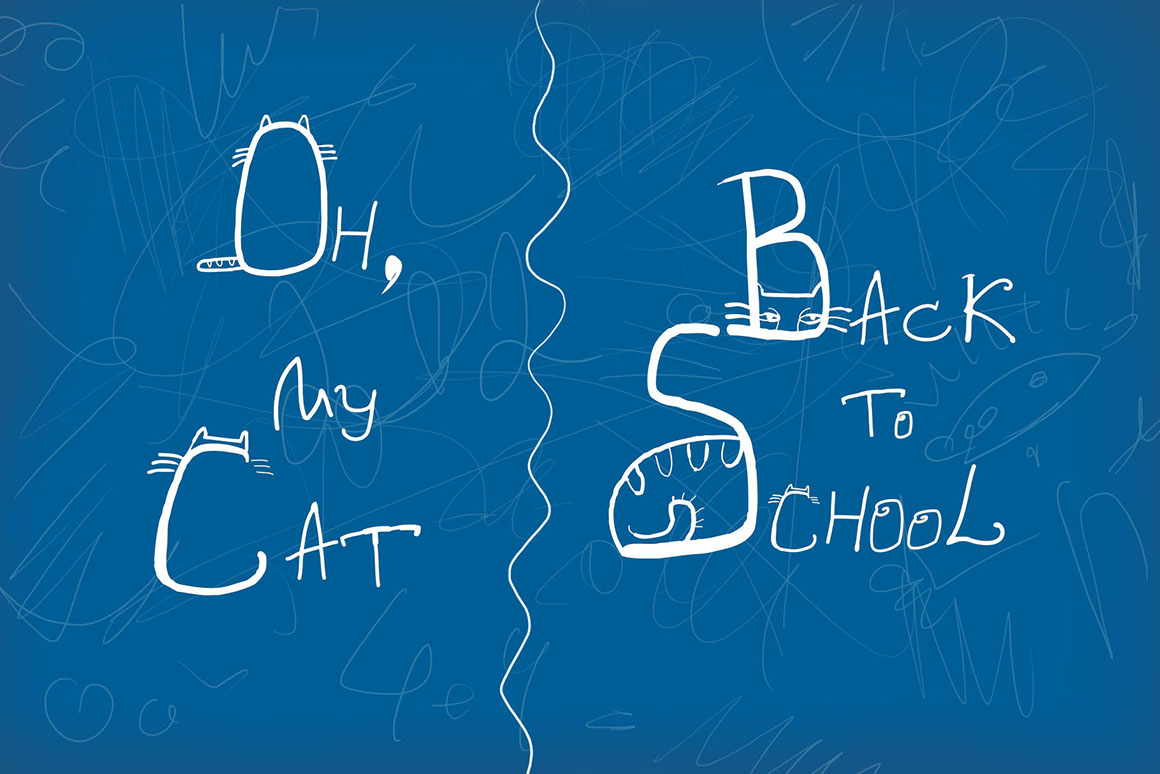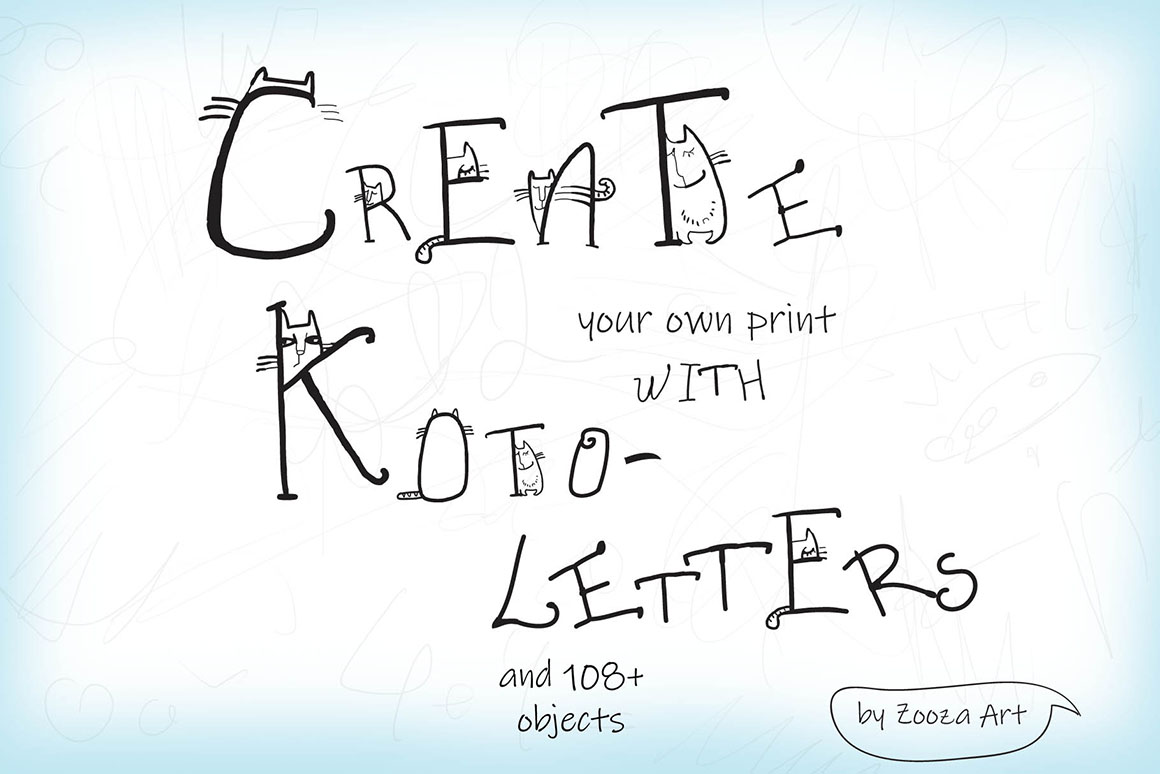 15. Eco Vegan Cat – illustration from Zooza Art
Bright handcrafted illustration with Eco Vegan Cat – for eco projects, present cards, presentations, books, clothes prints and web design.
It will be wonderful on T-Shirts and bags, use it with joy!:)
PNG and JPG illustration
300 DPI
2480×3508 px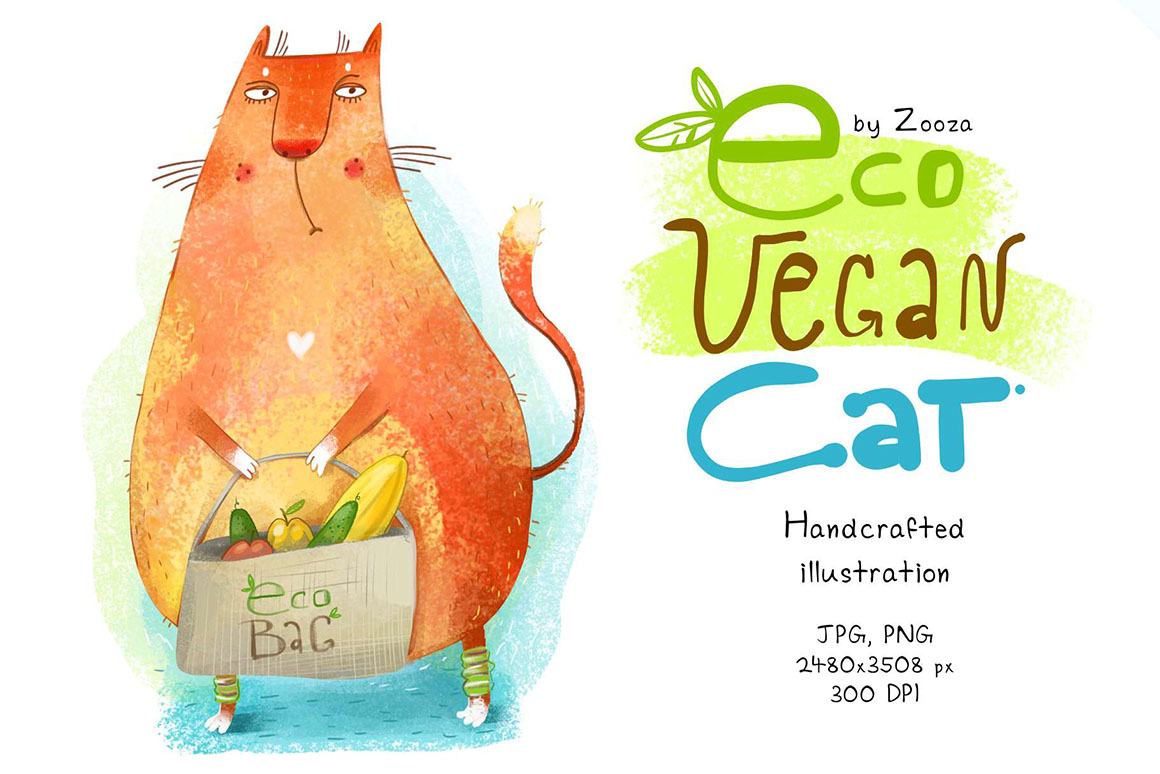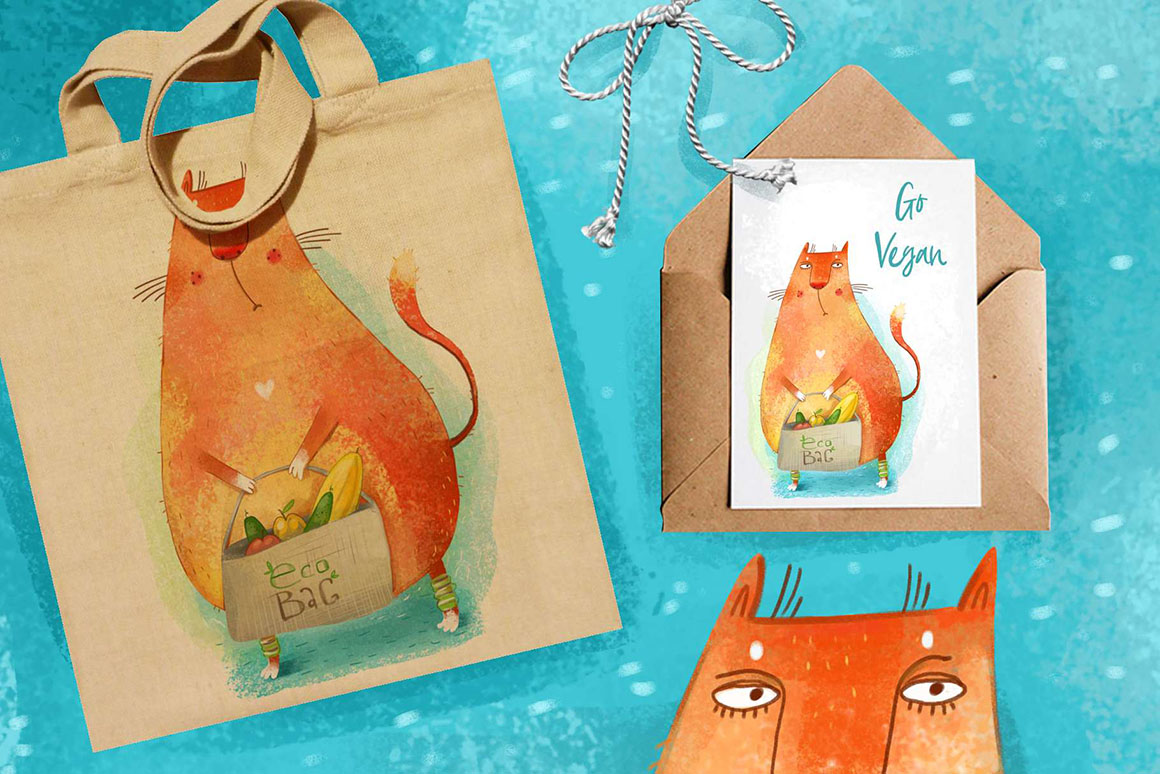 16. Happy Winter Cat – illustration from Zooza Art
Bright and warm illustration for happy winter days:) Enjoy!
PNG and JPG formats, RGB
300 DPI
6000×6000 px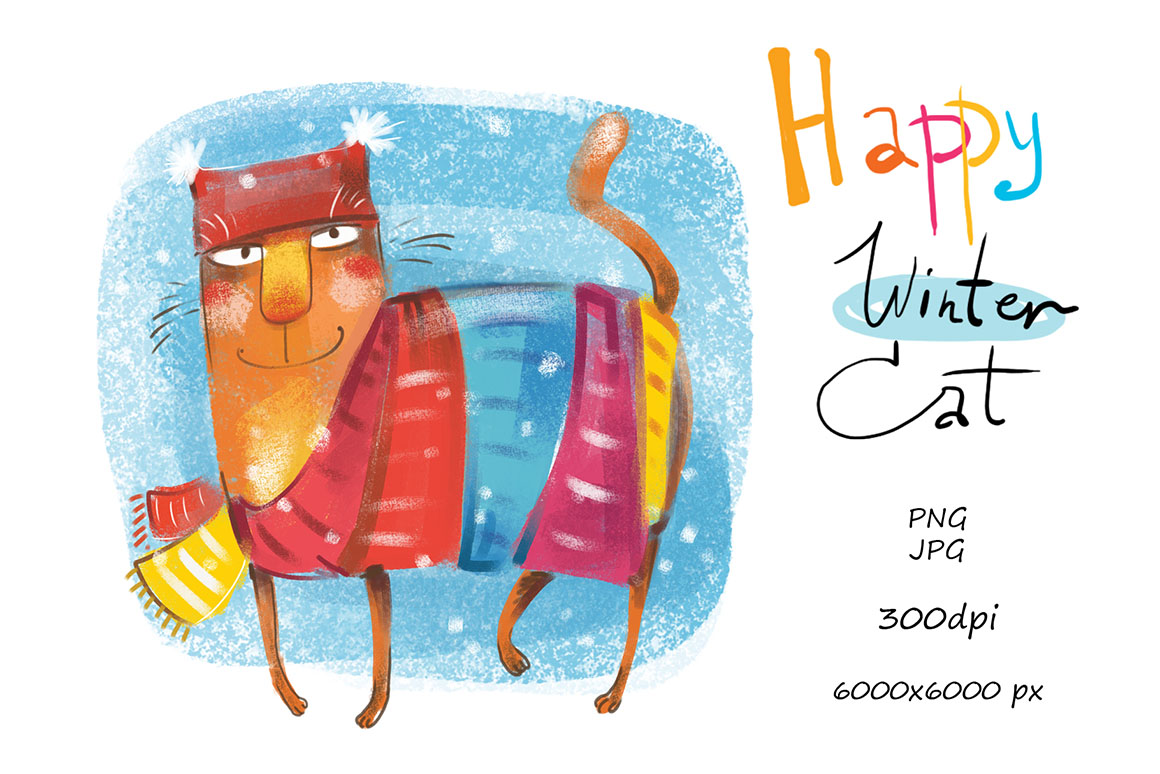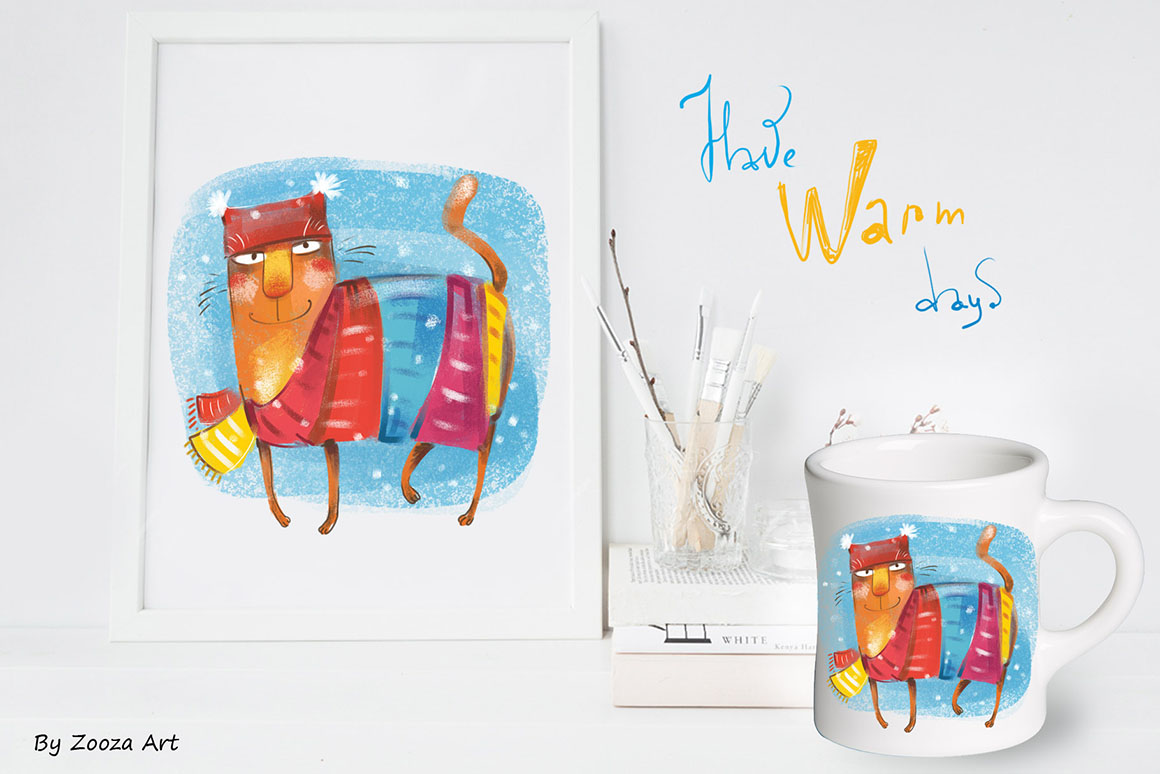 This Bundle Highlights:
16 funny & cute cat illustration sets!
extended license (like all of our deals): use for unlimited personal and commercial projects + you can also use them in designs/products that you sell. You can use all these items as a part of your non-digital or digital designs ( posters, t-shirt designs, stickers, web templates…). You cannot resell these files directly, or within items/goods where they can be extracted in their original form (like vector shapes, elements, fonts… – they need to be flatten into background or object in your digital item for sale). License is only for 1 person – you'll need to buy 2 licenses if 2 persons will work with these graphics. Please read more about our exclusive license!
Pricing:
Normally, these 16 illustration sets would cost you original price $230 (without extended license) & $829 (with extended license), but for a limited time only, you can get this unique collection for $16!
Deal Terms:
Delivered as an instant download, after completing your purchase.
All graphics can be used for both personal and commercial purposes, for yourself or on behalf of a client, on their own, or as part of your new design for sale.
Cannot be sublicensed, resold, shared, transferred, or otherwise redistributed on its own.
You cannot share these resources with others. This is a single user license!
SHARE IT
SHARE IT
https://dealjumbo.com/wp-content/uploads/edd/CATS-slide-big-deal.jpg
772
1160
peterolexa
https://dealjumbo.com/wp-content/uploads/edd/logo-povodne9-4.png
peterolexa
2020-01-17 09:45:07
2020-02-22 16:52:34
Big Cat Bundle