Introducing a meticulously crafted collection showcasing the exquisite chrome style of design. With a simple click, you can effortlessly transform your plain text, logo, or shapes into masterpieces. This comprehensive set of styles is meticulously designed to save you hours of work and effort. By entering your text / logo onto the sheet and saving the file, you can quickly achieve stunning results. The flexibility of this package allows for easy customization as all layers are open for modification. Whether you prefer a background or a transparent style, exporting your design is a breeze.
These 10 NEW amazing text, shape or logo effects are from Hyperpix Studio and ready for your new print or web graphic design! Please take a look at all preview images and you'll see how cool these text or shape effects are 🙂
Each style in this collection has been meticulously created with uncompromising quality, dedicating over 10 hours to perfecting each one. With a total of 10 unique styles, this package required over 100 hours of meticulous preparation. As a result, you can effortlessly implement your desired style in 5 minutes or less.
With this deal you get:
10 creative metalic or chrome text or shape effects!
You'll need Adobe Photoshop to edit these PSD templates with smart object!
These templates works with Photoshop CS5+ or CC. It will not work with Photoshop Elements!
Take a look at what you can get: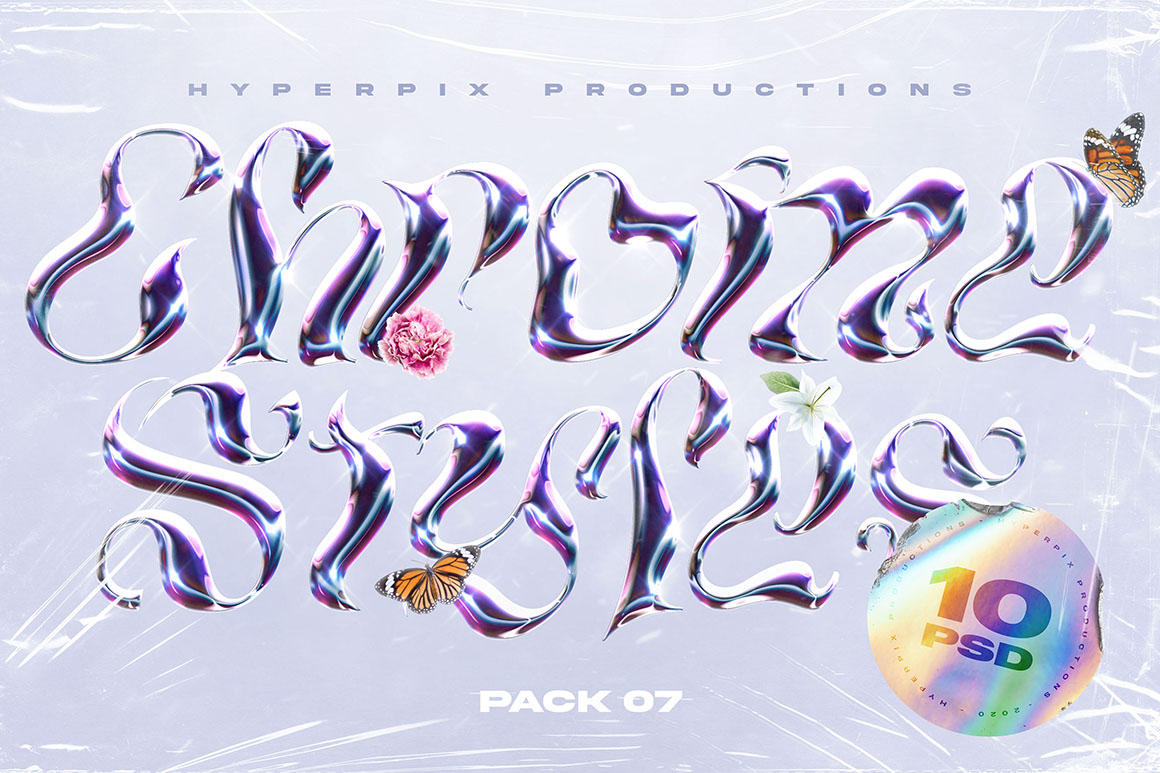 10 creative metalic or chrome text or shape effects!
This remarkable package caters to both seasoned professionals and aspiring designers alike. It enables professionals to expedite their workflow and leverage the open layers to fashion truly distinctive styles. The user-friendly nature of these effects ensures that even if your Photoshop skills are not yet polished, there is no cause for concern. In addition, the package includes a comprehensive step-by-step instructional video to address any queries you may have. These versatile styles can be employed in your commercial projects. While the PSD files themselves cannot be sold, you are free to offer the final export (PNG or JPG file) as a product. Our esteemed customers have utilized these effects to generate a consistent income by providing design services through esteemed platforms such as Fiverr, 99designs, DesignCrowd, Redbubble, Spreadshirt, Zazzle, Teespring, TeePublic, Society6, and many more.
We have taken into consideration the expectations of our valued customers and strived to incorporate them into this impeccable design package. Here are the remarkable features you can expect to find in this comprehensive design pack:
Time and cost-saving: This package enables you to save precious time that can be allocated to other aspects of your project. Designing a single style from scratch could typically consume up to 10 hours, but with this package, you can achieve exceptional results within minutes.
Editable text: All the texts in these styles can be easily customized. They seamlessly adapt to any text and font, ensuring perfect compatibility.
Versatile for logos: These styles are not limited to text alone. You can effortlessly apply them to your preferred logos or shapes with remarkable ease.
Compatibility with all languages: These styles effortlessly accommodate all languages and fonts. Irrespective of your target audience, implementing these styles requires just a simple click.
Usability in 72 dpi and 300 dpi projects: These styles seamlessly integrate into both 72 dpi and 300 dpi projects. They are equally suitable for both digital and print projects.
Step-by-step video instructions: Our comprehensive video instructions leave no question unanswered. Even if you are new to Photoshop, you can easily work with these styles, thanks to the detailed guidance provided.
Full compatibility with popular Photoshop versions: These styles are compatible with various Photoshop versions, including CS5, CS6, CC, CC 2014, CC 2015, CC 2016, CC 2017, CC 2018, CC 2019, CC 2020, CC 2021, CC 2022, CC 2023 and higher. They are also compatible with both Windows and Mac OS, as we have thoroughly tested their functionality.
High-quality details: These styles have been meticulously designed in a resolution of 3000 x 2000 px. You can confidently incorporate these styles into your work without any concerns about compromising quality.
Perfect for diverse designs and projects: The versatility of these designs knows no bounds. You can effortlessly utilize them in logos, social media banners, album covers, t-shirts, and any other project you envision.
Seamless resizing and transparent background usage: Unlike many styles, these designs seamlessly support transparent backgrounds. Exporting them as transparent PNG files no longer requires excessive time and effort. Additionally, whether your project is smaller than the original size, you can easily make the necessary adjustments without compromising the design. Our instructional videos provide clear guidance on accomplishing these modifications effortlessly.
Clean and organized layers: All layers are meticulously named and categorized, ensuring a streamlined editing process. With a quick glance at the layers, you can swiftly locate what you need, saving you valuable time and enhancing your efficiency in editing the project.
How to work with styles? (Complete tutorial)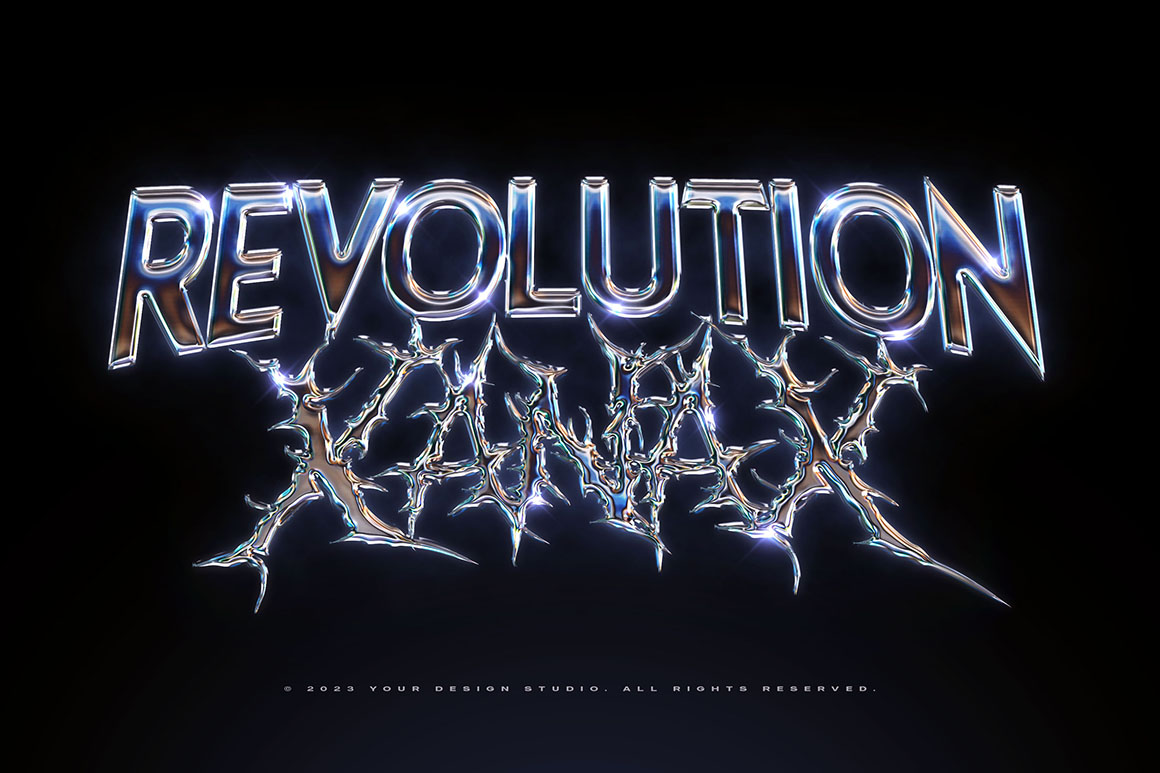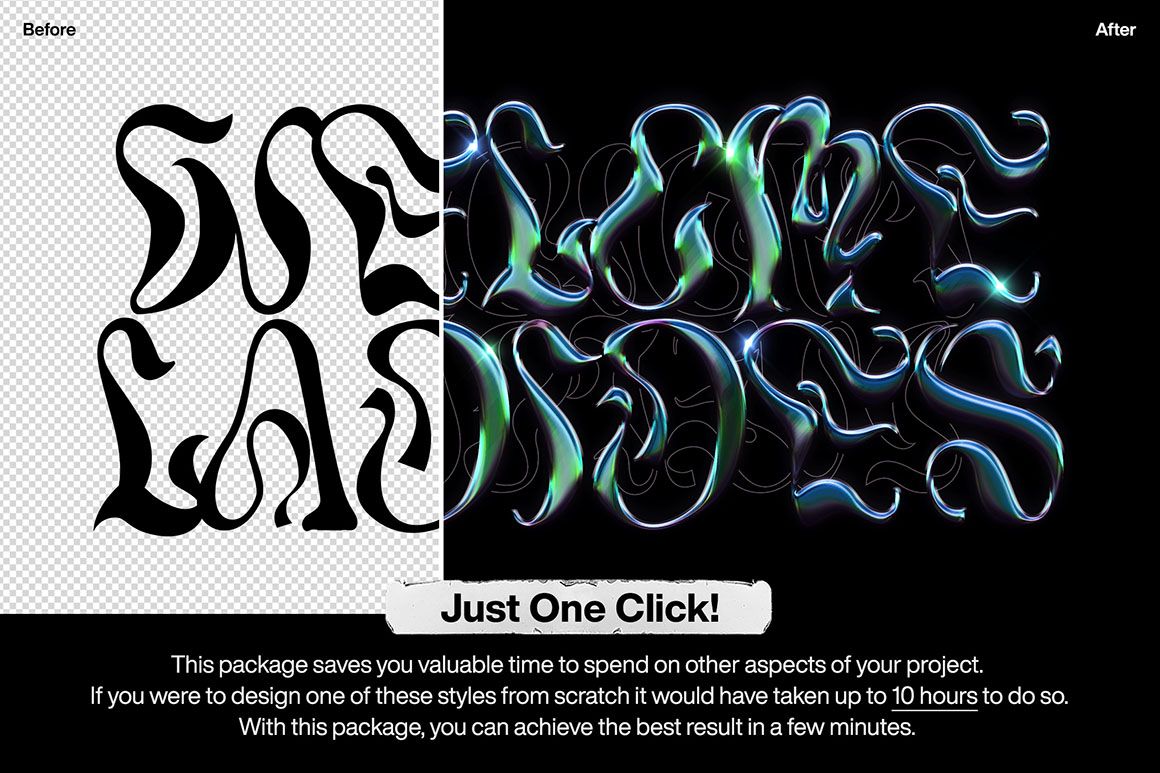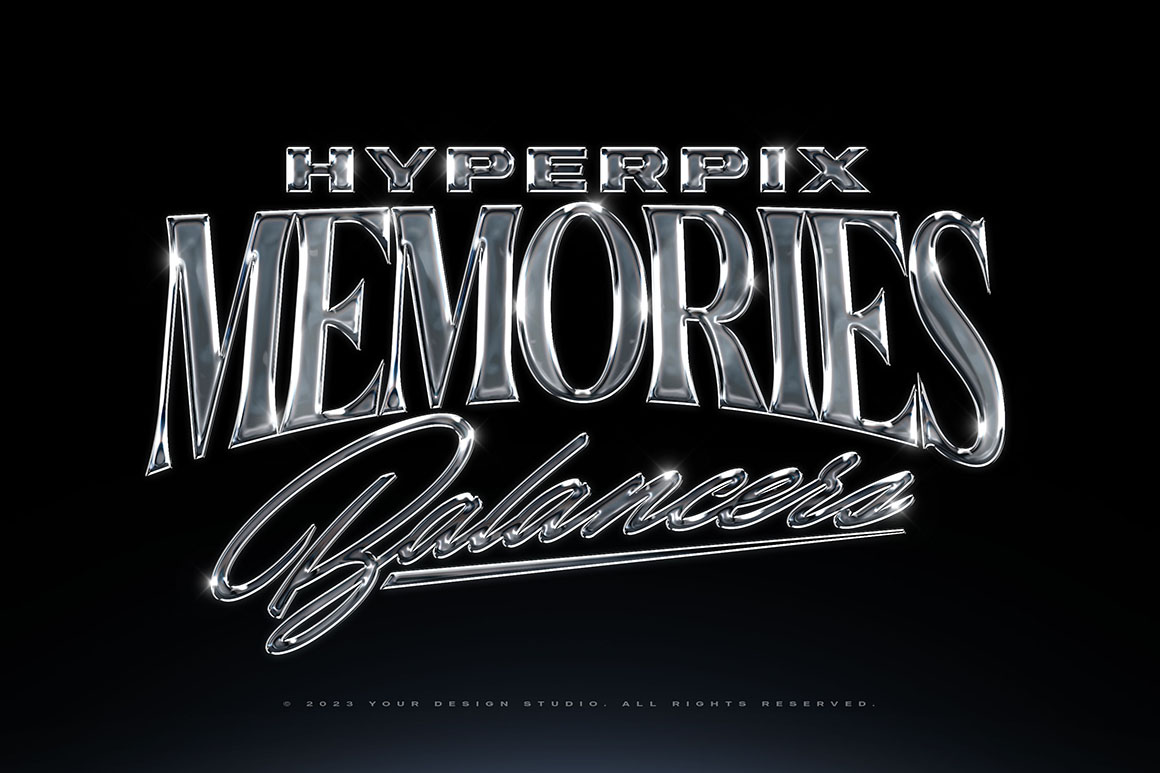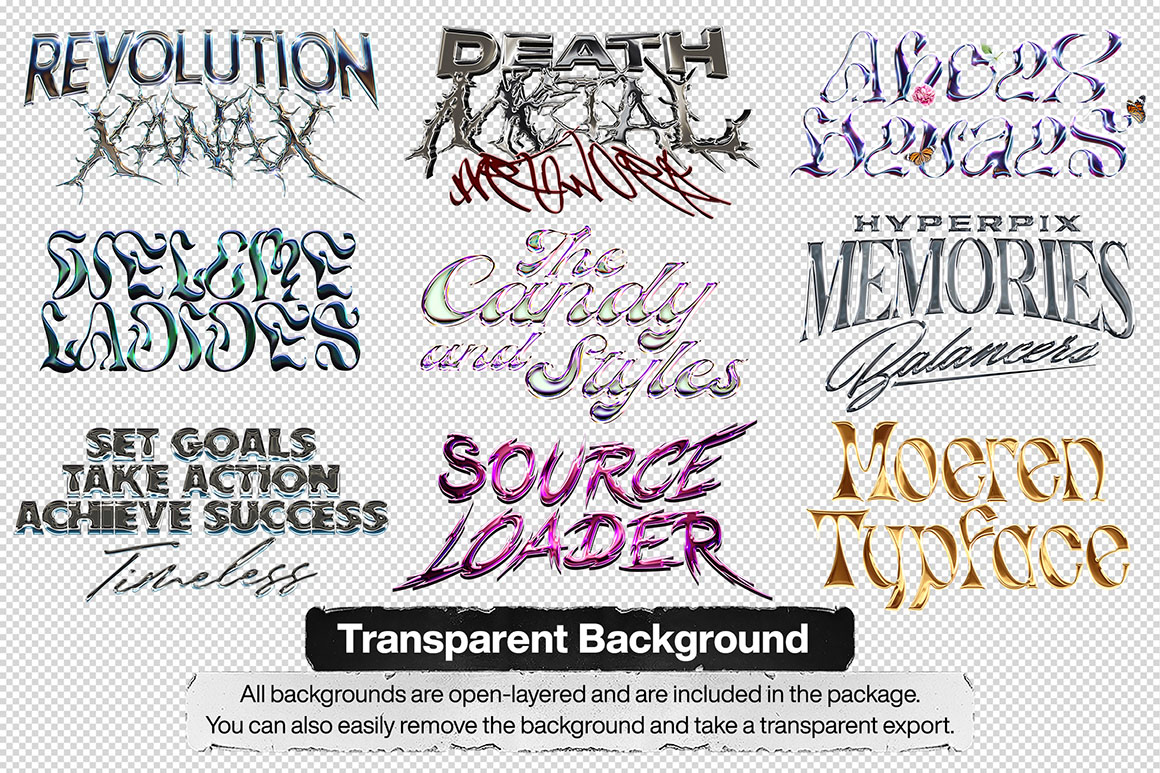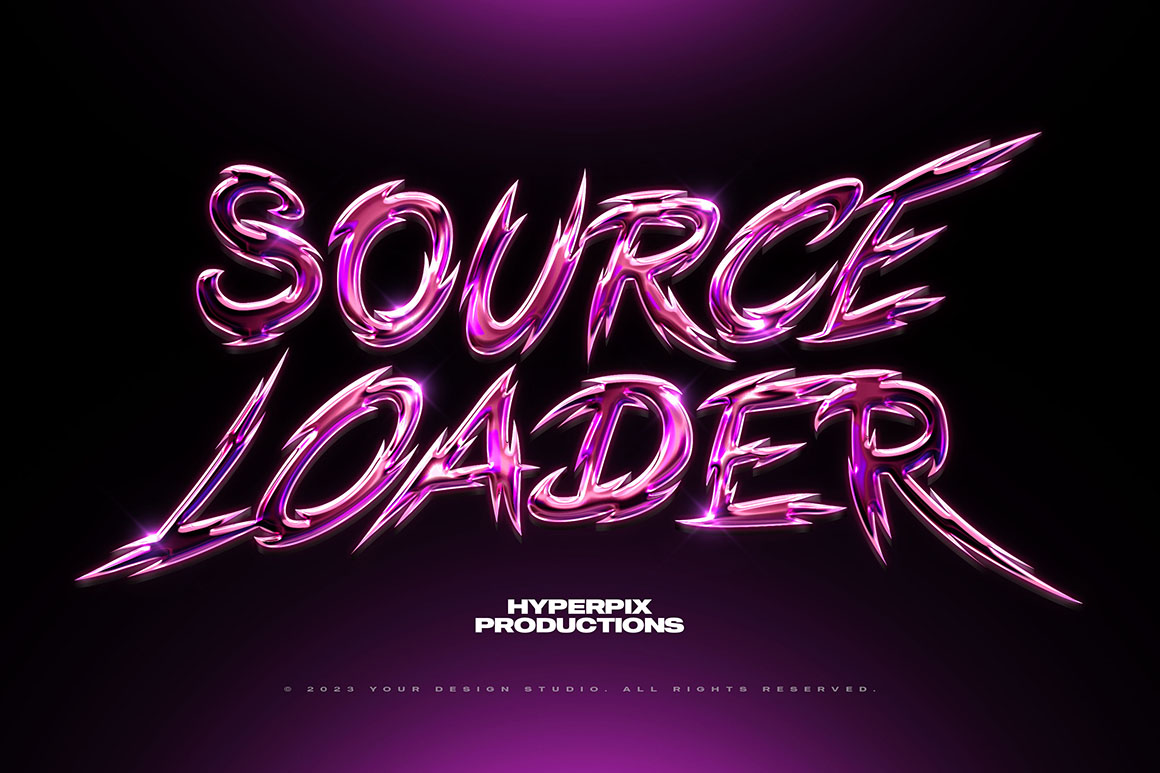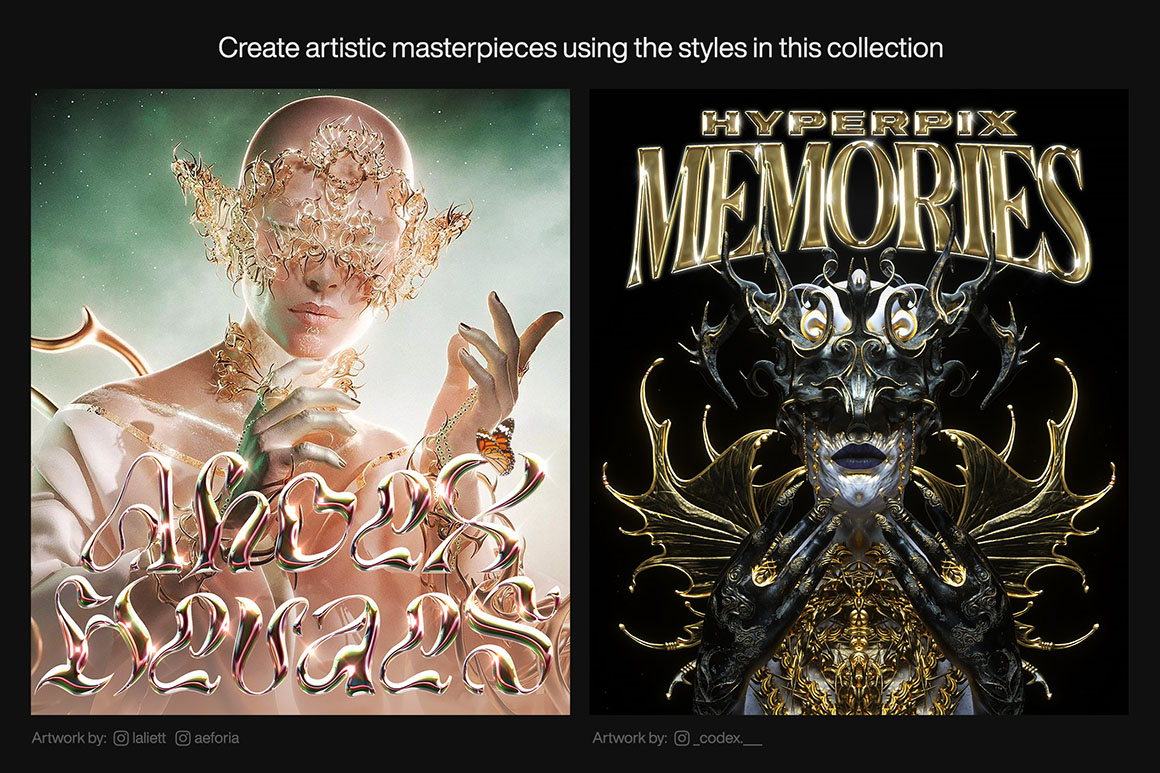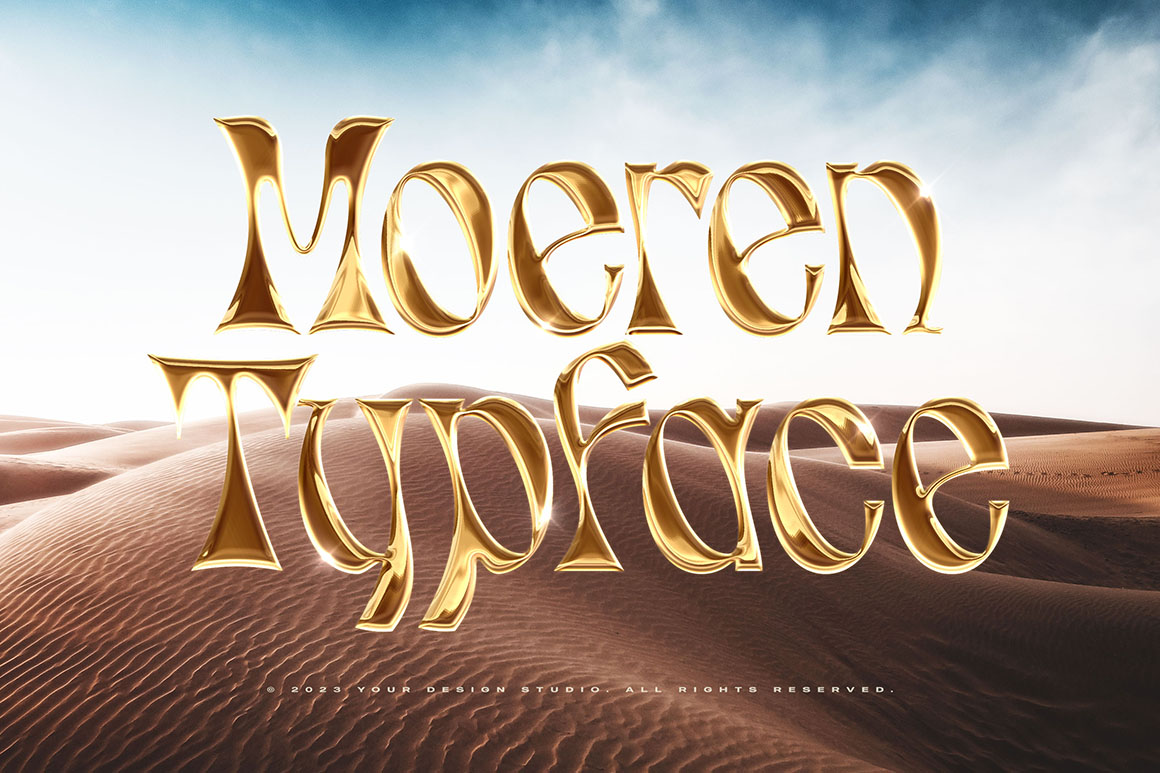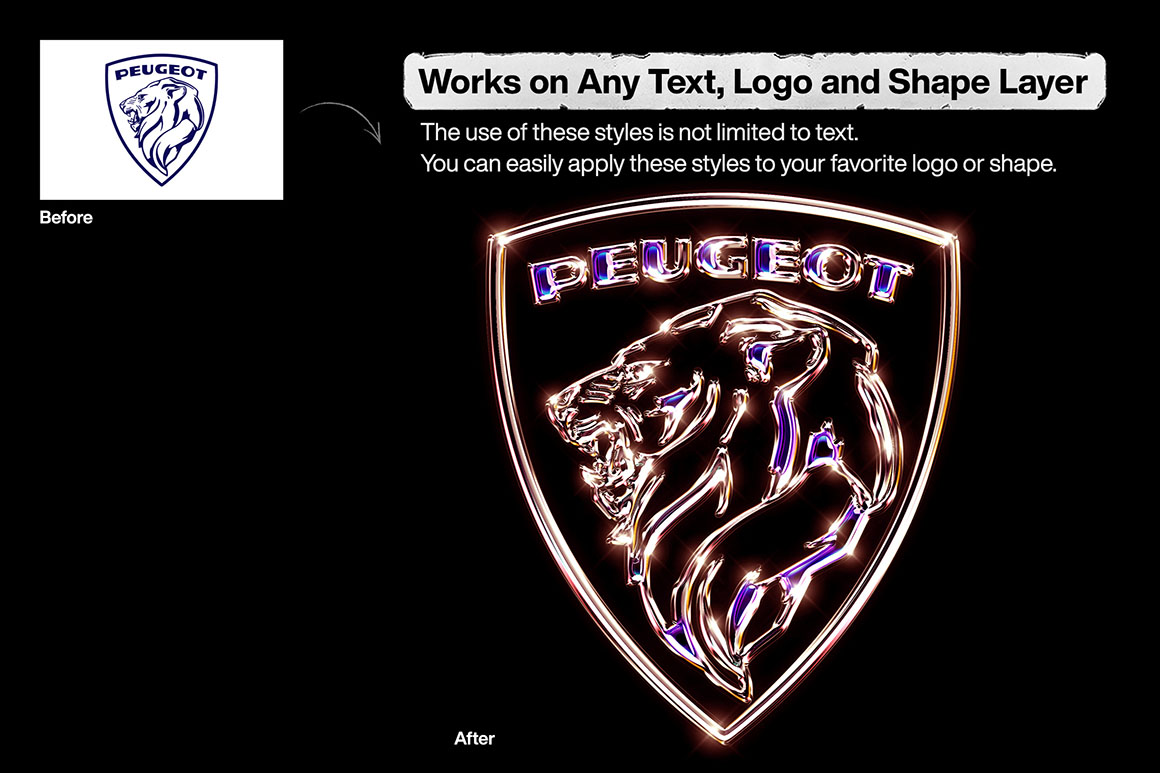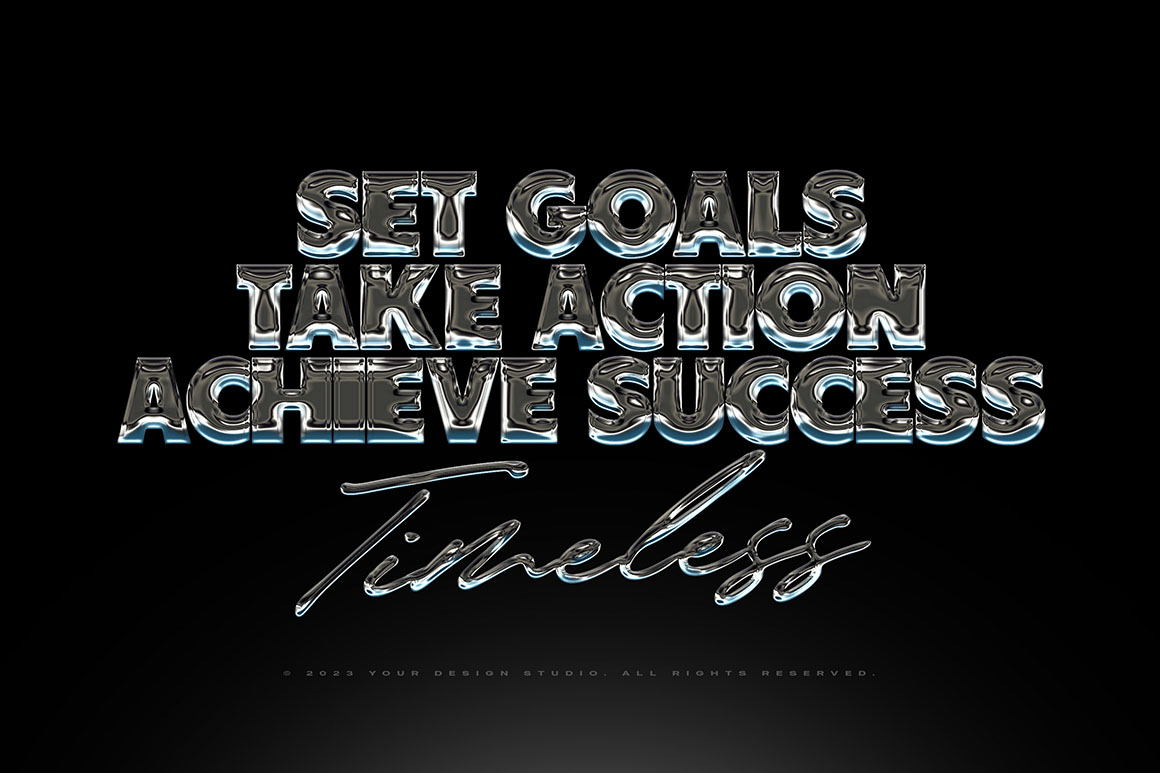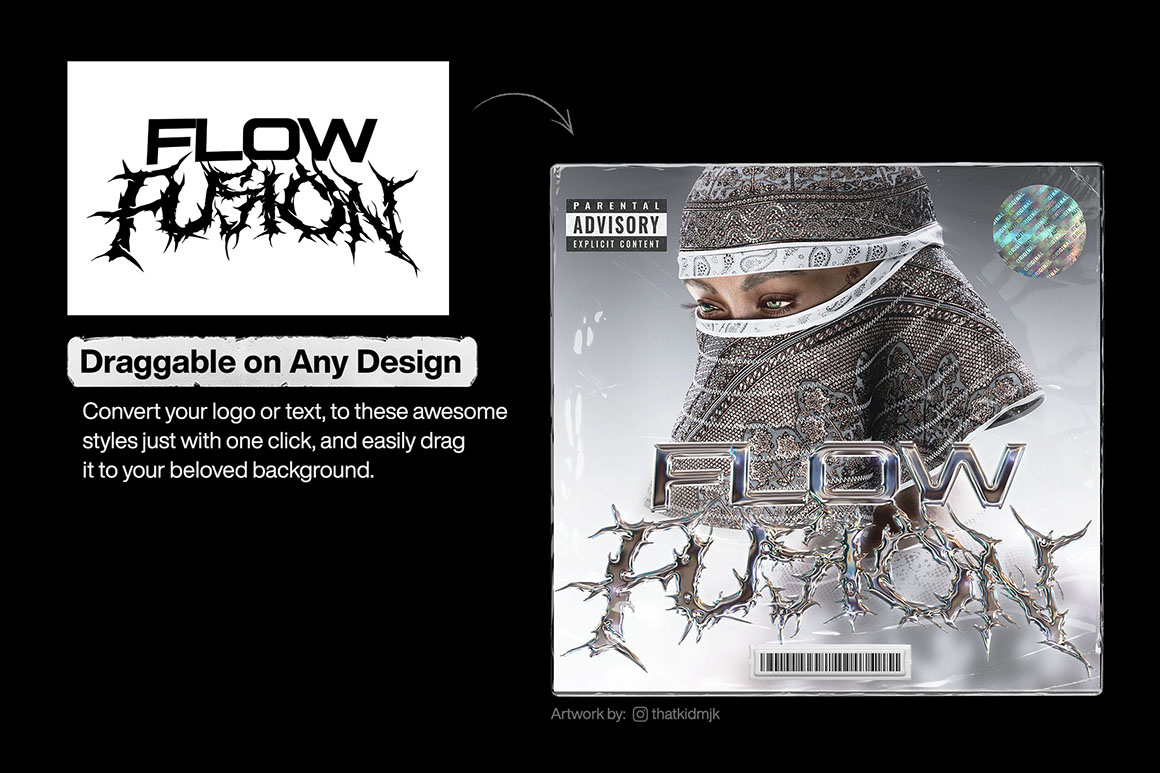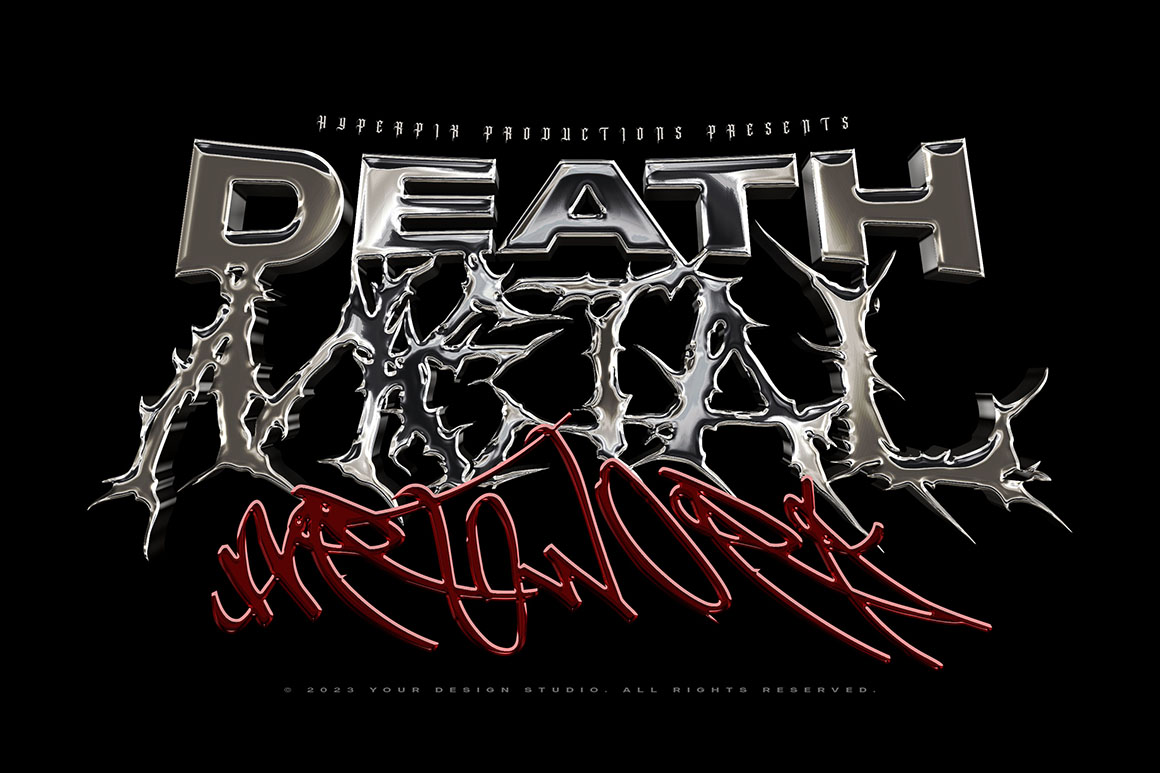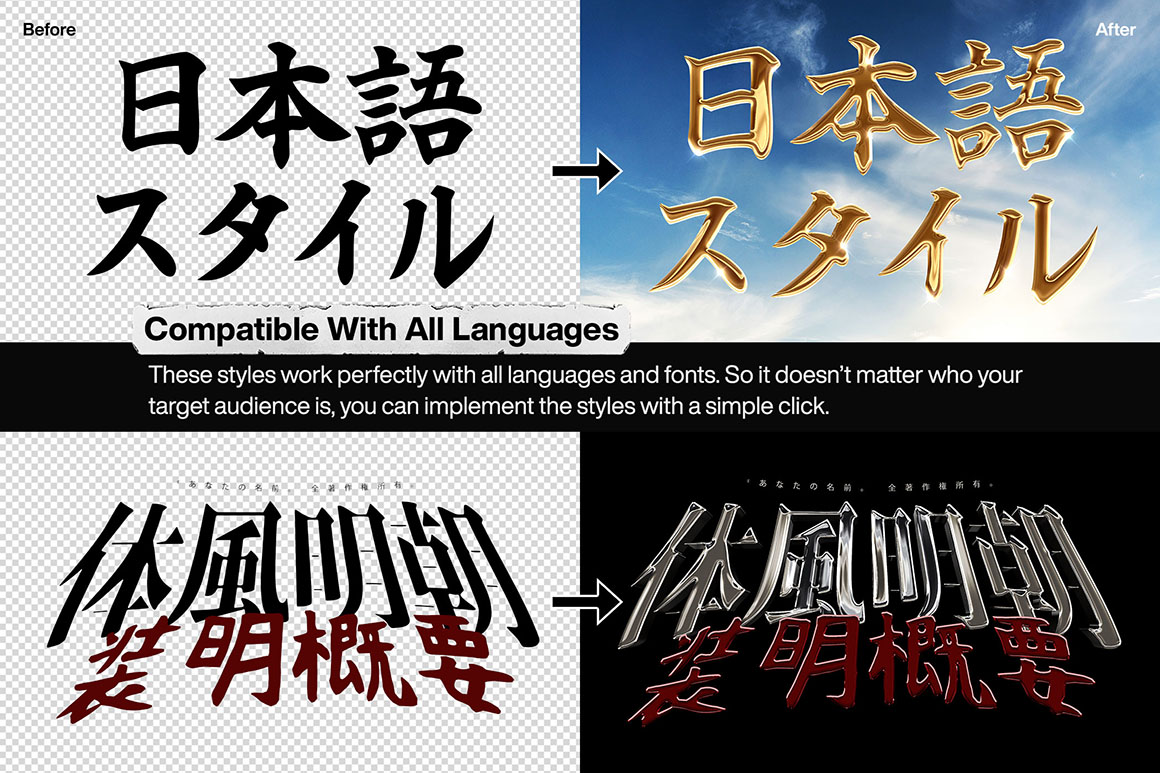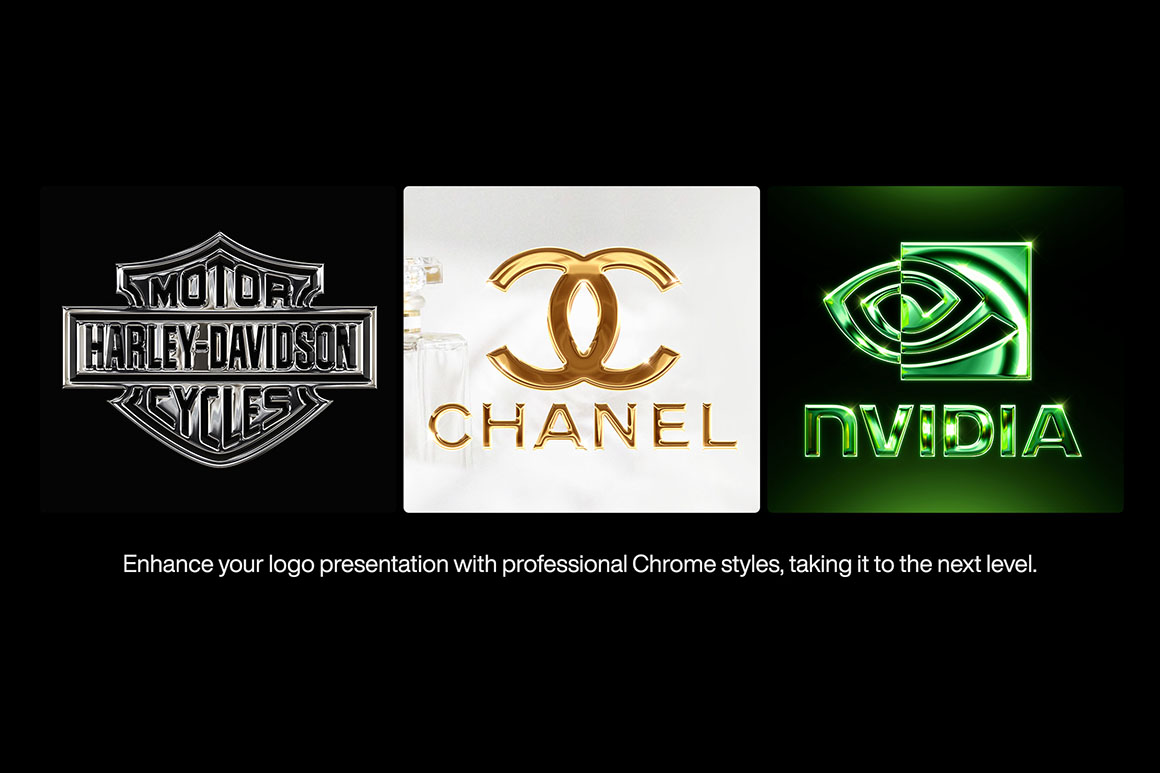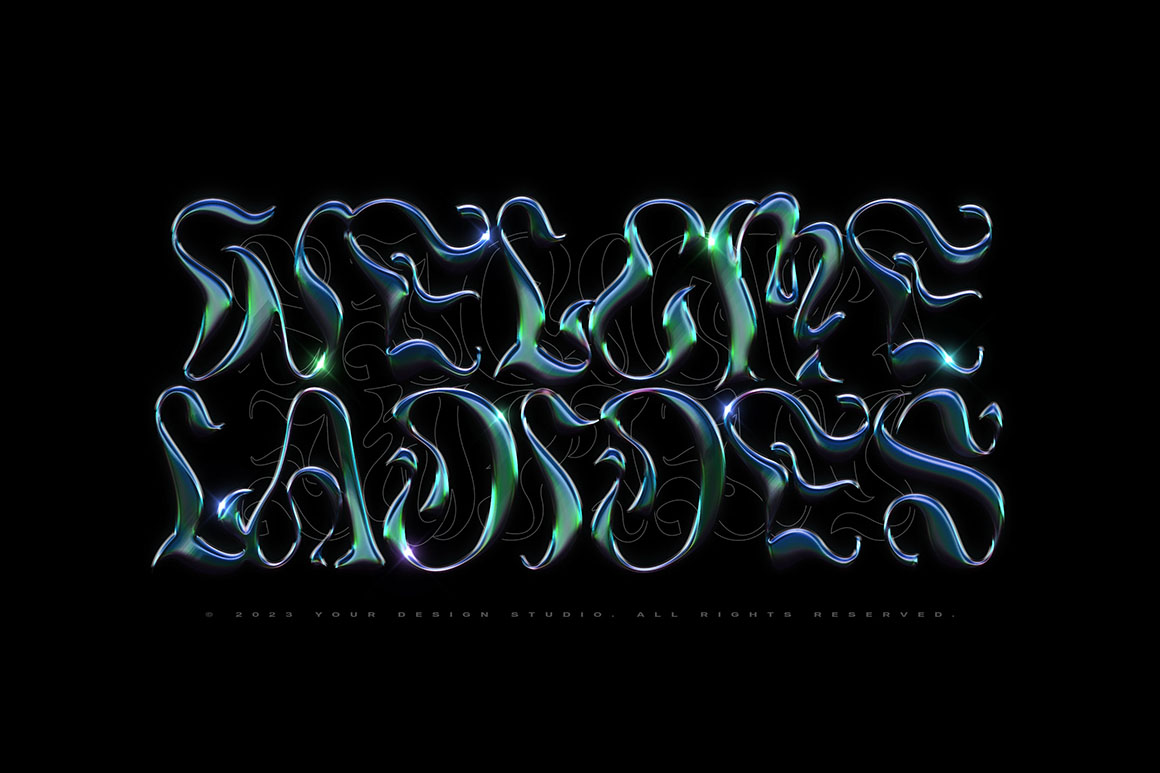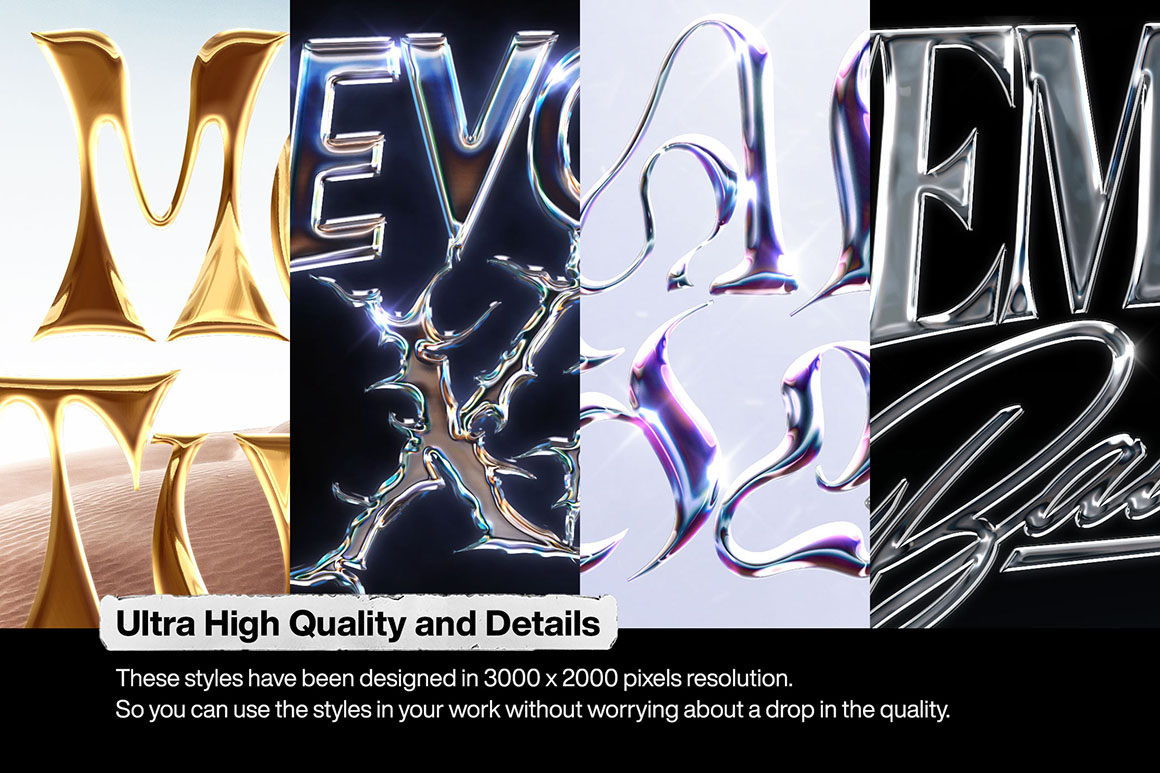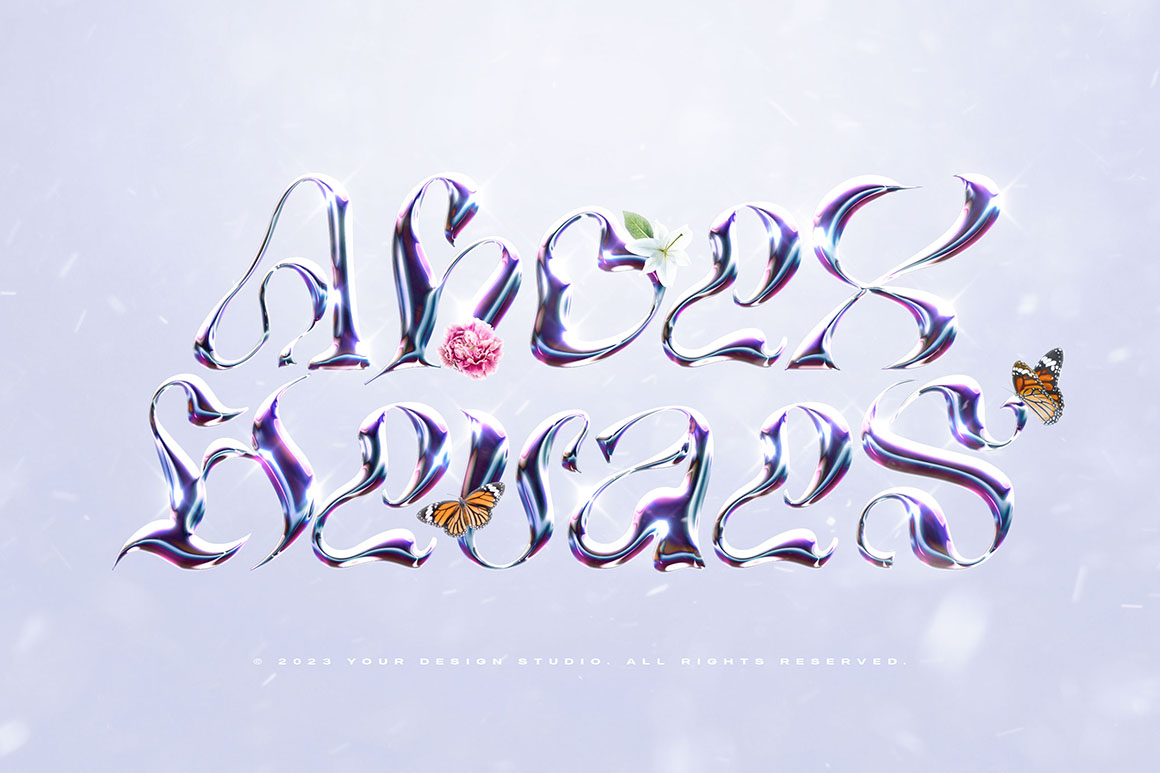 This bundle highlights:
10 creative metalic or chrome text or shape effects!
extended commercial license (like all of our deals): use for unlimited personal and commercial projects + you can also use them in designs/products that you sell. You can use all these items as a part of your non-digital or digital designs ( posters, t-shirt designs, stickers, web templates…). You cannot resell these files directly, or within items/goods where they can be extracted in their original form (like vector shapes, elements, fonts… – they need to be flatten into background or object in your digital item for sale). License is only for 1 person – you'll need to buy 2 licenses if 2 persons will work with these graphics. Please read more about our exclusive license!
Pricing:
Normally, these 10 text effects would cost you $29 (without extended licnese) & $76 (with extended licnese), but for a limited time only, you can get this unique collection for $9!
Deal Terms:
Delivered as an instant download, after completing your purchase.
All image results from these templates (mock-ups) can be used for both personal and commercial purposes, for yourself or on behalf of a client, on their own, or as part of your new design for sale.
Cannot be sublicensed, resold, shared, transferred, or otherwise redistributed on its own.
You cannot share these resources with others. This is a single user license (for 1 user on any number of devices)! You'll need second license for your colleague computer!