This bundle contain 290 unique vector (AI & EPS) & bitmap (JPG & PNG) seamless patterns in 11 sets.
All these seamless patterns from Pixelbuddha can help you with new creative and unique project. Please check all preview images.
A seamless pattern is an image or texture that can be duplicated and placed side-by-side, without distinct borders or separations. These patterns allow you to create a single image to be endlessly repeated to create unique backgrounds/textiles/fabric.
Can be used for web and print on different projects: backgrounds, wallpapers, greeting cards, invitations, wrapping paper, stationery, mobile covers and skins, sneakers, shirts, textile and fabric, fashion, pillows, t-shirts, dresses, tote bags, shower curtains, duvet covers, wall tapestries, wall murals, rugs, blankets, hoodie, cd and dvd covers, cans, flip flops, web backgrounds, digital papers, backpacks, placemat, apron, packaging, clothes, leggings, etc.
With this deal you get:
290 unique vector (AI & EPS) & bitmap (JPG & PNG) seamless patterns!
extra graphics in some of these 11 sets
Take a look at what you can get:

Why you should buy these seamless patterns?
Great designs and quality
Vector format – can be scaled at any size – all packs have EPS files – most of packs have also AI files
Jpg & Png files – can be used on any computer without a design software – ready for print
11 different categories to choose from
Affordable – 290 patterns + extra graphics at a great price
290 unique vector (AI & EPS) & bitmap (JPG & PNG) seamless patterns!
01. Moroccan Patterns and Ornaments from Pixelbuddha
Inspiration always comes from traveling and discovering masterpieces of a different culture. For this release, we were fostered by just absolutely fascinating Portuguese Azulejos. Even if you're not familiar with this term, be sure — you've seen these glazed, ceramic tiles covering the walls of houses, churches, and stores. We've concentrated on transfering the warm vibes and colorful vision they produce to encapsulate them in our Moroccan patterns and ornaments!
Our pack includes 32 patterns and 16 ornaments, demonstrating the kaleidoscope of small objects in the harmony of colors. You can carefully decorate your designs with Moroccan mosaics of any size and color — everything is adjustable and editable! What do these patterns make you think of? We hope you see the sunny village near the seaside, full of greenery and flowers. Now imagine how heart-warming these patterns will be for your audience to observe in website design, background, stationery, cards, book covers, collages, scrapbooking and anything you need to integrate some vivacity!
What's inside:
32 patterns (AI, EPS, PNG);
16 ornaments (AI, EPS, PNG);
help file;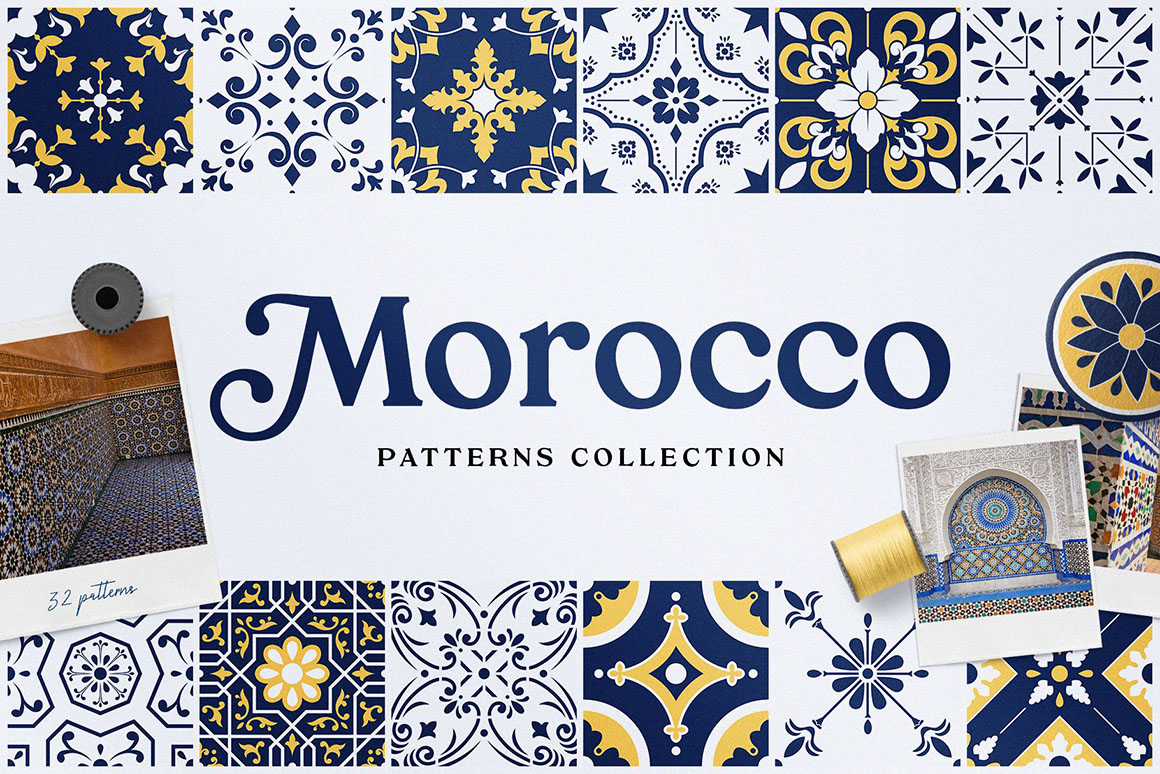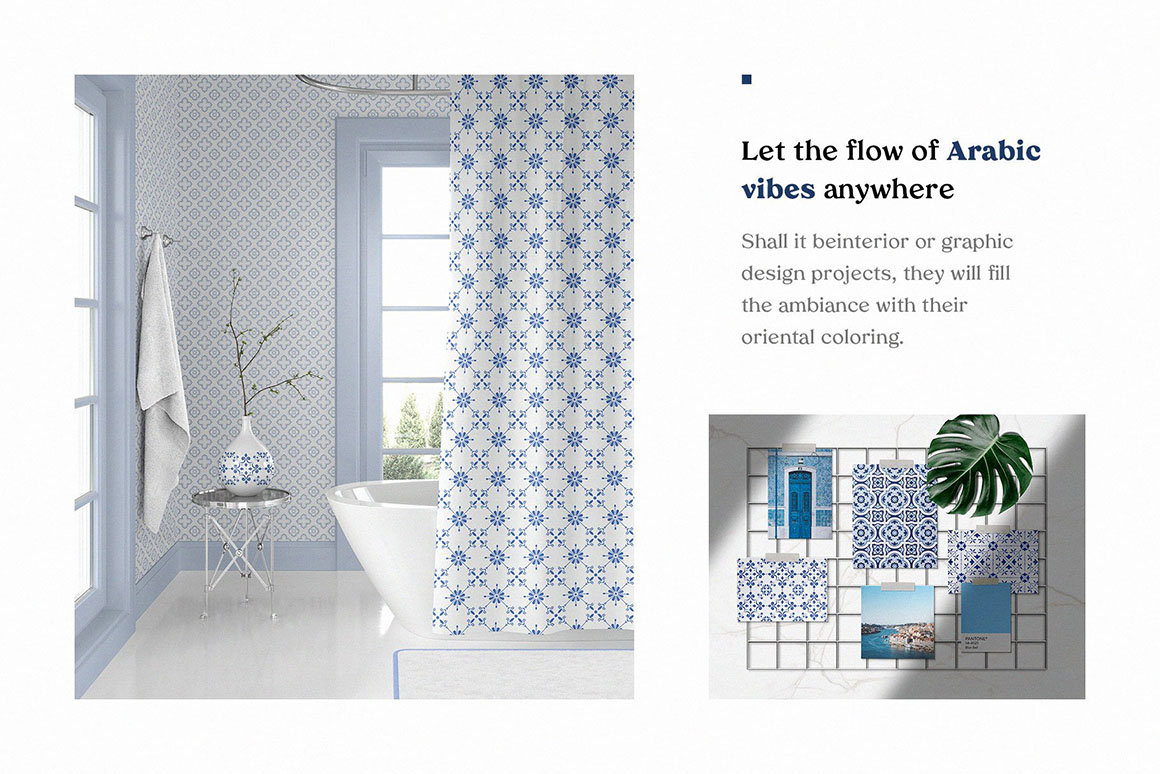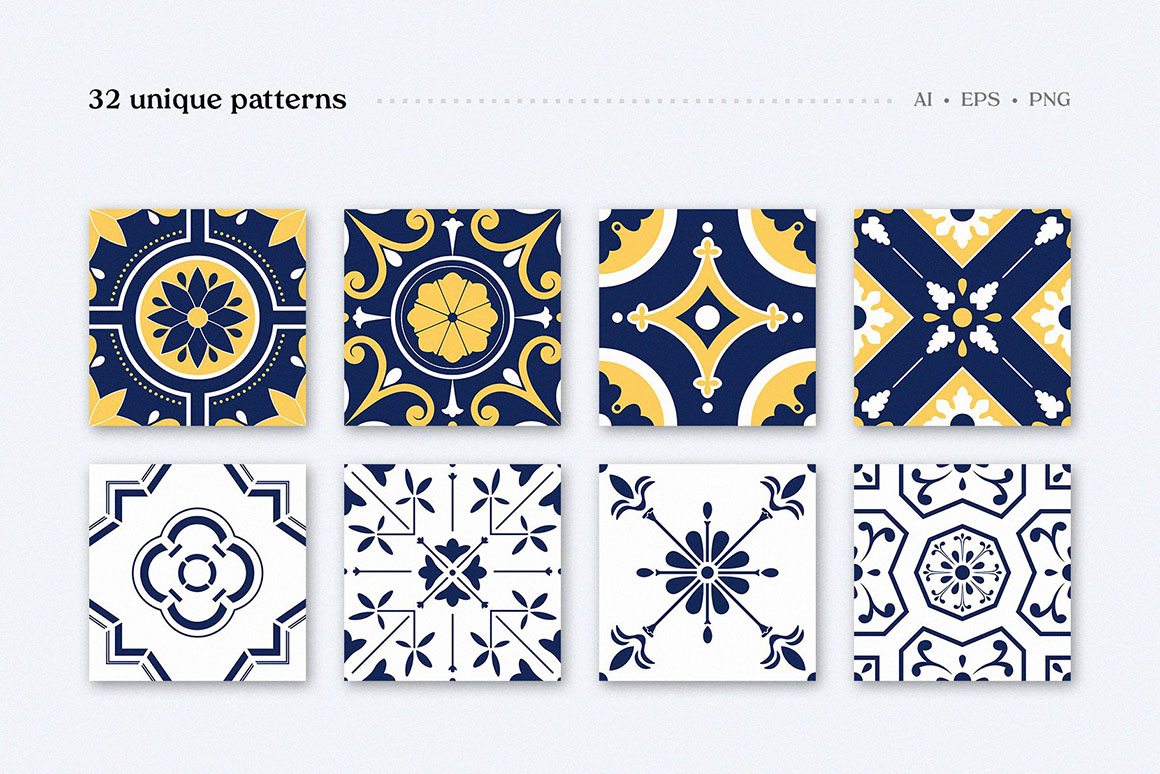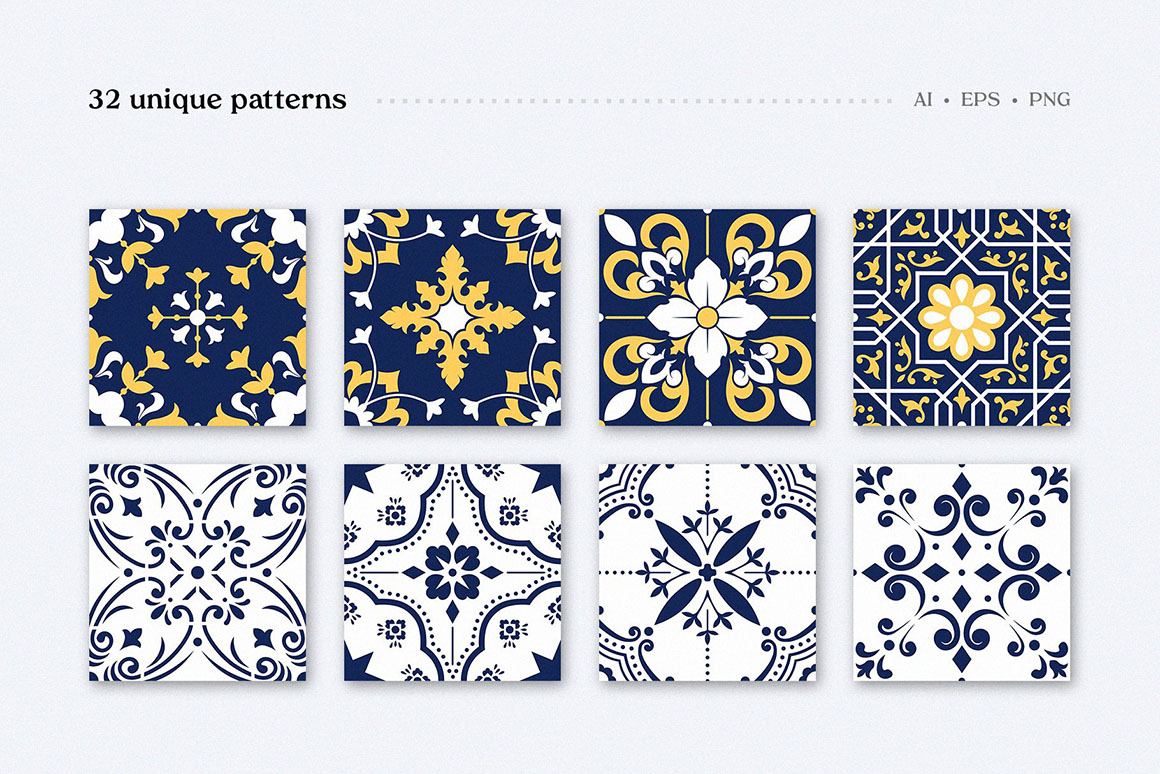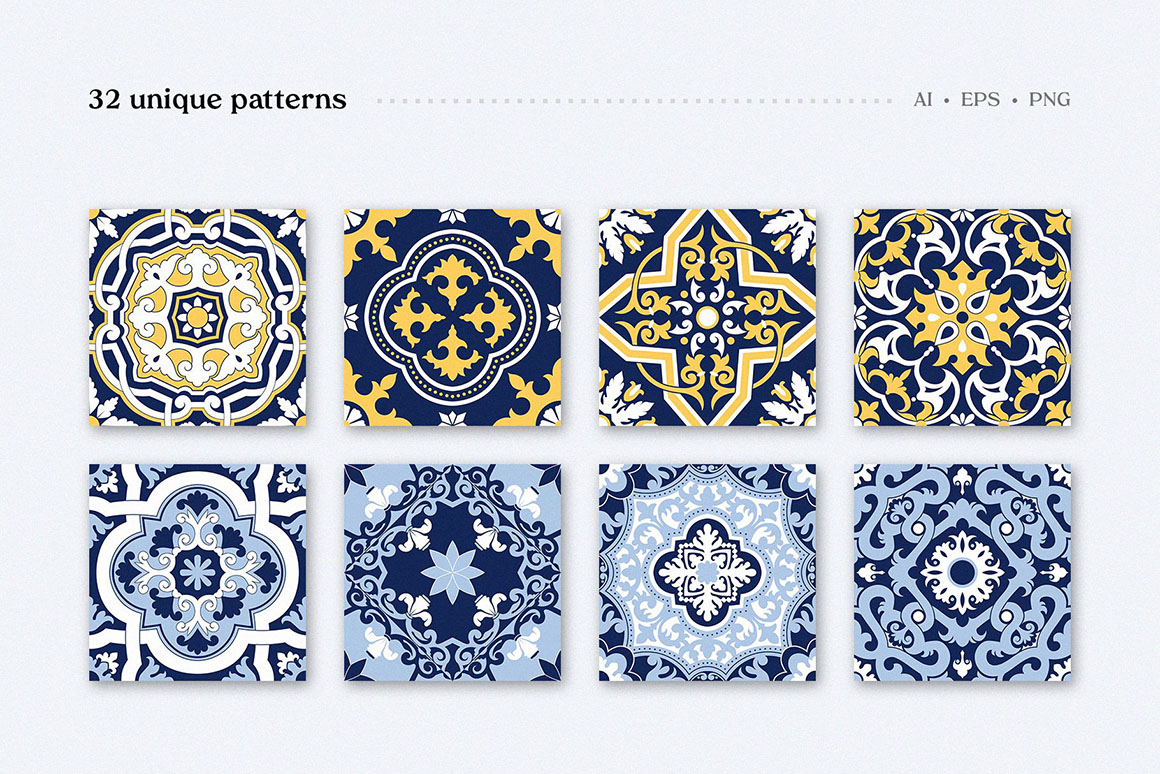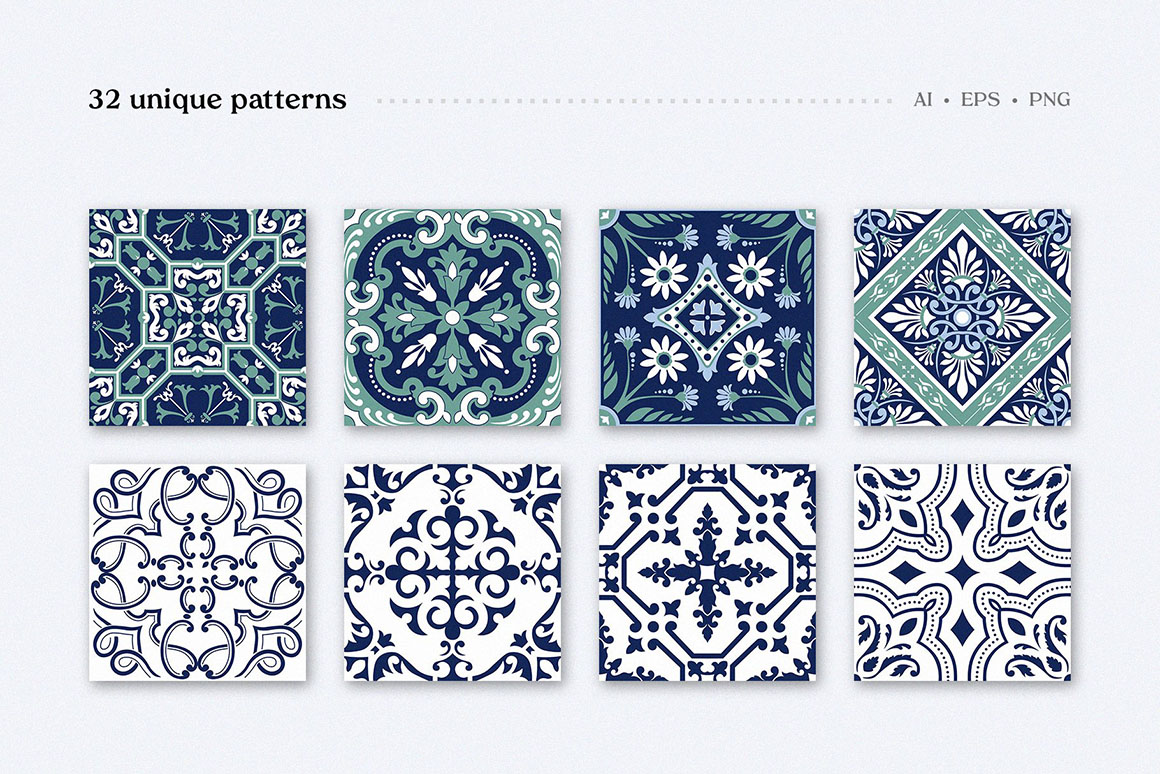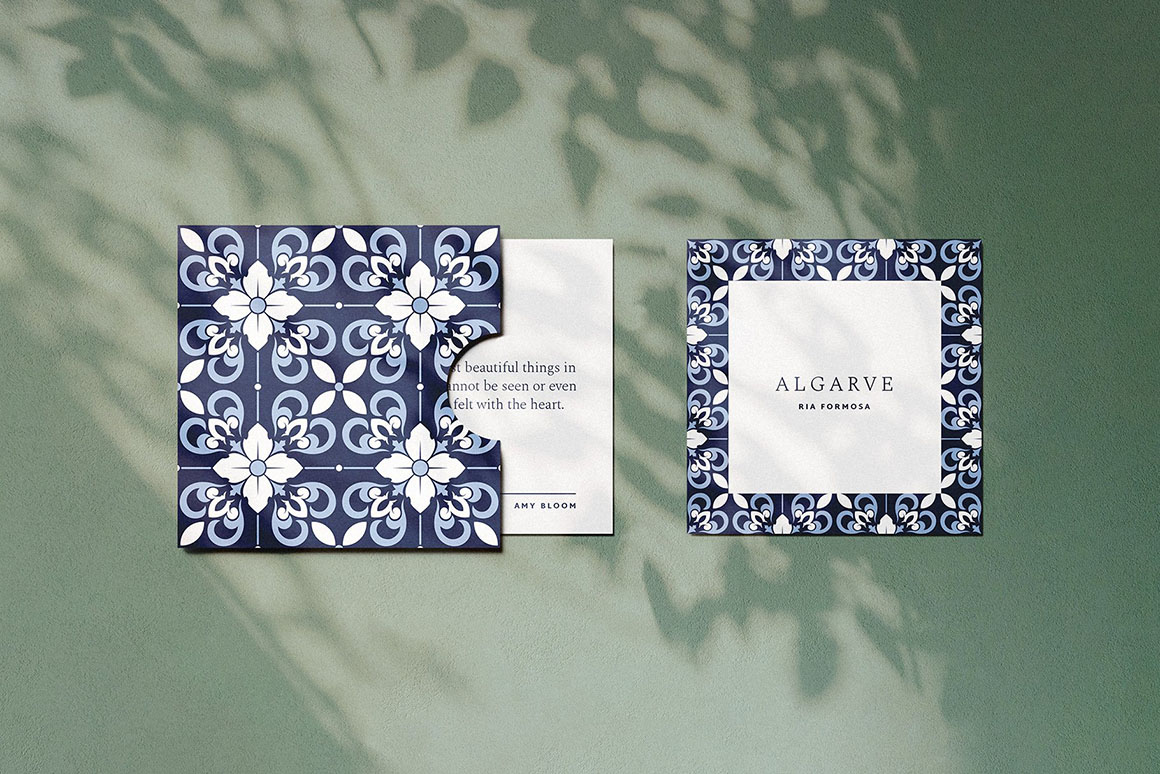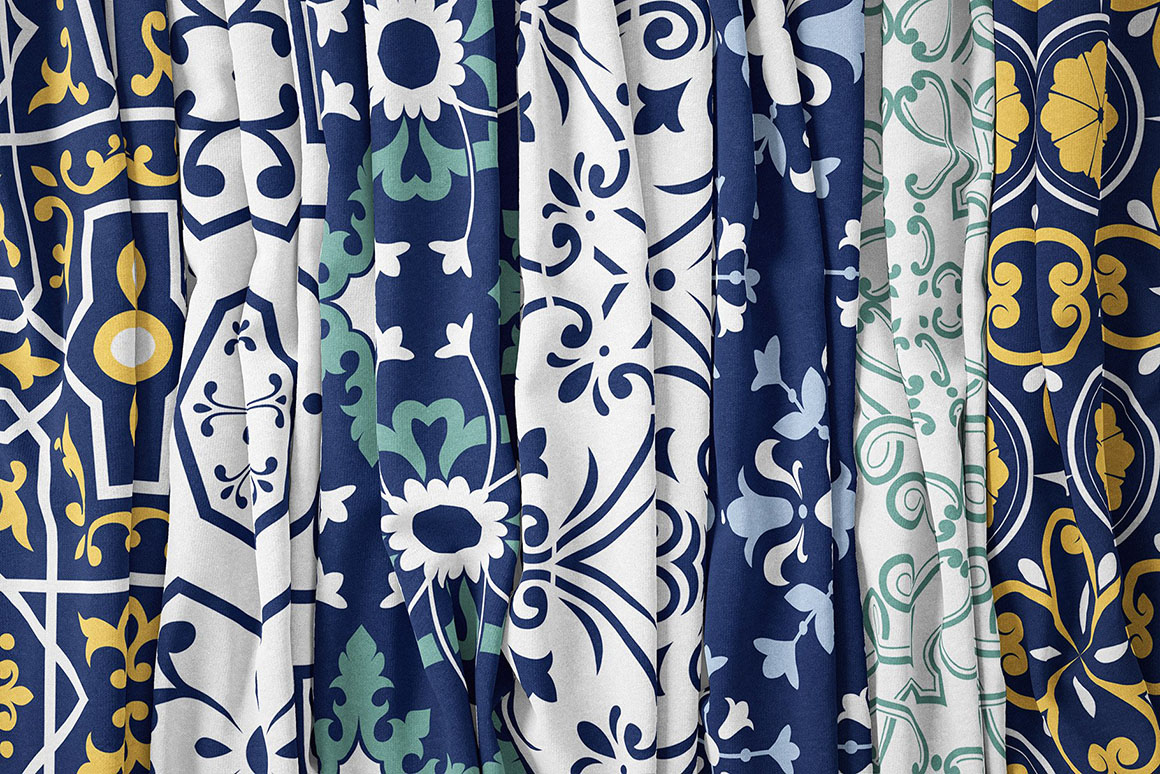 02. Portuguese Geometric Patterns from Pixelbuddha
Praising the art of ancient craftsmen who've once come up with the idea to put tiny mosaic pieces together! Rugs, plates, carpets, pots, tablecloth, stained-glass windows — all of it was decorated with colorful fragments. After our azulejo discovery, it could be a crime not to create something more of this incredible technique. So hope you'll love these awesome Portuguese Geometric Patterns!
Now this zestful ornamental art can decorate your personal designs. Grab all the 32 patterns and courageously mix them, change their color, scale to any extent you want — they'll still be mesmerizing! Let them bring you joy and flow of pleasurable experience by adding these patterns to your mockups, logos or label designs as well as patterned backgrounds, branding designs and posters merit the attention.
What's inside:
32 patterns in 3 different colors (AI, EPS, JPG);
ethnic vibes;
help file;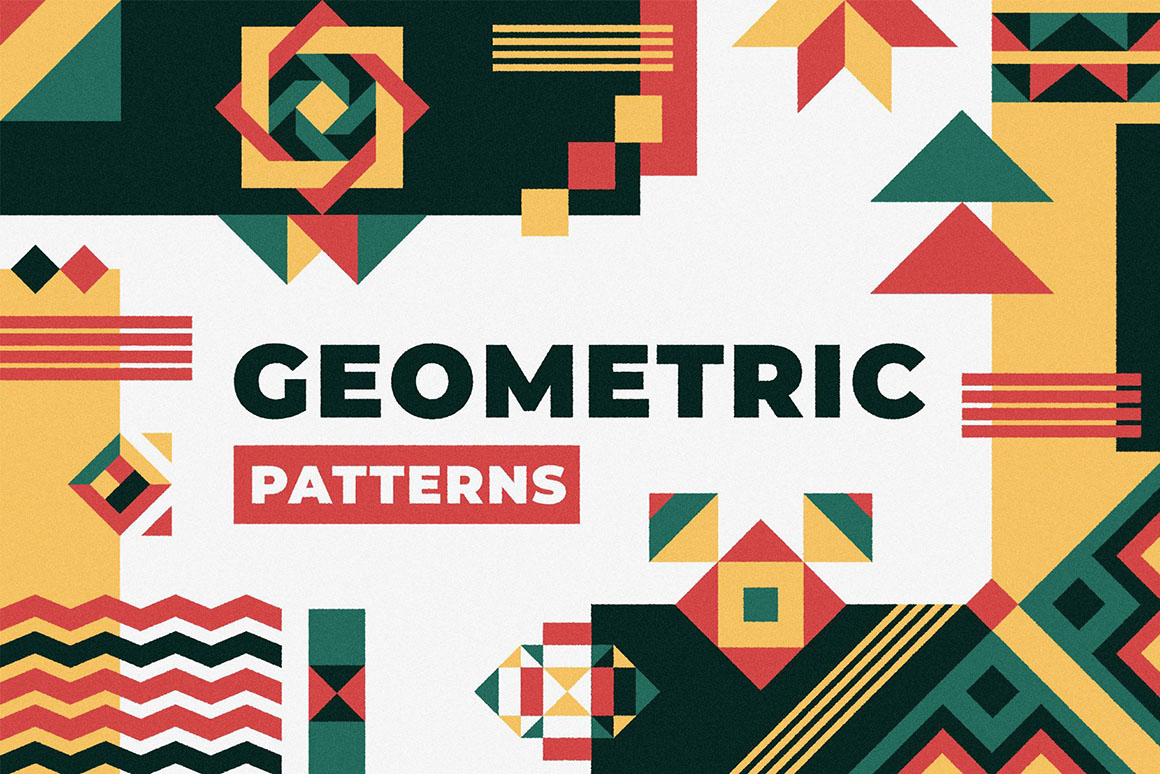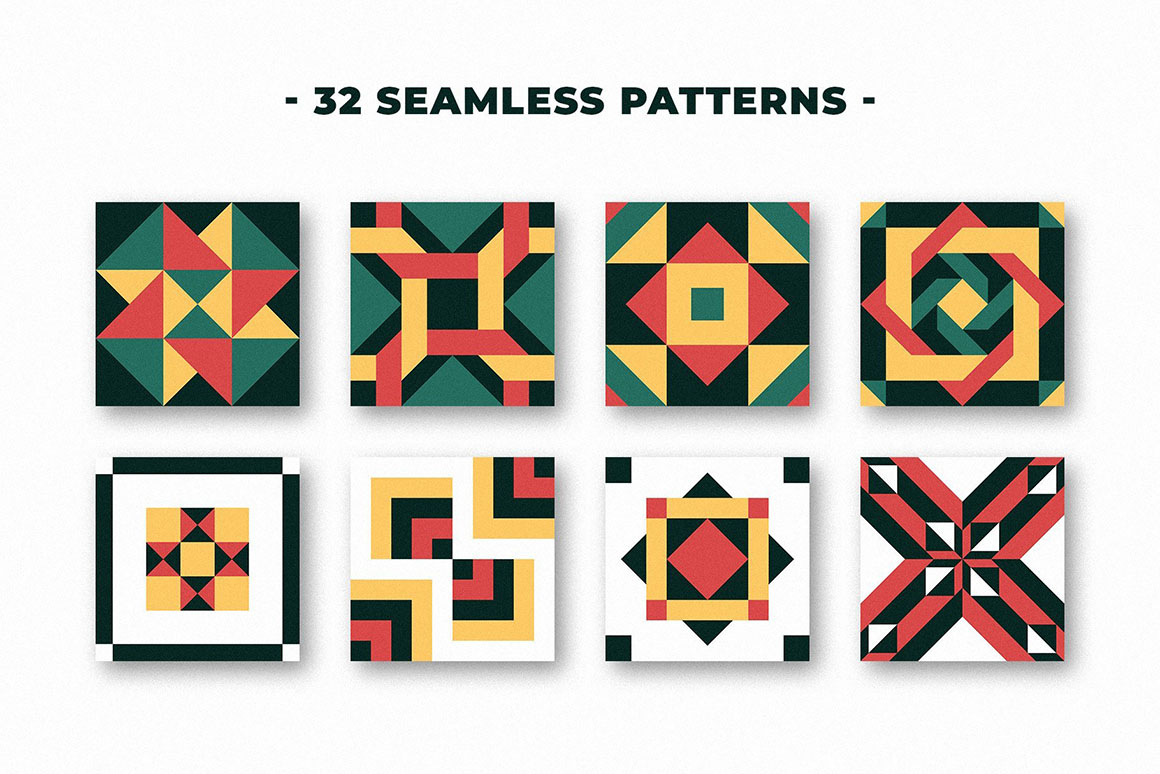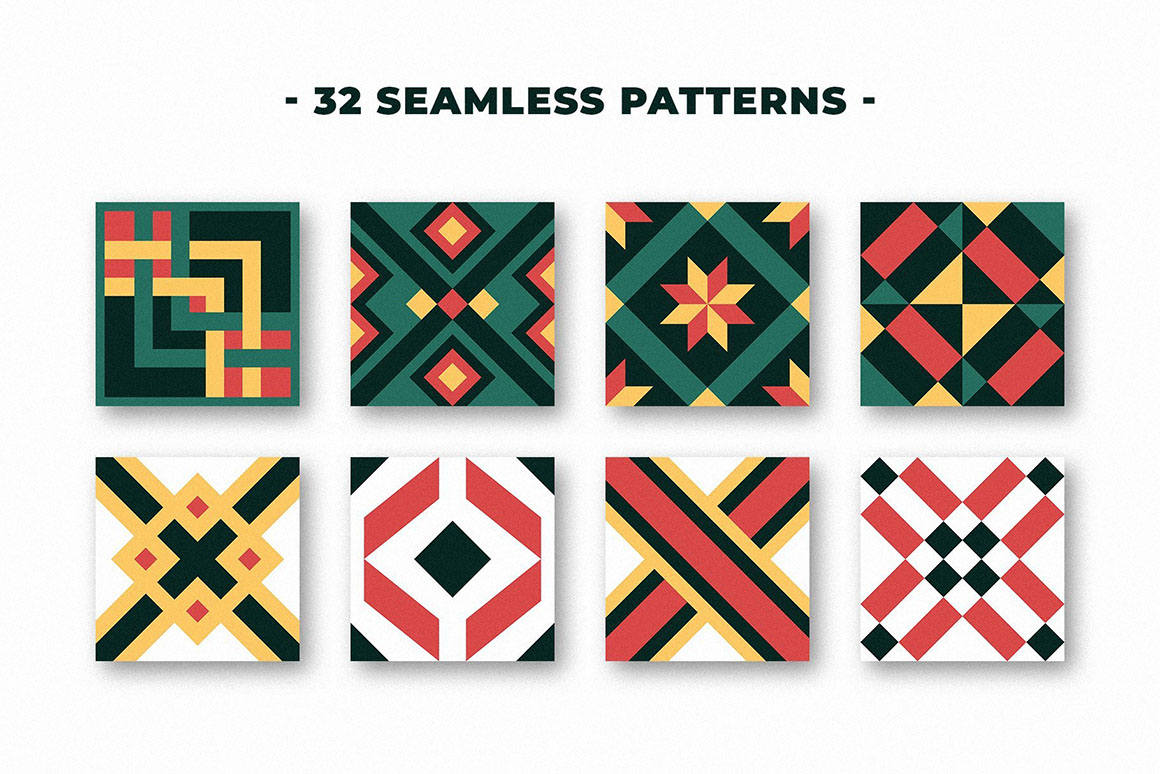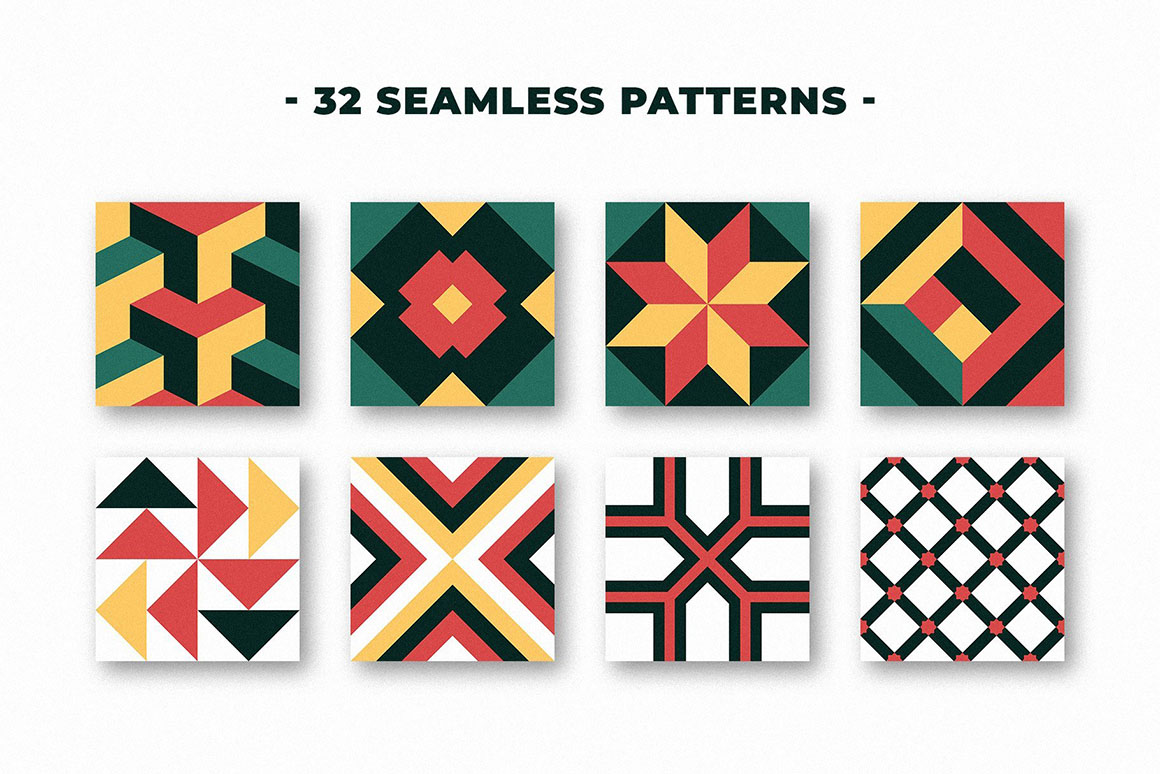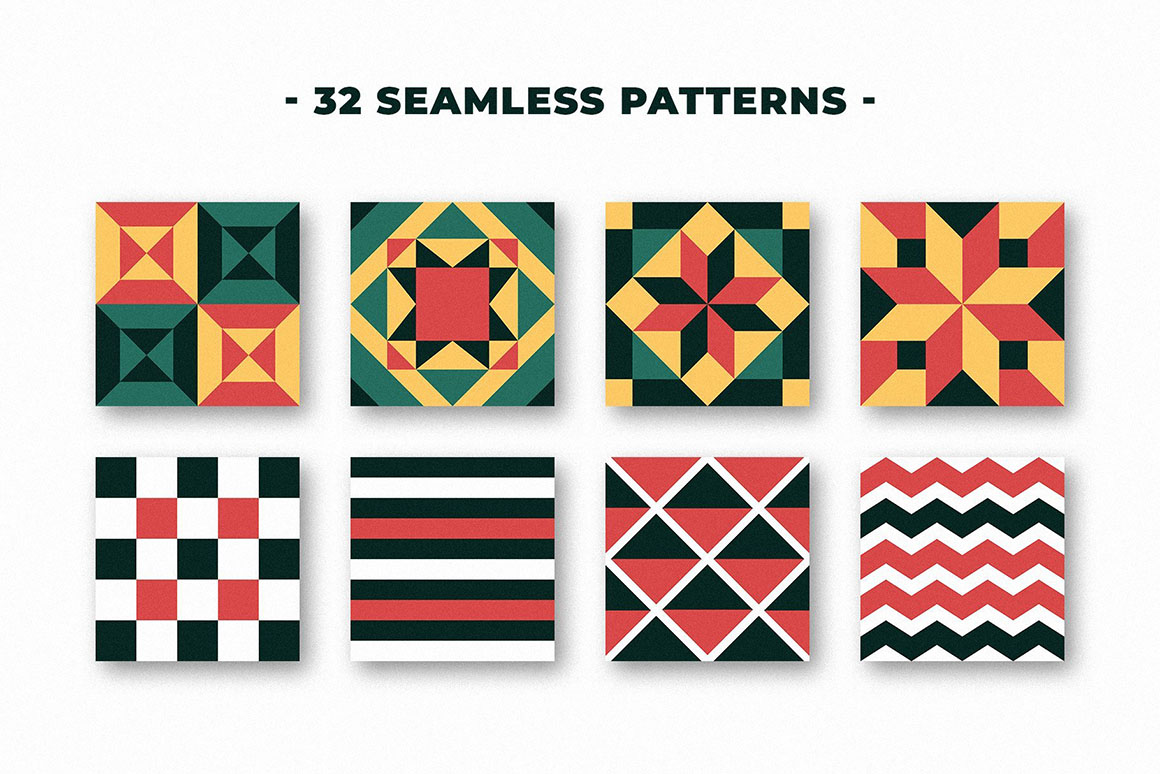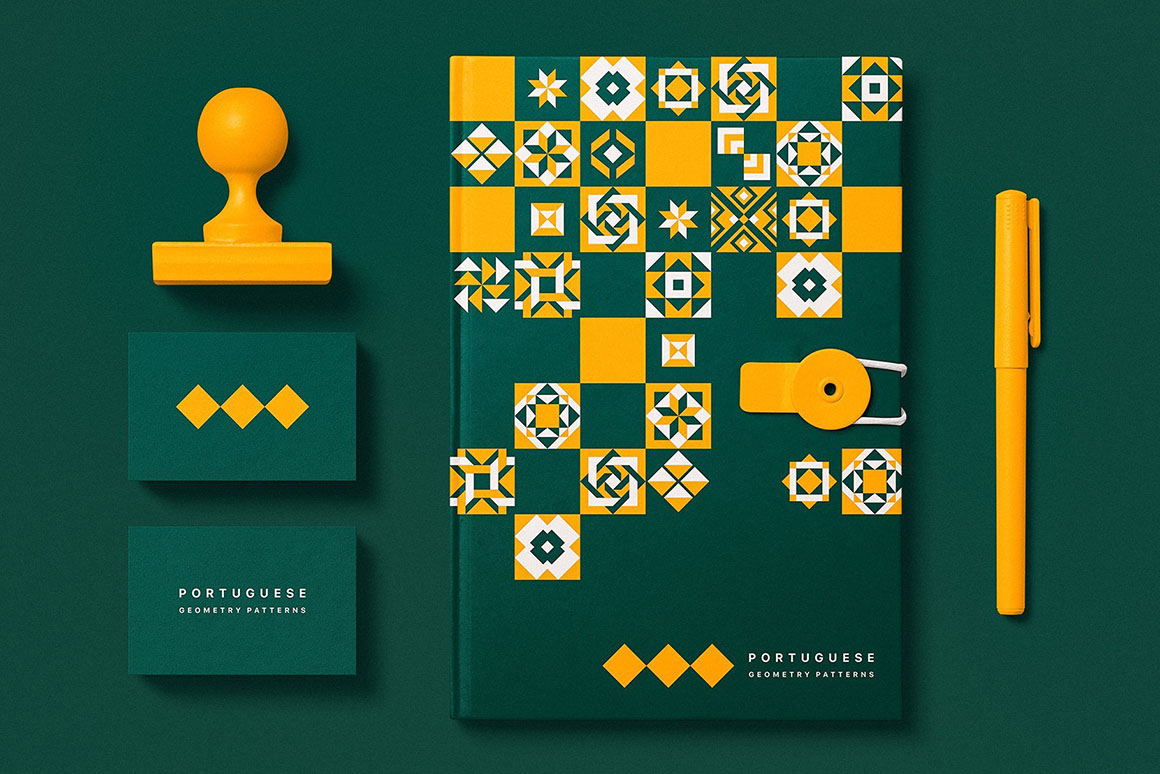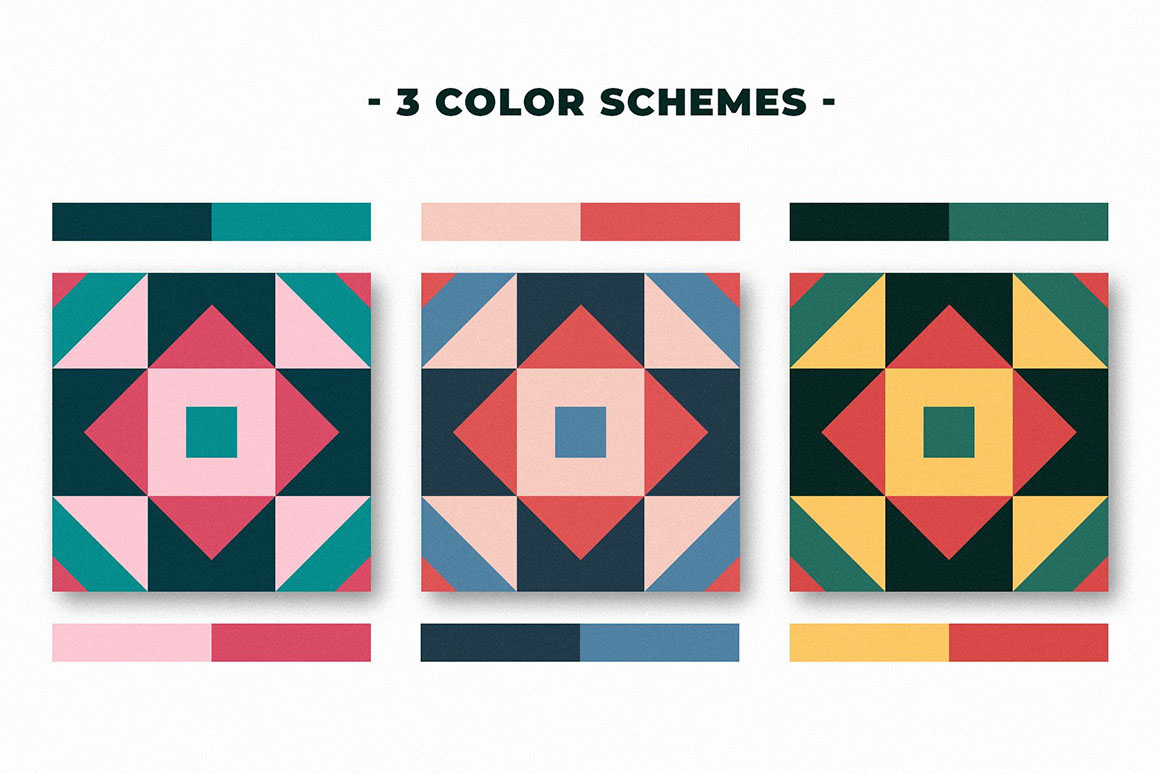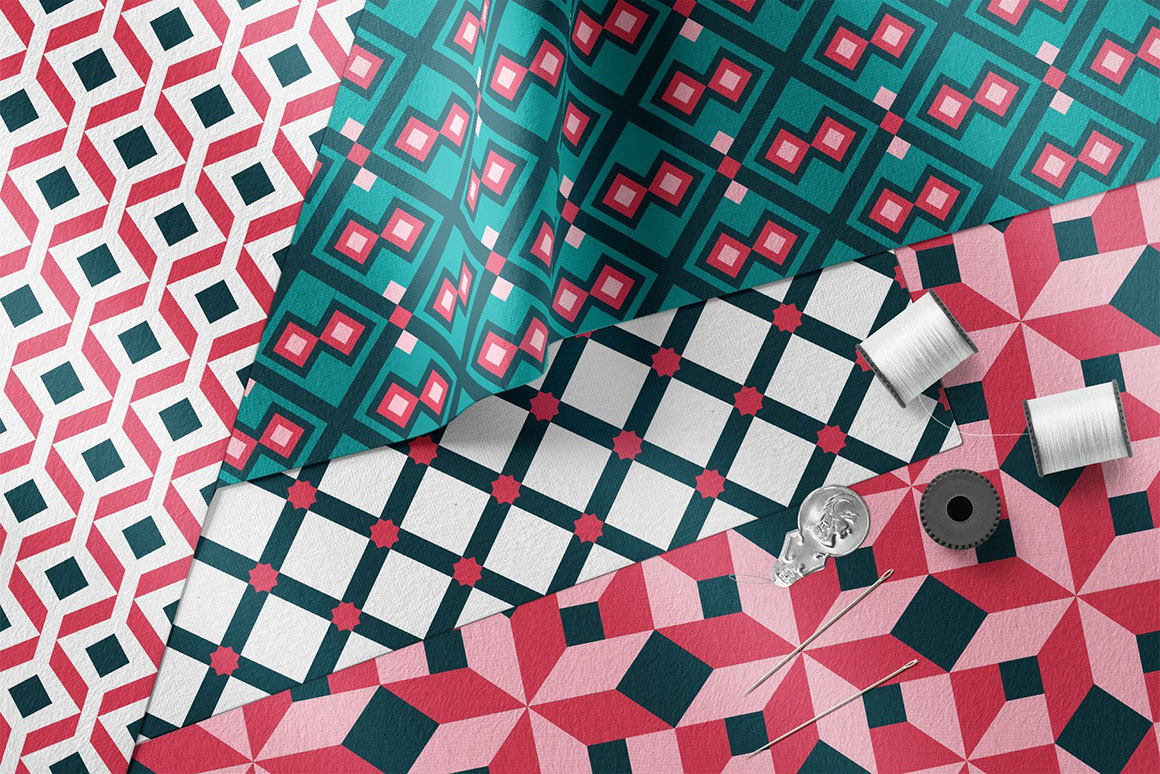 03. Underwater Kingdom Vector Patterns from Pixelbuddha
We've heard you're in your sea vacation mood and decided to complete it with some matching designs. Our Underwater Kingdom collection delivers 24 vector patterns in AI, EPS, and PNG formats — and they are all so vivid and joyful!
The motifs of seahorses, corals, jellyfish, whales, and rajas create merry compositions and stories of ​ocean life. We've also tuned on vibrancy, so any of the patterns will go perfectly with your apparel and stationery designs, branding projects, or home decor, various prints and so much more.
What's inside?
24 vector patterns;
1 AI file, 1 EPS file, 24 PNG files.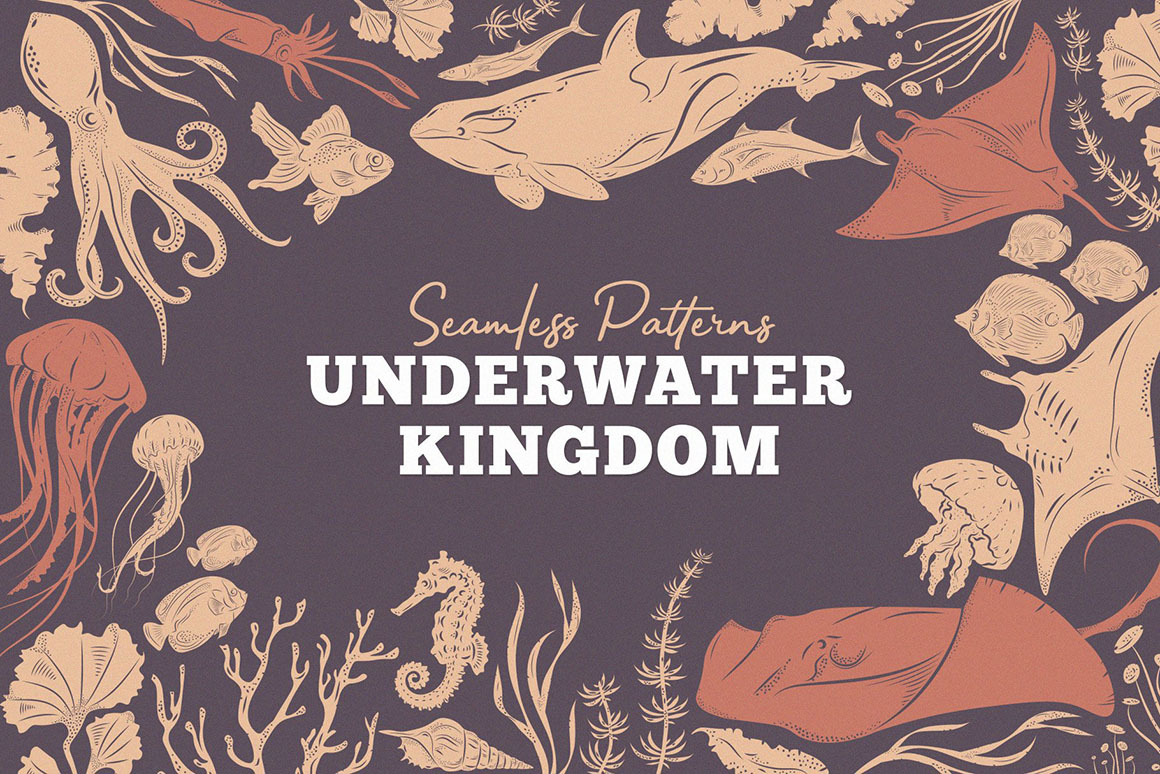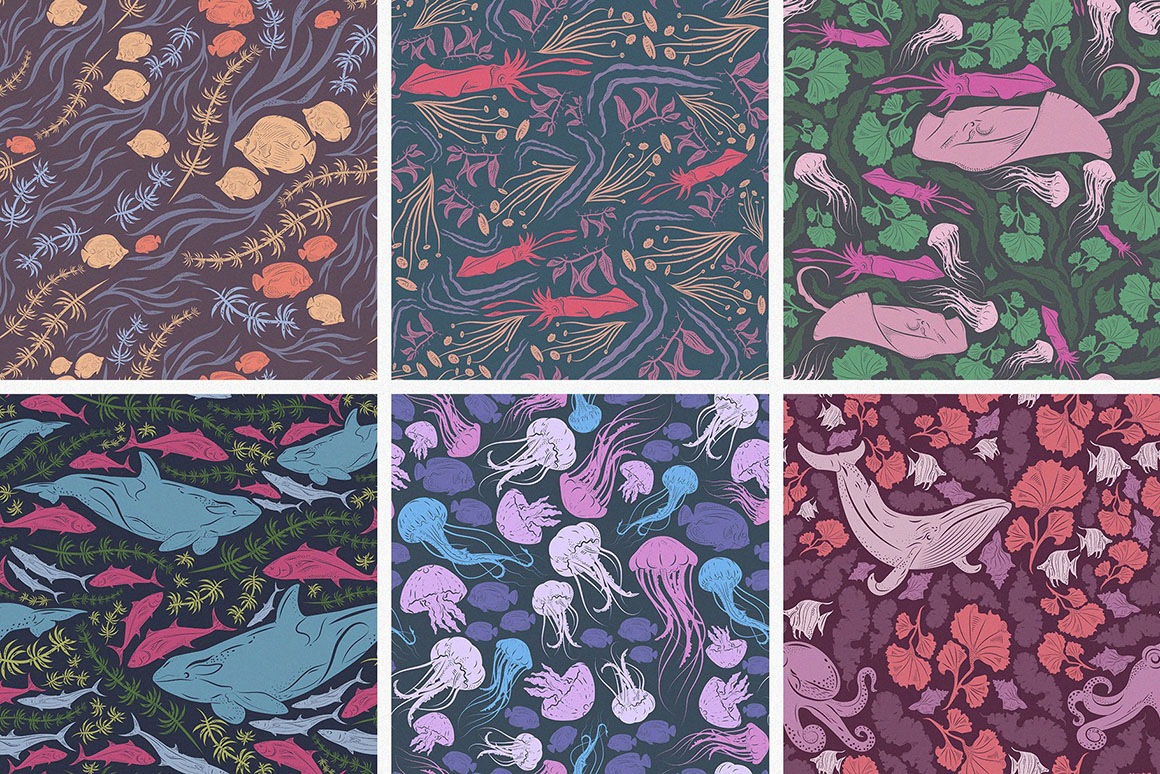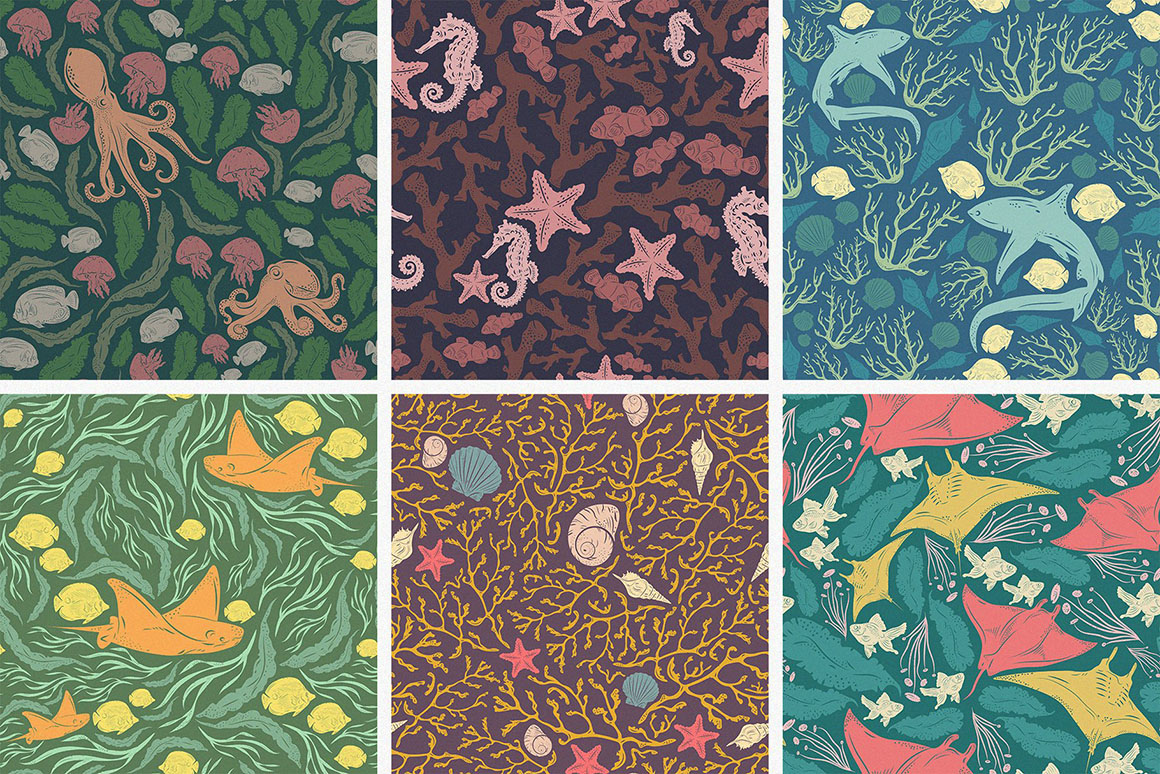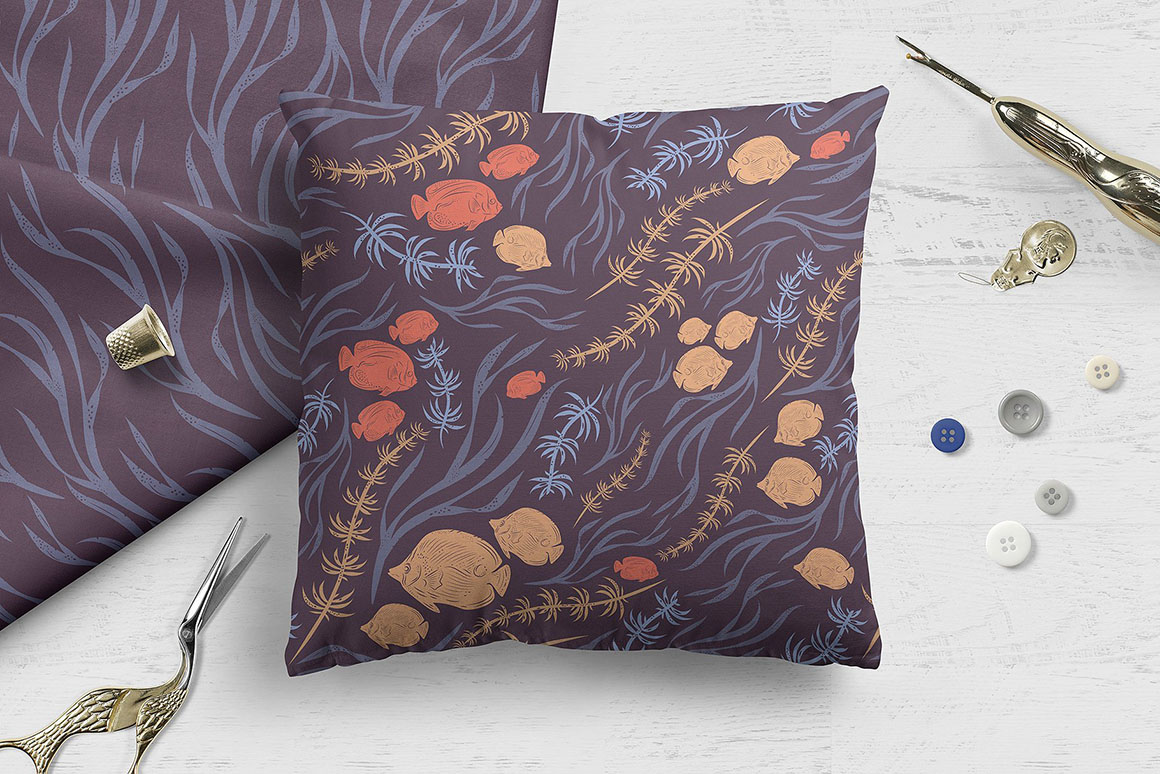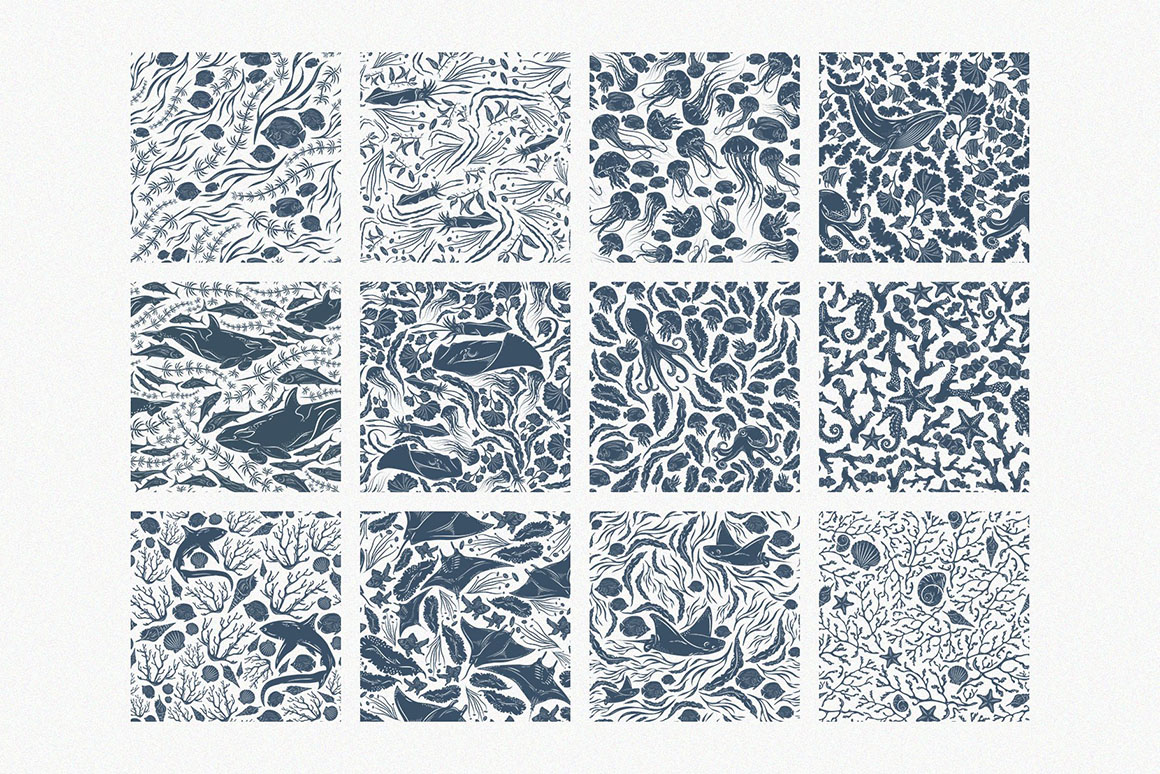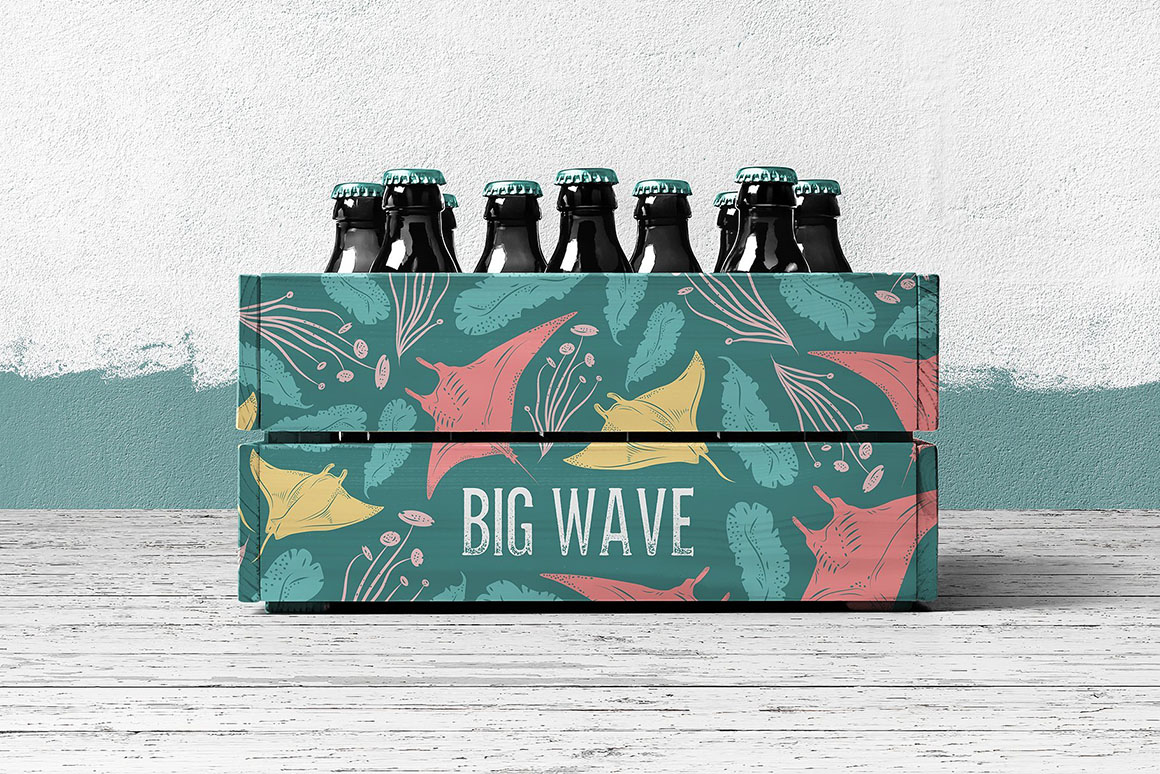 04. Birds & Blooms Seamless Patterns from Pixelbuddha
One of our beloved collections (hope we're not the only ones, who adore it so much) comes back to perform as a part of your artistic projects! We thought, that a chance to have only these charming patterns instead of the whole graphics kit would be nice and handy. Especially for those, who already have a particular vision of a project and know exactly what they need!
This set of Birds & Blooms now features 24 seamless patterns, with the same tiny, carefully-drawn birds, herbs, branches, ​and floral elements. You can go on with the color solutions we picked or create your own original combinations because each piece is fully-customizable!
Let the beautiful forests live on your banners, stationery, branding items, textile, cards and literally anything! You can continue this list of possible variants of applying our patterns, but no matter what you choose — it will be a masterpiece, that's for sure.
What's inside?
24 vector patterns
1 AI file, 1 EPS file, 24 PNG files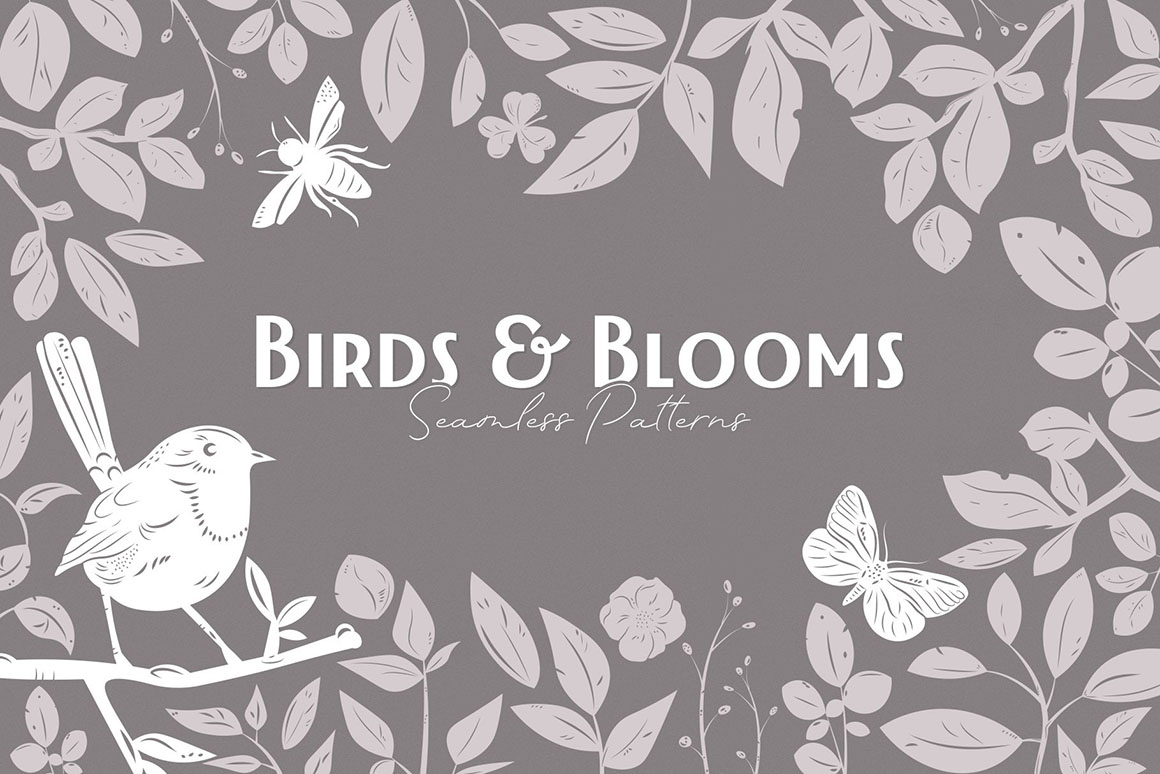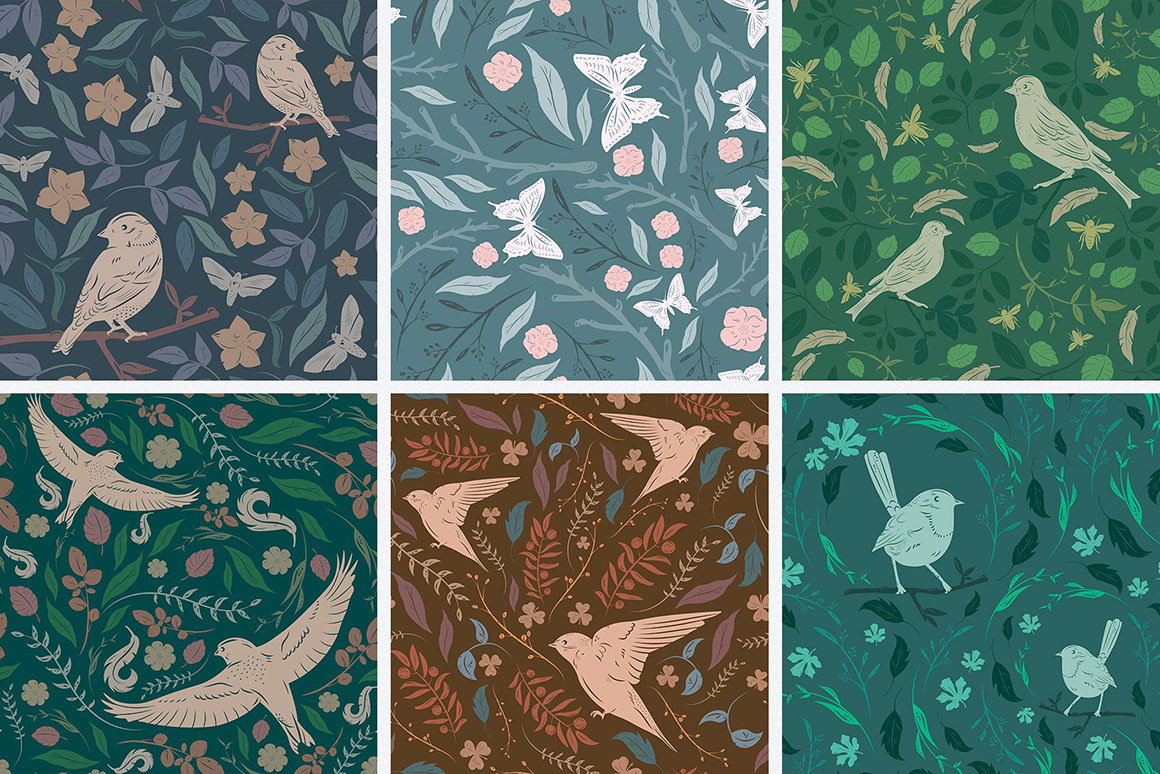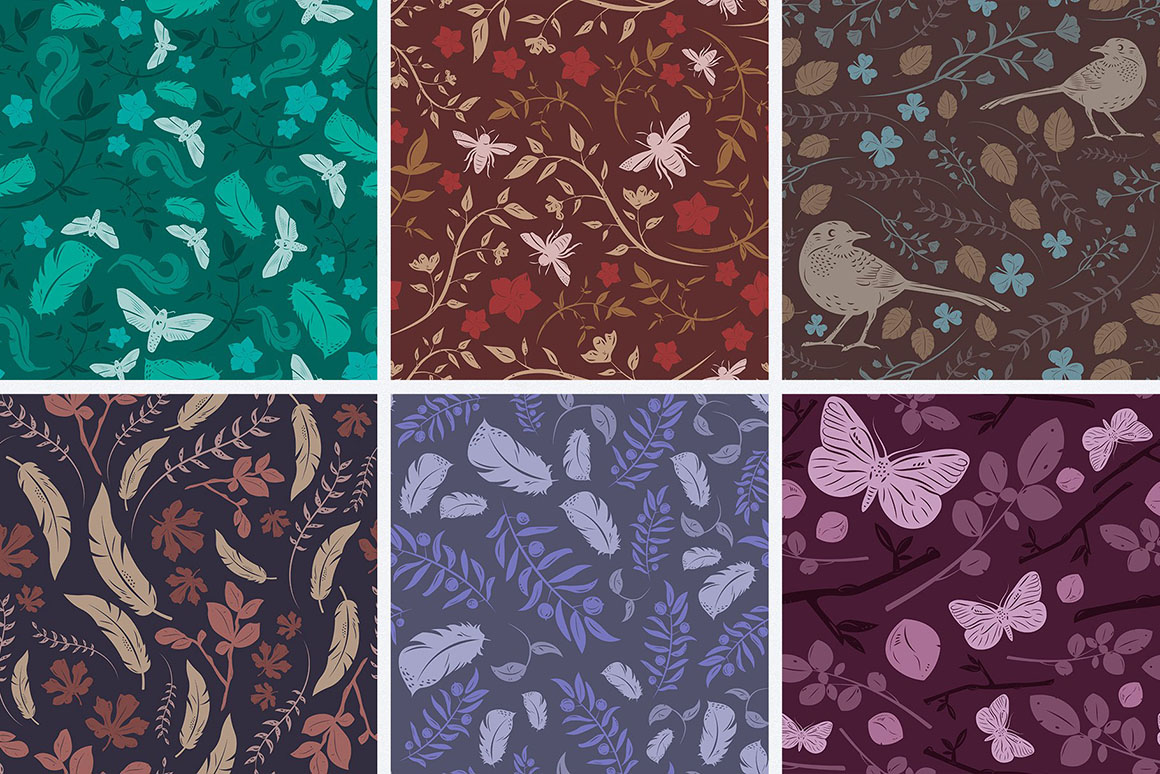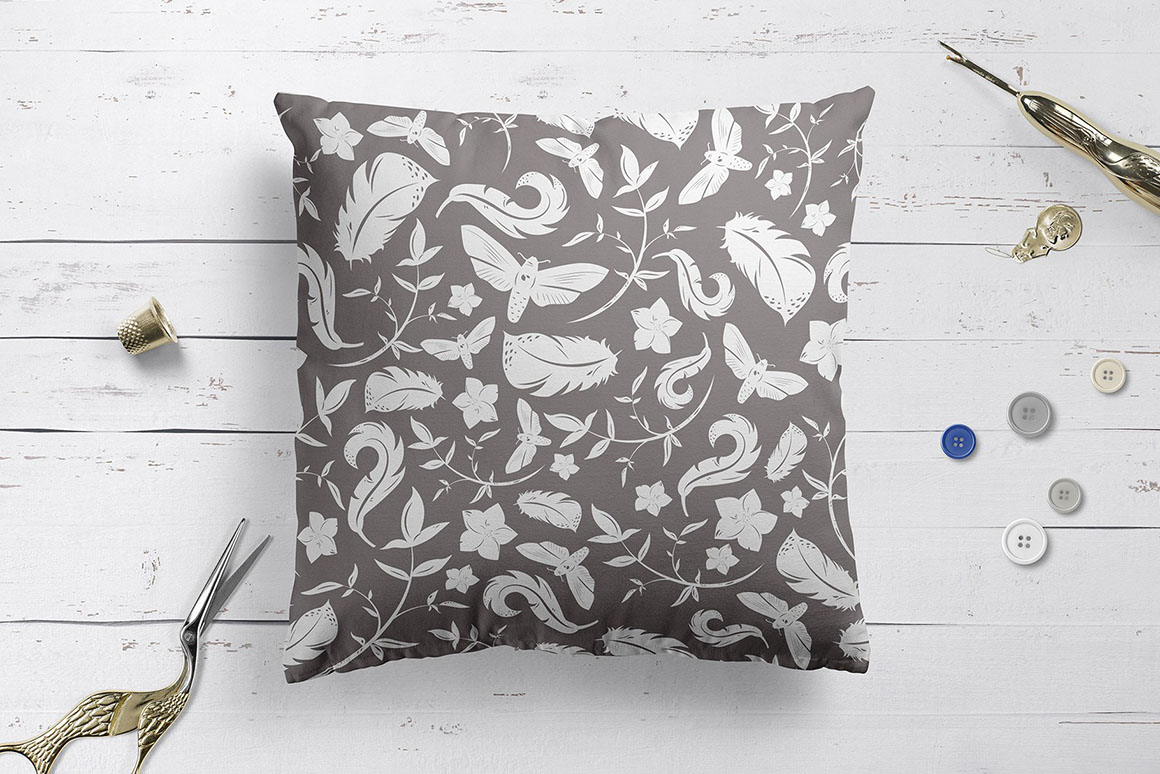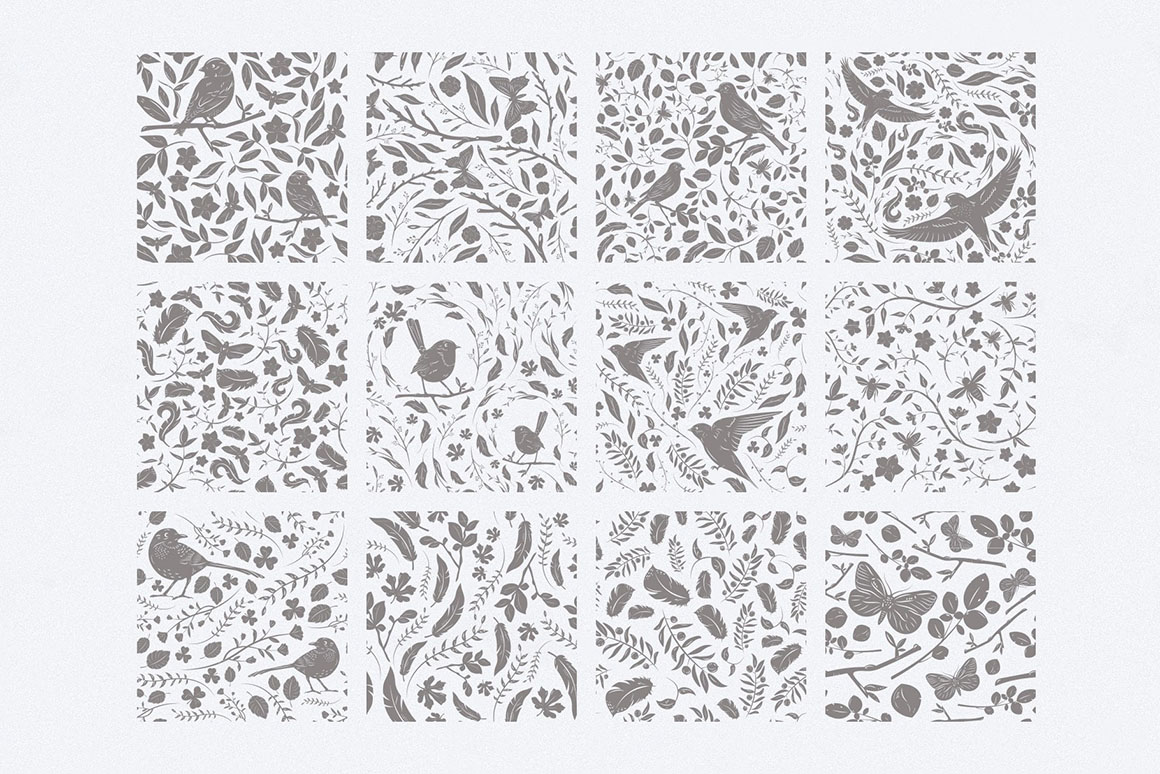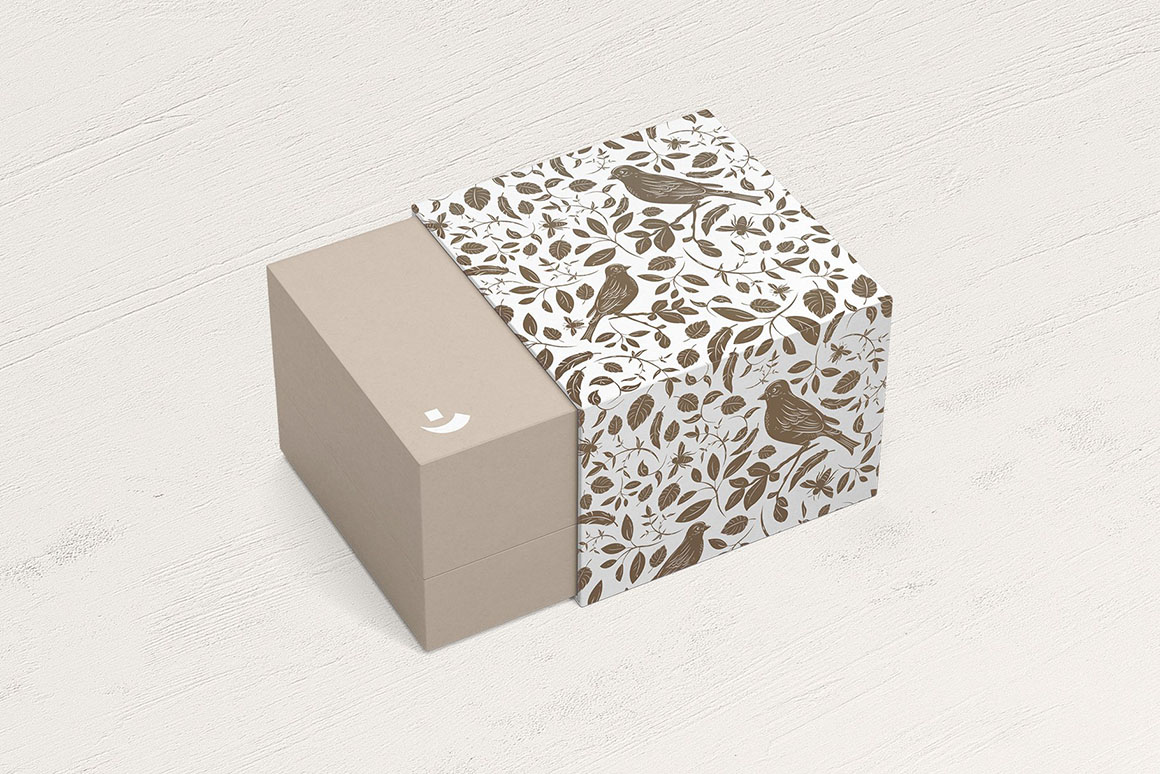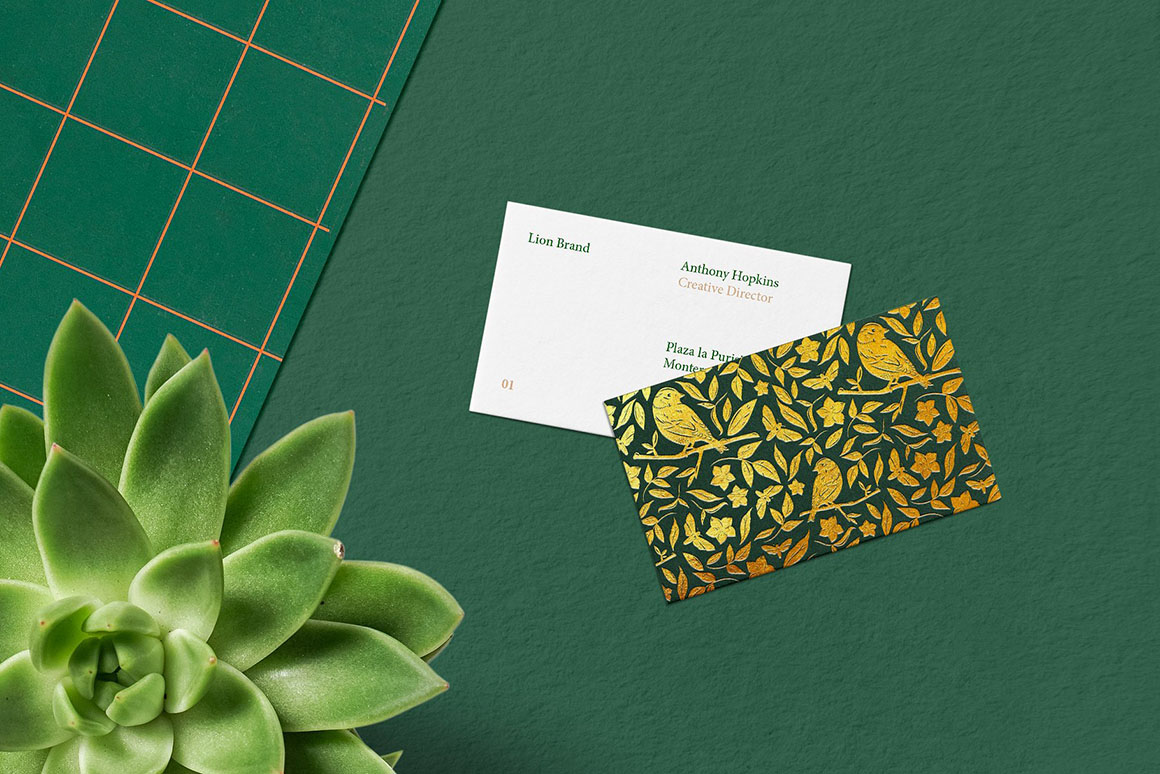 05. Christmas Gift: Vector Patterns Set from Pixelbuddha
It's already Christmas mood in the office, and its vibes are literally everywhere! Sketches, illustrations, color picks and joyful patterns, of course!
With 'Carol the Bells' tuned on, we've created Christmas Gift, our patterns collection, which we hoped to fill with ultimate happiness and festive mood. And guess, with Christmas tree paws, mittens, snowflakes, mistletoe, skates, squirrels, bullfinches and many more we've reached this goal.
Our 24 merry patterns will go perfectly for gift paper, rendering it so authentic and retro! Or bring some Christmas vibes to your branding & packaging projects, various prints, apparel designs, and greeting cards, of course.
What's inside?
24 patterns (AI, EPS, PNG);
Joyful Christmas mood ?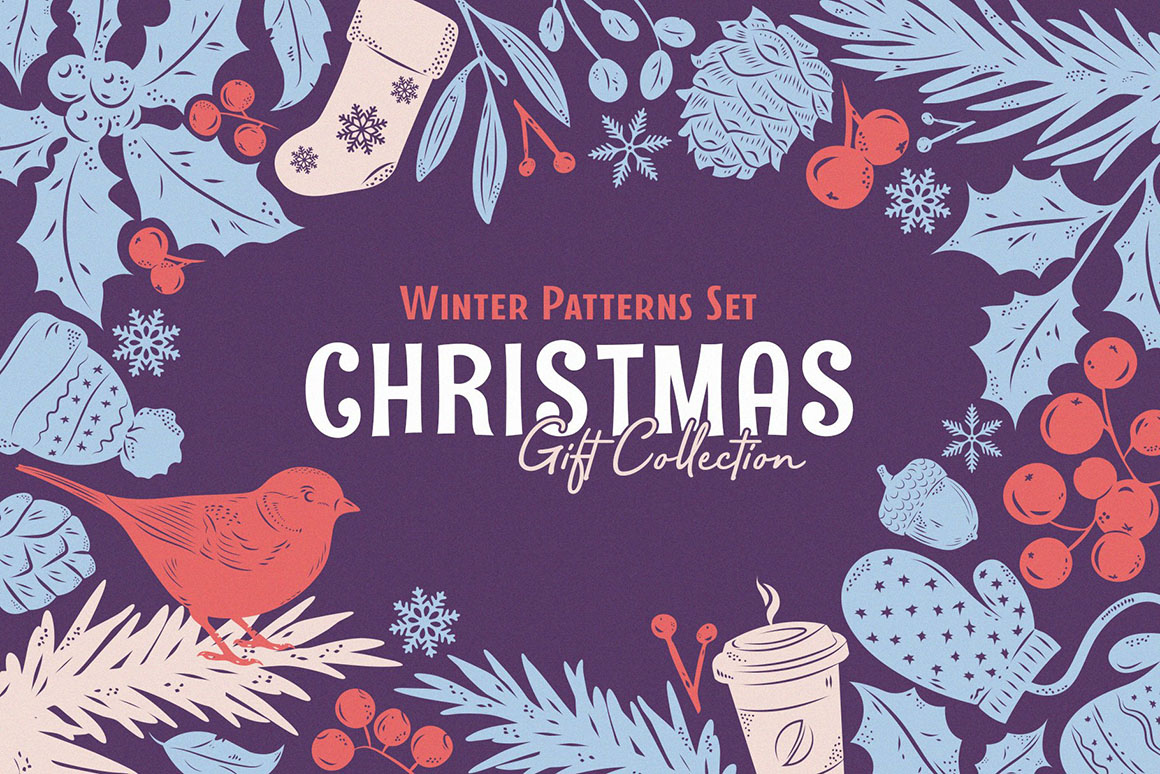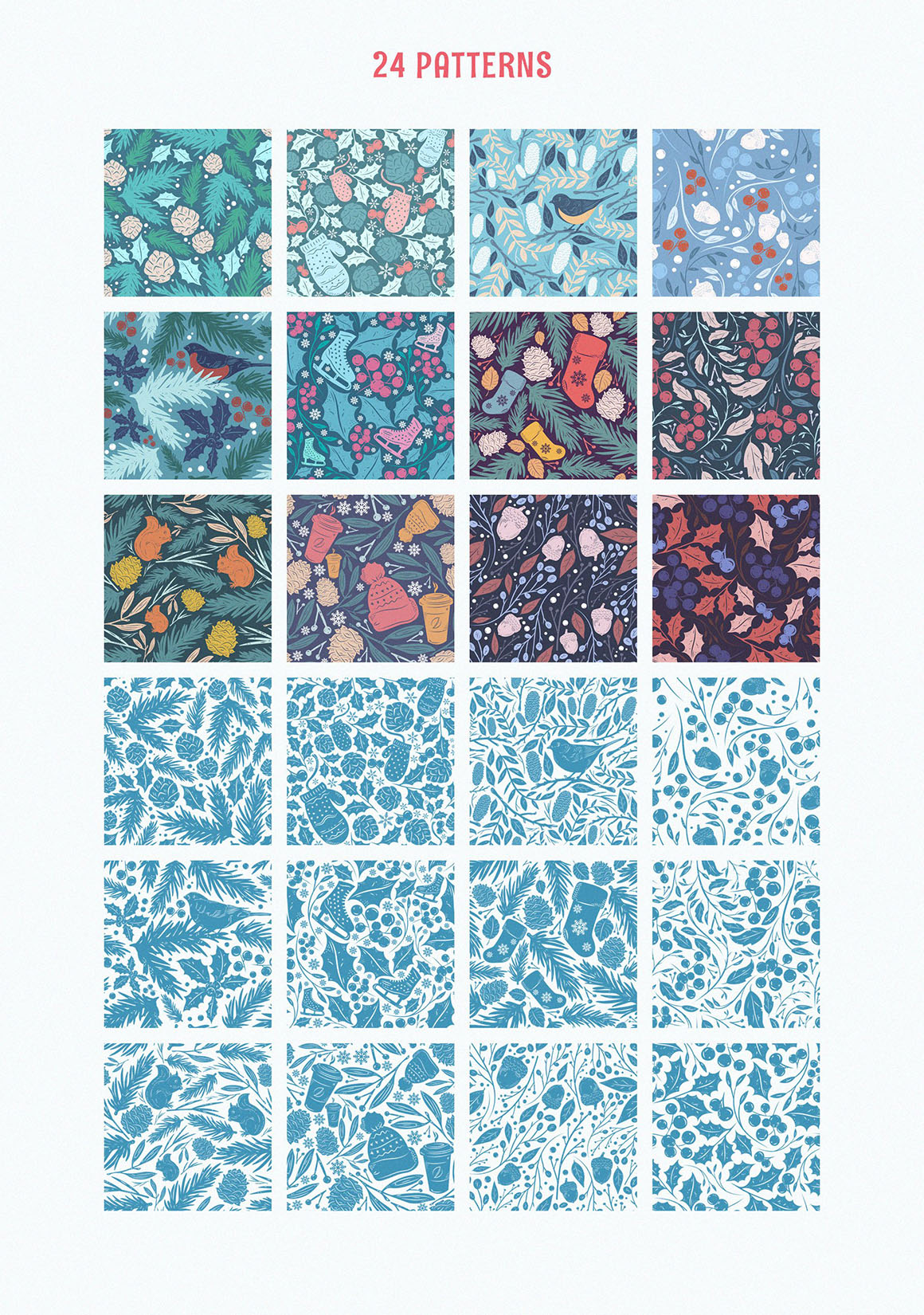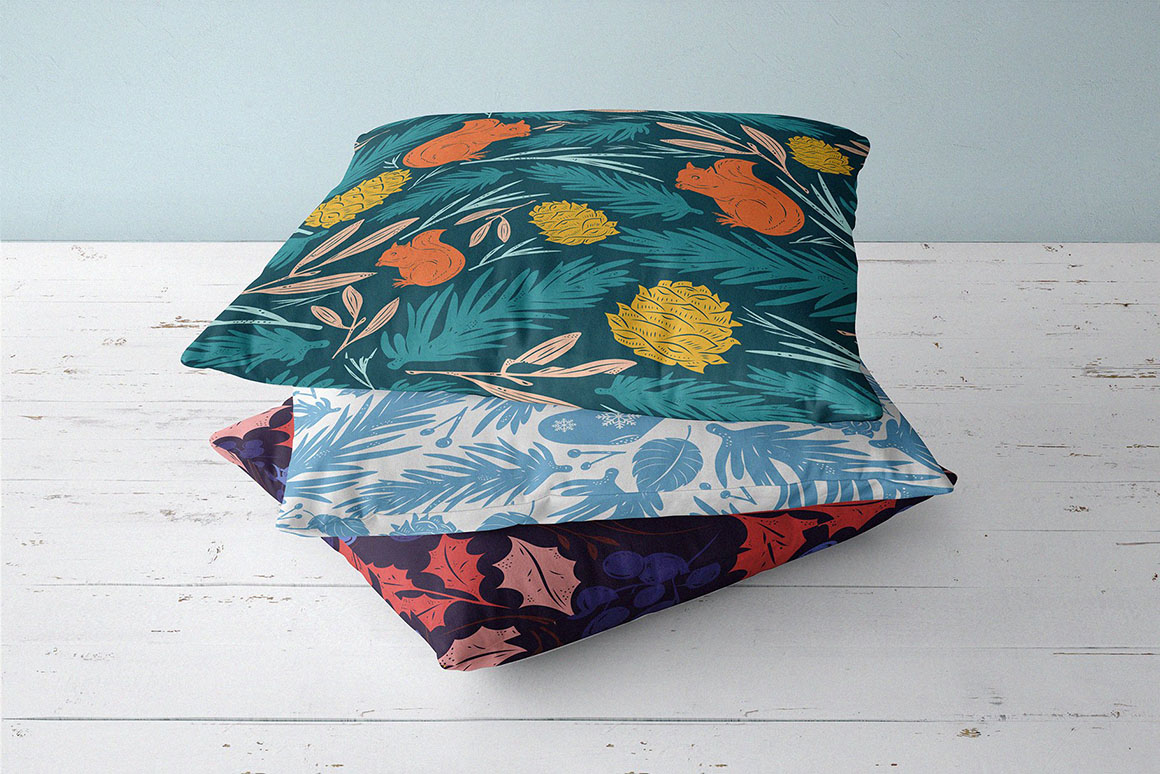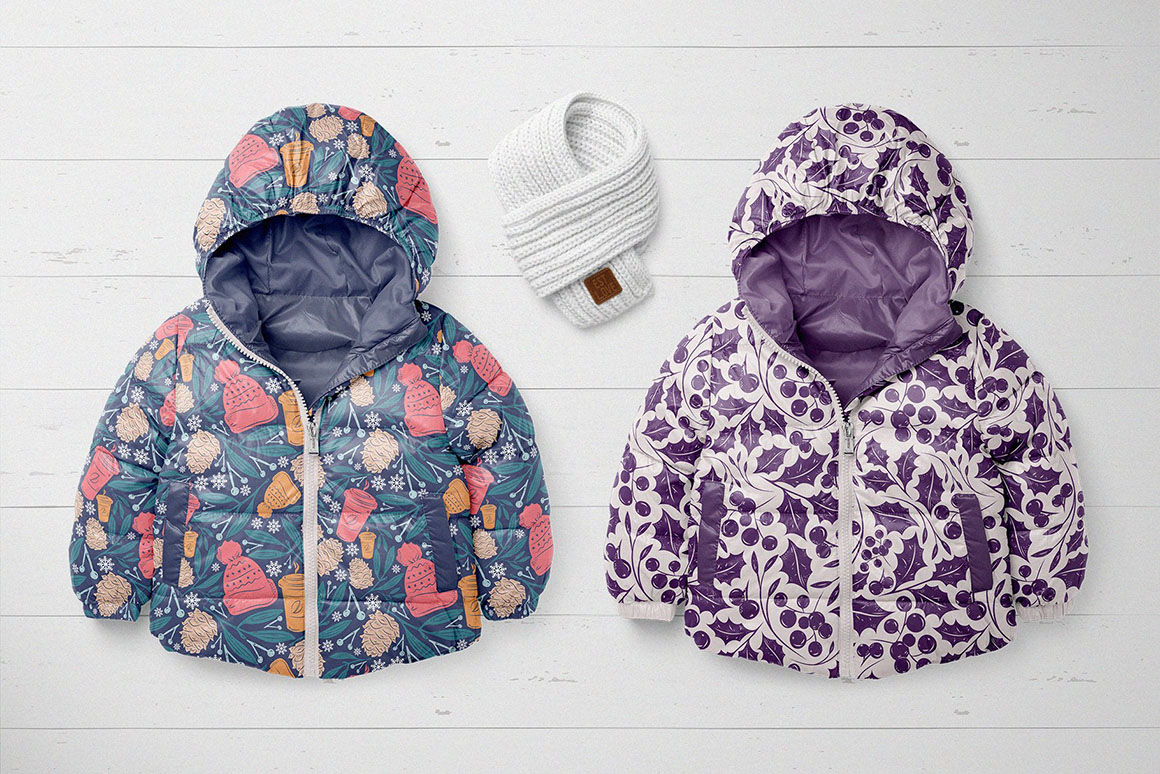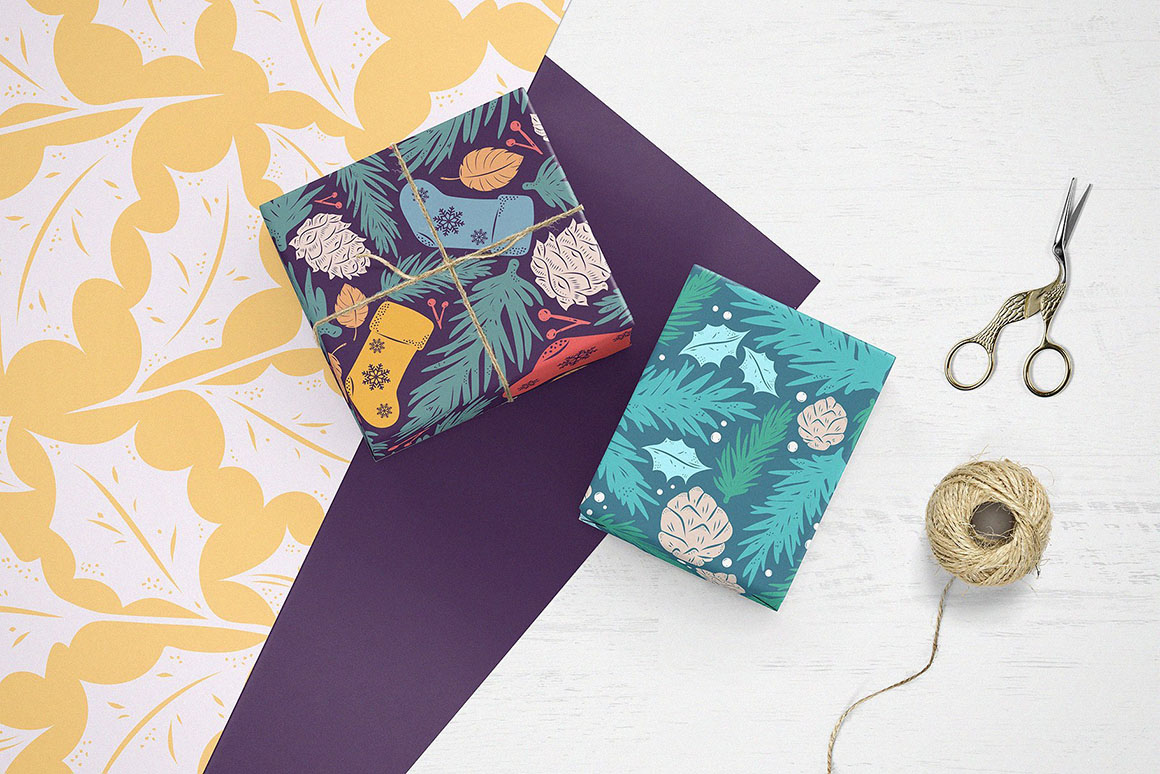 06. Artistic Dimension Abstract Patterns from Pixelbuddha
Give us some time and a few buckets of paint, and we'll drive anyone to the design religion — as there is no person, able to resist the joy of our new patterns collection, Artistic Dimensions.
Artistic Dimensions is blots, stains, strokes, abstract images — 50 vector elements and 24 patterns in total, filled with the energy of our team and fitting so many creative projects you bear in mind! Packaging, various prints, wallpapers (why not?) and home decor, stationery, web design, business cards. We've given them a try, of course, and it is so hard to stop. So will you, too?
Check out some of our ideas, and come back with yours!
What's inside?
24 seamless patterns (AI, EPS, PNG)
50 abstract vector elements (AI, EPS)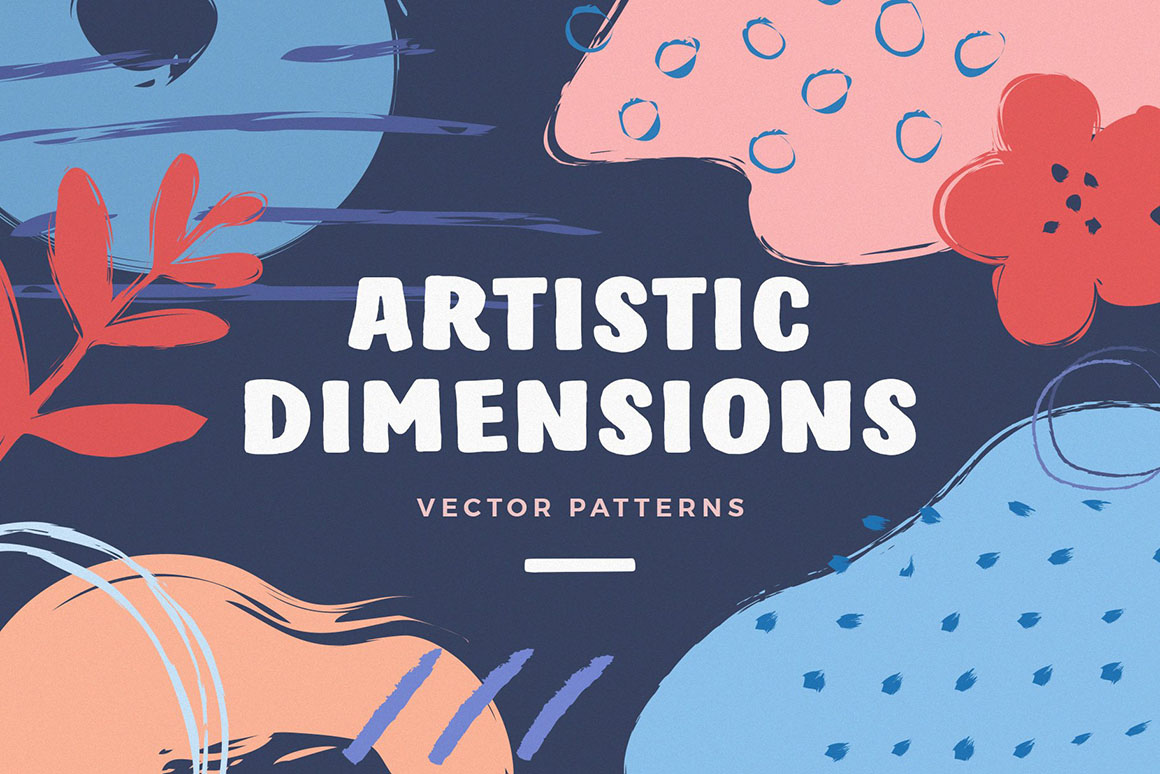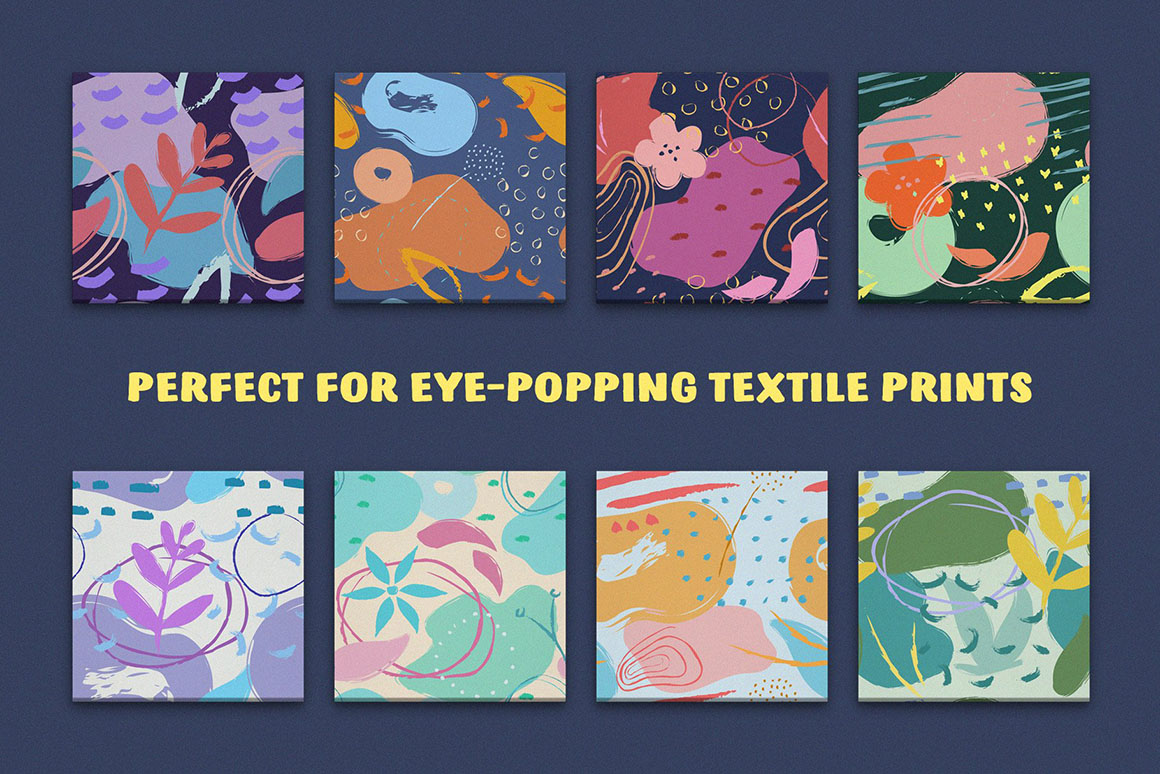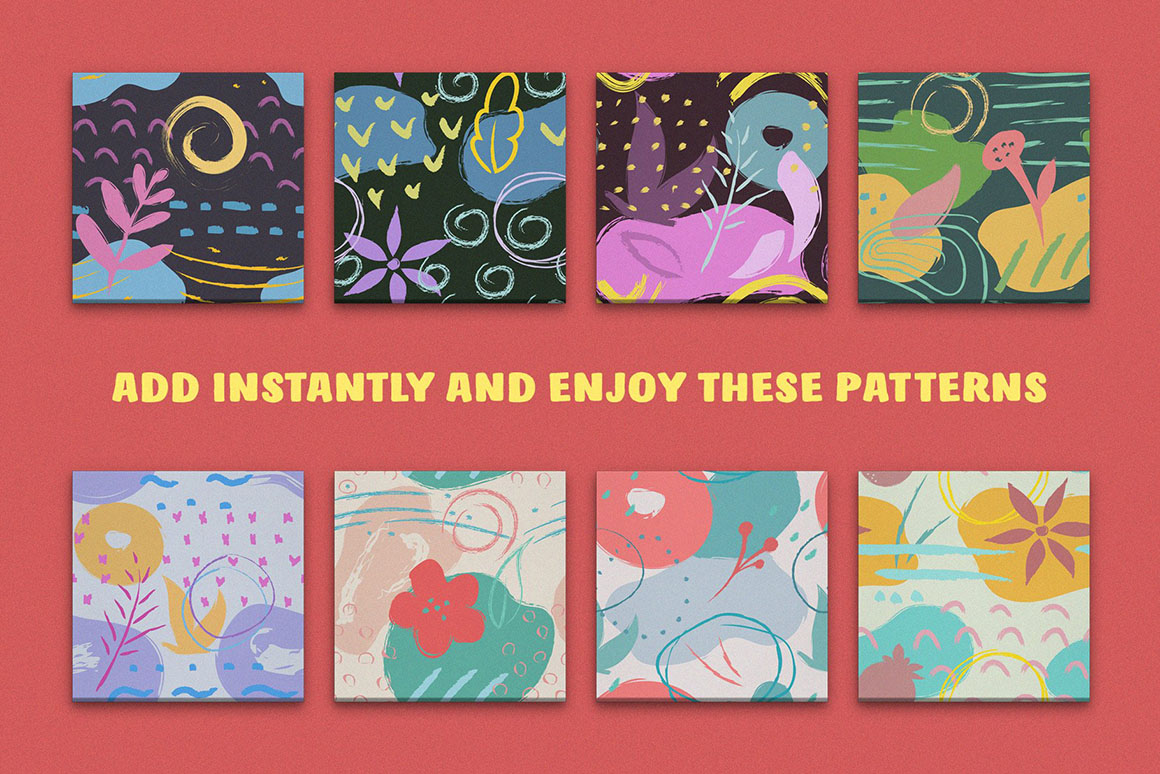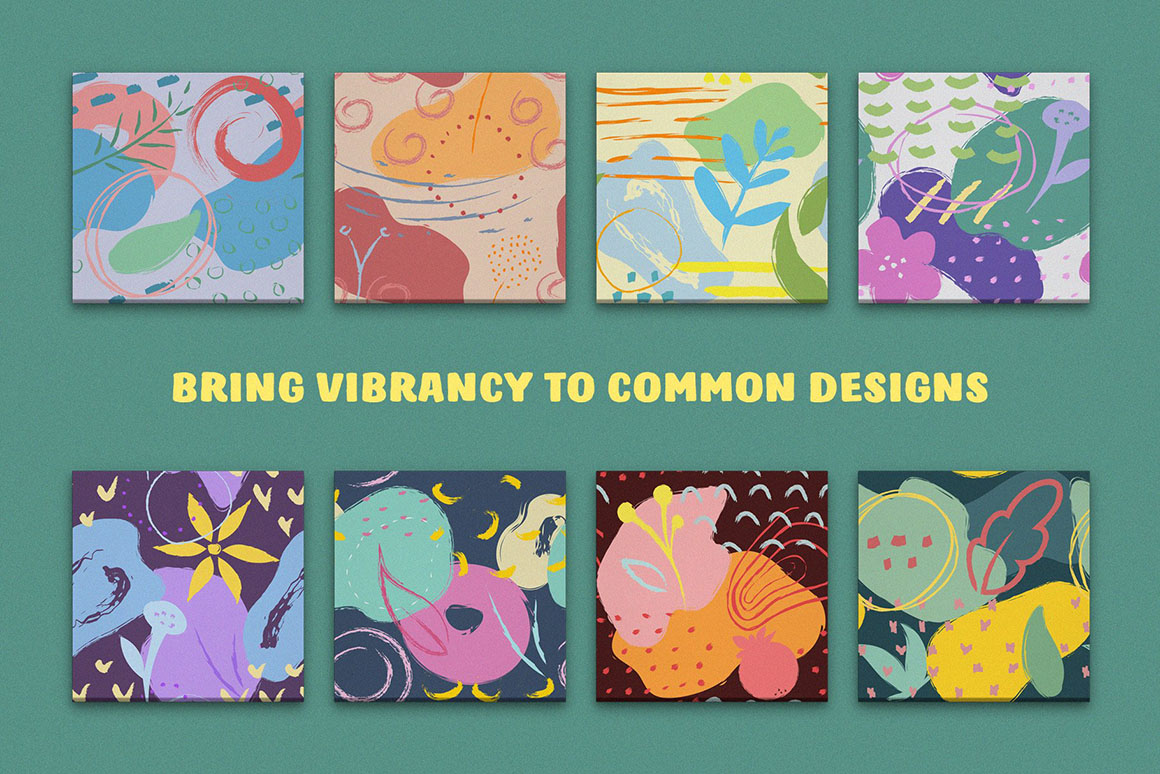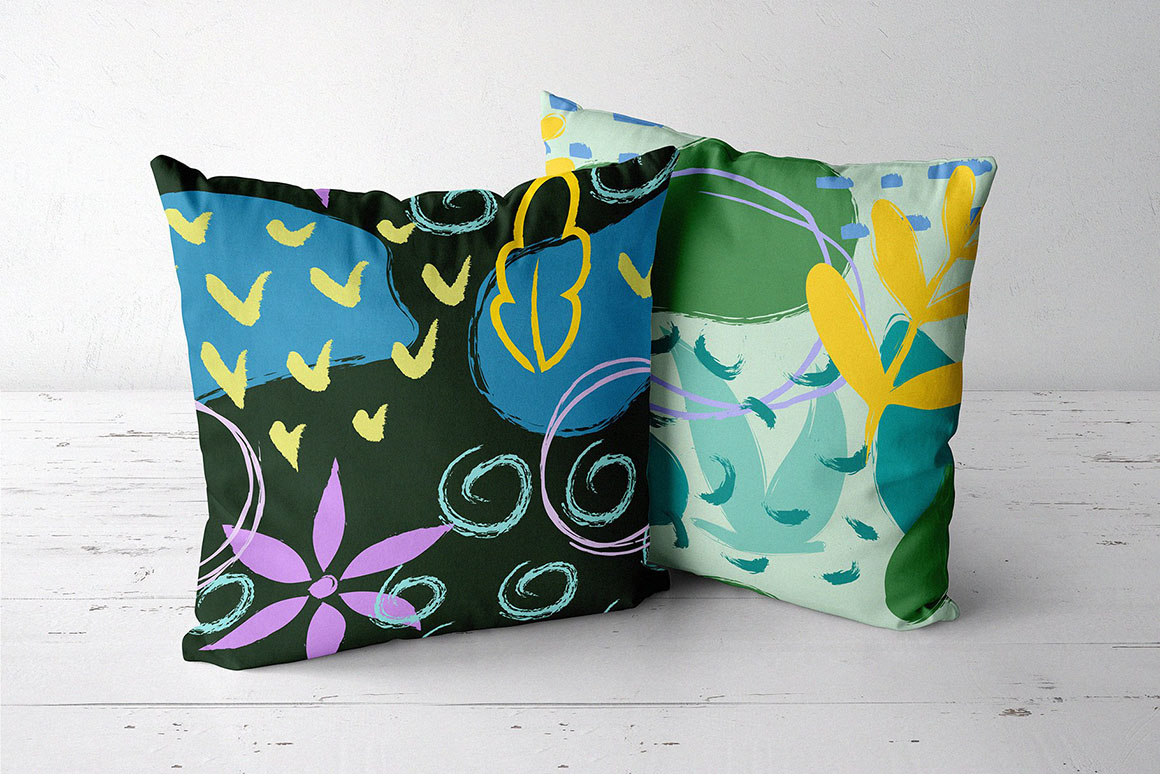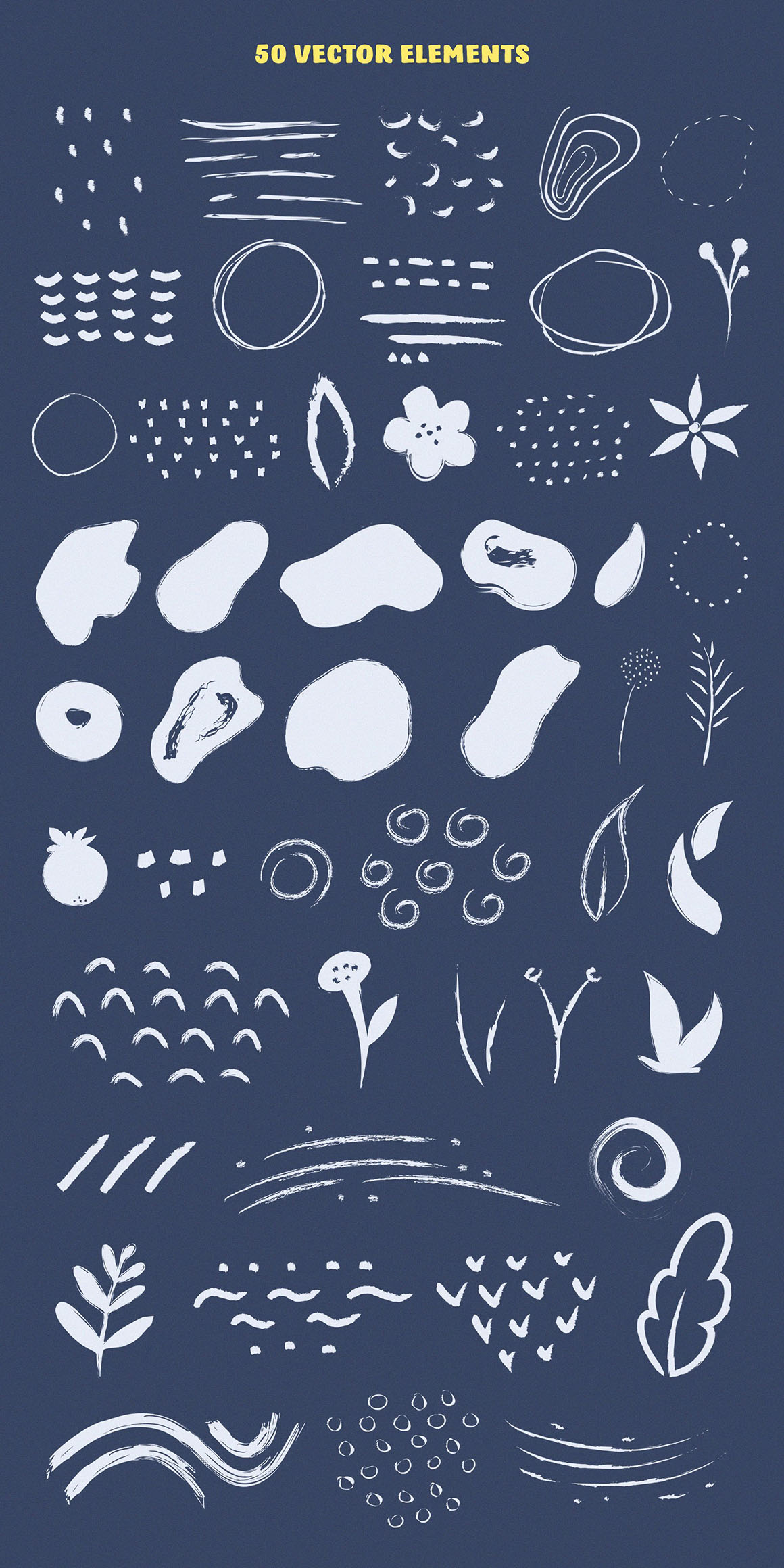 07. Geometry Watercolor Patterns from Pixelbuddha
Our new vector watercolor patterns combine the beauty and hand-mastered feel with versatility and value of vector-based assets! Meet the Geometry Watercolor Patterns, a set of 24 vibrant seamless patterns perfect for packaging design, branding, wedding & invitation cards, apparel, scrapbooking, home decor (pillows, towels, etc.), fashion and more. We thank our friend and an outstanding watercolor artist, Daria Vinokurova for being part of our creative team for this project.
Geometry Watercolor set includes:
24 Seamless Patterns in Vector EPS Format;
24 Seamless Patterns in JPG Format (4000×4000);
24 Seamless Patterns in PNG Format With Transparent Background (4000×4000).
We sincerely believe that Geometry Watercolor will bring you a bunch of fun and joy during the working process!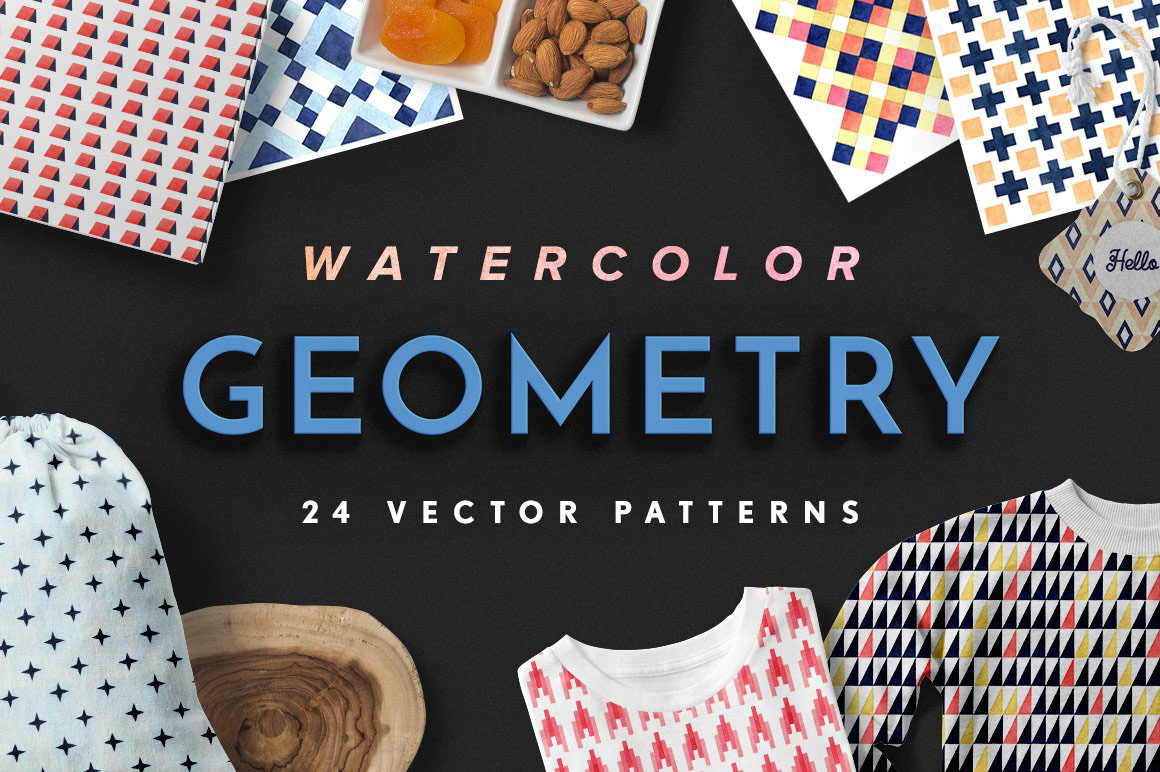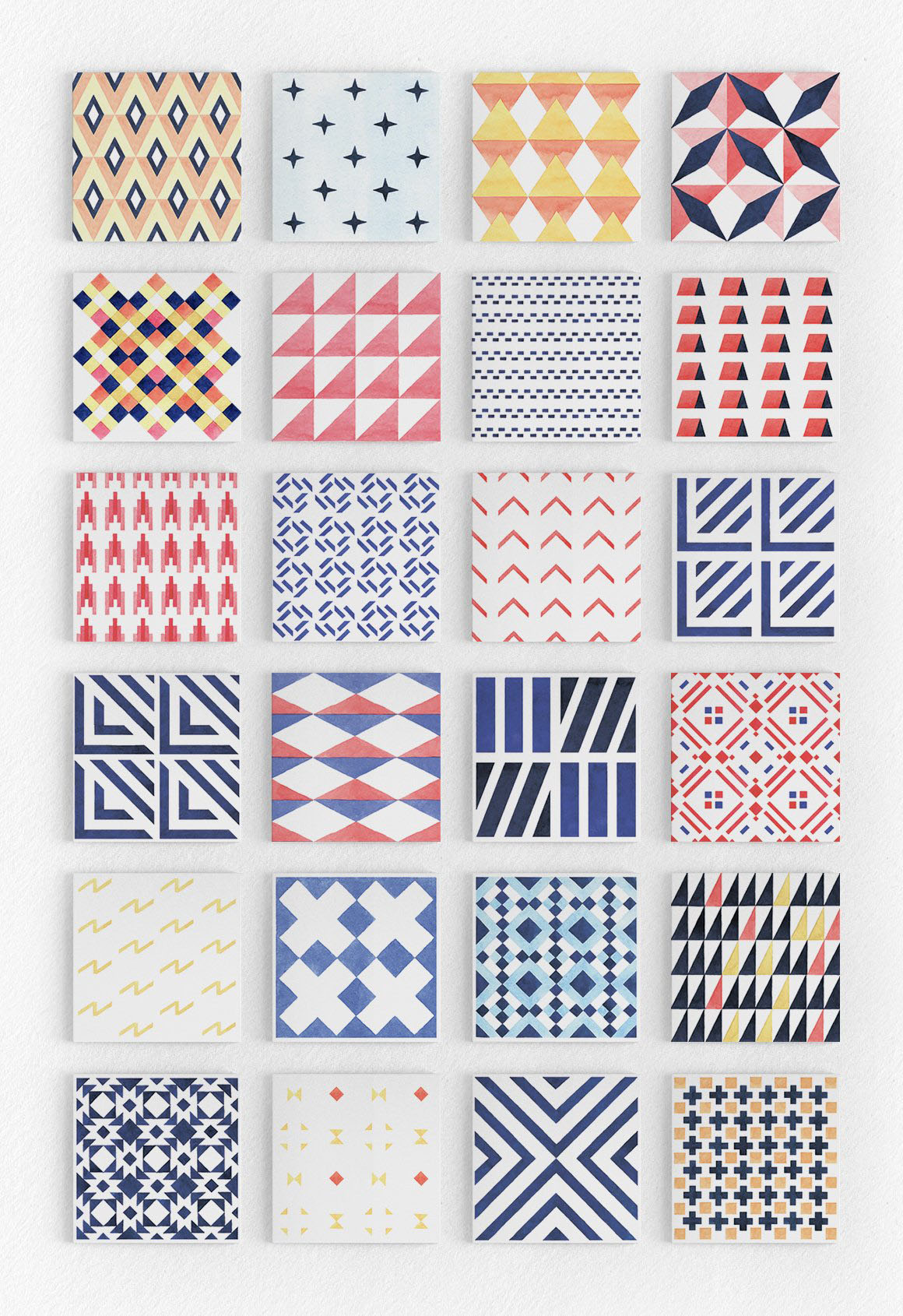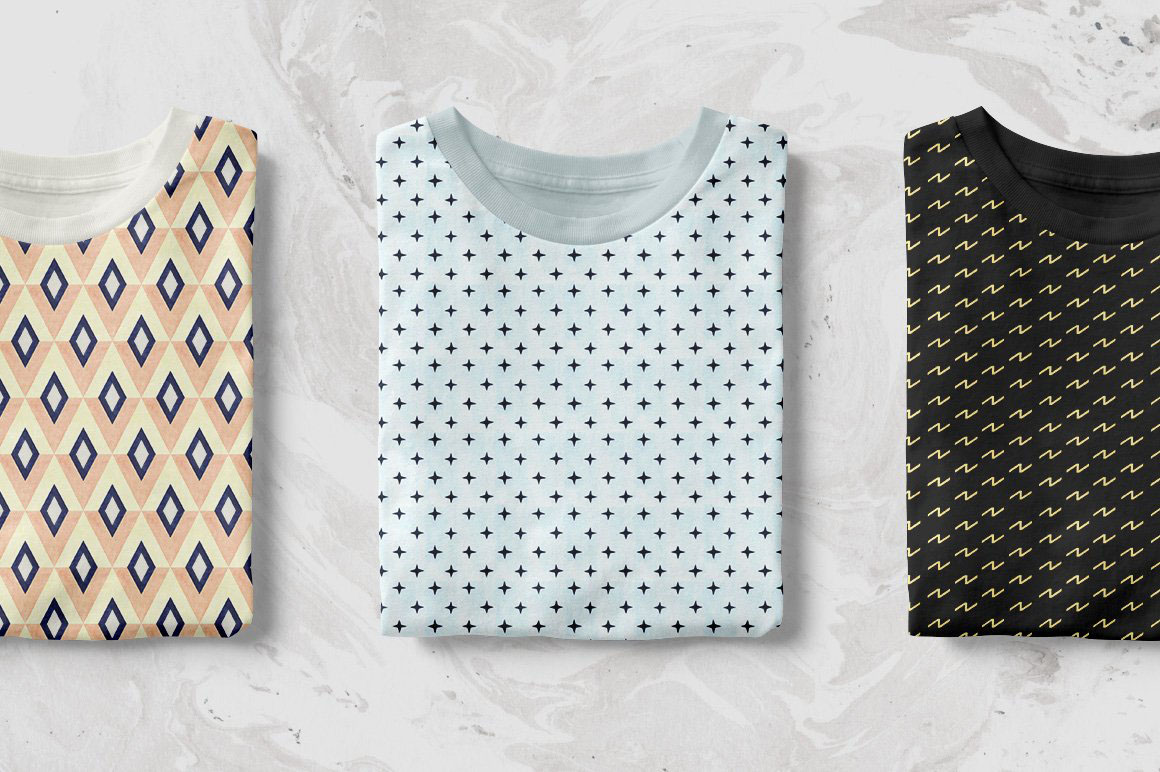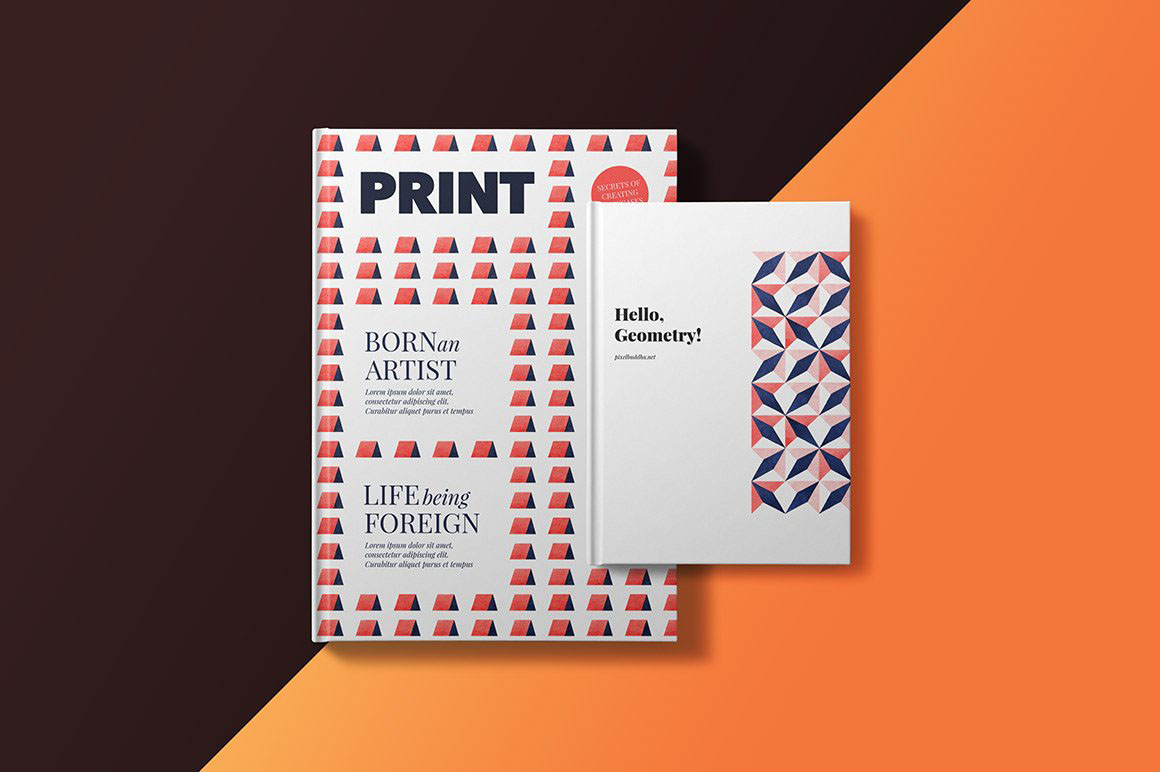 08. Vision: Seamless Watercolor Patterns from Pixelbuddha
We're happy to present you our new watercolor set of seamless vector patterns that will definitely become a useful addition to your professional designer toolbox! It brings you 20 beautiful and vivid patterns perfect for packaging design, branding, wedding & invitation cards, apparel, scrapbooking, home decor (pillows, towels, etc.), fashion and more. These incredible assets are 100% hand-made by our colleague and wonderful watercolor artist, Daria Vinokurova.
Watercolor Vision set includes:
20 Seamless Patterns in Vector EPS Format;
20 Seamless Patterns in JPG Format (4000×4000);
20 Seamless Patterns in PNG Format With Transparent Background ( 4000×4000).
We sincerely believe that Watercolor Vision will bring you a bunch of fun and joy during the working process!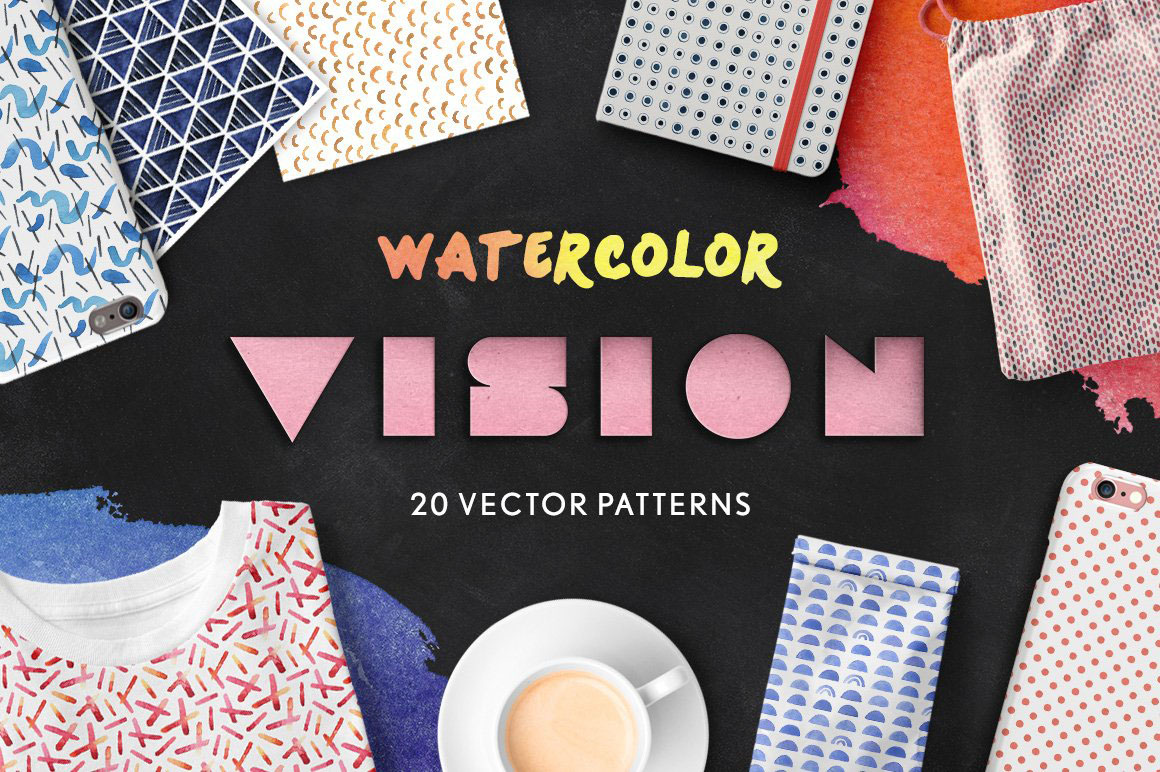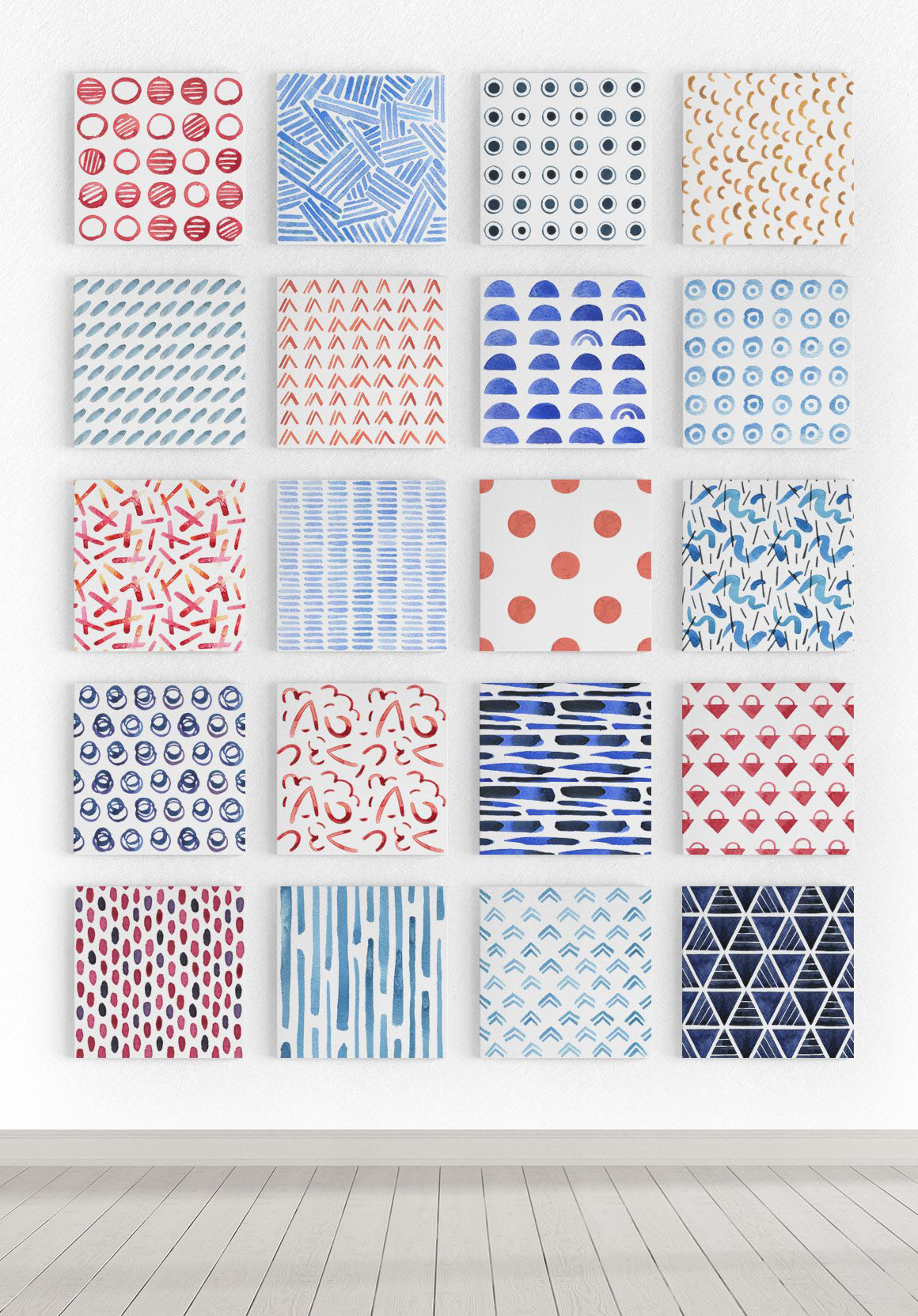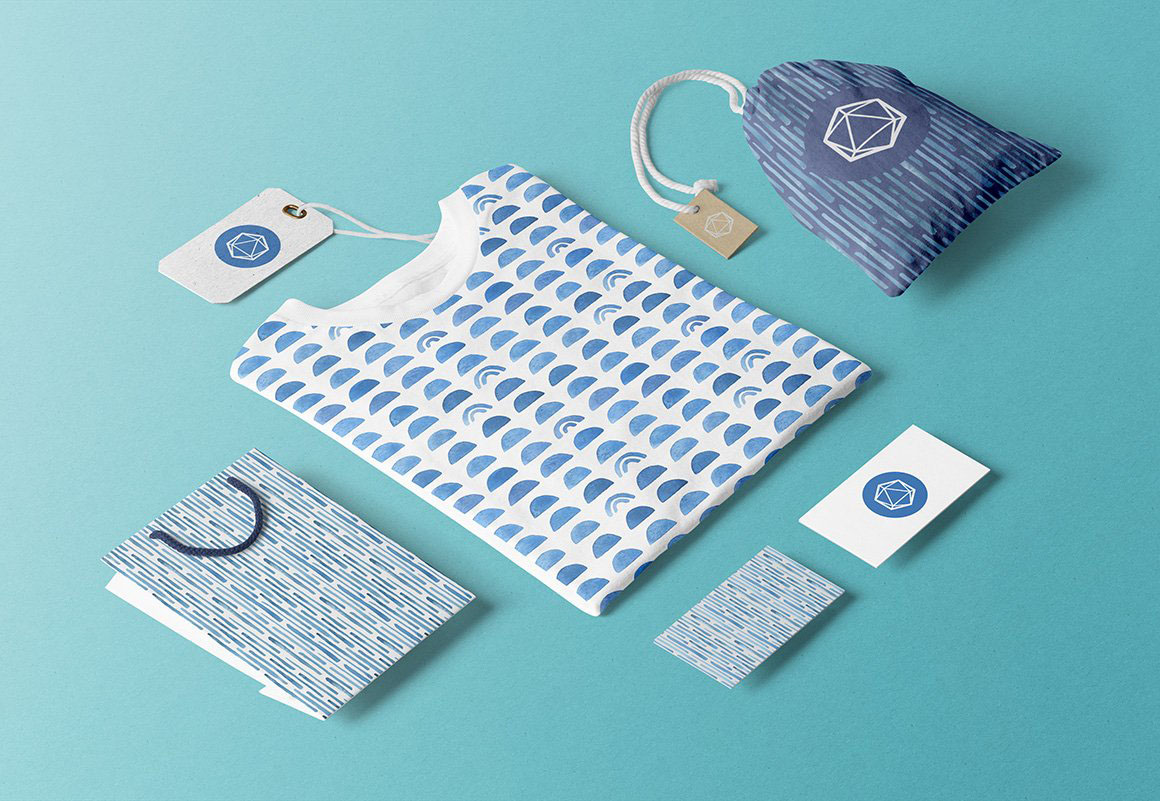 09. Delicious Patterns Pack + Bonus from Pixelbuddha
Who's told graphic can't be delicious! Our team's got inspired with the colors of summer to bring you 20 magically, mouth-watering patterns – ocean blue, candy-colored and August night black.
Indeed, 20 patterns embrace 4 beautiful palettes, perfect for all kinds of artworks you're for – printed production, textile, web, branding, and accessories design. Abstract swashes, strokes, and shapes follow the latest trends to bring you high-quality abstractionism.
Sure, we could not leave you without a gift, so we've included a superb bonus – 12 monochrome minimalistic patterns with a transparent background, so any color you have will perfectly fit, and you'll achieve a glorious visual result in the end anyhow!
Features:
20 colourful vector patterns;
4 different palettes;
12 monochrome vector patterns;
Vector EPS and JPG + transparent PNG formats.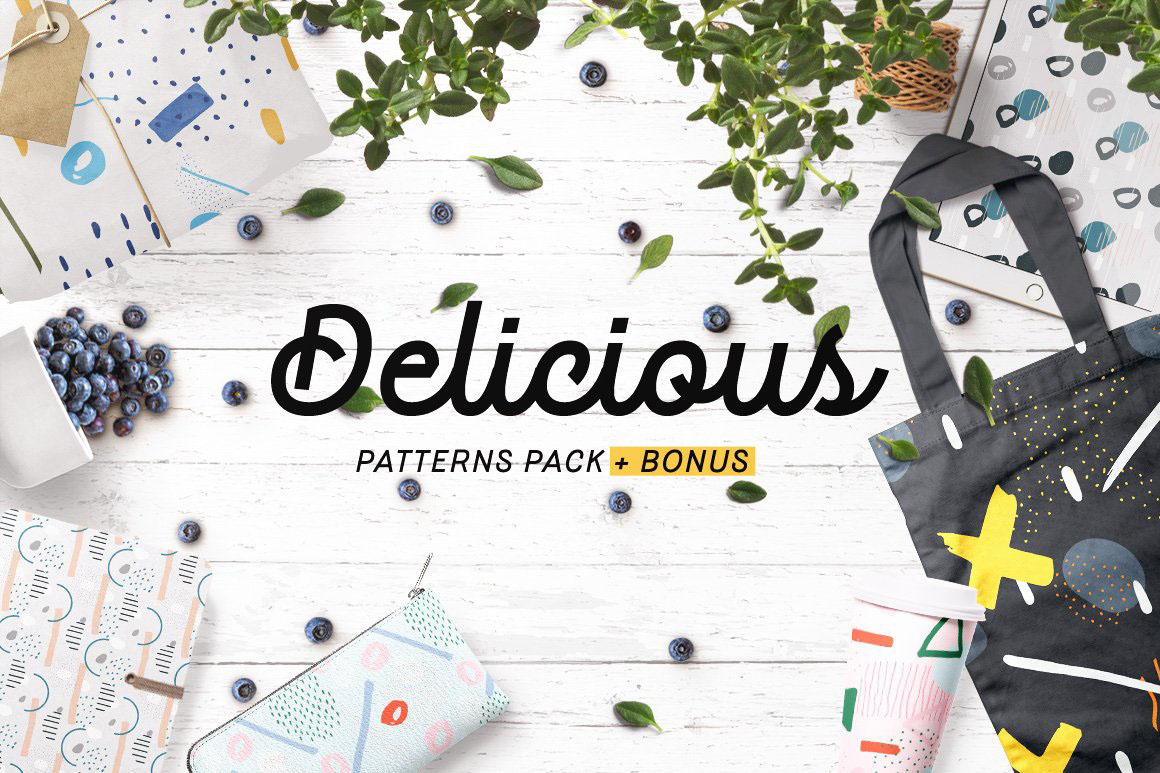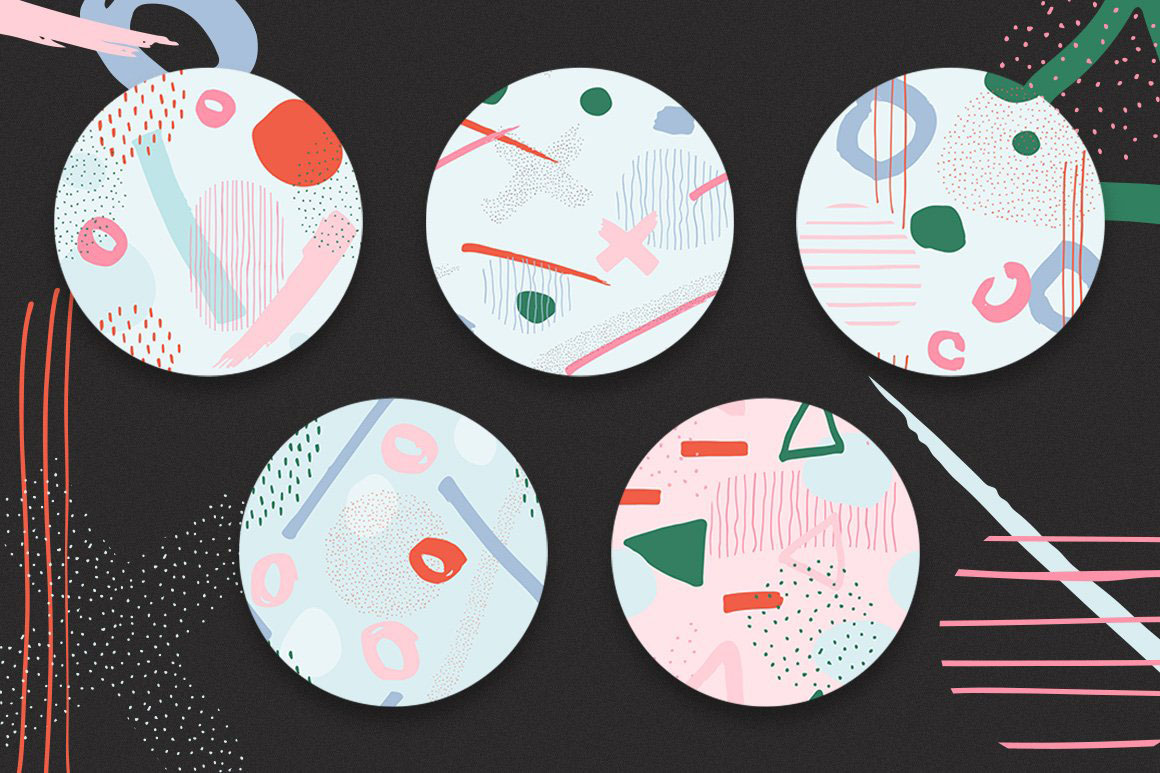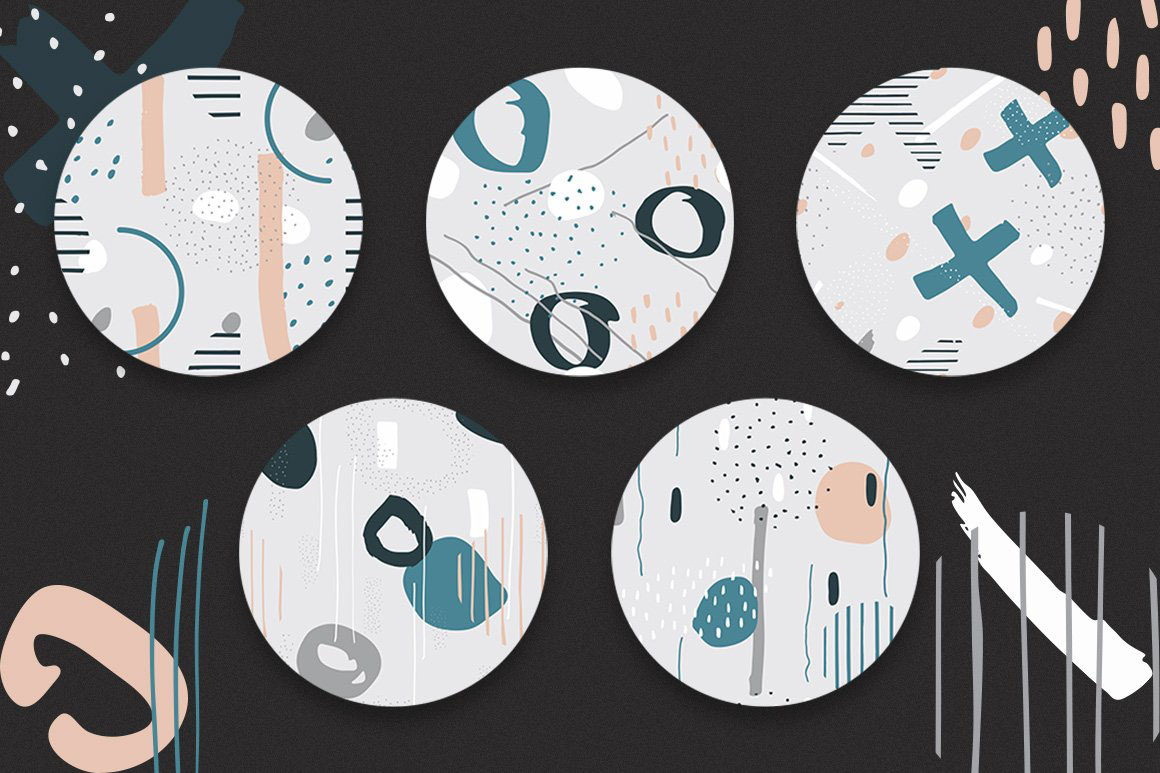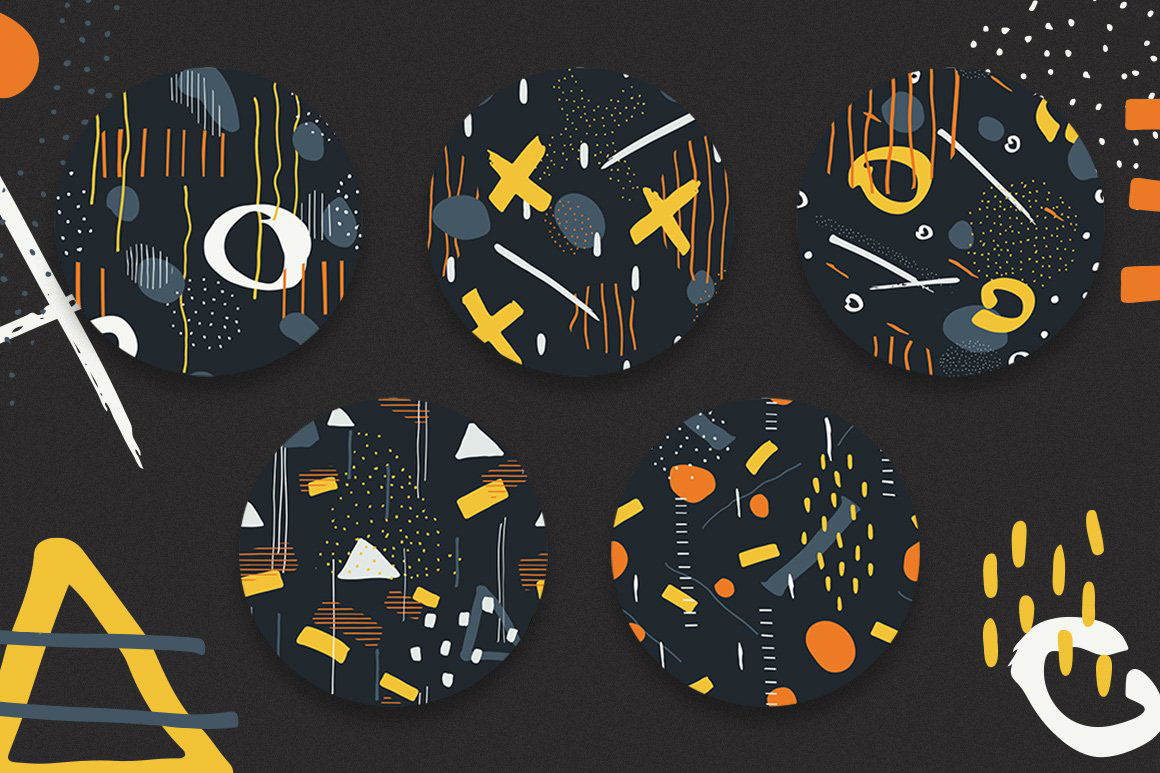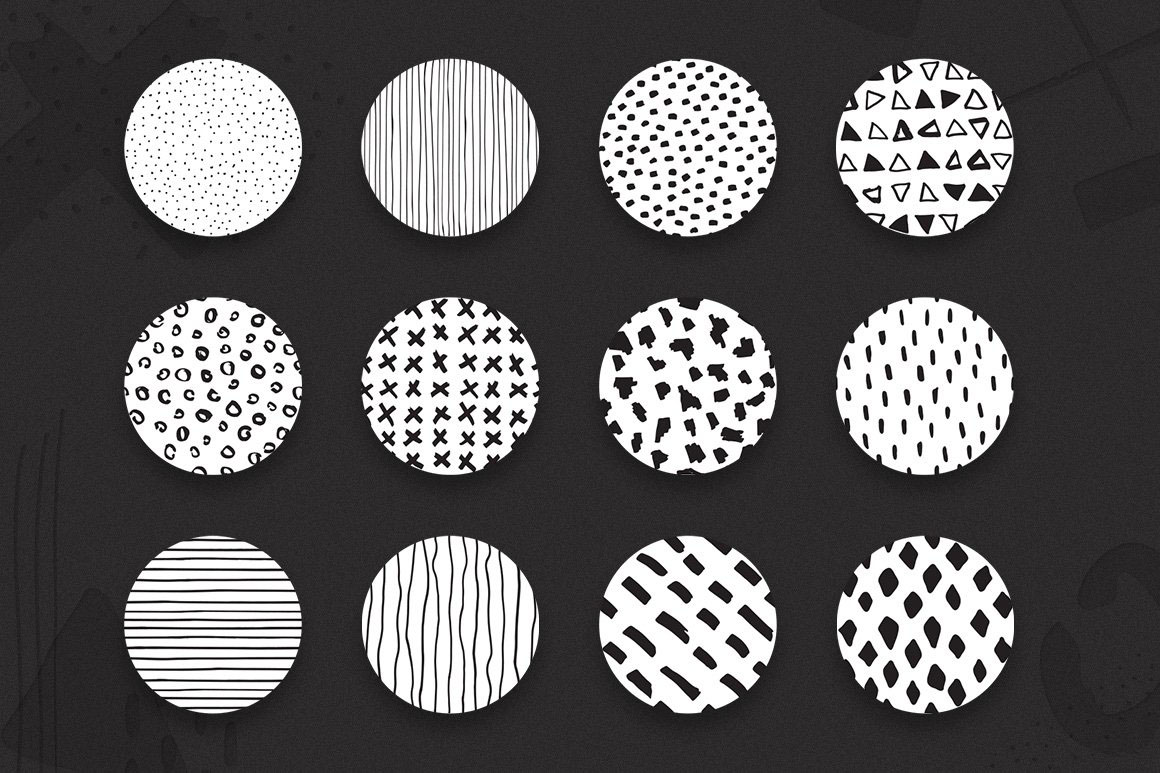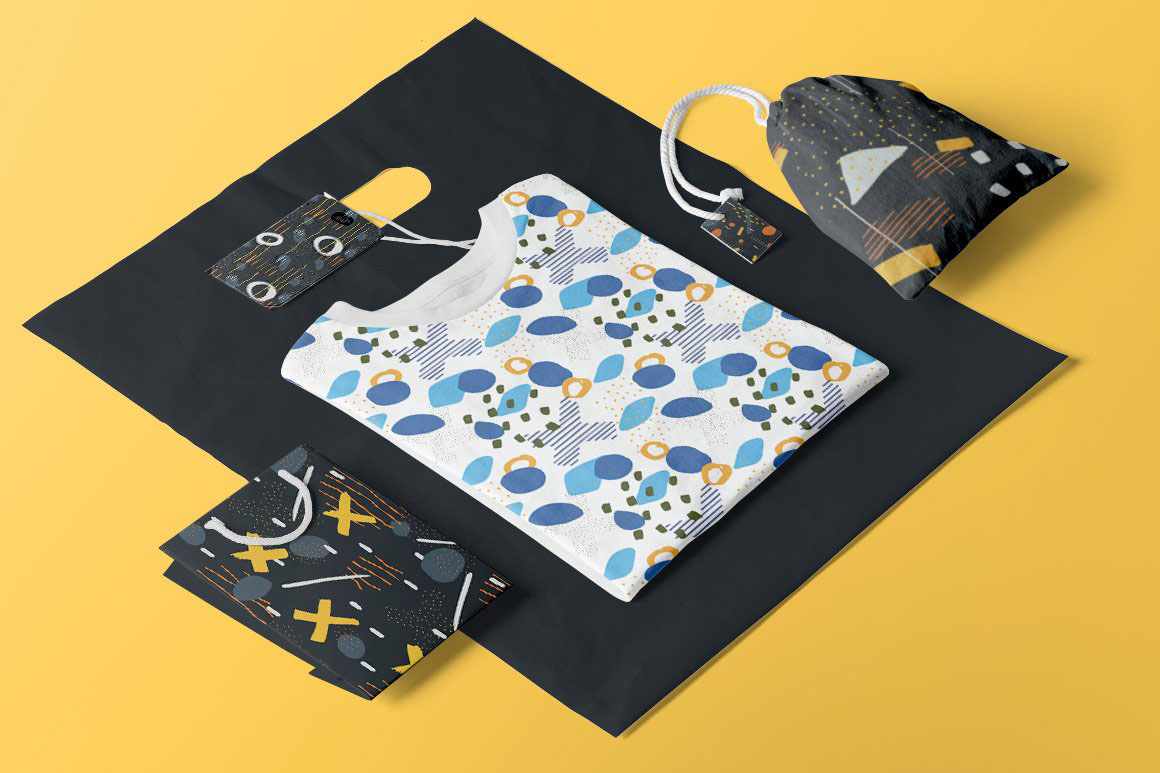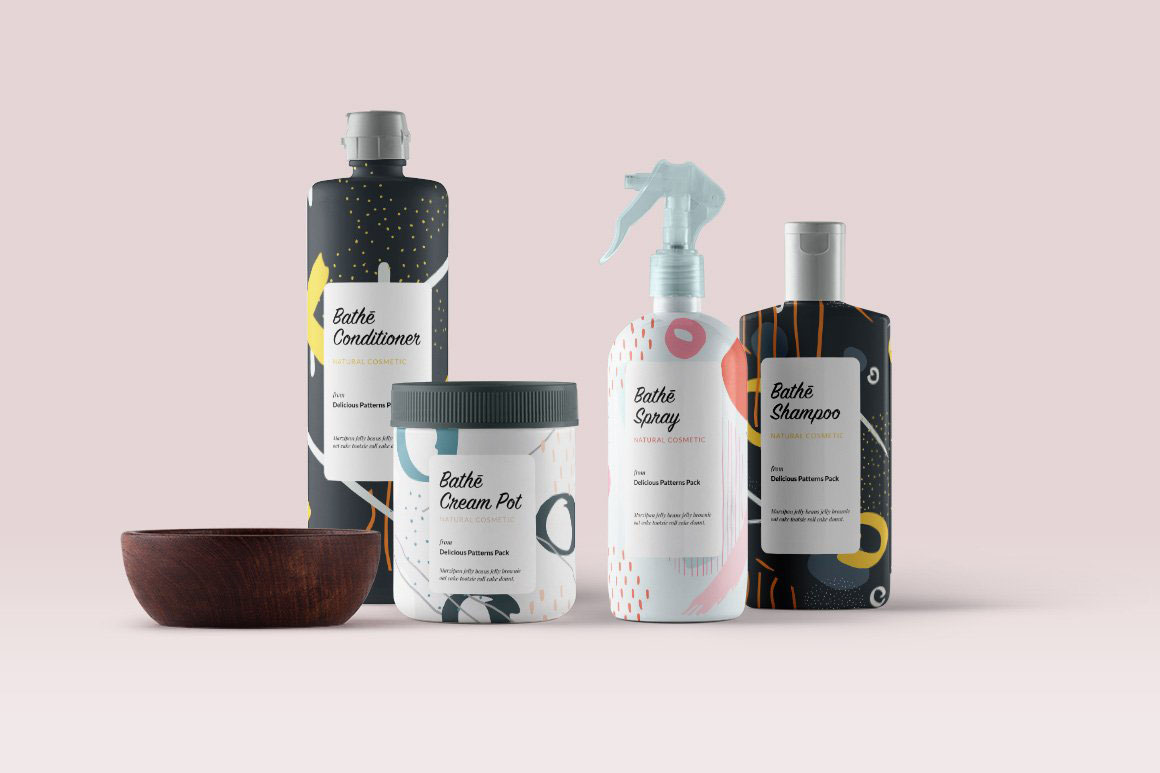 10. Cosmic Abstract Patterns Collection1 from Pixelbuddha
Our team is amazed to bring​ our best summer patterns ever – we've been searching for the inspiration just everywhere and finally, here they are! A little marine, a little Provence, a little vogue – here they are, crafted with love and tenderness, as well as attention to the details. 24 adorable vector patterns would be a perfect match for any of projects – branding, web design, stationary, clothing, interior​ – it's hard to belive, but they're that versatile.
We're for fascination, so you may discover 6 different palettes with 4 patterns for each of them – just pick up the one you starve for.
What's inside:
24 seamless patterns in EPS, JPEG, PNG;
6 different palettes;
Size 8000*8000 px.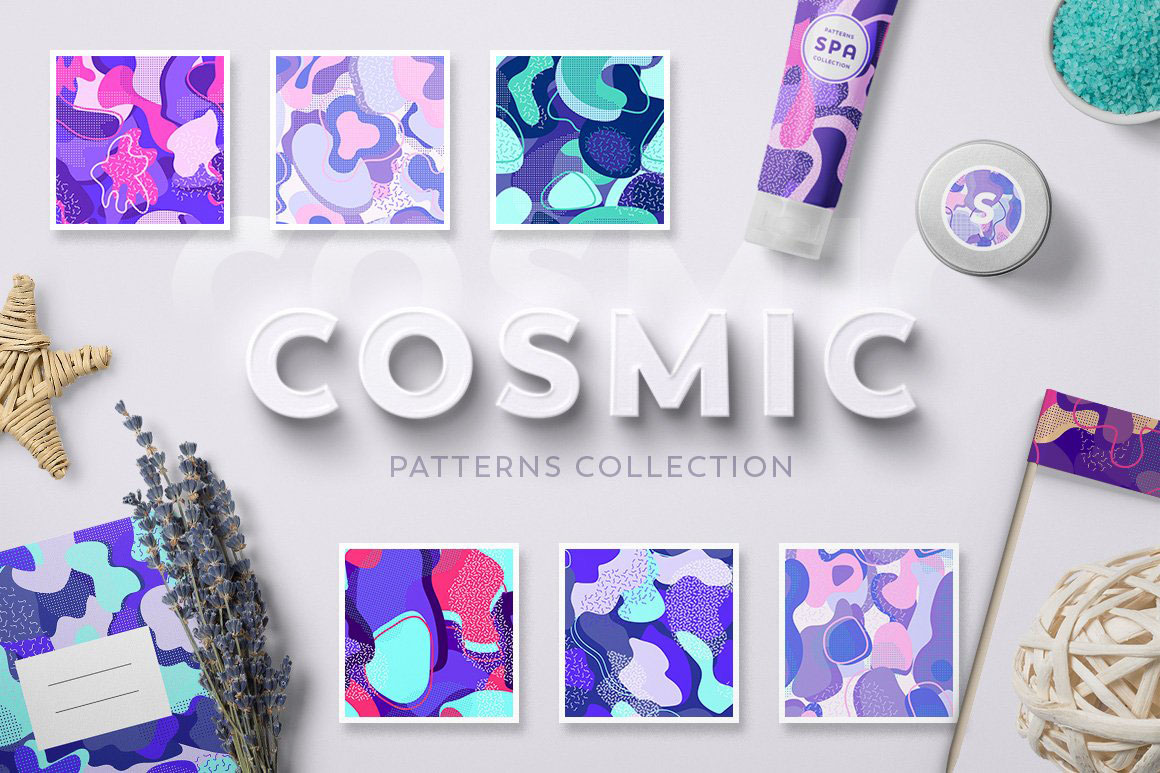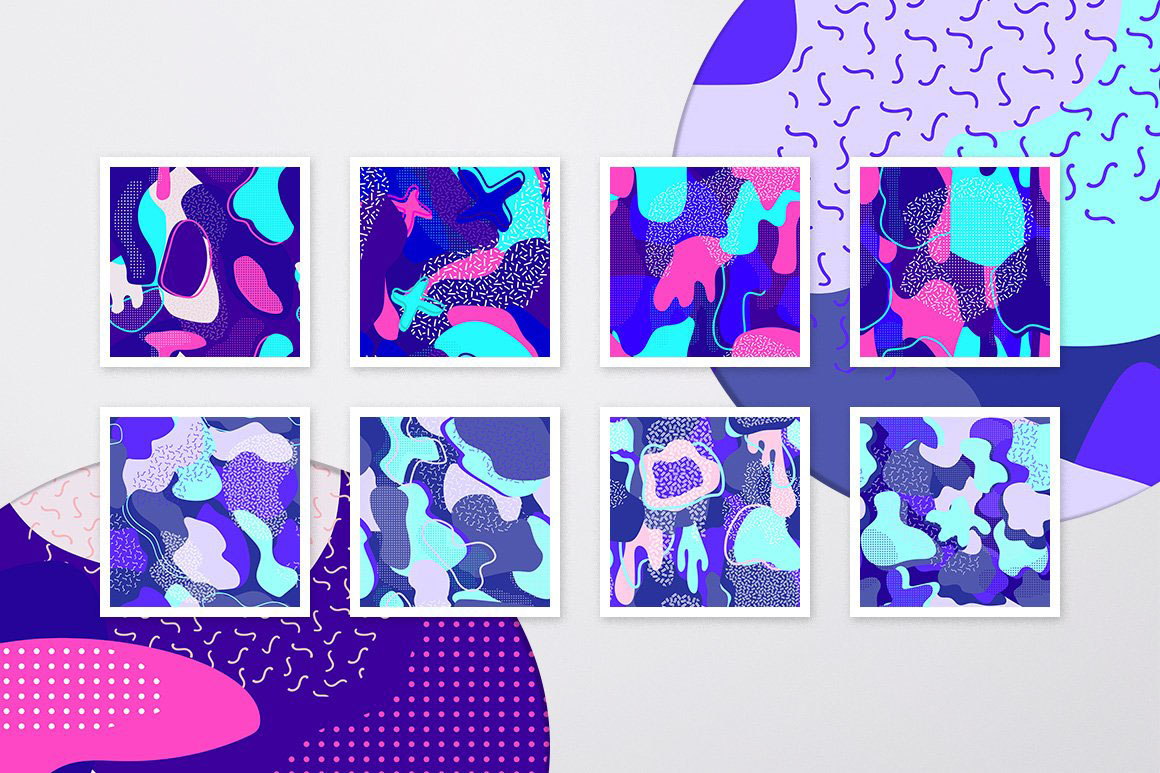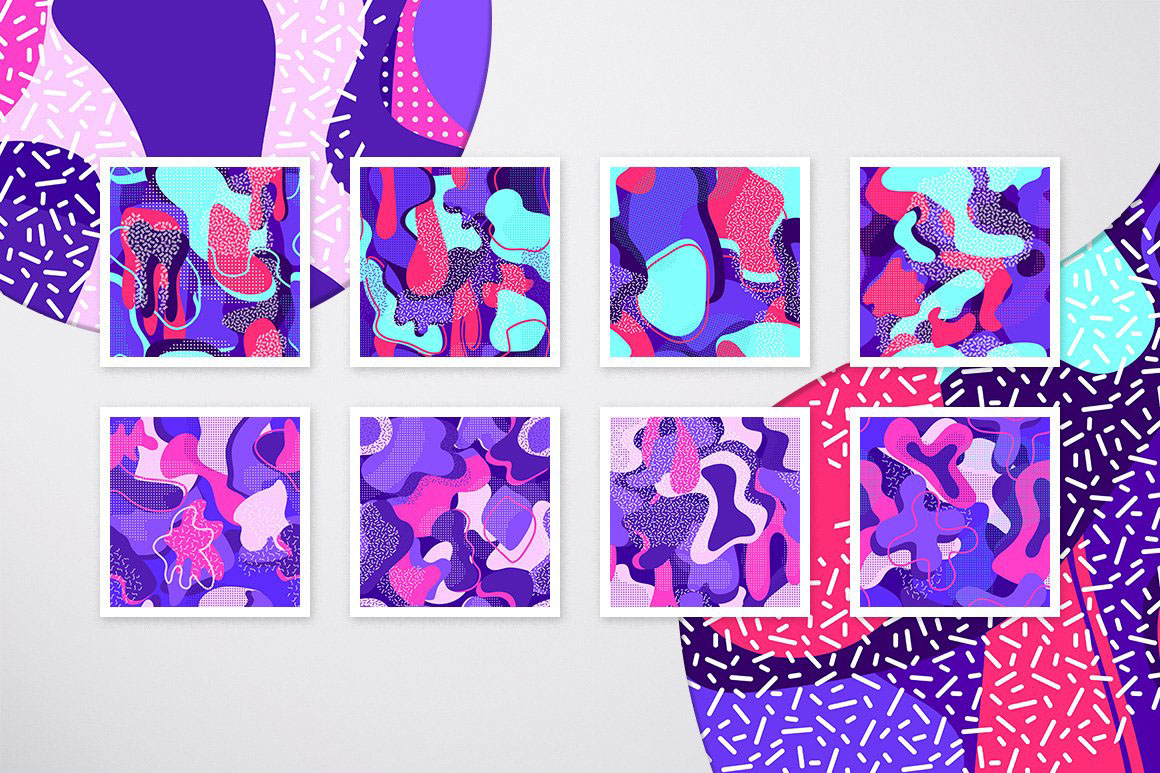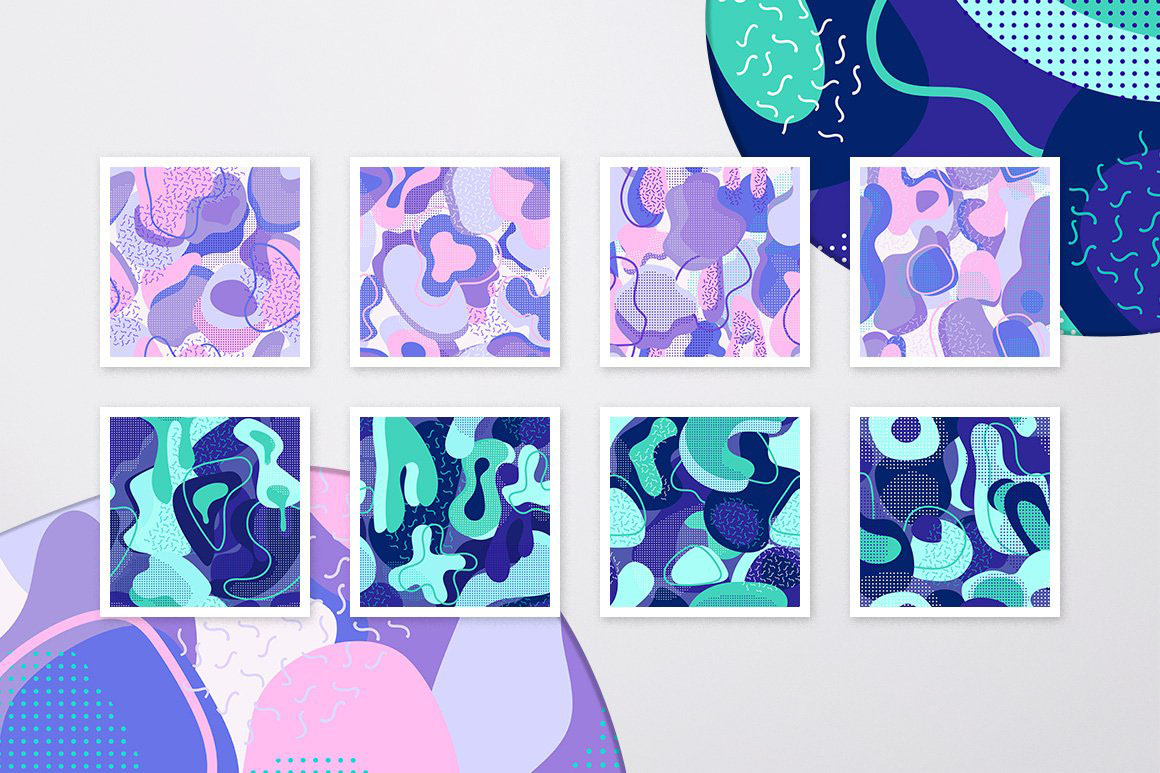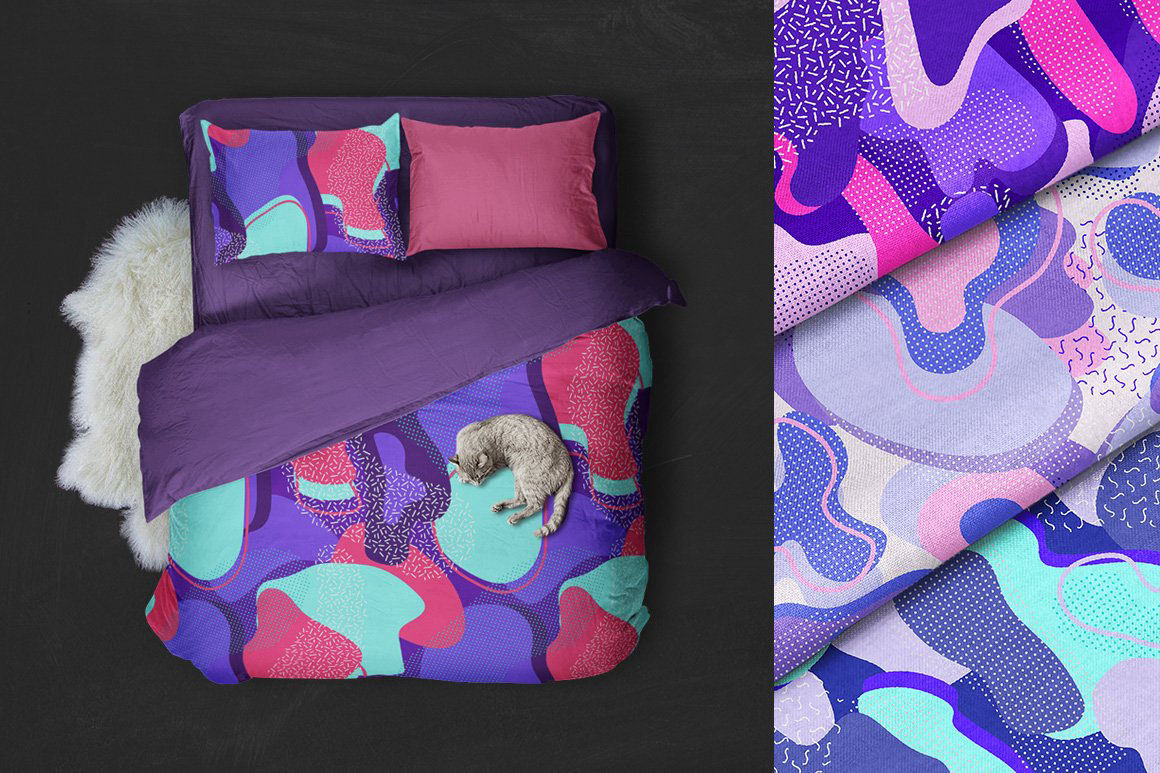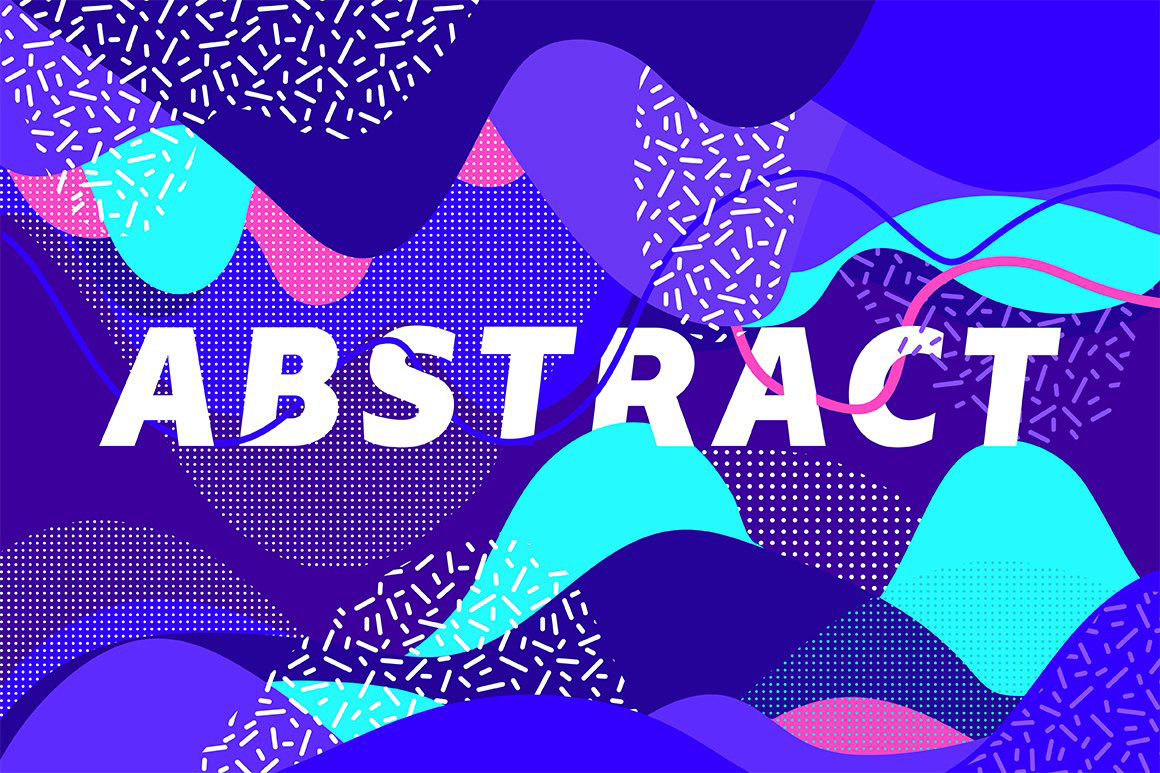 11. Vibrant Watercolor Pattern from Pixelbuddha
If you're looking for a design tool that will help you to stand out or original and vibrant assets for your next project – we've got exactly what you need! Meet the Vibrant Watercolor Patterns, a set of beautifully hand-crafted and carefully digitized seamless textures brought to you in both vector and bitmap formats. They would be perfect for a huge range of projects, from vintage creative on 90-s style to the ultra-trendy fashion-related exhibition decoration. Just unleash your imagination!
Features:
30 watercolor seamless patterns in EPS vector format;
Print-ready bitmap patterns in JPG and transparent PNG formats;
Bold and original appearance to stand out.
Perfect assets for:
Trendy textures and backgrounds;
Fashion-related design projects;
Eye-catching apparel design;
Original decorative paper;
Dope product package designs.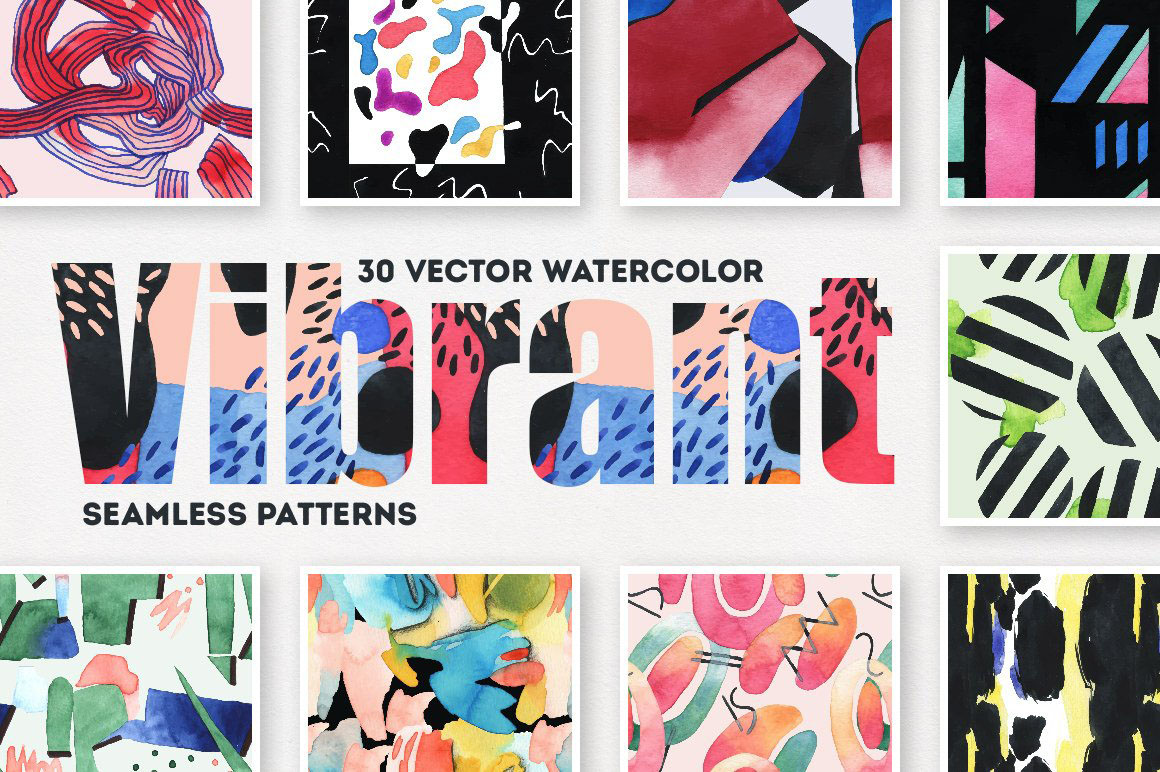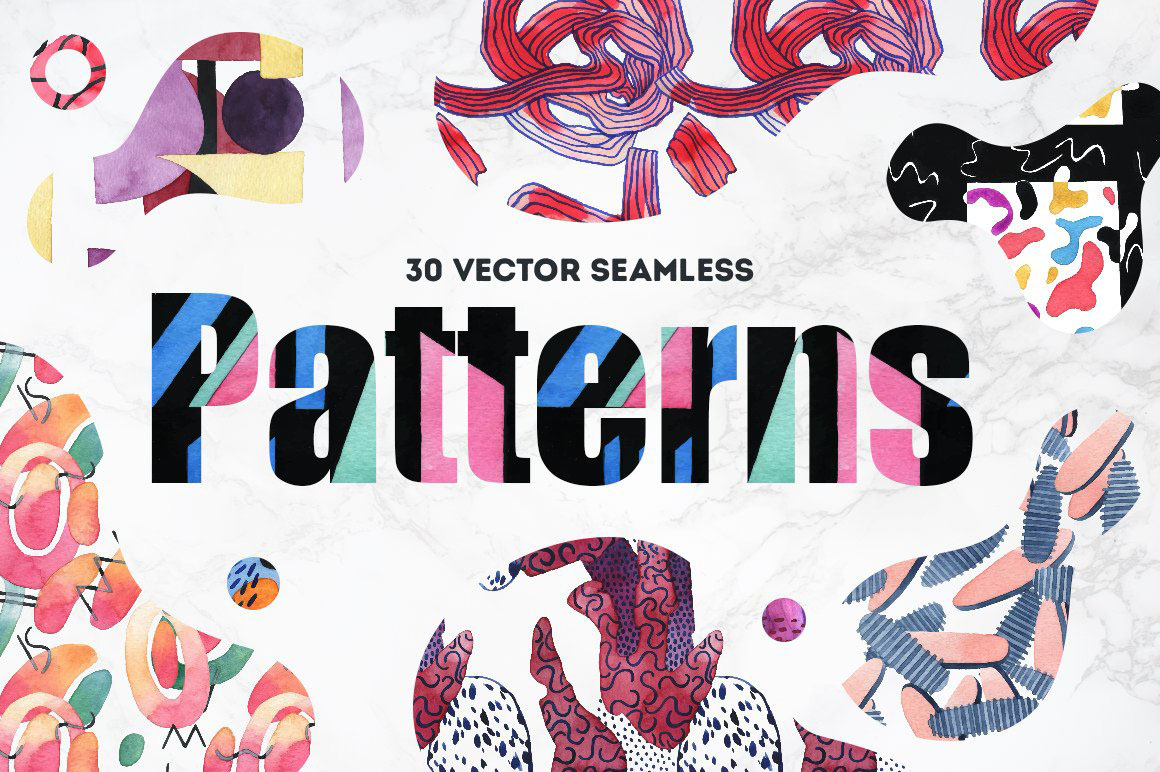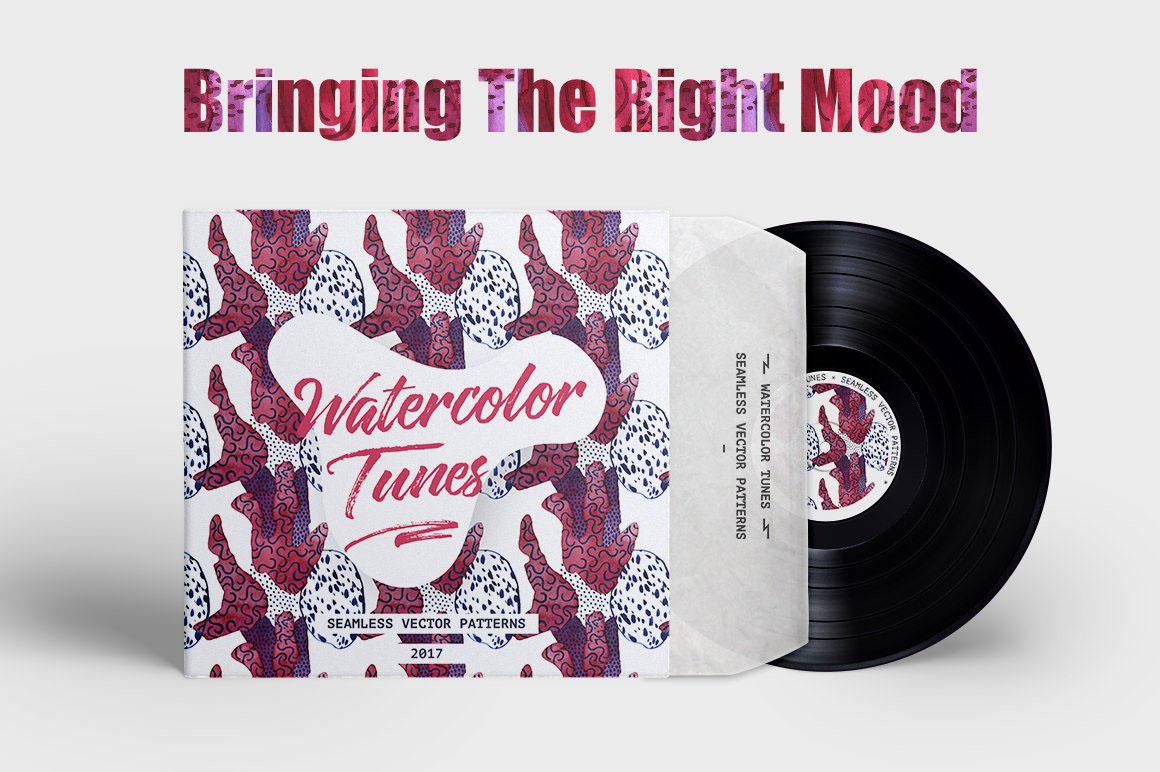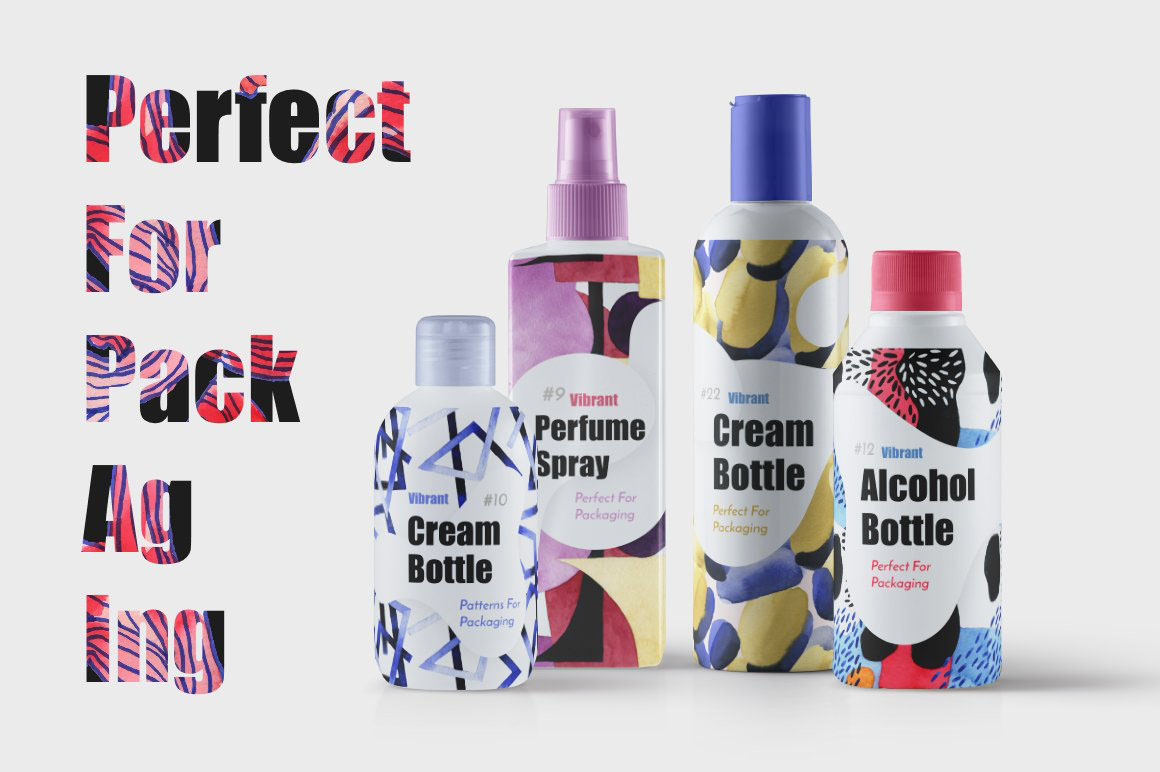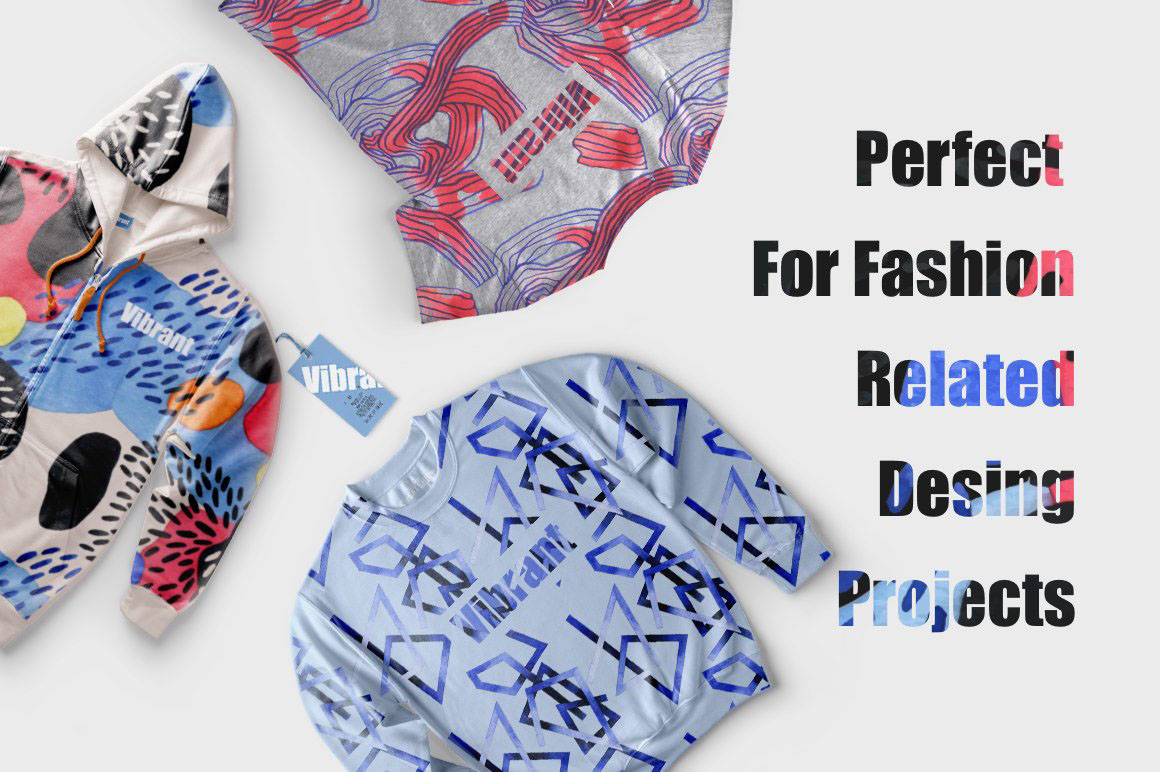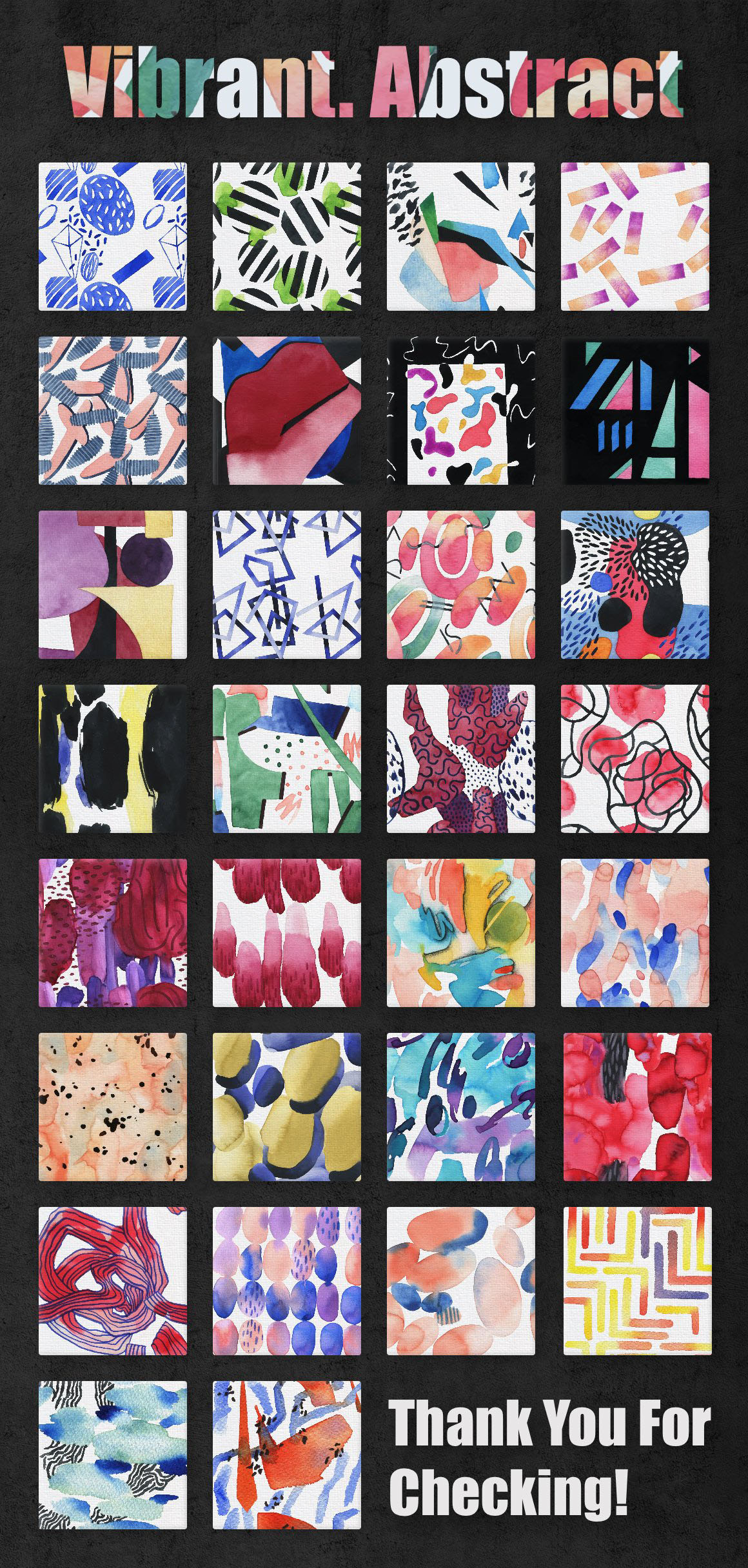 This bundle highlights:
290 unique vector (AI & EPS) & bitmap (JPG & PNG) seamless patterns!
extended commercial license (like all of our deals): use for unlimited personal and commercial projects + you can also use them in designs/products that you sell. You can use all these items as a part of your non-digital or digital designs ( posters, t-shirt designs, stickers, web templates…). You cannot resell these files directly, or within items/goods where they can be extracted in their original form (like vector shapes, elements, fonts… – they need to be flatten into background or object in your digital item for sale). License is only for 1 person – you'll need to buy 2 licenses if 2 persons will work with these graphics. Please read more about our exclusive license!
Pricing:
Normally, these cool patterns would cost you $175 (without extended license) & $587 (with extended license), but for a limited time only, you can get this unique collection for $12!
Deal Terms:
Delivered as an instant download, after completing your purchase.
Items can be used for both personal and commercial purposes, for yourself or on behalf of a client, on their own, or as part of your new design for sale.
Cannot be sublicensed, resold, shared, transferred, or otherwise redistributed on its own.
You cannot share these resources with others. This is a single user license (for 1 user on any number of devices)! You'll need second license for your colleague computer!