If you are looking for something unique & creative for your new graphic designs then you are at the right place because here you will get a great collection of 6 super creative Photoshop graphics sets with cool Photoshop styles, brushes, templates or textures. Enjoy 😉
All these amazing Photoshop graphics, styles, brushes & effects are from MiksKS and ready for your new print or web graphic design! You can your new grunge or vintage style artworks in seconds!
With this deal you get:
6 super creative  Photoshop graphics sets!
unique additions for your add-ons toolkit!
our extended license!
Take a look at what you can get: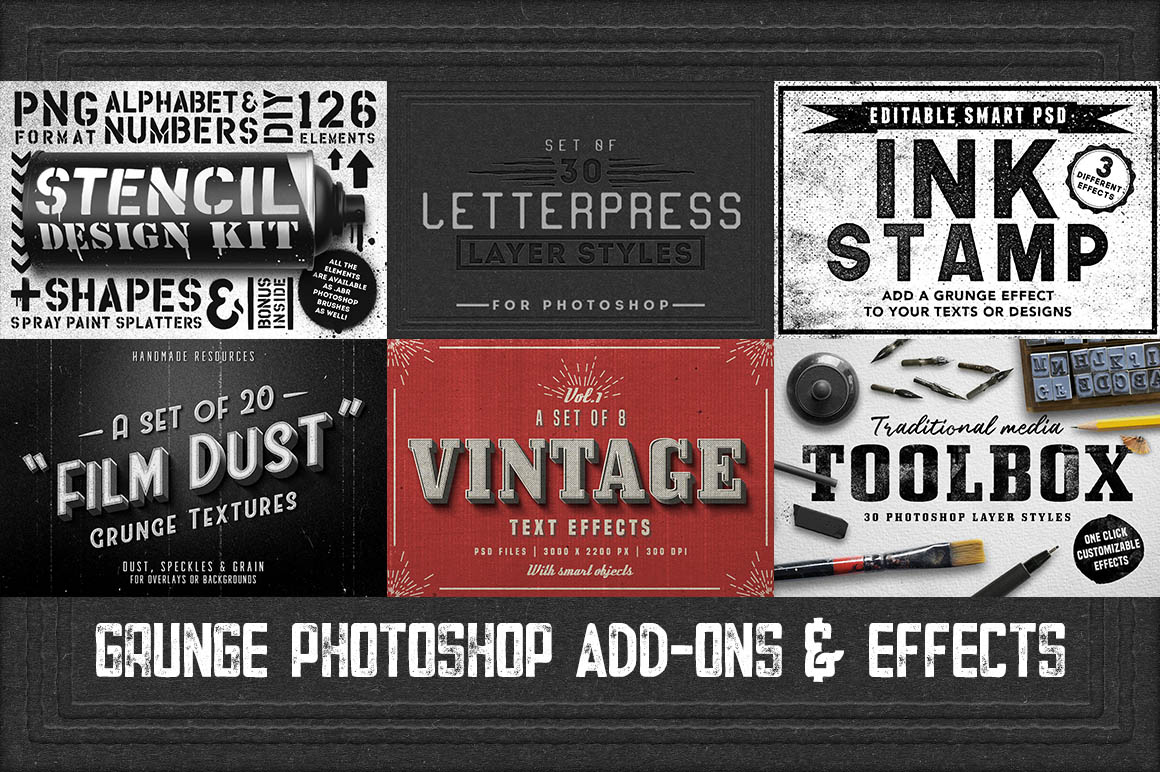 6 super creative  Photoshop graphics sets!
01. Stencil design kit from MiksKS
Introducing Stencil Design Kit, a set of handmade spray-painted stencil elements, including two different alphabet styles (letters, numbers and symbols), shapes and various spray paint splatters to customize your designs! (See "What's included" pictures for a preview of all the items present in the kit). Achieve authentic-looking stencil designs with this set of high-res graphics, consisting of 126 individual PNG files with transparent background. Just drag & drop the elements to form words and decorate your compositions with the shapes and spray paint splatters included in the kit. As a bonus, I've also included 5 free smart PSD grunge mockups to create "in situ" compositions on old walls, cardboard and wood! All the PNG files are provided as .abr Photoshop brushes as well, for Photoshop CS6+ users. The brushes have the same size than the PNG graphics (between 1000 and 4000 px). This kit will work great for typography compositions, grunge T-shirt designs, posters & flyers, and more.
What's included:
• 126 individual PNG files (PNG elements size: between 1000 and 4000 px, 300 DPI with transparent background).
The elements are arranged in separate folders (Alphabet 1, Alphabet 2, shapes, spray paint splatters).
• 1 .abr file containing all the elements in Photoshop brush format
Please note: Due the brushes large size, they aren't compatible with Photoshop versions older than Photoshop CS6.
• 5 PSD bonus grunge mockups with smart object – 3000 x 2000 px, 300 DPI.
• 1 PDF file explaining how to use the smart PSD documents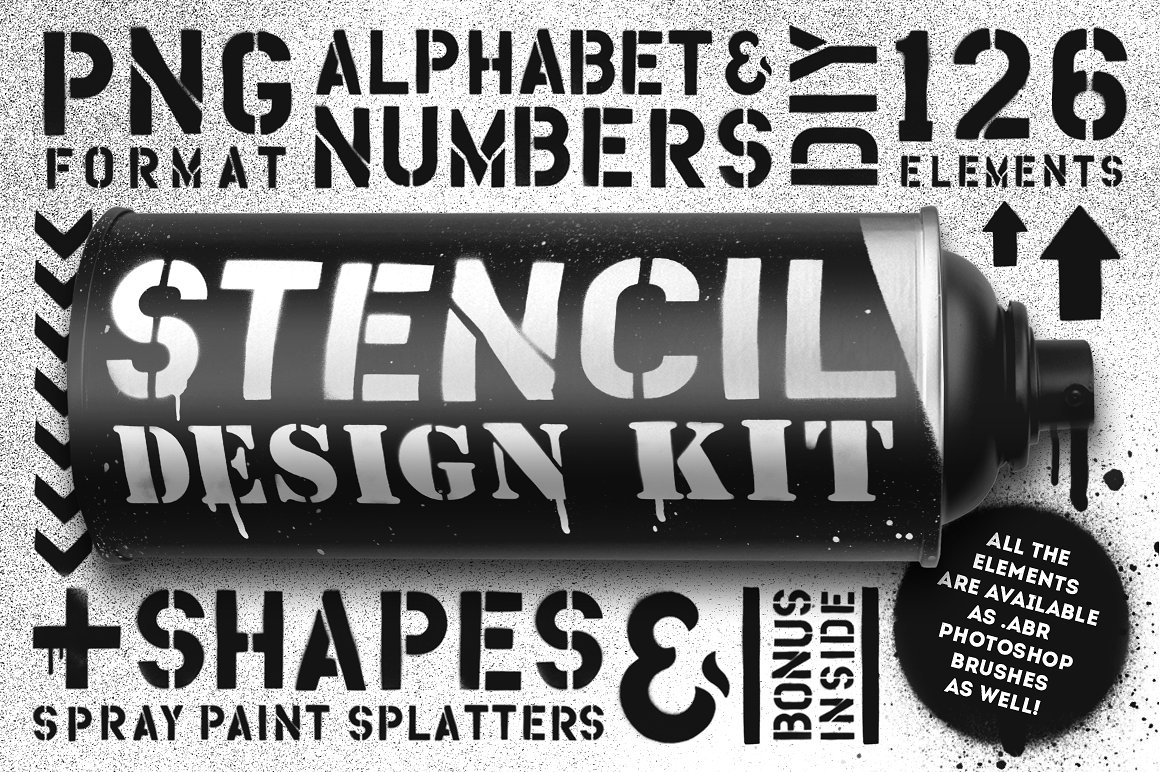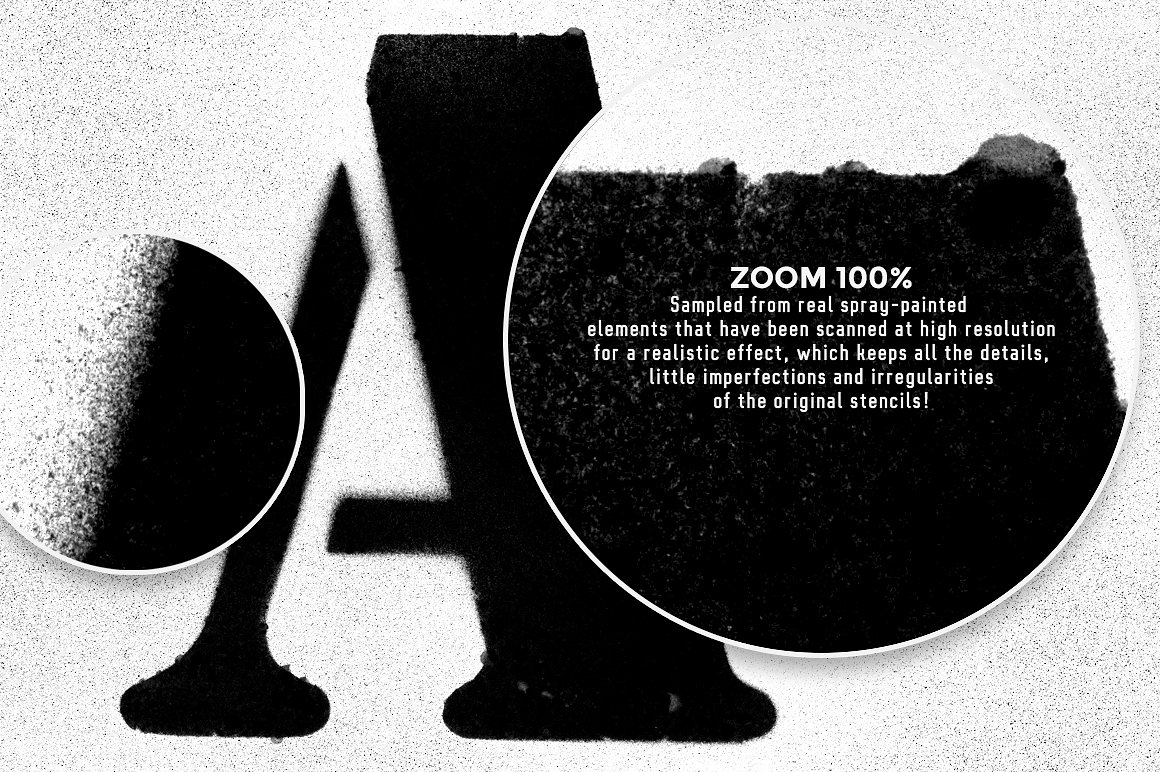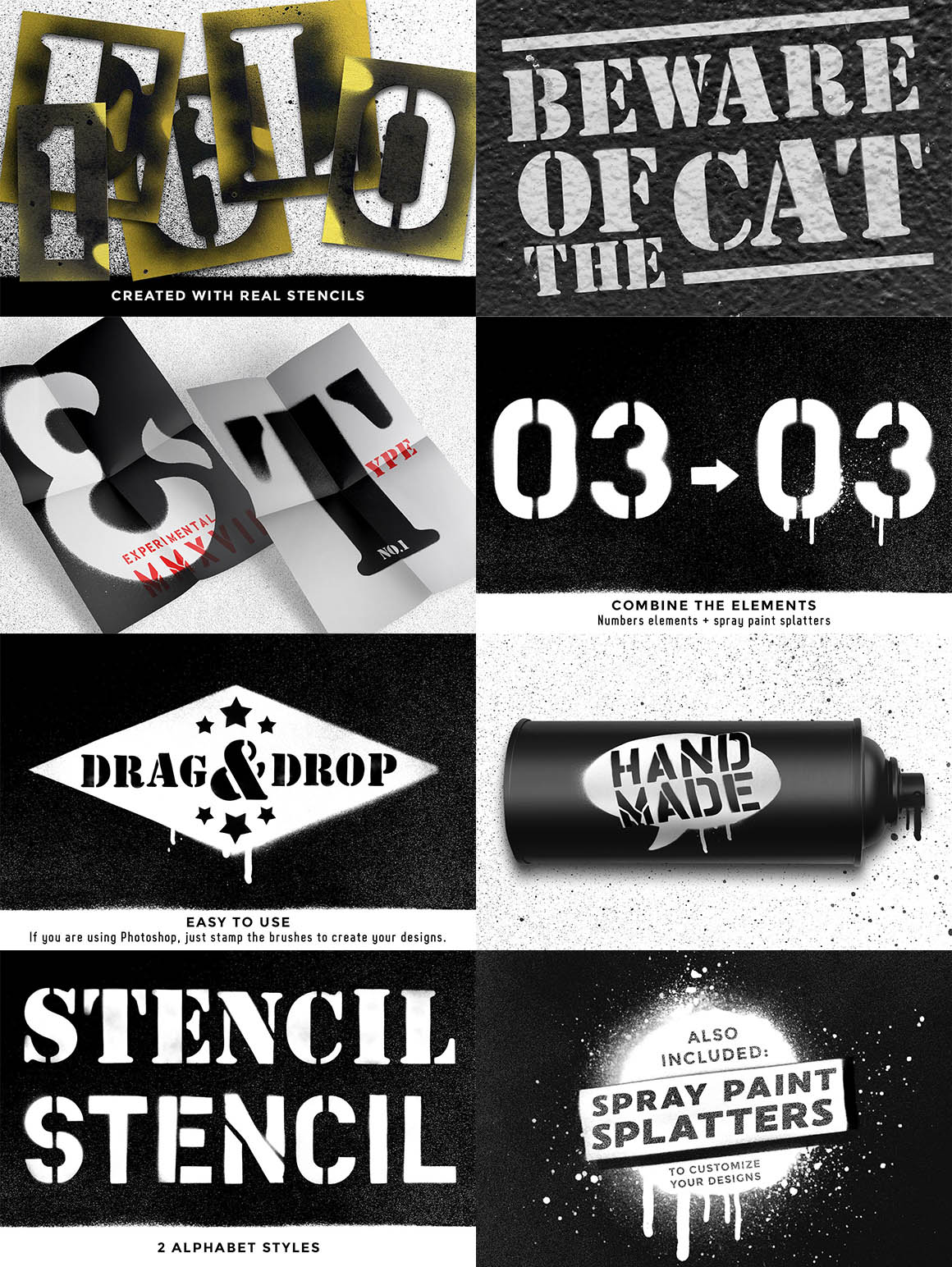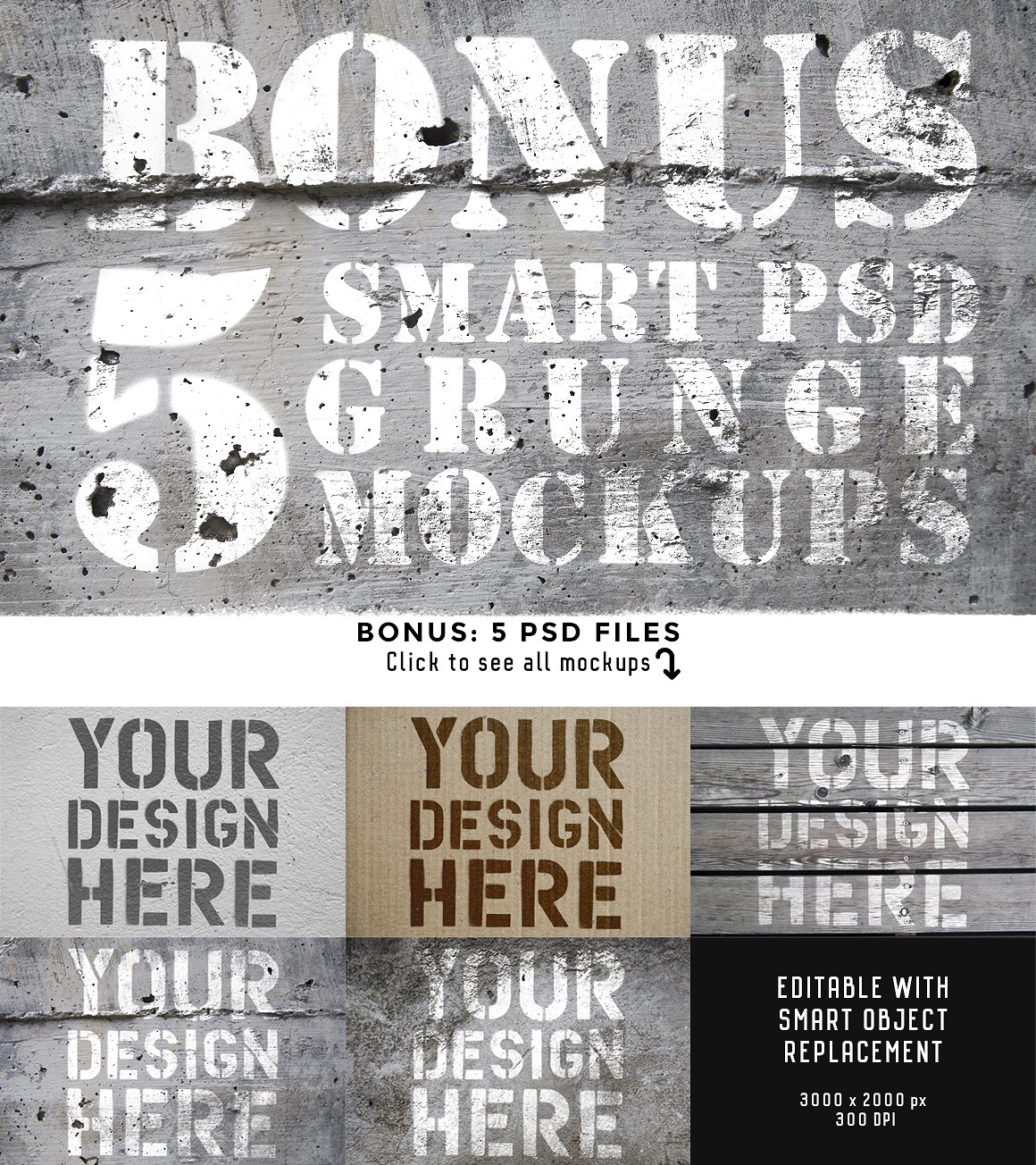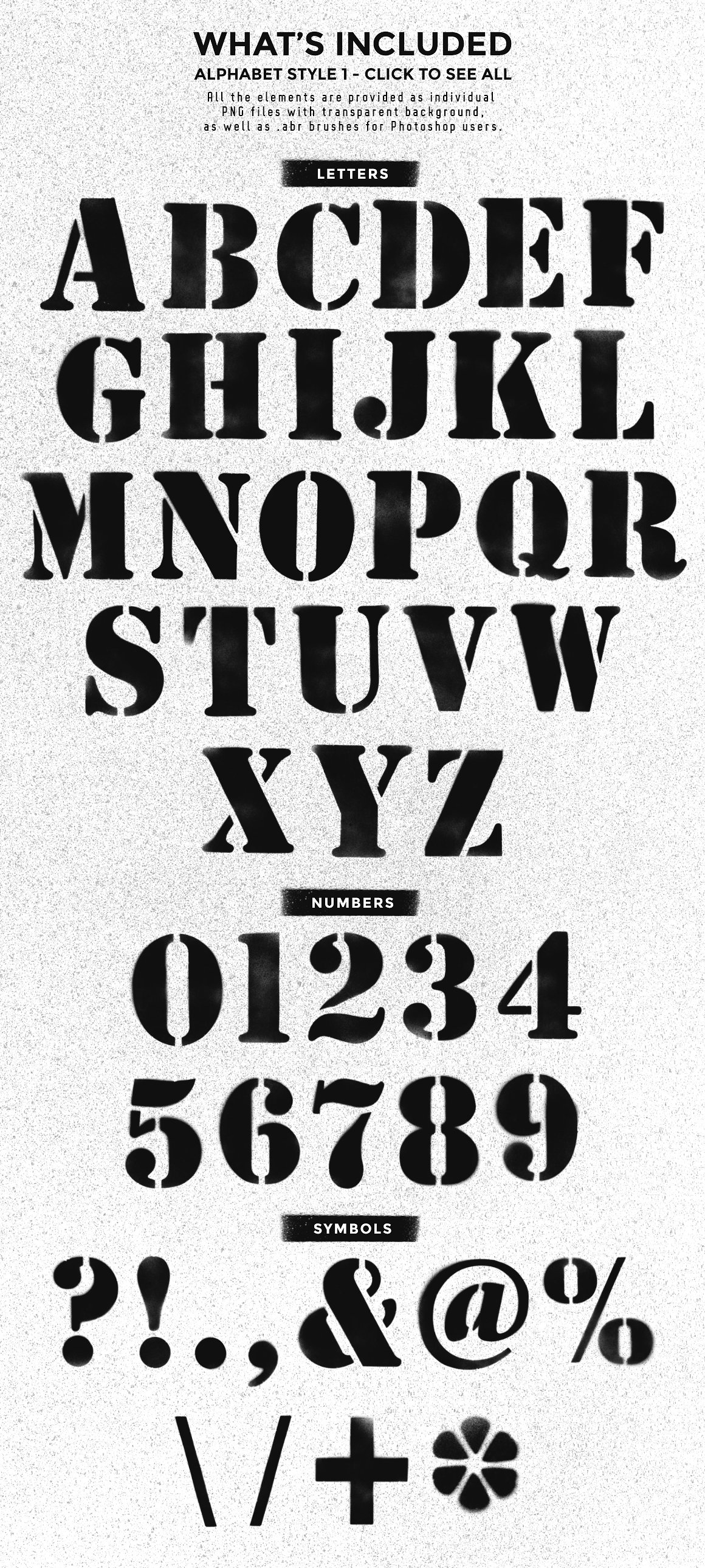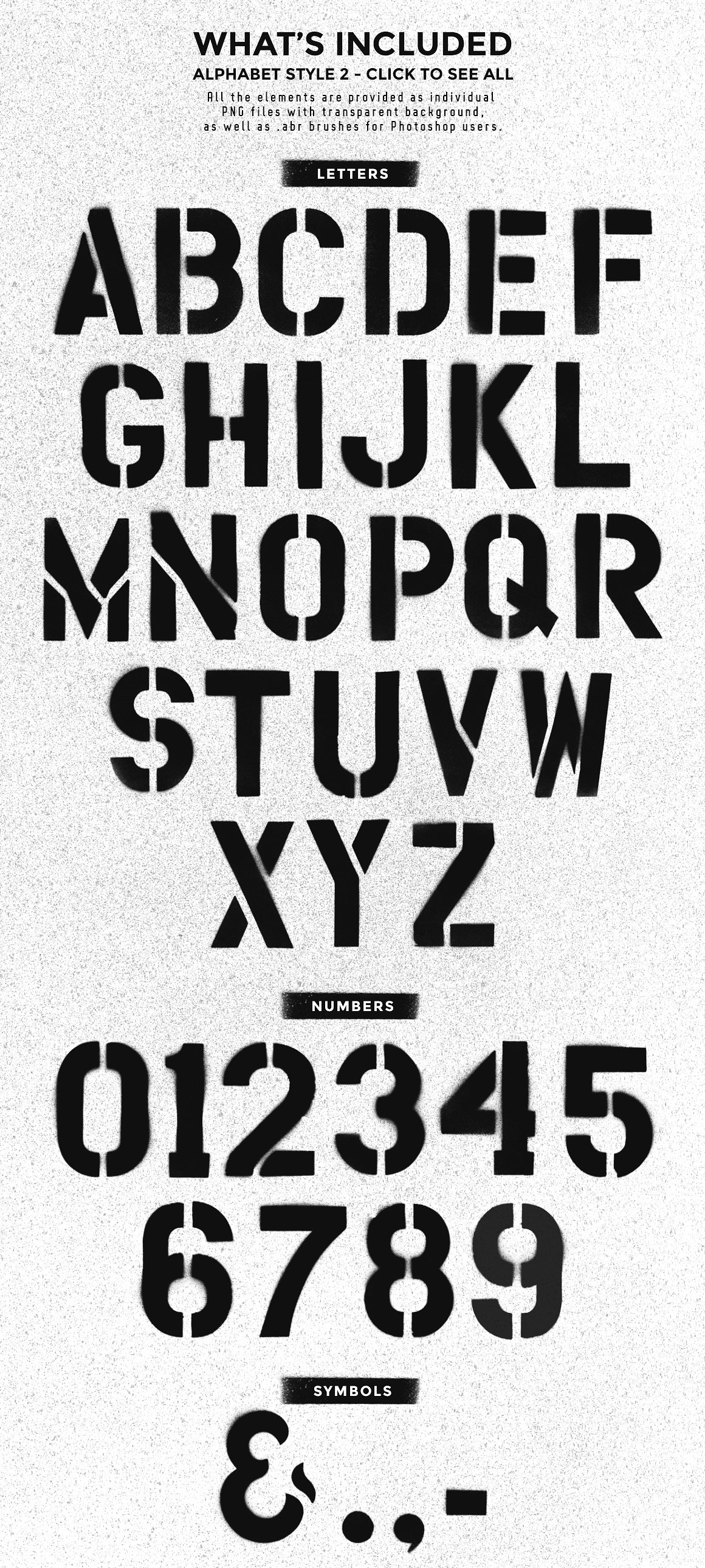 02. Traditional media art layer styles from MiksKS
This listing features a set of 30 traditional media effect layer styles for Photoshop. They were made using samples created with real drawing and painting tools, which have been scanned at high resolution and carefully transformed into layer styles. They are very fun to use and will give your texts or designs a nice handmade, traditional media touch. There's a variety of different styles available in this set: paint, ink, watercolor, pencil and charcoal,… They all have transparency, which means that the white and grey areas will let your background color or texture show through, for more realistic results. Also included: bonus actions! I've included a set of two actions – one that creates irregular edges for a more "handmade" look, and another one to modify the color of the layer style (all layer styles are black or grey by default). The set consists of 30 individual layer styles with different textures, 1 grunge action for creating irregular edges (there are three versions of this action – Subtle, Medium and Large, depending on the font/design size and style), and a color action. These effects have been designed for text, but they can also be added to shapes, logos and other elements (choose elements with one color only, and a transparent background). These are "One click" .asl layer styles (not smart PSD documents).
What's included:
1 ZIP containing:
• 1 .asl file (30 layer styles)
• 1 .atn file (grunge action + color action)
• PDF instructions
• JPG quick preview of all the effects
Compatibility: Tested & working with Photoshop CS5+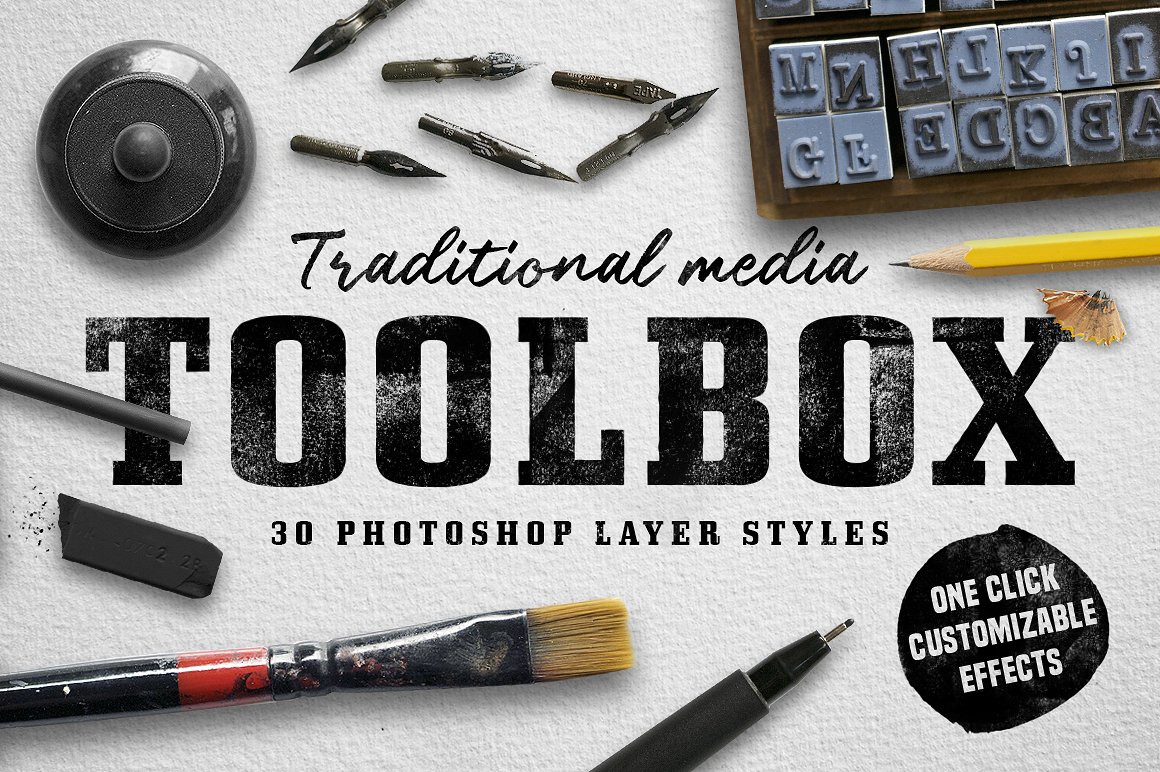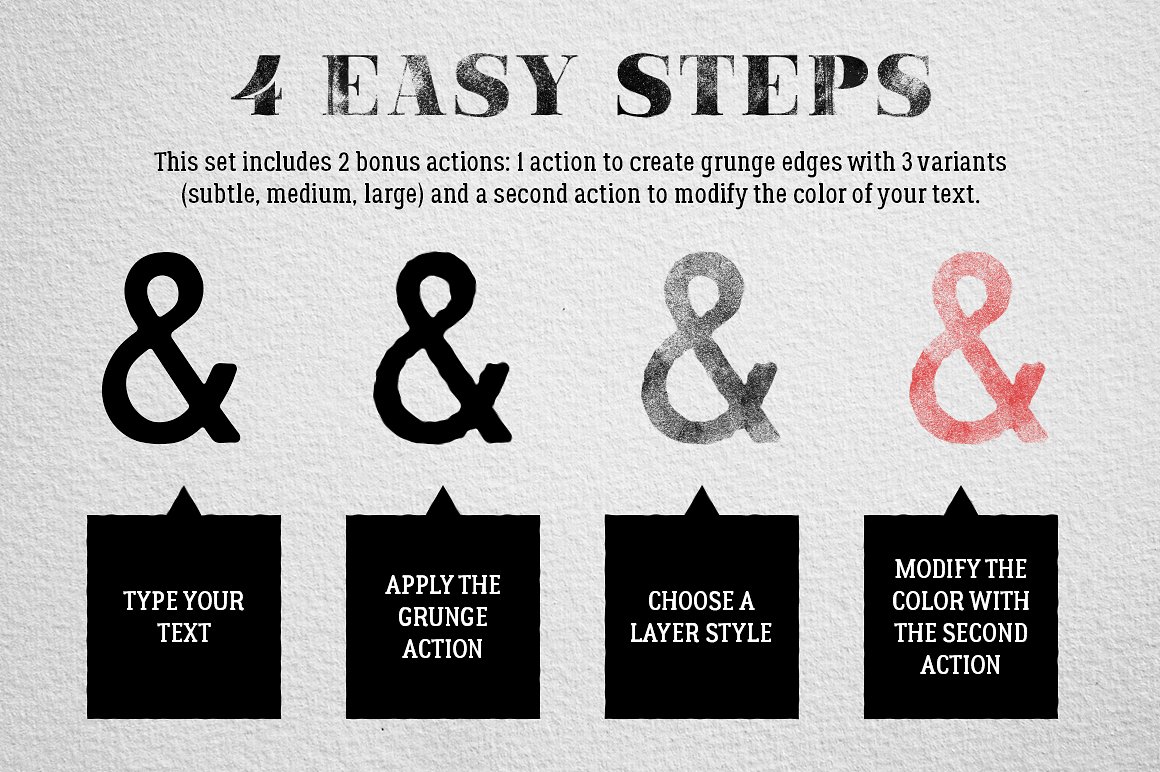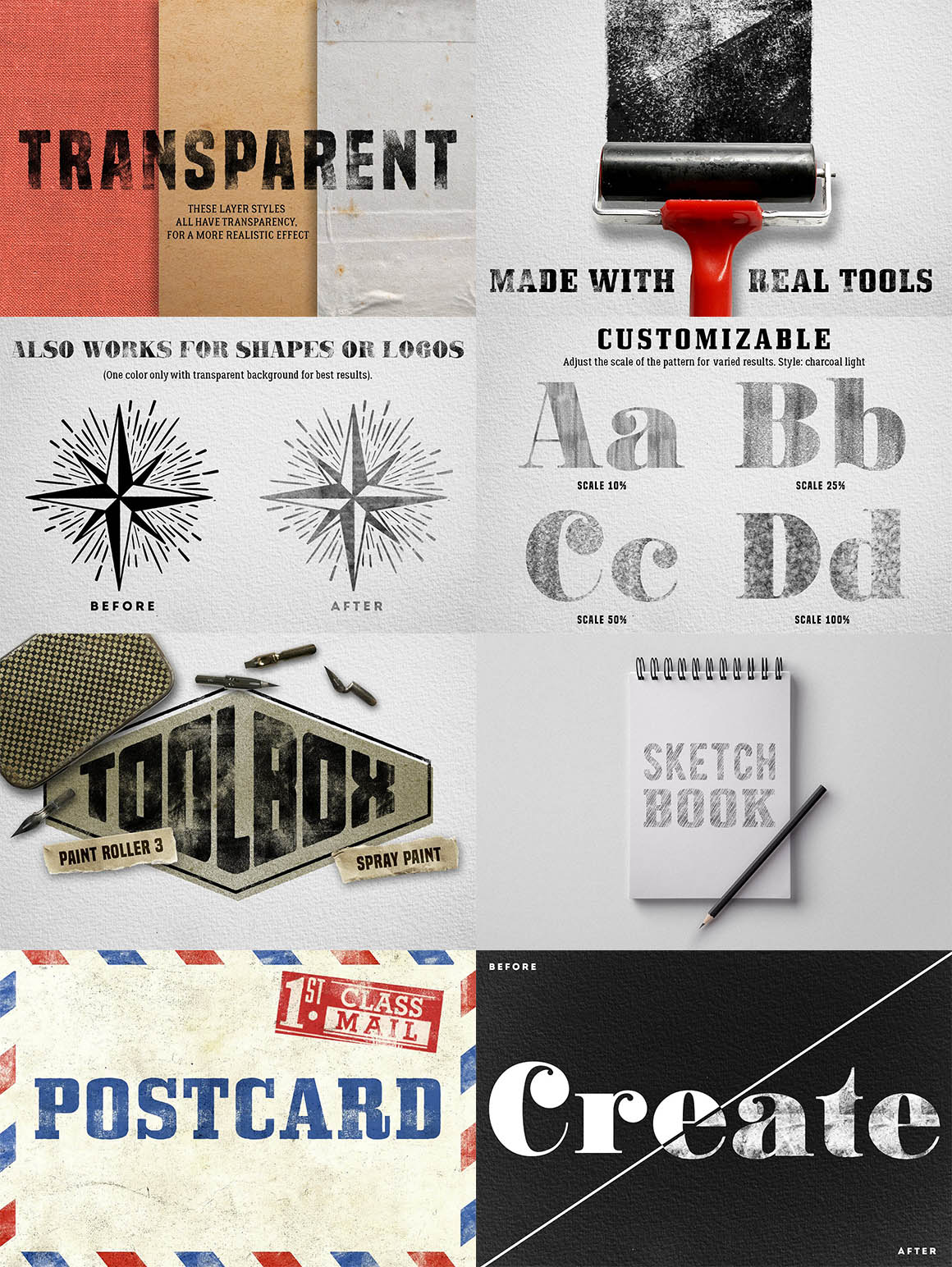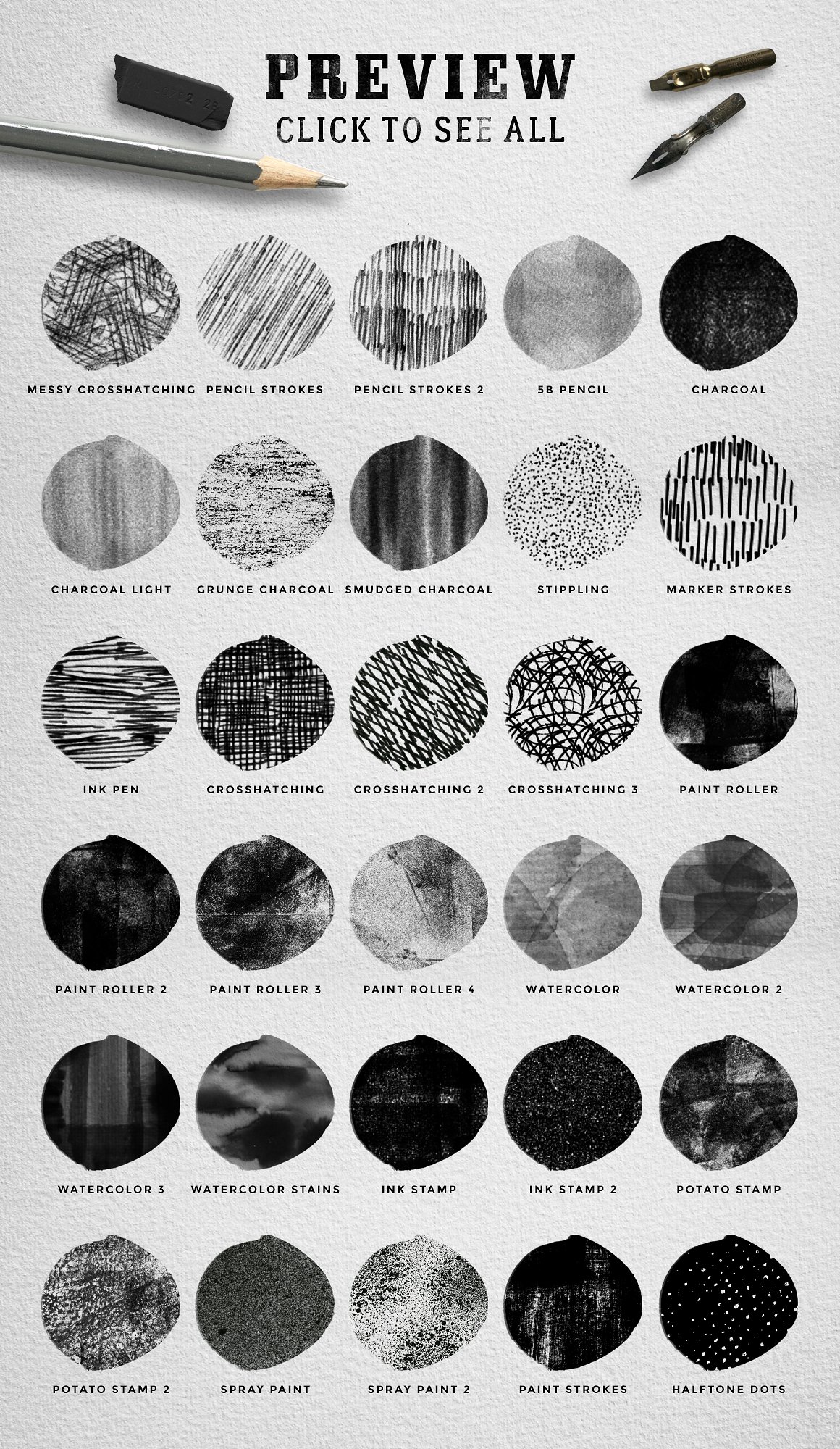 03. Film Dust grunge textures from MiksKS
A set of 20 handmade Film Dust textures in JPG format. These textures feature dust, speckles, grain,… They are great for adding a retro touch to your pictures or designs (either as layer masks or by using blending modes). They can also be used as backgrounds for lettering work, drawings, typography, etc. Each texture is also provided in inverted/negative version. (So in total there are 40 files). Quick tip: Adjust the Levels of the textures to make the grain & dust more or less subtle. Bonus inside! I've included a free smart PSD document (for Photoshop users), with an old movie inspired text effect (like on the thumbnail picture of this set). PSD file size: 3000×2000 px, 300 DPI.
What's included:
You will receive 1 ZIP containing:
• 20 film dust textures in JPG format
• 20 film dust textures in JPG format, inverted version
• 1 Bonus PSD document with a PDF instructions sheet explaining how to use smart objects.
Please note: these are not vector textures – only high res JPG files are included.
• JPG files size: each texture measures 6000×4000 px and has a resolution of 300 dpi.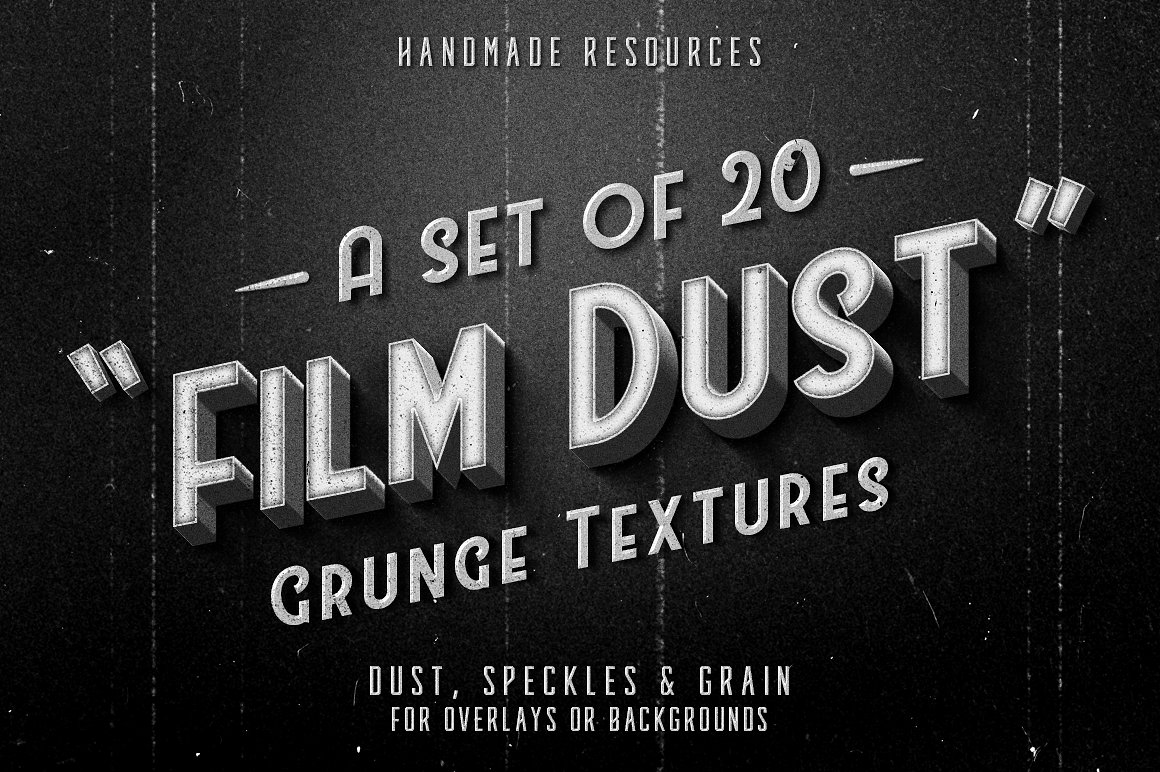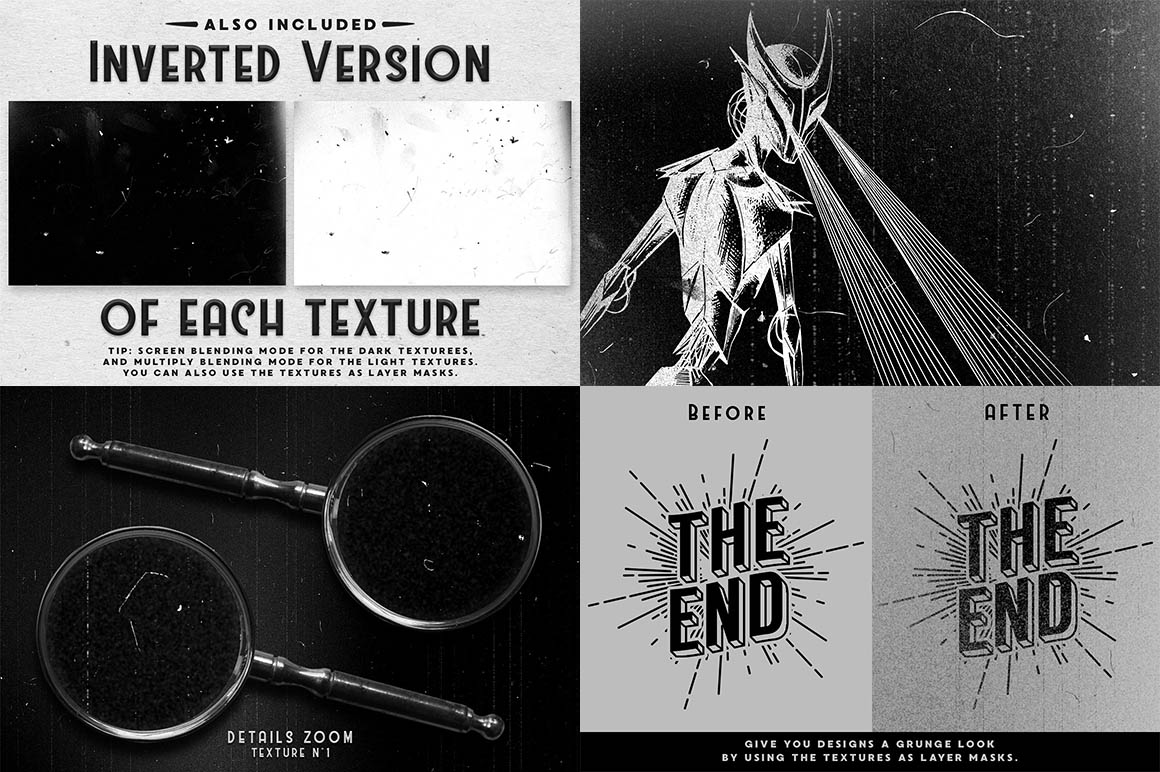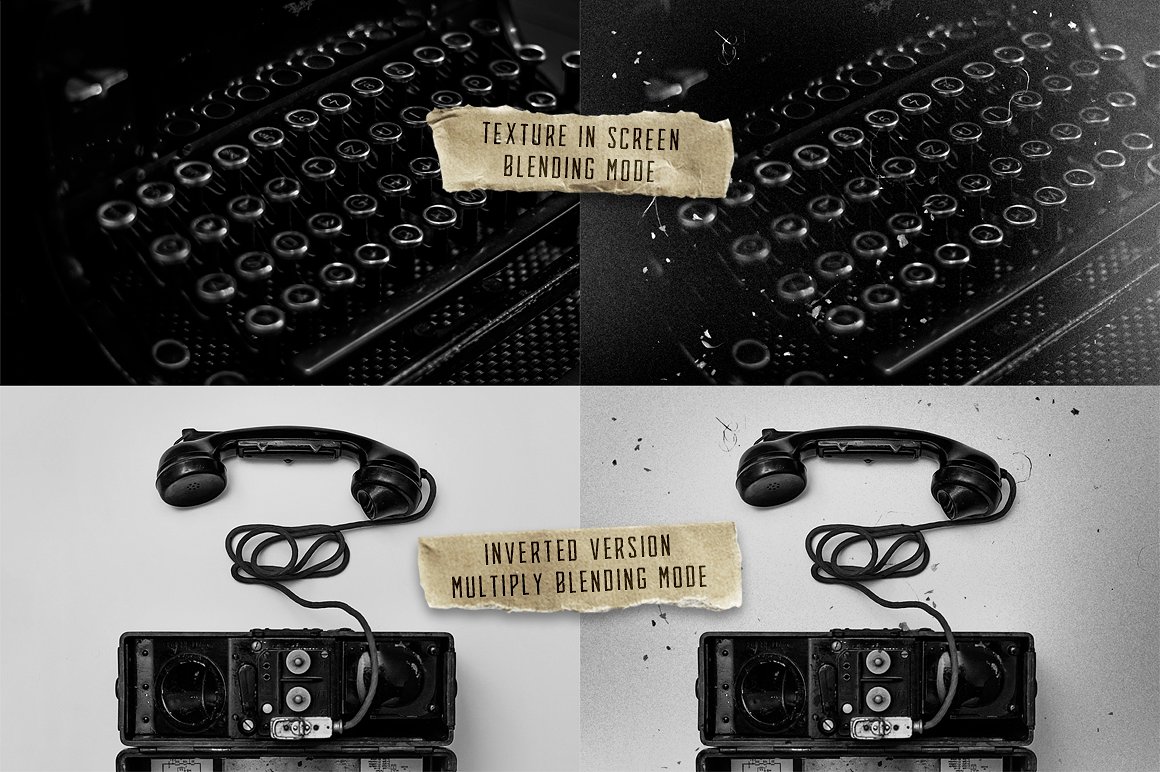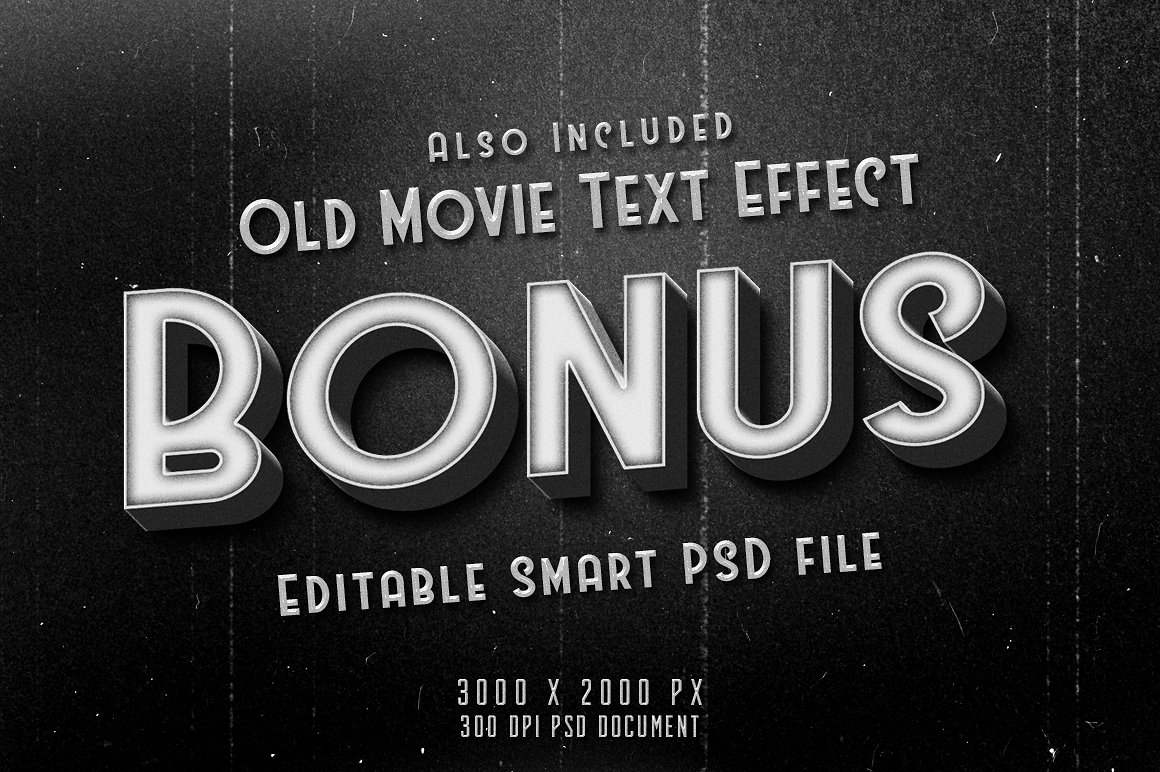 04. Ink Stamp Effects for Photoshop from MiksKS
Easily apply grunge ink stamps effects with these fully editable smart PSDs! Smart objects can be modified while preserving all the existing base effects, and allow a non destructive layer editing.
Three different stamp effects included: standard, light and halftone.
You will receive 3 PSD files, one for each effect.
Files size: 3500x2500px, 300 DPI.
The font included in the preview is called "The Next Font", it can be downloaded for free at www.dafont.com but you can use any font you like.
A grunge texture is also included in each file as a background, but you can also disable the layer to get a blank background, or add your own if you want.
Just add your own text or design using the smart layers included in the PSD to get the ink stamp effect of your choice.
Instructions are included in each file, in the top layer. Don't hesitate to contact me if you have any questions or if something isn't clear.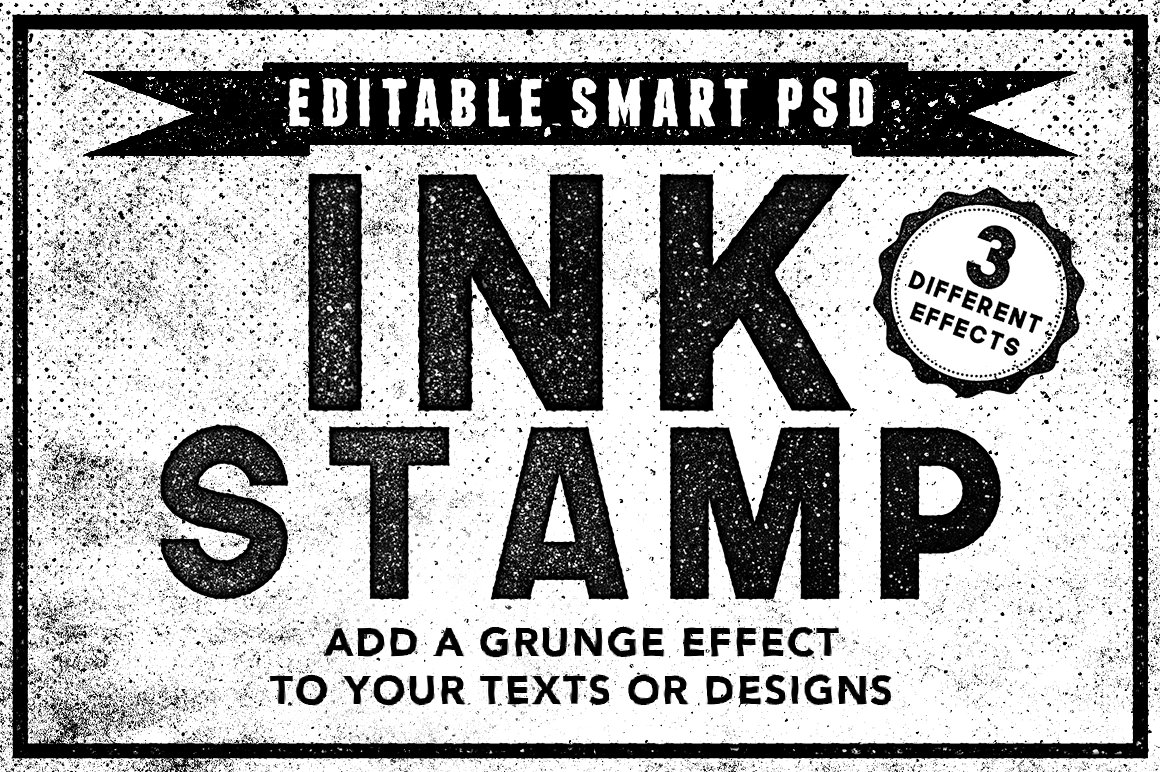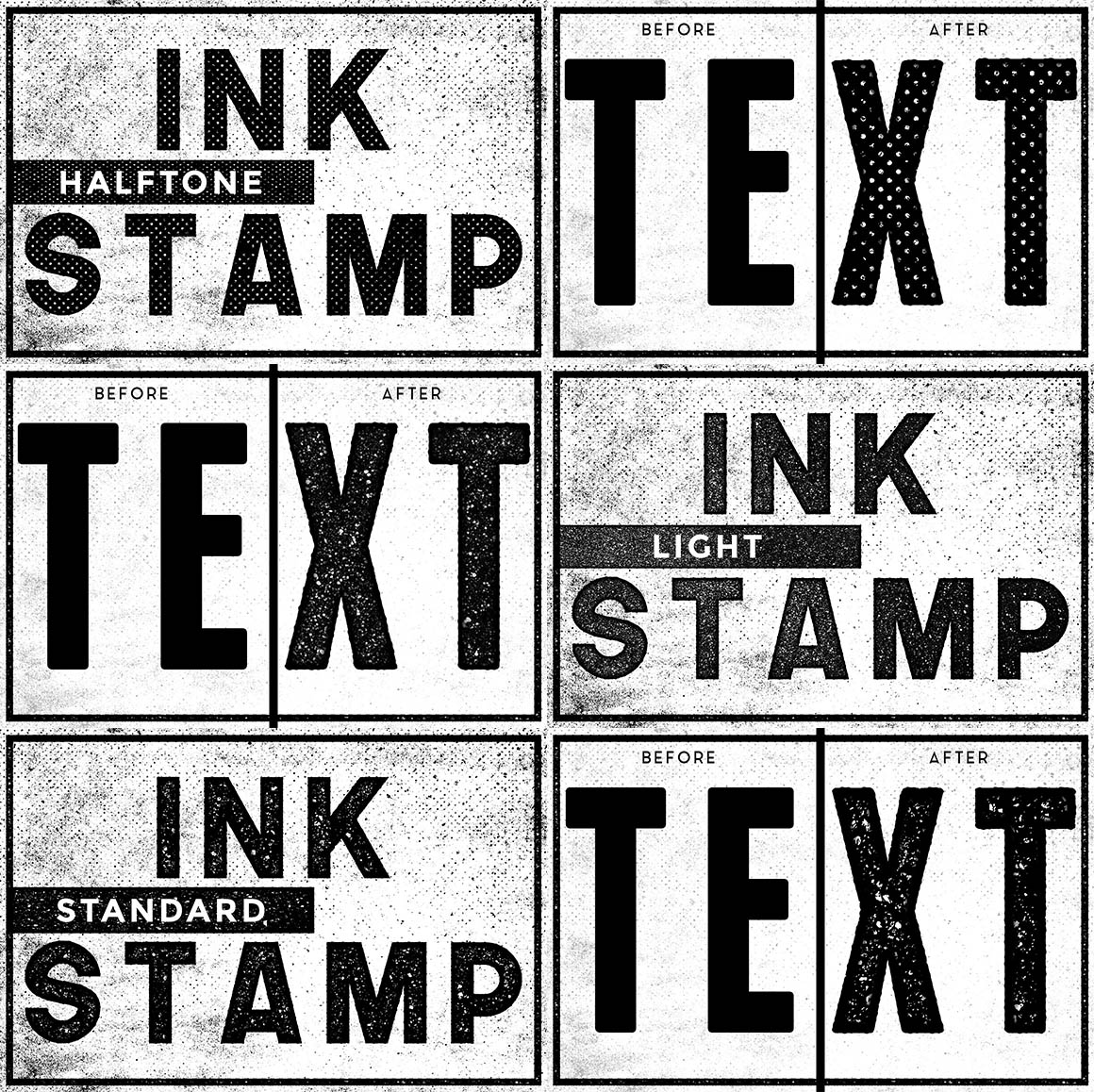 05. Letterpress Layer Styles Photoshop from MiksKS
A set of 30 letterpress effect layer styles for Photoshop.
Letterpress effect in one click! Layer styles are fully editable – you can tweak the settings so they fit your design.
You will receive one .asl file containing the 30 layer styles.
Adding & using layer styles: to add the layer styles, select "Load styles" in the "Styles" panel in photoshop. Locate the letterpress set, and click open. To use a layer style, just select the layer where you want the effect to be, and click on the layer style thumbnail of your choice in the Styles panel. A series of effect will be applied to the layer selected. These effects can be edited – just double click on the layer thumbnail to see all the effects applied & modify them if needed (color, size of shadows, etc). It can be necessary if for example you are using these letterpress styles on very small text, you might have to reduce the size/intensity of some of the effects.
These effects have been designed for text, but they can also be added to shapes and other elements.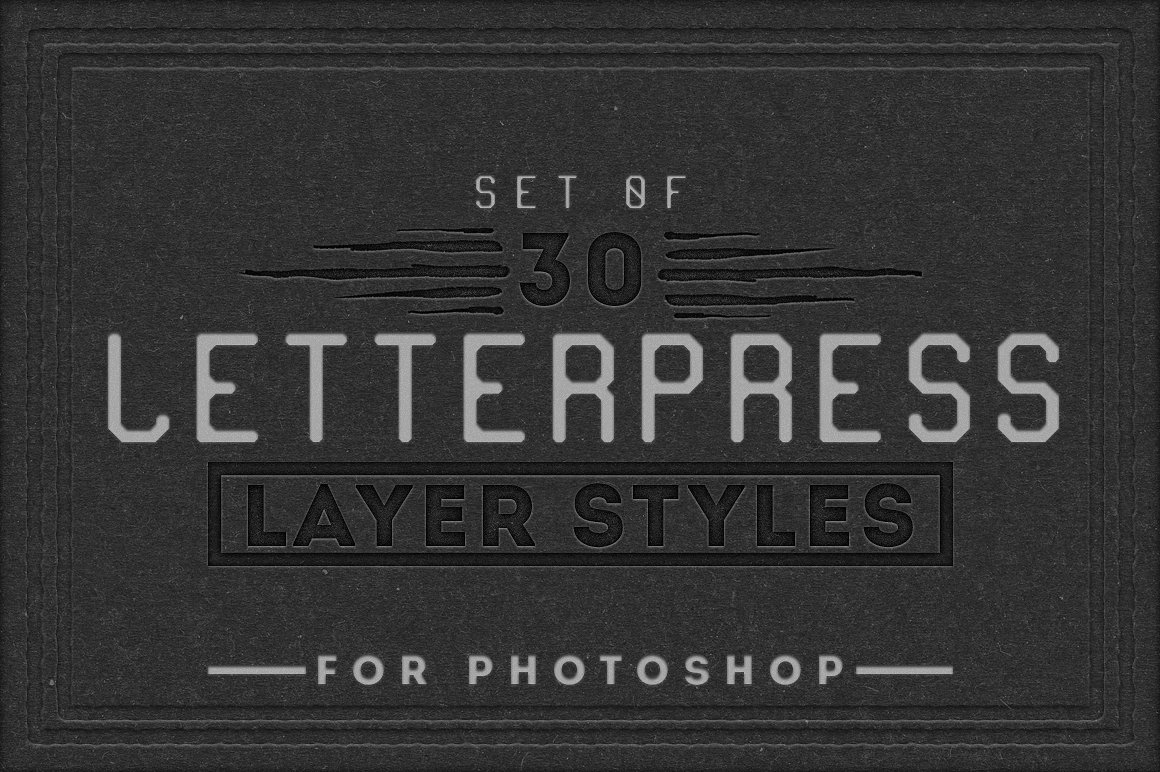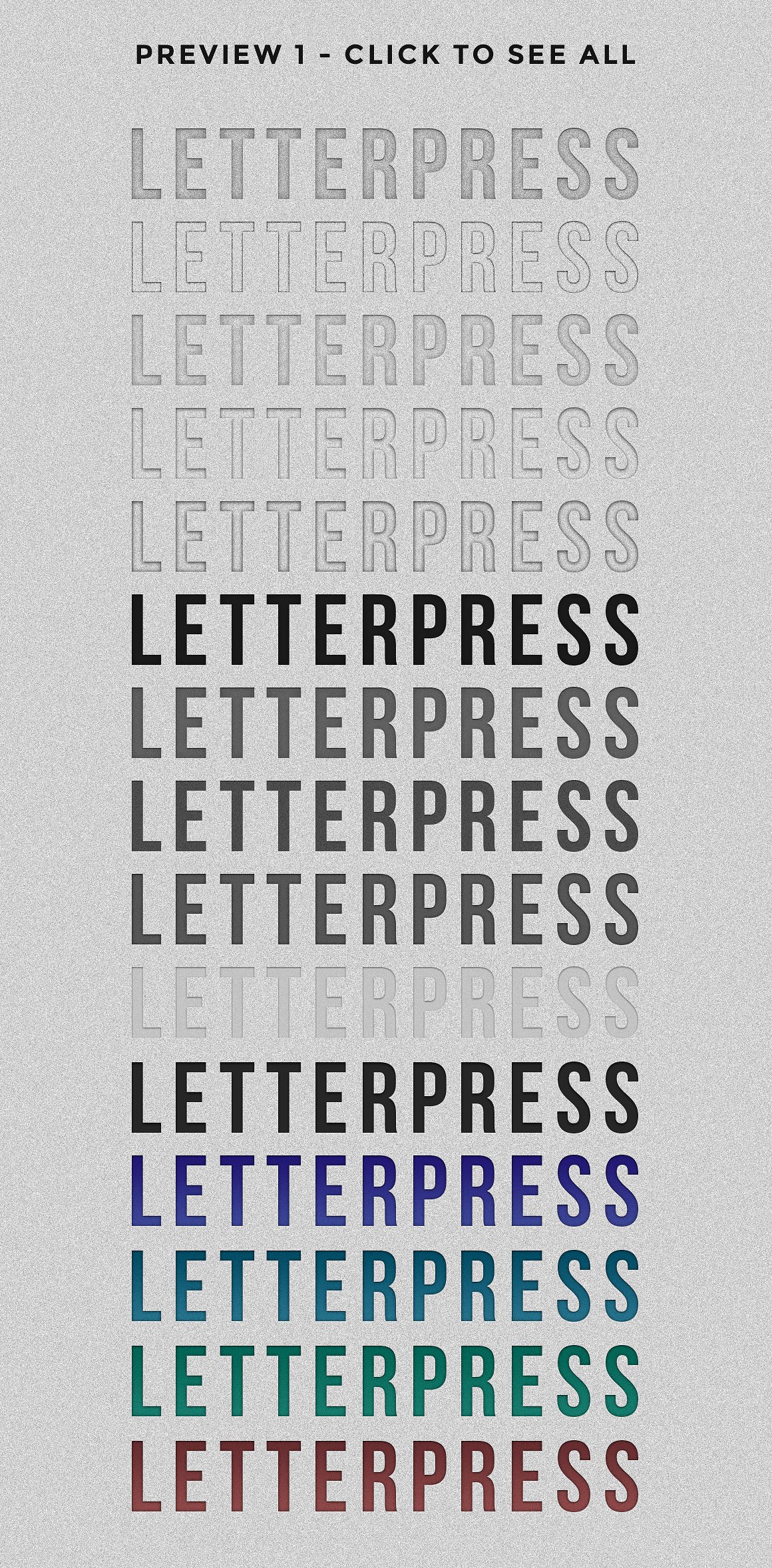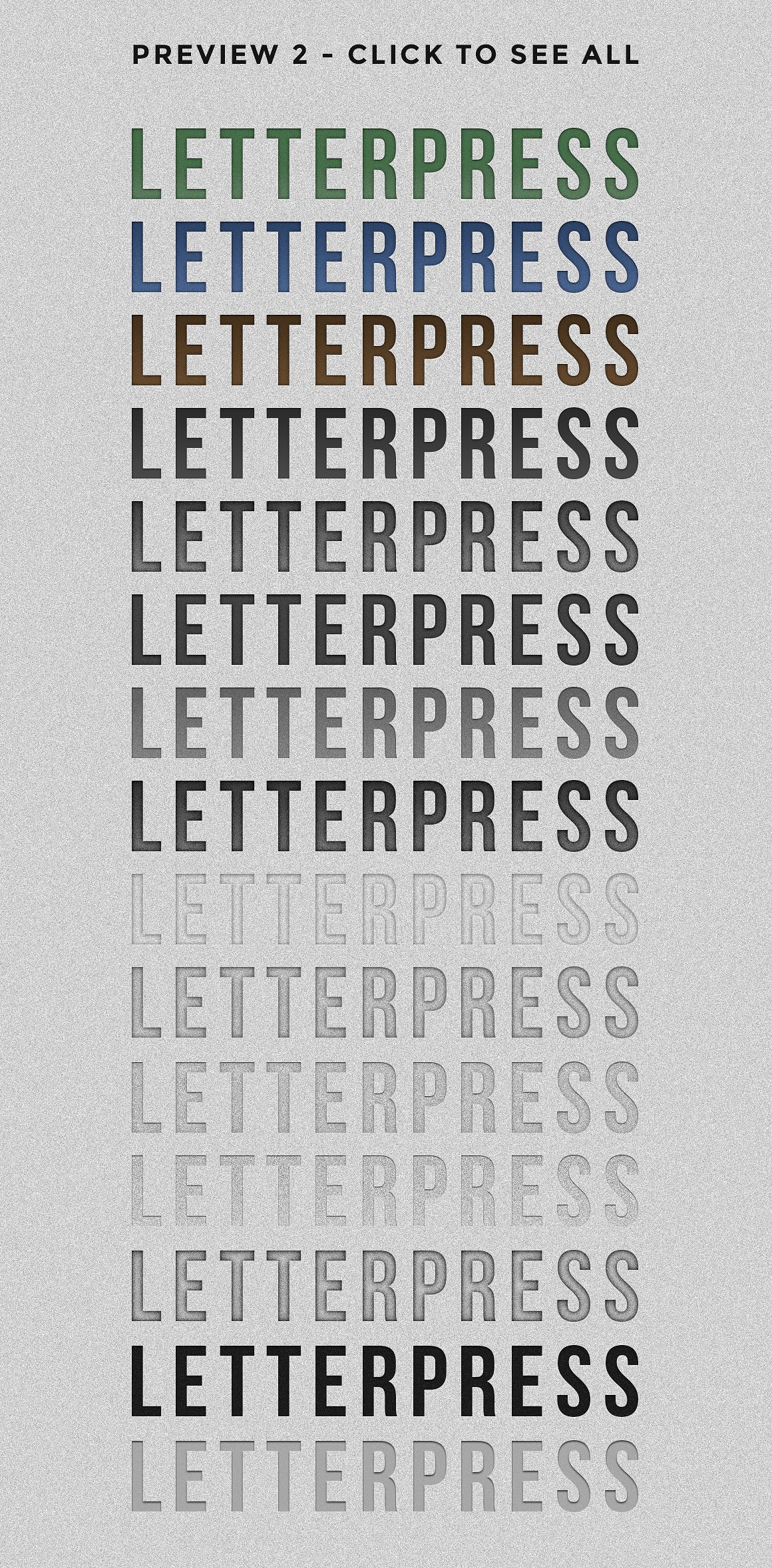 06. Vintage Photoshop text effects from MiksKS
This vintage inspired text effects set consists of 8 smart PSD documents with editable text. Smart objects are great because they allow to have a lot of different effects on several layers and all these effects get updated automatically when you edit the text. The PSD files are layered and fully editable. Layers are named, arranged in groups, and the smart object layer is highlighted in red for easy editing. (An instruction sheet explaining how to use documents with smart object is included). Compatibility: tested & working with Photoshop CS5 and up. Please note: these texts effects are designed for Photoshop only. They won't work in Illustrator or other programs.
What's included:
8 PSD files with smart objects (3000 x 2200 px, 300 DPI)
PDF instructions sheet (fonts download links included)
JPG preview of the 8 effects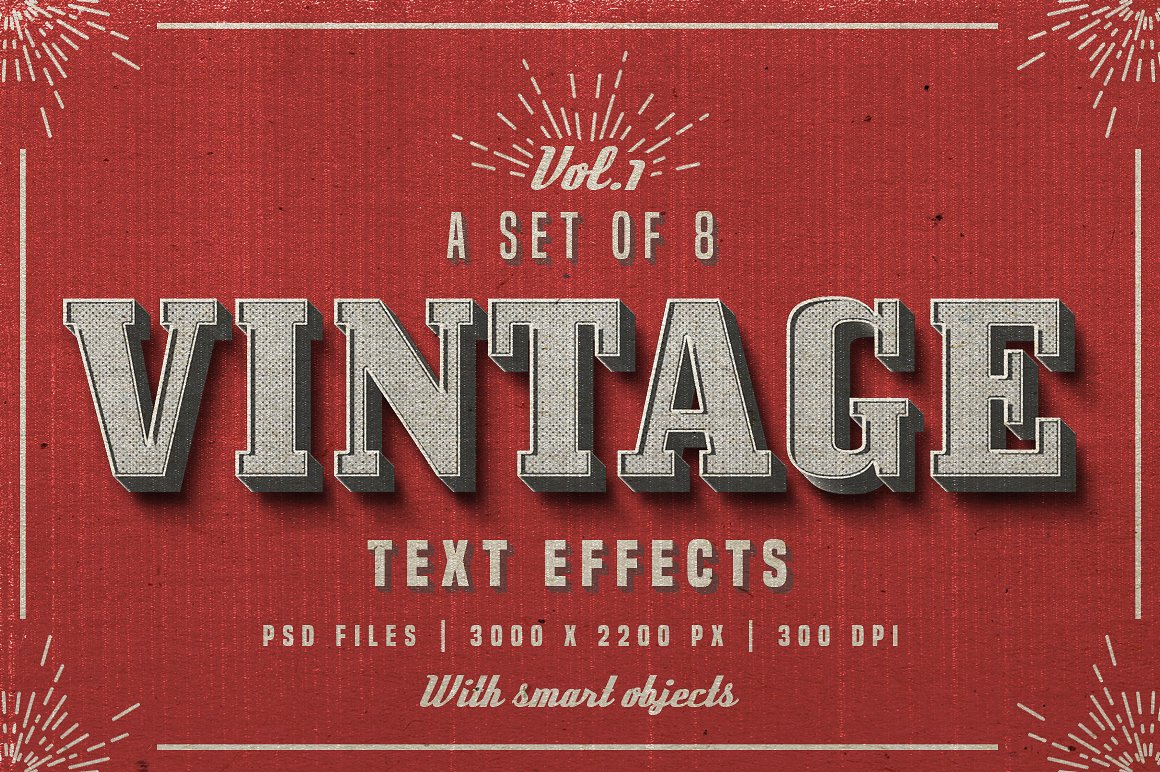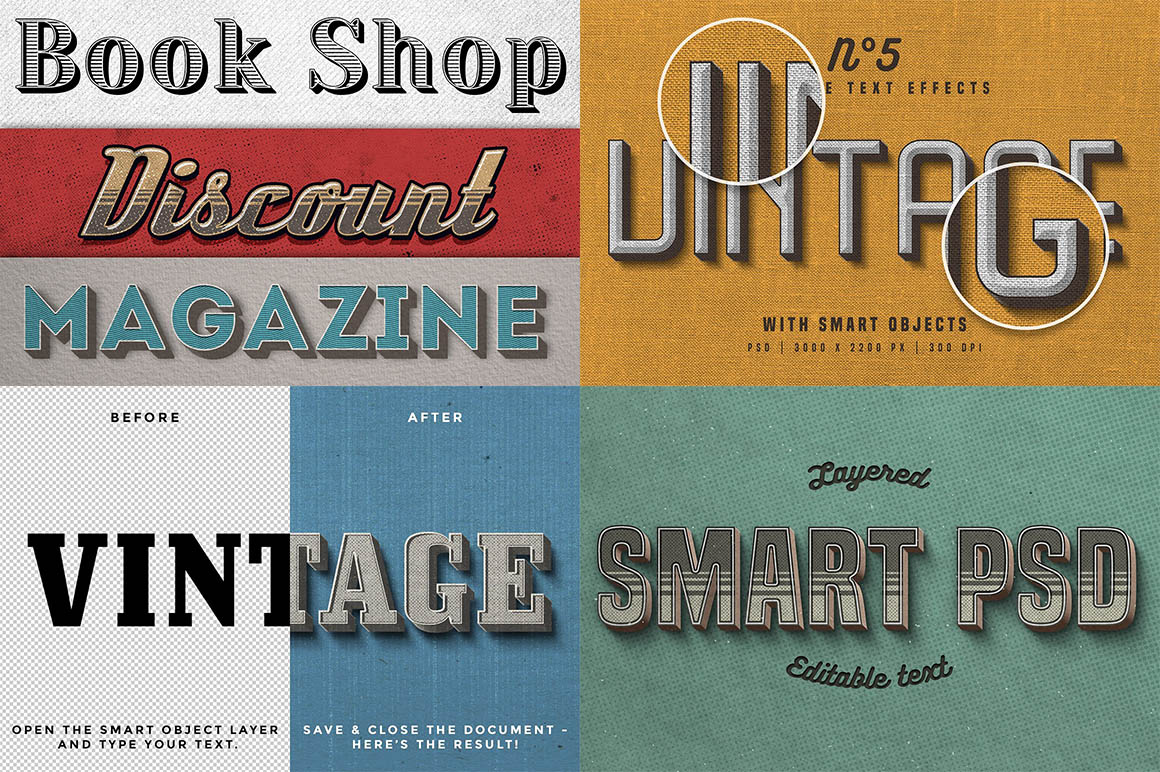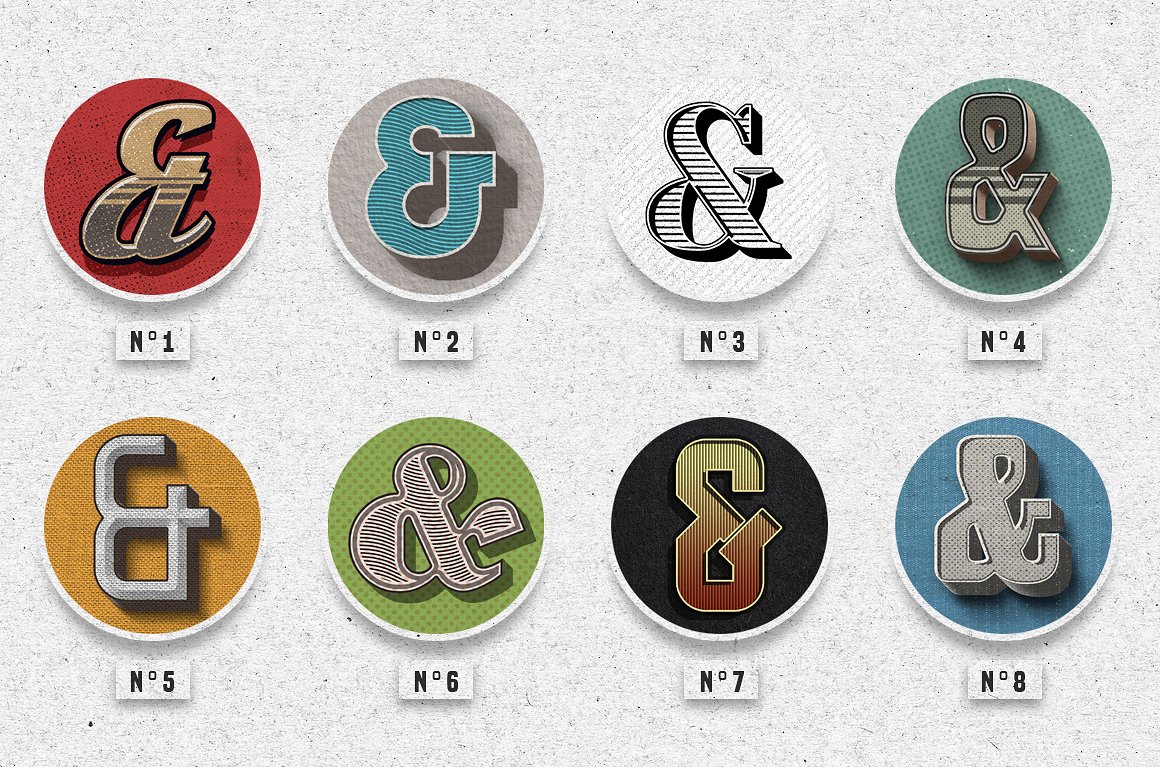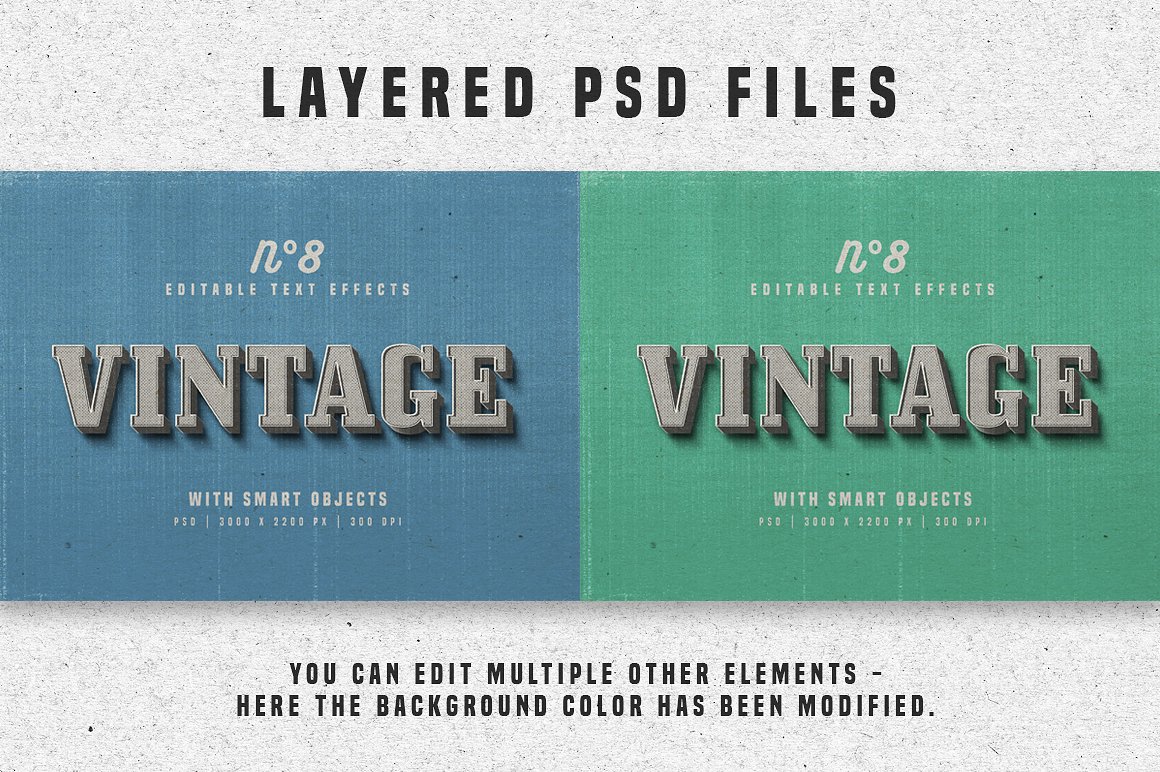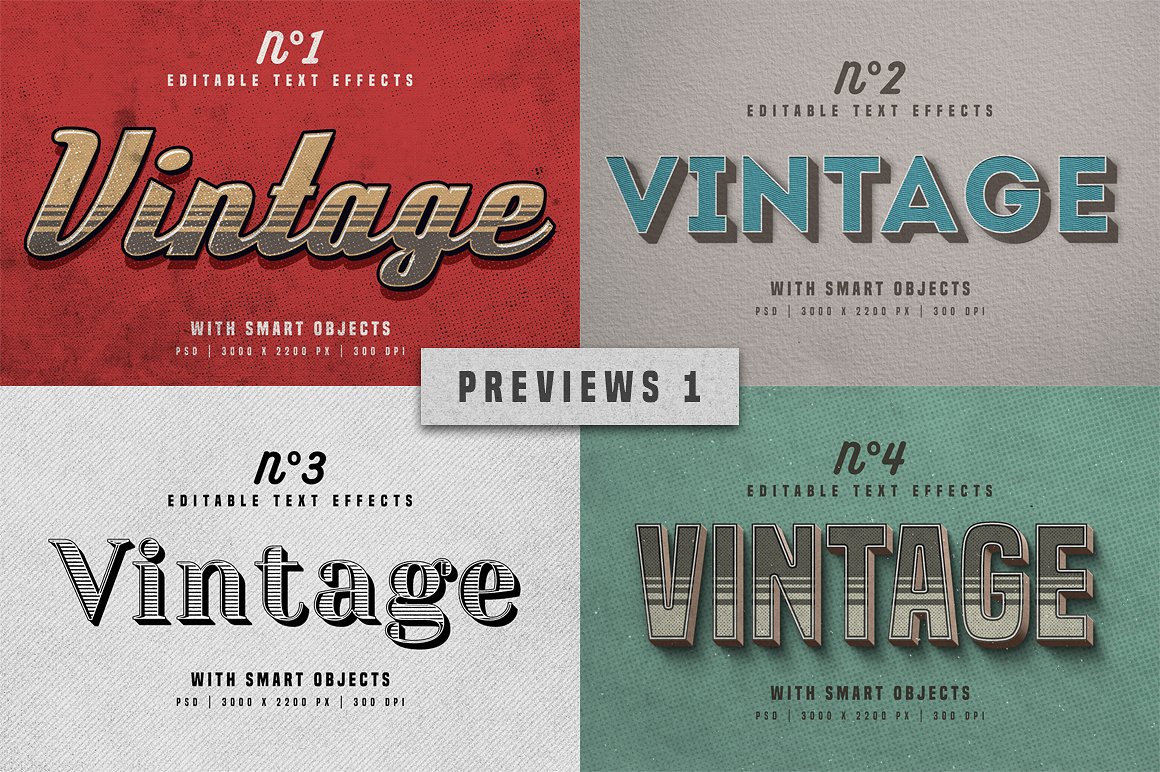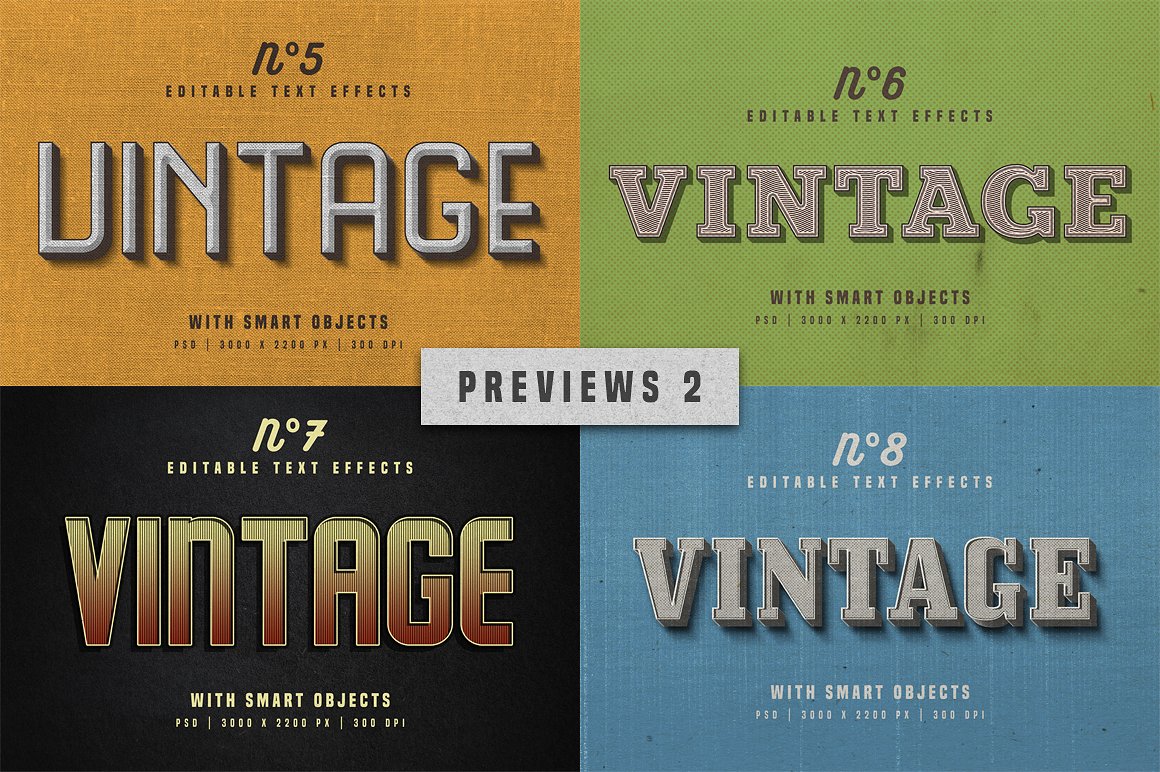 This bundle highlights:
6 super creative  Photoshop graphics sets!
extended license (like all of our deals): use for personal and commercial projects + you can also use them in designs/products that you sell. You can use all these items as a part of your non-digital or digital designs ( posters, t-shirt designs, stickers, web templates…). You cannot resell these files directly, or within items/goods where they can be extracted in their original form (like vector shapes, elements, fonts… – they need to be flatten into background or object in your digital item)
Pricing:
Normally, all these Photoshop graphics sets would cost you $49 (without extended license!), but for a limited time only, you can get this unique collection for $12!
Deal Terms:
Delivered as an instant download, after completing your purchase.
Items can be used for both personal and commercial purposes, for yourself or on behalf of a client, on their own, or as part of your new design for sale.
Cannot be sublicensed, resold, shared, transferred, or otherwise redistributed on its own.
You cannot share these resources with others. This is a single user license (for 1 user on any number of devices)! You'll need second license for your colleague computer!