Need some romantic, floral, natural, decorative, abstract & wedding style illustration or graphic set for your new web or print project? Whatever the case, this beautiful watercolor or linear illustration and graphics bundle with lot of handdrawn illustrations, graphic elements, compositions & patterns is great source for all print or branding designers…. These graphics are in hi-res PNG or JPG image format so all are great for your new web design or any print design projects. Enjoy 😉
All these elegant & romantic style watercolor graphics from MikiBith Art are ready for print or online use! MAIN USAGE: flyers, posters, greeting cards, branding, packaging, phone cases, bags and totes, wall art, fabrics, t-shirts, website backgrounds. Actually any place you love! Enjoy 😉
With this deal you get:
15 artistic, decorative & wedding style botanical illustration & graphics toolkits!
hi-res PNG or JPG image format (some sets also in vector formats)
Ready for print or online use (you can work with PNG images in any graphic software)

Take a look at what you can get: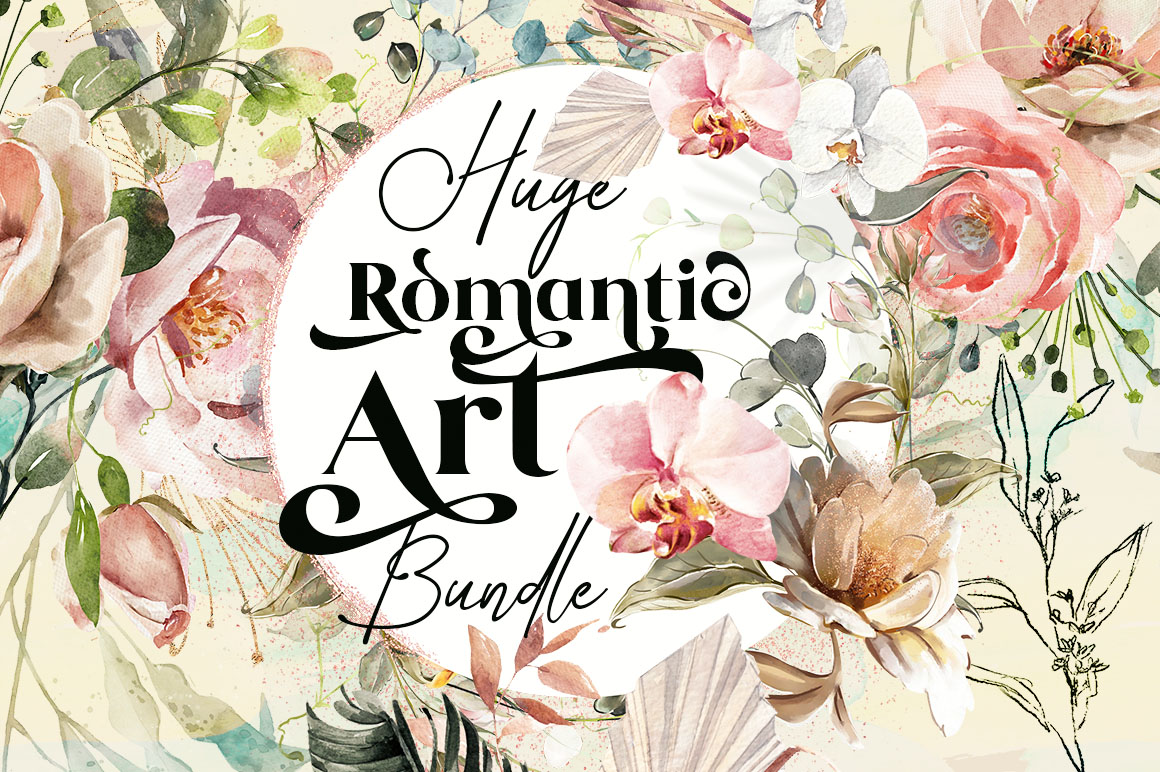 15 romantic, floral, botanical & wedding illustration sets!
1. Harmonia Flowers Autumn Collection from MikiBith Art
Lush Creamy Floral collection with white roses, petals and branches. Wedding invites and wreaths, seamless pattern, bouquets in autumns pallet.
12 floral arrangements transparent PNG,
3 jpeg images,
3 paper, 1 texture transparent PNG, 1 layered PSD paper creator,
6 rose gold ombre.
11 elements PNG,
2 seamless patterns,
5 Frames Save the Date,
4 Wreaths PNG.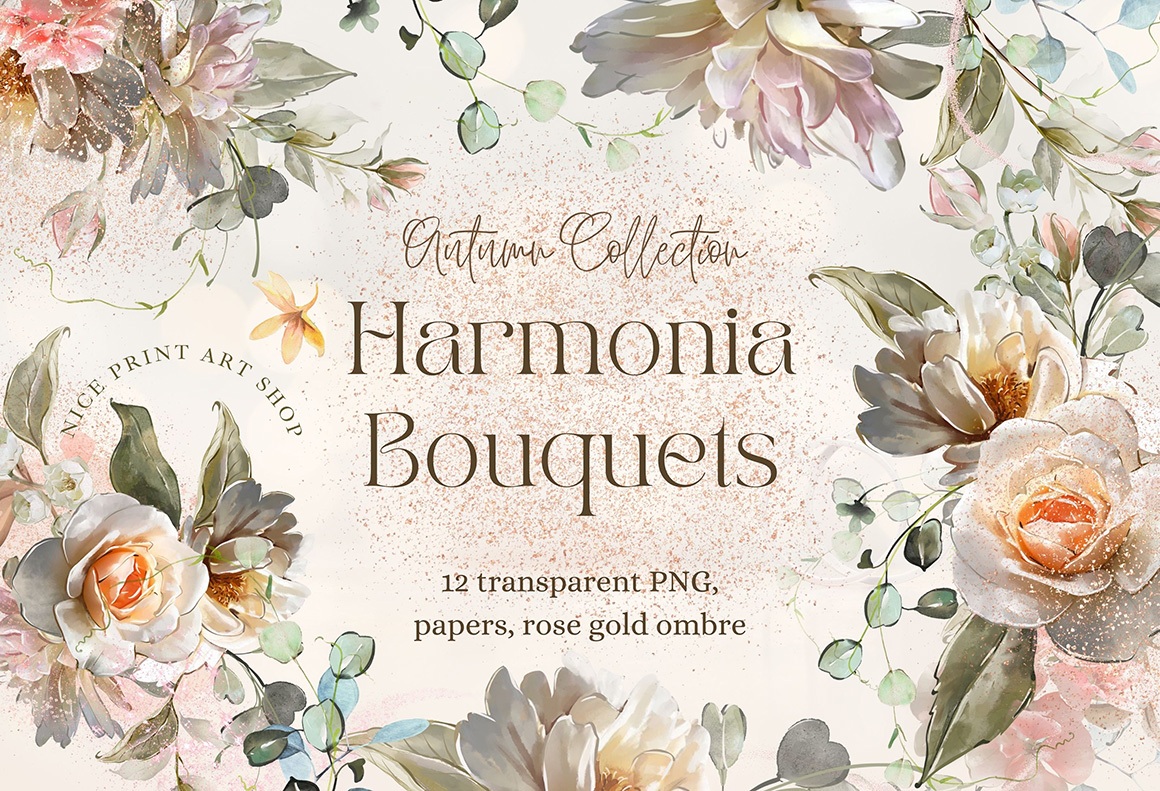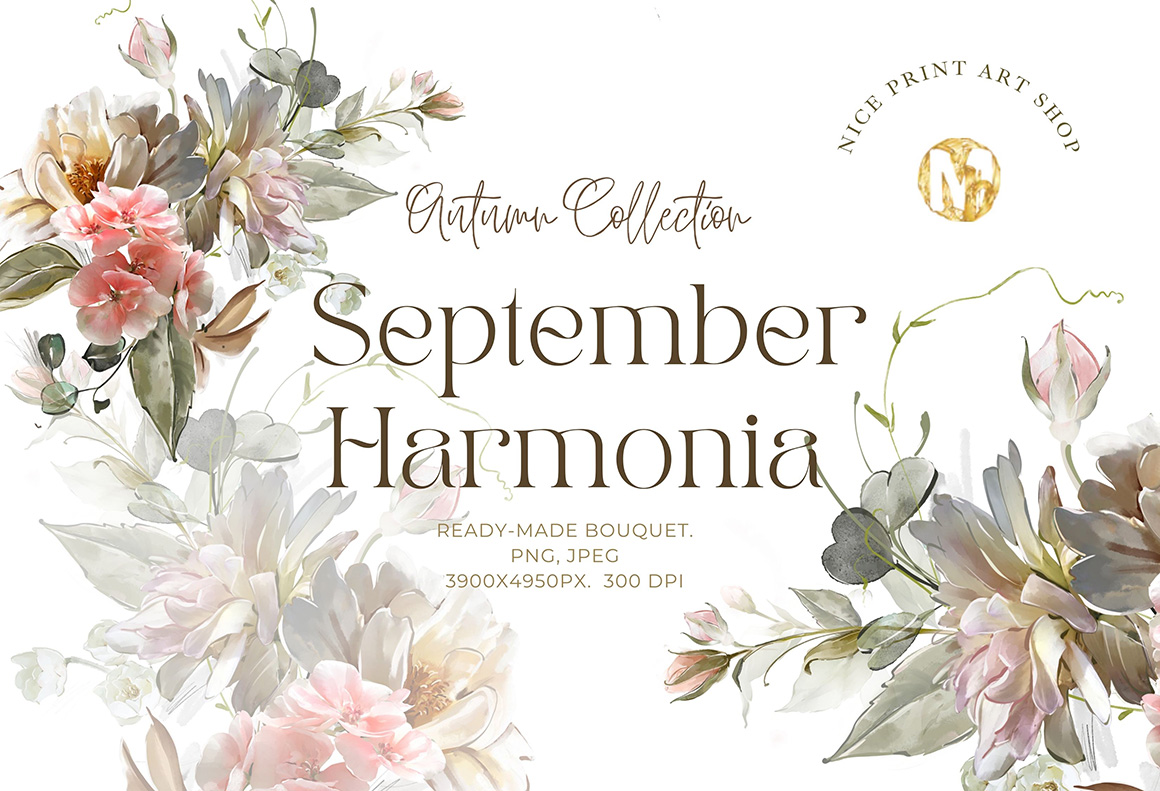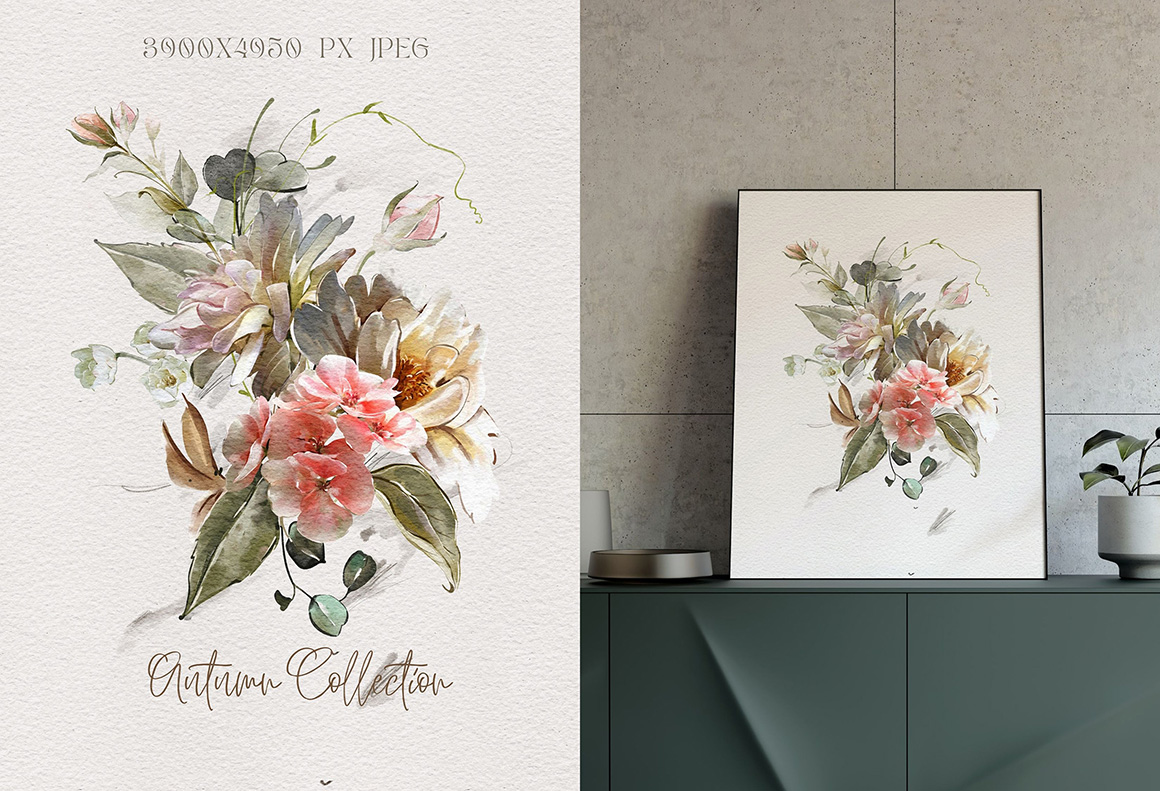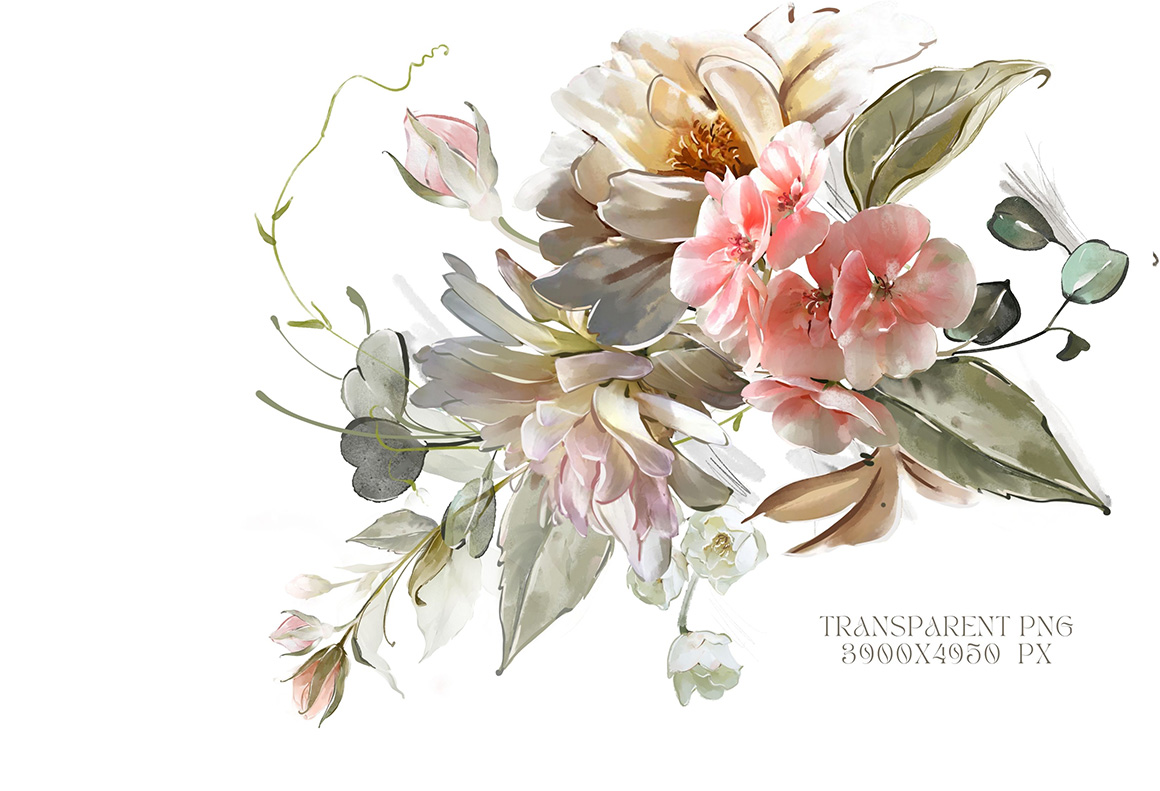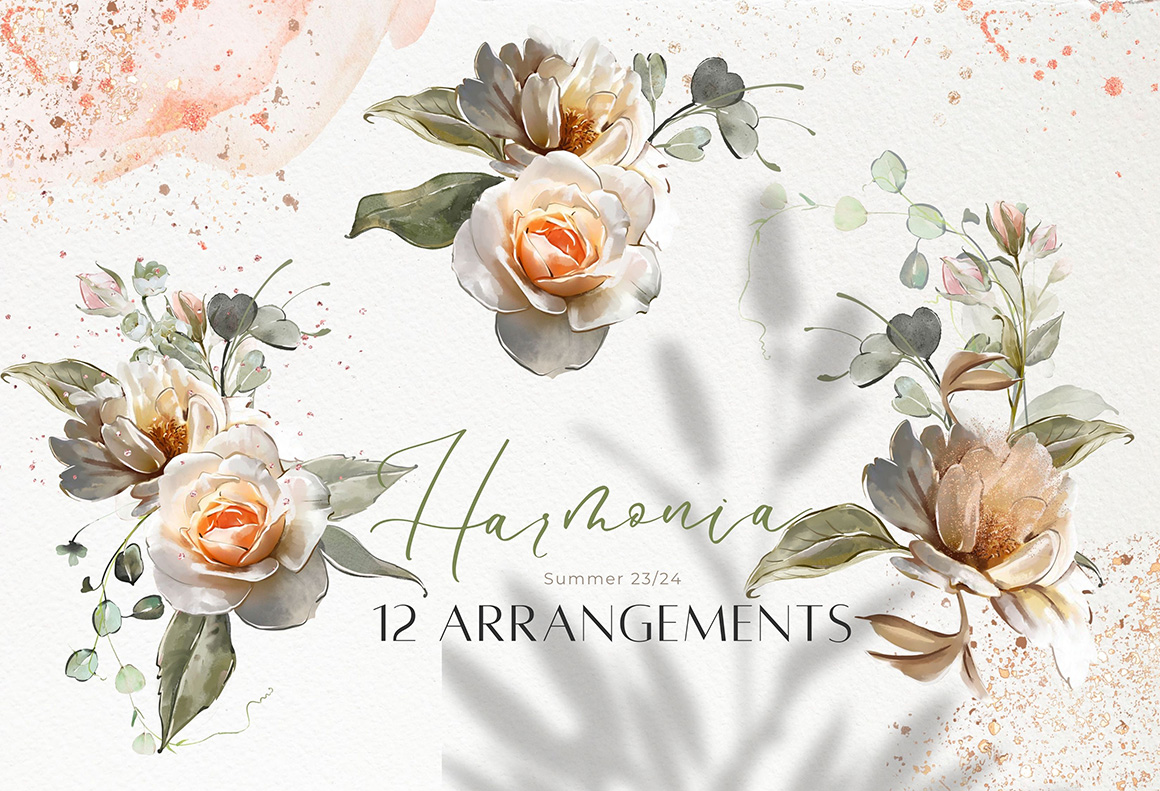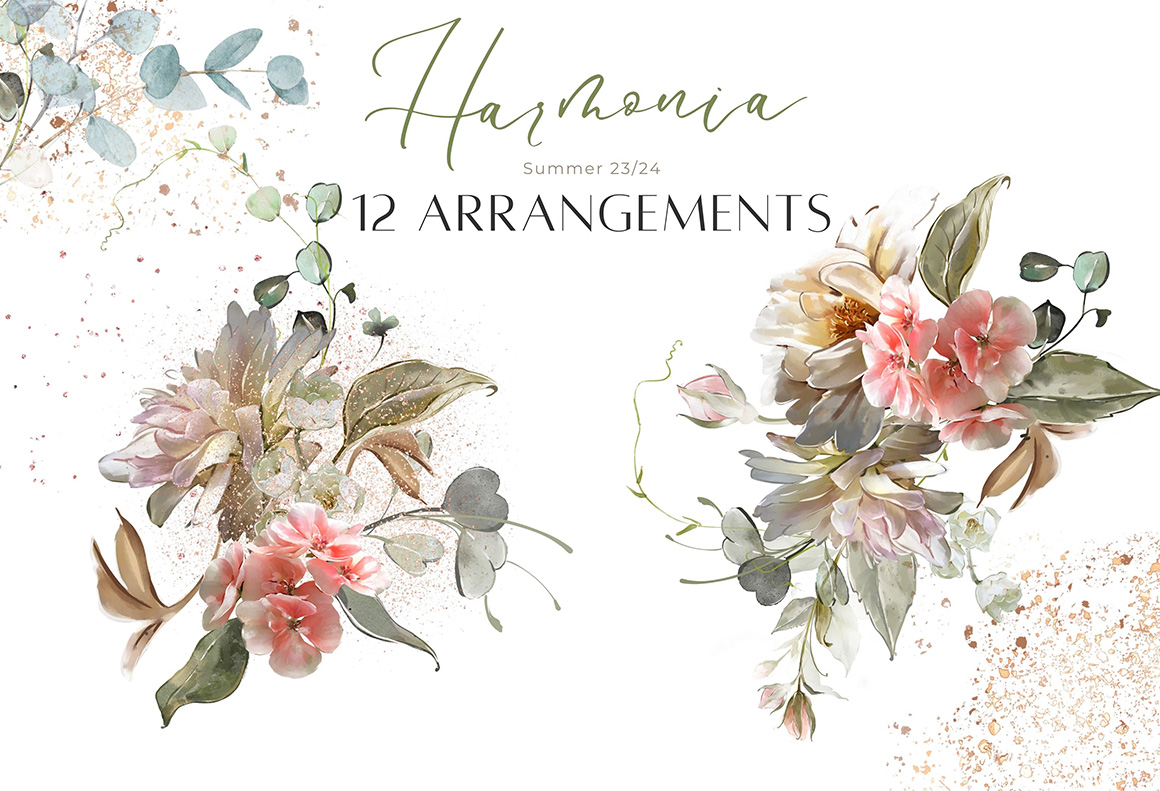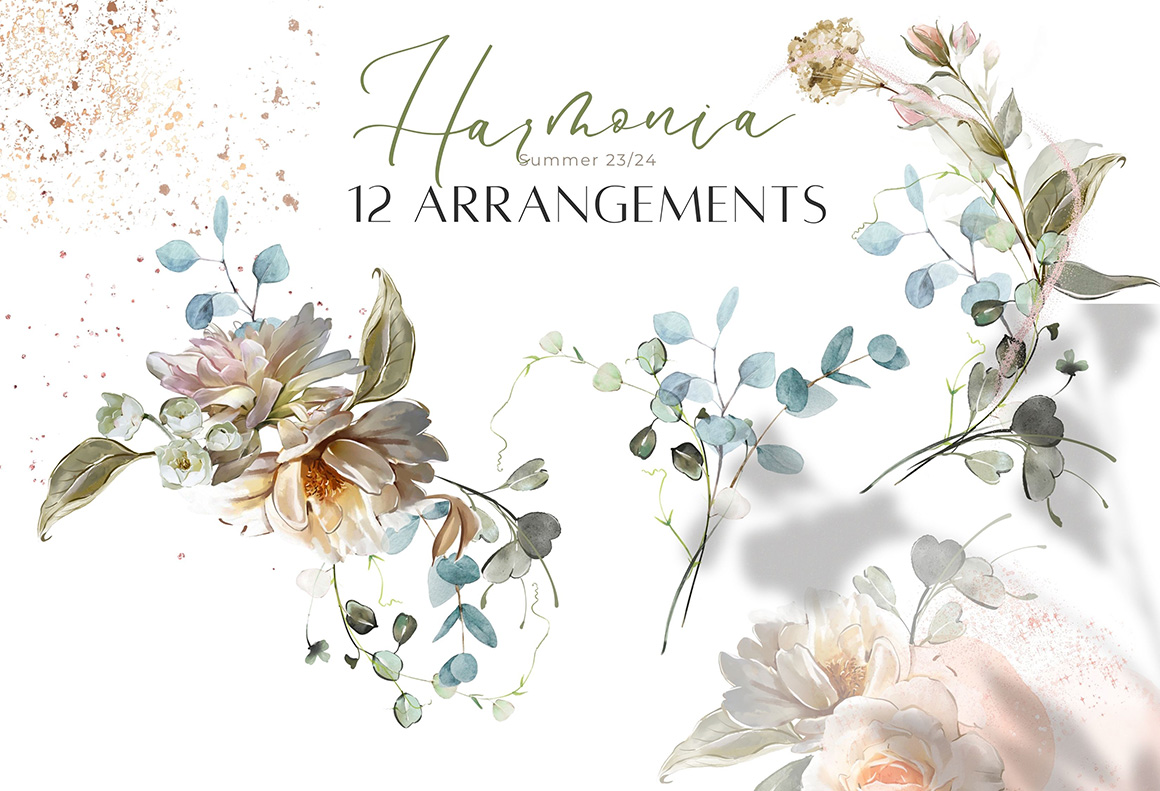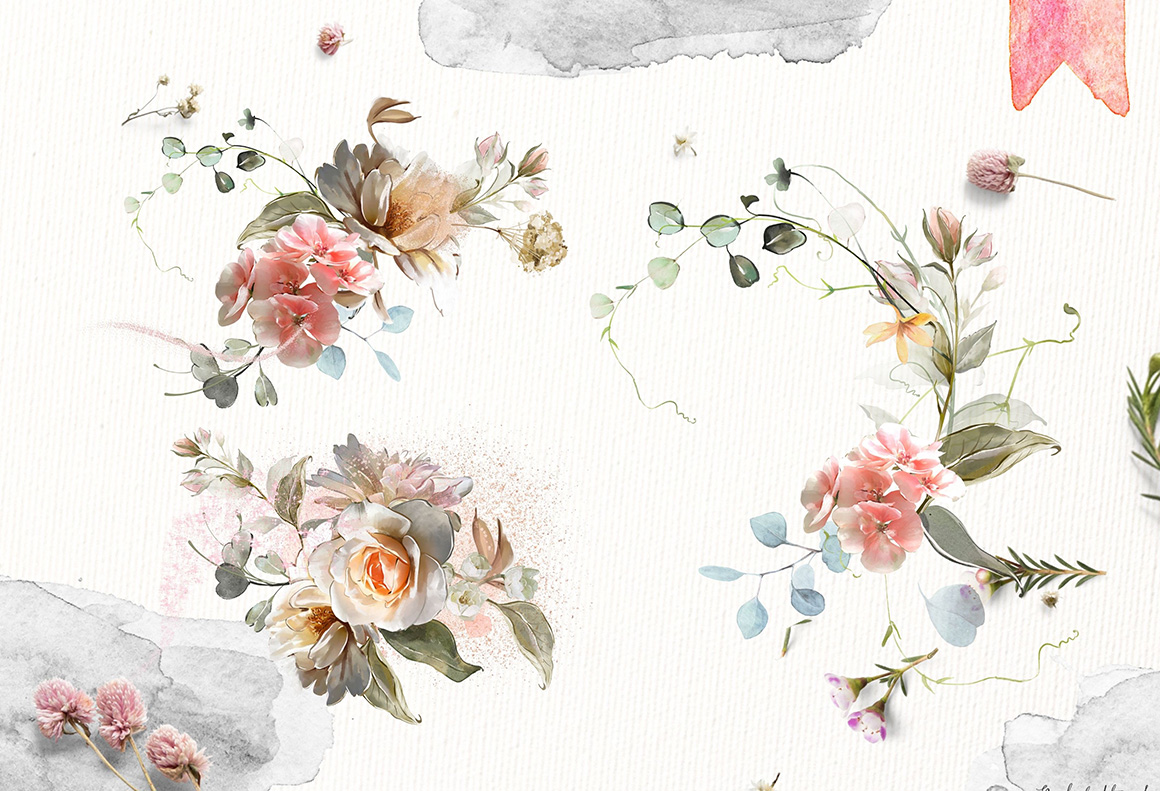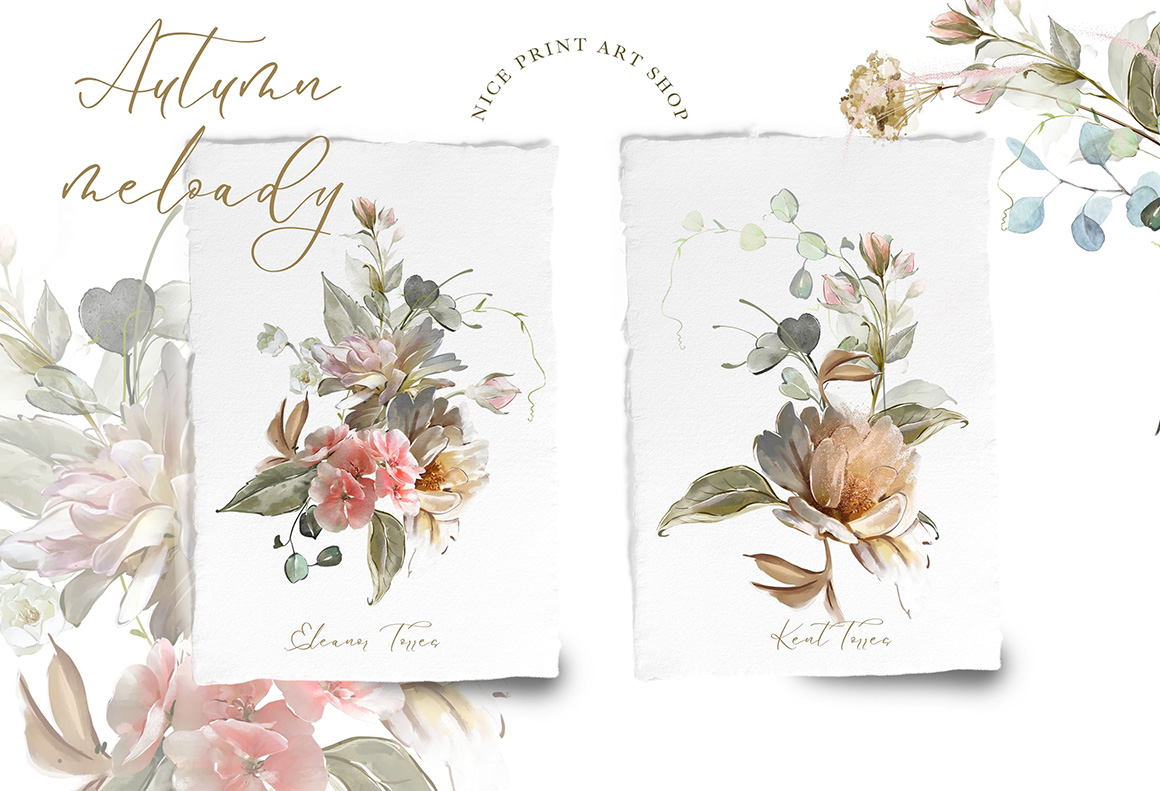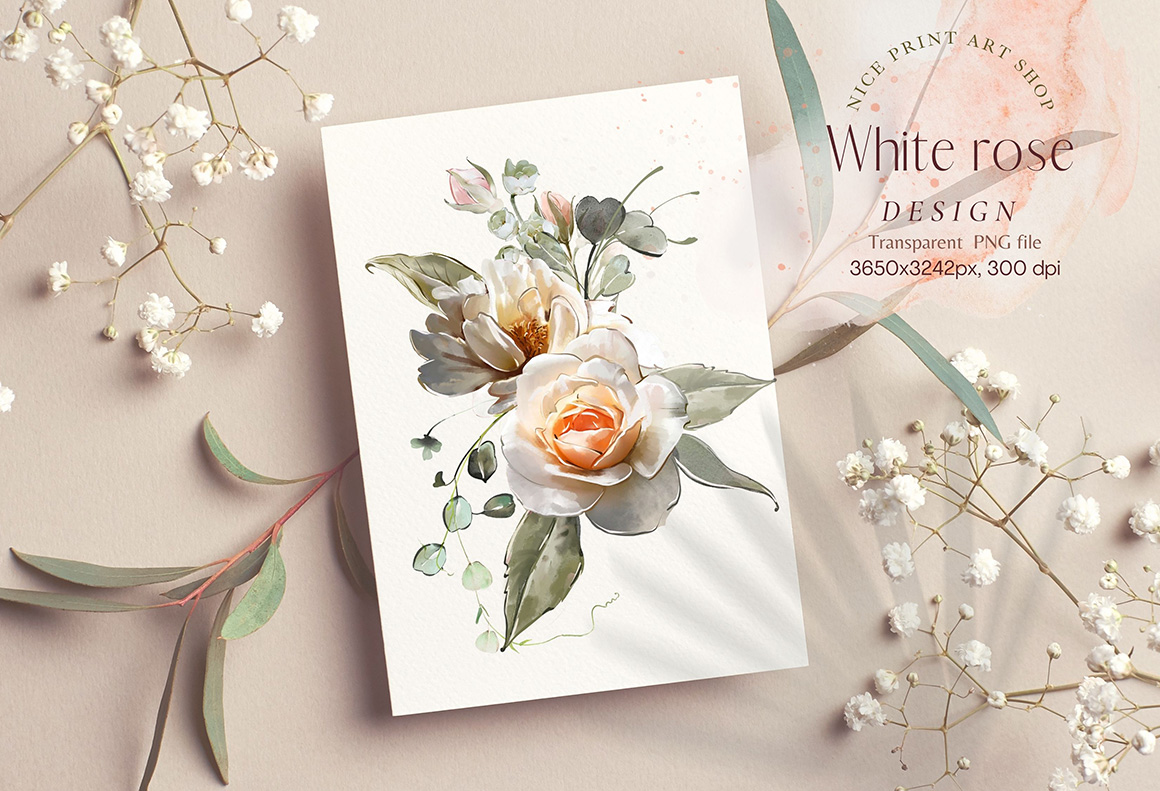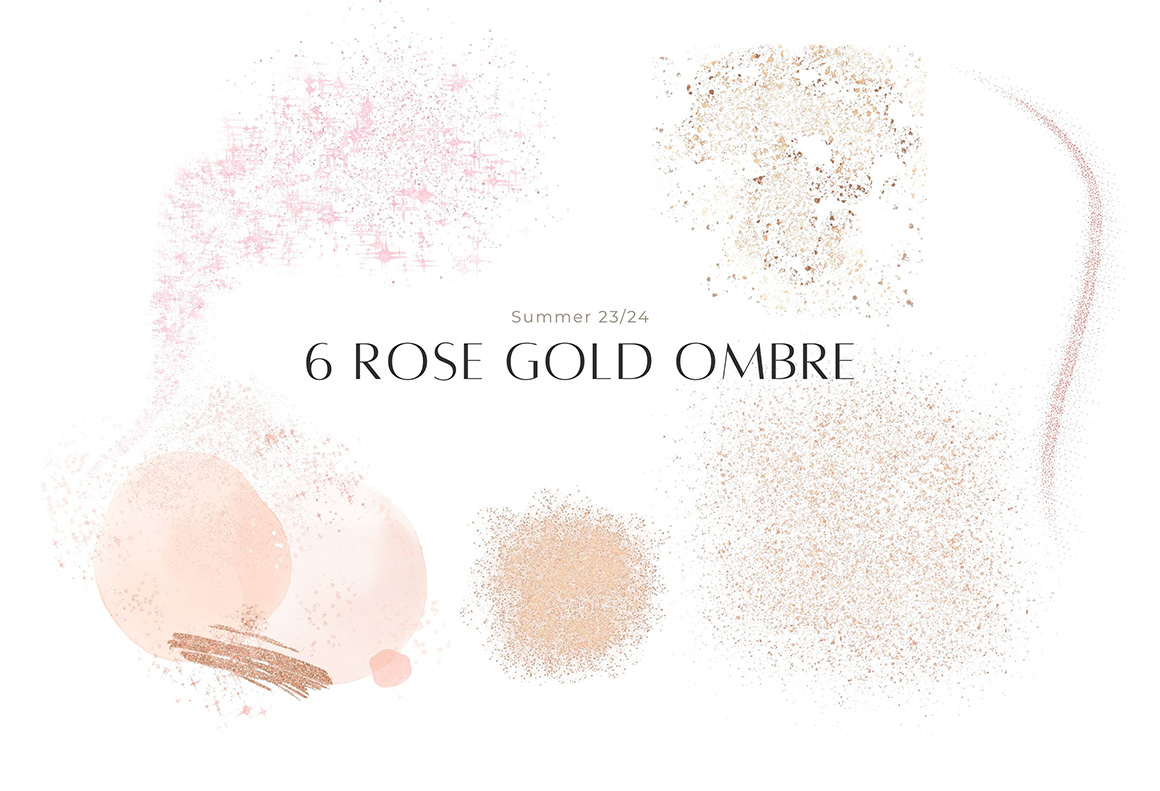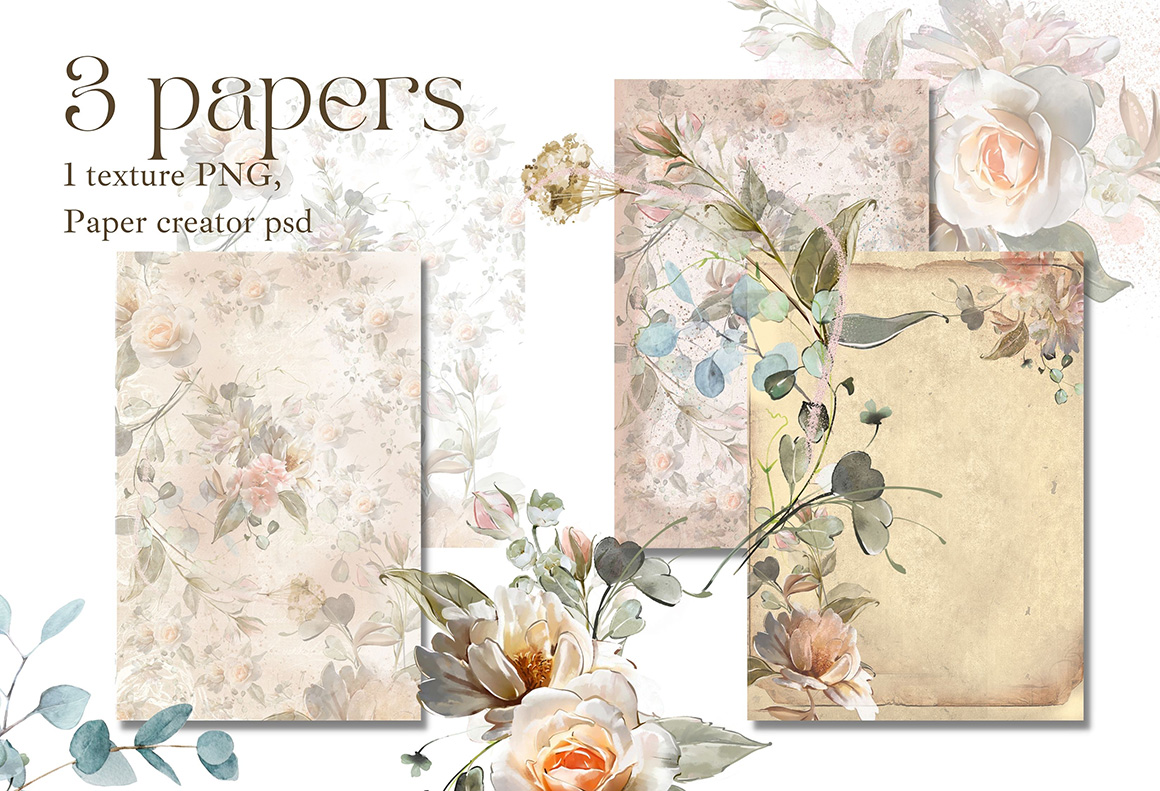 2. Fantastic Dream from MikiBith Art
Fantastic watercolor collection with landscapes, ladies, a high-resolution ready-made​ wallpapers jpeg, floral magical wreaths and frames, woodlands​ and forests. It has terrific moments, especially at the ready-made wallpapers designs, mystical floral arrangements and landscapes. Enjoy!
Whats has​ included:
OVER 110 PNG files, layered PSD​, JPEG with effects and wallpapers.
flowers 30 PNG;
Landscapes 6 PNG;
ladies in the different colored dress 10 transparent PNG;
animals with effects 7 PNG;
collection with 11 crystals​ PNG;
decorated elements 8 png;
bouquets 7 png;
watercolor ombre 9 png;
round shape designs 2 psd, png;
decorated wreaths 10 psd, png;
fantasy compositions with ladies and landscapes 4 png;
ready-made wallpapers 4 jpeg,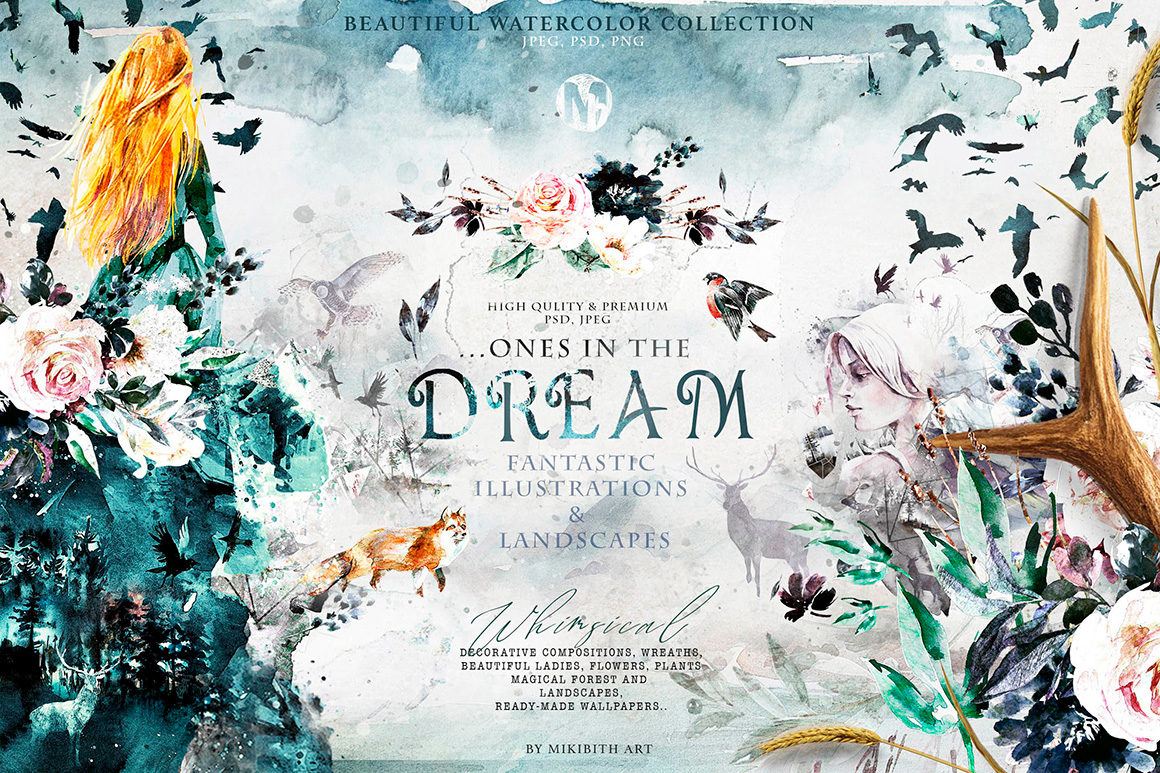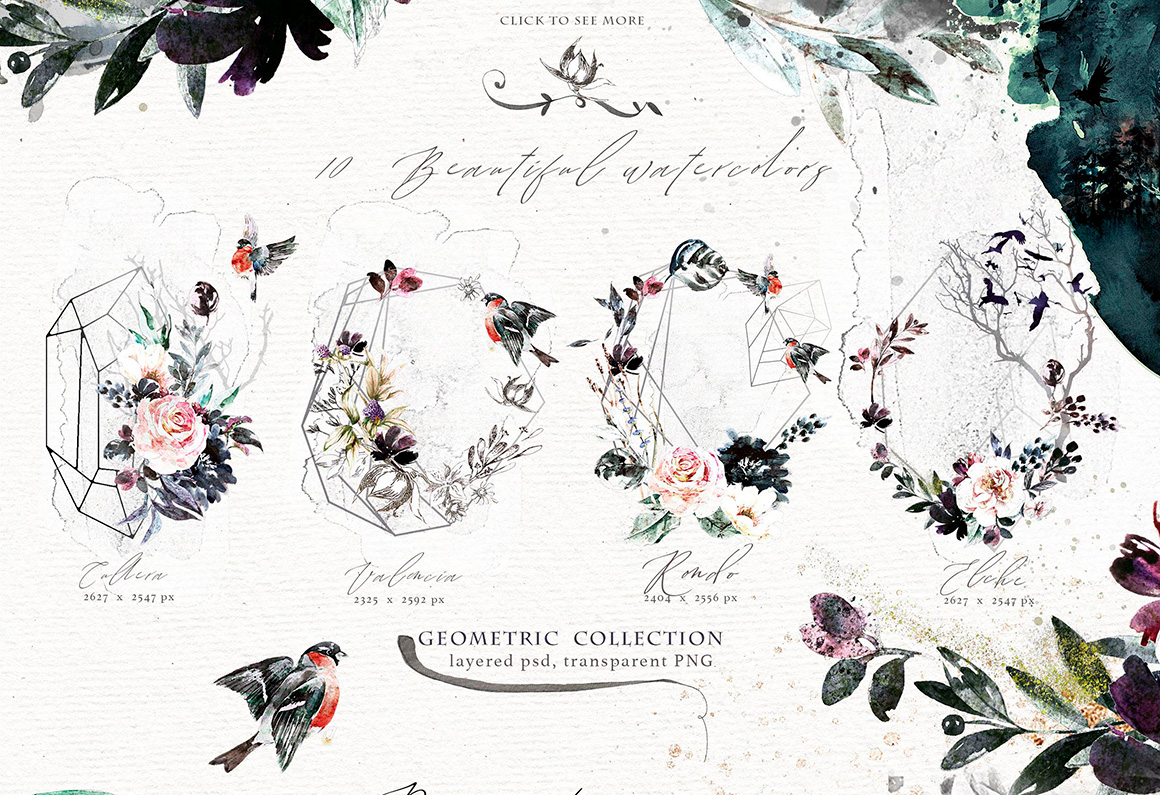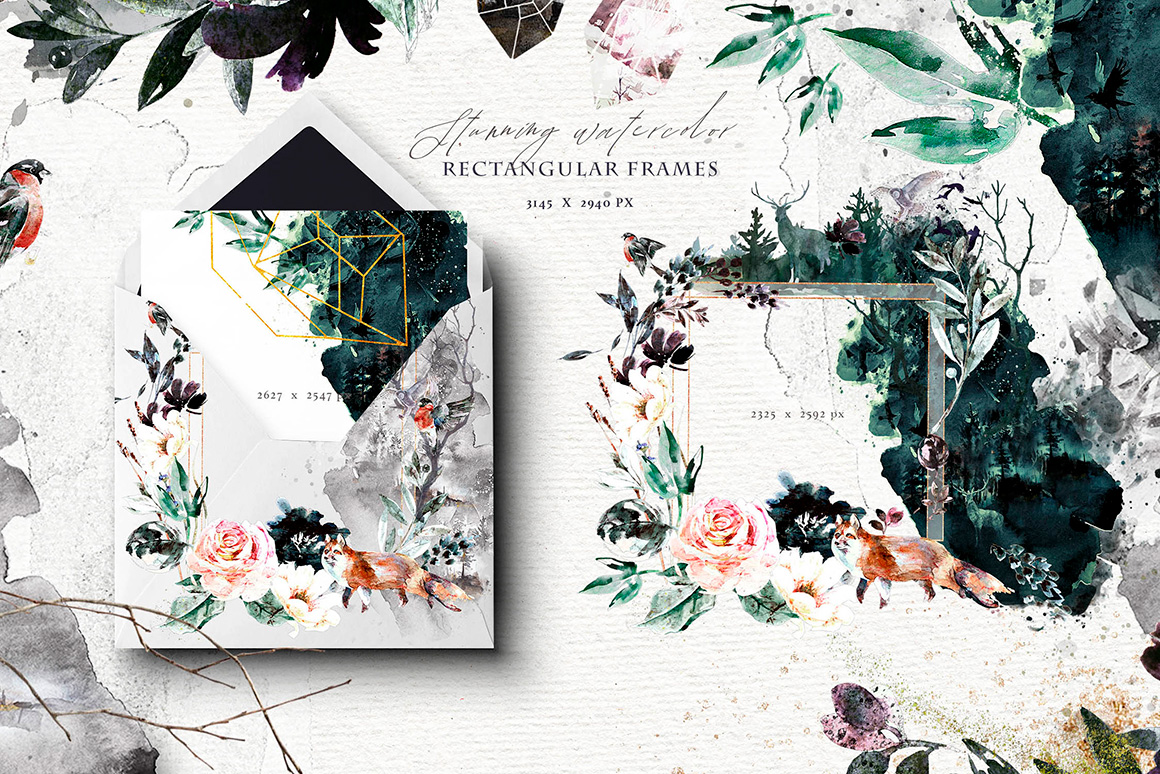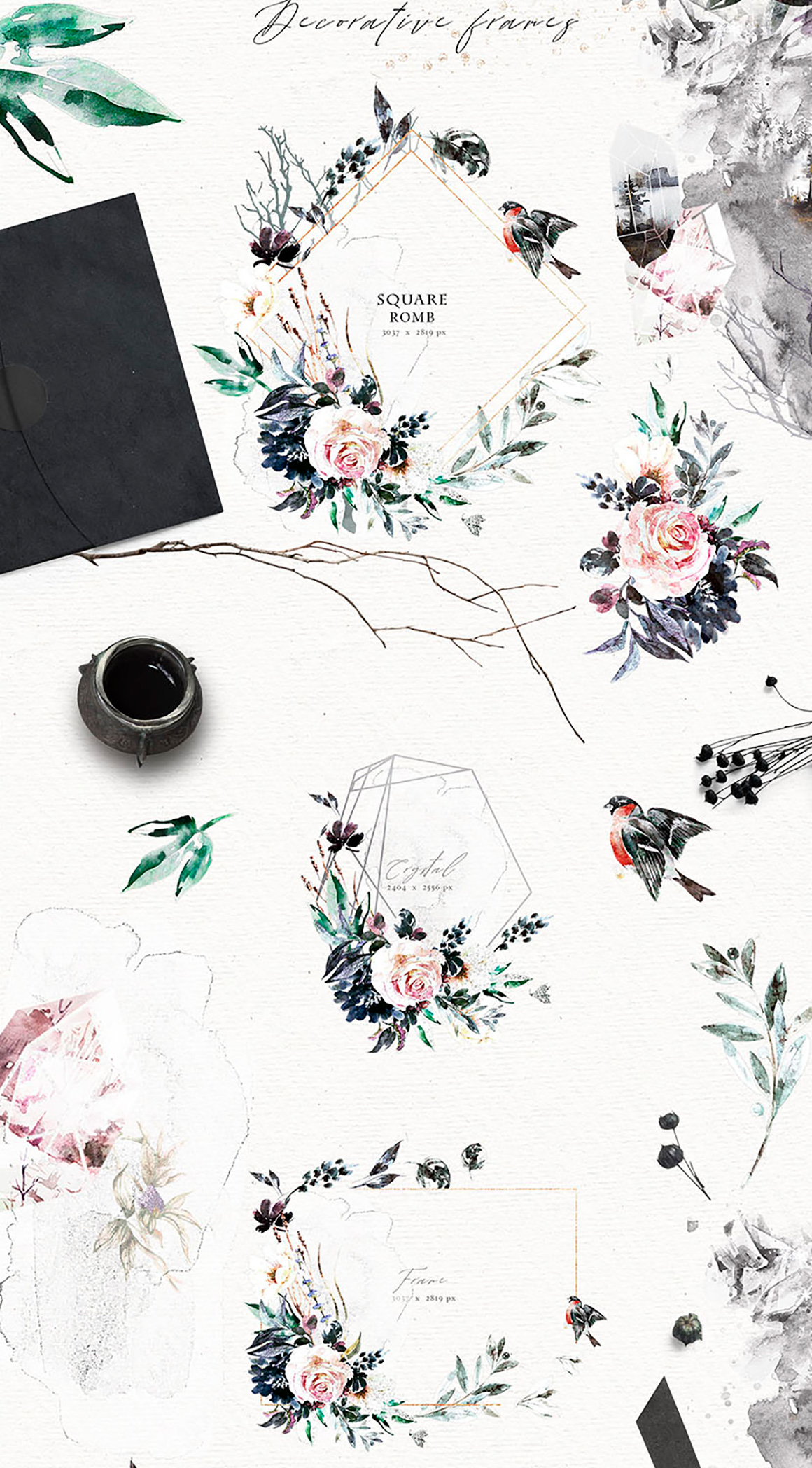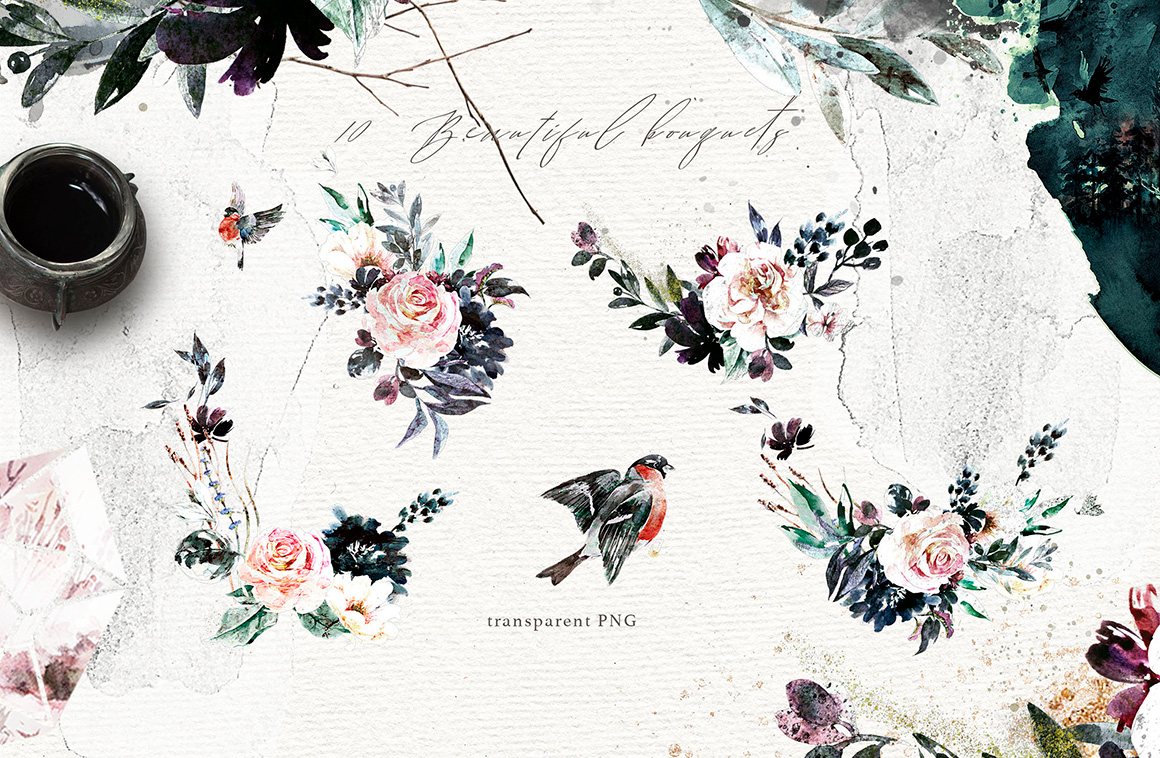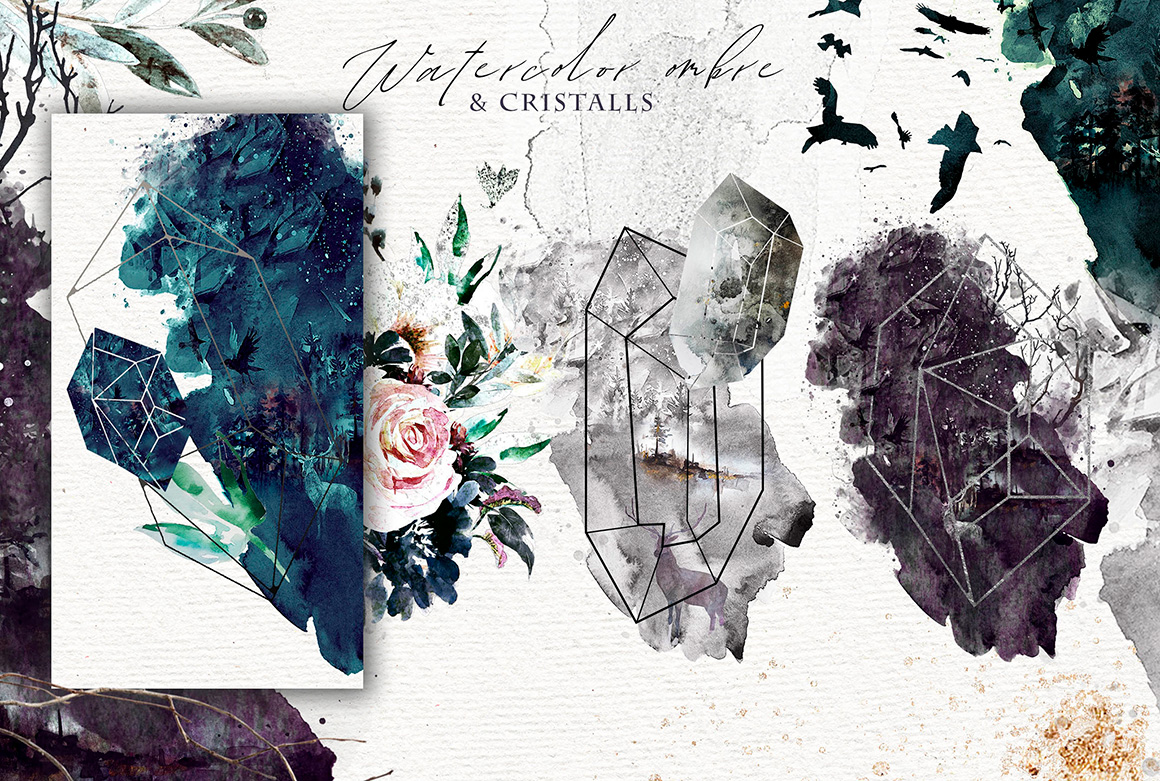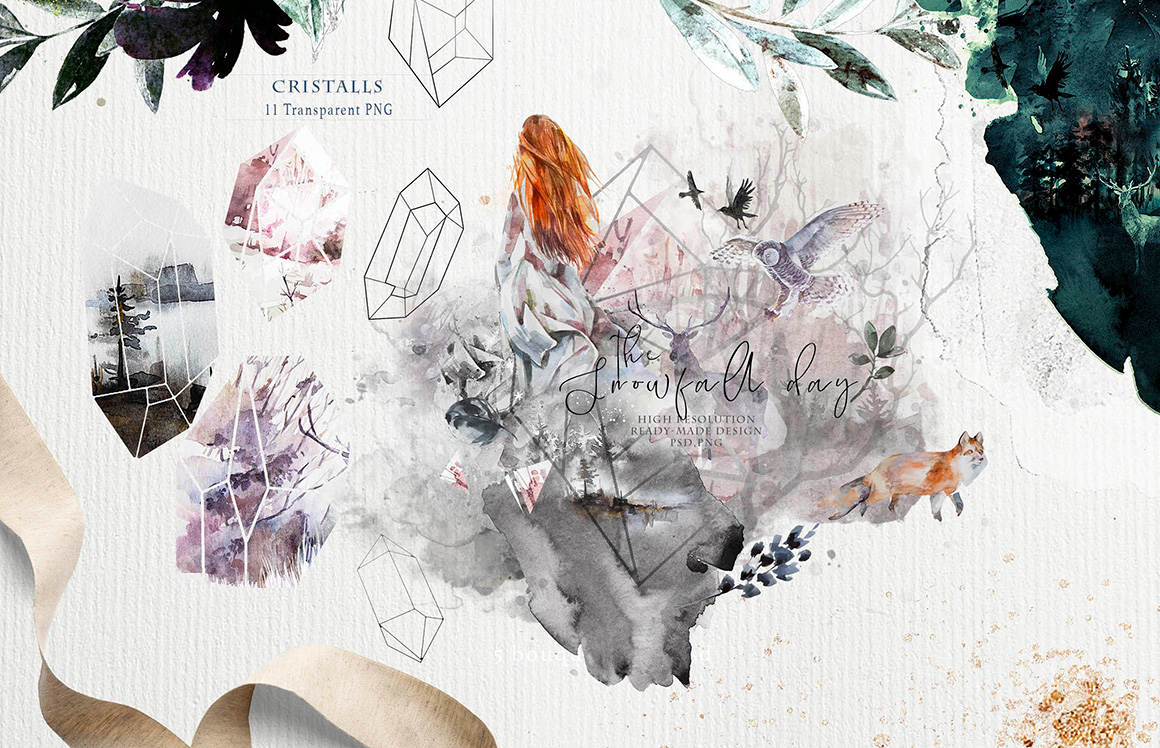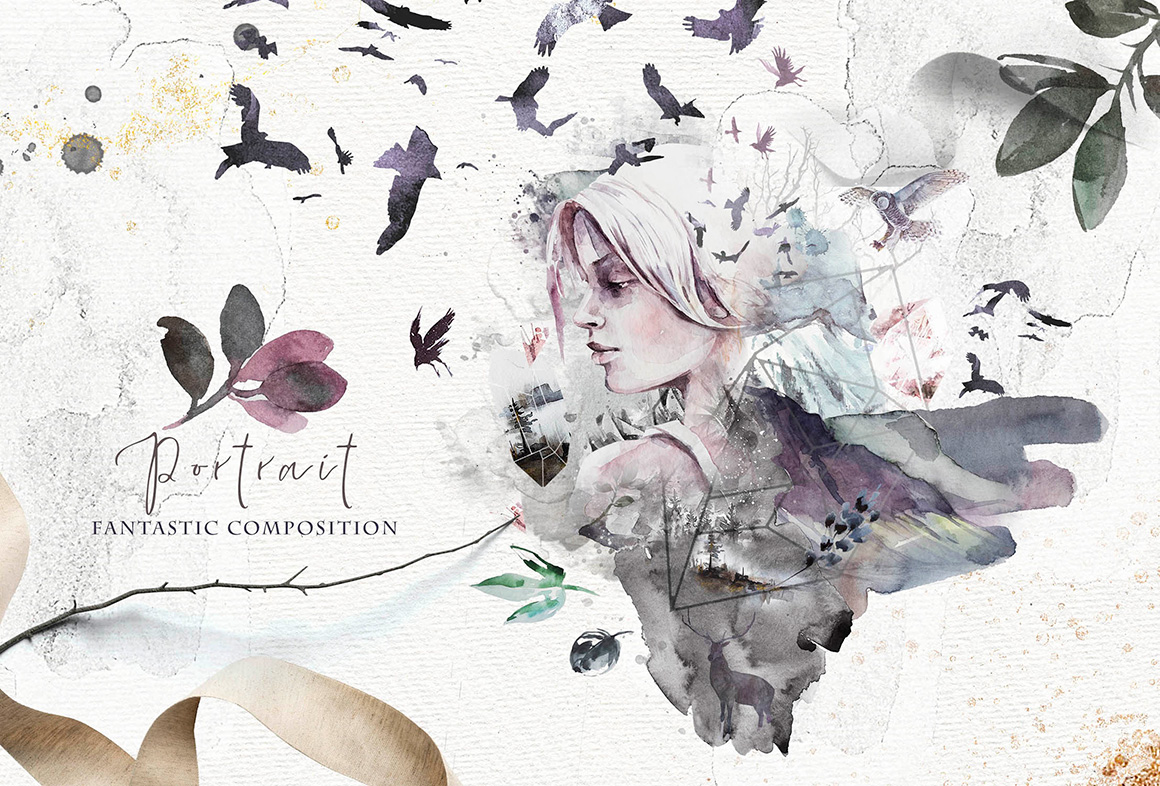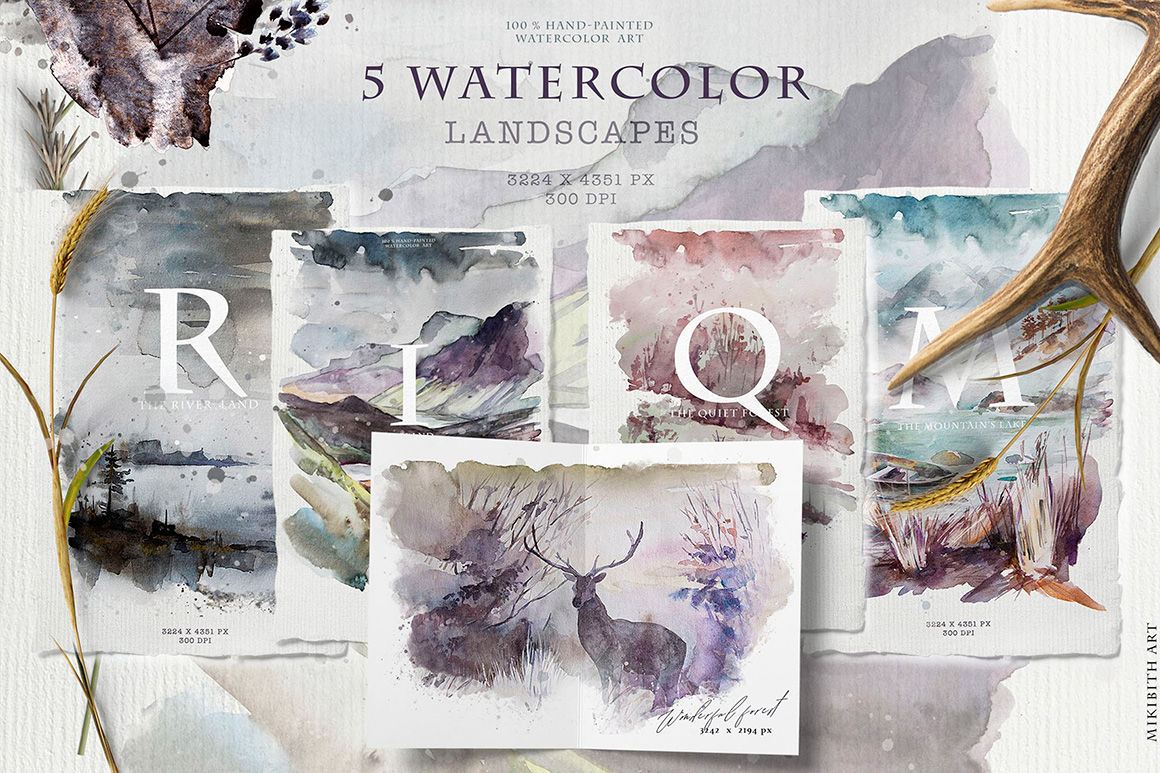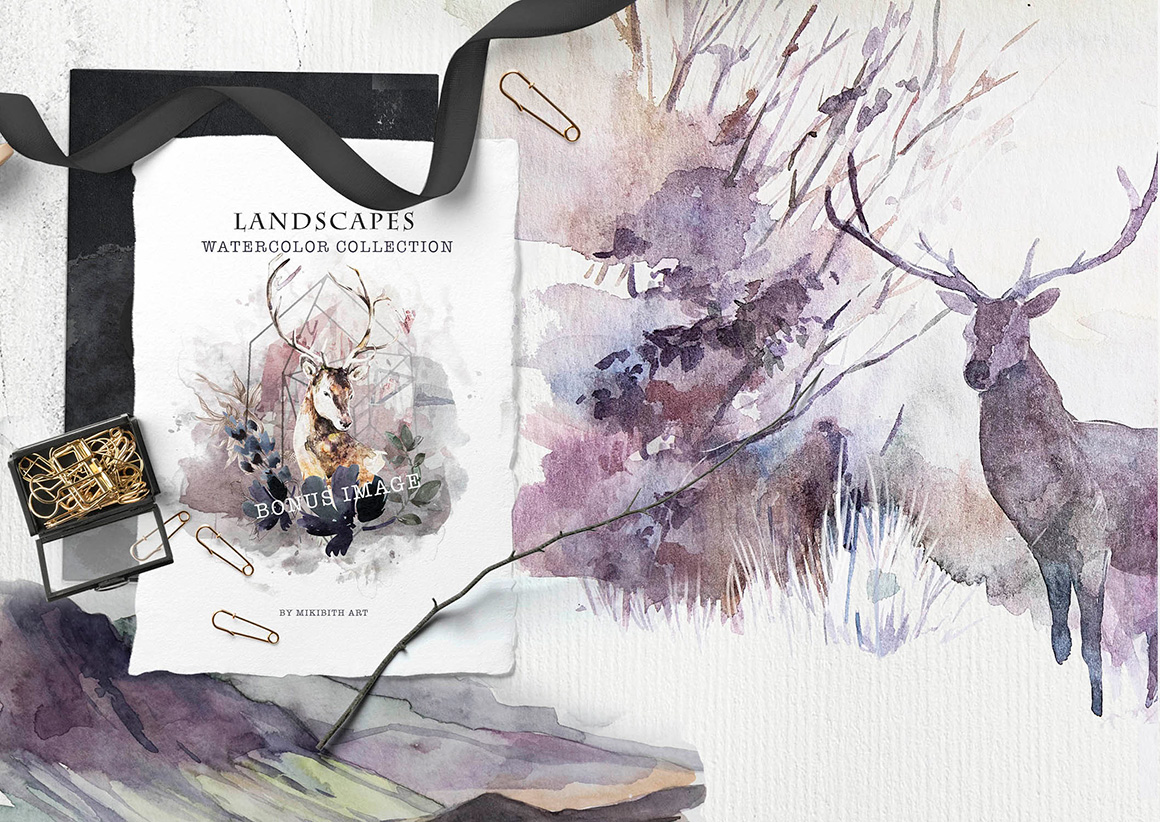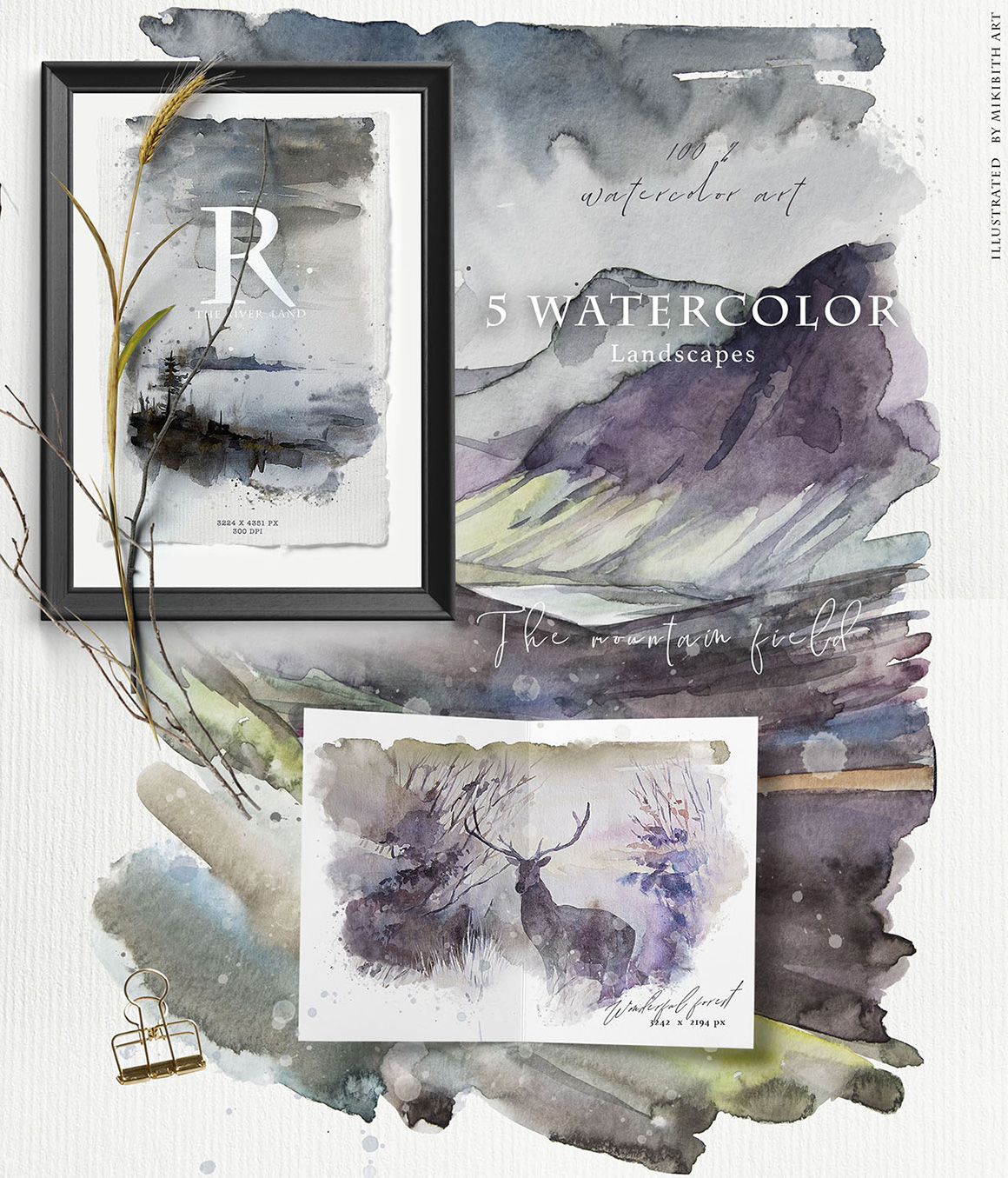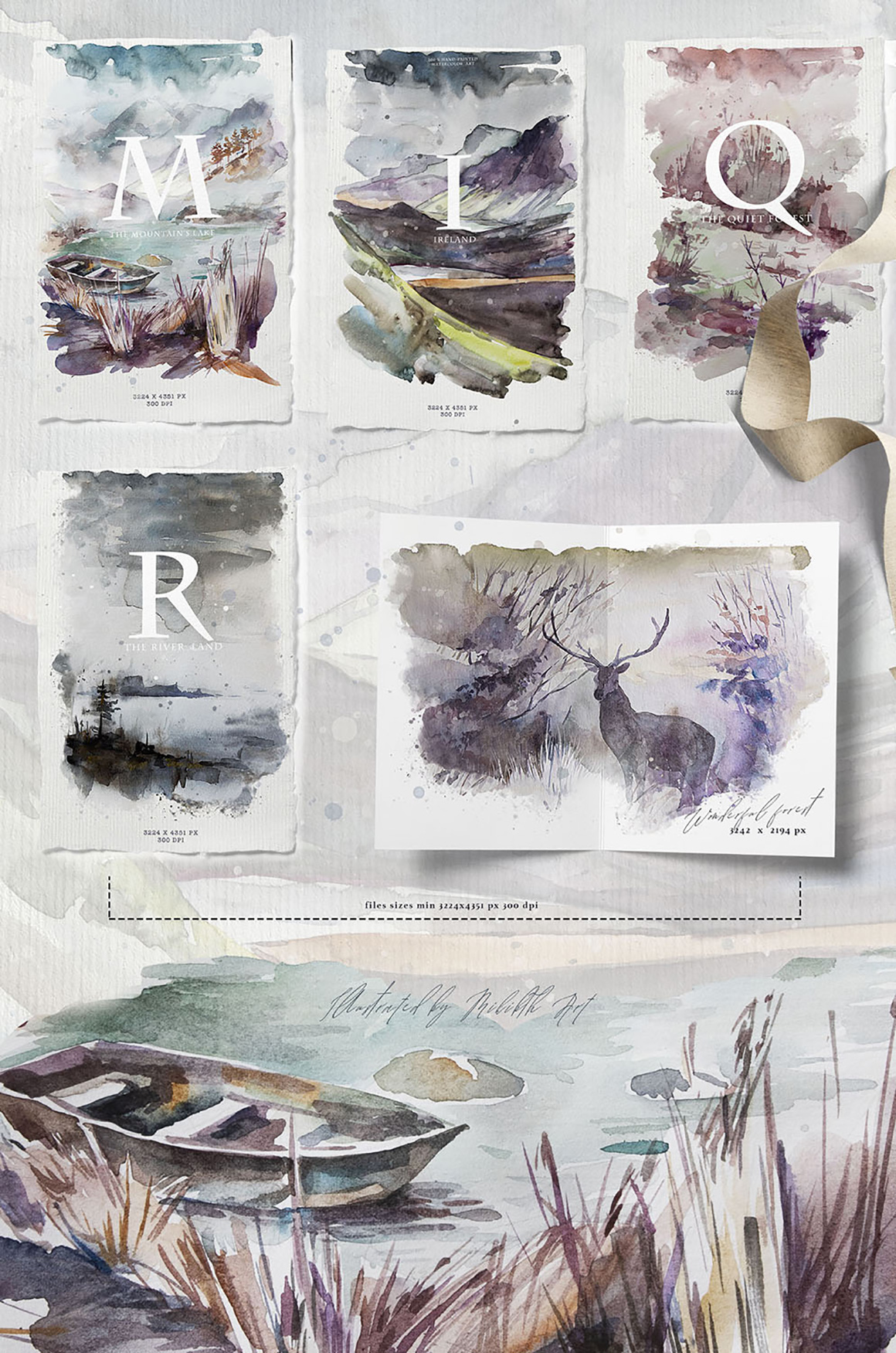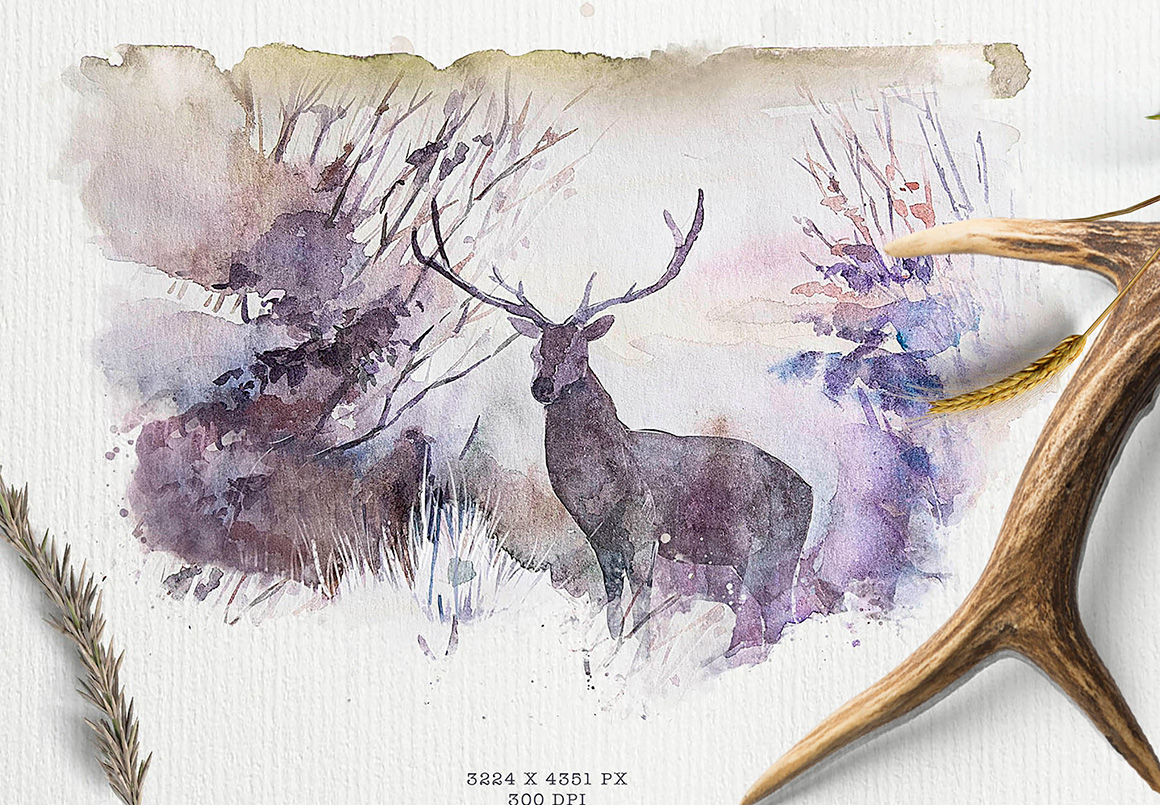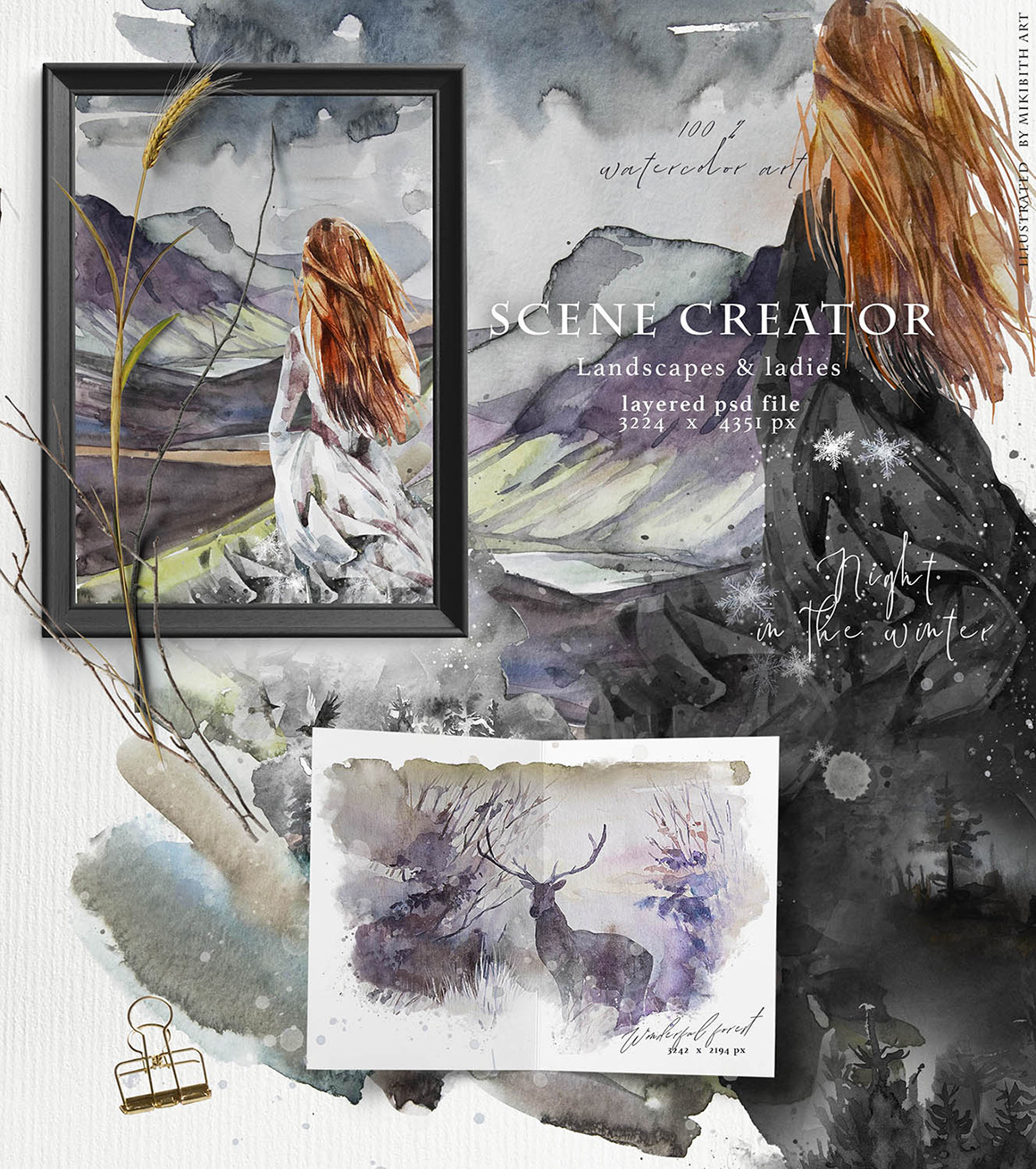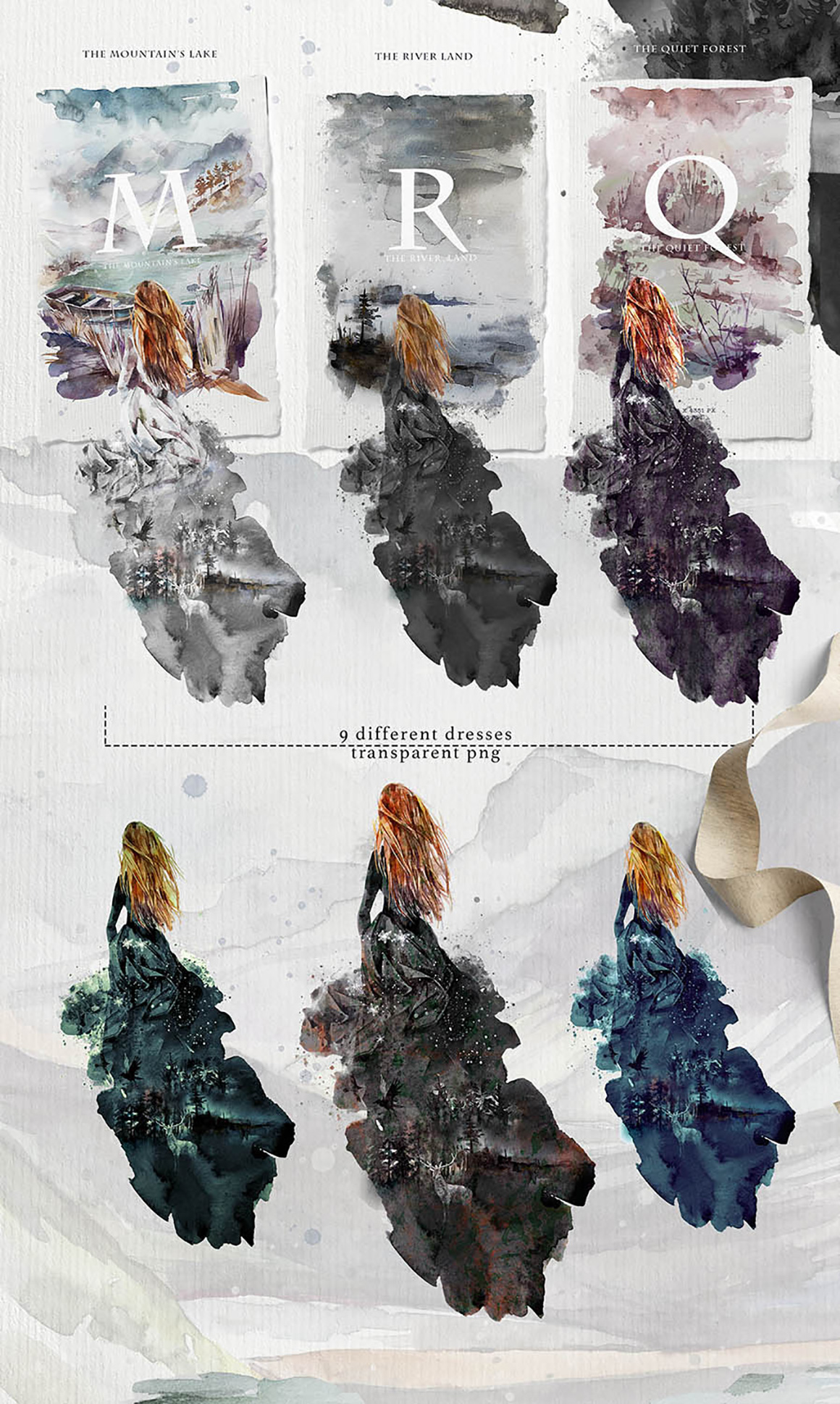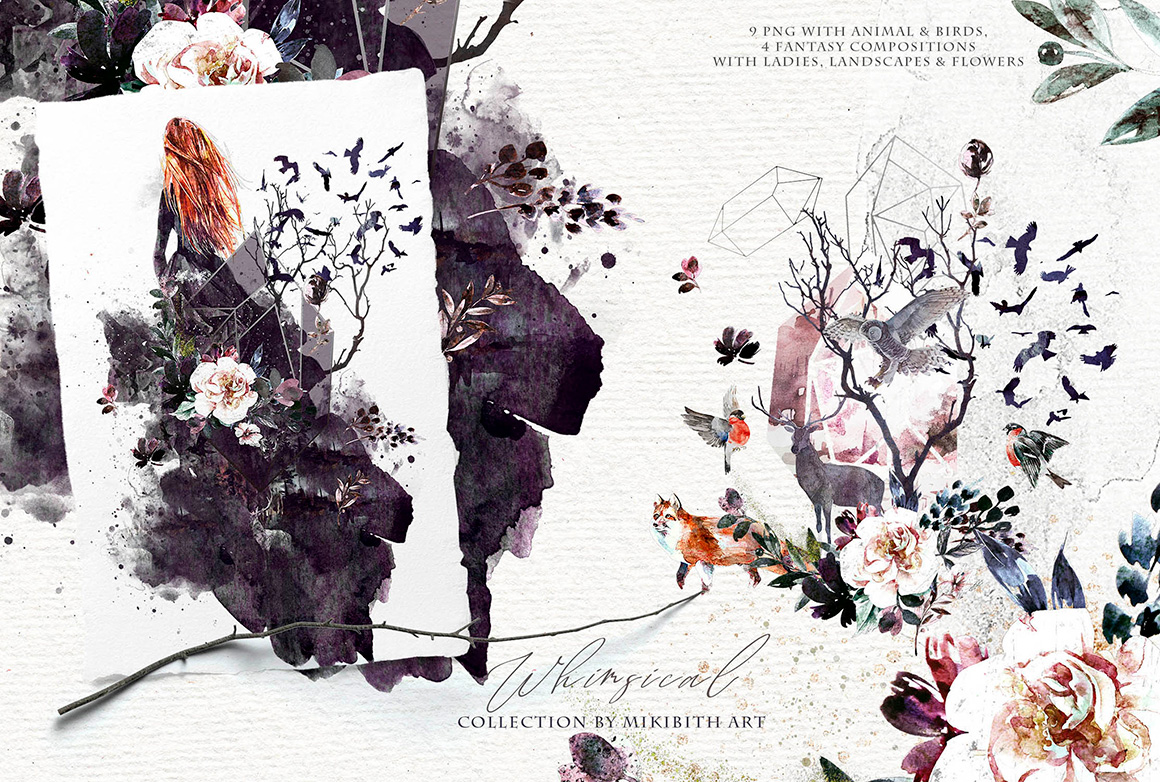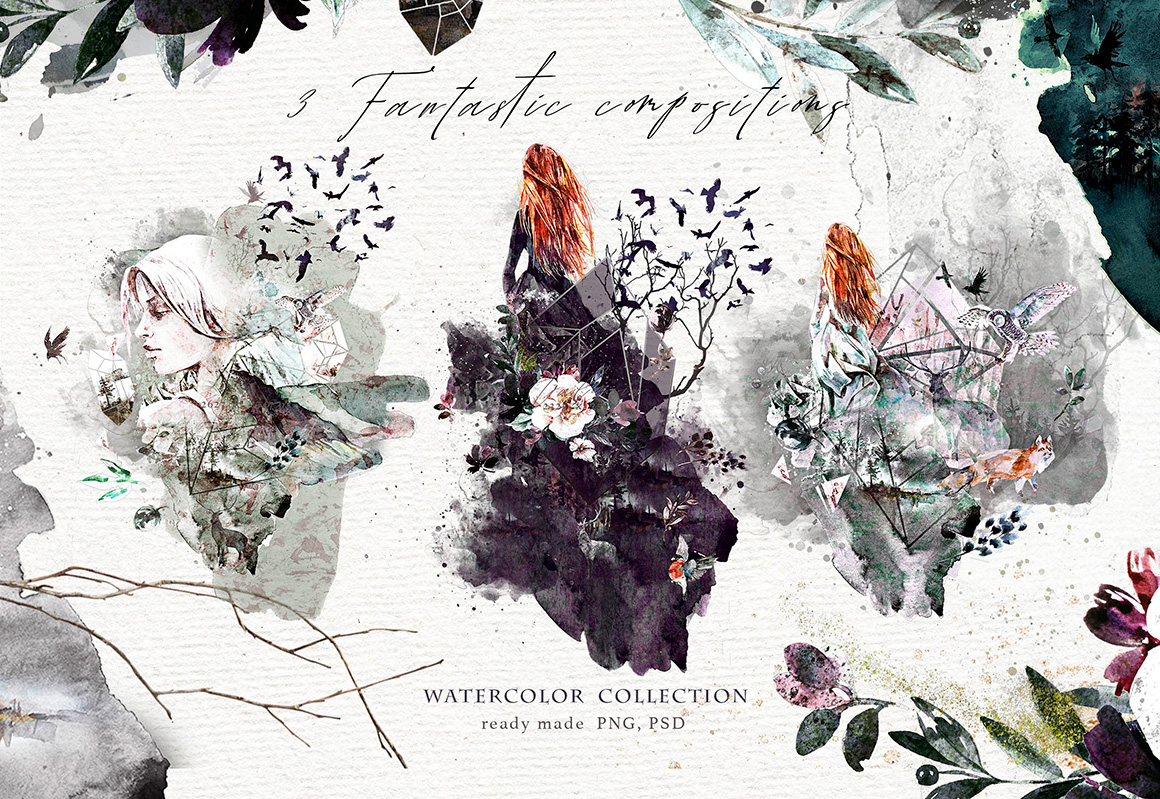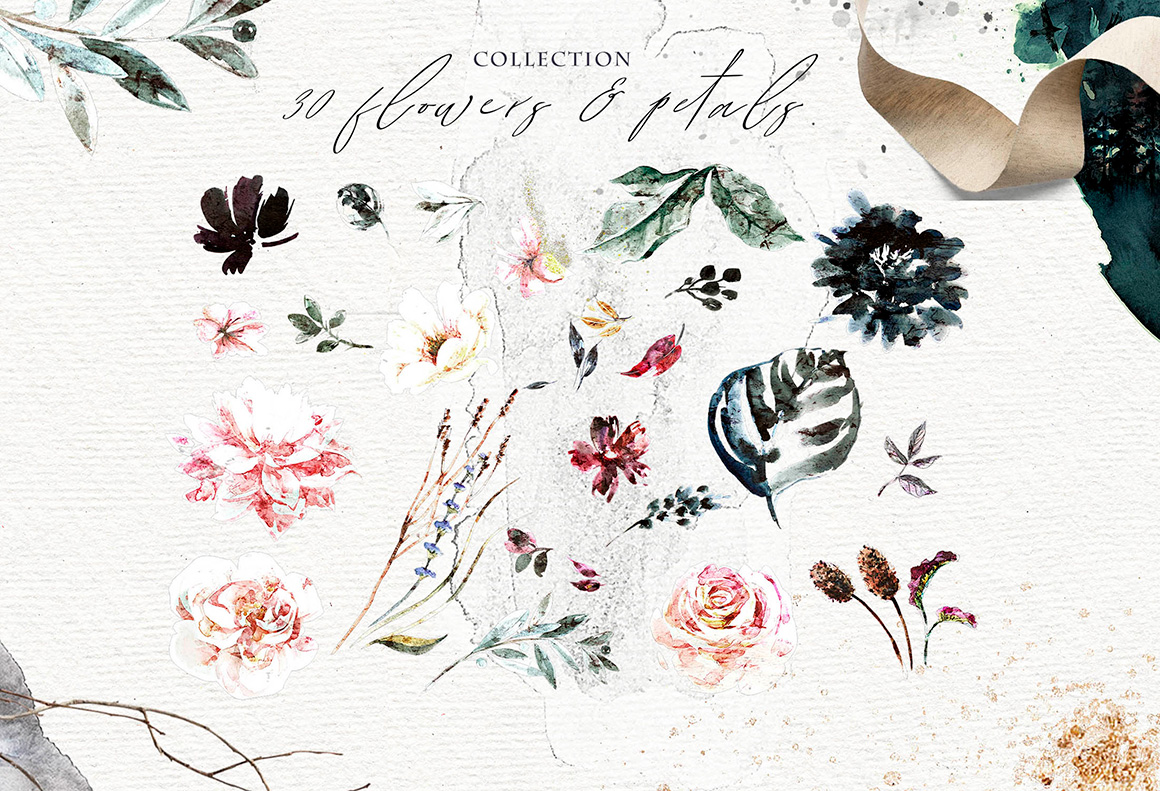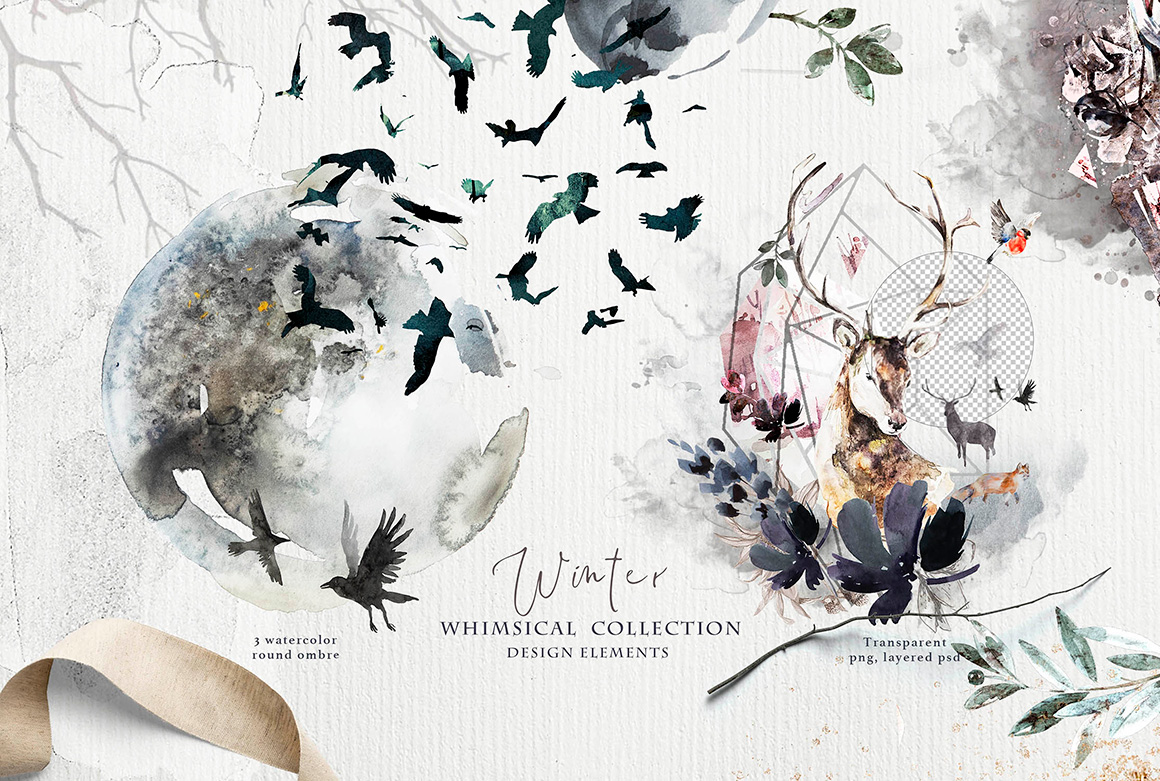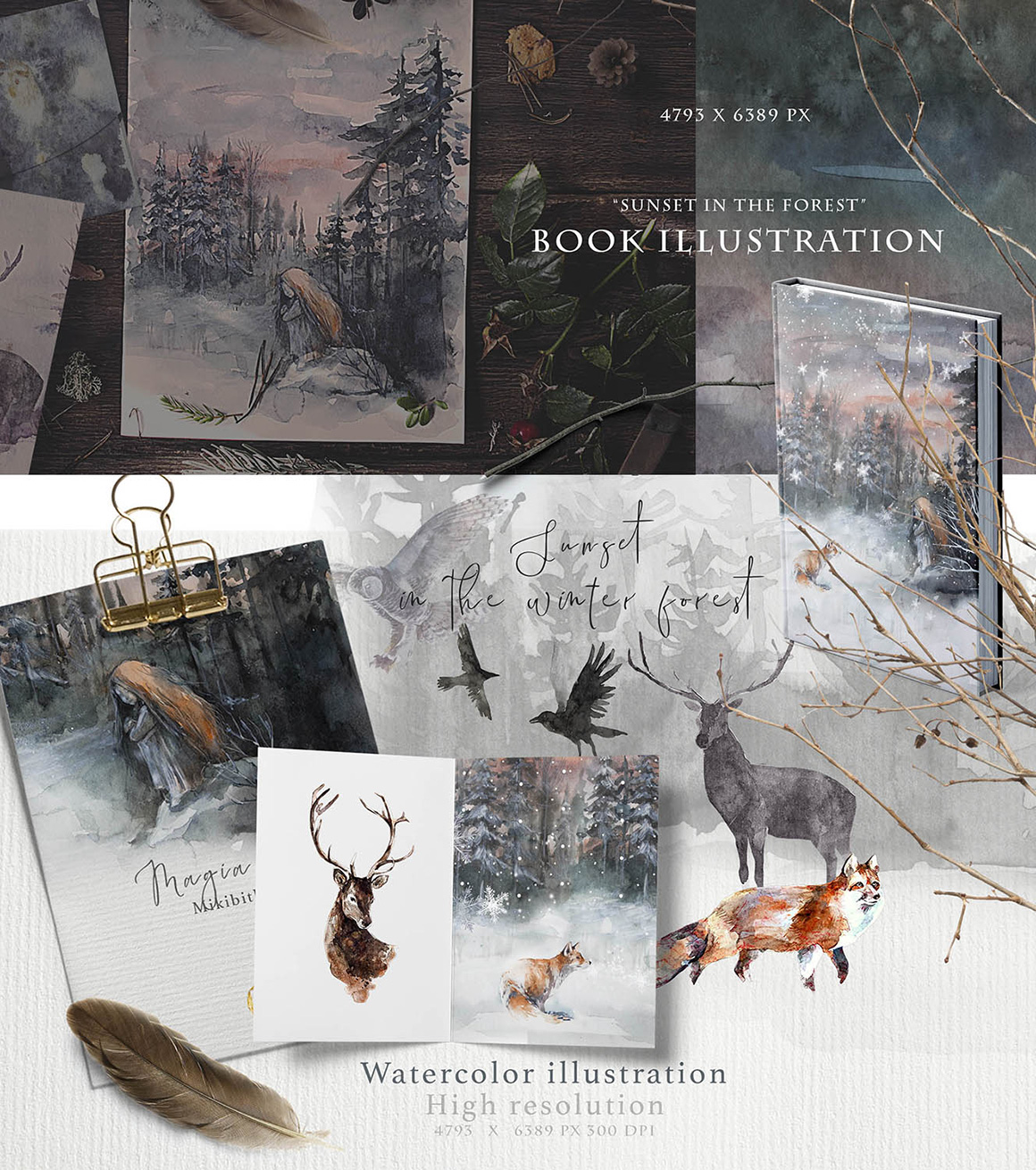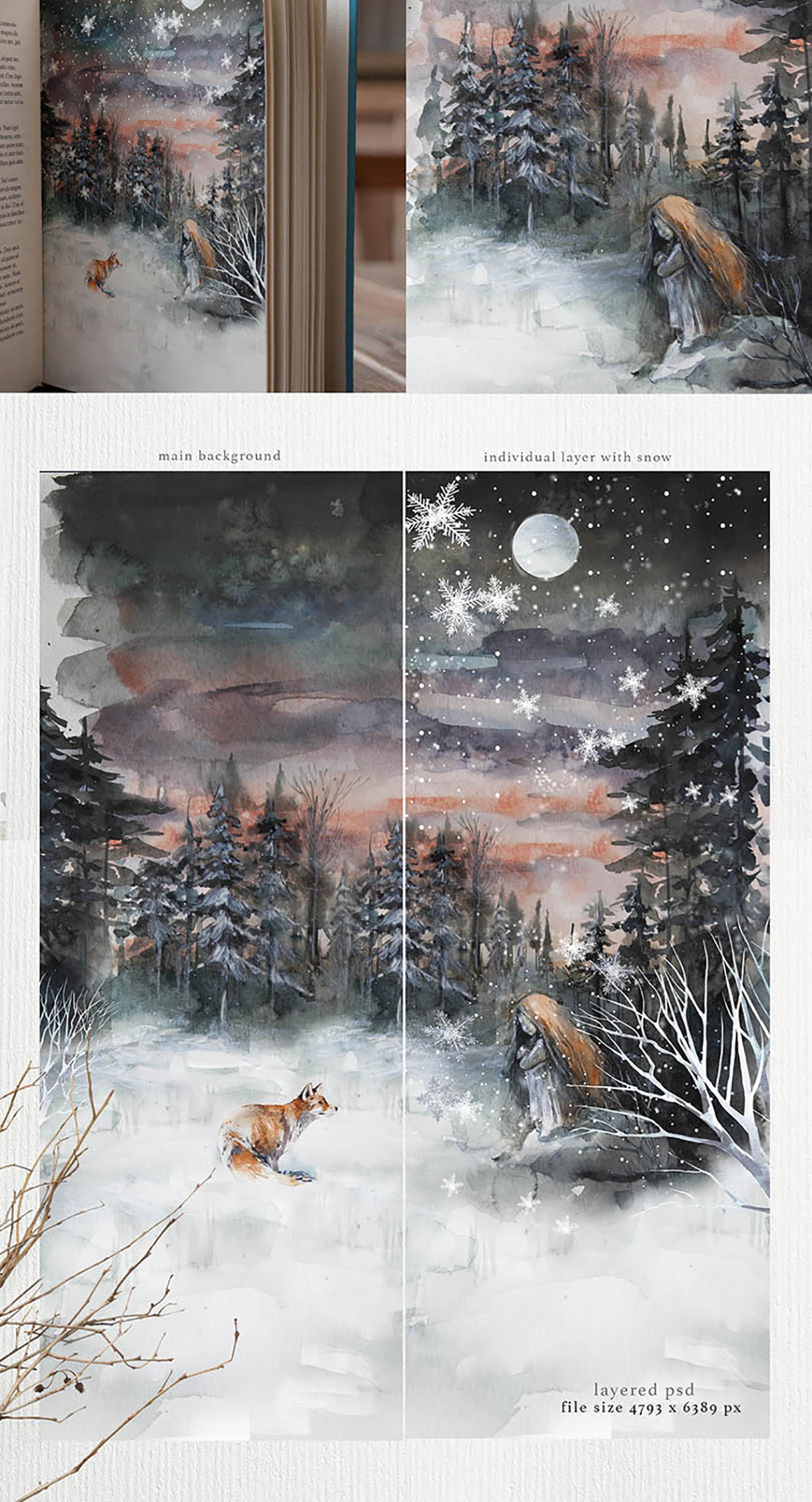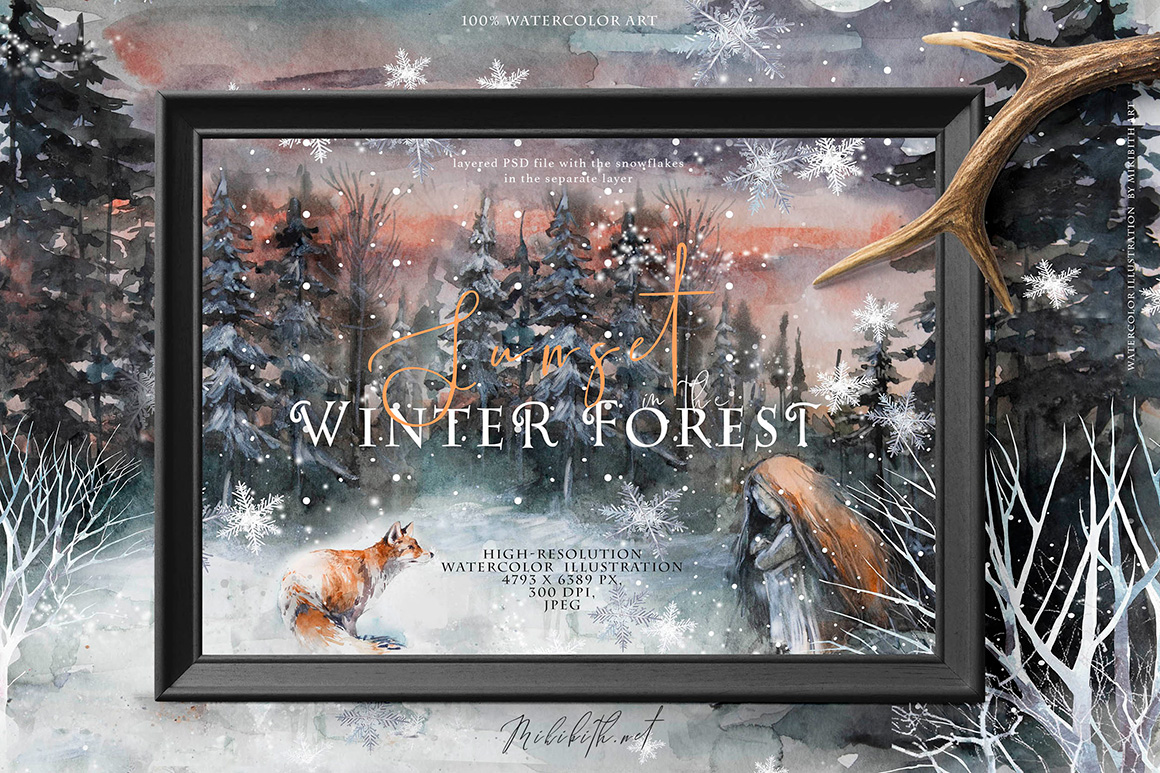 3. Female Portraits from MikiBith Art
Premium illustration. Gold characters, landscapes, bouquets watercolor, female portraits.
Whats include:
female portraits 3 jPEG (at list 2500×2600 px);
bouquets 3 PNG, psd, -ready-made post-card design psd; -floral elements 1 psd file.
ready-made cover designs / 4 layered psd files min. 3894  x  2663px, 300 dpi/;
gold characters PNG;
5 landscapes & one bonus image from "Once in the night" collection.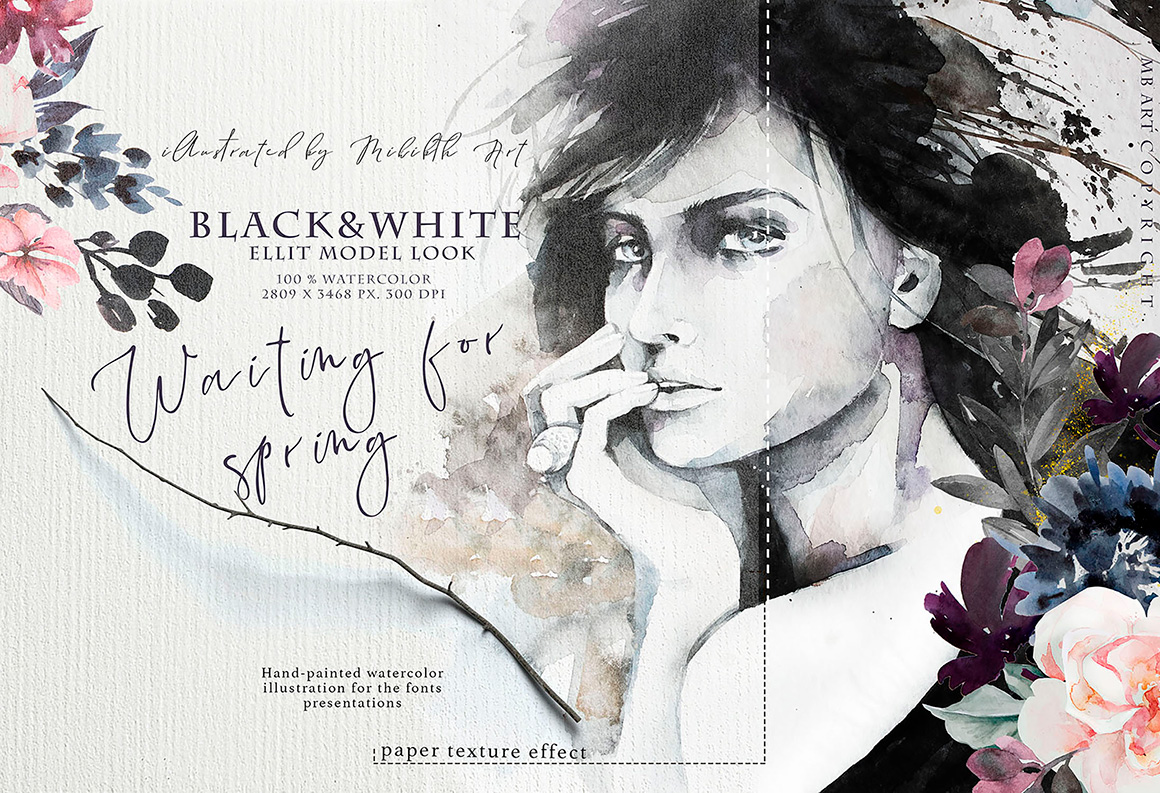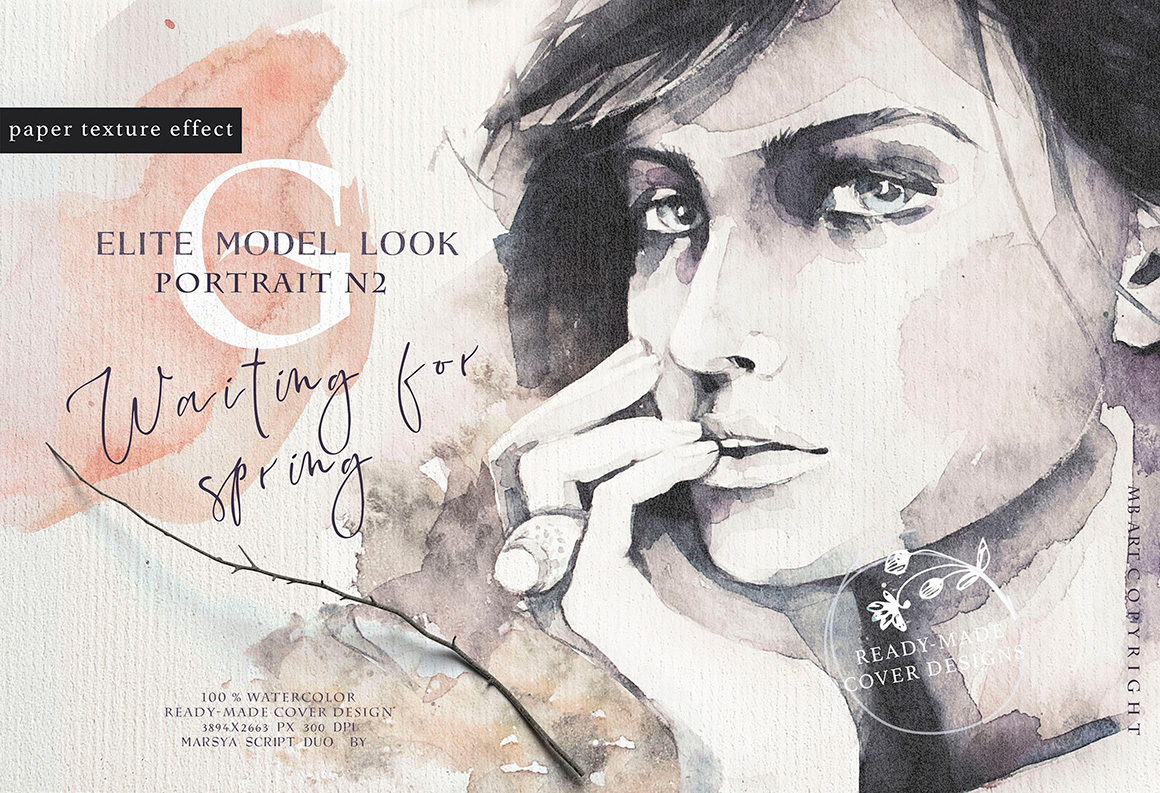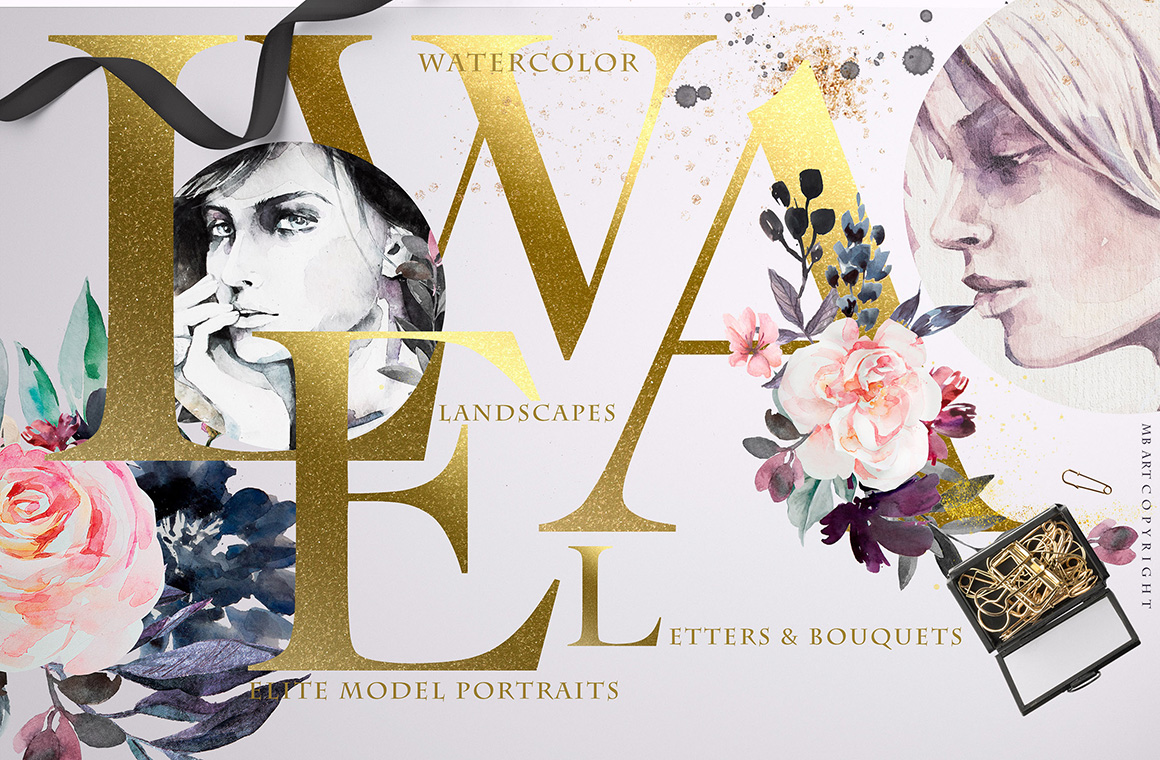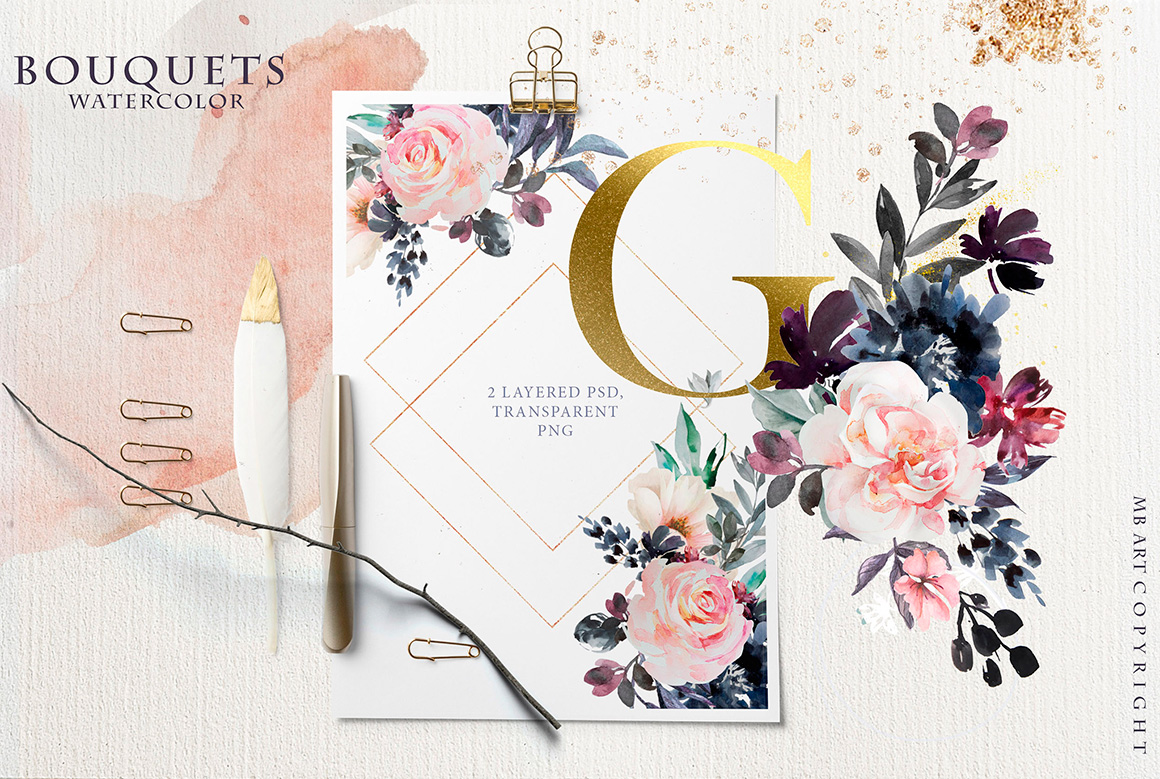 4. Black Noory Colection from MikiBith Art
"Black noory" collection. 70 PNG, layered PSD creators, and mood boards.
A wedding invitation collection with branches, wreaths, and seamless patterns. Vector elements have been included too.
Line art wreaths vector- 3 PNG, AI;
Wreaths- 10 PNG, 4 PSD;
Crystals – 2 psd, png;
Sketched branches – 21 PNG;
Seamless patterns – 6 PNG, EPS;
Watercolor arrangements- 10 PNG, 2 psd, 2 mood boards psd;
Butterfly – 6 PNG;
Geometry creators – 4 psd layered files;
Geometry – 11 PNG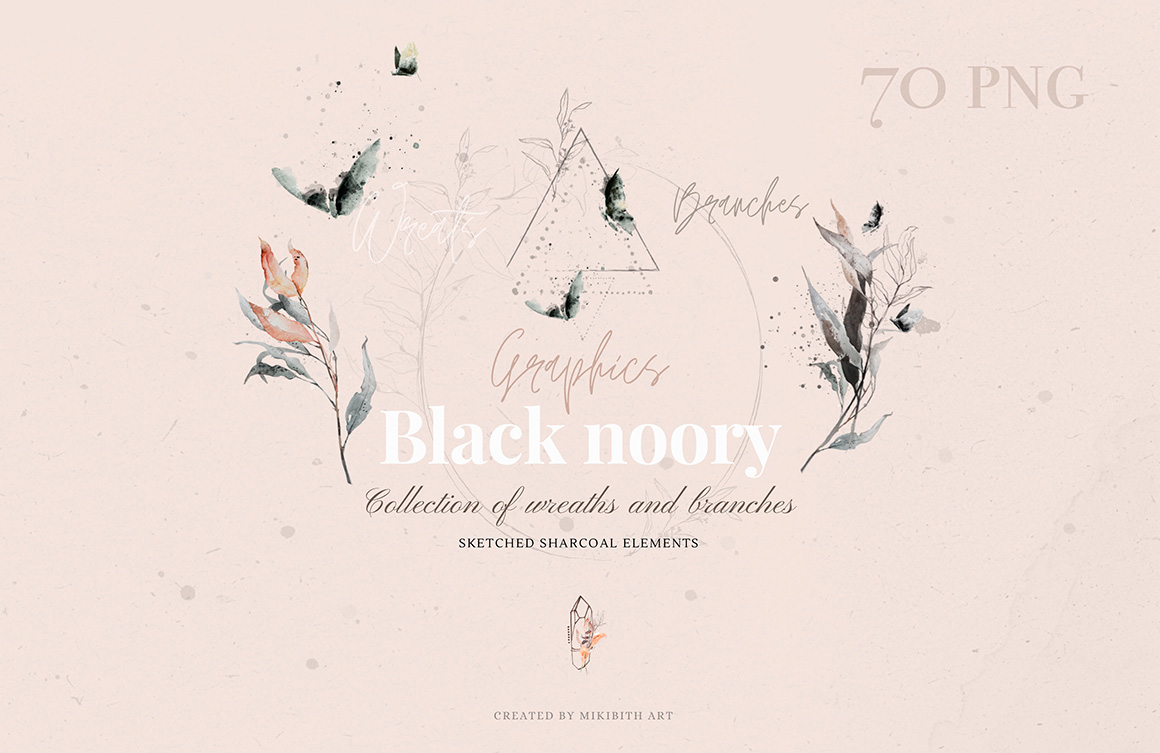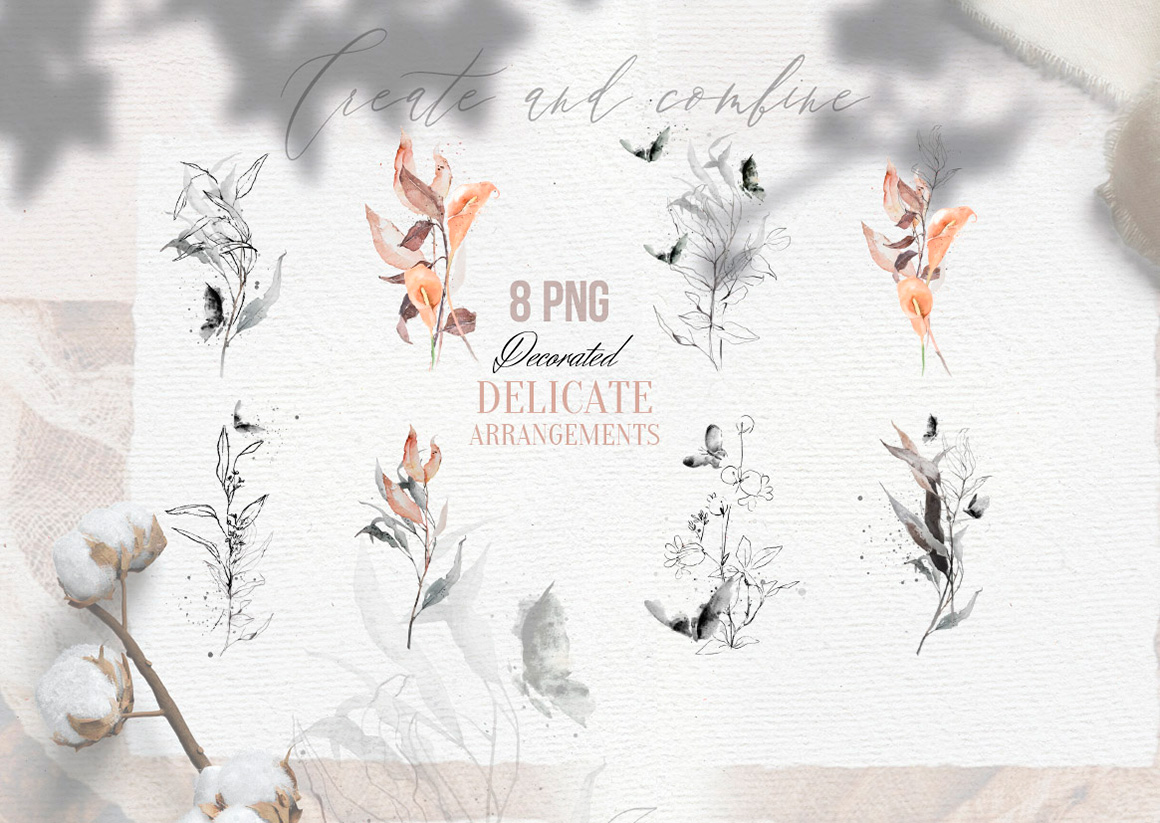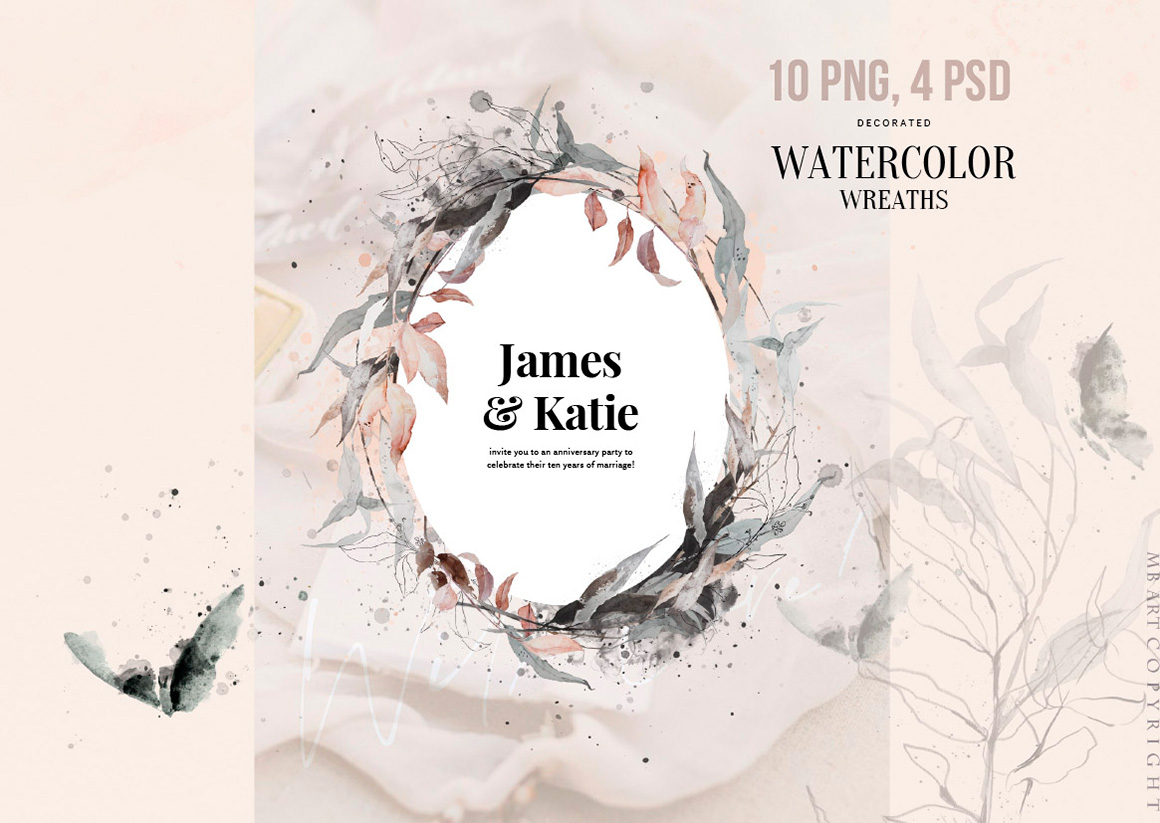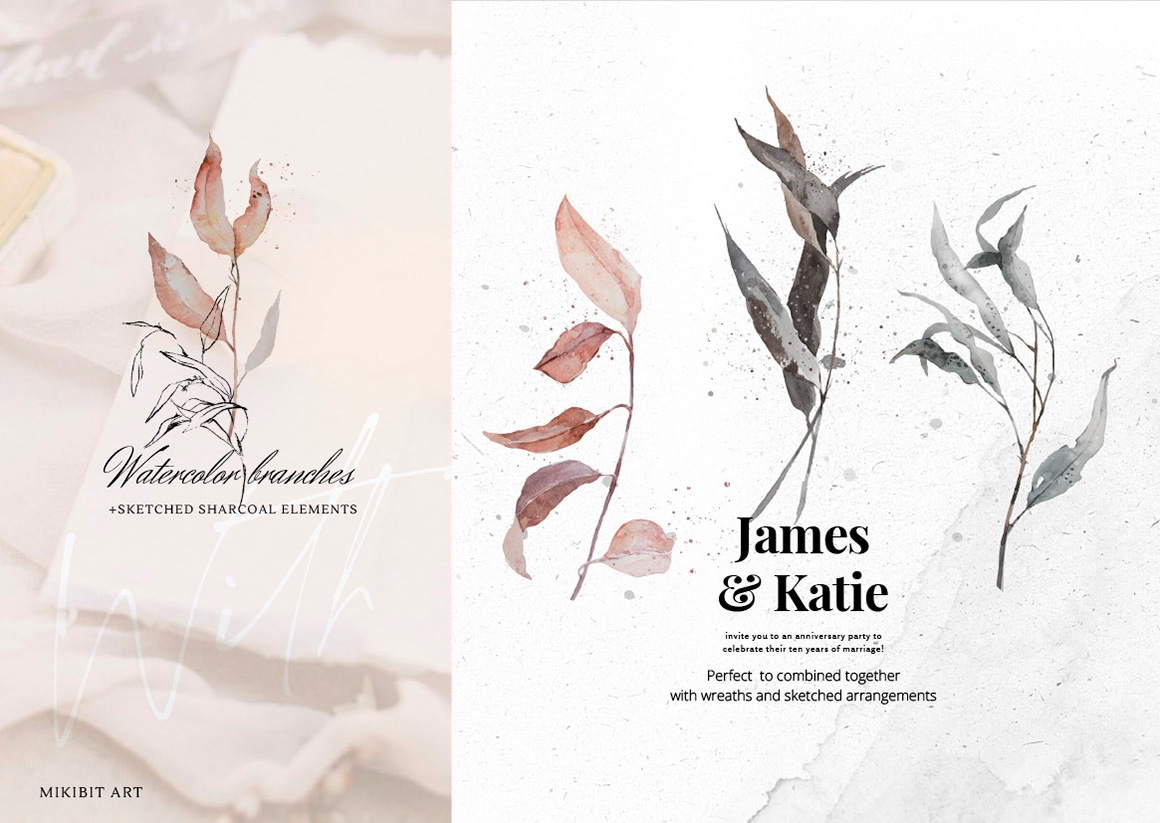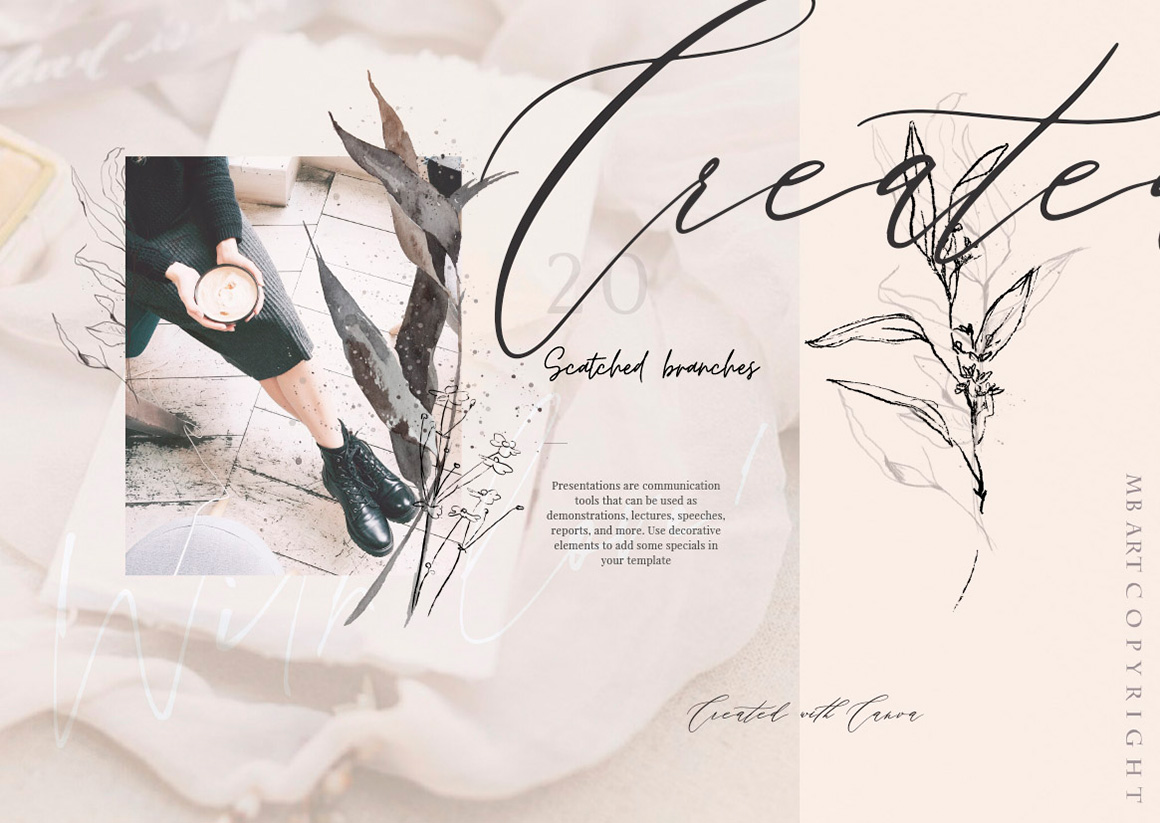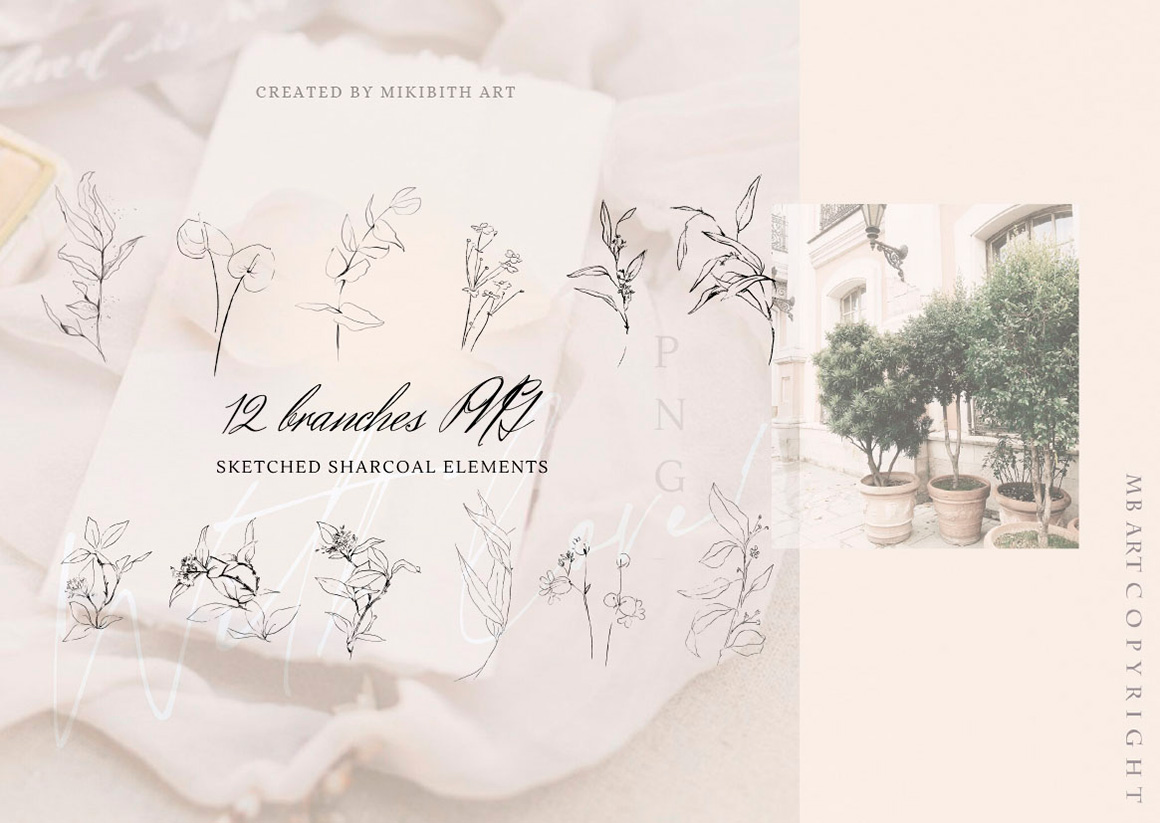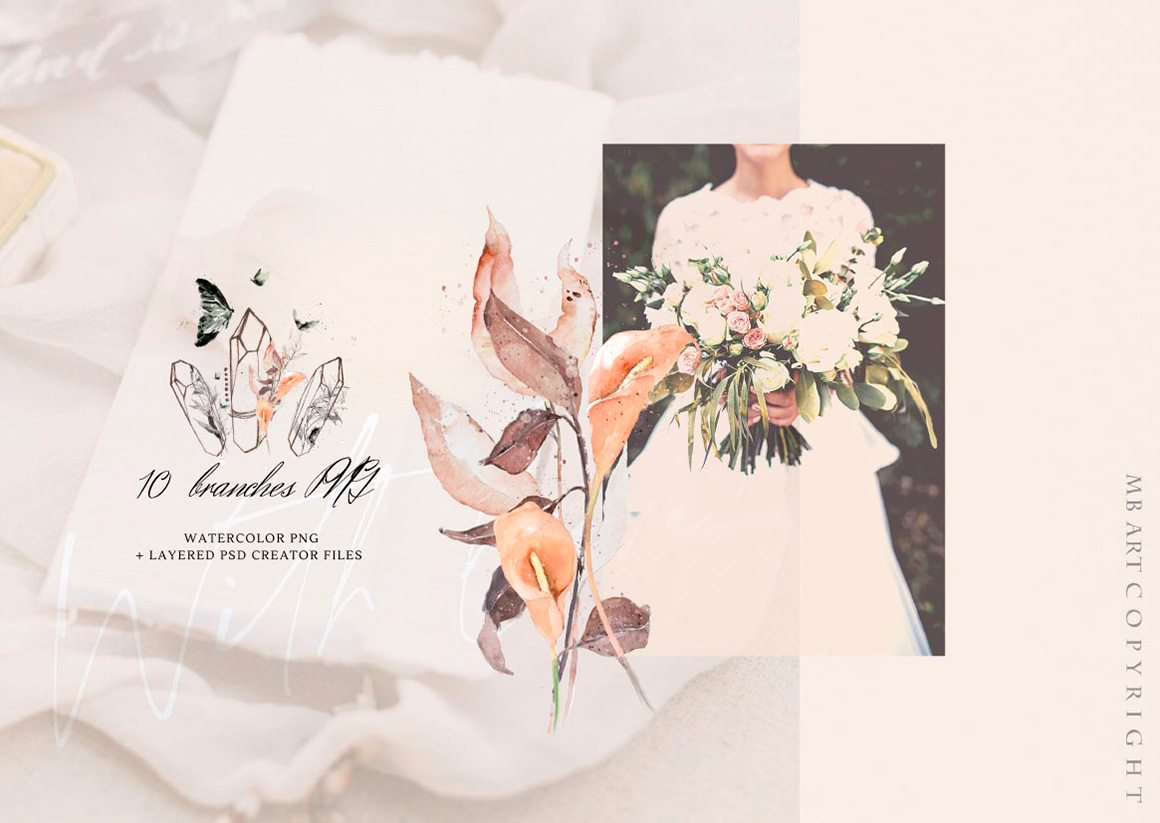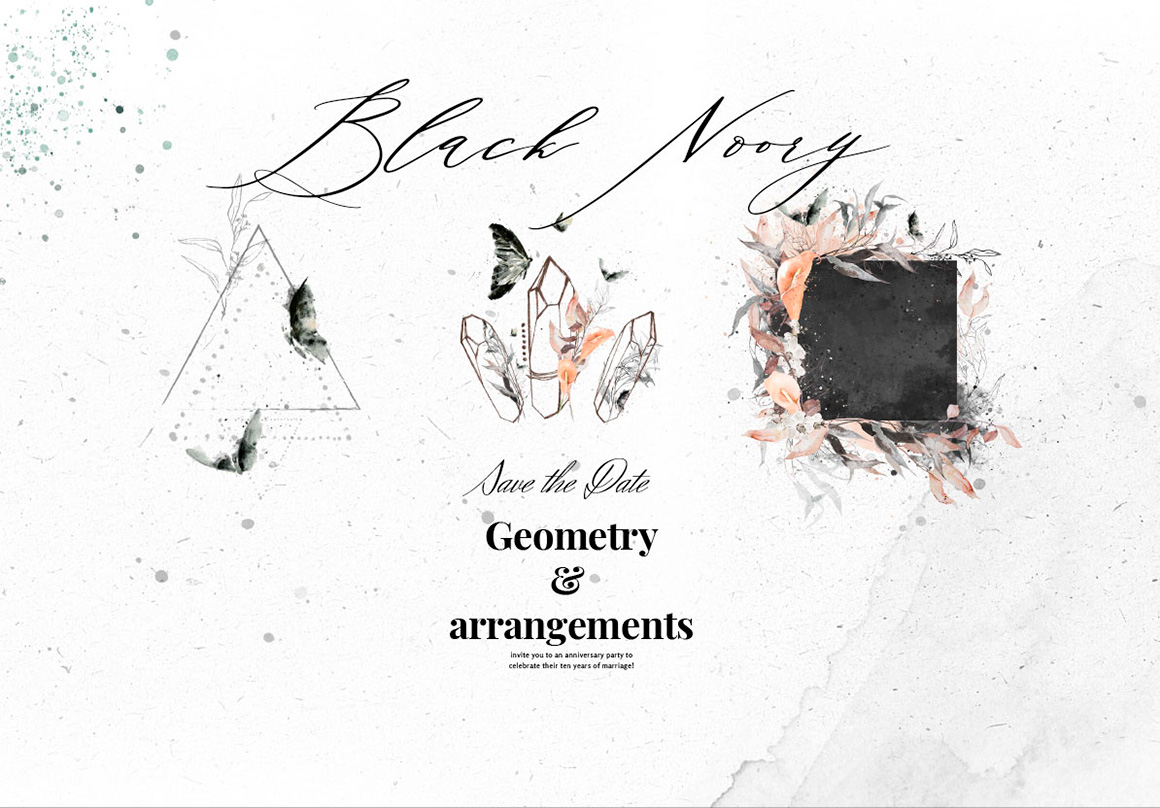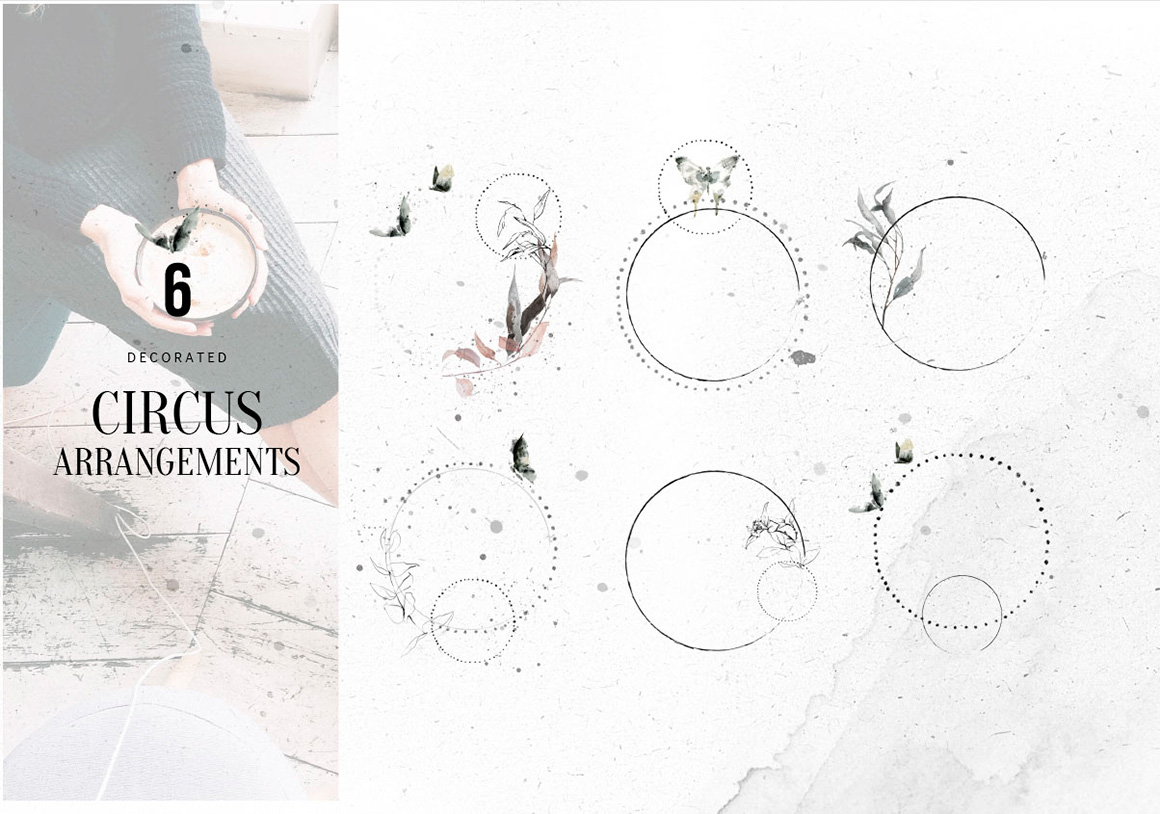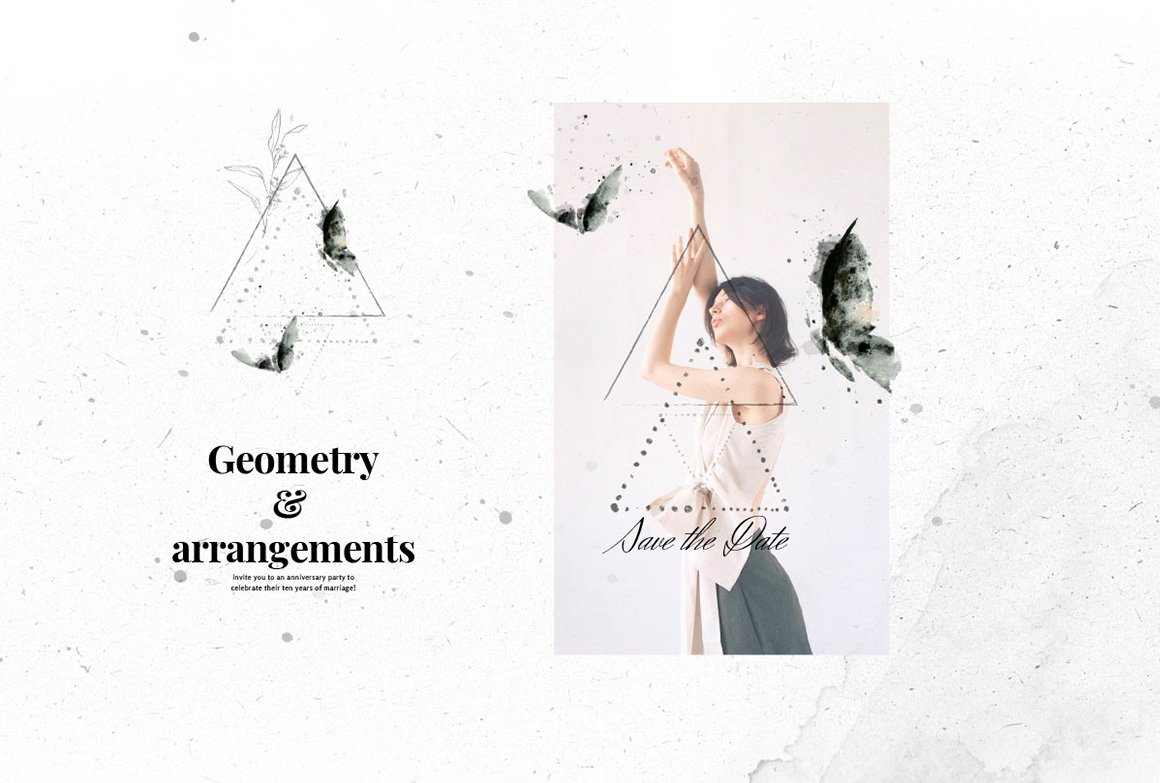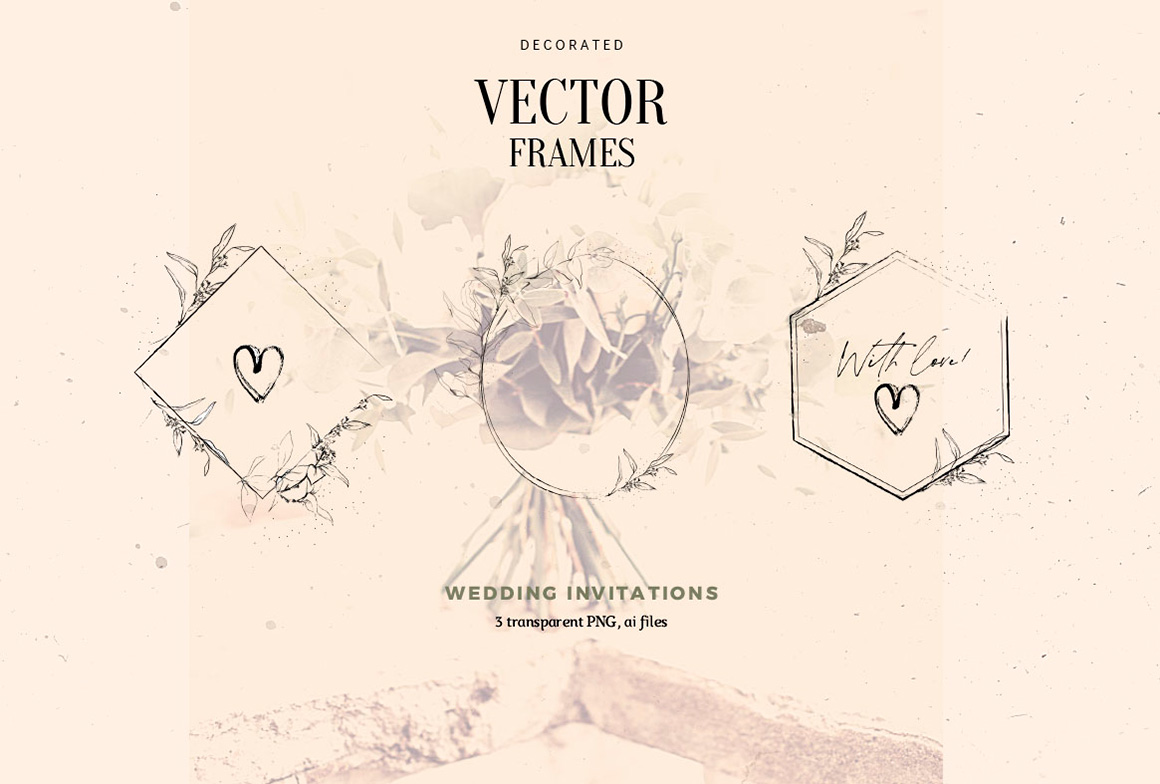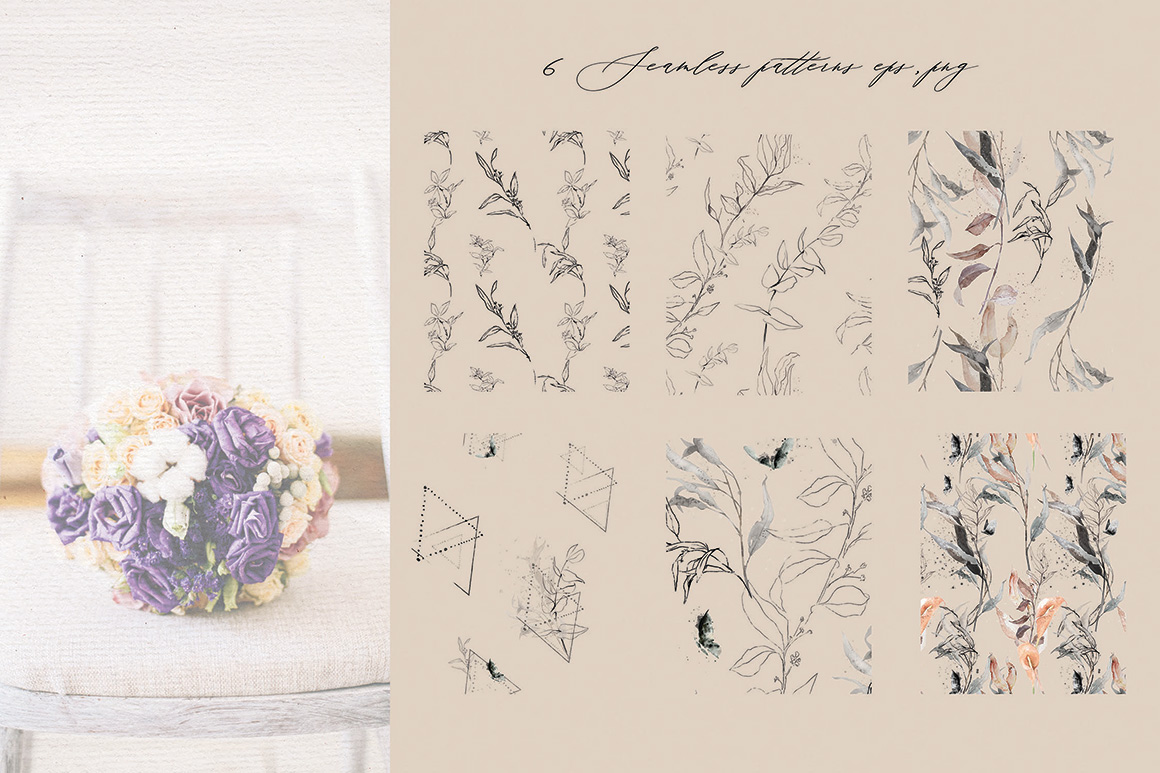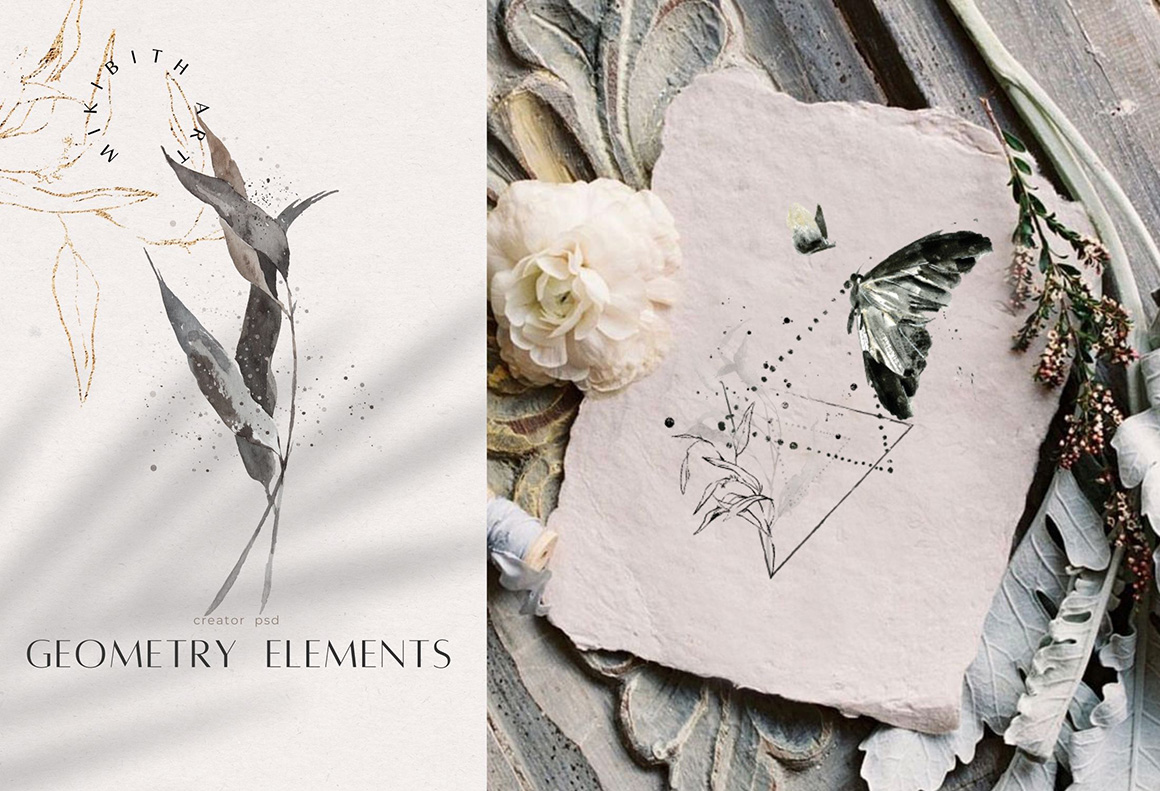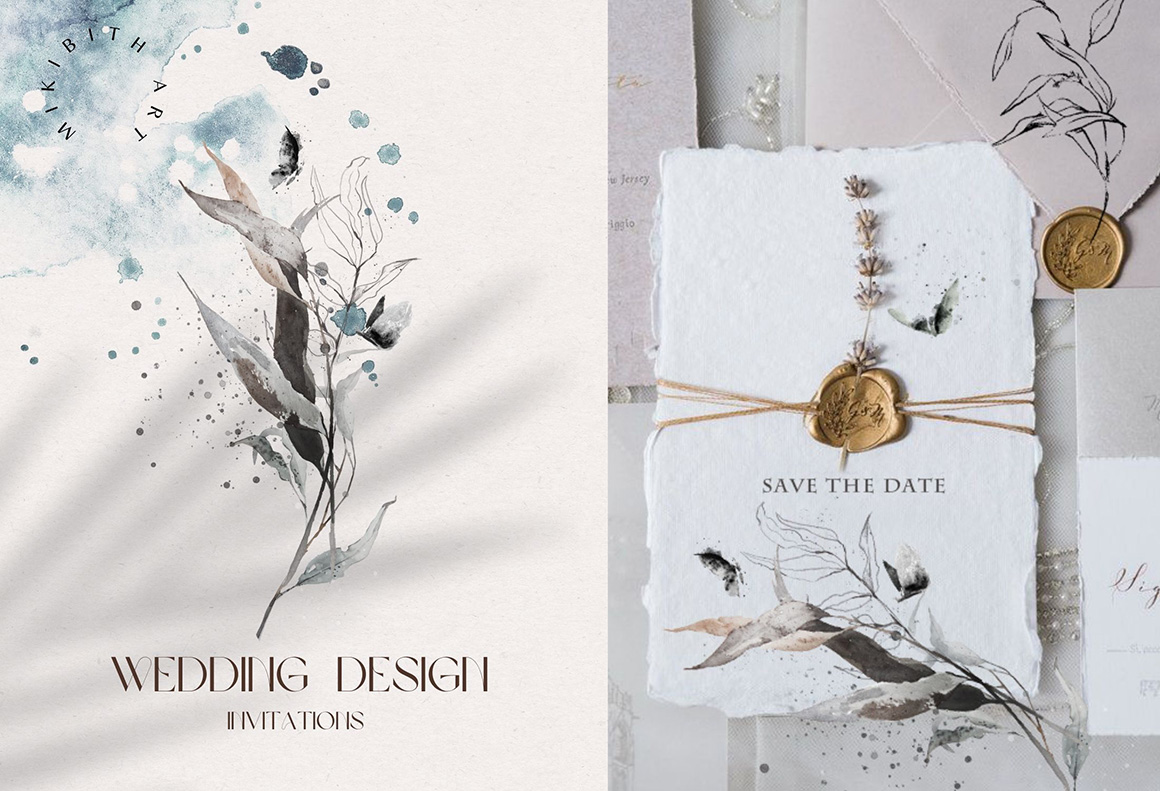 5. Line Art Collection from MikiBith Art
There are vector line art artistic illustrations and mood boards PSD, ready to use for your blog, website, Instagram and etc, any printed products or just for fun. With a simple use of Photoshop or Illustrator all you have to do is just change the image in a mood board files, add your text, or change color. All vector files can be used for large printing size. NOTE: The PSD mood board files are compatible with Adobe Photoshop CS6 / CC. PNG files are useful for most To work with these templates, basic knowledge of Photoshop and Illustrator is required.
WHAT HAS BEEN INCLUDED
-3 template PSD 1900 x 2800 px 300 dpi;
-39 line art PNG, EPS illustrations (women portraits, hands, shapes, petals and flowers);
-4 PSD mood boards (jpeg has been included);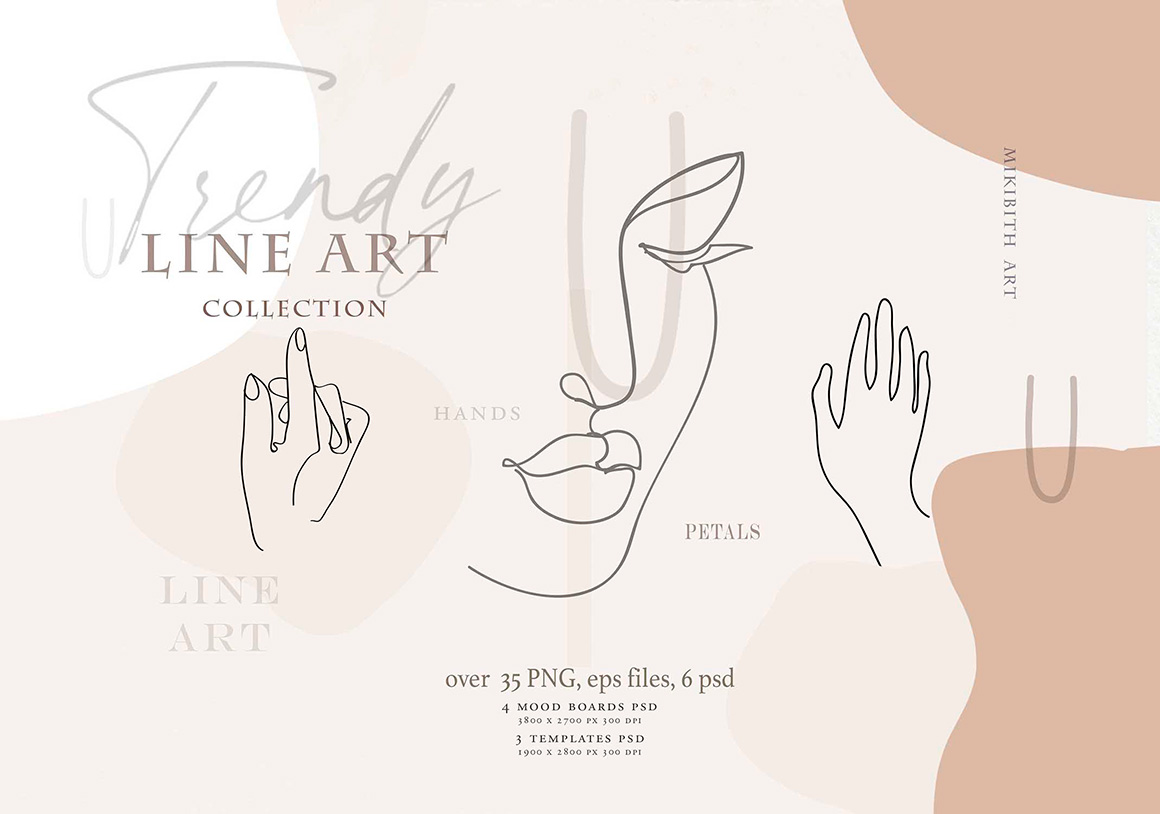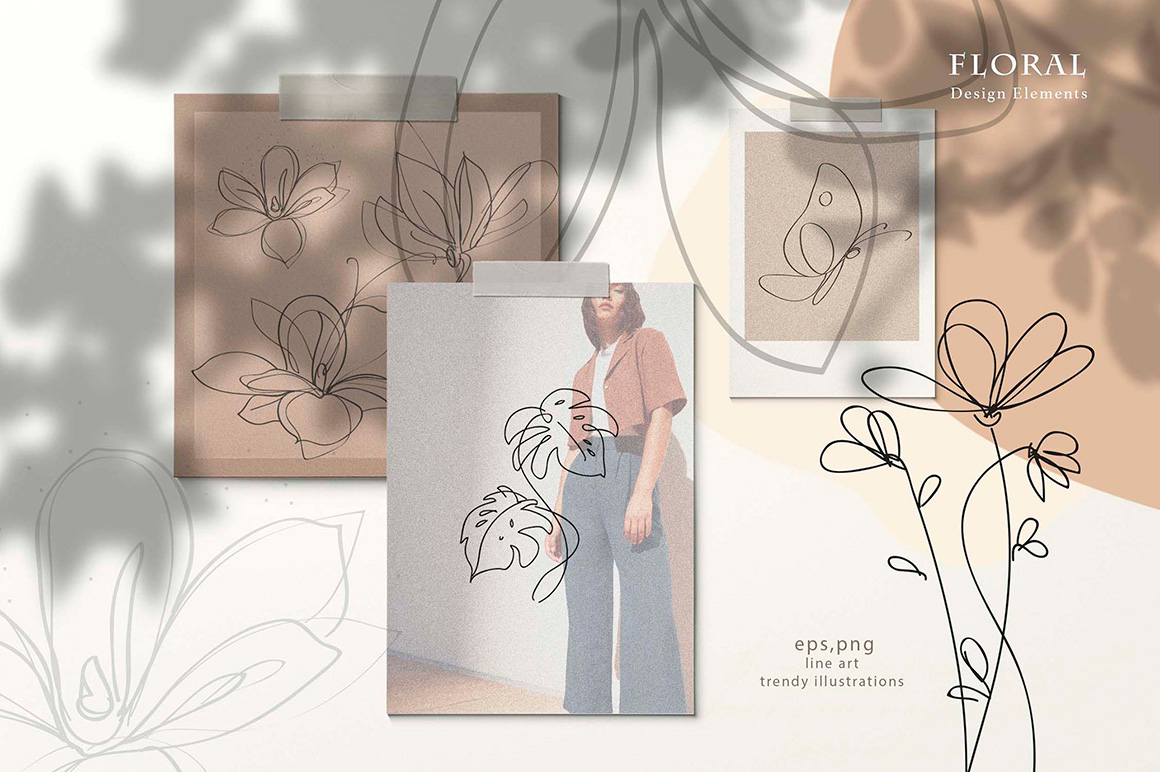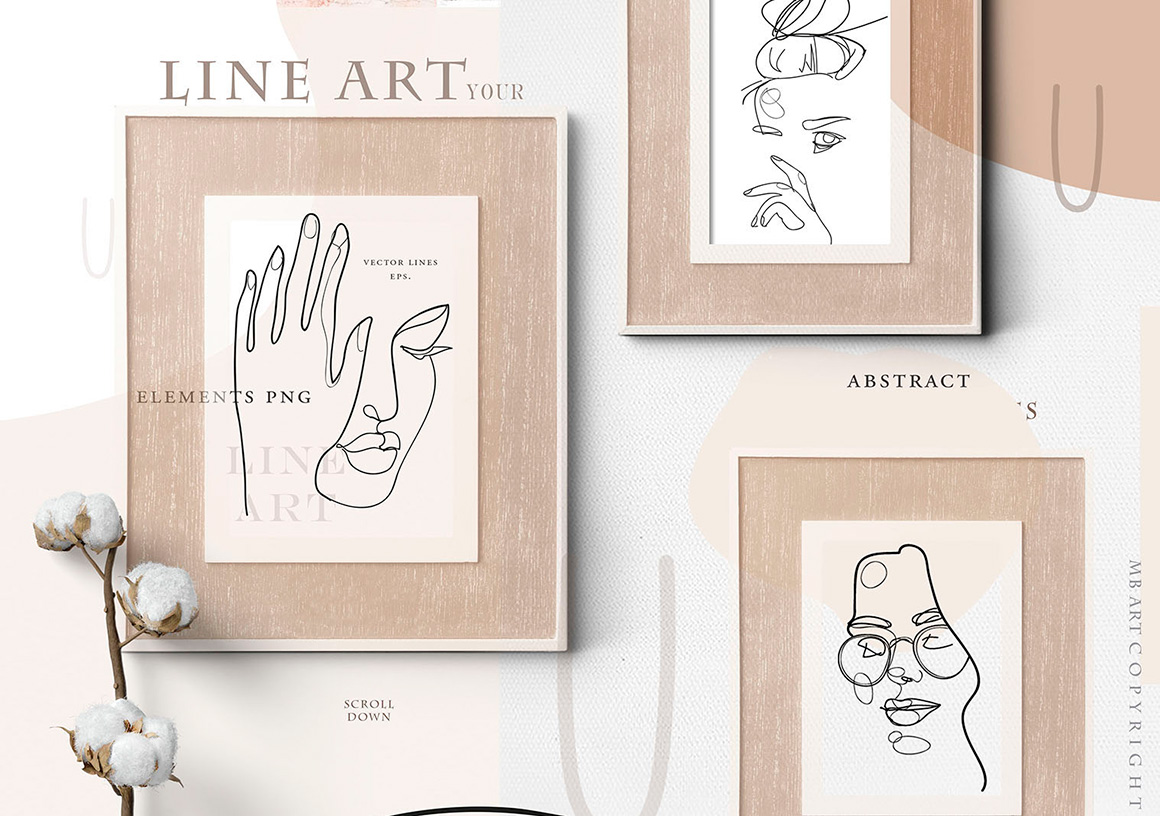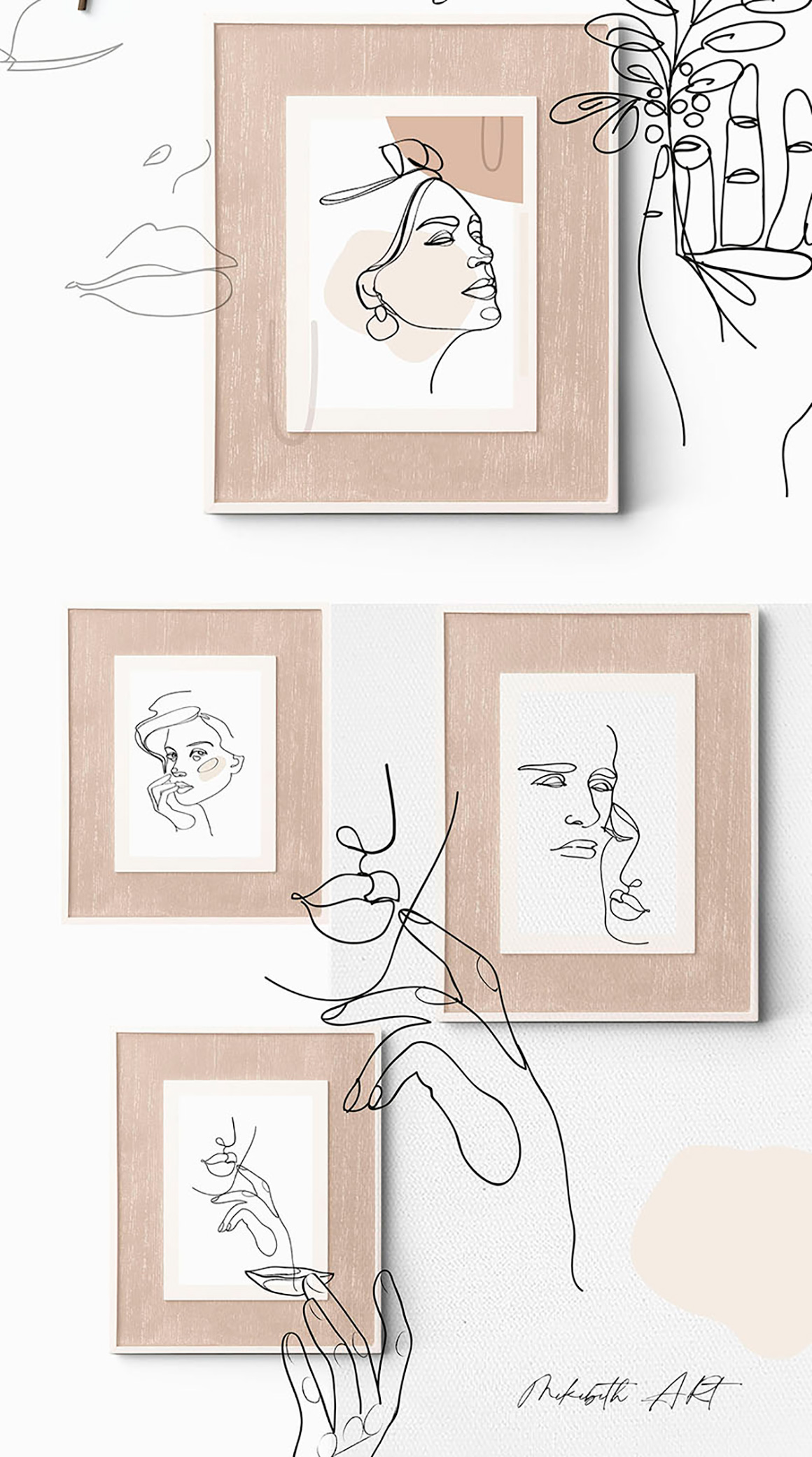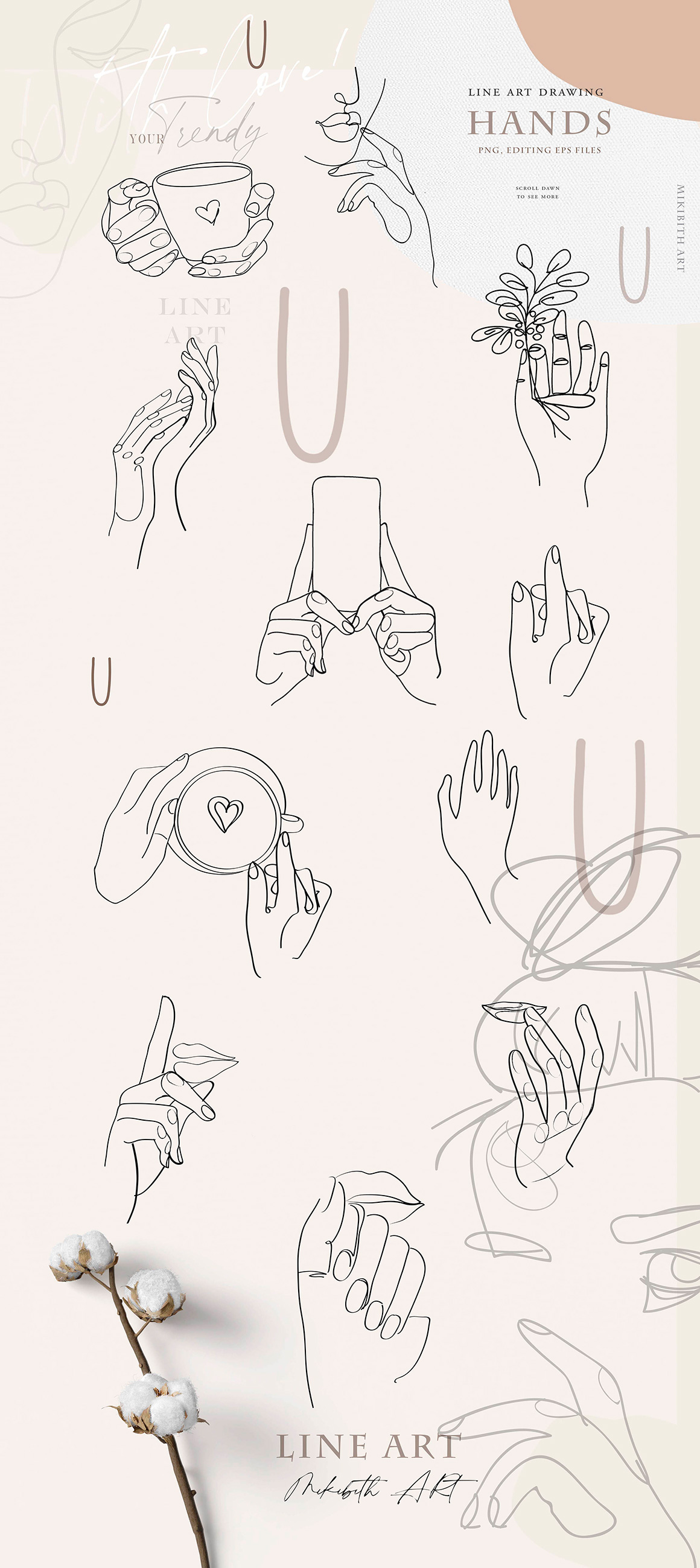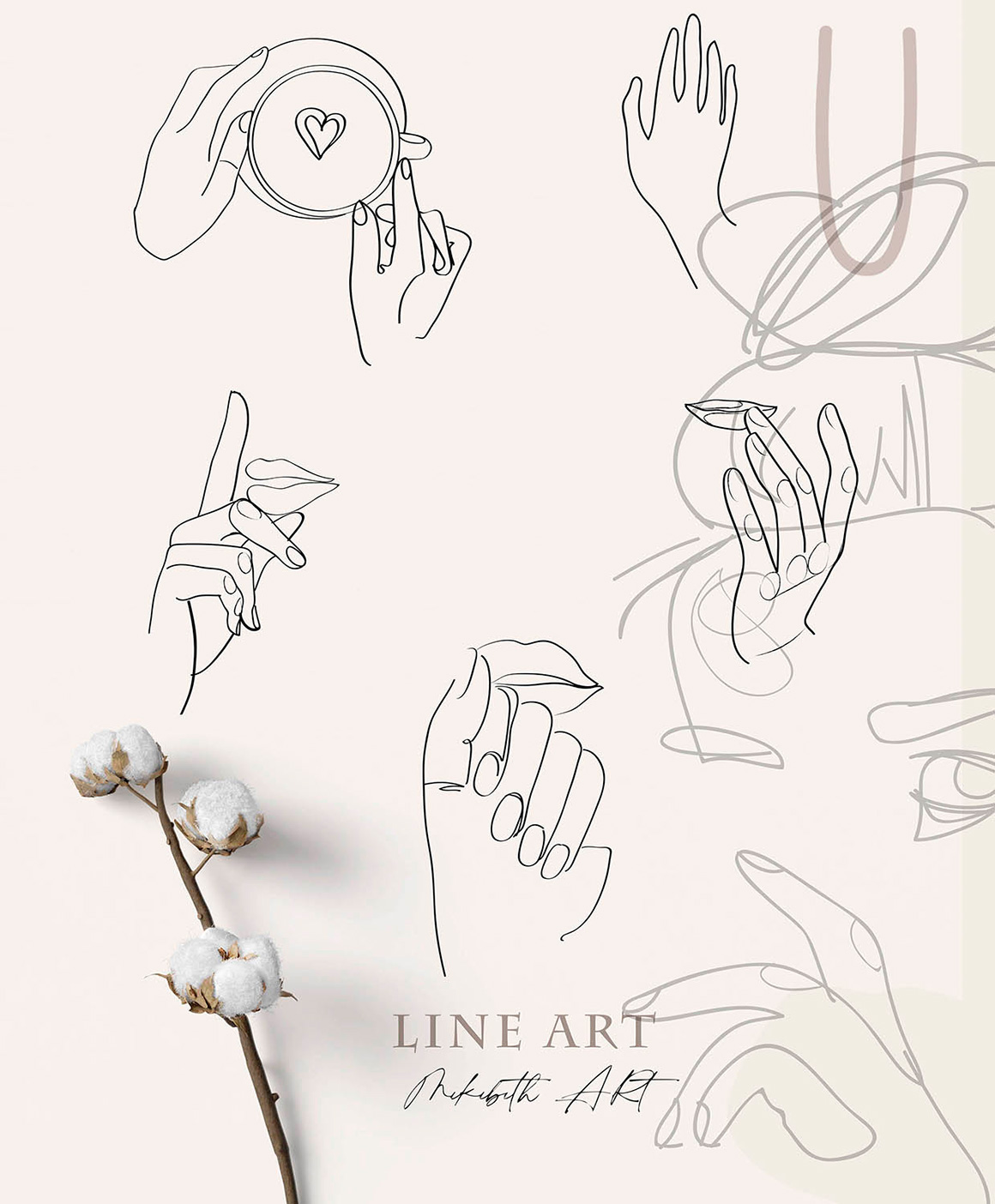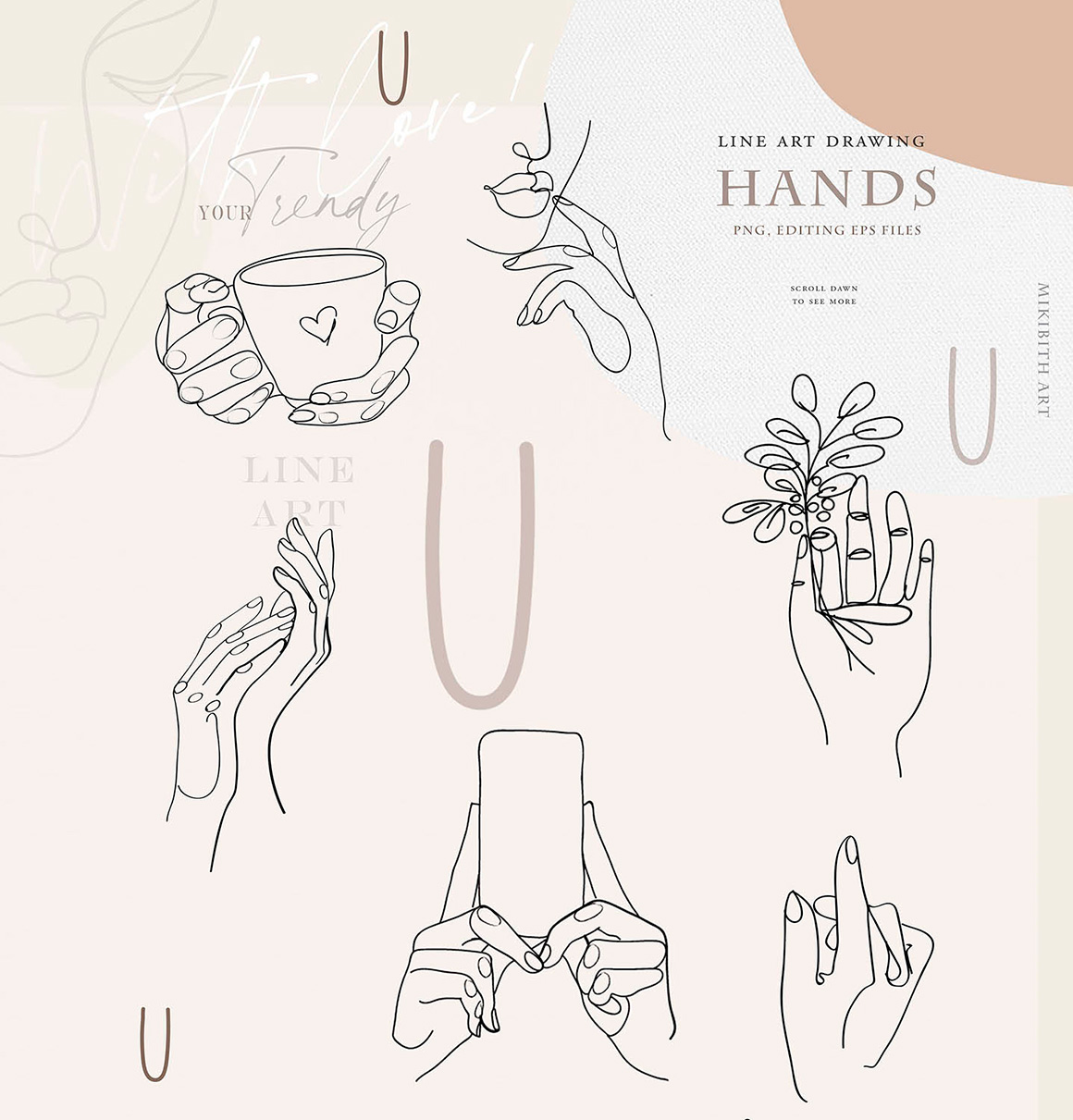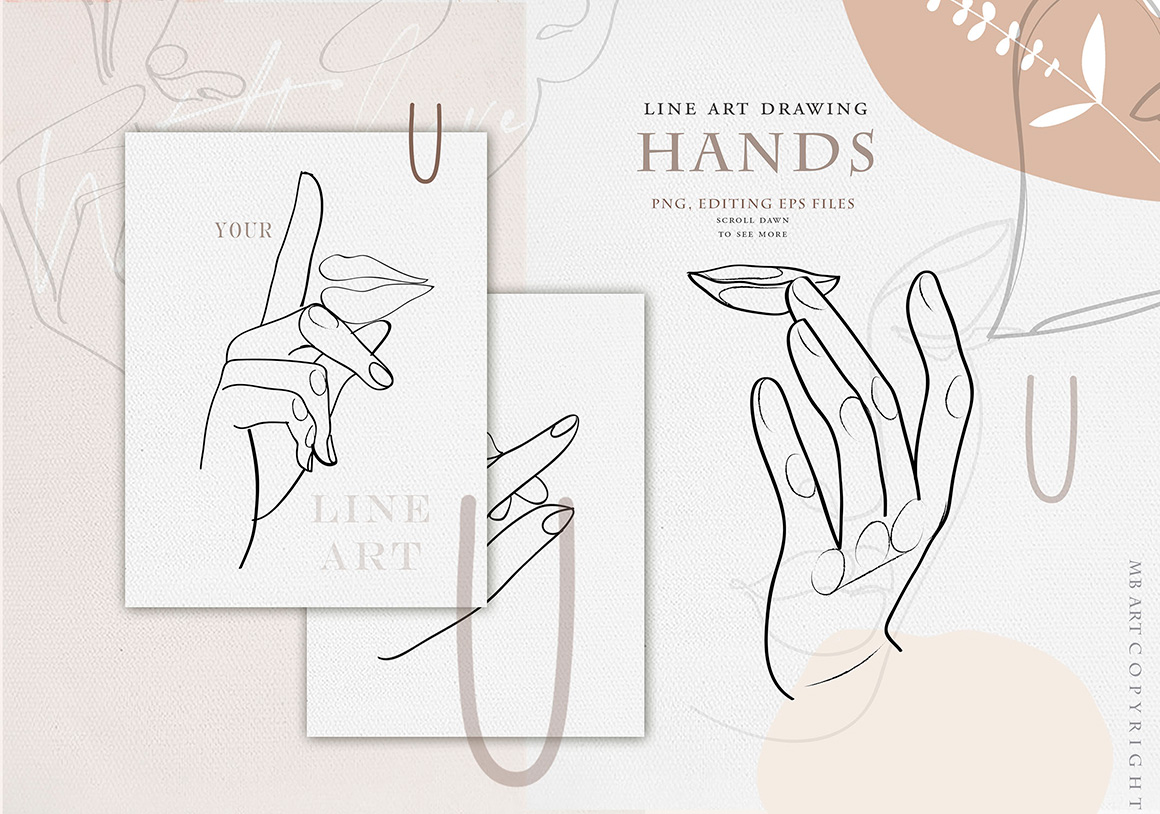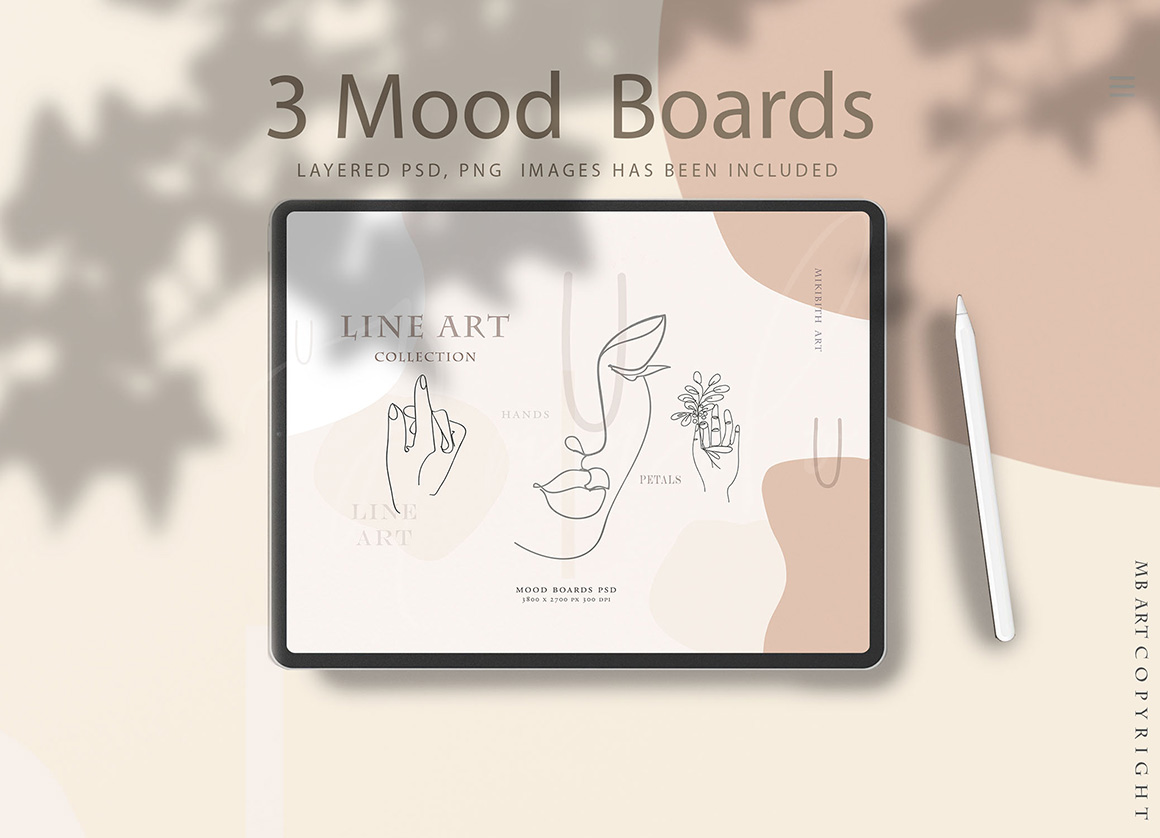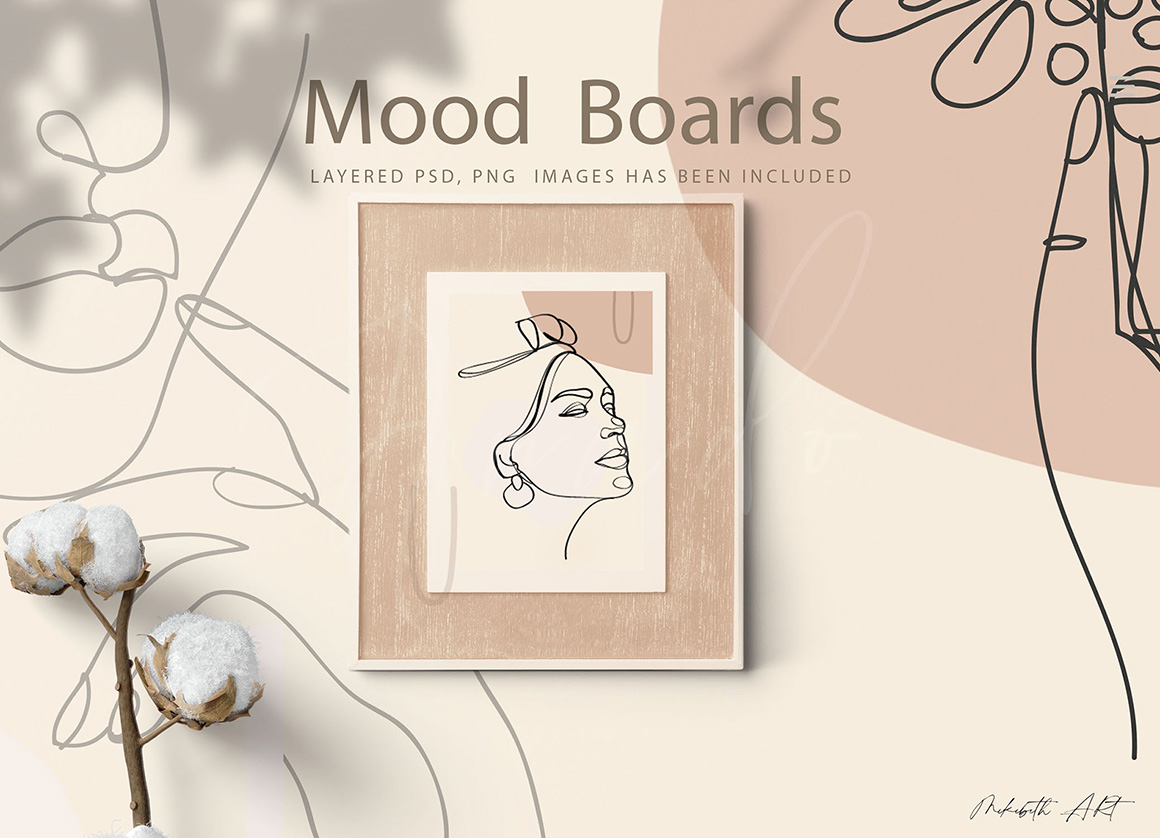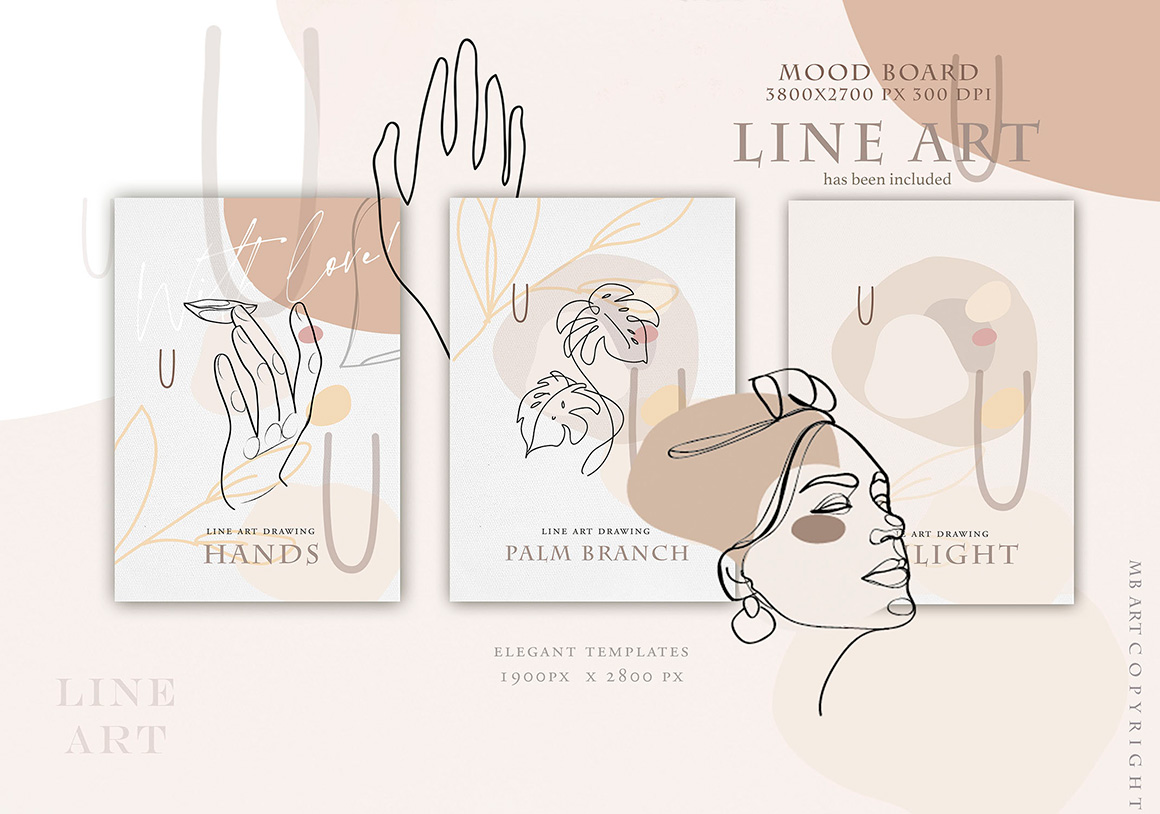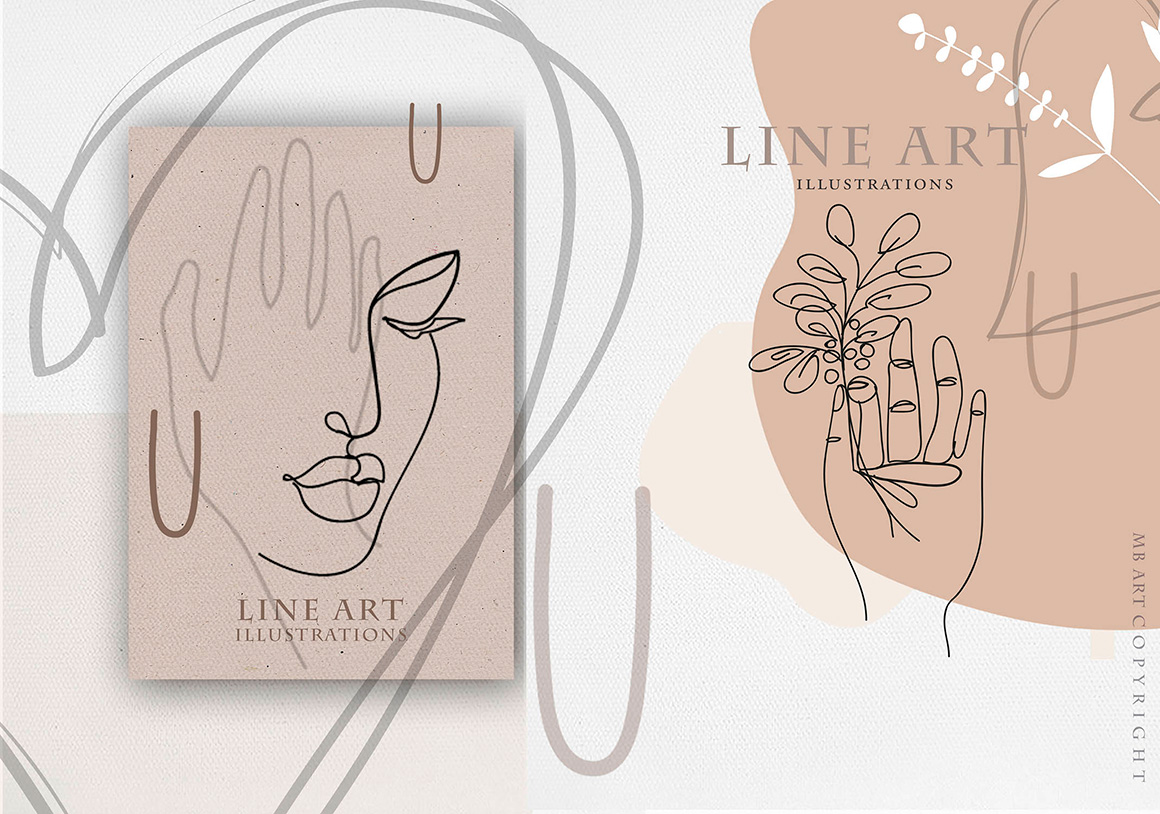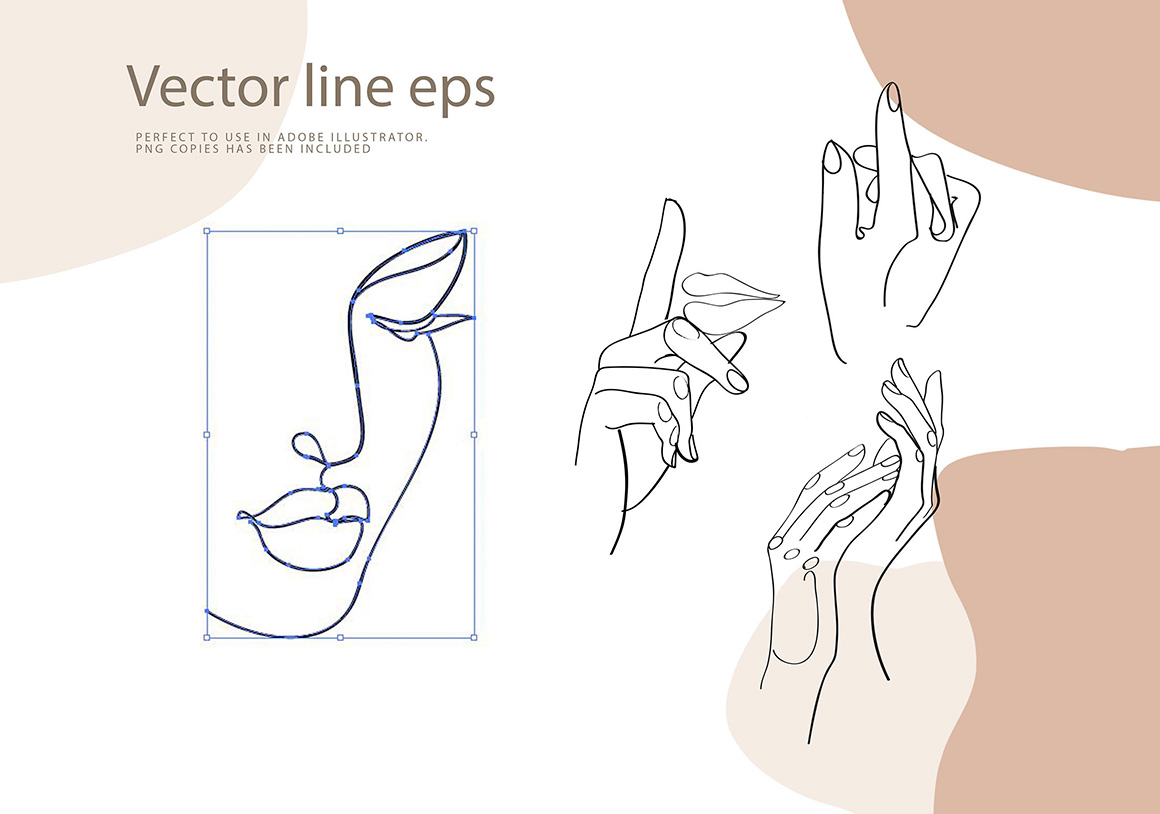 6. Fine Art Roses from MikiBith Art
Glad to introduce to you new​ Fine art collection with oil painted roses, arrangements and frames! This set looks​ really perfect in the wedding congratulations or in any print designs, reach of oil textures and brush storks, include ready-made cover designs, templates, transparent png elements, frames, fonts collection, ​and ready-made arrangements.
What has been included:
Bouquets 300 dpi: 3190  x  2797 px, 4592  x  3326 px, 3688  x  2156 px, 4592  x  3326 px, 2813  x  3431 px, 2154  x  2970 px, 3201  x  2429 px
Frames 300 dpi: 4367  x  4651 px, 4592  x  3326 px, 4367  x  4651 px, 5367  x  5716 px, 4592  x  3326 px, 4367  x  4651 px, 4592  x  4178 px
19 PNG elements, 7 transparent brush strokes;
6 Ready-made templates in horizontal & vertical formats 2800×1800 px, 2400 x3300 px 300 dpi;
3 Cover designs layered psd 2800×1800 px 350 dpi;
Oil textures 3 jpeg files 2800×1800 px – 3600×2400 px 300 dpi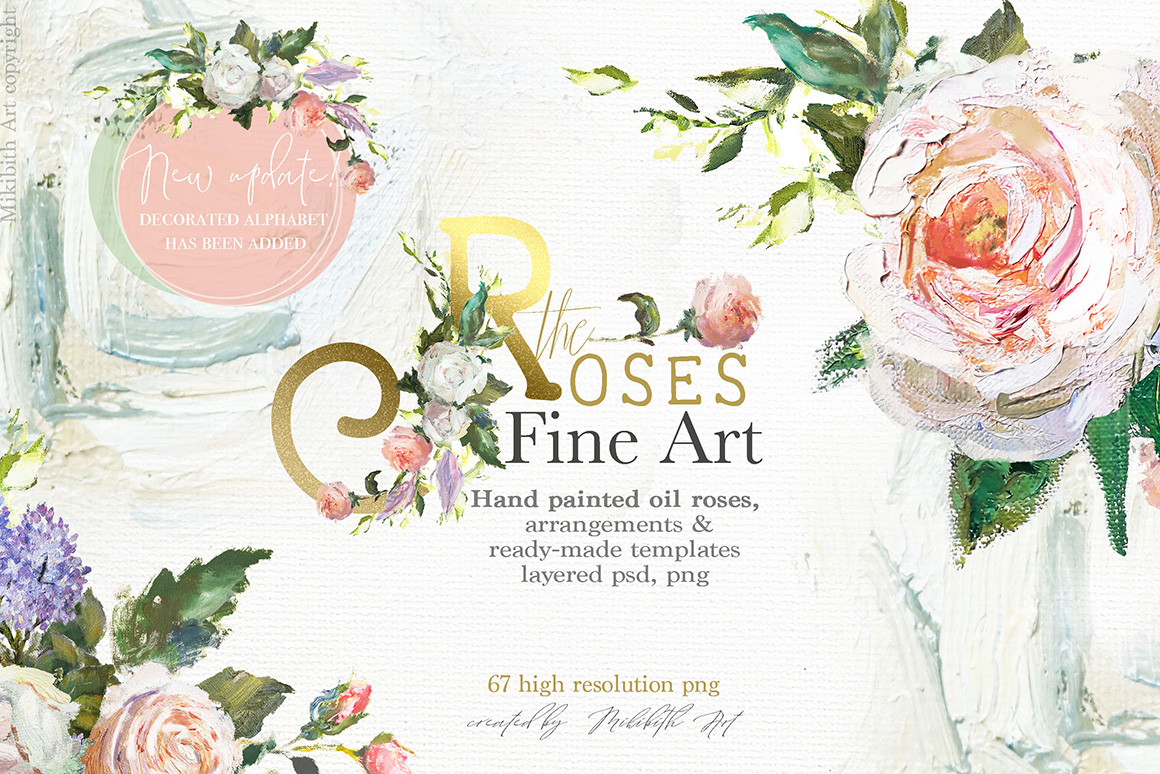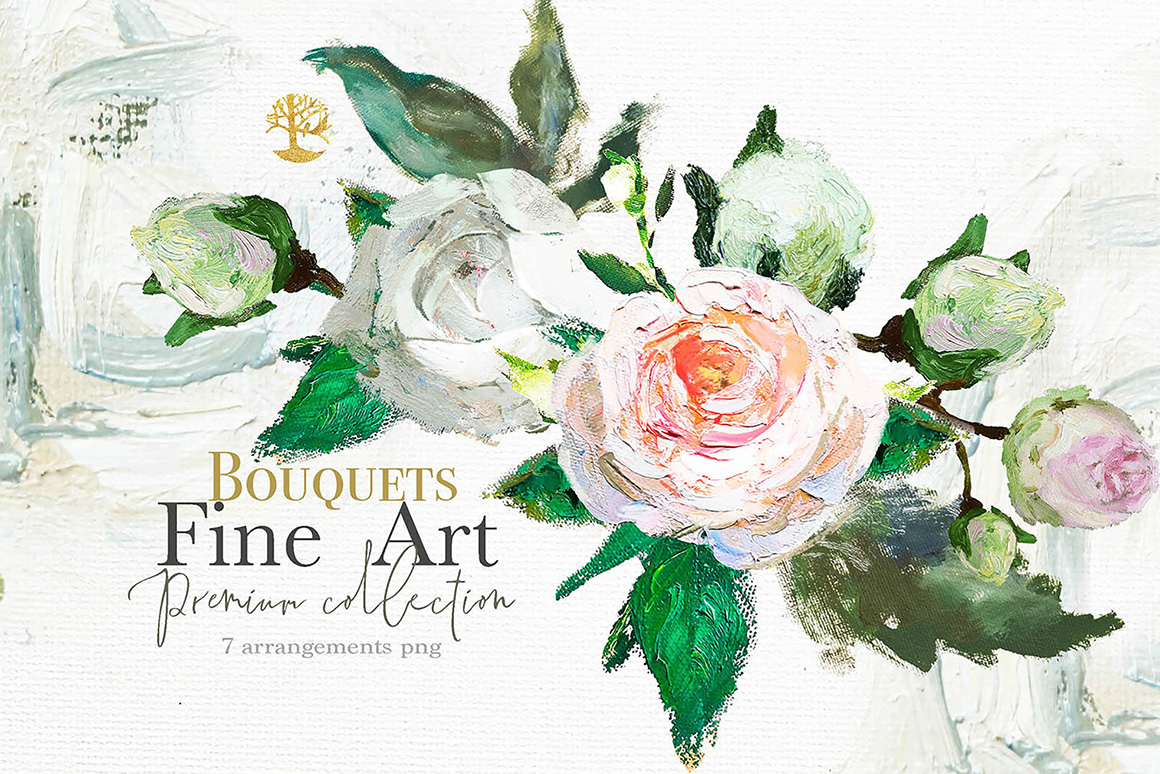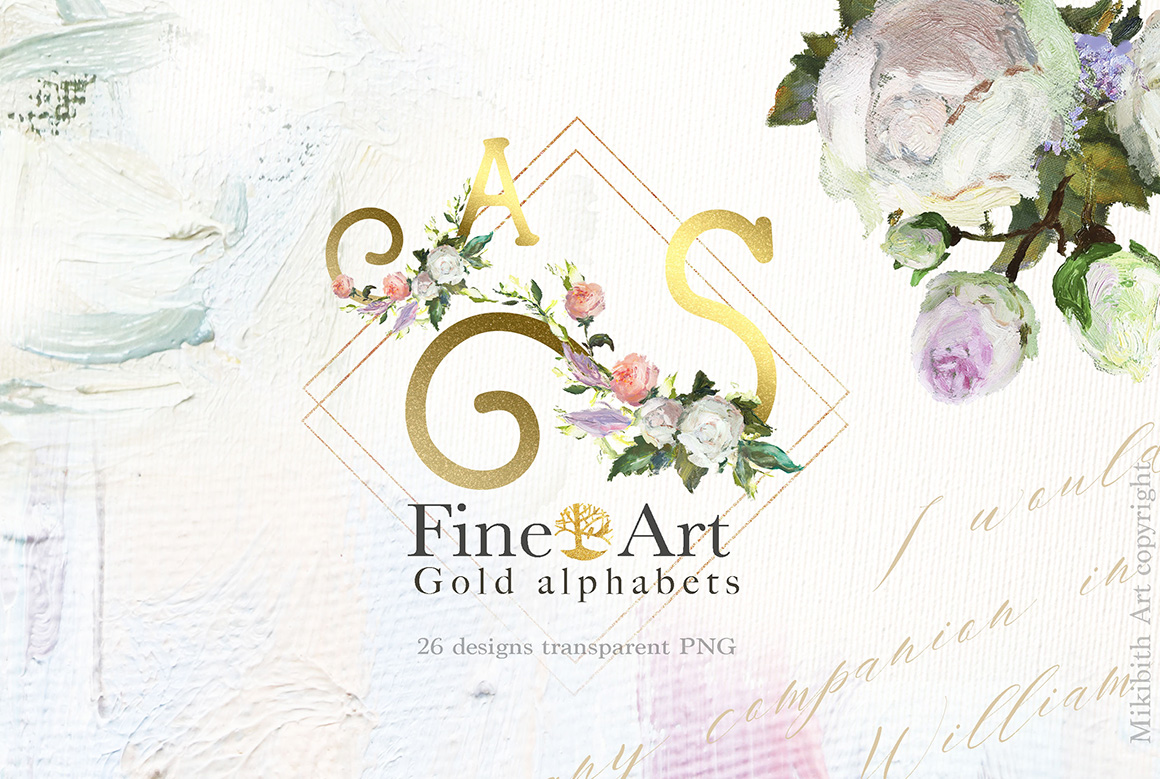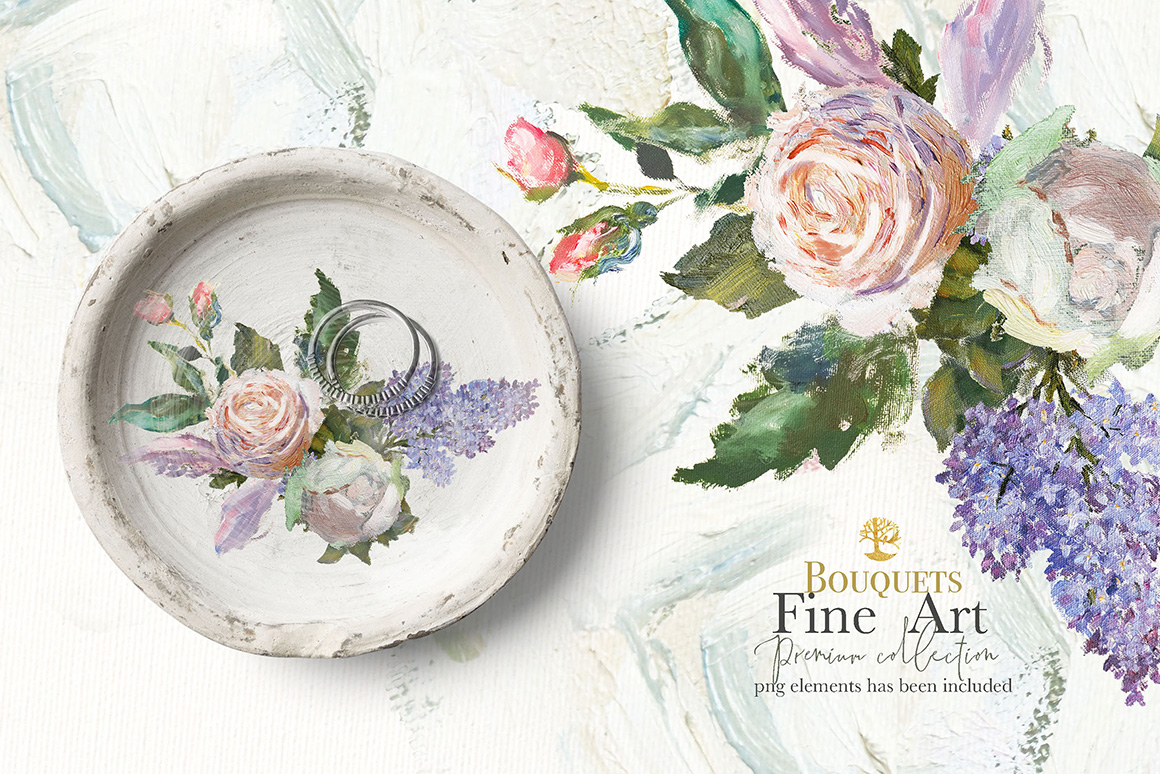 7. Magnolia Blooming Collection from MikiBith Art
Watercolor collection of the wonderful magnolia flowers and birds. 60 PNG files.
Finding something good without looking for it
This collection is reach of blooming magnolia branches and birds, created with high resolution and premium quality. With love for you! Seamless patterns perfect to use in both Photoshop and Illustrator software. Trendy geometrical forms are ready for use and perfect for branding. All the PNG elements has been included.
-13 PNG arrangements, -19 PNG elements, 5 seamless, -2 jpeg designs, 20 geometrical shapes, 1 layered psd
Happy designing!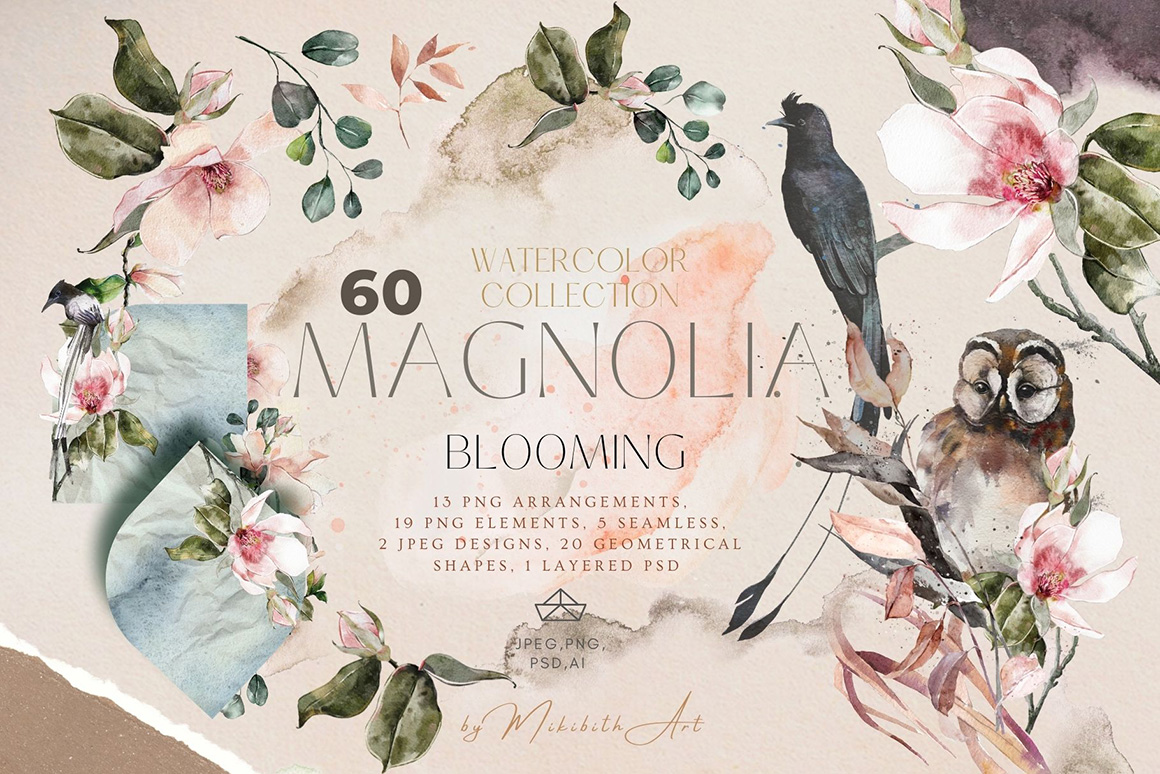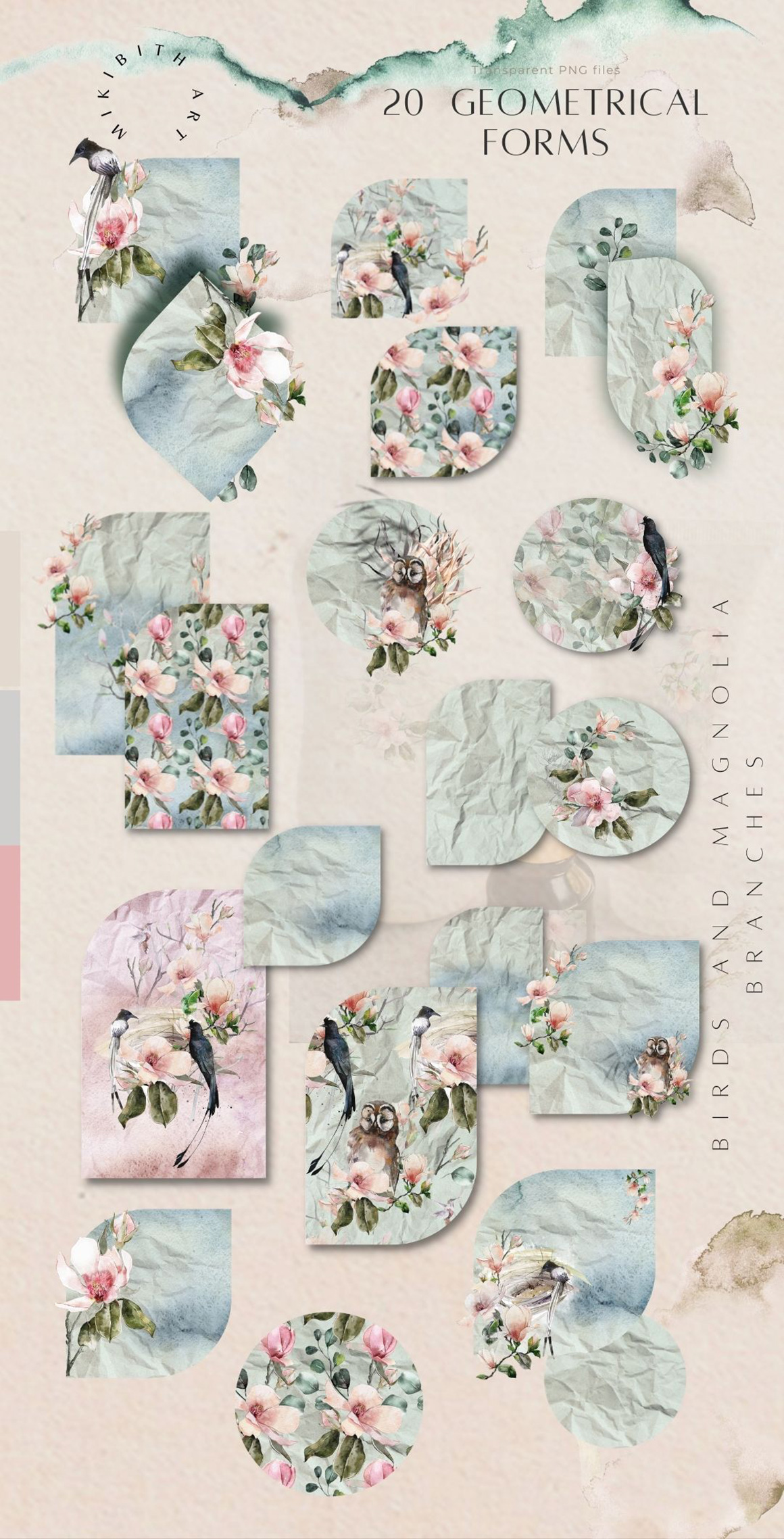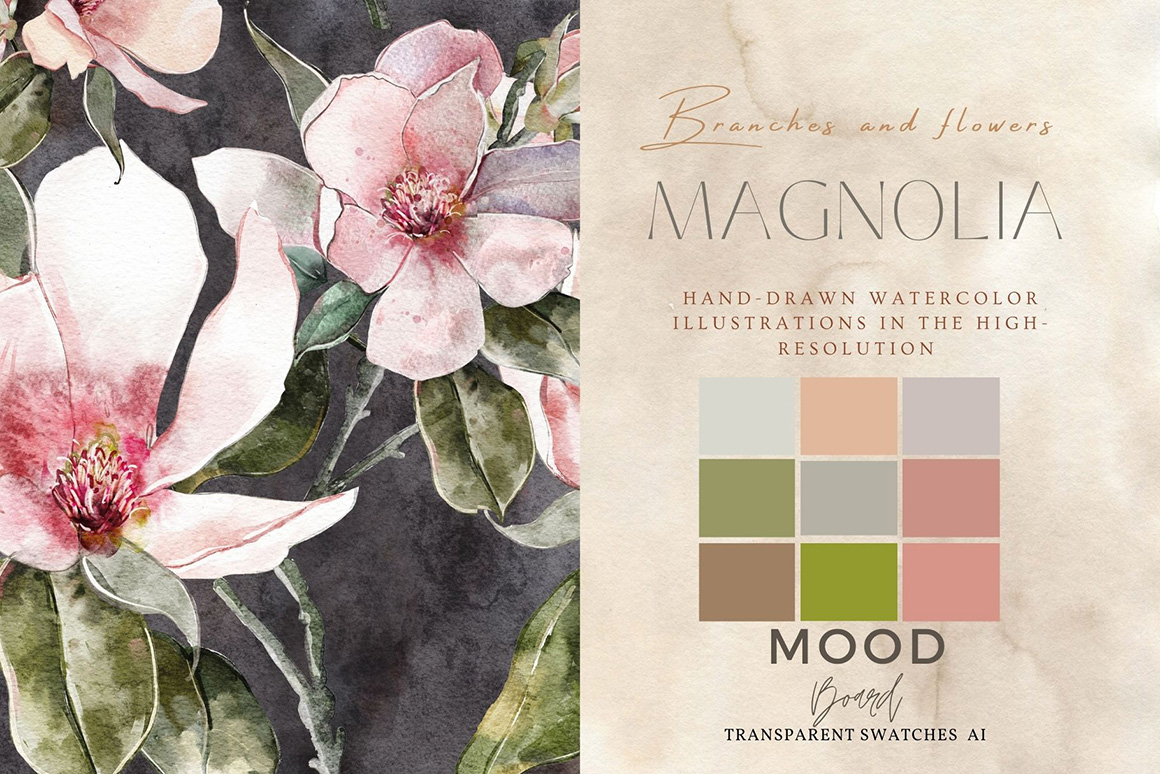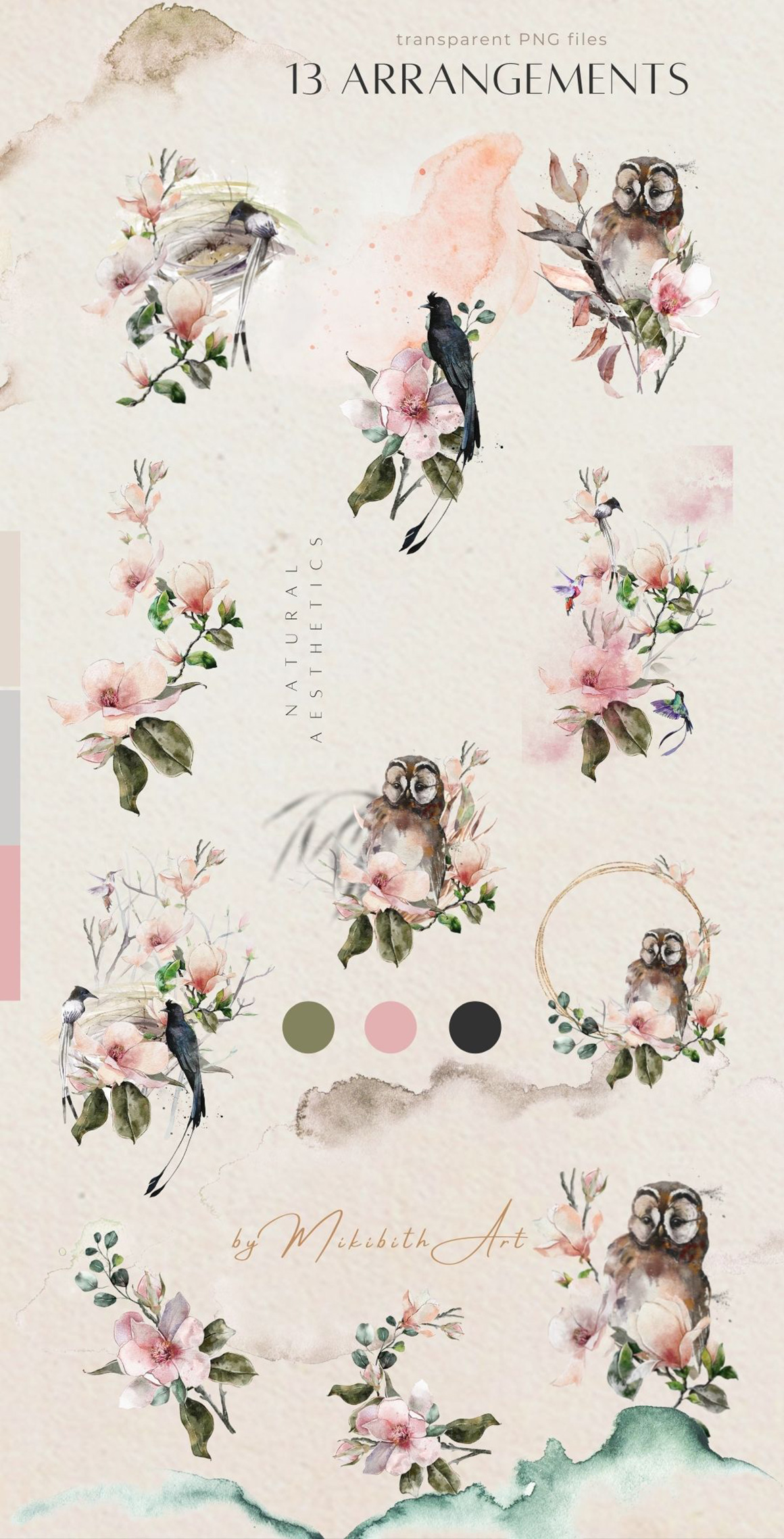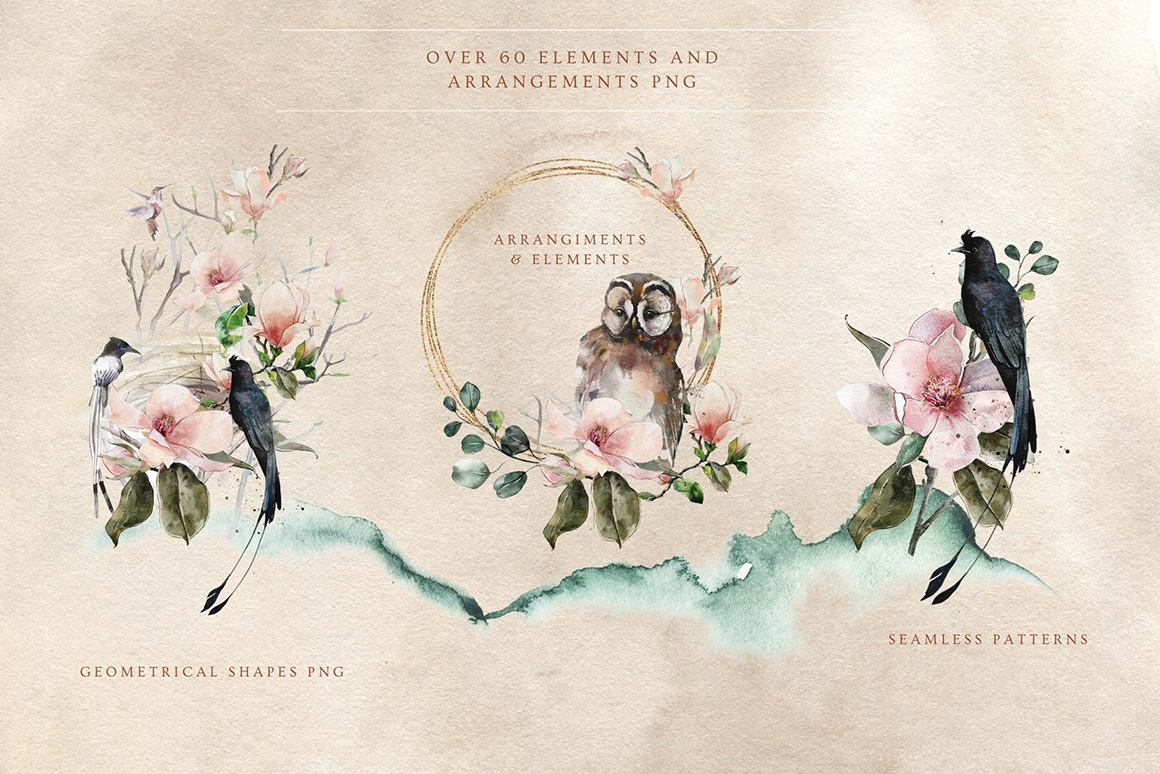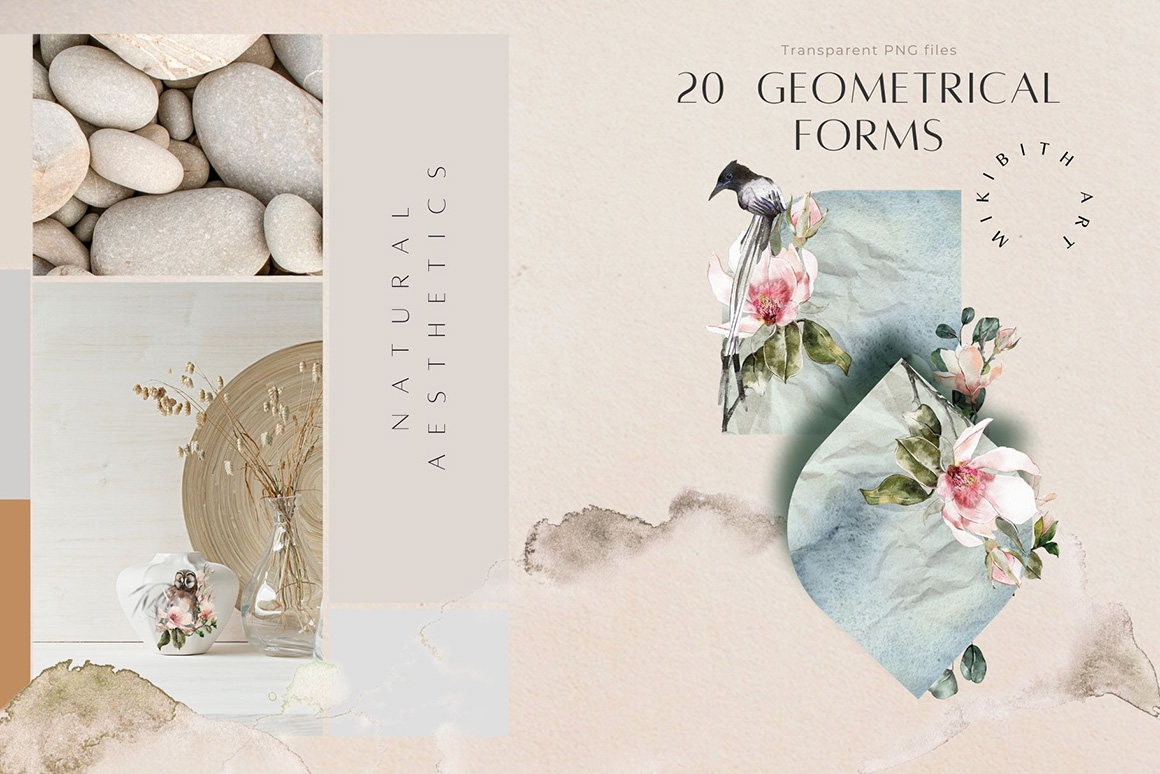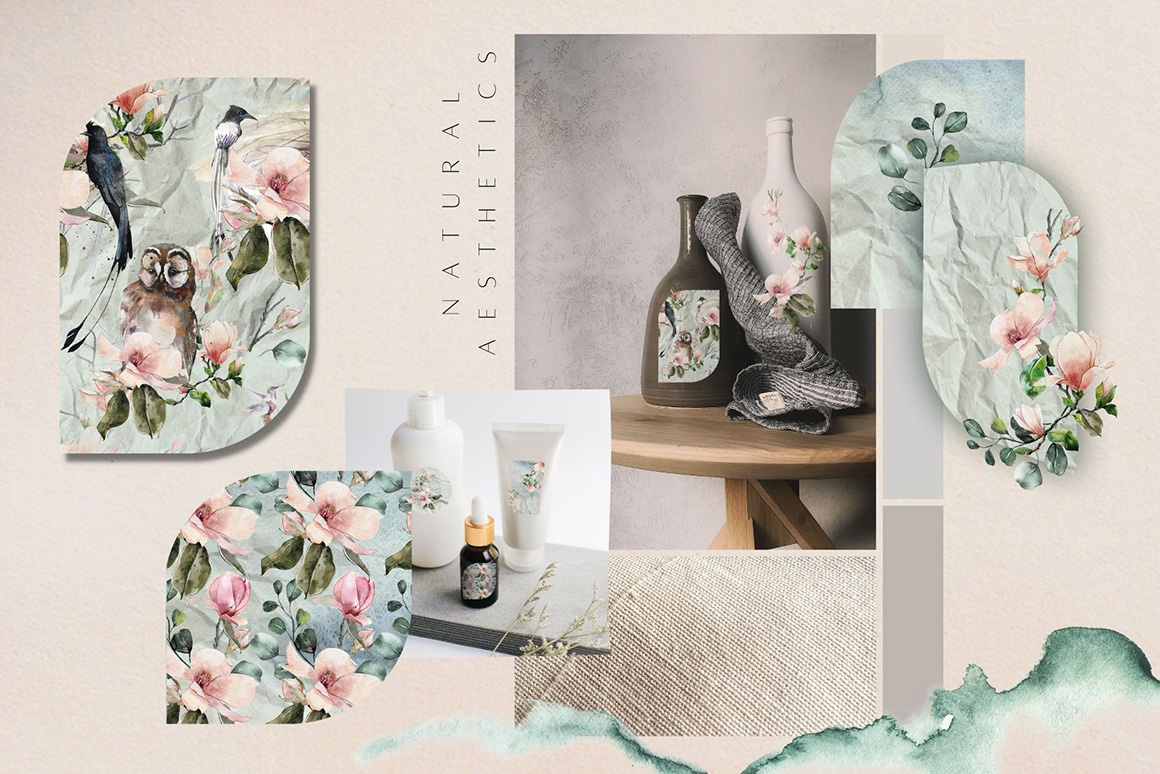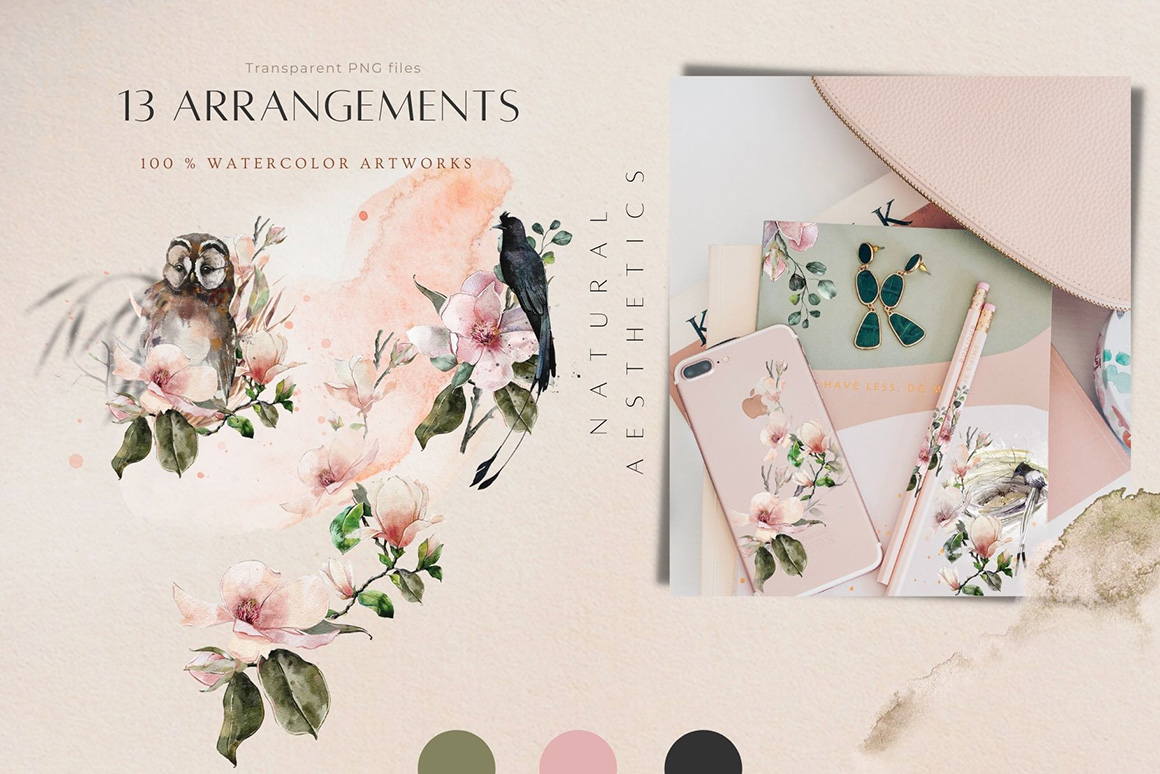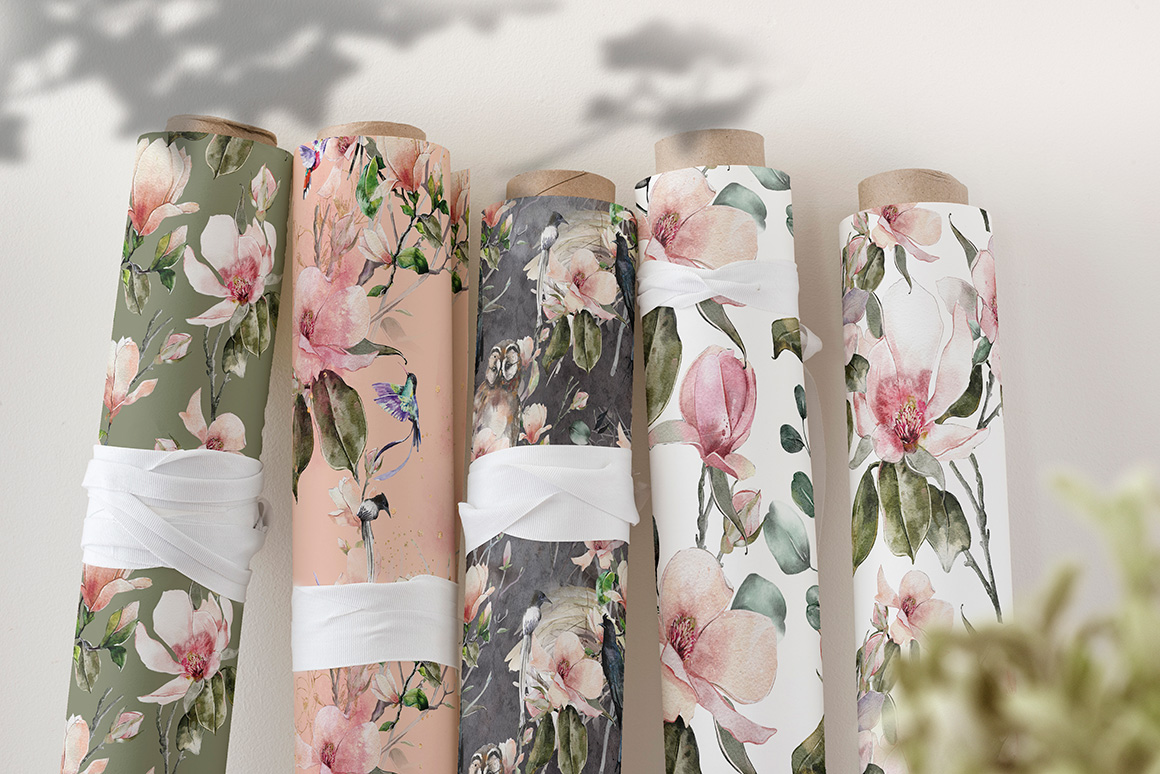 8. Oh Roses Collection from MikiBith Art
Roses collection set 75 files
The artworks in your lovely style have been done with different colors of roses so you will get all the shades that you need for creating different style designs. If you gonna like it and will do let me know about it, I'm going to work under updates for this product.
So, what you get:
-37 transparent PNG elements, -11 bouquets PNG, -17 arrangements png, -5 geometrical shapes png, -3 jpeg backgrounds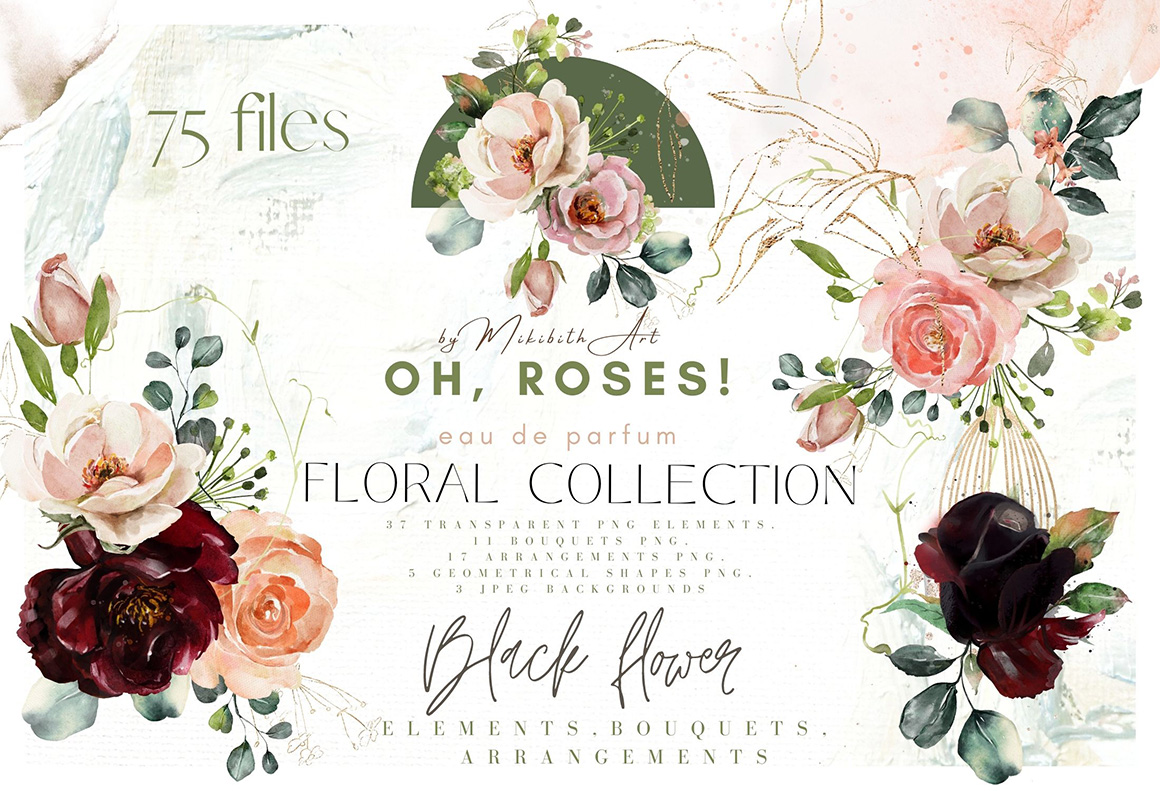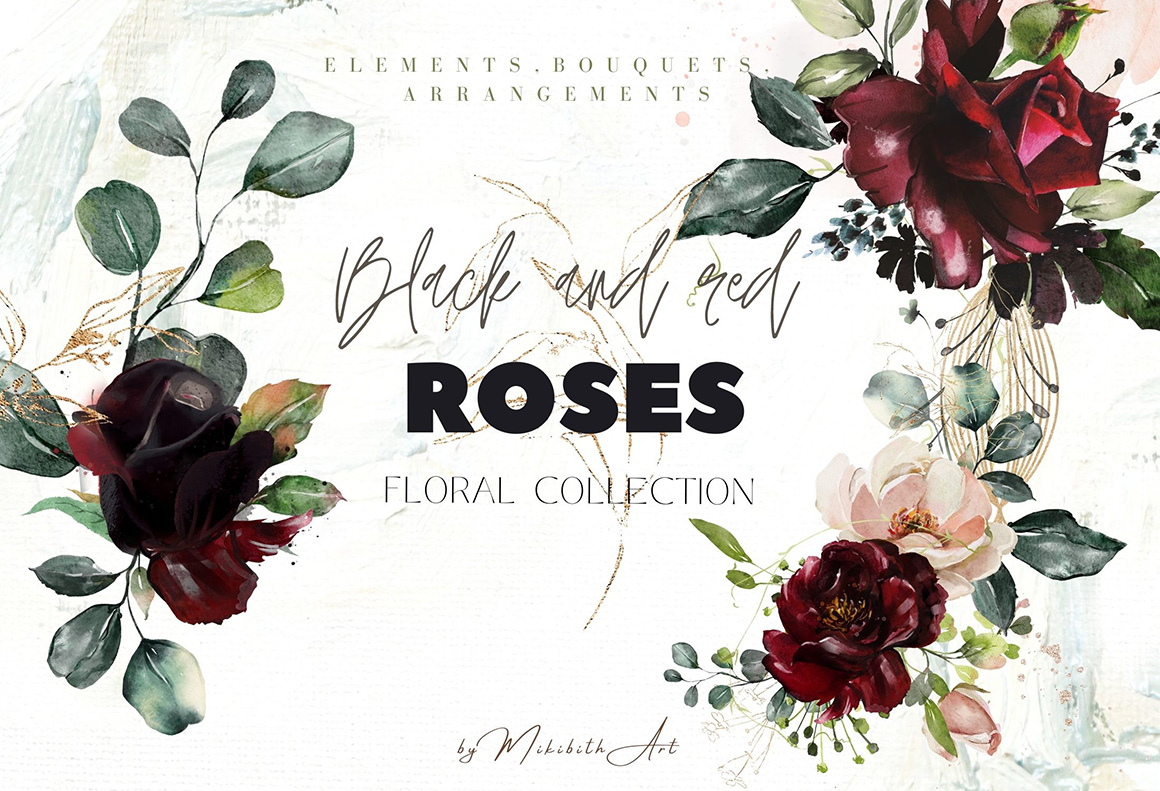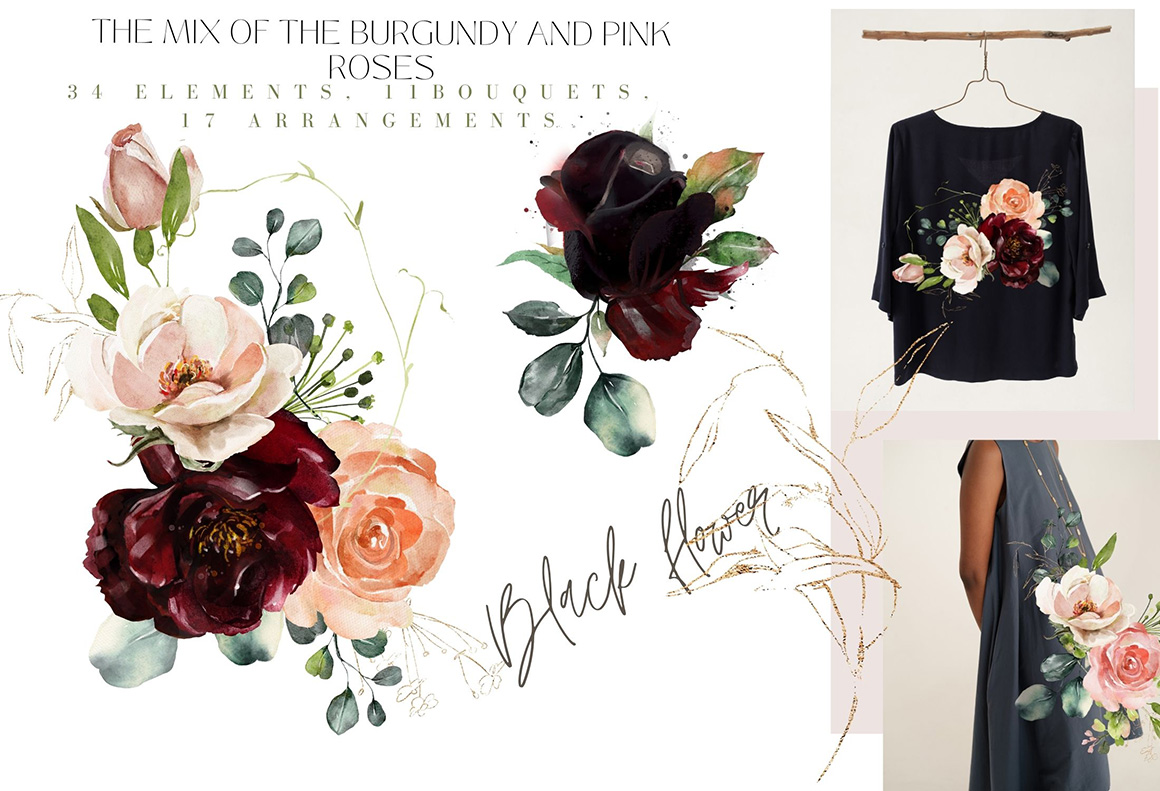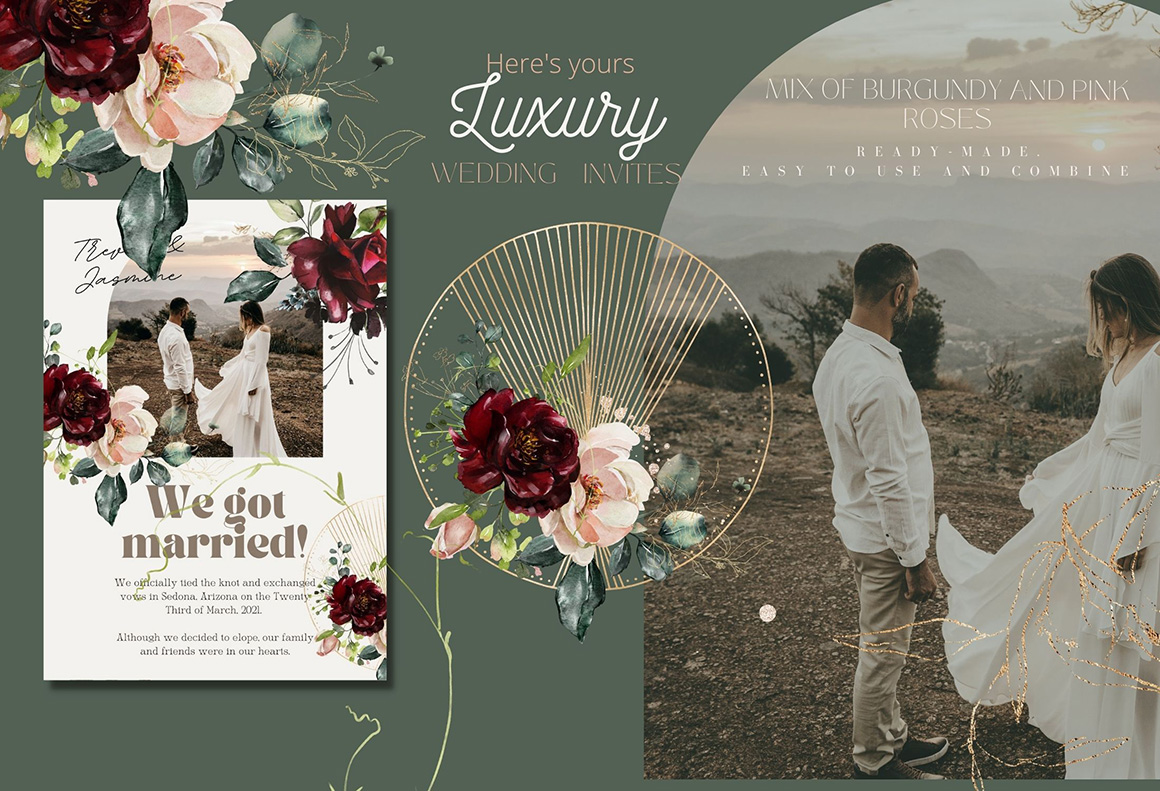 9. Antic Flowers from MikiBith Art
The luxury collection with hand-curated floral elements and seamless patterns. Al the patterns were illustrated and carefully isolated so you can have your own color pallet if you will need it. PNG files and high-resolution jpeg has been included. Also, there is a PSD creator with 5 ready-made backgrounds and seamless patterns on the separate layers, easy to choose your style. Raster files: PNG files can be opened with most photo editing software – please check your software for compatibility. To open the PSD pre-designed scenes Adobe Photoshop CS3 or newer is required AI FILES easily to work in Adobe Illustrator
WHAT YOU GET
32 PNG elements;
5 luxury seamless patterns PNG, Ai (easily to edit in Illustrator);
1 PSD layered creator with a ready-made pallet;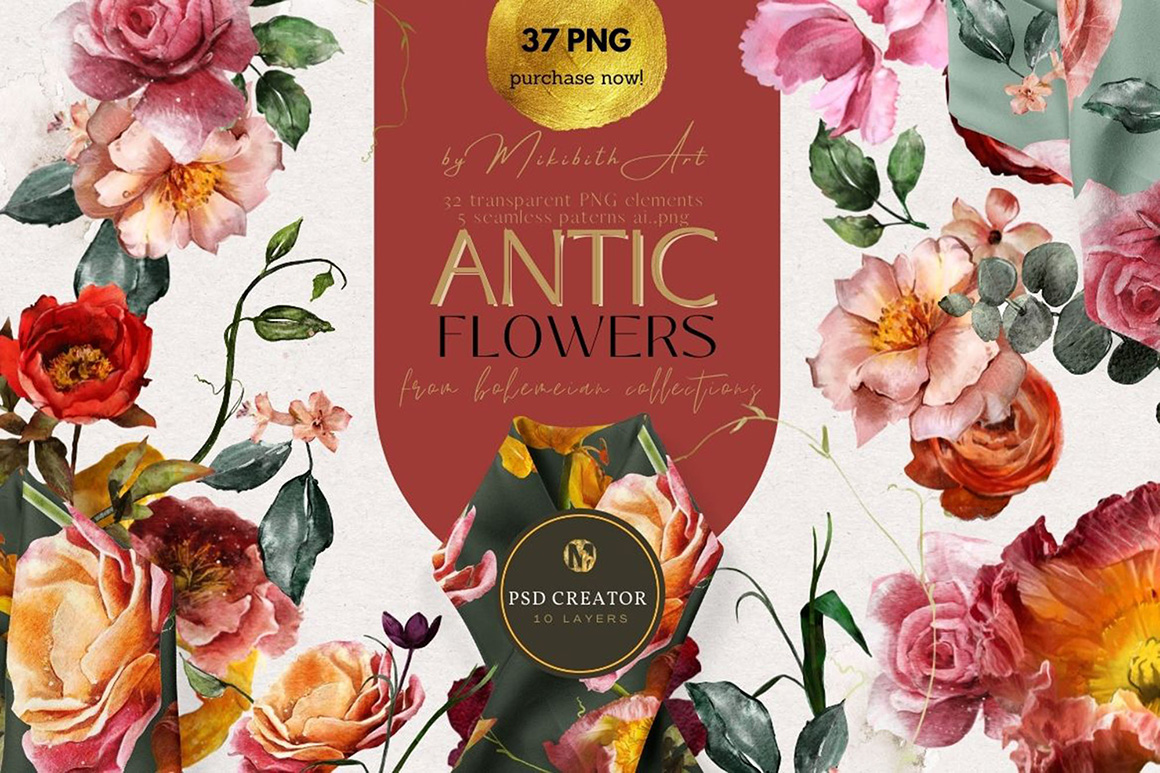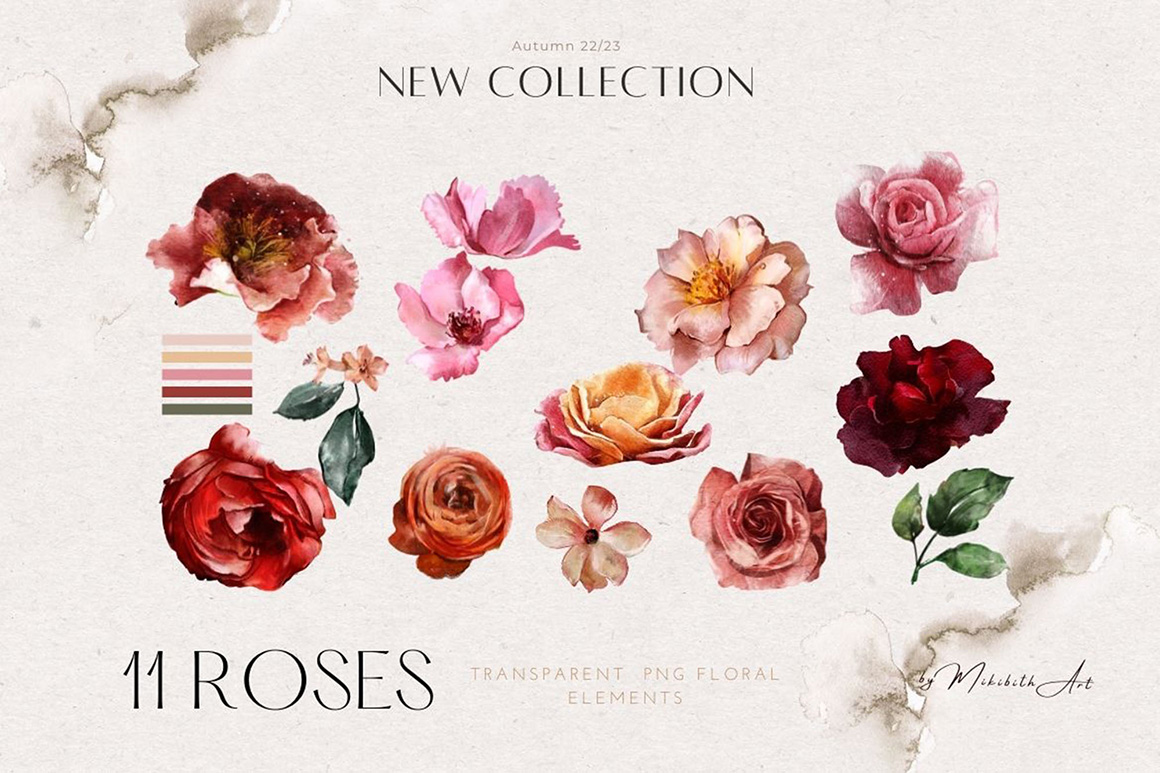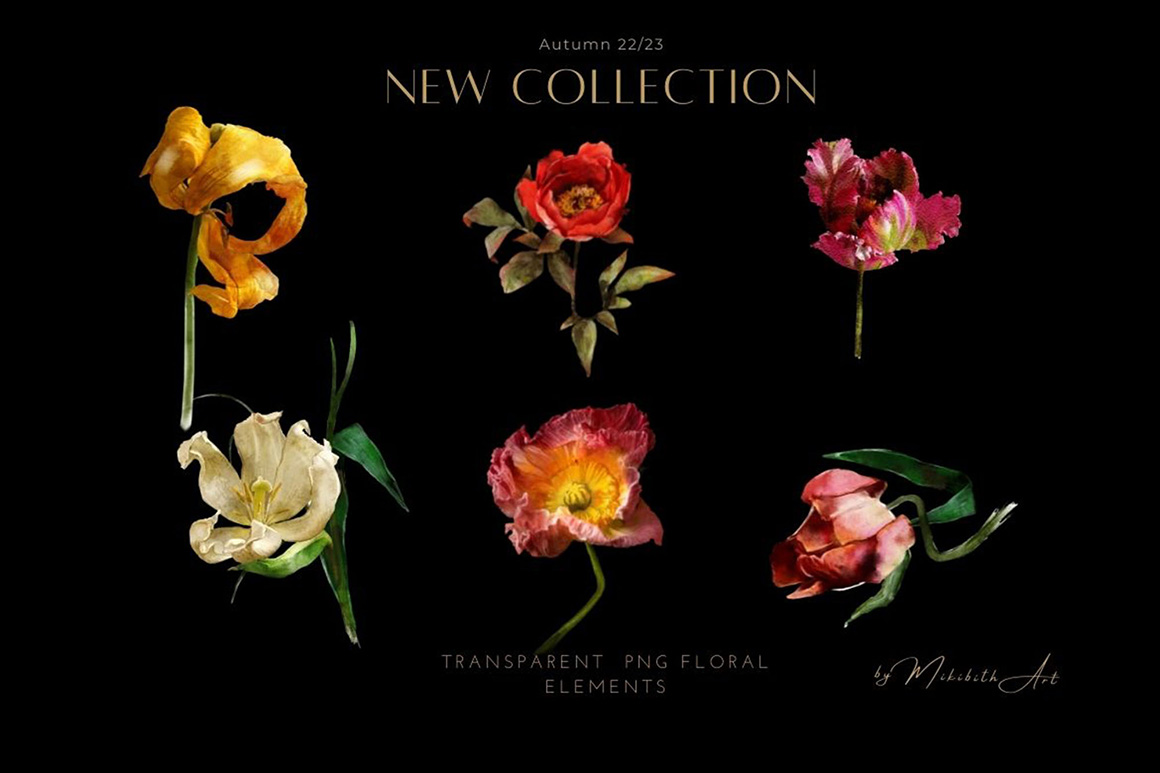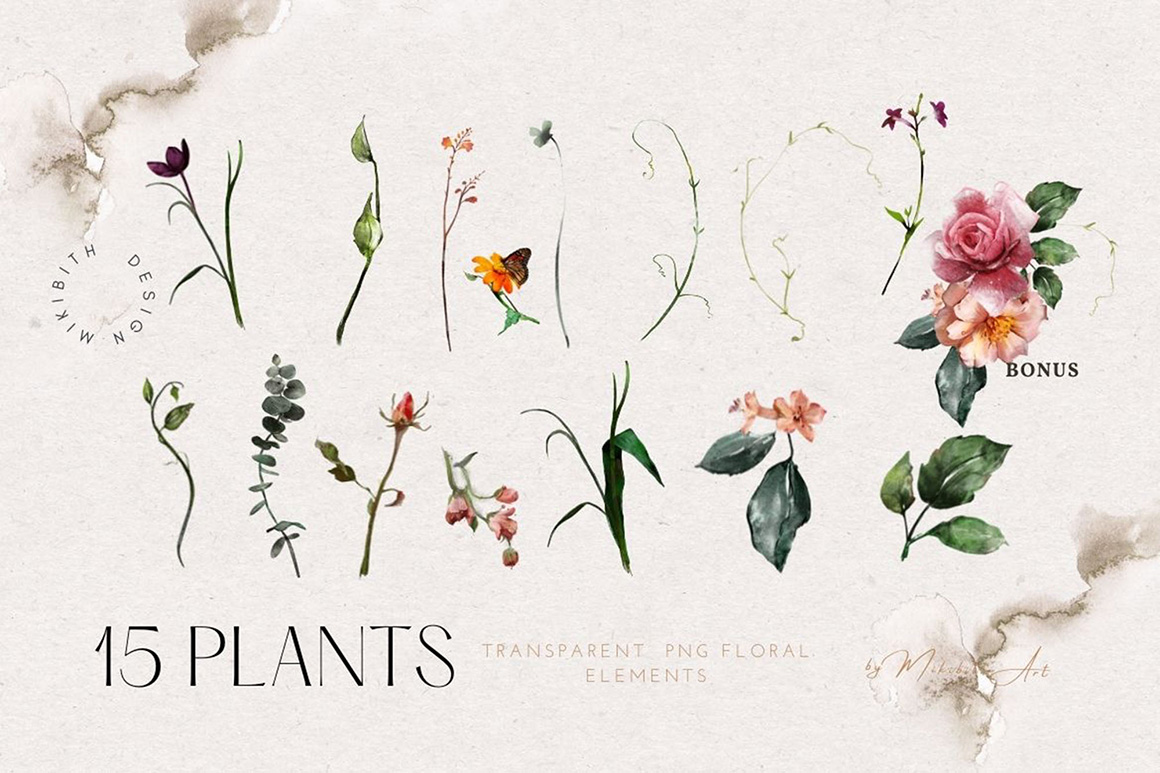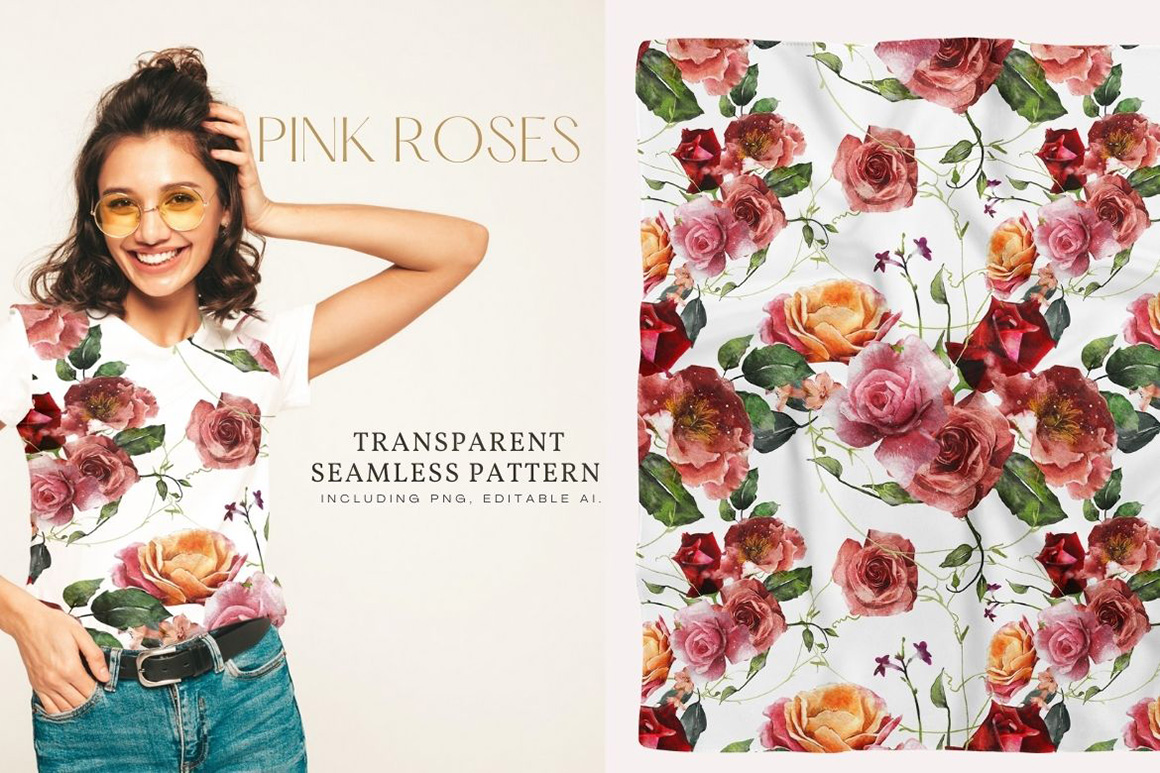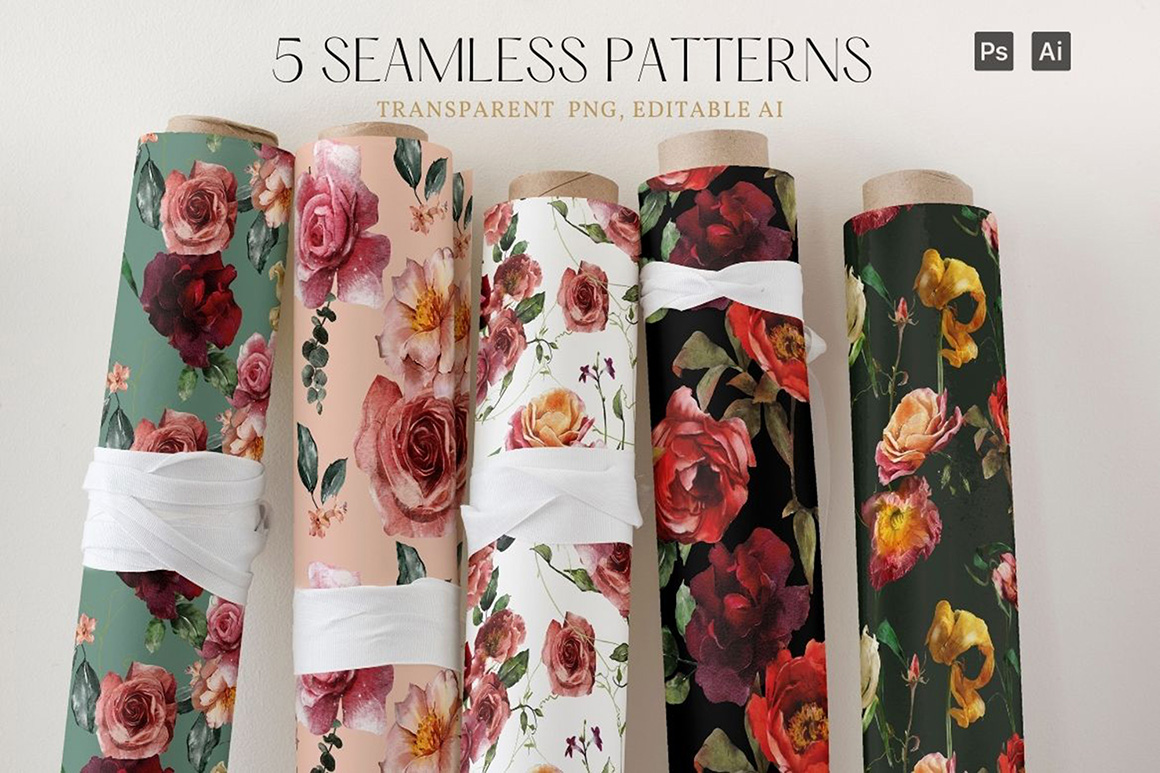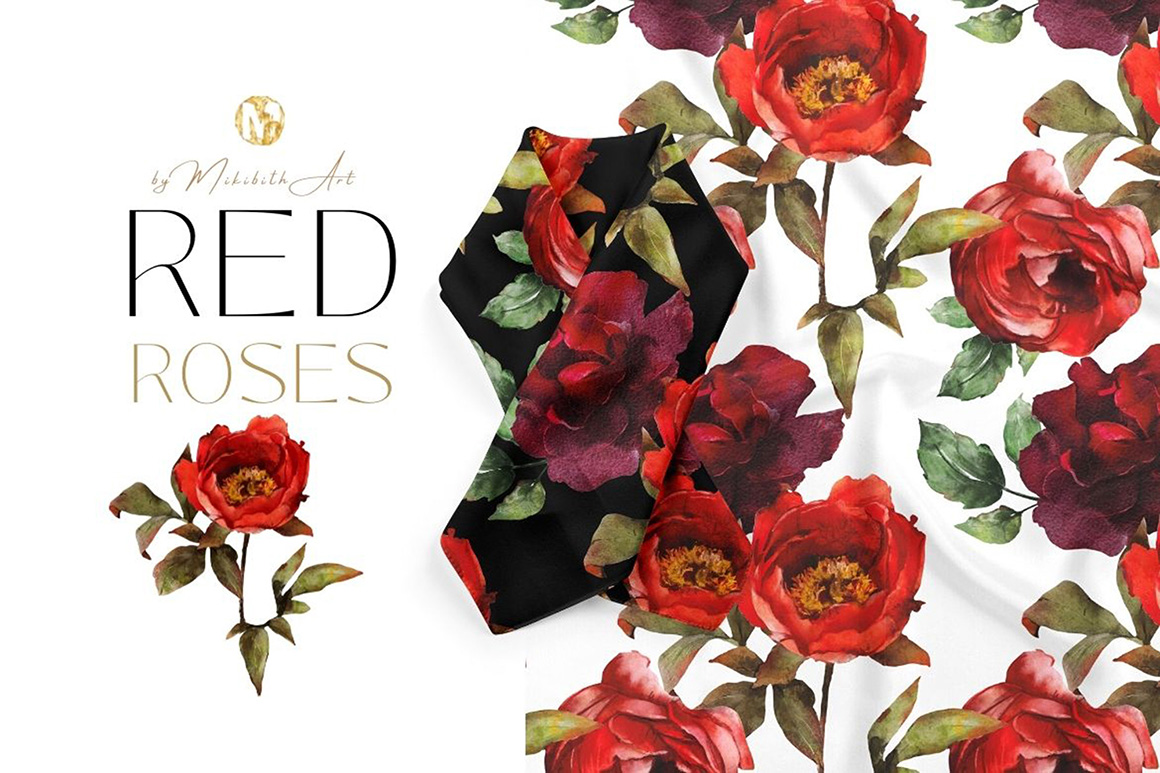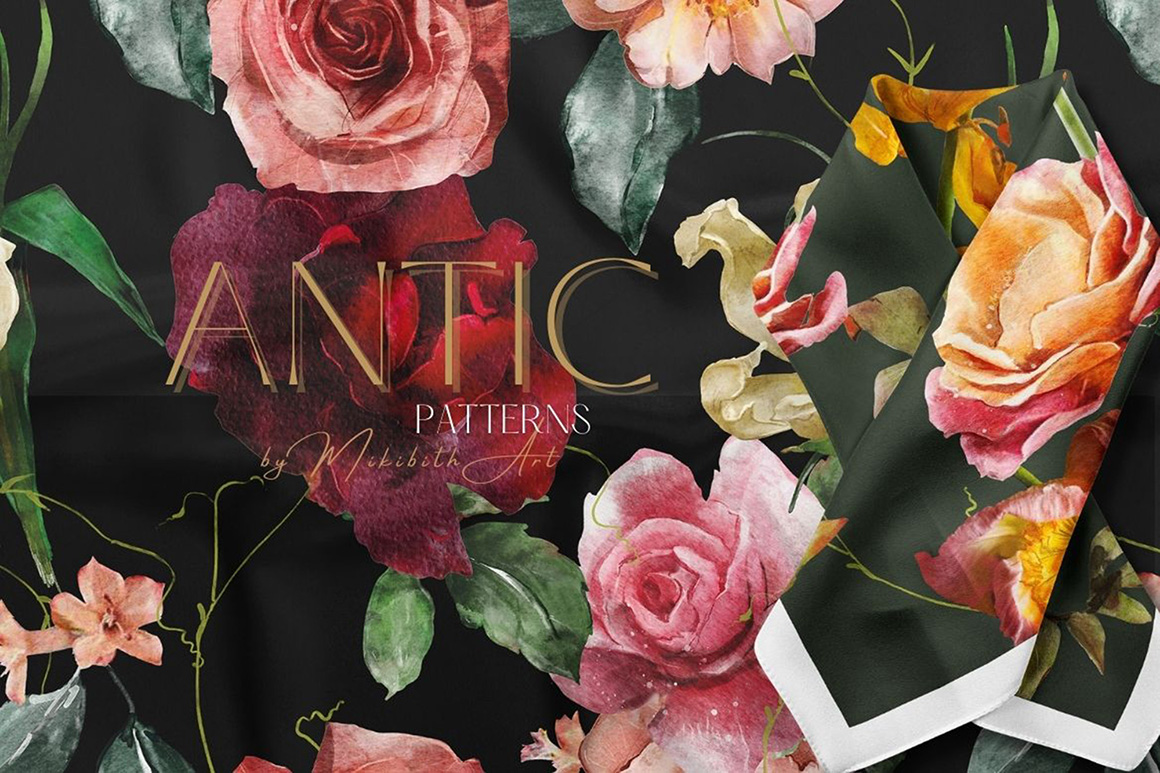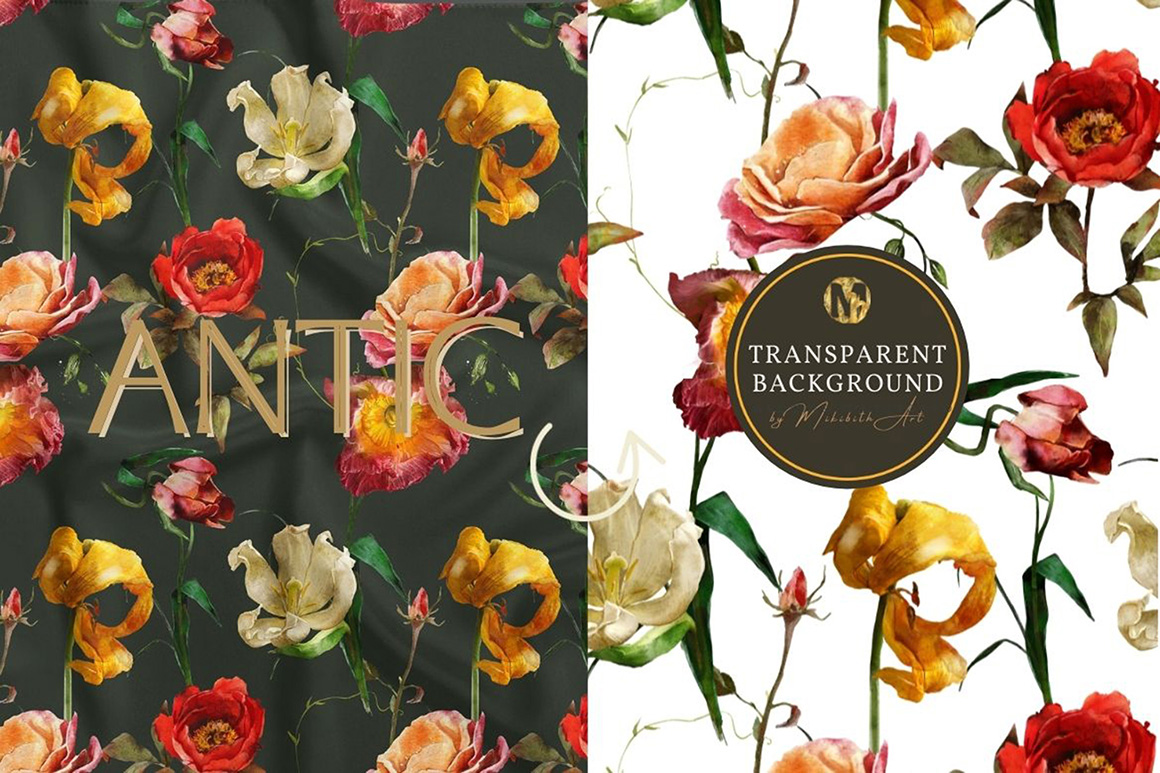 10. BOHO STYLED TEMPLATES from MikiBith Art
Boho styled set watercolor, includes 15 watercolor elements saved like transparent PNG files, Pinterest board editable template and ready-made Instagram pages template.
You can easily edit all the texts in CANVA, or use a layered PSD file where you will have ready-made smart objects for your presentation work.
Pdf gallery also has been included.
So what you get:
15 PNG transparent elements watercolor,
2 PSD ready-made layered templates Instagram, Pinterest,
Canva document with 2 editable templates for Insta, Pinterest,
1000×1500 px template jpeg, PDF, PSD 1080×1920 px template PDF, jpeg
5 Instagram pages jpeg, layered PSD, PDF,
1 paper jpeg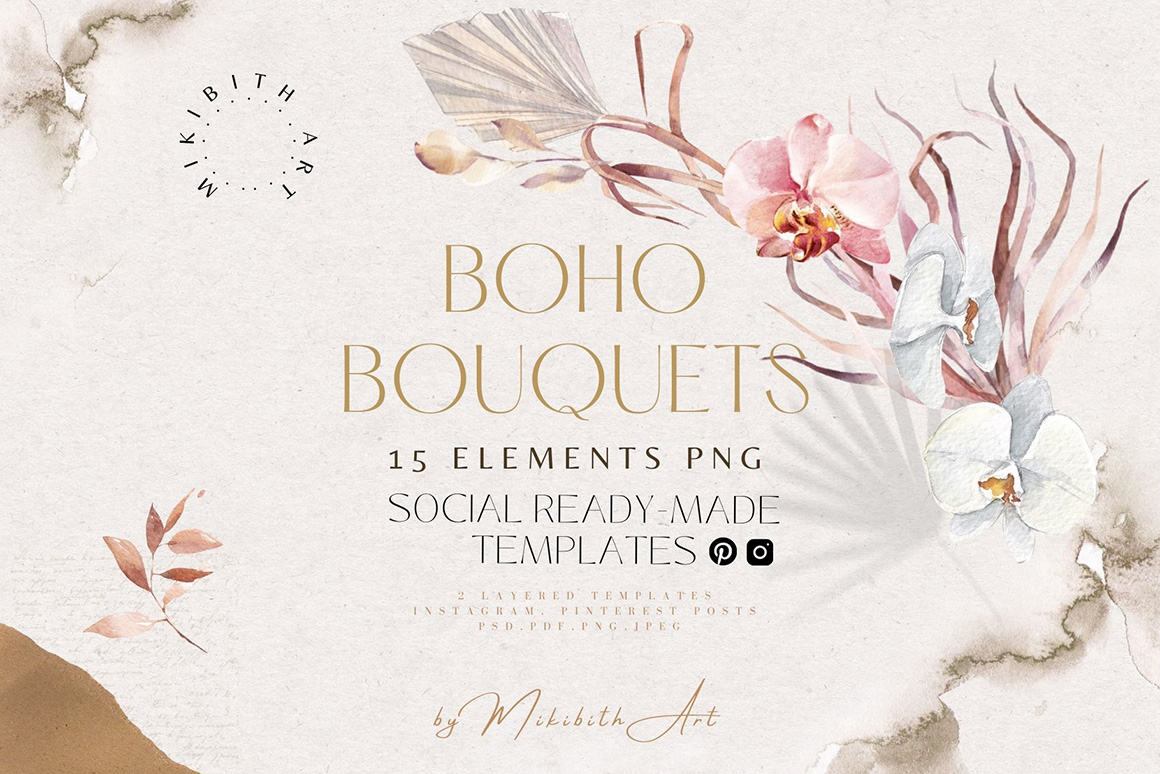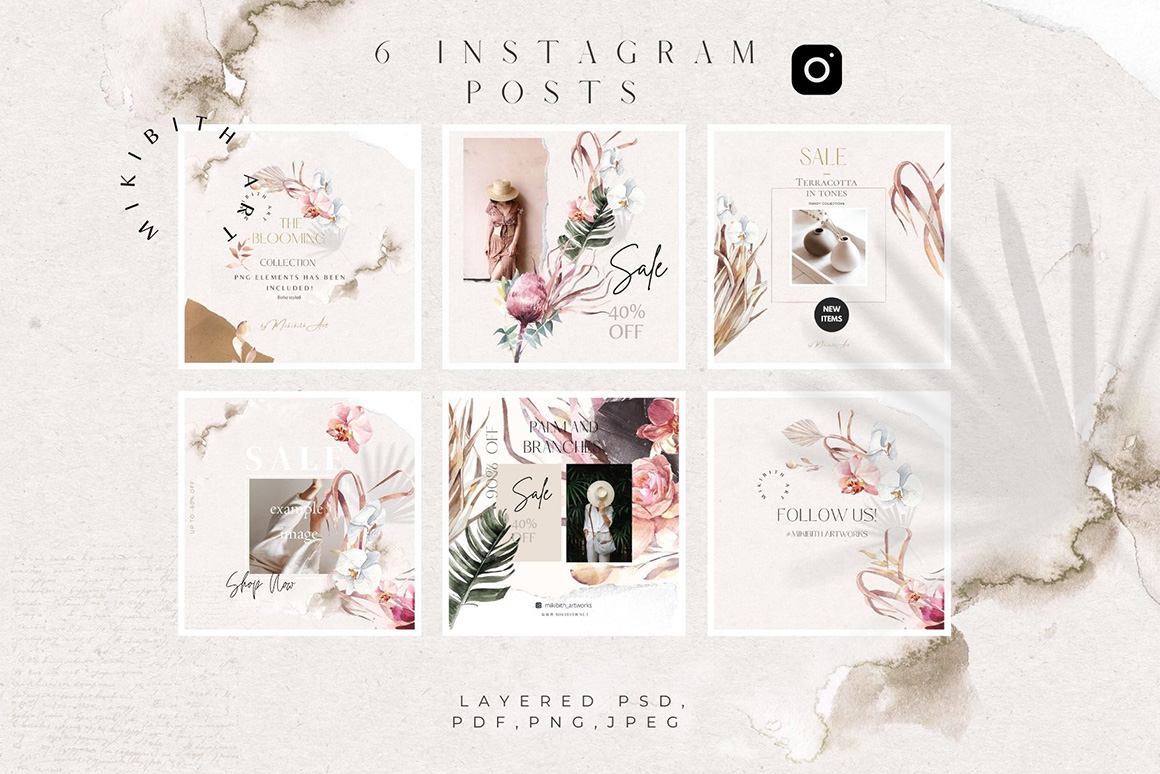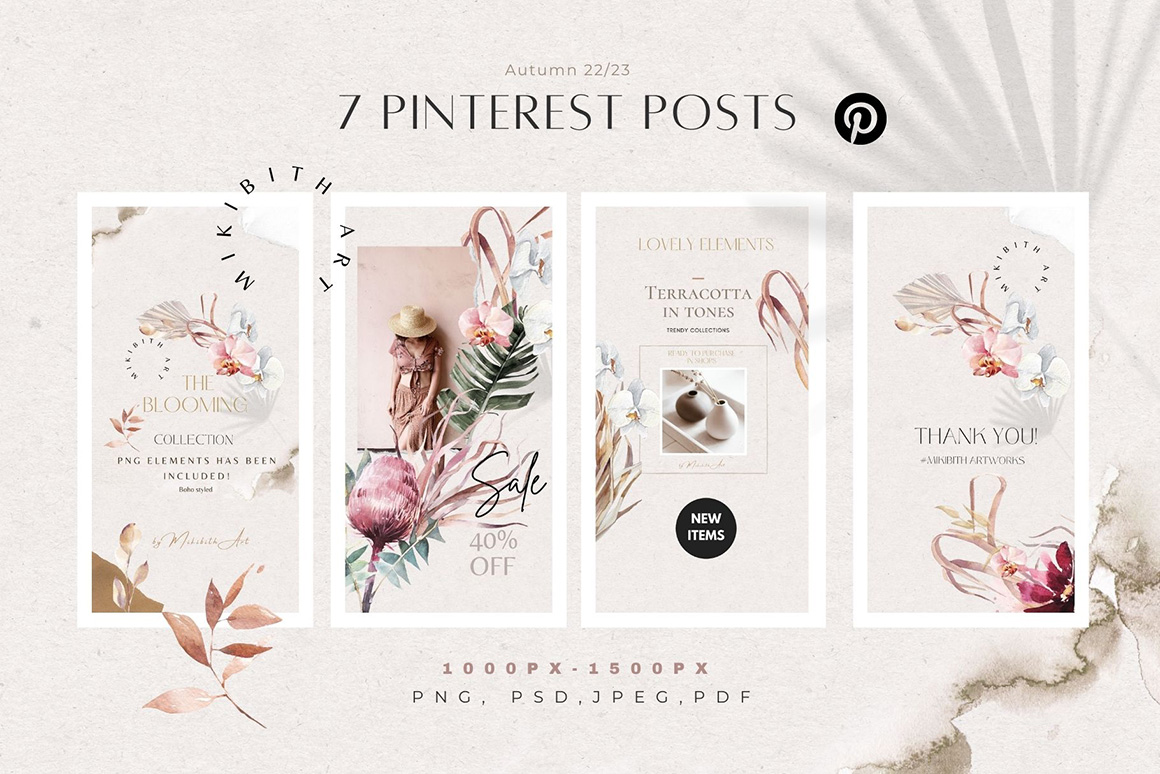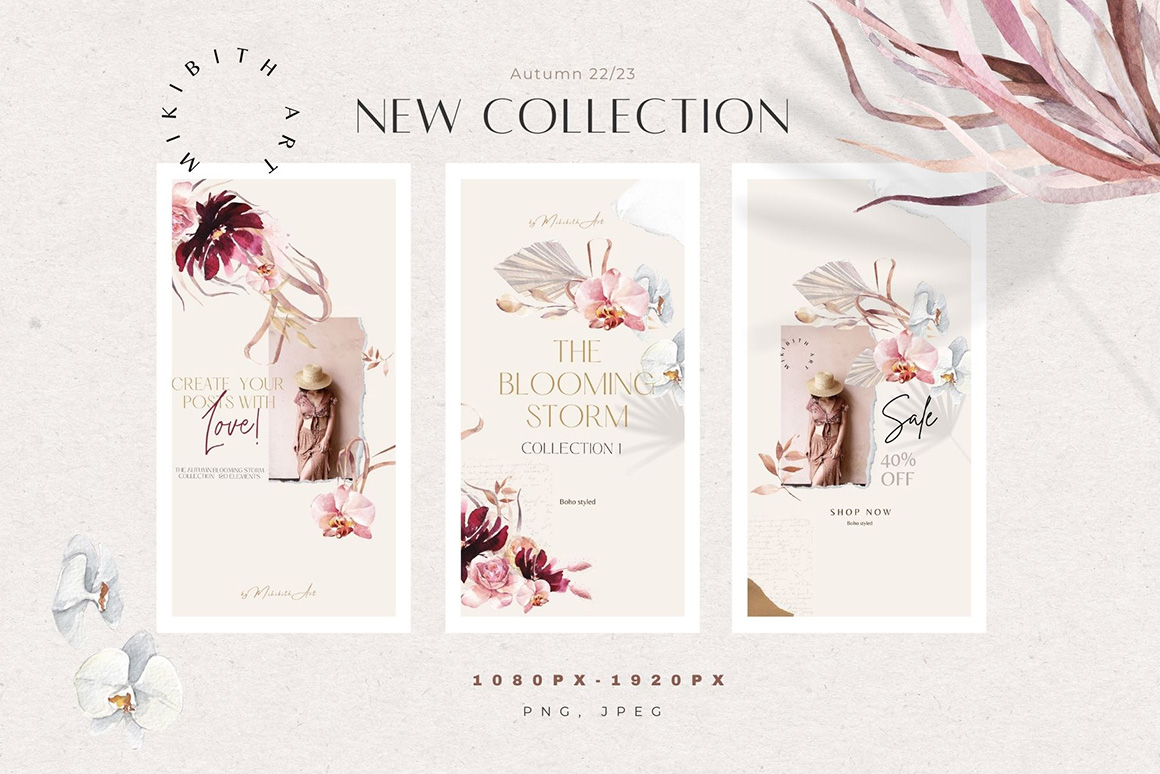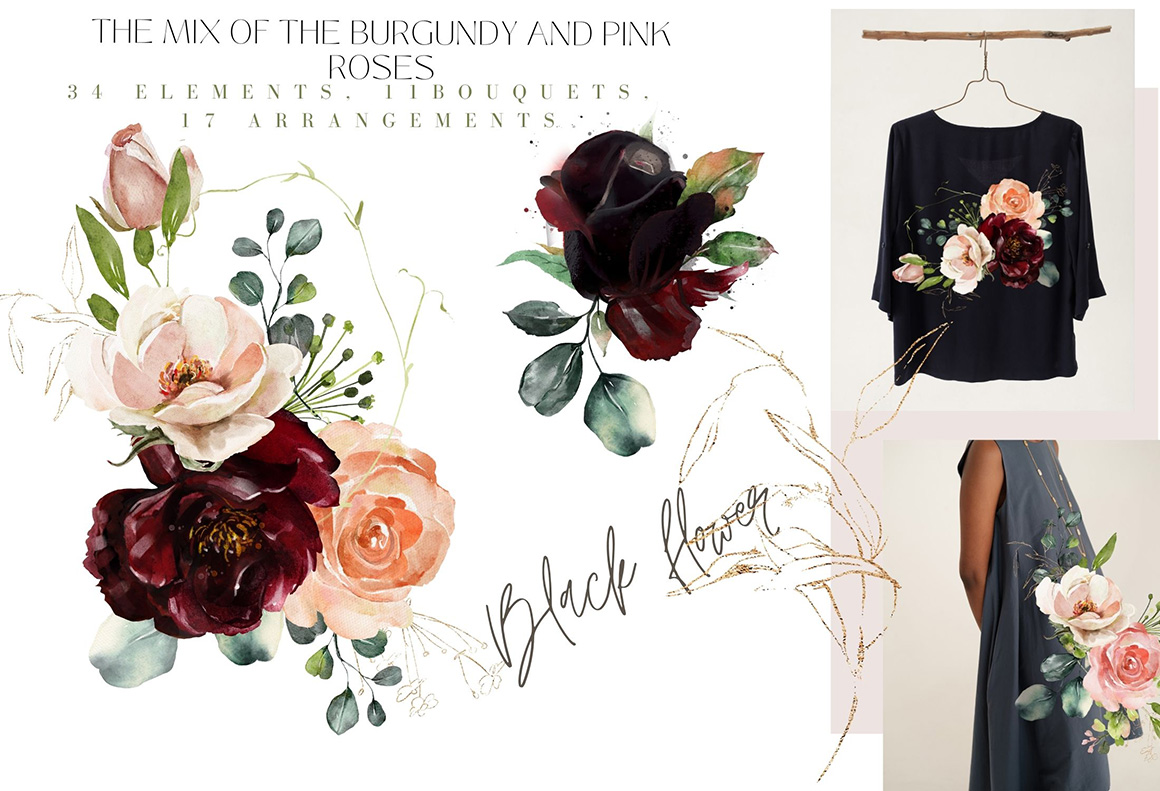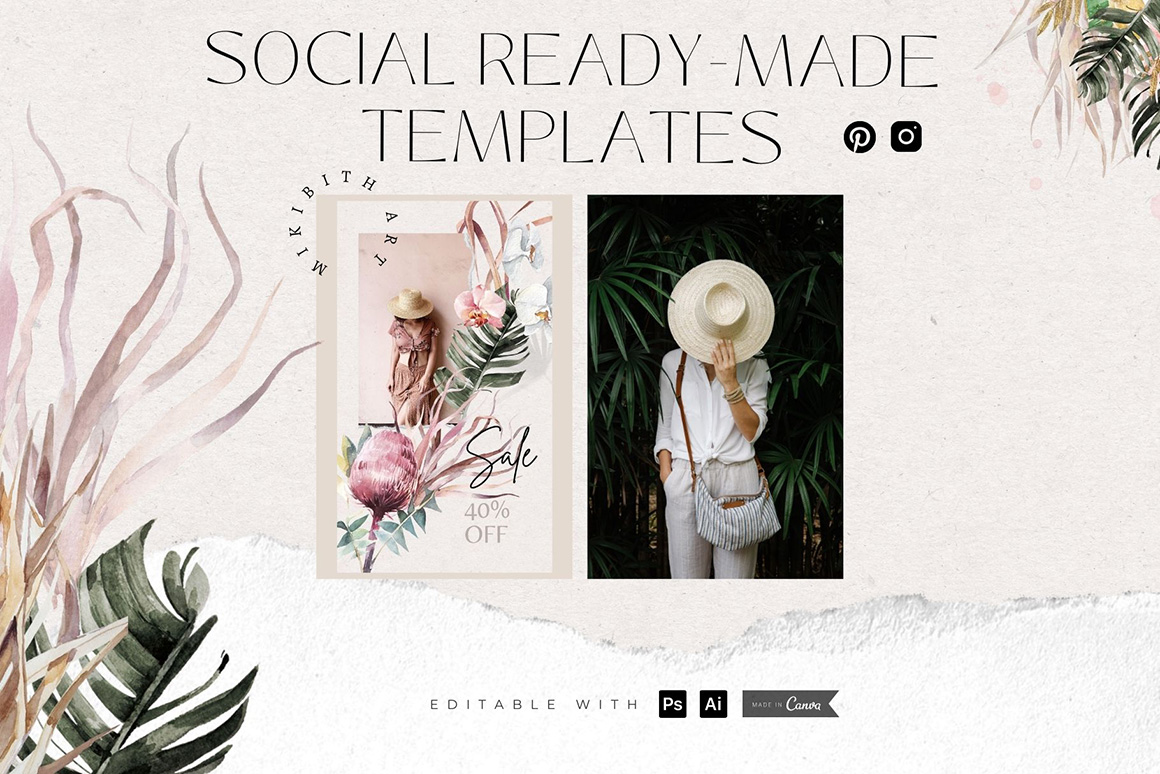 11. Midsummer Flowers from MikiBith Art
Playful collection of Scandinavian plants and branches, arrangement, wrearths, frames for stationery, decorated letters and numbers, ready-made CANVA templates, gradients and gold geometry. Seamless pattern collection.
YOU WILL GET
6 READY MADE CARDS CANVA EDITABLE,
decorated Alphabet and numbers PNG,
15 arrangements with branches,
36 floral elements PNG,
5 geometrical frames,
8 gradients, geometrical elements, design,
Nice frame PNG,
10 SEAMLESS PATTERNS TRANSPARENT PNG,ai
6 WREATHS PNG,
All elements saved in PNG format and you can use in Adobe Photoshop, Adobe Illustrator, Procreate, Canva and other programs.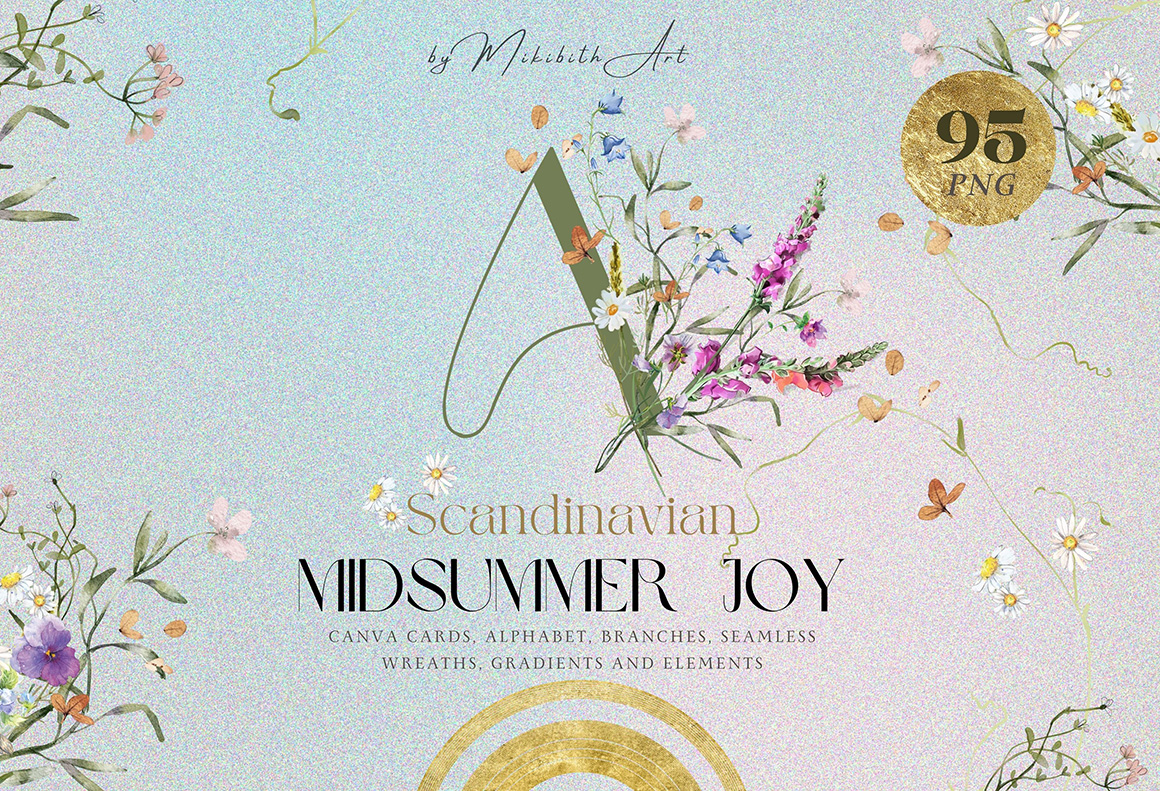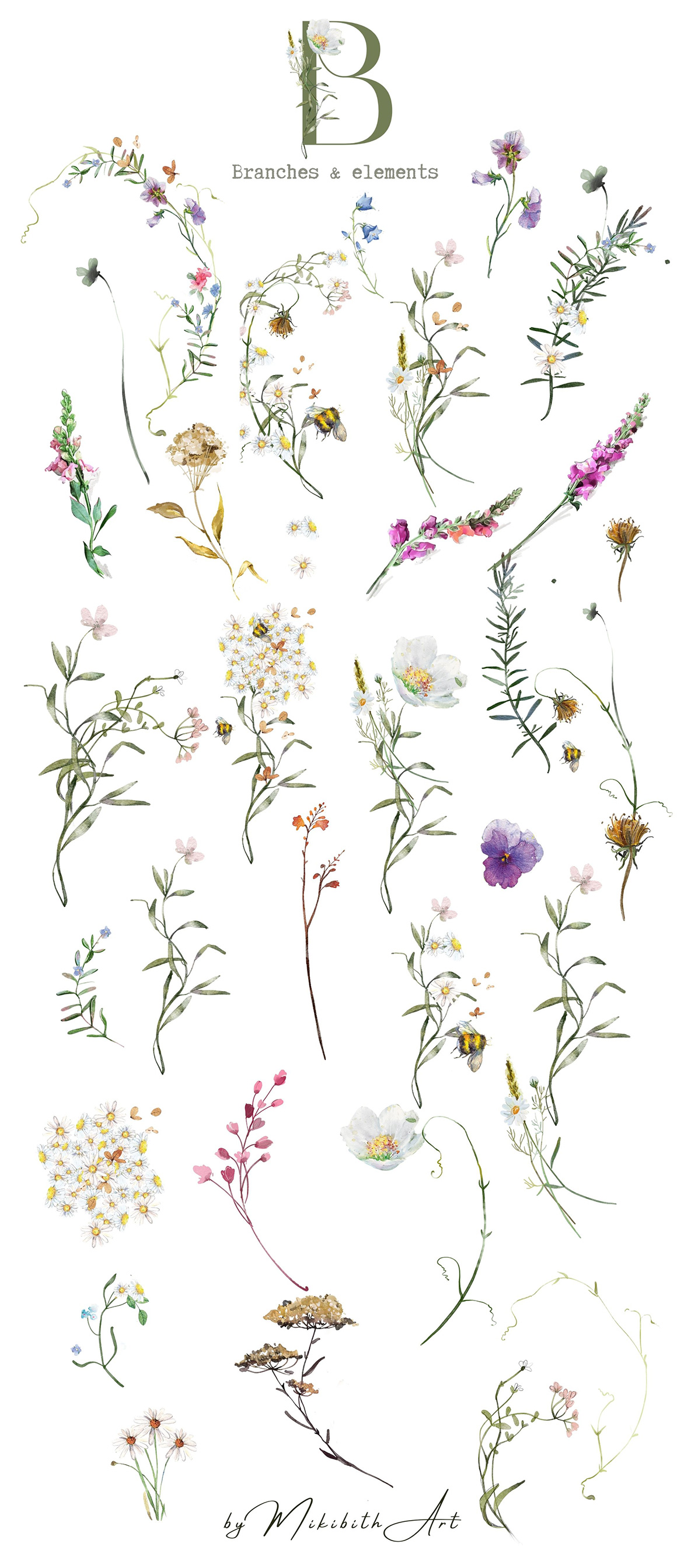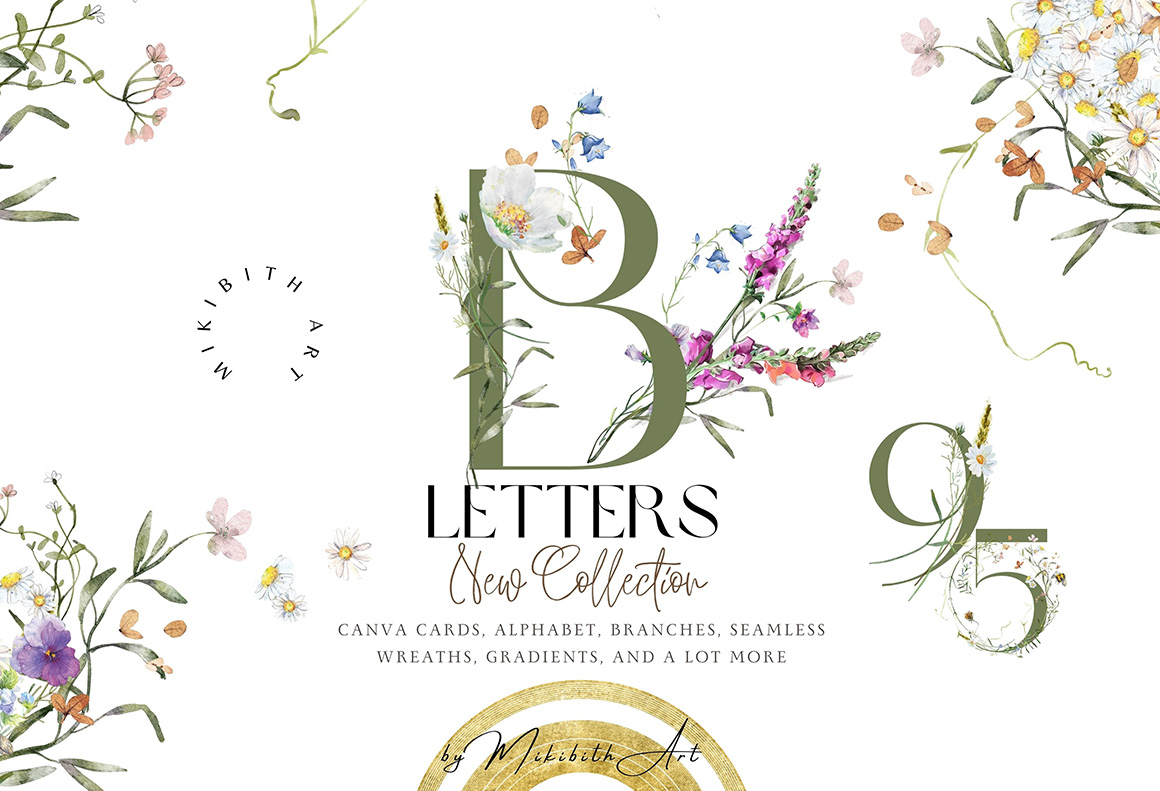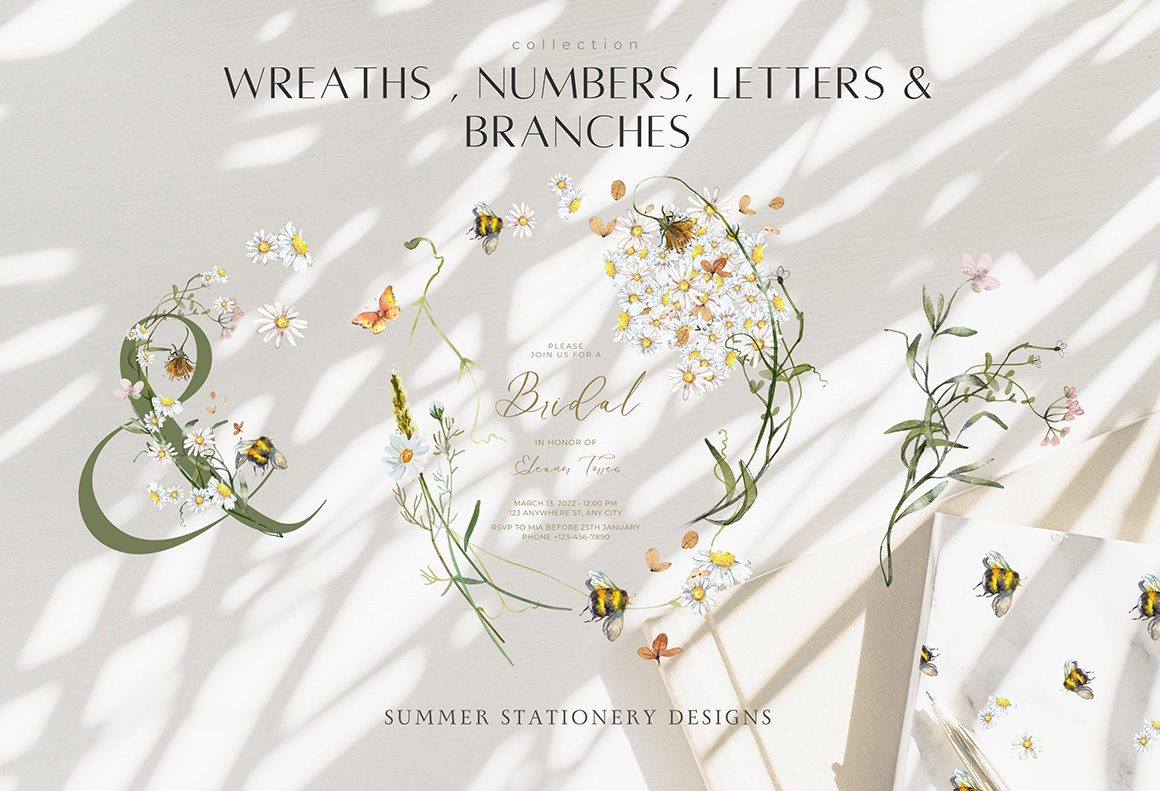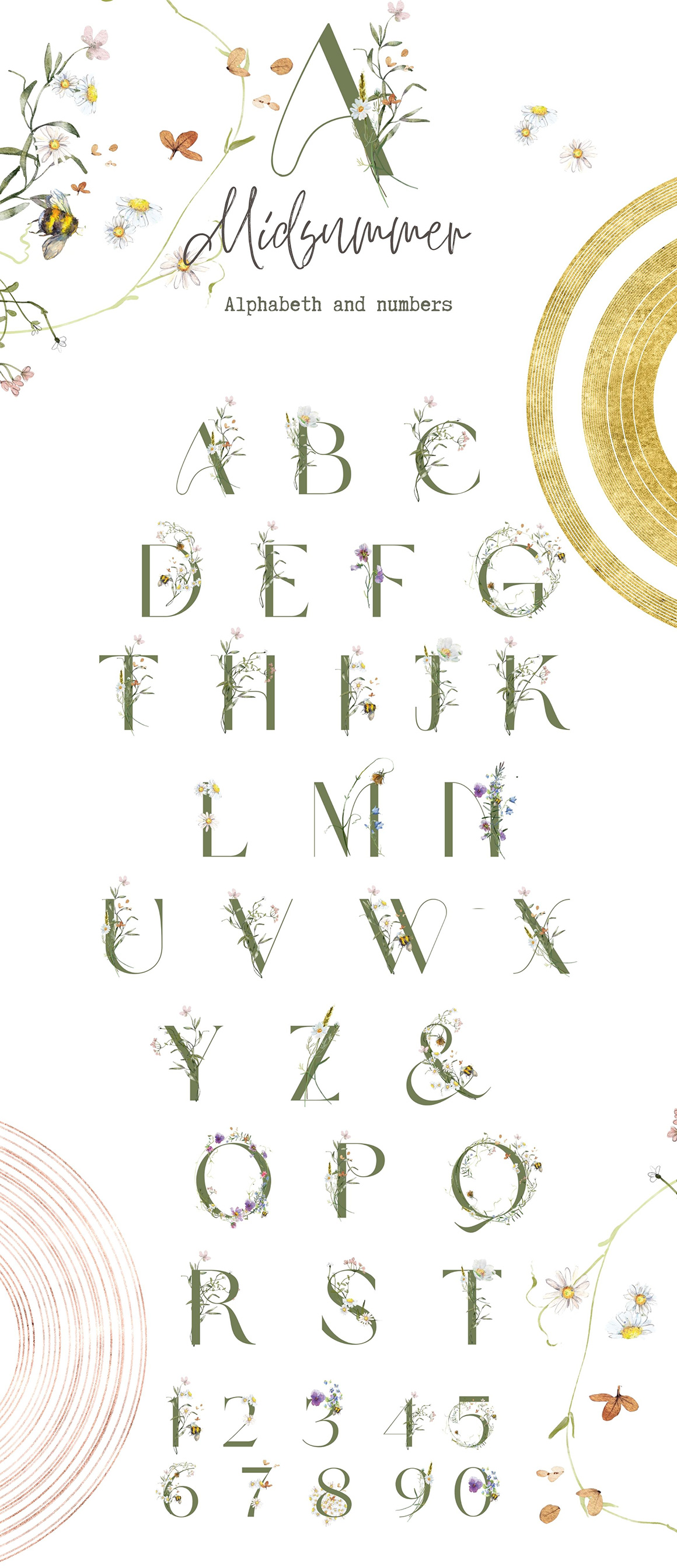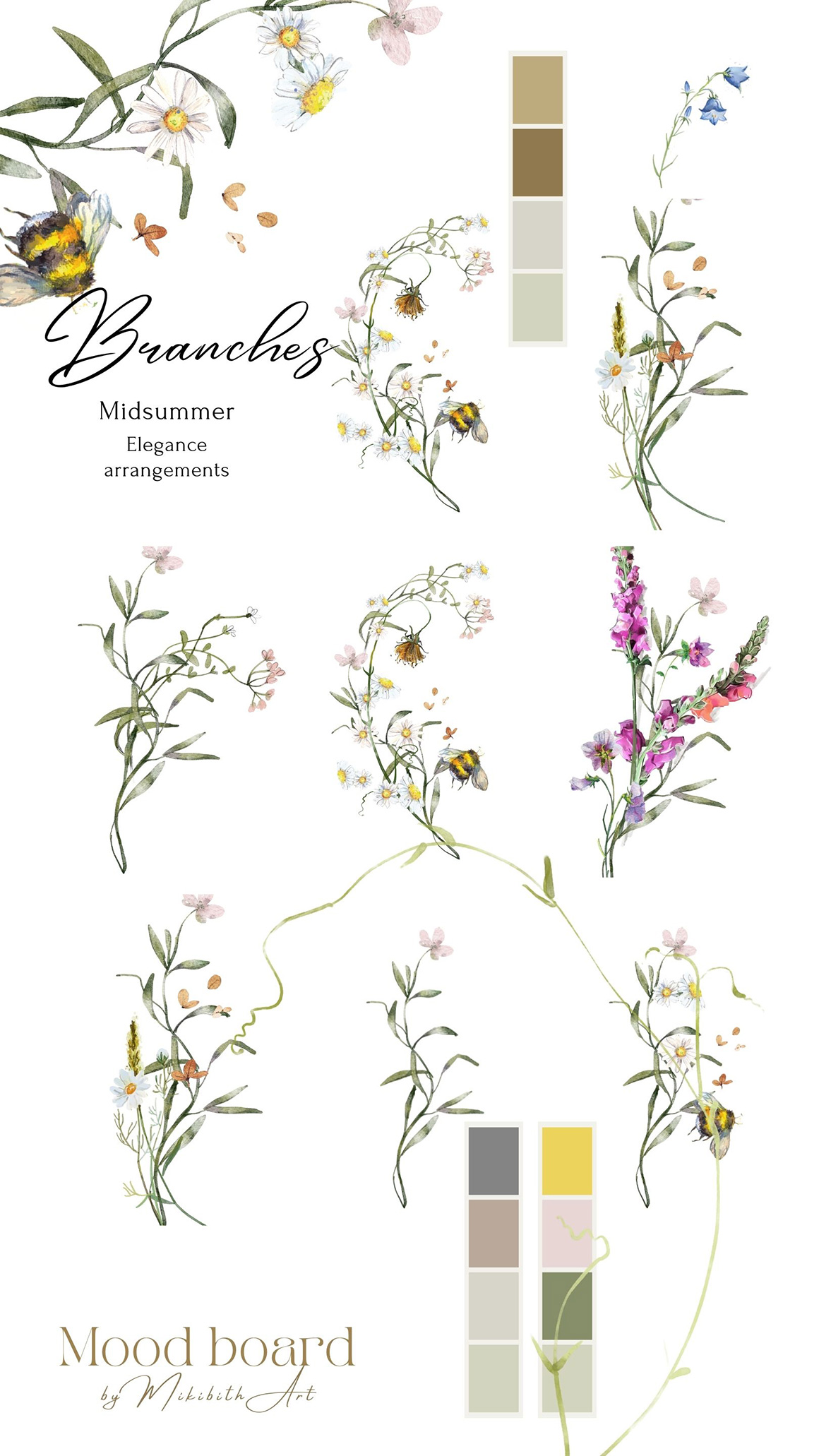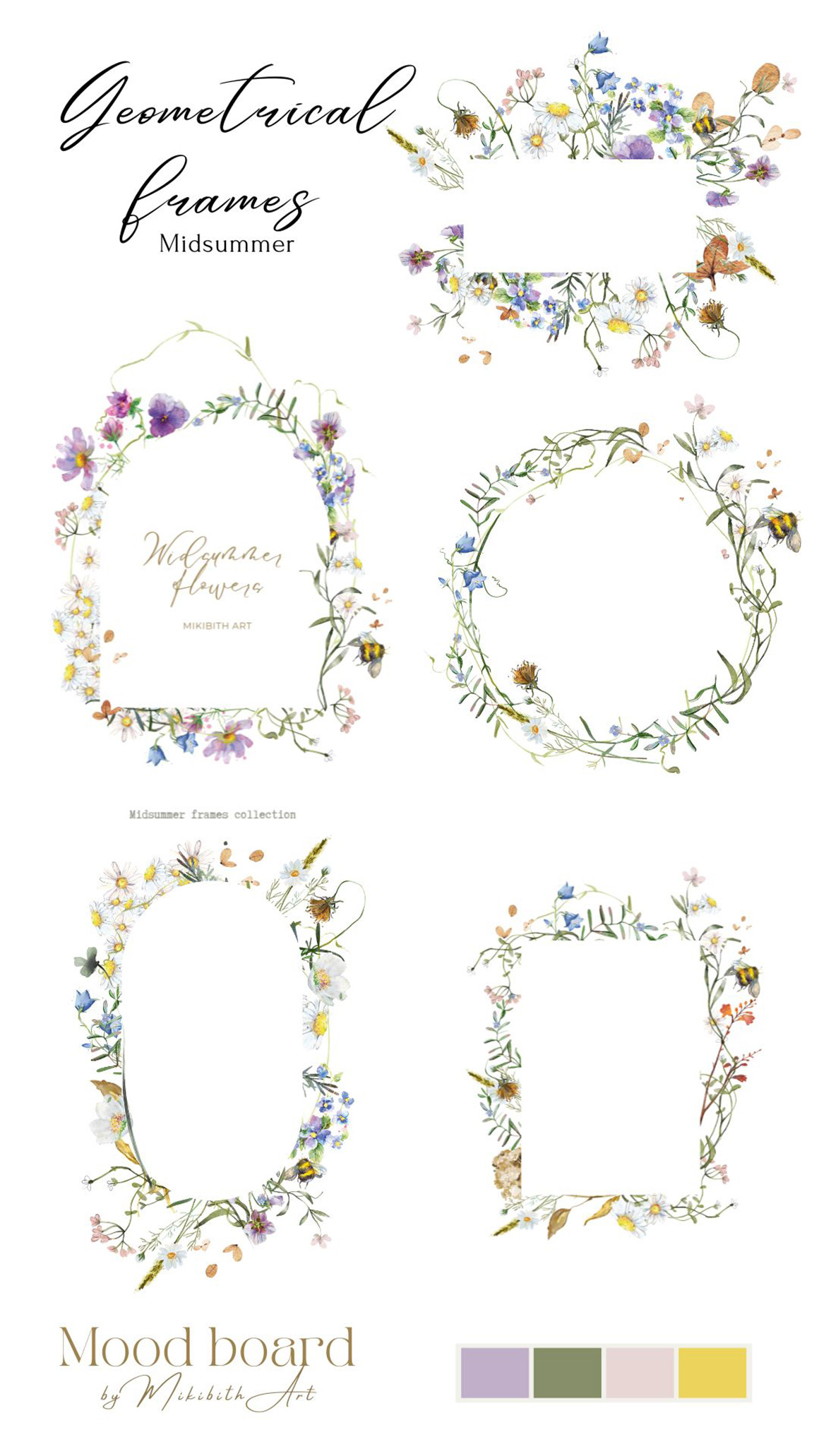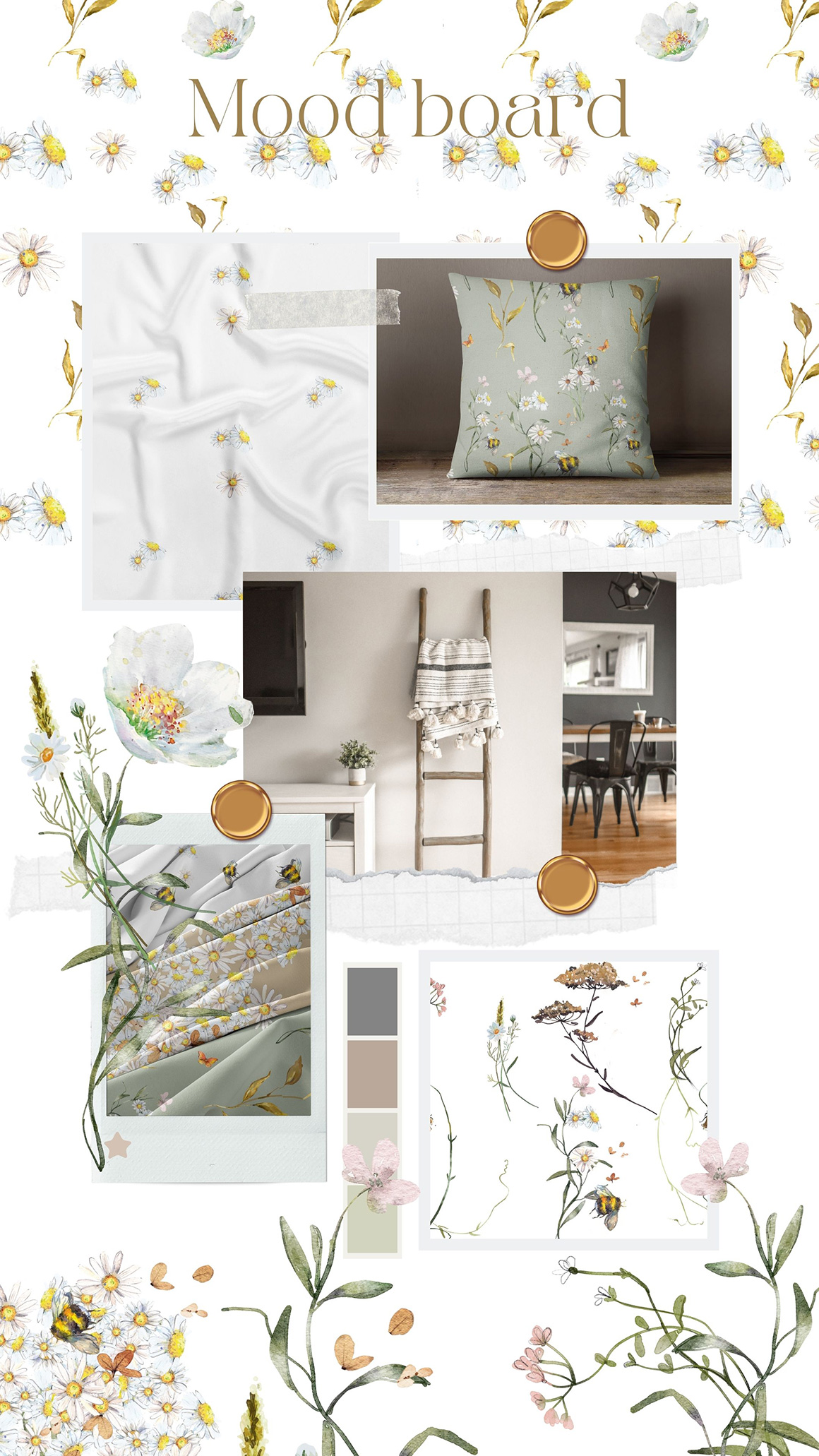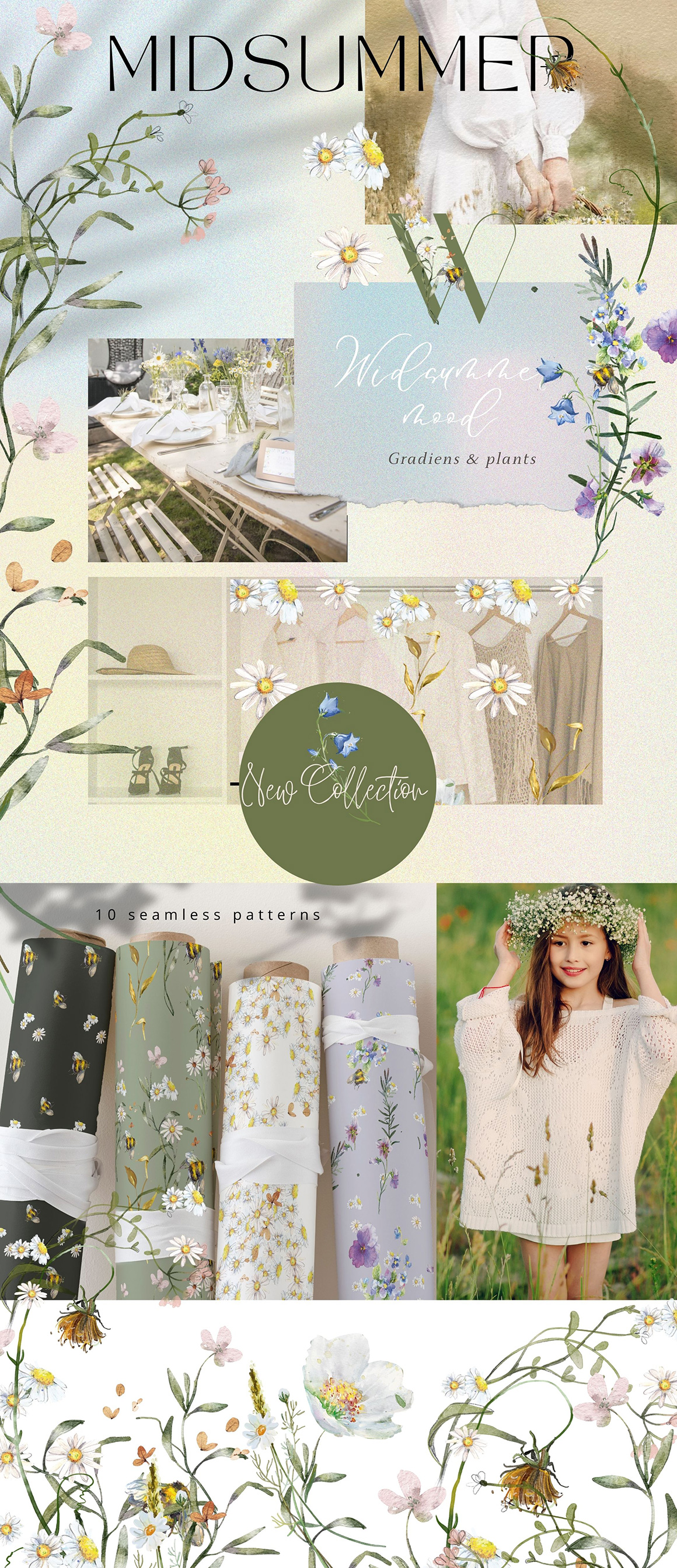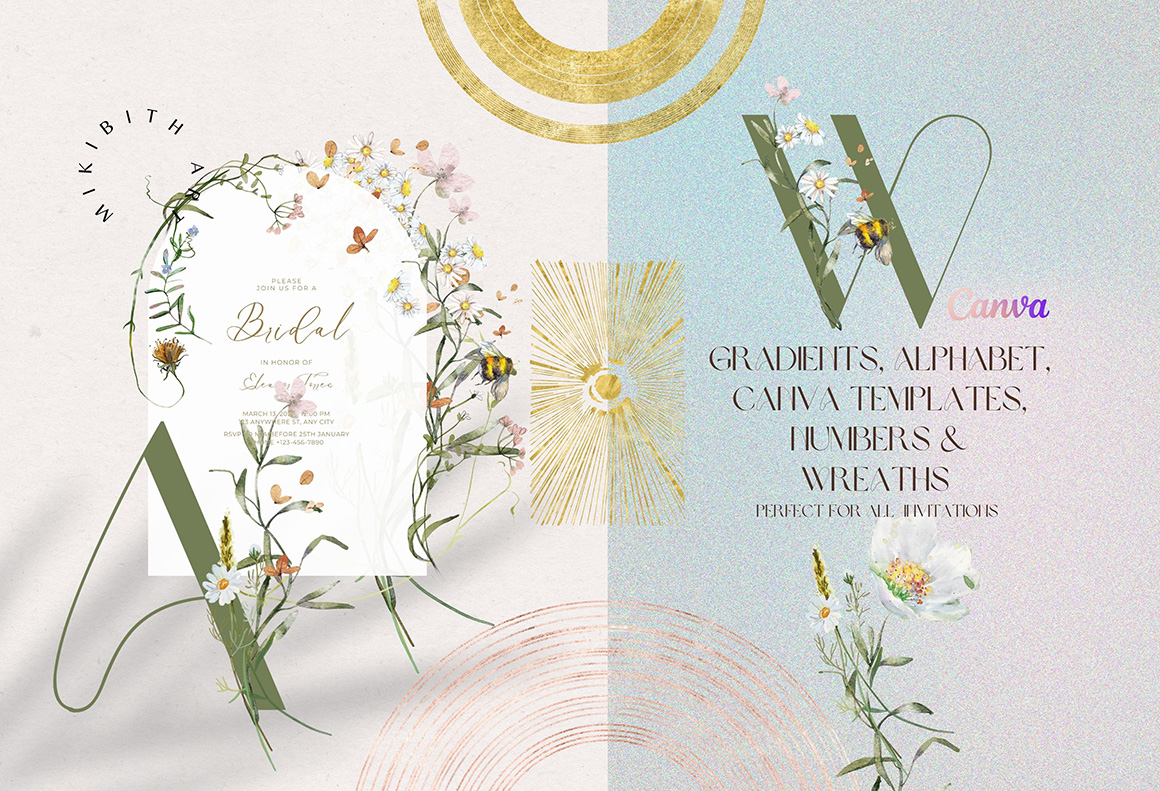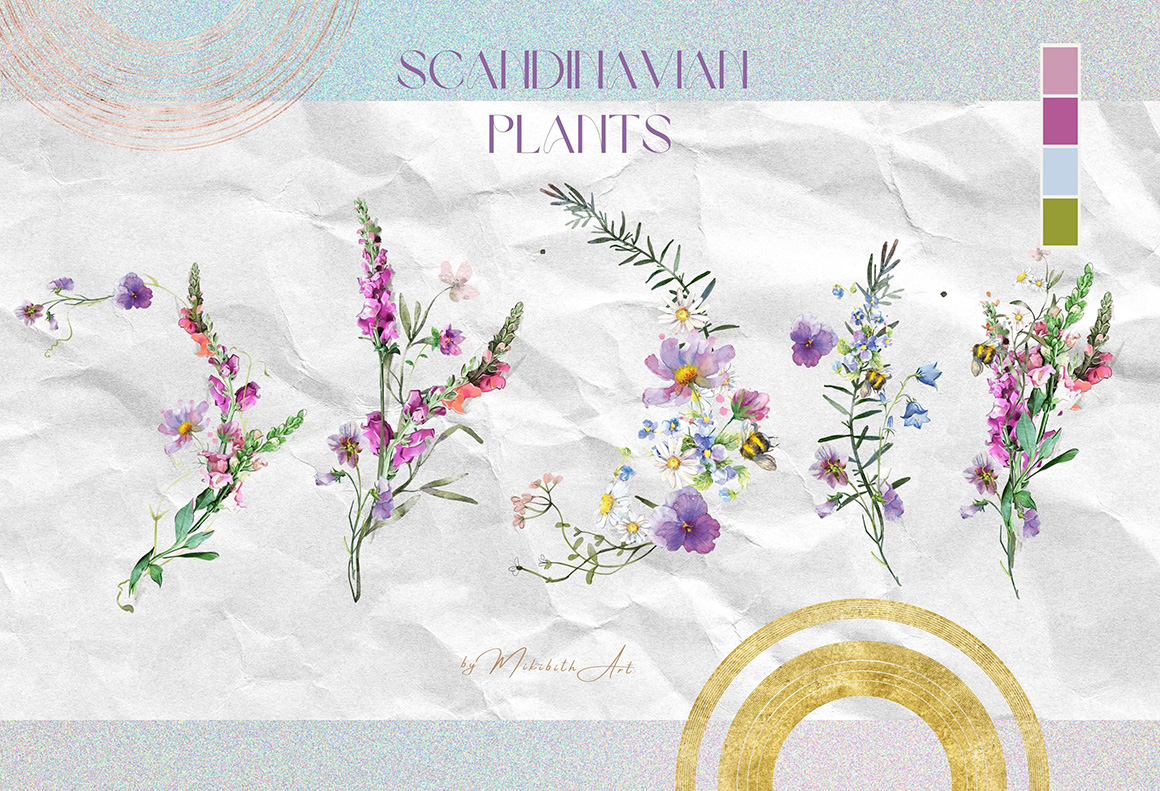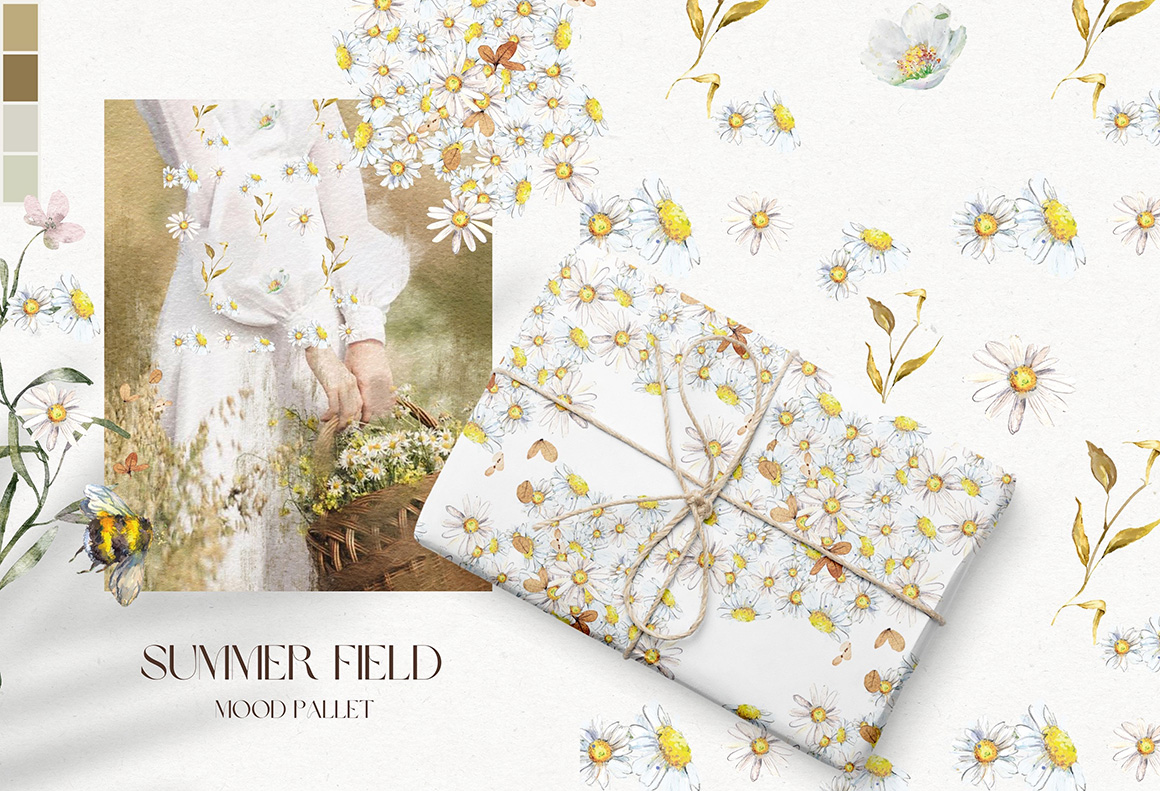 12. Bohemian Bouquets & Elements from MikiBith Art
Reach of the red roses, flowers, plates and tulips, including PNG files and high-resolution jpeg. There is one psd creator with bouquets, so you can play with flowers as you like. PDF gallery has been included.
What you will get:
-7 PNG folder with transparent PNG bouquets and plant, -2 papers jpeg, -1 layered psd creator, -6 jpeg still-life arrangements with 1 grayscale example, -3 PNG files, -35 elements PNG, -PDF gallery presentation. -1 eps seamless patern editable in Illustrator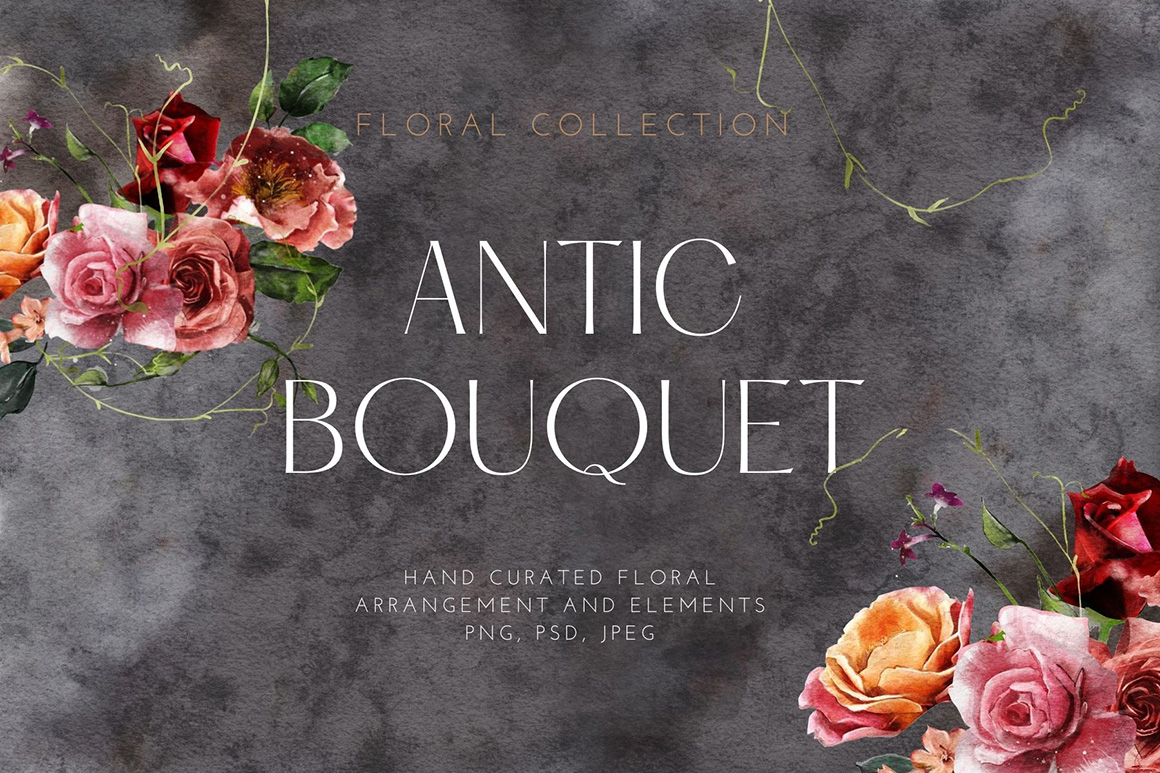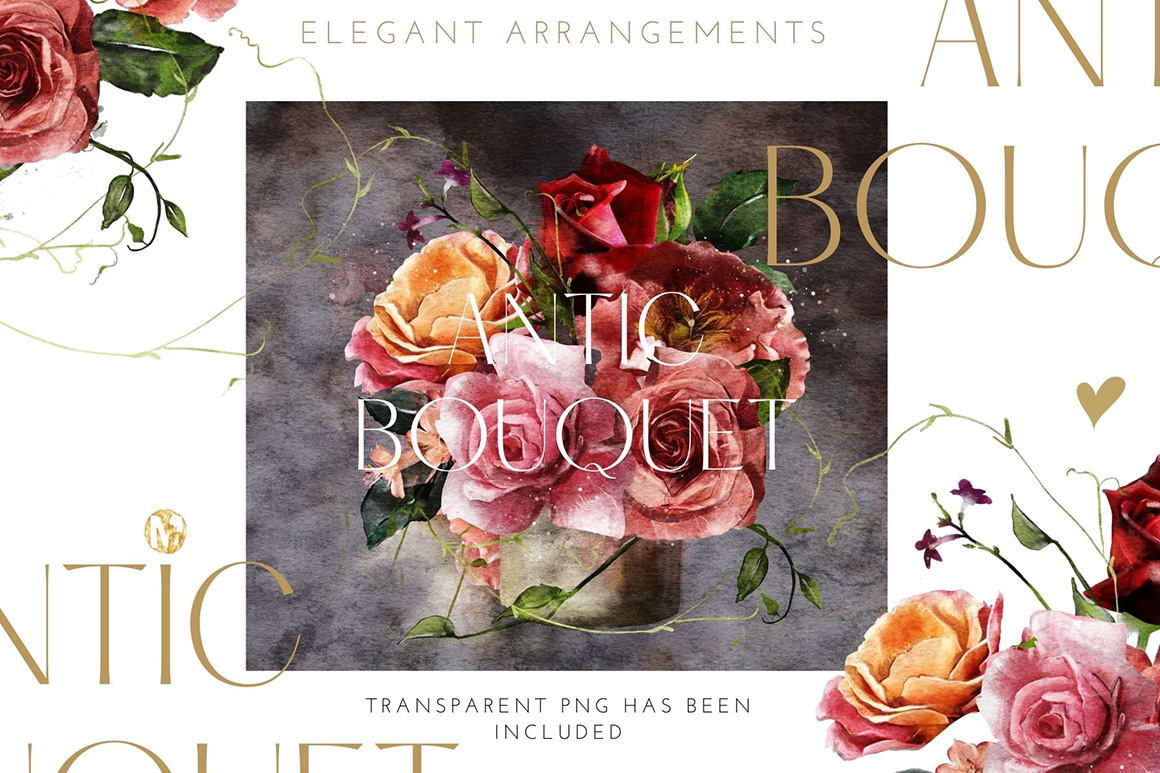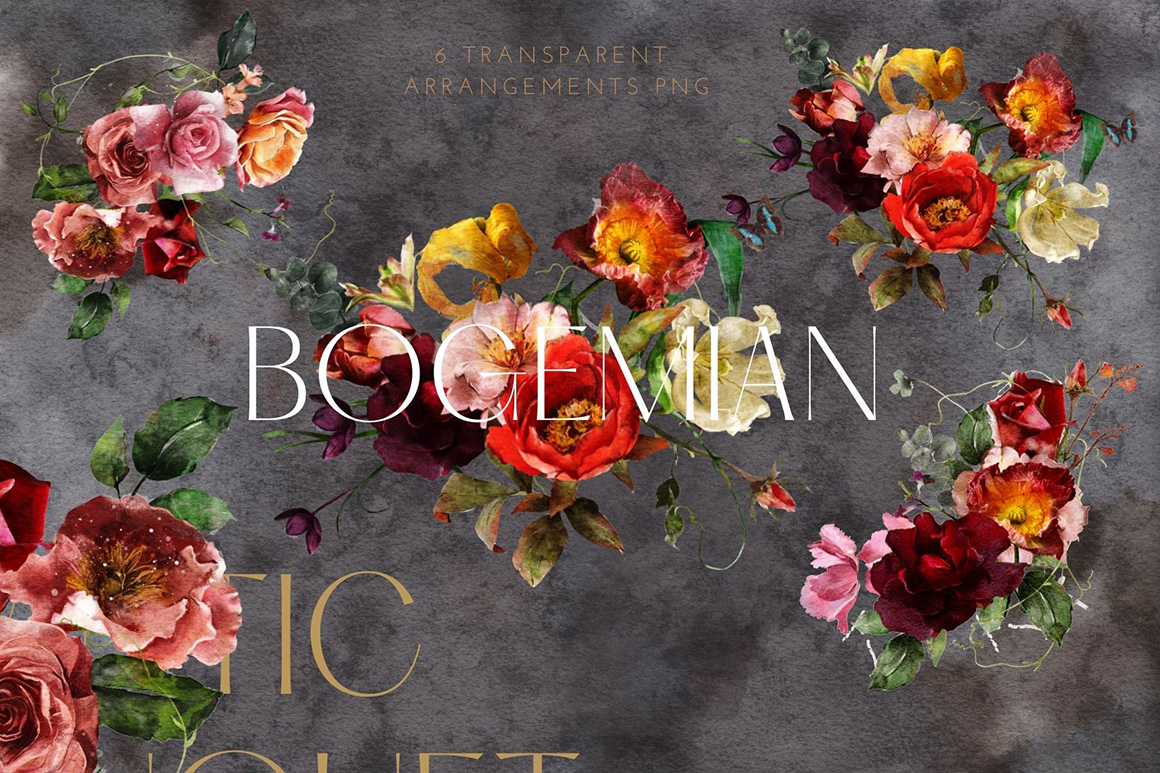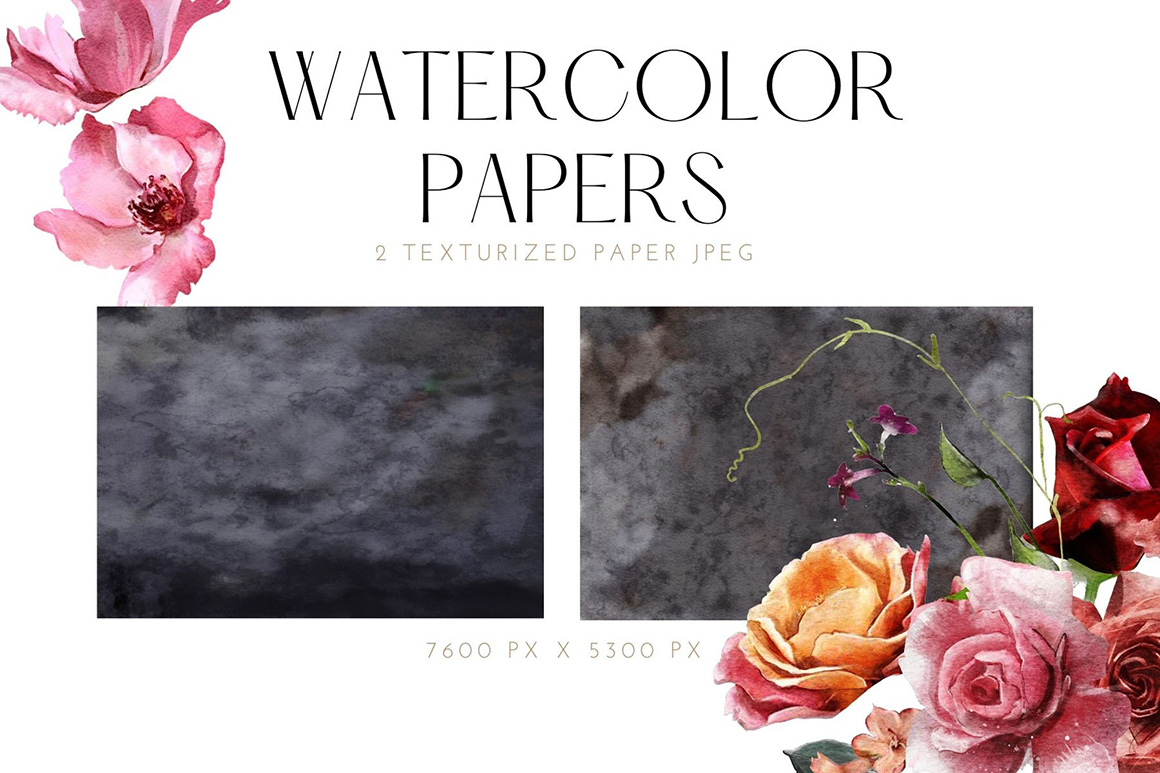 13. The AUTUMN BLOOMING STORM from MikiBith Art
The autumn blooming storm collection over 120 elements
A wedding invitation collection with boho styled branches, pumpkins and lanterns, arrangements, and seamless patterns. It's a gorgeous collection of beautiful art for all your invitation projects and printing products. Every element has been lovingly created and combined in two pallets​ which is very popular in design.
PNG files elements: -18 bouquets; -46 elements; -11 arrangements; -5 geometric goldish frames; -5 decorated lanterns; -26 decorated letters; -5 patterns; -9 pumpkins;
5 eps editable files for seamless patterns; 1 frame creator PSD; 6 frames layered PSD;
Raster files: PNG files can be opened with most photo editing software – please check your software for compatibility. To open the PSD pre-designed scenes Adobe Photoshop CS3 or newer is required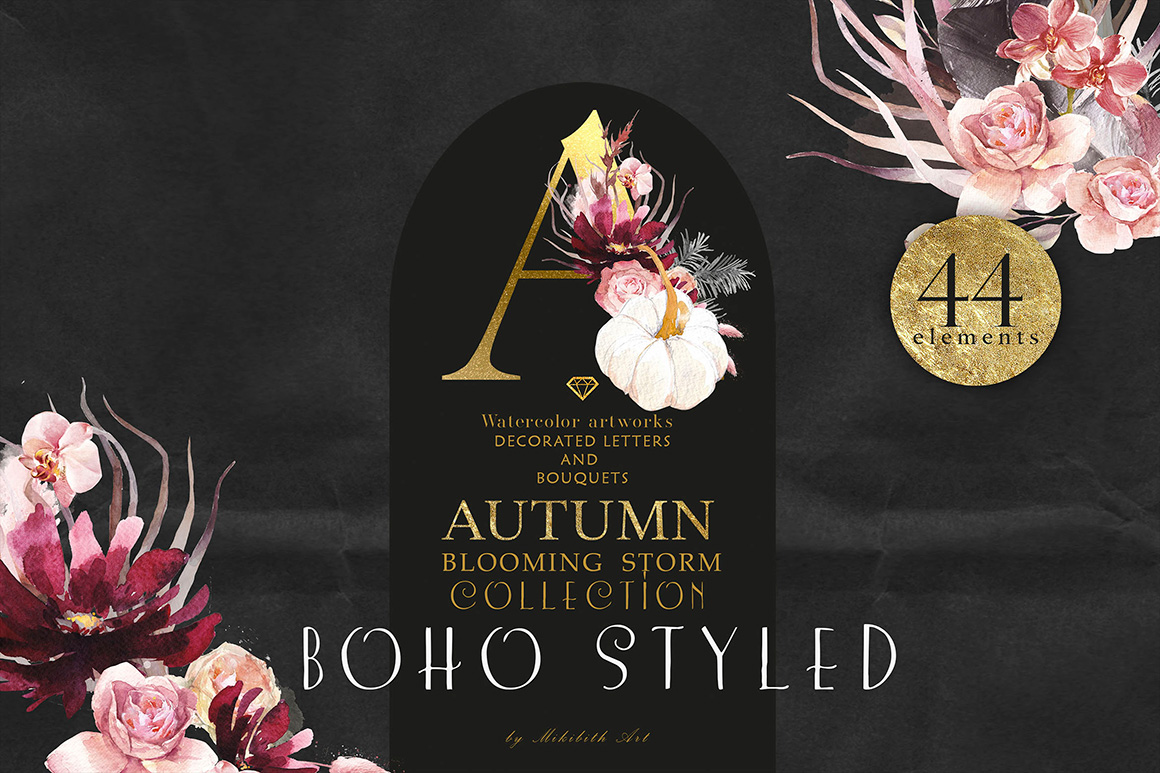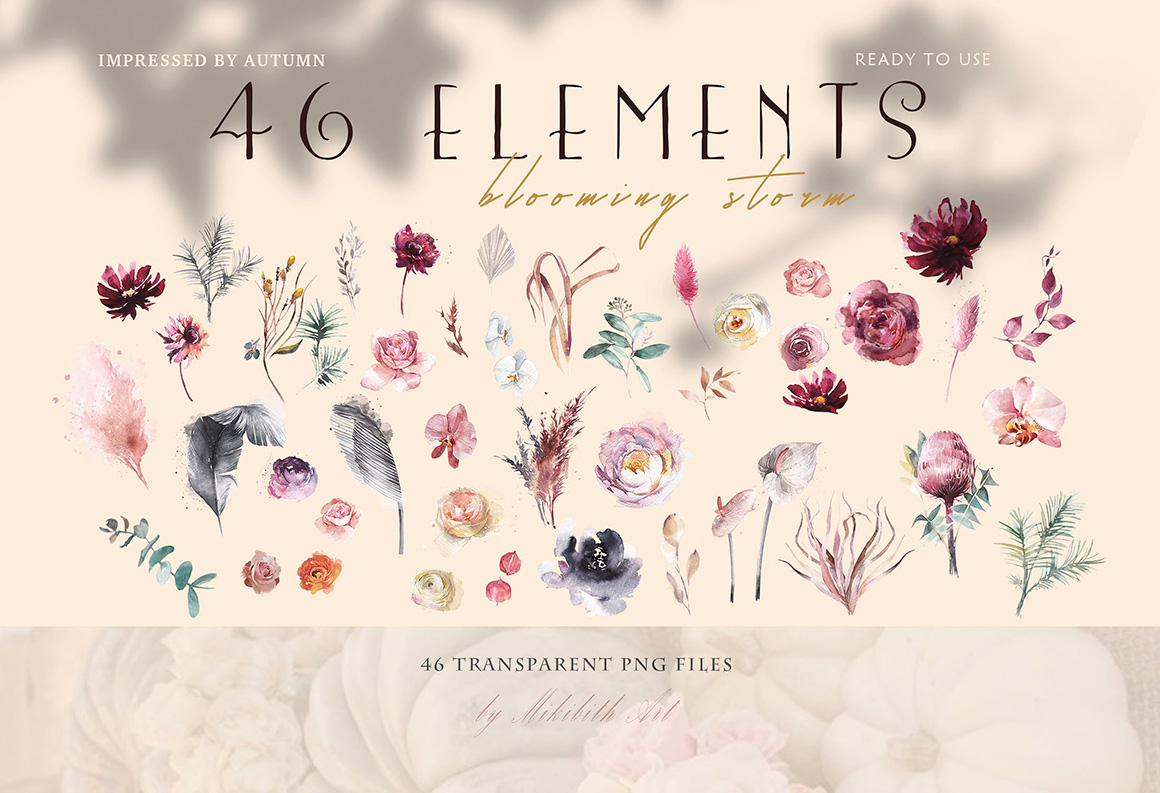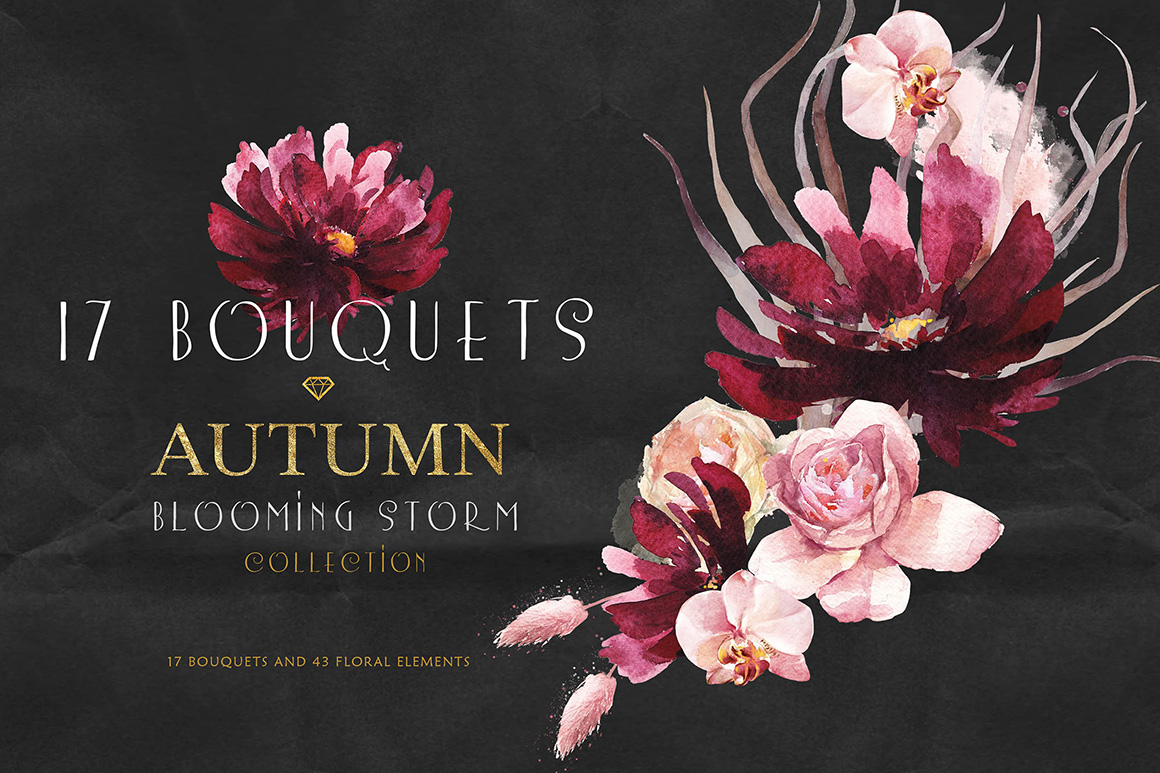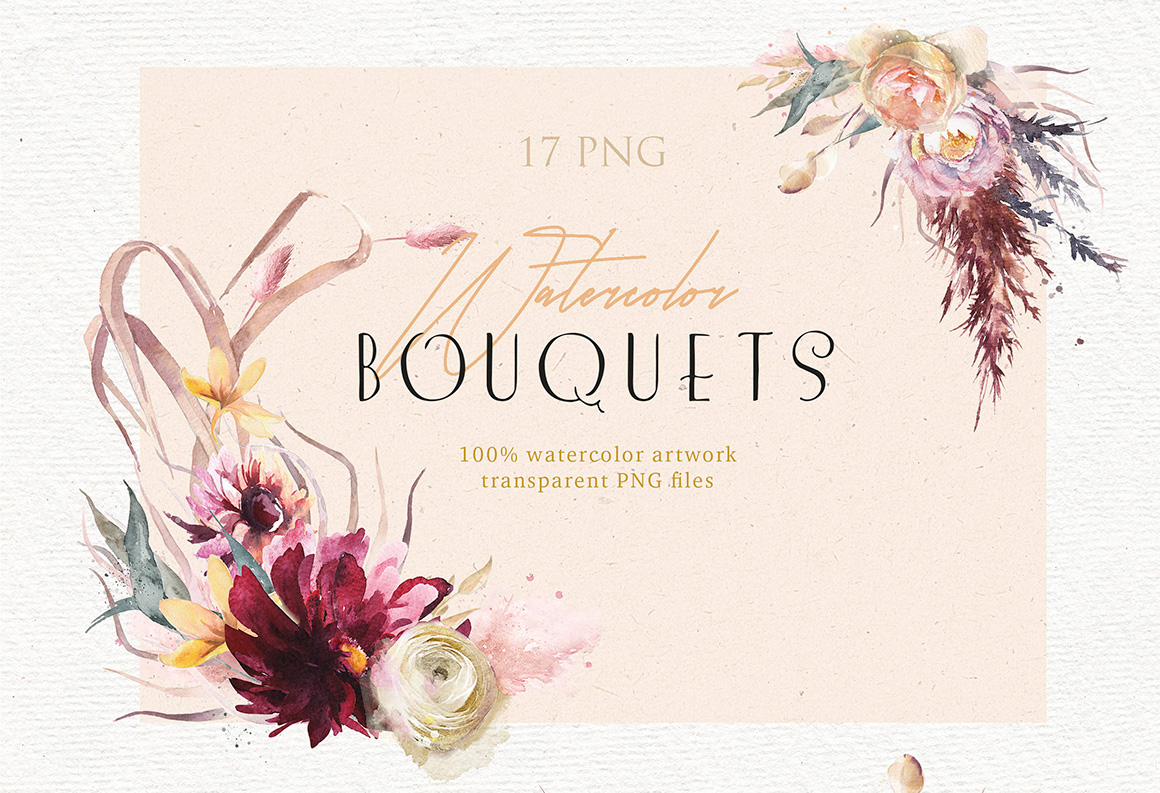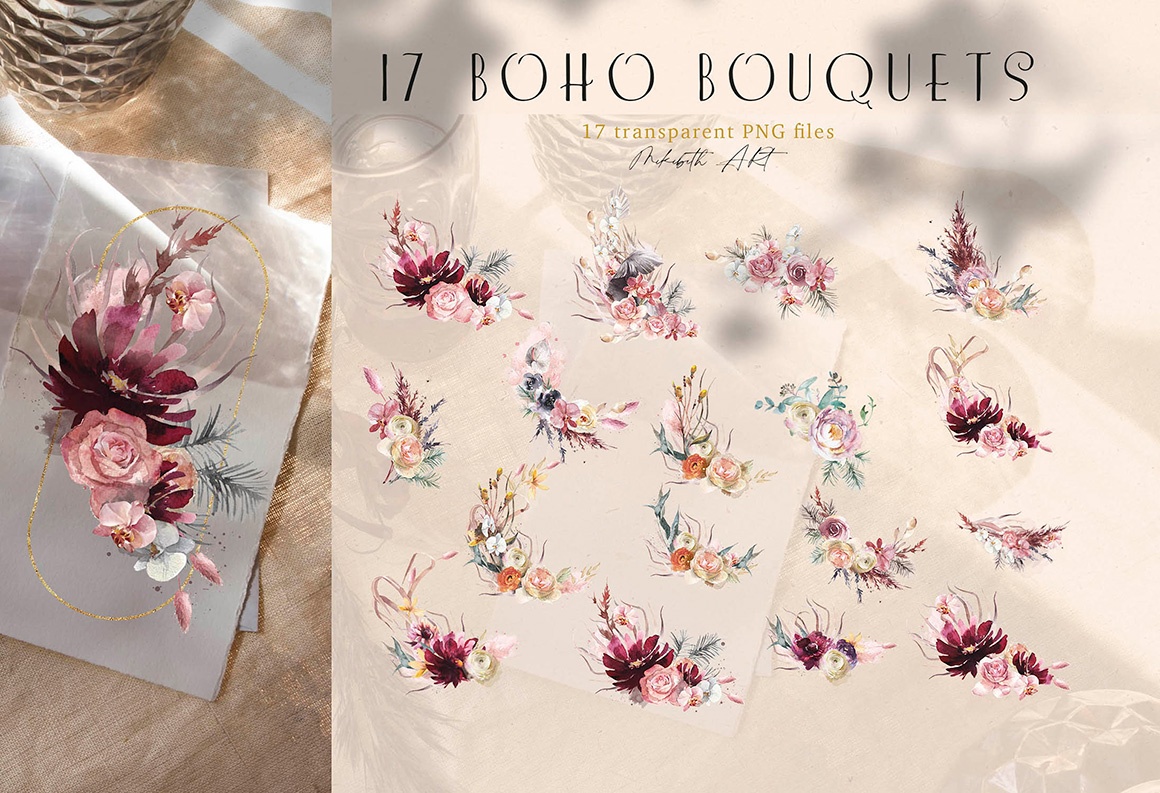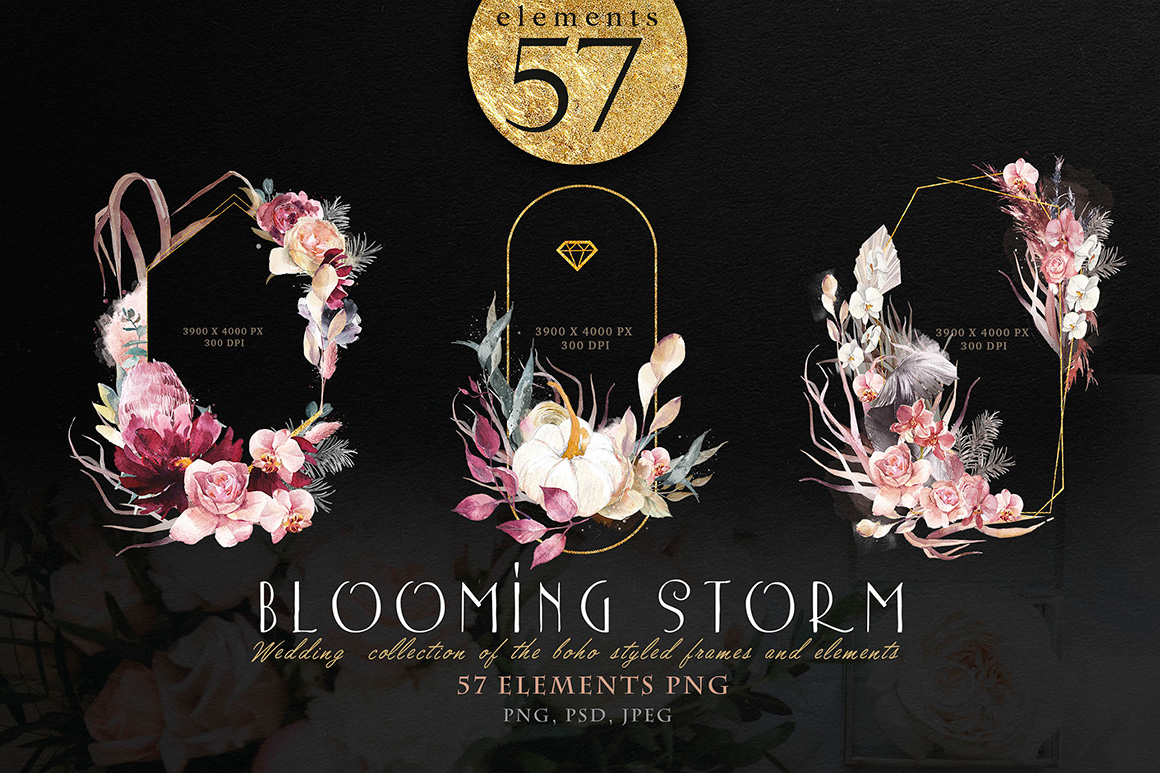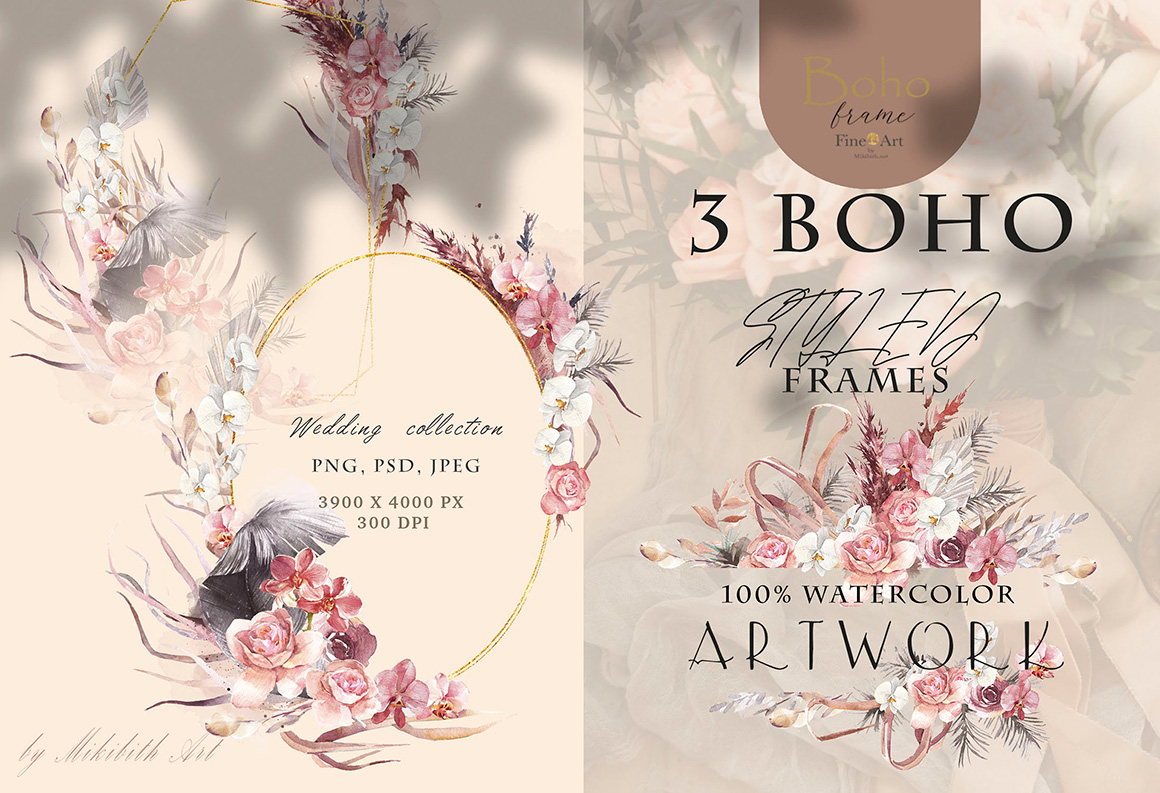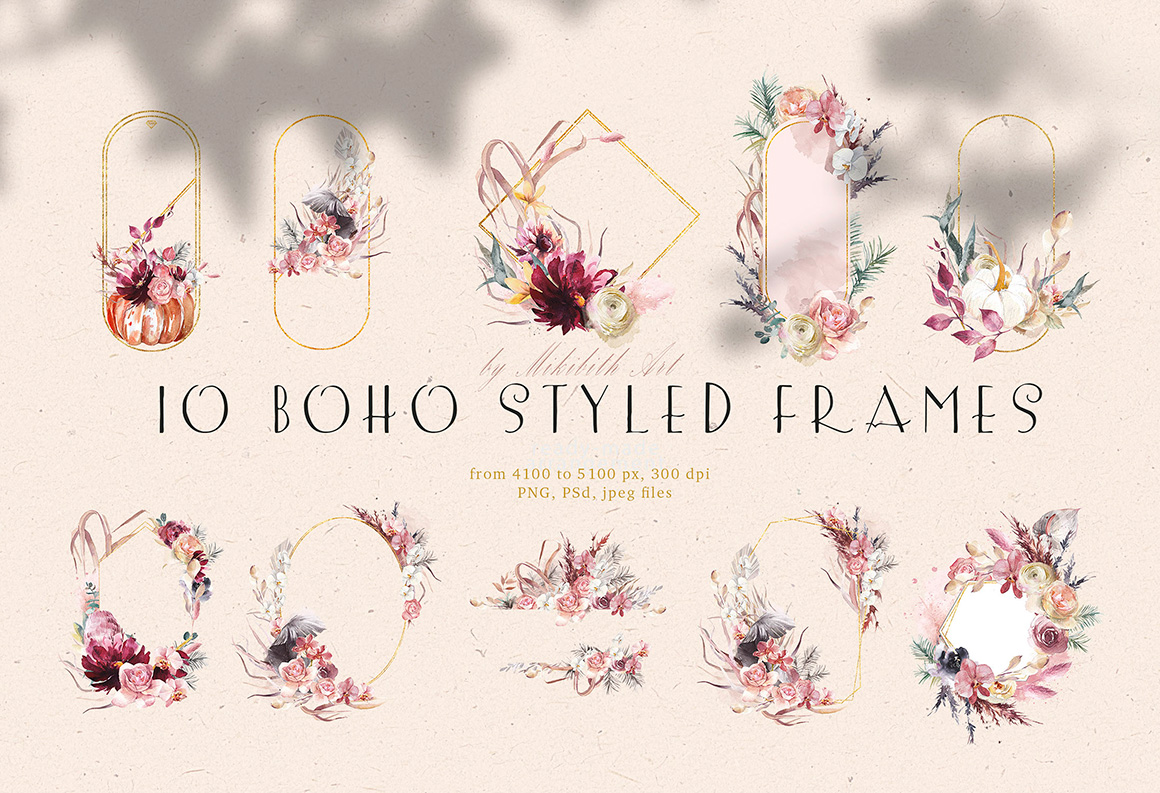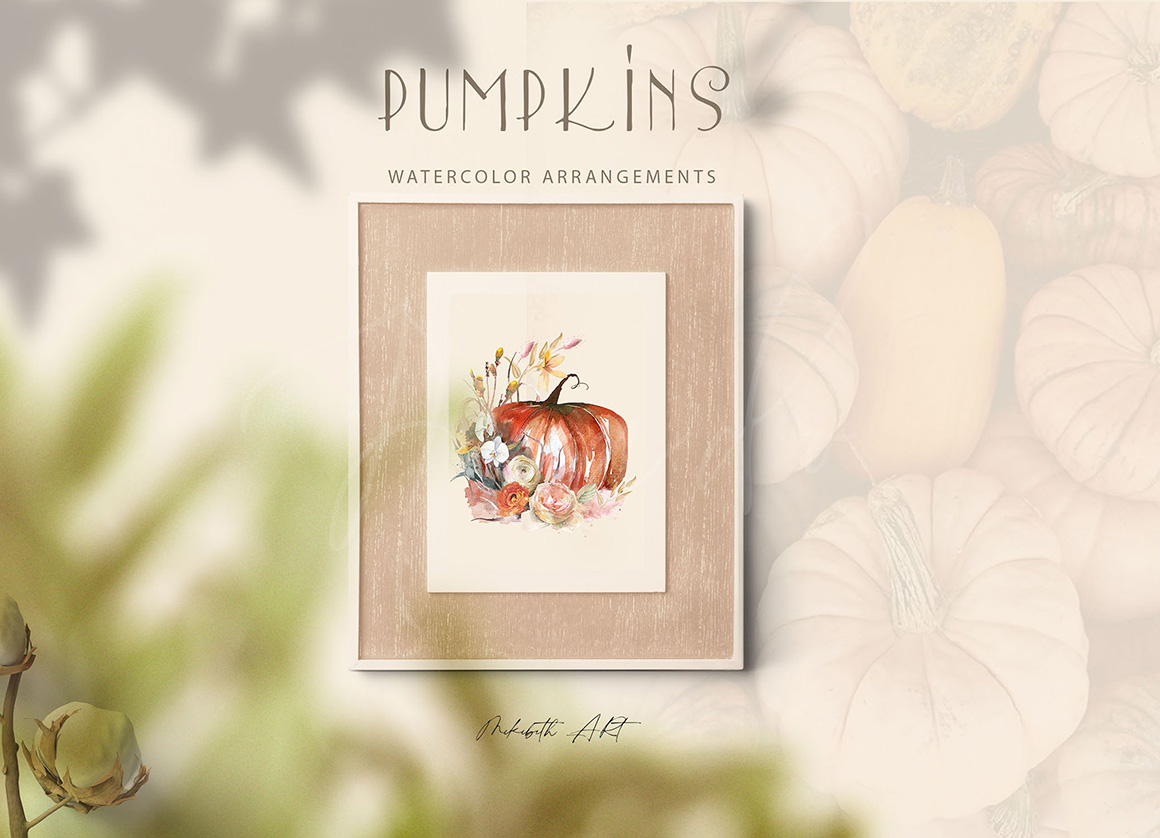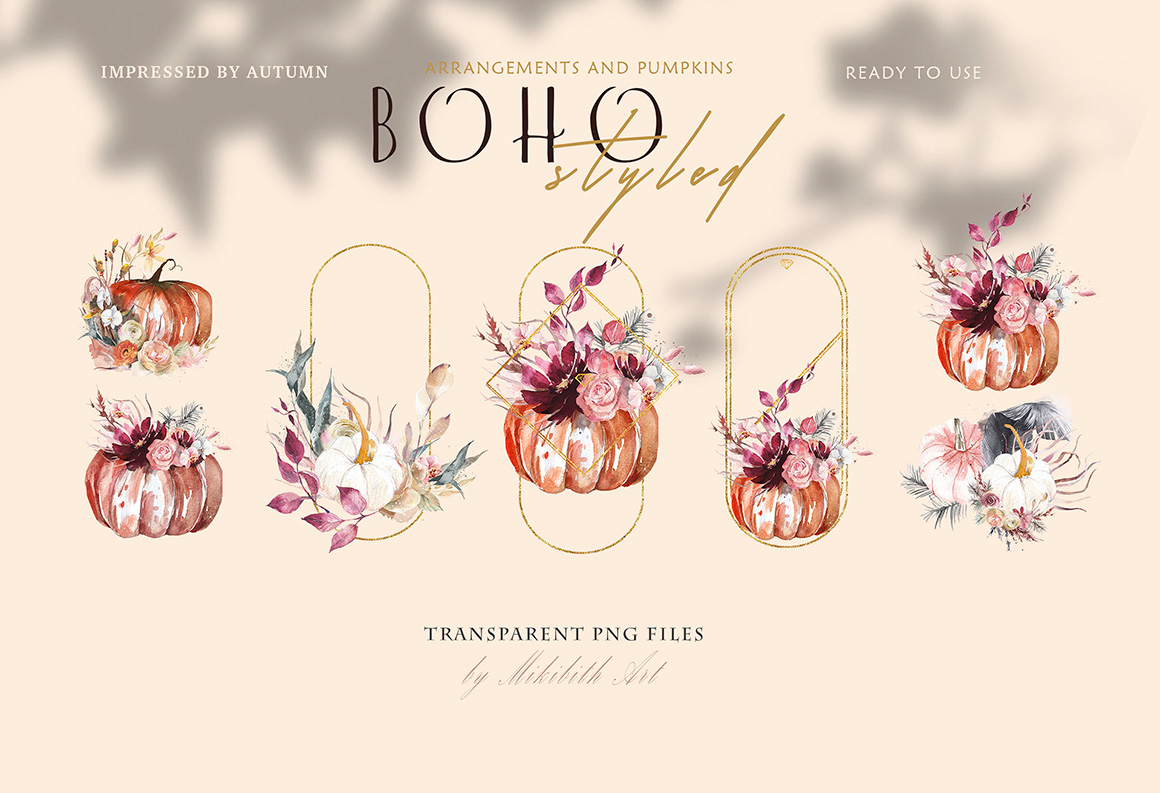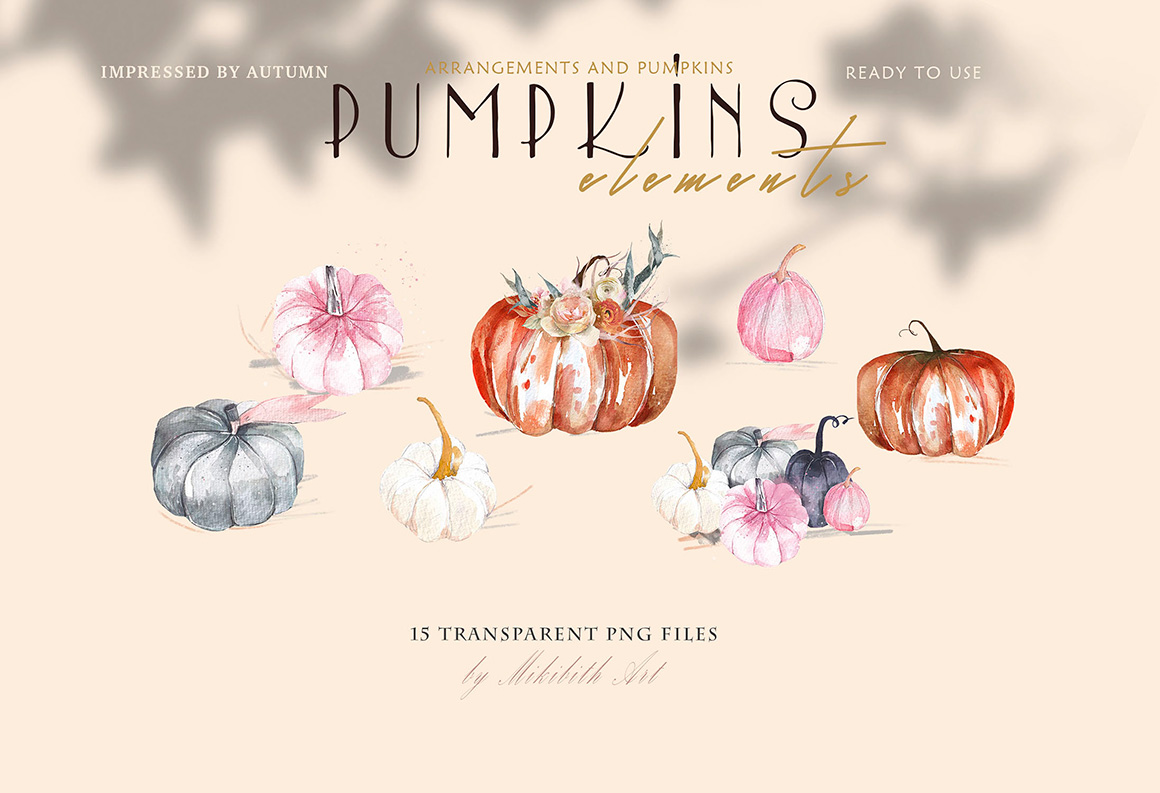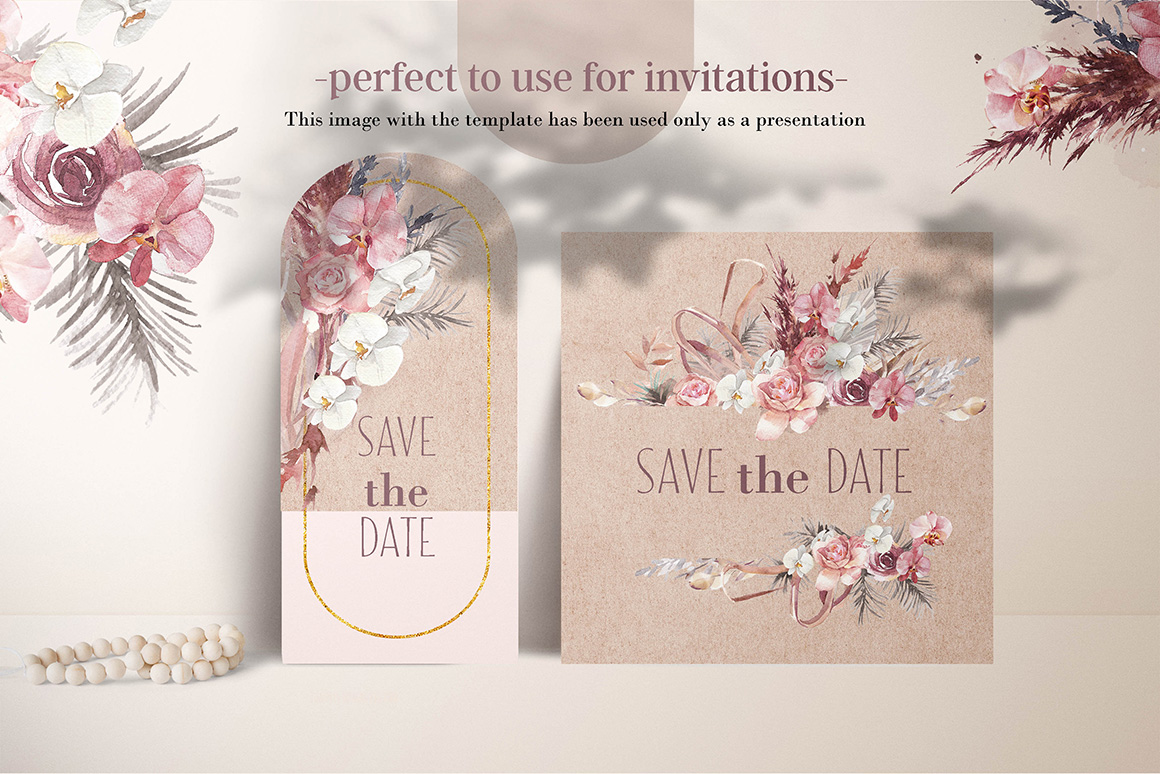 14. Rose Gold Arrangements from MikiBith Art
A fresh spring collection of rose gold branches, petals & flowers in your lovely style. You can create your own watercolor and rose gold petals arrangements using the layered PSD​ creators. I've included two ready-made cover designs so you will get the main palette from this set.
WHAT HAS BEEN INCLUDED:
Roses, watercolor & rose gold branches​, decorated characters​, 2 psd creators & ready-made cover designs 2400×1800 px 300 dpi.
Branches & flowers 16 PNG;
Rose gold branches (2 creators​ psd): -5 rose gold branches PNG; -5 gold&black arrangements PNG;
ready-made​ watercolor arrangements 13 PNG;
creators: 3 sd files;
4 geometric frames​ png & psd creator;
26 characters png;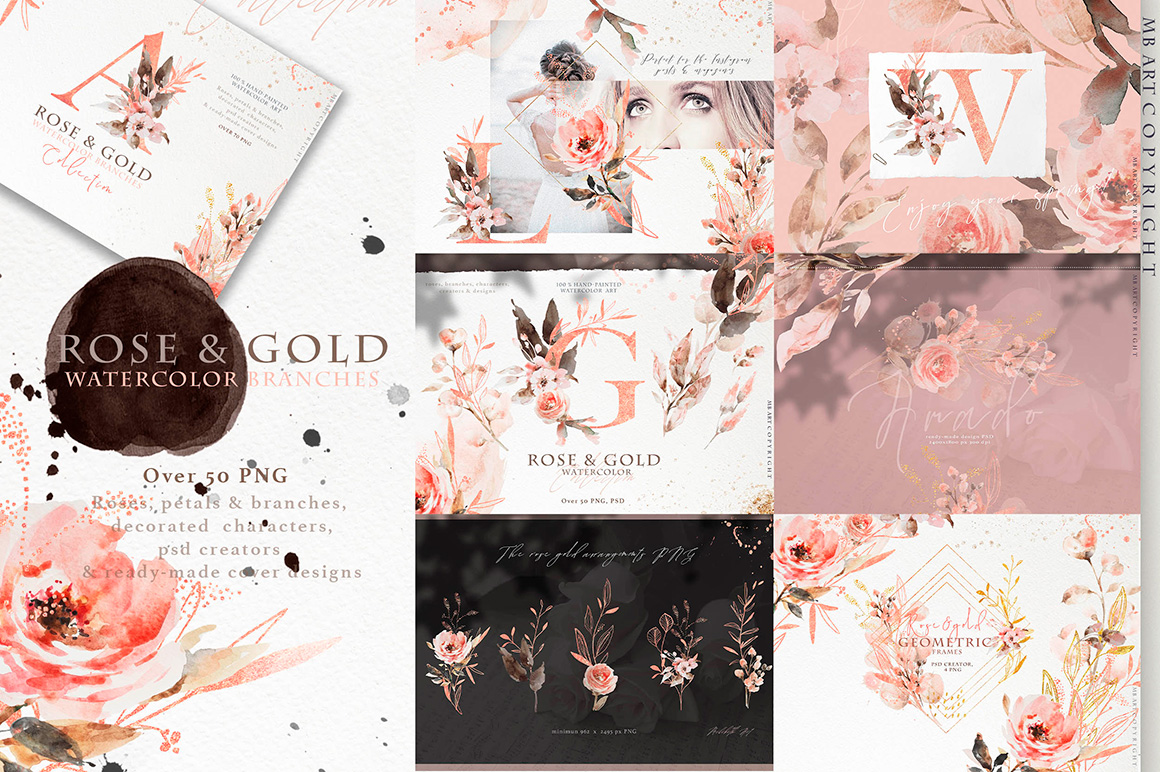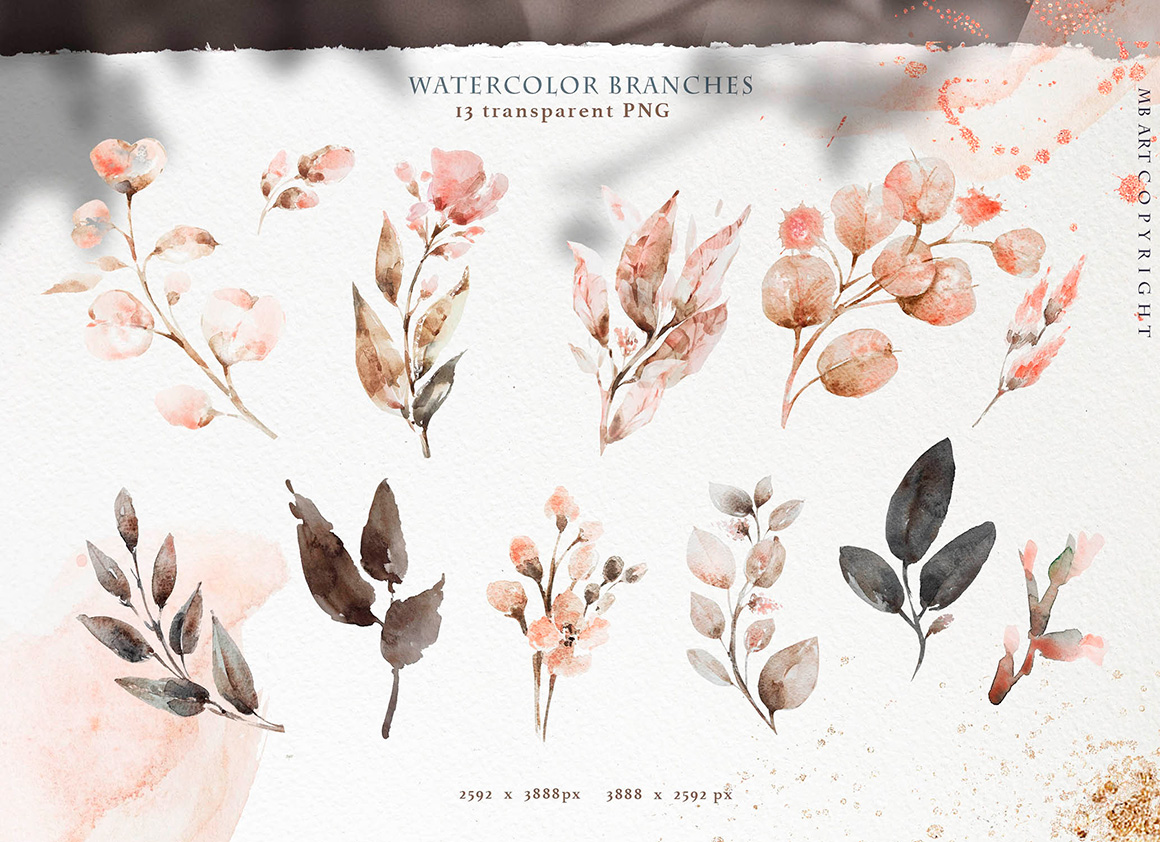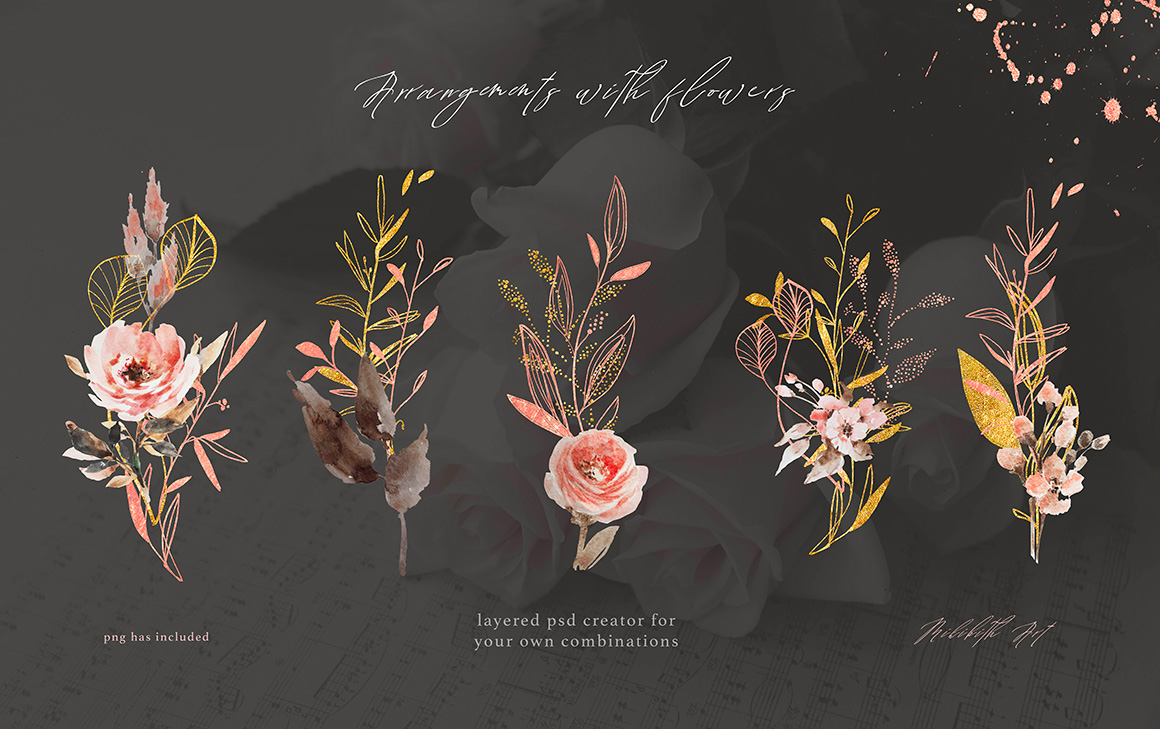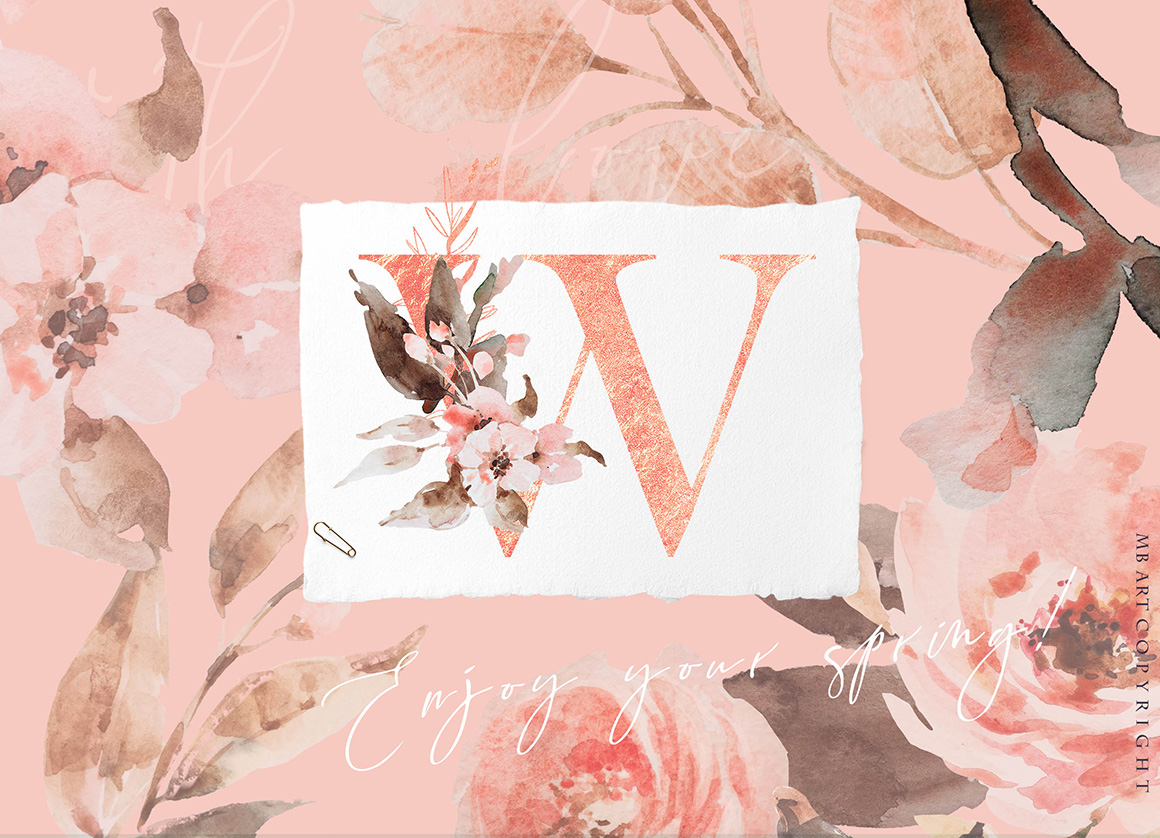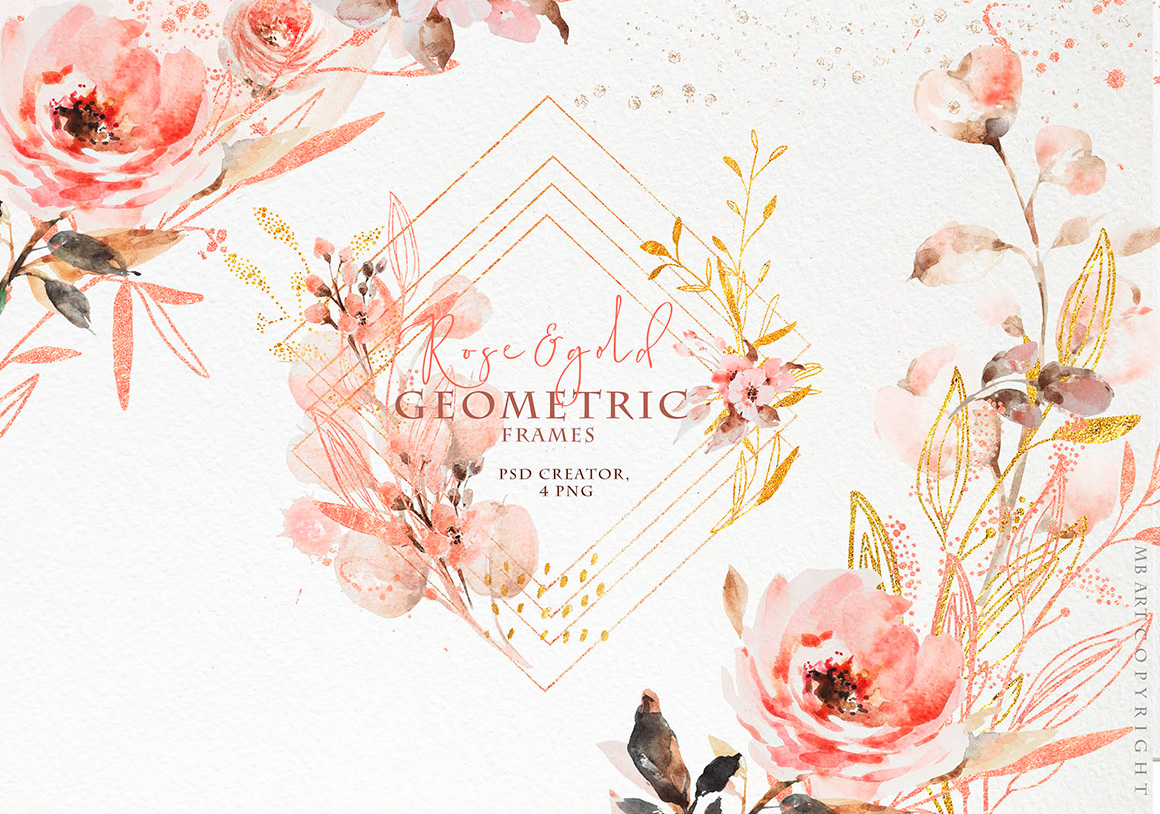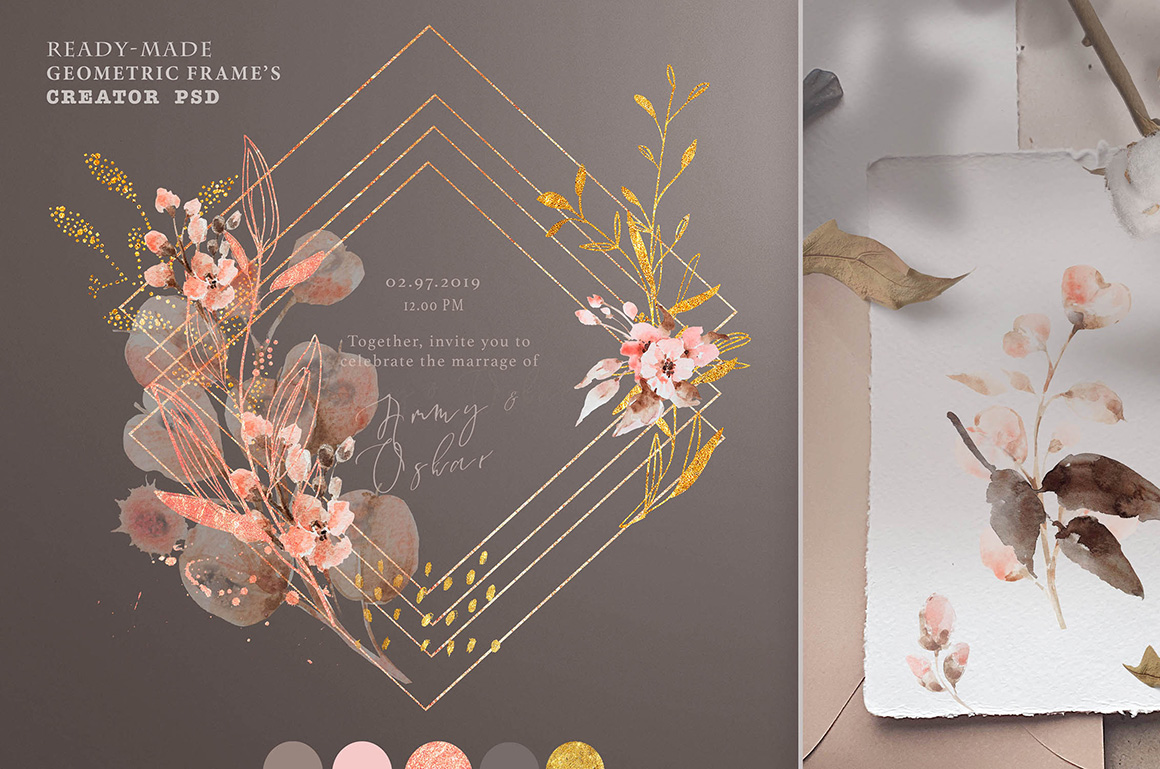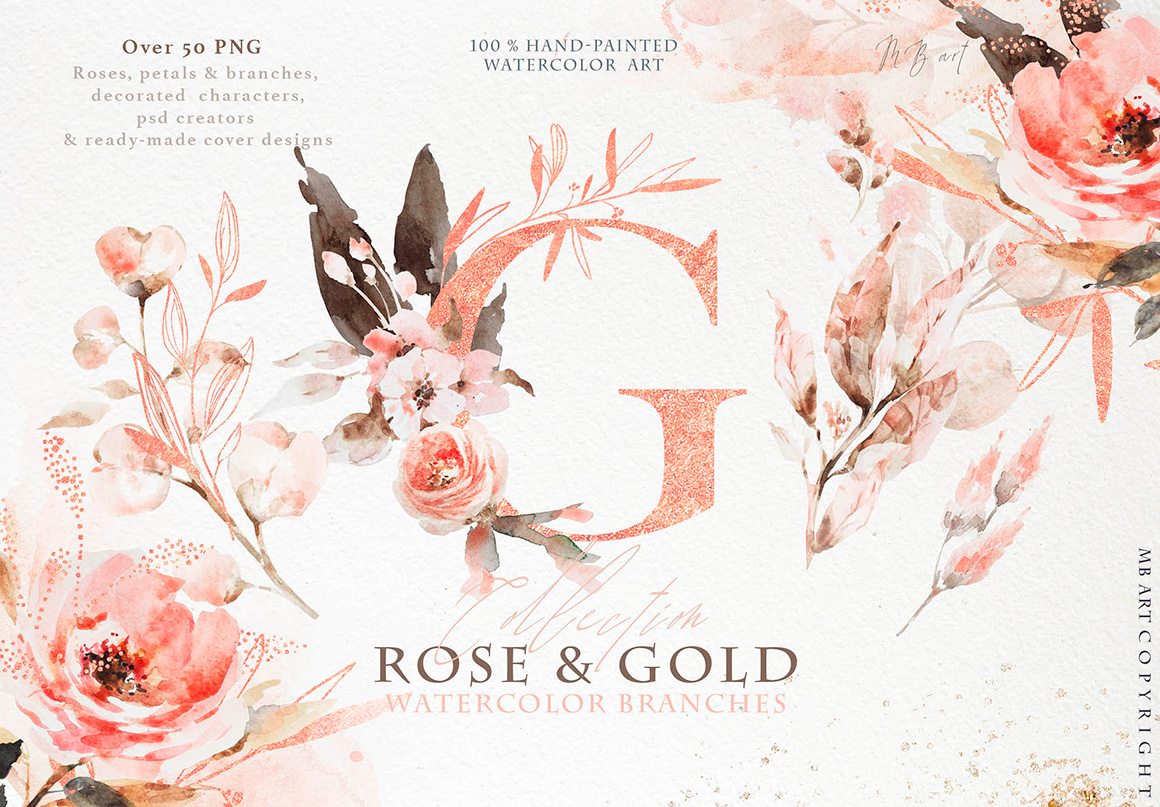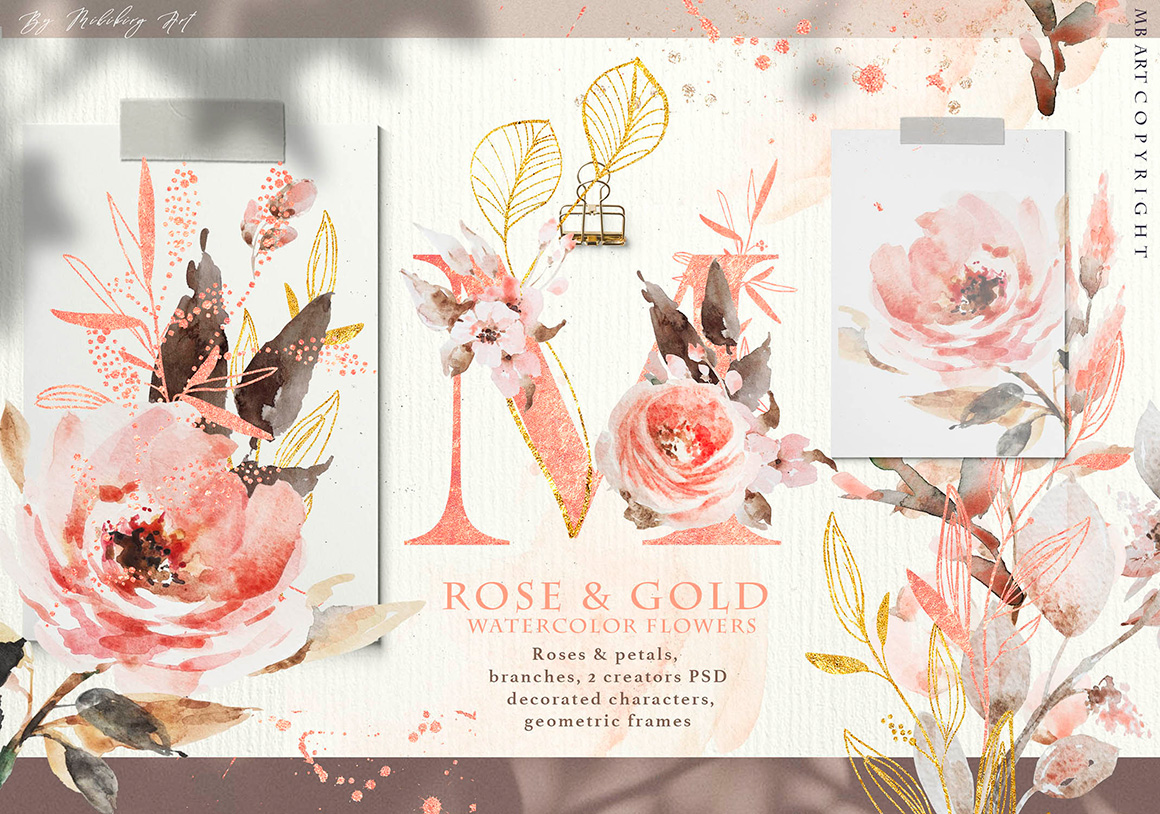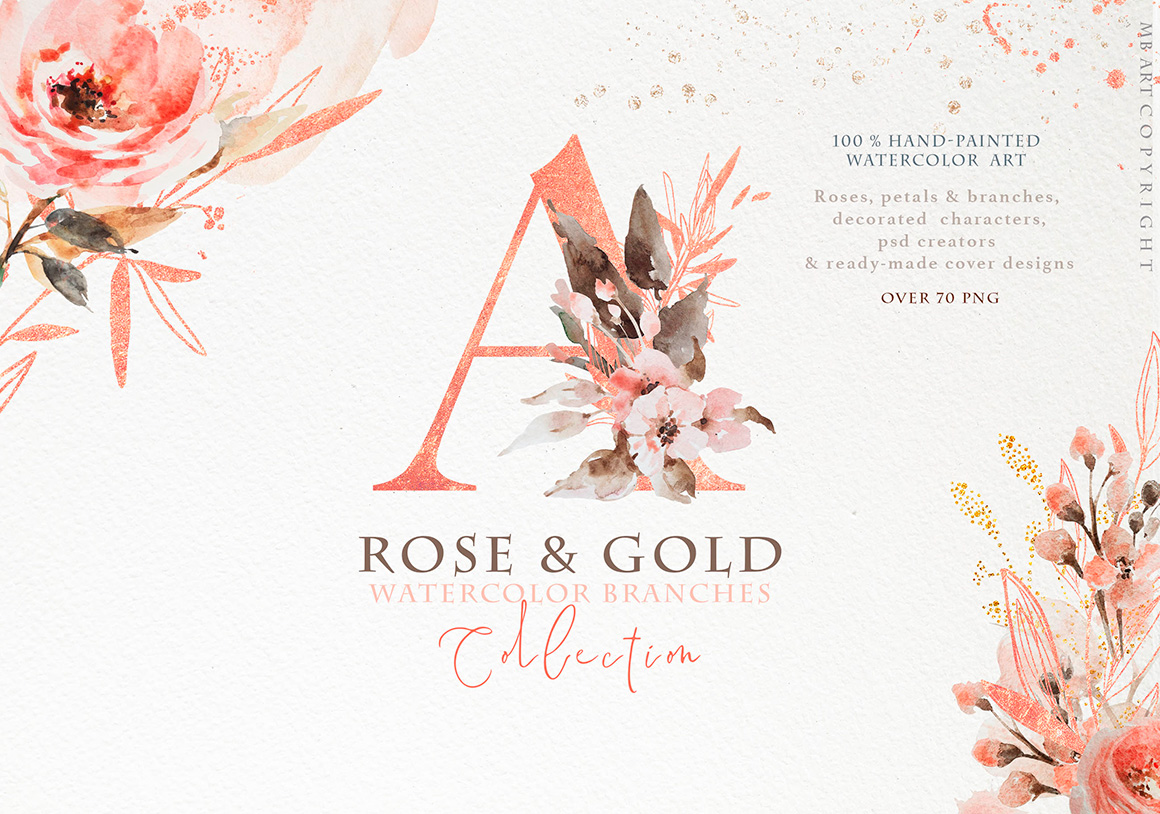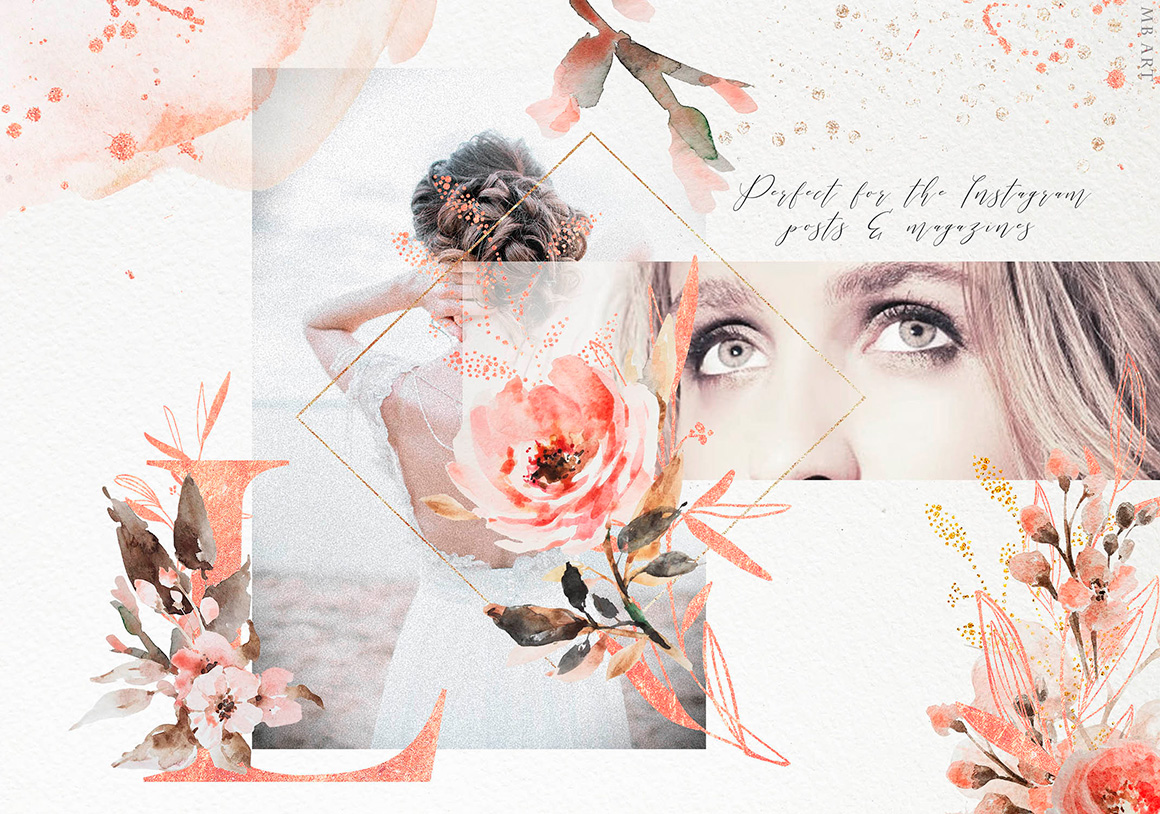 15. 65 Seamless Patterns from MikiBith Art
65 Seamless patterns and SWATCHES ai Transparent PNG has been included.
All of my best floral patterns in 1 bundle. Reach of the flowers, roses and petals. All seasons pallets and line art collections.
-65 transparent PNG files, ai, eps swatches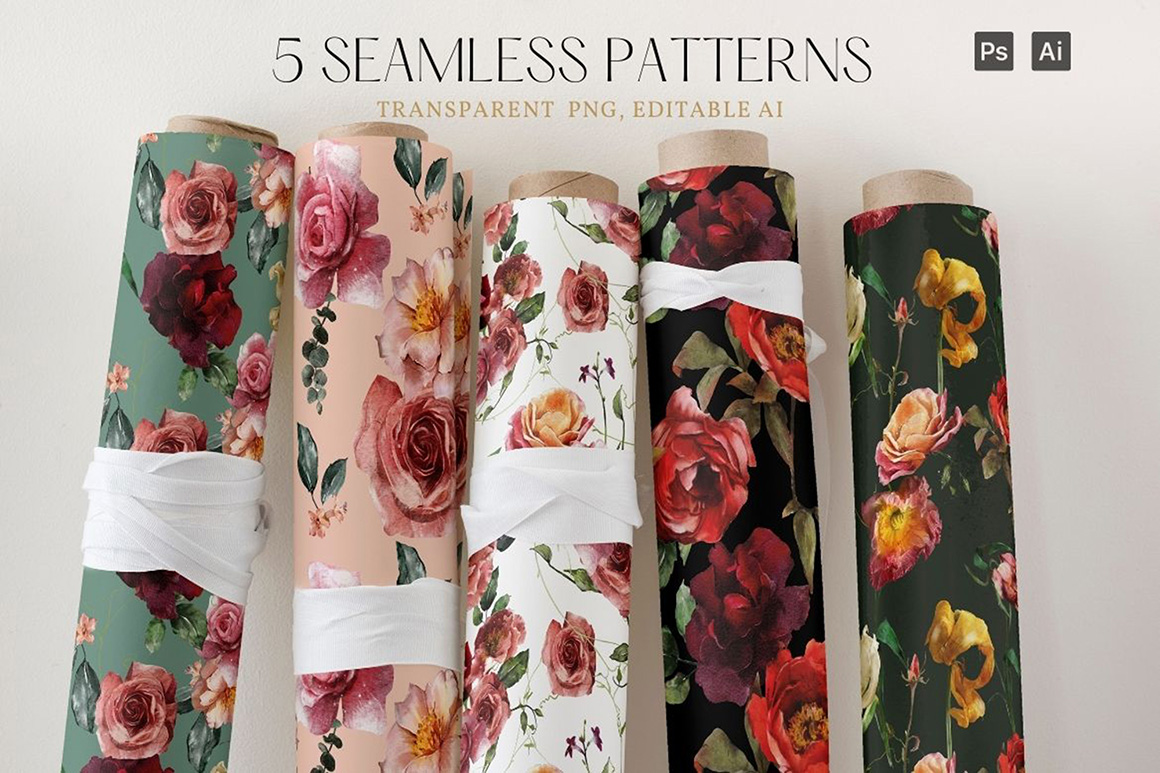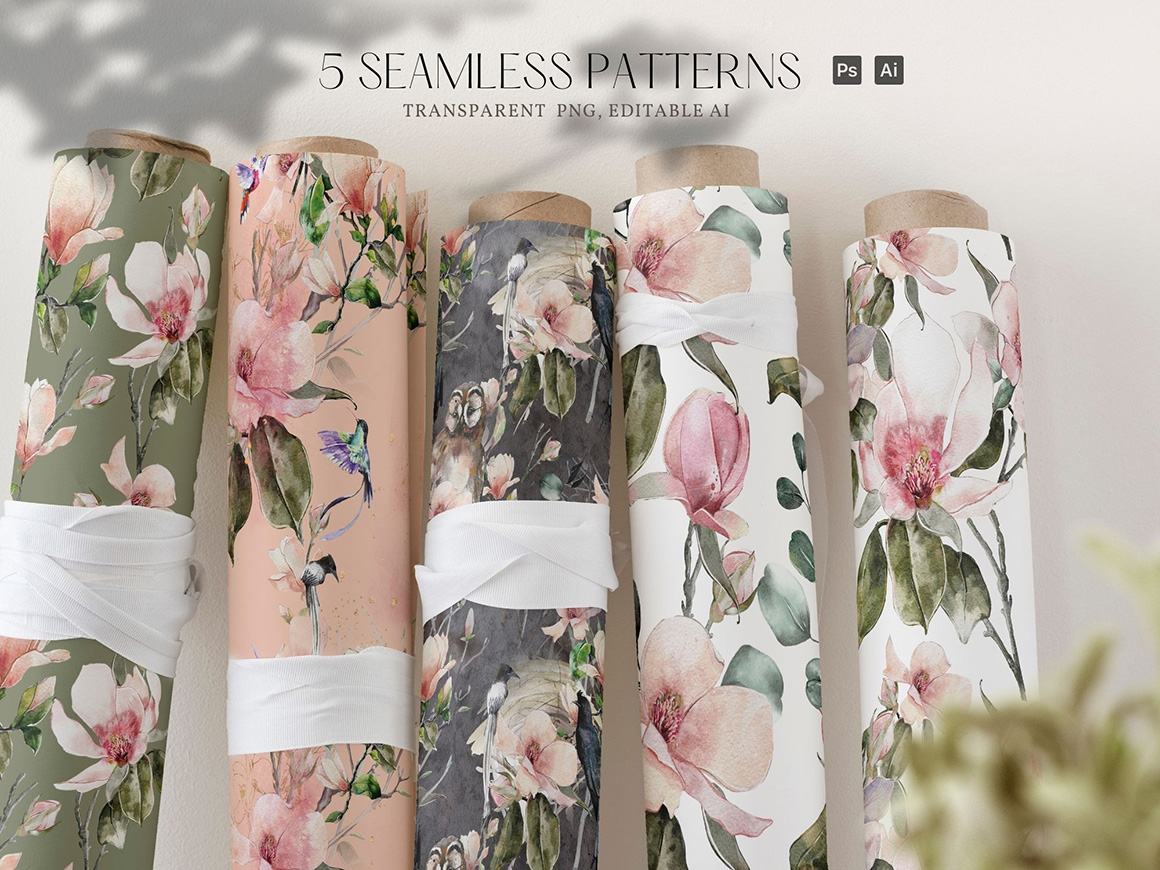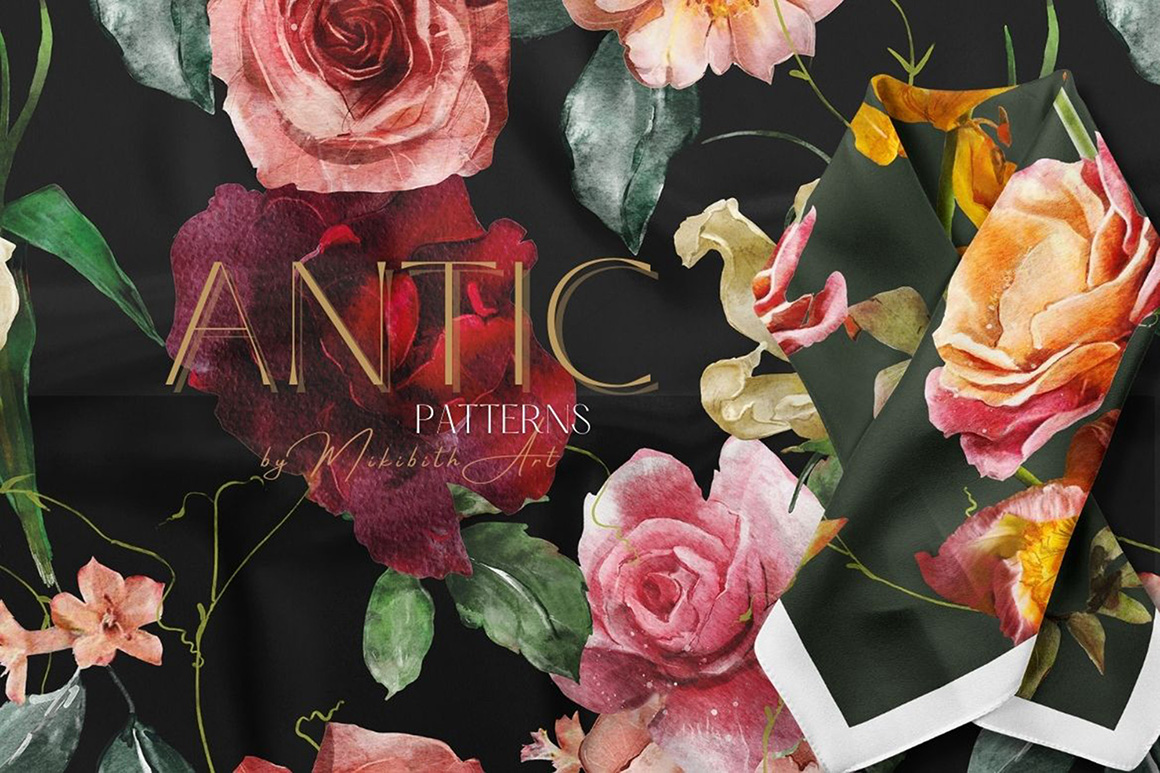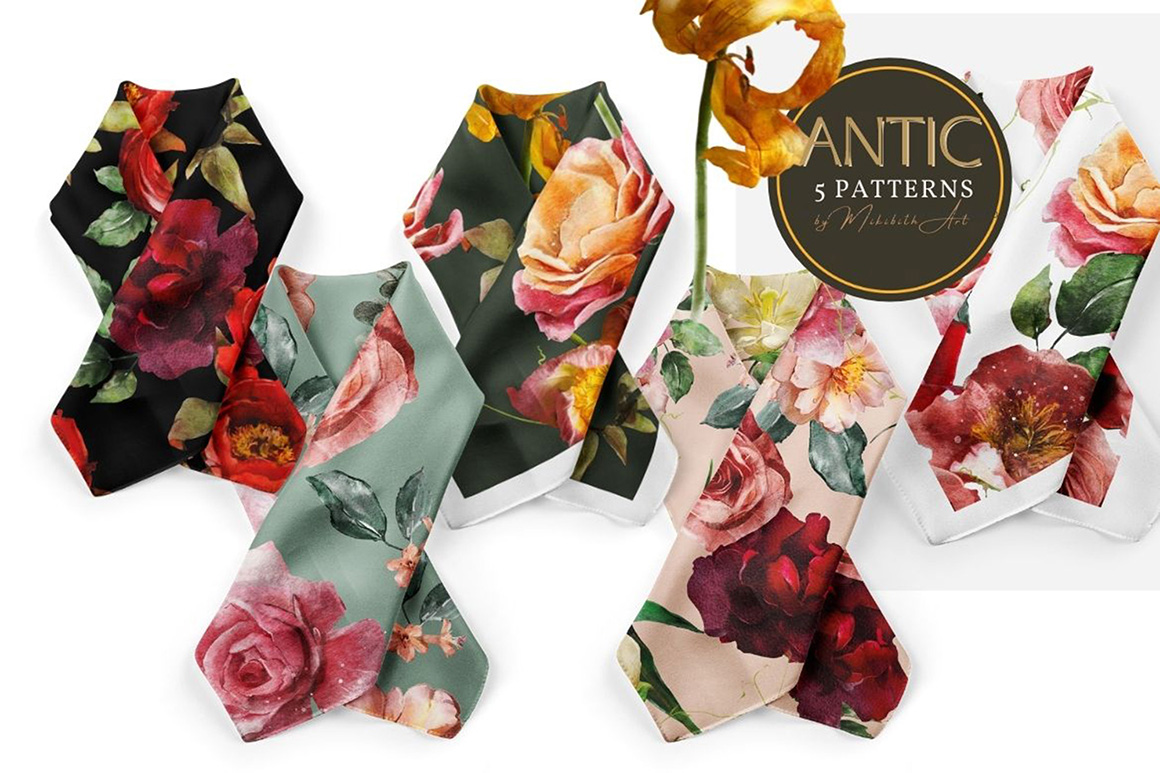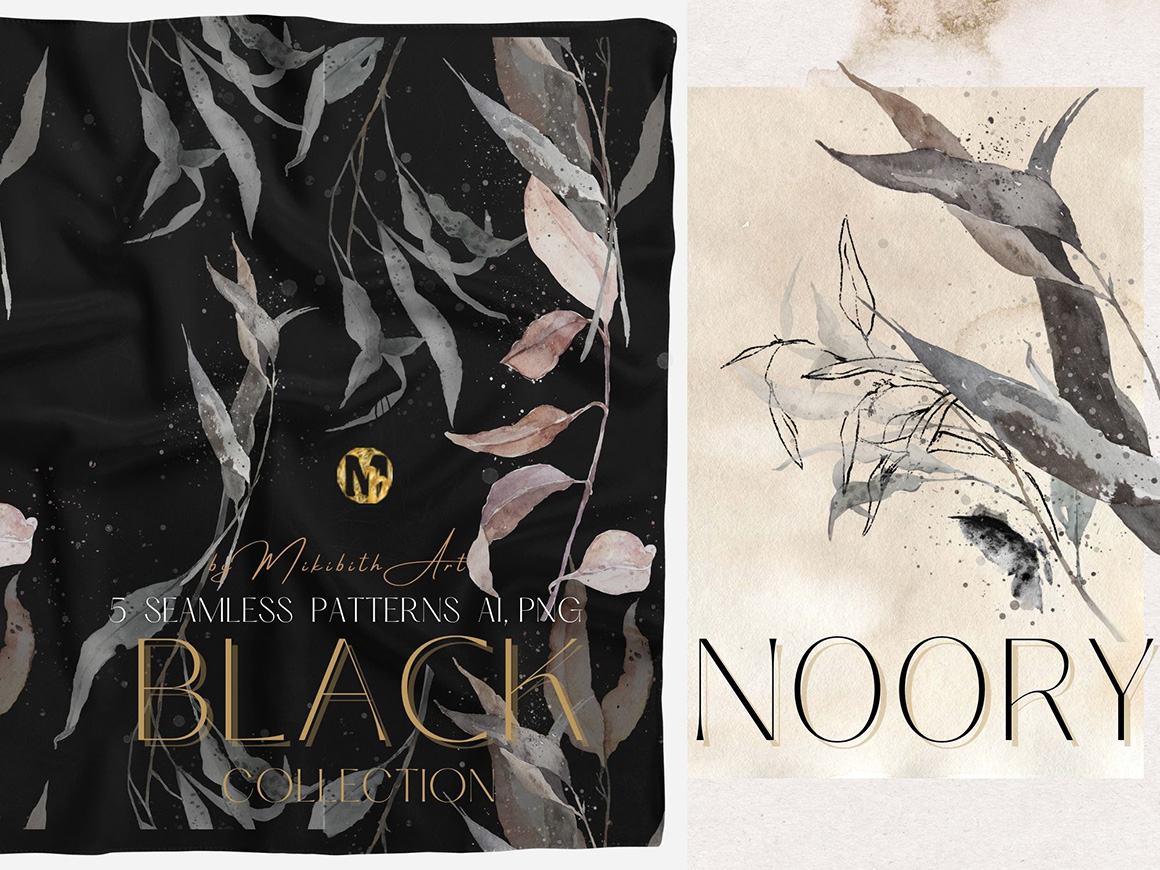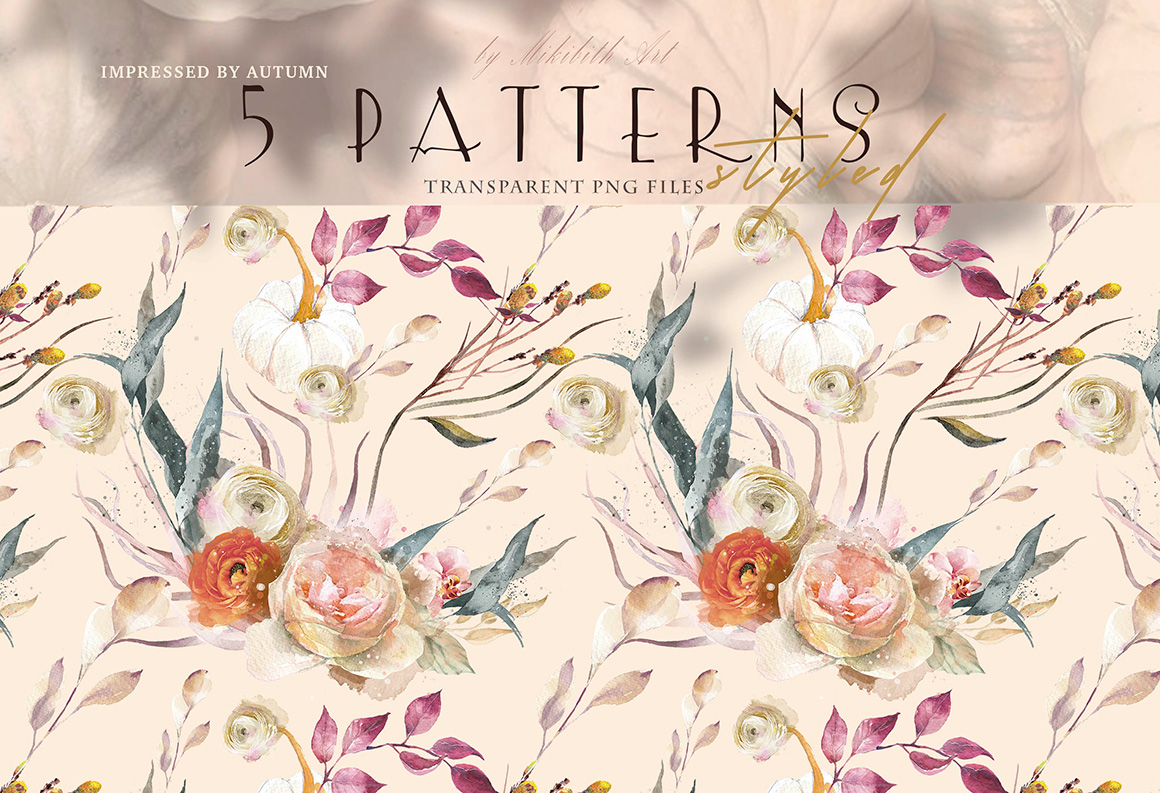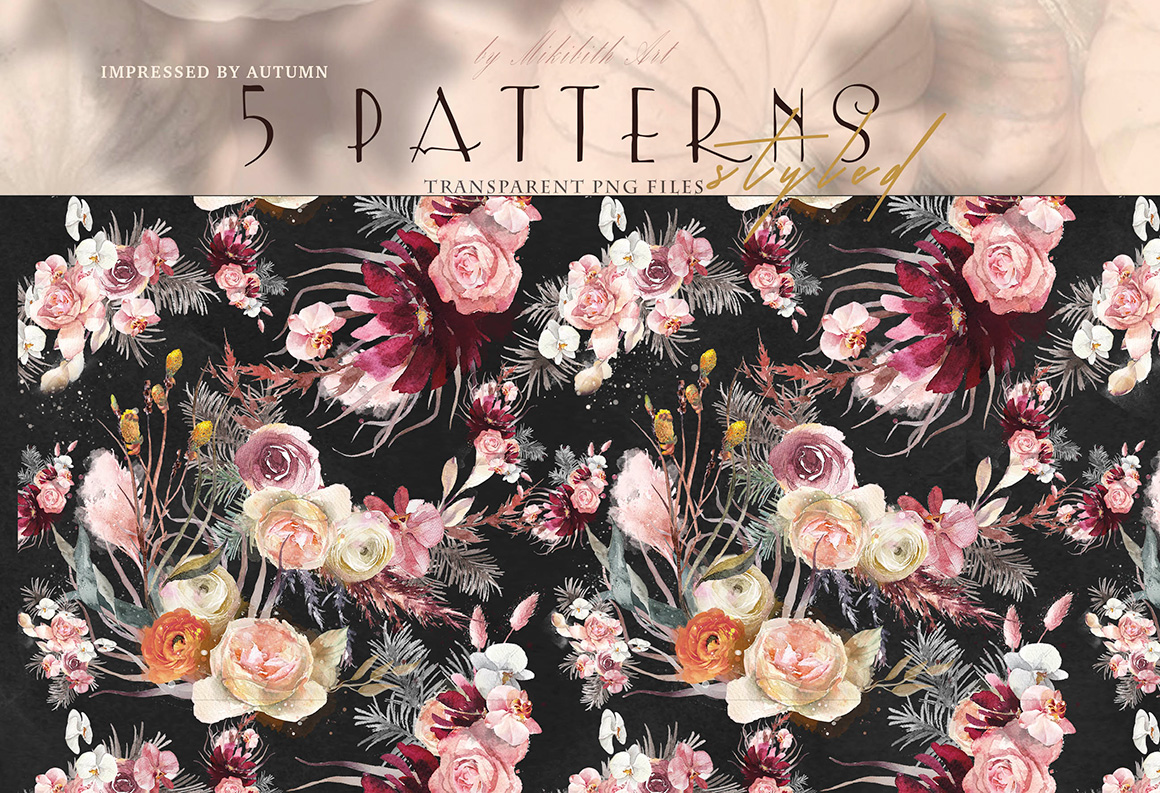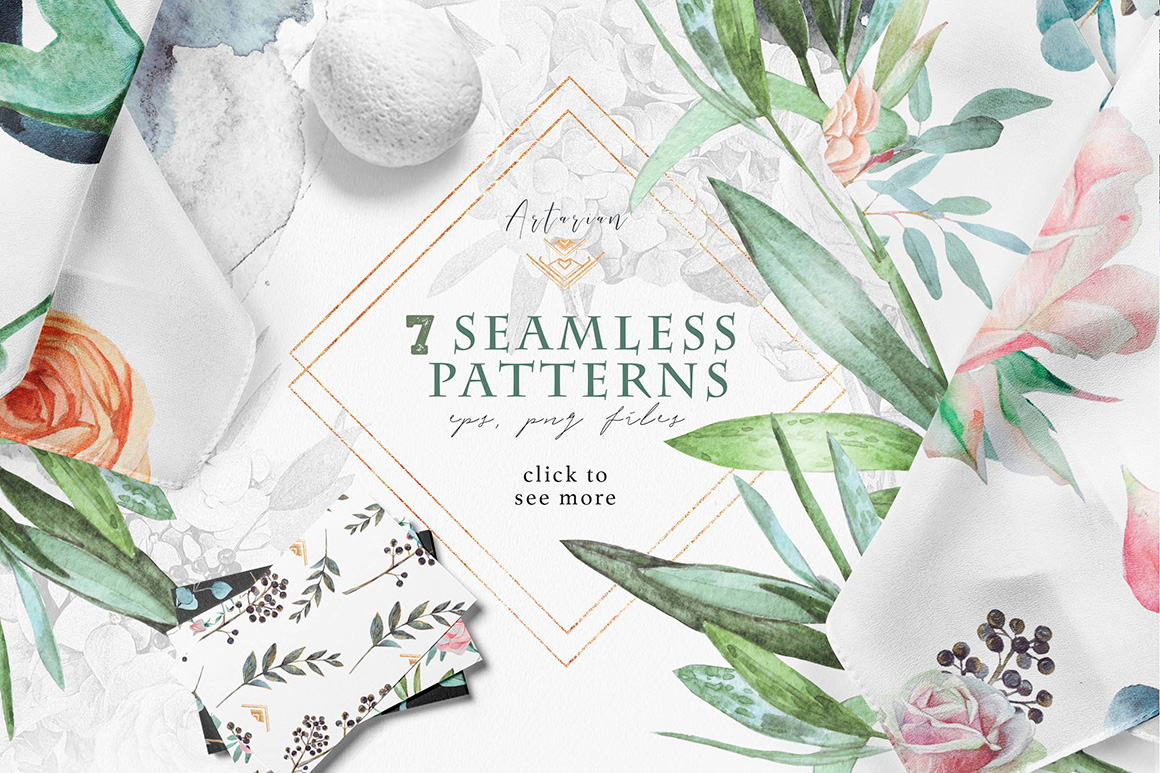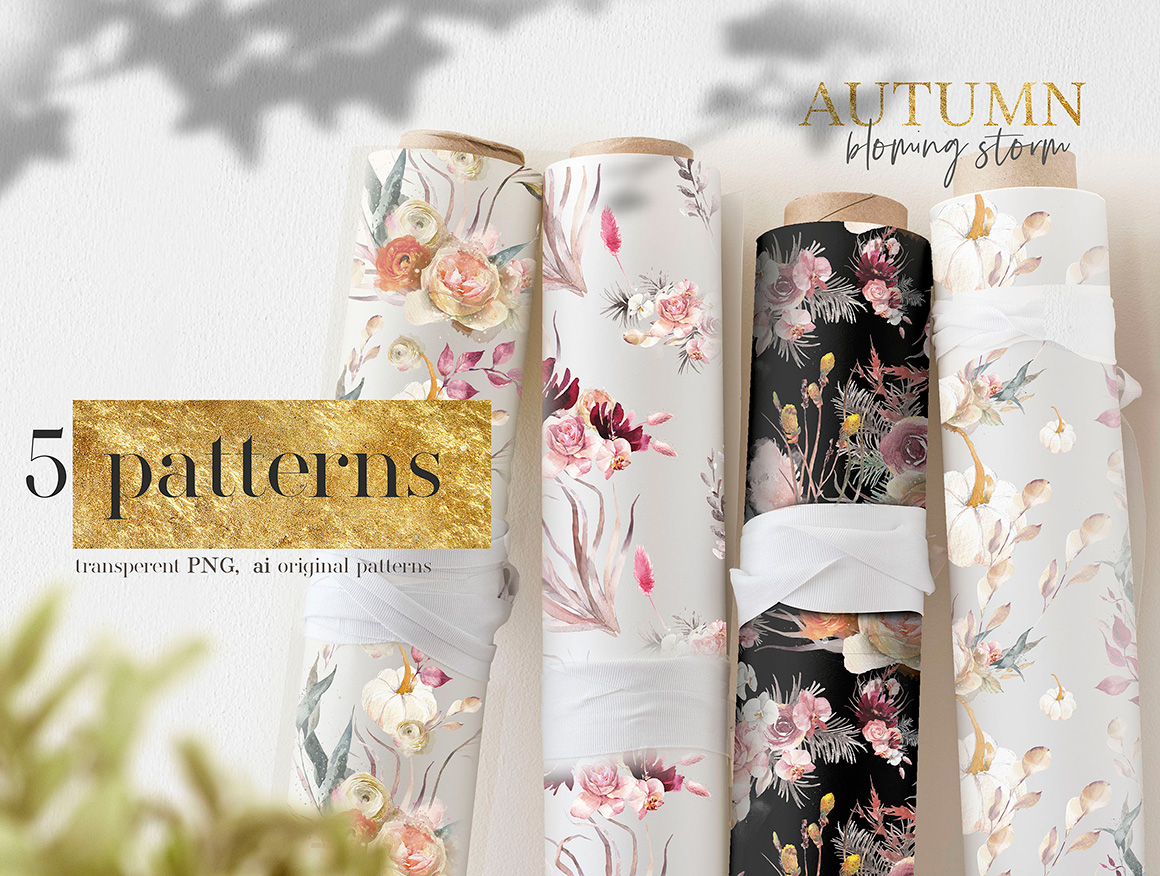 This Bundle Highlights:
15 romantic, floral, botanical & wedding illustration sets!
extended commercial license (like all of our deals): use for unlimited personal and commercial projects + you can also use them in designs/products that you sell. You can use all these items as a part of your non-digital or digital designs ( posters, t-shirt designs, stickers, web templates…). You cannot resell these files directly, or within items/goods where they can be extracted in their original form (like vector shapes, elements, fonts… – they need to be flatten into background or object in your digital item for sale). License is only for 1 person – you'll need to buy 2 licenses if 2 persons will work with these graphics. Please read more about our exclusive license!
Pricing:
Normally, these 15 big illustration or graphics toolkits would cost you $329 (without extended license) & $1699 (with extended license), but for a limited time only, you can get this unique collection for $24!
Deal Terms:
Delivered as an instant download, after completing your purchase. There are 10 external download links included in main zip file (please let us know if you'll need any help with download)
All graphics can be used for both personal and commercial purposes, for yourself or on behalf of a client, on their own, or as part of your new design for sale.
Cannot be sublicensed, resold, shared, transferred, or otherwise redistributed on its own.
You cannot share these resources with others. This is a single user license! You need to buy 2nd license for 2nd person working with these graphics. Thanks a lot for understanding and support.