What a terrible feeling to come up with an excellent artistic idea but have no tool to bring it from your head to the artboard! But it's not your problem anymore — with this huge bundle, you'll be armed with 224 Illustrator brushes which allow you to go wild and creative. Hope you don't think that's all we got: a wide choice of textures, patterns, symbols and many other creative elements are waiting to help you create the artwork that will showcase your talent!
With 7-in-1 Illustrator Brushes Bundle from Pixelbuddha you will get 224 various style brushes for Adobe Illustrator!
With this deal you get:
224 various style brushes for Adobe Illustrator!
Take a look at what you can get: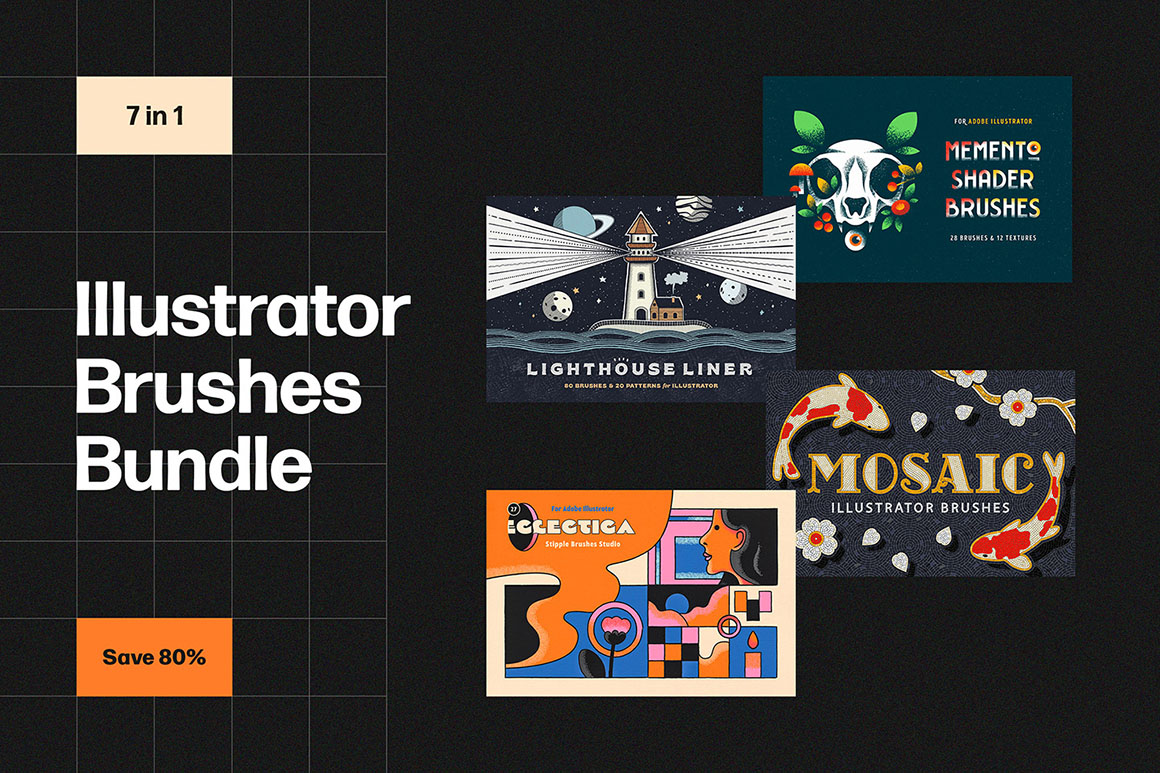 224 various style brushes for Adobe Illustrator!
01. Magic Lands: Vintage Map Creator from Pixelbuddha
Pack your things and hit the road to a thrilling adventure! You'll get to see the incredible creatures, discover new realms, and maybe even find the long-forgotten pirate treasure. Any journey starts with a vital element — the map of a fairyland you're about to enter. Get armed with this Vintage Map Creator and plan your perilous journey!
Don't be afraid to plan every single path of your long trip. There are 65 elements in the pack to choose from, including living beings (birds and nautical monsters), celestial bodies (the sun, the moon, star, clouds), vessels (ships, hot-air balloon, airship), waves, islands, mountains, trees, and buildings (castles and mills). When you finish placing the objects, take care of the background and edges: we've included 15 brushes and 15 patterns of water, land, sky, and atlas grid). Oh, and of course, the compass, which any voyage can't do without. What are you waiting for? Every second counts, you better put it to good use for creating branding designs, packaging, posters, ads, banners, or logotypes. Make sure to bring your audience along and show everyone your Magic Lands!
What's inside?
65 illustration symbols library (pigeon, eagle, clouds, the sun, the moon, the stars, compass, 3 air vessels, 3 boats, 3 sea monsters, 11 buildings, 15 islands, 7 mountains, 8 trees) in vector and PNG;
15 seamless patterns (water, land, sky, and atlas grid) in vector and PNG;
15 vector brushes (borders decorative elements);
files in CC and CS6 versions for Illustrator;
instructions.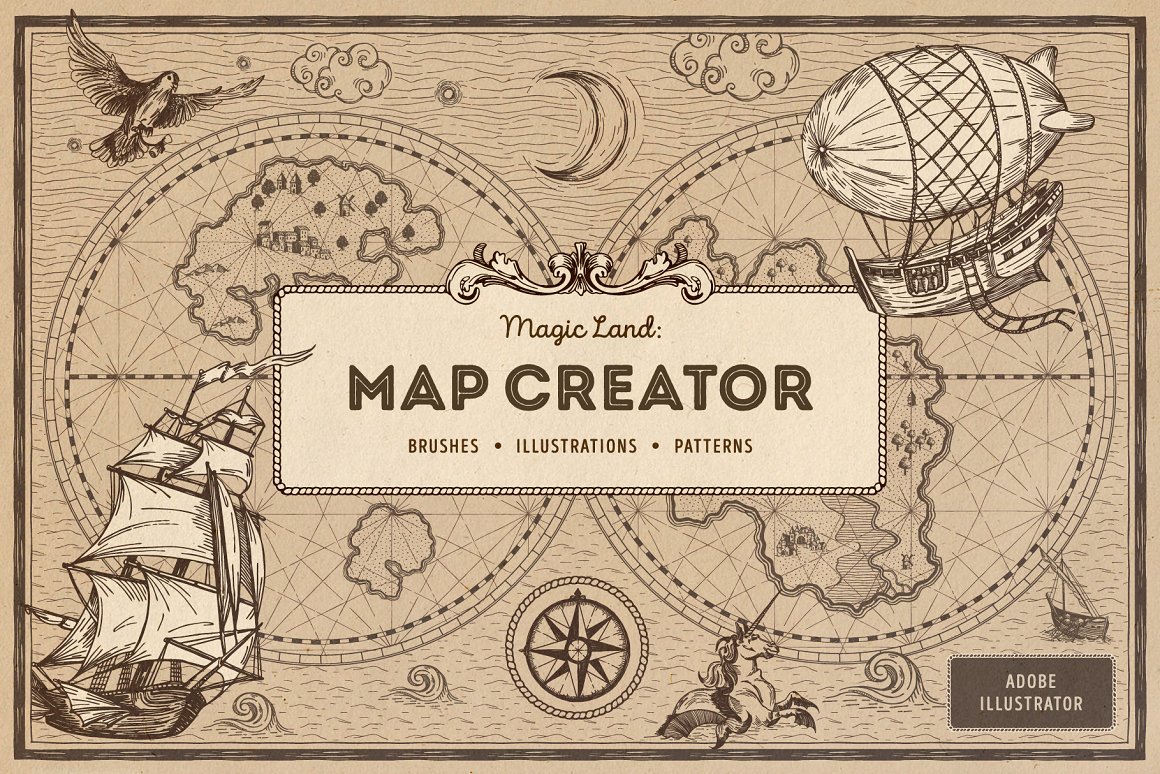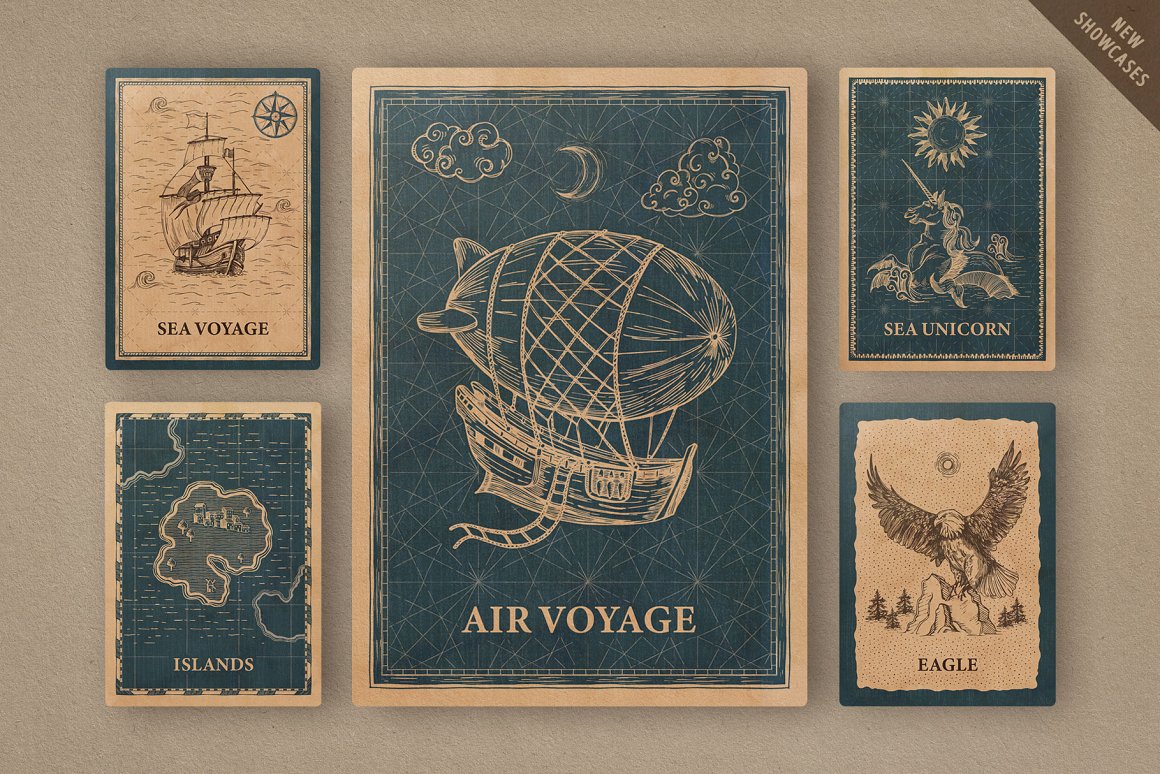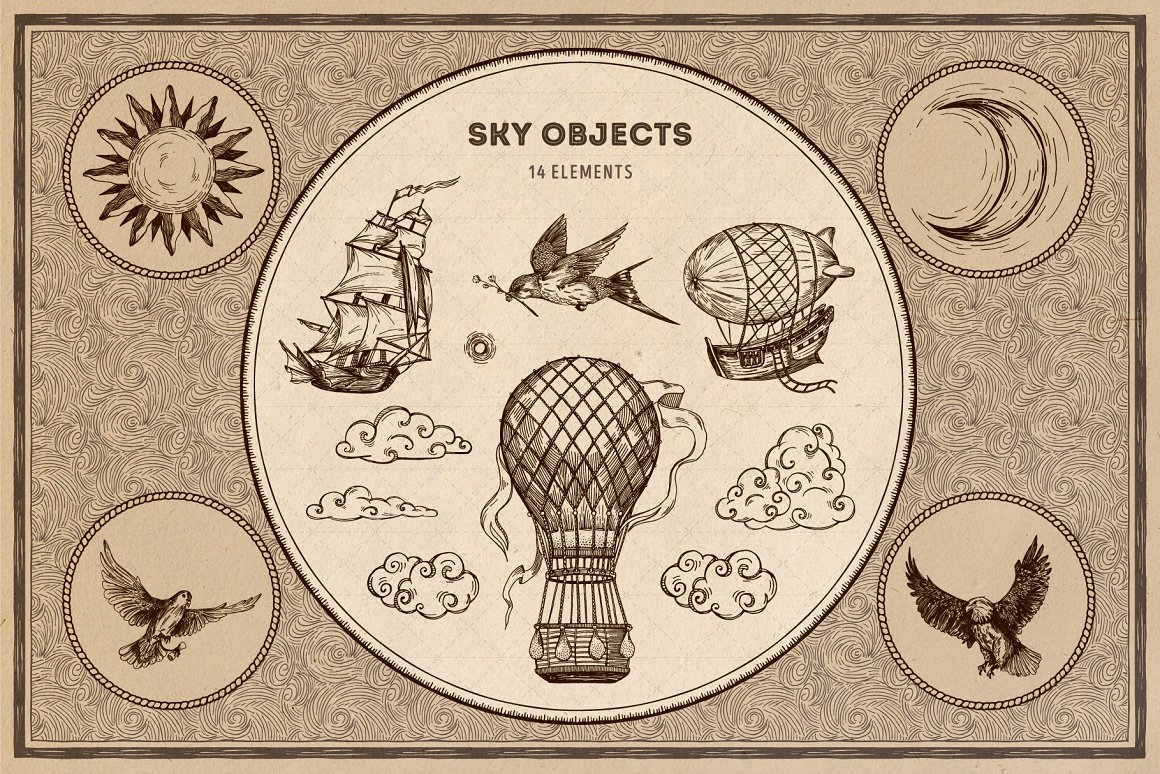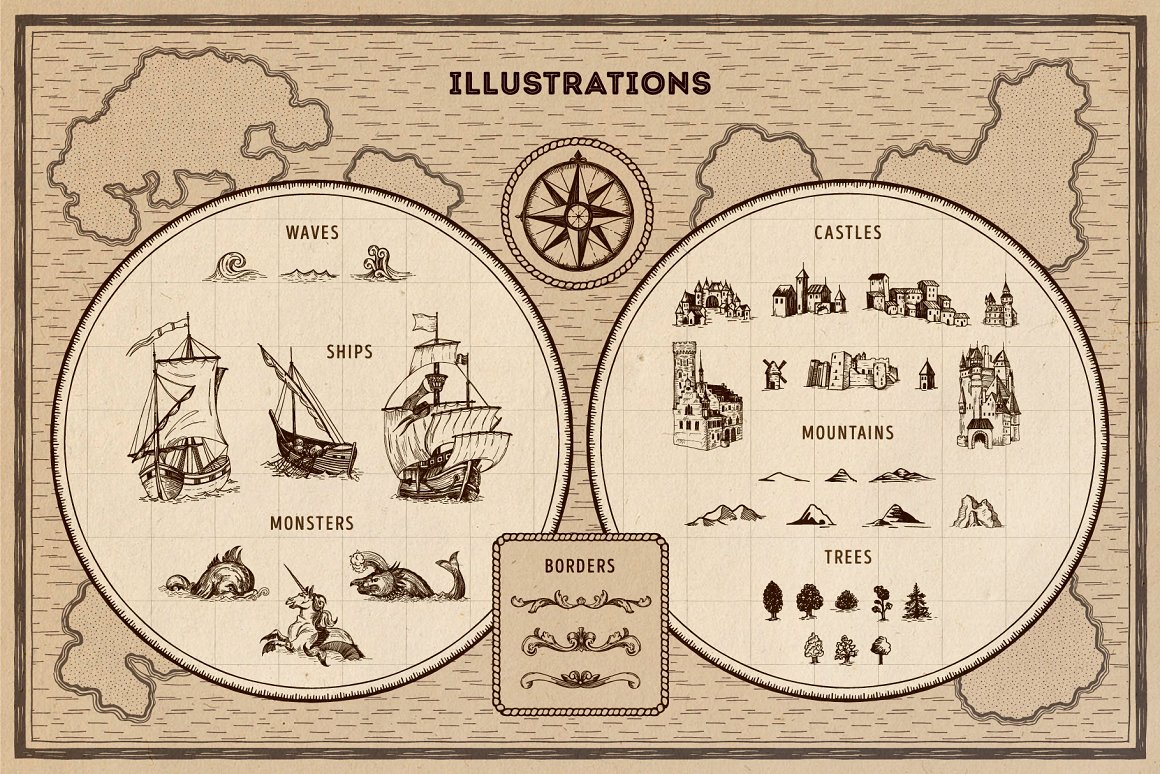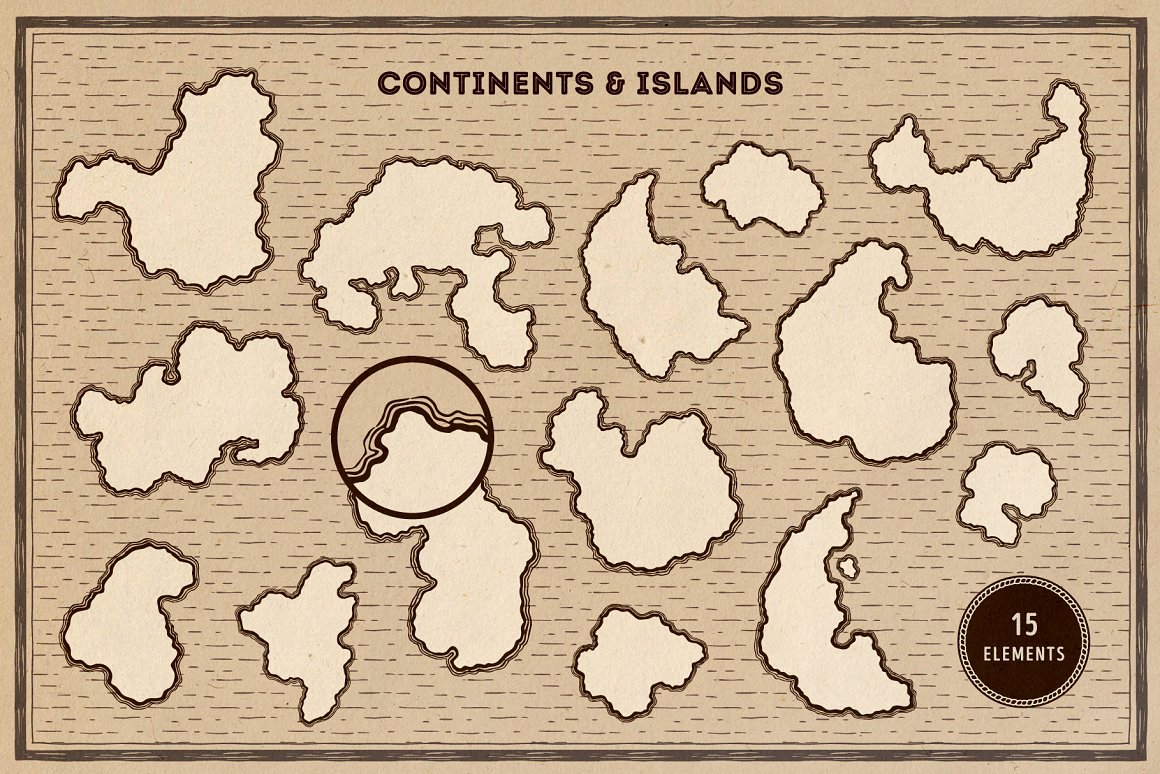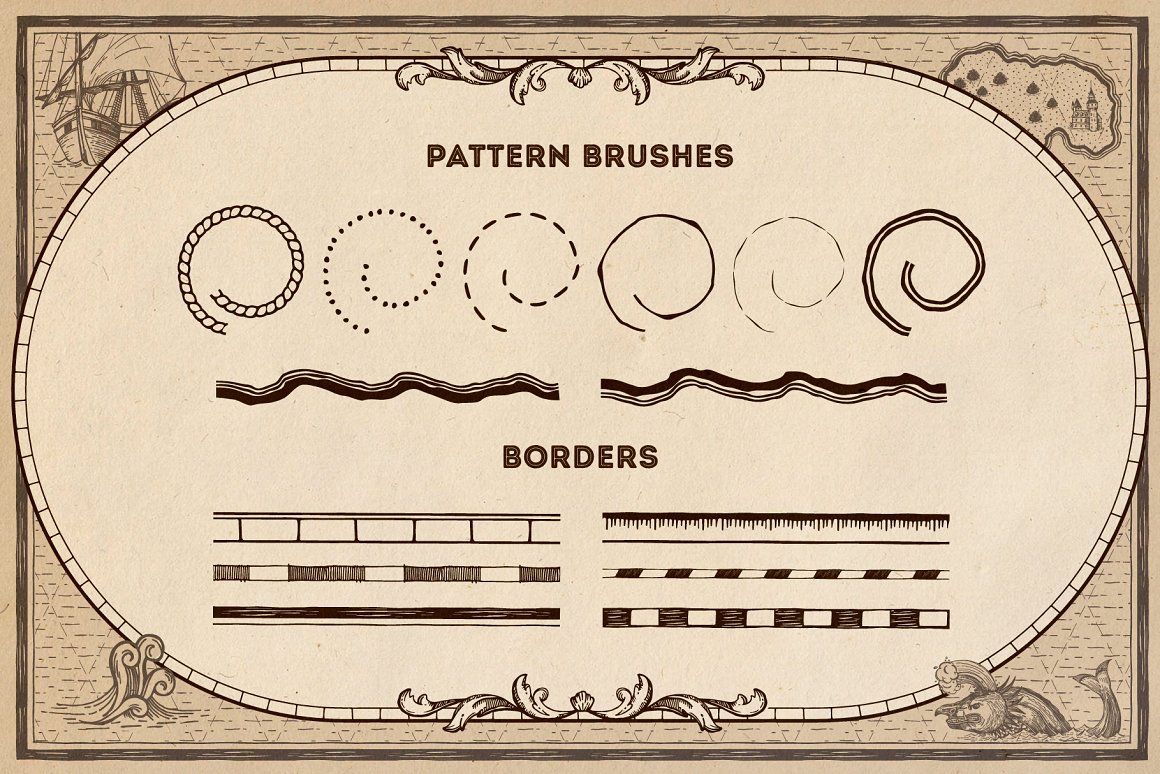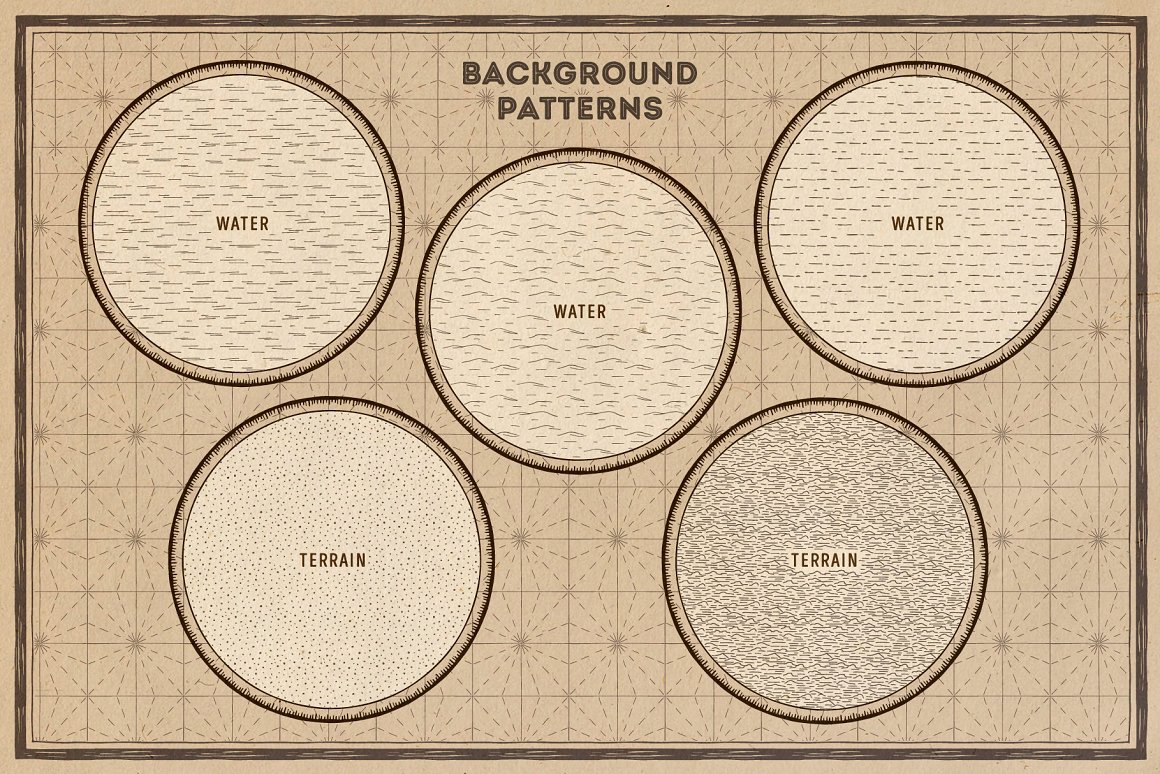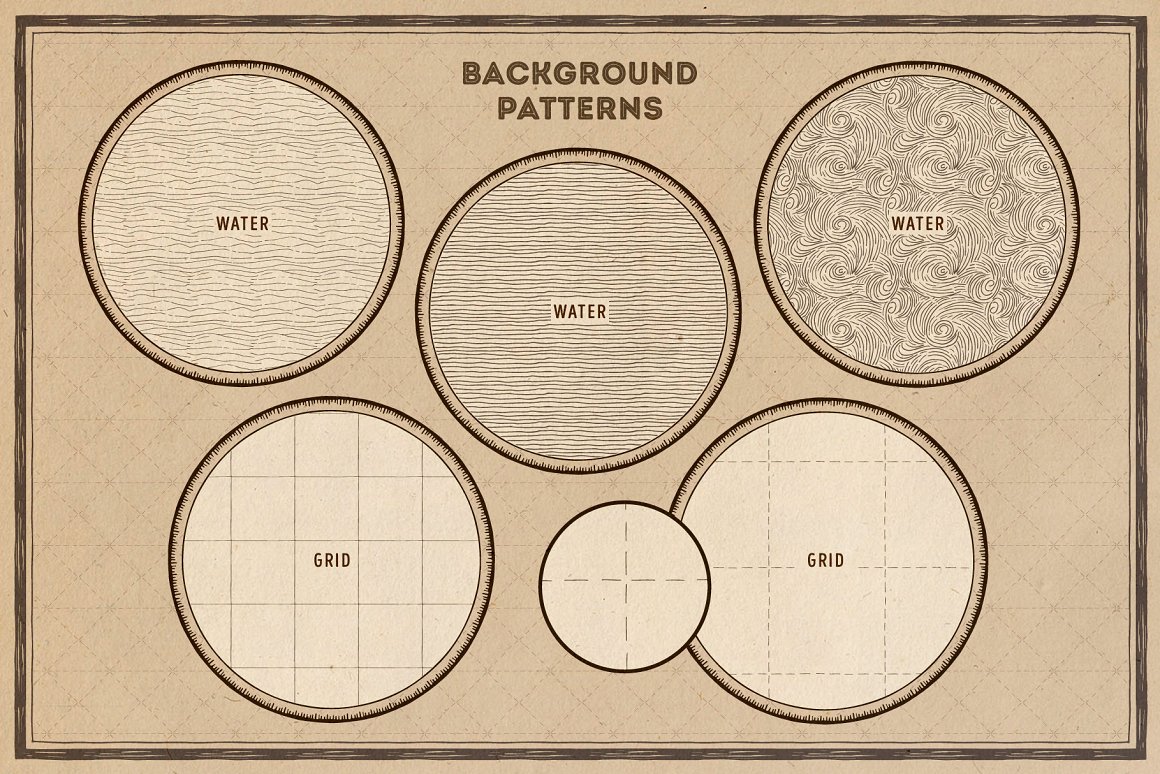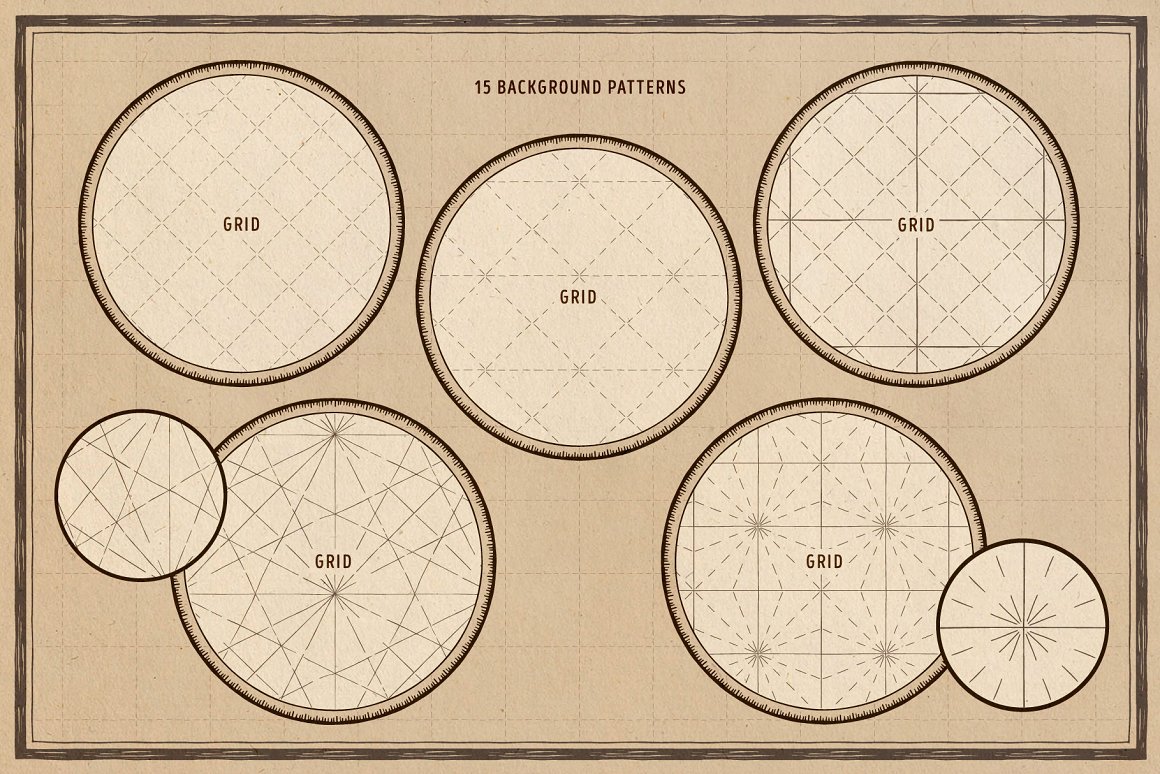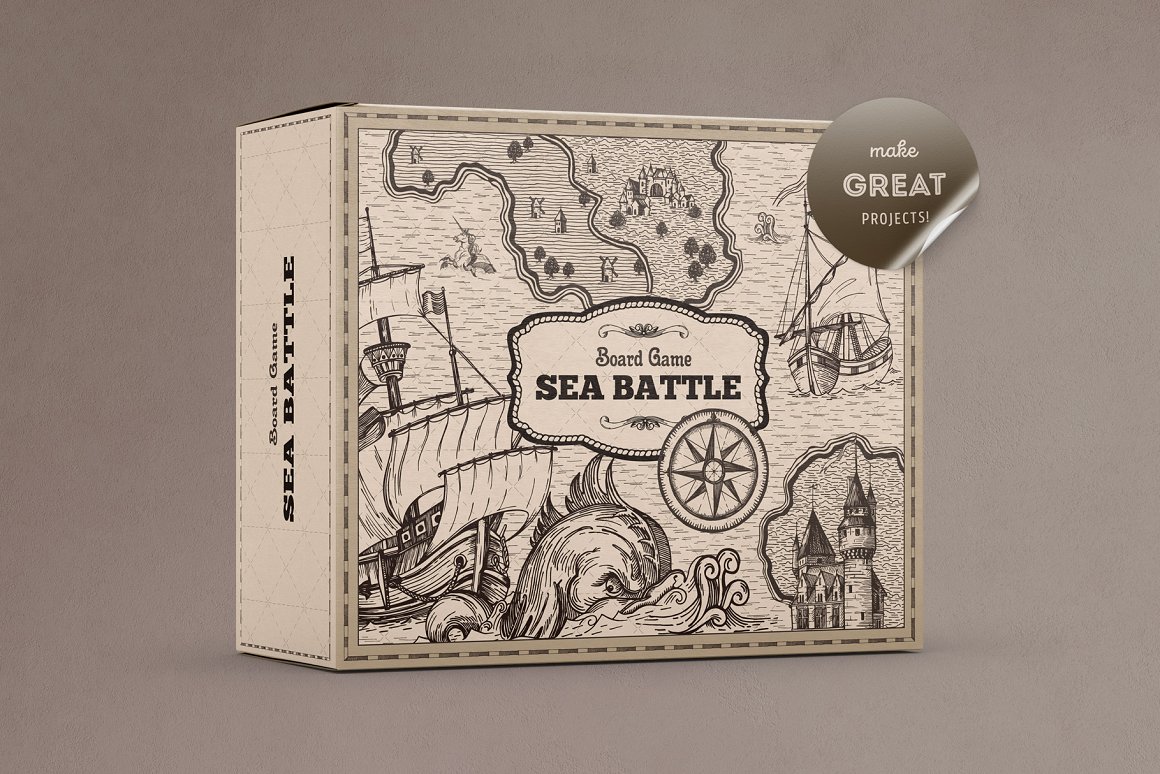 02. Printing Press Illustrator Brushes from Pixelbuddha
How do you feel about establishing your own printing house? Sounds like a super grandiose plan, huh? But aren't we designers to think big and make things nobody else is capable of? So let this be our next challenge — set up a full-stack retro printing house inside your desktop. Not much is needed, only our all-new Printing Press Pattern Brushes for Illustrator.
Are you intrigued about what you will have here? Let us show you around! First of all, you'll get 18 halftone patterns to convey retro ambiance with some obvious yet convincing means. Everything is realizable with them: from the 60s-themed newspapers to 70s posters and 80s children's books. Next, there are 6 stroke and 6 grain brushes to help you emulate volume and motion in your artworks. You can feel yourself an artist working for The French Dispatch and creating art that's perfectly shaded, grainy, and imbued with the retro European vibe. Finally, you will have 6 fanciest paper textures — that's where all the realism begins!
Can you already feel creativity empowering your arms and brain? You're good to go now! Illustrations, prints, labels, collages — this place is a perfect workshop for any artistic outburst, especially retro!
What's inside?
6 stroke brushes;
6 grain brushes;
18 halftone patterns;
6 paper textures (jpg);
help file.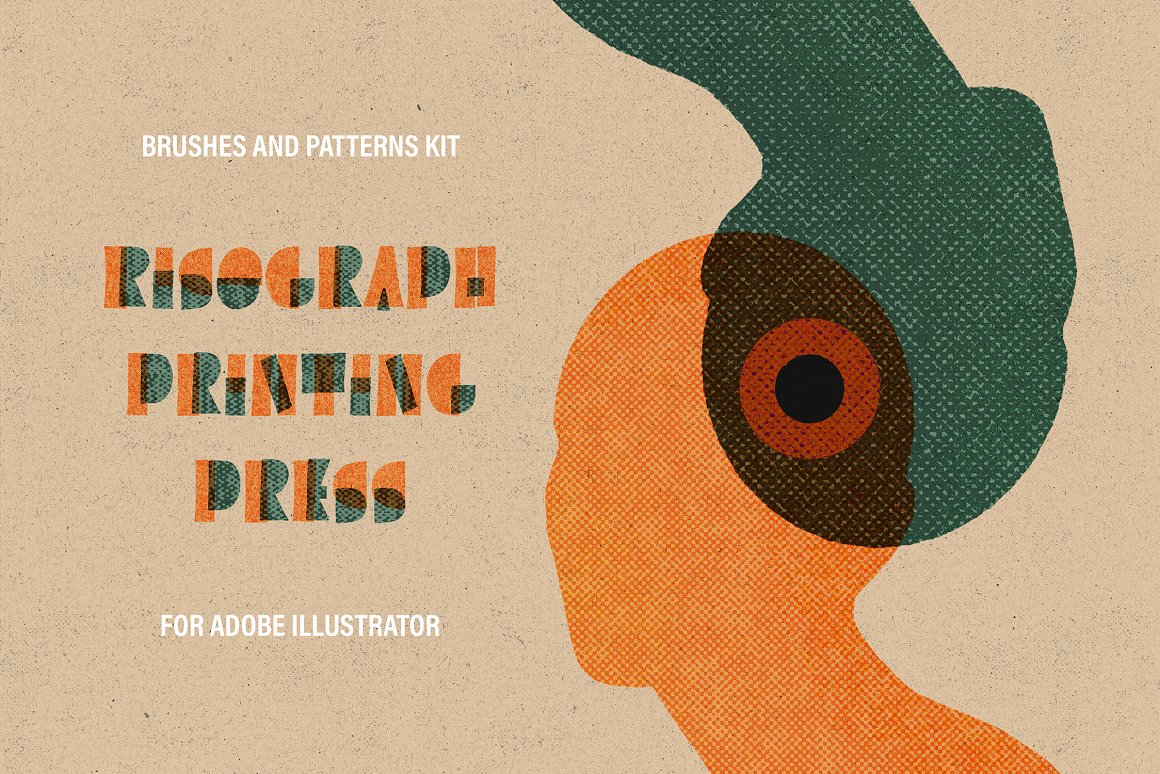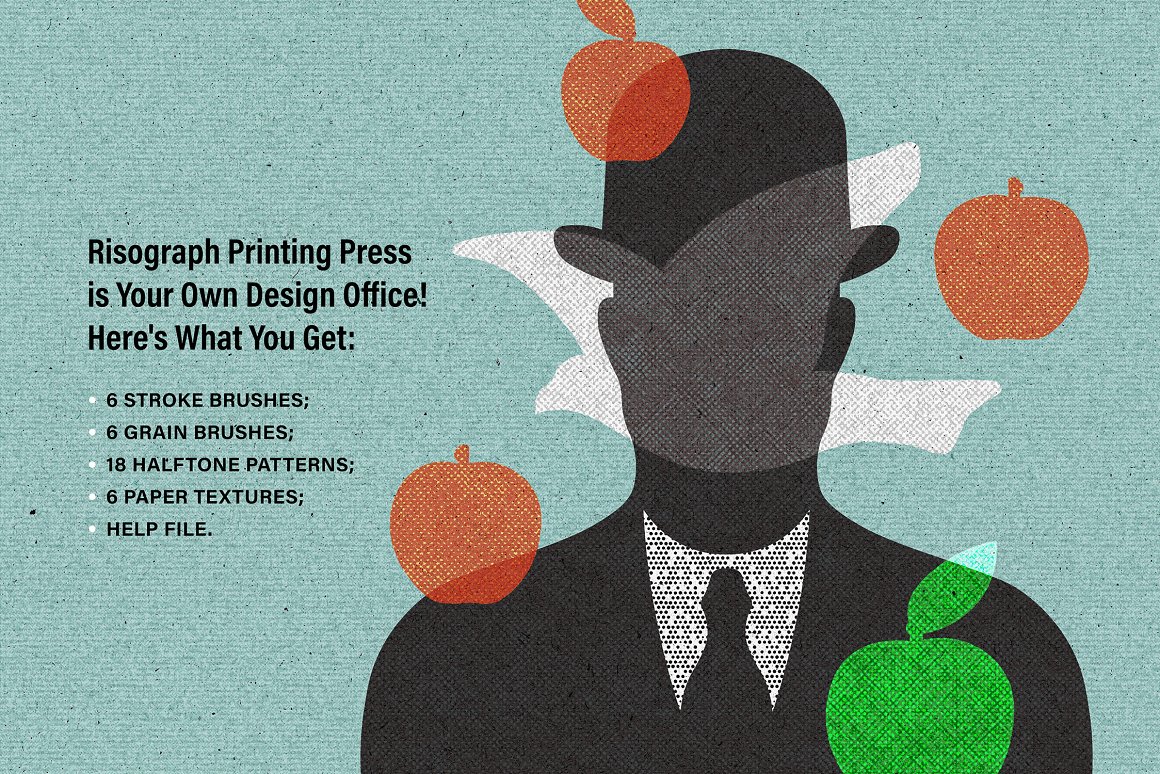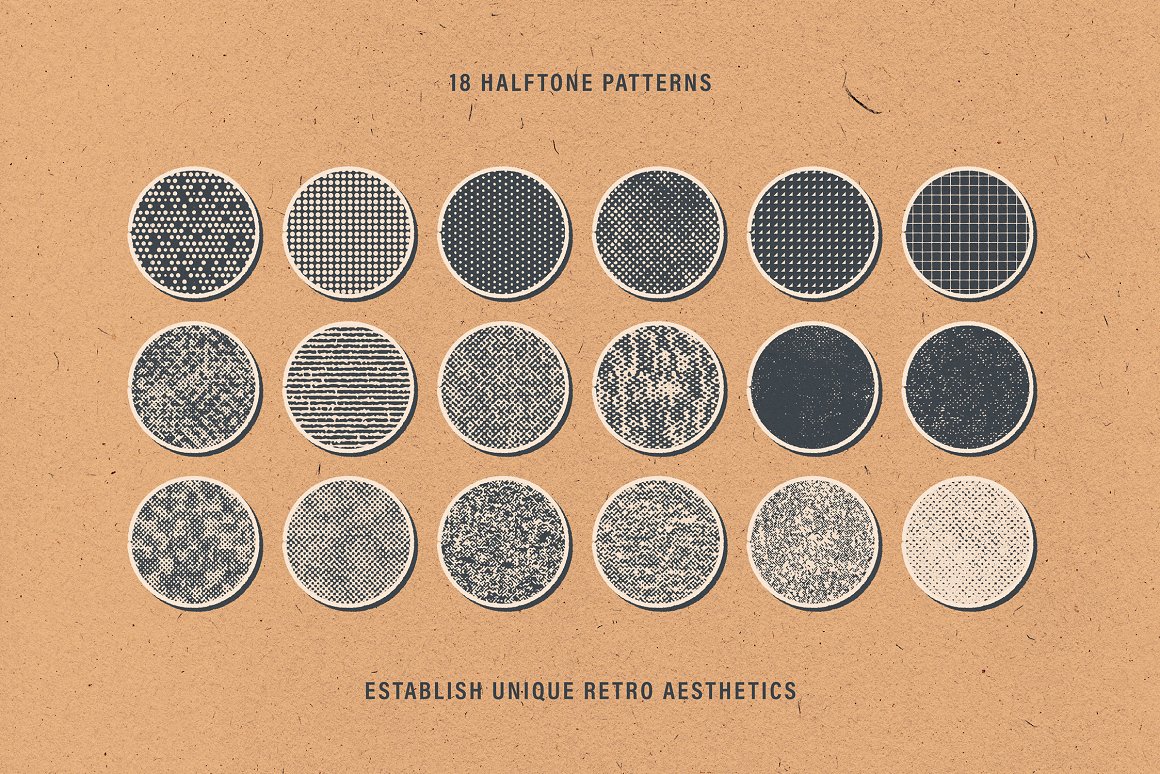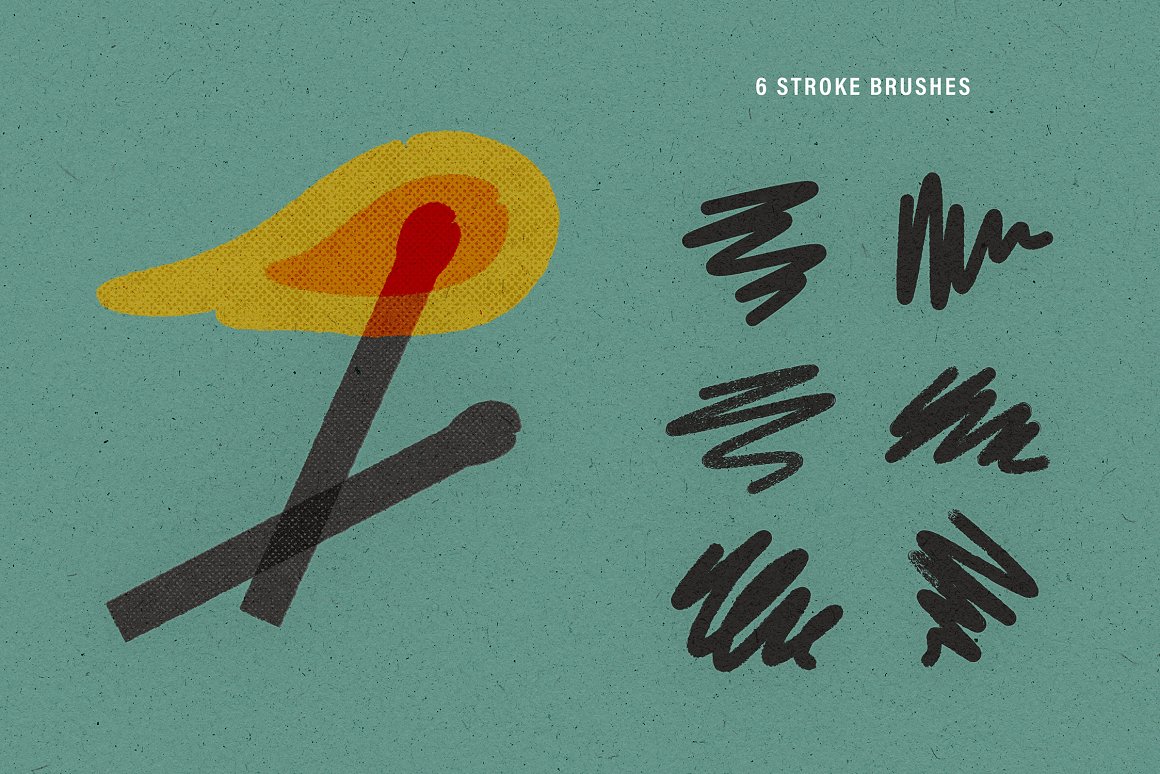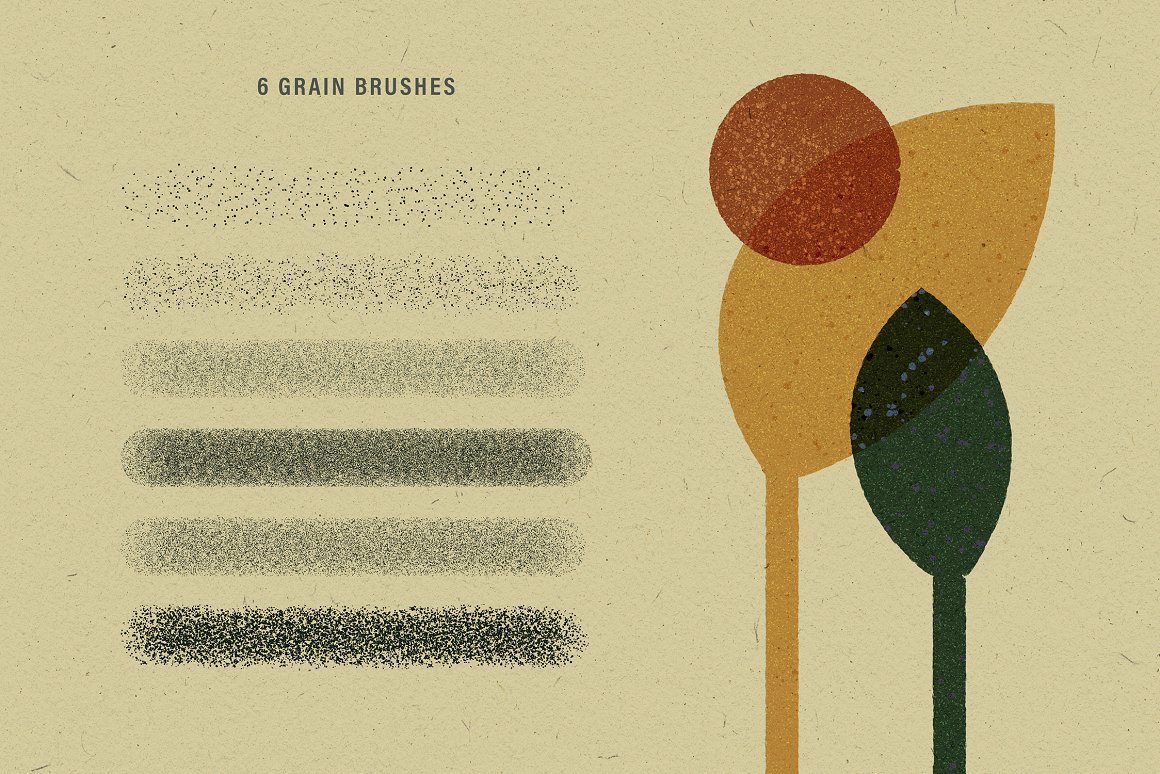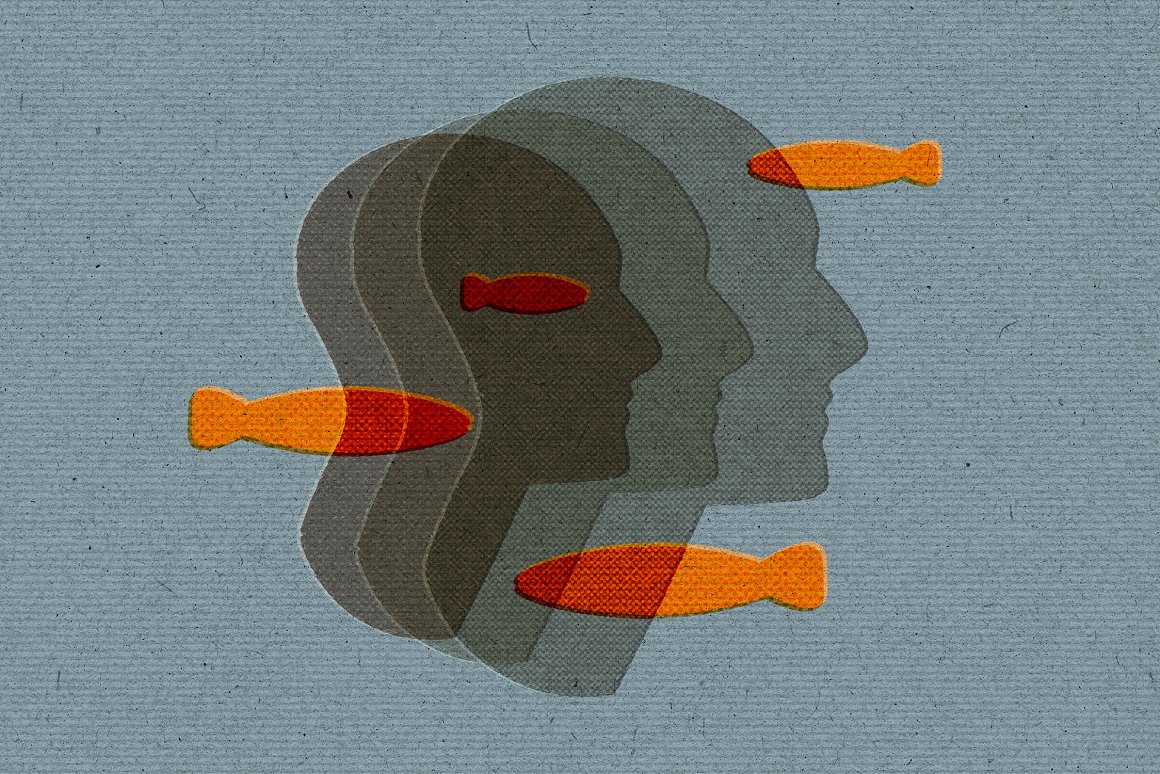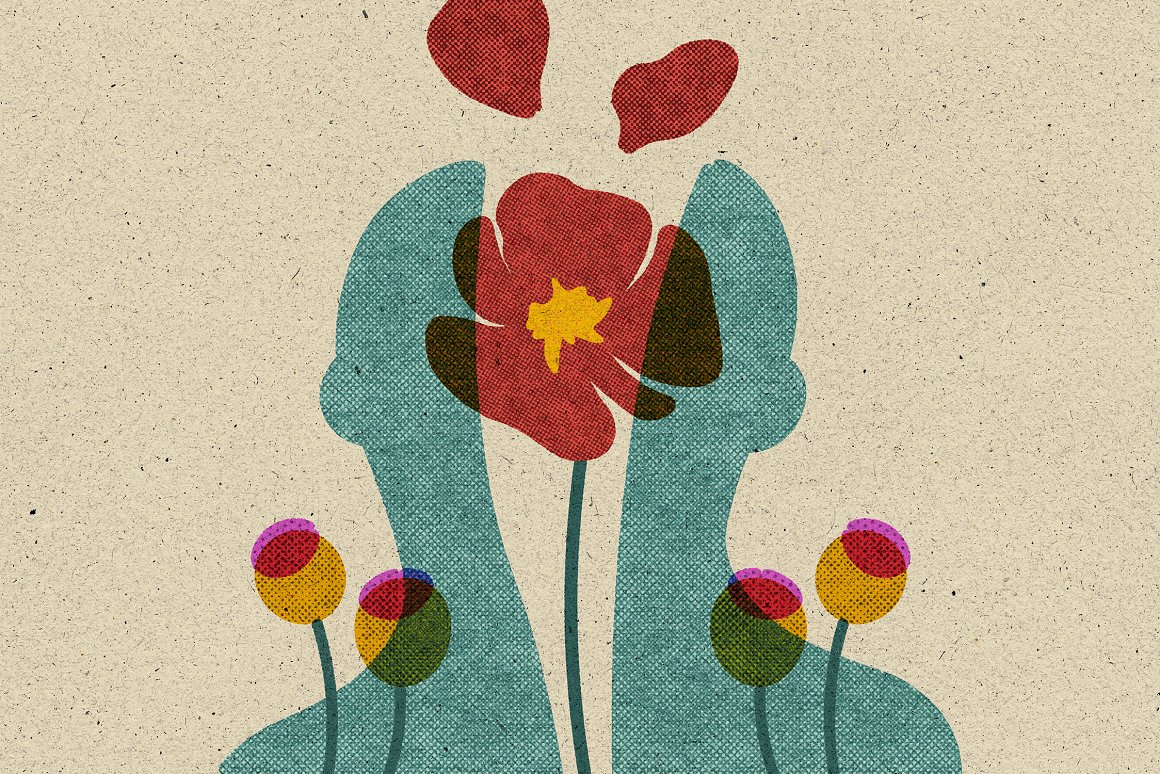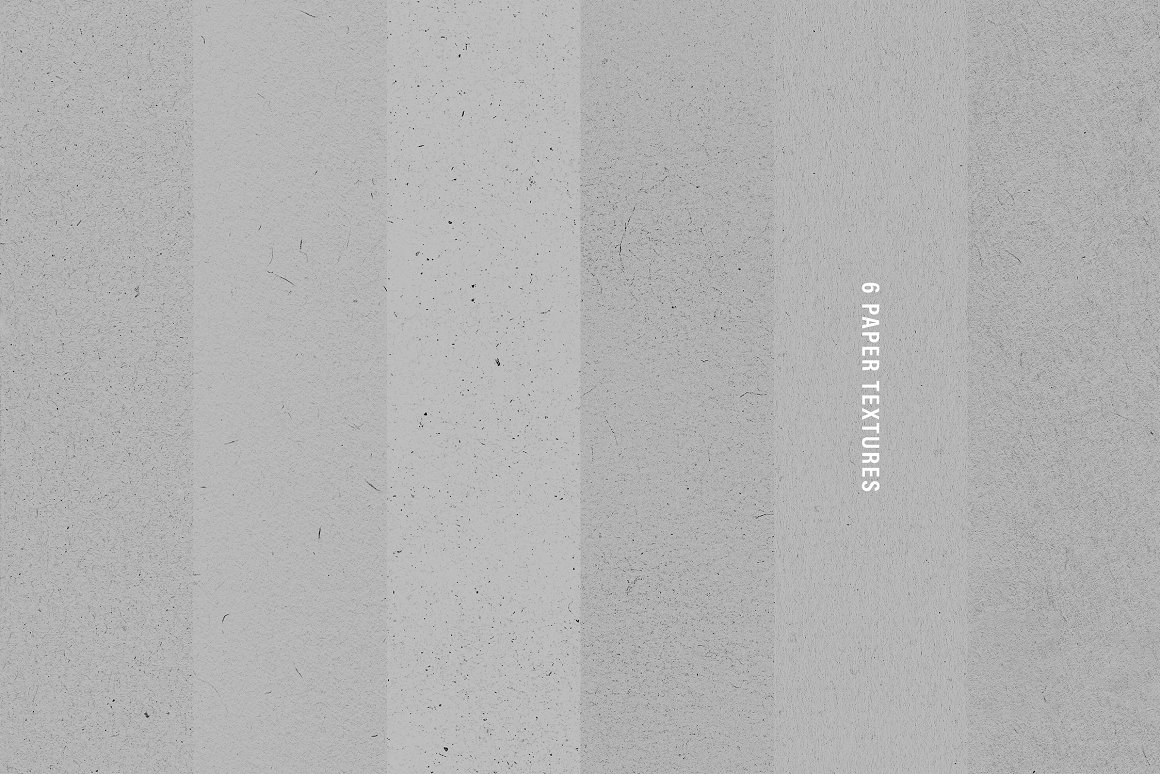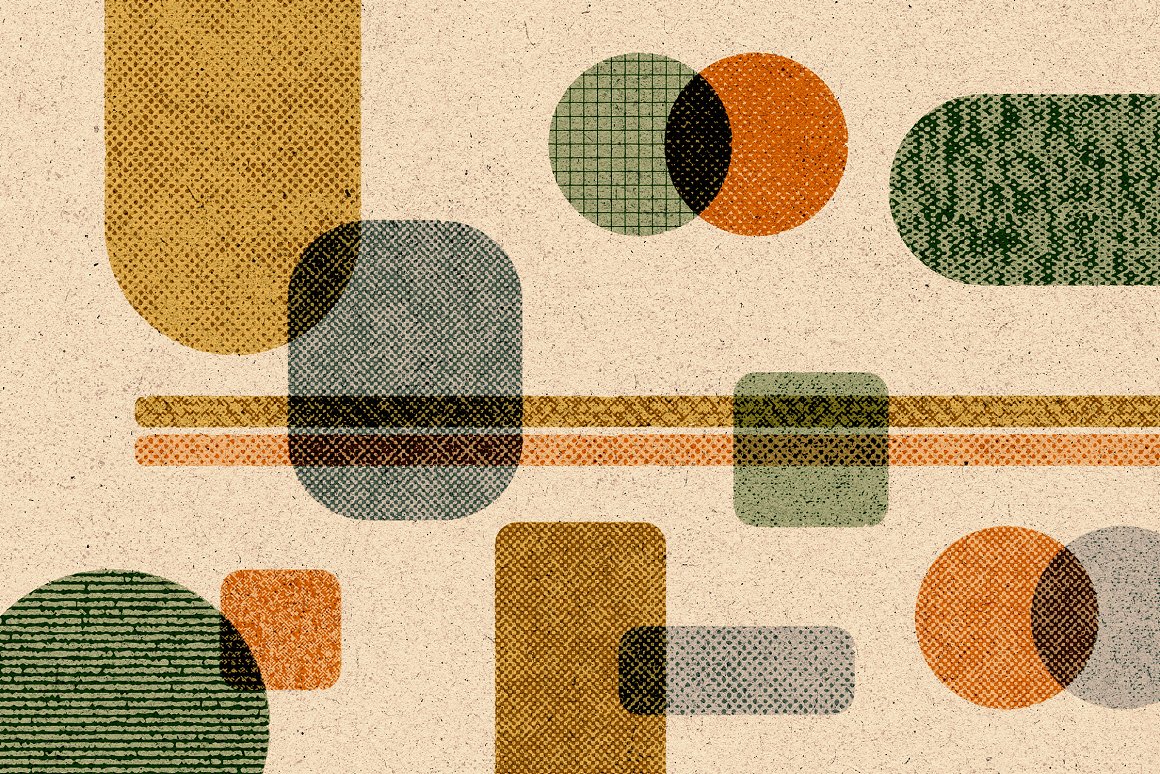 03. Mosaic Tile Illustrator Brushes from Pixelbuddha
As an inquisitive artist, you should be in endless search of new techniques to master — so let us help you! If you've already picked your teach in drawing and create trenchant illustrations with both pencil and brush, it's time to try yourself in mosaic art. This timely process of composing an image from tiny tiles may seem so hard to onboard, but we've got great news for you. You don't have to copy the workflow of the ancient masters, and all you need is Mosaic Tile Brushes for Adobe Illustrator!
Here you'll get everything for an endless flow of appreciation for your mosaic work. There are 10 tile brushes for Illustrator and 25 patterns to attain striking realism and create artworks perfectly imitating physical mosaic art. Besides, if you care about minor details as much as we do, there are 15 seamless textures to help you tweak your tiles and choose the best look: aged and rough or glossy and polished. You risk losing track of time and feeling like a Greek or Roman artist working on an epic scene from the legends — or, thinking more practically, these will be various arts, branding compositions, posters, prints and a lot more!
What's inside?
10 tile brushes;
25 patterns;
15 seamless textures (JPG, 300dpi);
help file.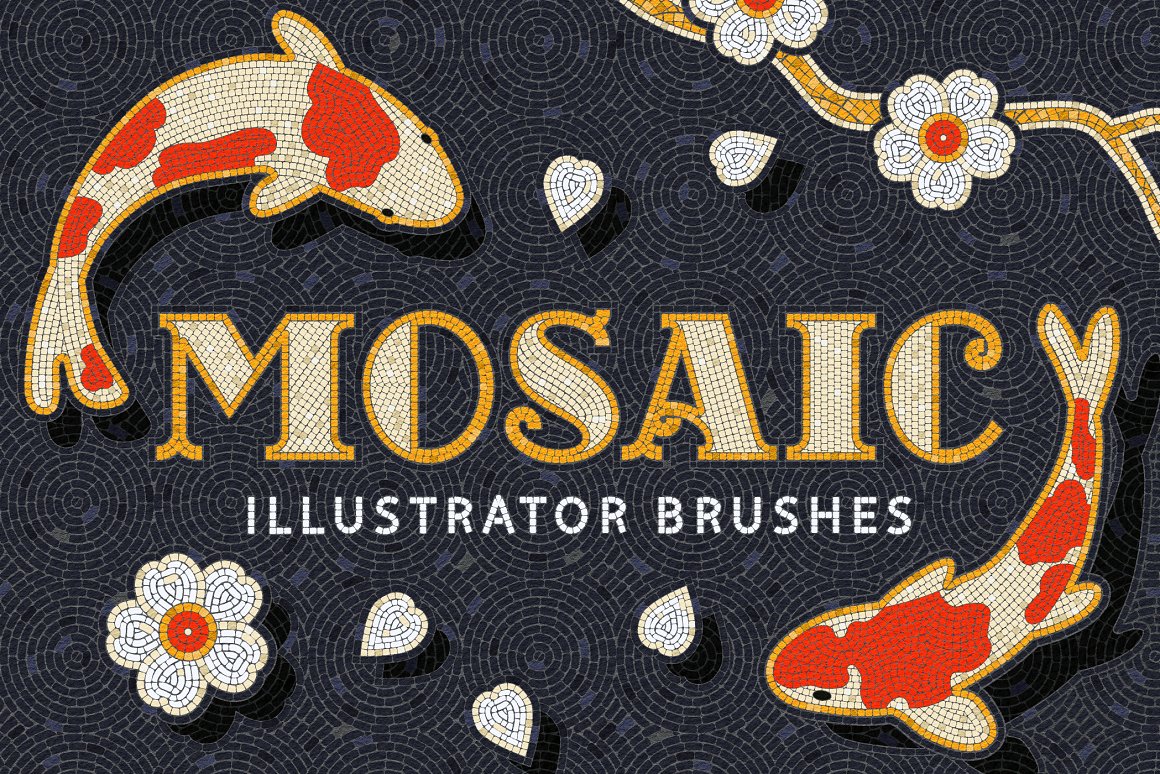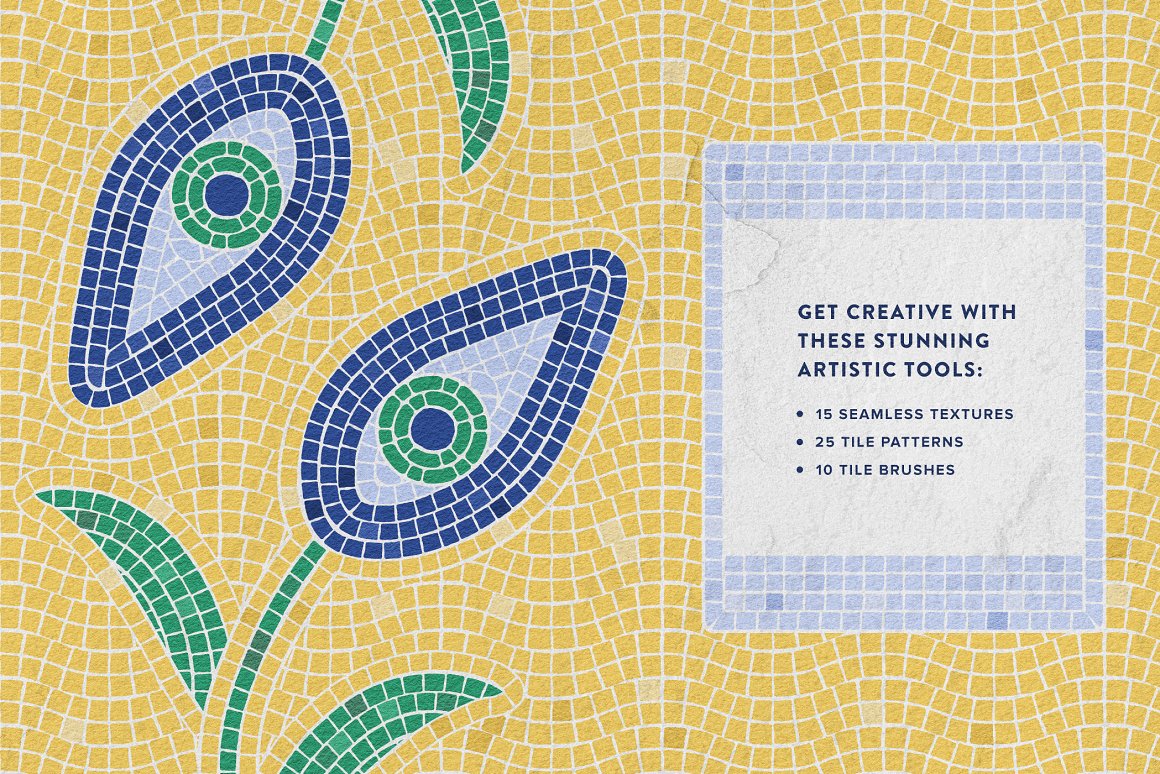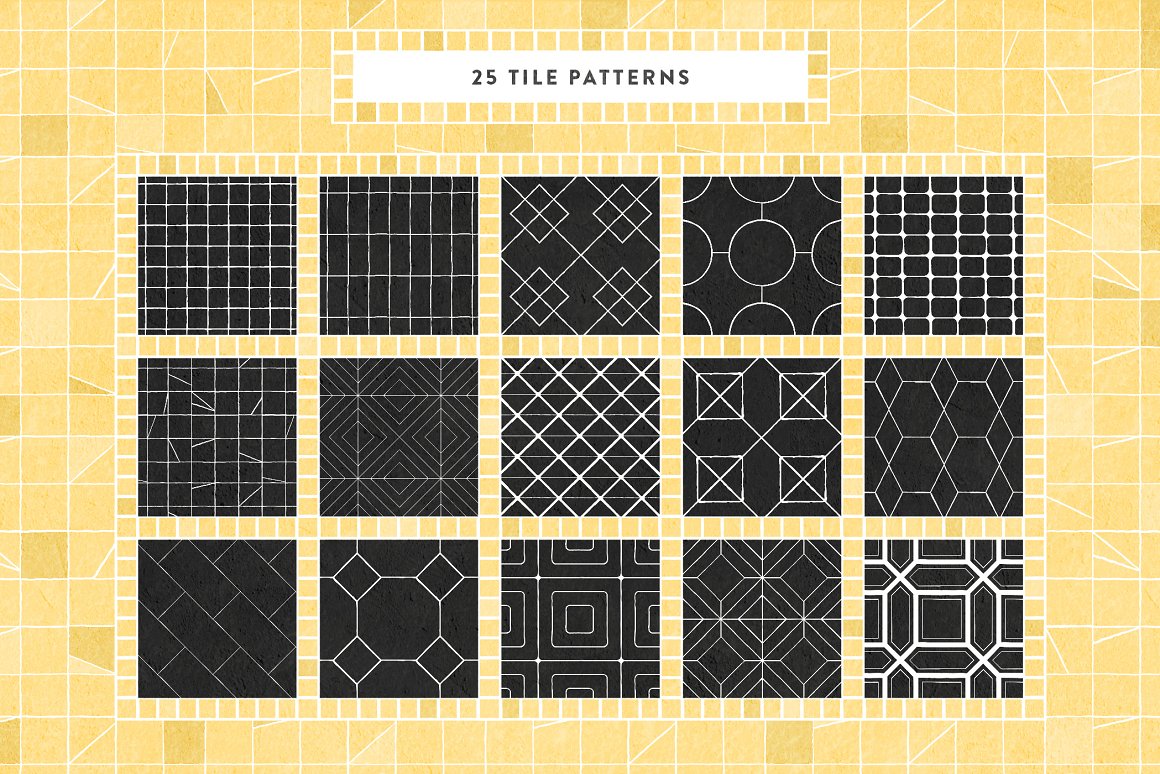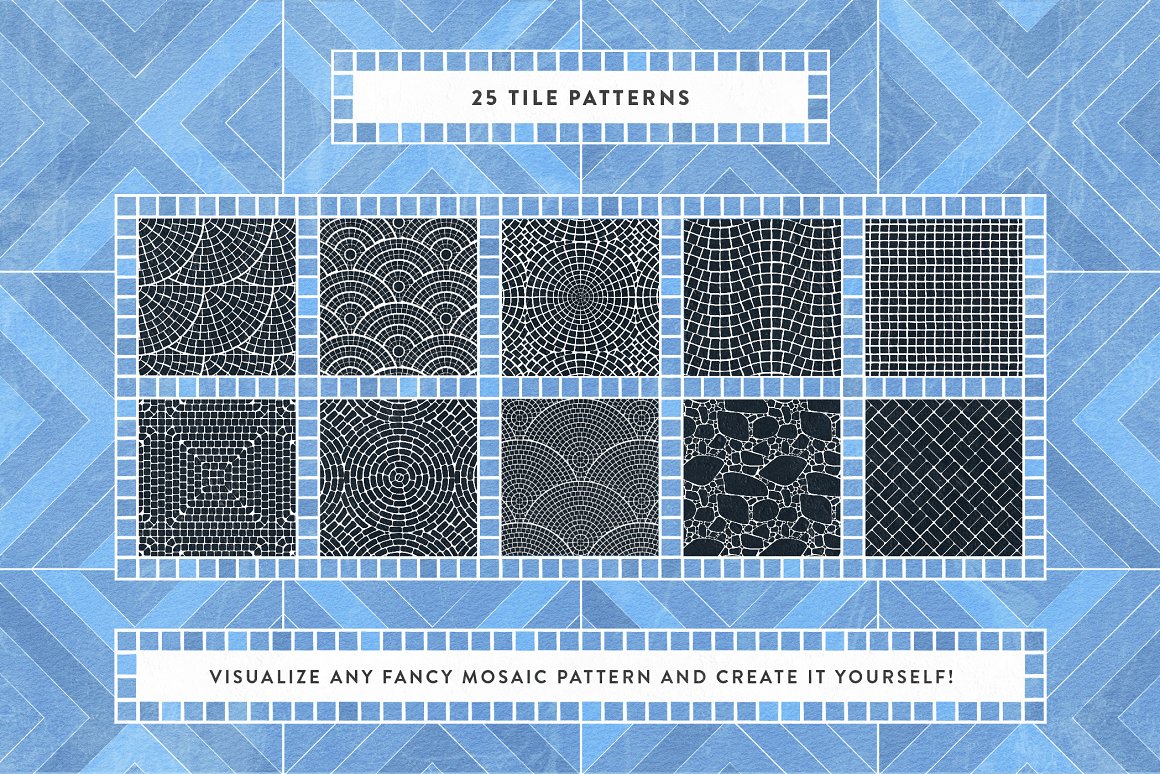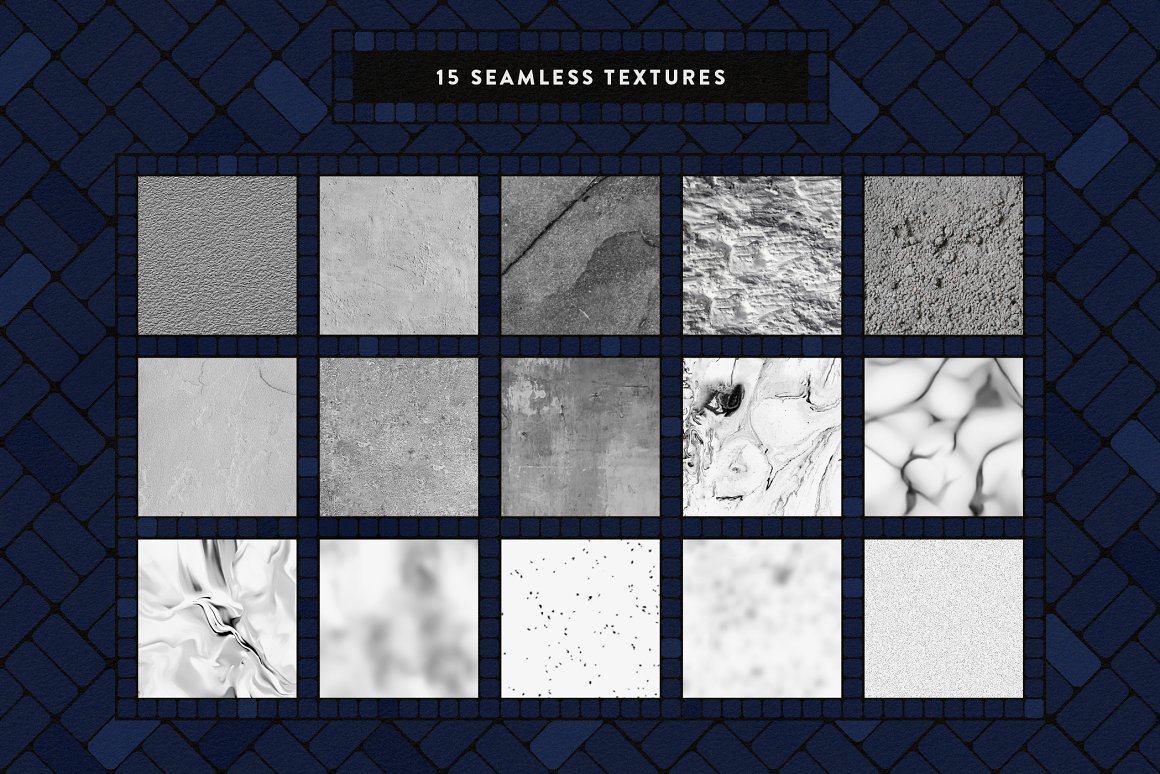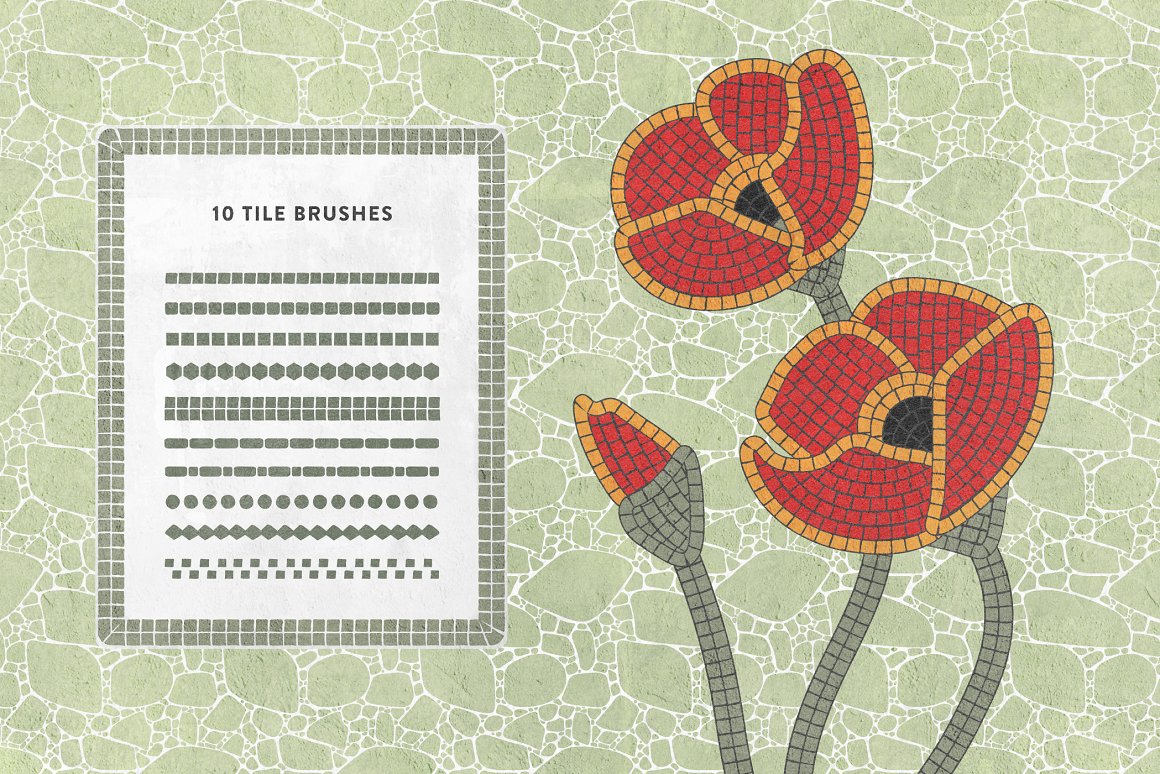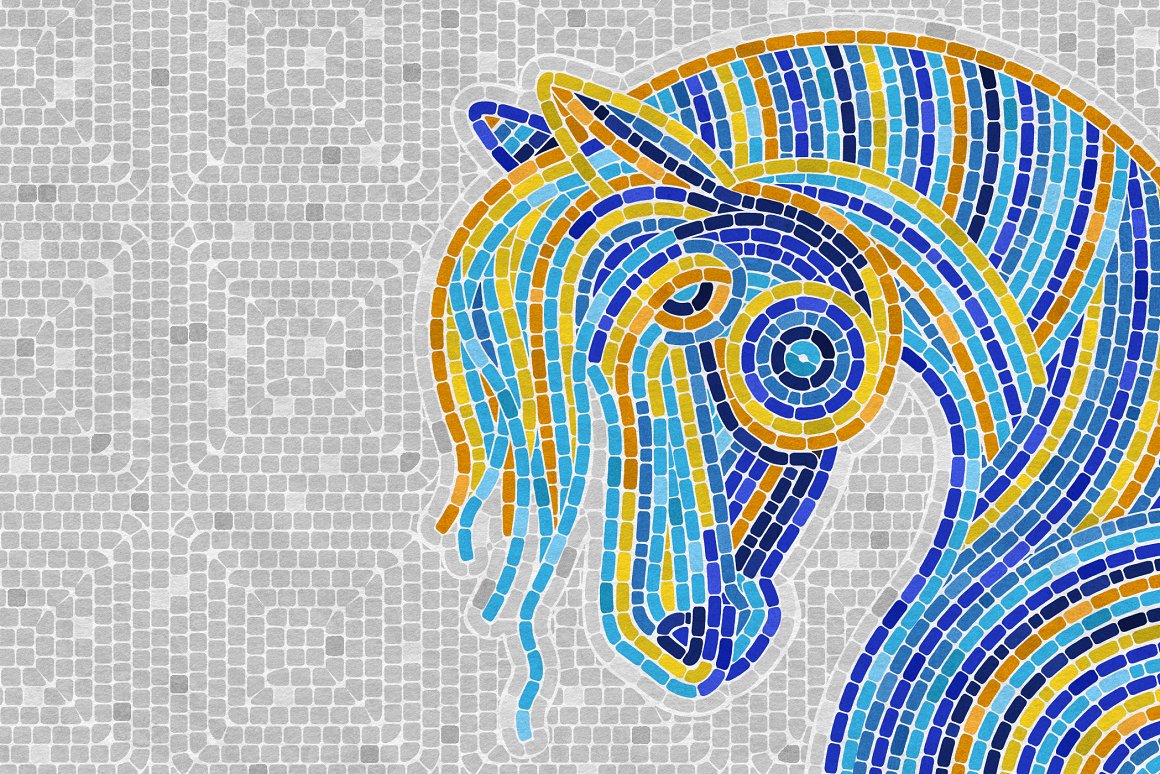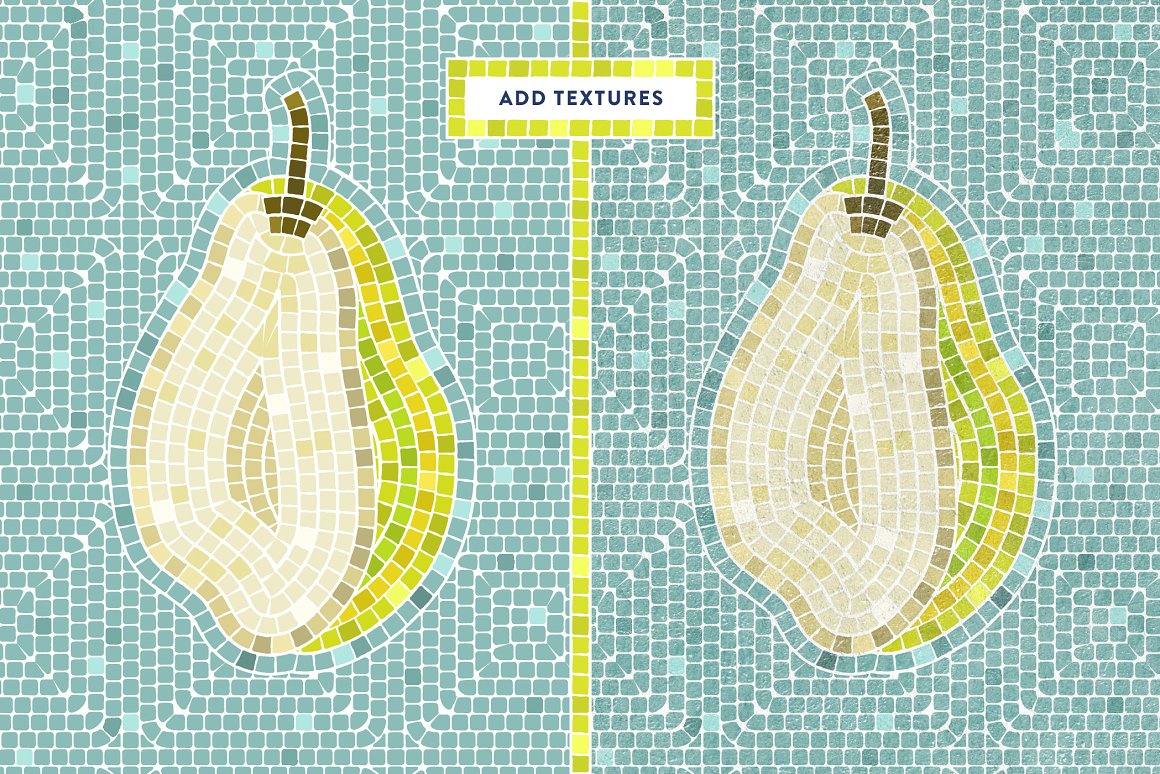 04. Stipple Brushes for Illustrator from Pixelbuddha
Retro design movements are an inexhaustible source of inspiration. However, it may be pretty complicated to focus your attention and interest on a single one. So eventually, we've picked classic Pop Art and Yves Saint-Laurent's style of the mid-'70s and brought them mixed in our Eclectica Stipple Brushes Studio for Illustrator.
Prepare to onboard your most nostalgic illustrations with a collection of 27 Illustrator brushes. With their help, you'll easily add texture and mood to the shapes, and transform regular objects into focal elements to magnet the appreciation of your community. There are 9 brush types, each of them is available in three styles: stroke brushes, stipple brushes, and shader brushes to perfectly imbue retro eclectics in your illustrations, posters, logos, editorials, ads, and so much more!
What's inside?
27 Illustrator brushes;
9 stroke brushes;
9 stipple brushes;
9 shader styles;
help files.
👉 Note: the product is not compatible with Adobe Illustrator CS6 👈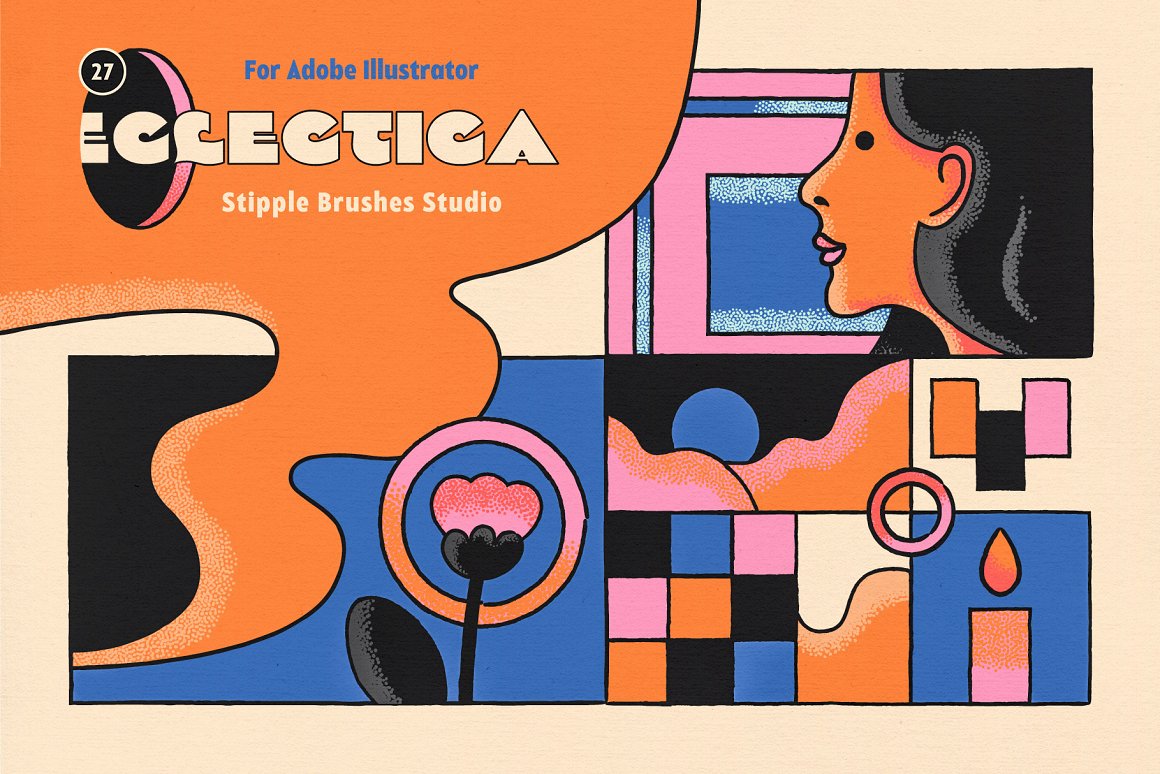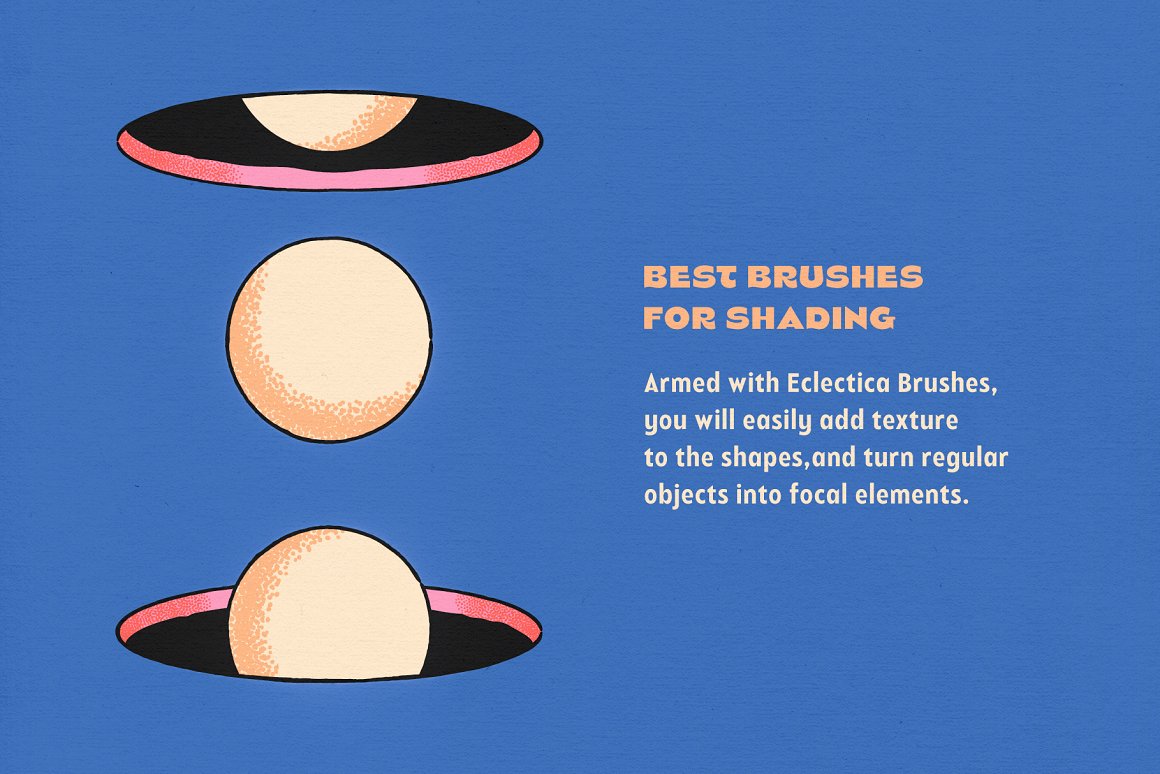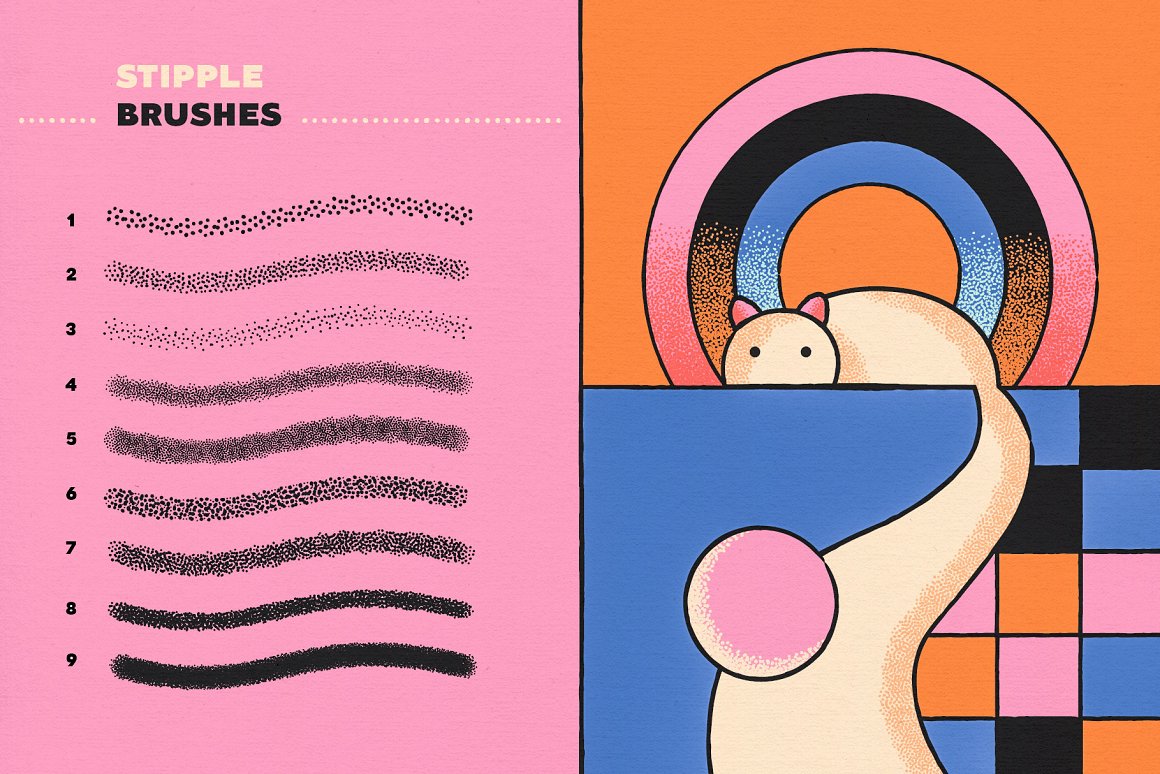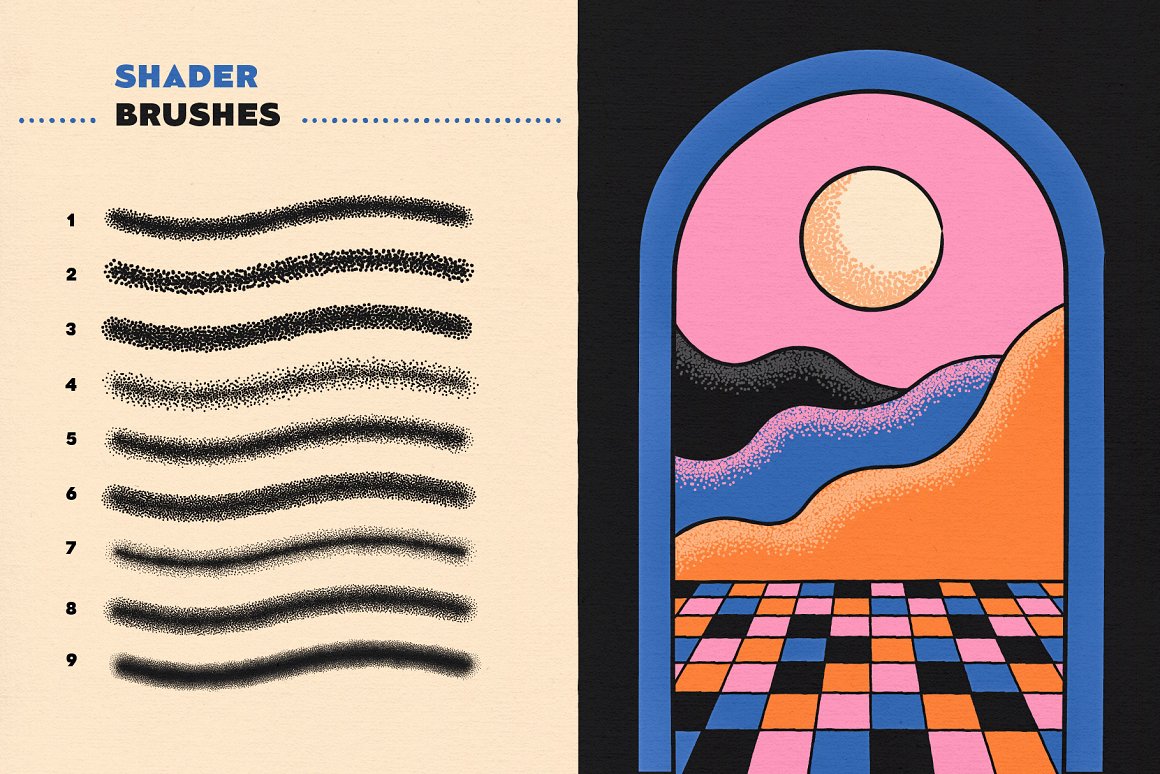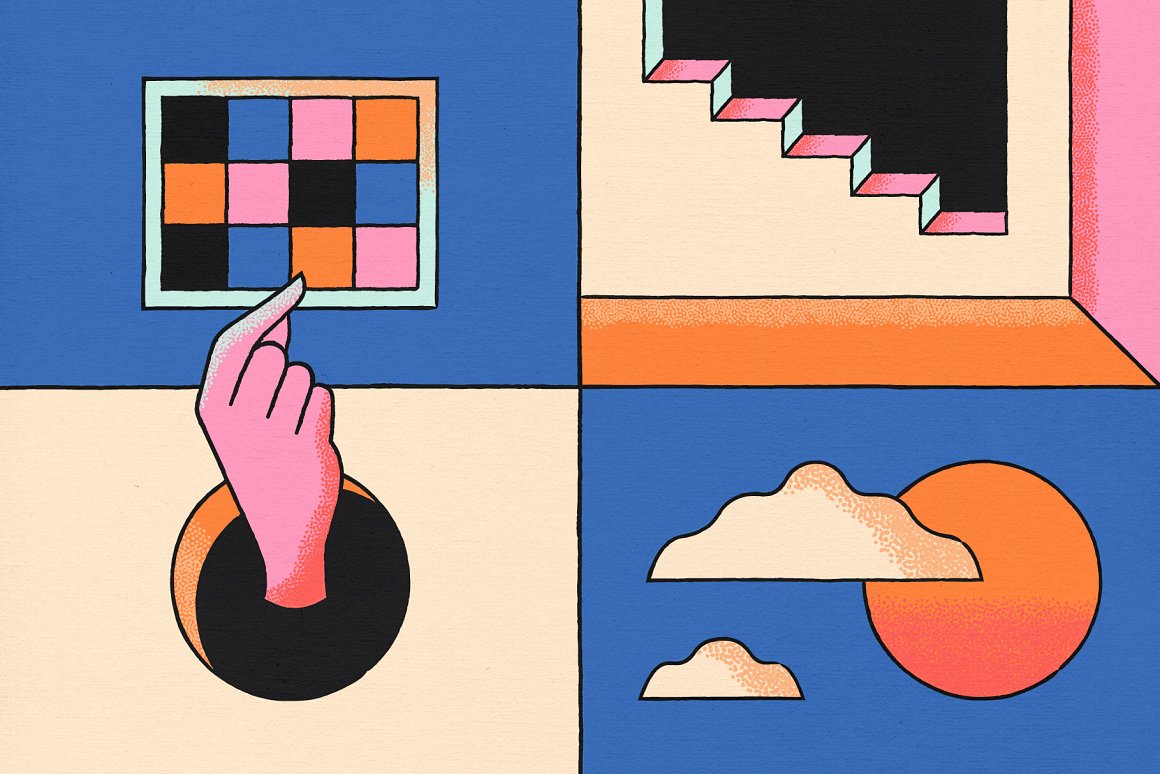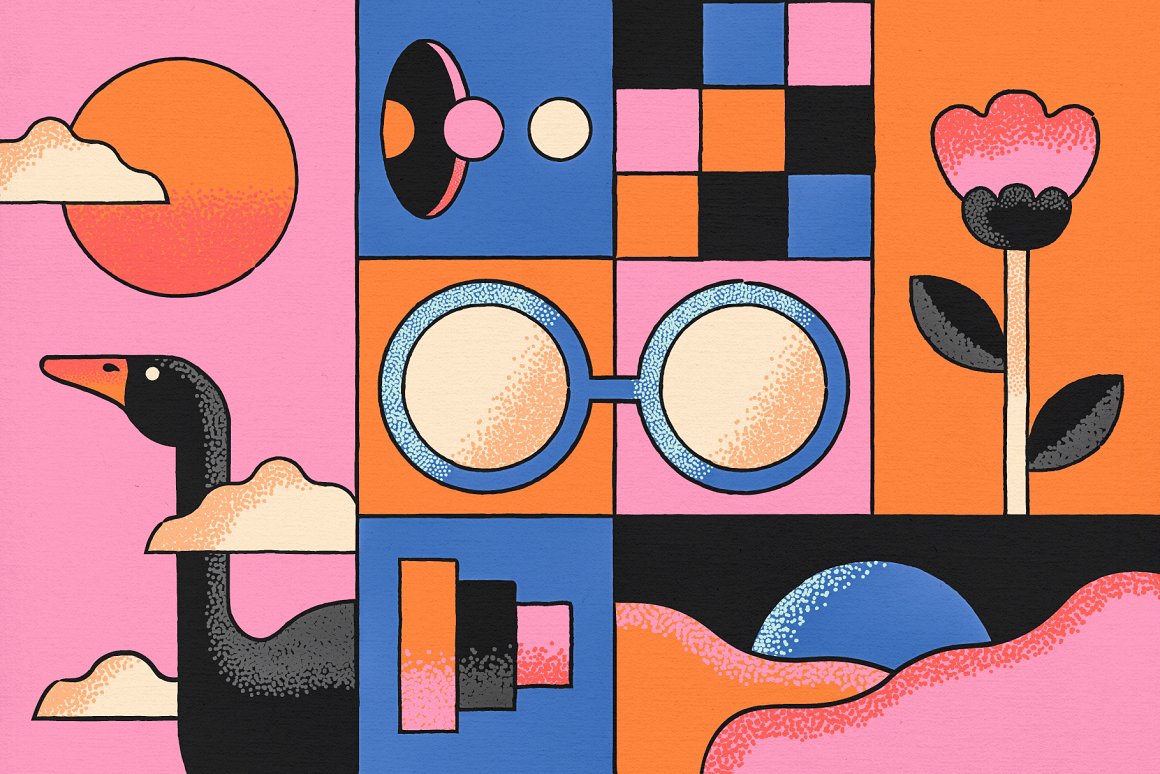 05. Artista Brushes for Illustrator from Pixelbuddha
Replacing all your pencils, brushes, pens, and liners is easy with our collection of only the most essential tools for digital drawing. This Artista Brushes edition for Illustrator will make your transition to digital materials as smooth as possible.
'Cause the true artista doesn't need millions of digital brushes to switch between during the process: the 60 Illustrator brushes in the kit will do their job perfectly. Now, what exactly are you dealing with?
Scattering the paint dots in the chaotic order is what you have 10 spray brushes for. Shading and hatching is the 10 hatch brushes responsibility — those forms and volumes won't be created themselves, you know. For quick drawings, your hand will reach for 9 sketch brushes in the set, carried out with different kinds of intensity. Last but not least, 31 texture brushes, repeating various eccentric forms you might use for some artistic reasons of your own. Add there 10 grunge textures we've prudently included in the pack, and you've got yourself the irreplaceable collection, able to deal with all design intentions.
What's inside?
9 sketch brushes;
10 spray brushes;
10 hatch brushes;
31 texture brushes;
10 grunge textures (EPS, PNG);
help file.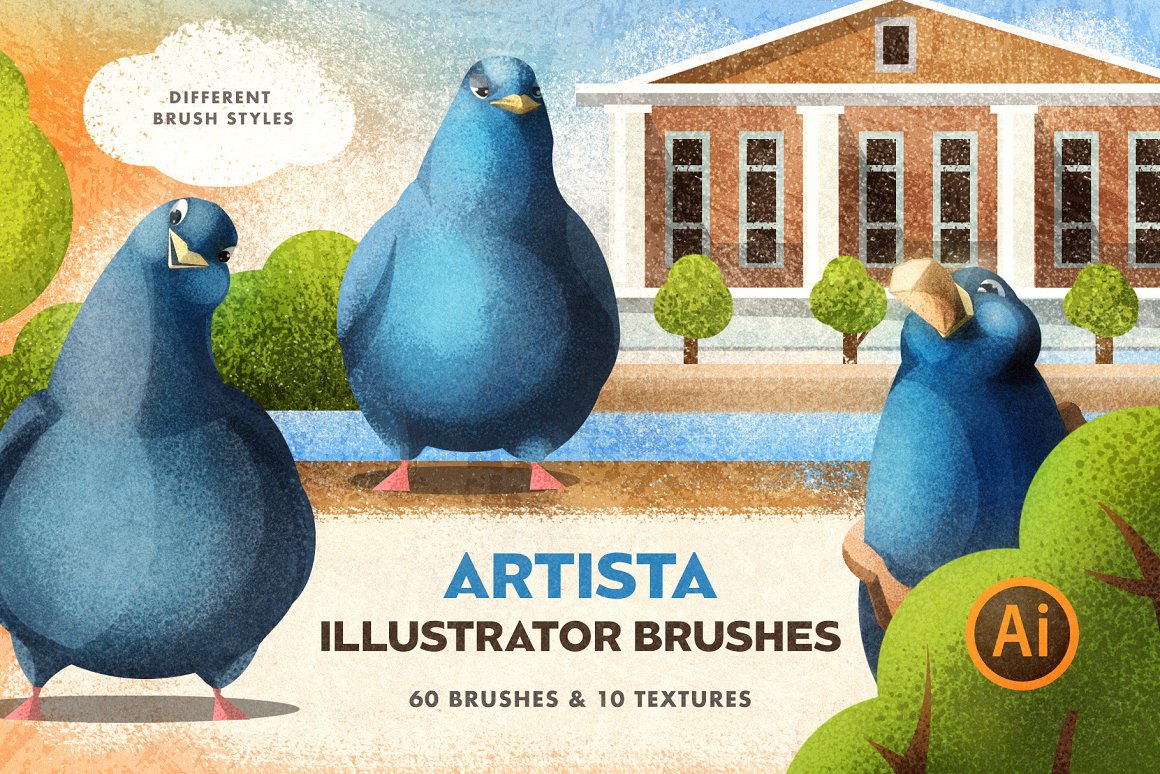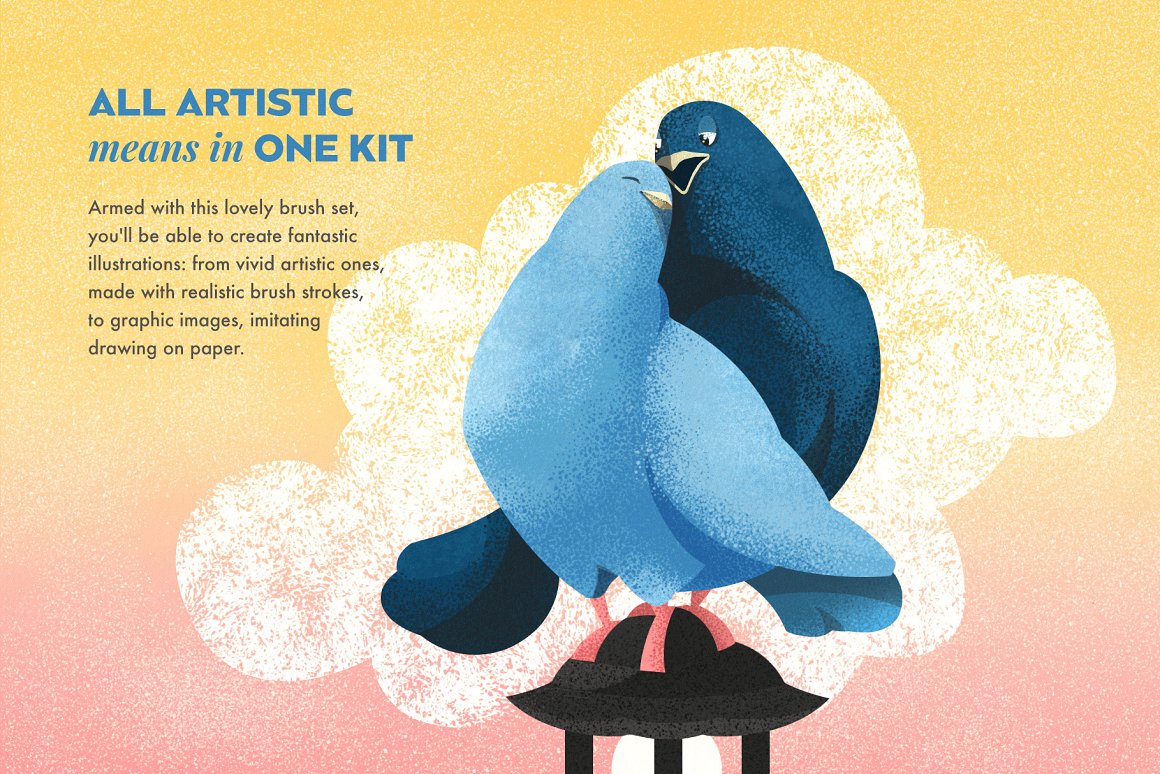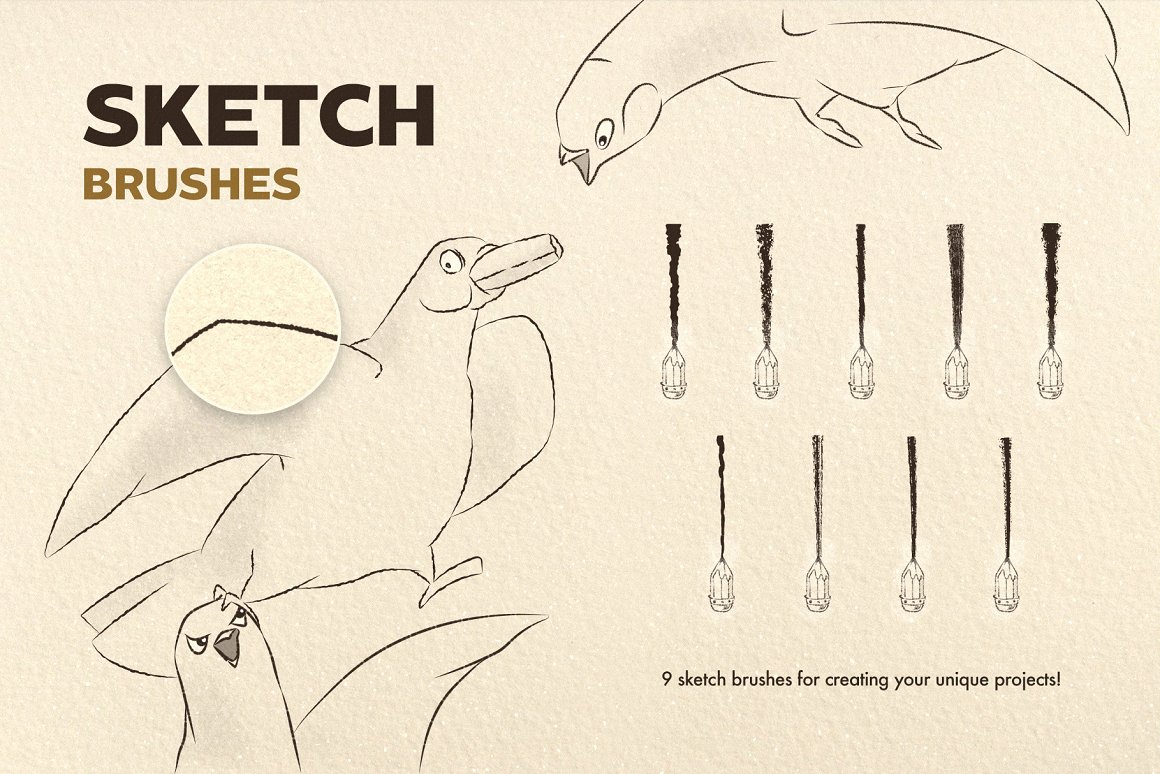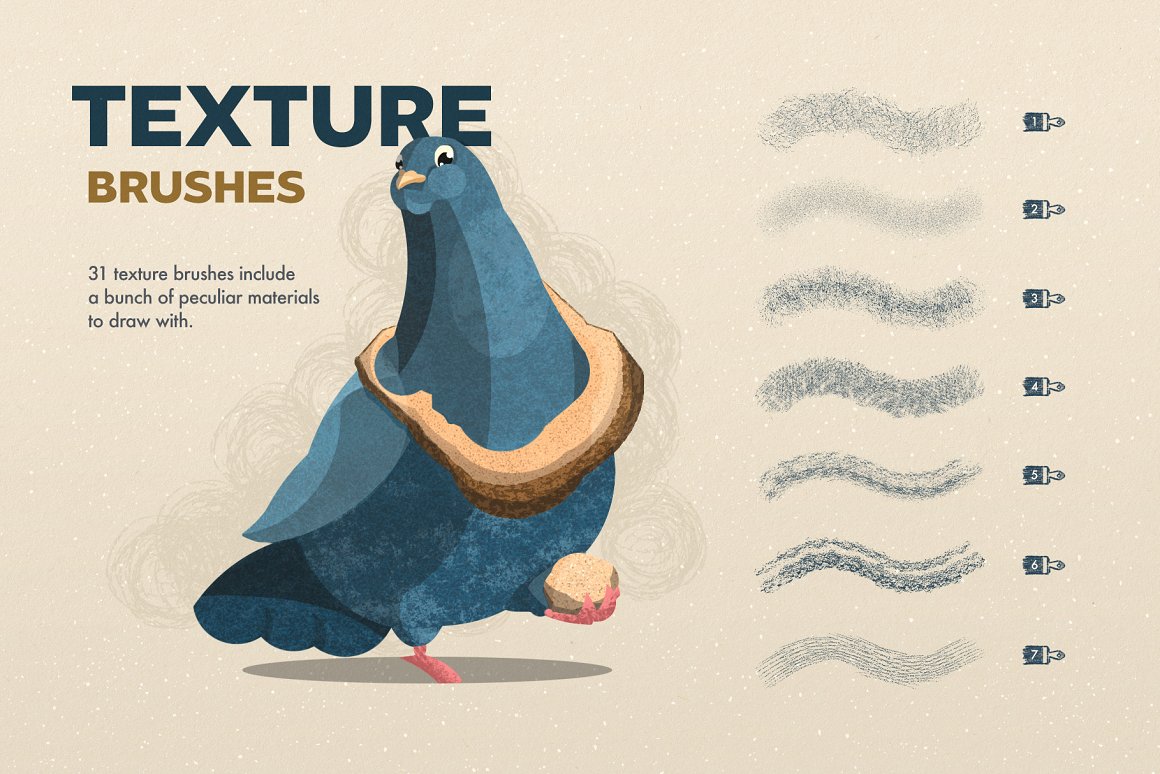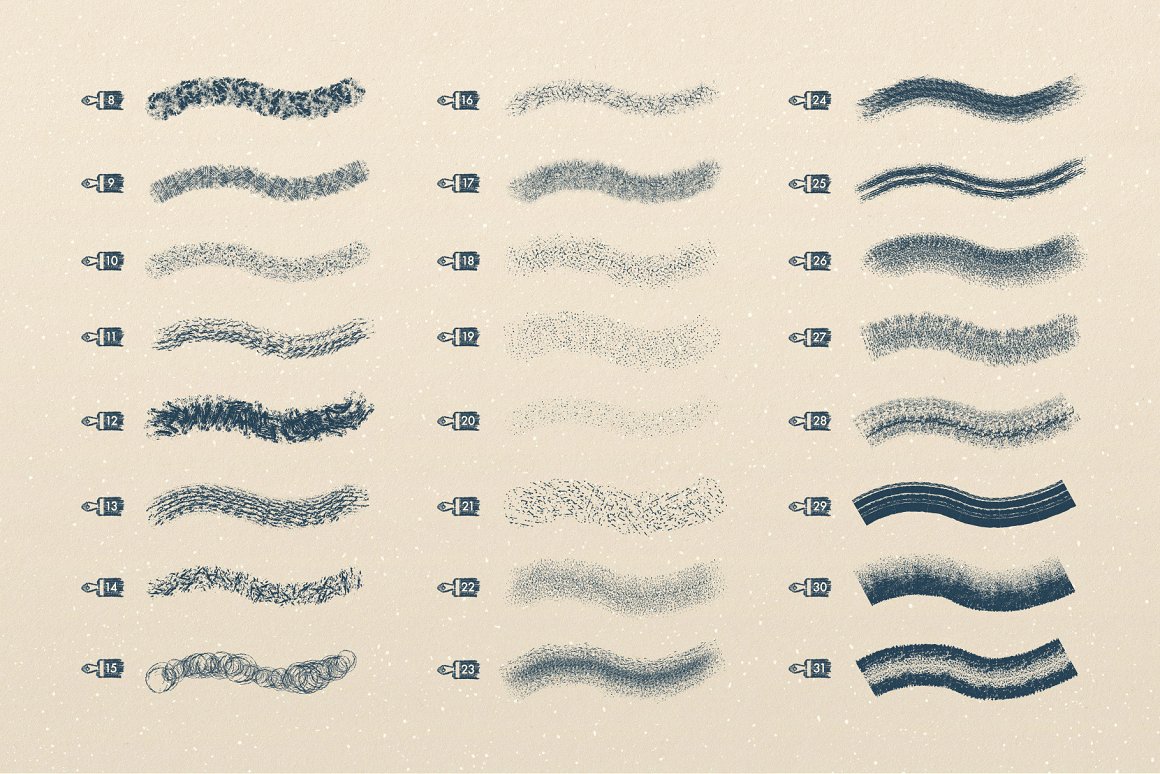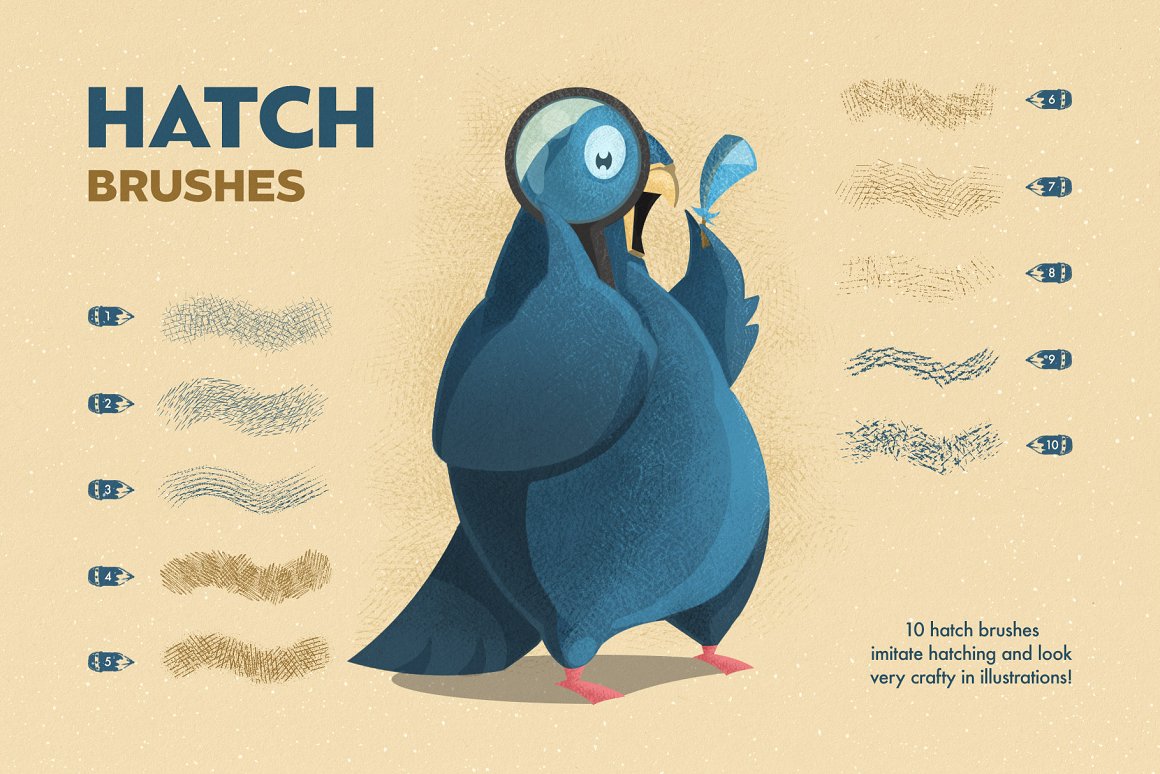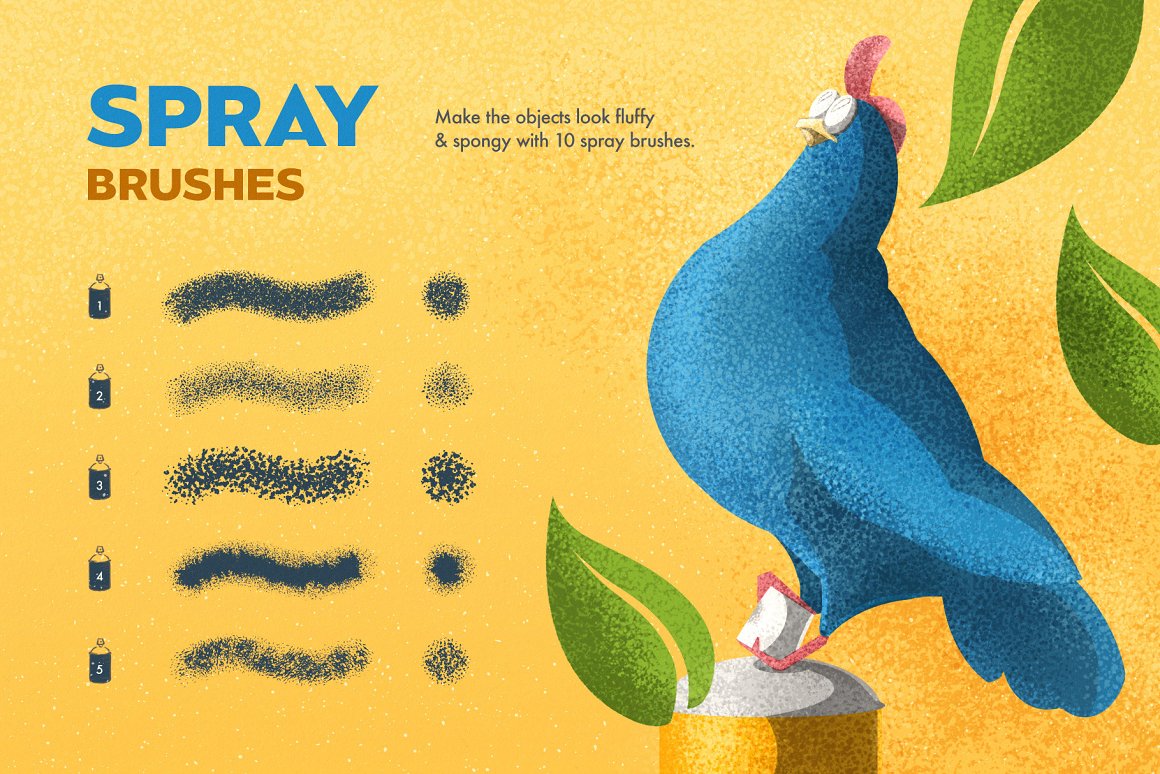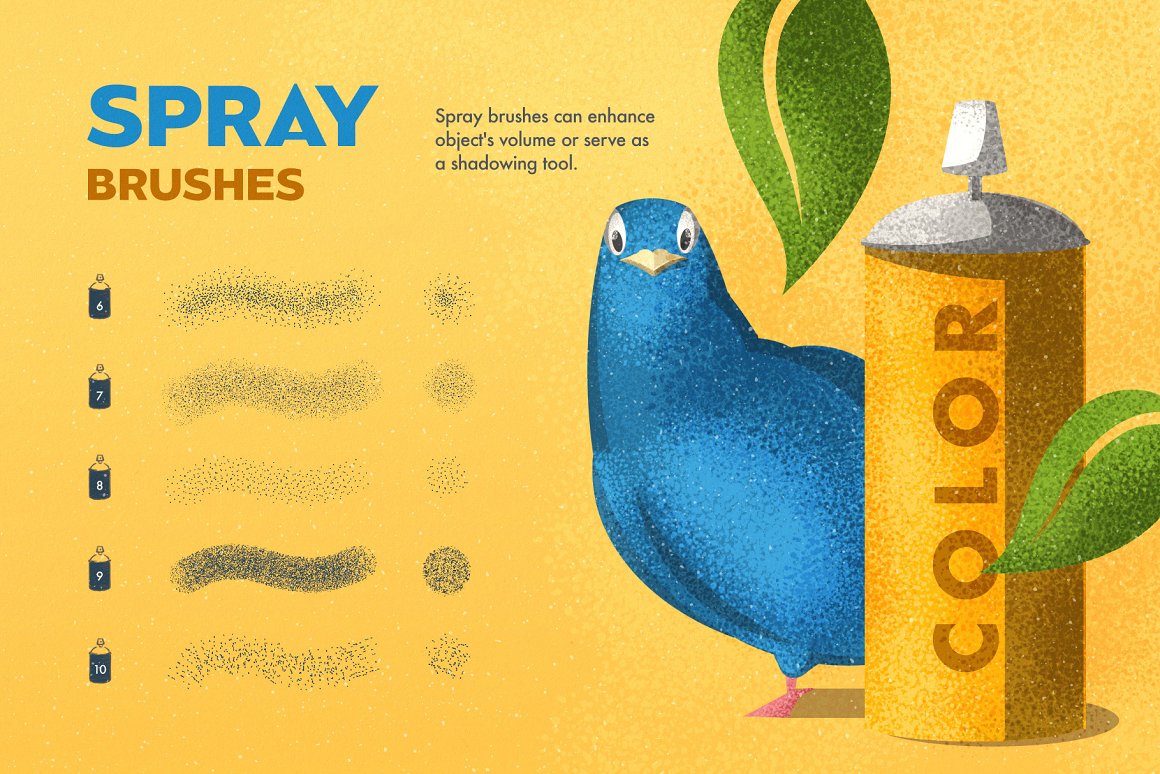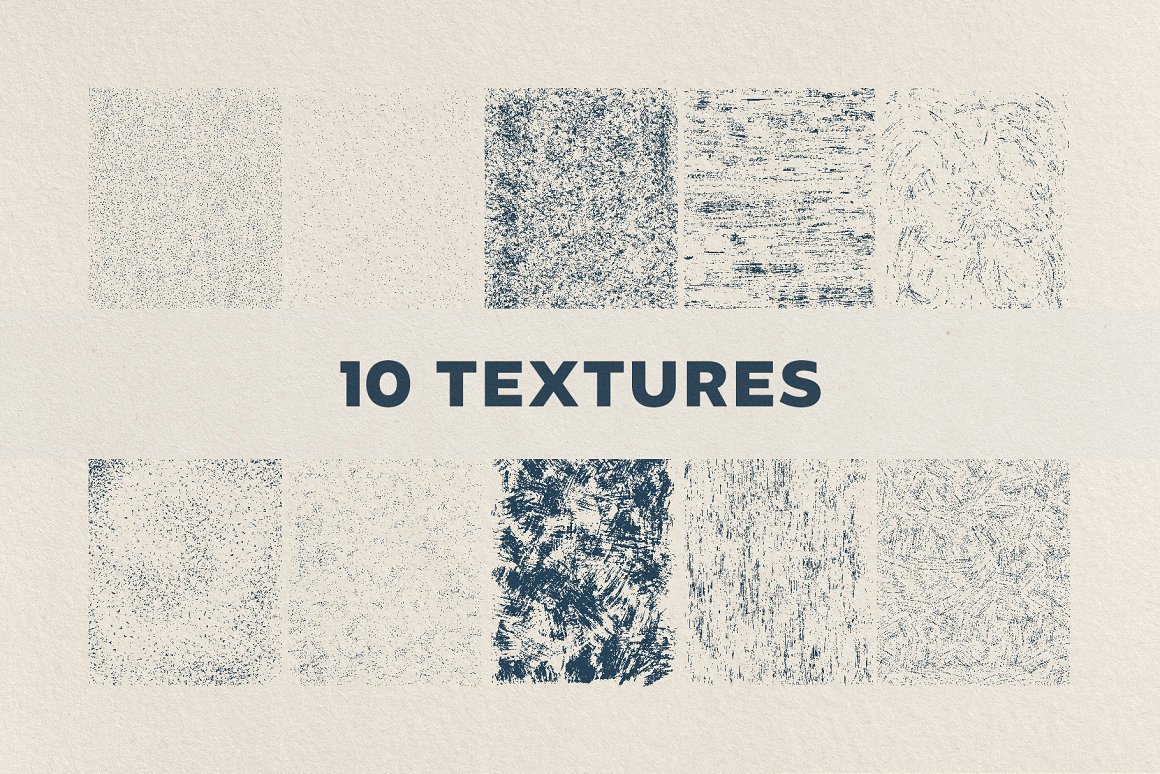 06. Liner Illustrator Brushes from Pixelbuddha
Like the flash of a lighthouse cuts the aquatic darkness, each inky line crosses the clarity of canvas. It's the spell of a fine liner: as a magic wand it turns the empty artboard into the endless space you're navigating through or the boundless ocean to roam. Build the whole new graphic world with suitable tools — Lighthouse Liner Brushes for Illustrator.
All the complicated shapes and pictures originate in simple outlines and strokes, but very often these key details are already the complete form of beauty as in sketches! Remember the doodles you were making on the sheets of paper, napkins, boring textbooks, and furniture catalogs? We've gone through that creative phase too, so be sure these 72 Illustrator brushes are authentic!
There are 24 ink, 32 pat, and 16 dot brushes, drawing lines, waves, dashes, hatches, asterisks, dots, squares, zigzags, crosses, and more. But don't rush into closing this toolkit once you try out all the brushes: there are 20 seamless patterns made with the same inky liner to suit the flawless style of your composition.
If you think that it's not enough either, how about a little bonus? When the moment comes to draw the small details, open the mini-set of 8 brushes we've left. It's exactly what you need, we promise. We're sure that our brushes will help you out in the project as the lighthouse rescues lost sailors! Don't forget to share your works on Instagram, Twitter, and Facebook!
What's inside?
72 Illustrator brushes;
20 seamless patterns;
8 bonus brushes for small details;
CS6 version of brushes;
help file.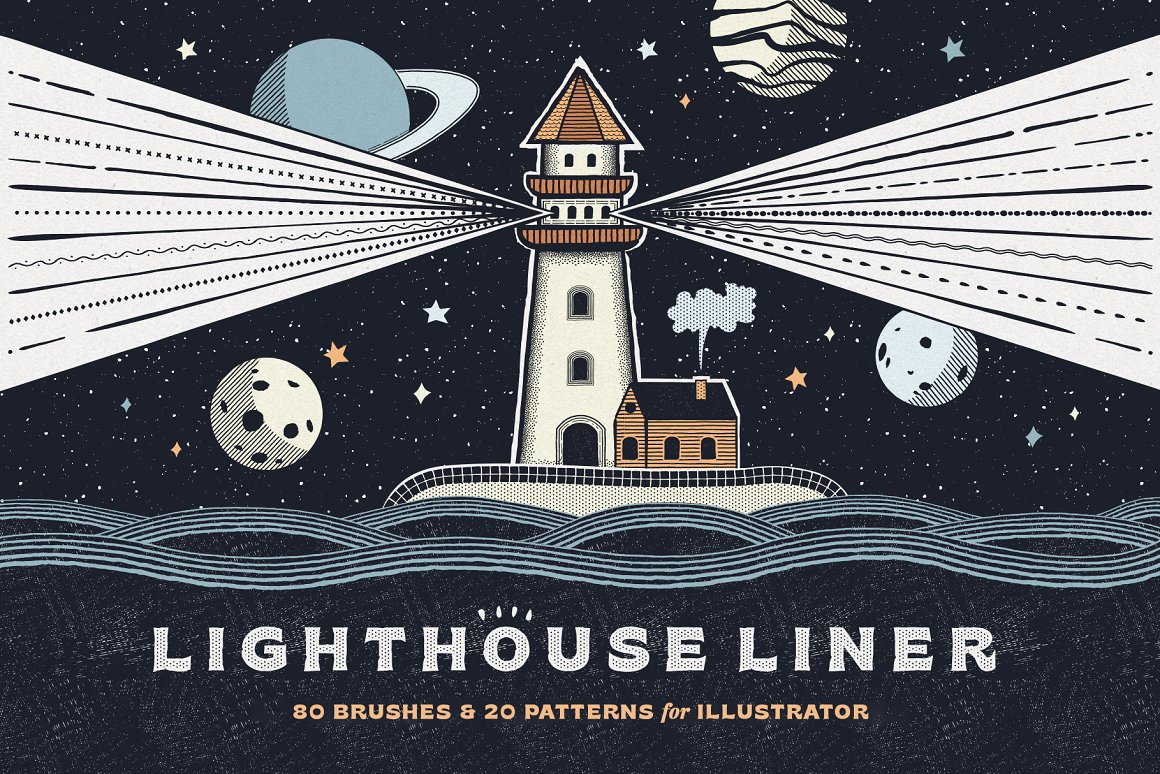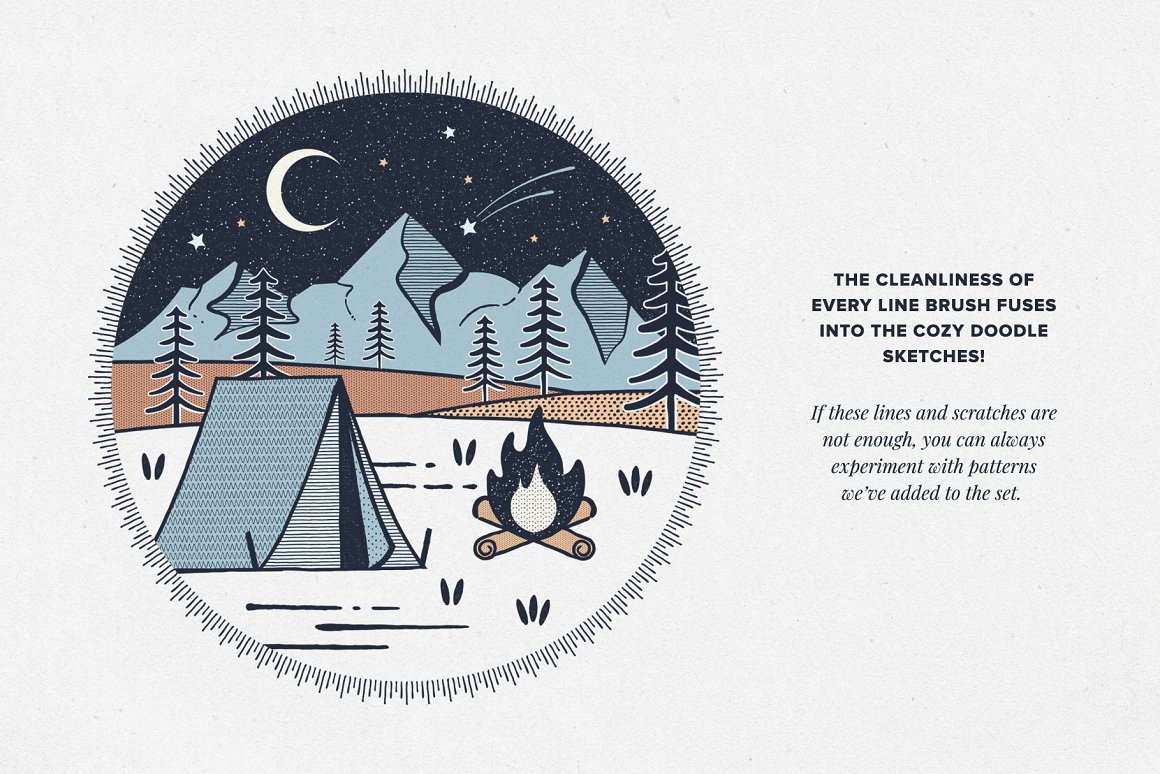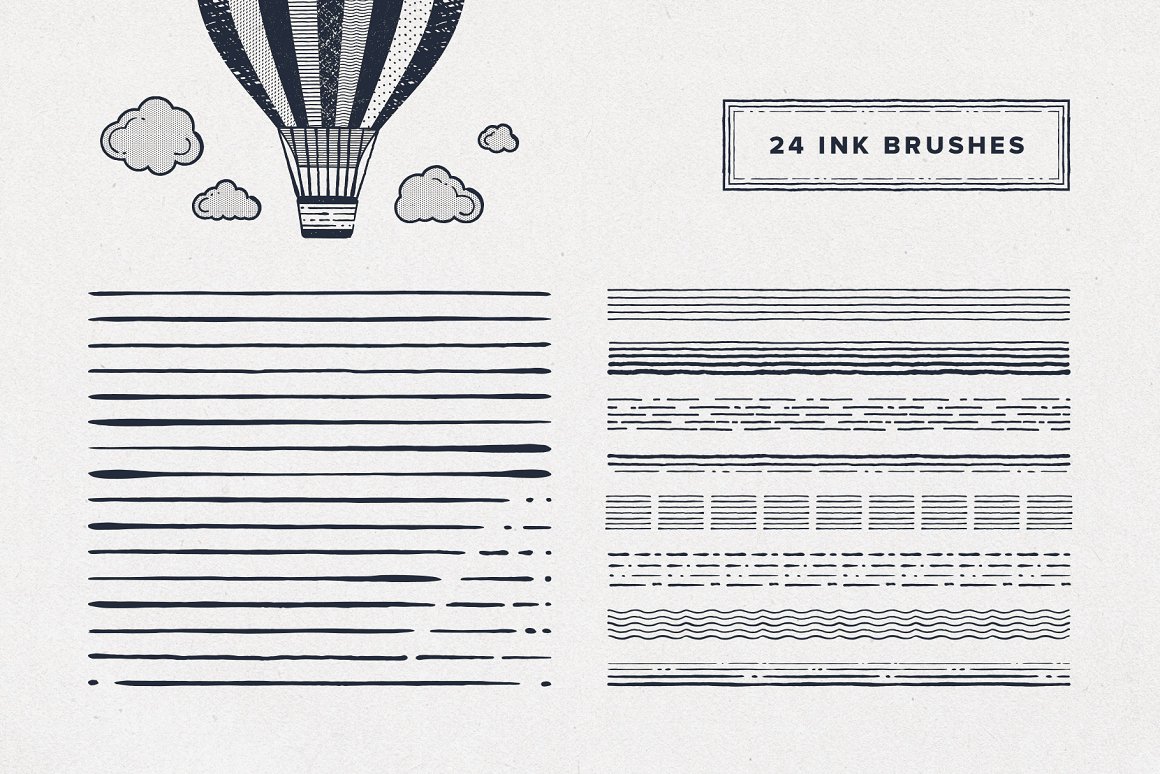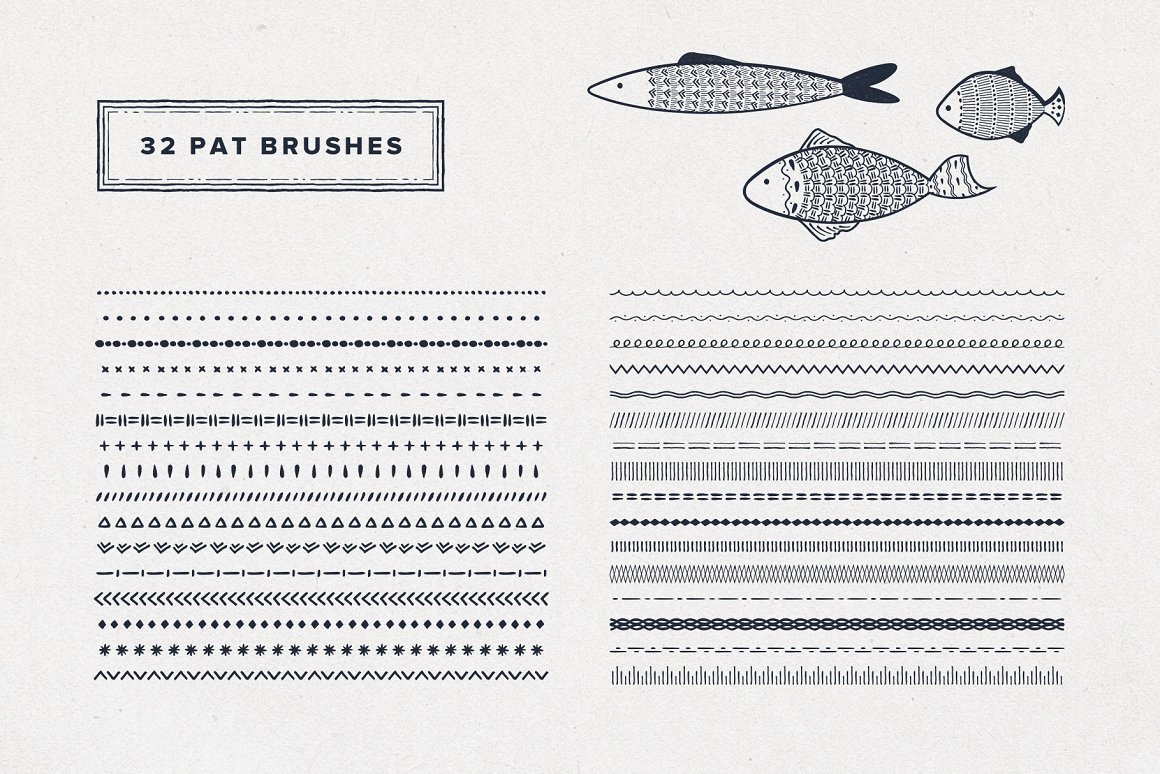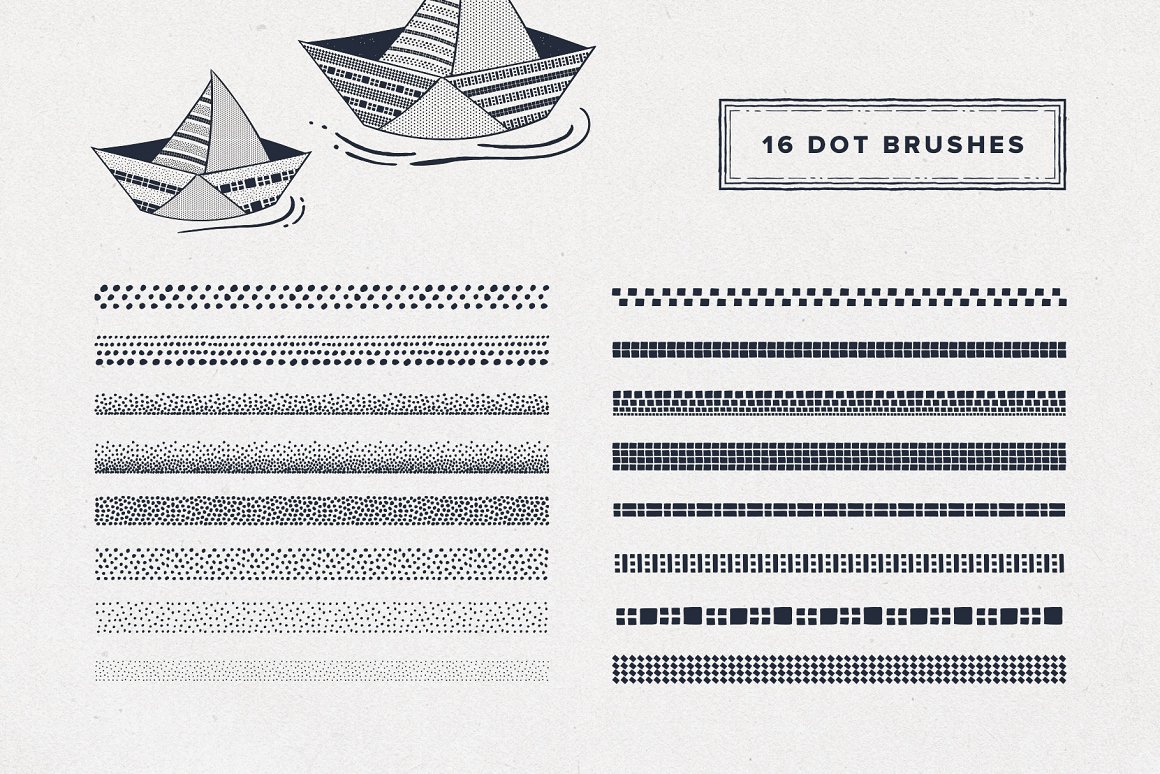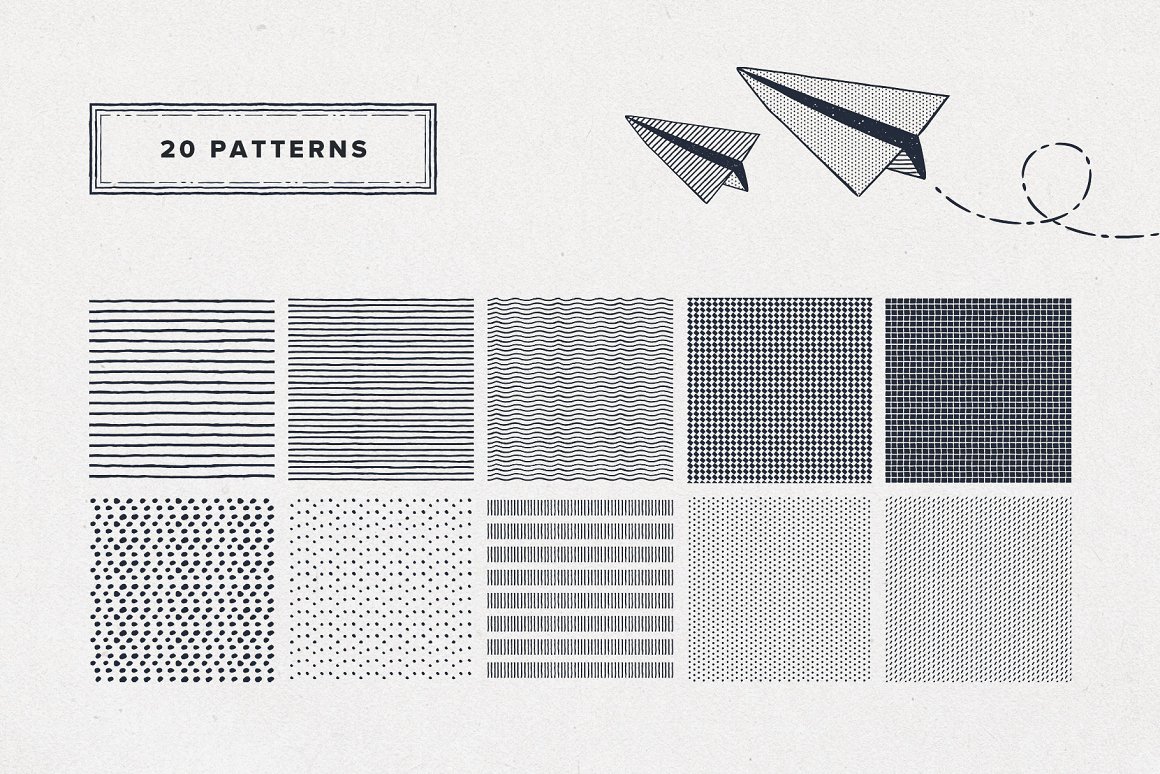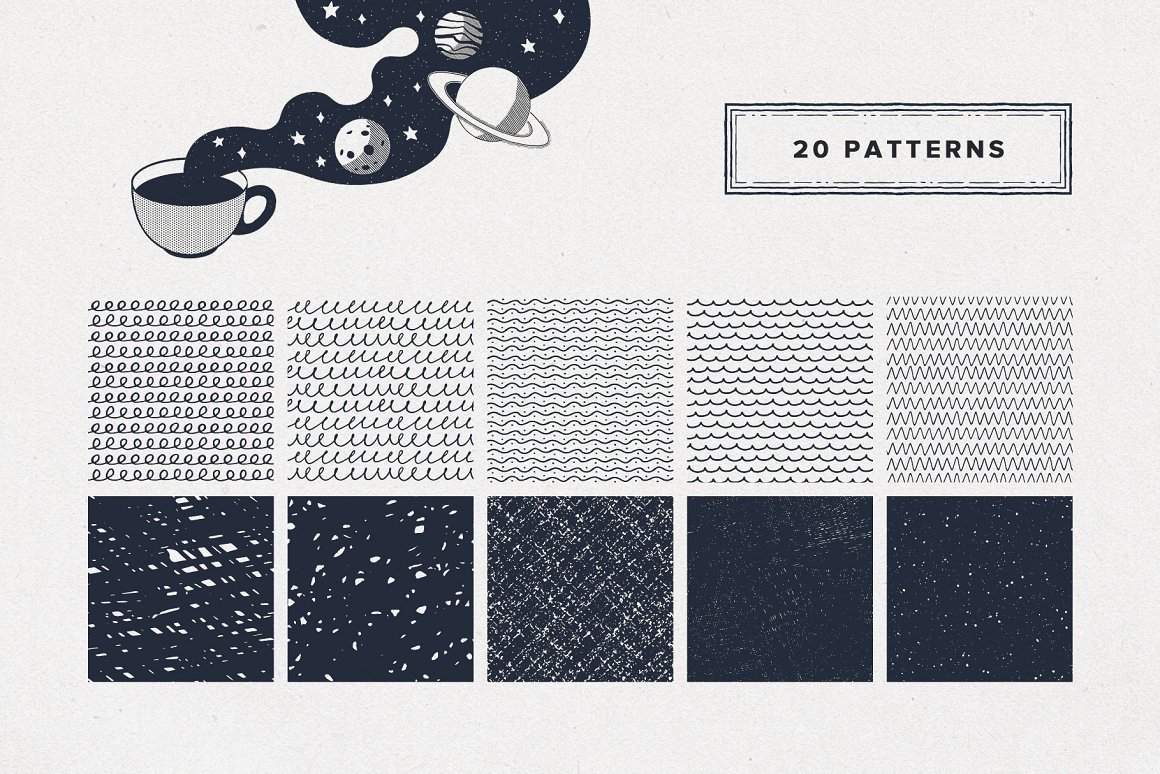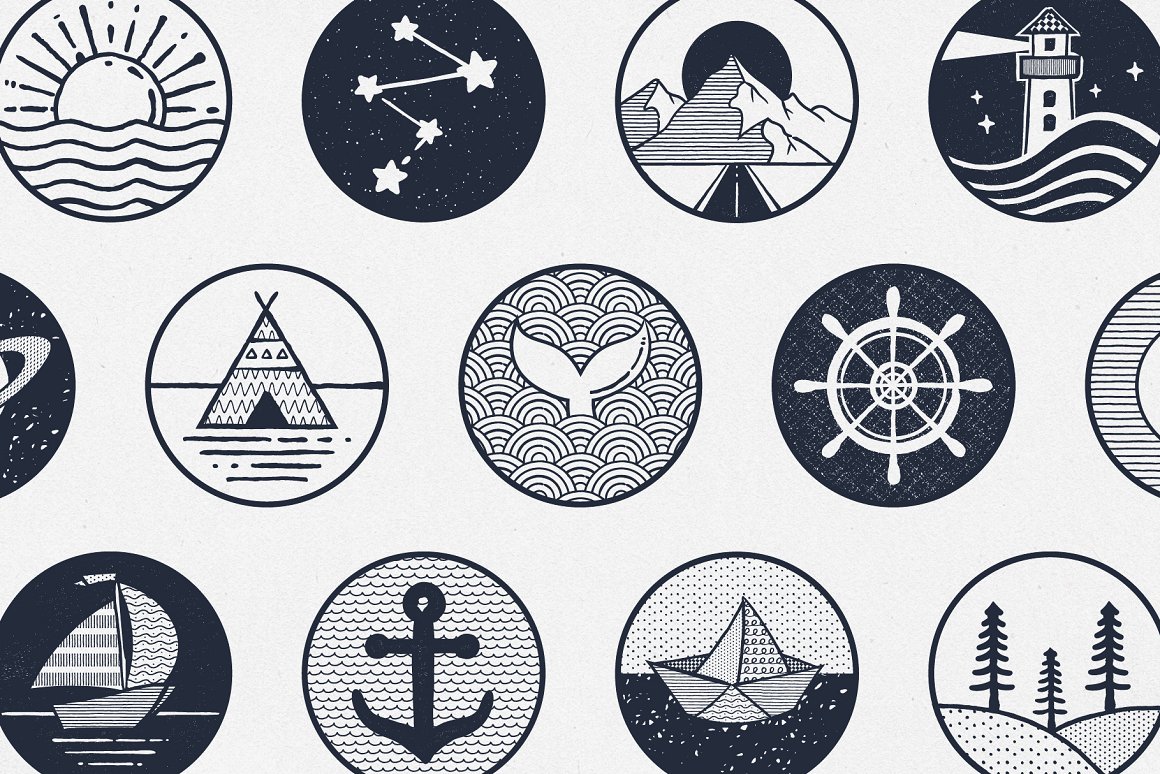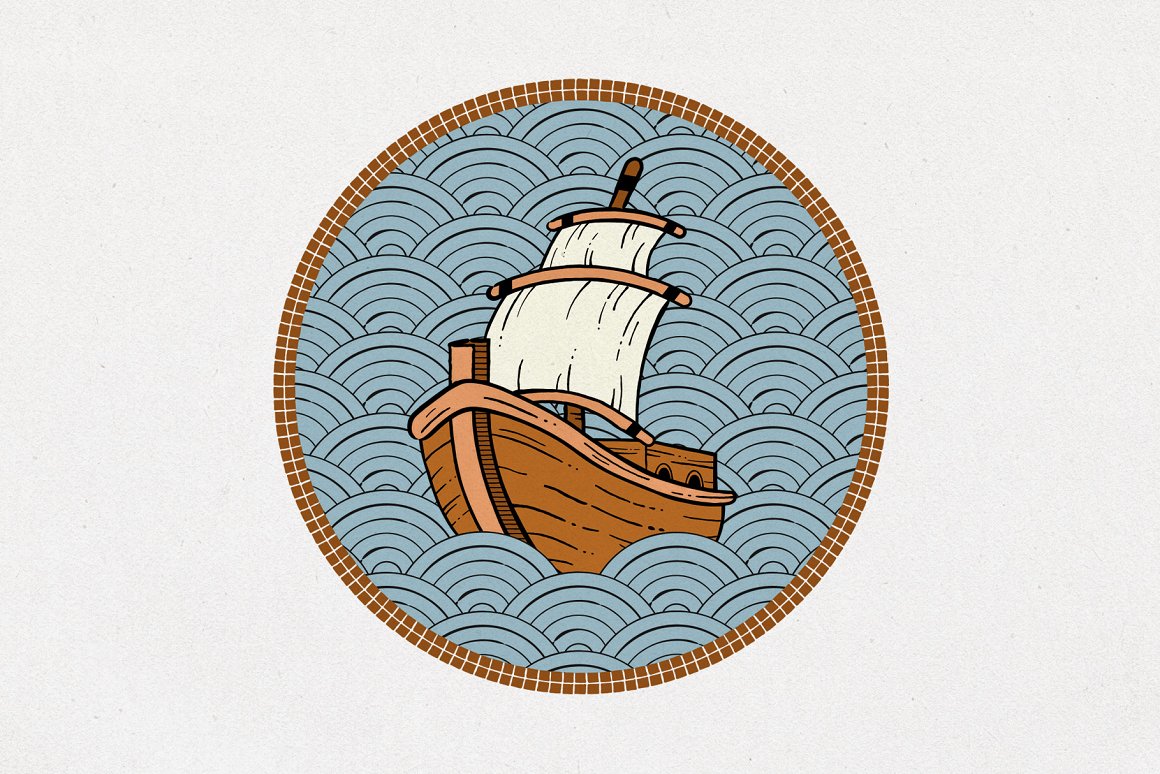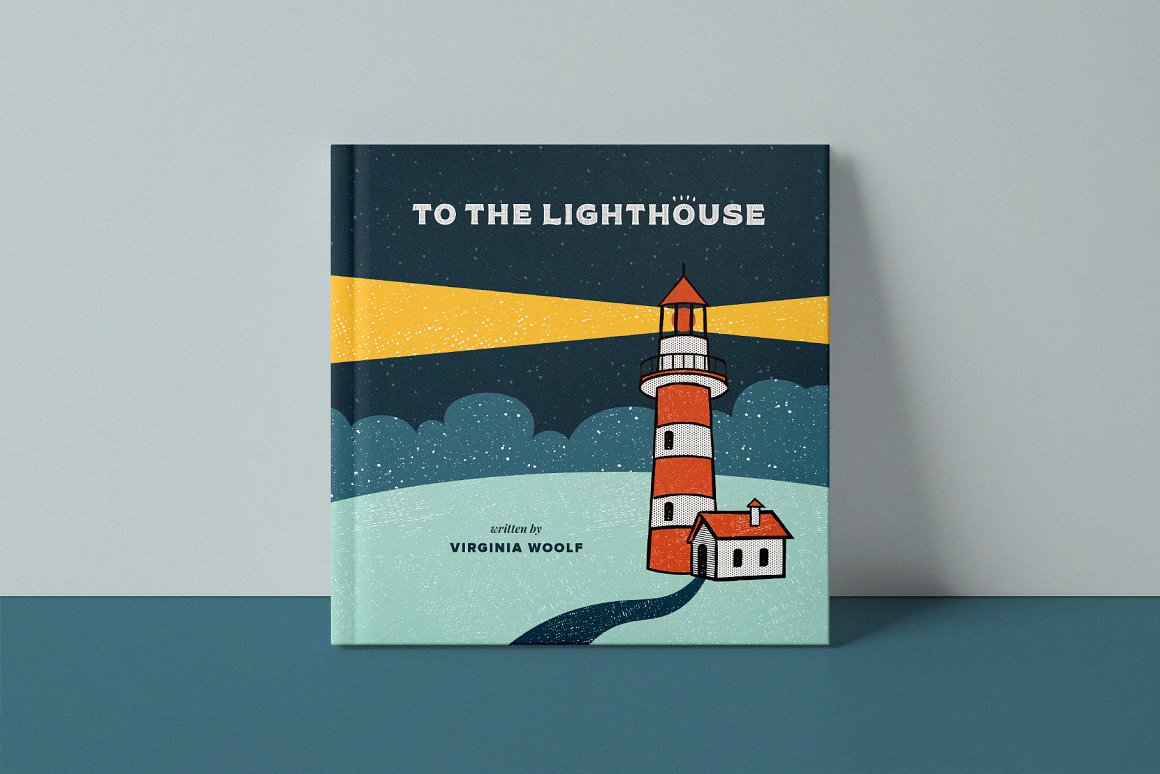 07. Shader Brushes for Illustrator from Pixelbuddha
Seize the moment 'cause it's gorgeous and unique! Especially with our brushes set at hand, reflecting our exceptional passion for every single element. The variety of Memento Shader Brushes breaches any limits of your creative expression, leaving the pure essence of a supreme graphic design.
You get to work with 28 brushes included in the set, divided into 4 groups with their own distinctive features and purposes. The first one adds a wrought look to any picture, giving it messy hatches. Shader brushes speak for themselves, adding authentic imagery by darkening the chosen areas. When the turn comes to edge brushes, your project obtains the middle ground between an artistic distortion and a clear line. The group of noise brushes serves as a nice supplement for providing your project with vintage looks. Discover 12 textures as a bonus to wrap up your composition before revealing it to the world. Create ingenious illustrations, commercials, posters, logotypes — anything this set can inspire you for!
What's inside?
7 shader brushes;
7 noise brushes;
7 hatch brushes;
7 edge brushes;
12 textures;
all brushes in additional CS6 format;
help file.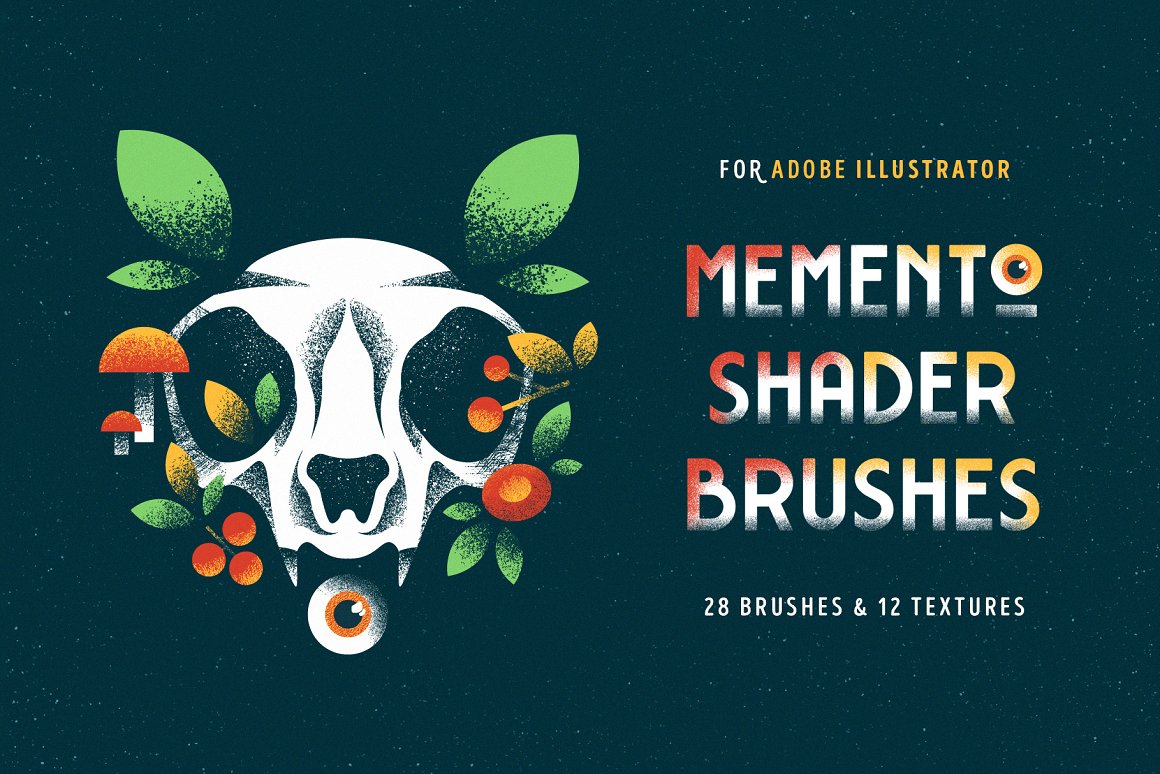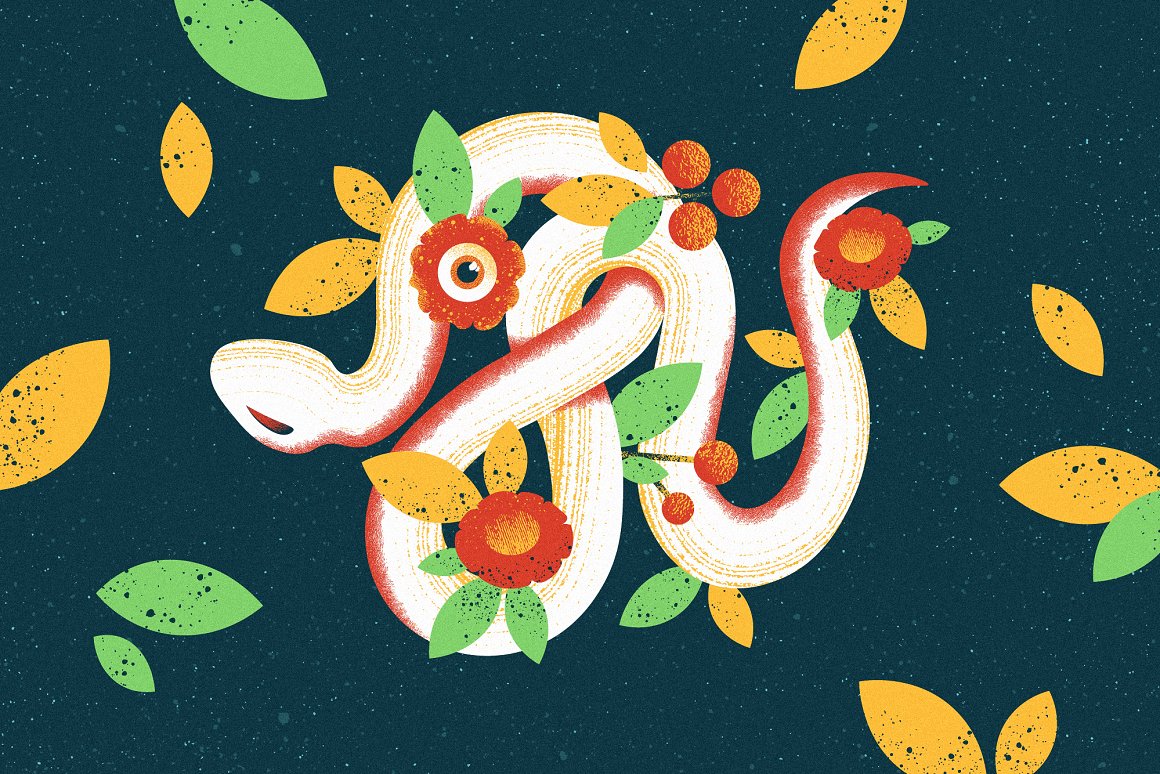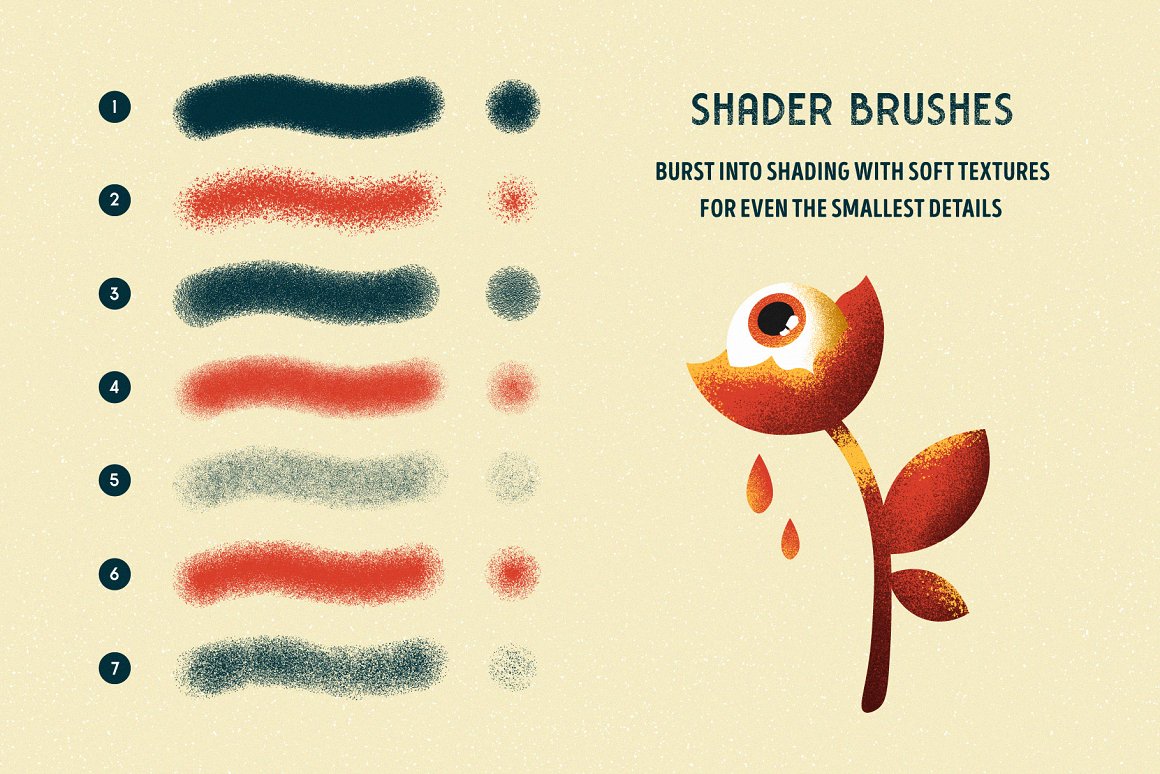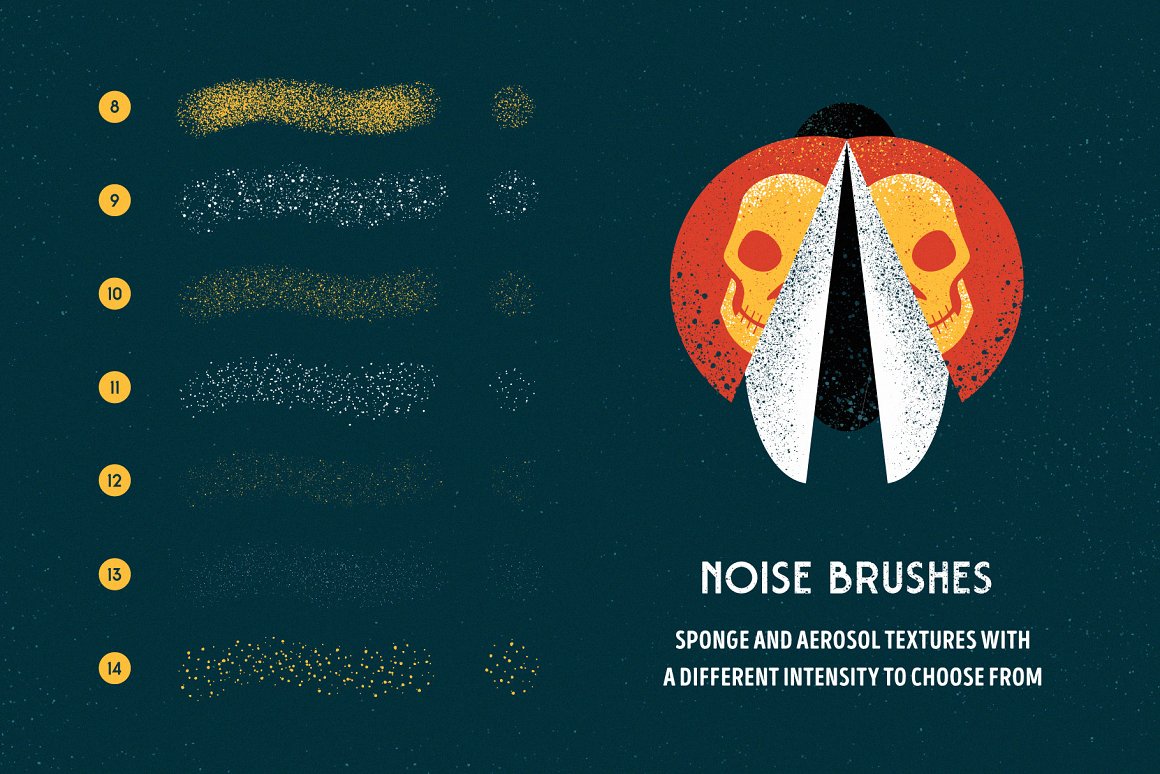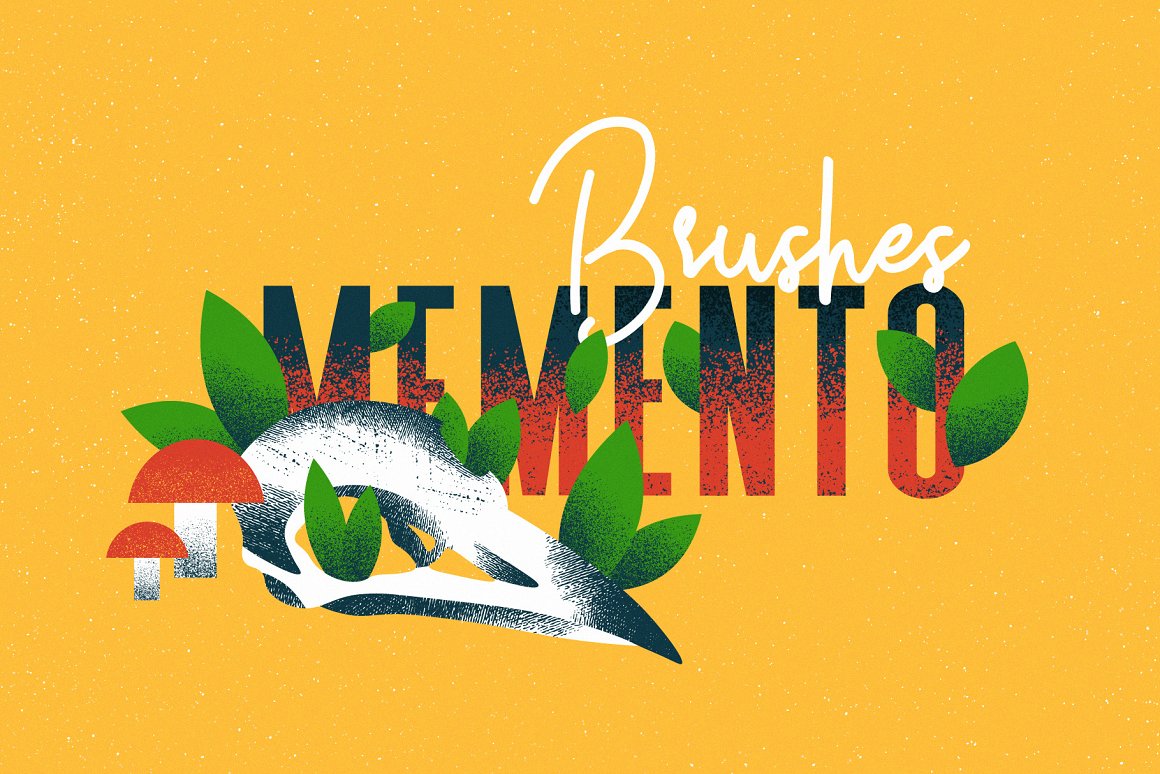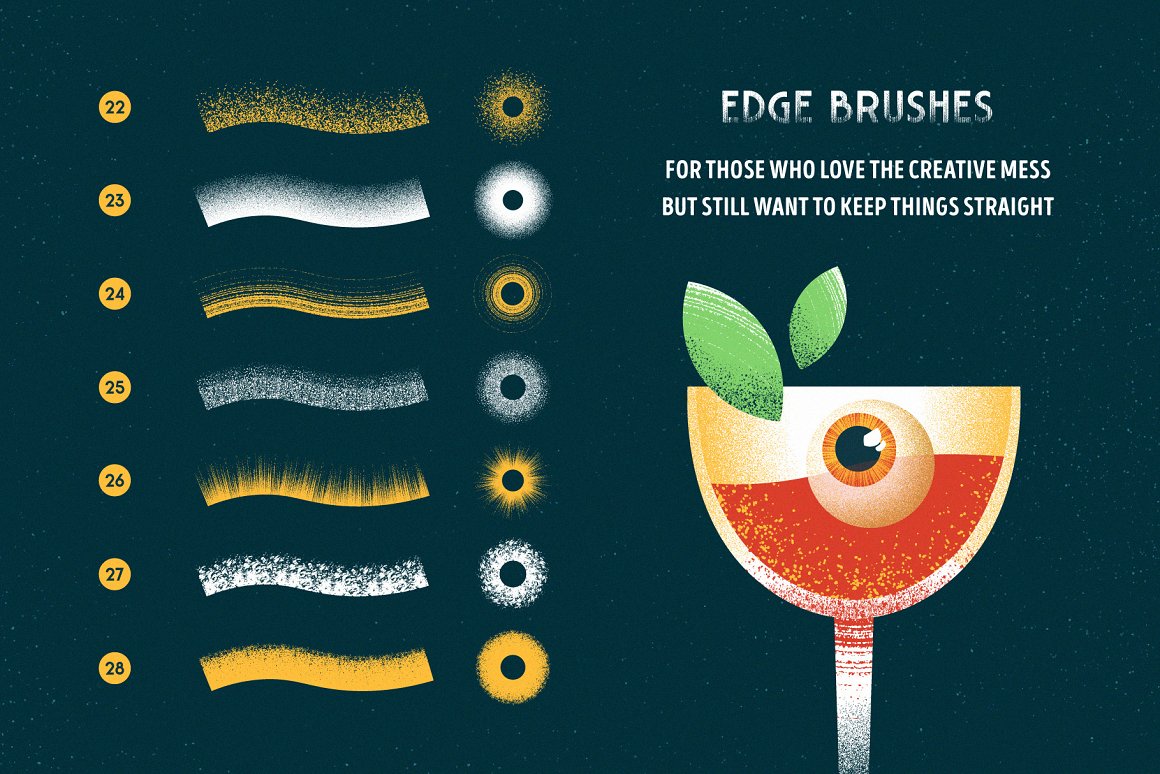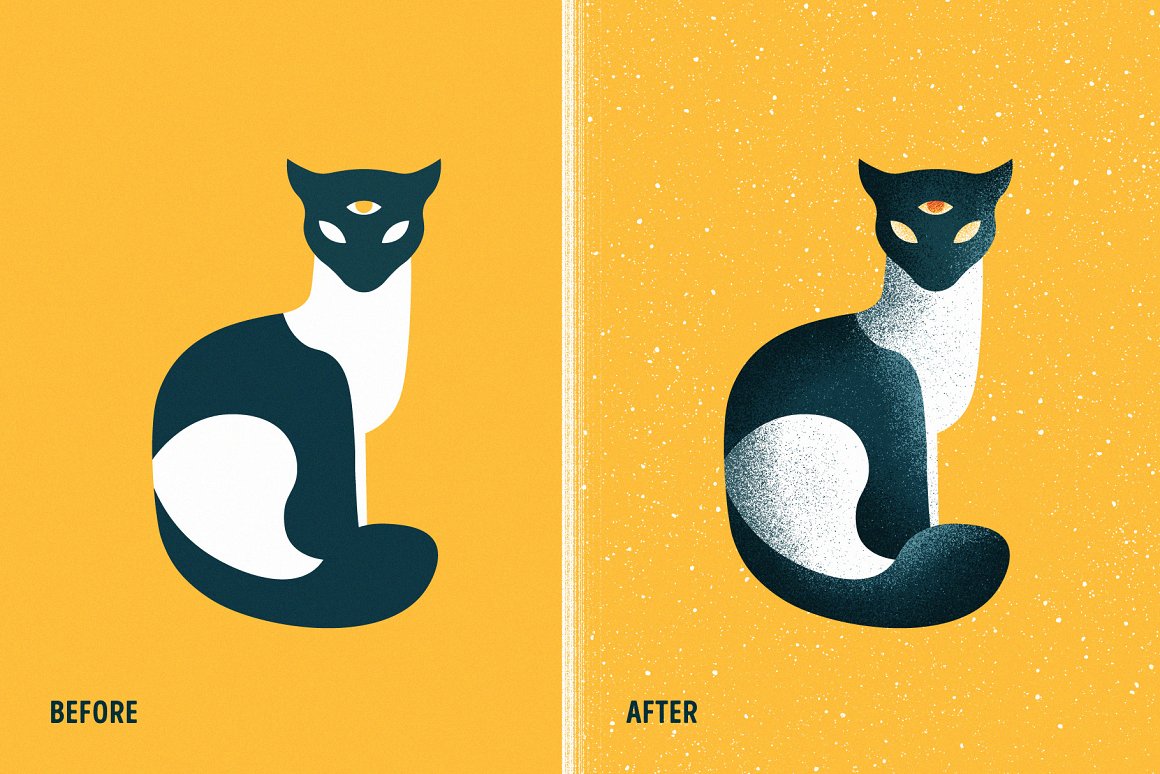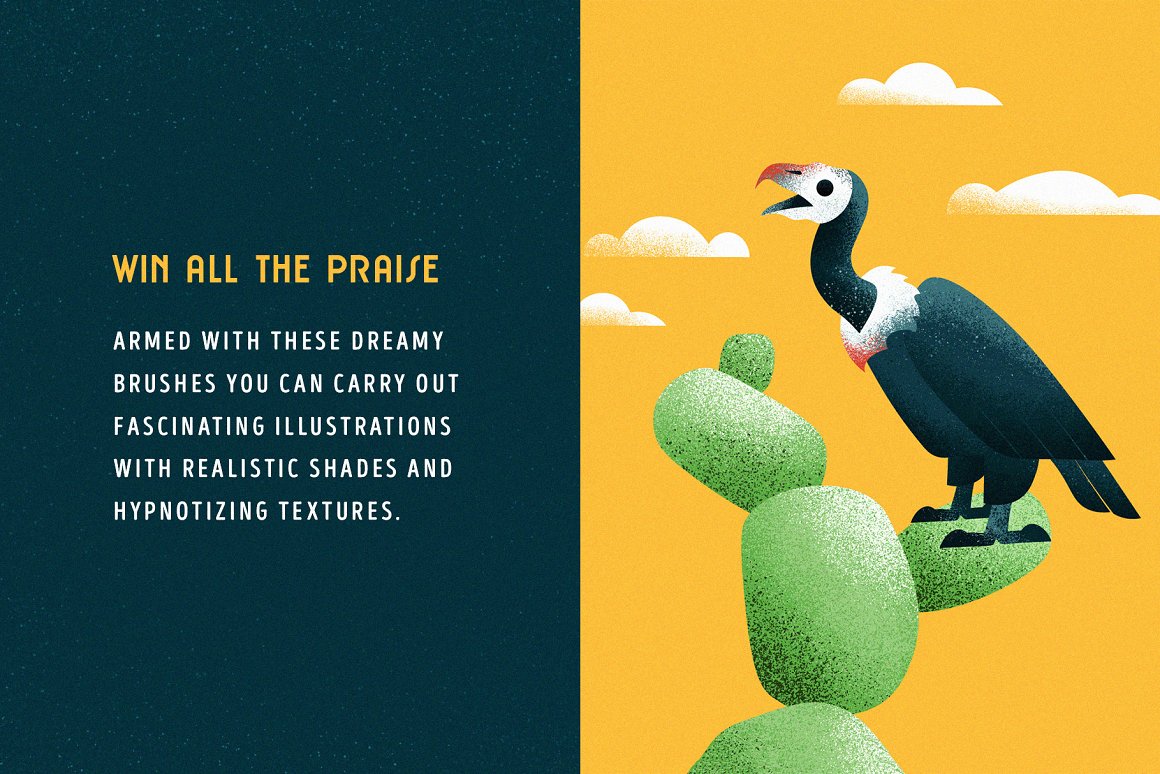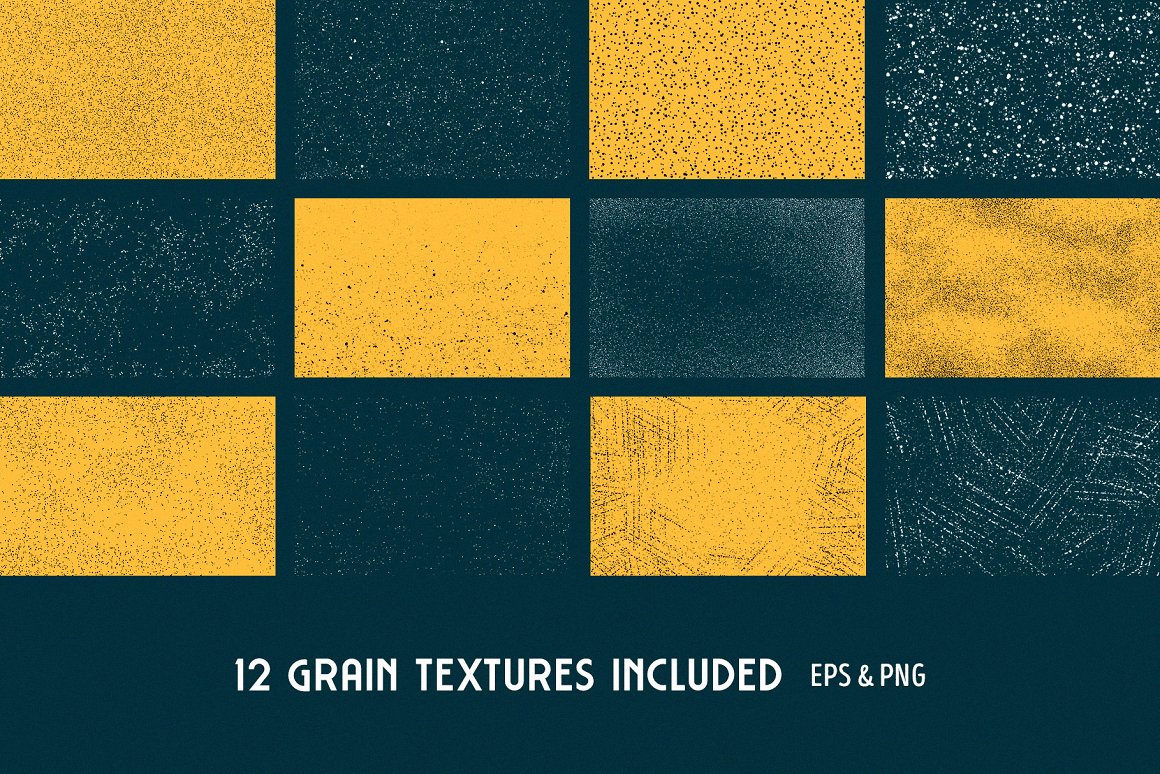 This bundle highlights:
224 various style brushes for Adobe Illustrator!
extended commercial license (like all of our deals): use for unlimited personal and commercial projects + you can also use them in designs/products that you sell. You can use all these items as a part of your non-digital or digital designs ( posters, t-shirt designs, stickers, web templates…). You cannot resell these files directly, or within items/goods where they can be extracted in their original form (like vector shapes, elements, fonts… – they need to be flatten into background or object in your digital item for sale). License is only for 1 person – you'll need to buy 2 licenses if 2 persons will work with these graphics. Please read more about our exclusive license!
Pricing:
Normally, these 7 creative brushes sets would cost you $187 (without extended license) & $843 (with extended license), but for a limited time only, you can get these unique Illustrator brushes for $24!
Deal Terms:
Delivered as an instant download, after completing your purchase.
All image results from these brushes or graphics can be used for both personal and commercial purposes, for yourself or on behalf of a client, on their own, or as part of your new design for sale.
Cannot be sublicensed, resold, shared, transferred, or otherwise redistributed on its own.
You cannot share these resources with others. This is a single user license (for 1 user on any number of devices)! You'll need second license for your colleague computer!