Unveiling our captivating new collection – "Men of the World." This exceptional gallery showcases 120 high-resolution PNG images portraying suave and stylish men from diverse cultures, each radiating charm in their unique fashion sense. Elegantly crafted with an image size of 6144 x 6144 pixels, these PNGs come in both transparent and white backgrounds. From the chic French man, the dapper British gentleman, the sophisticated Japanese man, the stylish Italian, to the debonair Dutch man, each image stands as a testament to global fashion diversity. This collection comes with a commercial license, providing you with an unlimited scope to use these images in your personal or professional projects.

What you'll get in this pack from Mimoza Studio? This bundle includes 120 high-resolution images or digital stock images. The high-resolution files ensure that your projects maintain their quality across a variety of mediums, including digital design, printables, apparel, and more. Though these are non-vector images, their vibrant colours and crisp detailing give a vector-like aesthetic. Each image comes with a extended commercial license, giving you the flexibility to use them in your projects freely. Perfect for job-related designs, marketing materials, educational content, or website enhancements. Perfect for job-related designs, marketing campaigns, educational content, or to enhance your website's appeal. These images are not only an artist's delight but also a perfect choice for website designs, social media posts, digital marketing, online ads, and various other design projects.
With this deal you get:
120 various style men images – Ai generated digital illustrations for your new poster, card, web or print designs!
Transparent background PNG images & white background images
Hi-res PNG images – 6144 x 6144 pixels
Take a look at what you can get: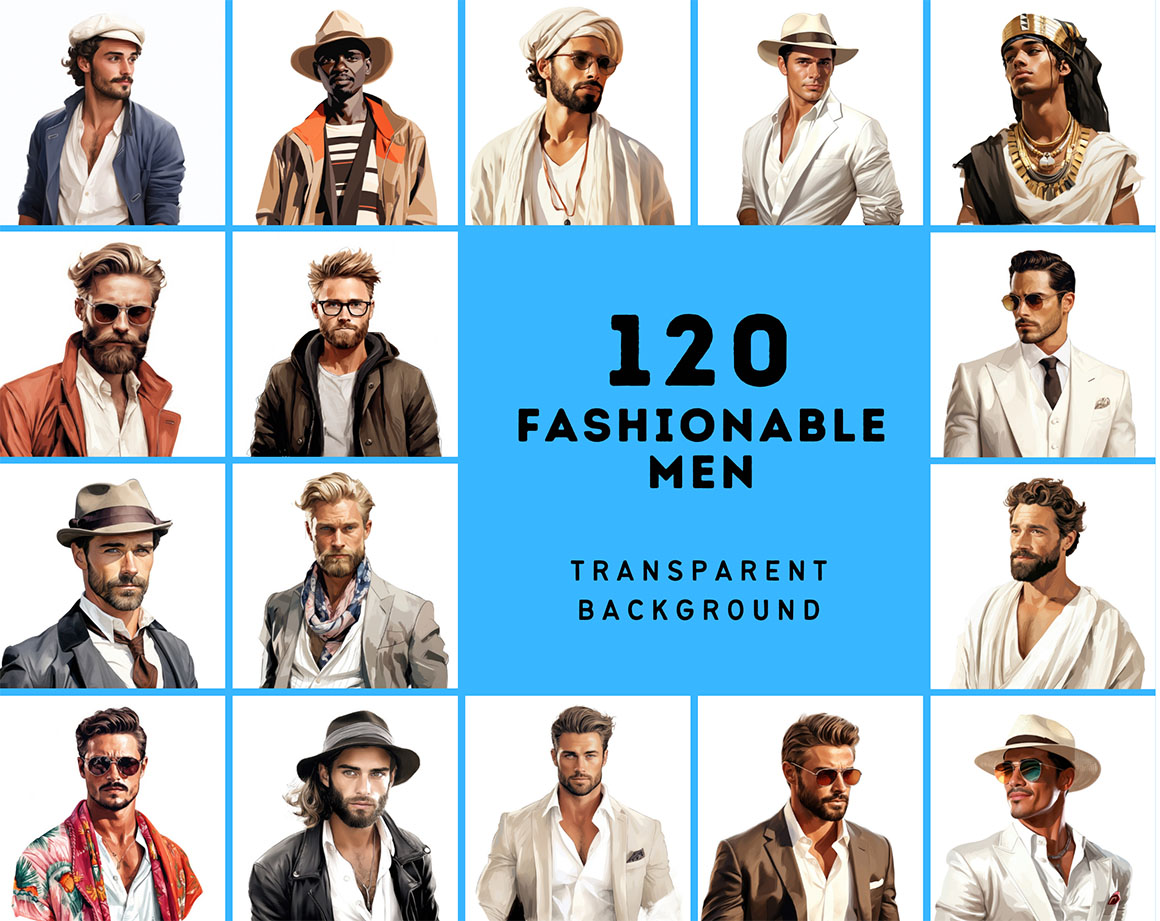 120 unique digital illustrations that will help you start up your business!
These Ai generated images are great for use as digital papers, backgrounds, cover arts, or printed on different objects. They are perfect for framing and decorating your space or you can use for graphic compositions.
This set of digital images is perfect for:
✓ Digital design projects
✓ Printables and wall art
✓ Crafting and DIY projects
✓ Various print or web design projects
✓ And so much more!
What is included: Suave American Man,Dapper British Man,Chic French Man,Stylish Italian Man,Sophisticated Japanese Man,Classy Brazilian Man,Trendy South Korean Man,Elegant Russian Man,Refined Australian Man,Urbane Spanish Man,Fashionable Indian Man,Dashing Swedish Man,Polished German Man,Debonair Dutch Man,Chic Moroccan Man,Swanky Chinese Man,Cool Danish Man,Stylish Nigerian Man,Fashion-forward Mexican Man,Dapper Canadian Man,Debonair Turkish Man,Urbane South African Man,Stylish Argentine Man,Fashionable Israeli Man,Chic Kenyan Man,Elegant Singaporean Man,Dashing Greek Man,Stylish Norwegian Man,Chic Egyptian Man,Suave Colombian Man
For larger view – please click on image with right mouse – open image in new tab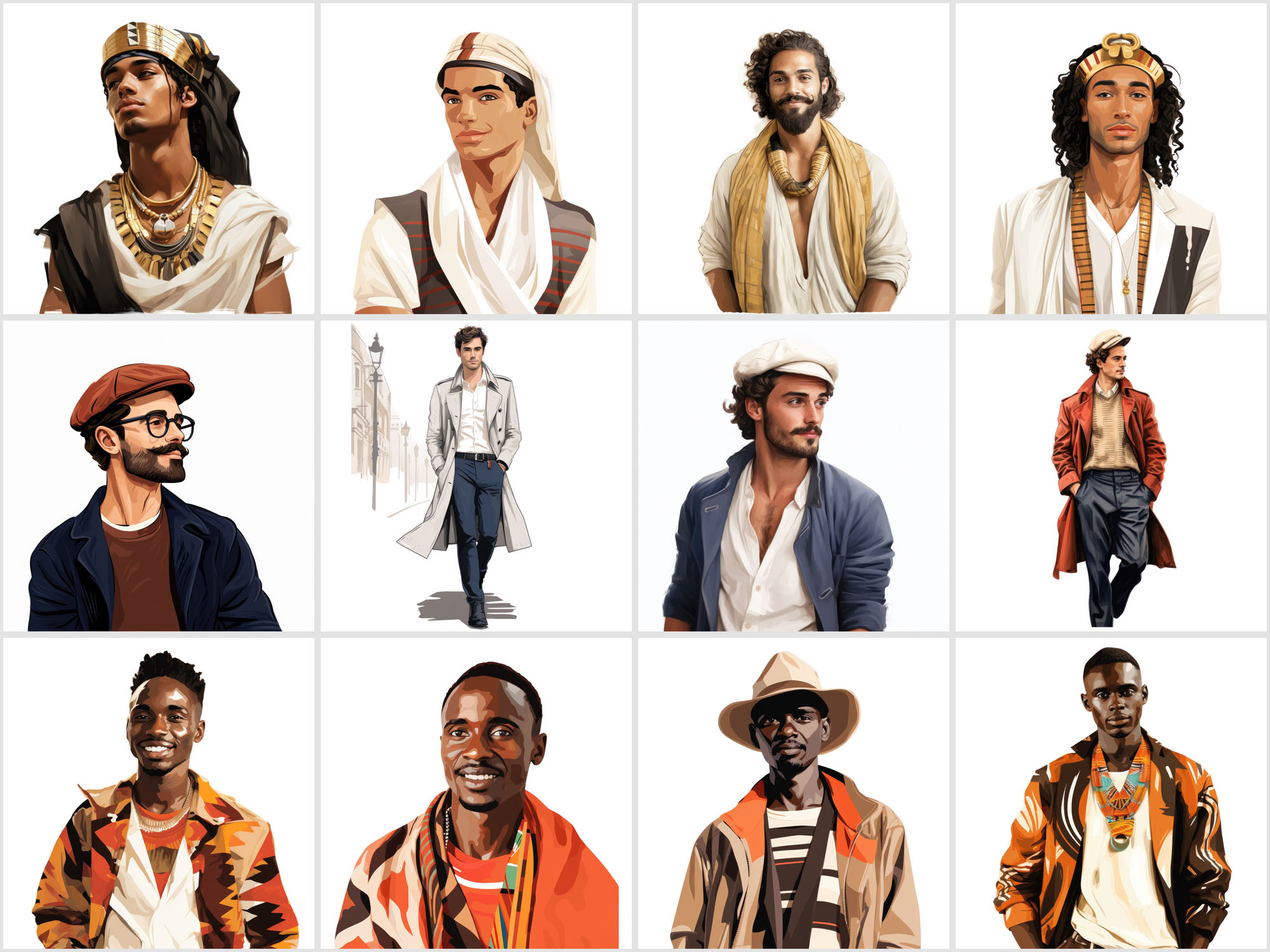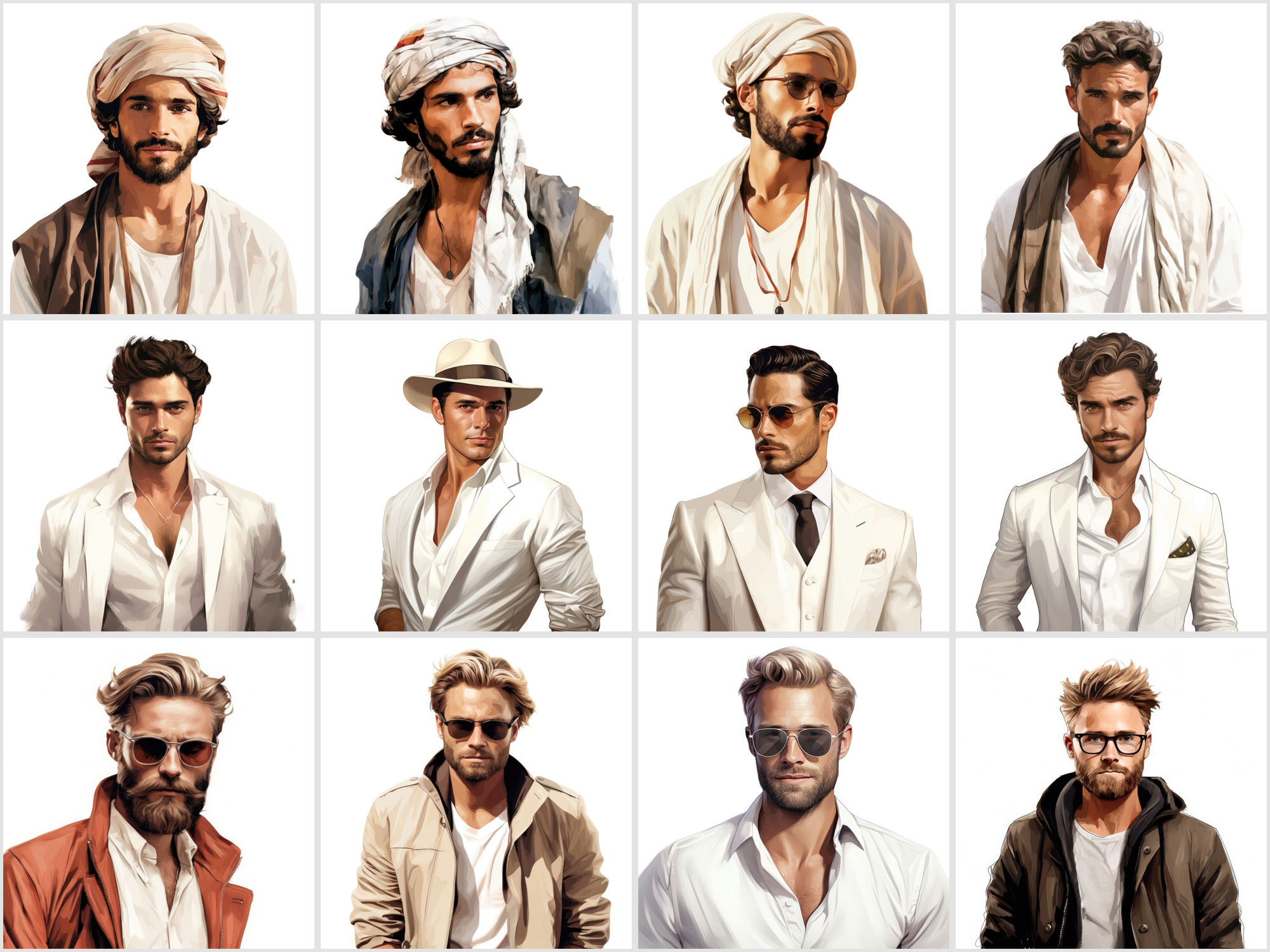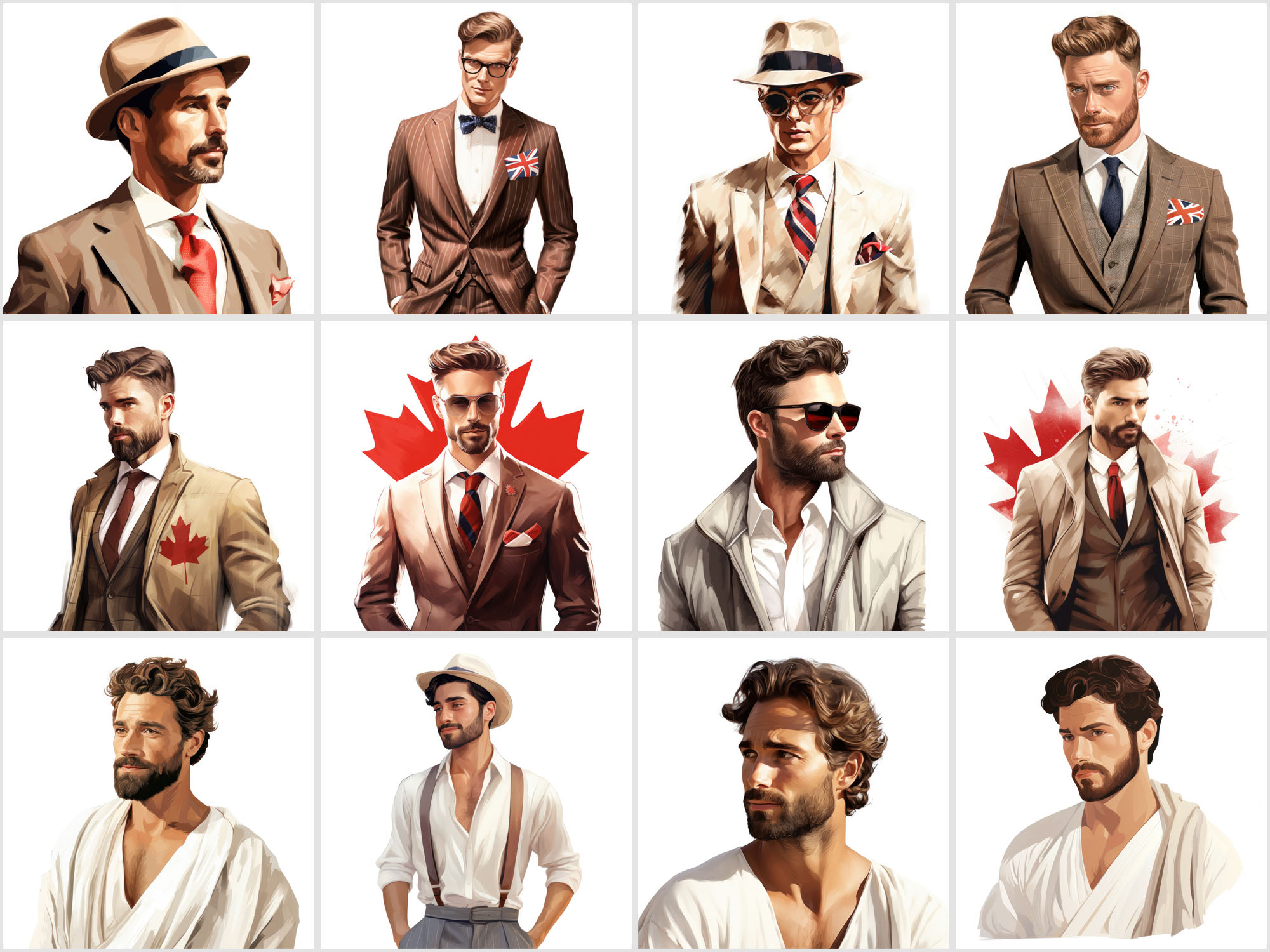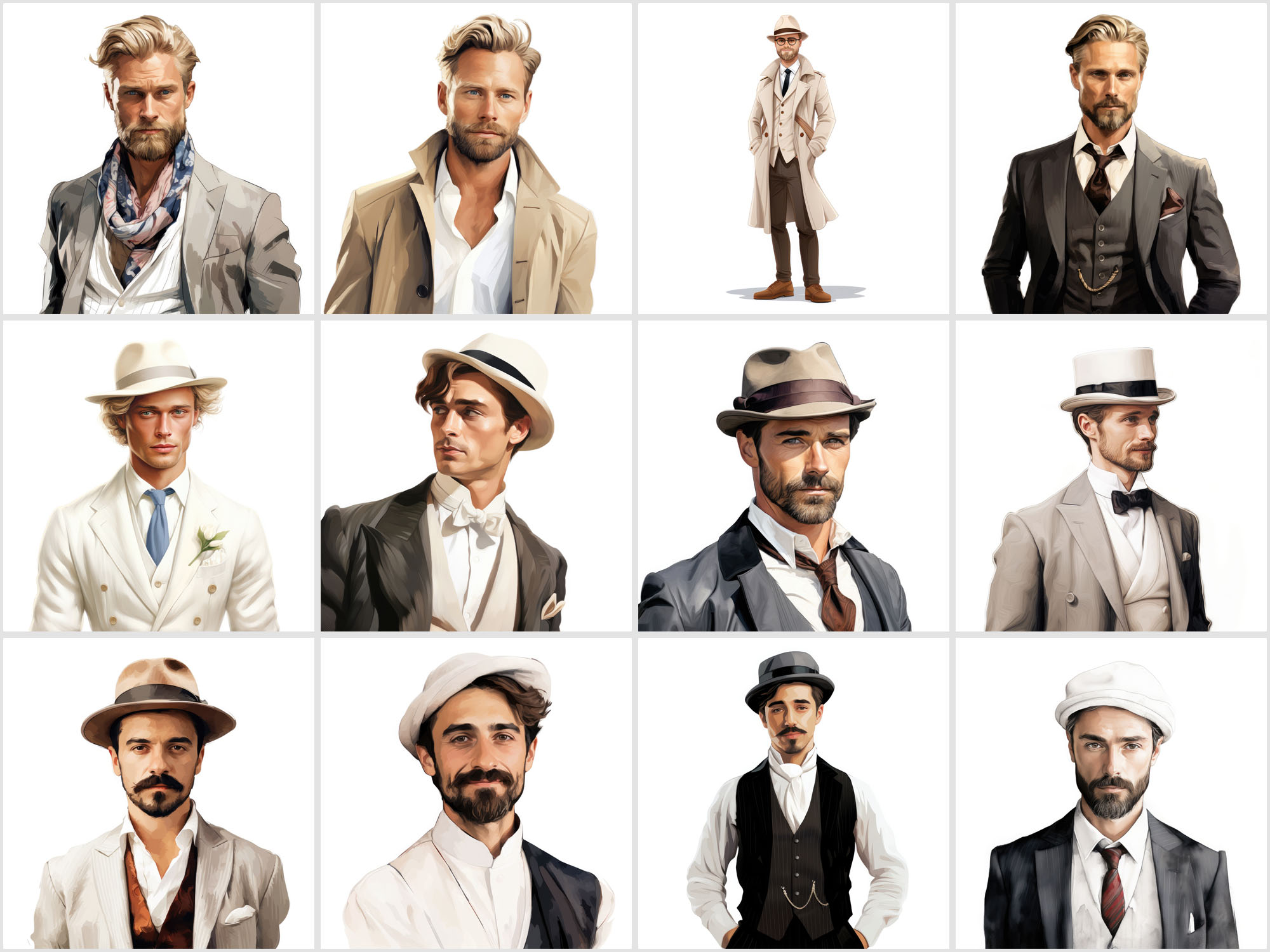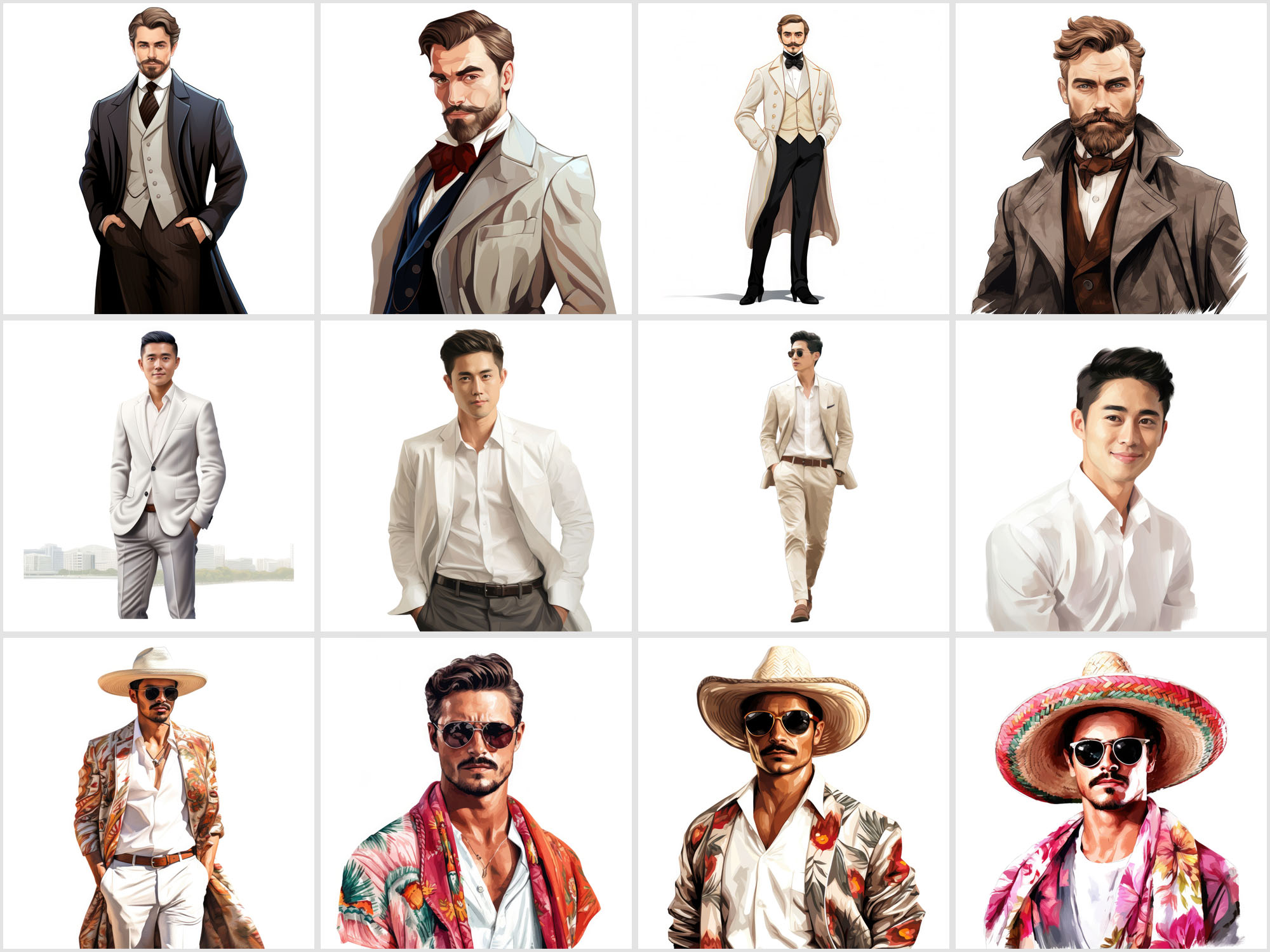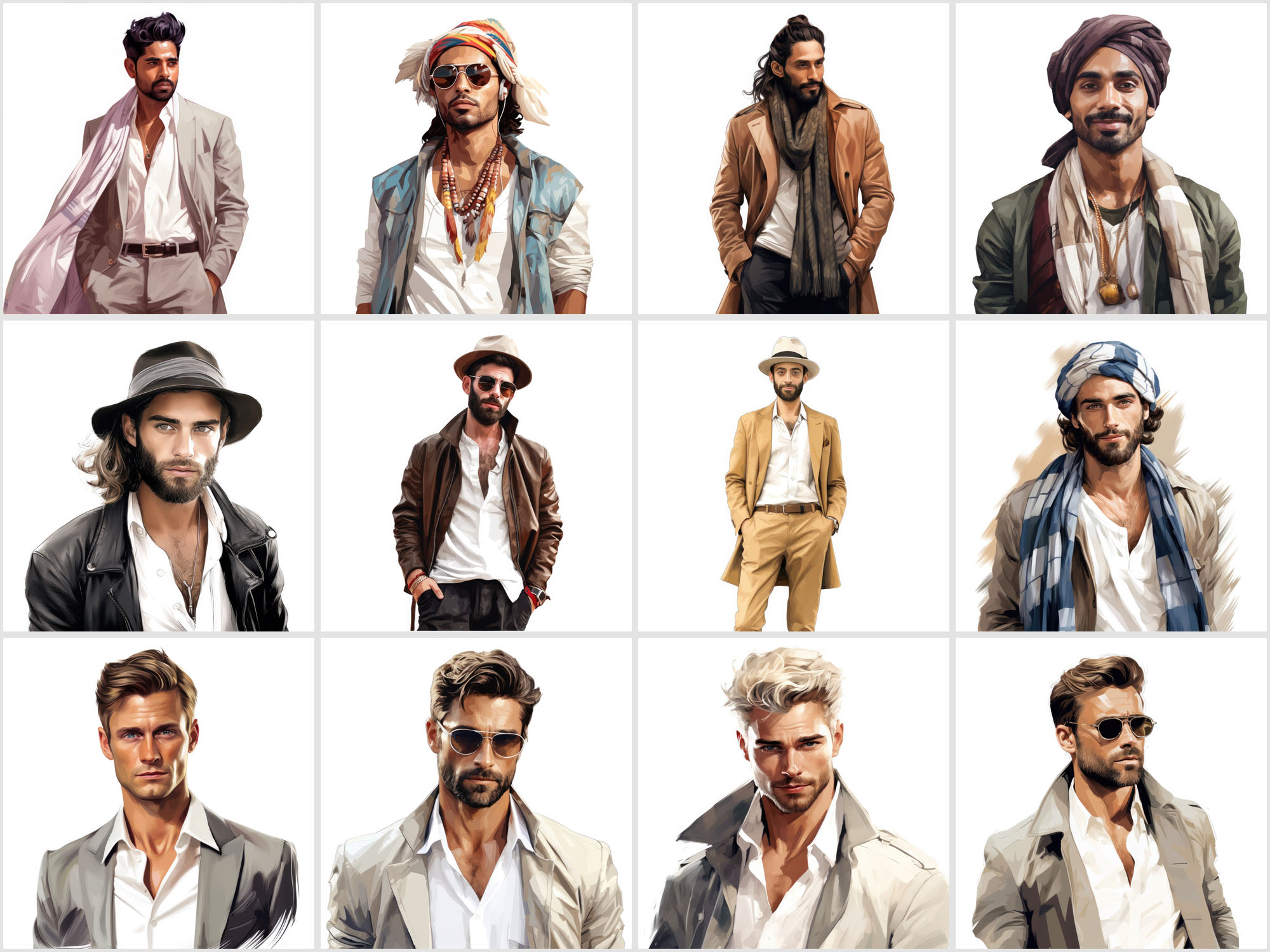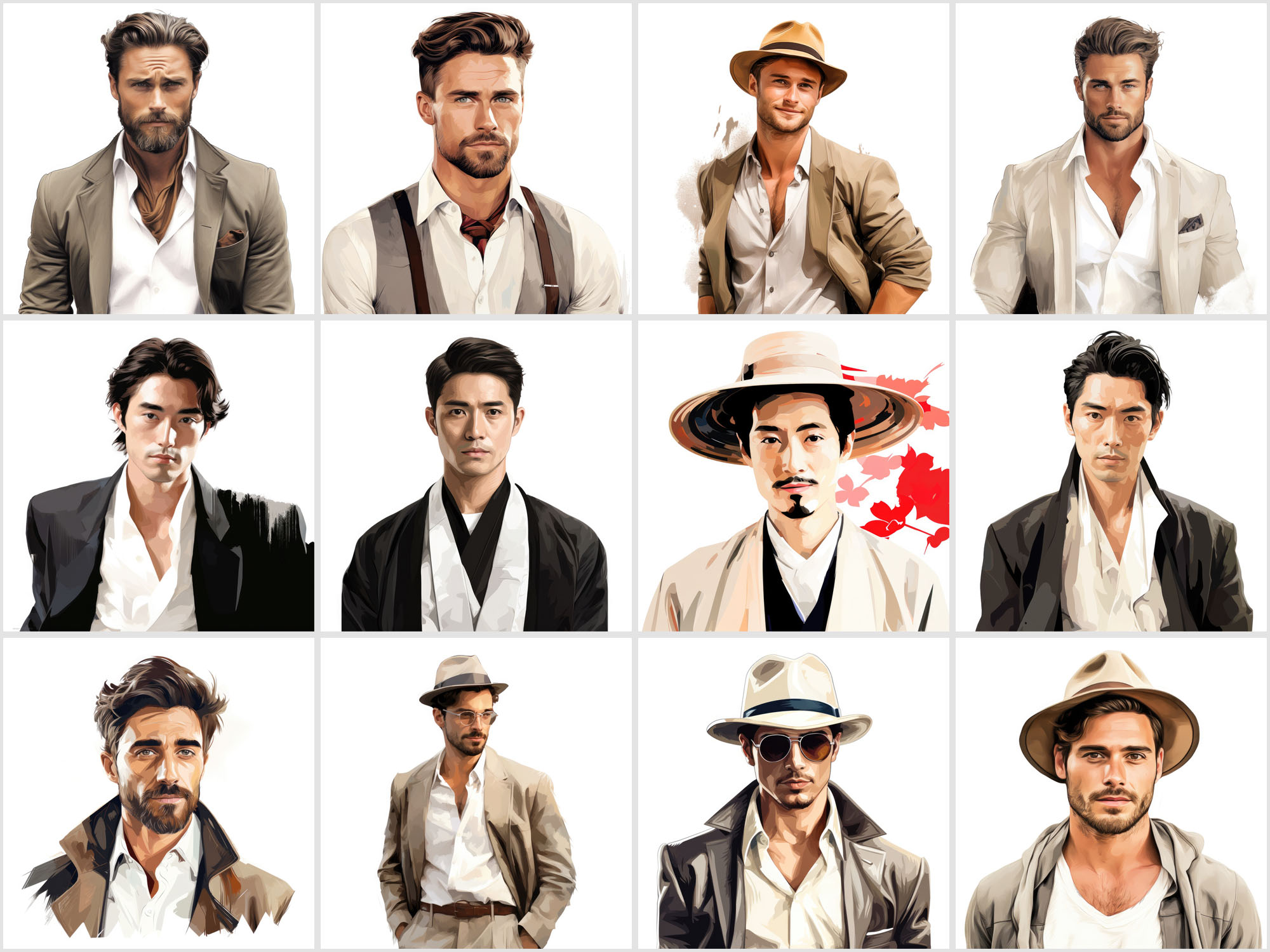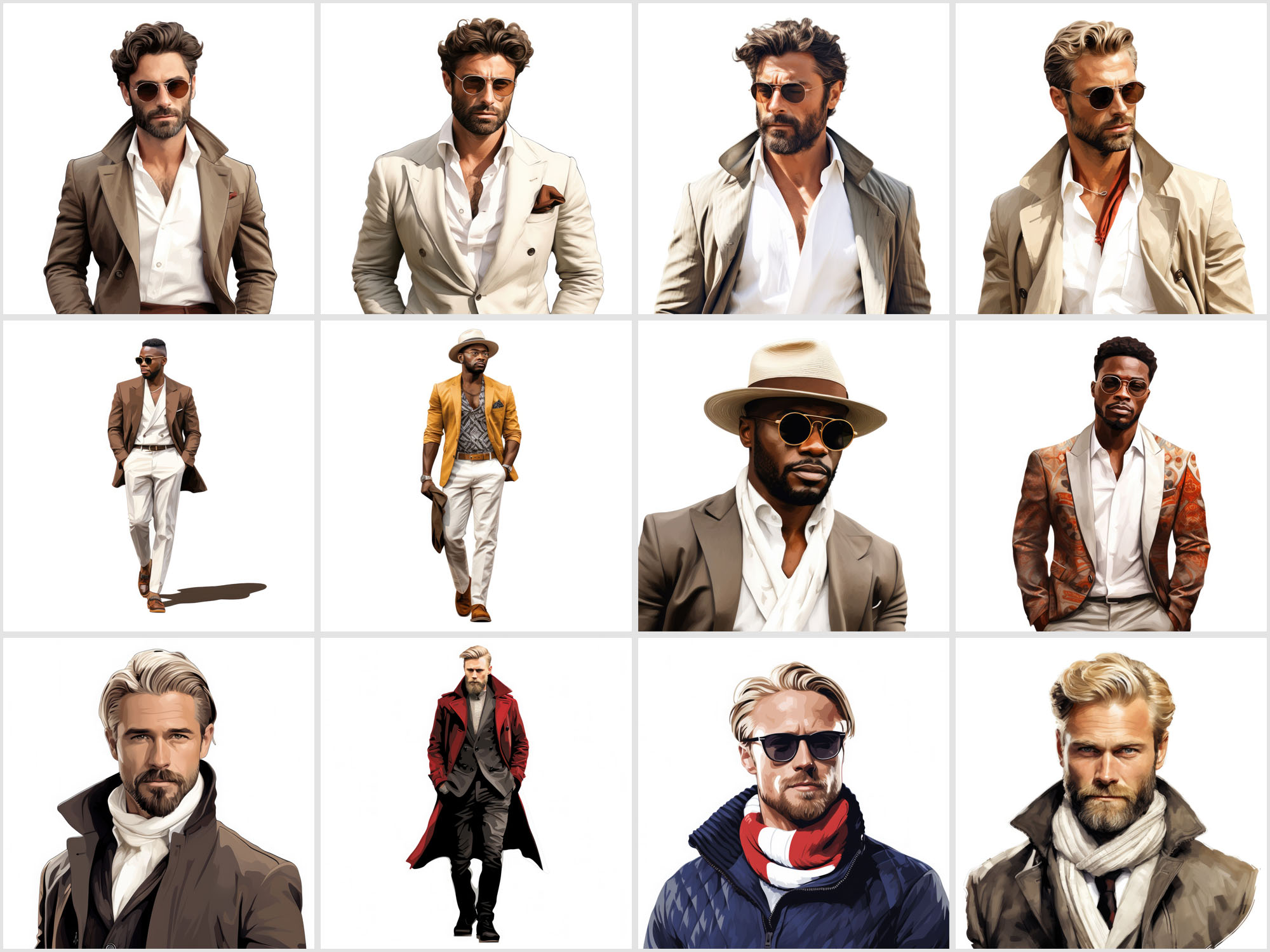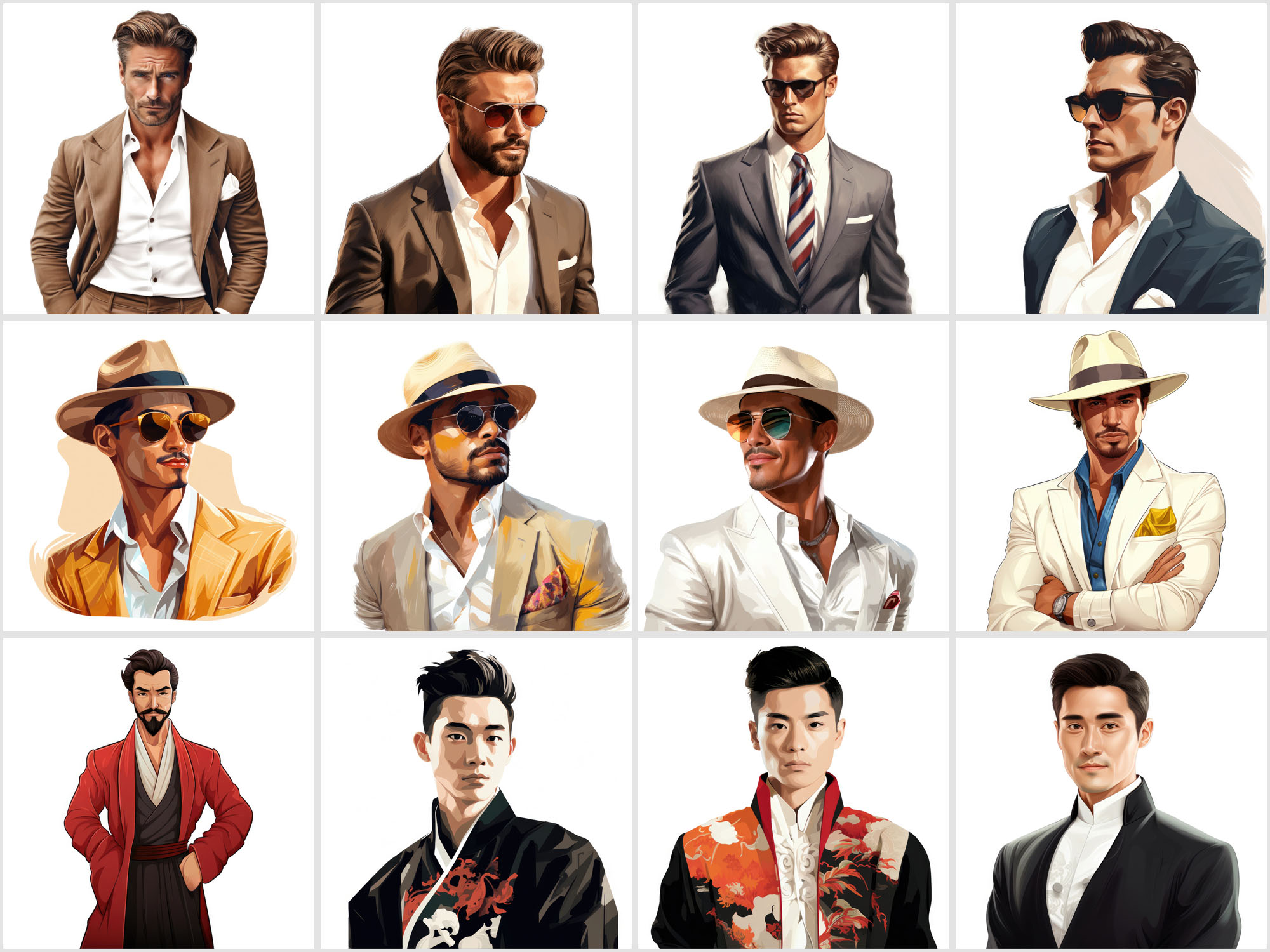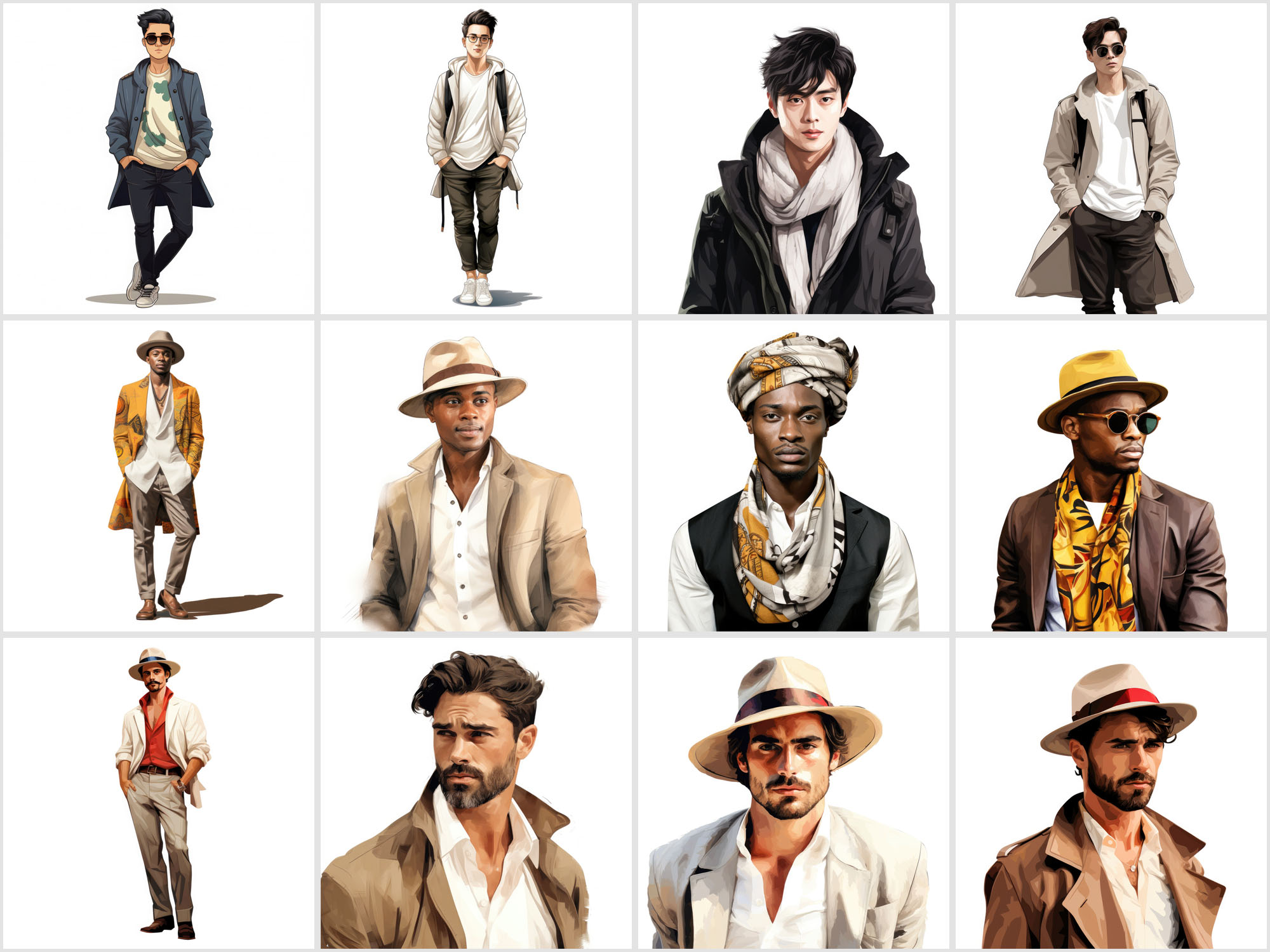 For larger view – please click on image with right mouse – open image in new tab
This bundle highlights:
120 various style men images – Ai generated digital illustrations for your new poster, card, web or print designs!
extended commercial license (like all of our deals): use for unlimited personal and commercial projects + you can also use them in designs/products that you sell. You can use all these items as a part of your non-digital or digital designs ( posters, t-shirt designs, stickers, web templates…). You cannot resell these files directly, or within items/goods where they can be extracted in their original form (like vector shapes, elements, fonts… – they need to be flatten into background or object in your digital item for sale). License is only for 1 person – you'll need to buy 2 licenses if 2 persons will work with these graphics. Please read more about our exclusive license!
Normally, these unique digital illustrations would cost you $29 (without extended license and already in bundle), but for a limited time only, you can get this unique collection for $9!
Deal Terms:
Delivered as an instant download, after completing your purchase.
All these images can be used for both personal and commercial purposes, for yourself or on behalf of a client, on their own, or as part of your new design for sale.
Cannot be sublicensed, resold, shared, transferred, or otherwise redistributed on its own.
You cannot share these resources with others. This is a single user license! You'll need second license for your colleague computer!