If you are looking for some realistic retro, neon, ink or glitch text/shape effects then you are at the right place because here you will get a great set of 6 creative add-on toolkits for your new artistic projects. You'll find here lot of Photoshop actions, styles, brushes, overlays, textures & text effects…
All these cool Photoshop actions & effects from MiksKS are ready for print or online use! Just drag & drop the different elements to create your own custom scenes and composition. MAIN USAGE: social media, flyers, posters, banners, marketing campaigns, greeting cards, branding, packaging, phone cases, bags and totes, wall art, logos, quotes, t-shirts, website, blog. Actually any place you love! Enjoy 😉
With this deal you get:
6 creative Photoshop add-on toolkits in 1 bundle!
Amazing Photoshop actions, styles, brushes, overlays, textures & text effects
Ready for print or online use

Take a look at what you can get: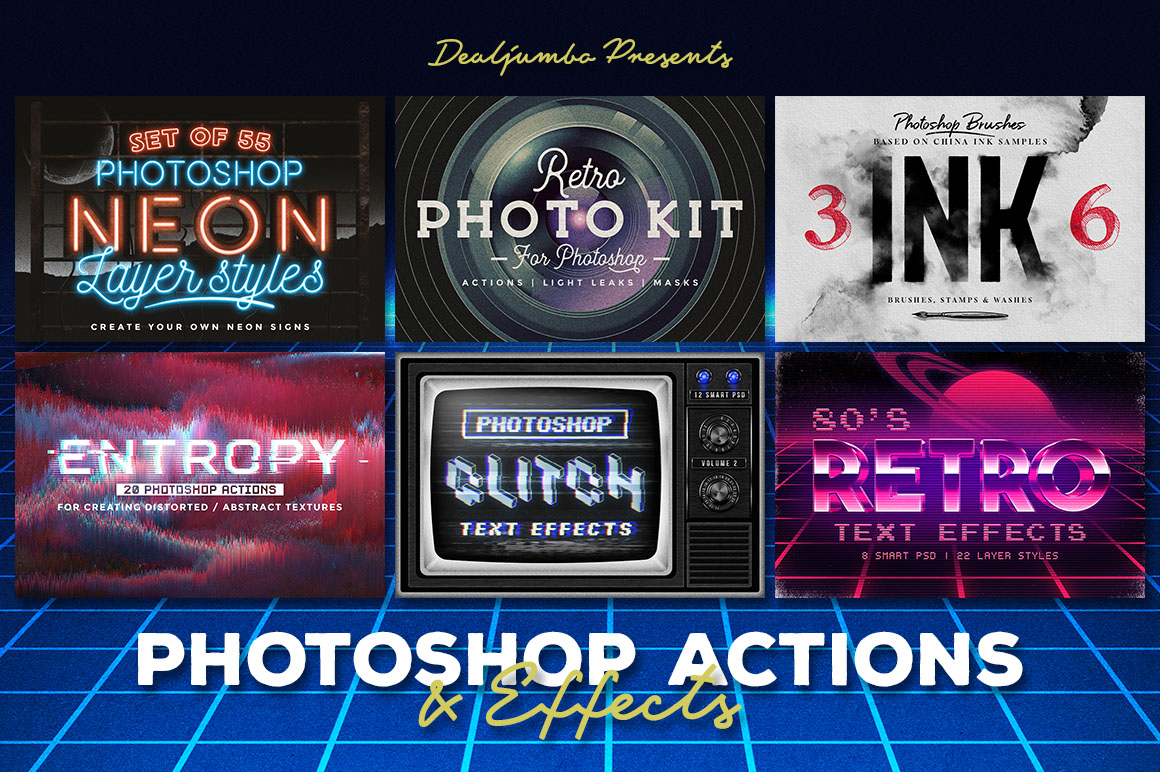 6 Creative Photoshop Add-on Toolkits in 1 Bundle!
Amazing Photoshop actions, styles, brushes, overlays, textures & text effects! Enjoy 😉
01. Ink Brushes – Photoshop version from MiksKS
The set includes a total of 36 brushes and is divided into 3 different categories: regular brushes (for ink sketches and illustrations), ink washes, and ink stains stamps. (See swatches pictures for a preview of all the brushes included). All these brushes were created from real China ink samples, that have been scanned and transformed into brushes, for a more realistic result. I've also added 5 paper textures as a bonus, that you can add as background for your artworks 🙂
What's included:
• 12 Ink washes brushes
• 15 Sketching ink brushes
• 9 Ink stains stamp brushes
You will receive a ZIP containing the 36 brushes files, in .abr format, a JPG swatches sheet for a quick preview of the brushes, and the 5 bonus paper textures in JPG format.
To use these brushes, you will need:
• Photoshop, preferably CC. These brushes have been tested and work with older versions (CS5 and CS6).
• Recommended: a tablet with pressure sensitive stylus (the brushes have settings for pressure sensitivity, such as opacity and size).
How to install the brushes:
• In Photoshop, select the brush tool. Then, click on the top menu icon that shows a preview thumbnail of the brush currently selected – this will open your brush collection window.
• Click on the little cogwheel icon on the right of the window (arrow icon in older versions), and then select "Import brushes…" ("Load brushes…" in older versions of Photoshop).
• Locate the .abr file containing the brushes, and click Open – the brushes are now added to your collection.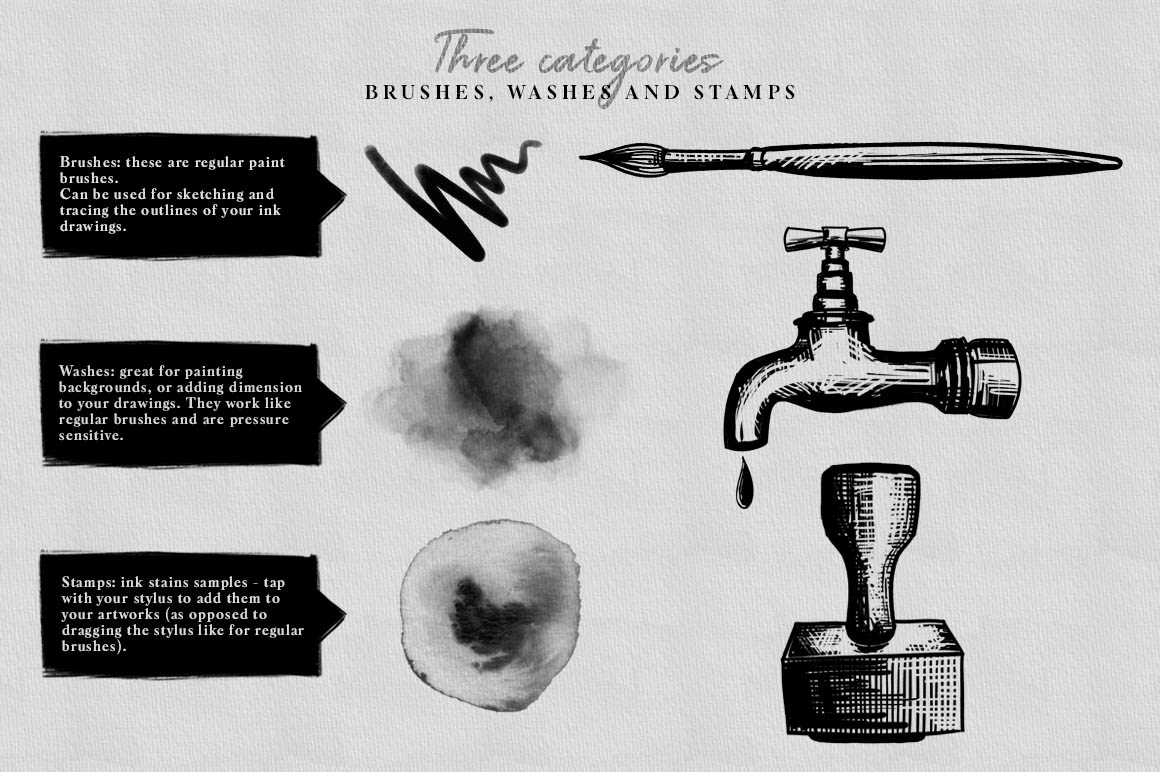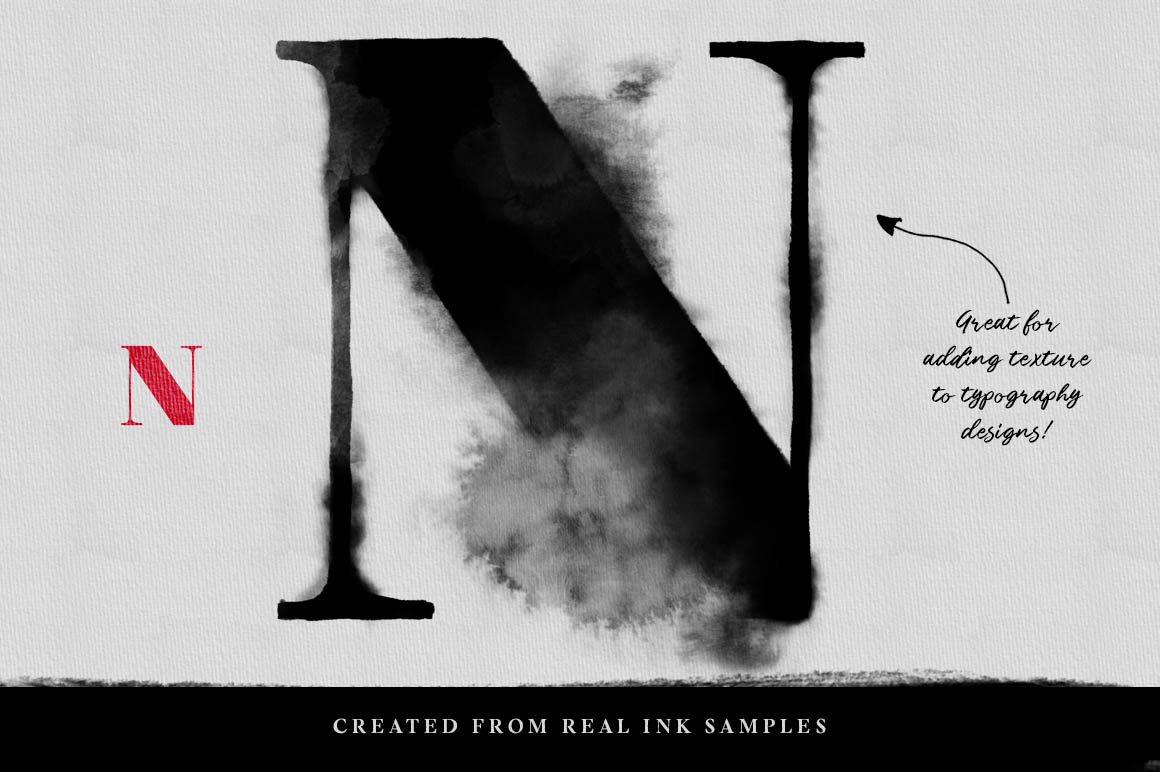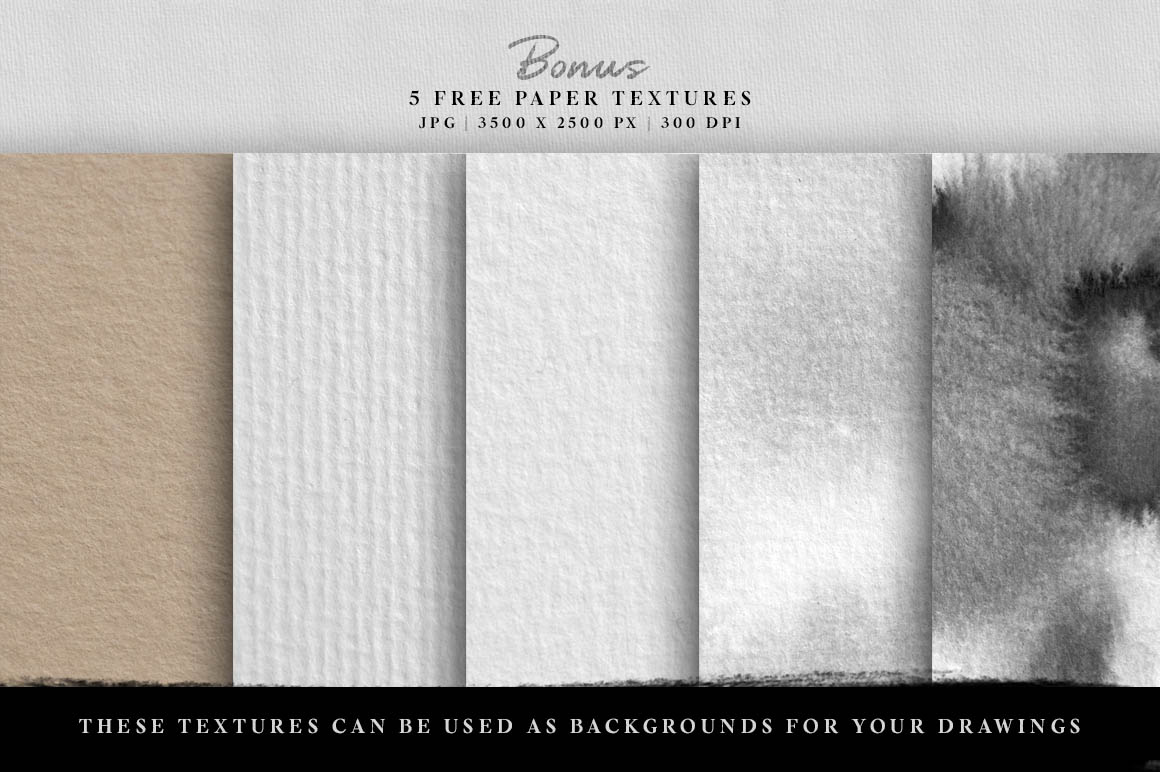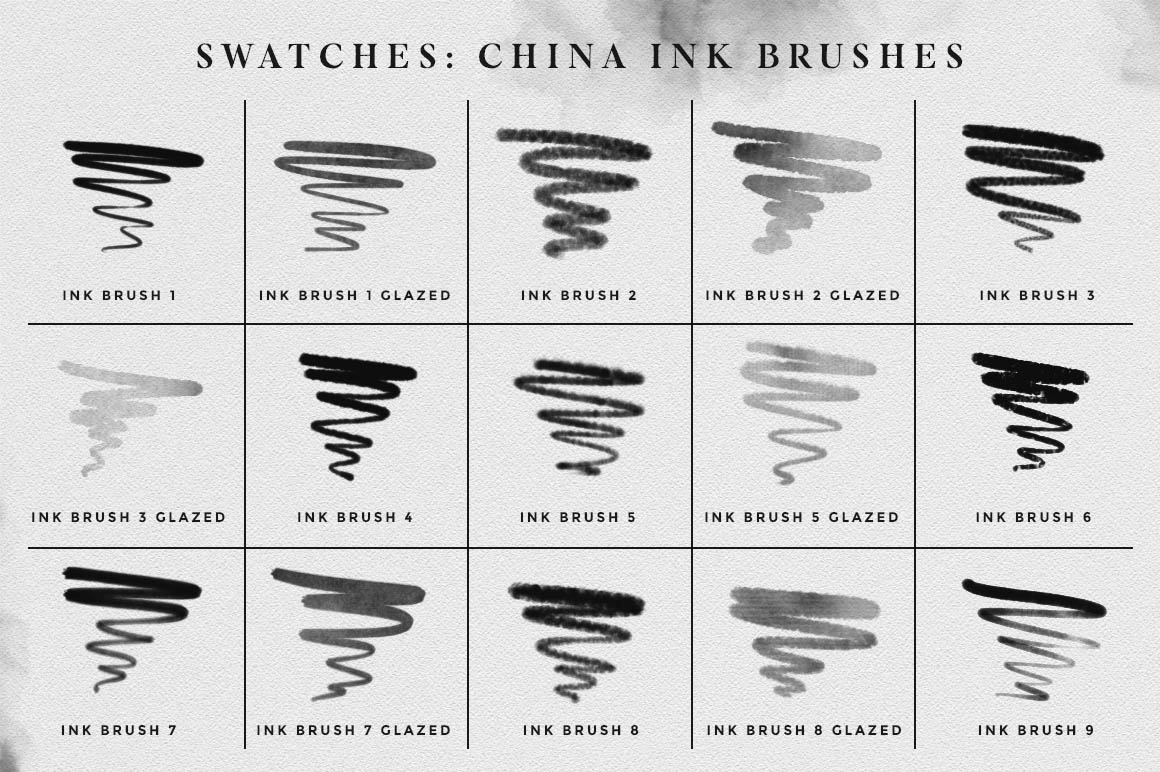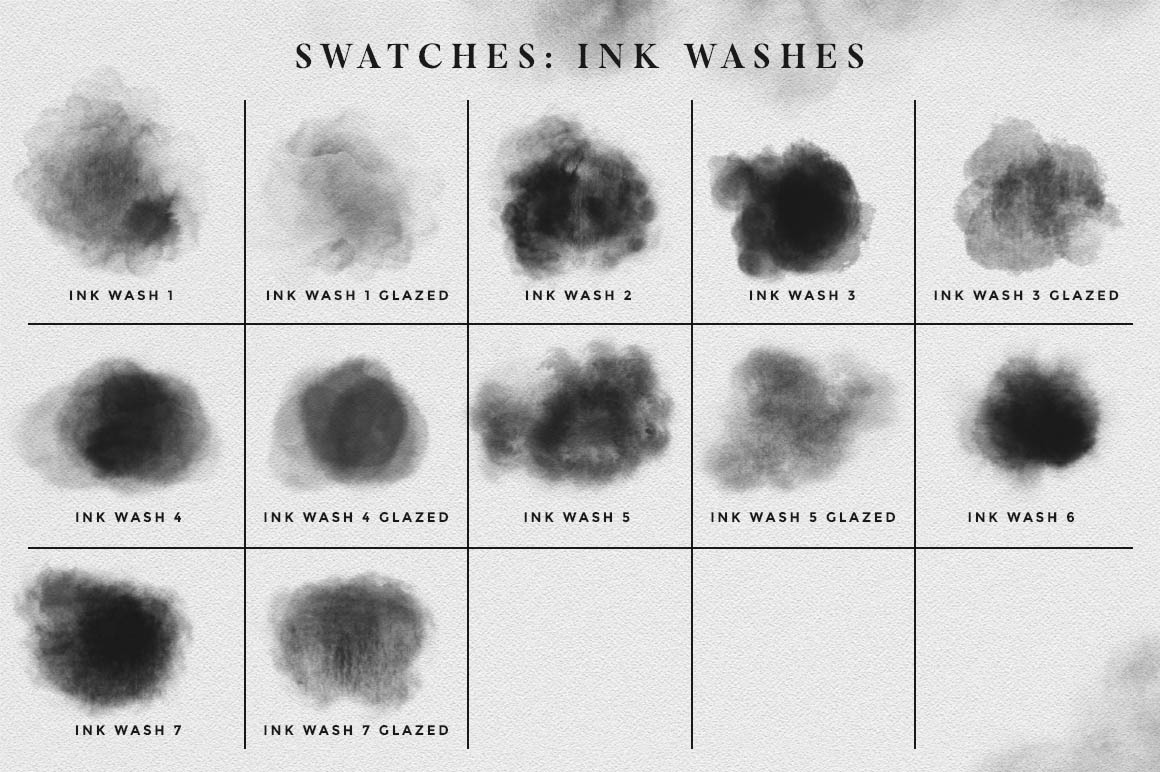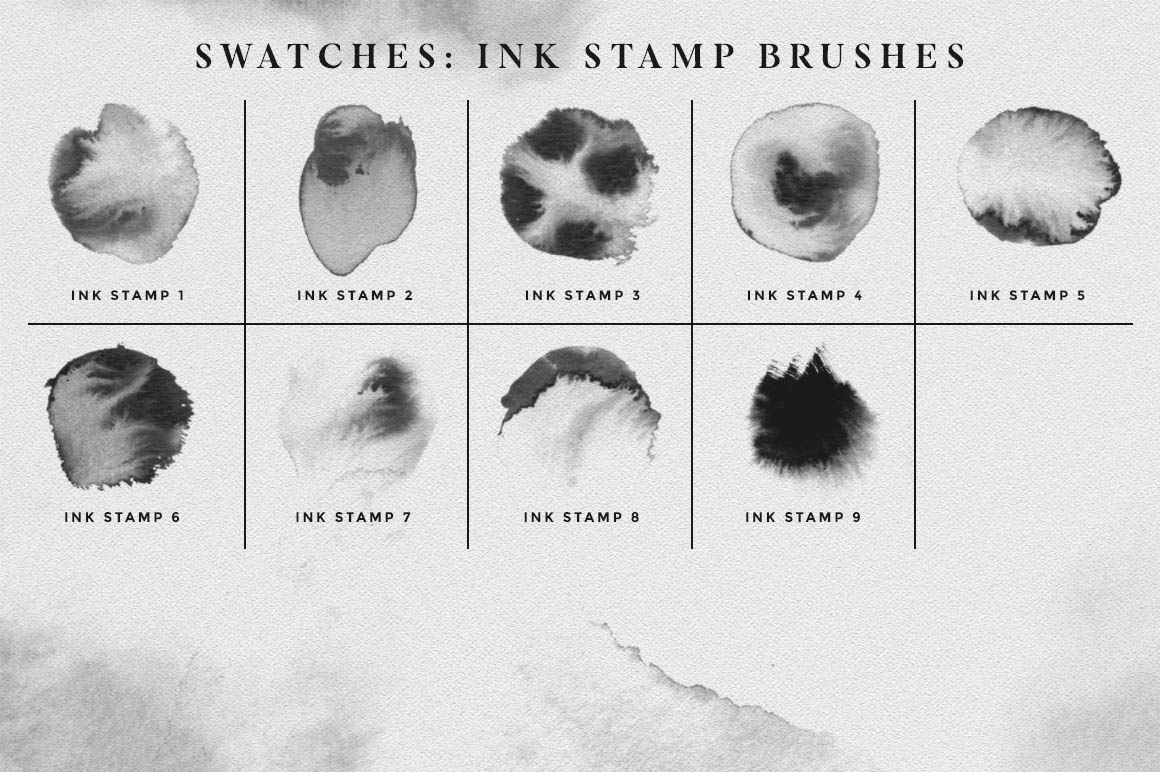 02. Neon layer styles for Photoshop from MiksKS
Create your own digital neon signs with this set of 55 layer styles for Photoshop! These are .asl format layer styles, sometimes called "one click effects" and are very easy to use. Just add them to your Photoshop Styles panel, and click on one of the thumbnails to apply the layer style to your text or design. All the effects are fully editable, scalable, and non destructive. I've also included two add-ons layer styles to create a contour around the neon sign and a glossy finish. These styles are optional and can be combined with any of the colored standard neon layer styles, by duplicating the base layer and applying these styles. There are two color schemes available: bright and pastel, as well as two different neon tube styles (standard and stroke). Standard styles work well for shapes that already look like neon tubes, and stroke styles can be applied to objects such as bold fonts. Also in this set, a collection of simple base shapes that can be used to create your neon signs. These shapes are provided in vector format (AI and EPS) and as individual 300 DPI PNG documents with transparent background.
In this set:
12 standard bright neon styles
12 standard pastel neon styles
12 bright stroke neon styles
12 pastel stroke neon styles
1 standard white neon style
1 white stroke neon style
3 broken/off neon styles
2 add-on layer styles (contour & glossy finish)
1 cable generator layer style
neon sign shapes bases (AI, EPS and PNG)
What's included:
You will receive a ZIP containing the 55 neon layer styles + 1 cable generator style, in .asl format, a PDF instructions guide with pictures and detailed explanations, and a JPG preview sheet of all the layer styles included in the set.
Compatibility: Tested & working with Photoshop CS5 and up. These styles are for Photoshop only and won't work in Illustrator or other programs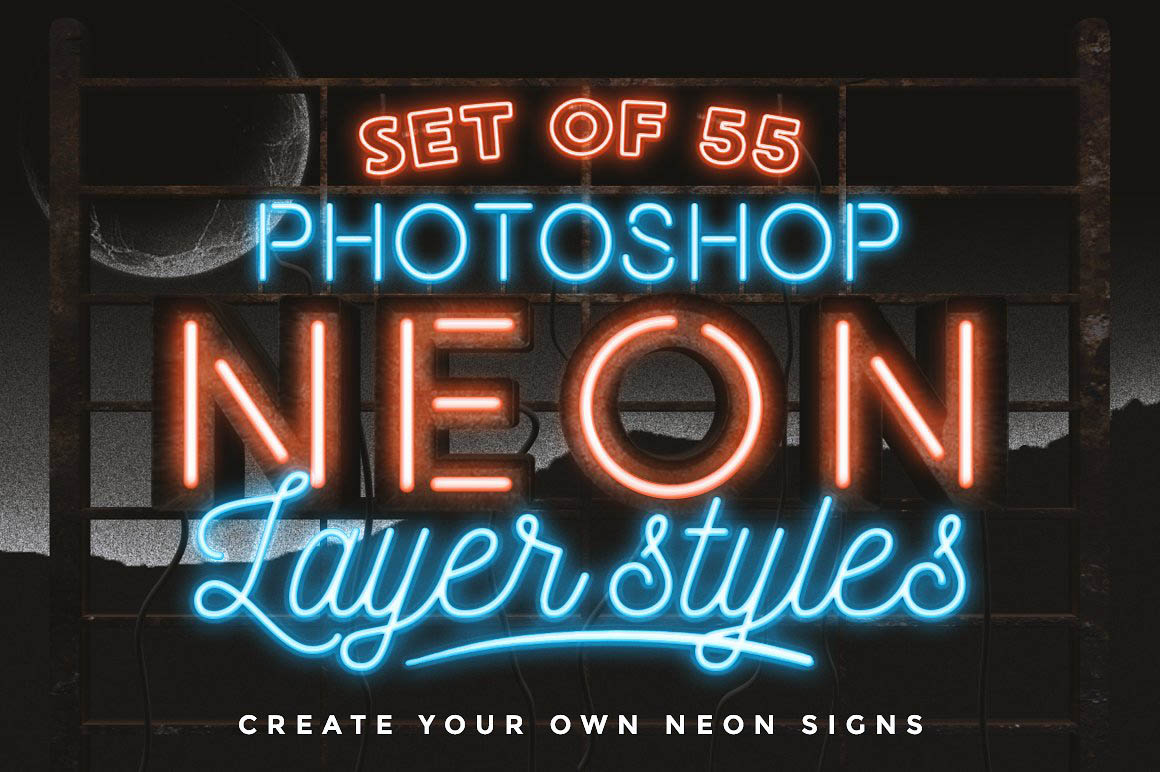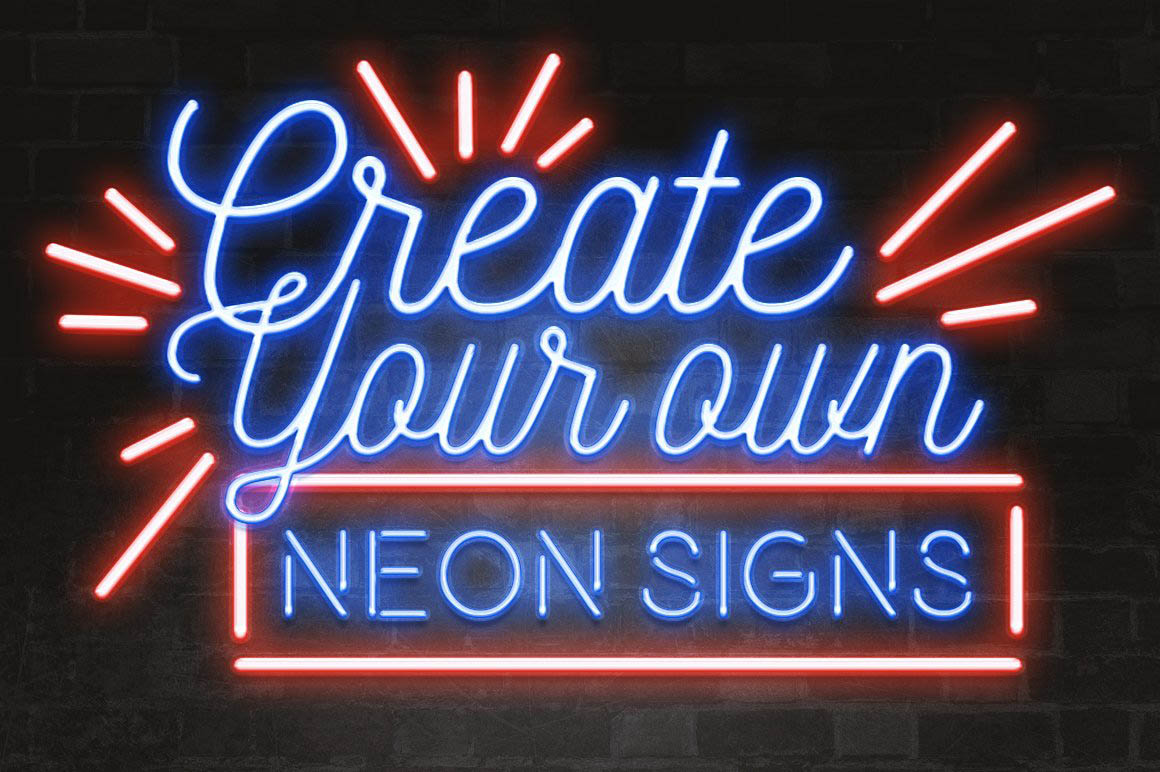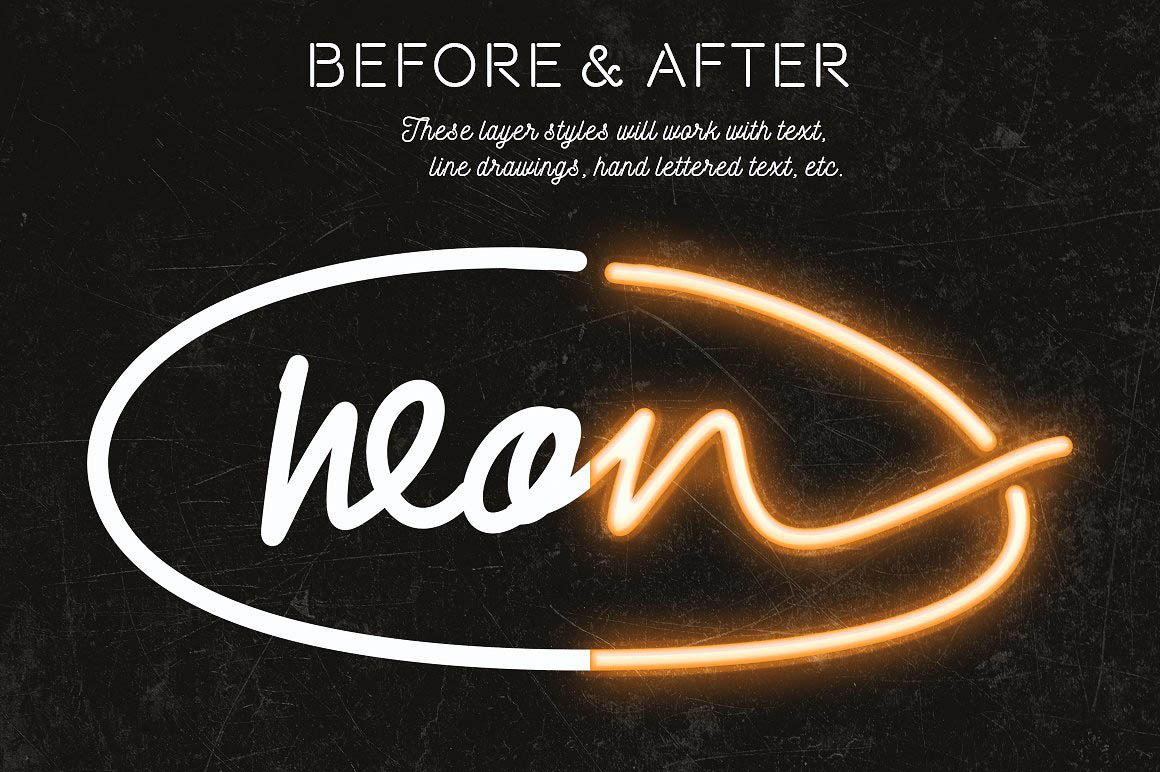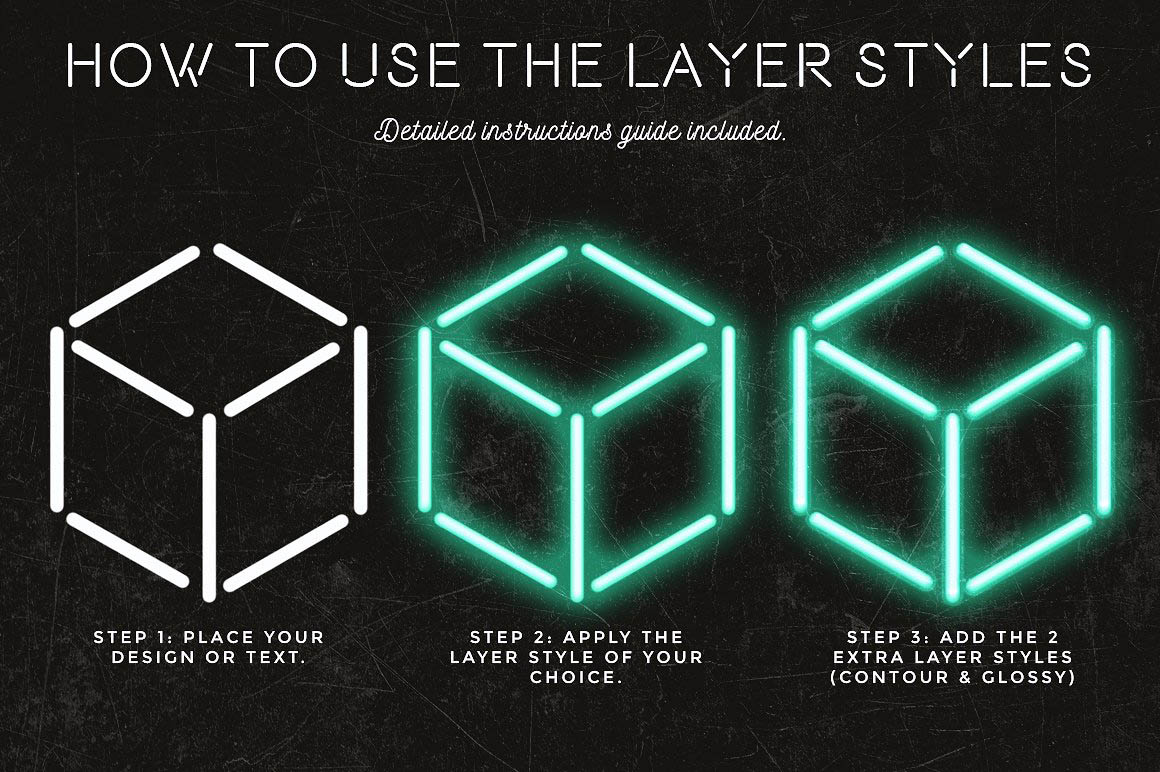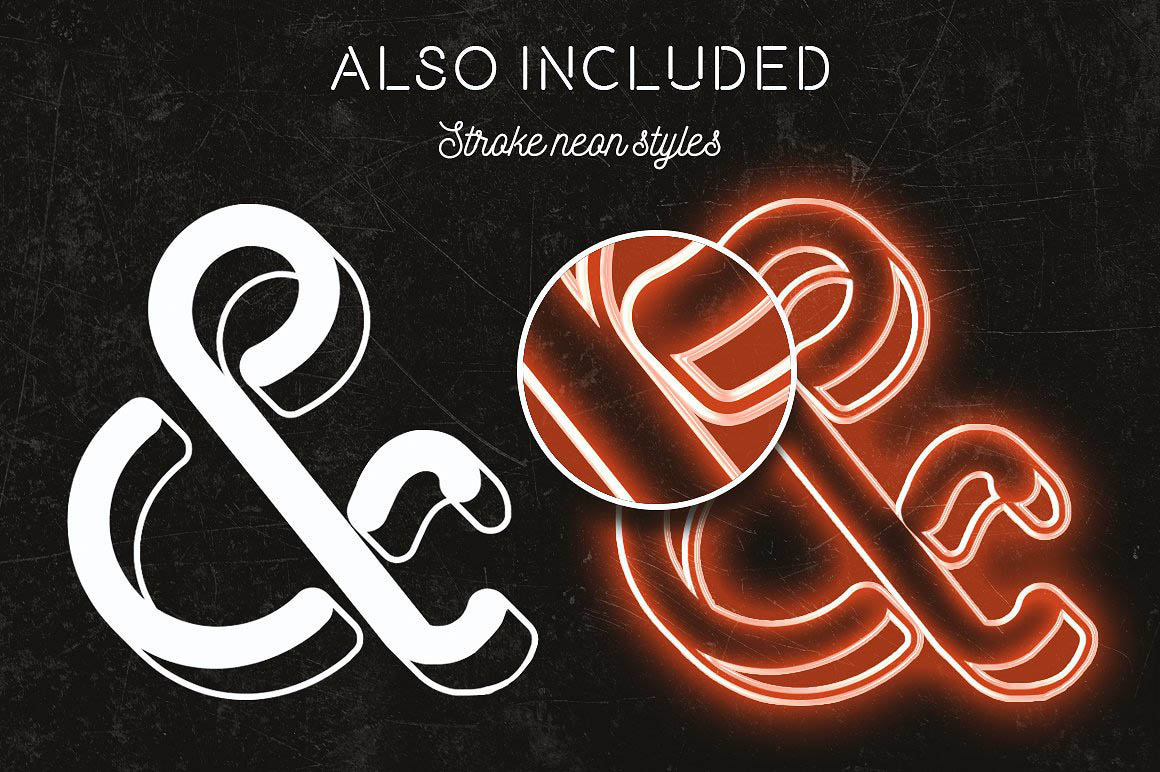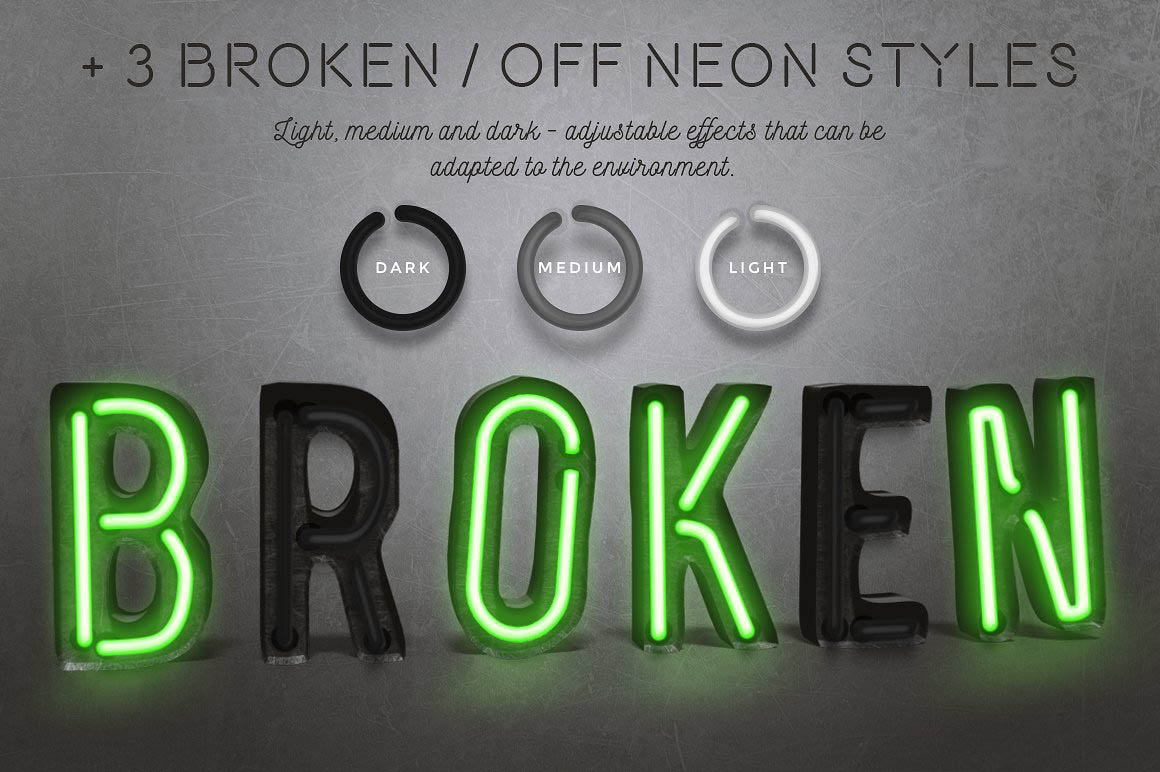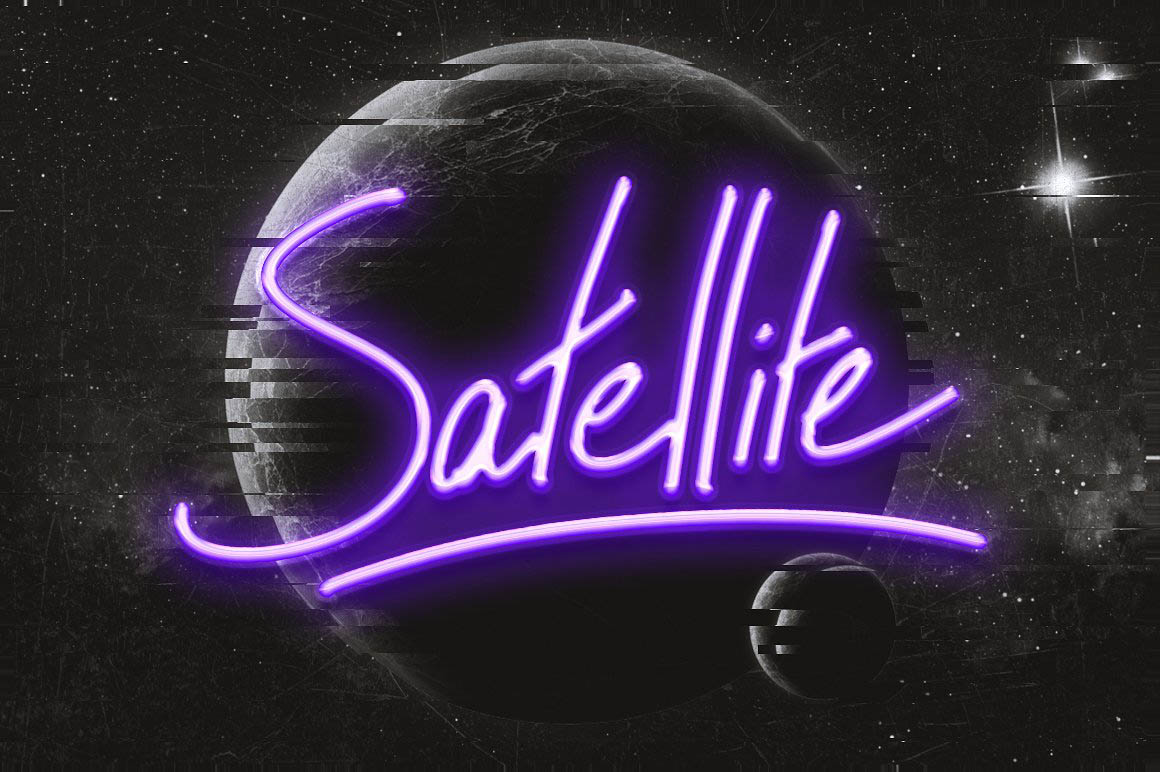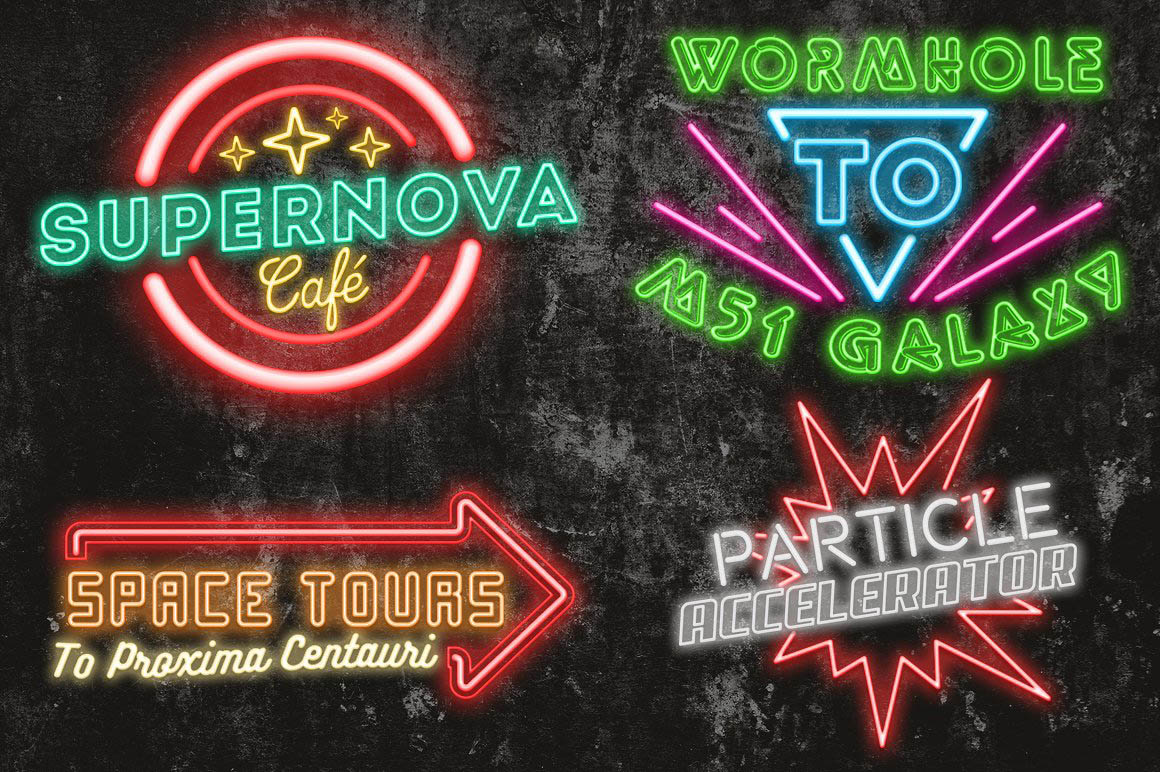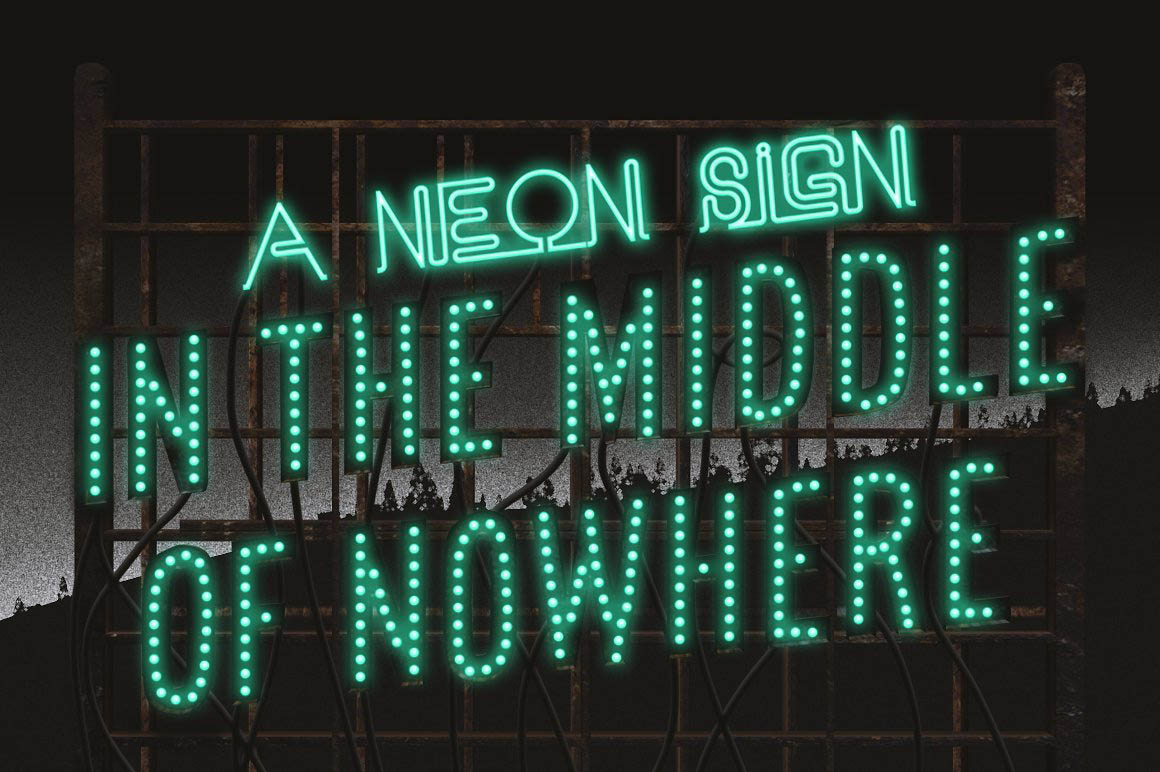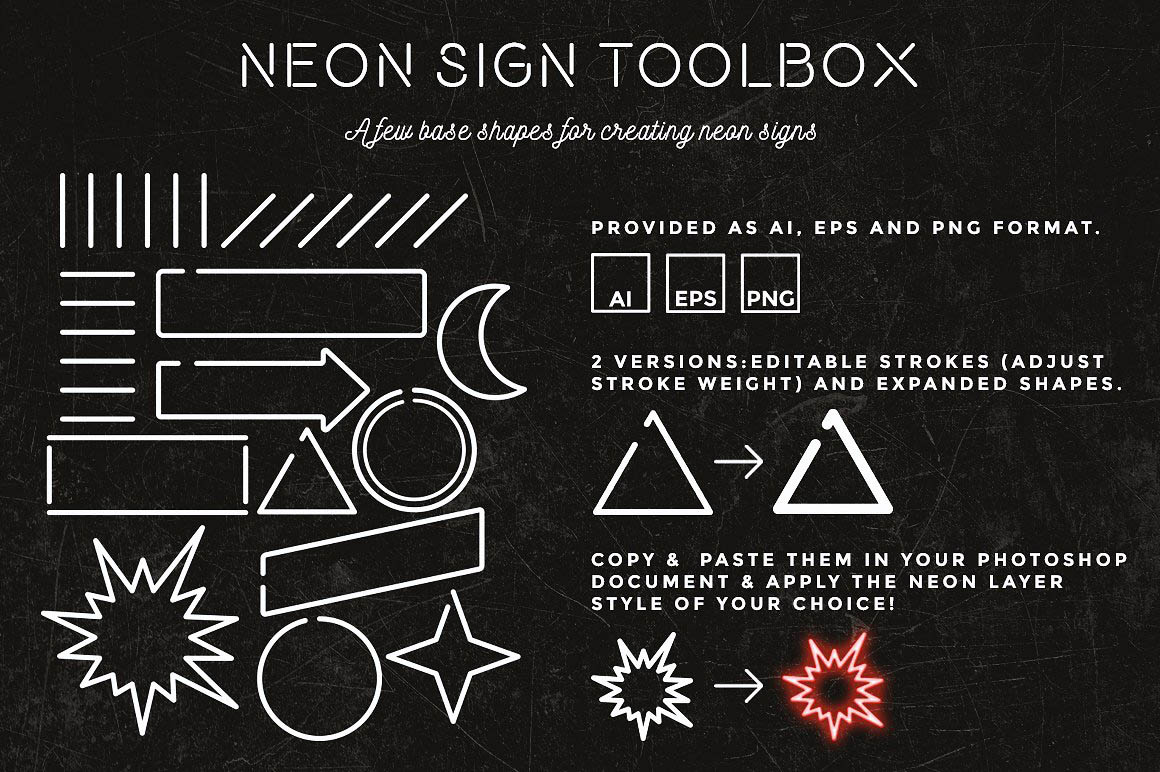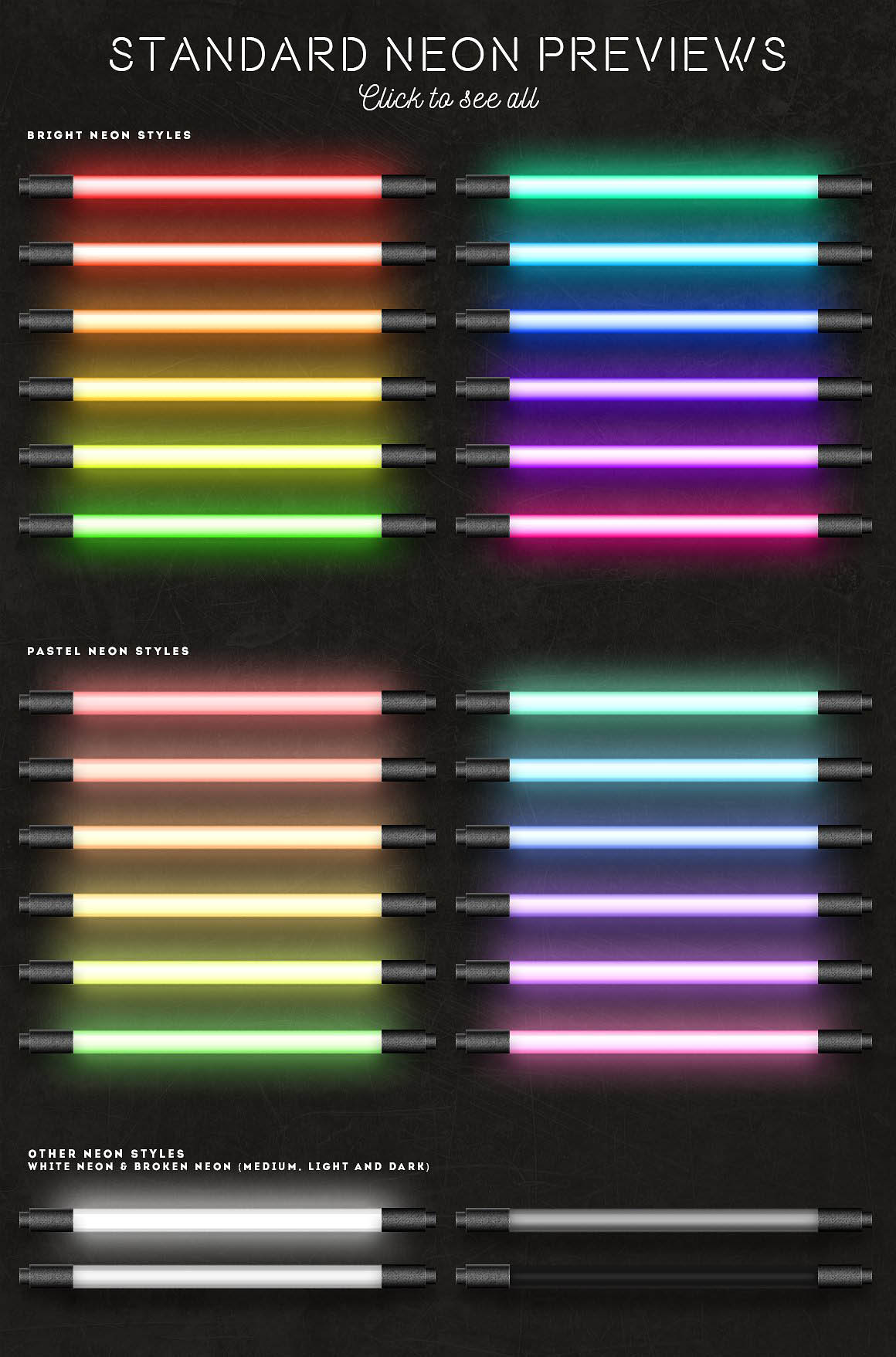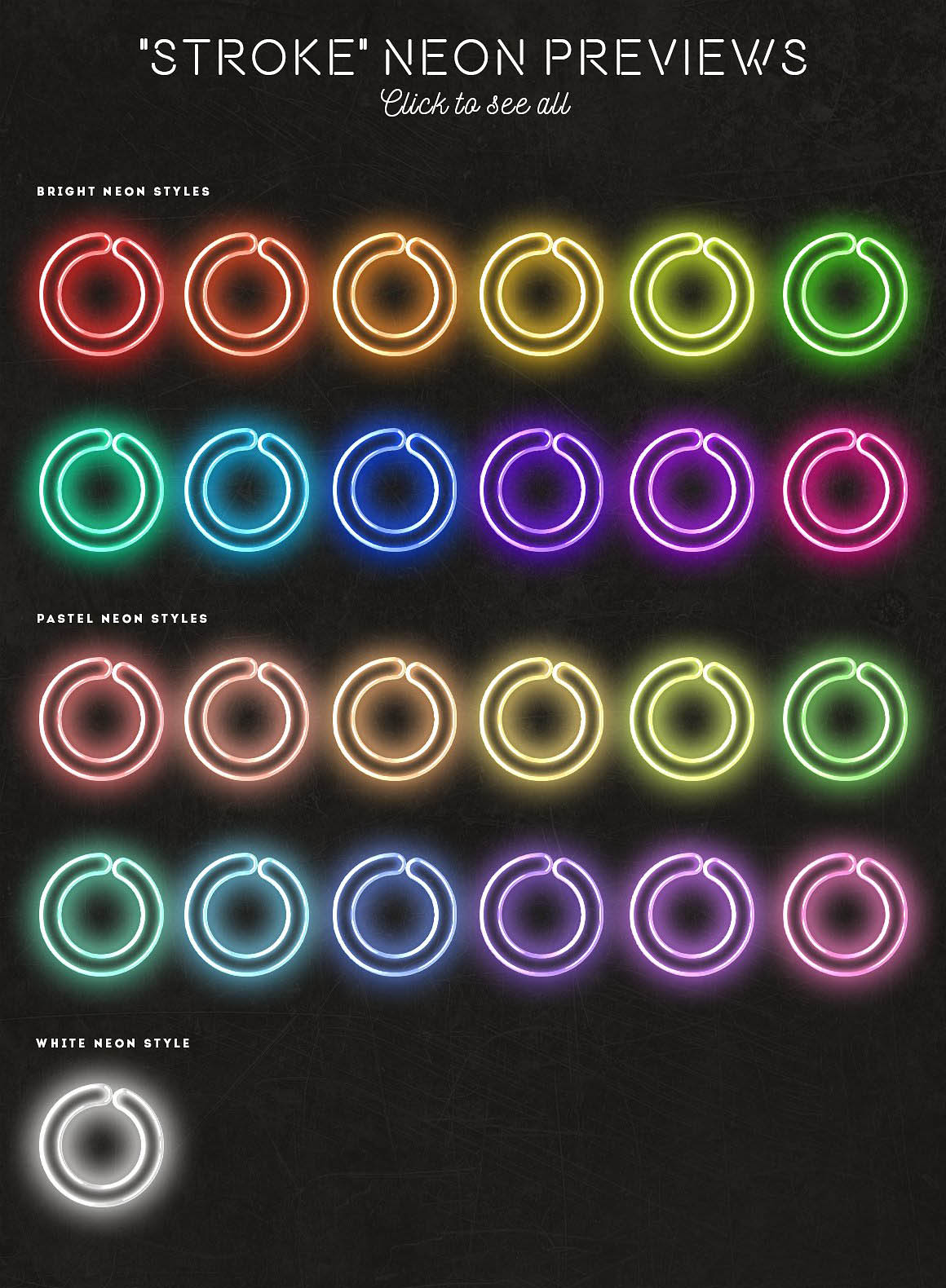 03. Photoshop Retro Photo Kit from MiksKS
Give your pictures a retro feel with this Photoshop kit! It consists of a set of quick actions, light leaks textures and paint roller masks, for an easy customization of your designs.
PHOTOSHOP ACTIONS
15 color filters and 6 grainy black & white filters – just click the play button to apply the filter to your picture! These actions are all non destructive, which means the original image is conserved. I've also included 4 actions for adding some grain, ranging from subtle to very grainy.
LIGHT LEAKS
Light leaks are a great way to add a little extra retro touch to your images. They are provided as JPG files (6000 x 4000 px, 300 DPI). Use blending mode Screen for best results 😉
PAINT ROLLER PNG's
Use these handmade elements as masks to "include" your pictures inside the grunge texture. These masks are around 4000 px large, with a resolution of 300 DPI and transparent background.
Compatibility
Tested & working with Photoshop CS5 and up. The filters (actions) require Photoshop, and can't be used with other programs. Other elements (light leaks & paint roller masks) can be used with any software that supports PNG & JPG files.
What's inclued:
You will receive a ZIP containing:
3 .atn files (Photoshop actions)
21 light leak textures, JPG format
16 paint roller masks, transparent PNG format
1 PDF instructions sheet, explaining how to load the actions in Photoshop & use the kit to achieve the retro look.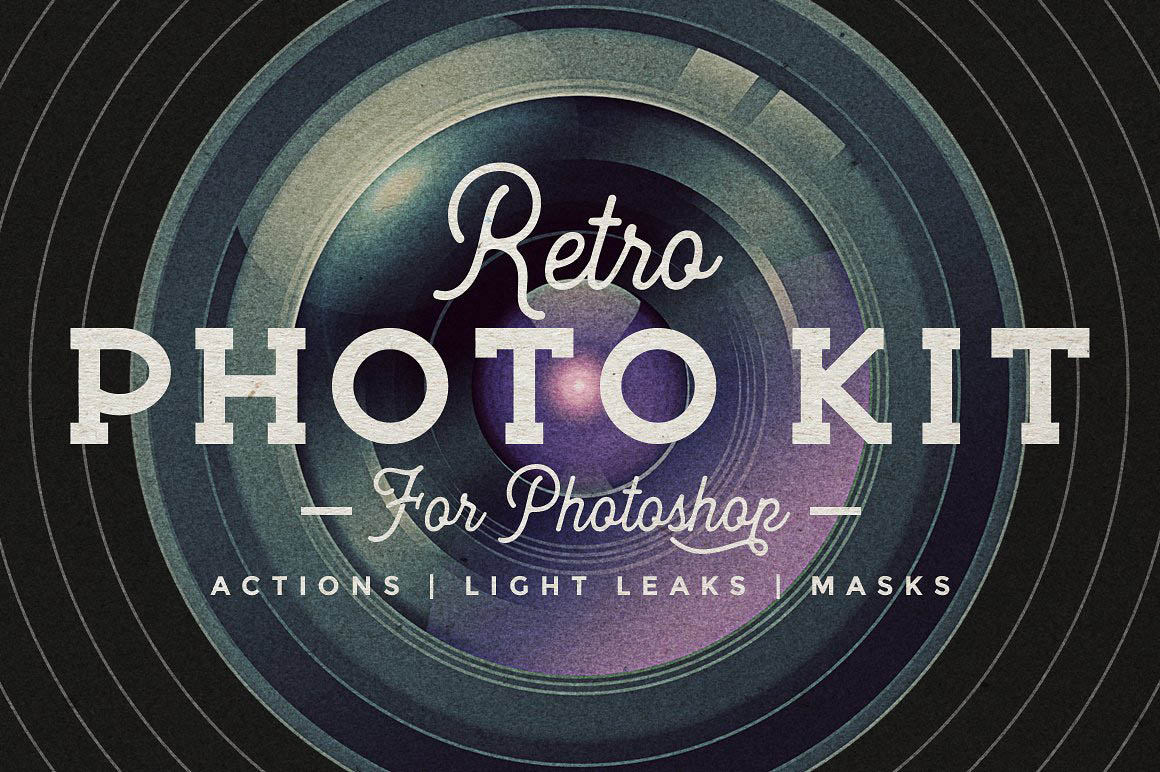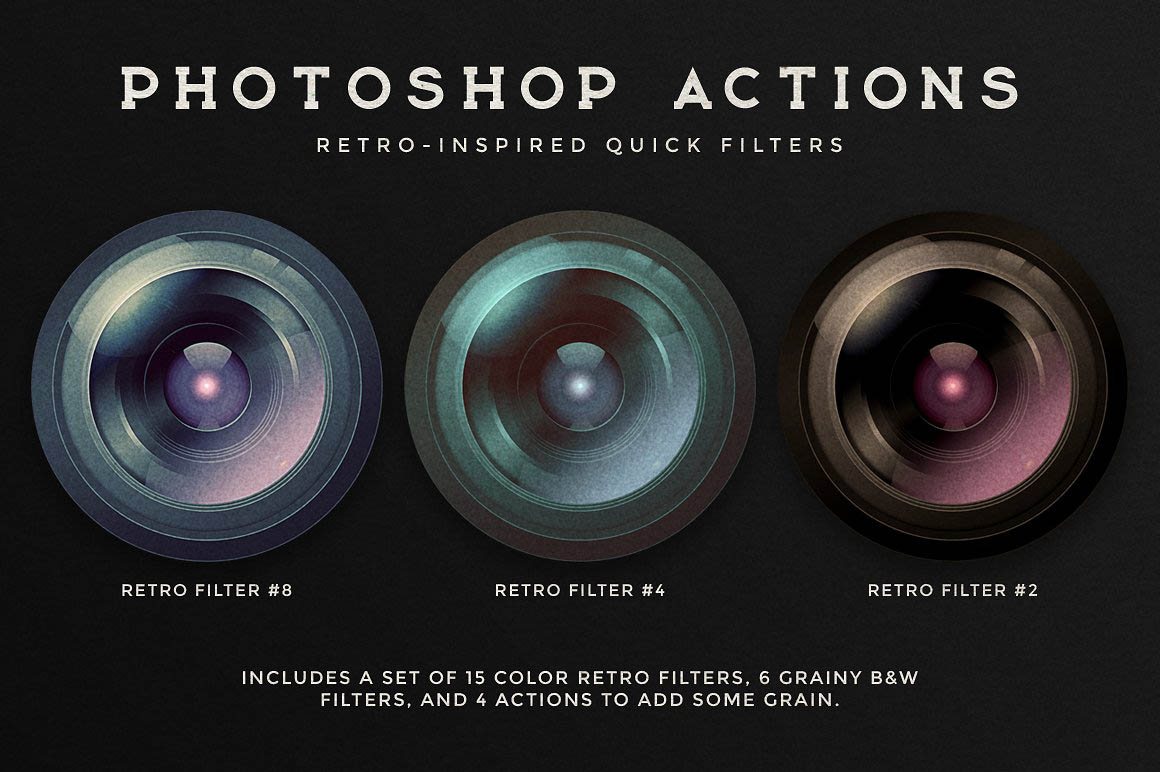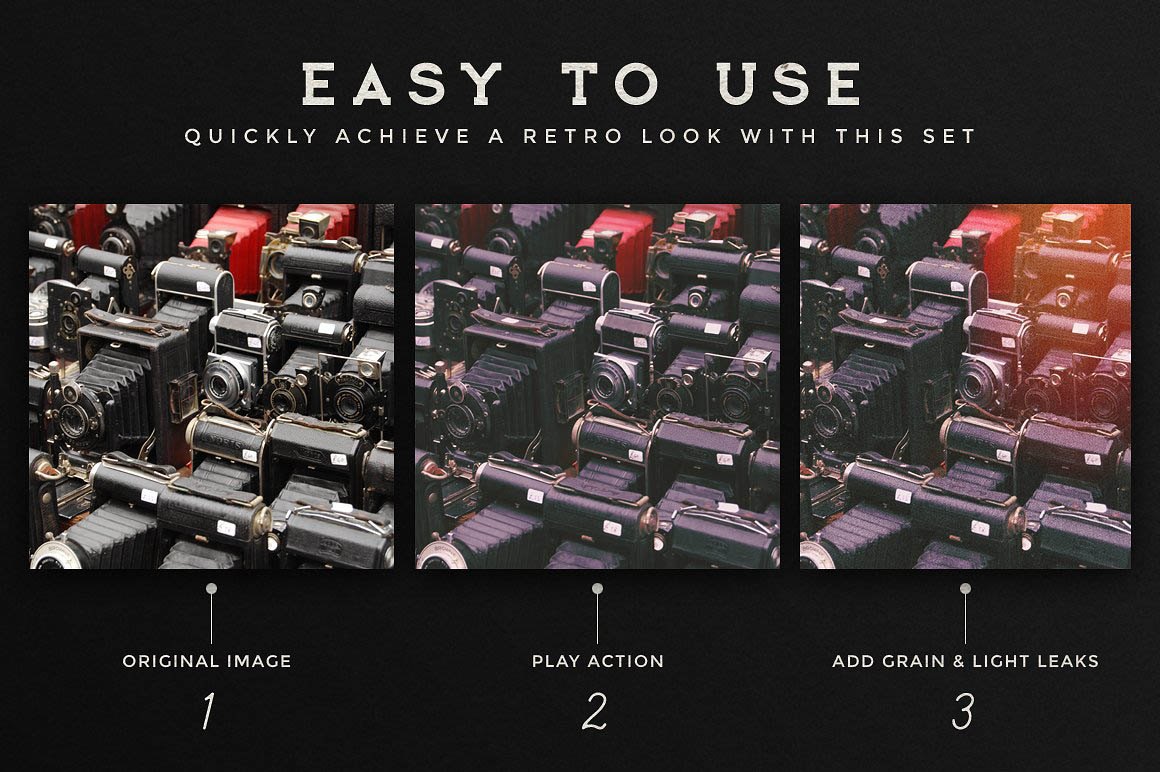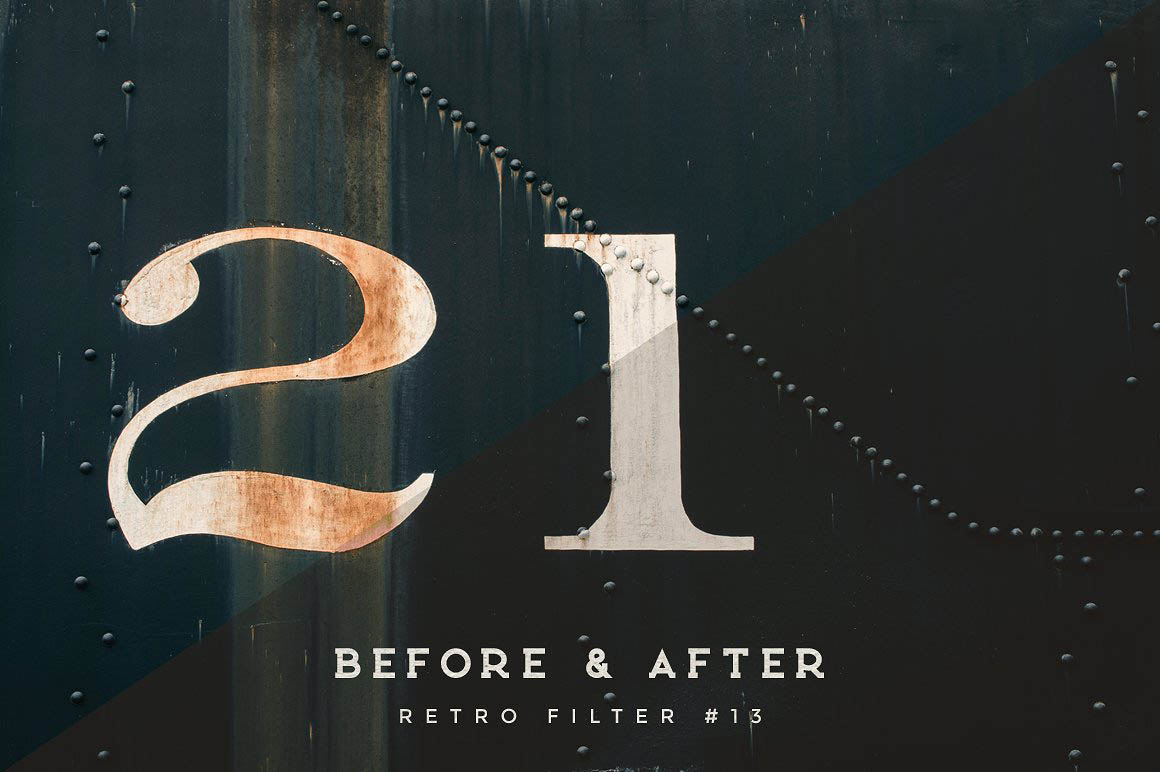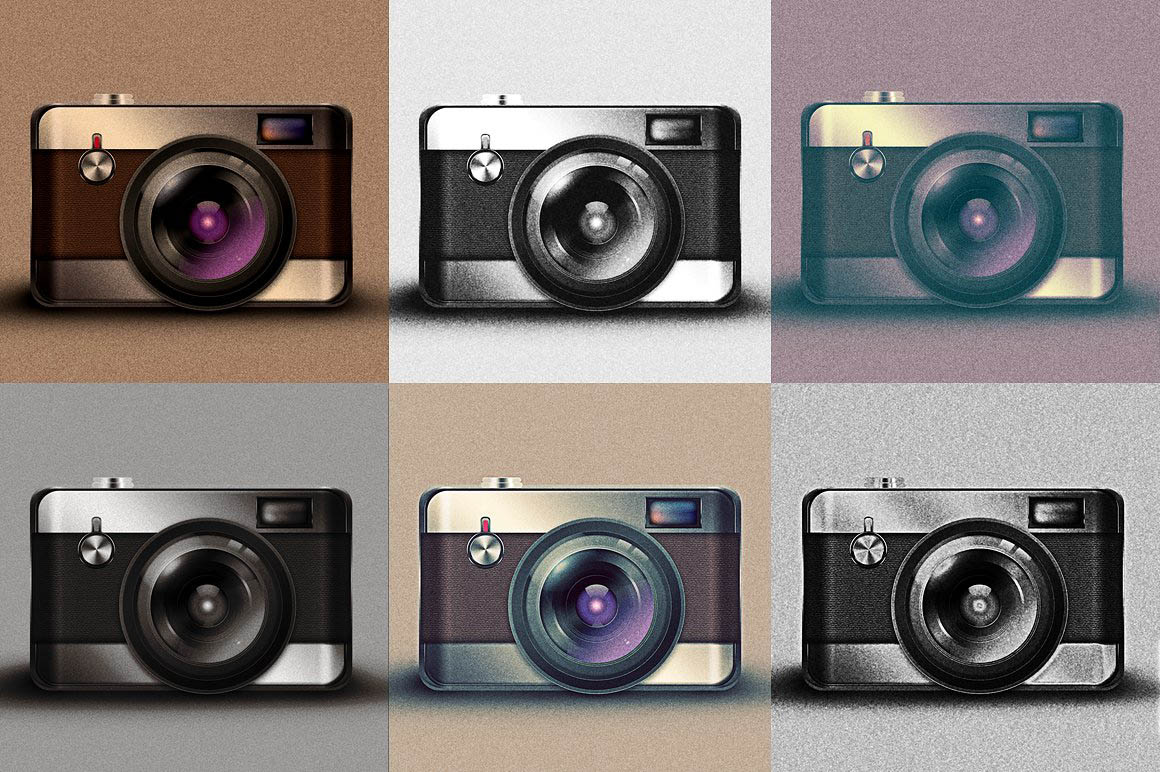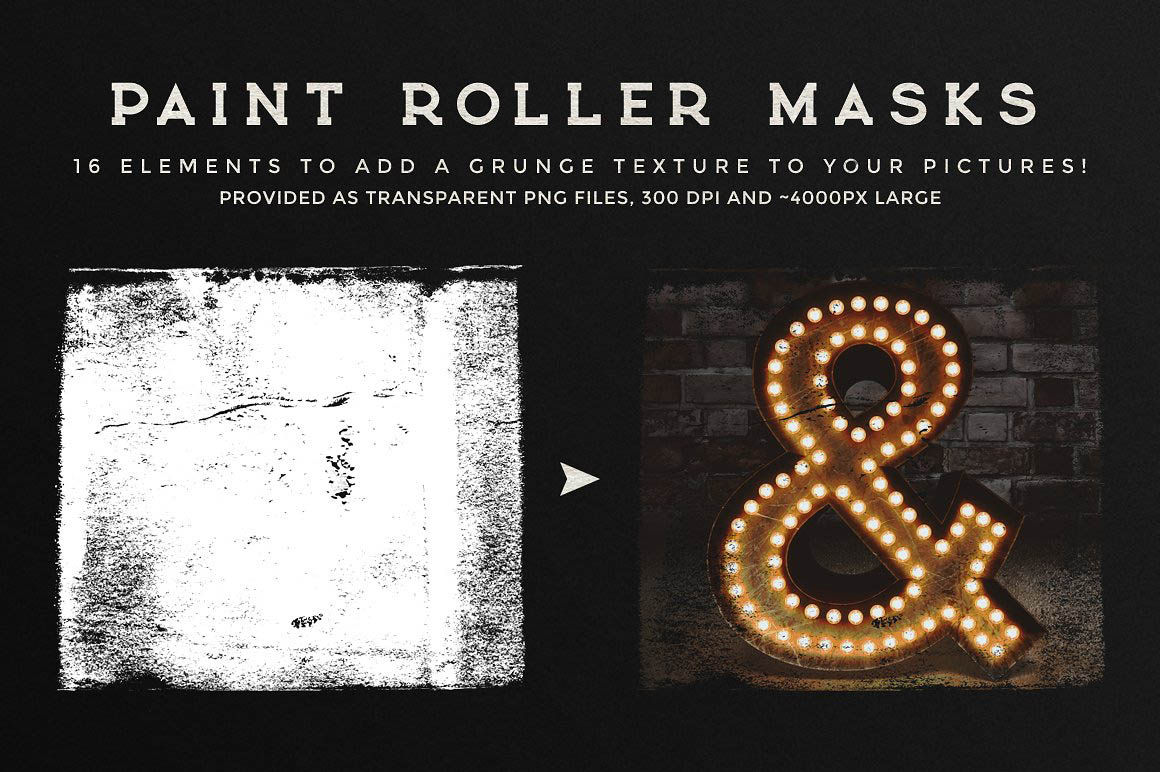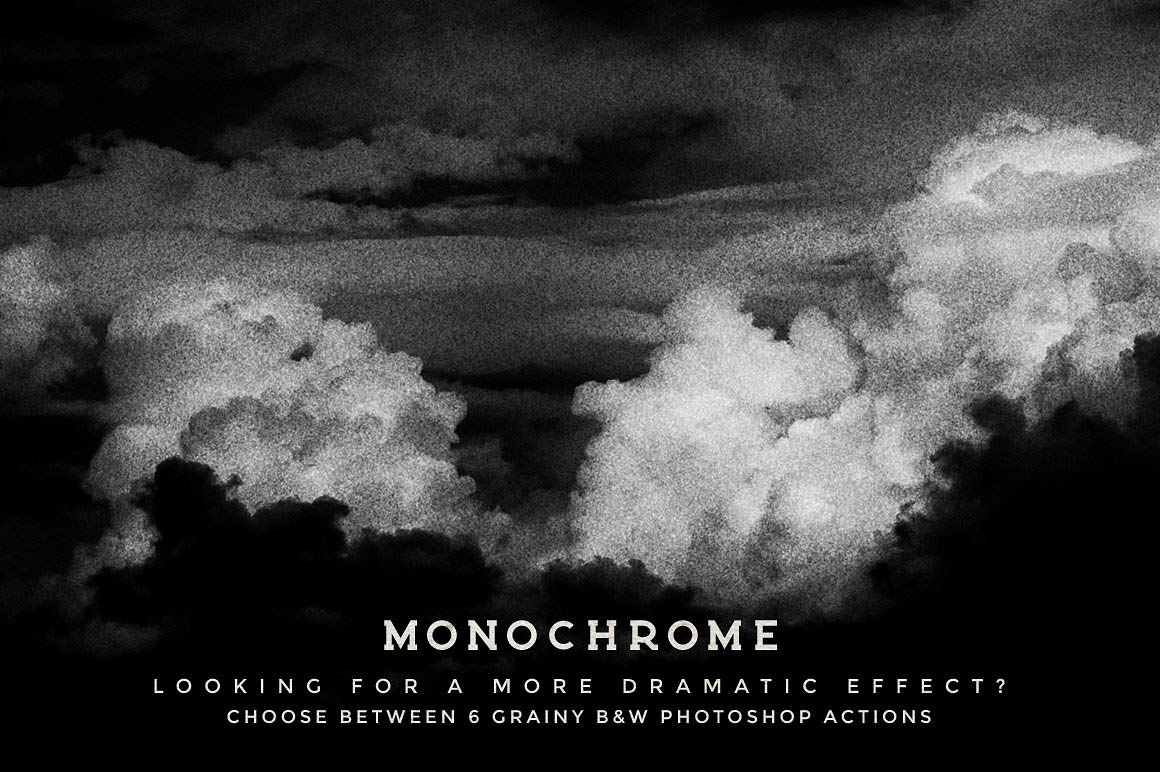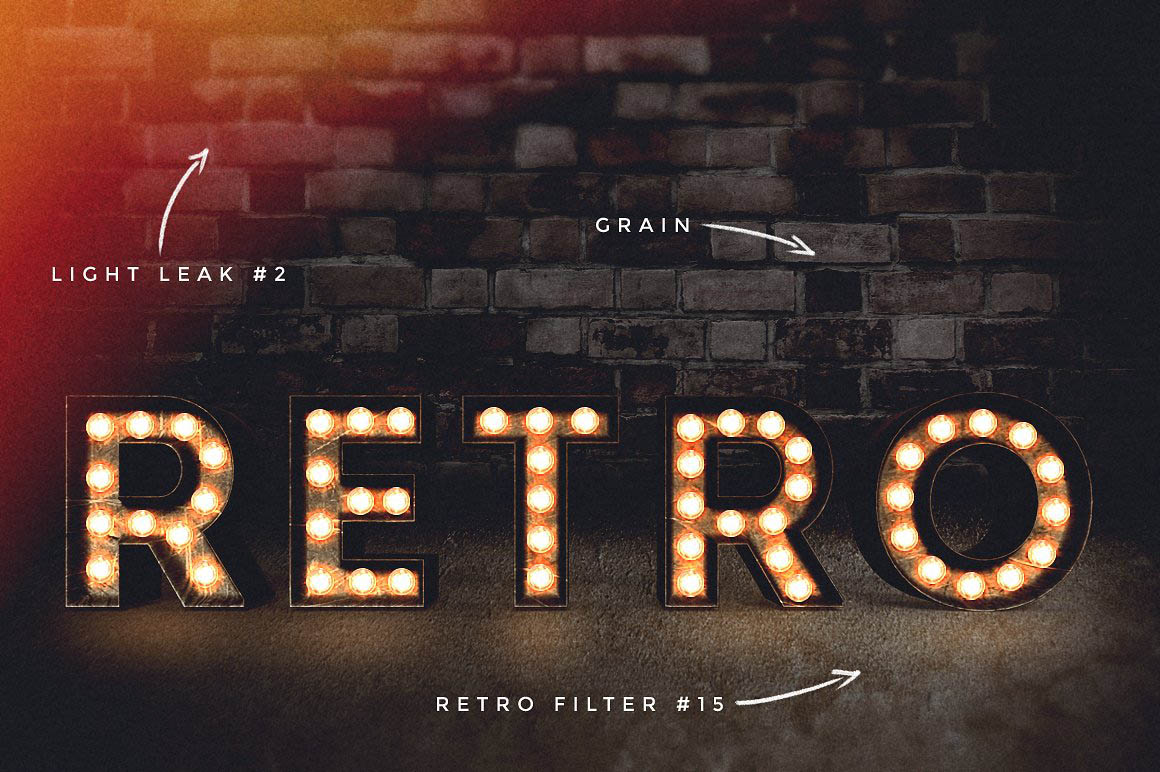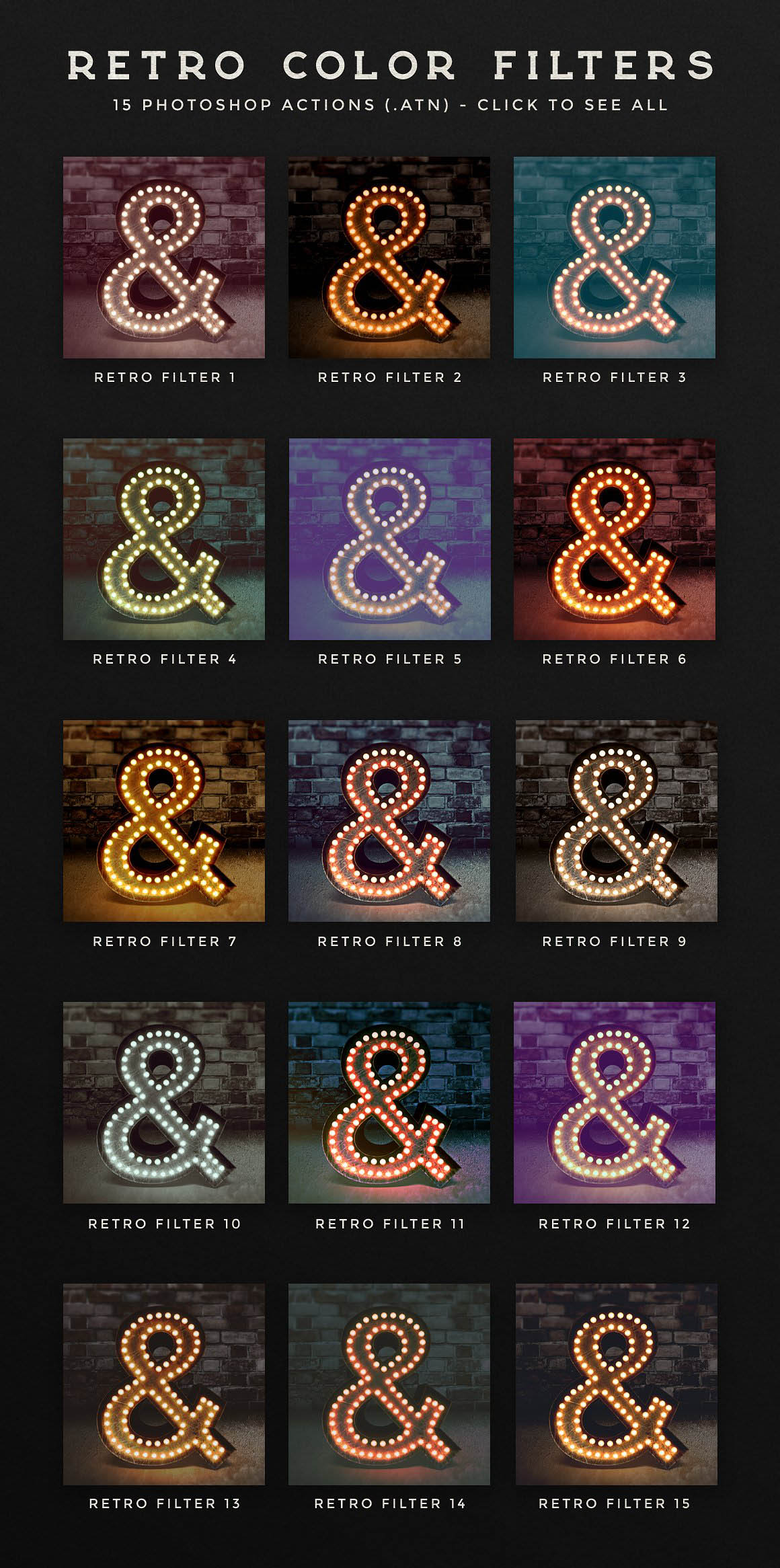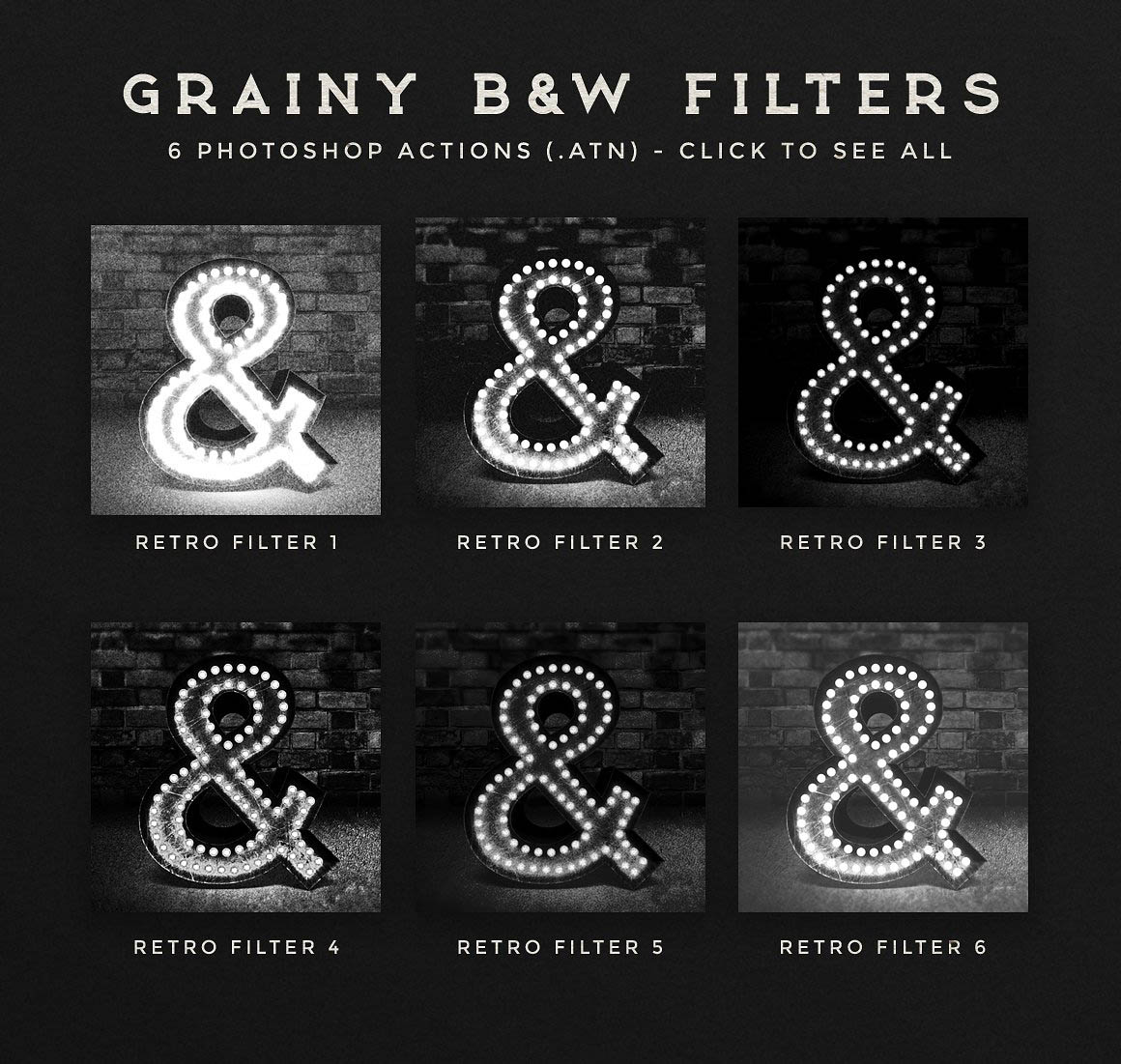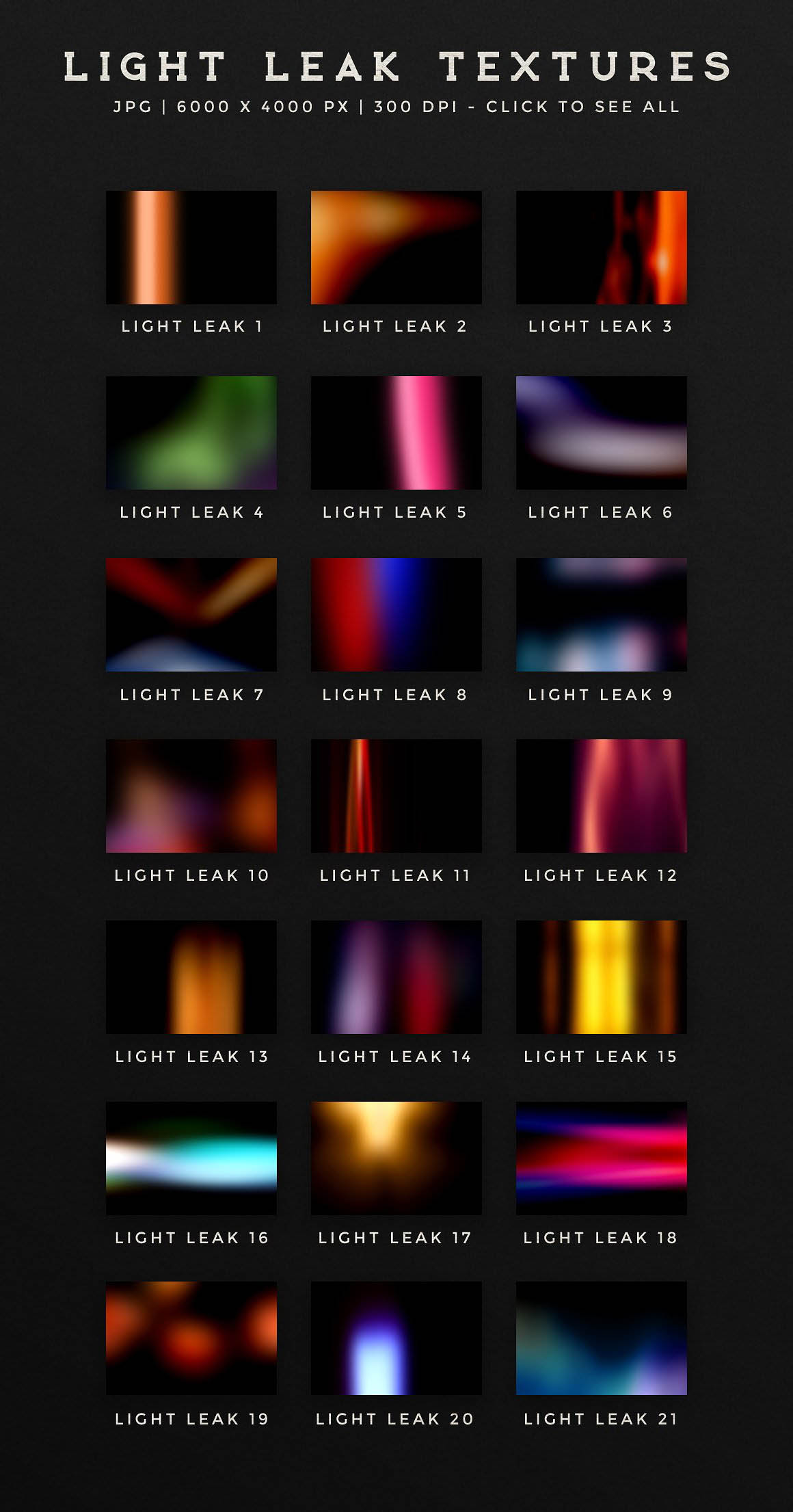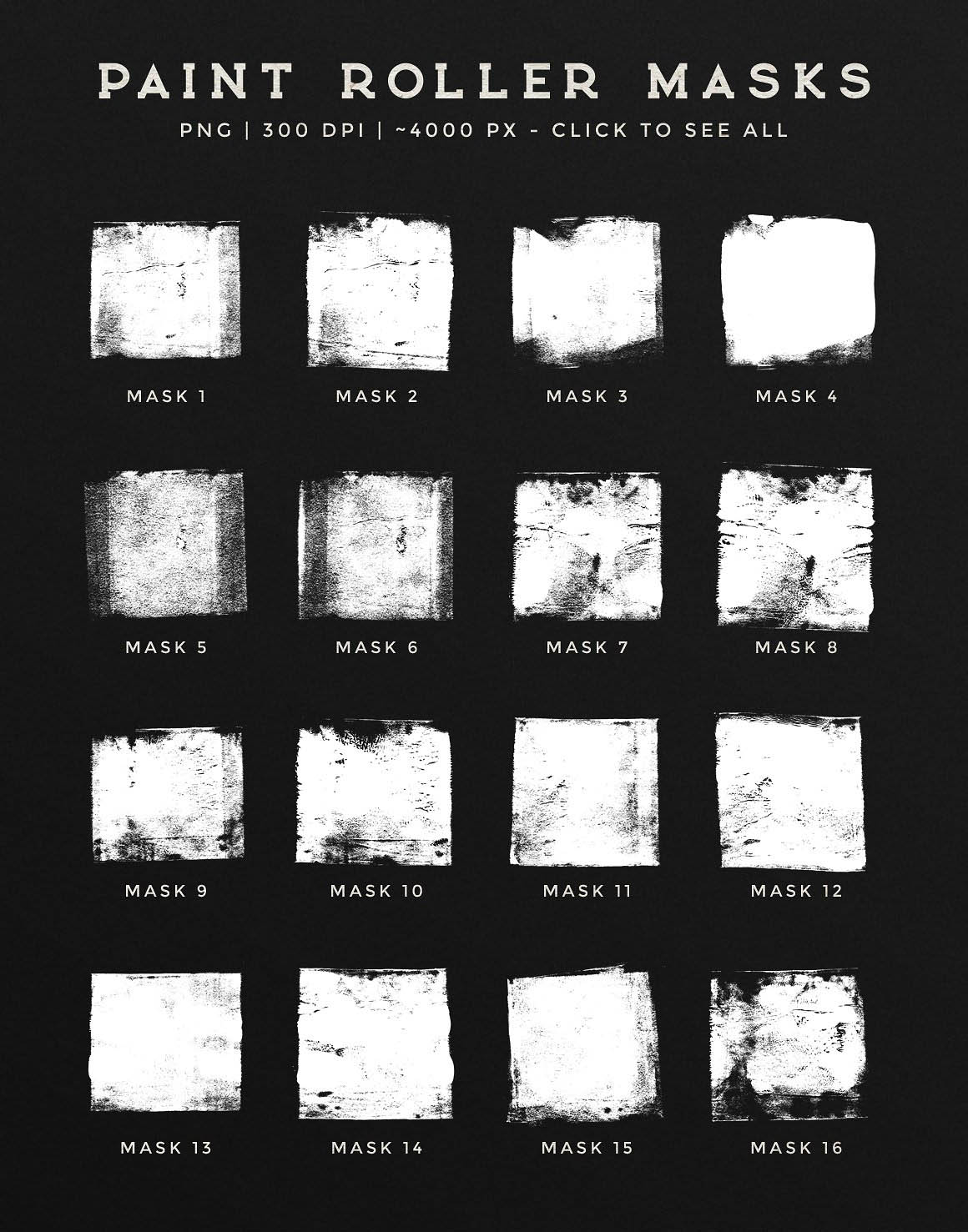 04. 80's inspired Photoshop text effects from MiksKS
This 80s/retro-futuristic inspired set consists of 22 Photoshop layer styles, as well as 8 premade PSD documents with editable smart objects. Smart objects are great because they allow to have a lot of different effects on several layers and all these effects get updated automatically when you edit the text. The PSD files are layered and fully editable. Layers are named, arranged in groups, and the smart object layer is highlighted in red for easy editing. The ''One click'' .asl layer styles are useful as well because they're easy to use, can be customized or combined. I've also included 4 blank backgrounds JPG so you can create your own 80's inspired artworks! Compatibility: tested & working with Photoshop CS5 and up. Please note: these texts effects are designed for Photoshop only. They won't work in Illustrator or other programs.
What's included:
• 1 .asl file containing the 22 layer styles
• 8 .psd files with smart objects (2 sizes available: 2000 x 1500 px & 3000 x 2250 px, 300 DPI) – so a total of 16 files.
• 4 JPG blank backgrounds (4000 x 3000 px, 300 DPI)
• PDF instructions sheet (fonts download links included)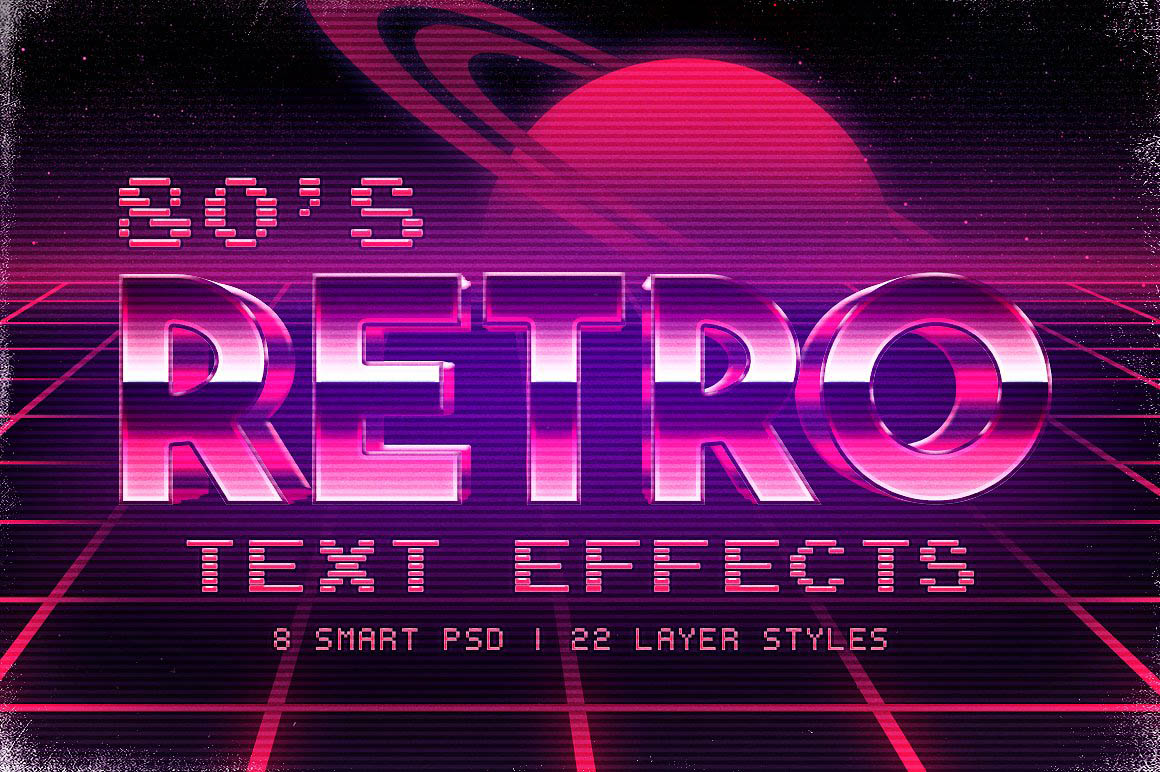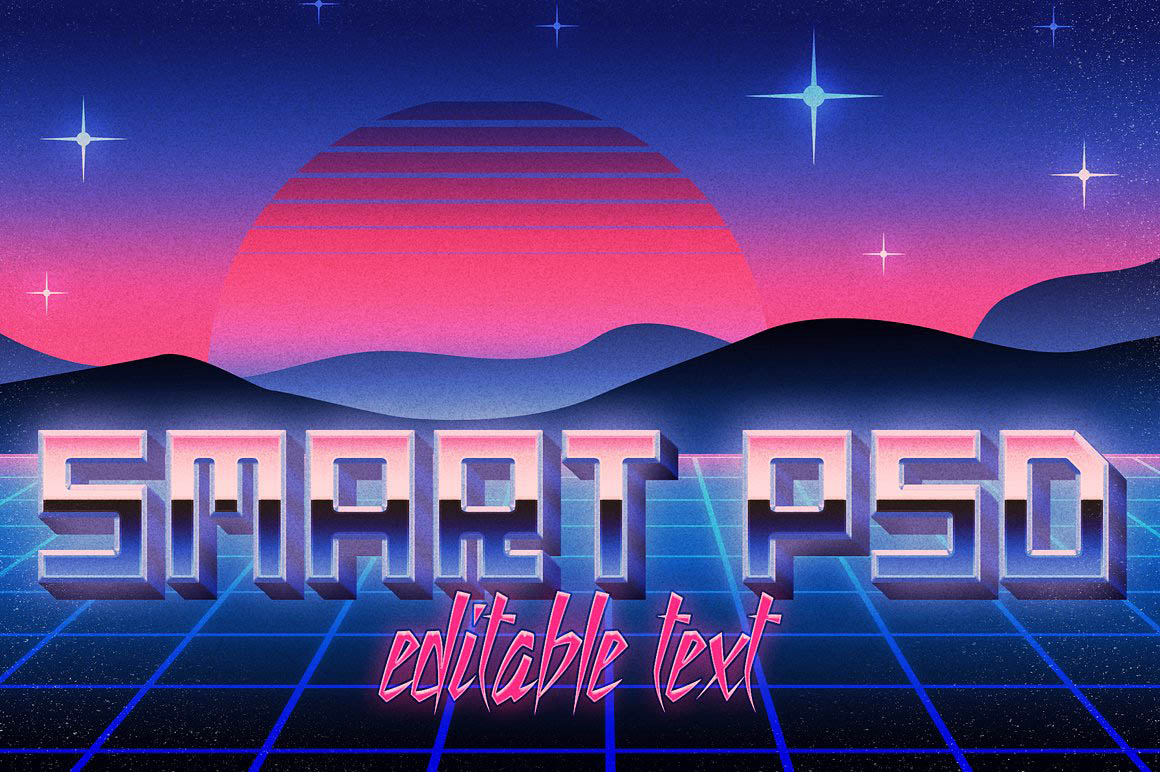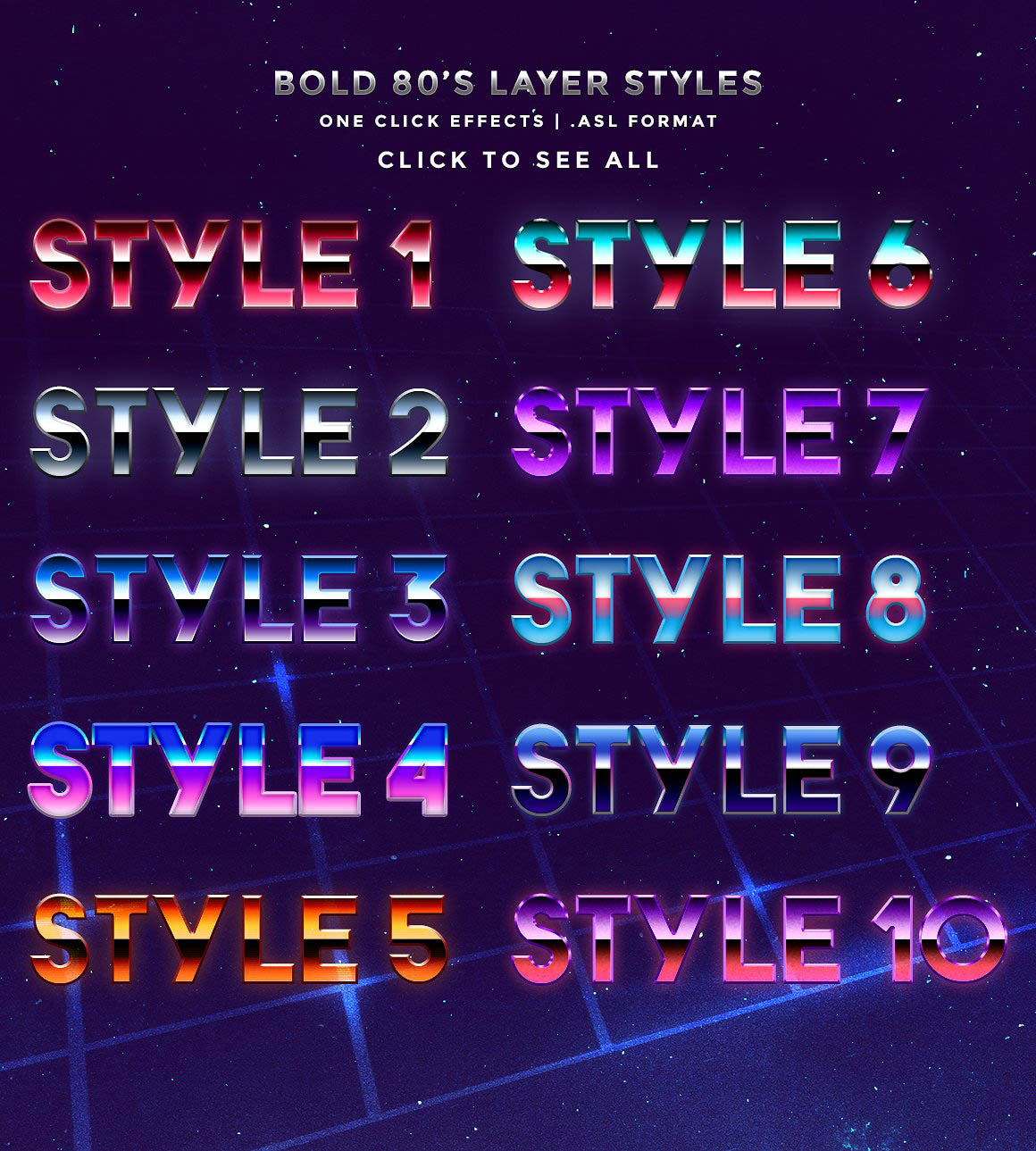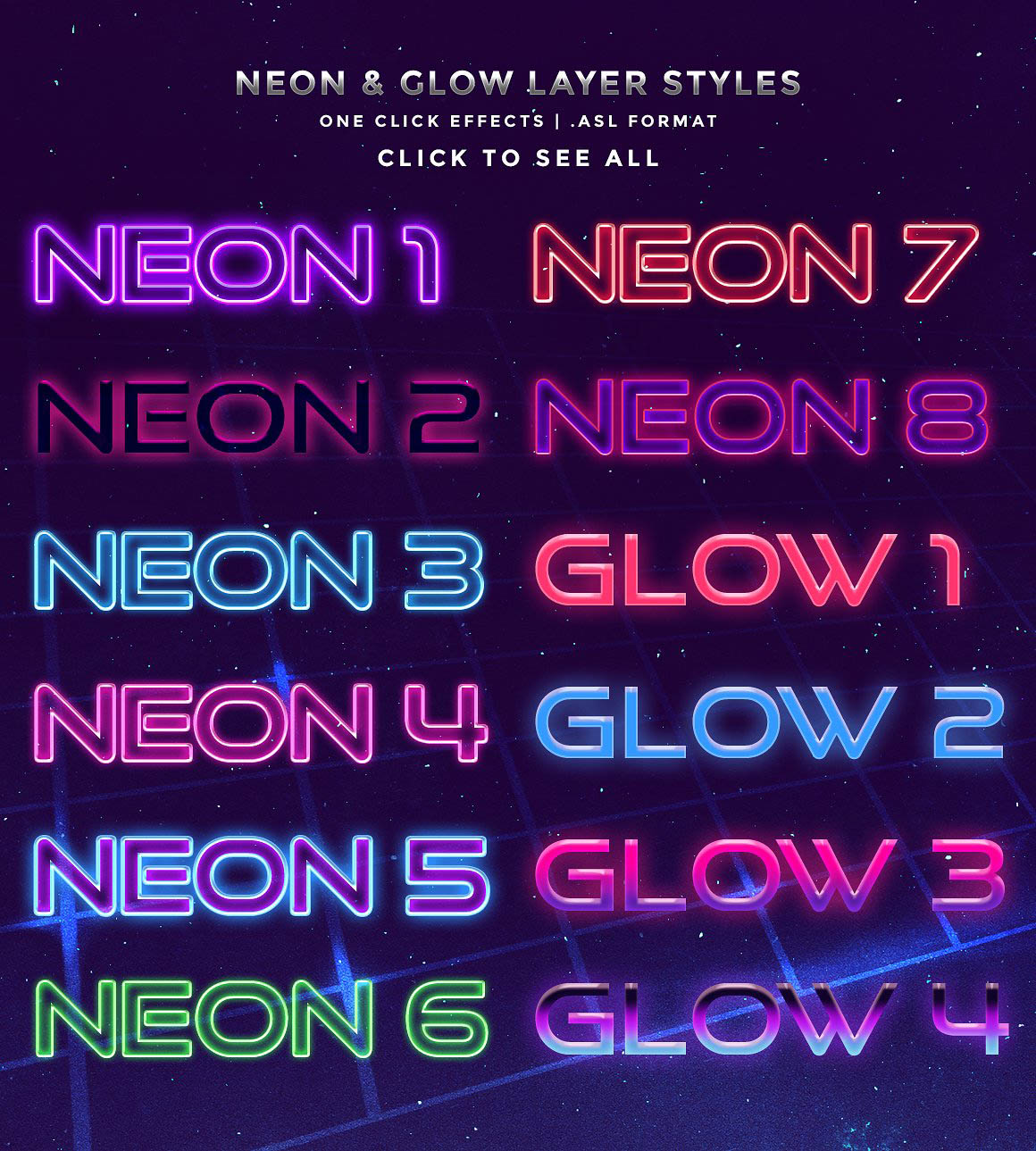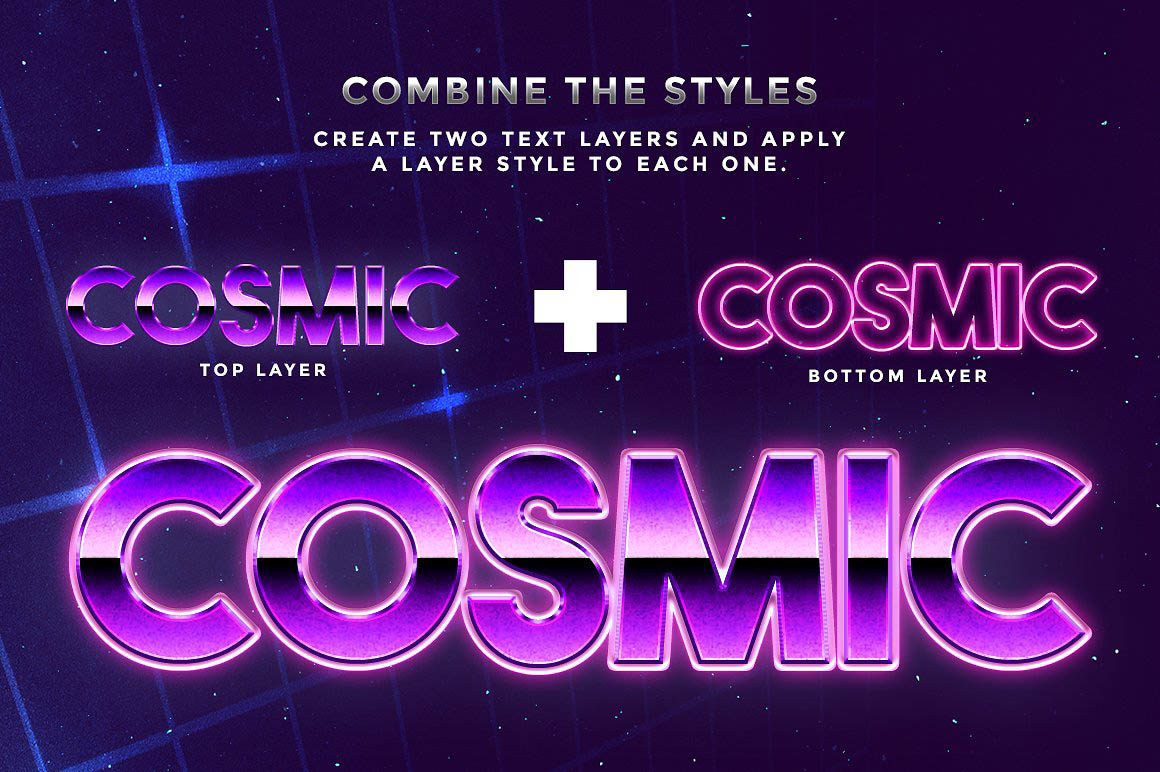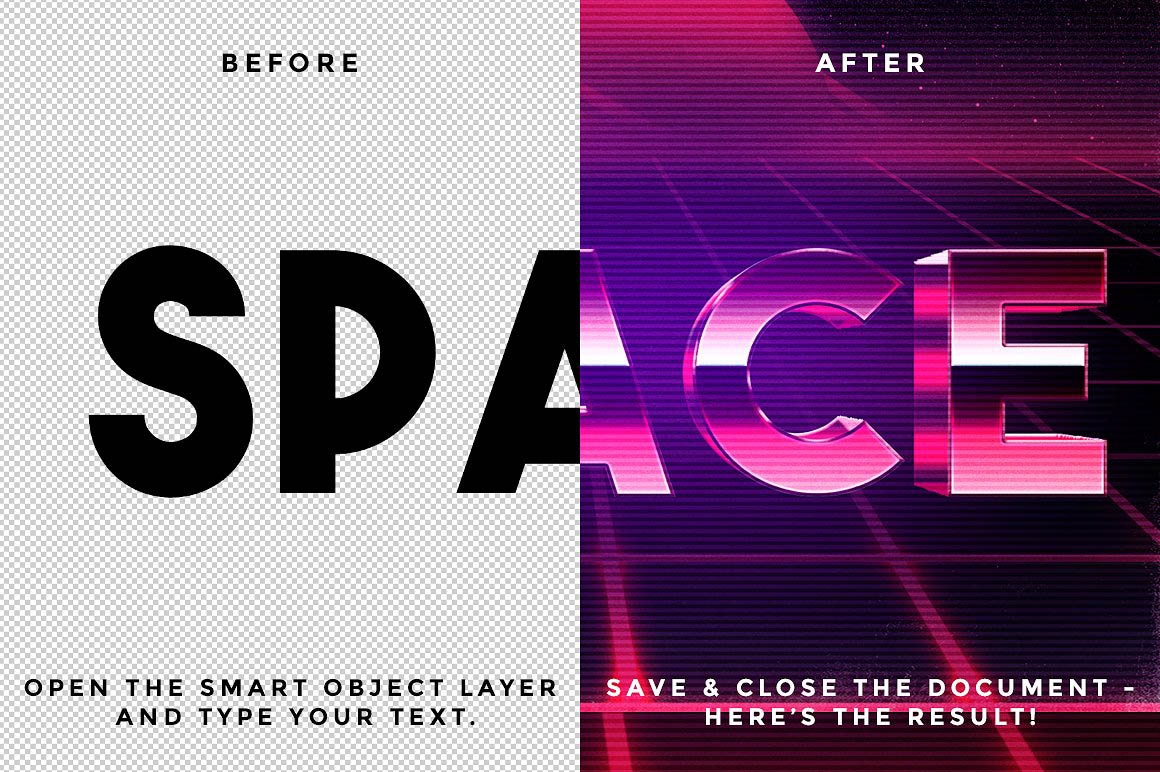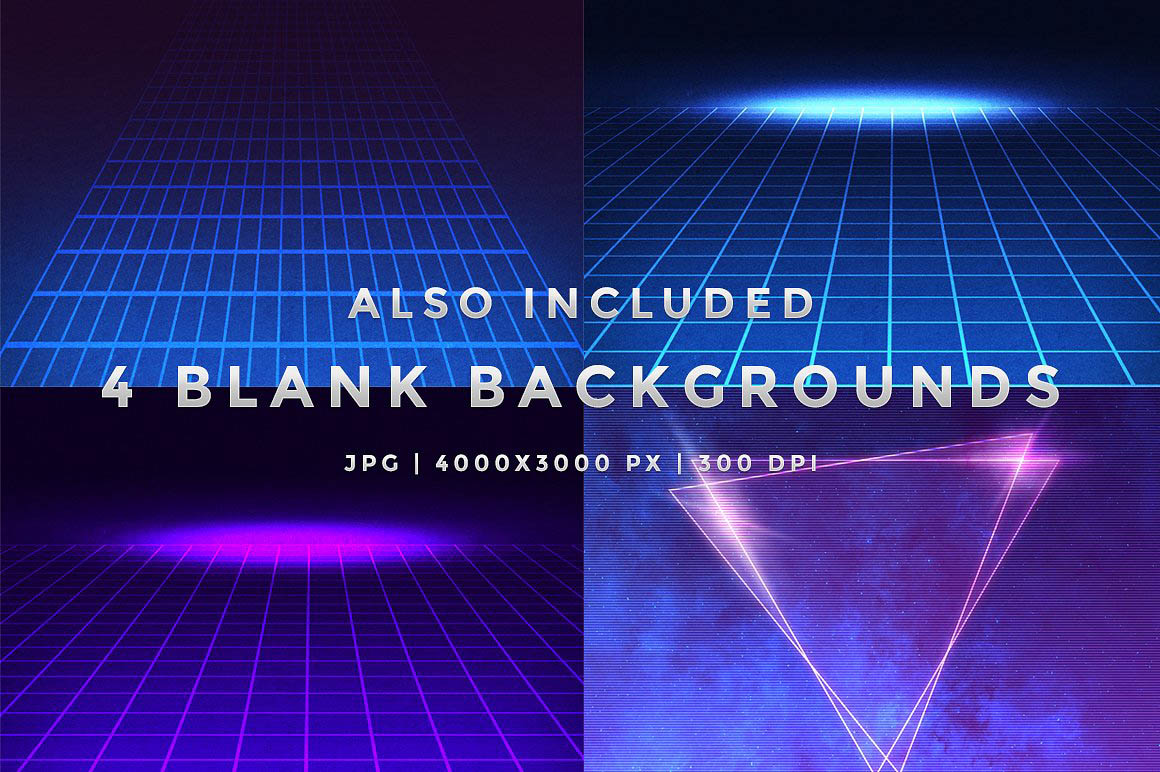 05. Photoshop Glitch text effects Vol.2 from MiksKS
This set includes 12 different effects provided as PSD files, all working with smart object replacement. Just open the smart object layer, paste your design or write your text, and close the document – easy as that! In case you're not familiar with this system, I've included a PDF instructions sheet with pictures explaining the process. These templates are fully editable and layered – which means that all the layers are named & arranged for easy editing. You can edit the TV static & scan lines textures, change the background color or add your own picture as a background, modify the hue and saturation of the effect, and of course replace the text with your own. Fonts download links included.
The PSD files are 3000 x 2200 large, with a resolution of 300 DPI to ensure a good quality if you are using these effects for printed designs.
Please note: these effects are designed for texts and one-color only graphics (with transparency). They won't work on photos, drawings or other images.
Compatibility: the smart PSD documents have been tested to work with Photoshop CS5 and up. You need Photoshop to use these files – they won't work with other programs such as Illustrator or Photoshop Elements.
Important: the .asl layer styles included in this set won't work with Photoshop CS6 and older versions – they only work with Photoshop CC versions.
Other things included:
18 JPG glitch textures: they can be used as backgrounds, layer masks or with blending modes in your designs.
12 one click .asl layer styles: inspired by anaglyph effects, these layer styles can be used as a base to create more elaborate glitch art.
Free bonus: old TV mockup: paste your own pictures or glitch art in this smart PSD mockup! It's fully layered and editable.
What's included:
12 smart PSD text effects files
18 JPG glitch textures
1 .asl file with anaglyph layer styles
1 PDF instructions sheet
1 bonus PSD old TV mockup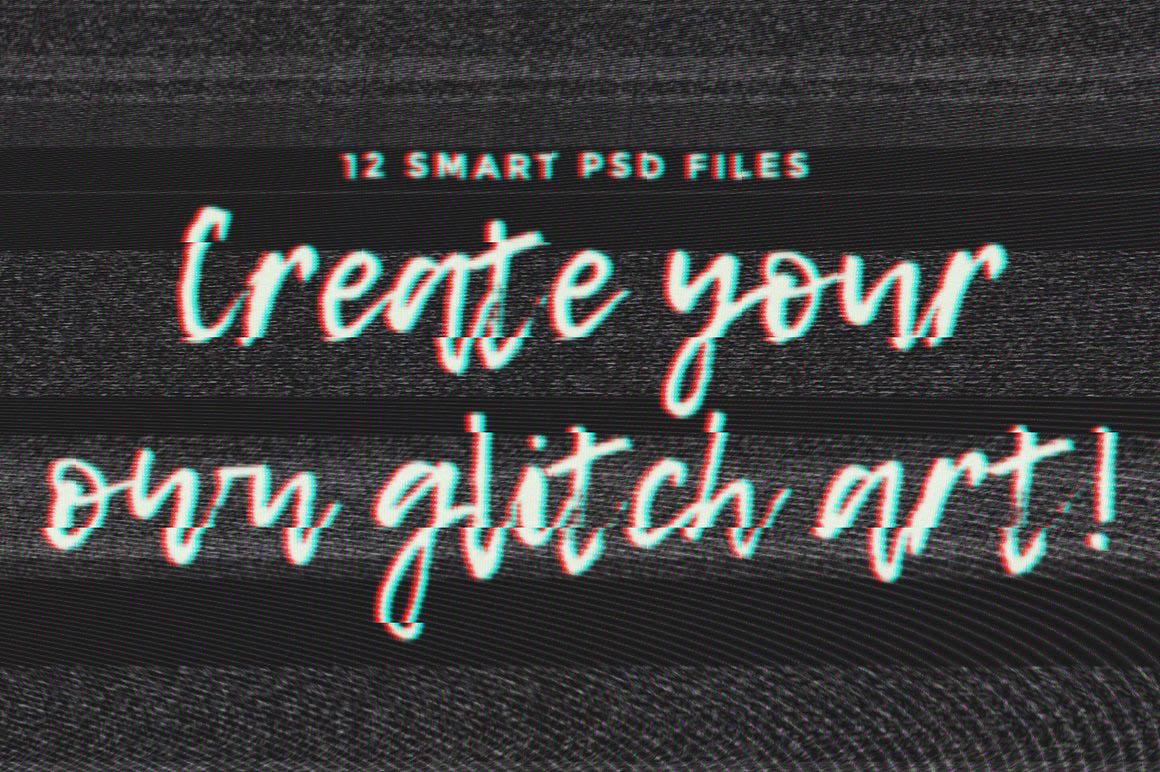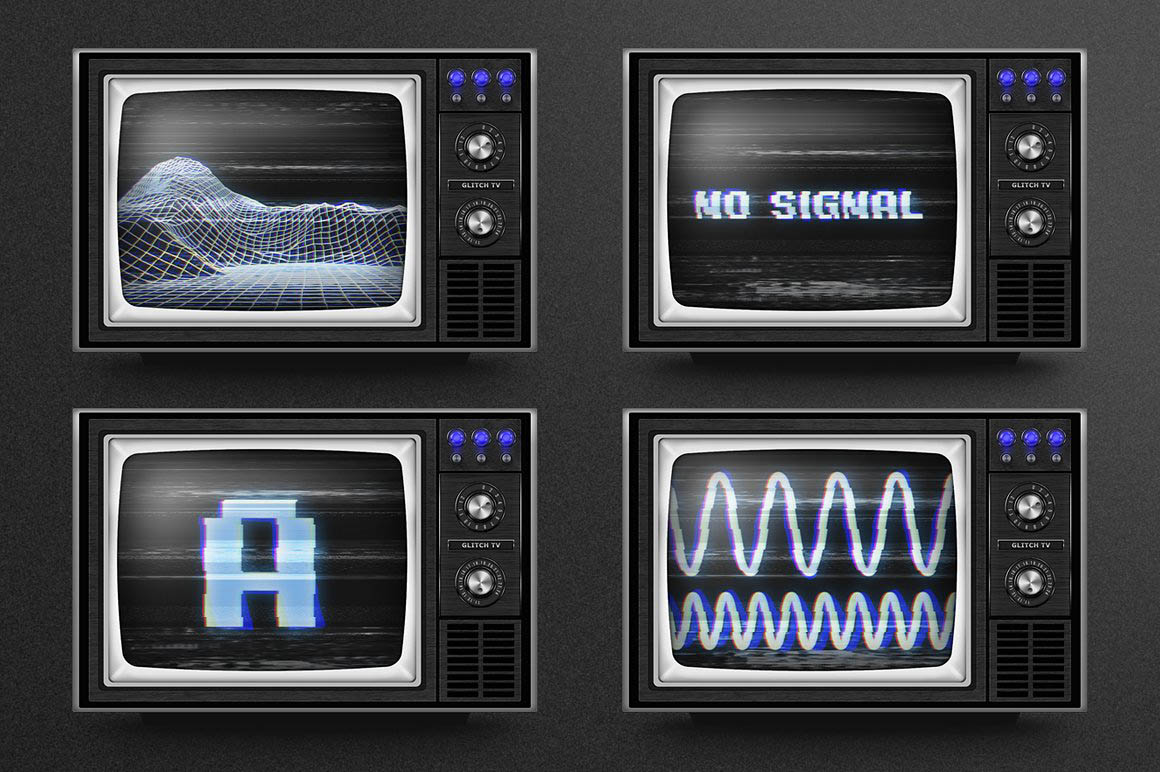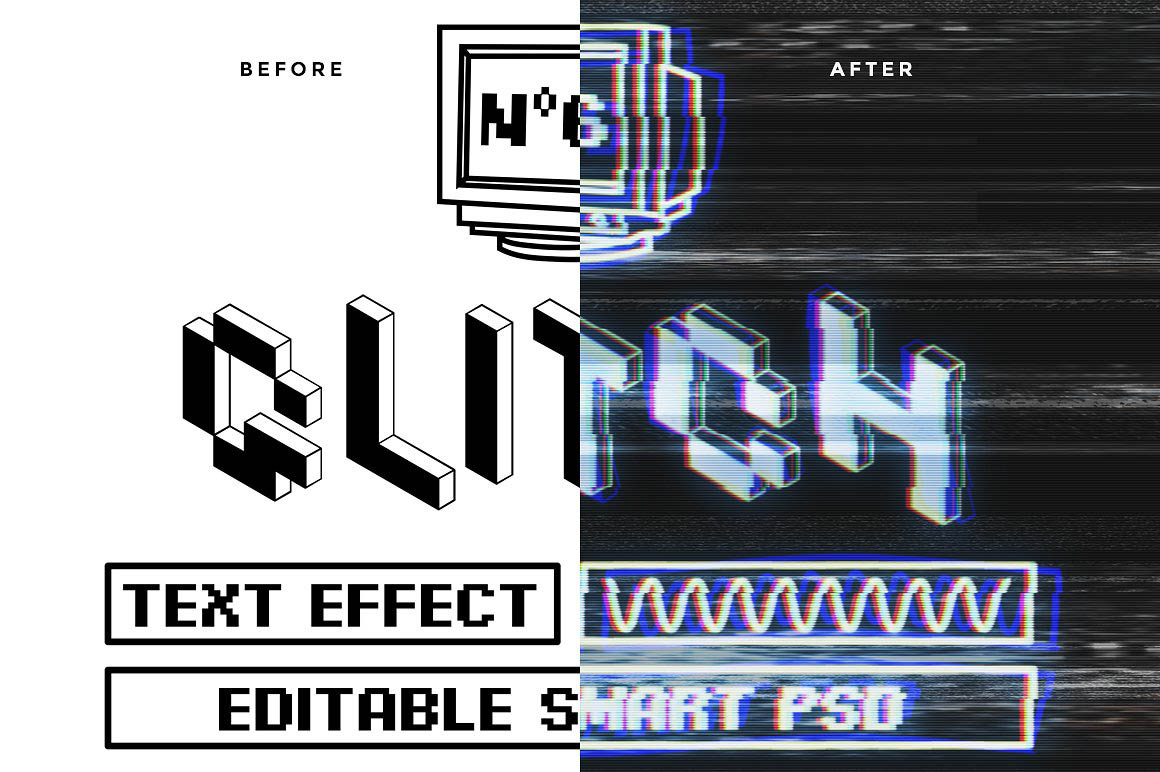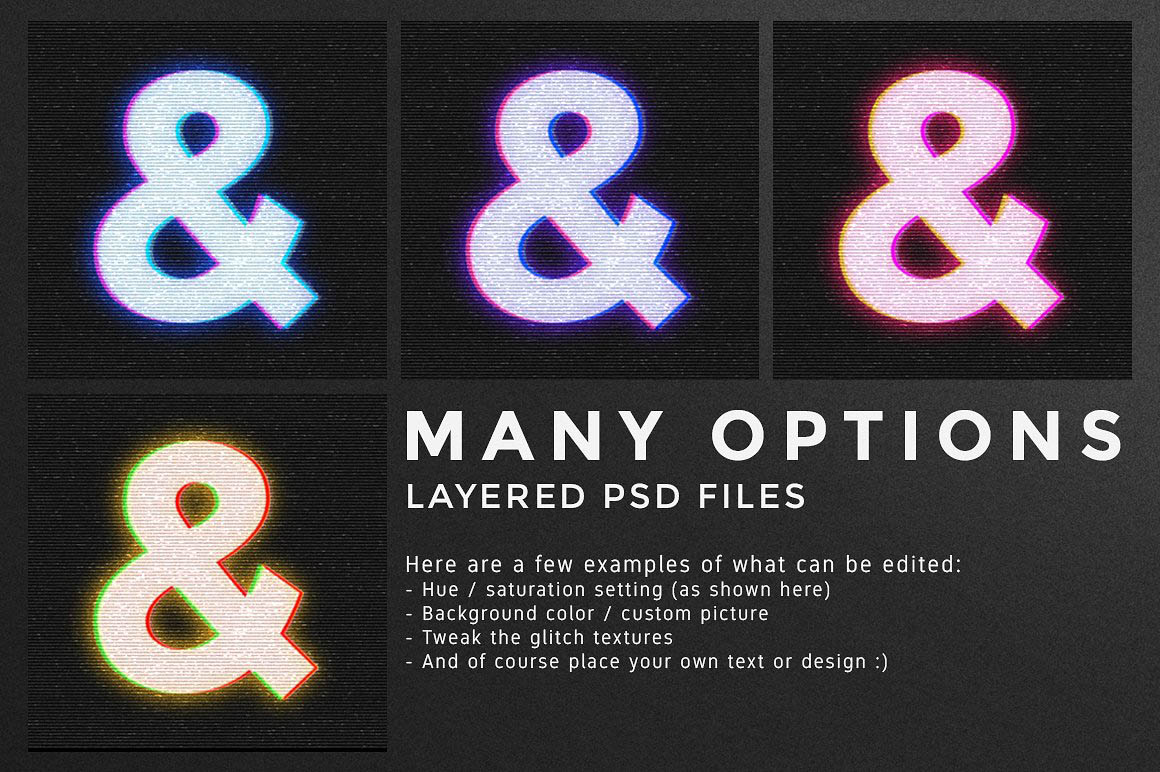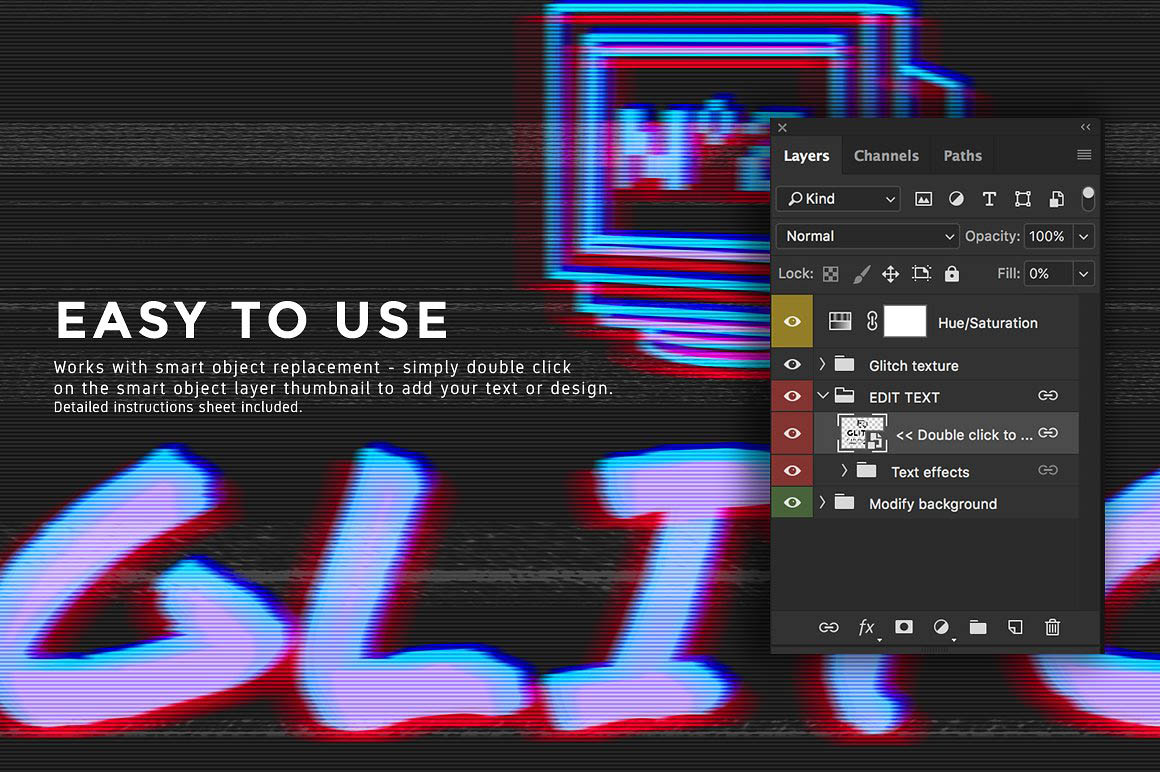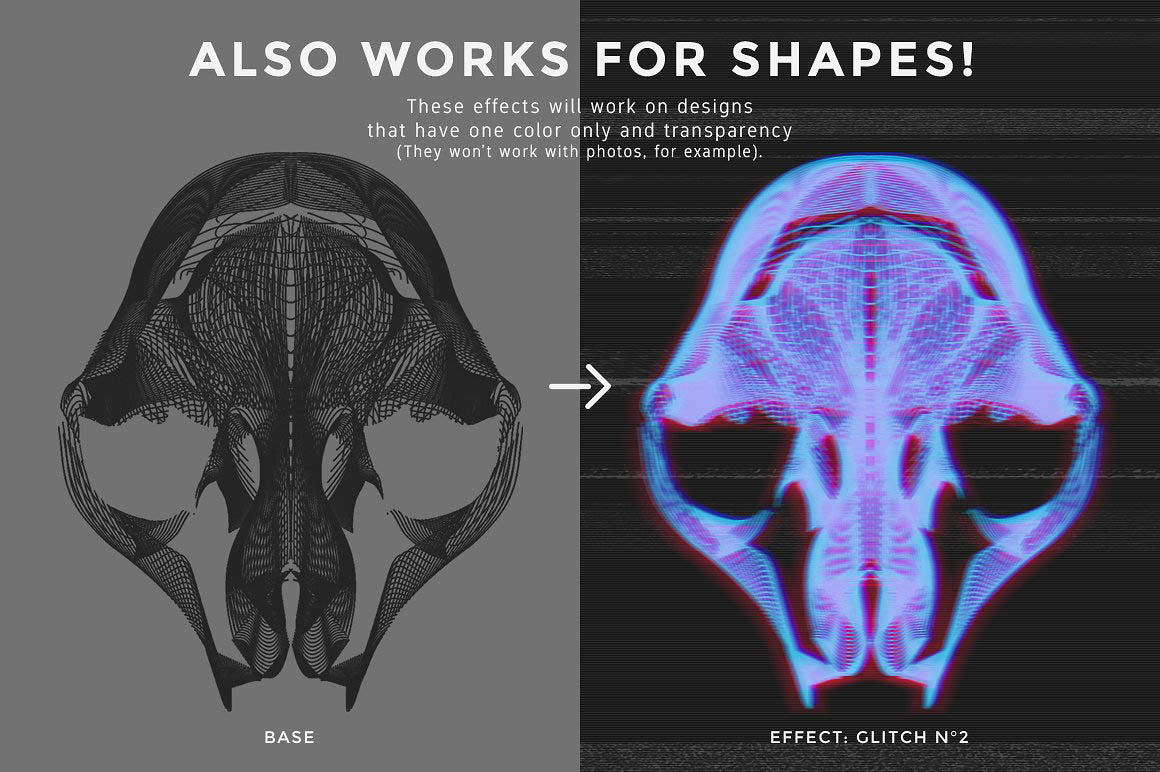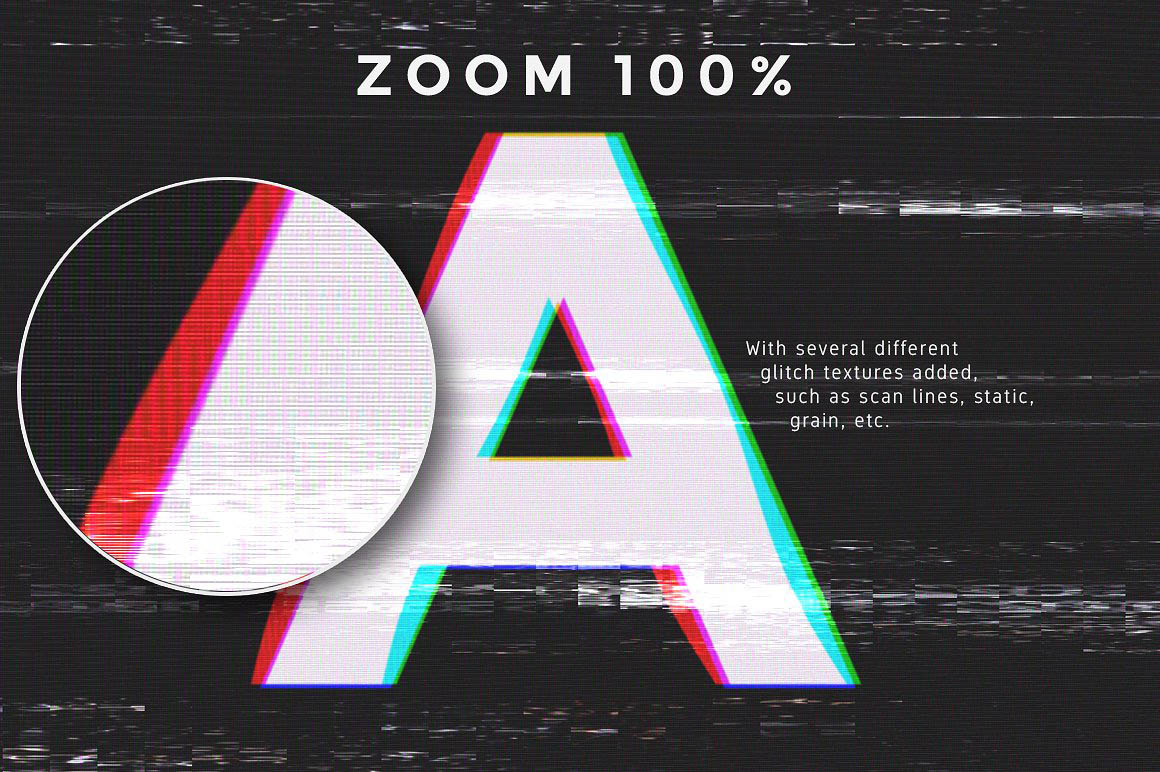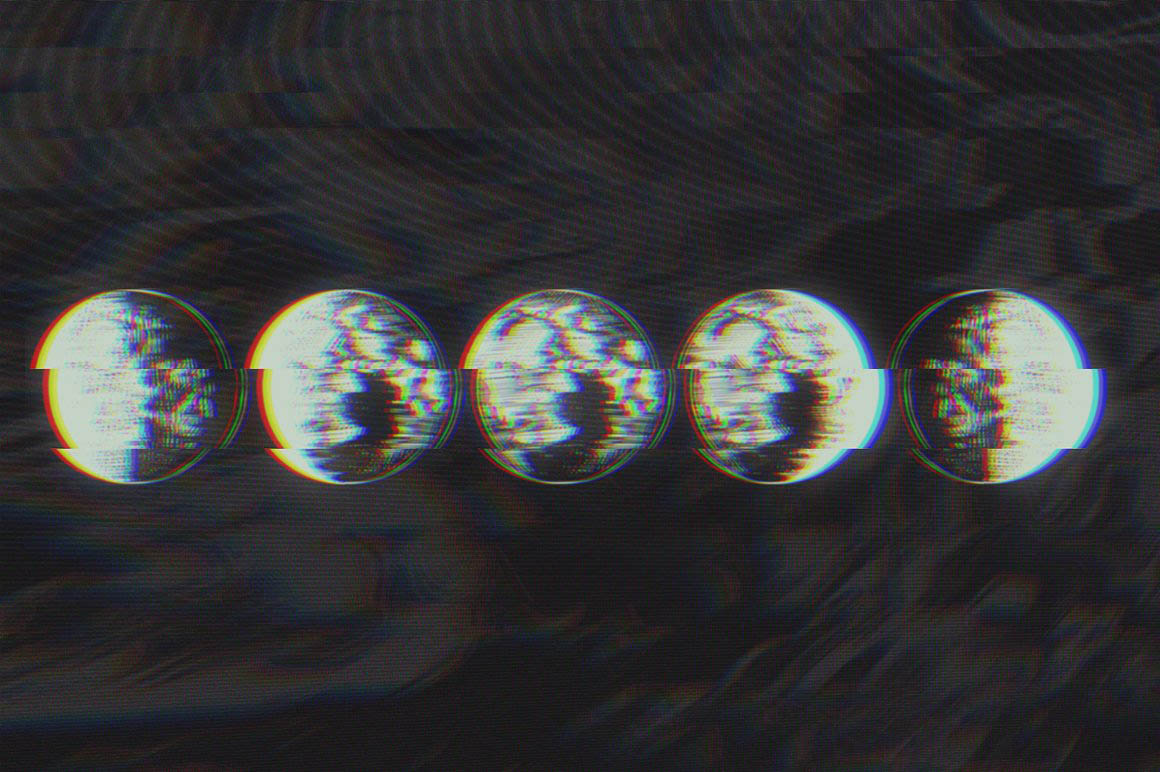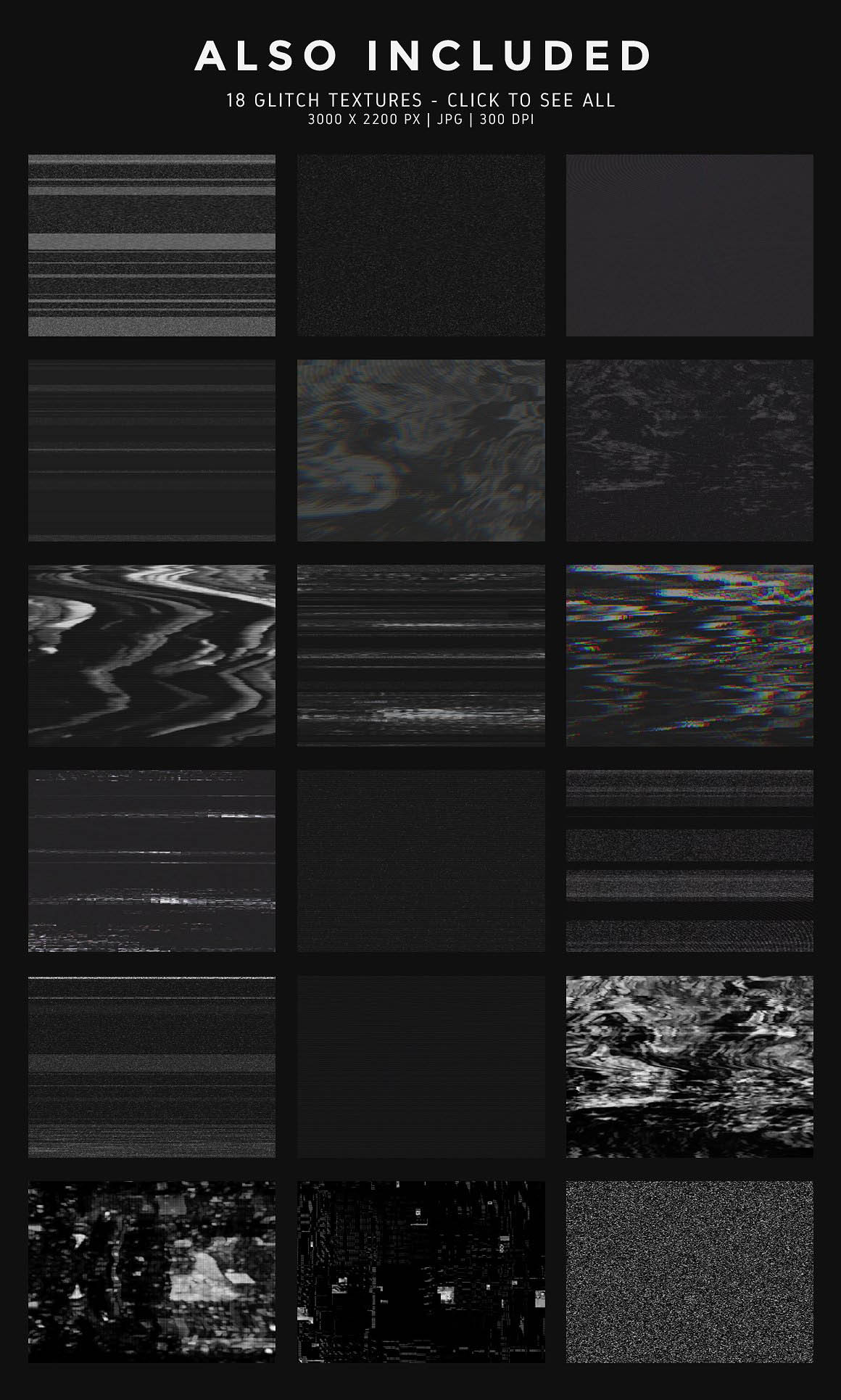 06. Entropy: 20 Photoshop glitch actions from MiksKS
I was working on a set of abstract glitch style textures, when I thought about creating a series of actions that would replicate the process, so you can create your own distorted/glitch textures and backgrounds as well! The idea was to add a lot of distortions and filters to the base picture, so it won't be easily recognizable after the action has been applied, and therefore look more abstract. (So if you're looking for light/subtle glitch effects, this set is probably not the best for you). The results are often surprising, and you can use any picture as a base for these actions. I did a lot of tests using pictures of crumpled aluminum foil, old walls, and exterior floor tiles, for example.
► Please note: in order for these actions to work properly, they have to be applied either to a flattened image, or a document with a single layer.
► You will receive 1 .atn file containing the 20 actions that you can directly add to your Photoshop actions collection. (Open the Actions panel in Photoshop, and in the menu choose "Load Actions" , just locate the action set and click on it, it will be added to your Actions panel. Two PNG preview files are also included. To apply an action to your picture, open the folder named "Entropy: glitch actions" in you actions panel, select the action of your choice, and click on the little play button at the bottom of the panel.
► Non destructive result – the base layer is left as is.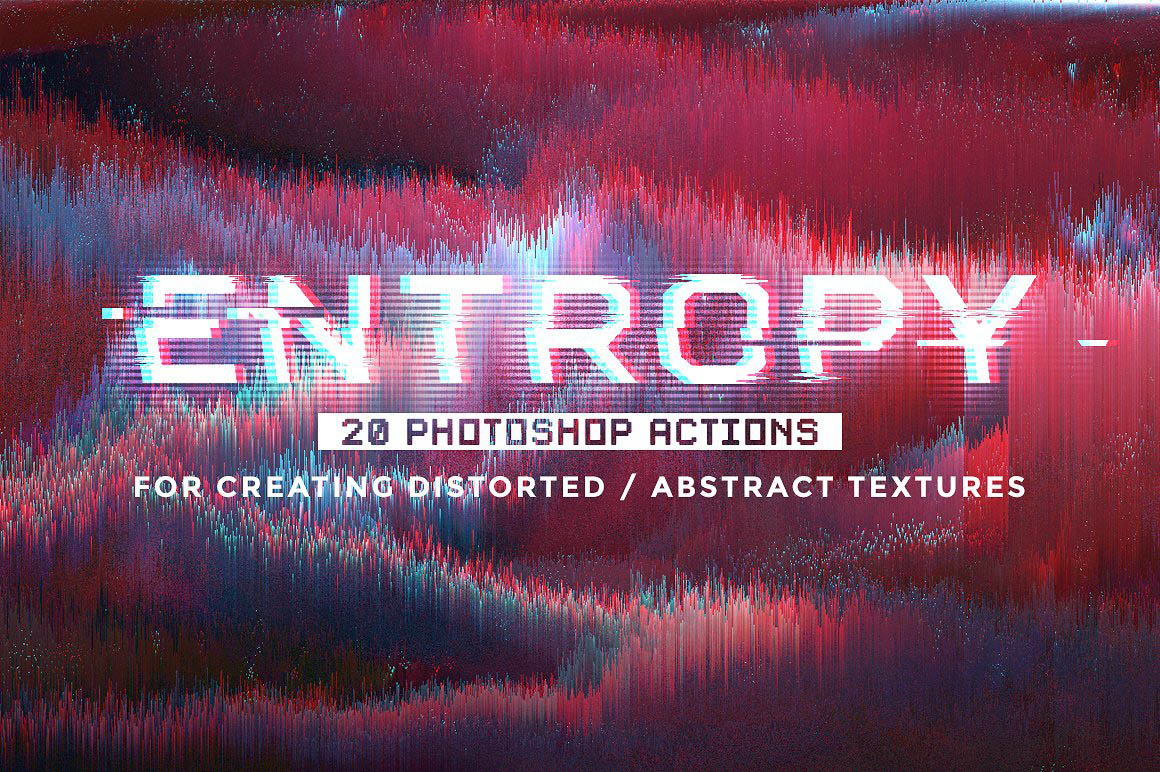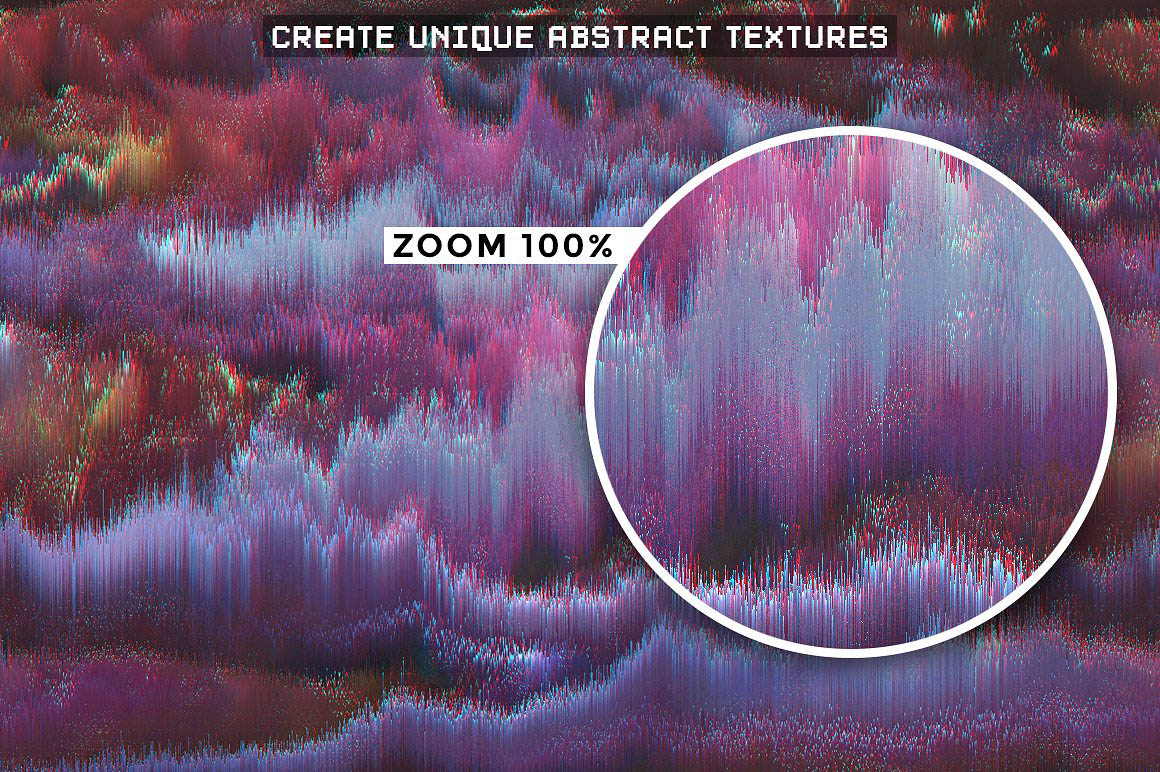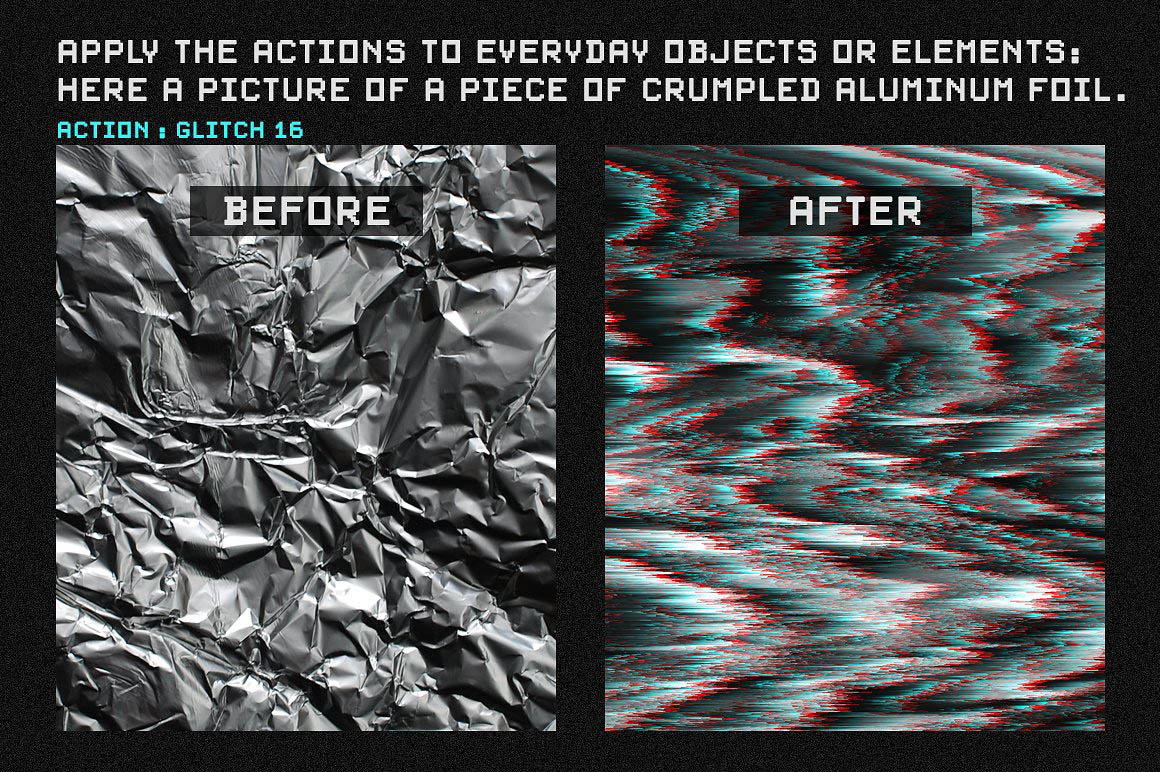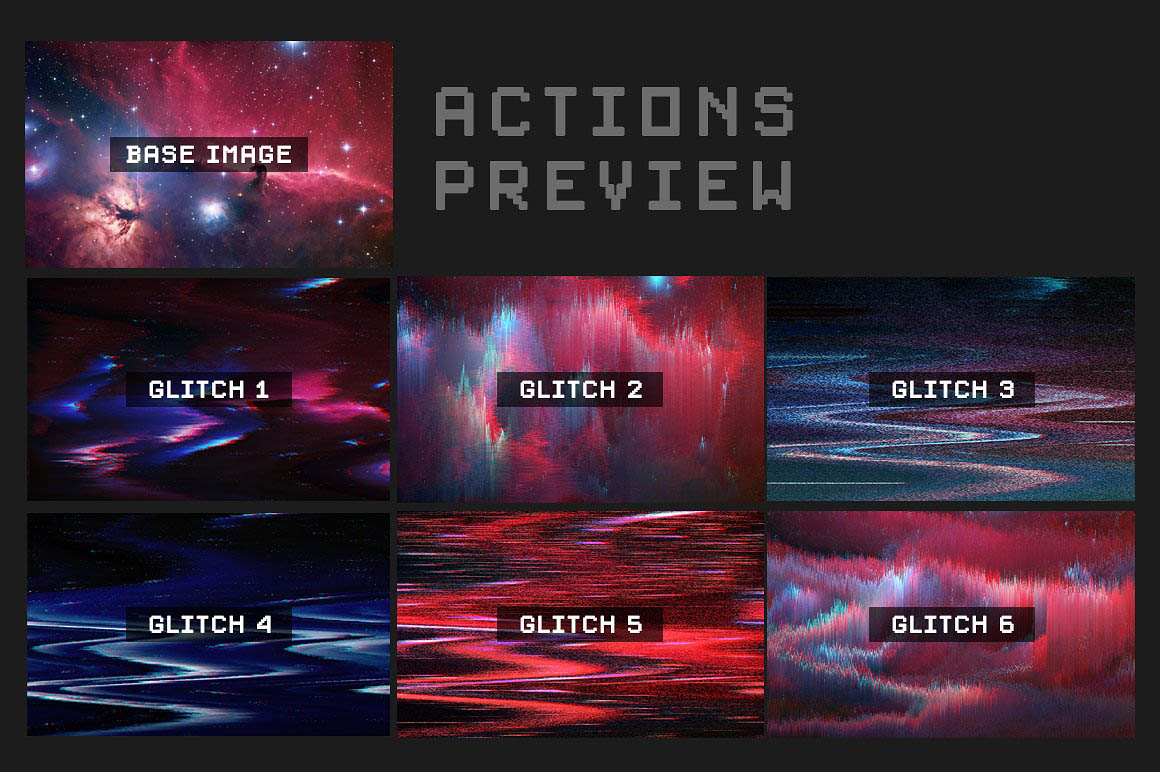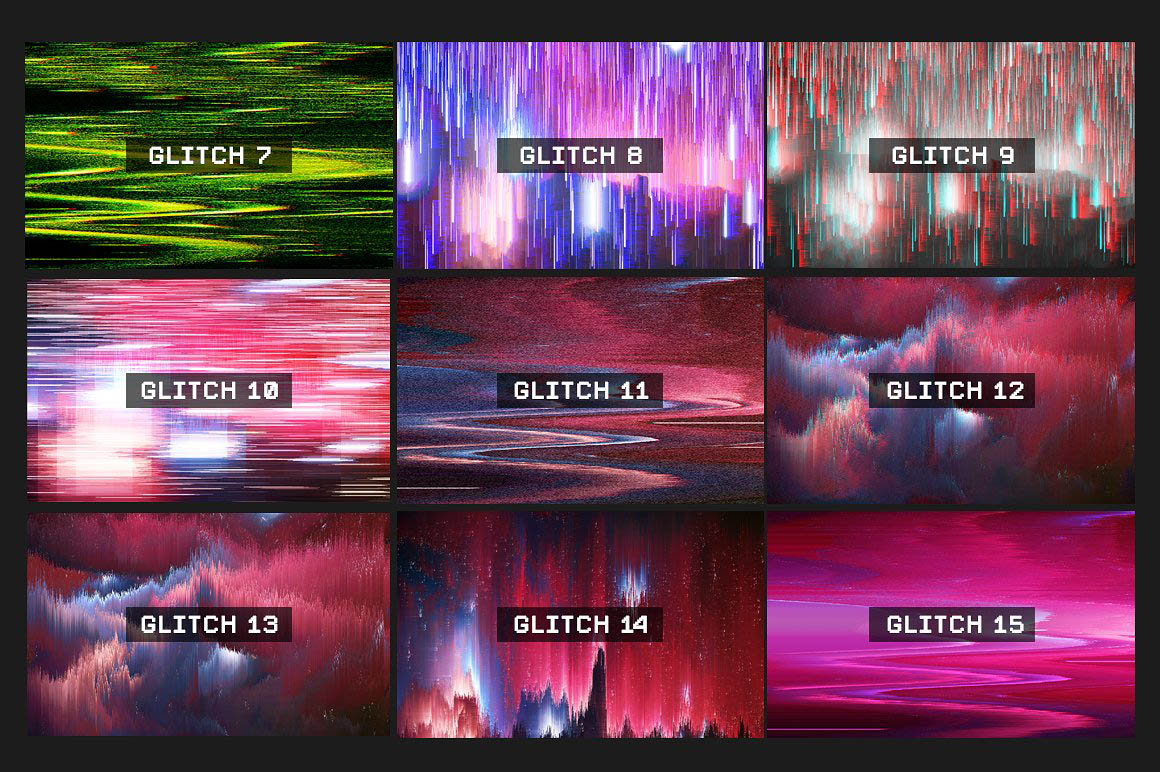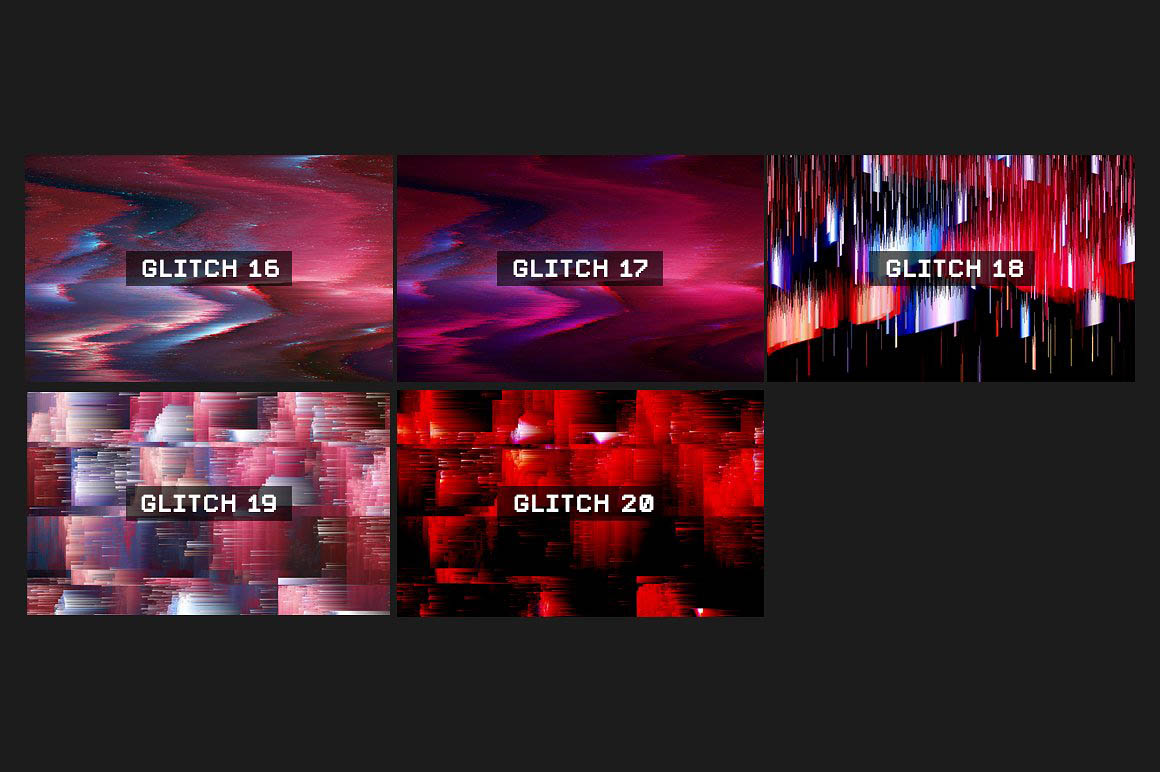 This Bundle Highlights:
6 creative Photoshop add-on toolkits in 1 bundle!
extended license (like all of our deals): use for unlimited personal and commercial projects + you can also use them in designs/products that you sell. You can use all these items as a part of your non-digital or digital designs ( posters, t-shirt designs, stickers, web templates…). You cannot resell these files directly, or within items/goods where they can be extracted in their original form (like vector shapes, elements, fonts… – they need to be flatten into background or object in your digital item for sale). License is only for 1 person – you'll need to buy 2 licenses if 2 persons will work with these graphics. Please read more about our exclusive license!
Pricing:
Normally, these 6 creative graphics toolkits would cost you $59 (without extended licenses), but for a limited time only, you can get this unique collection for $12!
Deal Terms:
Delivered as an instant download, after completing your purchase.
Images can be used for both personal and commercial purposes, for yourself or on behalf of a client, on their own, or as part of your new design for sale.
Cannot be sublicensed, resold, shared, transferred, or otherwise redistributed on its own.
You cannot share these resources with others. This is a single user license!