If you need some new print object branding or product presentation mock-up templates please check this deal. You'll find here cool print mock-ups like: label tags, vinyl stickers, postage stamp, postards & event tickets.
Print Presentation Mockup Bundle from Pixelbuddha allows you quickly and easily display your creations in various type of print objects.
With this deal you get:
5 realistic and editable mock-up template sets for Adobe Photoshop
30 high-resolution PSD files
all these mock-ups are Photoshop Smart Object based, so you can upload your art in seconds
Take a look at what you can get: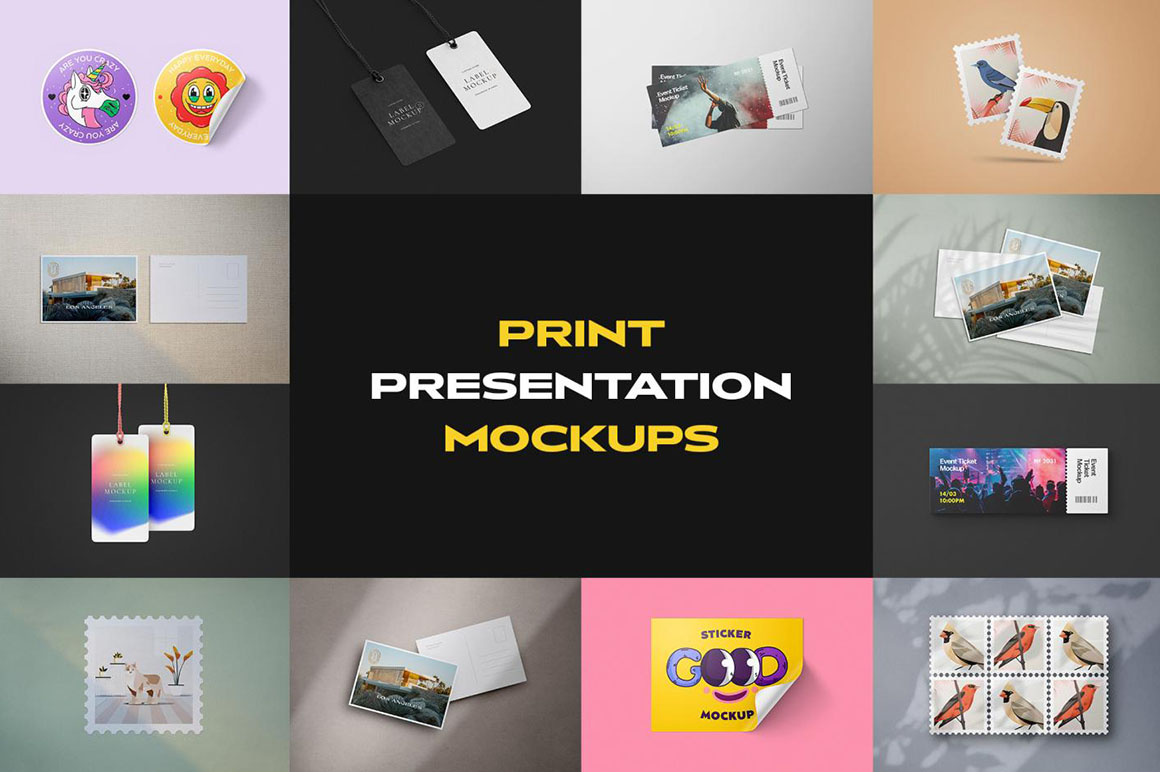 5 realistic and editable mock-up template sets for Adobe Photoshop
01. Label Tag Mockup Scenes from Pixelbuddha
Showcasing tricks don't end on the most-used packaging & product mockups, especially if the task is to present a rather small-scaled design such as logotypes. Label tag mockups are capable of displaying the branding pieces with their striking close-ups, isolated on various backgrounds, either monochrome or textile-covered. Don't get stuck on the idea that label tags are only associated with clothing-related branding: try the mockup with any project, and you'll prove the opposite!
The choice is yours to make: 4 PSD scenes with ready-made hanging or lying label tag mockups. Leave the cardboard material as it is, or turn it into a craft texture instead. All the colors are changeable : tag itself, eyelets, rope, and textile. Match the different shades, striving for the most eye-catching result! This kit features the rendered 3D label tags in the highest resolution, which guarantees a realistic outcome and the entire texture, illustration, or pattern label space coverage, added to the scene to look as natural as possible.
What's inside?
4 high-quality PSD scenes;
realistic lighting & shadows;
simple and craft paper texture;
editable eyelets & rope color;
adjustable textile color;
6000×4000 px, 300 dpi;
help file.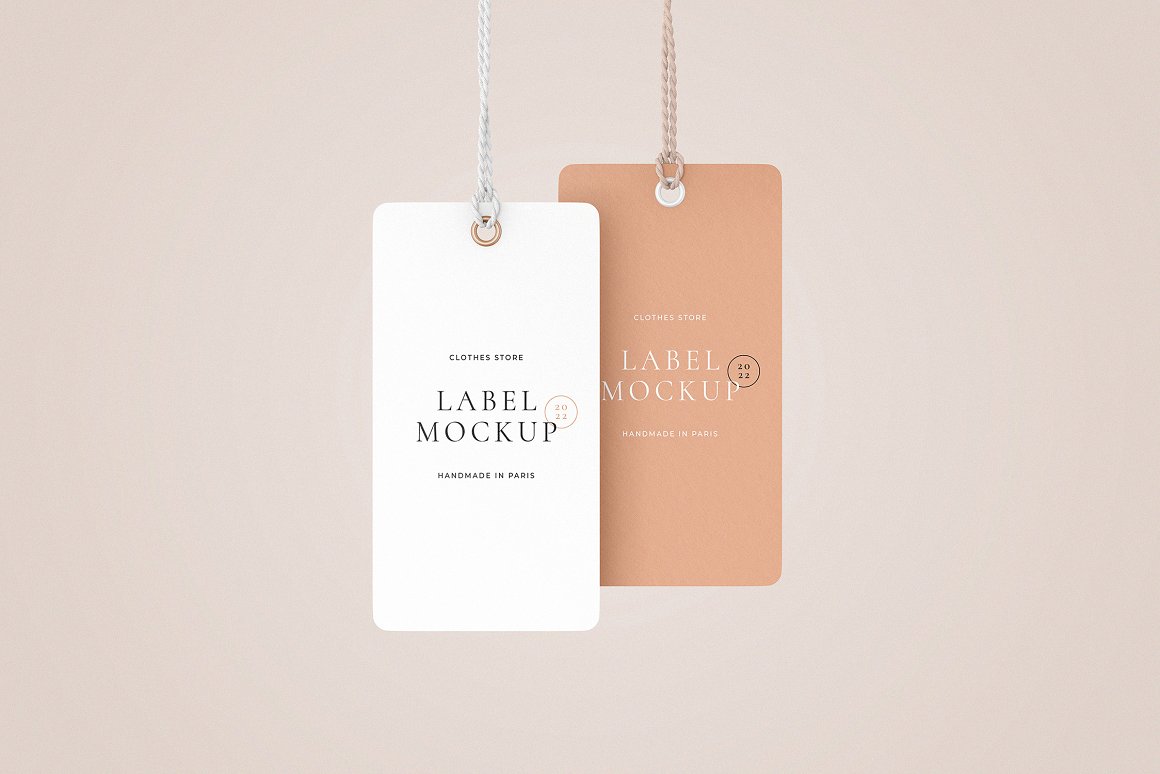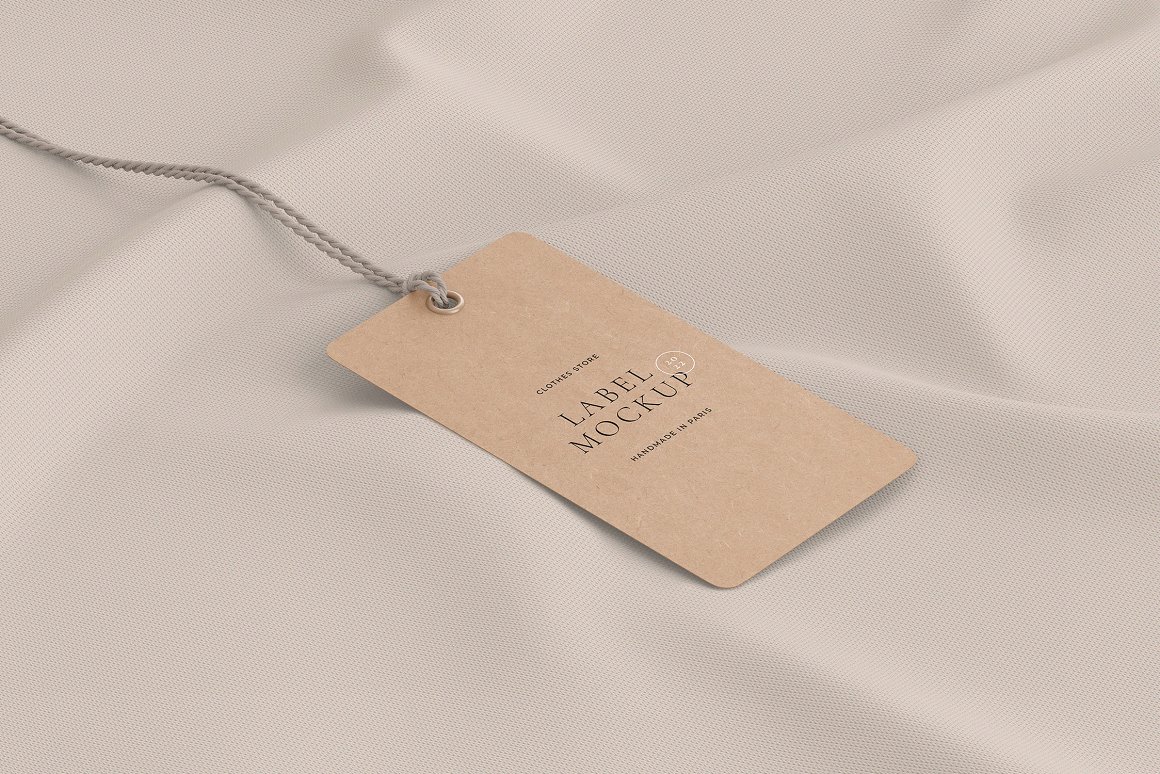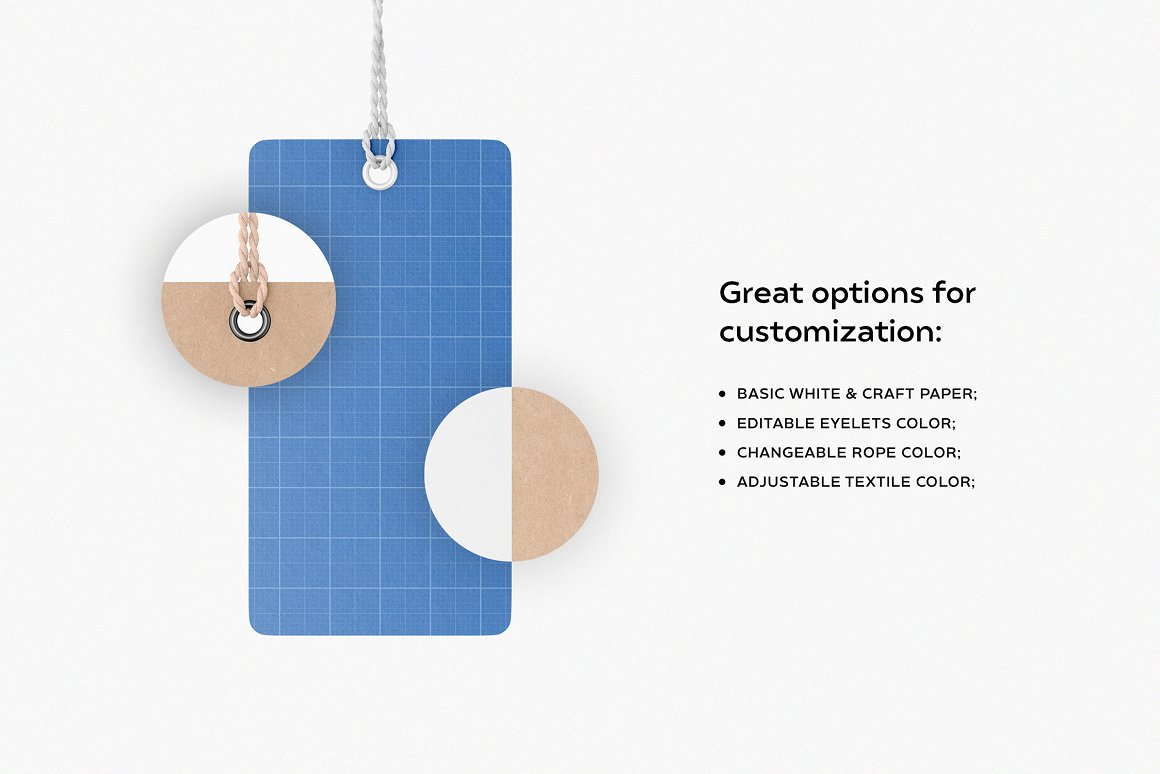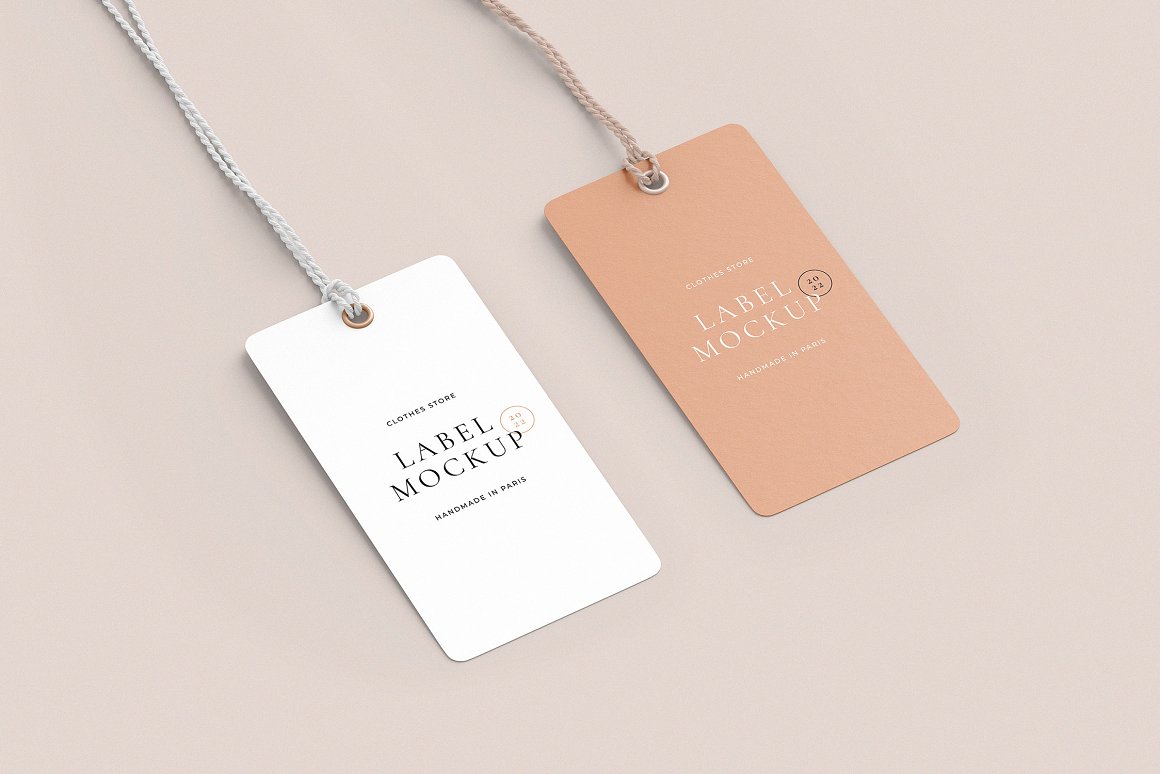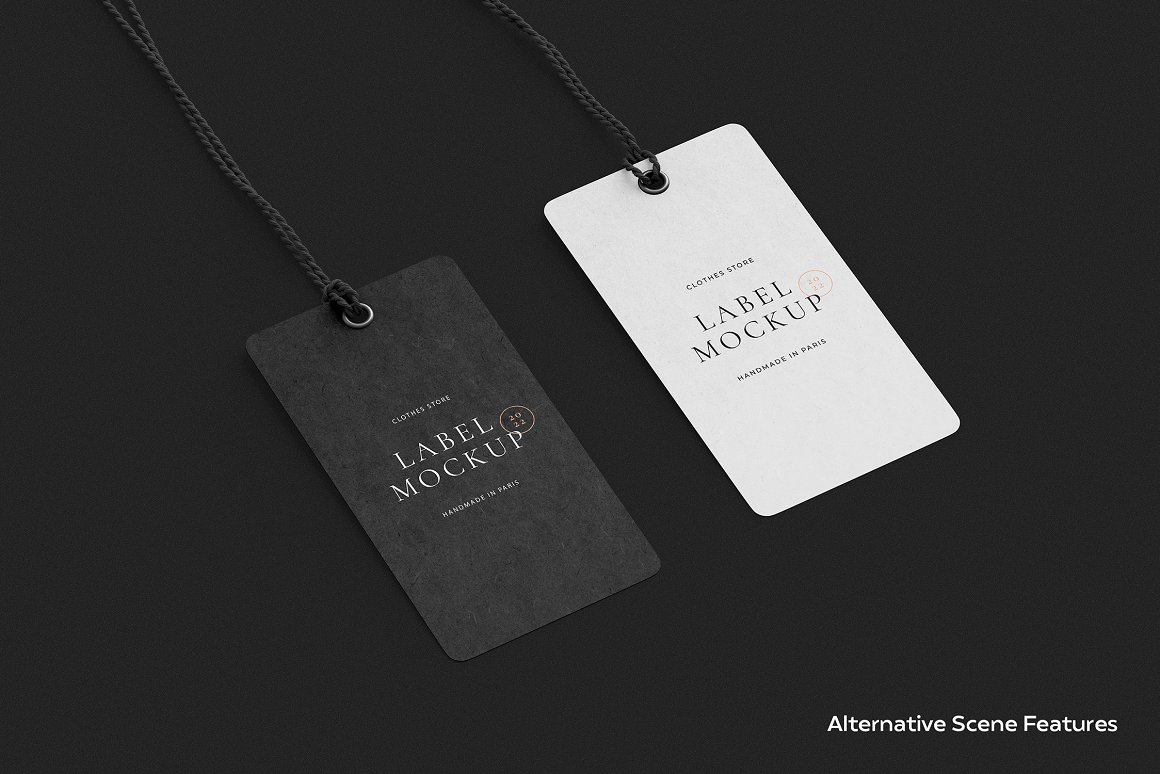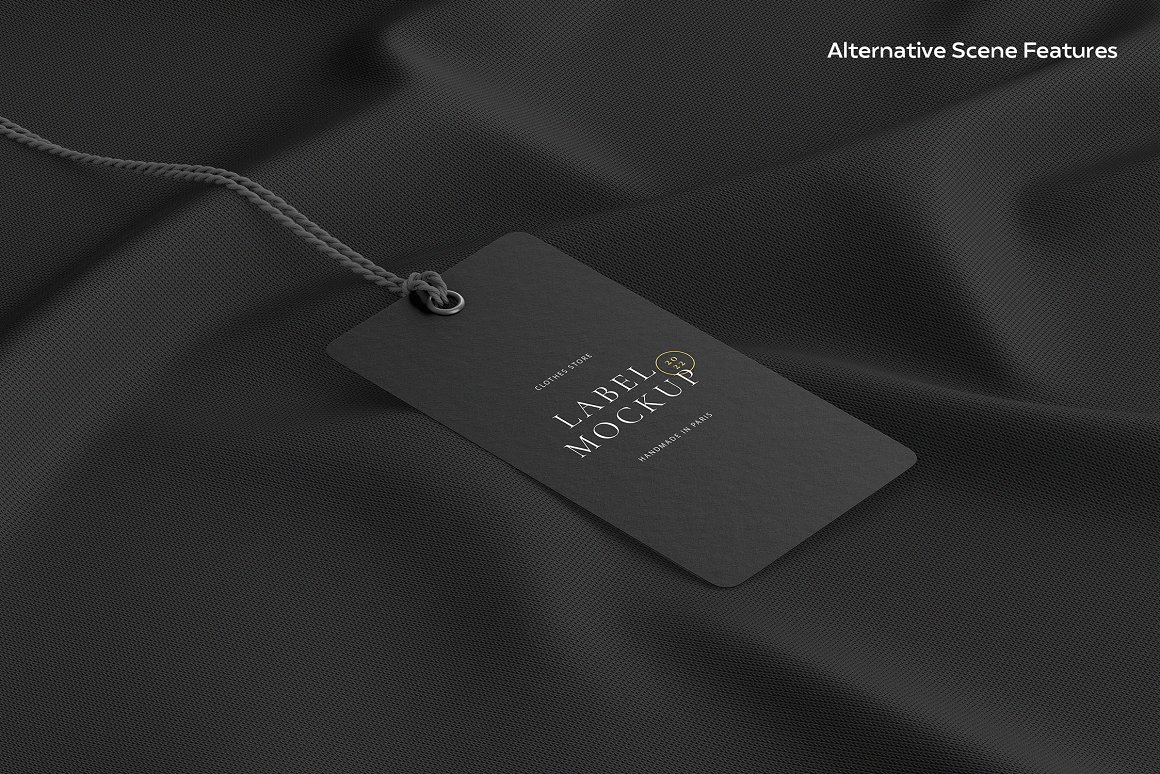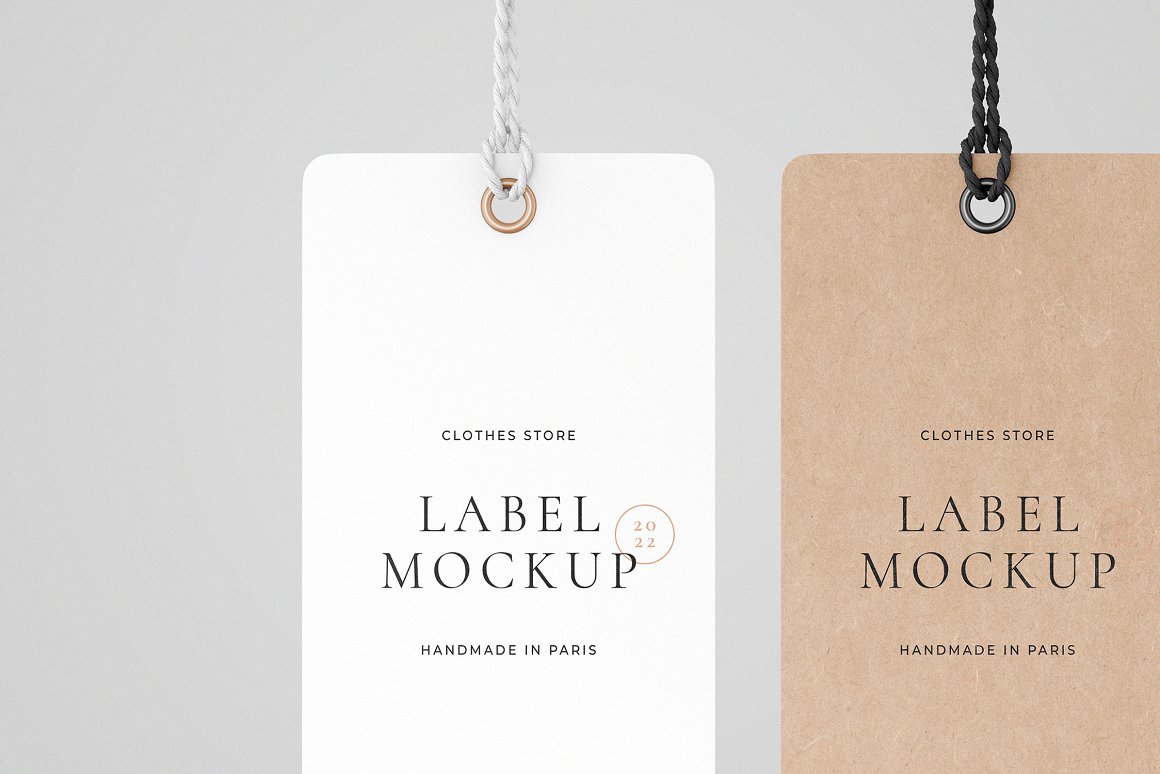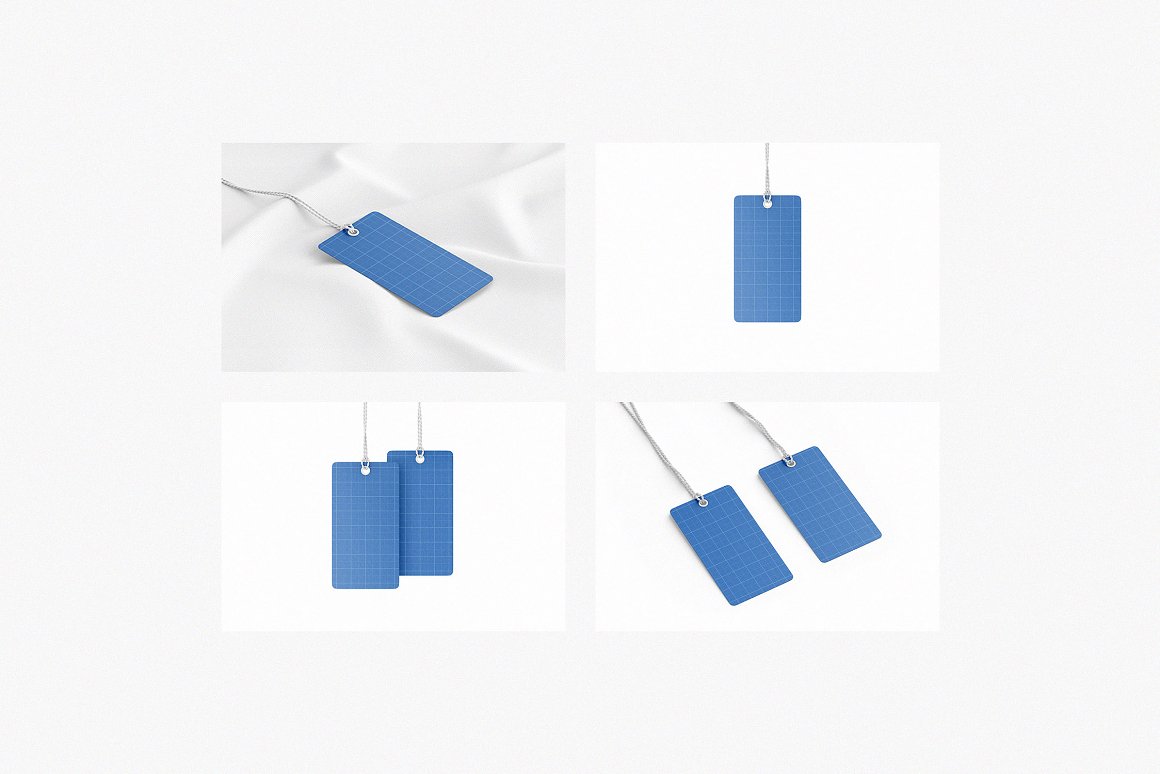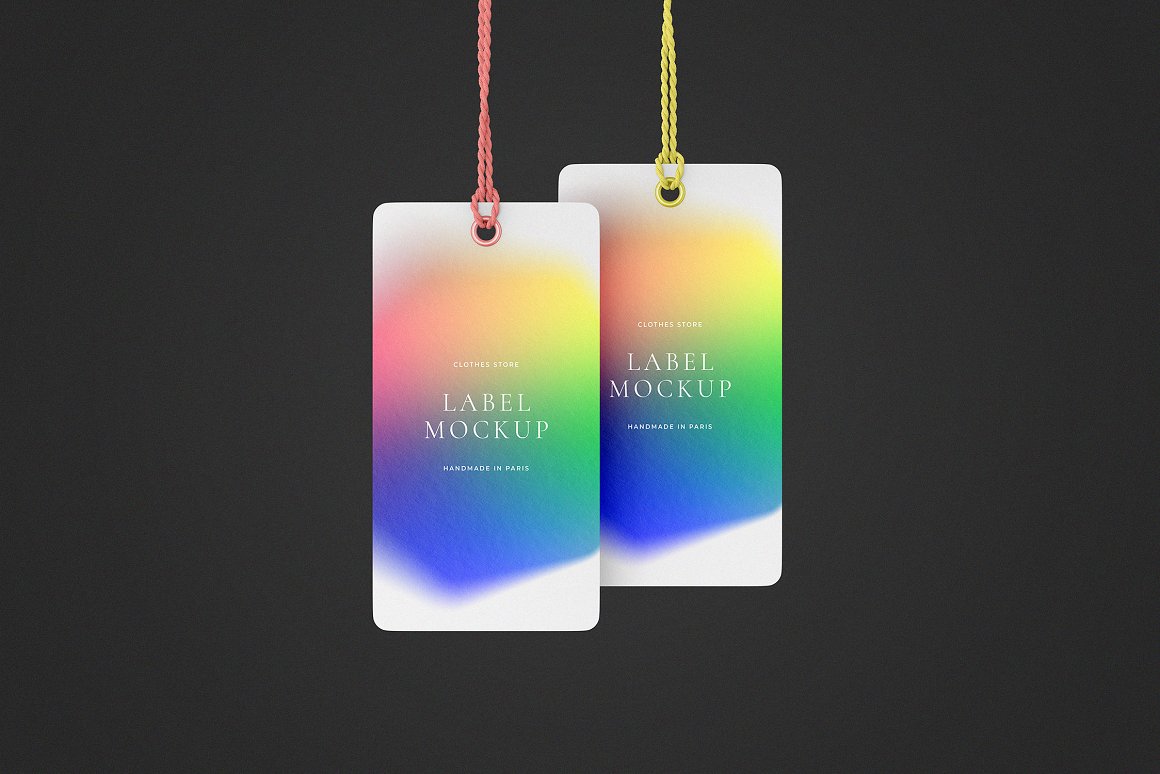 02. Vinyl Stickers Mockup Bundle from Pixelbuddha
It's a bizarre thing about stickers: no matter how many of them are already stashed away, it'll never be enough! Notebooks, laptops, phones, skateboards, walls, cars — anything can be covered in stickers, and once you start accepting merch stickers or grab a few on your way from the supermarket ('cause they were so cute!), your mania is destined to begin. What makes them so desirable is a placed design, becoming a portable piece of art, able to decorate all sorts of things. Design a wonderful sticker of your own, considering all ideas of a perfect composition & your own taste: there are so many sticker mockups prepared in this bundle!
You've been blessed with a huge sticker mockups collection, producing an infinite bunch of ready-made stickers on isolated background. Precisely speaking, there are 12 mockups as separate PSD files, presented in many shapes: round, square, rectangular, with sharp or curved corners, with and without a curl! Open each of them to see provided customization choices: a sticker can be glossy or matte, silver or golden, and the background color is changeable too. Twisted stickers can have a curl side color being different from the main palette, as there's an individual layer left for that. These little fellas come as a handy showcasing tool for branding, logotypes, print-aimed designs, stationery projects, and social media promotion.
What's inside?
12 PSD files with stickers;
glossy & matte stickers;
silver & gold versions;
round, square & rectangular;
curved sticker edge options;
editable curl colors;
4500×3000 px, 300 dpi;
help file.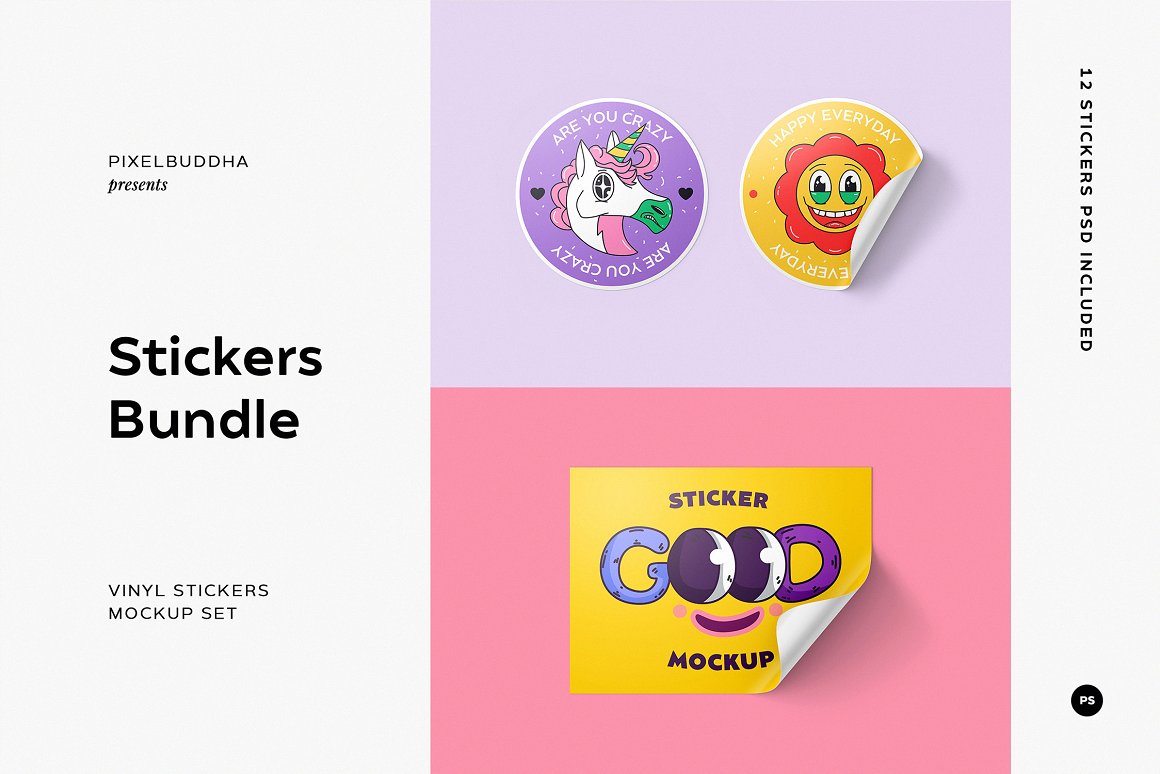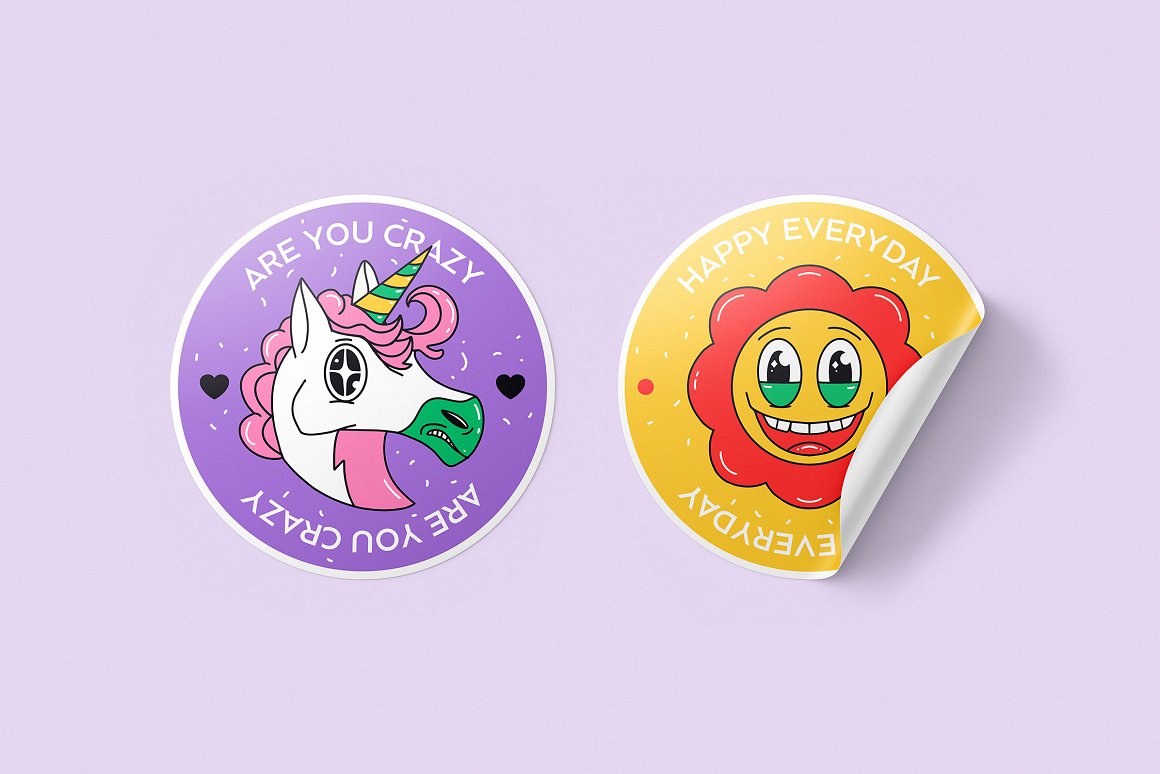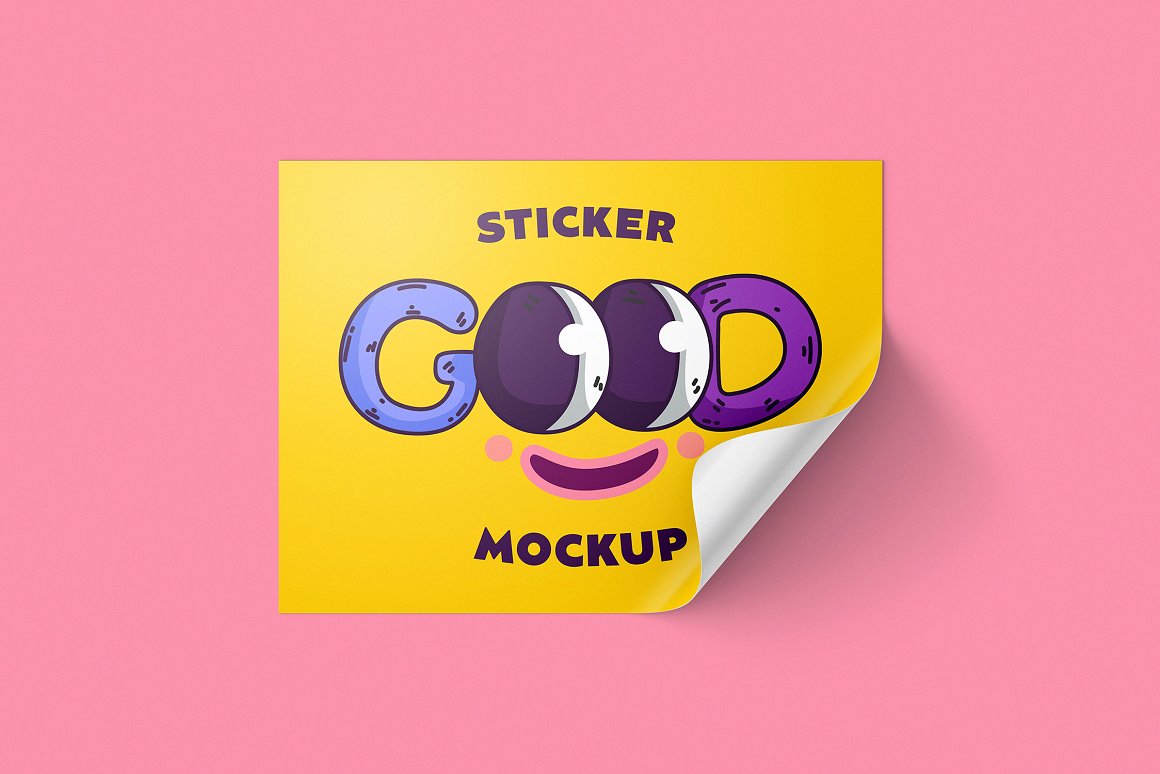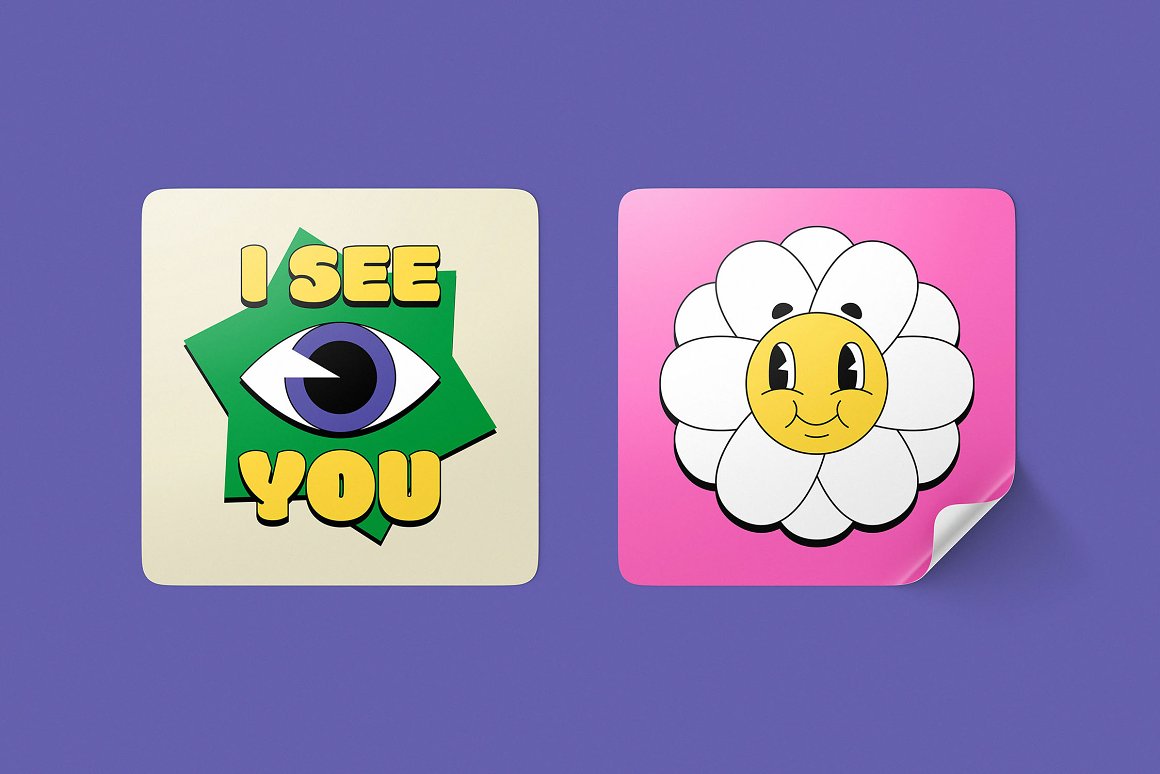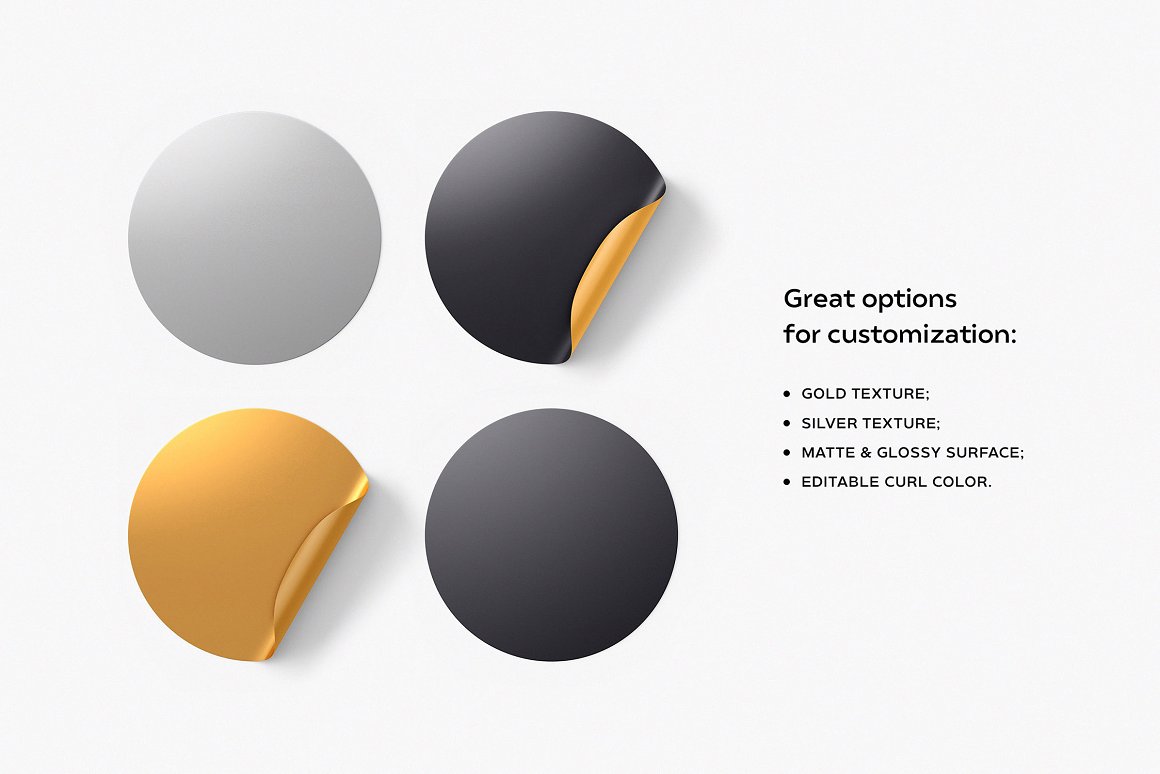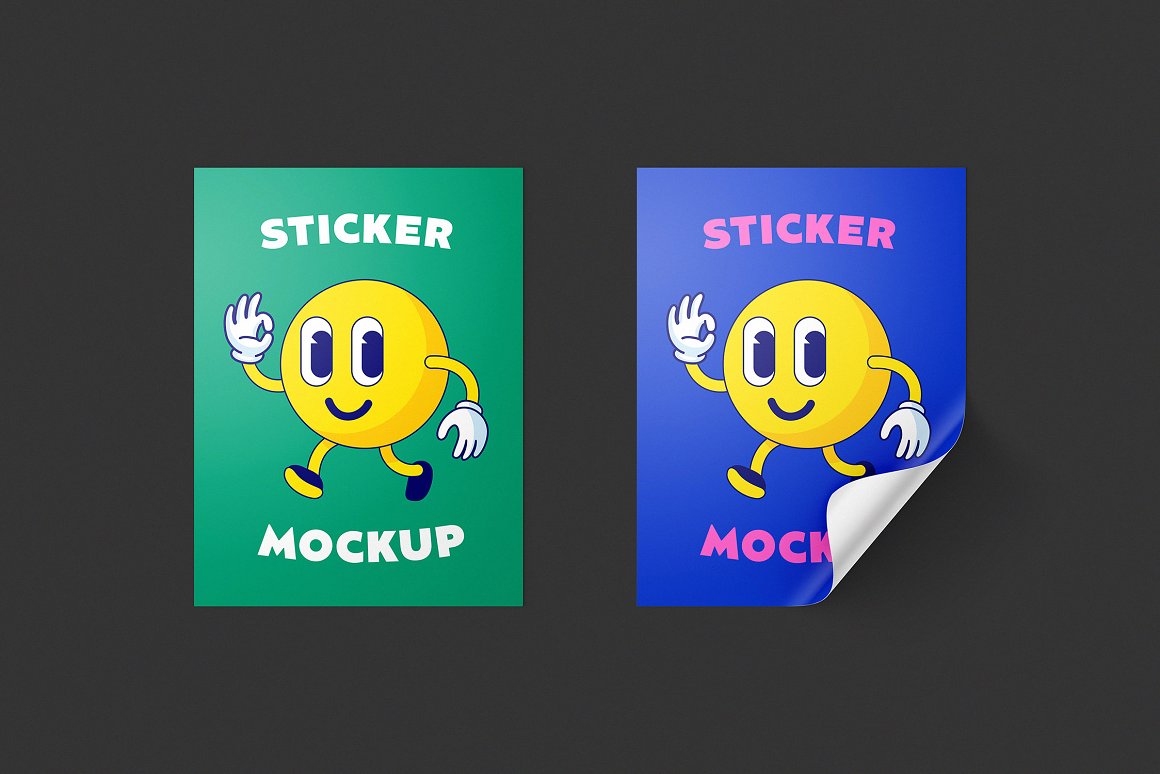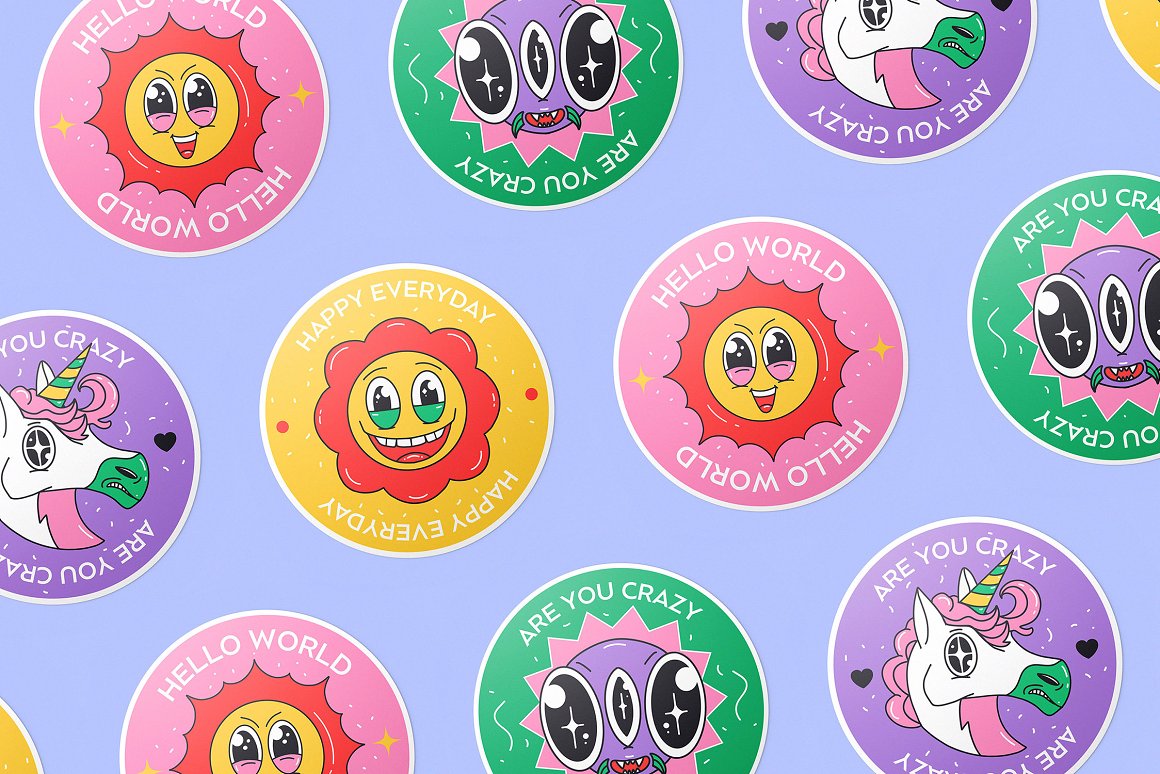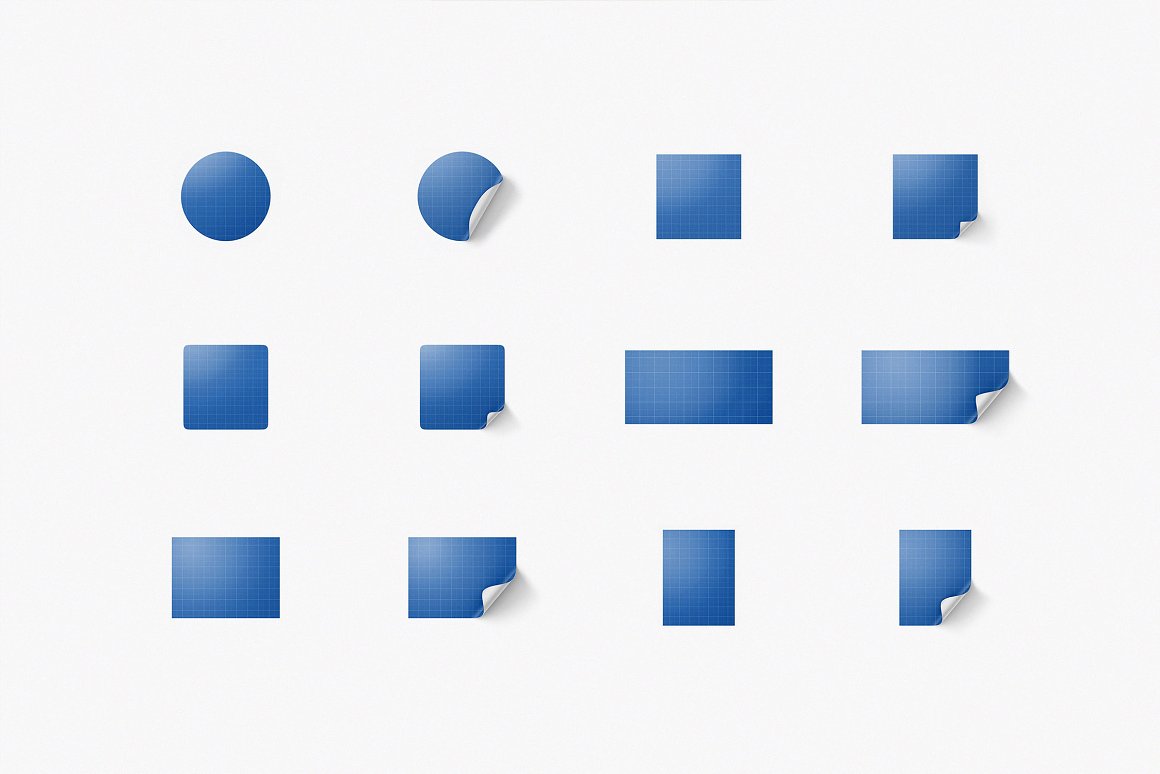 03. Postage Stamp Mockups from Pixelbuddha
When was the last time you sent a letter? Let us answer that for you — it's been too long! And there's no need to feel guilty, because with postage stamp mockups, your digital messages will look amazing. The best part is, you don't even have to leave your desk chair as the thrilling travel starts after opening the files. Express your love for far-off places with dazzling stamps, aimed at roaming the graphic design world and send your messages in style.
Hop on a digital journey with postage stamp mockups and see where another creative wandering takes you! The imagery is crisp and clear, so the inserted graphics looks amazing when it's displayed in 4 premade stamp scenes. Added as several high-quality close-ups, irrespective of a chosen miniature, the enthralling results are easily achieved. A sparse of resources is a menace not known to the owners of this mockup set: use square or rectangular stamps in large and mini versions, pick a suitable shadow overlay out of 6 options and wrap it up with a background texture (there are 6 of them). The vibrant colors and beautiful scenery will make everyone feel like they're on an exotic vacation. So go ahead and send a little bit of paradise right to your audience!
What's inside?
high-quality PSD files;
4 premade stamp scenes;
square & rectangular stamps;
full-size & mini version stamps;
6 background textures;
3 stamp shadows;
6 shadow overlays;
5400×3600 px, 300 dpi;
help file.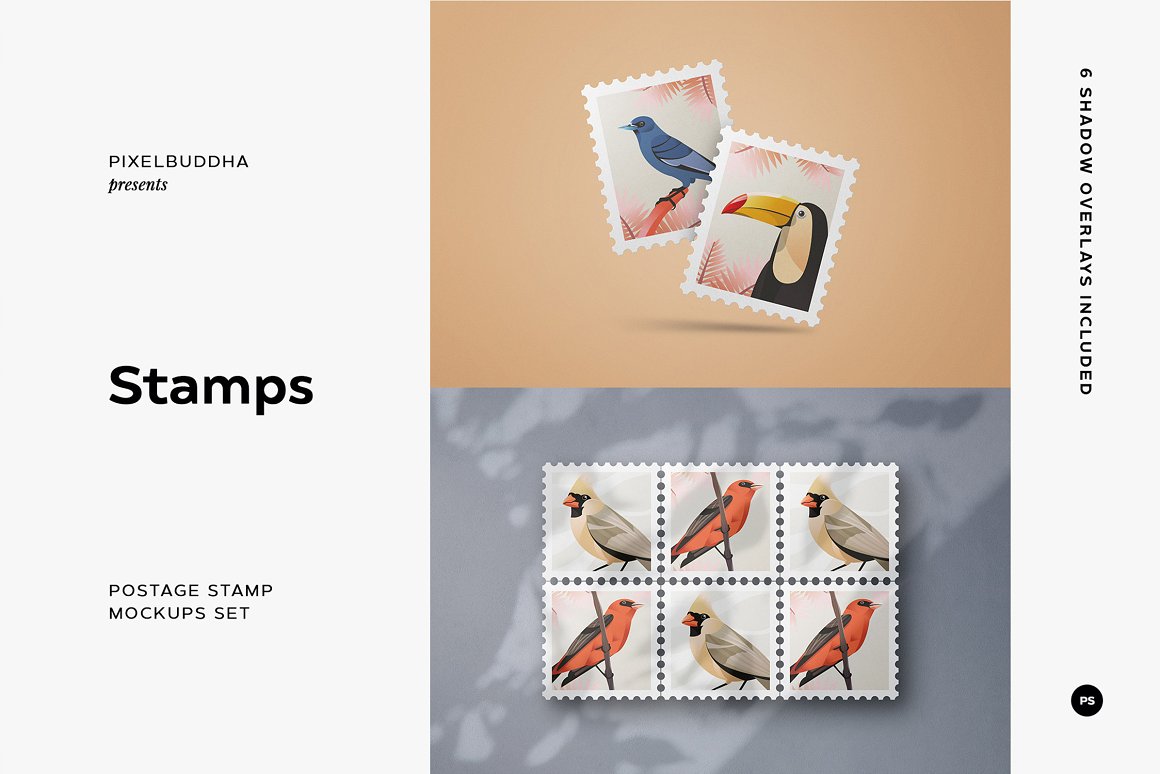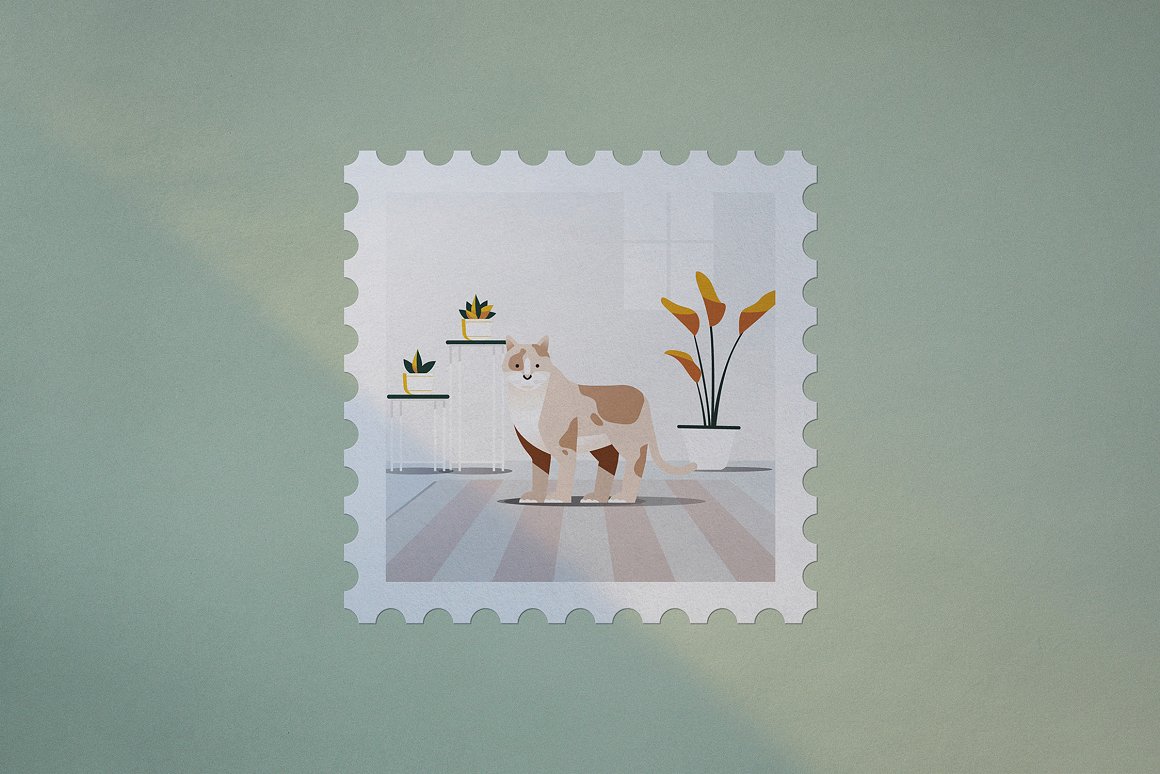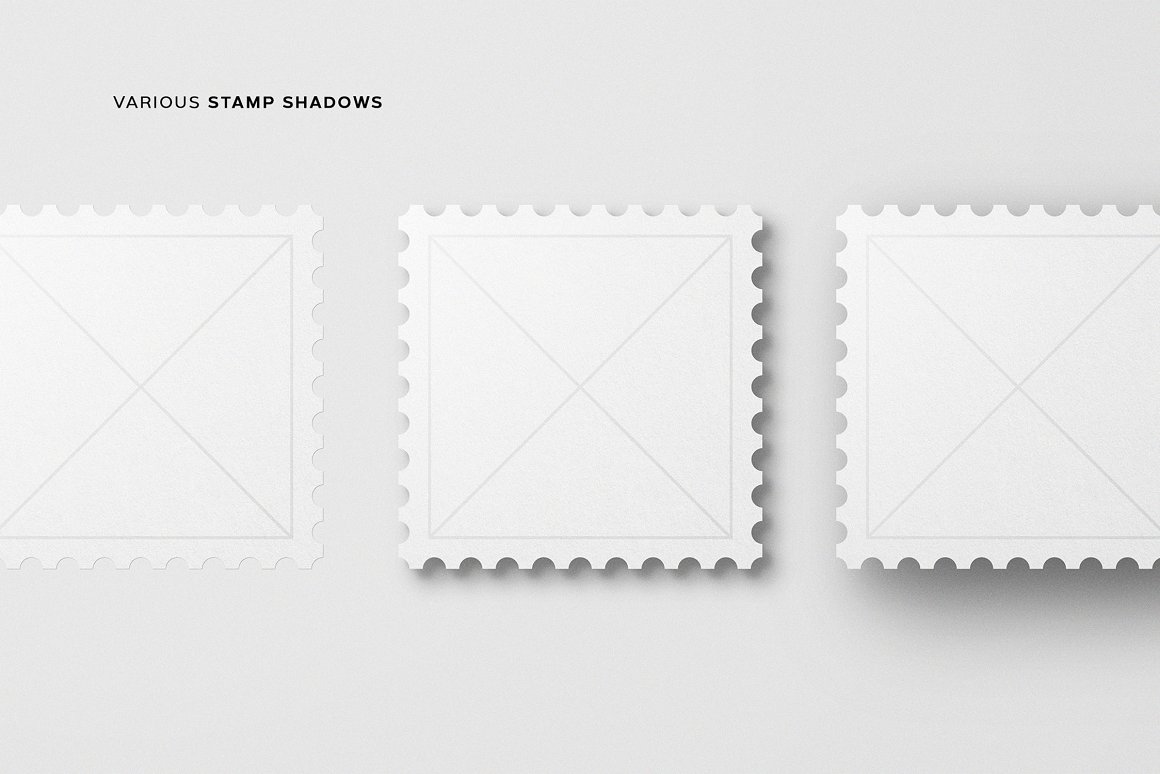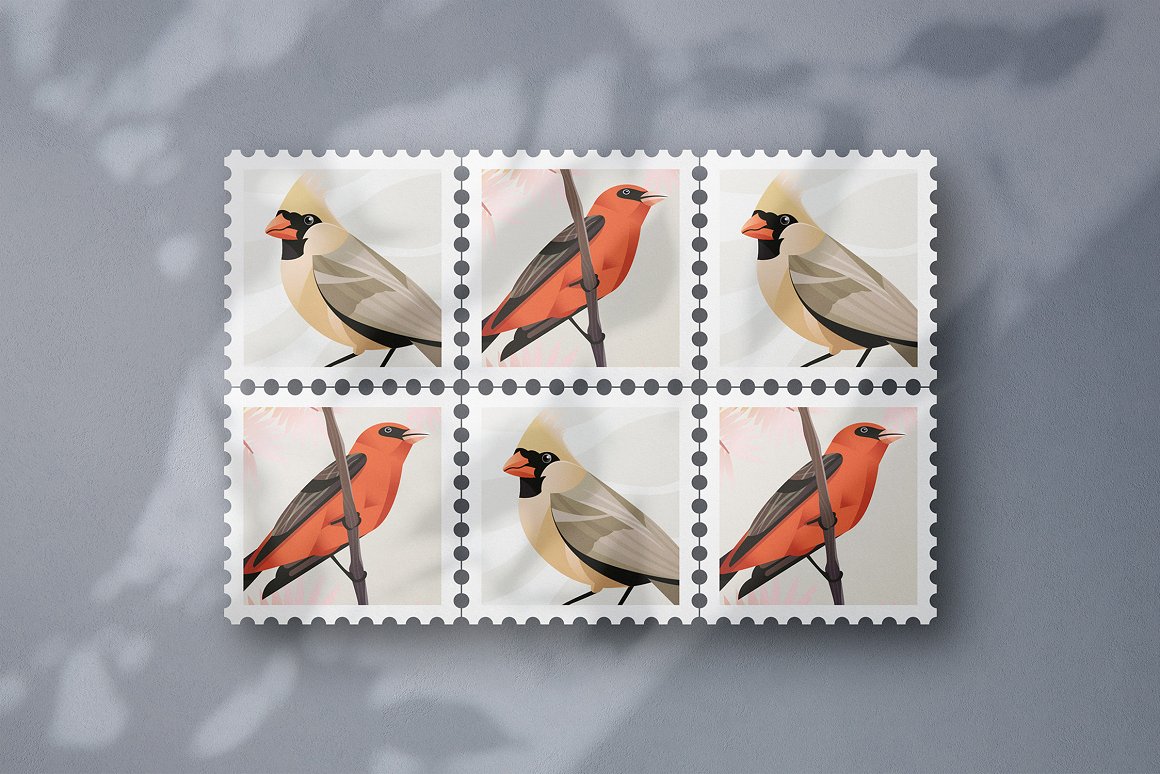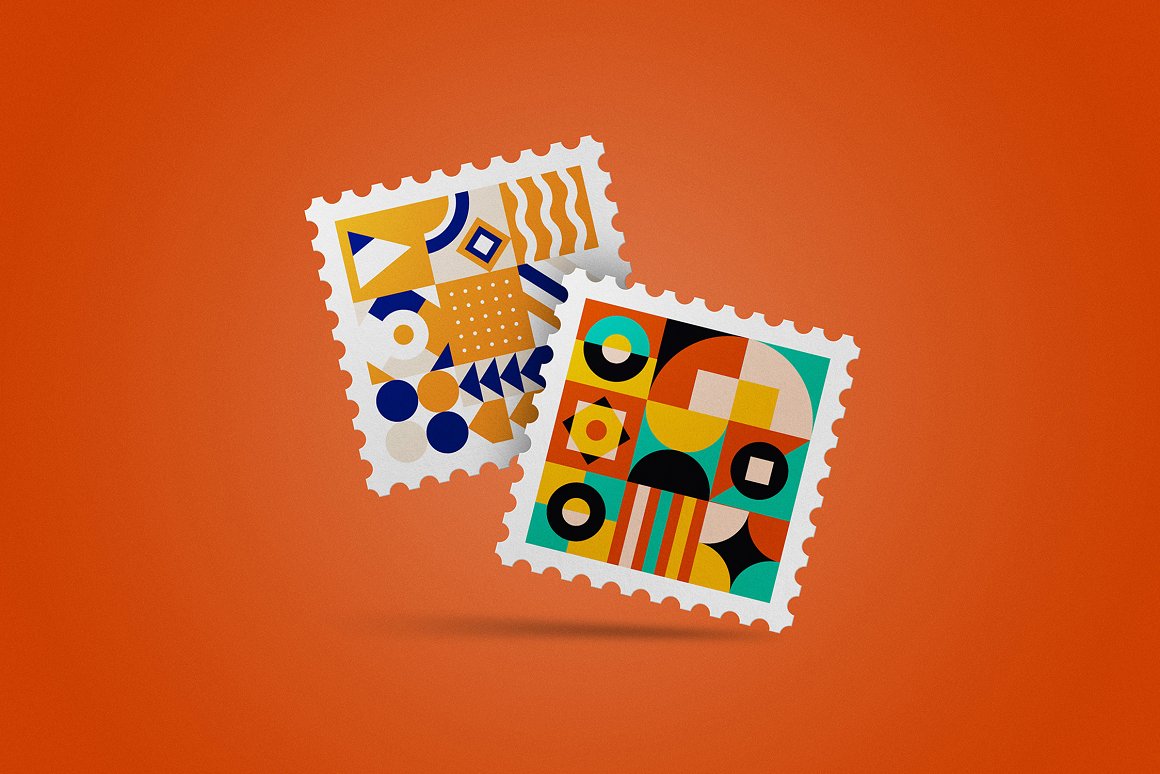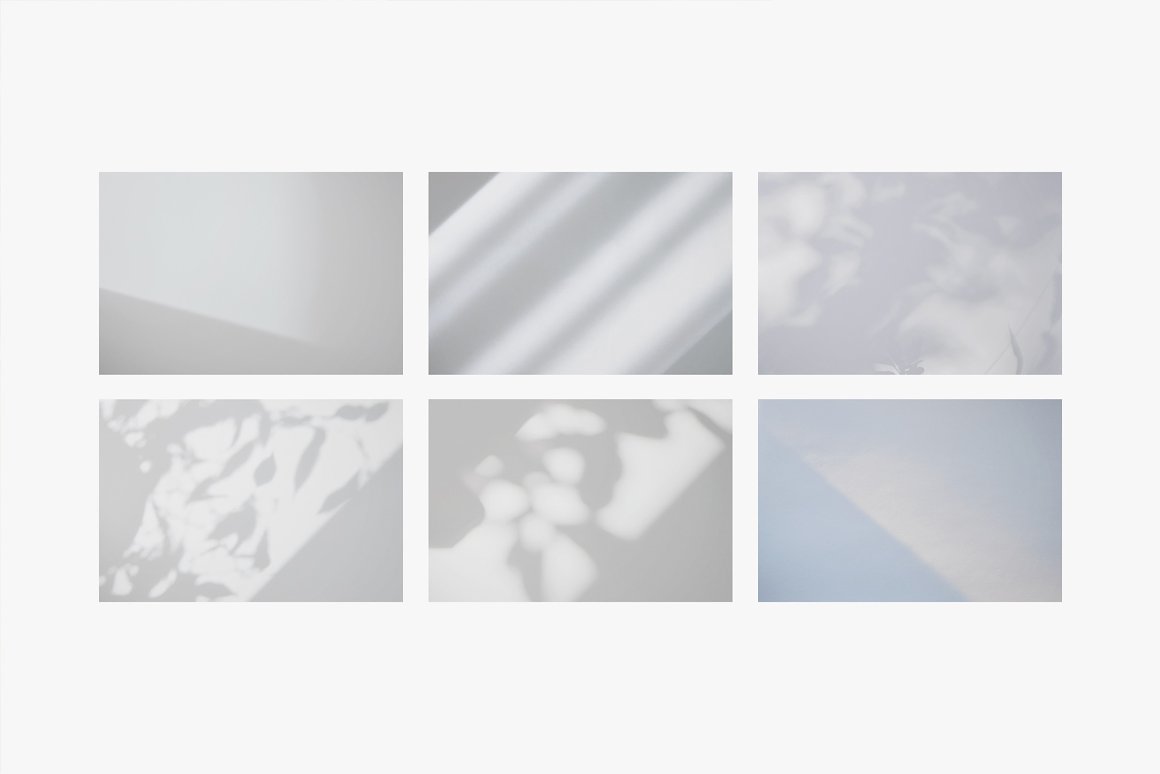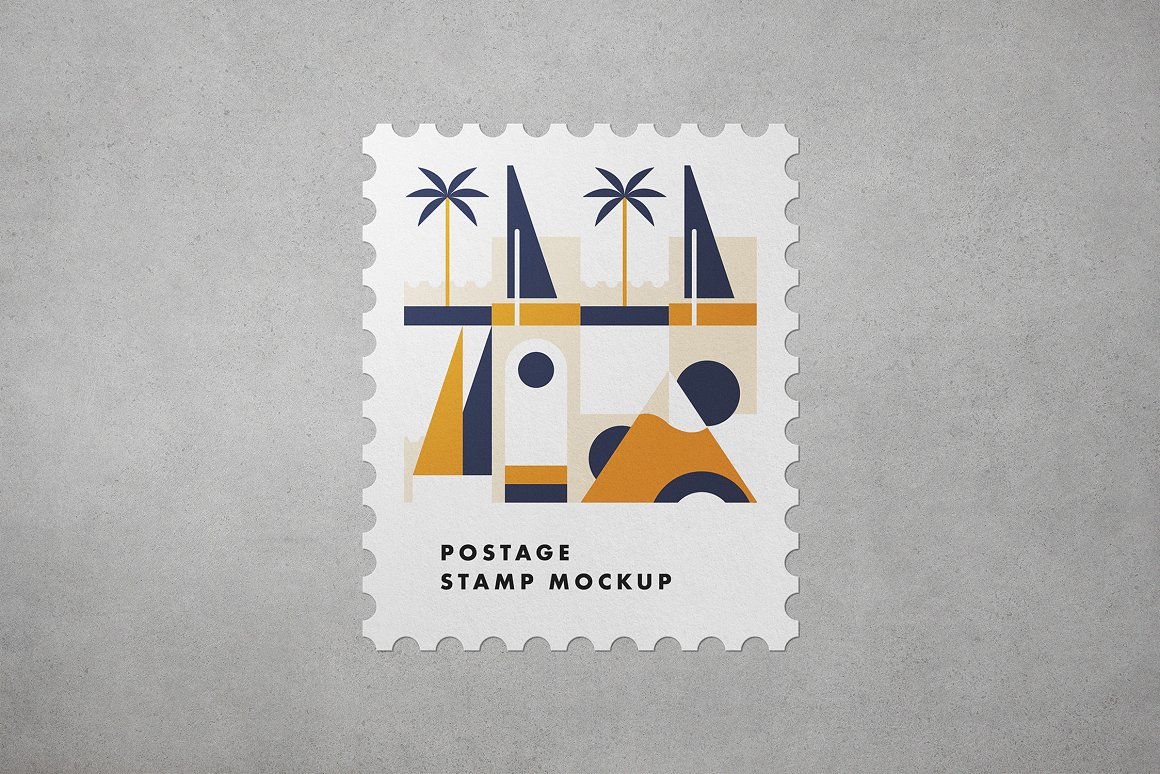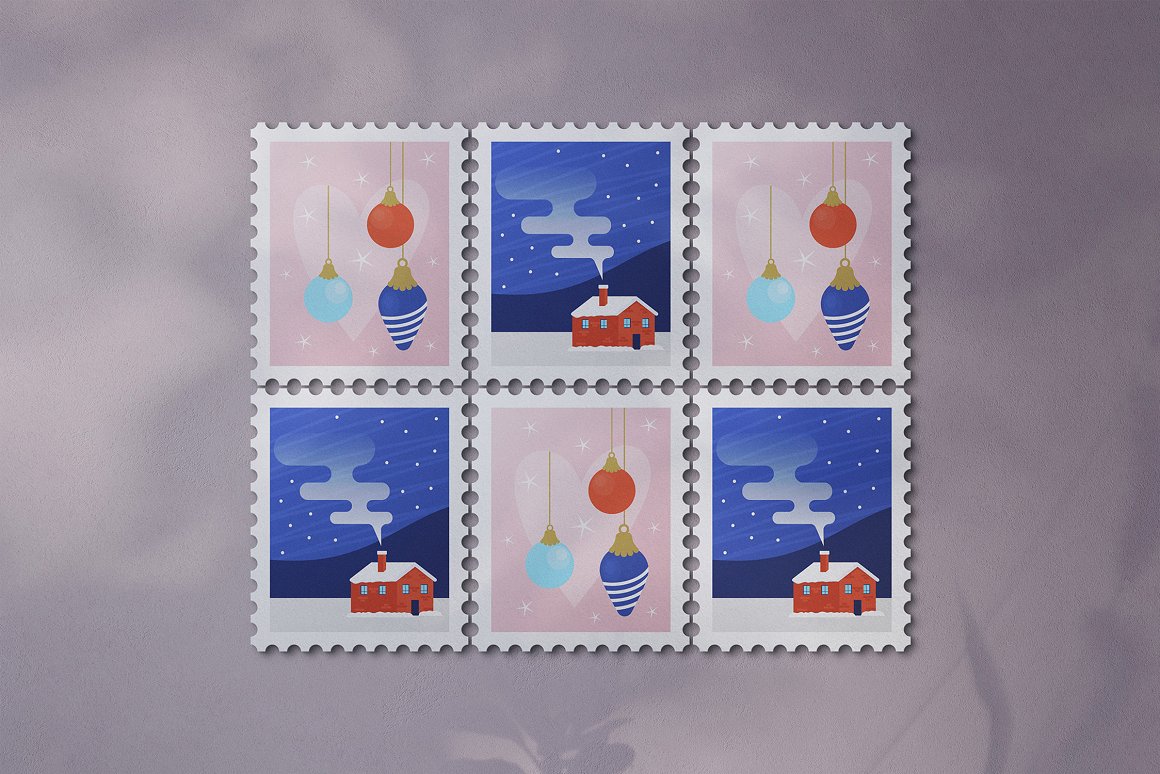 04. Correo Postcard Mockups from Pixelbuddha
Connecting people from different places in the world, these cute cardboard fellas have their history traced back to 1870, when the first postcard with an image on the side was created. The postcard exchange projects haven't lost their relevance, as there's no social media or messenger able to outshine the heartwarming feeling of getting a signed postcard. If you had a chance to design your own one, what would it look like? Test your ideas with postcard mockup scenes, carrying the vacations vibe & beaming with greetings from a sunny coast!
Any concept will find its rightful place in one of these 4 premade scenes, designed to be diverse, featuring stacked, laid out, and placed as several rows postcards, waiting to be edited! Eyes get hooked on details, therefore you'll notice little pressed metallic foil options in the corners to insert logos, monograms or other signatures of your brand. As these postcards were sent from some tropical paradise, the scenes come with shadow overlays and special lighting variants, depending on how intensively the sun was shining on the scene. Put your designs into the indicated layers to have them displayed in the lovely postcards, sending warmth and greetings to your audience!
What's inside?
4 high-quality PSD scenes;
pressed metallic foil options;
various postcard lightings;
scenes with shadow overlays;
photorealistic backgrounds;
3,5×5 inch postcards;
3300×2200 px, 300 dpi;
help file.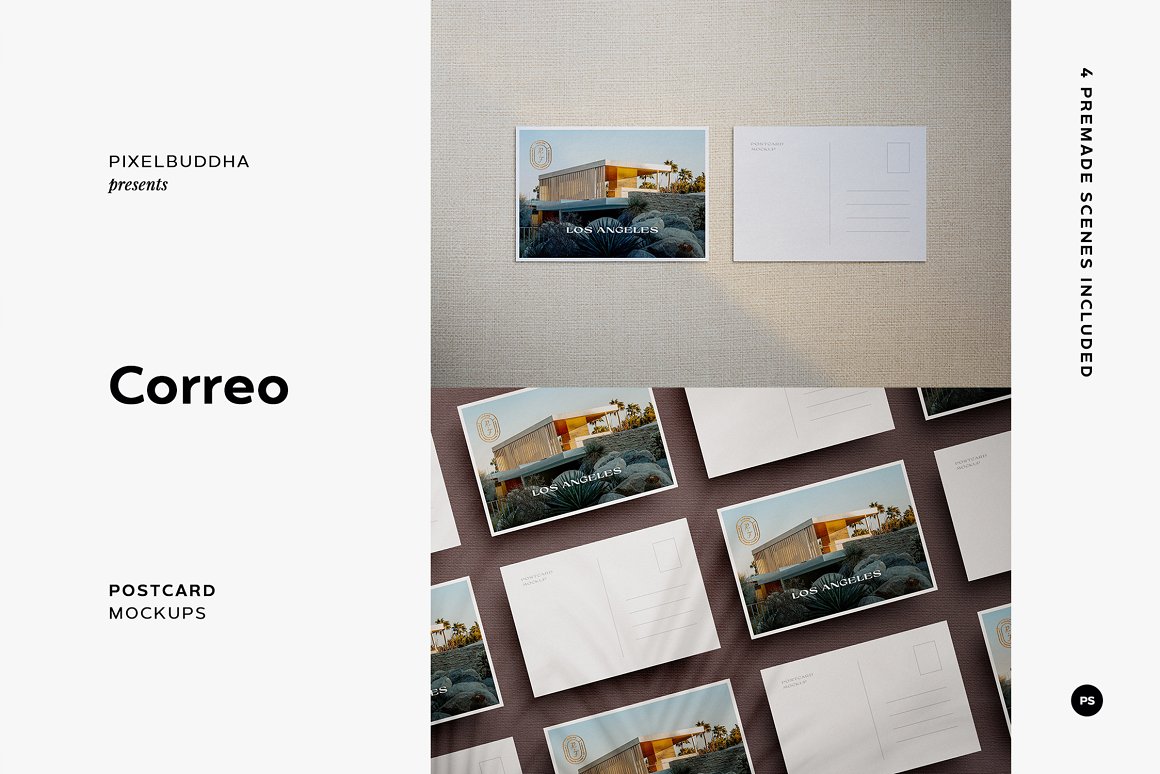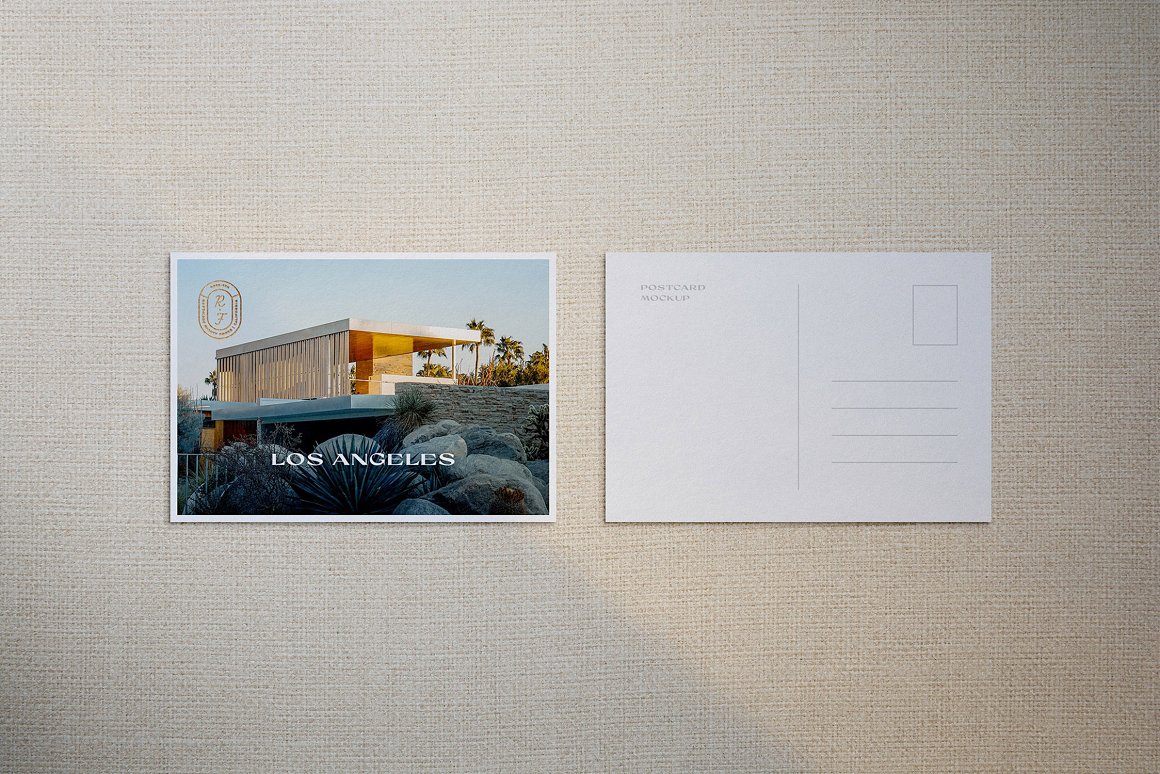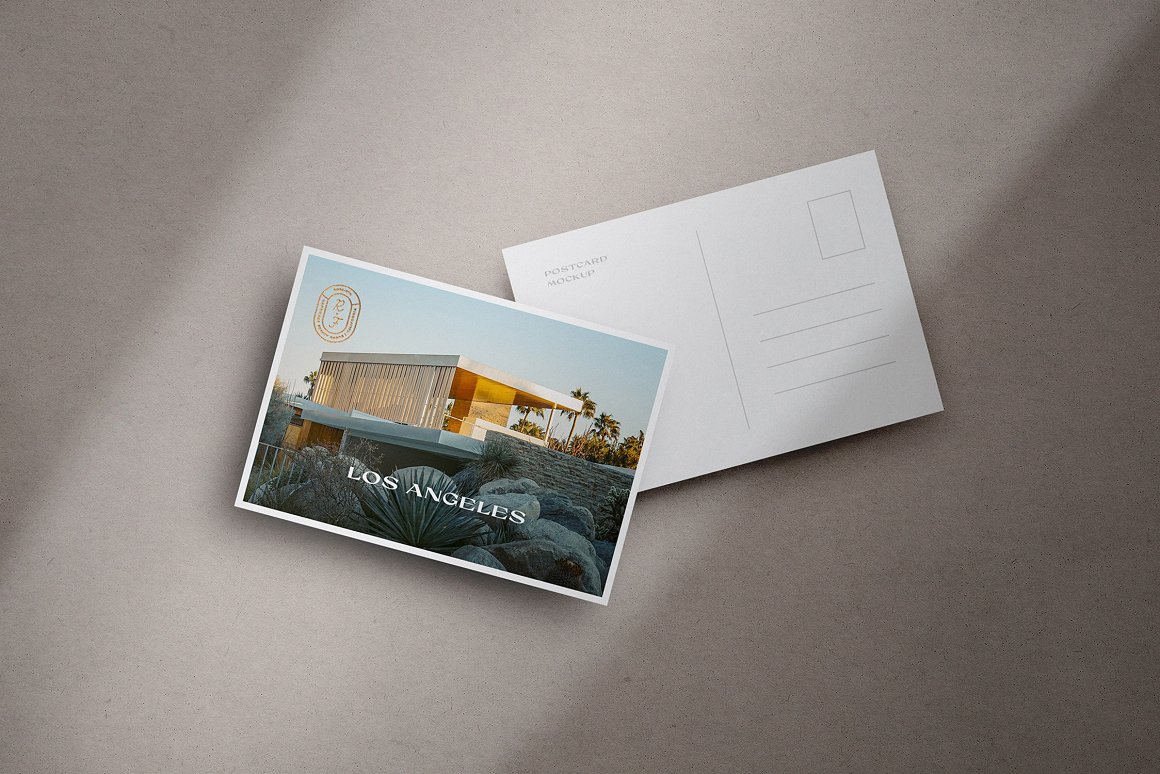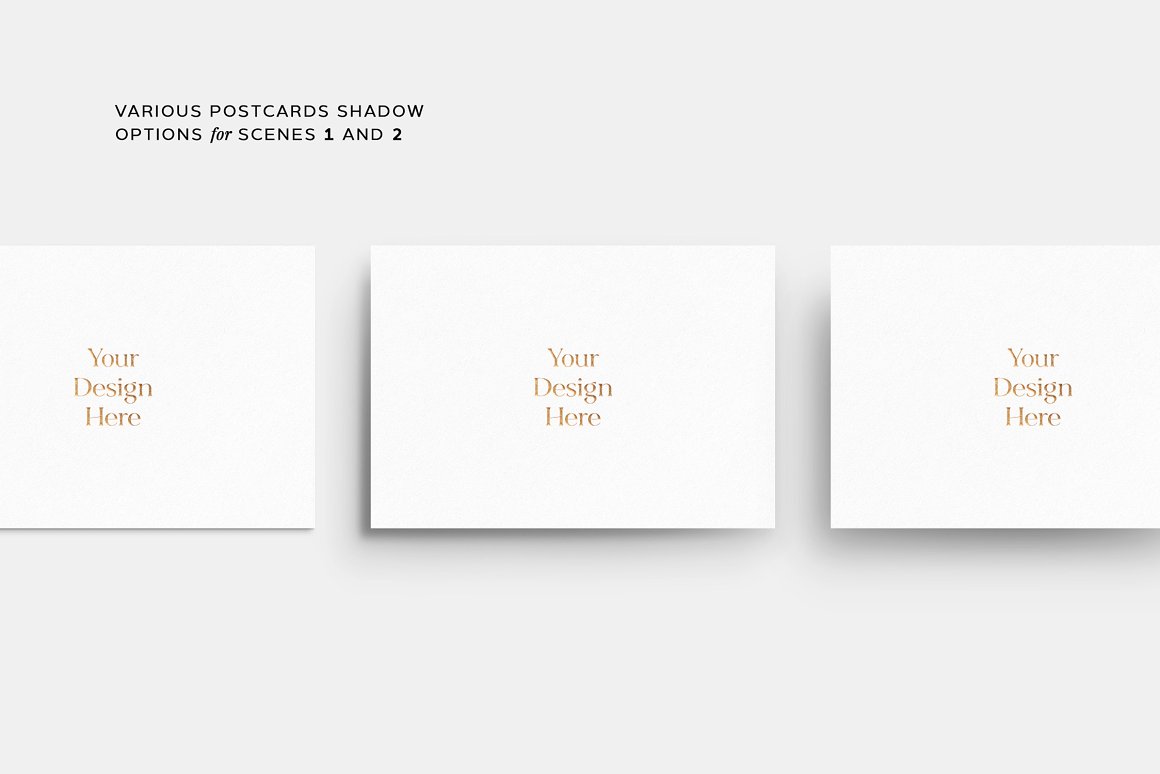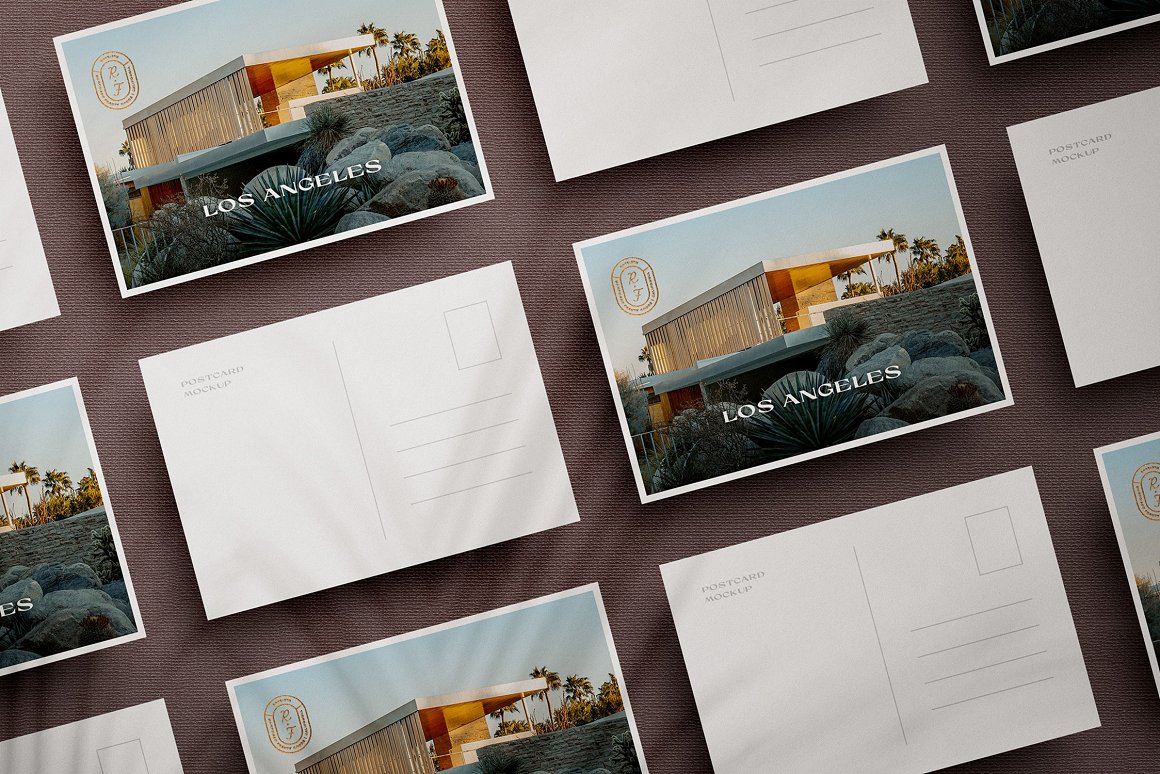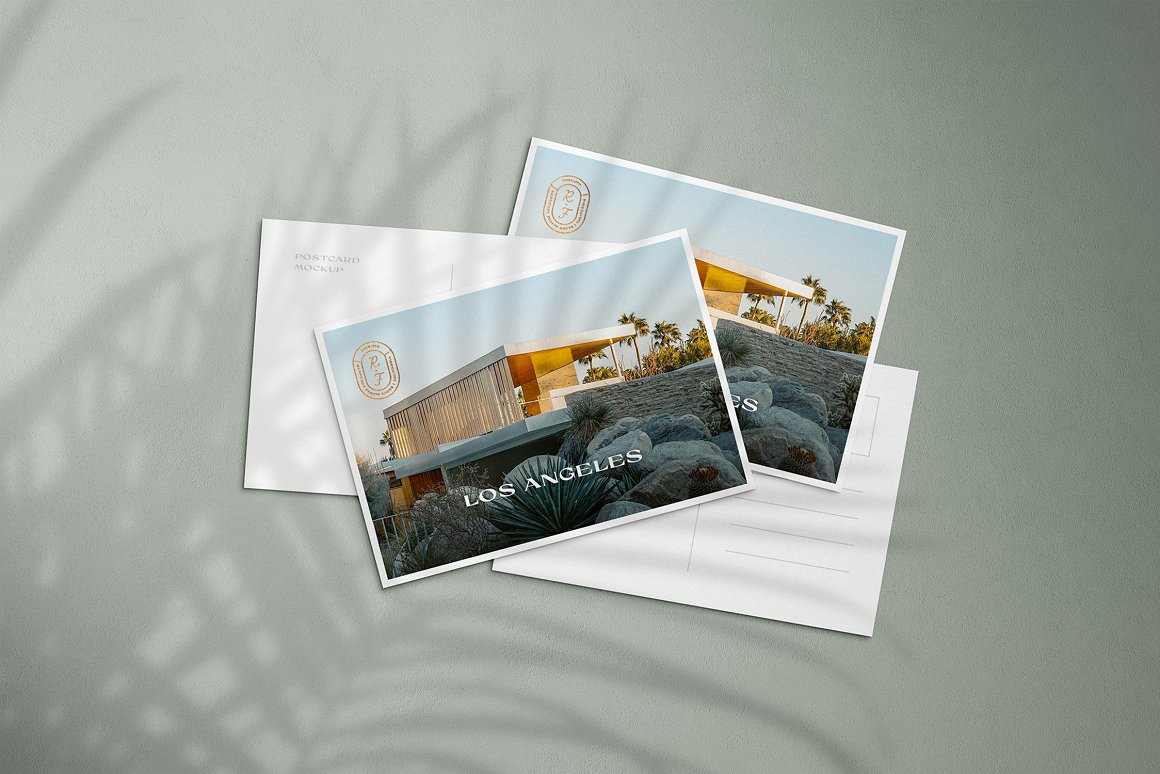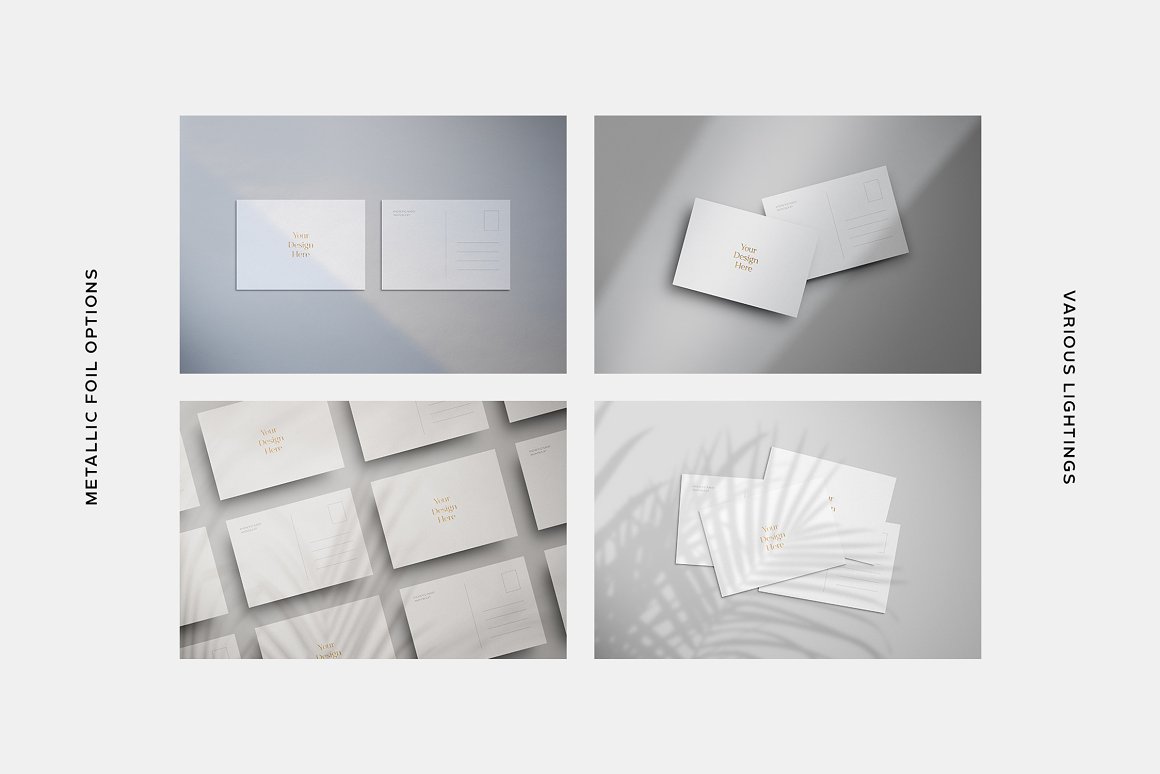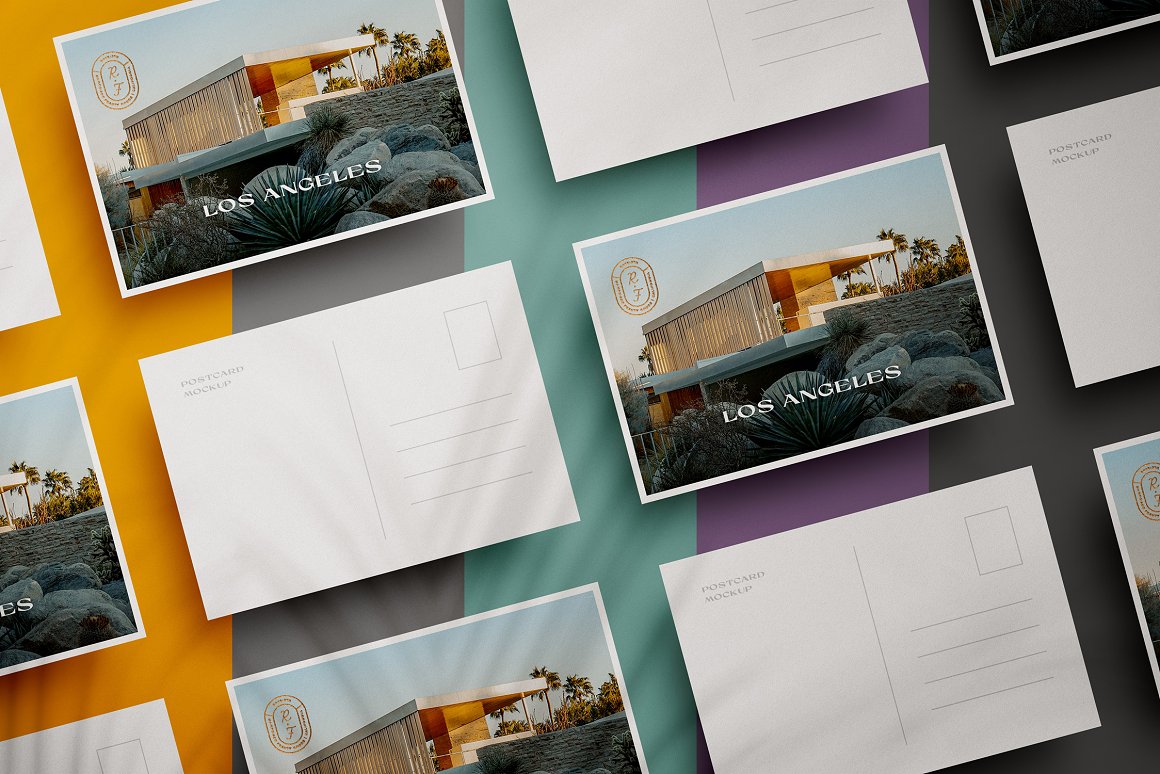 05. Event Tickets Mockup Set from Pixelbuddha
There's a rendered paper sheet that can magically turn into a pass to absolutely any event, party, flight, or show! Missing such a thrilling opportunity to have it added to your toolbox would be a crime: the kit depicts an isolated ticket mockup with modifying options and realistic shadows. It's impossible to list all the ways of using the asset, so we're just leaving it to your imagination.
The time comes to have a refreshing makeover for the habitual presentation means, and that's when the ticket mockup comes into focus. There are 2 ticket sizes to count on when delivering your design, packed with shadow settings and realistic perforation. Left and right ticket parts are editable, and can show various designs in one, placing the elements according to your taste. That's not the last thing to adore this mockup collection for: 4 premade scenes boast with nicely-arranged tickets floating, laid out, paired or stacked on dark and light background. Send out the invites to check out striking work you've done, showing off logotypes, photography, patterns, typography, and much more.
What's inside?
high-quality PSD files;
changeable background color;
editable left & right ticket sides;
big & small tickets;
4 premade scenes;
4500×3000 px, 300 dpi;
help file.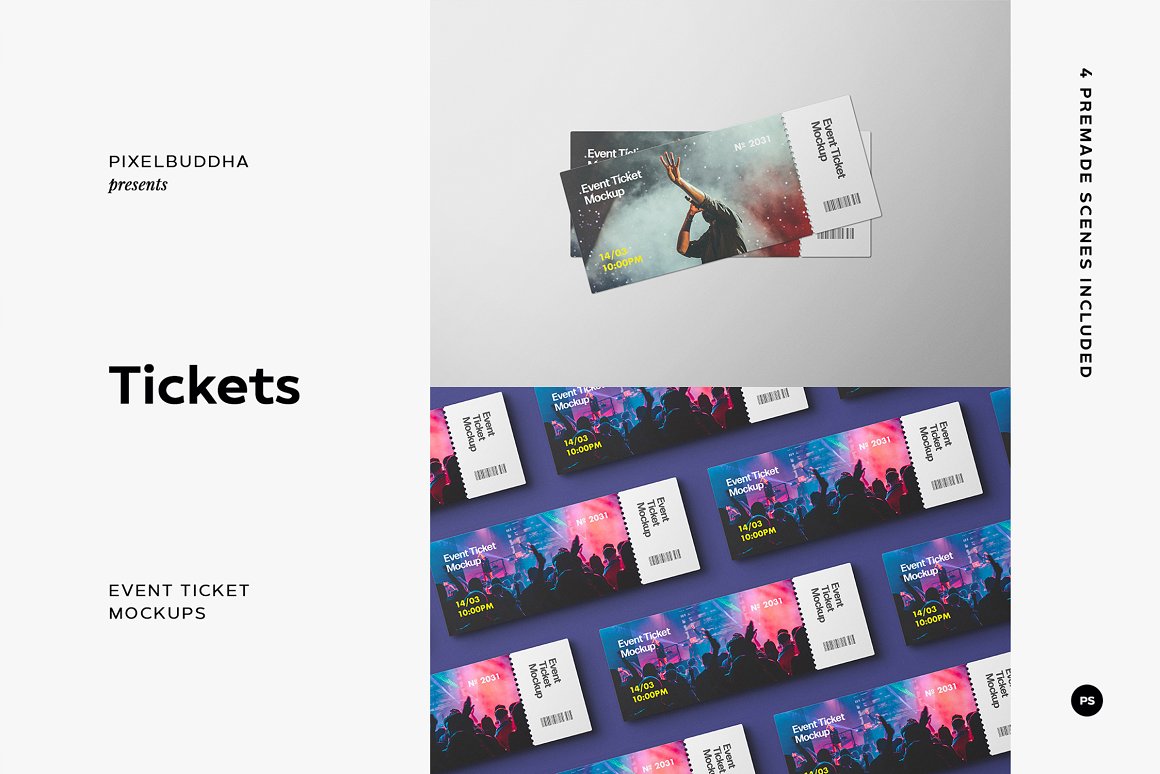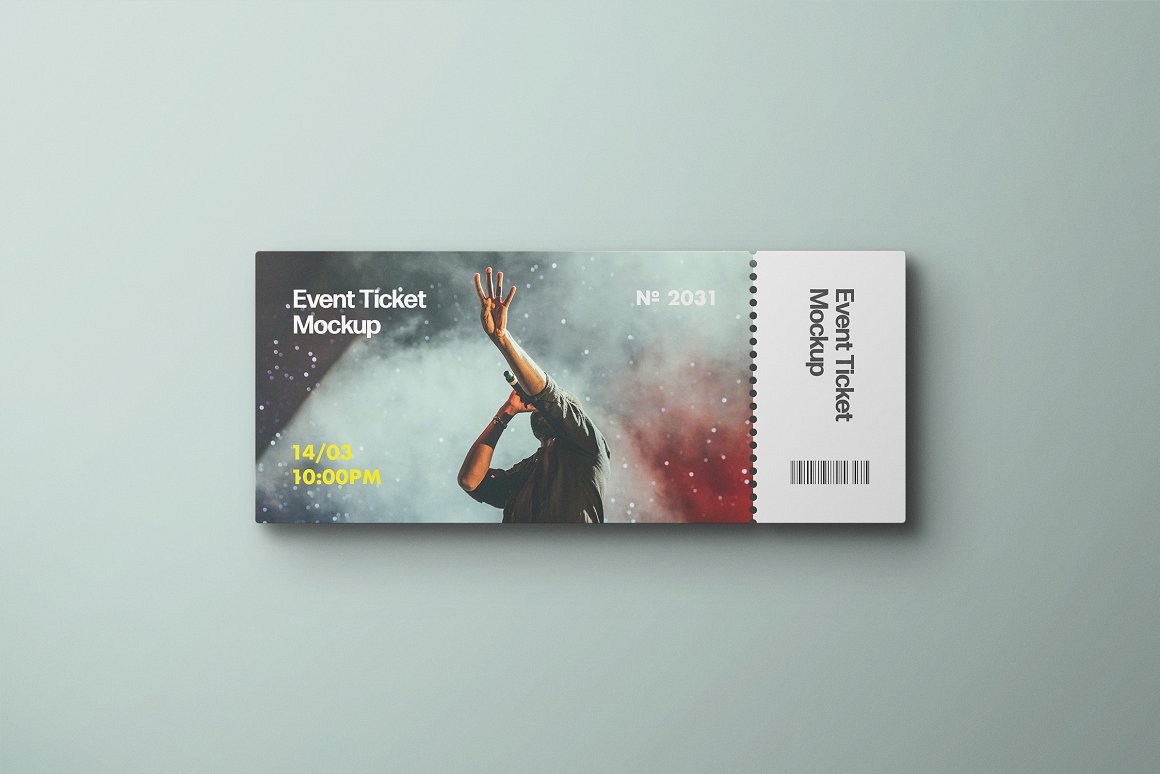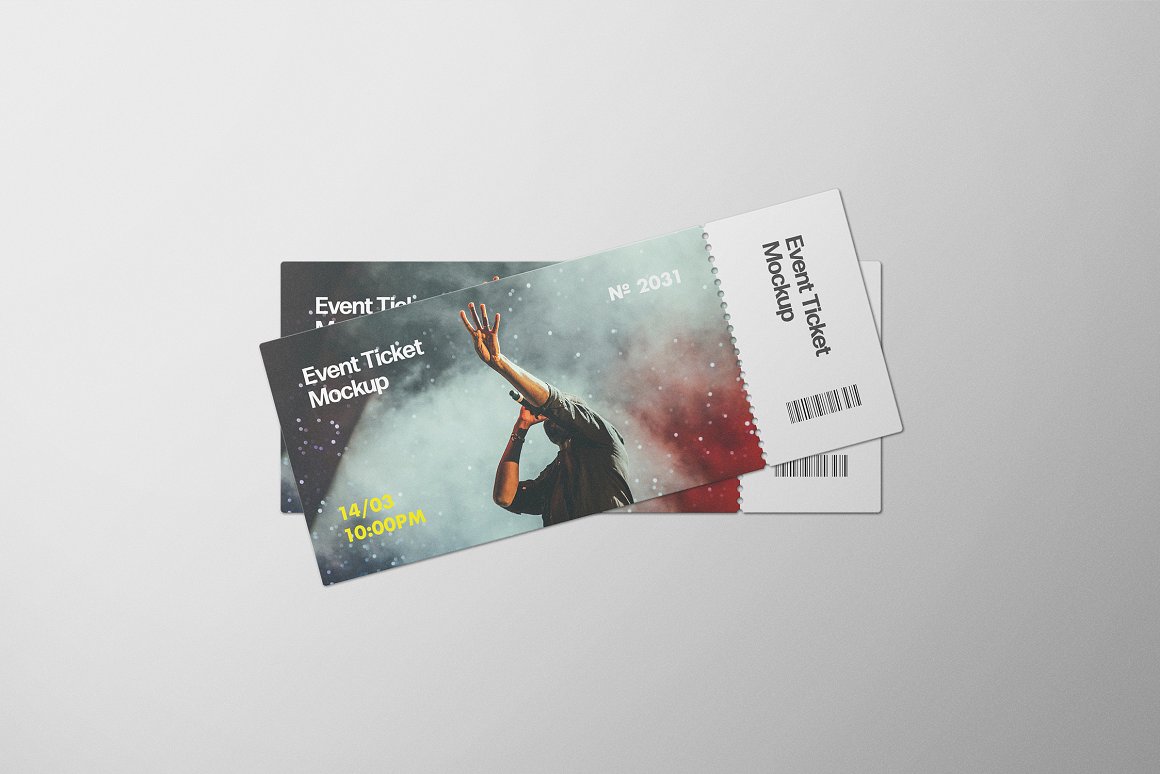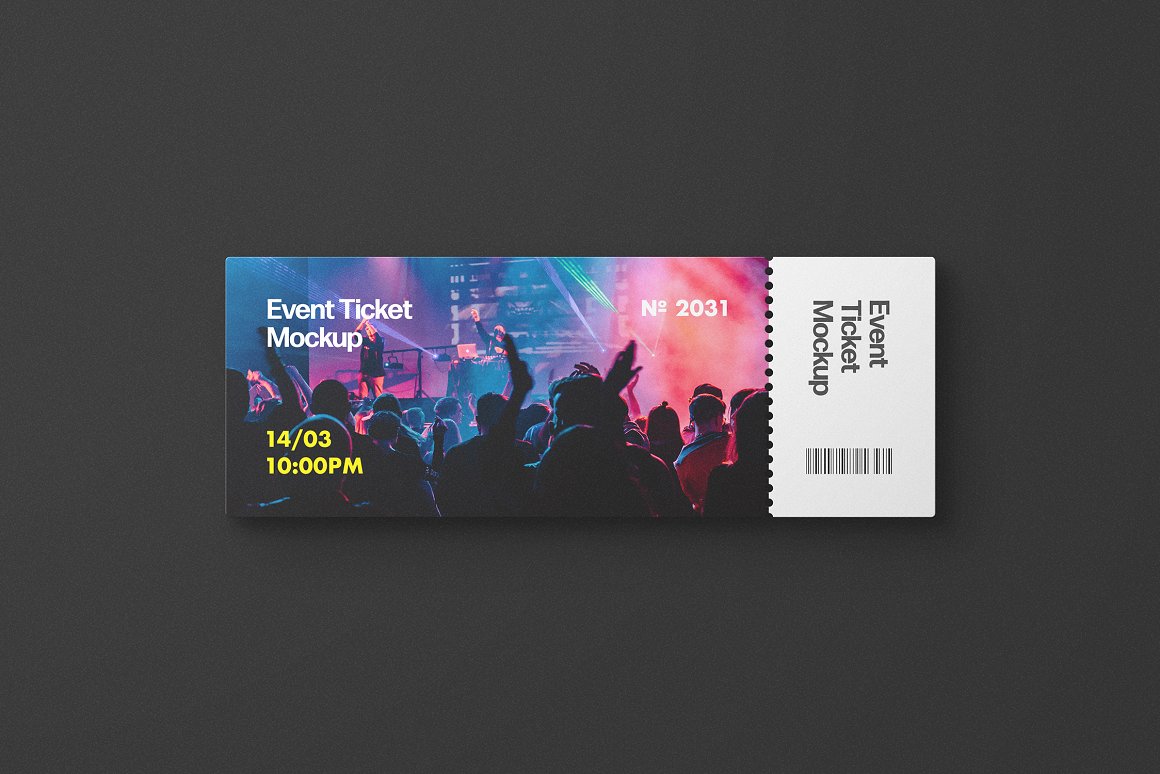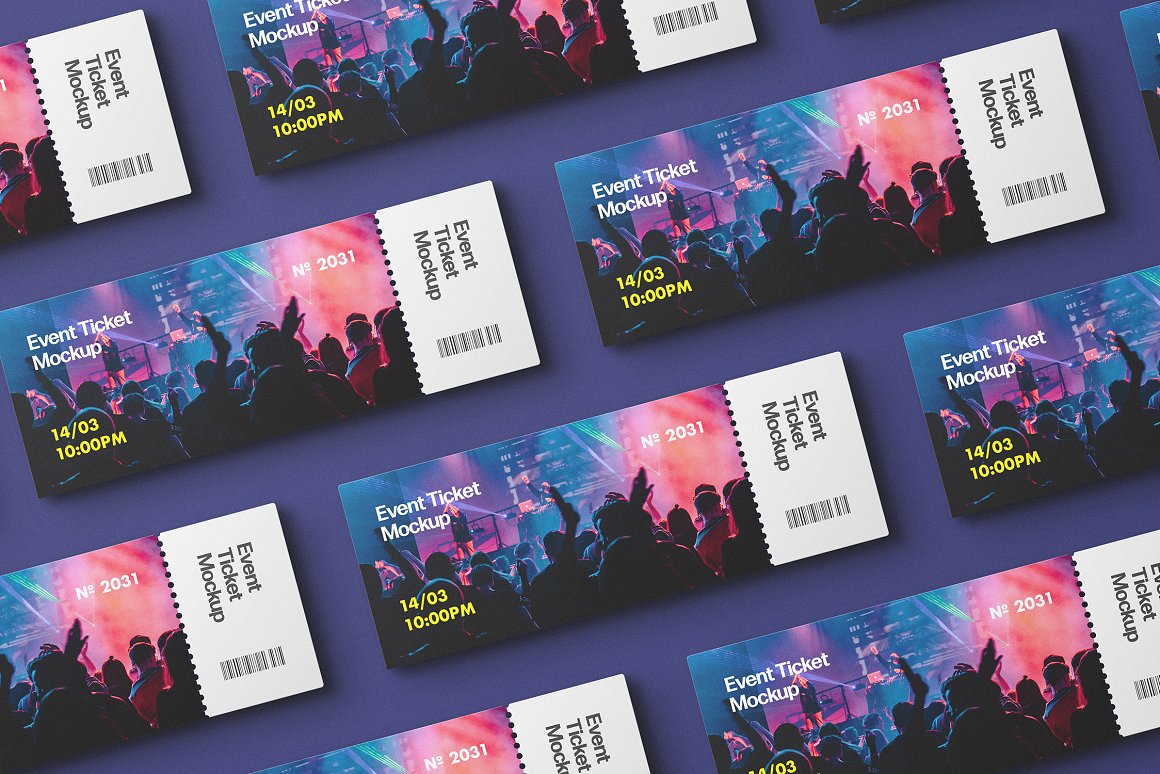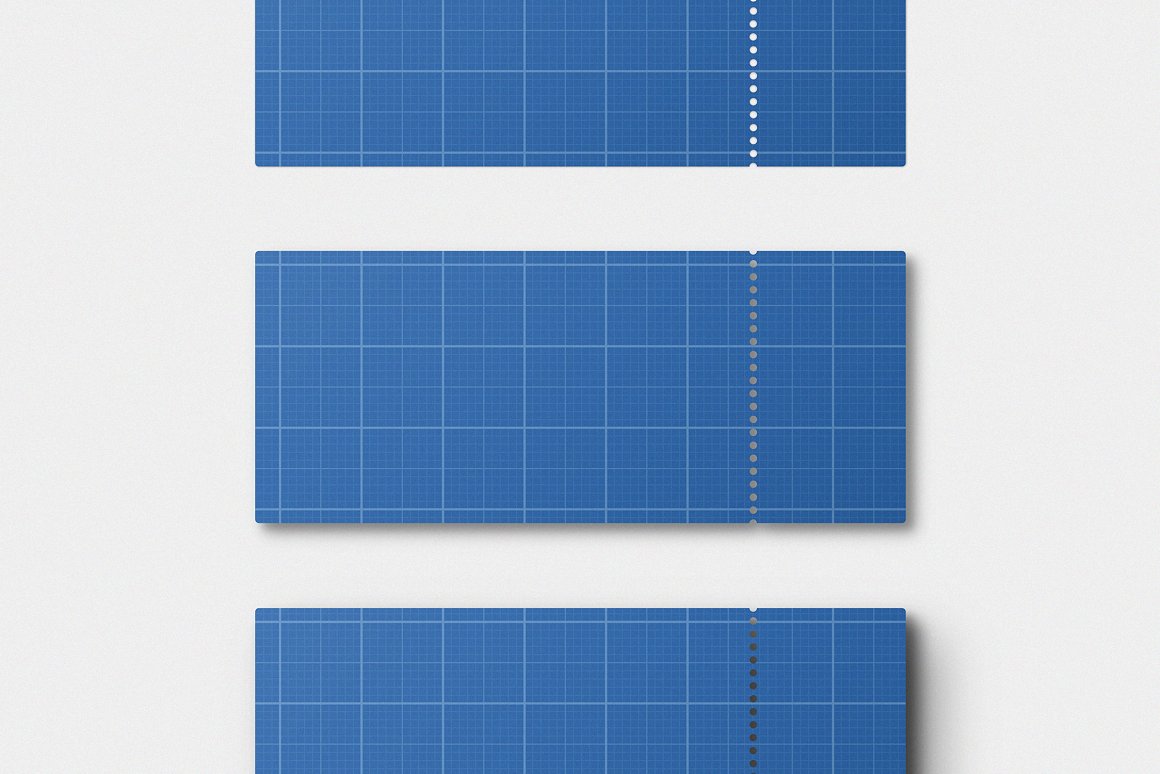 This bundle highlights:
5 realistic and editable mock-up template sets for Adobe Photoshop
extended commercial license (like all of our deals): use for unlimited personal and commercial projects + you can also use them in designs/products that you sell. You can use all these items as a part of your non-digital or digital designs ( posters, t-shirt designs, stickers, web templates…). You cannot resell these files directly, or within items/goods where they can be extracted in their original form (like vector shapes, elements, fonts… – they need to be flatten into background or object in your digital item for sale). License is only for 1 person – you'll need to buy 2 licenses if 2 persons will work with these graphics. Please read more about our exclusive license!
Pricing:
Normally, these 5 presentation mock-up sets would cost you $80 (without extended license) & $395 (with extended license), but for a limited time only, you can get this unique collection for $12!
Deal Terms:
Delivered as an instant download, after completing your purchase. (External download links included – please let us know if you'll any help with download)
All results from these mock-up templates can be used for both personal and commercial purposes, for yourself or on behalf of a client, on their own, or as part of your new design for sale.
Cannot be sub-licensed, resold, shared, transferred, or otherwise redistributed on its own.
You cannot share these resources with others. This is a single user license (for 1 user on any number of devices)! You'll need second license for your colleague computer!