Do you work with clients and are you a Graphic Designer, Webdesigner, Photographer, Virtual Assistant, Social Media Manager, Videographer or Illustrator? Then you'll need bulletproof contracts! Most creative professionals only learn about the value of a good contract when the shit has already hit the fan, but with this deal you can be smarter than most for a fraction of the cost of hiring a specialized lawyer.
This bundle of 9 contract templates is drafted by a team of experienced lawyers in the creative industry. These contracts from TheContractGuys are NOT country-specific and will hold up in any court in the world. You will receive easy-to-edit Word templates with all the provisions you need for a solid contract.
To name a few of the areas in which we got you covered:
Protect yourself when unforeseen circumstances arise

Set a definite pay period or work with milestones to ensure you are getting paid on time
Spell out your exact rates to prevent future uncertainties
Record out-of-pocket expenses
Get the proper credits and define who owns the work
Take a look at what you can get: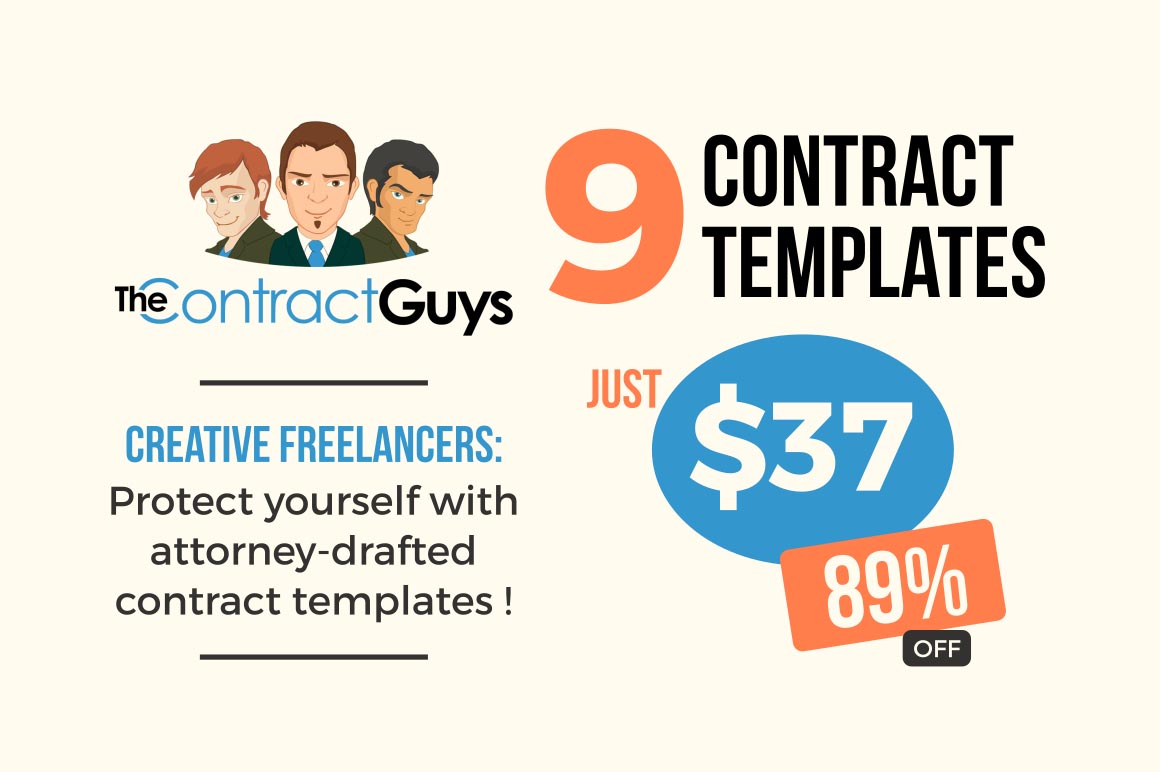 Take a look at these contract samples:
What do you receive?
You'll receive 9 contract templates to cover each creative gig from Design assignments, to Writing and Photography. Each template comes in an editable Word document with clear instructions and explanations where necessary.
Terms and Conditions
Files are available as instant download in the form of .docx files. The contract templates are to only be used by the person/entity which purchased the usage rights to the templates. It is a violation of copyright law to distribute these templates or provide access to the templates (whether for free or for a fee) to other persons/entities.
Pricing:
All freelance agreements at TheContractGuys are already priced very friendly at $37 per template, but with this bundle deal we are making this a no-brainer and give you 9 templates for the price of 1. You heard that right, get in now and receive the entire bundle of 9 templates for $37 instead of $333! Save yourself thousands in legal fees and get in on this deal now before it ends.
Deal Terms:
Delivered as an instant download, after completing your purchase.
Items can be used for both personal and commercial purposes
Cannot be sublicensed, resold, shared, transferred, or otherwise redistributed on its own.
You cannot share these resources with others. This is a single user license (for 1 user on any number of devices)!