Super Vectorizer 2 is a professional vector tracing software for Mac that auto converts bitmap images like JPEG, GIF and PNG to clean, scalable vector graphic of Ai, SVG, DXF and PDF.
It supports tracing of color and grayscale, black-and-white, skeletonization and line as well. Super Vectorizer 2 uses a totally-new image quantization algorithm that produces more natural color after vectorization. The output vector art works seamlessly with Illustrator, Corel, and others.

Key Features of Super Vectorizer 2: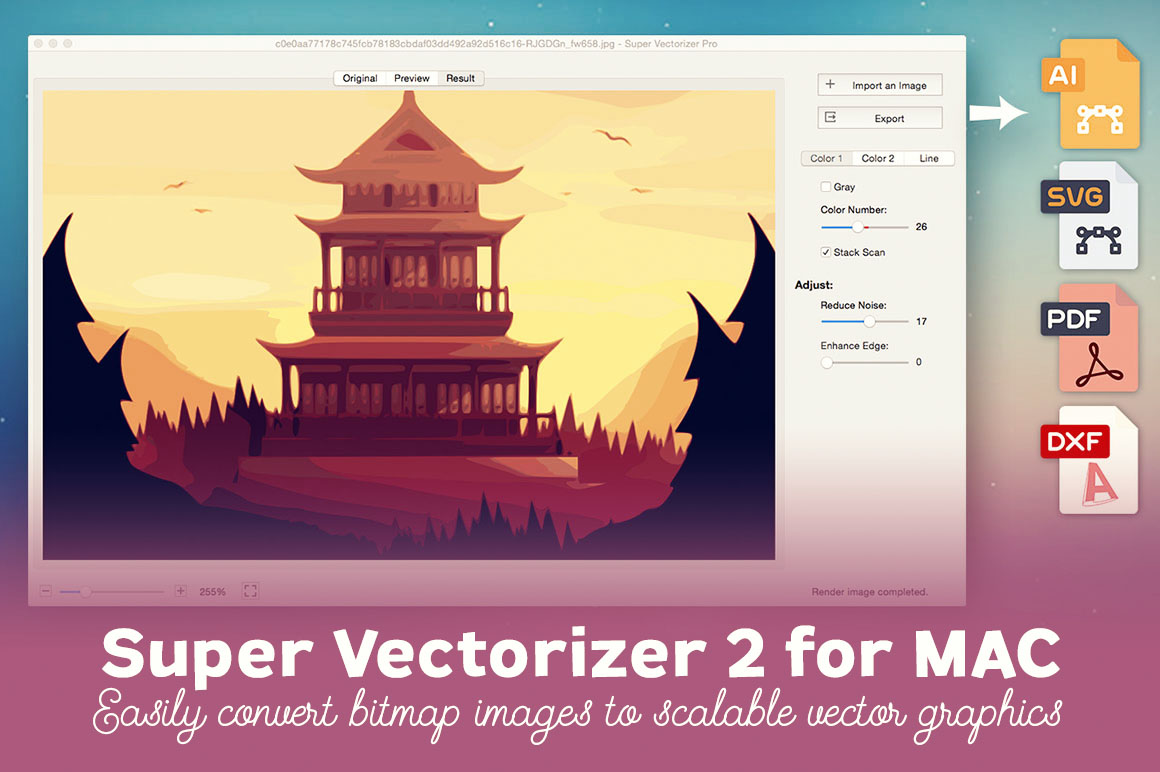 System Requirements: Mac OS X 10.7 or later . Not available for Windows.
• Life-Time License!
• Fully automatic vectorization!
• Supports up to 64 colors!
• Automatic tracing images of 70+ formats:
JPG, BMP, PNG, GIF, PDF, PSD, PNT, RGB, ARW, BMPF, CUR, CRW, CR2, DCR, DNG, EPSF, EPSI,
EPI, EPS, EXR, EFX, ERF, FPX, FPIX, FAX, FFF, GIFF, G3, HDR, ICNS, ICO, JP2, JFX, JFAX, JPE, JFIF,
JPF, MPO, MAC, MRW, MOS, NRW, NEF, ORF, PICT, PIC, PCT, PS, PNTG, PNGF, PEF, QTIF, QTI,
RAW, RAF, RW2, RWL, SR2, SRF, SRW, SGI, TRIC, TIFF, TGA, TARGA, TIF, XBM, 3FR, 8BPS
How to quickly convert raster images to vector graphics on Mac?
Other Features of Super Vectorizer 2:
Segmentation editing capabilities: Trace more clean line borders that greatly simplifies the information to get more concise vector graphic for the ease of editing. It succesfully avoids a region overlapping.
There are two color modes now. A new color mode with image segmentation polymerization algorithm was unique in the AppStore at present.
Options for vectorizing images by Edge or Color or Gray Color.
Options for vectorizing images by Skeletonization or Line
Better Optimization of line-tracing with a new line-tracing engine : accord more closely with users' needs
The function of skeletonization will enable conversion from pencil drawing into vector graphic easily
The enhanced pre-processing smoothing function simplify the complex image very well. The smoothing algorithm is four times better than that of Super Vectorizer
Better Accuracy: more closely resemble to the input image
Ai, SVG, DXF and PDF vector graphic output
Optimized the operation for convenience zooming in and out to check the processing results
Supported opening files by dragging and dropping it to the icon for easy operation
Powerful preview to inspect the result in detail
Vectorize very large images
Transparency support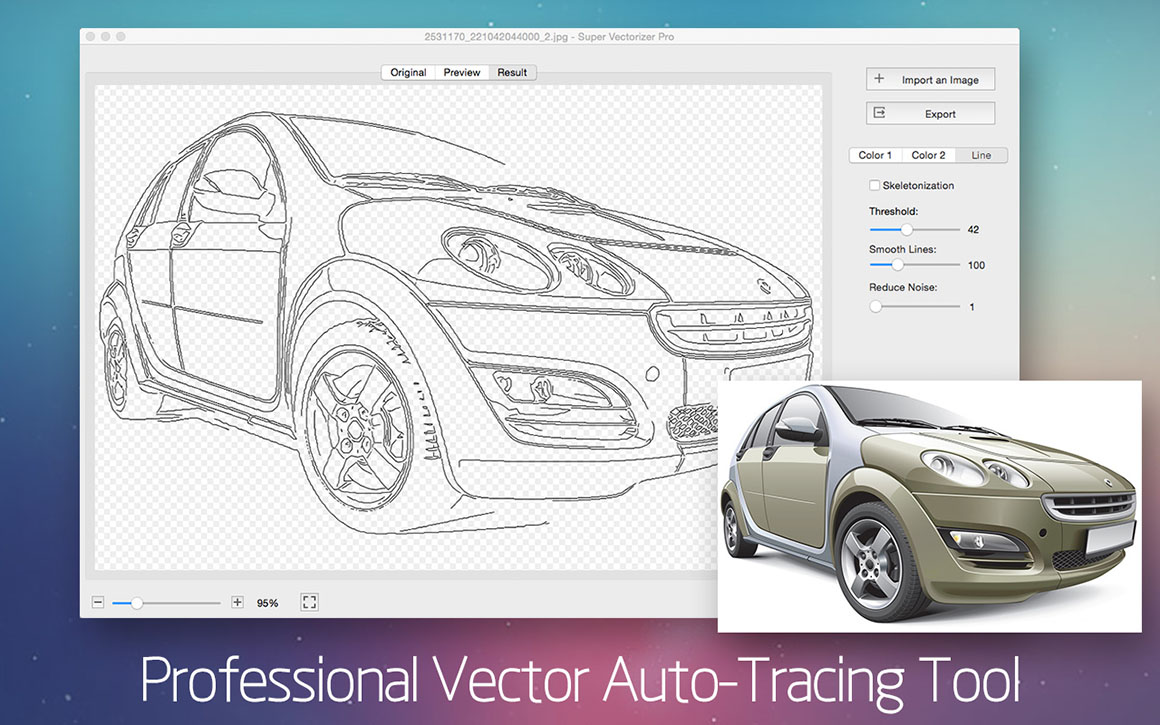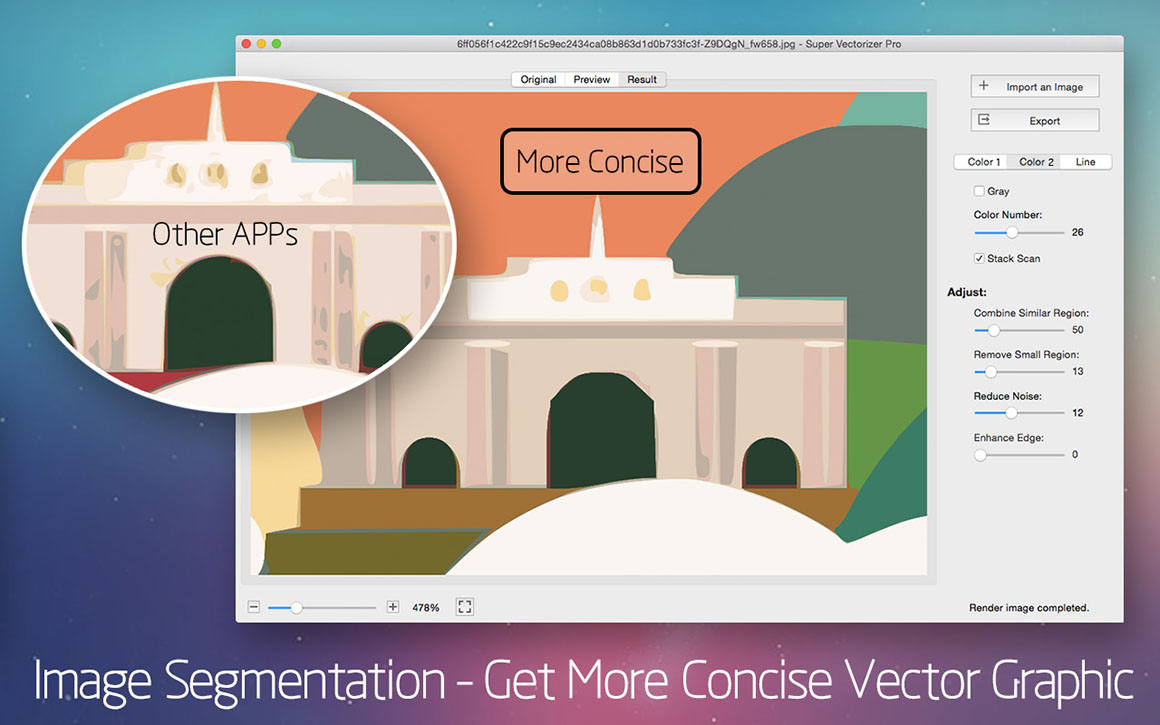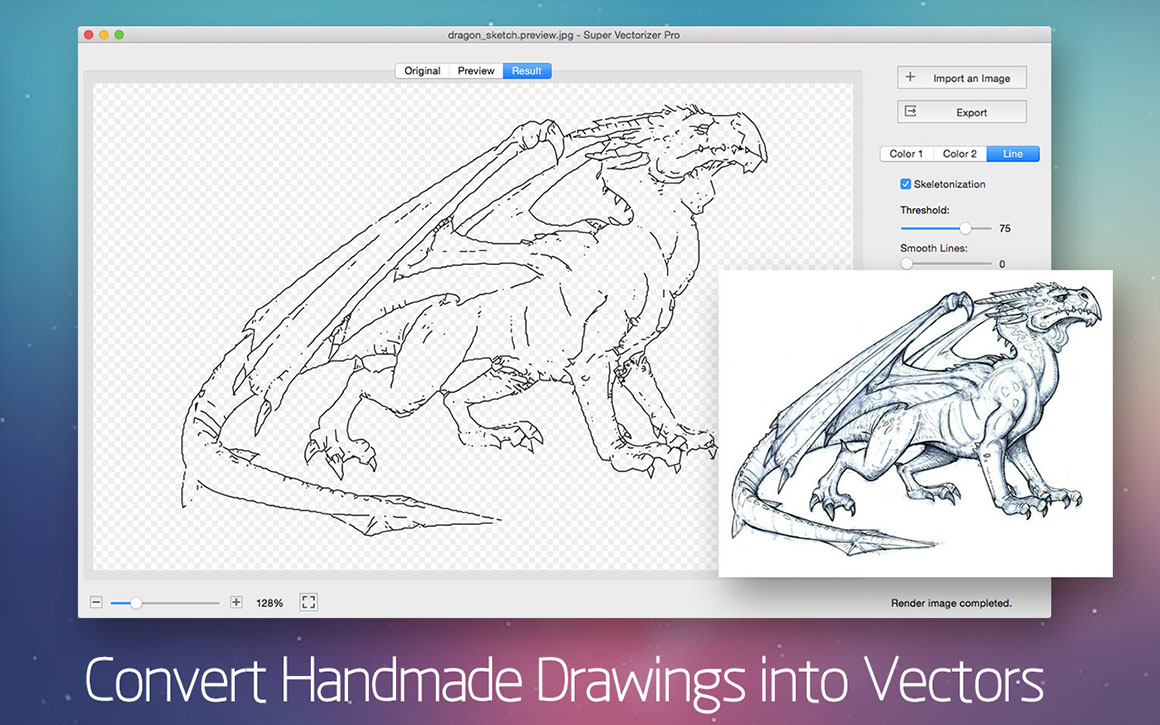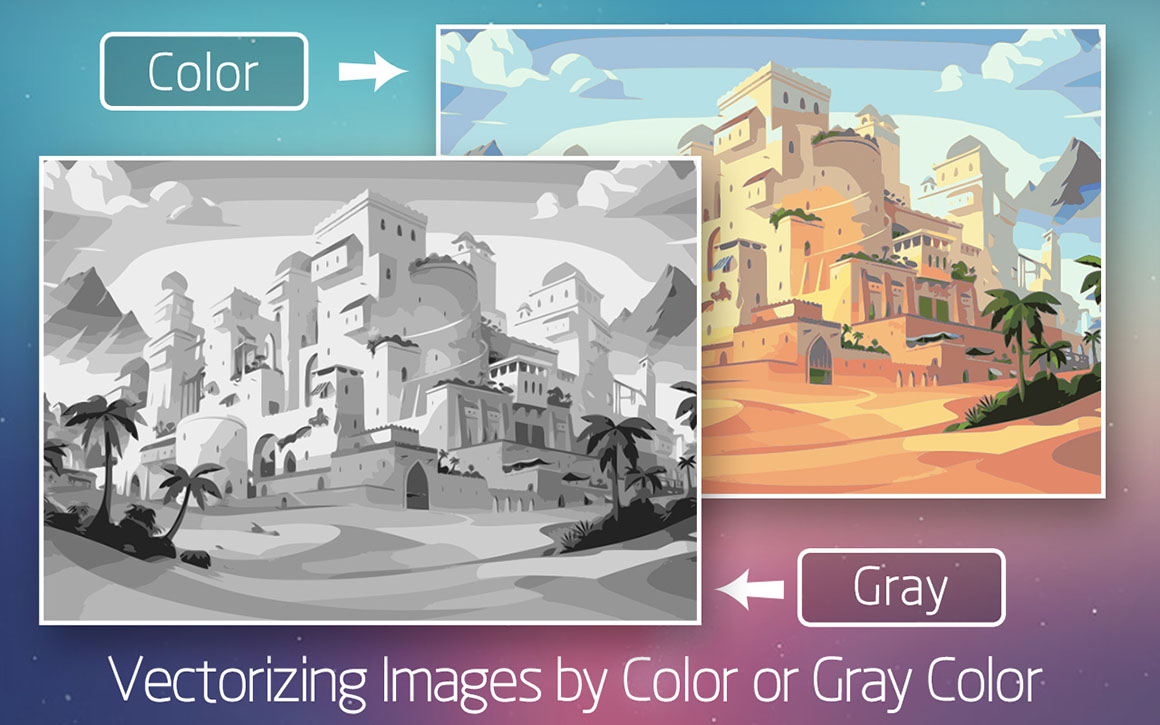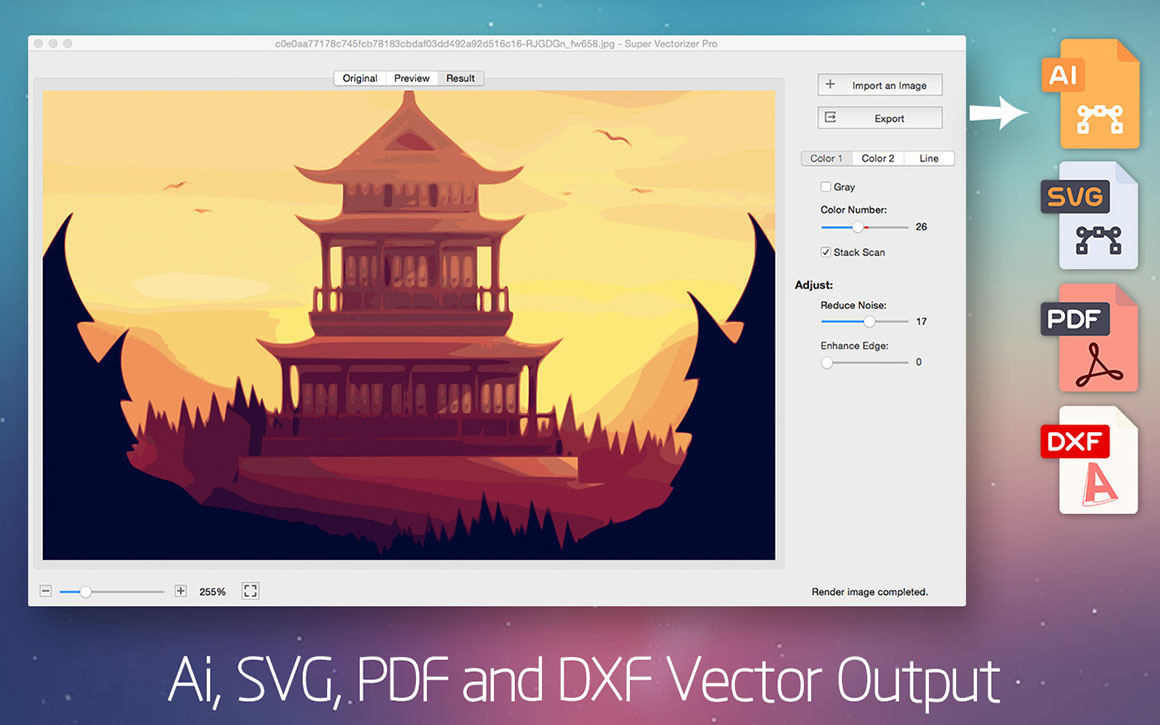 Your Best Choice to Vectorize Images on Mac
Super Vectorizer 2 easily converts bitmap images like JPEG, GIF and PNG to scalable vector graphic of Ai, SVG, DXF and PDF with transparency support.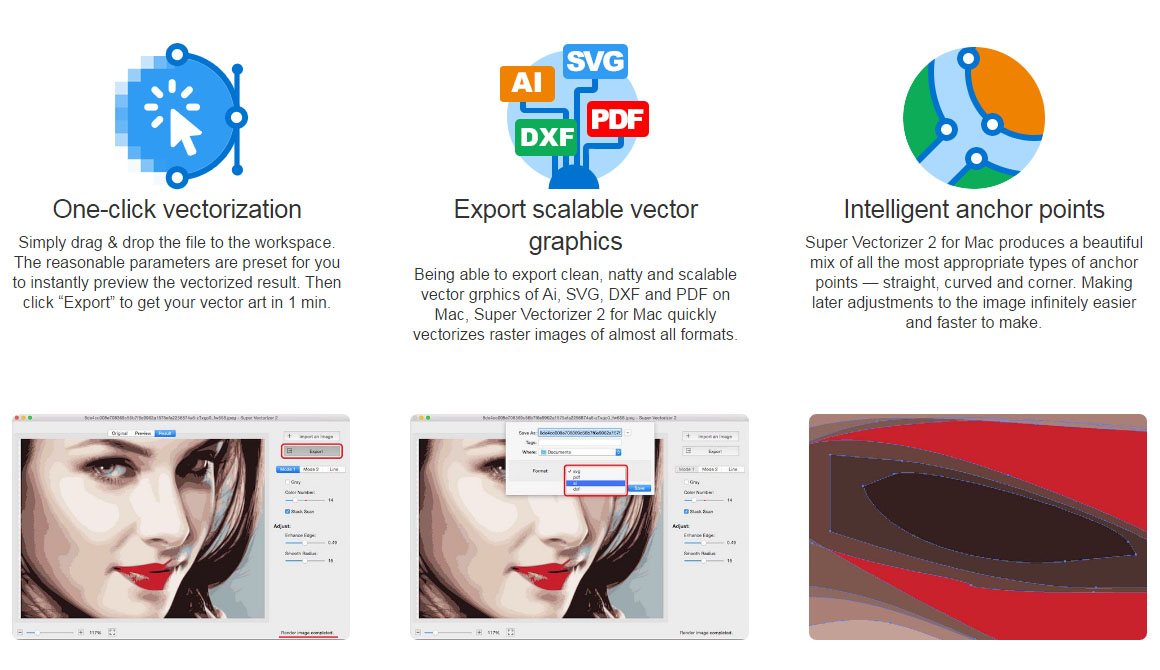 What users say:
"Nice program for quick and easy vector tracings" – Aprilschild
"Its strong points are accurate line traces and color separations. It does use bezier curves to replicate round edges, which is an essential feature not often found in vecorization apps in this price range." – C71
This Bundle Highlights:
Mac Image Vectorizer – Precisely Convert Raster Images to Vector Graphics on Mac with Life-Time License!
Auto trace images of color and grayscale, black-and-white, skeletonization, line
extended license (like all of our deals): All results from this software: use for personal and commercial projects + you can also use them in designs/products that you sell. You can use all these items as a part of your non-digital or digital designs ( posters, t-shirt designs, stickers, web templates…).
Pricing:
Normally, this cool app for MAC would cost you $60, but for a limited time only, you can get this unique graphic software for $12!
Deal Terms:
Delivered as an instant download, after completing your purchase – please check TXT file with instructions how to download and register this software!
All results from this software can be used for both personal and commercial purposes, for yourself or on behalf of a client, on their own, or as part of your new design for sale.
Cannot be sublicensed, resold, shared, transferred, or otherwise redistributed on its own.
You cannot share these resources with others. This is a single user Life-Time license!