If you are looking for creative style vector or bitmap graphics then you are at the right place because here you will get a great collection of amazing "storyteller" patterns, shapes, logos, flyers, frames & backgrounds. These graphics are in vector and bitmap formats so all are great for your new web design or any print design projects. Enjoy 😉
All these cool illustrations, templates, patterns & backgrounds from WingsArt are ready for print or online use! You can adjust, resize, and customize these graphics with no lost pixels in Illustrator or Photoshop.
With this deal you get:
A huge collection of fully editable vector illustrations, design templates, icons and patterns

Perfect for projects with a narrative theme such as flyers, posters, social media and blog posts, t-shirts and more
Multiple formats included  – Adobe Illustrator AI (CS1 and above), Photoshop PSDs, High-Res JPGs and Transparent PNGs
Links to all fonts used – all freely available from sources such as Google Fonts
Ready for print or online use
Extended license!
Take a look at what you can get: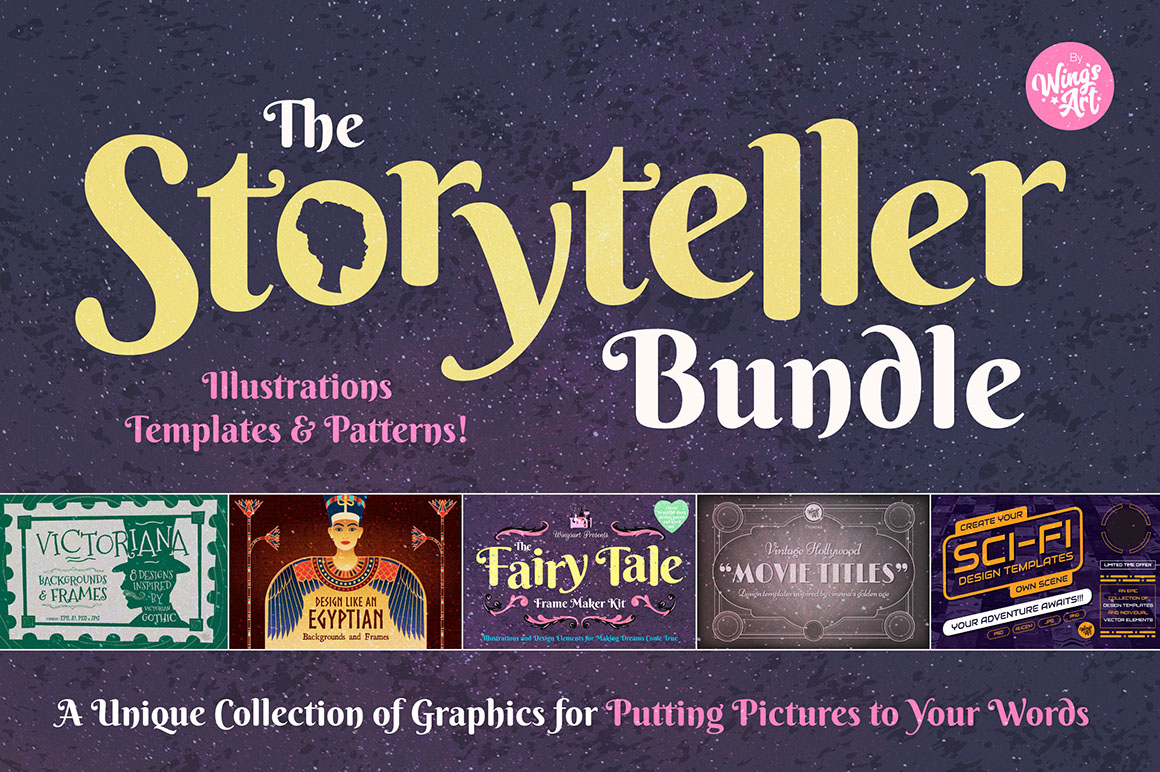 A unique collection of graphics – Illustrations, templates & patterns!
01. Victoriana Design Templates from WingsArt
A Halloween Special Inspired by Classic Victorian Gothic Fiction
Taking inspiration from the gothic styles of Victorian England, this collection of editable design templates offers 8 designs, perfect for creating your own Halloween party posters, invitations and flyers. Illustrated elements and authentic ink textures combine to create a vintage hand-made look, and the preset text paths make customising them easy with either Adobe Photoshop or Illustrator. Flattened JPGs are also provided for those without Adobe Software.
From Jekyll and Hyde's Tea Rooms to Sweeney Todd's Barbers, there's a variety of designs available that offer a fun and alternative take on Halloween inspired by beloved literary classics. A fantastic set for creating your own Victorian Gothic designs.
Formats include fully editable vector files (compatible with Illustrator versions CS1 and above) layered Photoshop PSD files, and flattened jpgs. All of the fonts used are freely available from Google Fonts and a help file with links enclosed in the package.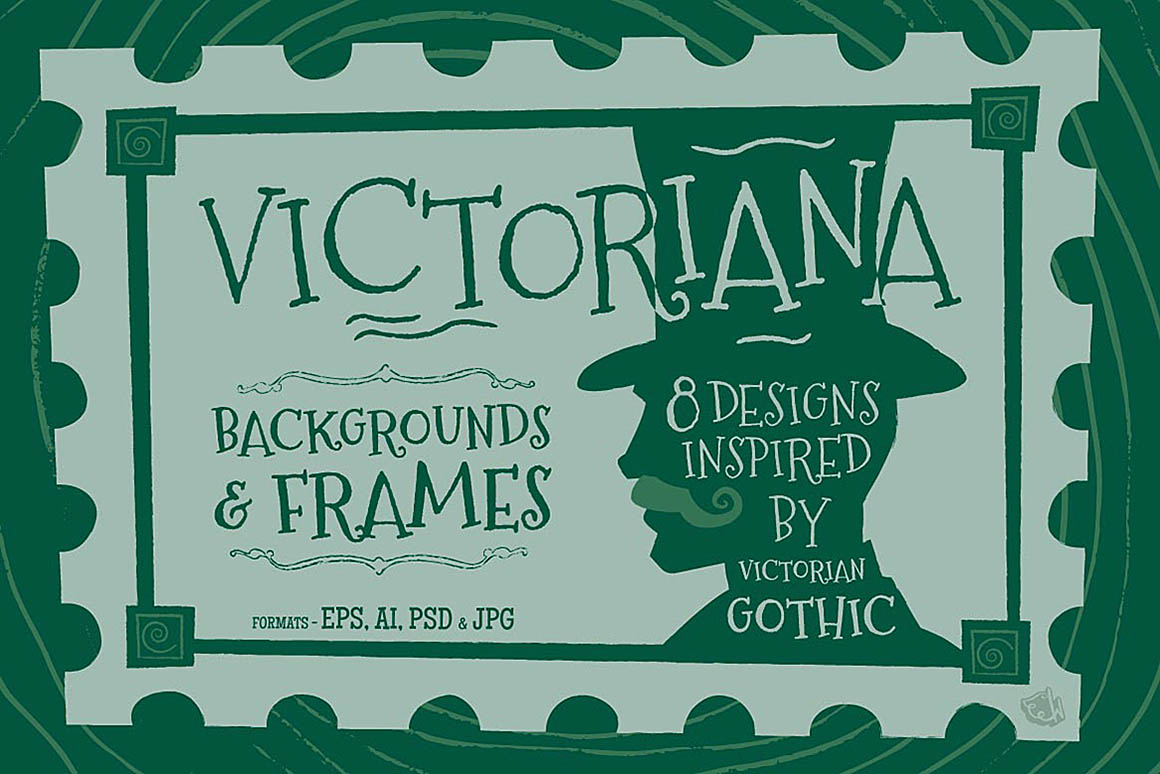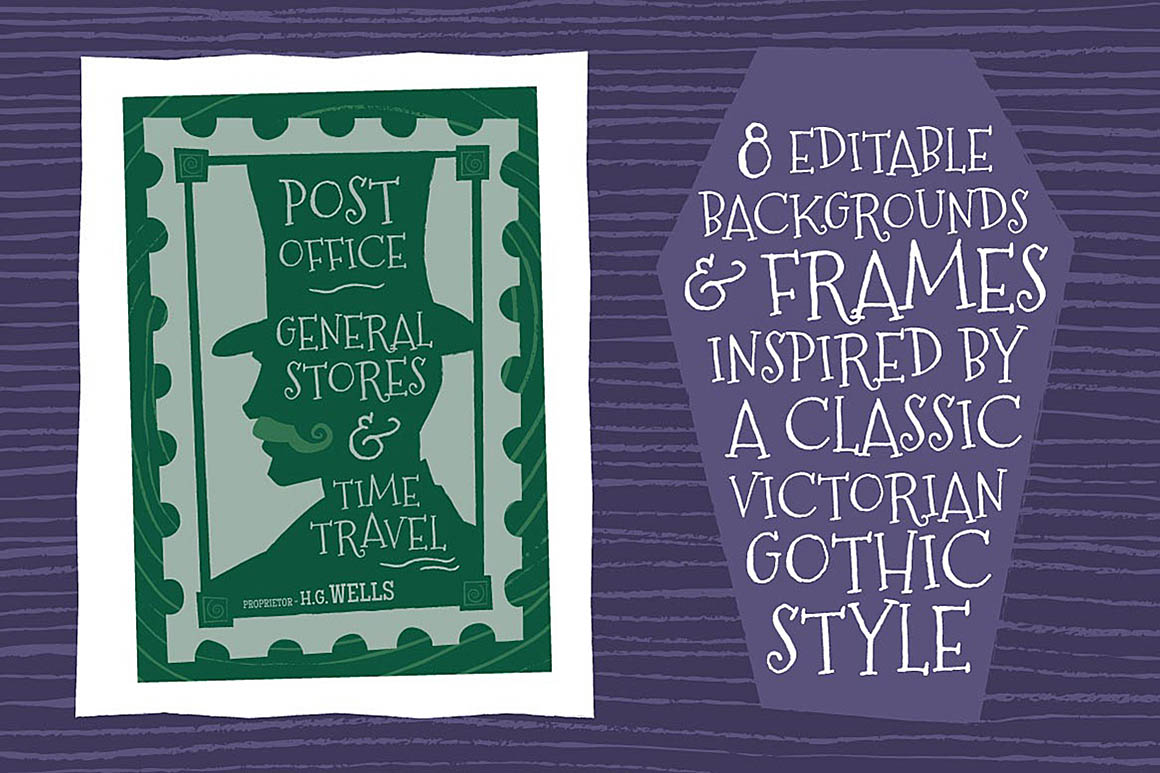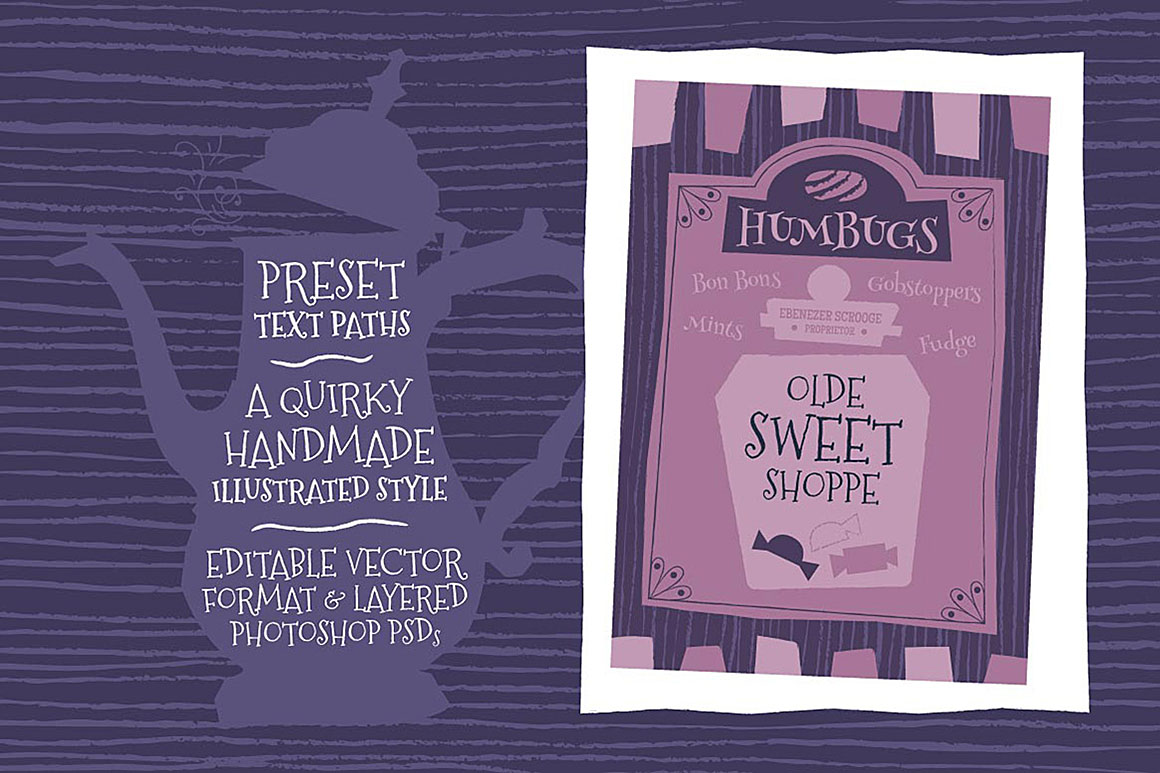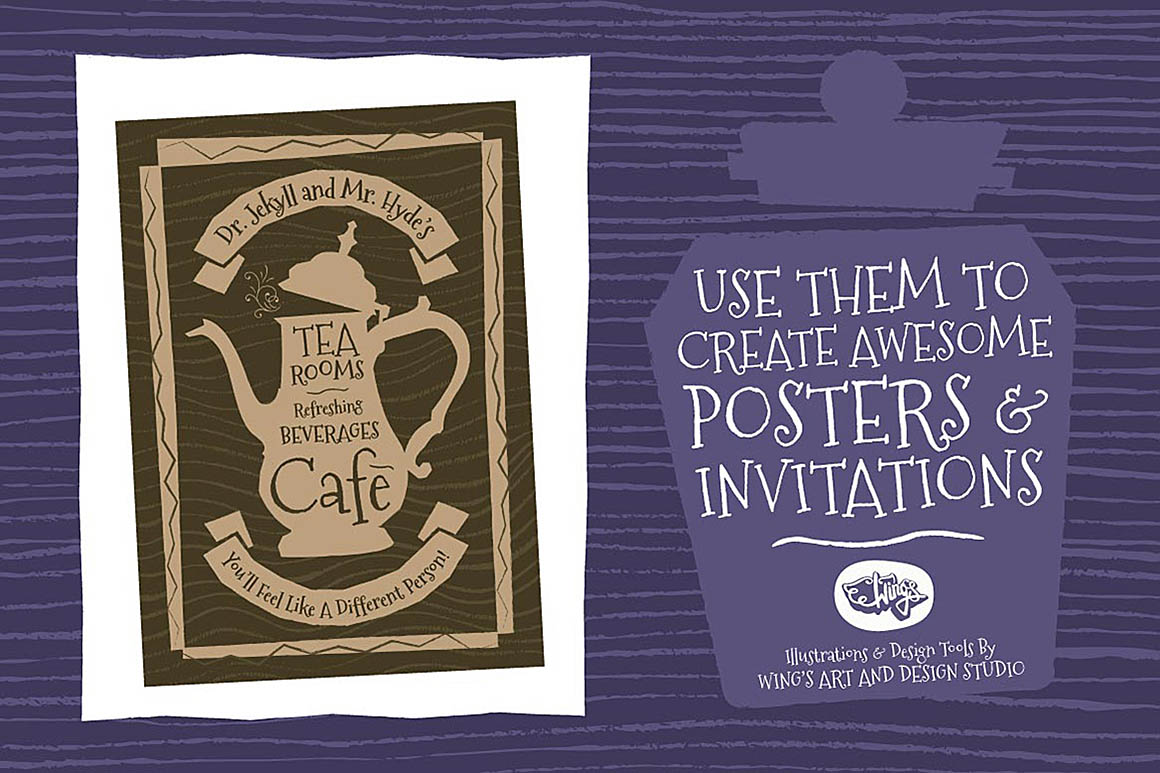 02. Egyptian Backgrounds and Frames from WingsArt
Inspired by Tutankhamun, Nefertiti and the treasures of ancient Egypt, this collection of backgrounds and frames offers designers an array of original illustrations, icons and design templates to use in your own Egyptian themed projects.
The product of countless hours of research, this set highlights the rich, decorative imagery of ancient Egypt to provide you with a ready-made library of assets to use in projects such as posters, invitations, web pages, educational presentations and more.
Formats include the native Adobe Illustrator CC files (AI) along with a legacy version saved for CS1 and above. Photoshop users can take advantage of the backgrounds and frames in their layered PSD versions which retain moveable objects and text paths, plus i've also included clear JPG files (without text) for customers with alternative editing software. All of the individual elements are also included in vector AI format and high-resolution transparent PNGs. Whatever software you're using, you'll find a format to suit.
Contents:
Six ready-made Egyptian design templates
Individual elements for creating your own designs from scratch
Three high-resolution antique paper textures
Help file with details and links to all fonts used.
Formats:
Vector – Adobe Illustrator AI (CC)
Vector – Legacy Adobe Illustrator AI (CS1)
PSD – Layered Adobe Photoshop (inc moveable objects and text paths)
JPG – Simplified, flat versions of templates (for use in all editing software)
PNG – High resolution, transparent individual artwork files.
Features:
Professional Vector Illustrations by Wing's Art – 100% Editable
Live Effects within Adobe Illustrator, e.g. stroke weights, gradients, blurs etc
4 colour filters, Black and White, Sepia, Warm and Cool
Seamless hieroglyphic pattern included in Illustrator files
Pre-set text paths, just click and edit
Simple and clear layer structure
Links to fonts included – All free to use.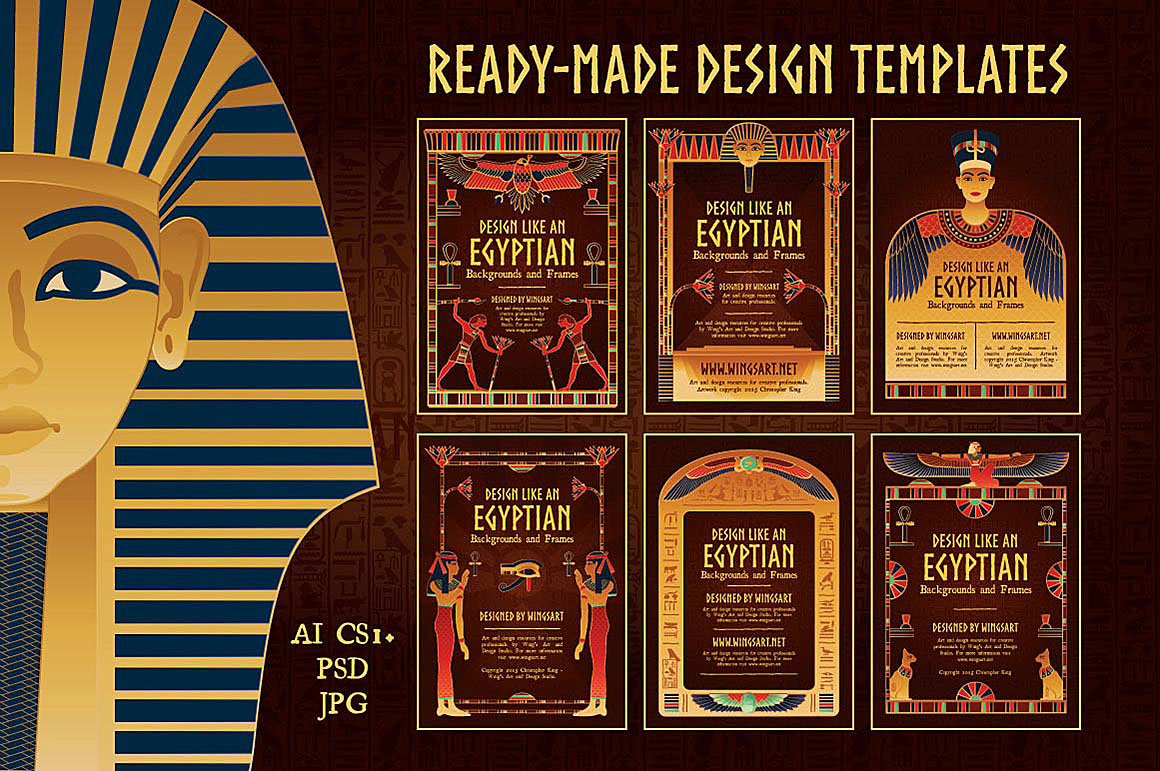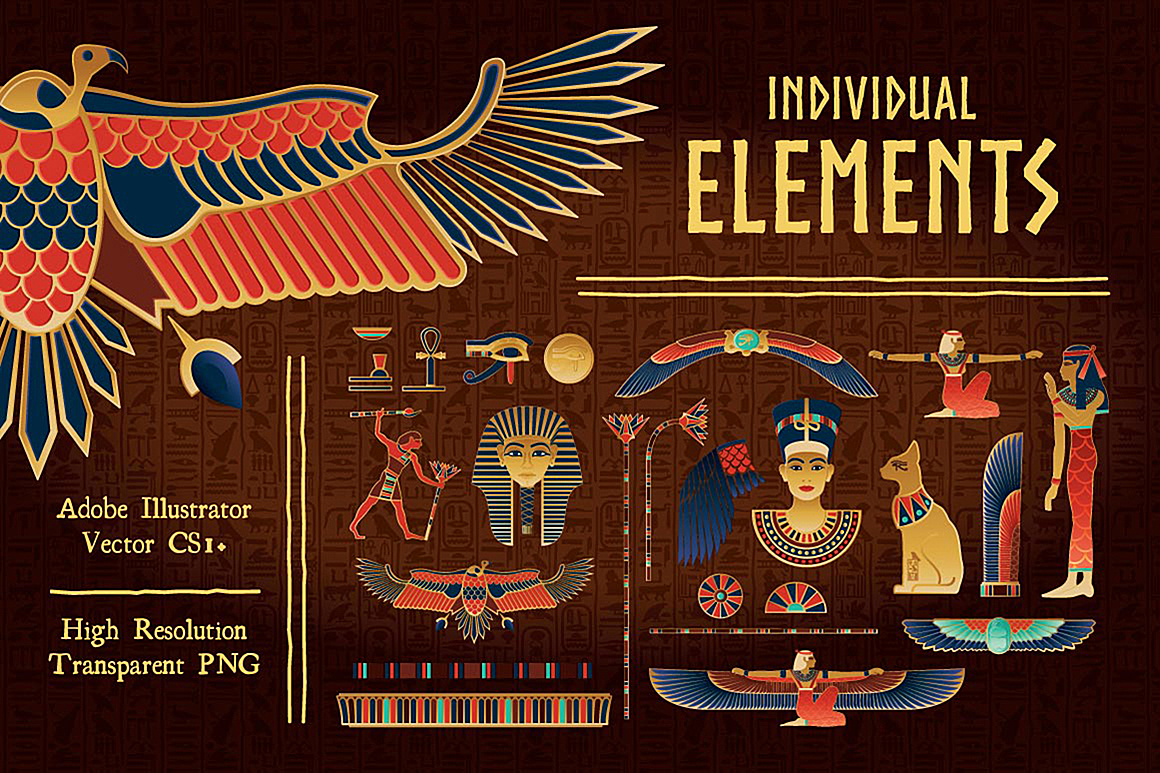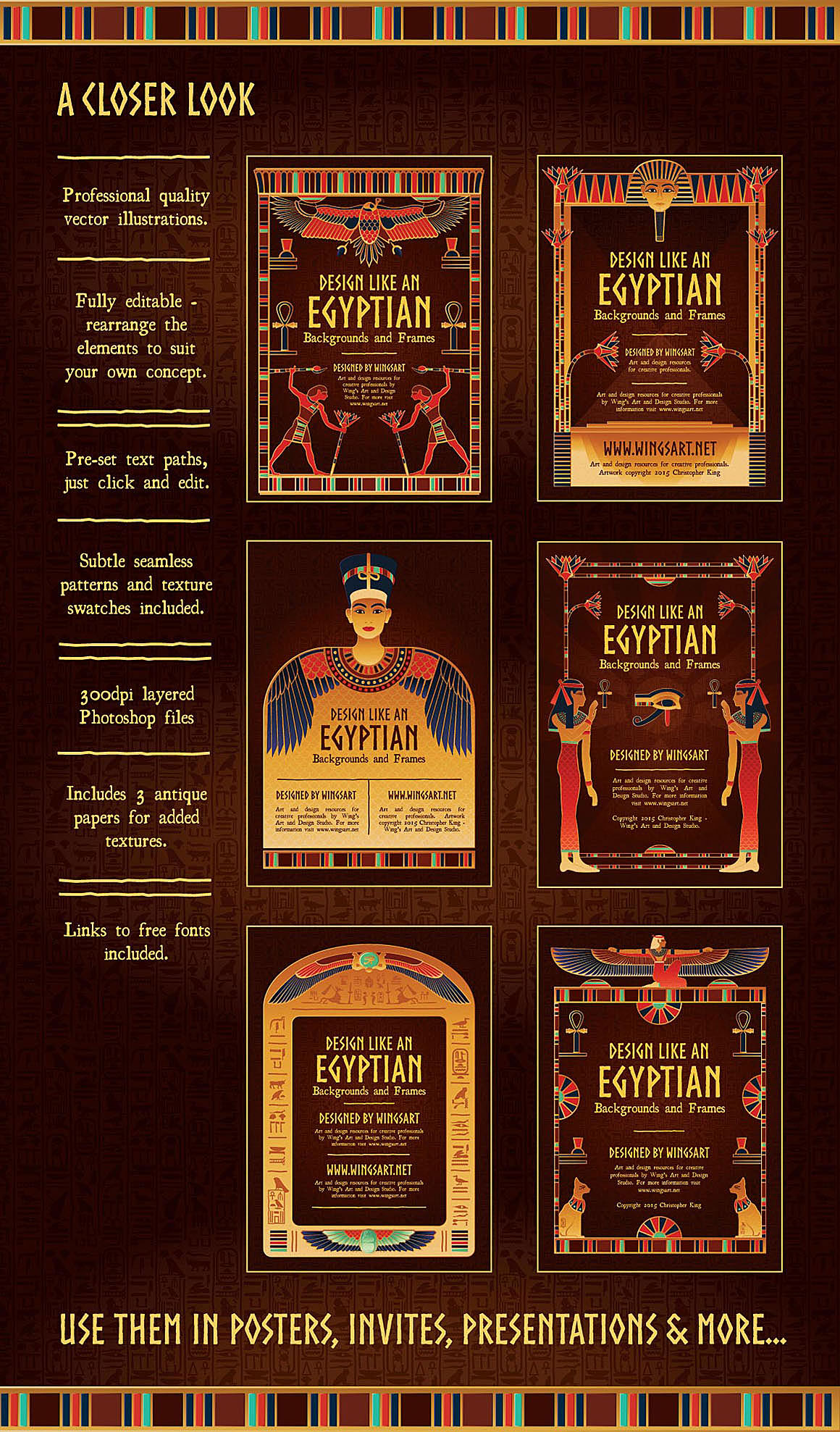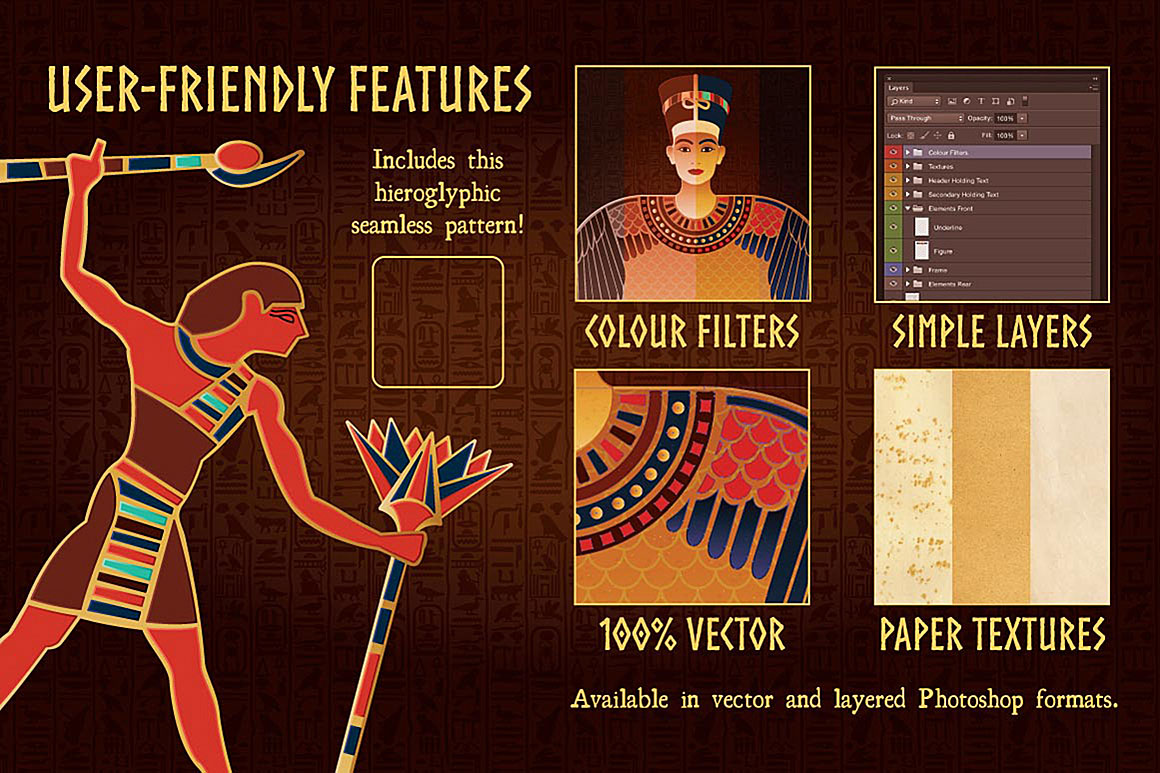 03. Fairy Tale Frames and Illustrations from WingsArt
Introducing The Fairy Tale Frame Maker Kit! Inspired by vintage children's books and animated movies, this set includes a wealth of illustrated elements, design templates and seamless patterns ready and waiting for you to make someone's dreams come true.
A huge collection of professional quality illustrations ranging from the festive Christmas tree, toy soldier and ballet dancer, to victorian style gothic portraits, floral elements, banners and flourishes. There's everything you need to quickly create beautiful cards, posters, invitations or word art.
I've included several examples of my own to get you started, including design templates with pre-set text paths, decorated initials, posters, Valentines, Christmas and New Year cards. Take them and customise at will, and have amazing fun creating your own designs. View the full size visuals to see everything that included. Everything you can see is included in your download.
Contents:
A huge collection of festive and fairy tale themed illustrations, frames, icons, borders and more.
12 ready-made design templates.
9 ready-made word art templates.
9 seamless patterns.
Formats
Fully editable vectors for Adobe Illustrator (AI CC & AI CS1)
Layered Adobe Photoshop PSDs
Text free JPGs (suitable for all software)
Transparent PNGs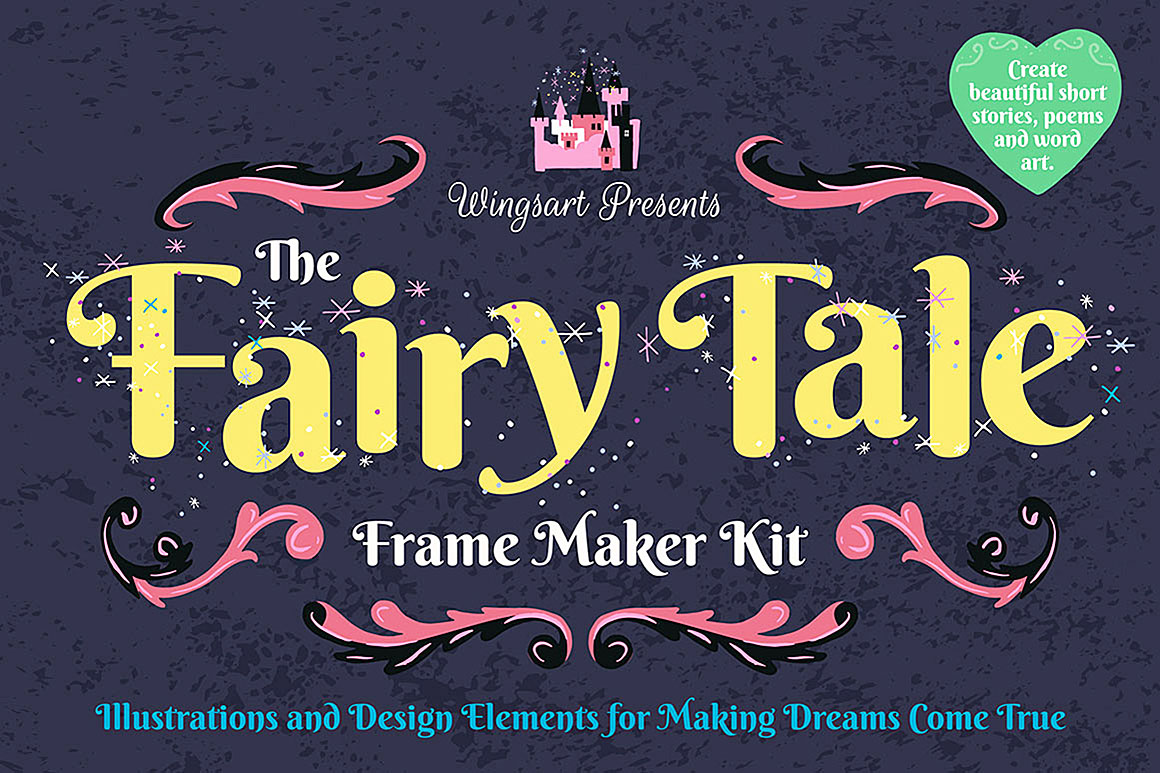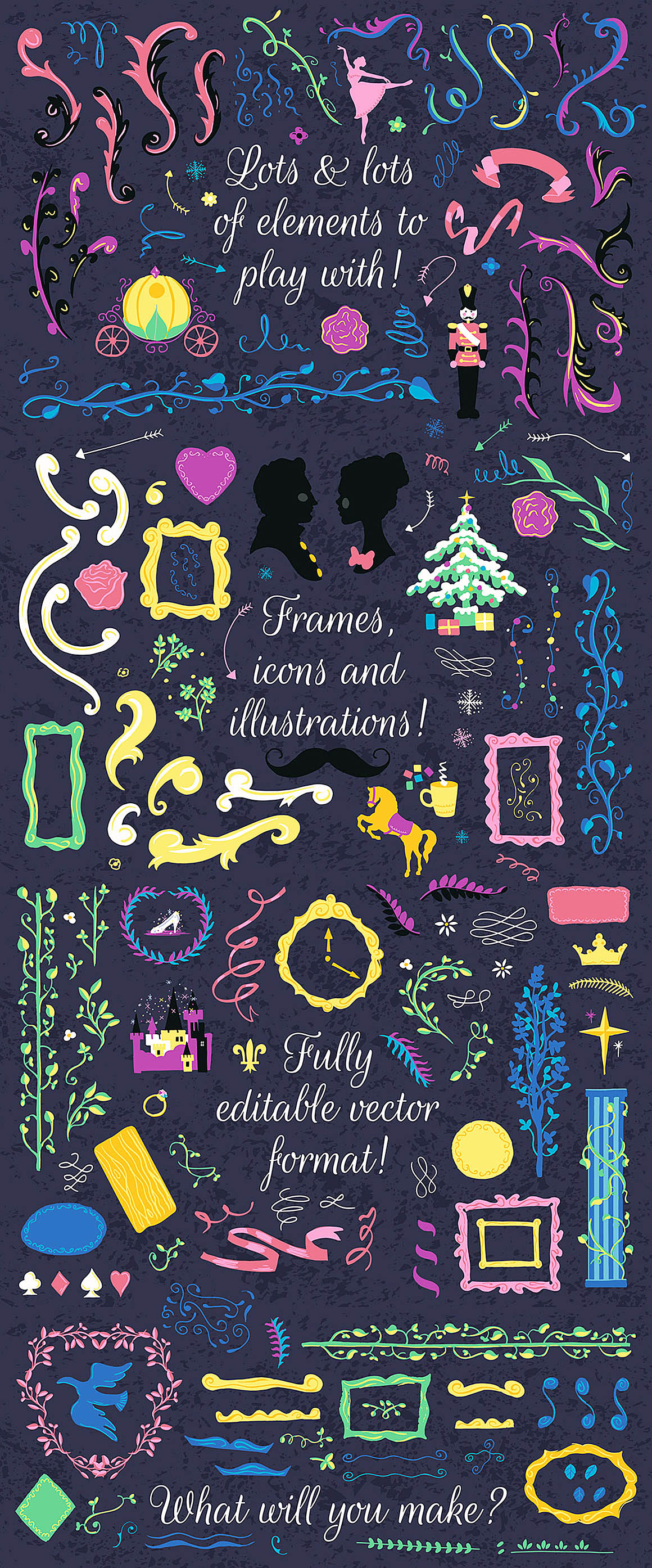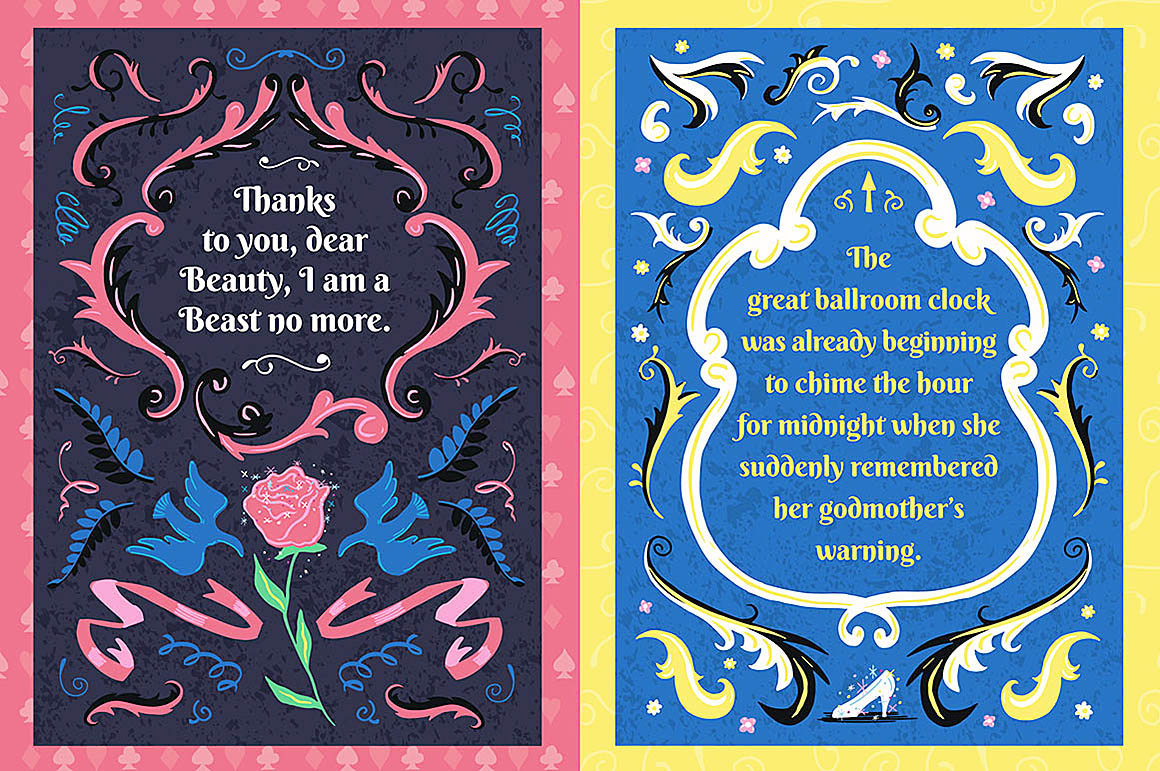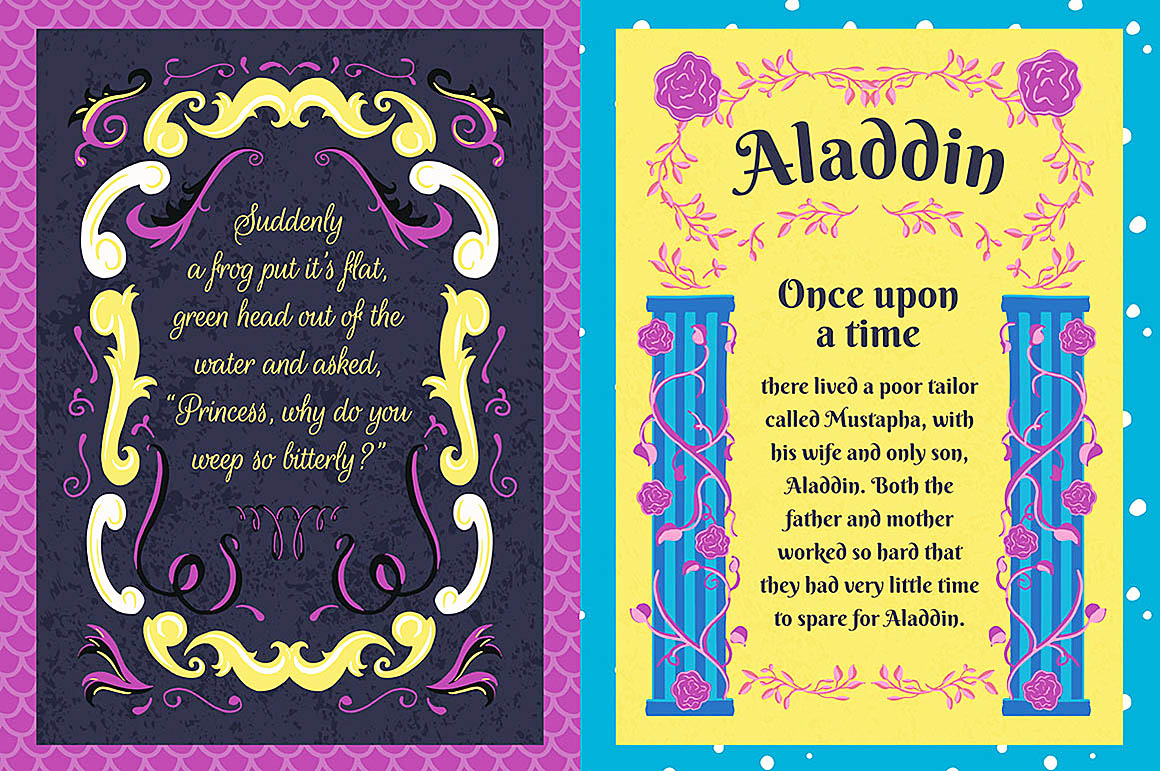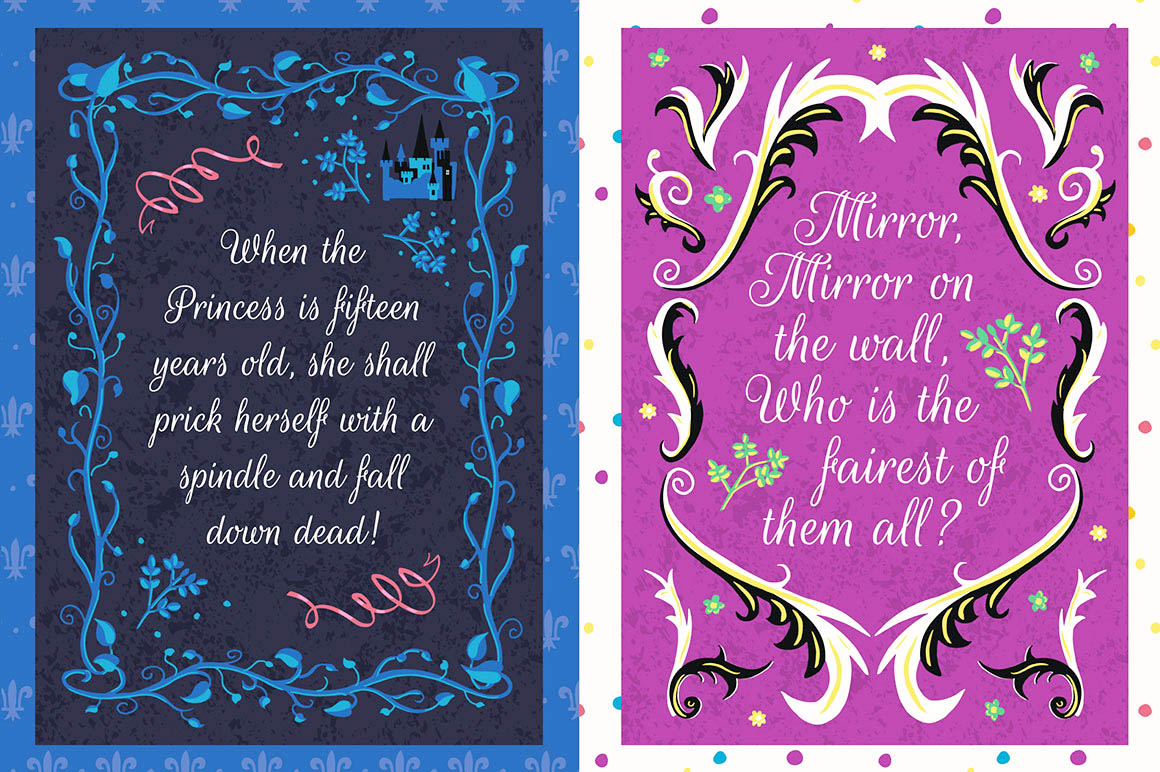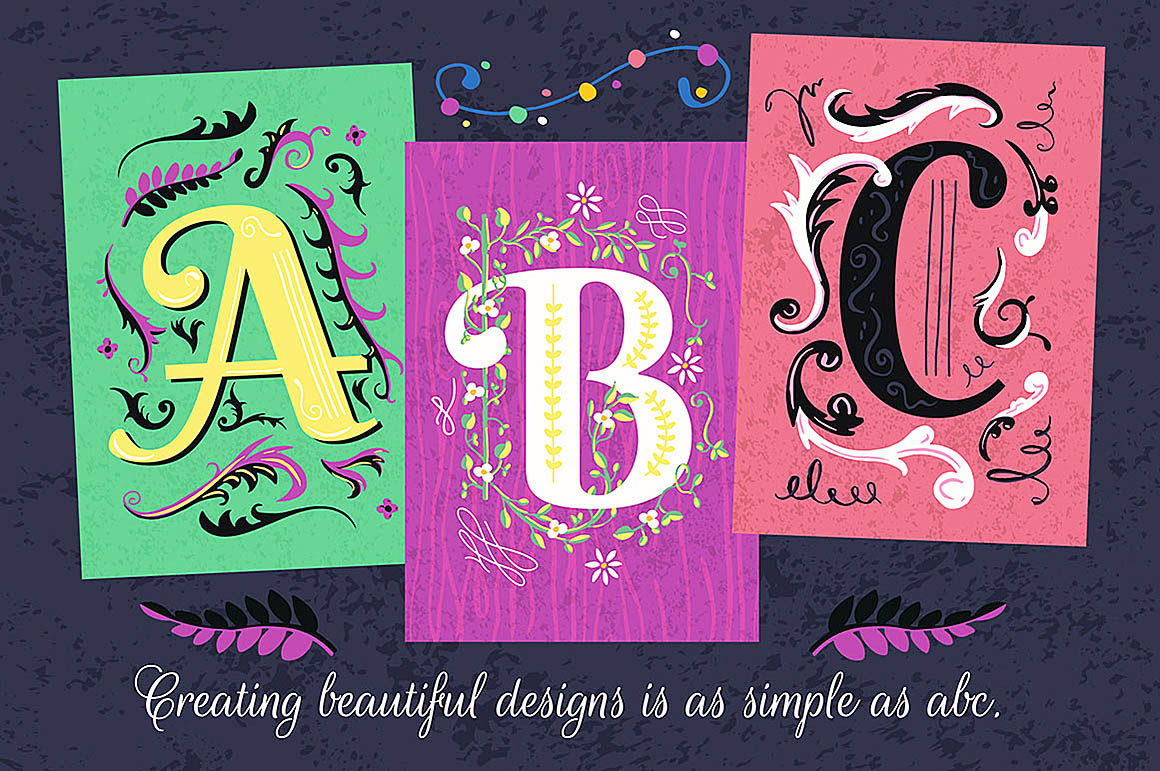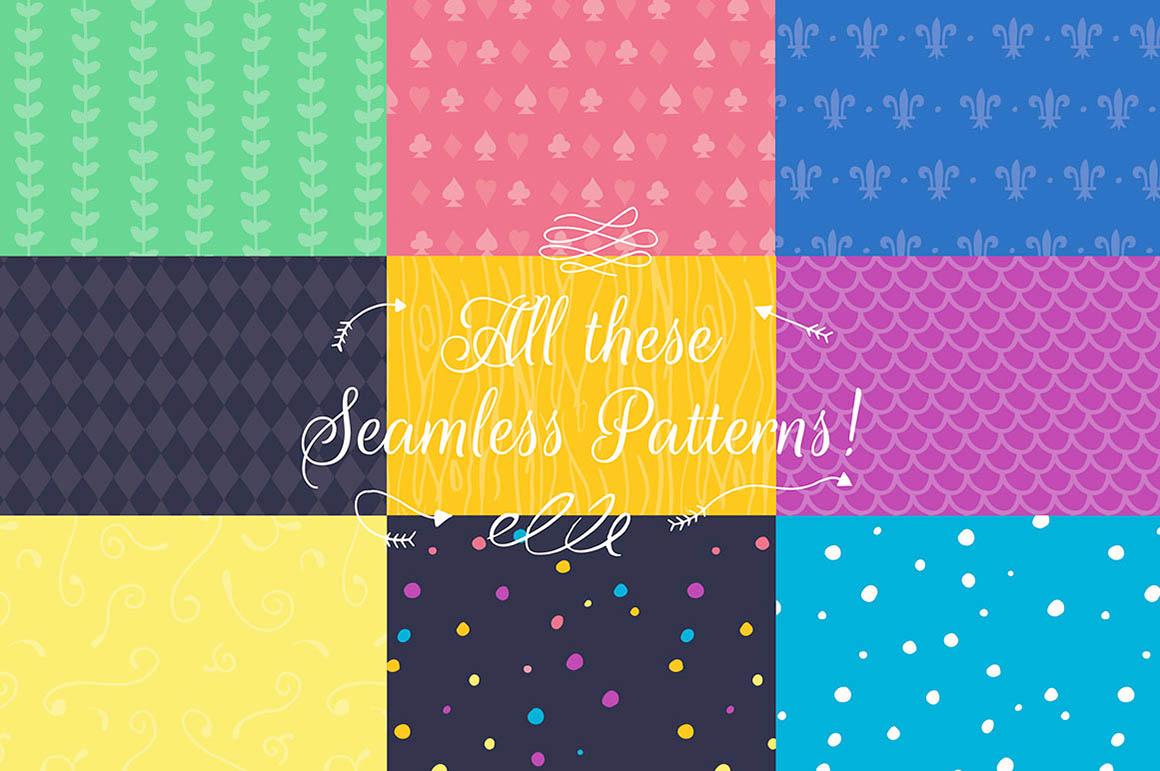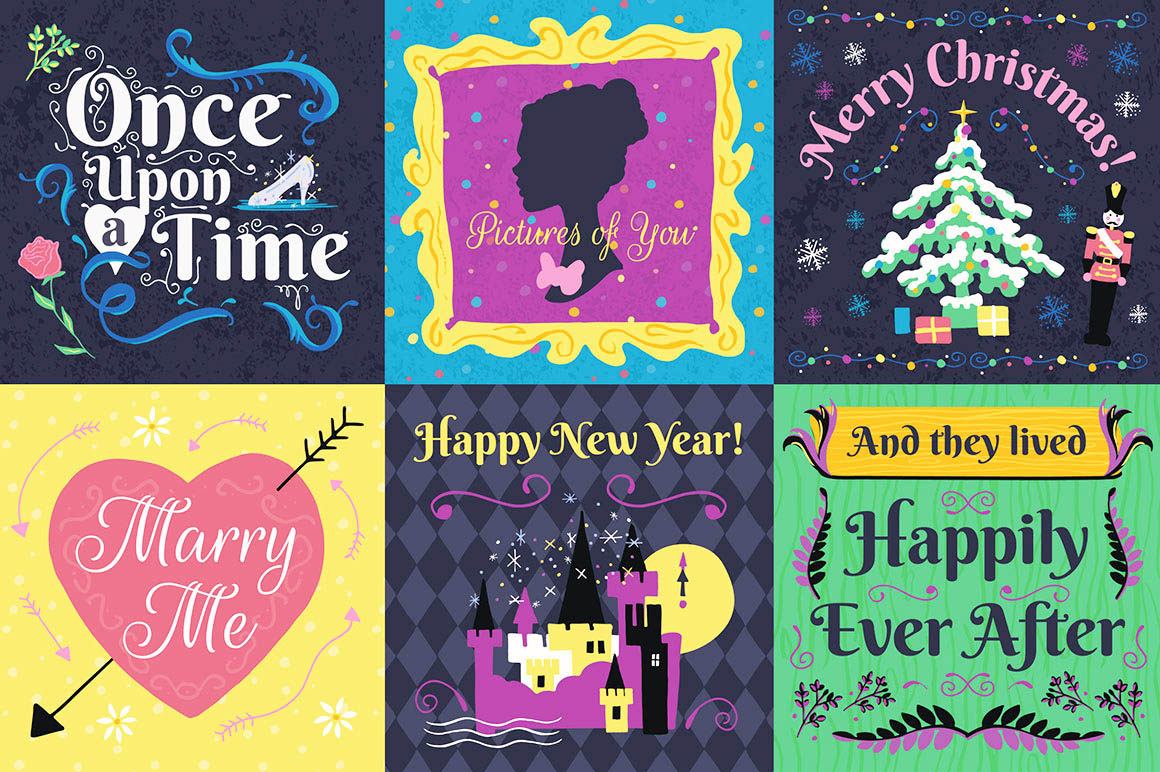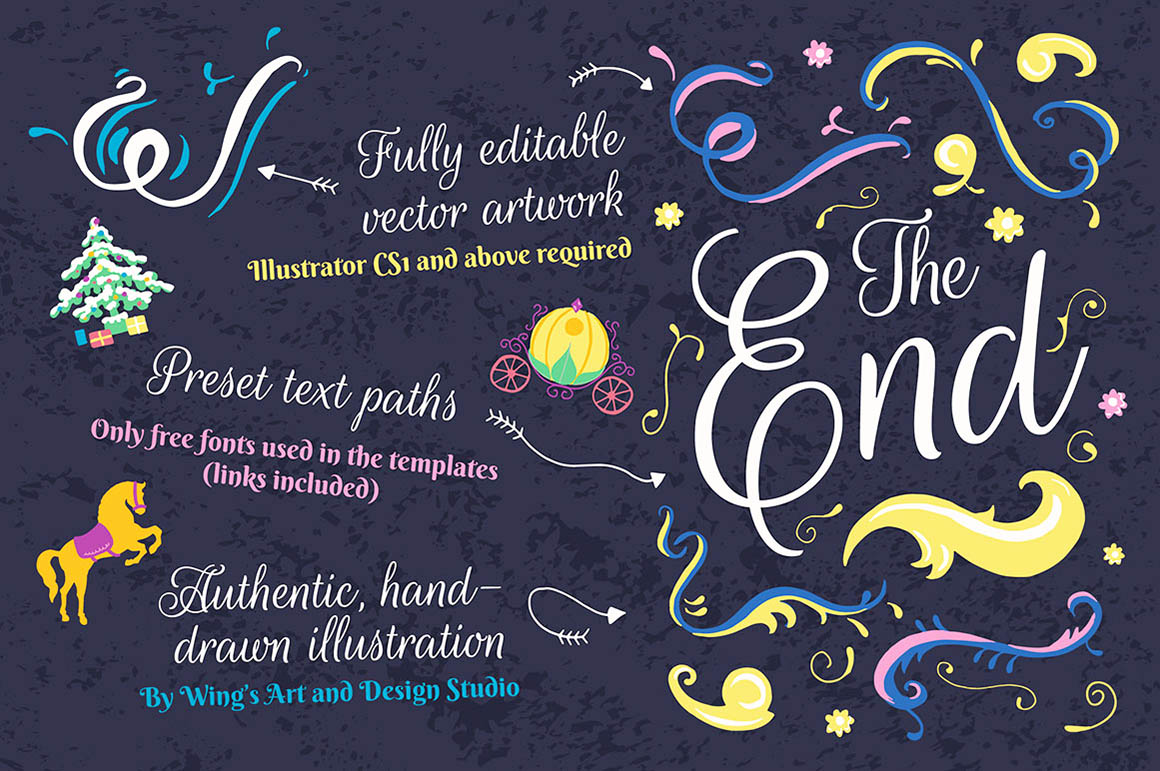 04. Vintage Hollywood Movie Titles from WingsArt
Be a vintage Hollywood movie star with these editable design templates inspired by cinema's golden age!
If, like me you enjoy nothing more of a cold, rainy afternoon than to settle down with an old black and white movie, then you're going to love these! Inspired by those great vintage movie title cards, these backgrounds and frames invoke the thrills and spills of the best film noir, melodrama, silent movie or space adventure!
Featuring 8 unique designs, these come as fully resizable and editable vector files set up as A4 documents in both landscape and portrait layouts. Each document also includes 3mm bleed for when used in printed designs. Additional formats include layered Photoshop files, and flattened jpgs for users without Adobe software.
All elements are fully customizable, as are the easy-to-use text paths with pre-set effects as seen in the visuals. Whether for a sophisticated art deco poster design, or a birthday card for a special film enthusiast, maybe even a vintage style invitation, this set features everything you'll need to get you started.
Contents:
8 Landscape Vector AI* files (Fully editable with text paths)
8 Landscape PSD** files (layered with text paths)
8 Landscape JPG files (flattened without text paths, for use with all other software)
8 Portrait Vector AI* files (Fully editable with text paths)
8 Portrait PSD** files (layered with text paths)
8 Portrait JPG files (flattened without text paths, for use with all other software)
Bonus Textures – Film Grain and Old Paper
Help File with link to all fonts used (PDF)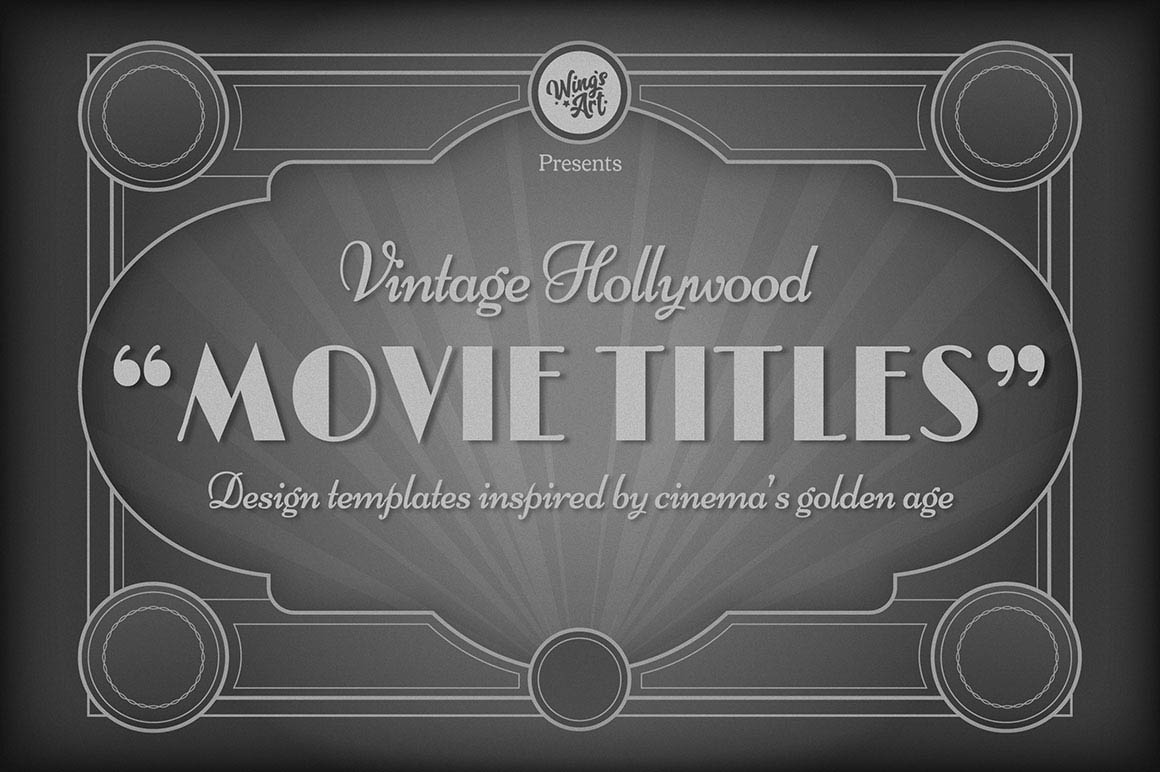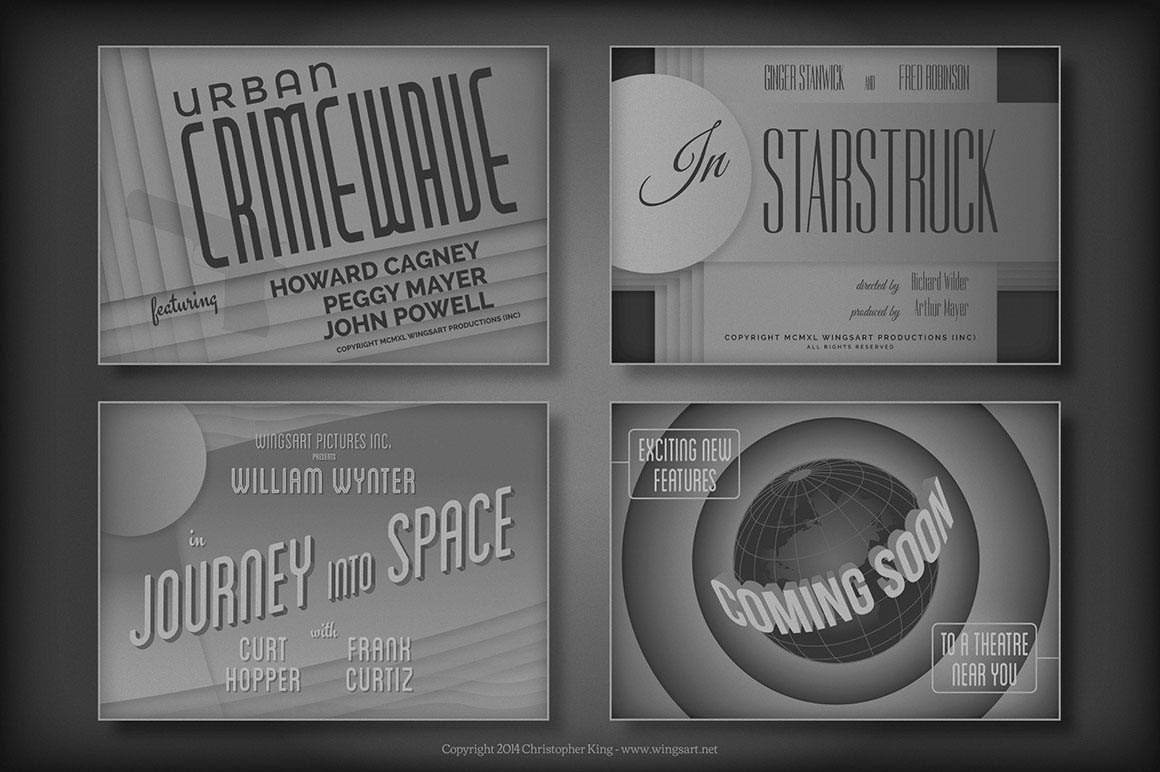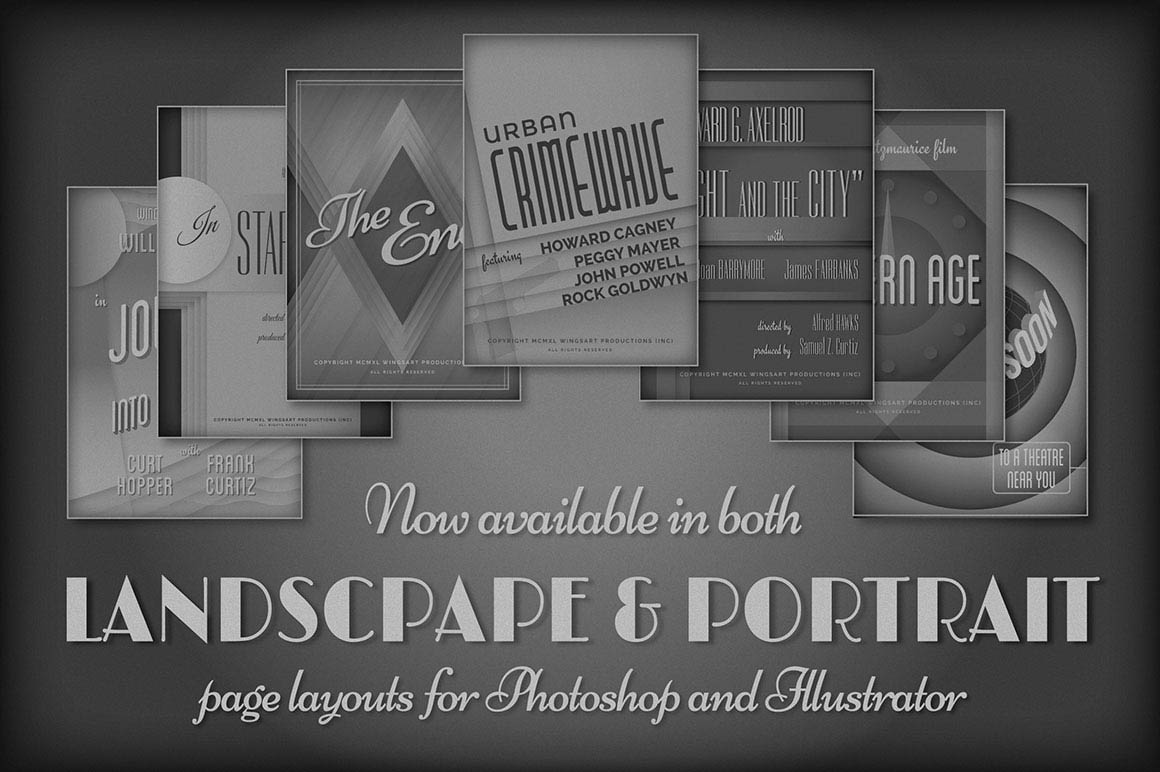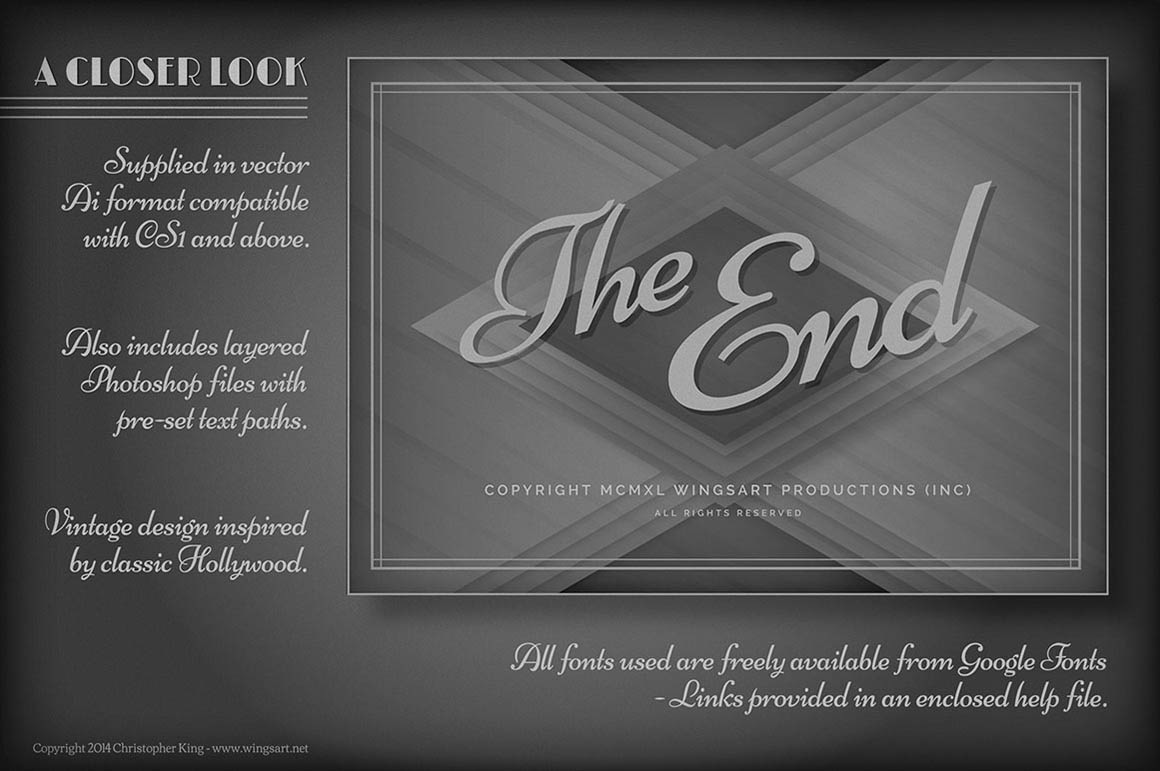 05. Sci-Fi Design Templates and Elements from WingsArt
An adventure packed collection of design templates and illustrated vector elements in the tradition of classic science-fiction movies and TV Shows.
Engage in your own epic space adventure with this vector graphics set inspired by our favourite science-fiction movies. Use the force with the ready-made design templates for an effortless poster and flyer design, or put your Jedi skills to the test and create your own designs from scratch using the huge collection of individual elements as your building blocks – great for UIs, presentations and websites.
Formats include the fully editable vector graphics (compatible with Adobe Illustrator cs1+ and Affinity Designer), layered Photoshop files (also compatible with Affinity Photo) and high-resolution clear JPGs. All of the individual elements come provided as transparent PNGs too. As a special bonus you'll also get the illustrated space background that you can see the in the visuals, again in vector and JPG formats. All fonts used in the templates are freely available from Google Fonts with links provided in the enclosed help file.
Contents:
8 Sci-Fi Design Templates (Vector Ai cs1+, Layered Photoshop PSDs and High-Resolution JPGs)
Individual Vector Elements (Vector Ai cs1+ and High-Resolution Transparent JPGs)
Bonus Space Background Illustration (Vector Ai cs1+ and High-Resolution JPGs)
Help file including details of all fonts used with web links. (Only free fonts used, all are available via Google Fonts)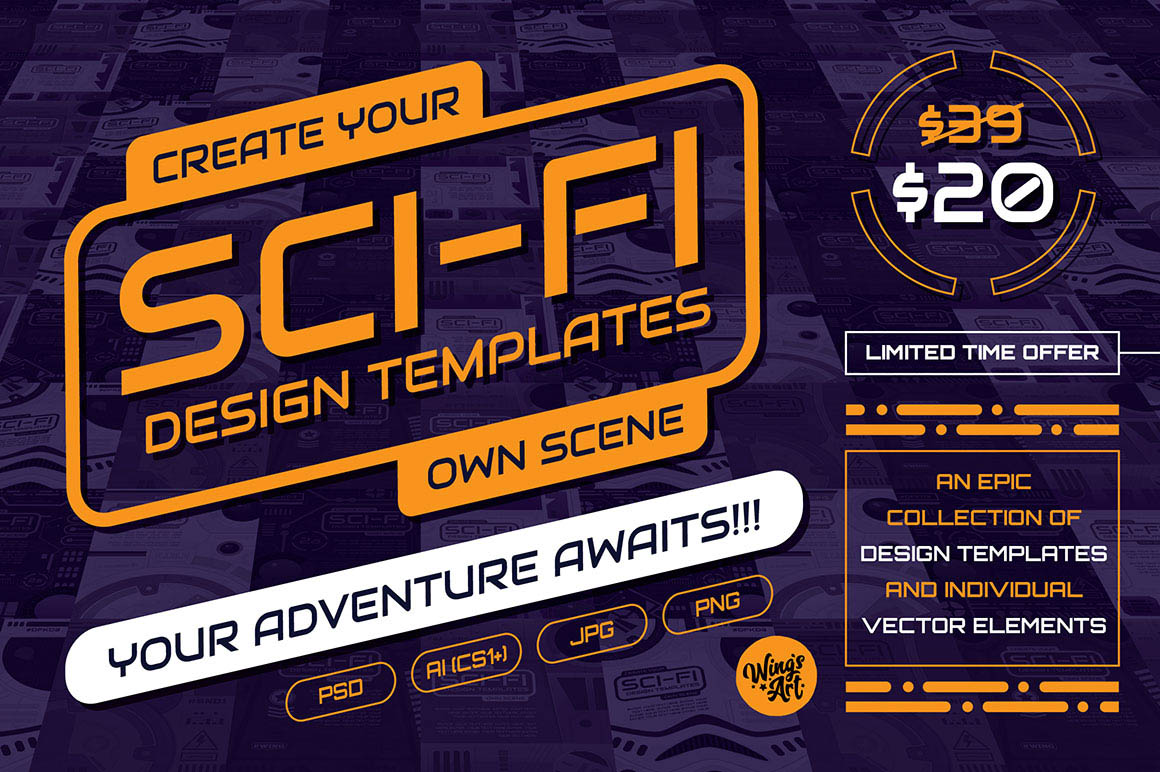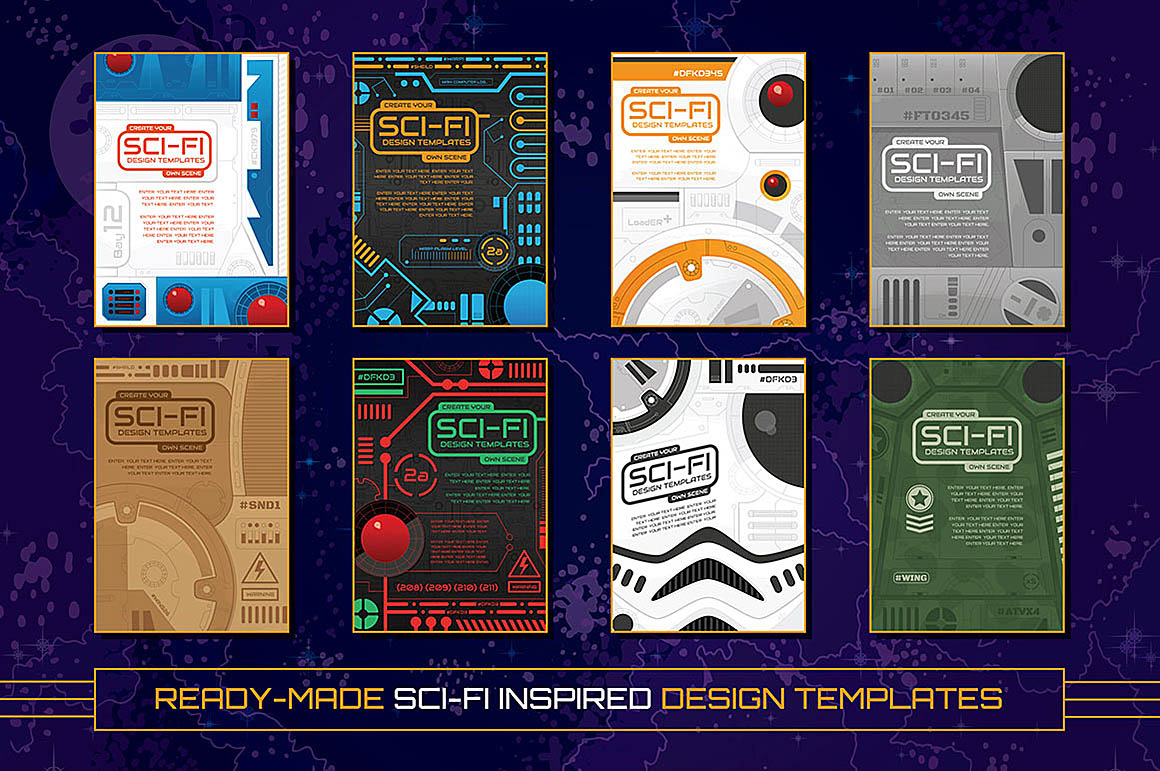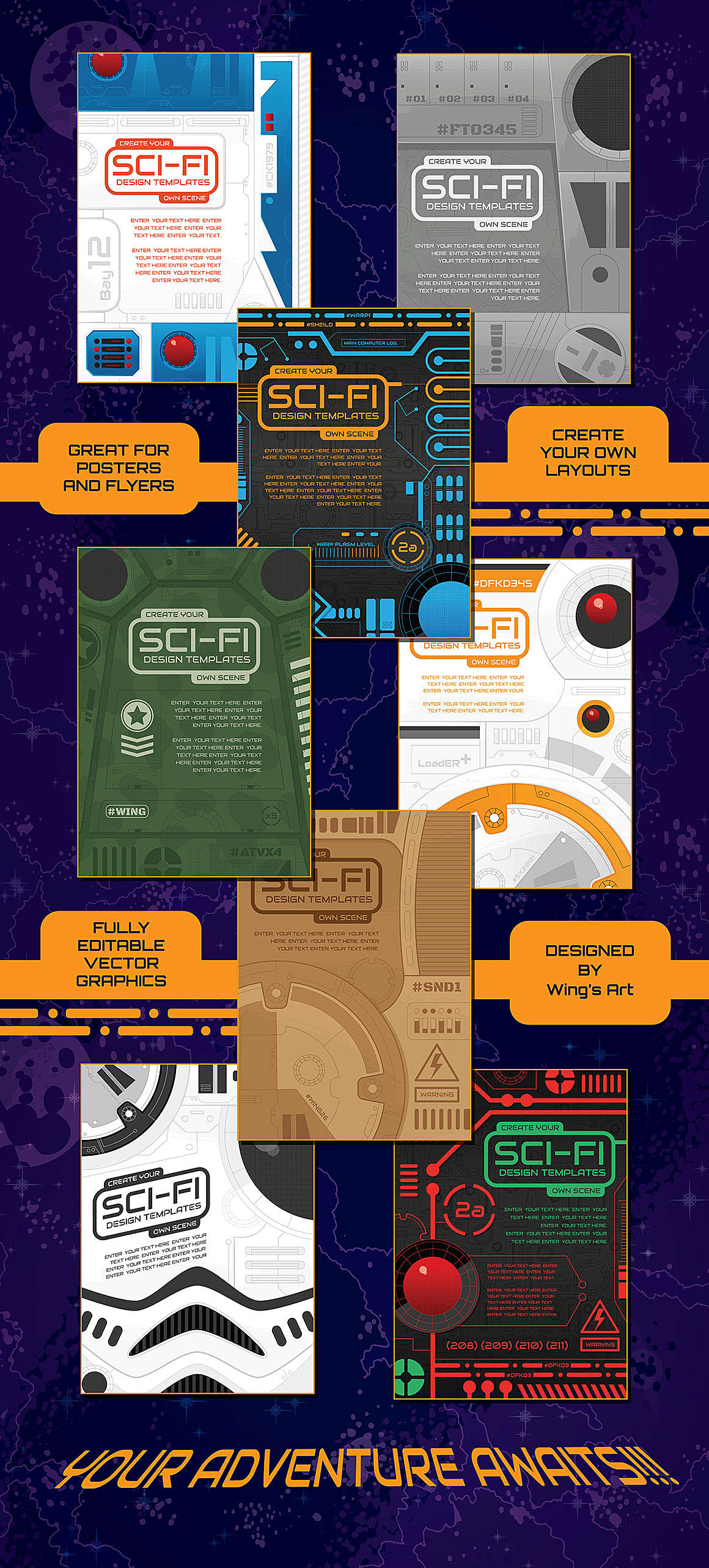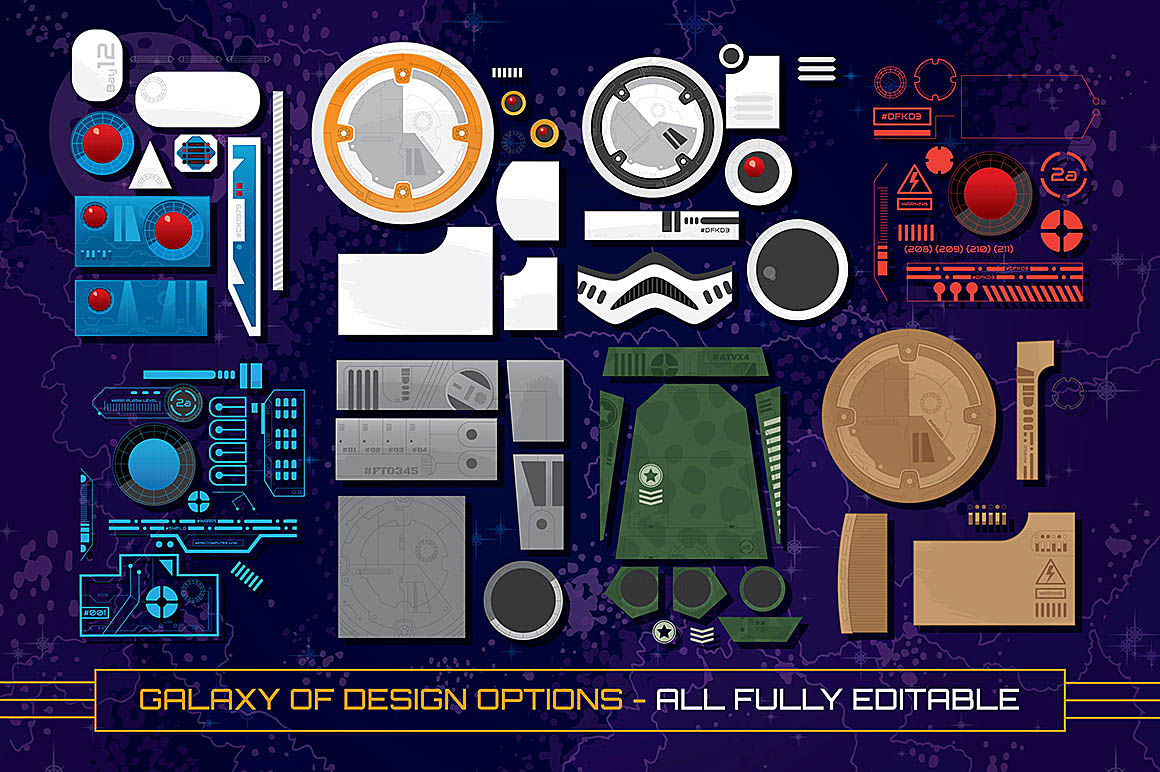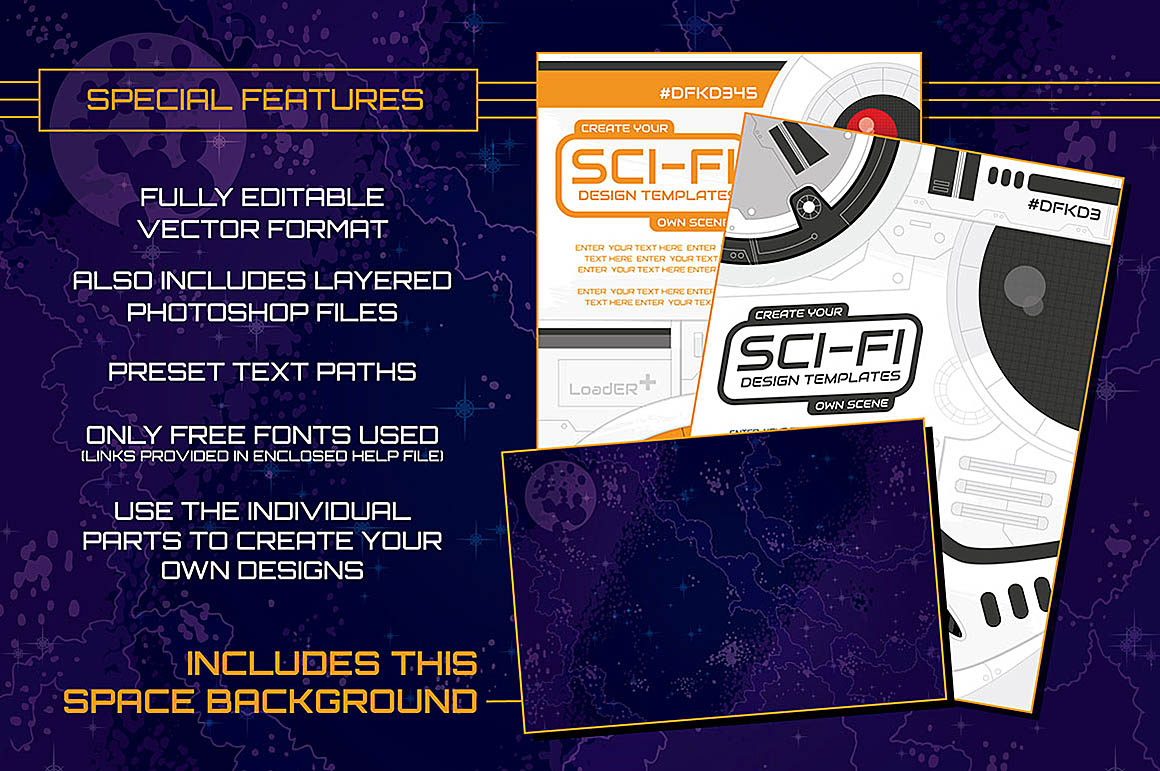 This bundle highlights:
5 creative style graphics bundles in 1!
extended license (like all of our deals): use for personal and commercial projects + you can also use them in designs/products that you sell. You can use all these items as a part of your non-digital or digital designs ( posters, t-shirt designs, stickers, web templates…). You cannot resell these files directly, or within items/goods where they can be extracted in their original form (like vector shapes, elements, fonts… – they need to be flatten into background or object in your digital item)
Pricing:
Normally, all these creative graphics would cost you $109 (without extended licenses!), but for a limited time only, you can get this unique collection for $10!
Deal Terms:
Delivered as an instant download, after completing your purchase.
Items can be used for both personal and commercial purposes, for yourself or on behalf of a client, on their own, or as part of your new design for sale.
Cannot be sublicensed, resold, shared, transferred, or otherwise redistributed on its own.
You cannot share these resources with others. This is a single user license (for 1 user on any number of devices)! You'll need second license for your colleague computer!