Shout out to all the vintage lovers — here comes a huge effects bundle for you! Every scratch, mysterious shadow and pixel was crafted with much attention, so now you can dive into your creative nostalgia without worrying about the tools you need to bring the retro vibe. Trust these 11 photo effects and get the result you have been dreaming of!
With 11-in-1 Vintage Effects Bundle from Pixelbuddha you will get 11 various style effect templates for Adobe Photoshop!
With this deal you get:
11 various style effect templates for Adobe Photoshop!
Take a look at what you can get: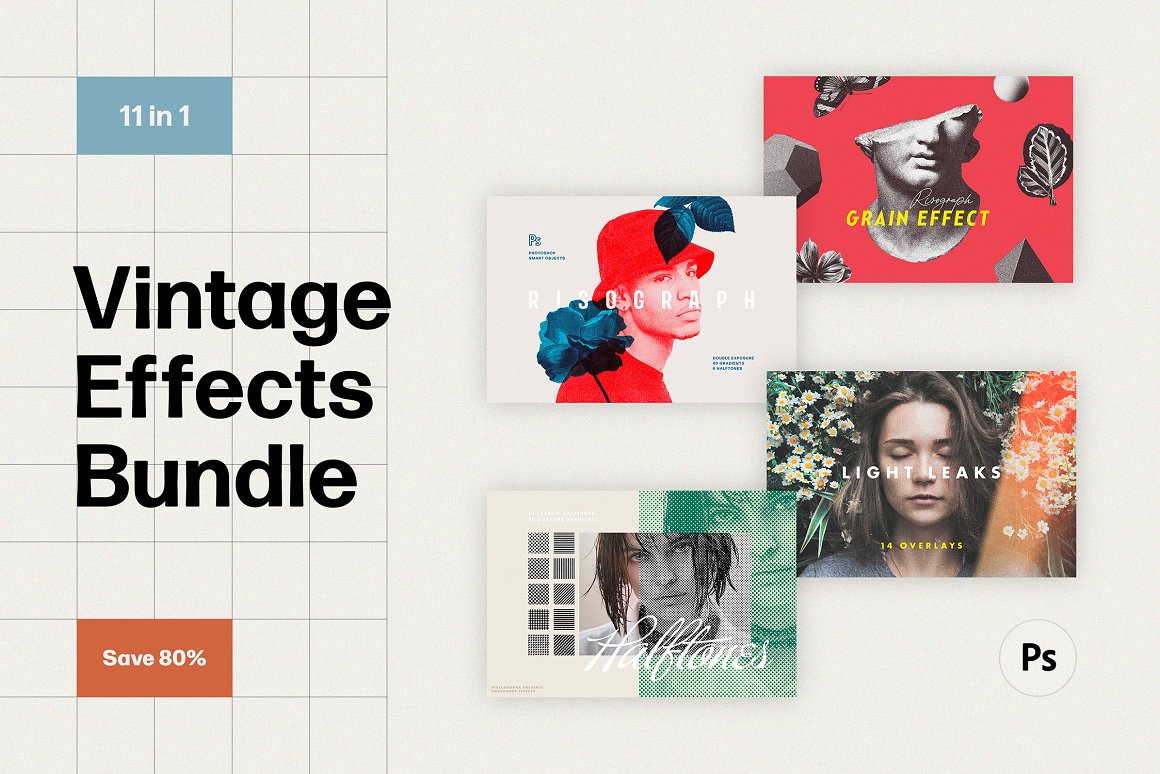 11 various style effect templates for Adobe Photoshop!
01. Risograph Grain Effect from Pixelbuddha
Every time we discover another physical craft and bring it to the digital, we are amazed by how natural it eventually looks! We already played with drawing tools for our brushes and experimented with old newspapers for our textures. Now, the time has come to discover screen printing!
Our newly-made Risograph Grain Effect embraces the classic look and trendy vibes, which make it so irreplaceable in your toolbox. Need cool imagery for banners and posters? That's how you can design them with ease. Searching for print ideas that would look gorgeous and realized in a sec? Again, nothing can work better than the Risograph Grain Effect! A single PSD file contains everything you need to go creative and carry out something precious: 3 grain intensity options, 5 grain textures, and 50 premade gradients. Simply pick the images, and let the Smart Objects (and a help file!) guide you through the process.
What's inside?
3 grain intensity options (low, medium, high);
5 grain textures;
50 premade gradients;
4000x4000px, 300 dpi;
help file.
The minimum Photoshop version required is CS6 ✨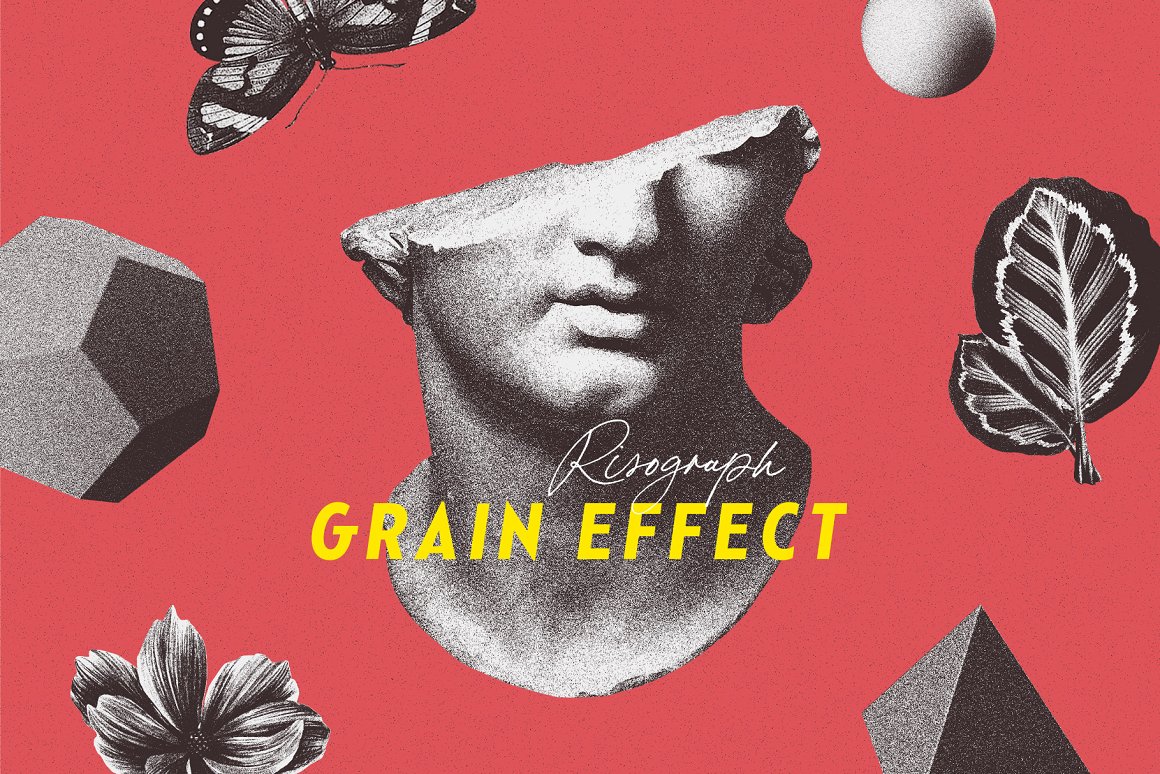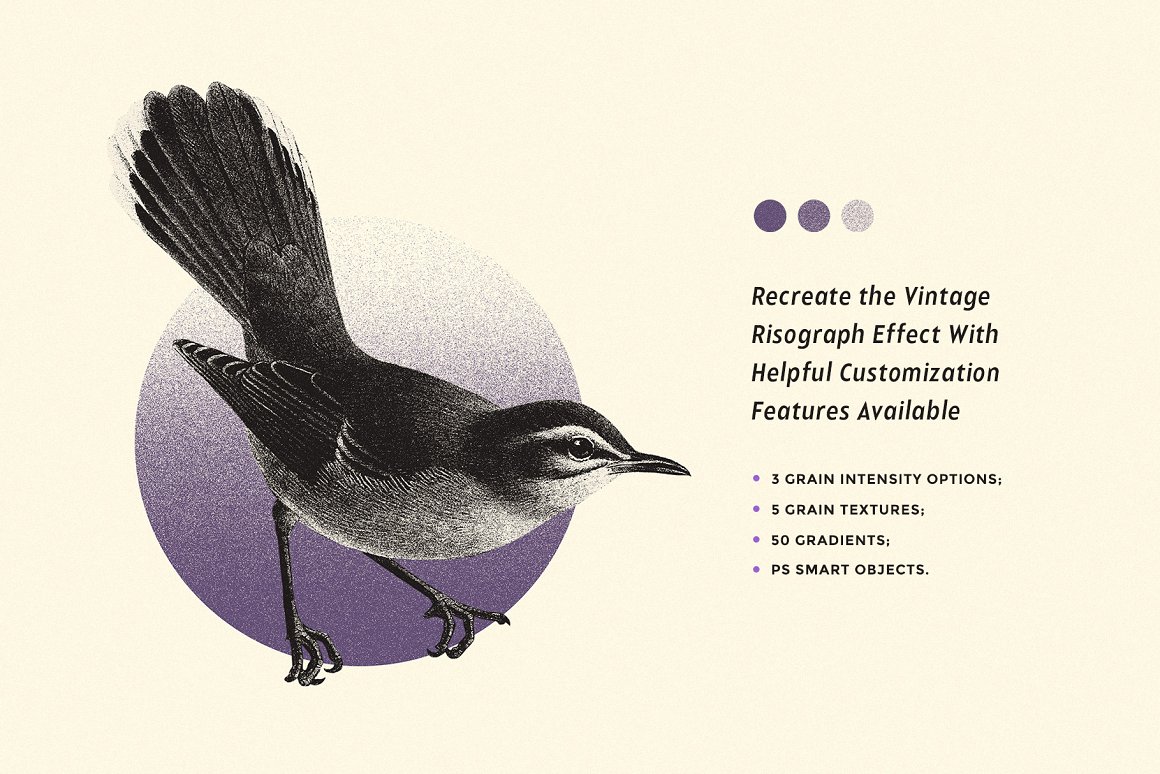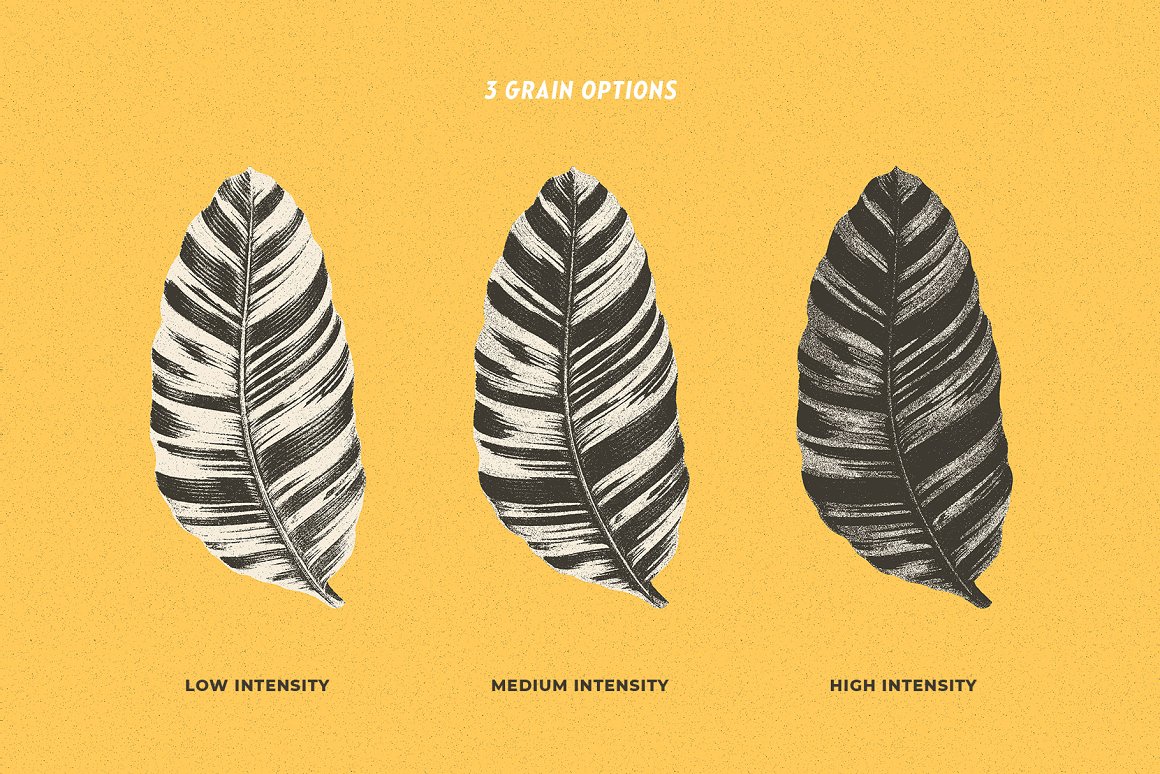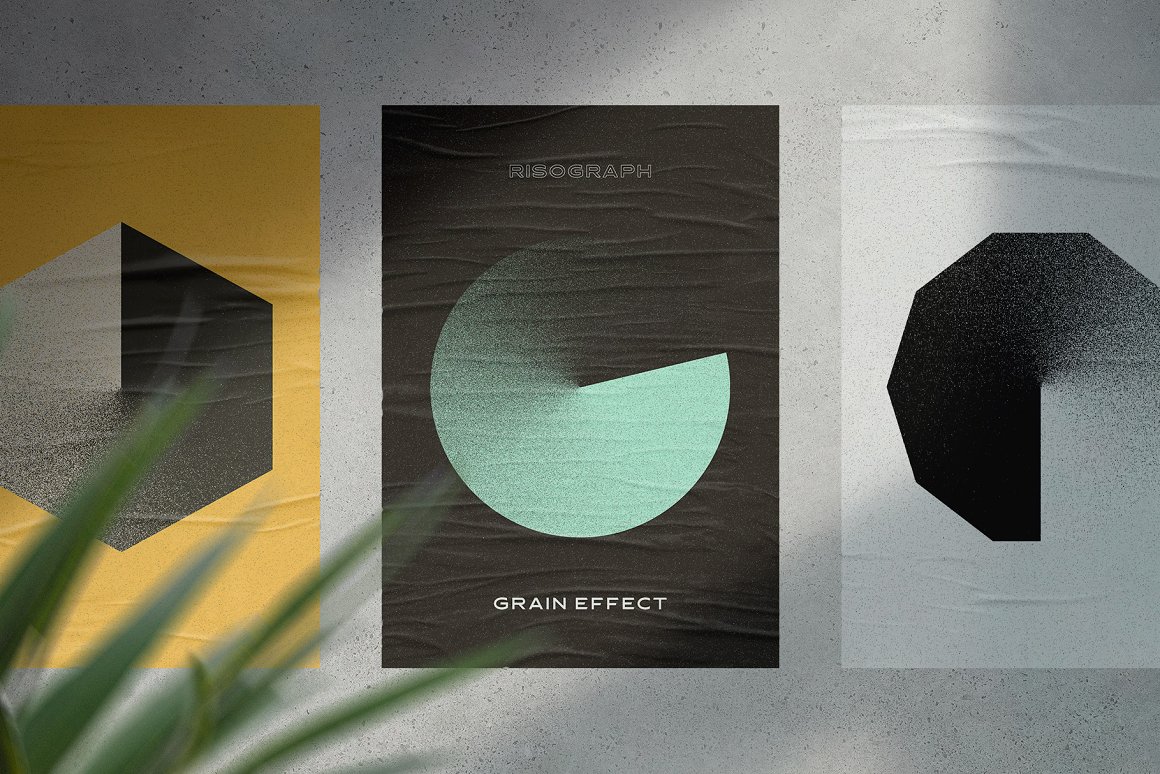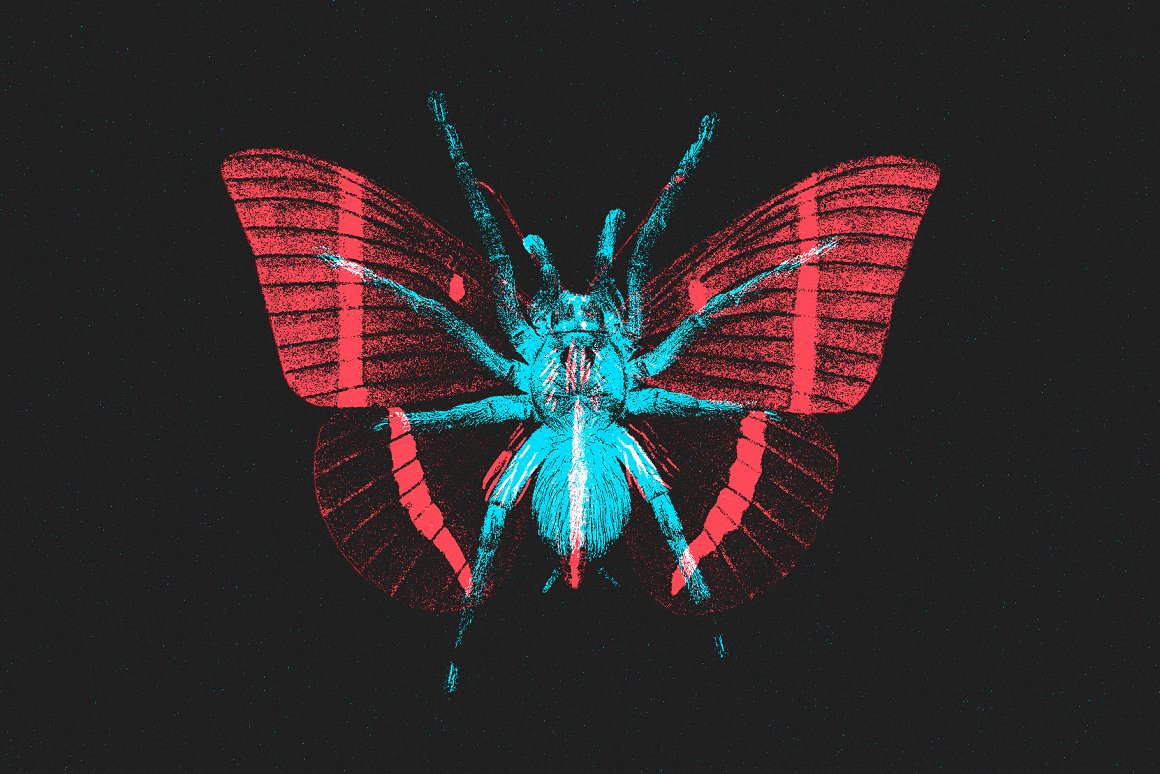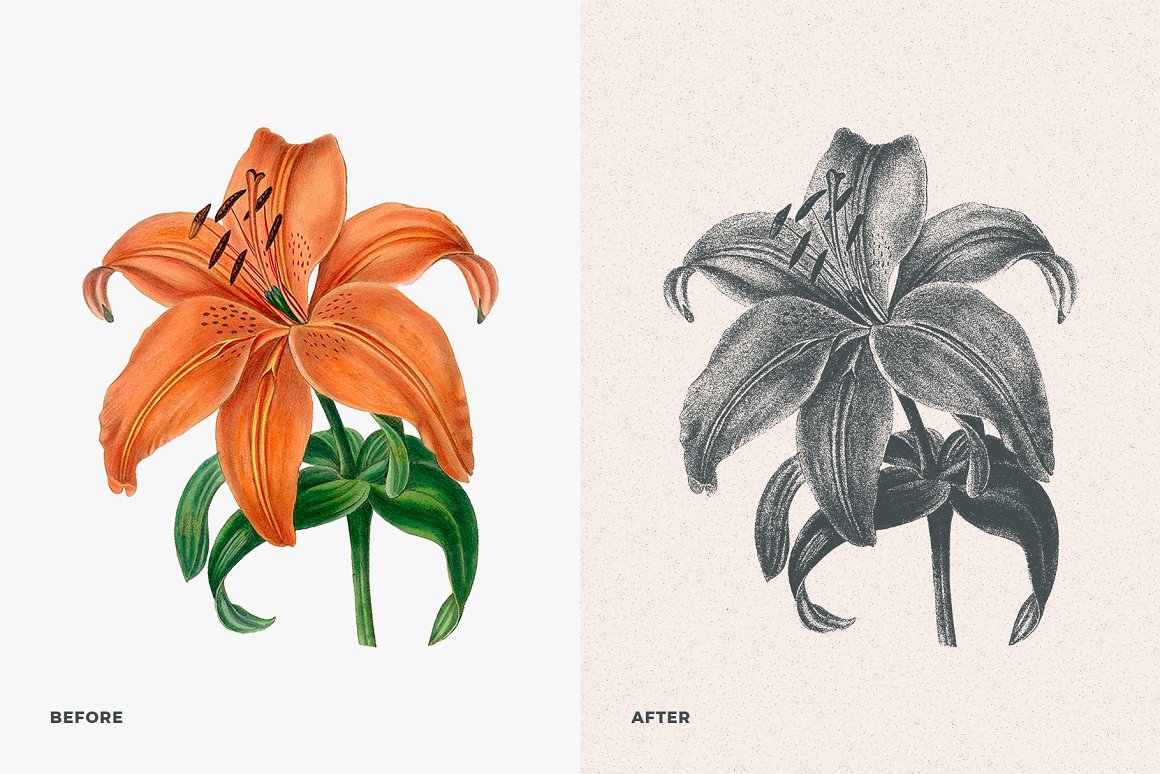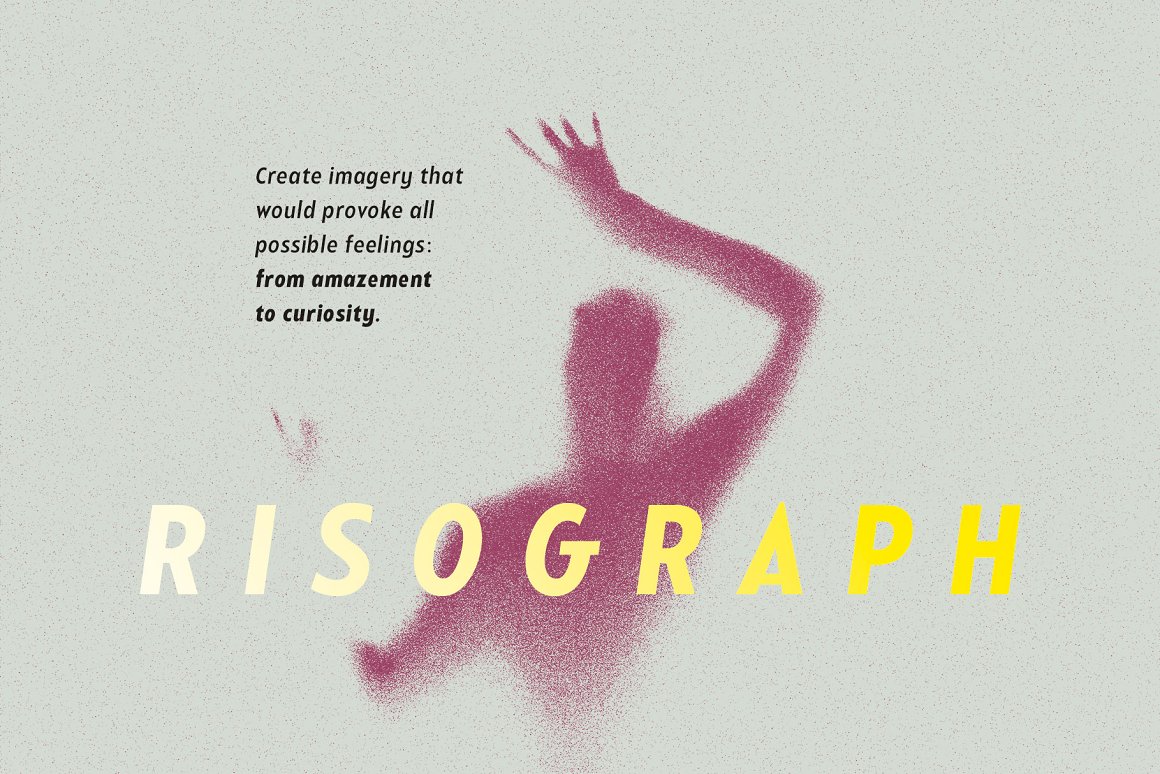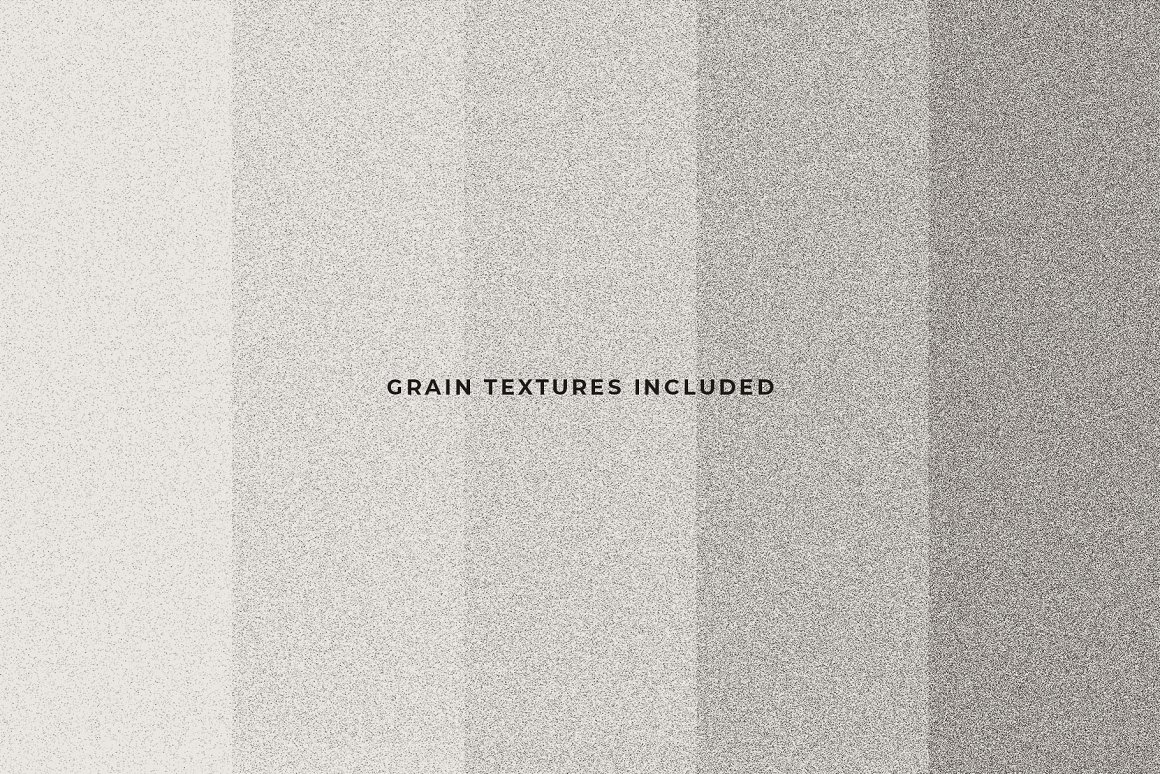 02. Vintage Postcard Photo Effect from Pixelbuddha
Greetings from the Pixelbuddha team and our immense nostalgia yearning that has been expressed through numerous artistic means so far! This time, let's move to the American national tourism fever of the 50s', namely the times when the picturesque landscapes of the US were printed on postcards. Nowadays, the cardstock paper relicts are hard to get: vintage originals worth a fortune and meticulously created copies won't fill a heart with sufficient happiness. Luckily, we live in a "do-it-yourself" era, when all the necessary segments are accessible — starting with this Vintage Postcard Photo Effect.
You'll be excited to see beautiful landscape shots, portraits, or long-forgotten vacation photos turned into retro postcards sent to you from the past. We got you covered by preparing both of them regardless of the orientation, vertical or horizontal view. Hope you'll get the excitement and goosebumps watching 6 retro styles converting a picture into a highly genuine vintage piece. Some shades are faded, others come as grotesquely enhanced because you never know how time is going to treat postcards. But what you can control is the material they're printed on: 6 paper textures with grain, noise, wrinkles, and other undetectable particles involved. Happy designing using this little craft box put together with high-quality files and sea of love!
What's inside?
2 high-quality PSD files;
vertical & horizontal formats;
4500×3000 px, 300 dpi;
3000×4500 px, 300 dpi;
6 retro style effects;
6 paper textures;
help file.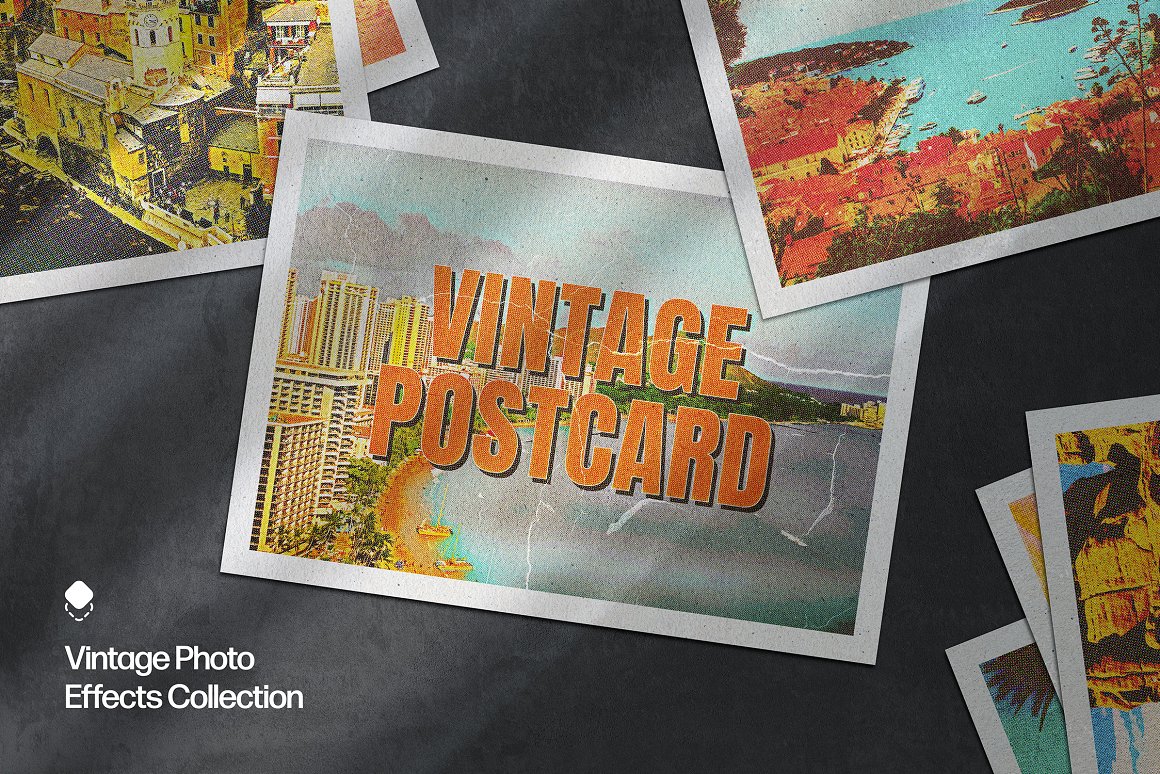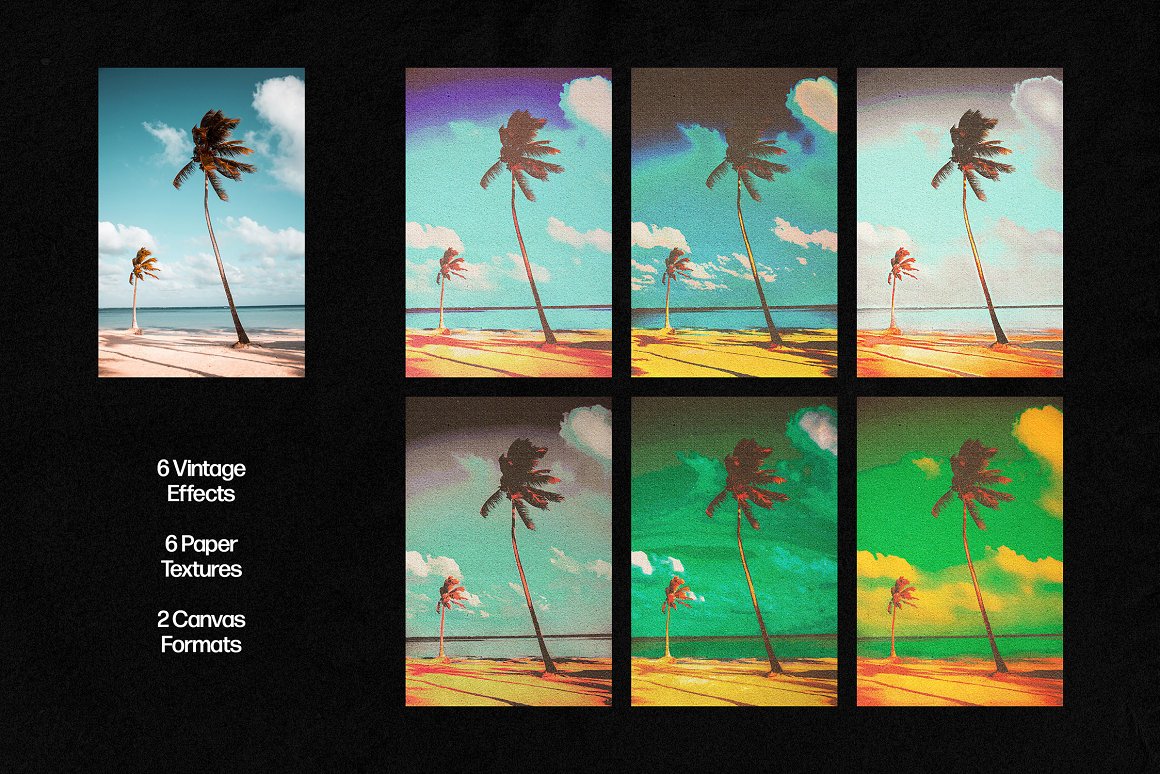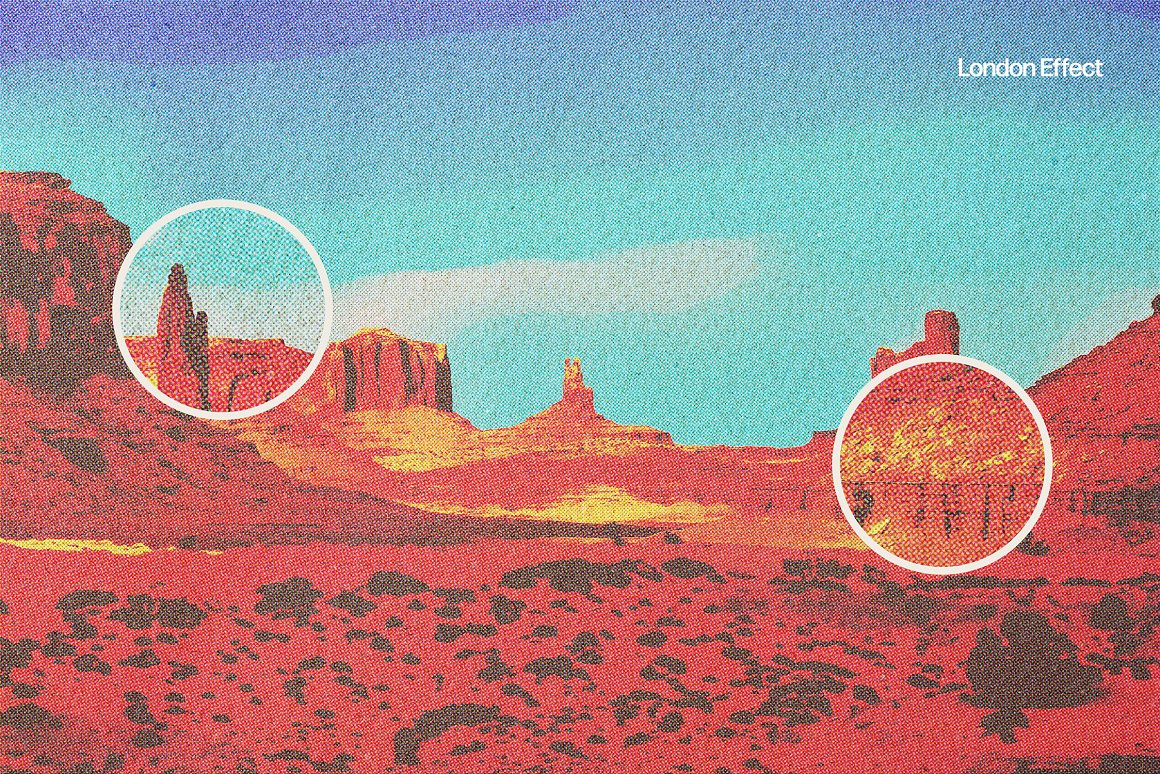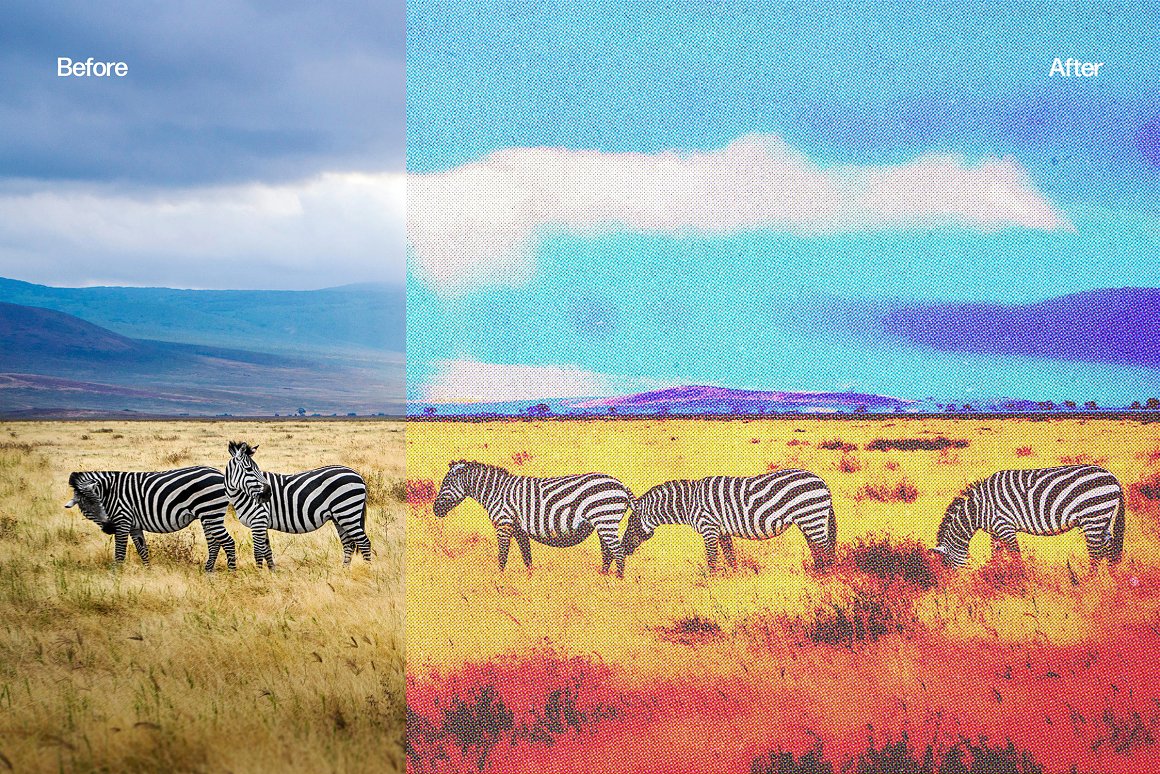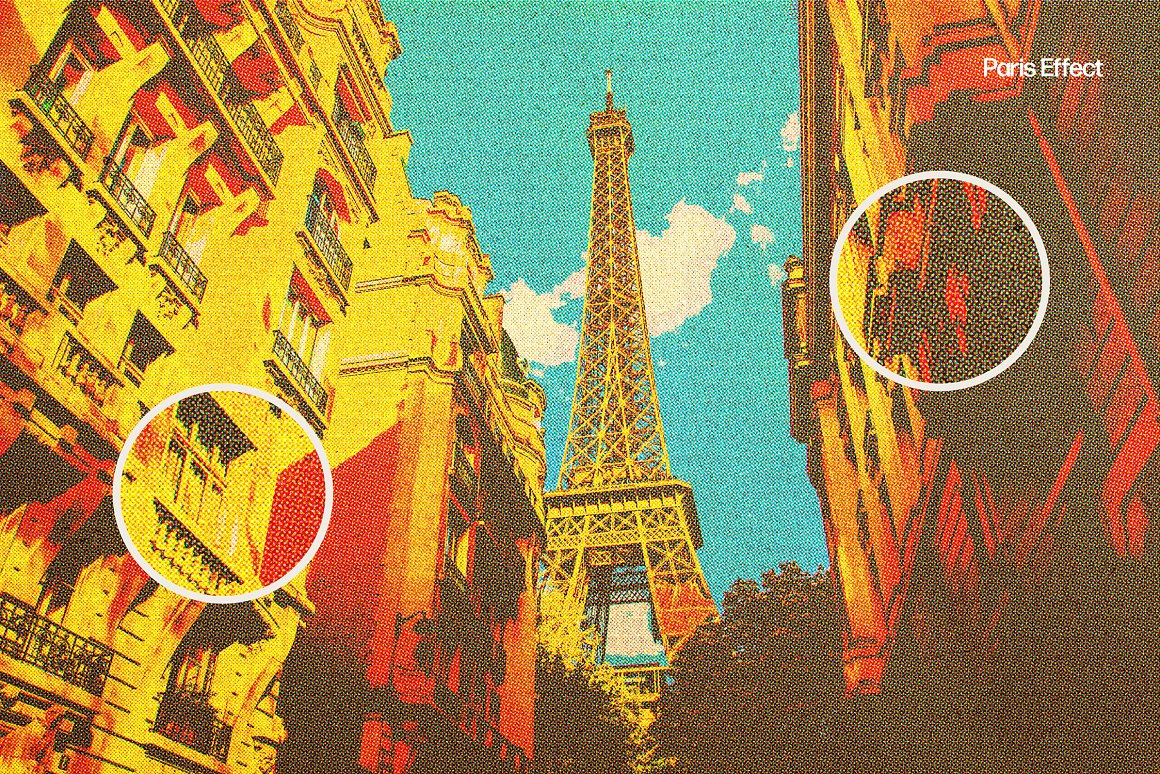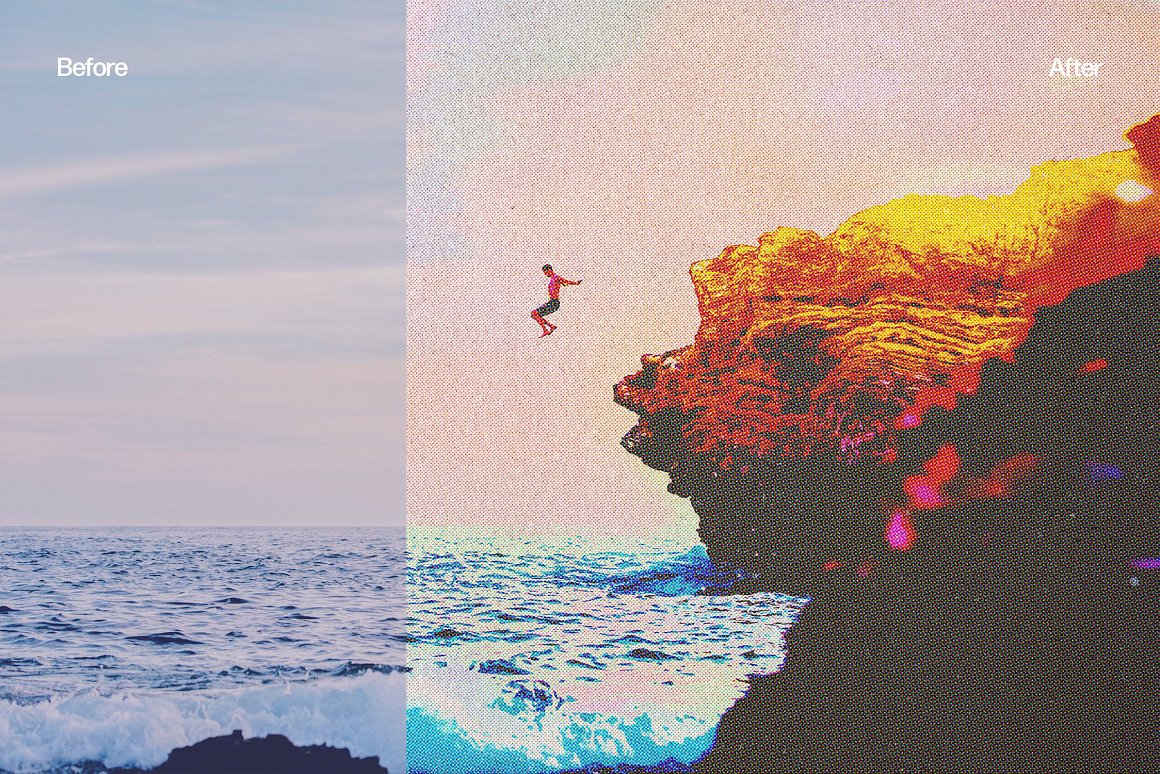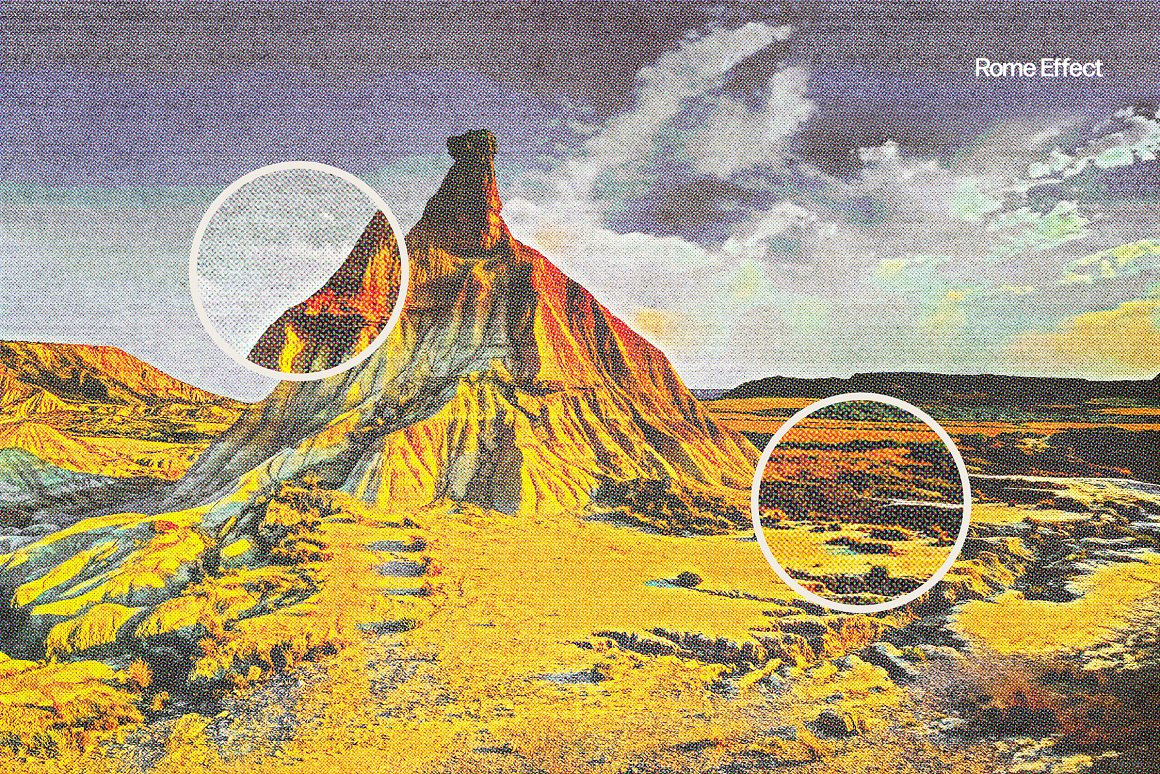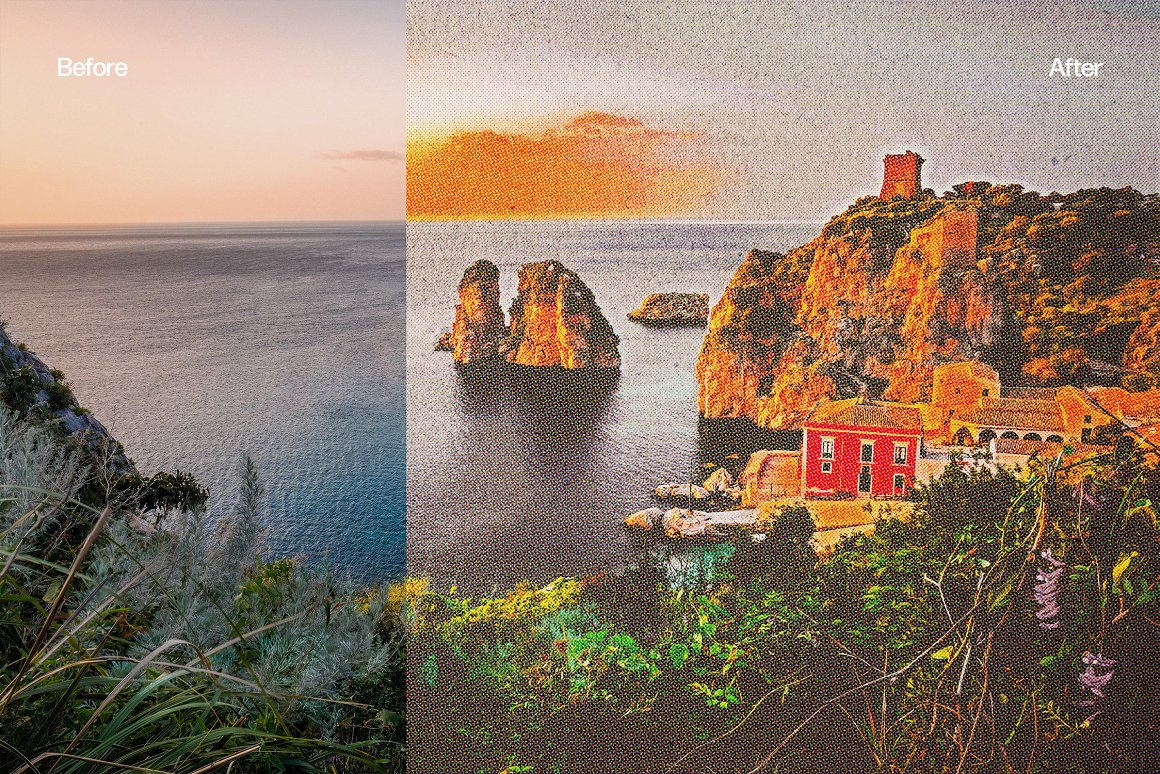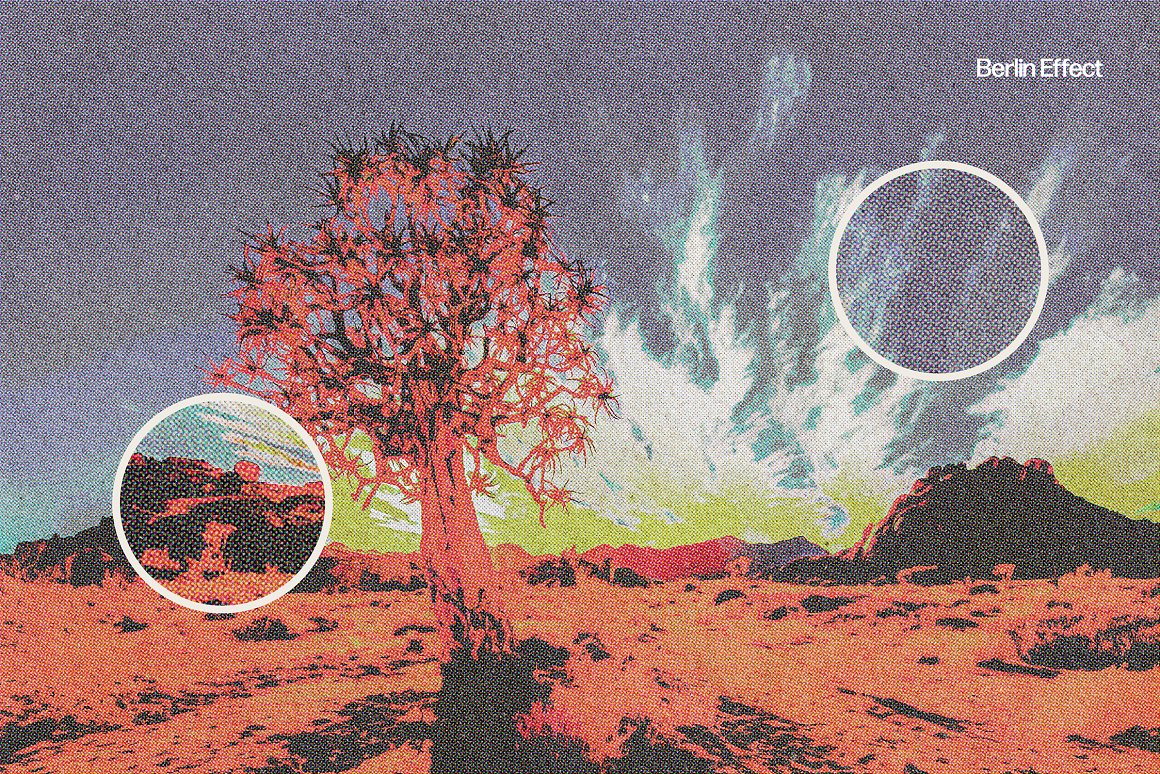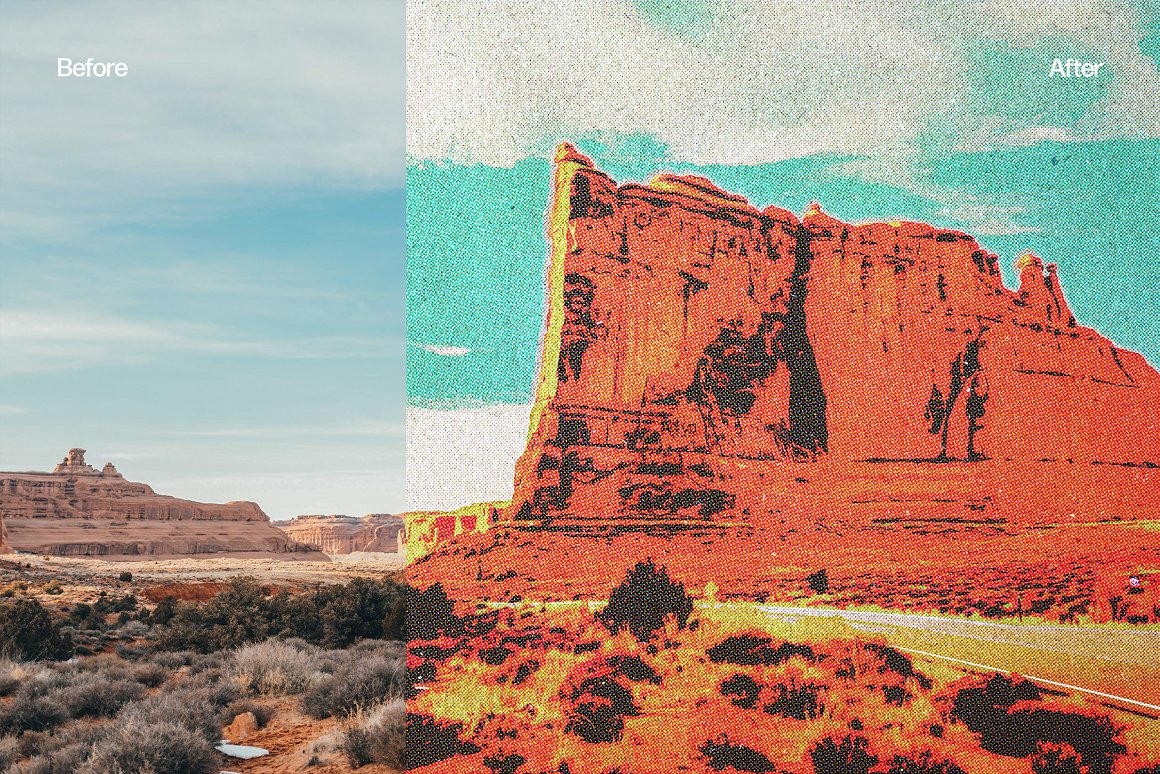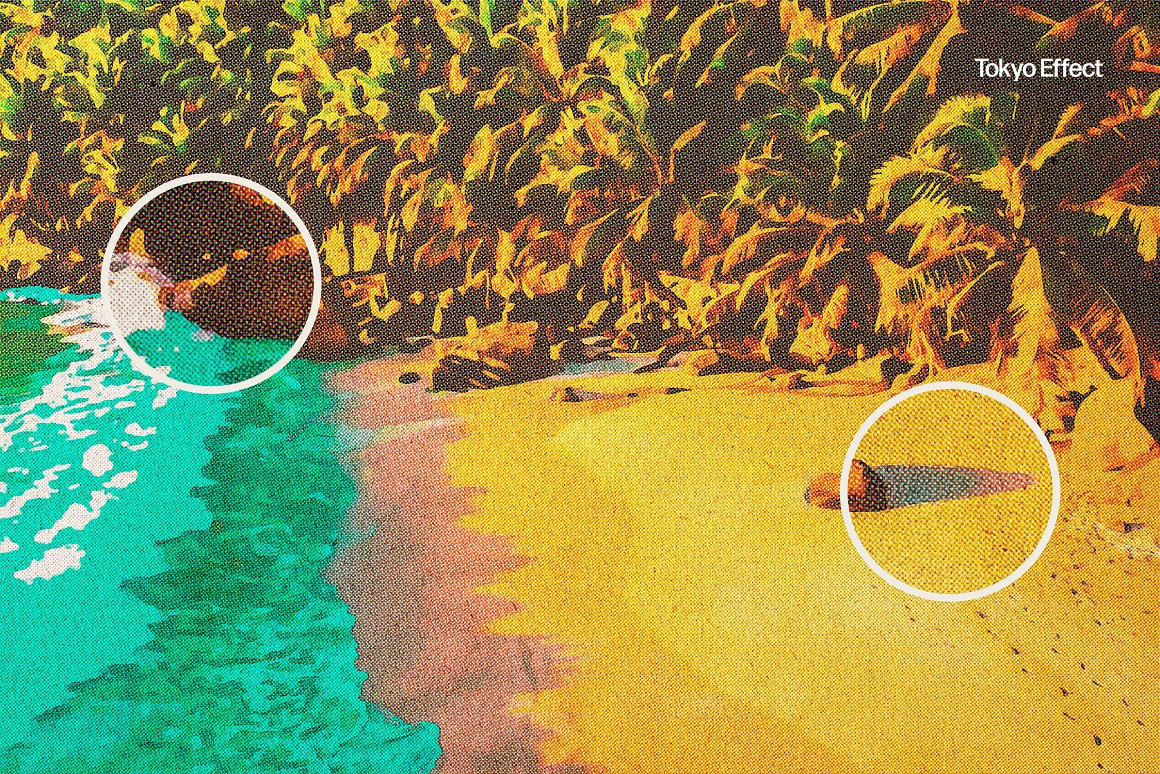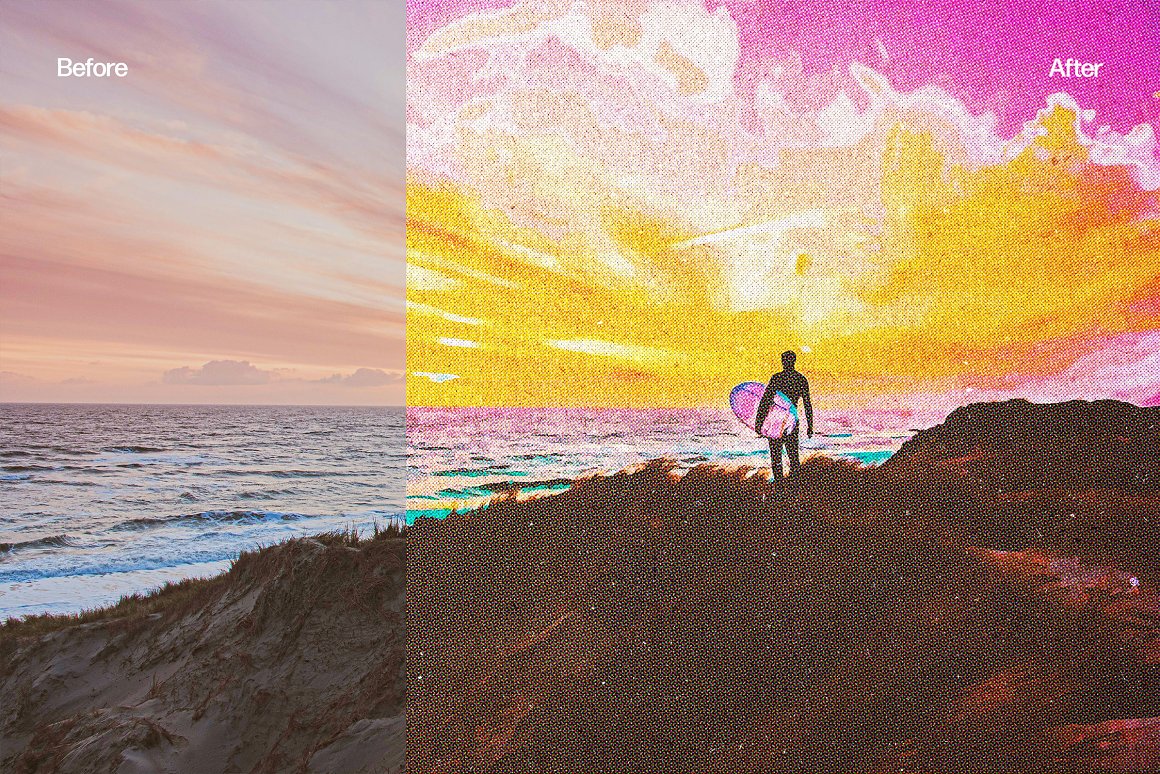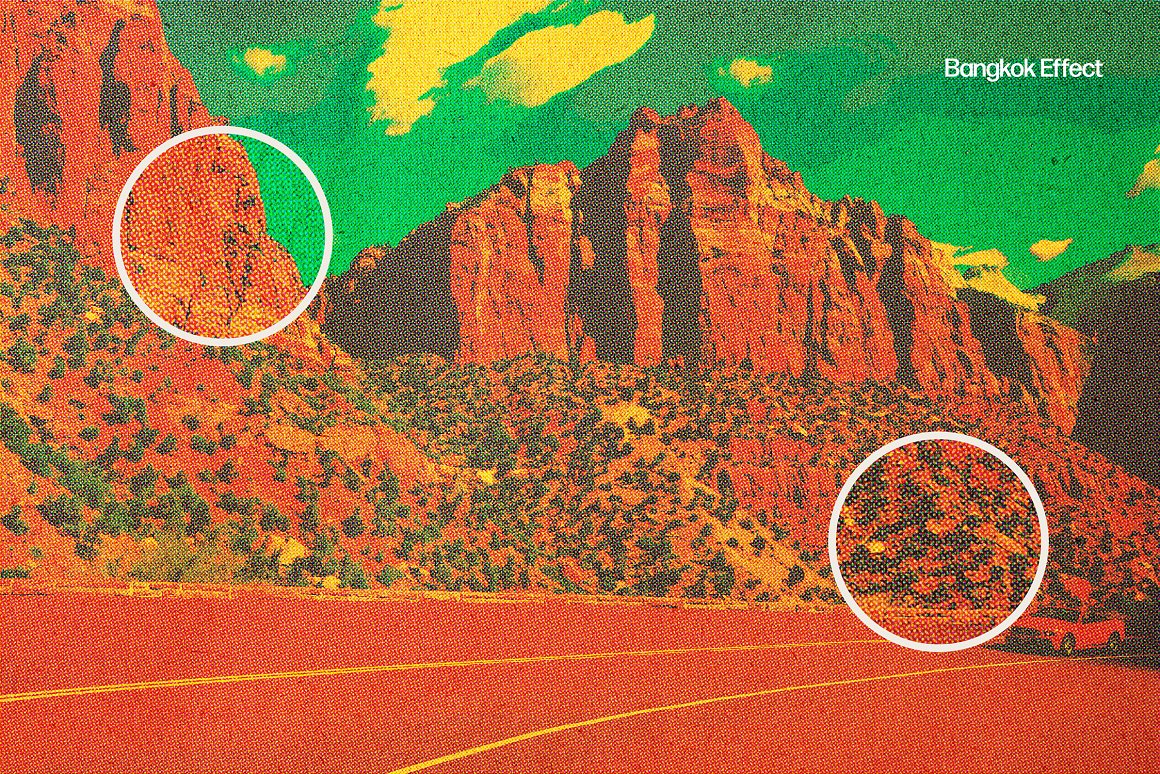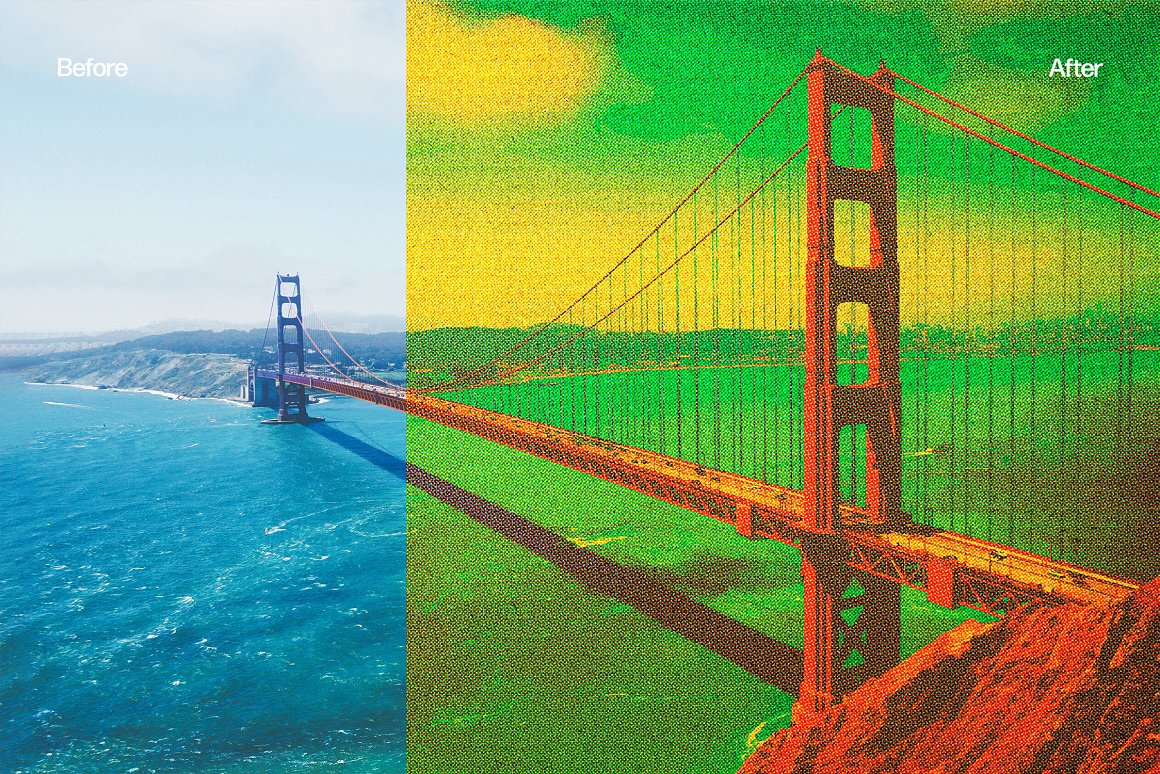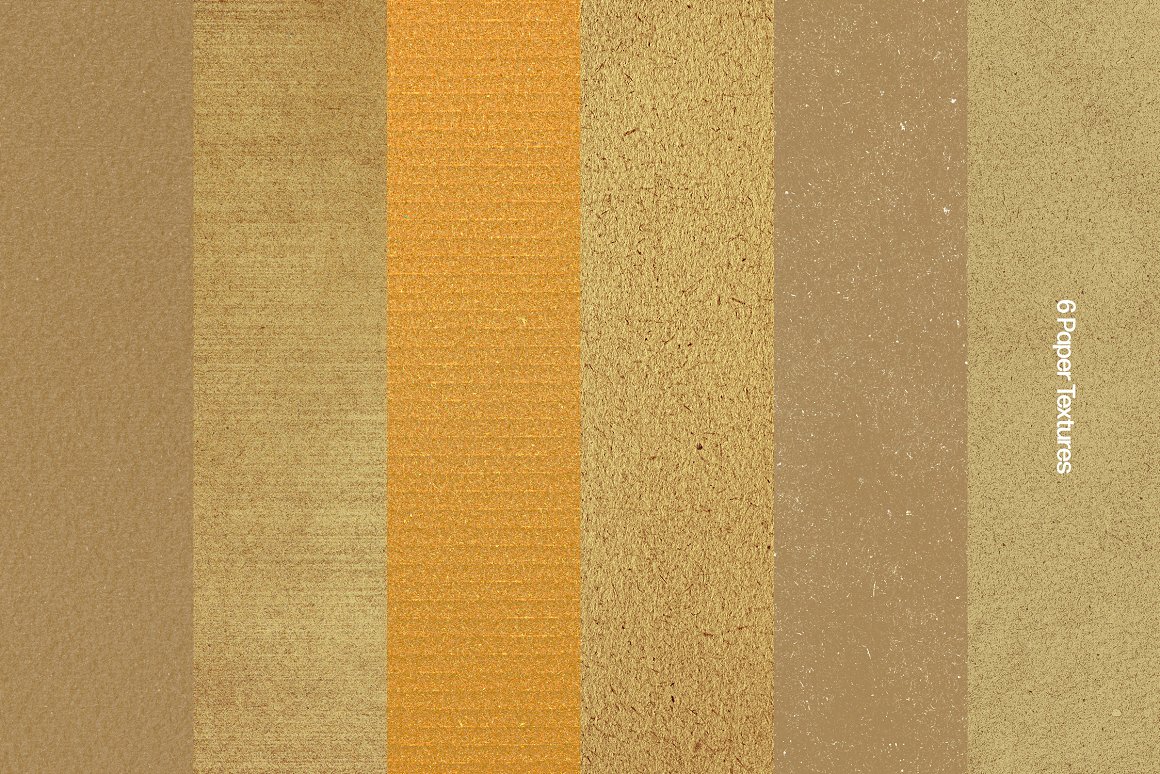 03. Film Burn Light Overlays from Pixelbuddha
Carefully harvested sunbeams, cherished summer memories, orange-flavored sprinkles of happiness — these are the ingredients of cozy light leak overlays we've prepared for you. Accidentally exposed film is no longer a thing to be sad about, as charming peculiarities like this sustain the nostalgic atmosphere and add a sense of delight. Would you like to mix this potion with your photos?
The classic realistic film burns and more creative takes on the concept are delivered in 14 light leak overlays, arranged the way you can mix and match them together. Originated in the golden era of film cameras, the magic rays of light look especially natural with different noise and dust textures, imitating the vintage pictures. Get into the spirit of indie festivals and rustic vacations without leaving your place! Every light overlay is special, meant to treat the stories you'd like to tell with kindness.
What's inside?
14 light leaks overlays;
dust textures included;
noise overlay applied;
4500×3000 px, 300 dpi;
help file.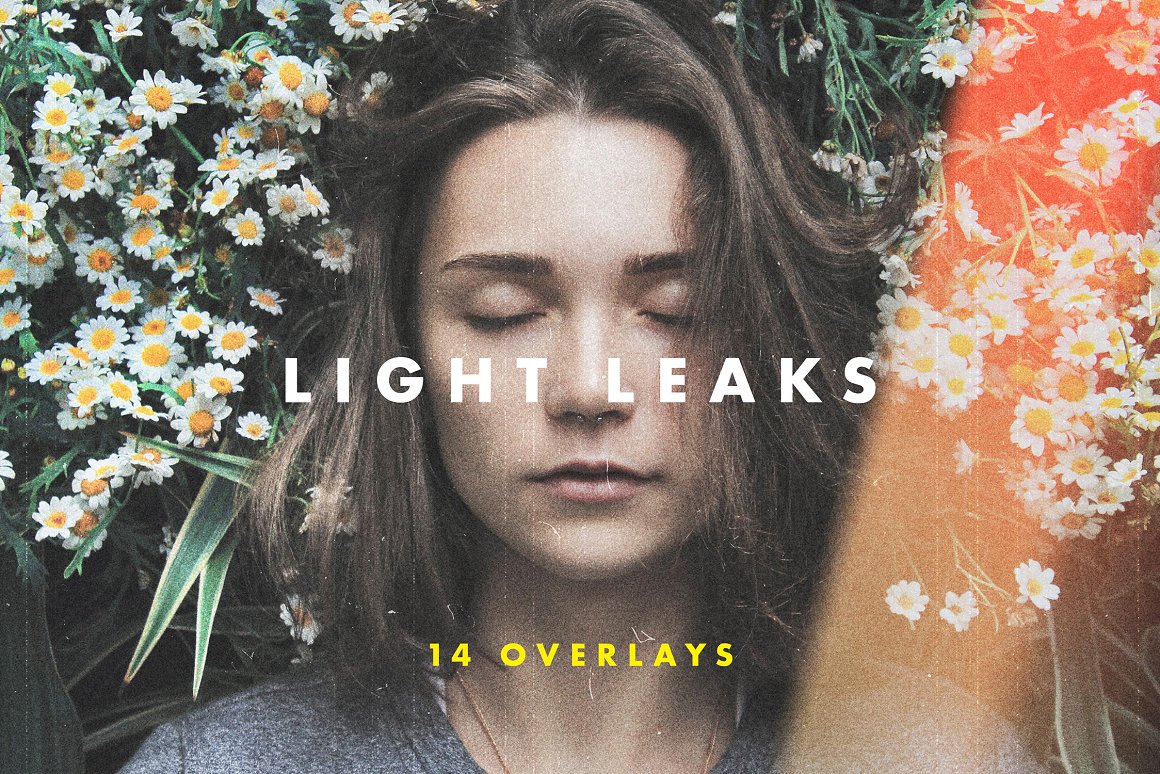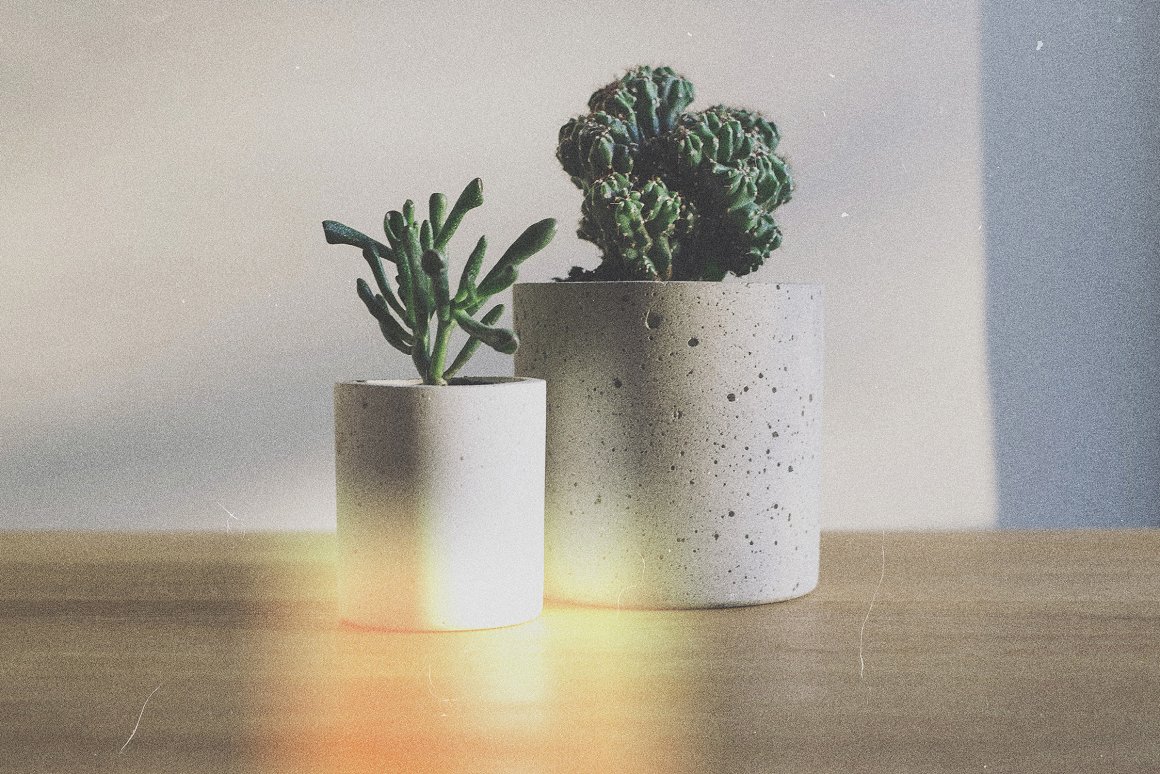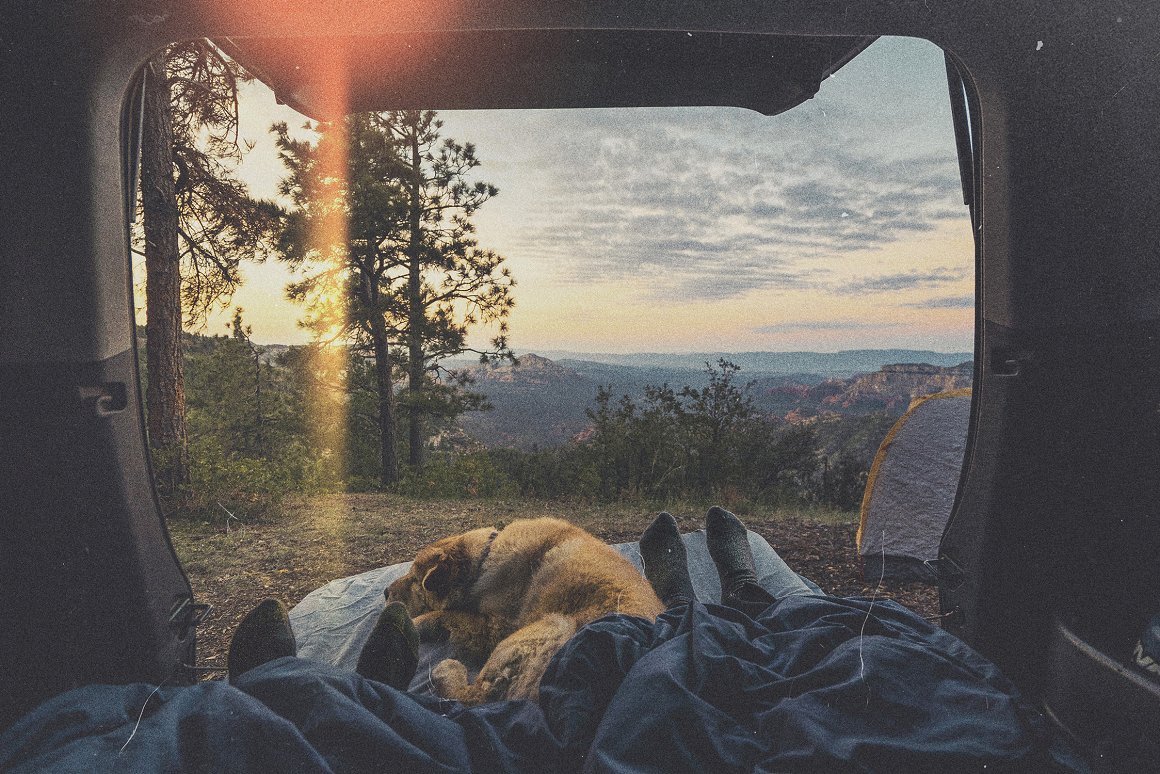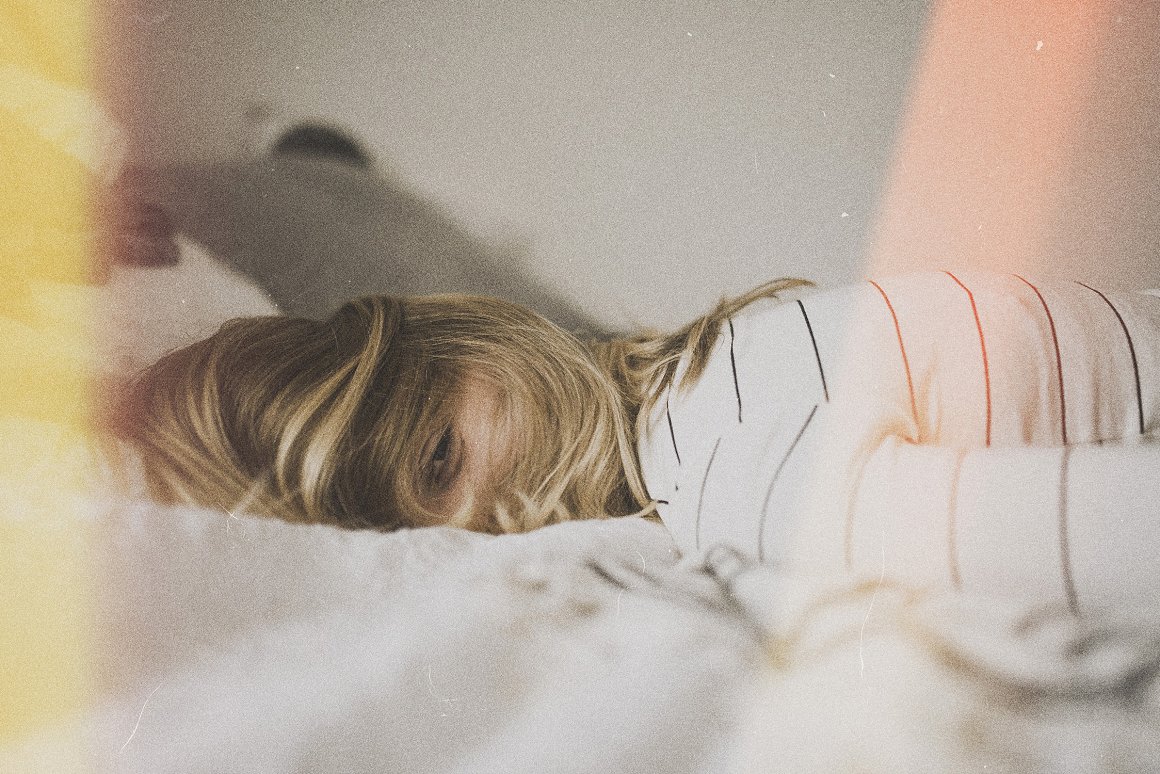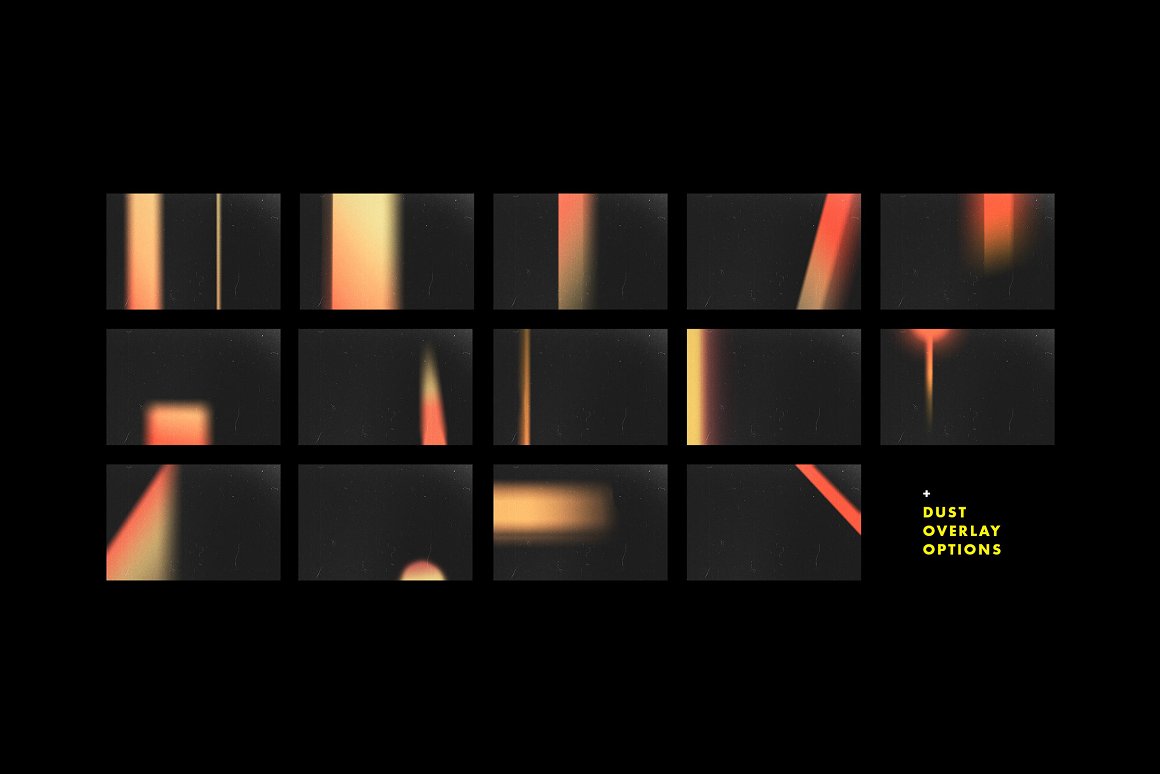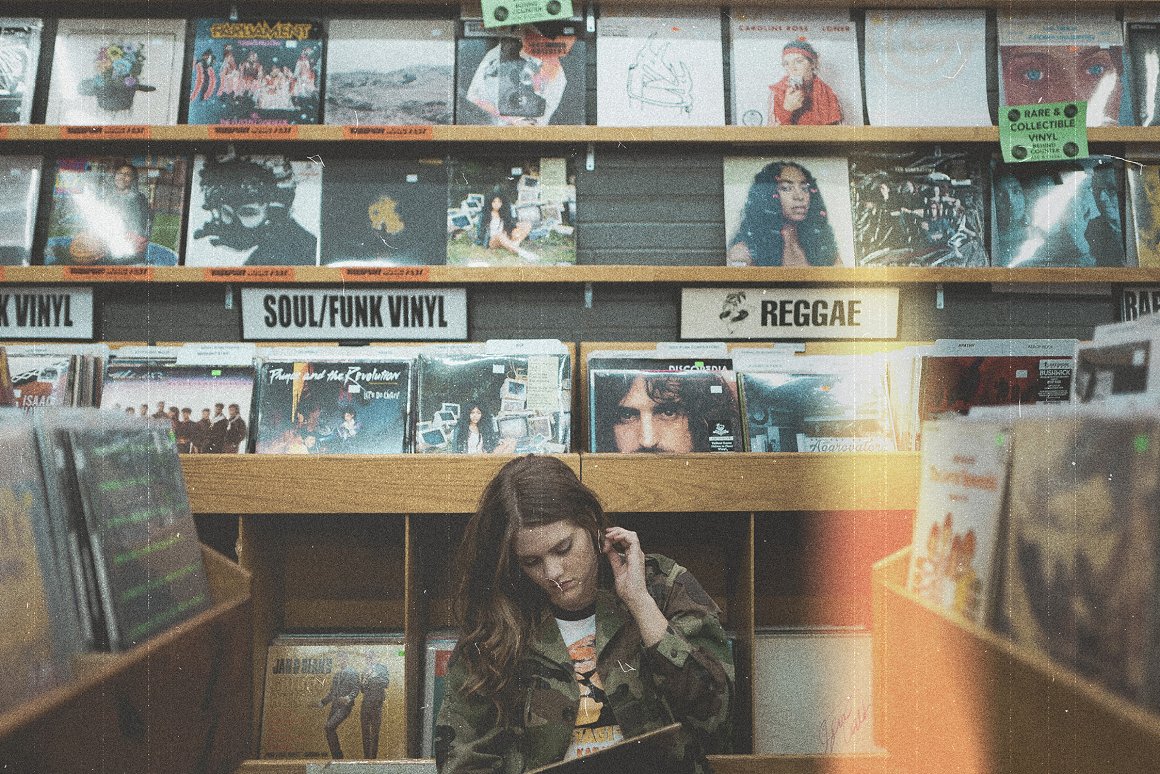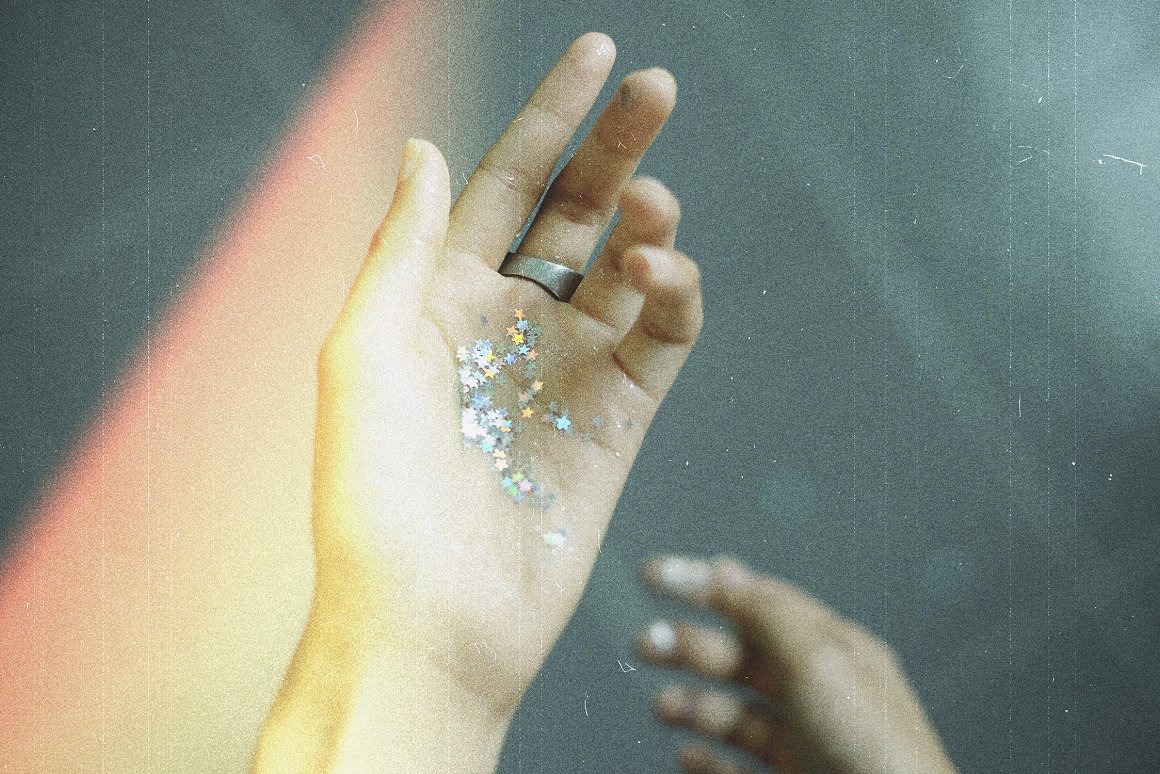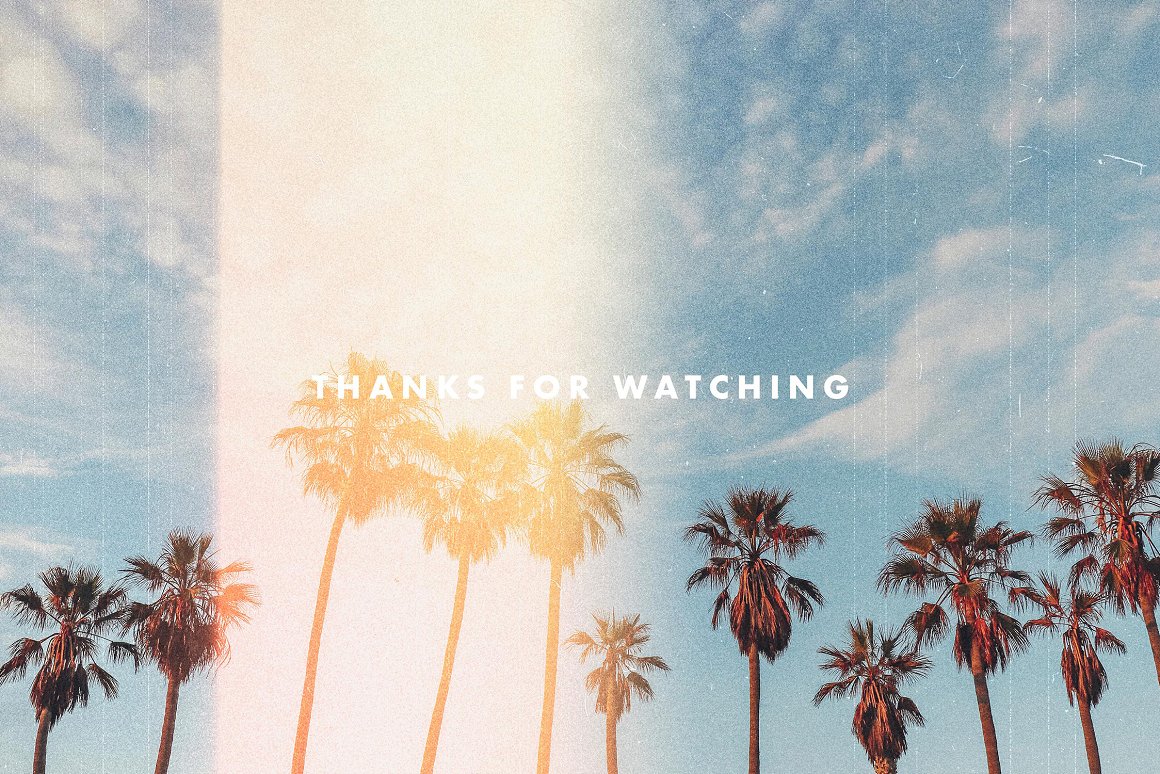 04. Daily Mail Printer Photoshop Effects from Pixelbuddha
Before the Internet gave us access to any information in the world, available within the fingertips, all the precious grains of knowledge were scooped from the carefully-stacked magazines and newspapers. Cooking recipes, posters, makeup tutorials, relationship tips, interior designs, movie and music reviews — the articles cut out with scissors and added to the wisdom encyclopaedia. You can either keep reminiscing about that time or pay respects to it, editing photos with this vintage printer photoshop effect!
The distinguishing feature of an old printing process used to be a noticeable cmyk letterpress pattern of colored dots, forming an image. Sometimes misrepresented color solutions, nevertheless cozy and handcrafted texture of old print is displayed in 3 different styles. Want to spice it up a little by adding 30 prepared gradients? You got it! The effect doesn't put any limitations of the source photo dimensions: we've put square, horizontal, and vertical assets into the package, leaving you out of finding the workarounds. Get a personal printing press for your graphic designs!
What's inside?
3 high-quality PSD files;
3 different print styles;
30 prepared gradients (.grd file);
3 file orientations (square, horizontal, vertical);
4500×3000 px, 300 dpi;
3000×4500 px, 300 dpi;
4000×4000 px, 300 dpi;
help file.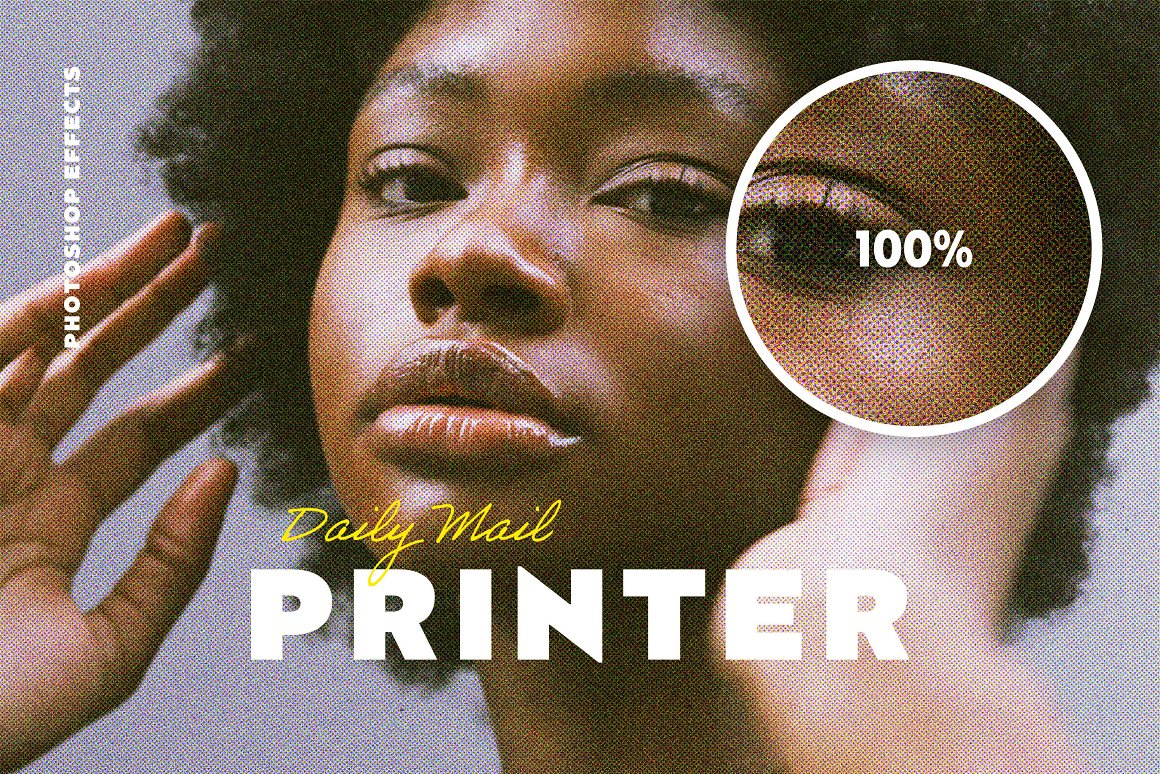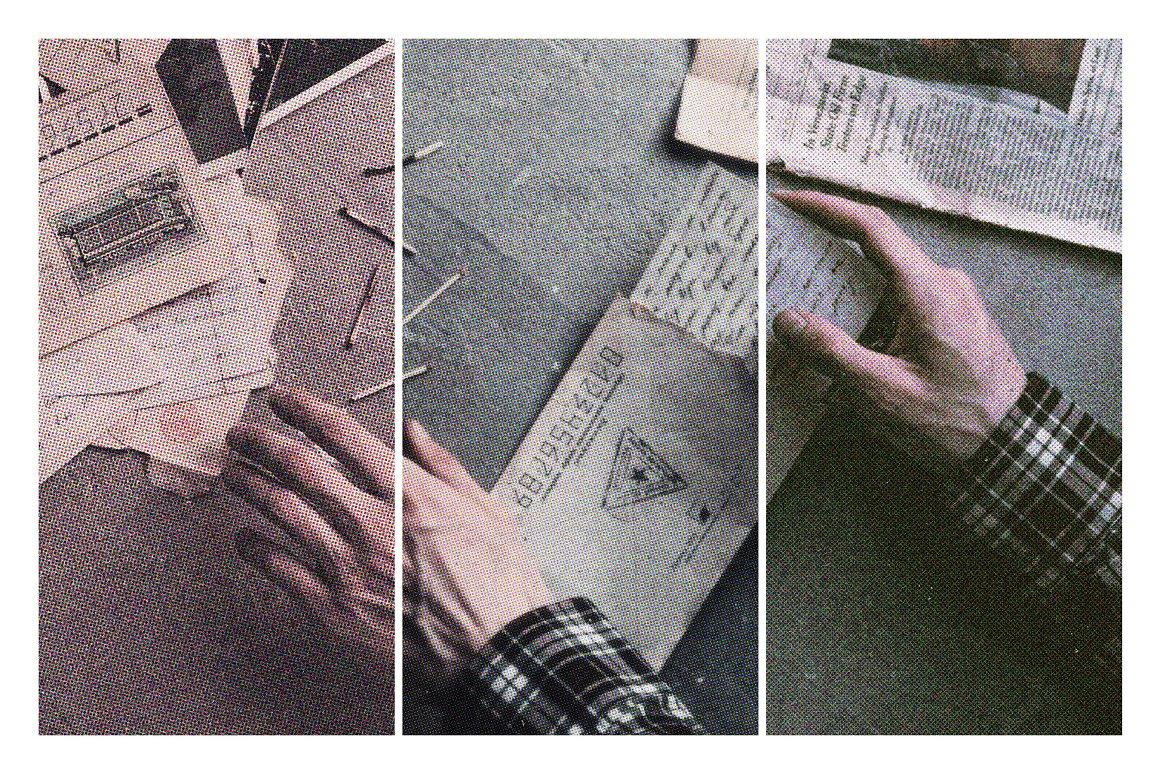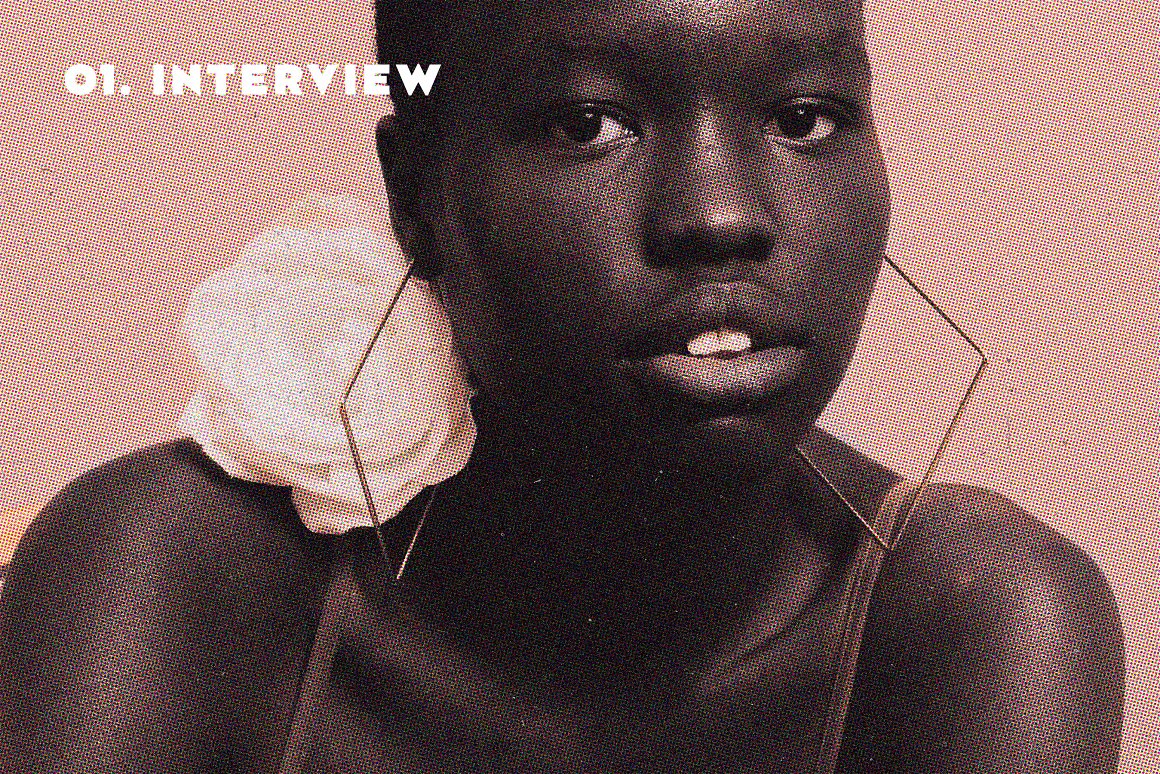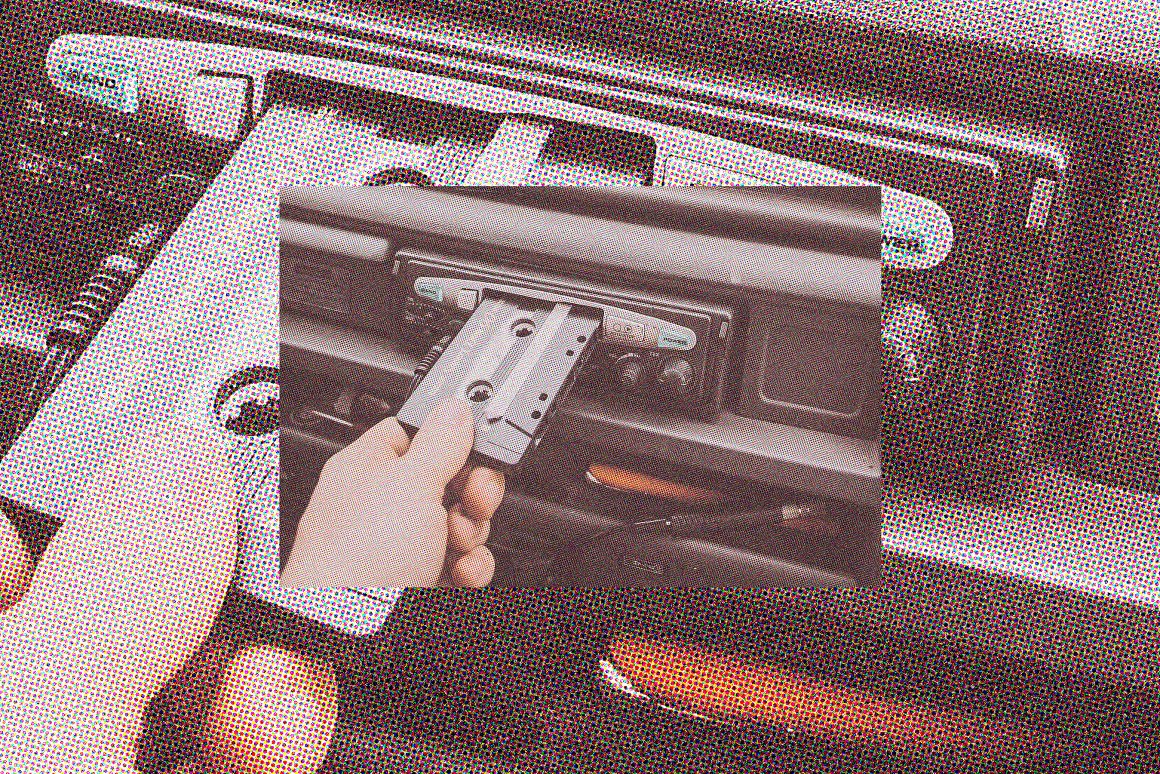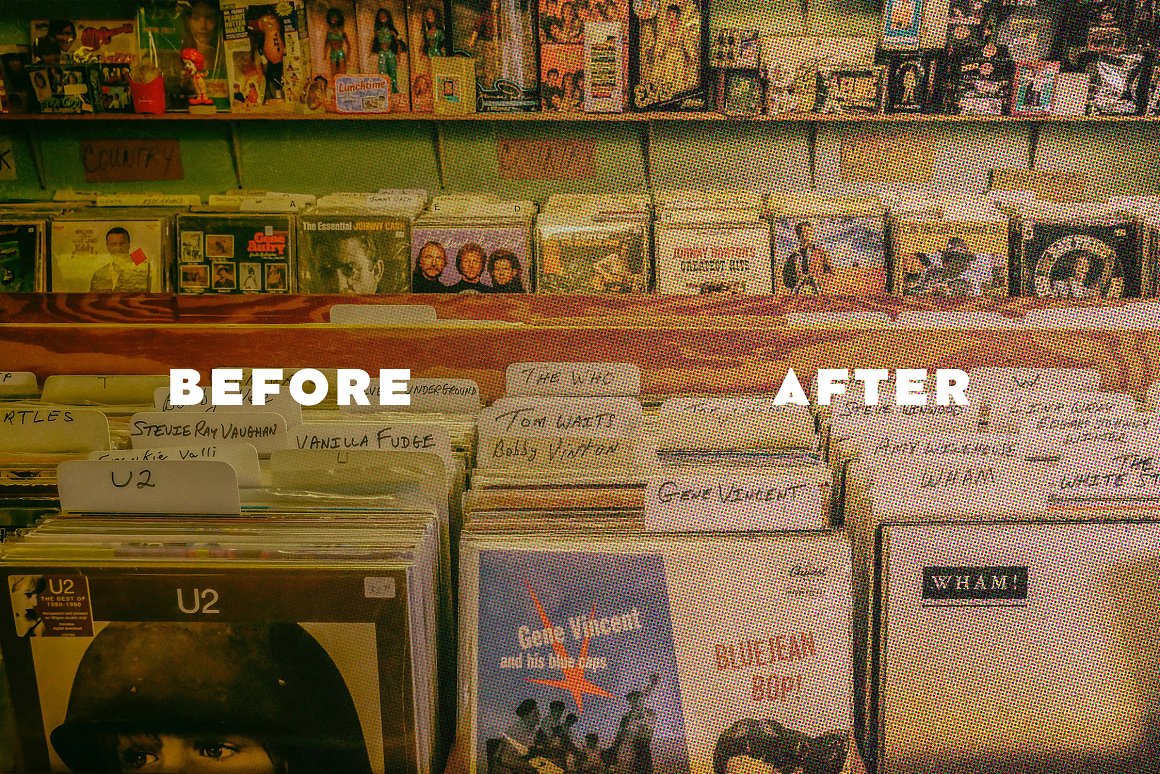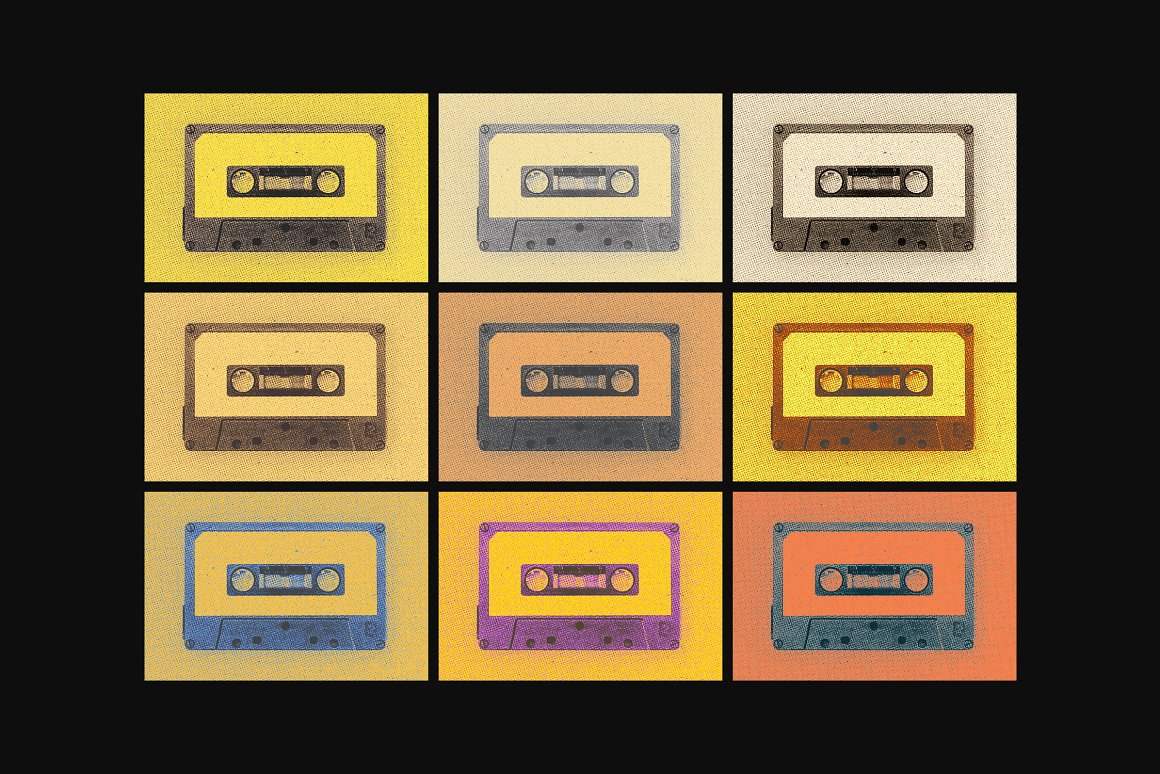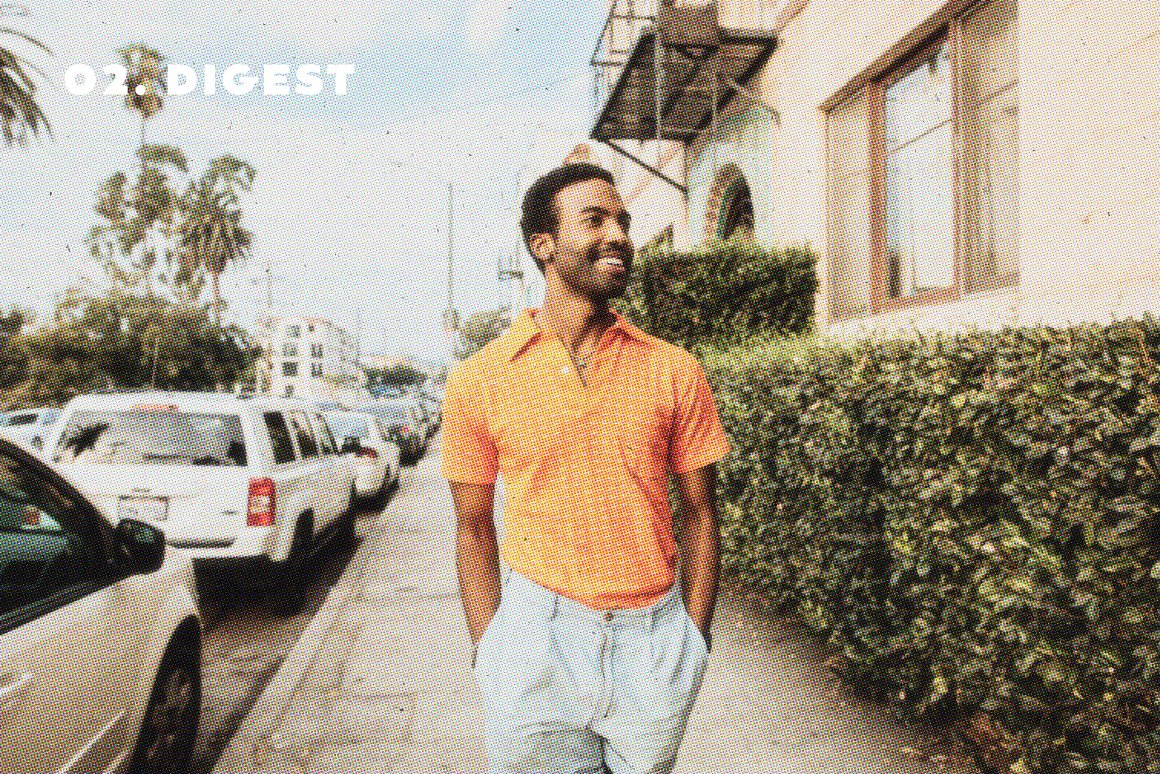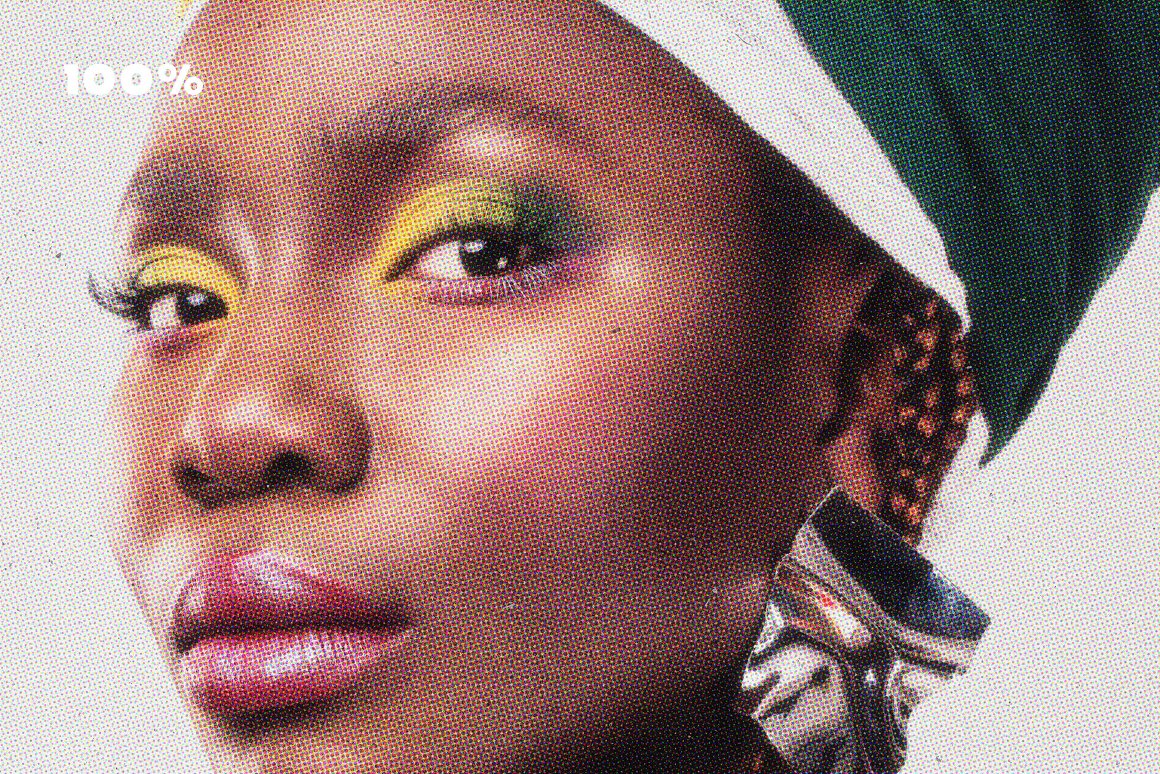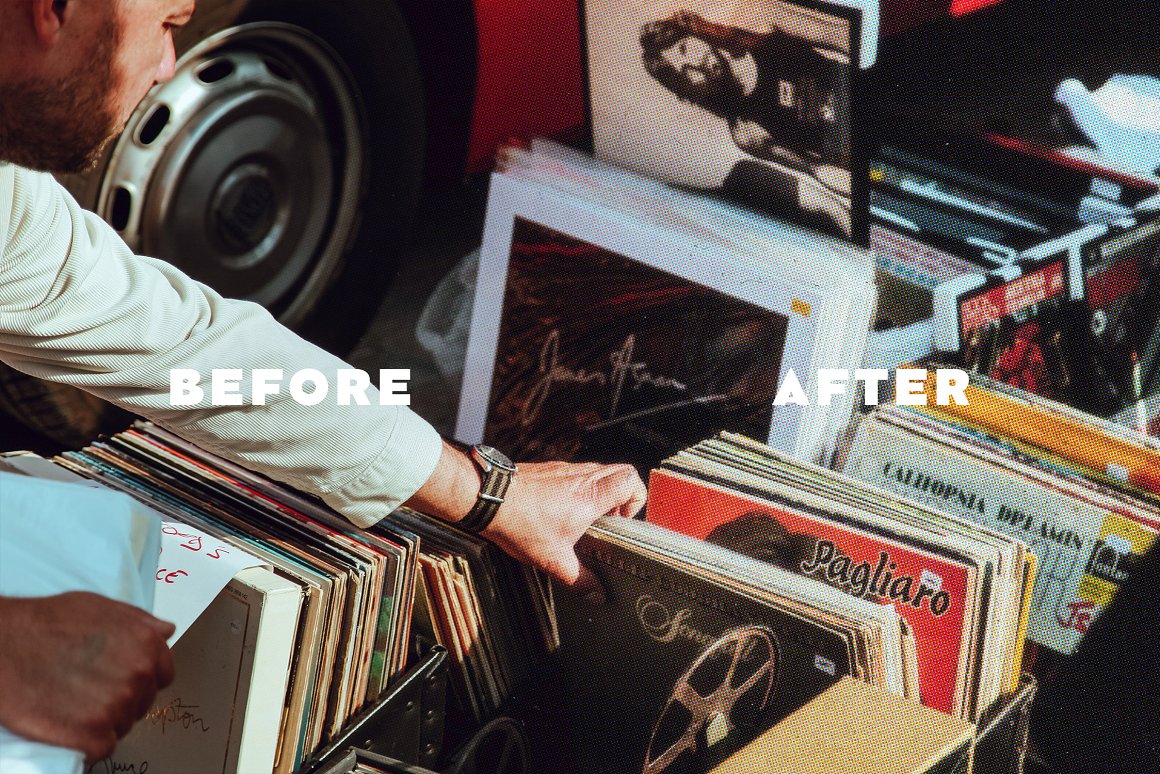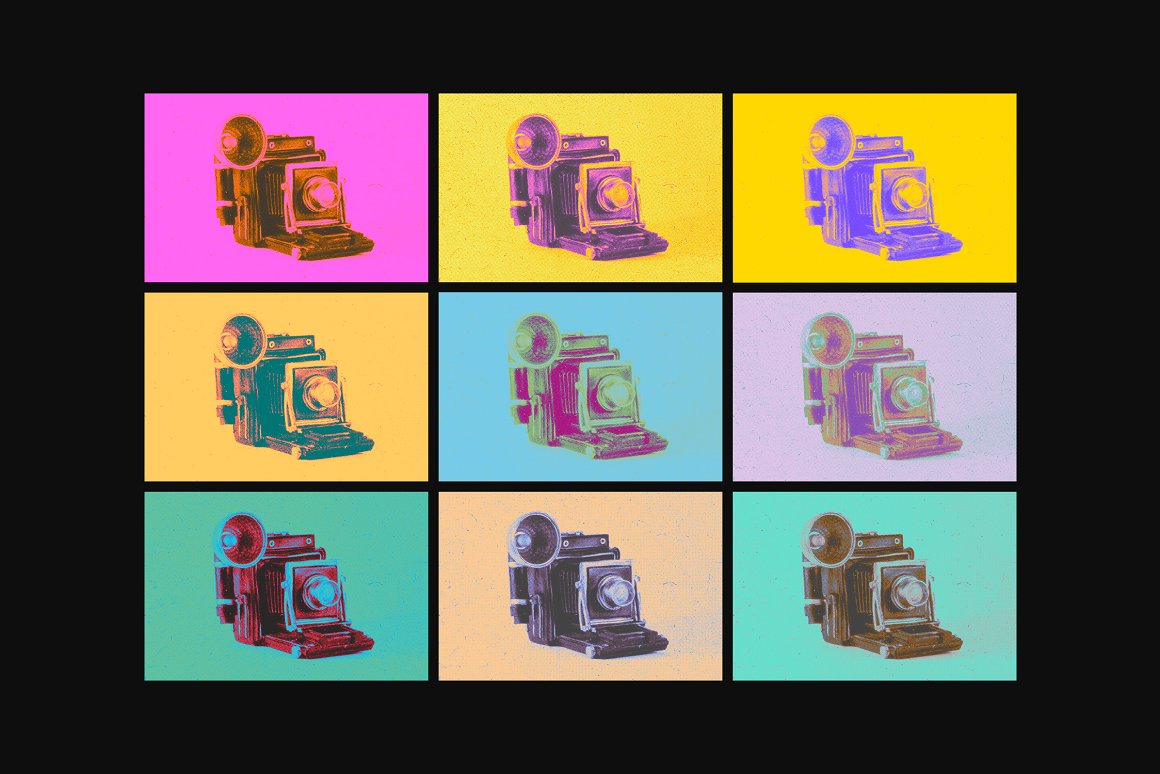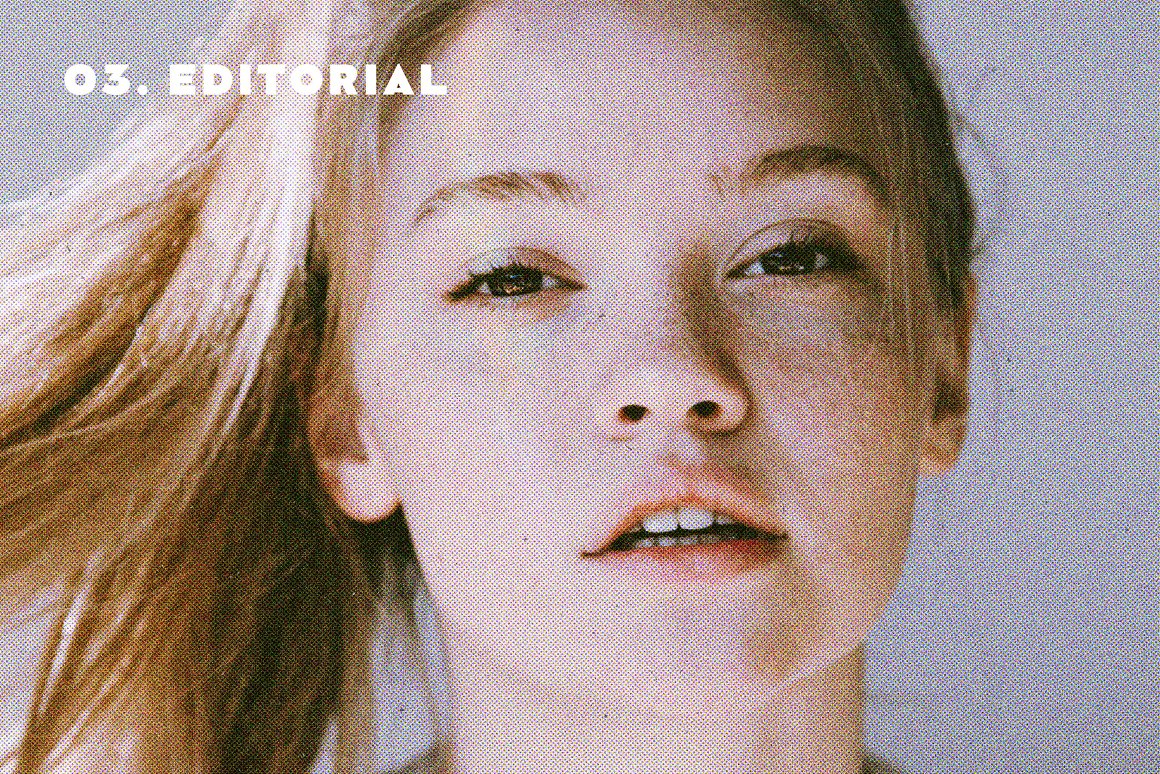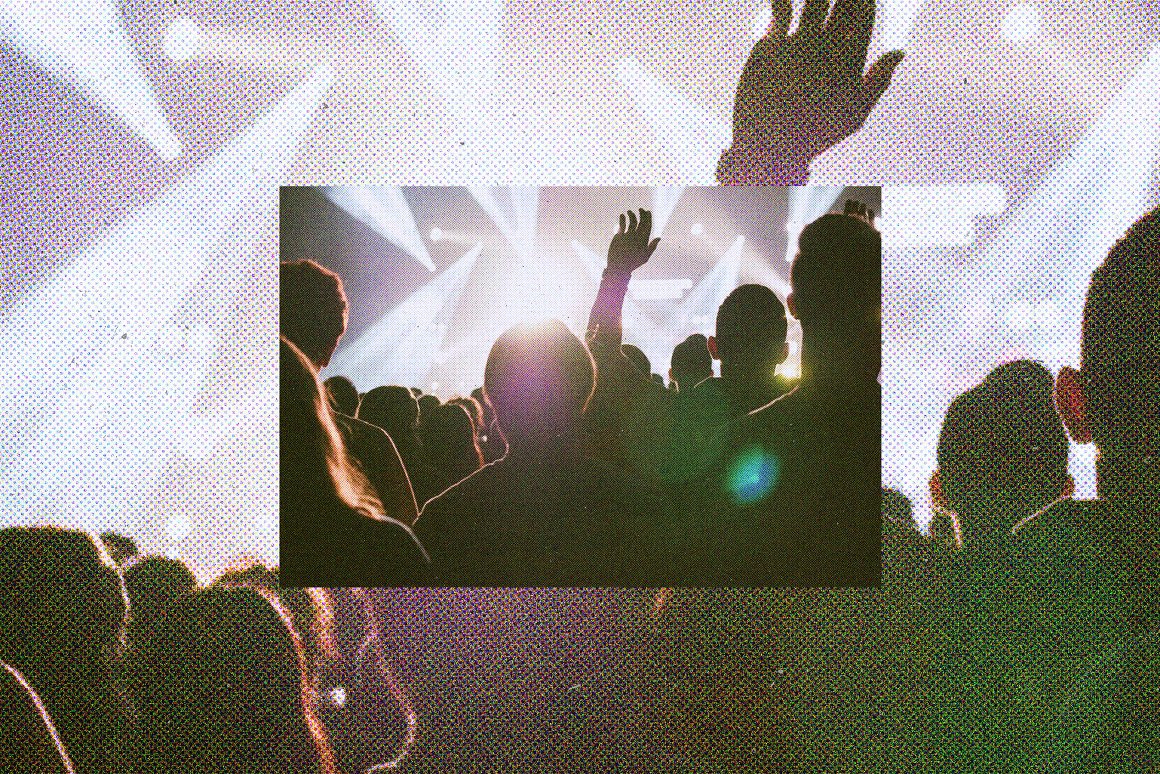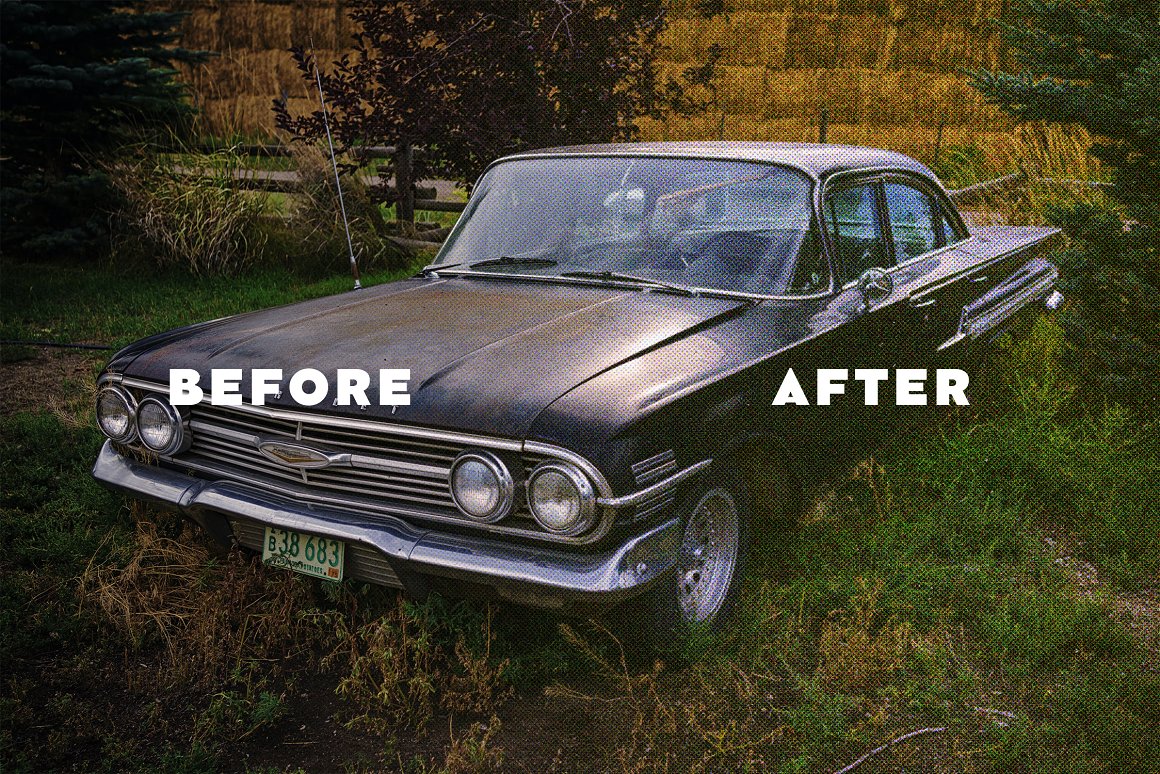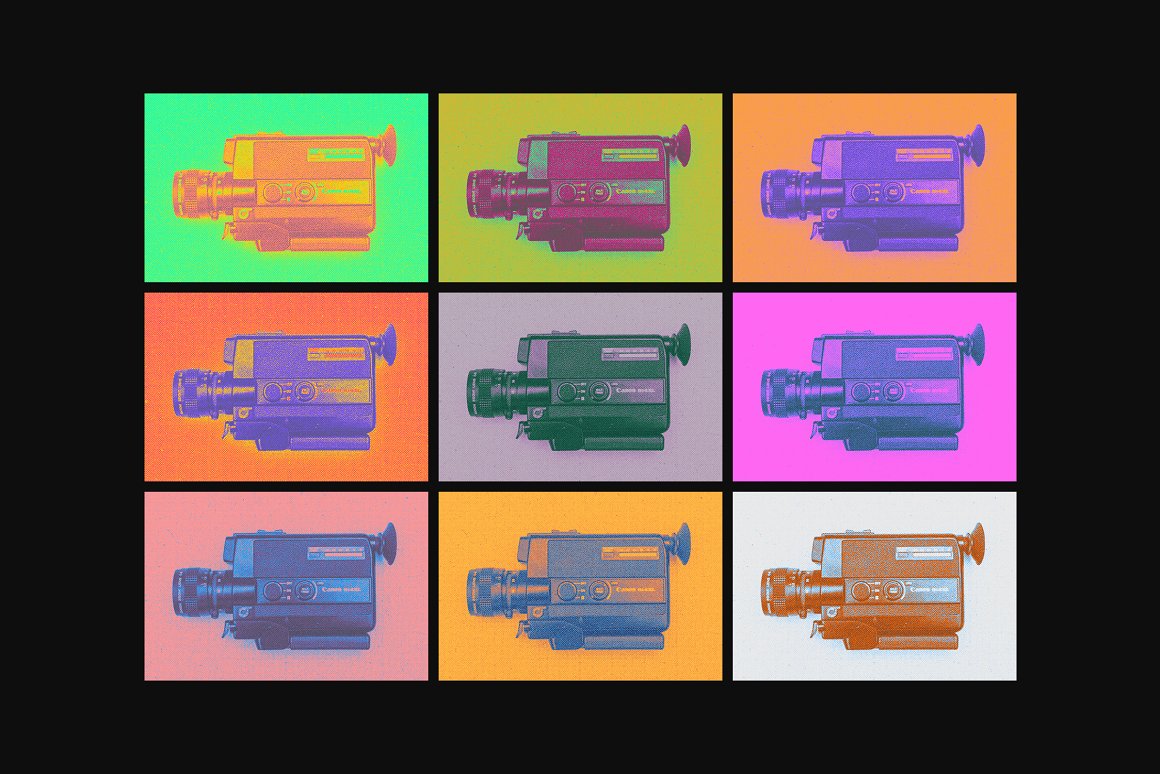 05. Vintage Album Photo Effects from Pixelbuddha
Wine tastes better with age, while great memories become more precious with years. Taking photos has been one of the easiest ways for letting a moment last forever, preserving the glimpse of happiness. Ask your parents to bring their family album to flip it through and peep into a cherished time of their youth. Every pic is decades old with faded corners, folds, noise, and weirdly-colored scenery, but you don't have time to wait that long. Therefore, this vintage photo effects kit is your remedy!
Speaking of withered images, fair to say, we've enhanced the produced vintage effect to the point of it resembling a bad photocopy, covered in distressed lines, dirty sides, and grain. The photos can be of any format: square, horizontal or vertical, all the suitable PSD files are provided. Armed with a detailed installation guide, prepare the essentials for a flawless workflow by adding gradients file to Photoshop. Some like it more dark and inky, others prefer a lighter sepia version with hardly any deformity, which is why we've added 5 grunge texture effects diverse in style. Compose your vintage pictures album for preparing memorable product presentations, attention-grabbing newsletters & ads, as well as generating nostalgic content for social media.
What's inside?
3 high-quality PSD files;
square, horizontal, vertical formats;
5 grunge texture effects;
gradients included;
4500×3000 px, 300 dpi;
3000×4500 px, 300 dpi;
4000×4000 px, 300 dpi;
installation guide & help file.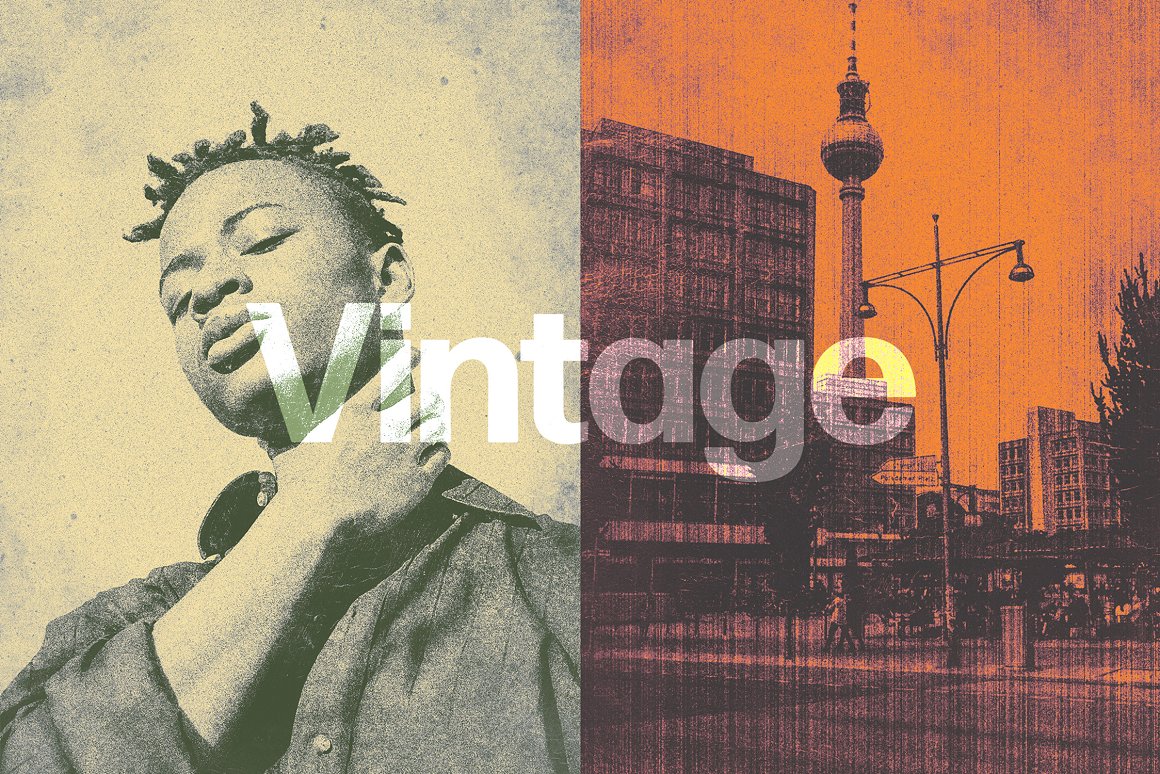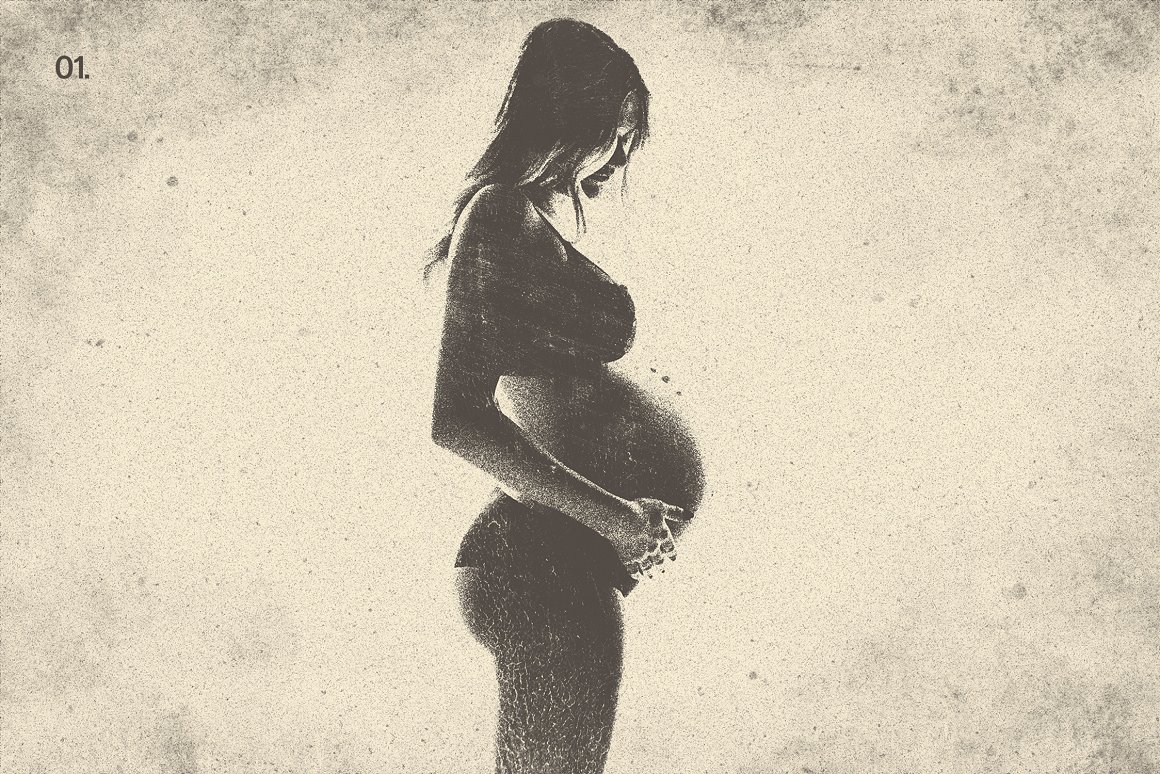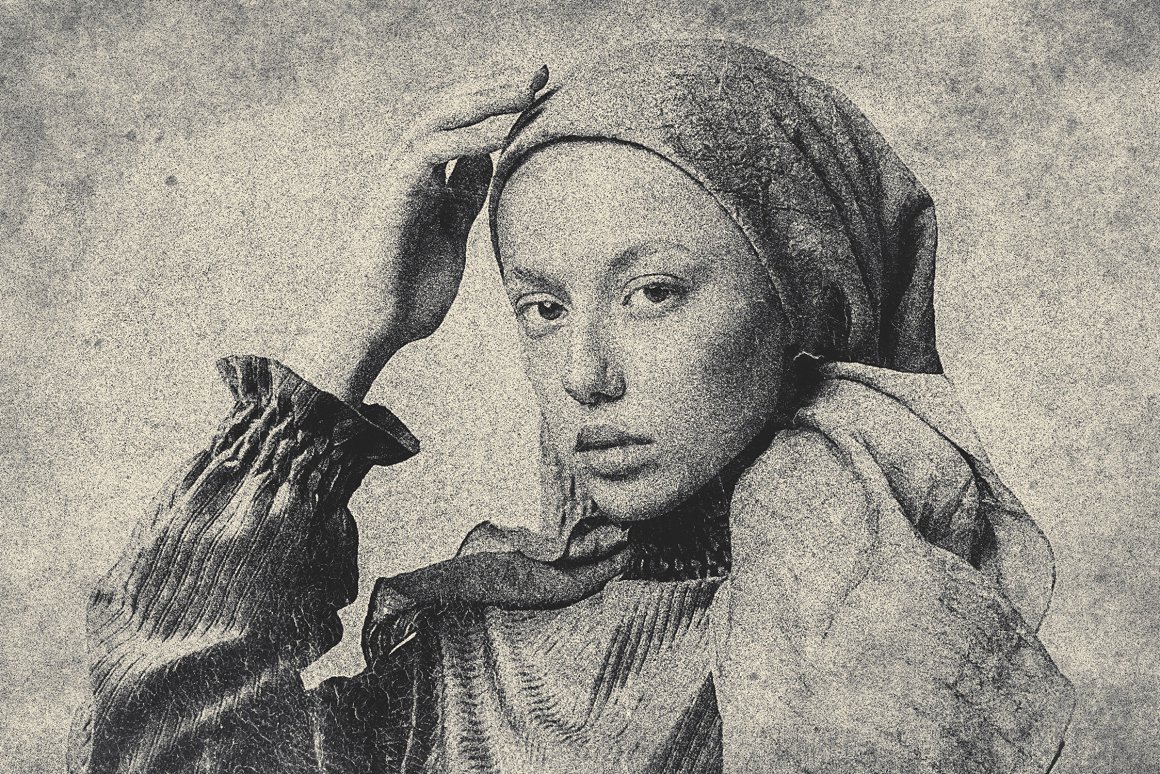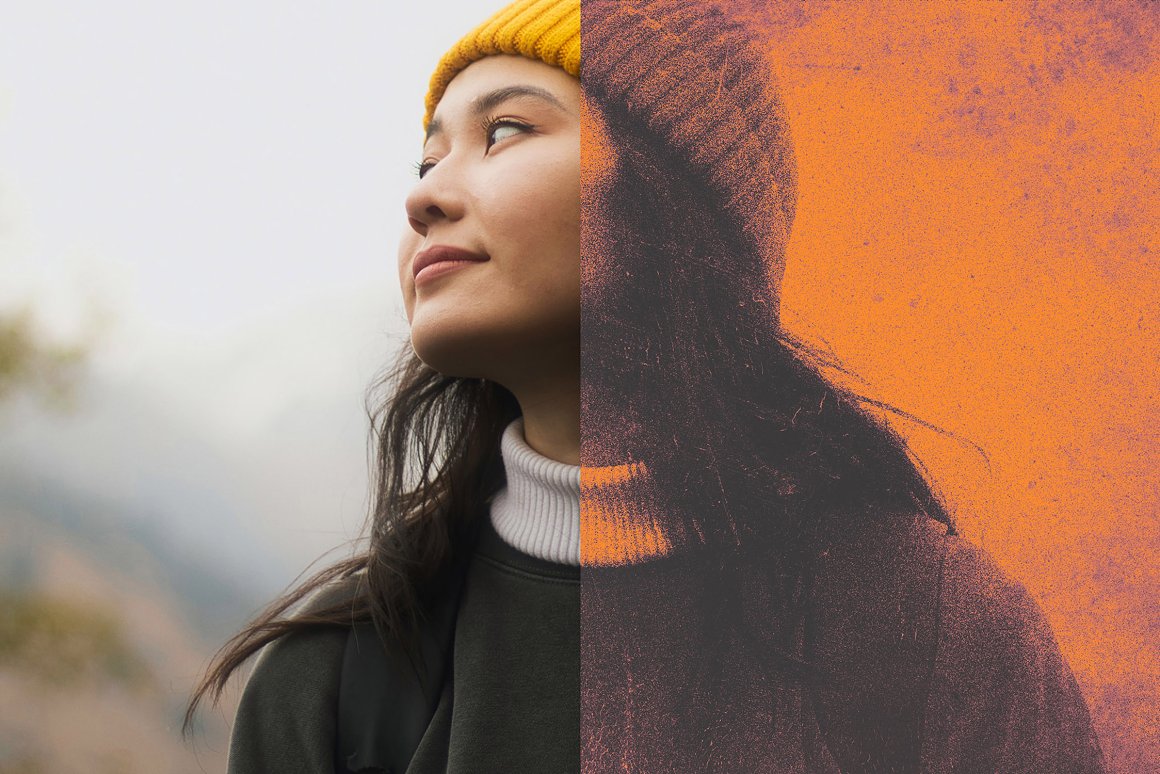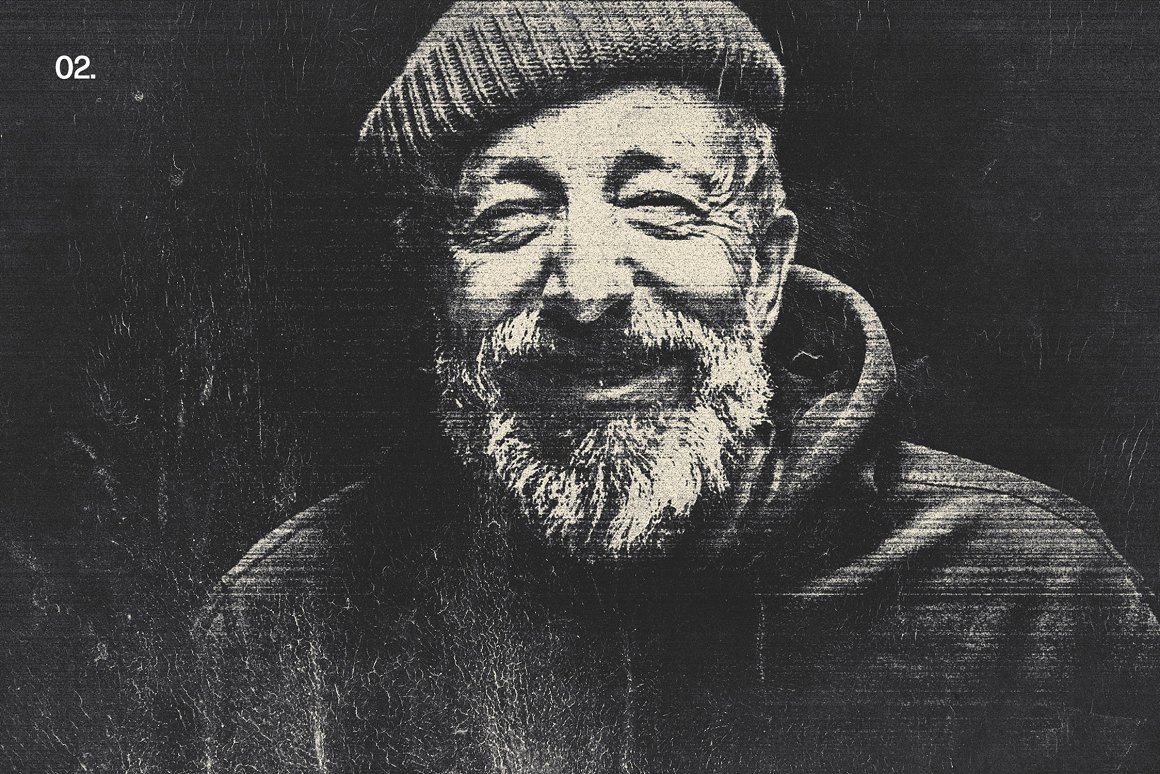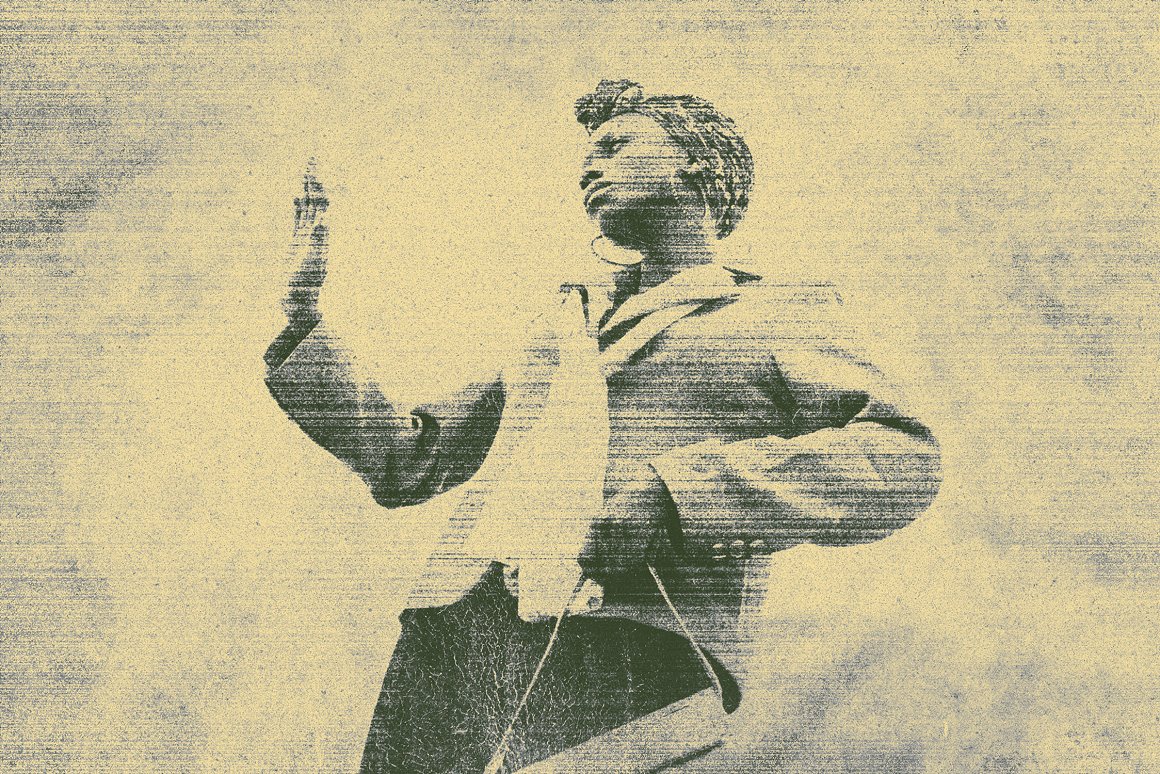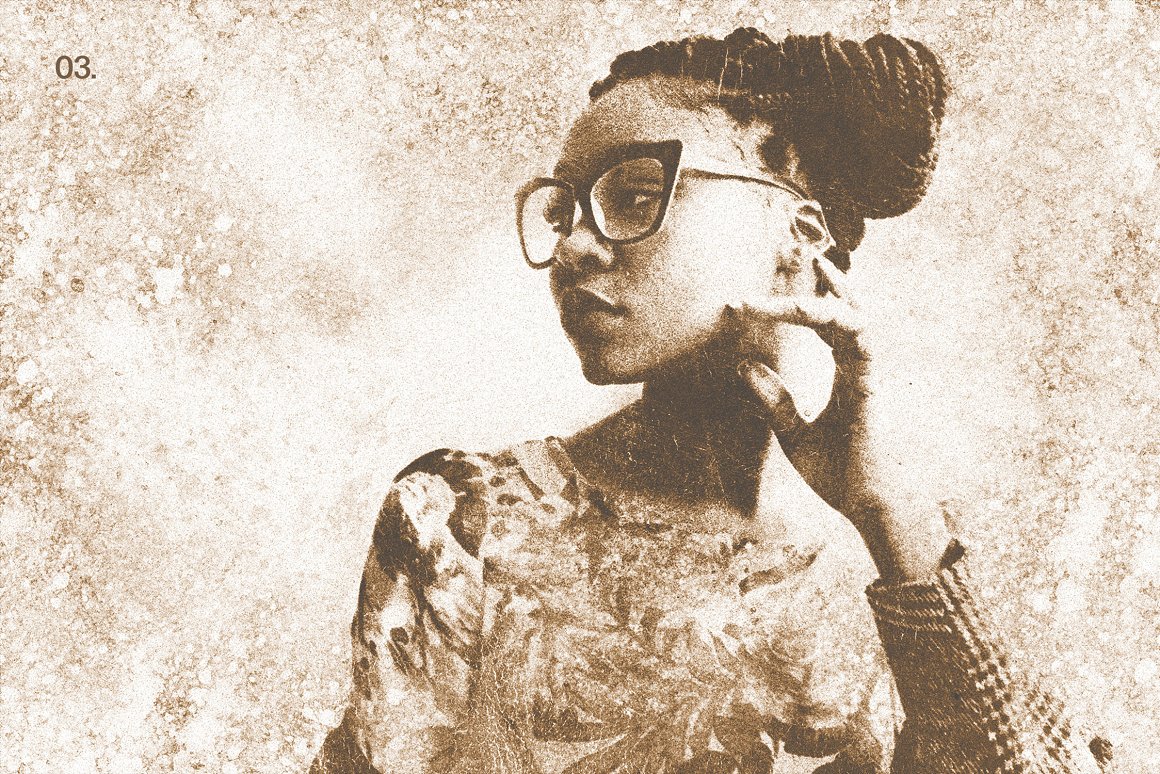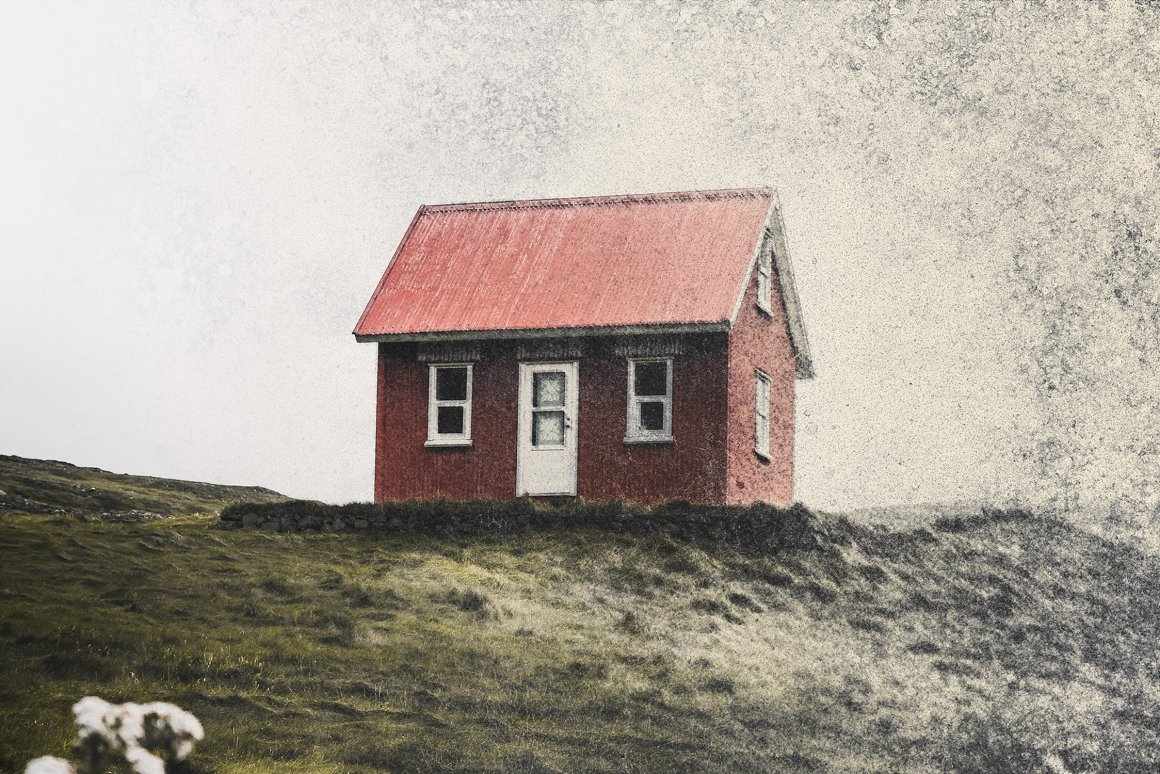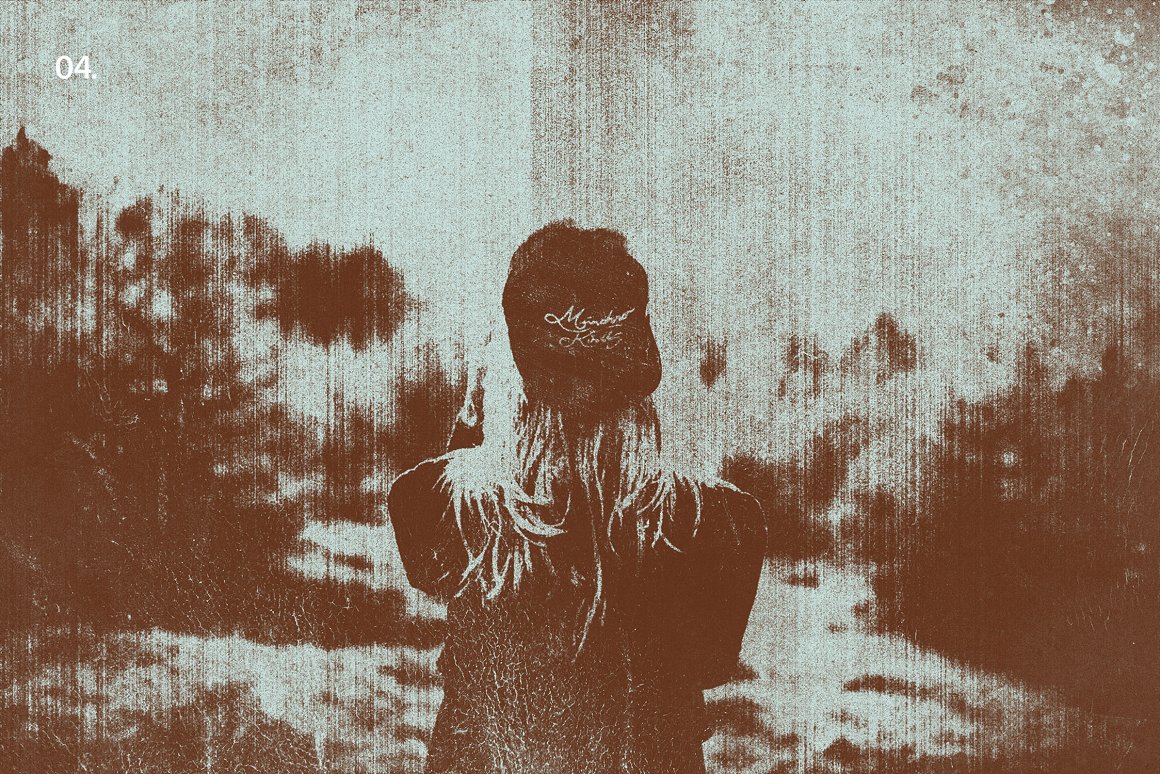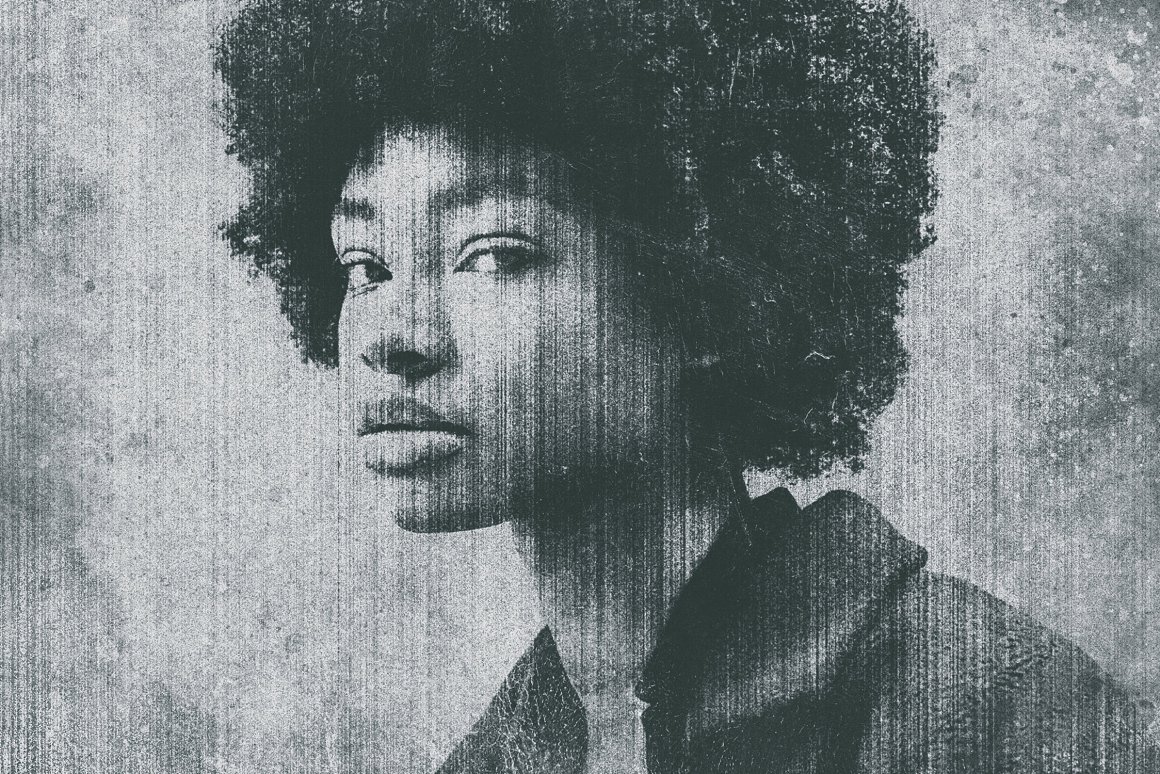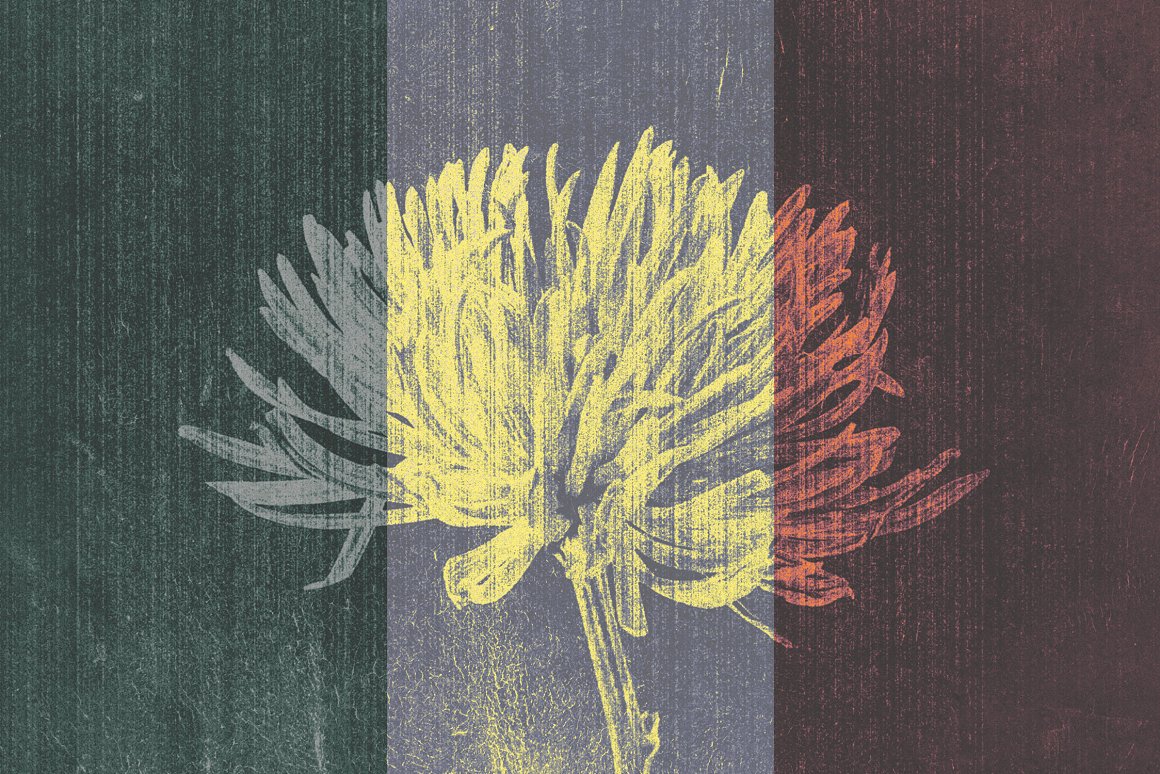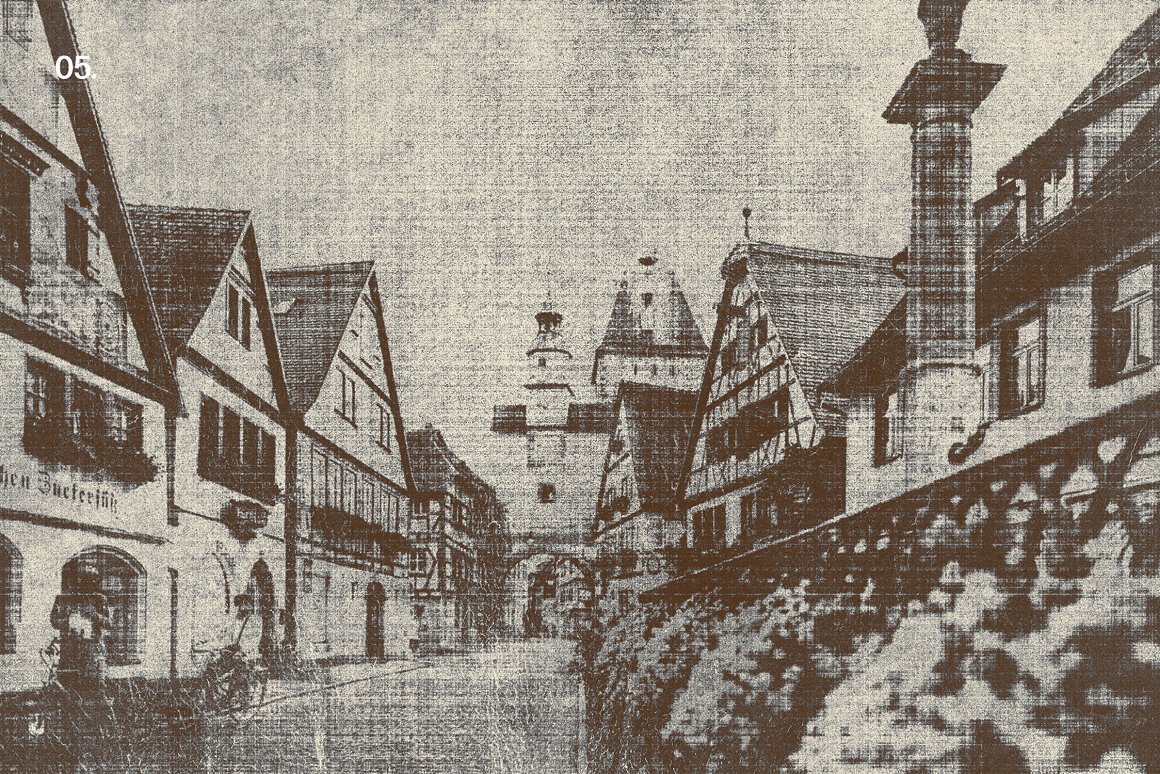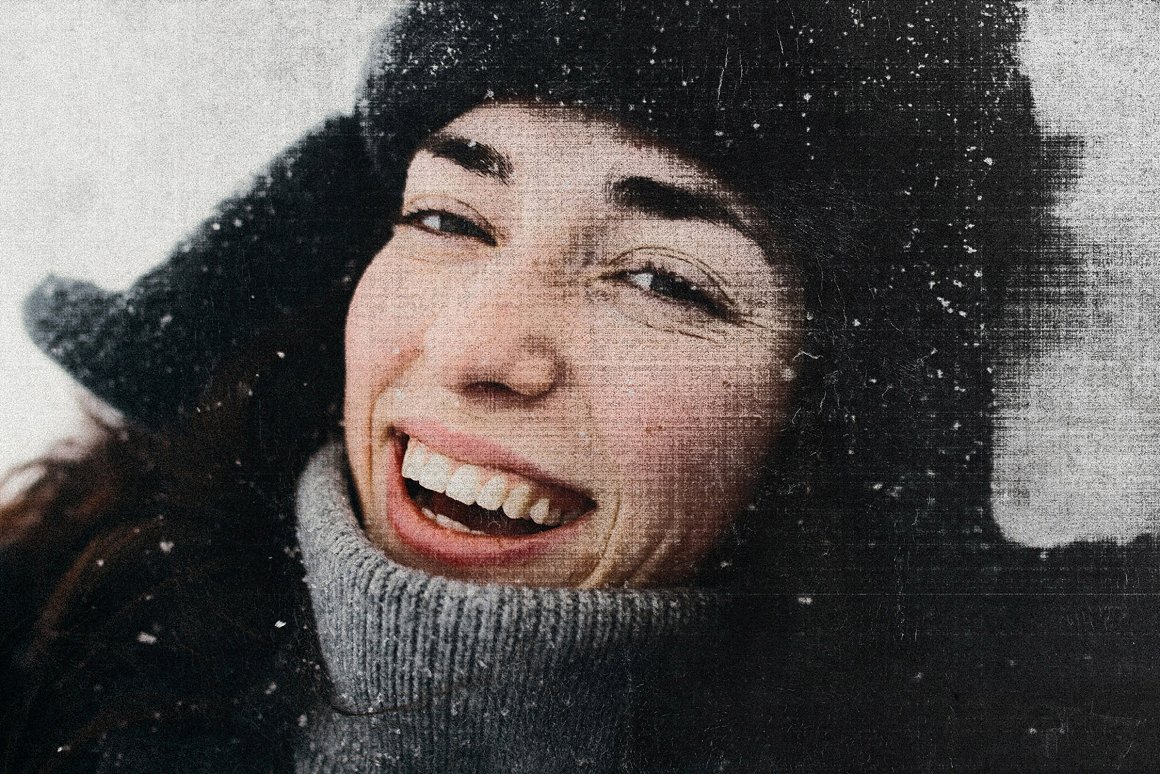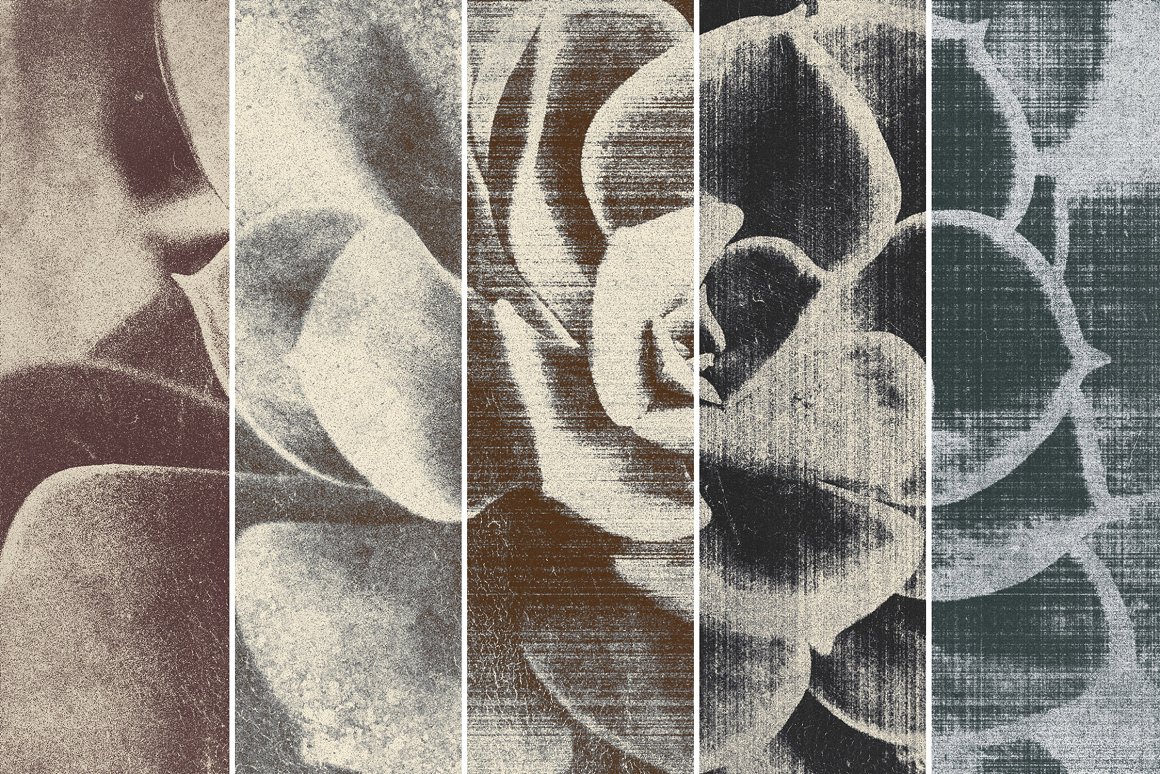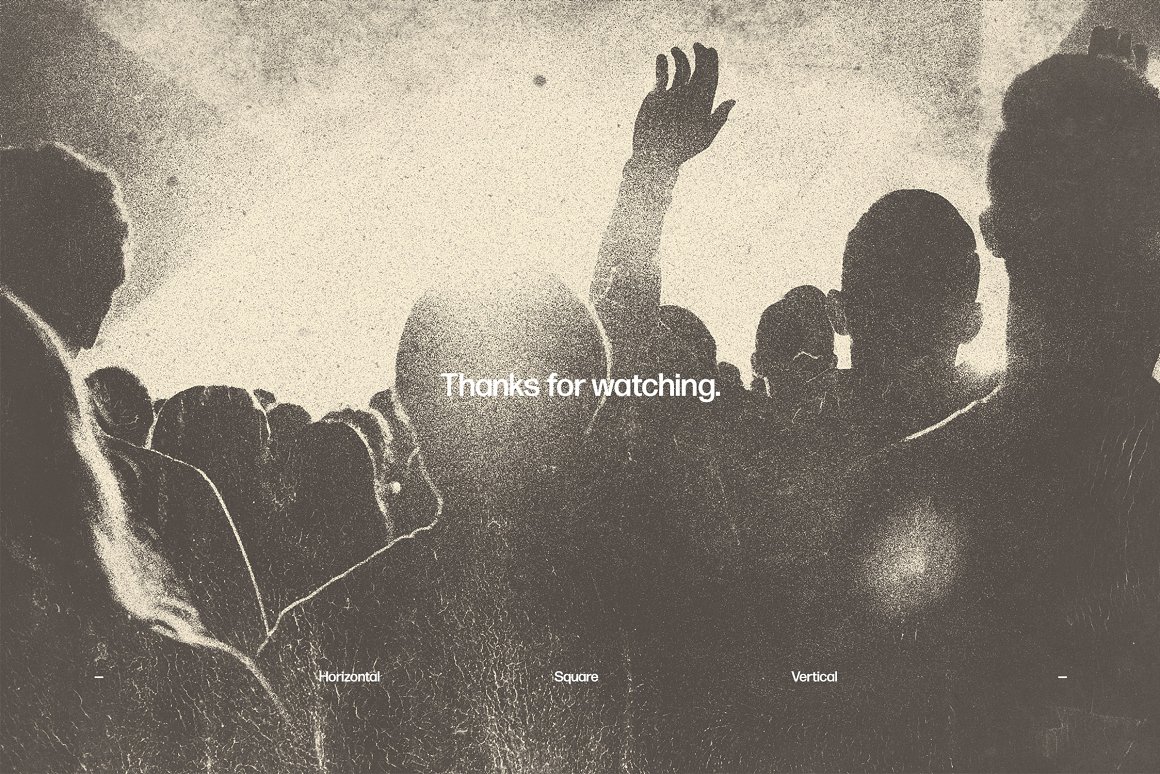 06. Risograph Double Exposure Effect from Pixelbuddha
After having so much fun with the Risograph Effect, released a while ago, the decision was made to give this product a remastered twin! Now the riso-technique is complemented with the overprint effect: more grain, noise, halftone and distortion to make the work look extremely grungy!
The end results will be ten times more aesthetic and breathtaking now as the level of detailization got even higher. Combine many images, overlapping each other, choose one of 6 halftone textures, depending on the nature of your original art, paint it all with 40 gradient overlays, giving your work that vintage faded look. Decorate your tattoo studio with posters, include the edited images into the product presentation, branding project, or post an attention-getting photo on social media!
What's inside?
high-quality PSD effect;
6 halftone textures;
40 gradient ovelays;
4500×3000 px, 300 dpi;
help file.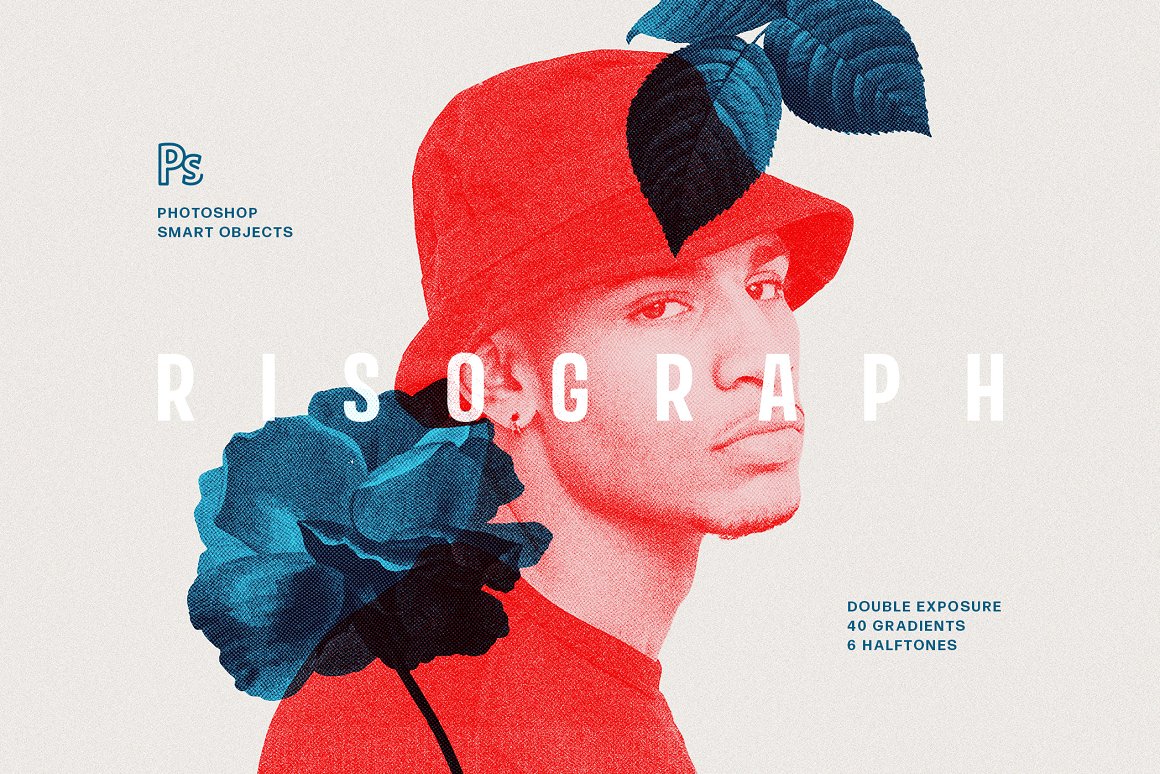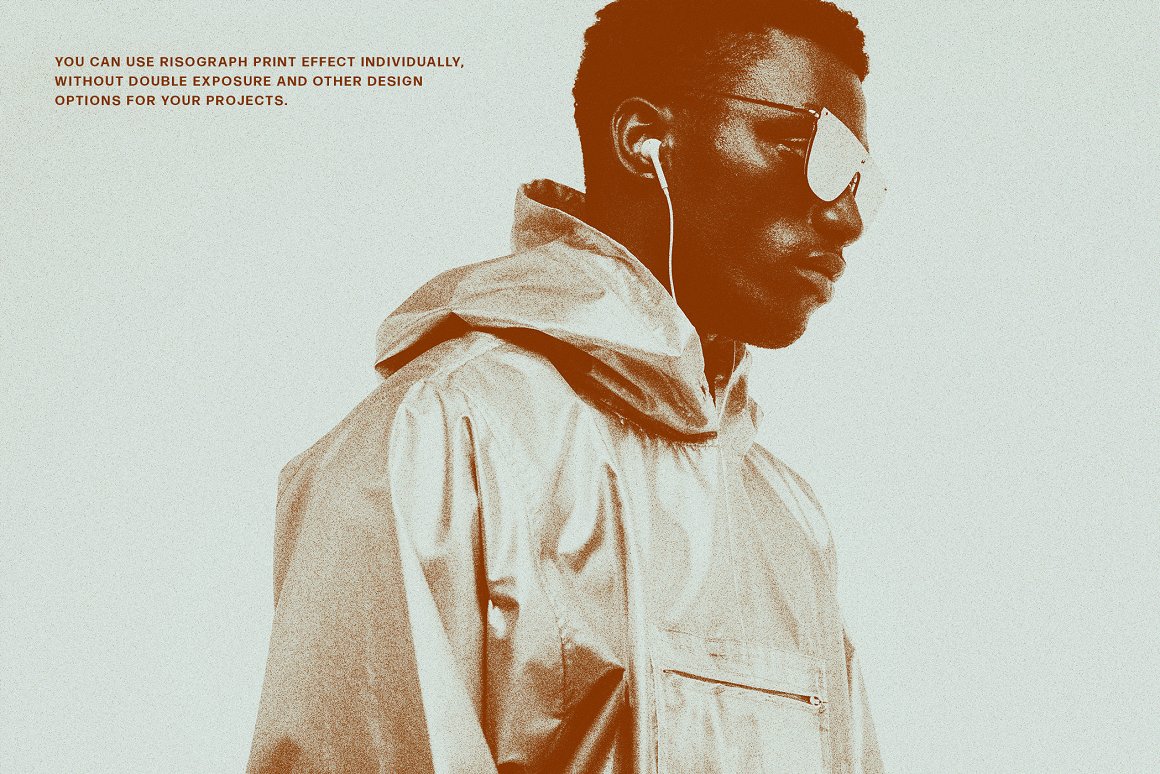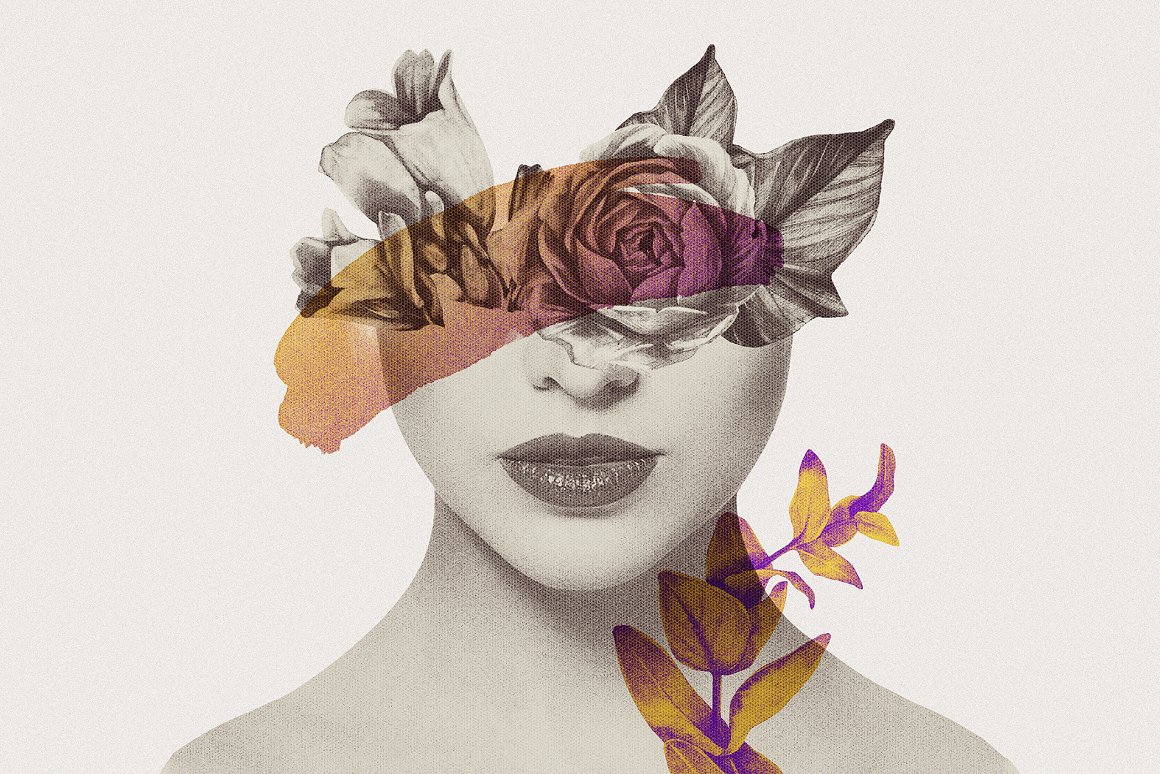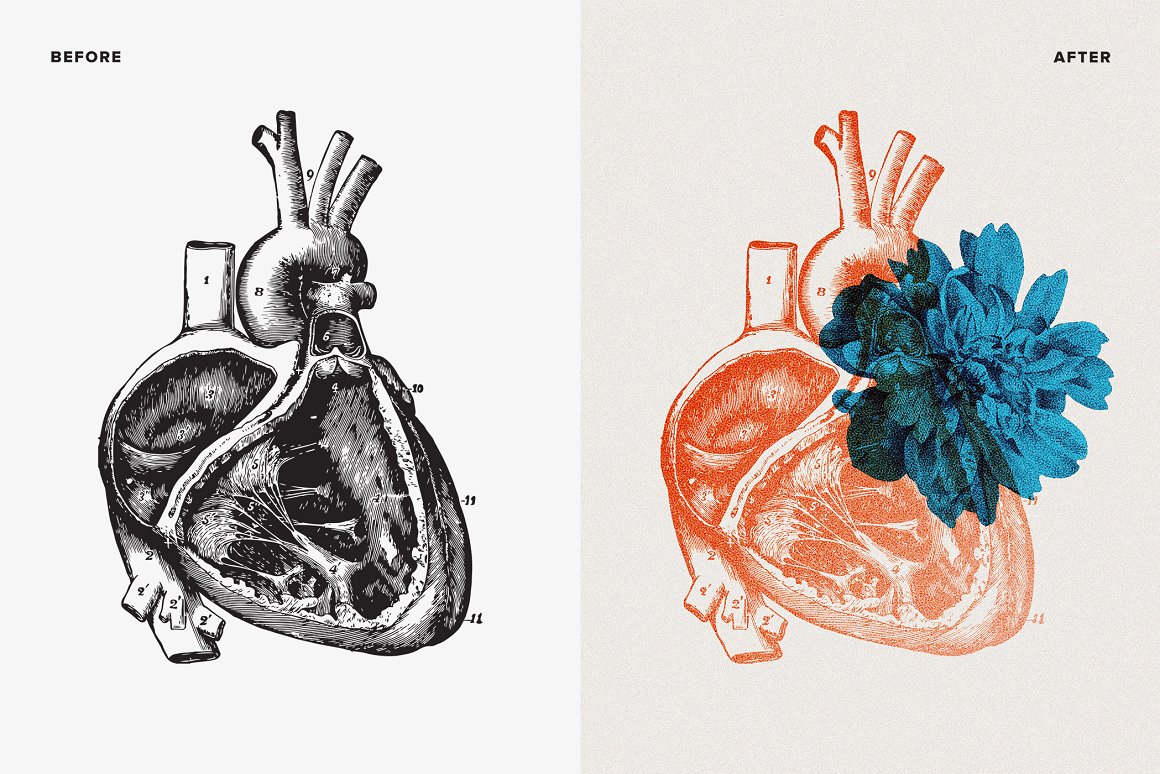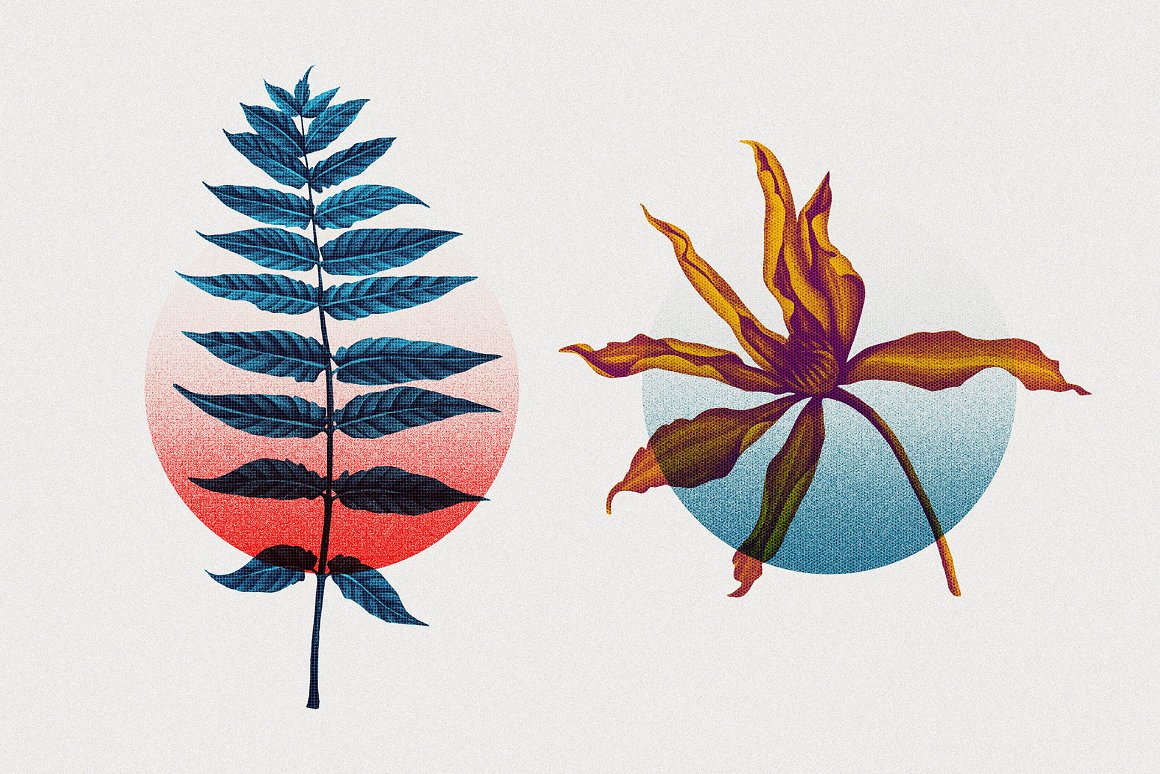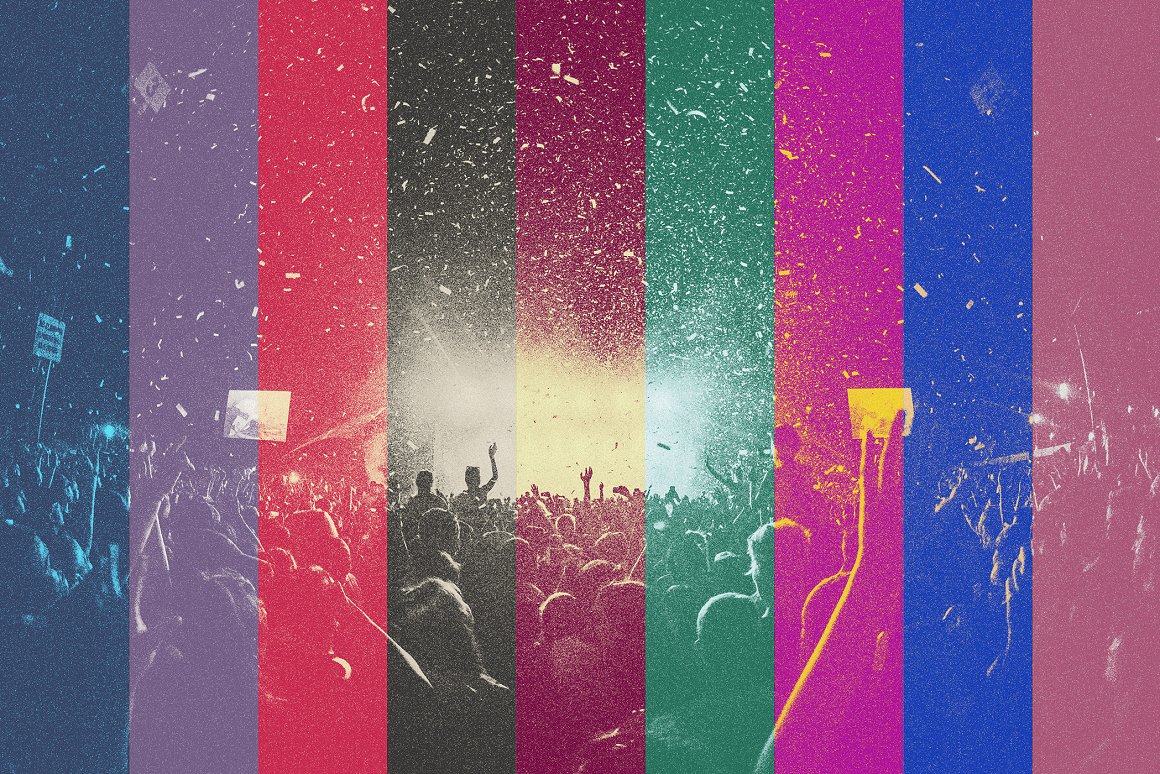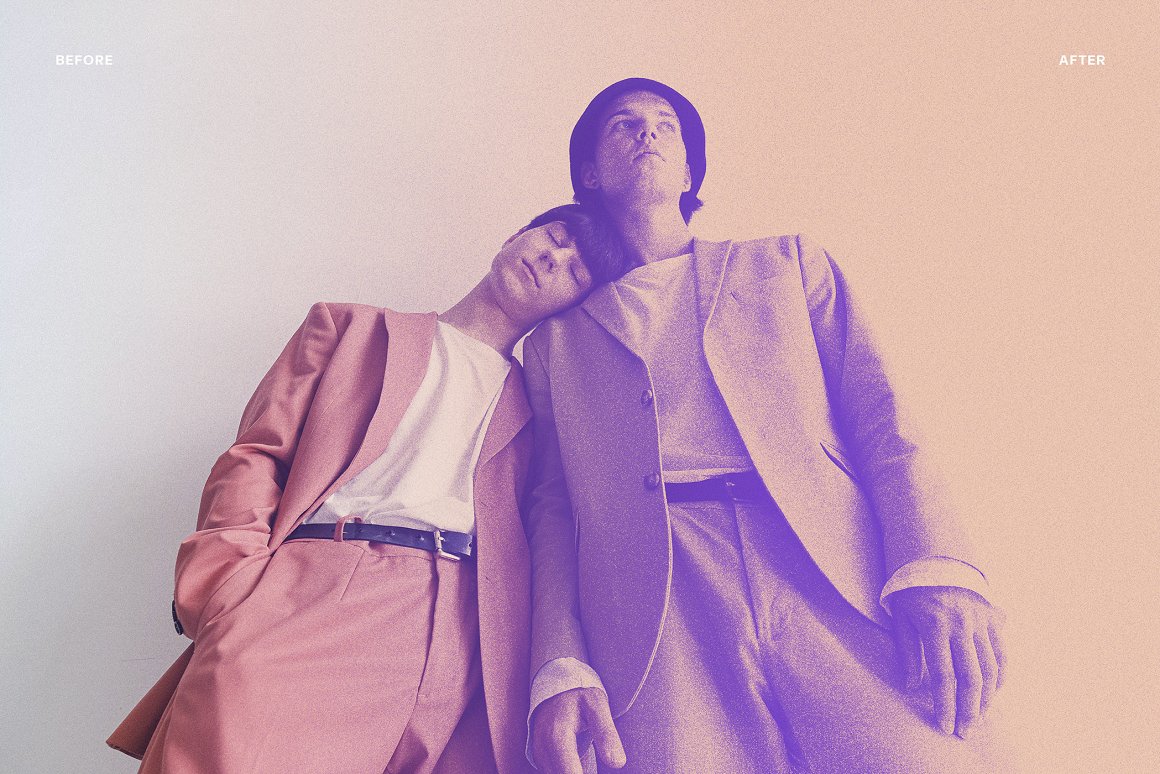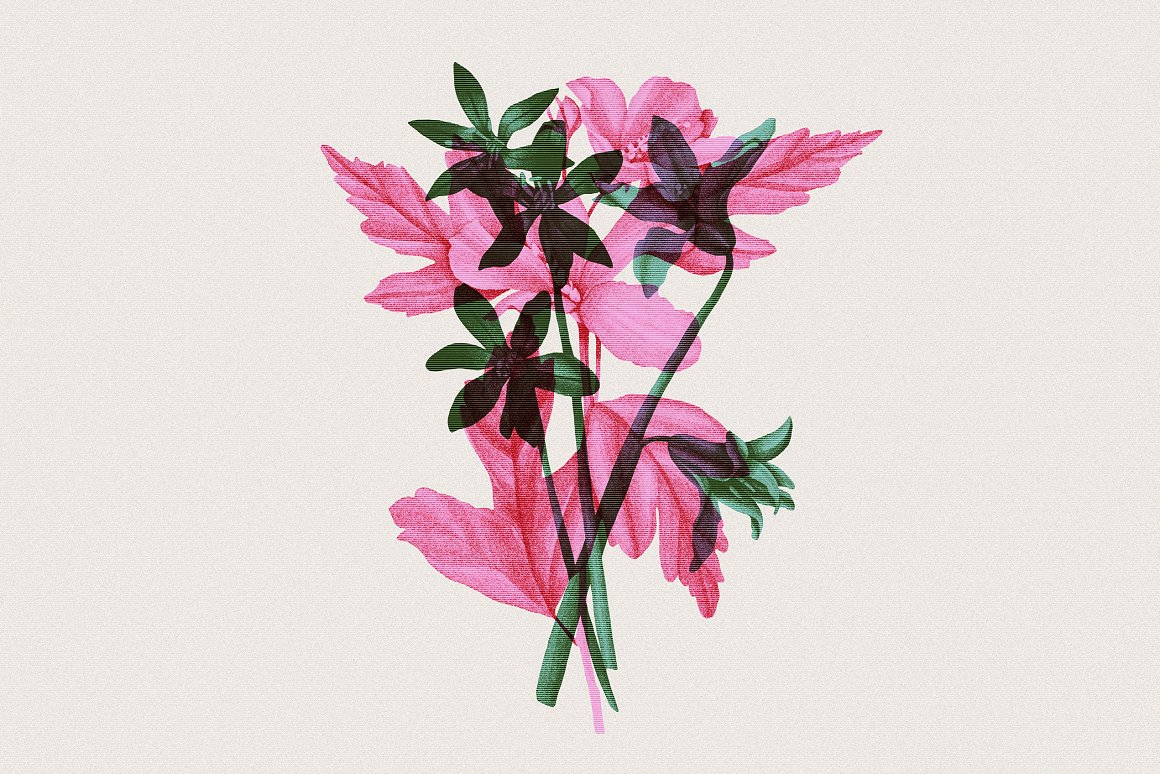 07. Old Tape Analog Effect from Pixelbuddha
Feeling a little blue about the good old times, that passed so rapidly, leaving the taste of bittersweet flashbacks in odds & ends, associated with a previous epoch. Why not follow that memory lane together, resurrecting joyous, sparkling visions of the days, when food was cheaper, hairstyles crazier, and all digital technologies were centered around music and video tapes. How would modern photography look in the waves of static hissing, followed by a slight color distortion, provided by Old Tape Effect?
Covering the needs of any kind, it was agreed on crafting 12 PSD files, all different in nature. All the experienced Photoshop users will be glad to experiment with 3 displacement maps, created to deliver the analog screen effect. But no judging for those, who prefer to give up to an easy and smooth workflow with 9 PSD files with filters. All of them are delivered in 3 sizes and 3 styles each.
1) Lost Signal
A brooding weekly news setting with some suited men with serious eyes, gazing at you from the screen — is that what you remember from childhood TV evenings? This kind of picture is gloomy enough to be forgotten once and for all, so we offer you to reshape memories like that into something more inspiring. This VHS tape style has preserved the outlines of any original image, but added some melted, wavy monitor hissing.
2) Transmission Break
Despite the eyes-irritating color distortion and shapes deformity, who didn't continue watching the broadcasted TV show or cartoon? In fact, you're getting used to it after time, and the scratchy screen becomes an inherent part of visual experience, and not an eyesore at all. Digging a bit deeper, these mismatches give a compositional emphasis to many aspects of an image, highlighting what's been less obvious all this time.
3) Screen Damage
Even a couple of generous monitor smacks won't fix the picture quality, as it might have worked back then. This screen damage is the best ones could get with their dusty old TV, outlived many generations of devoted viewers. There won't be any interest in watching a crooked, distorted show on purpose, but posting an edited, old-school style photo on Instagram — that's the stuff!
What's inside?
12 PSD files in total;
3 displacement maps in PSD;
3 horizontal formats (4500×3000 px, 300 dpi);
3 vertical formats (3000×4500 px, 300 dpi);
3 square formats (4000×4000, 300 dpi);
instruction & help file.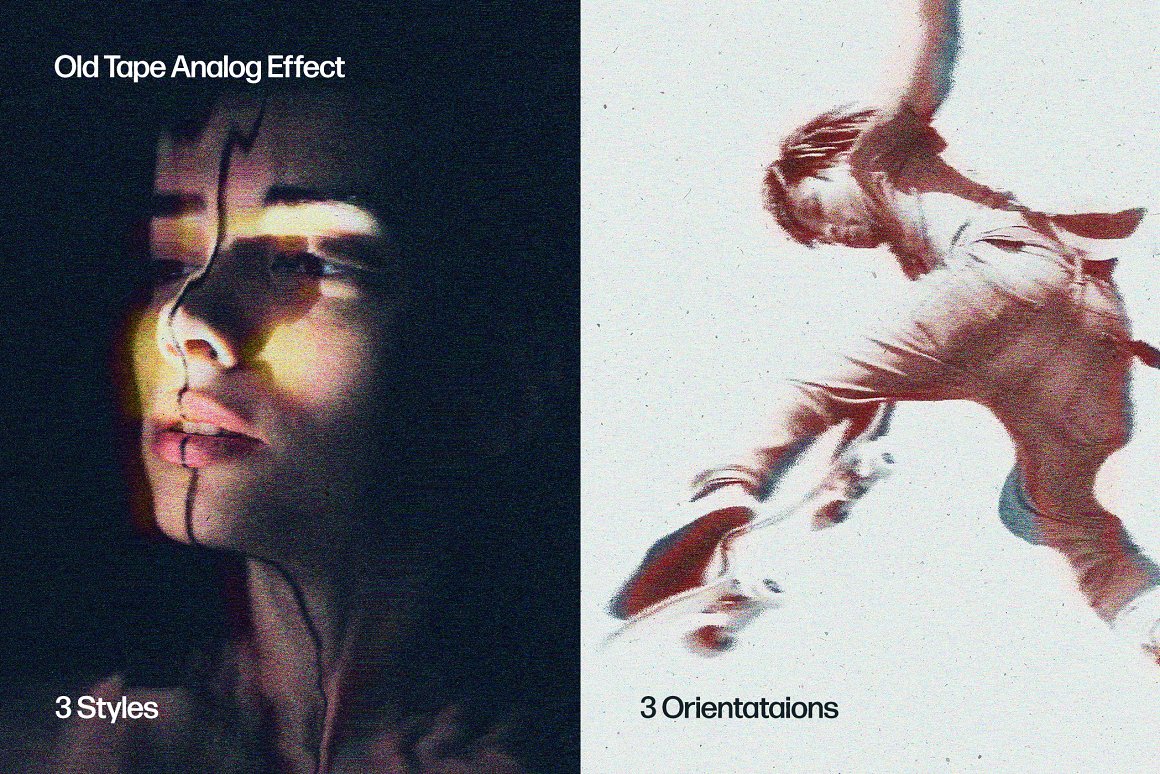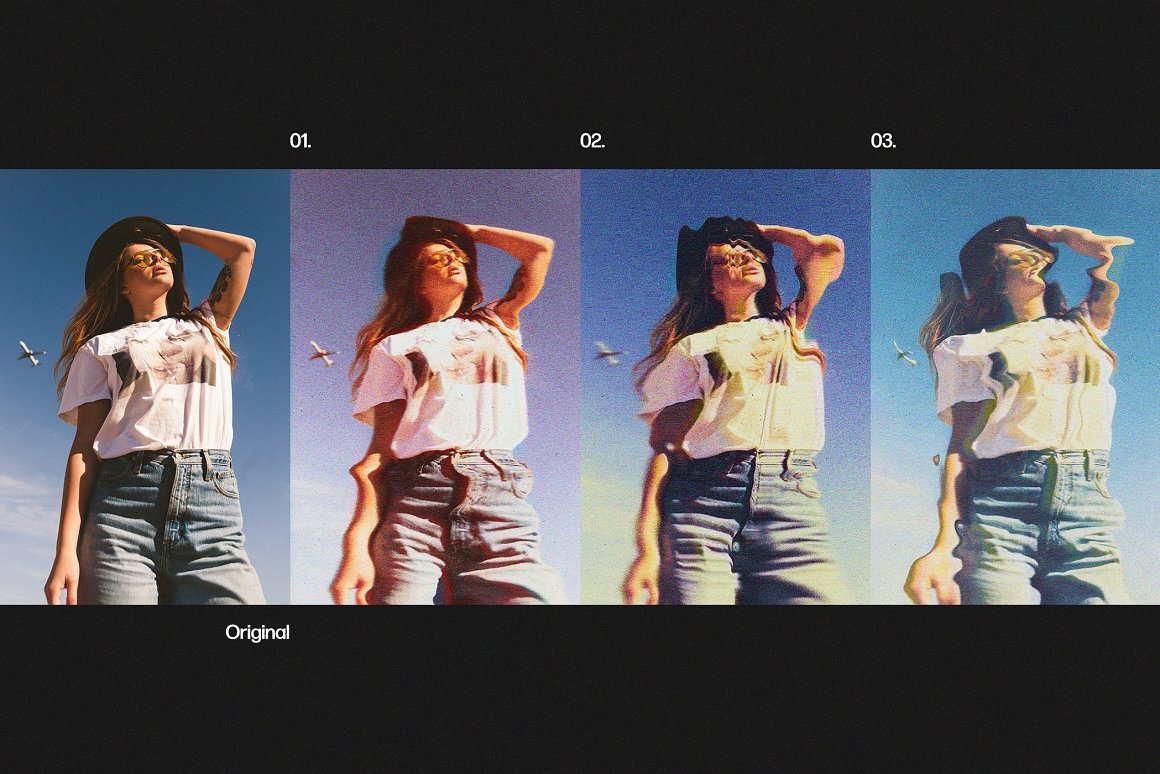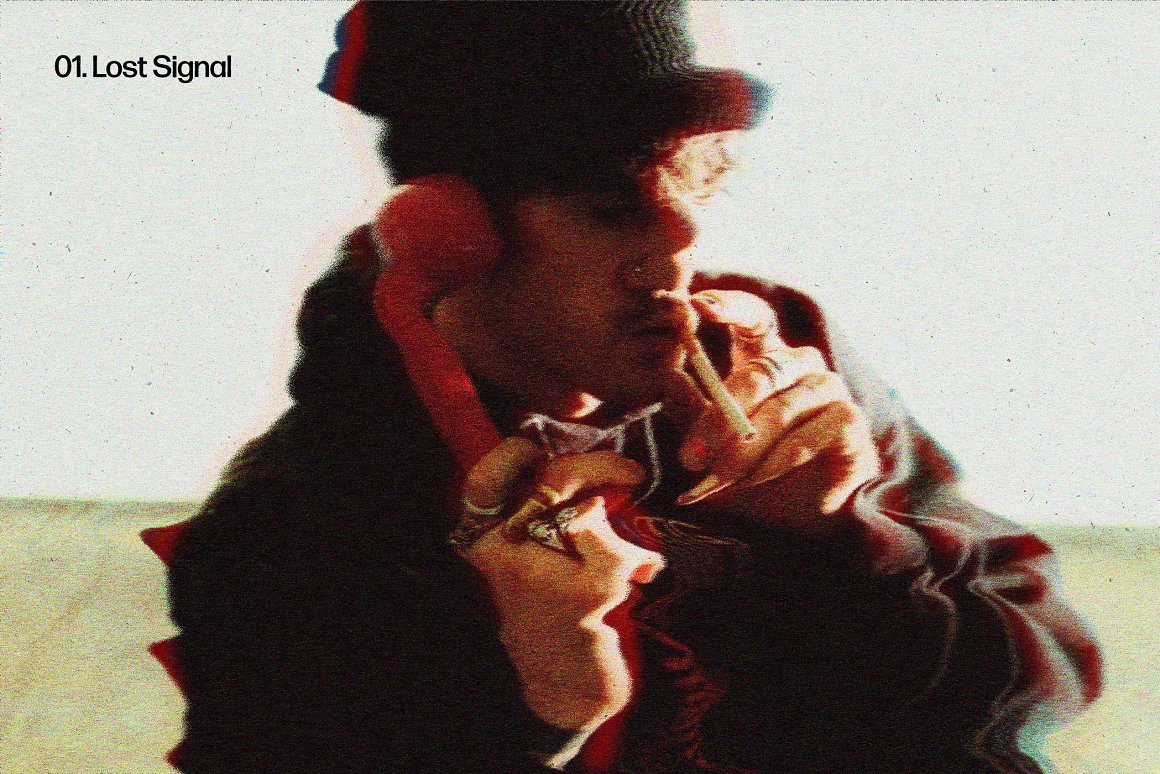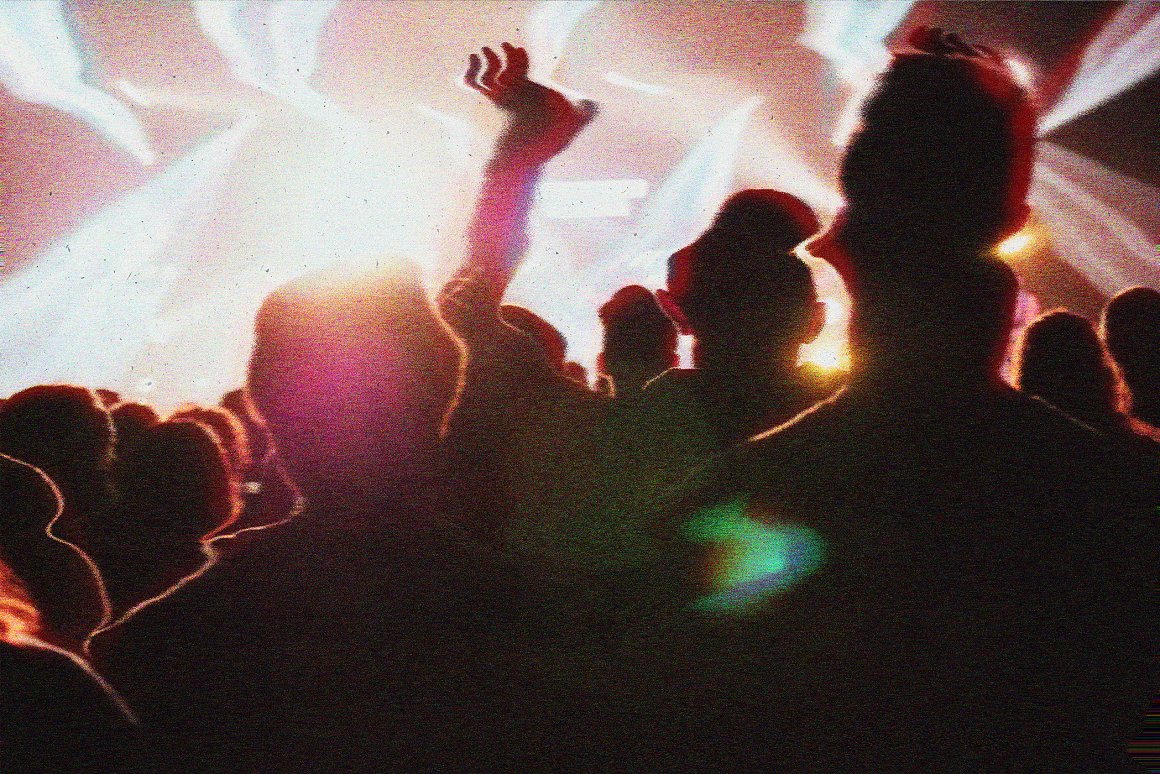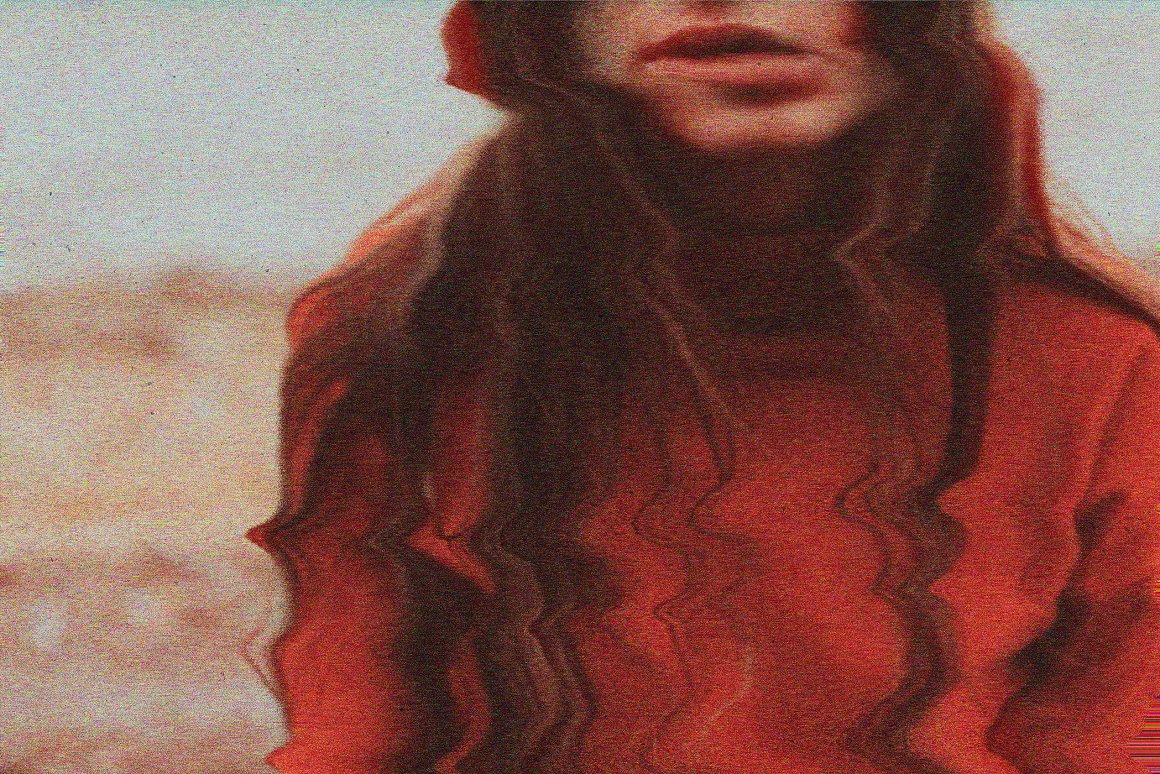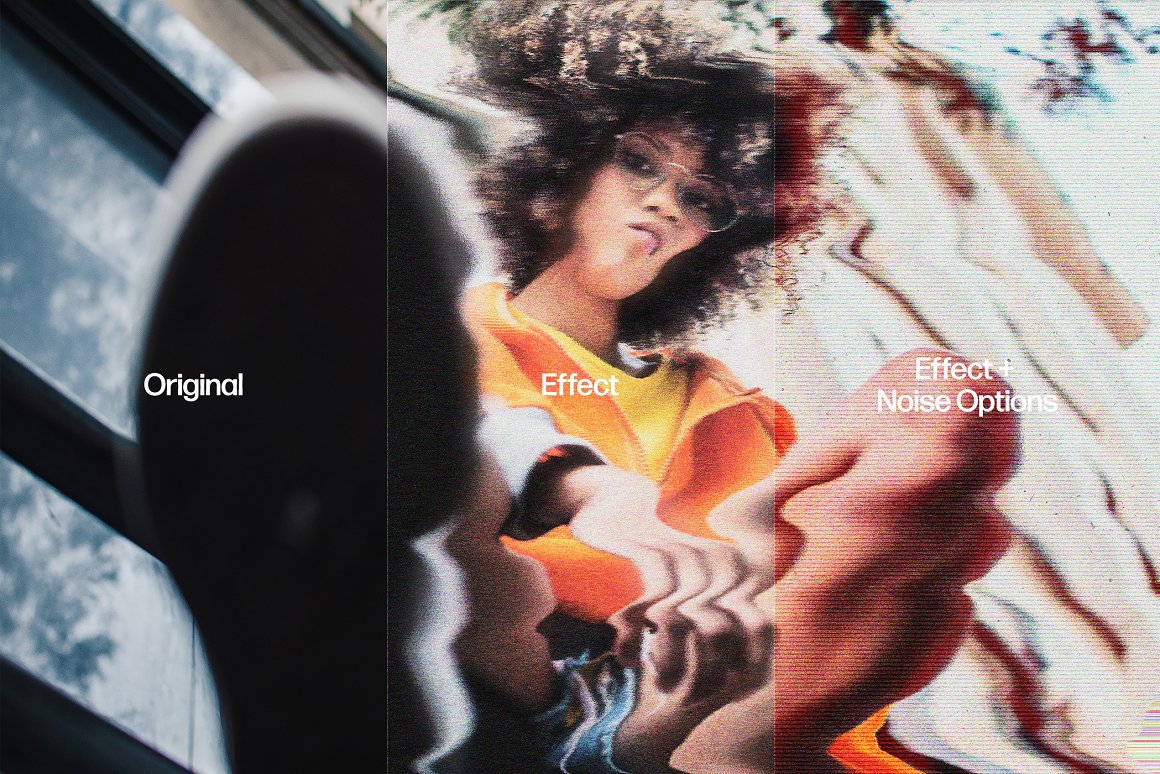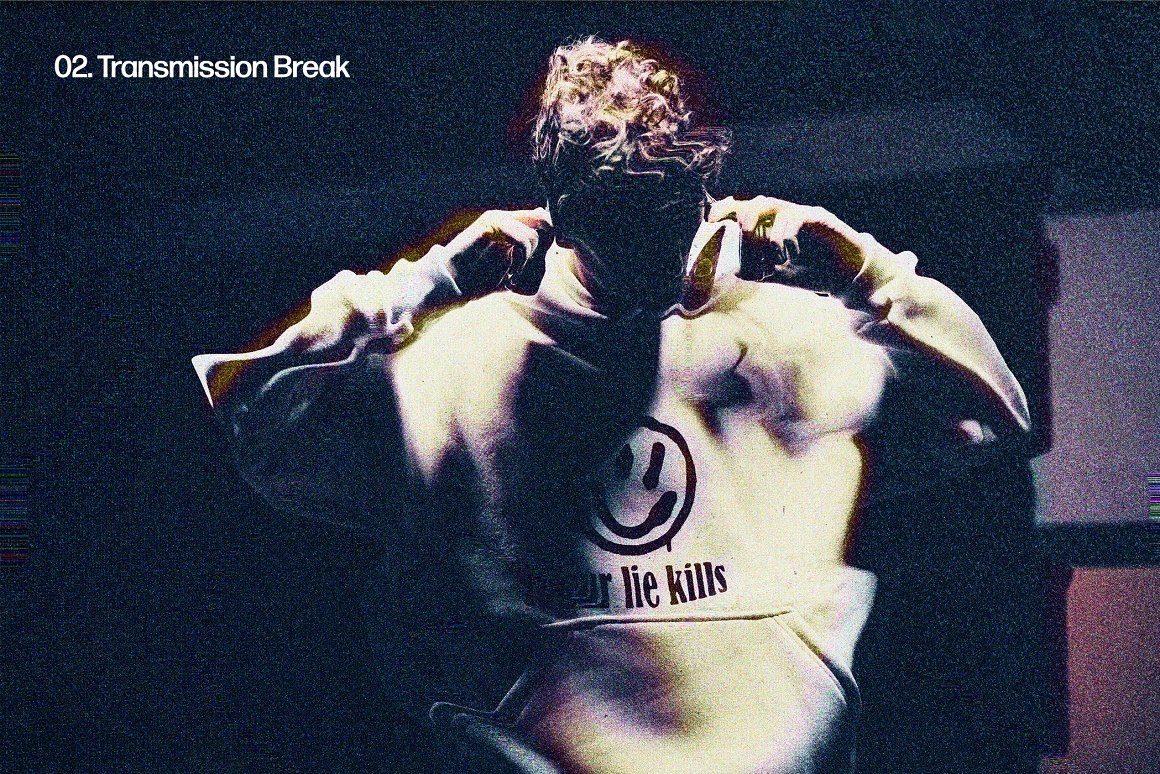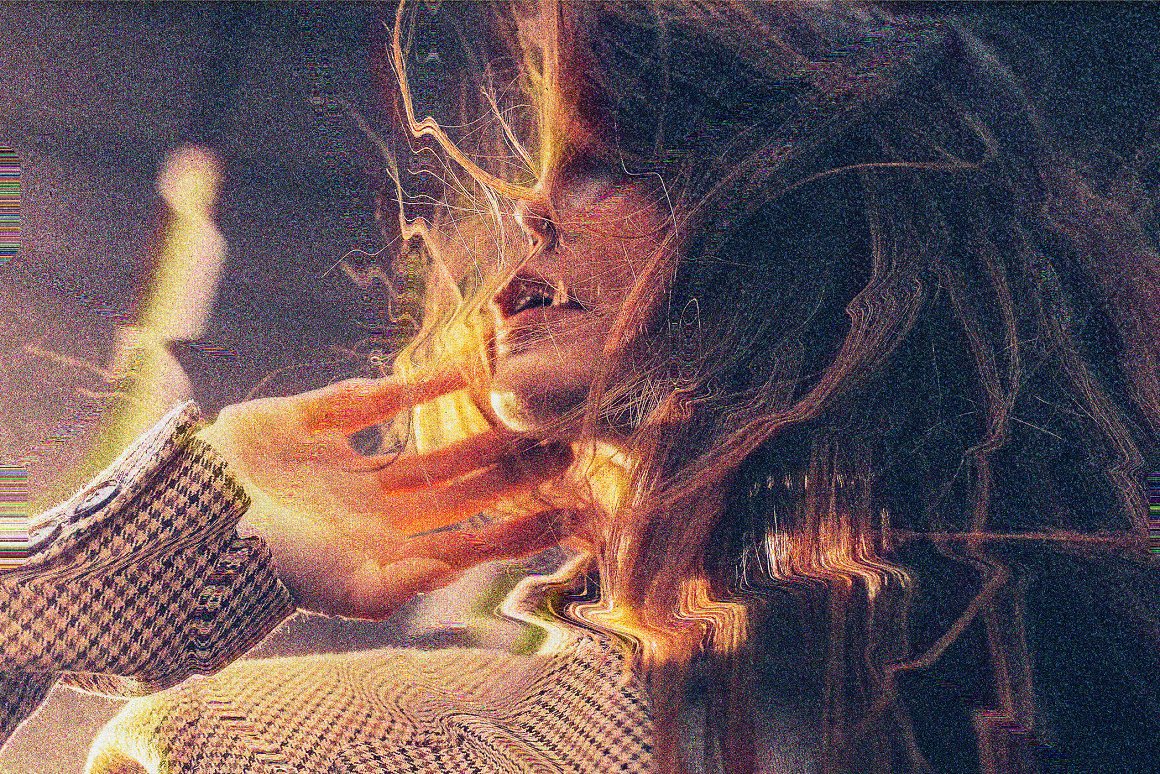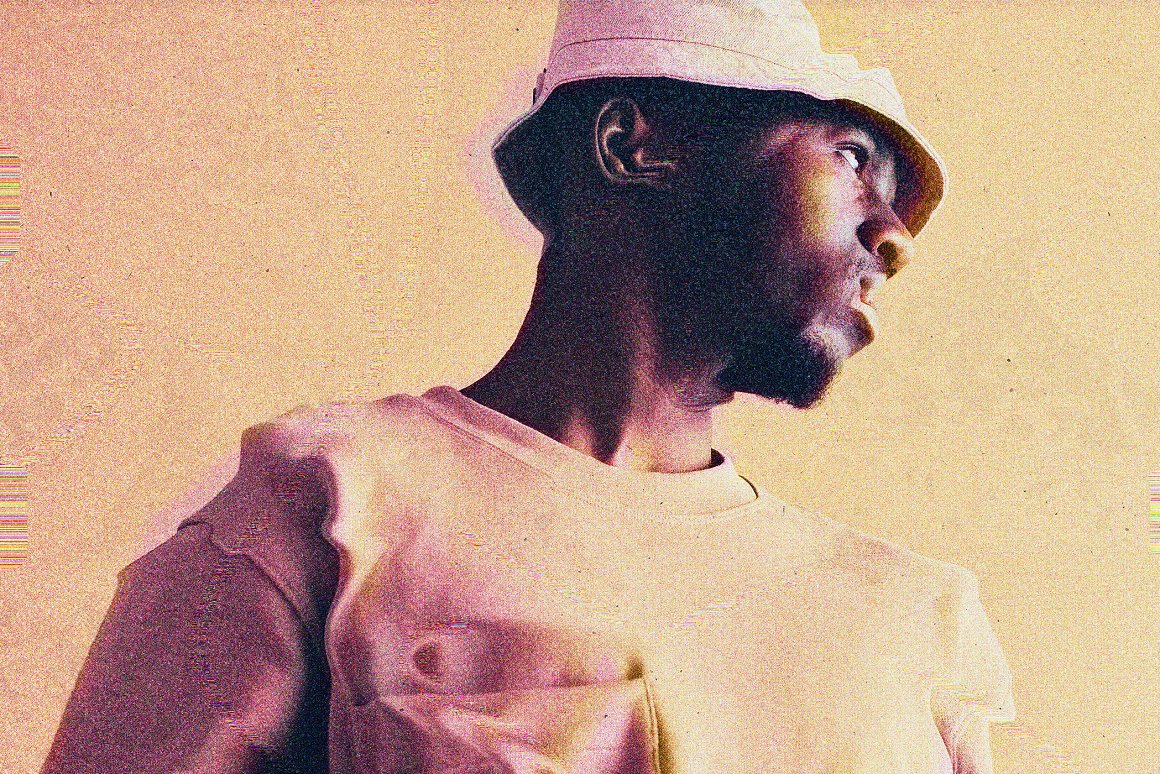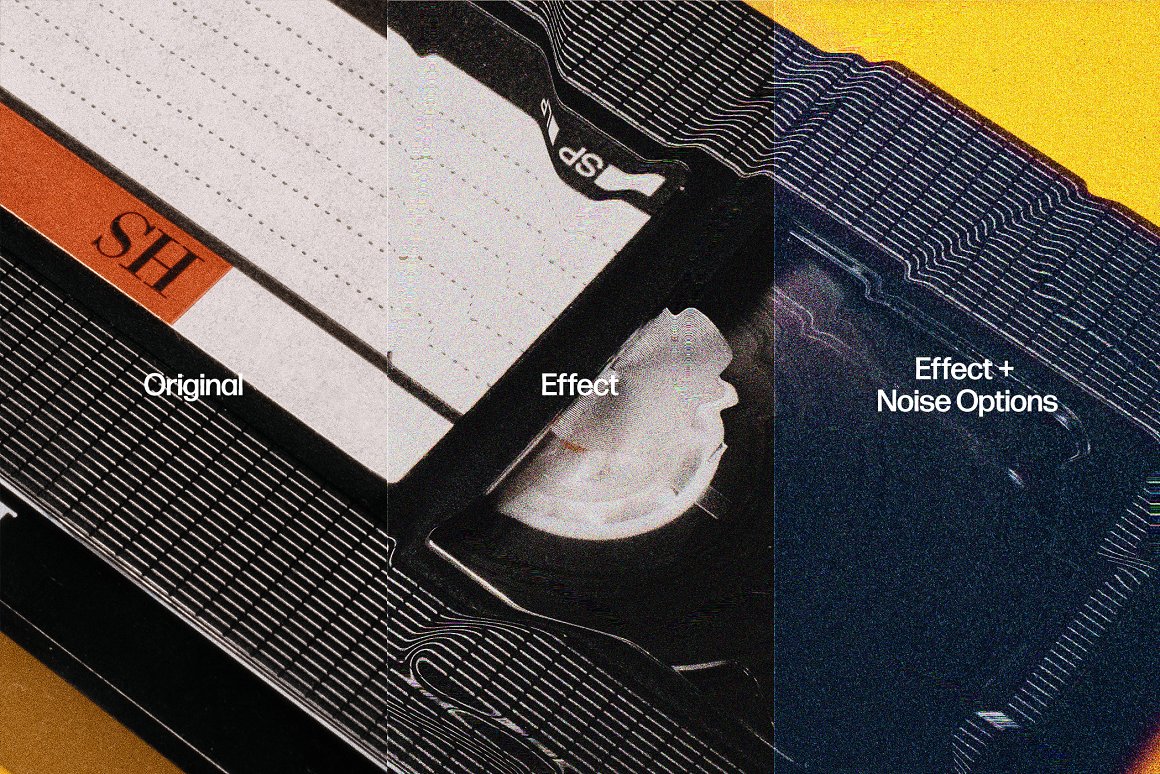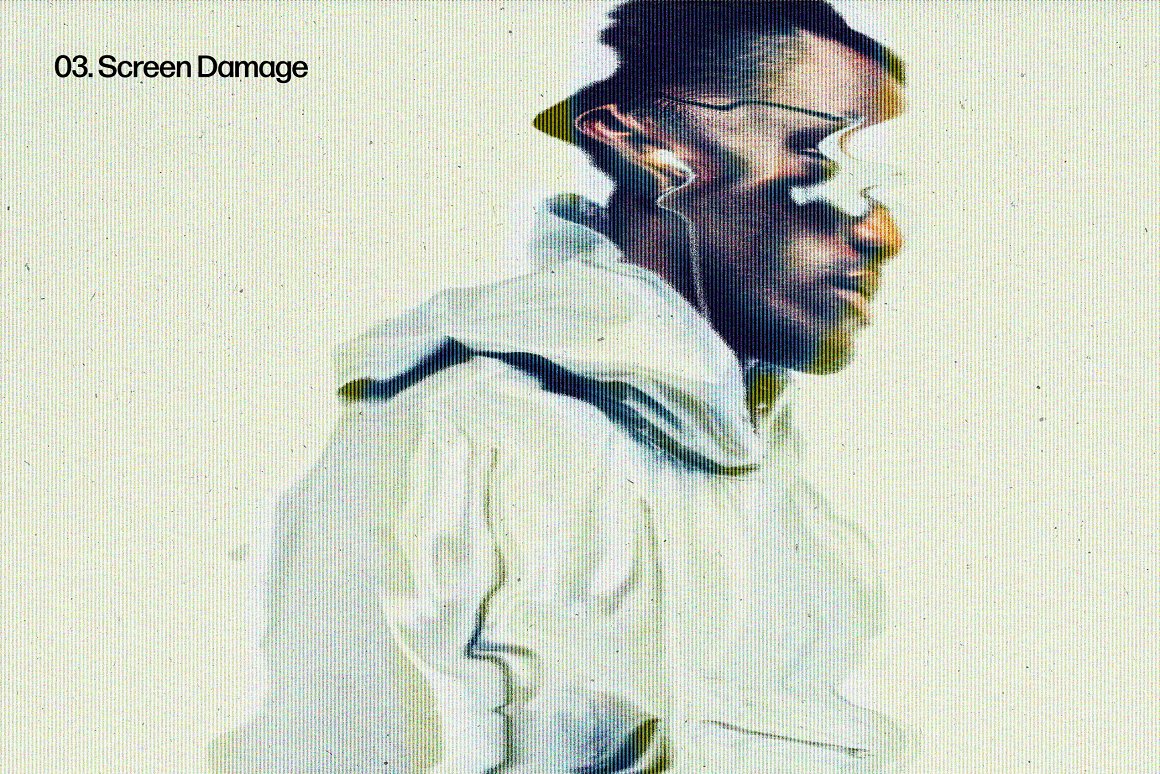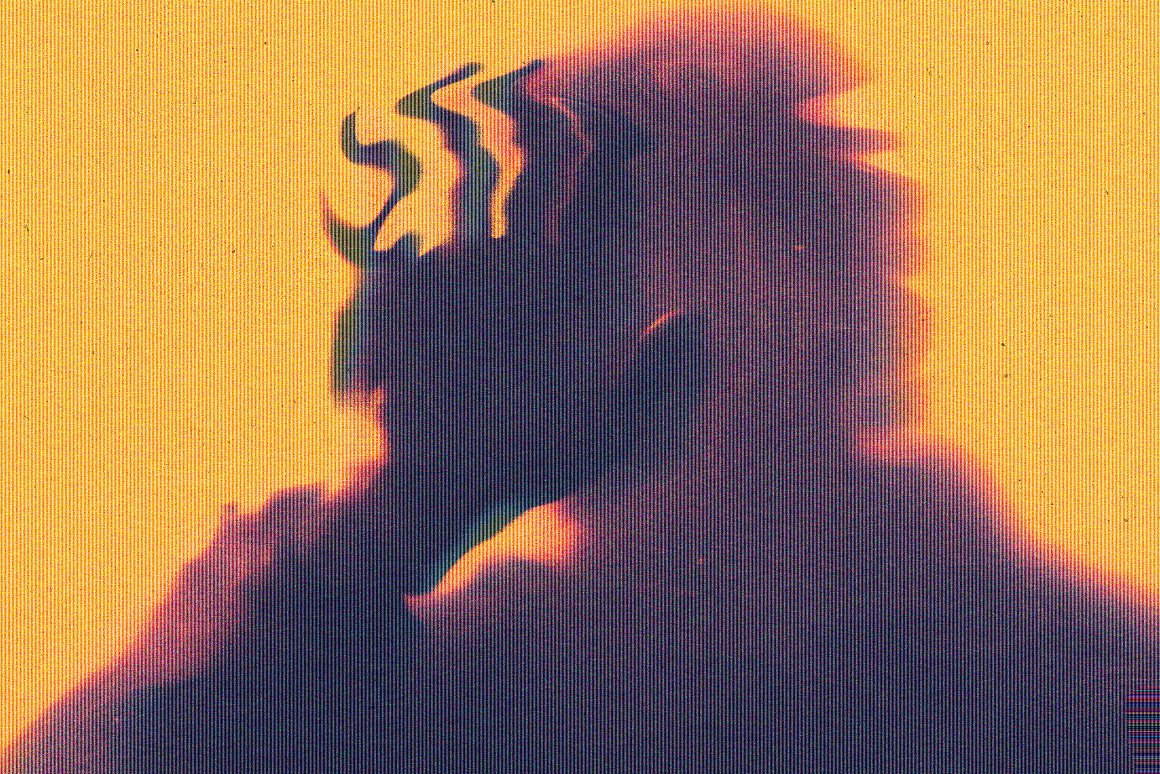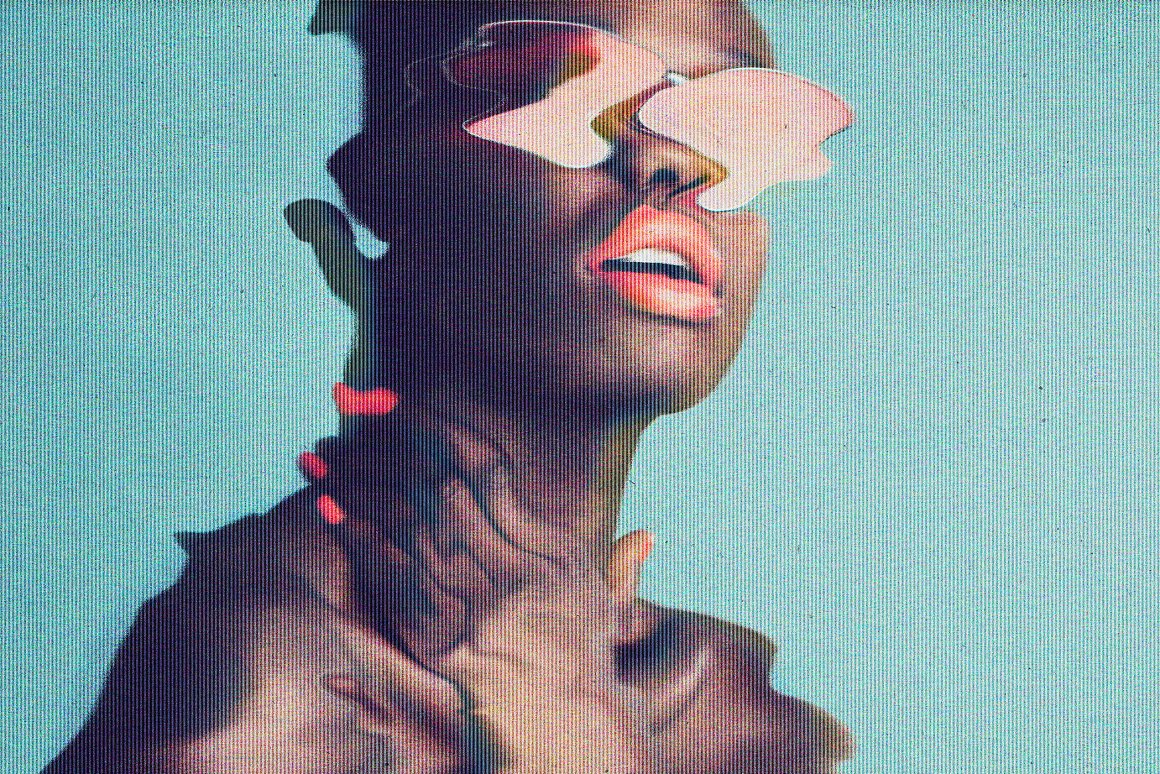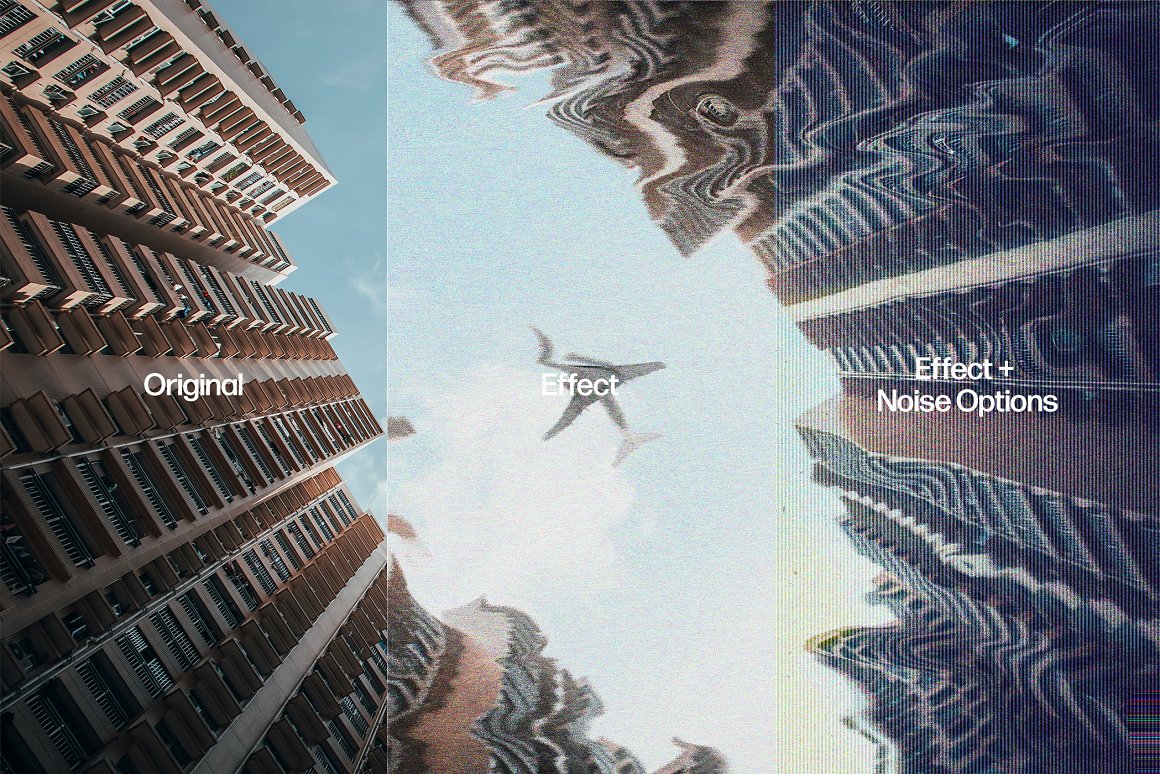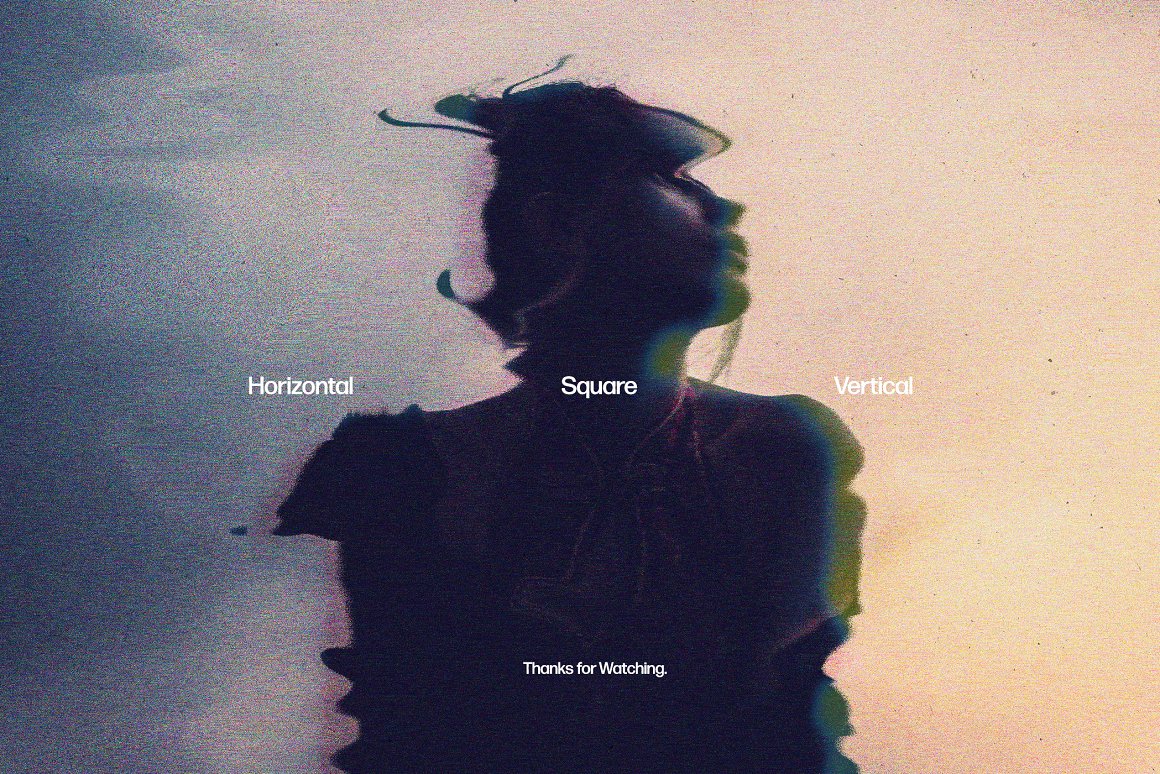 08. Classic Halftone Photo Effects from Pixelbuddha
When the ongoing creative process lacks a touch of individualism, it's high time time to play around with some photo effects then! In order to help you with that we tried to create a wholesome set of classic, yet very essential halftone textures. Welcome a new set of grunge tools, tested out on various images so as to provide you with the flawless product you could lay your eyes on!
The number of included odds and ends will make your head go round — there are so many of them! First of all, the archive includes 3 PSD files and each of them comes in a different format: horizontal, vertical and square. The next choice you need to make will be even harder, as 30 duotone gradients and 10 halftone overlays are really hard to resist. So take your time and check them all out one by one, deciding which of these precious layers will be a more suitable fit! And don't feel overwhelmed if it's the first photo effect you are working with — with a handy help file it will be easy-peasy.
What's inside?
3 high-quality PSD files;
4500×3000 px, 300 dpi;
3000x4500px, 300 dpi;
4000x4000px, 300 dpi;
30 duotone gradients;
10 halftone options;
help file.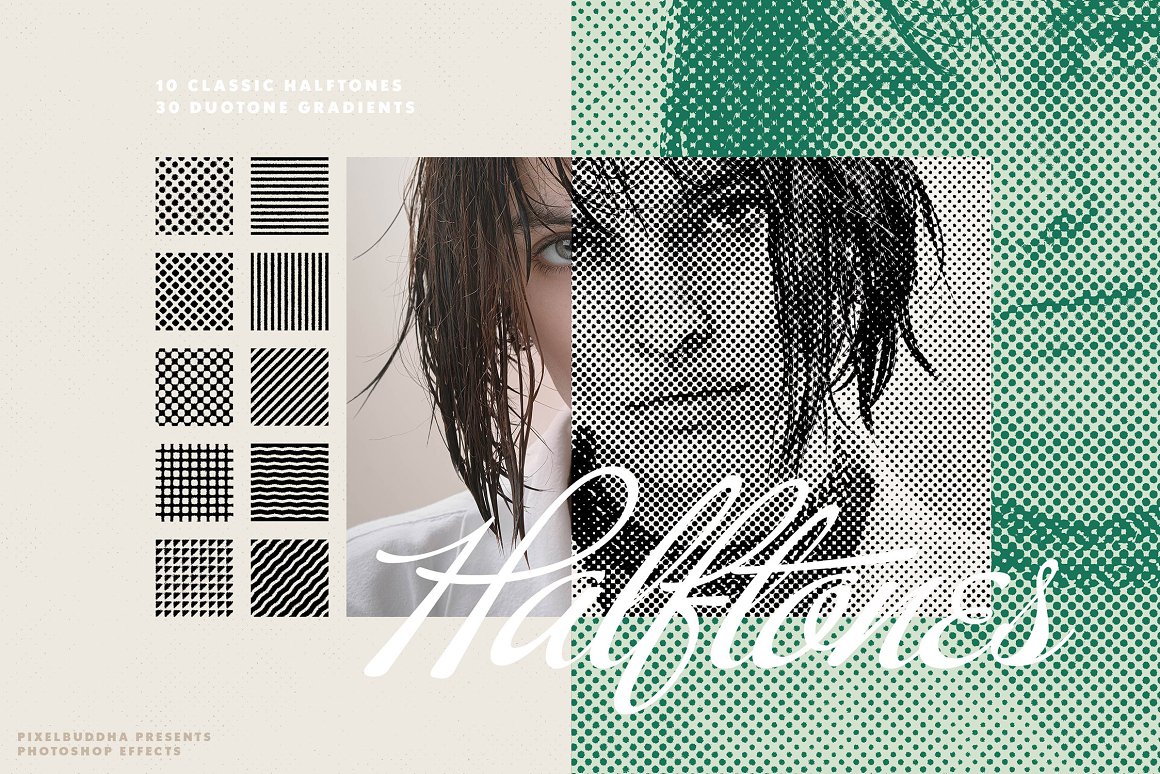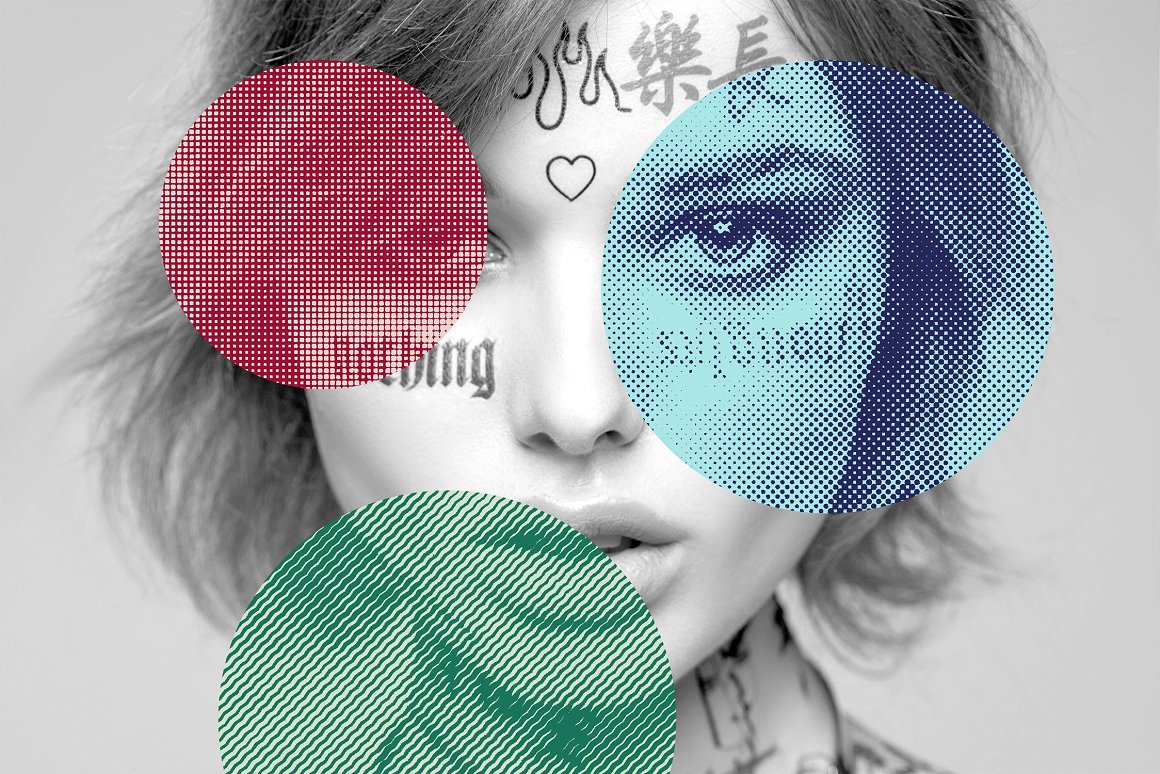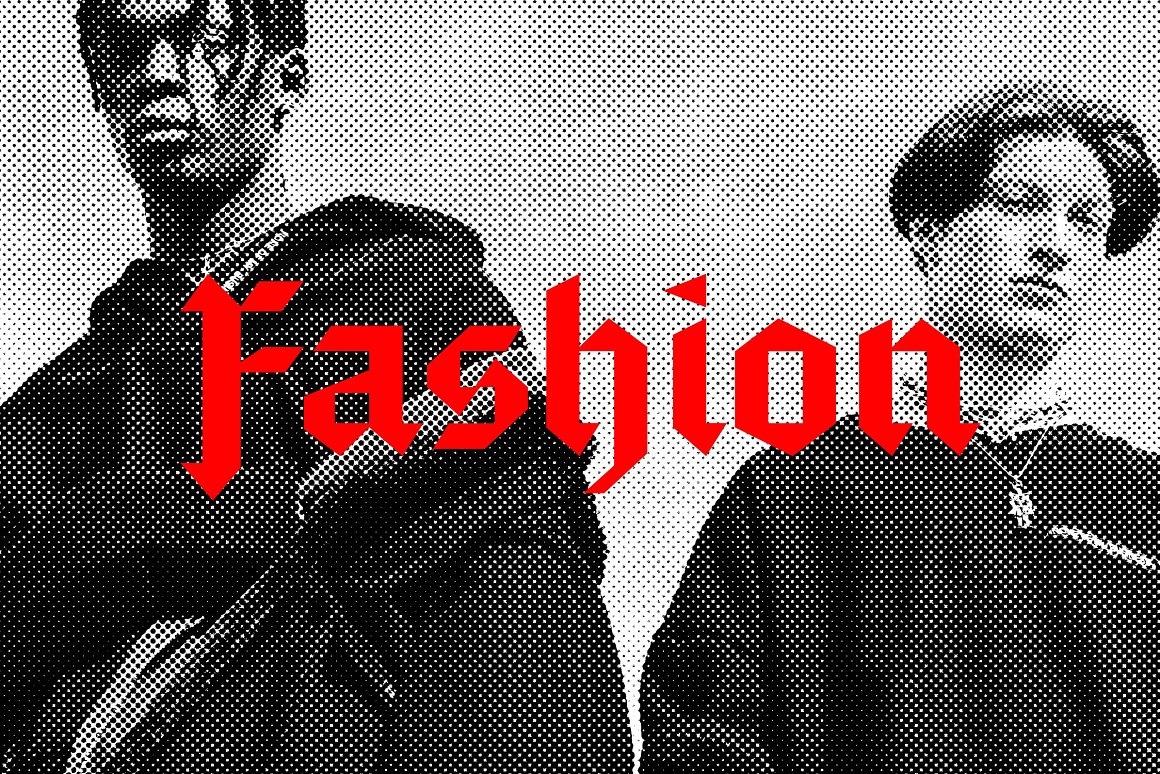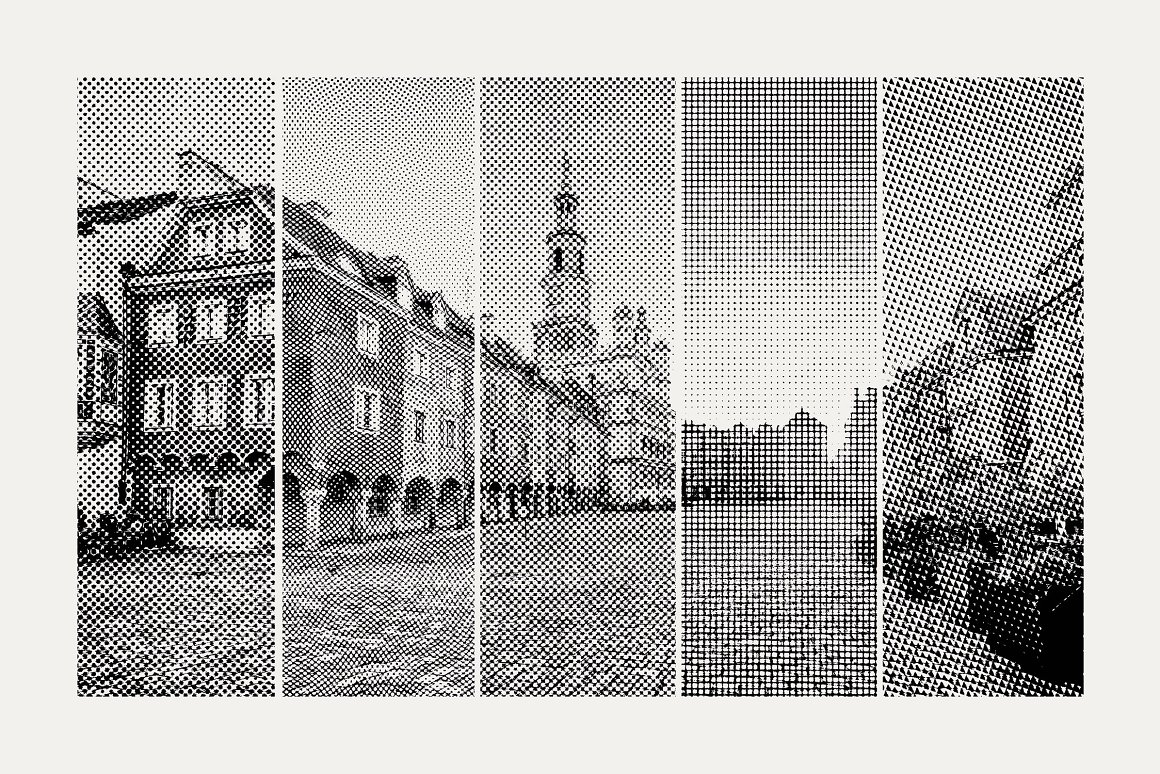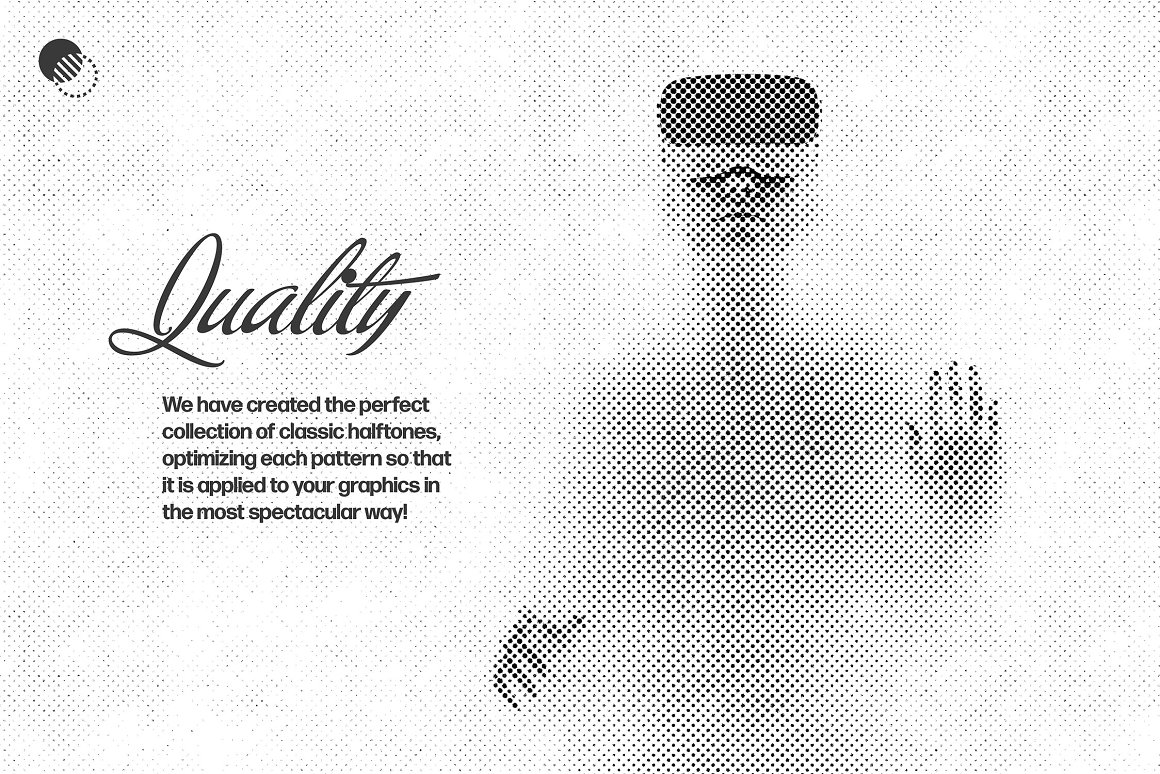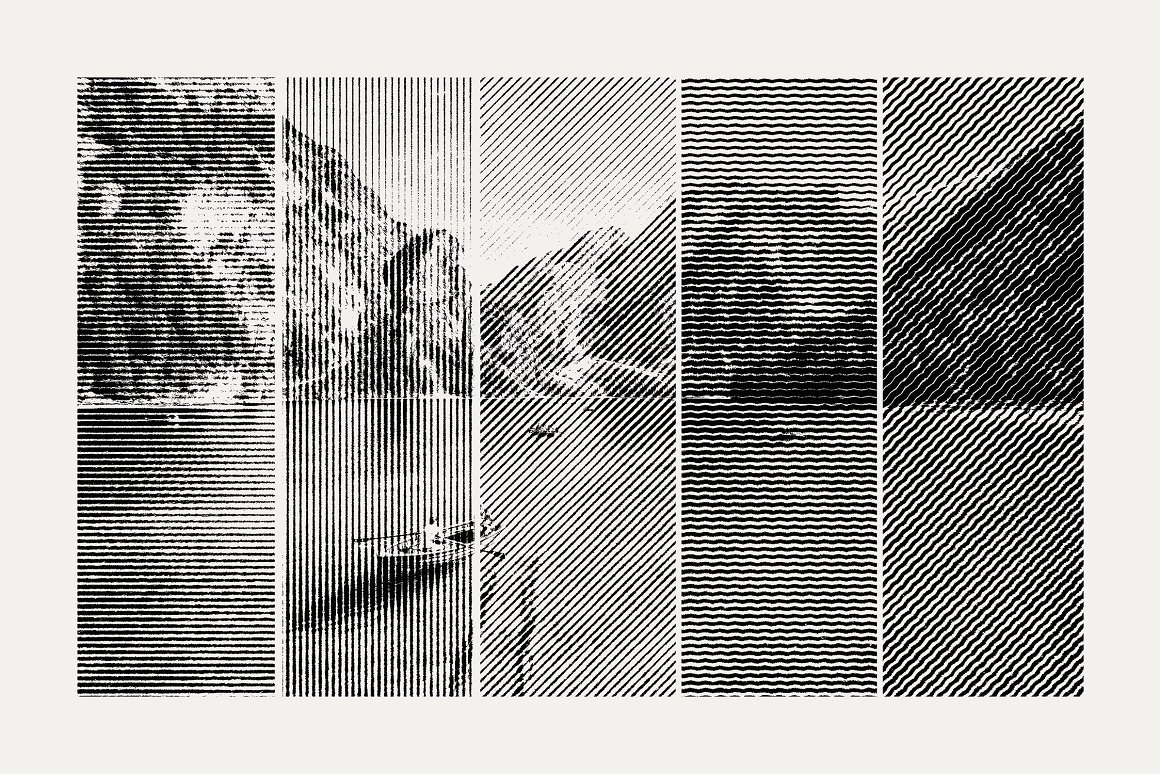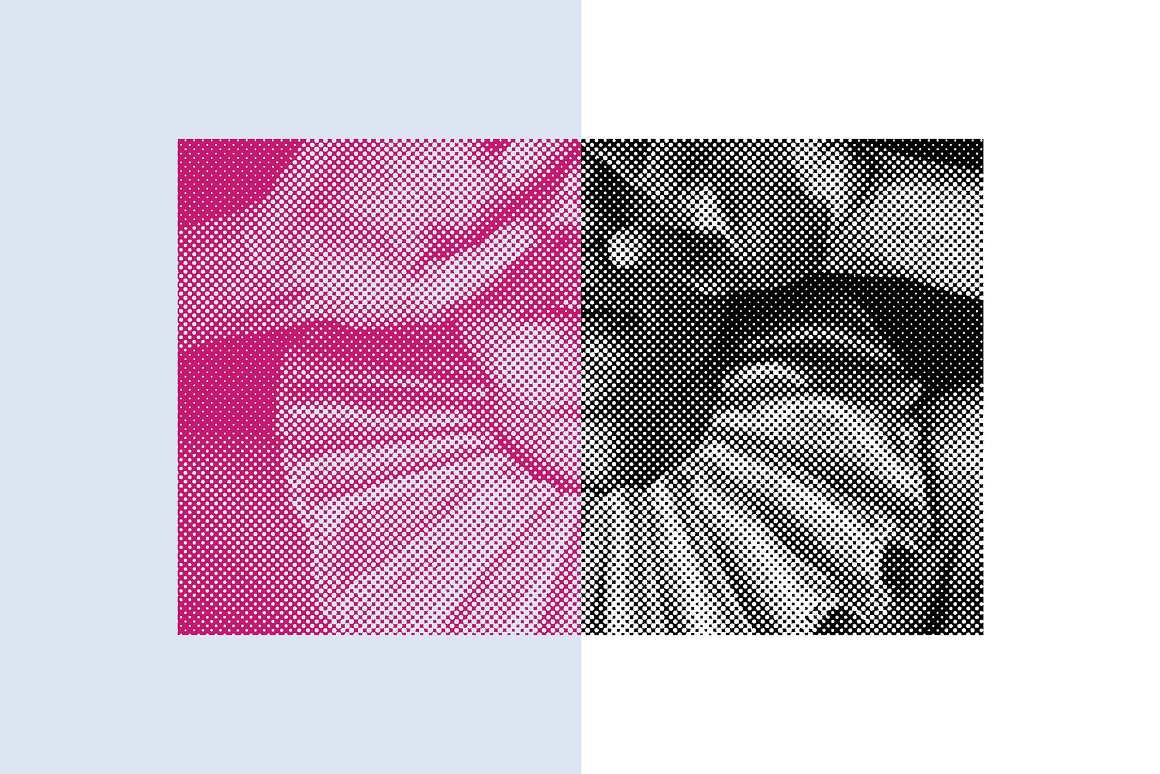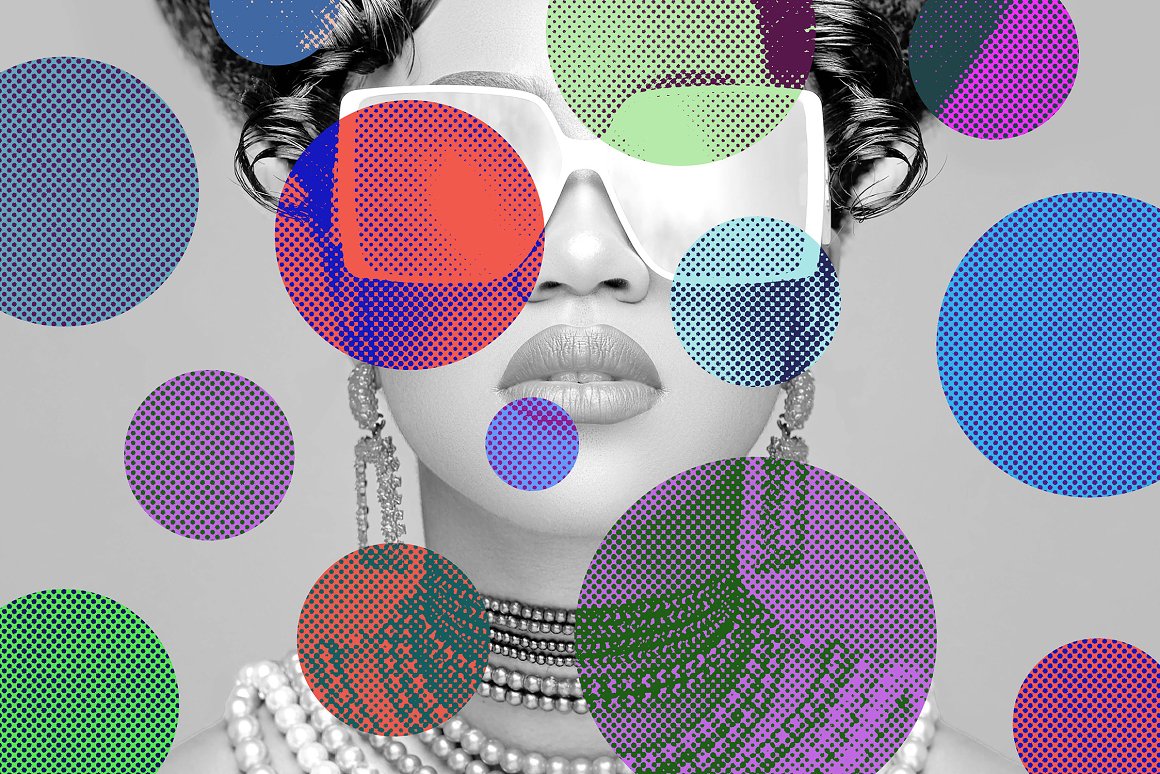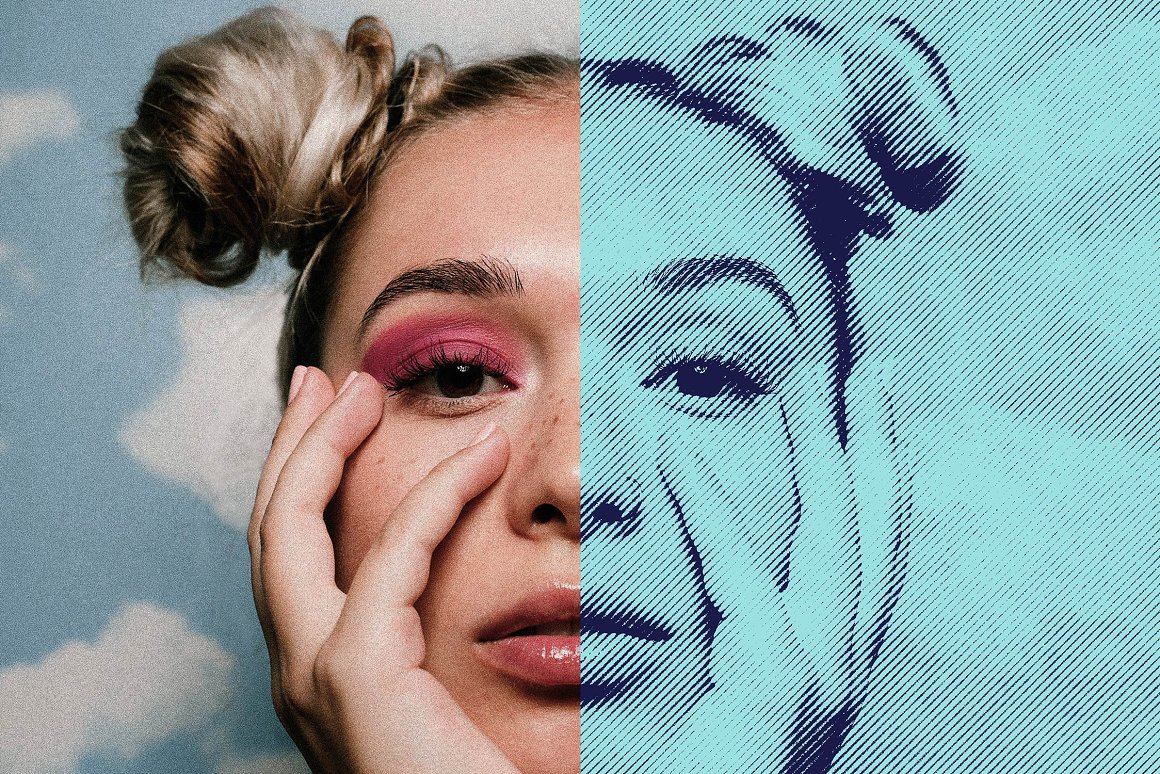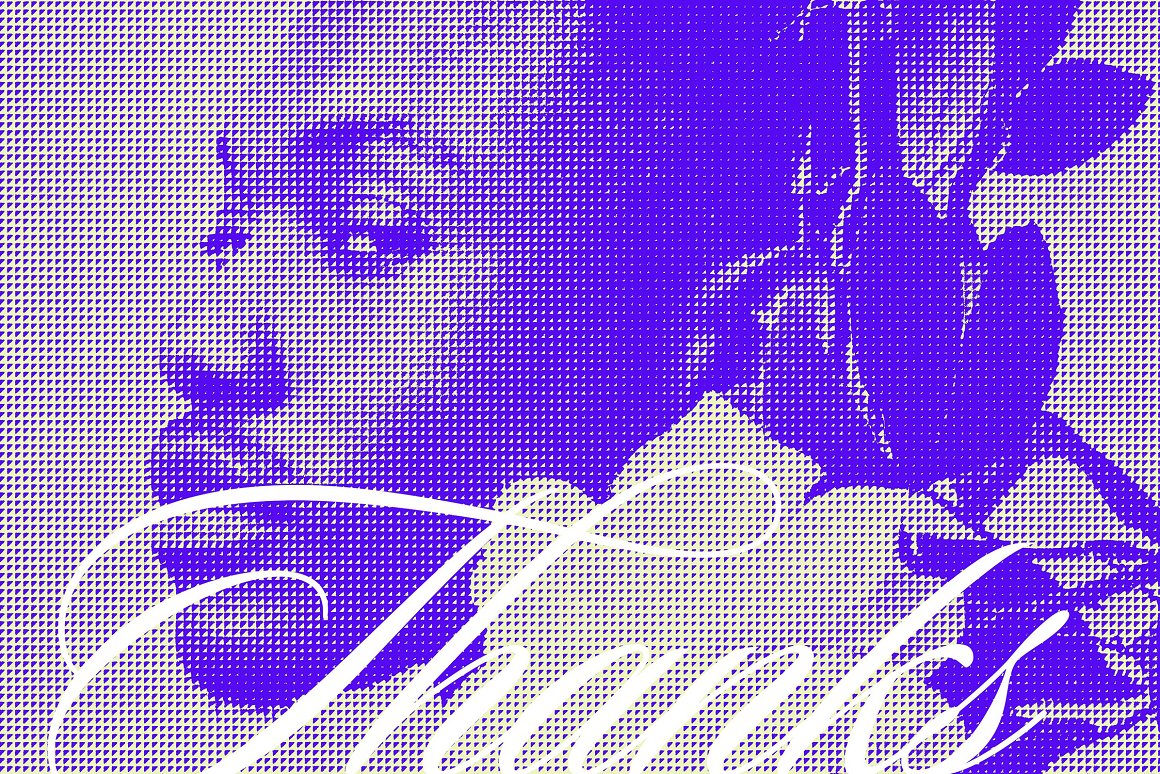 09. Screen Flicker Photo Effect from Pixelbuddha
Curling up in front of a hissing tube TV with a pack of favorite crunchy snacks, a glass of soda on the nearest table, and pleasant anticipation for a favorite cartoon to start! No matter how much the world technology is rushing toward hyperrealistic video quality, the heart starts beating faster when watching the old shows with static noise and wavy flickering. Thankfully, retro is making a comeback, which means combining pleasant with practical — our Screen Flicker Photo Effect is a manifest to past century television and a stylish graphic design trend!
Inside the package from the past, you'll see 2 PSD files of various orientations: vertical and horizontal, in case your projects require composition flexibility. Bad signal broadcasting is like a random patterns generator, constantly warping the screen into waves, broken lines, crashed pixels, and CMYK textures. The best ones yet were composed into 6 effect styles for both formats, covering the most frequently met TV glitches. Rewind the reality to the most cozy moments of your childhood with a simple-to-use Photoshop asset!
What's inside?
2 high-quality PSD files;
4500×3000 px, 300 dpi;
3000×4500 px, 300 dpi;
6 horizontal & 6 vertical effects;
help file.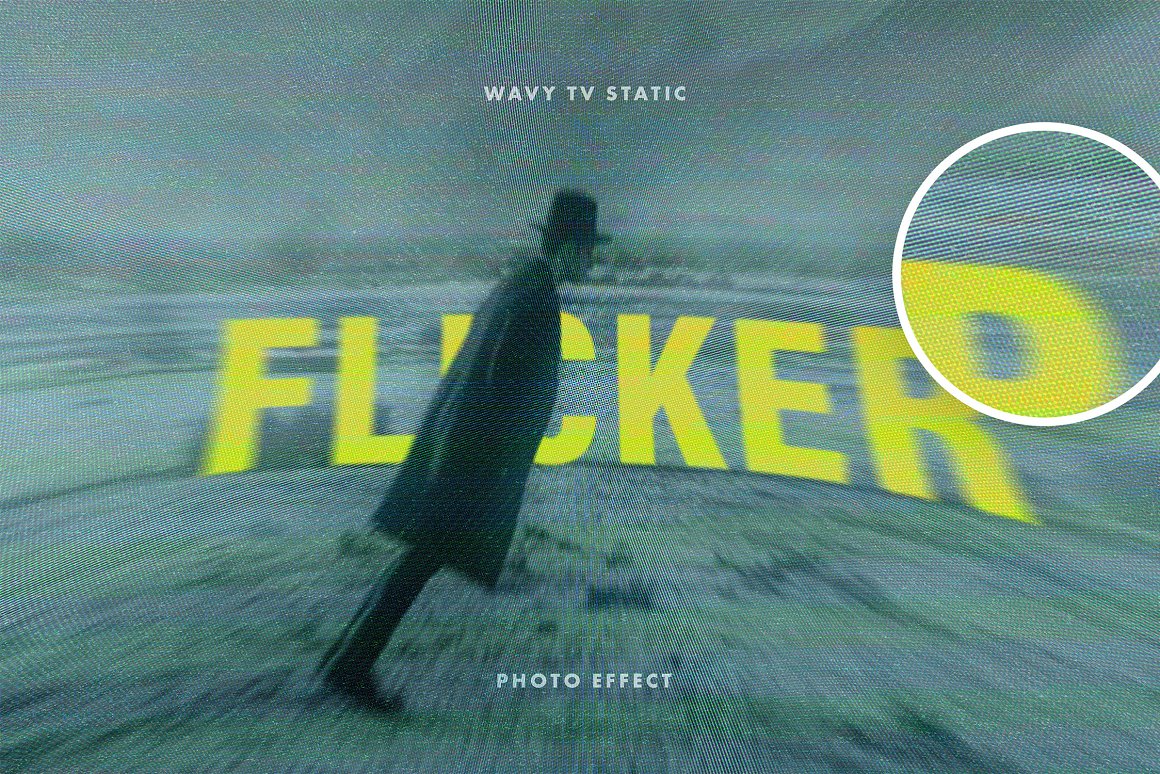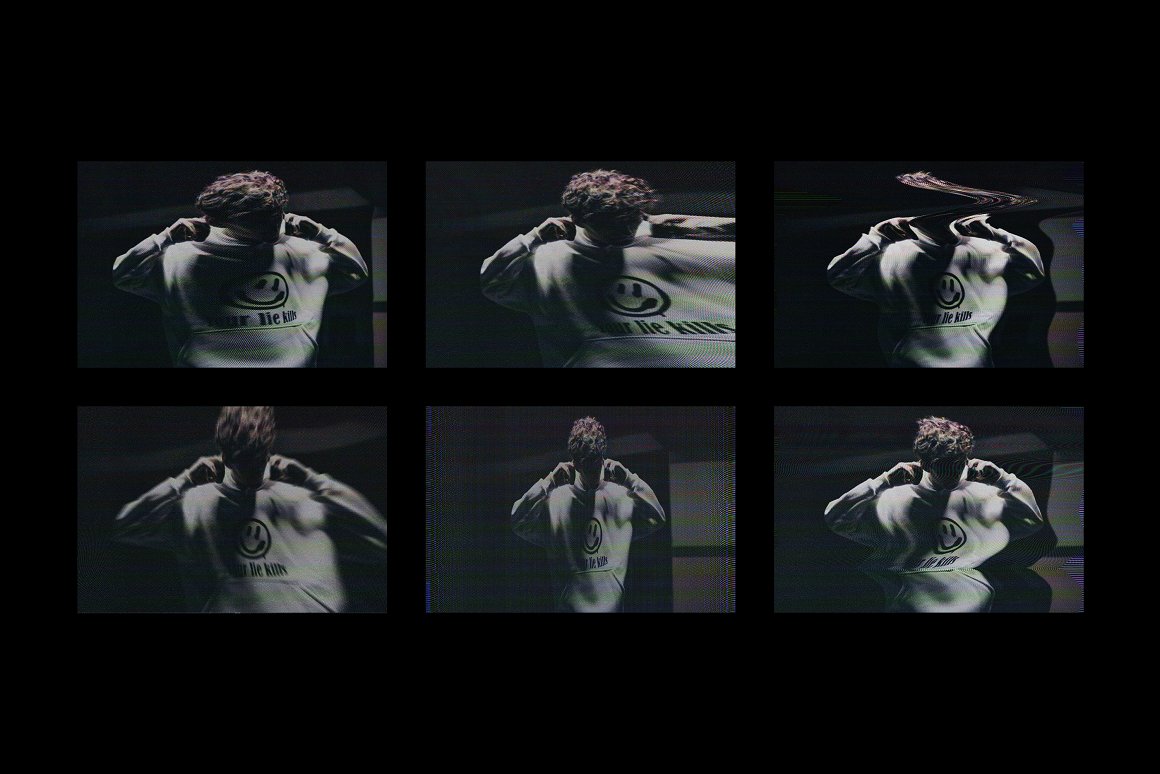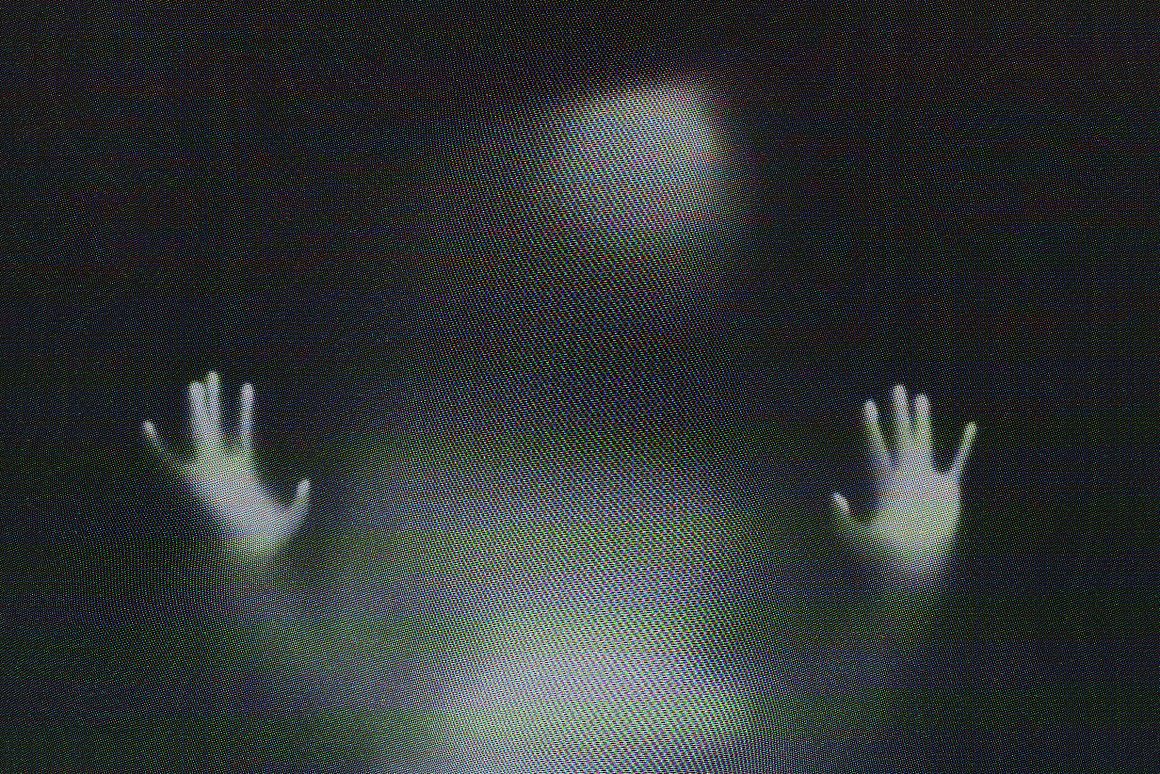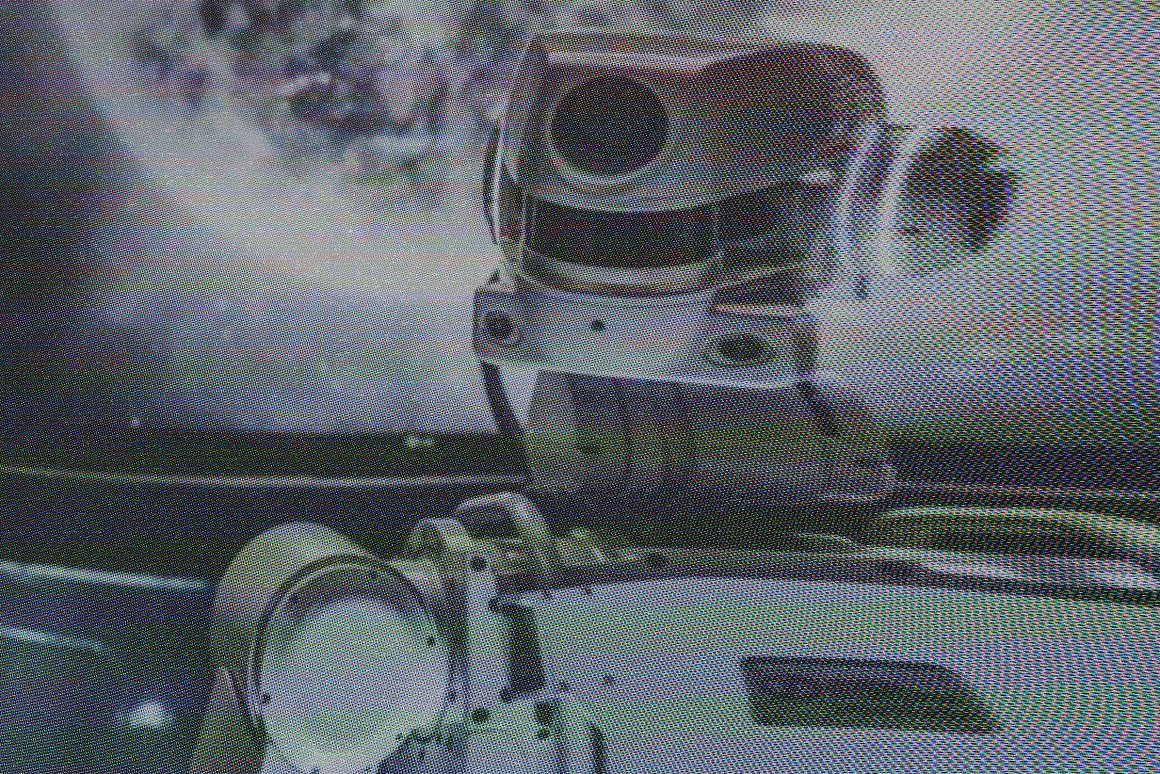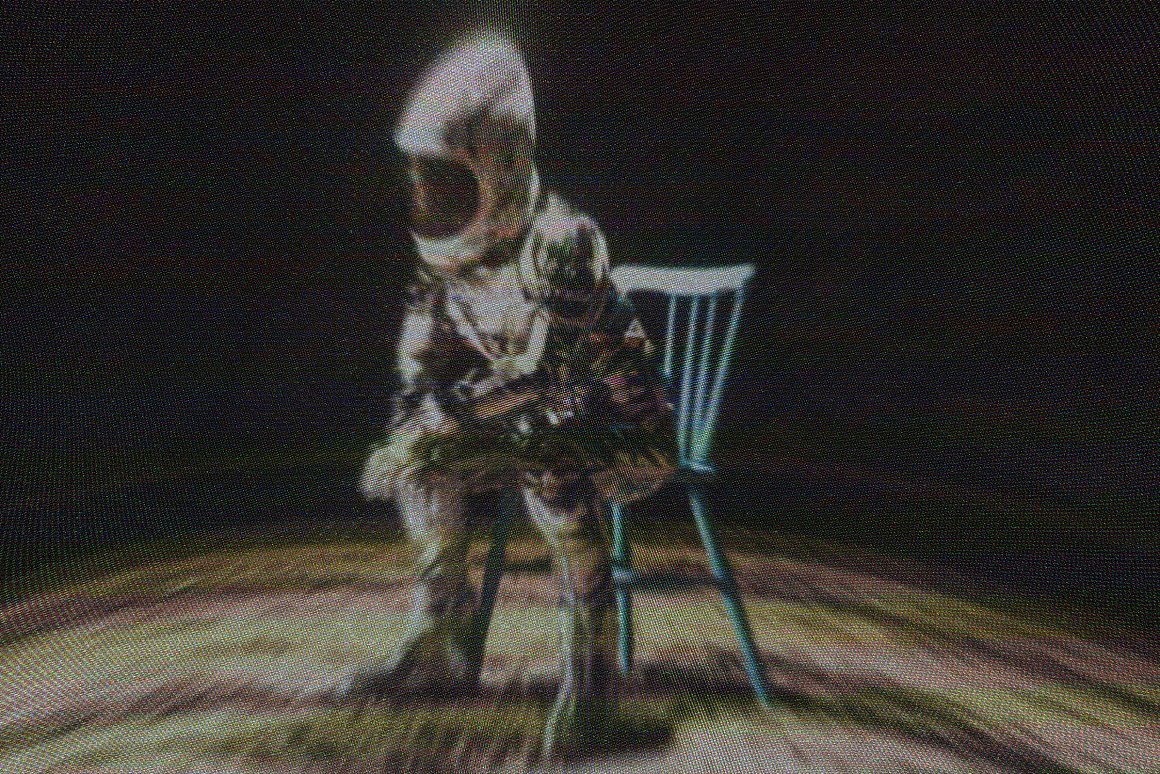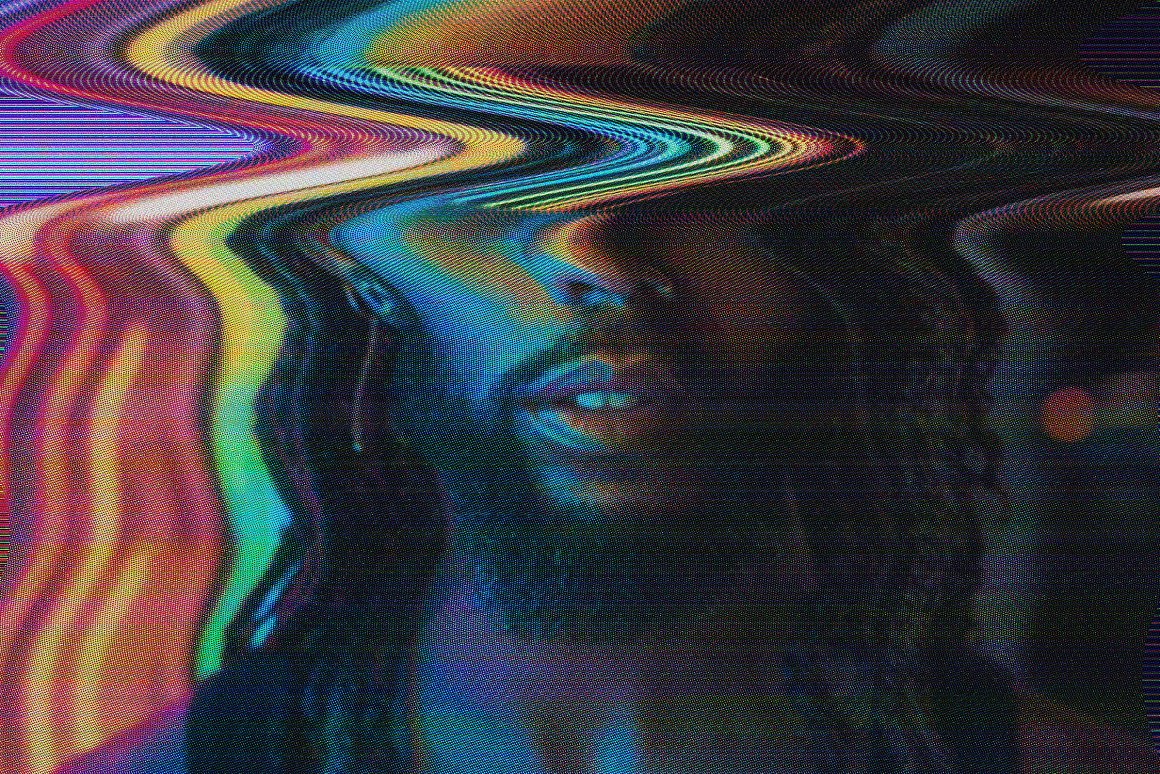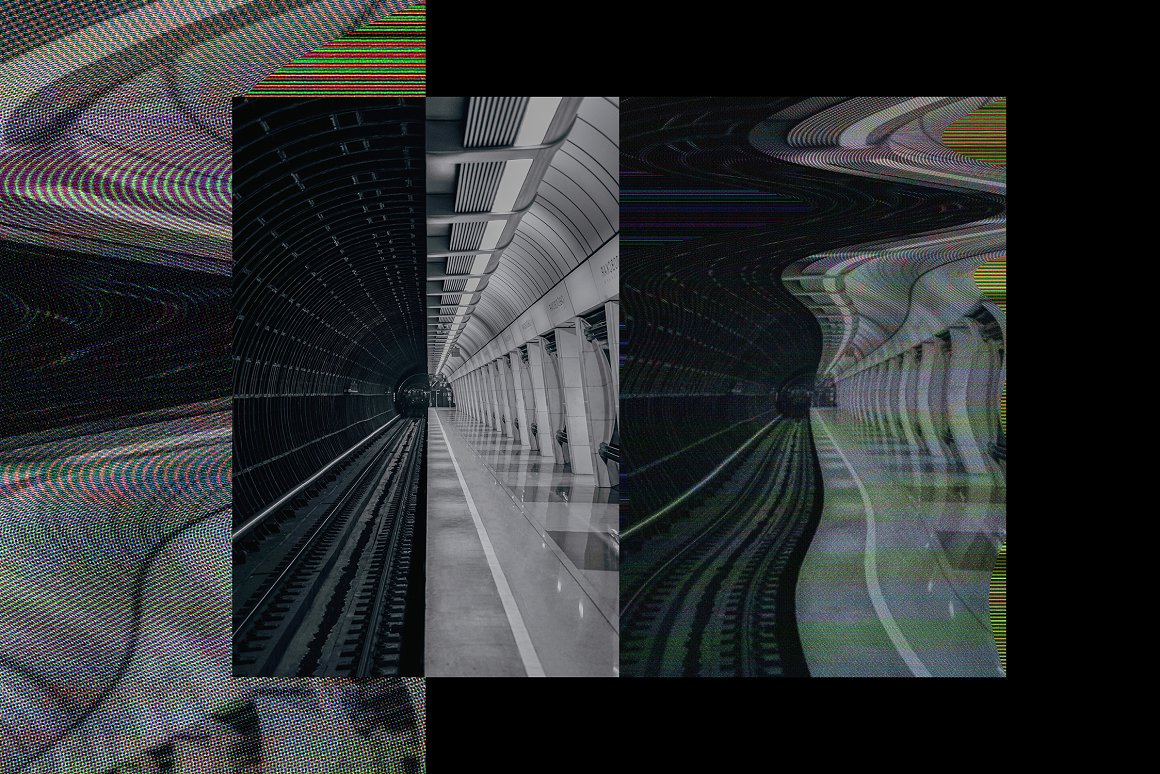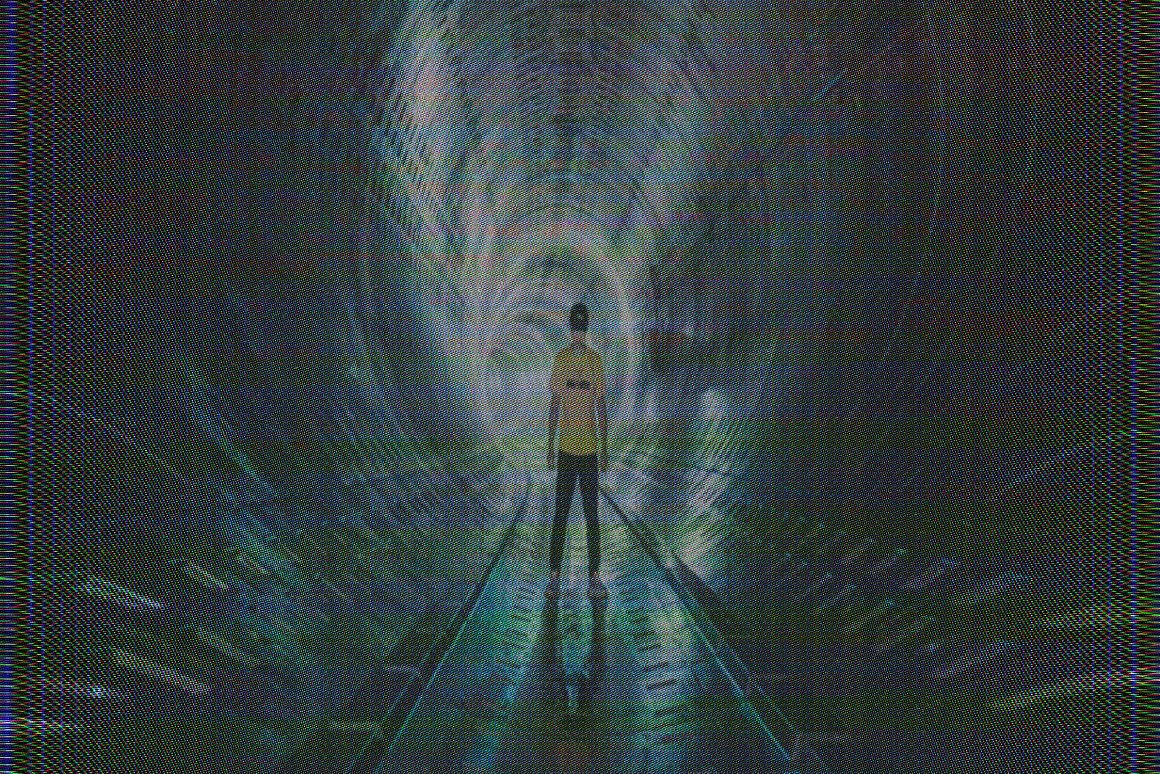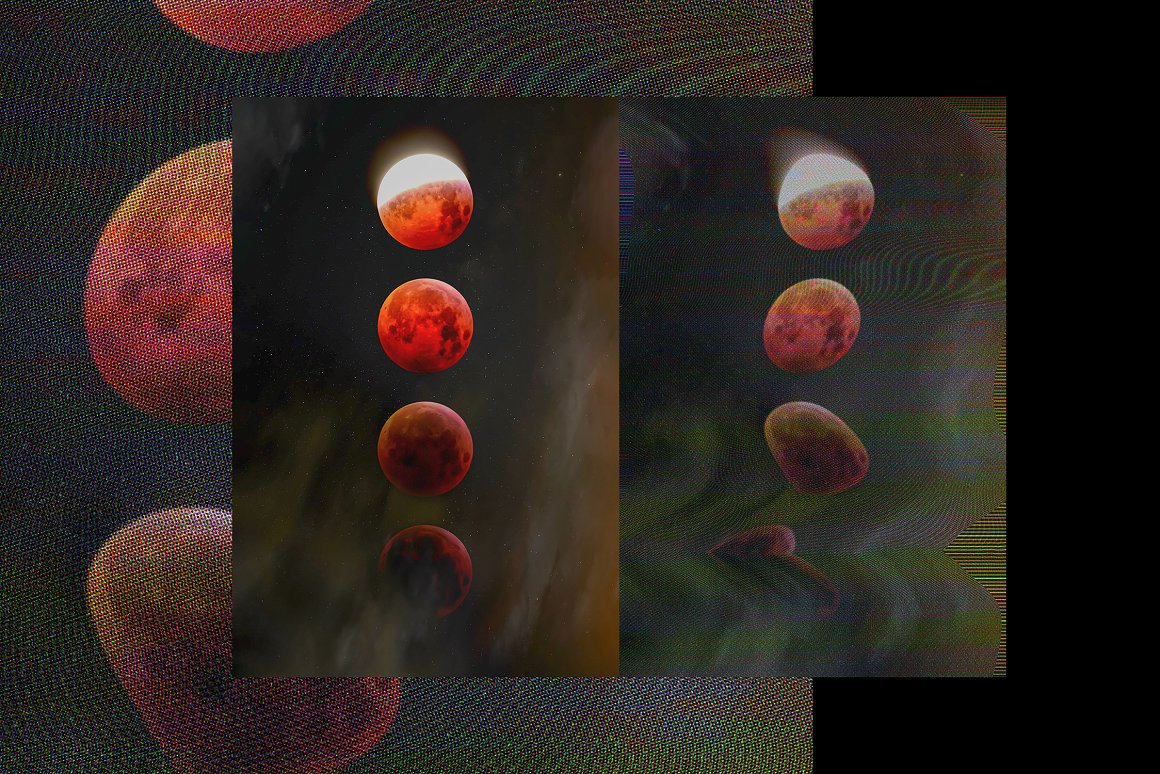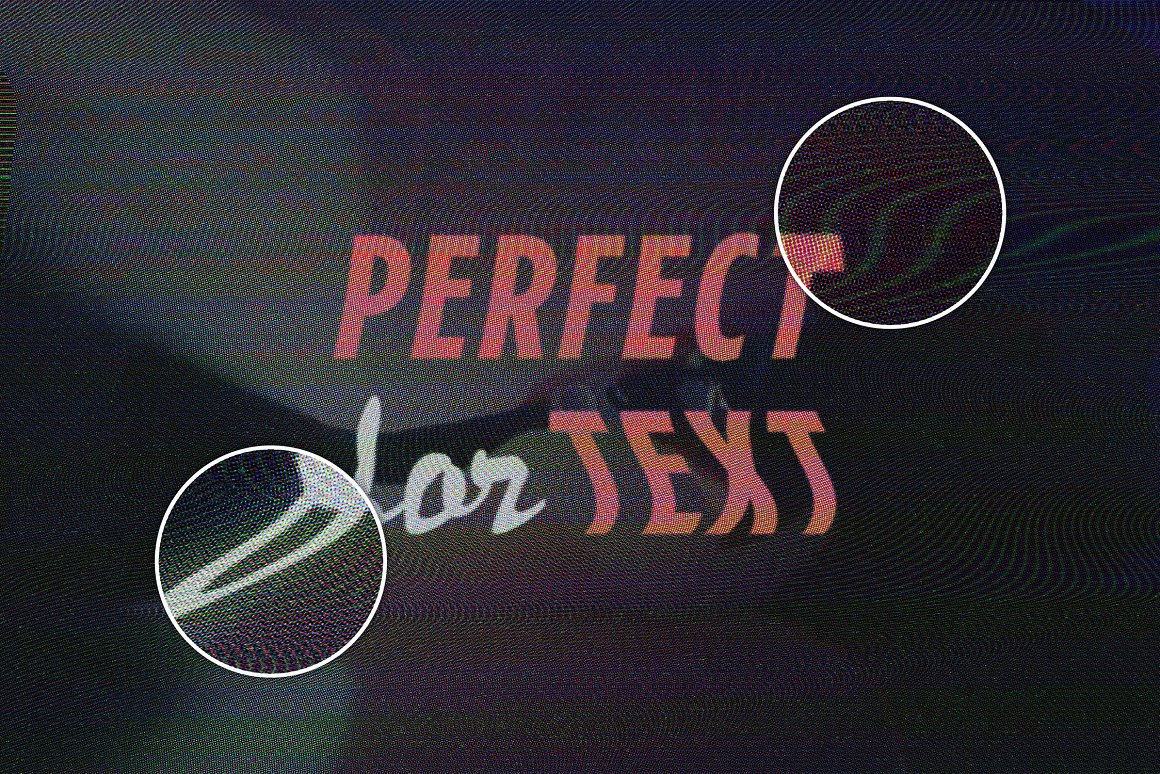 10. Arcade Tube CRT Effect from Pixelbuddha
The trend for nostalgia touches the most sensitive soul strings to play the melody of your carefree childhood, rebellious school years or inspiring college youth. If you're a baby of a previous century or just a vintage enthusiast, such valuable artifacts as arcade machines, CRT tube monitors and bitmap games are worth their weight in gold! In case you've missed an exclusive auction on eBay for another precious thingy for your collection, there's still hope for seeing cozy & cute 8bit models you're used to — run images, illustrations and texts through this CRT Effect!
After all, the retro machines were replaced by more advanced technologies for a reason, but there's certainly a genuine side to it, so no need to shed tears for good old time's sake. Now you can get the same imagery but faster, in better versatile quality settings, adjusted in color, size, shape, and applied to any file type. Your "digital dashes" can appear in effect as one of 5 made patterns and colored in 5 different palettes. Play around with it as joyfully as you were spending time walking through one of your beloved arcade games!
What's inside?
high-quality PSD file;
4500×3000 px, 300 dpi;
5 pattern options;
5 color solutions;
help file.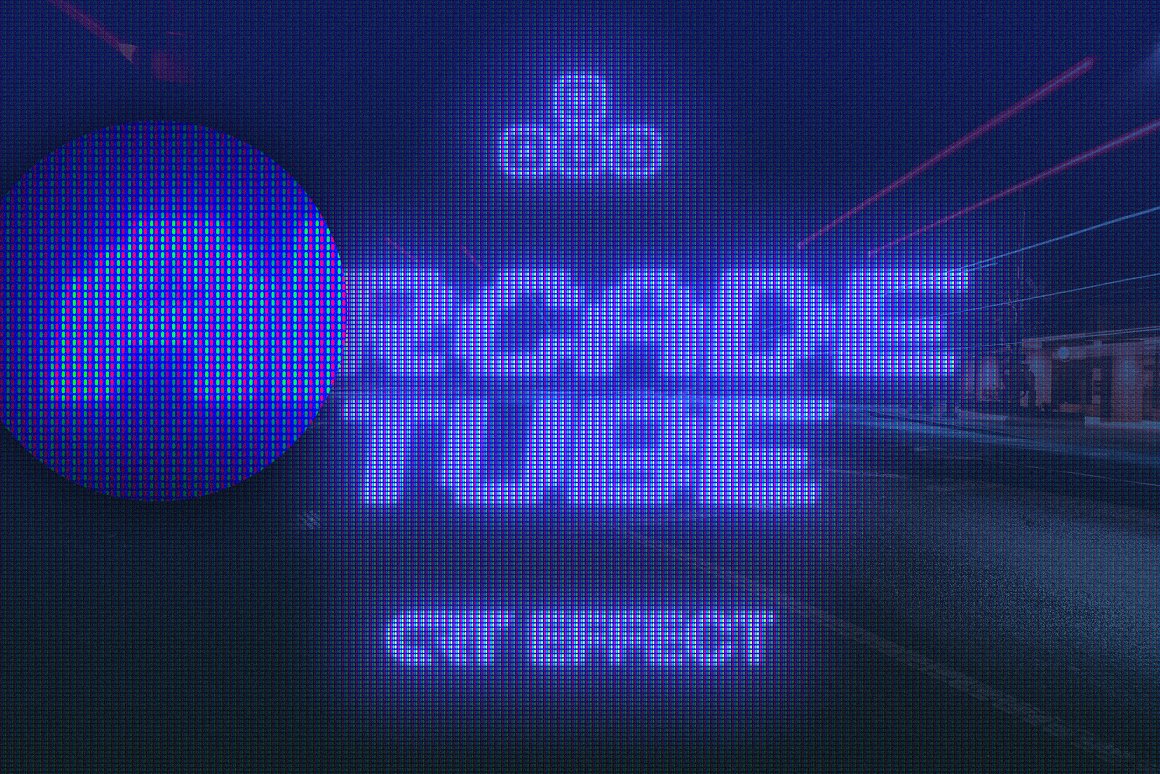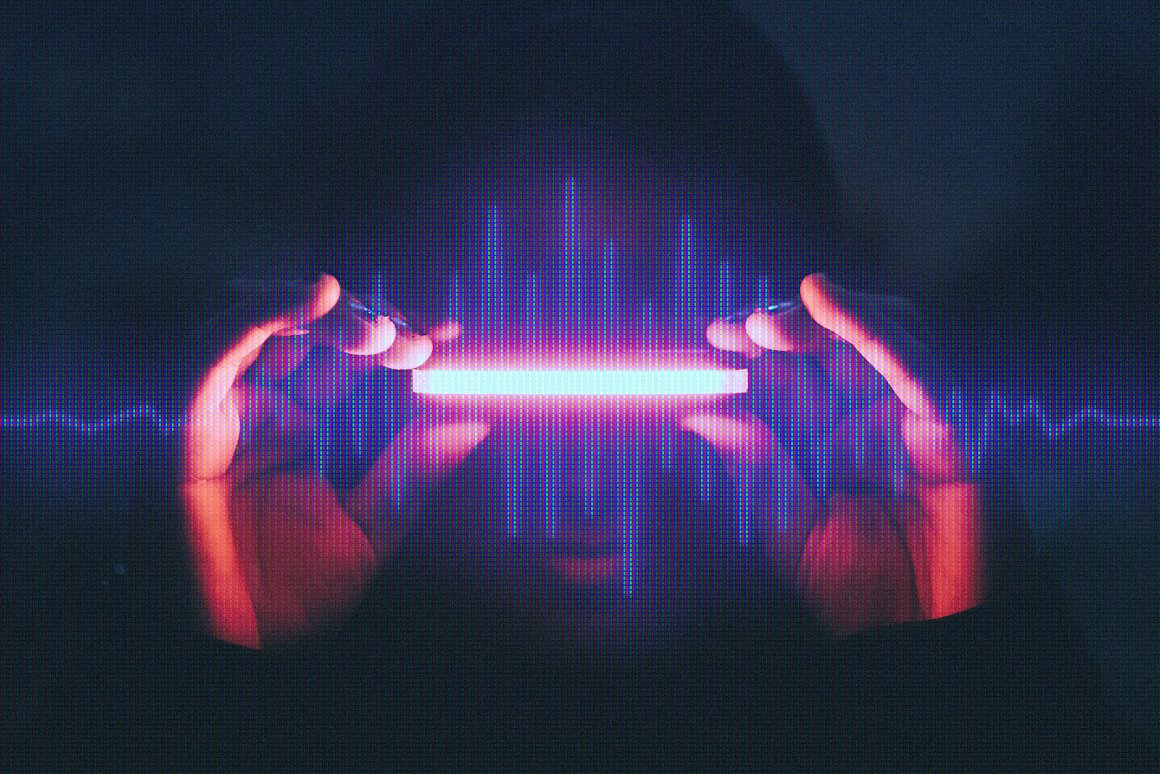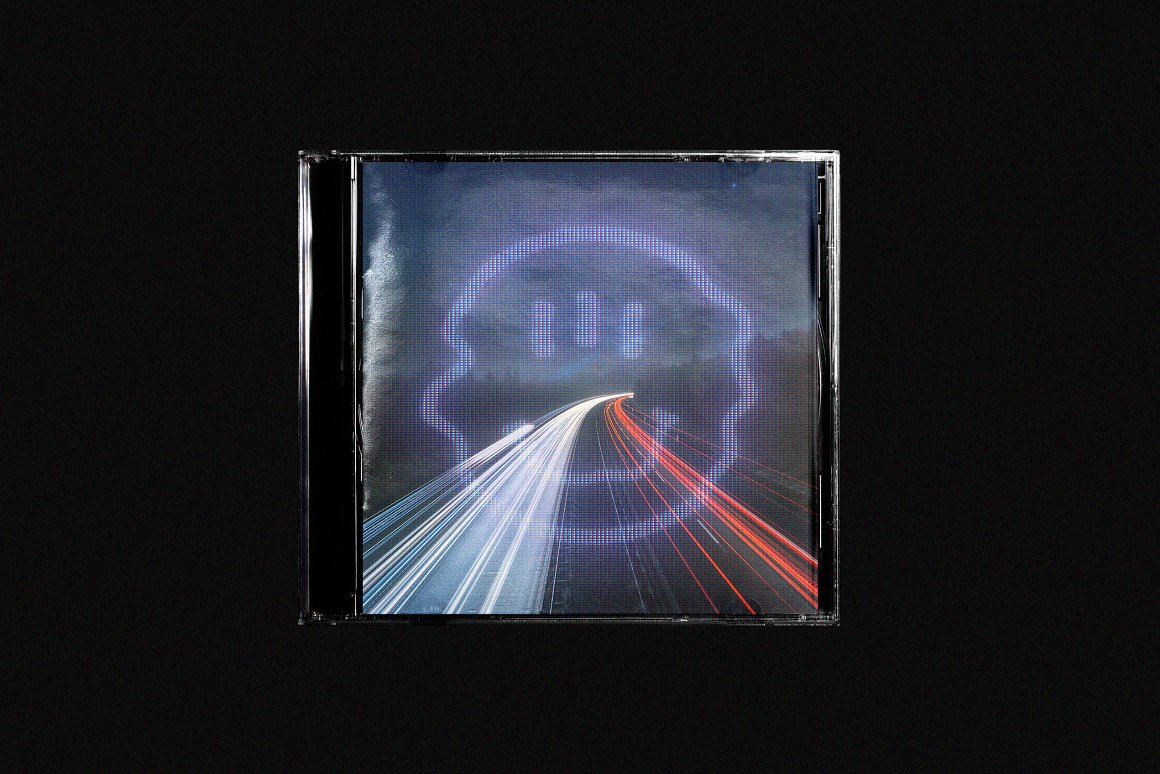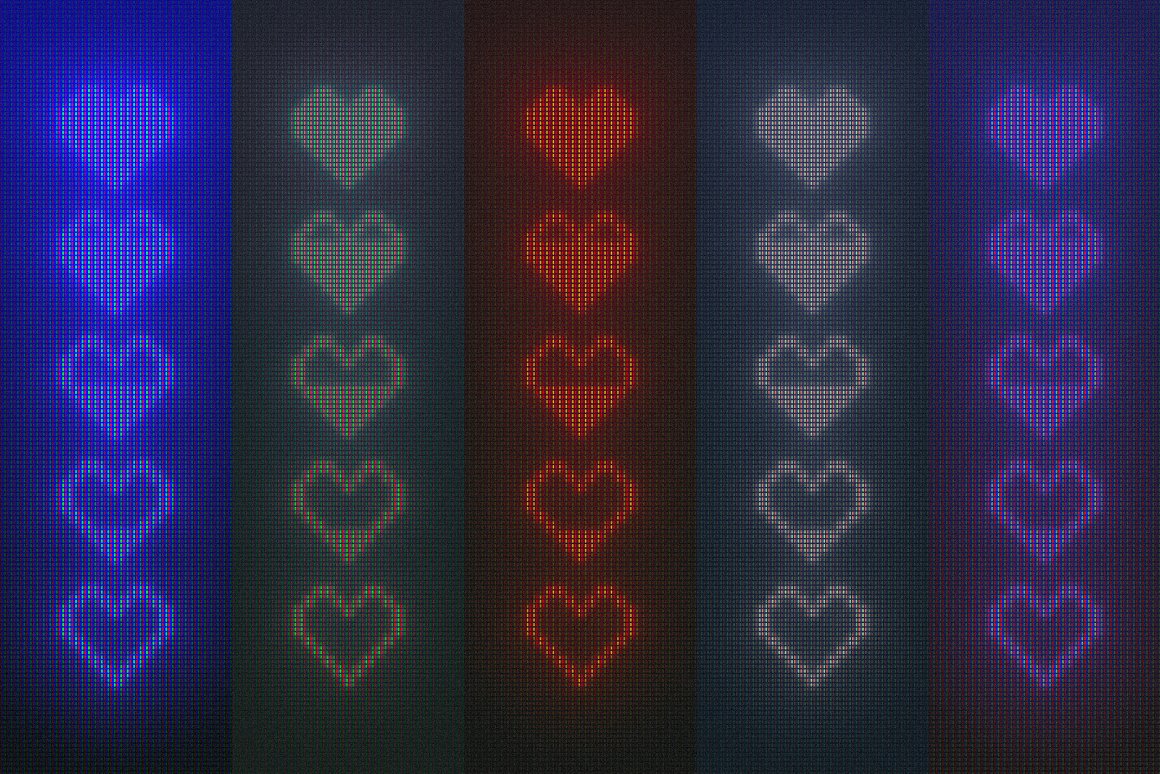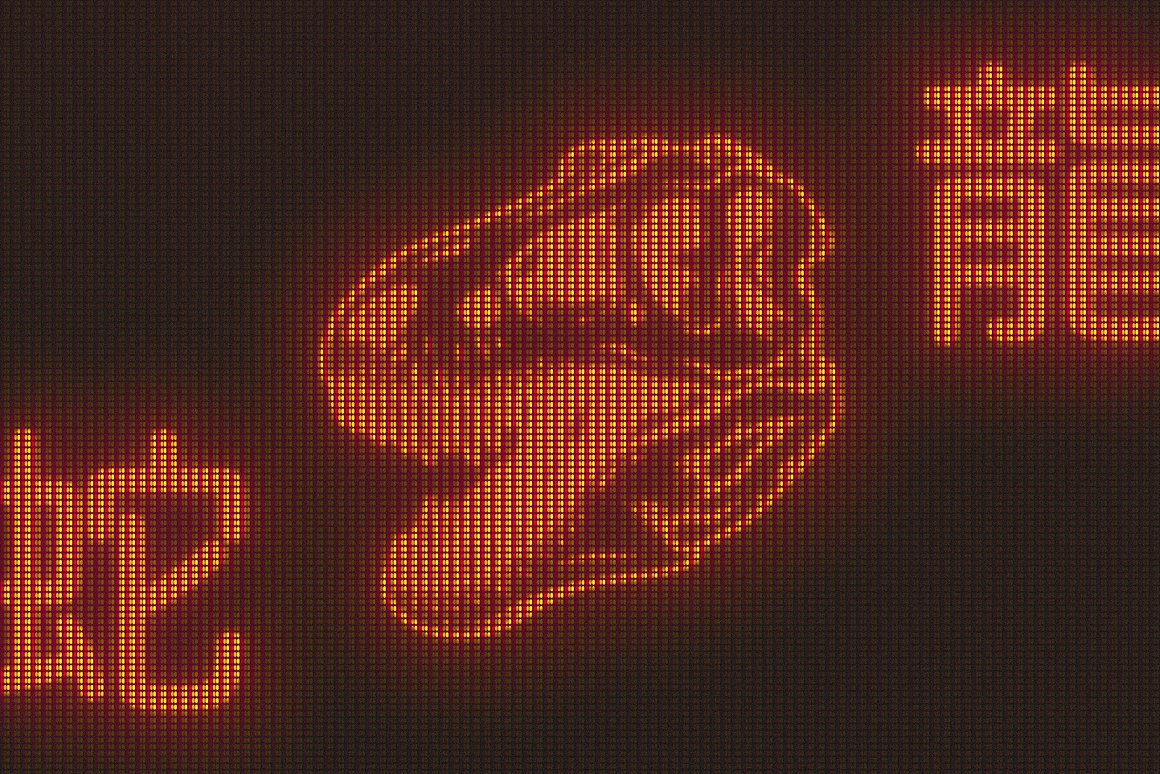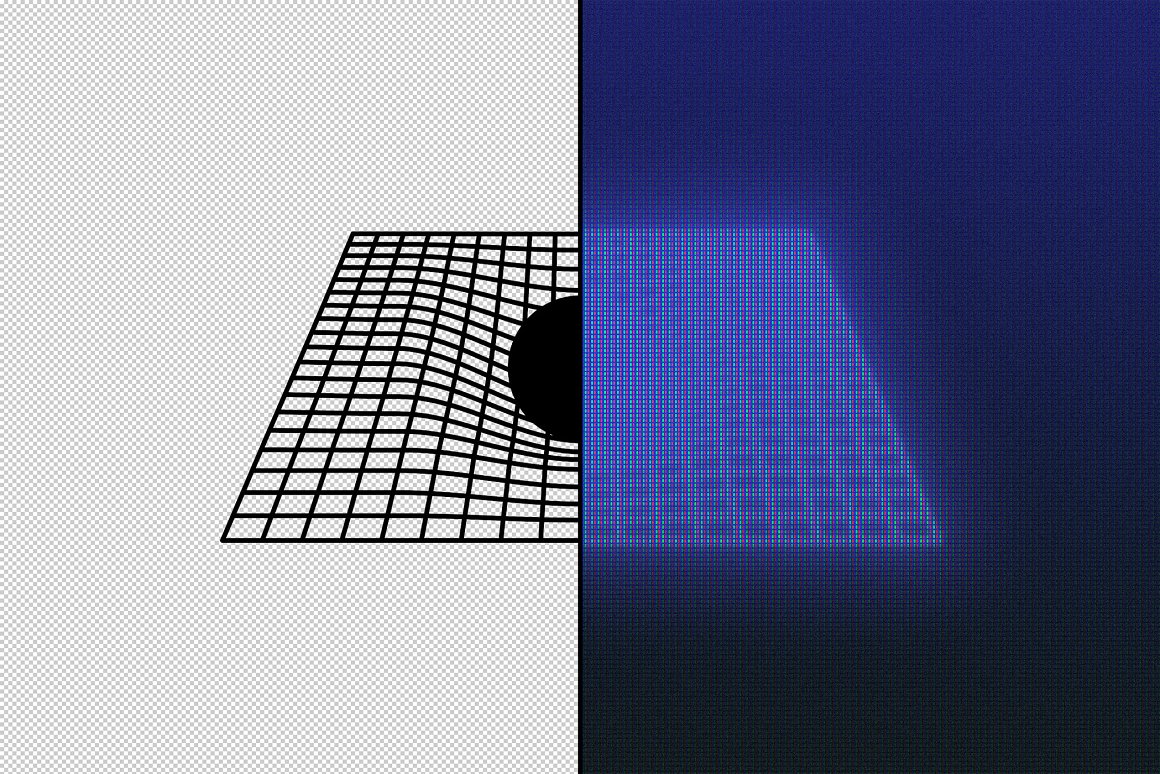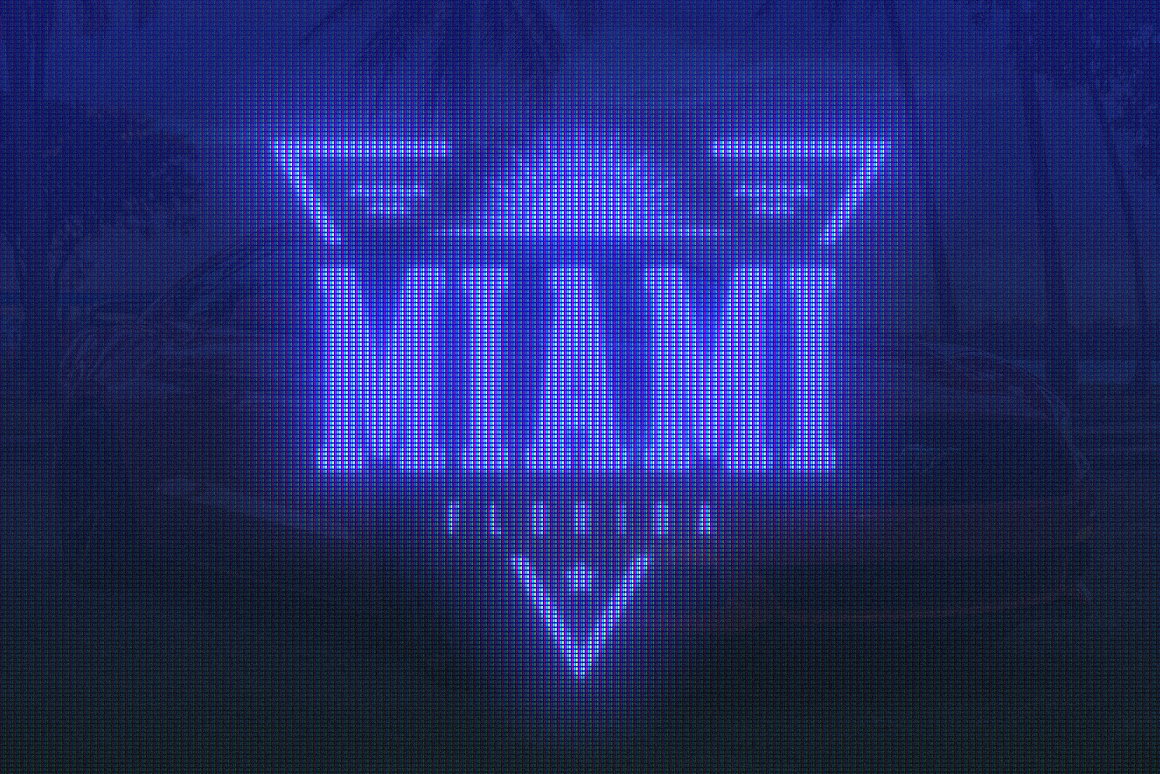 11. Copier Textures Photo Effect from Pixelbuddha
It's high time to put old photocopier to good use: dried ink doesn't make toner bad, but unveils some refreshing printing techniques. Having found a pile of our long-forgotten scanned and printed illustrations, used for the experimental purposes, we thought of turning all these treasures into a reference for the next photo effect. Some were withered and vague, others pretty inky and fresh-looking, but all of them had that distinguishing grunge aesthetics, indispensable for many visual projects!
The ready-made collection of files comprises 3 PSD formats: square, vertical and horizontal — no more puzzling over editing an artboard the way it both fits and image and doesn't disguise the applied effect. Inside each PSD there are options for leaving a vague, medium or intense printing effect, all depends on the used imagery and the end-result you're aiming at. Having it all black and white would be too boring, right? That's what we thought of and added a color overlay feature to have it changed into any required shade.
What's inside?
3 high-quality PSD files;
square, horizontal, vertical files;
4500×3000 px, 300 dpi;
4000×4000 px, 300 dpi;
3000×4500 px, 300 dpi;
color overlay option;
3 print tracing degrees;
help file.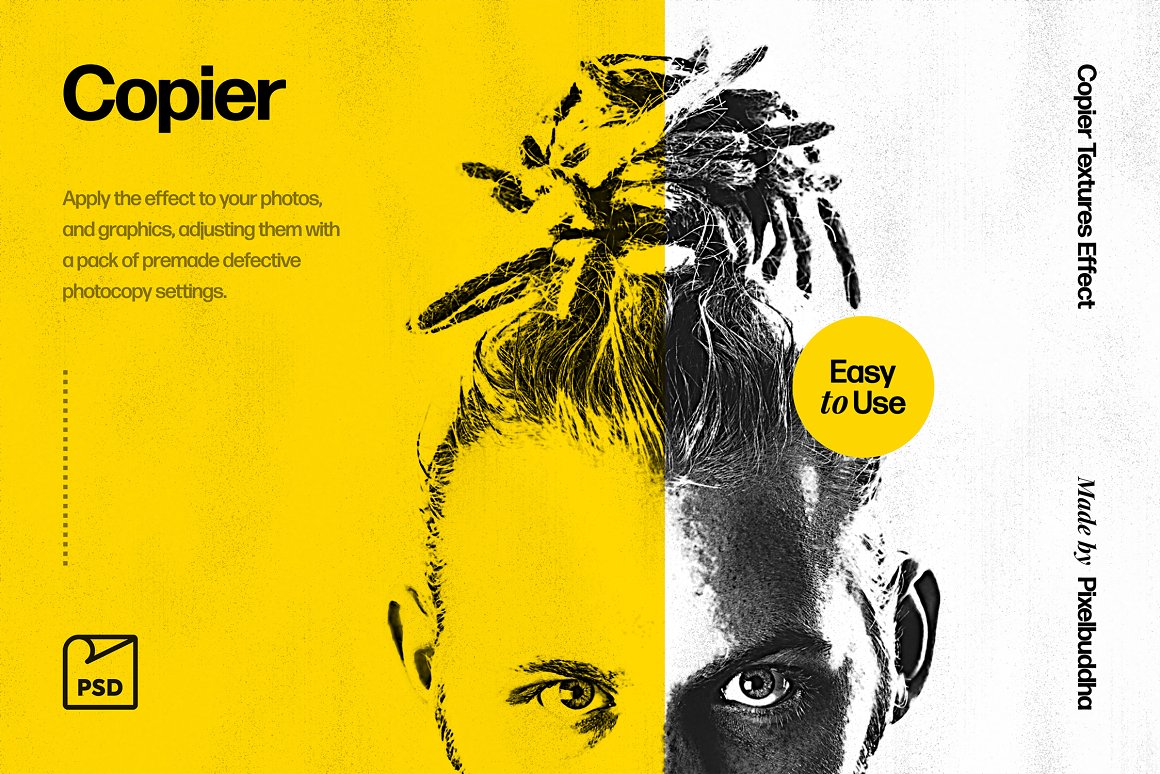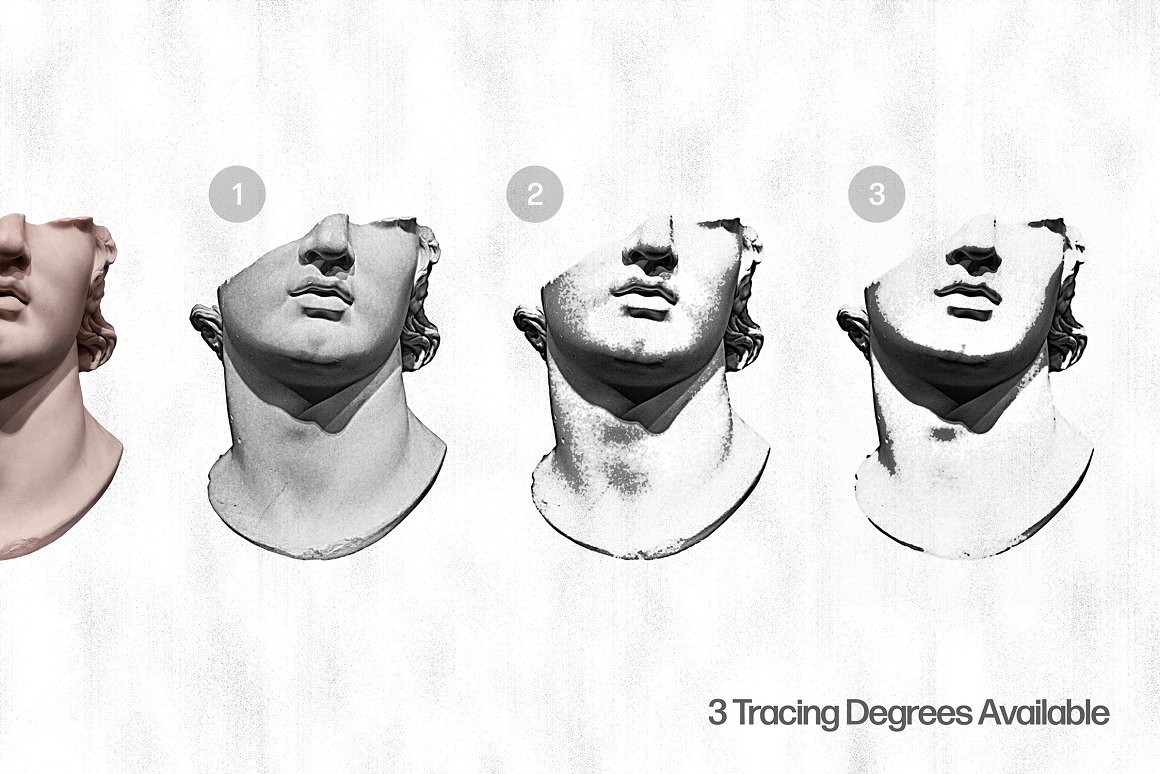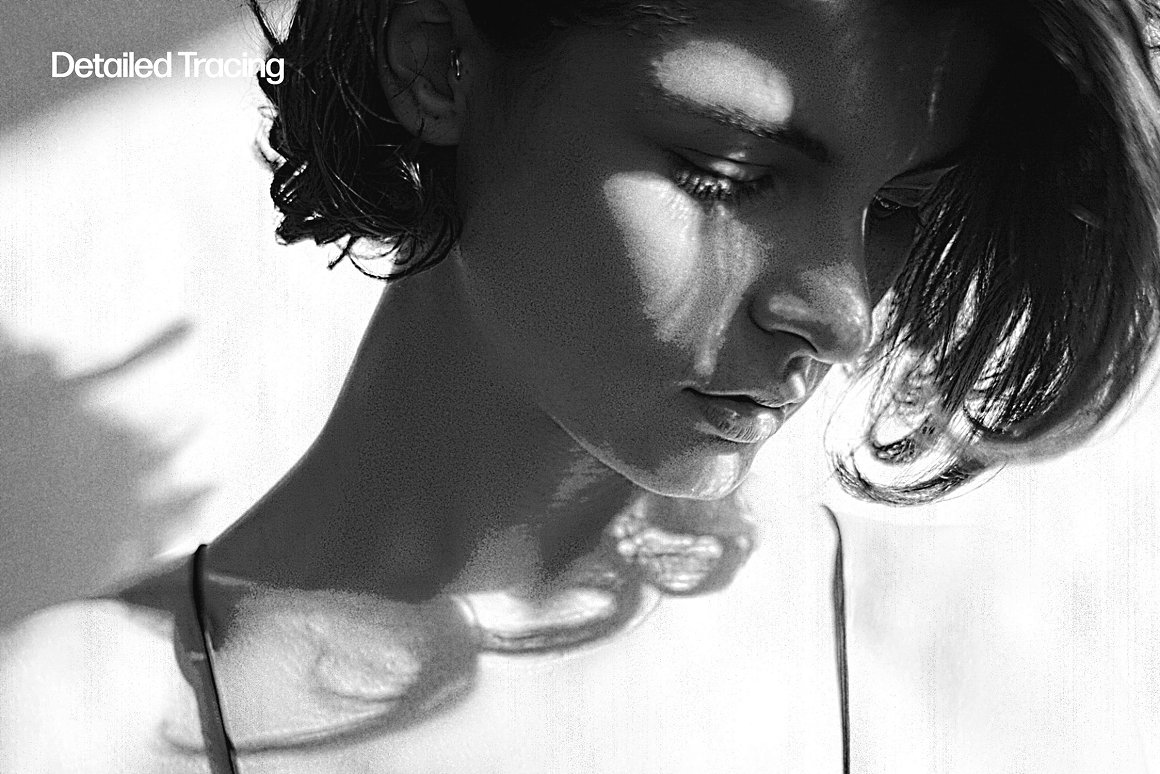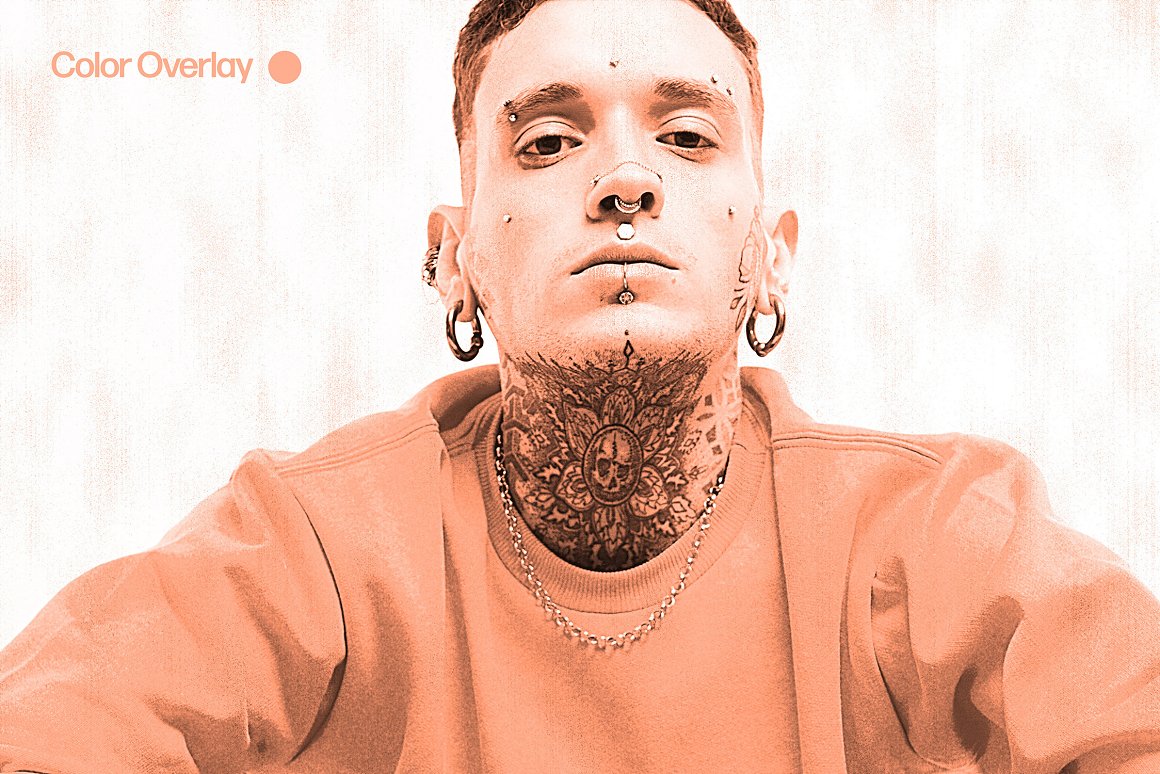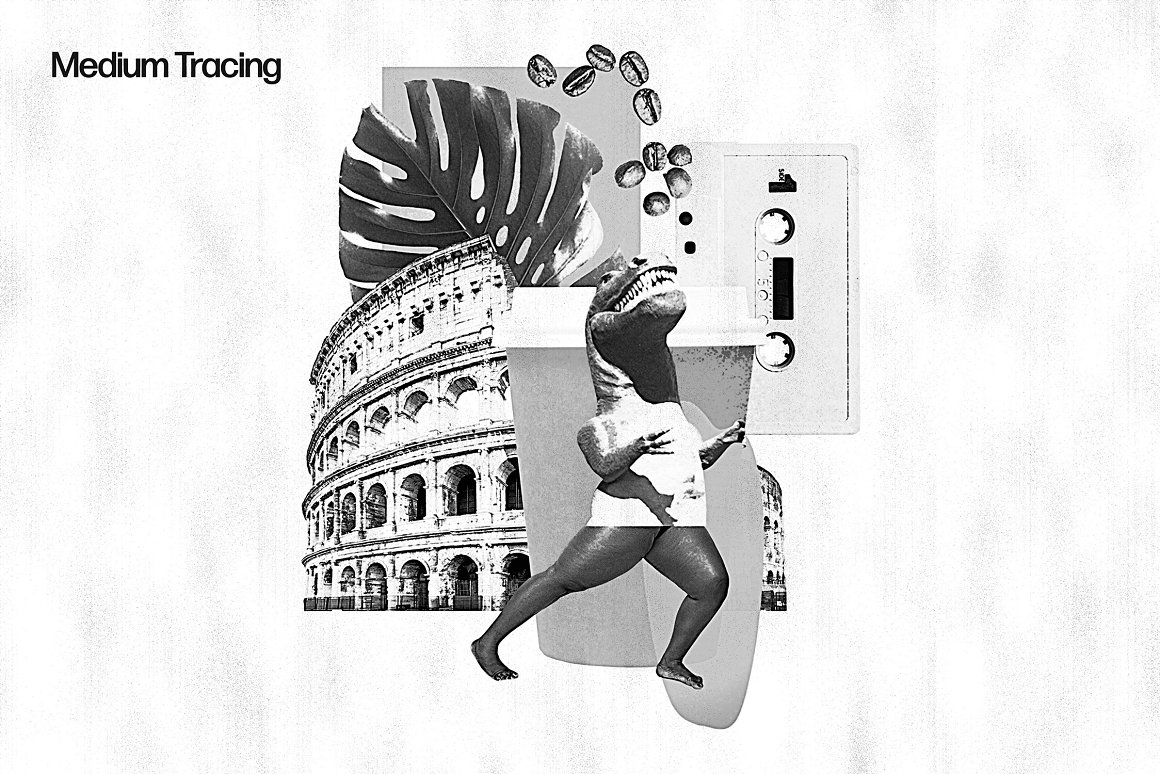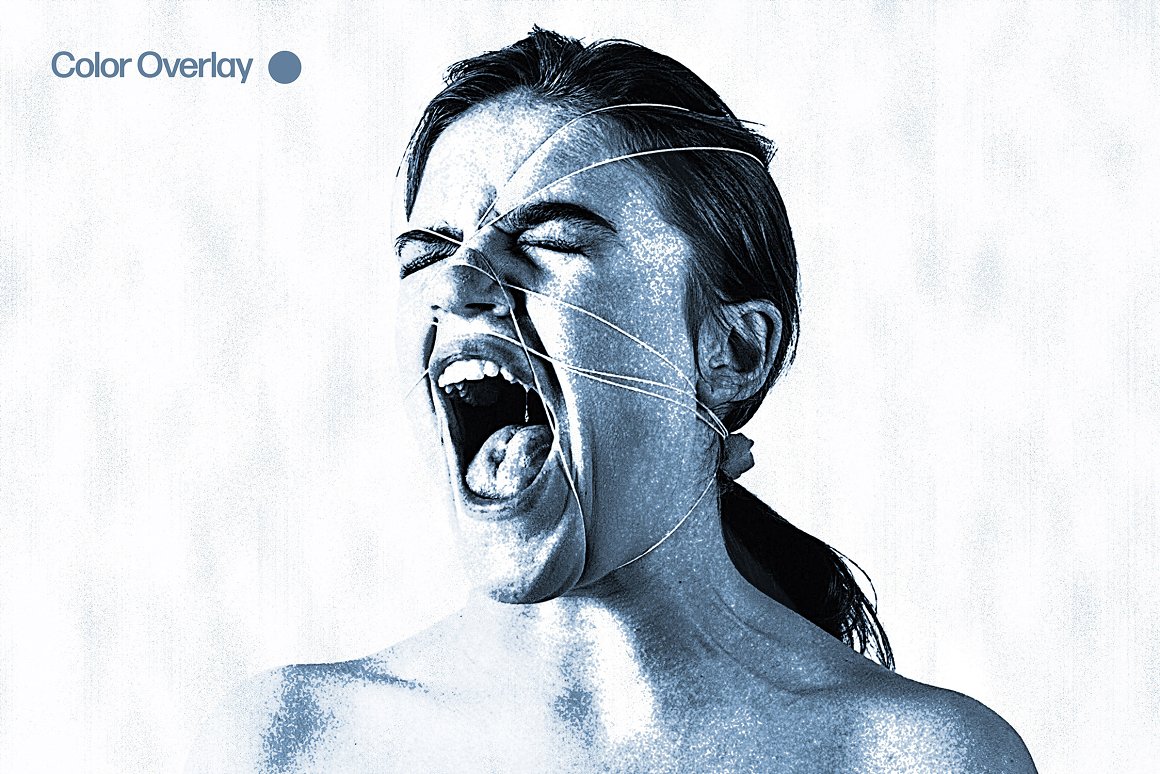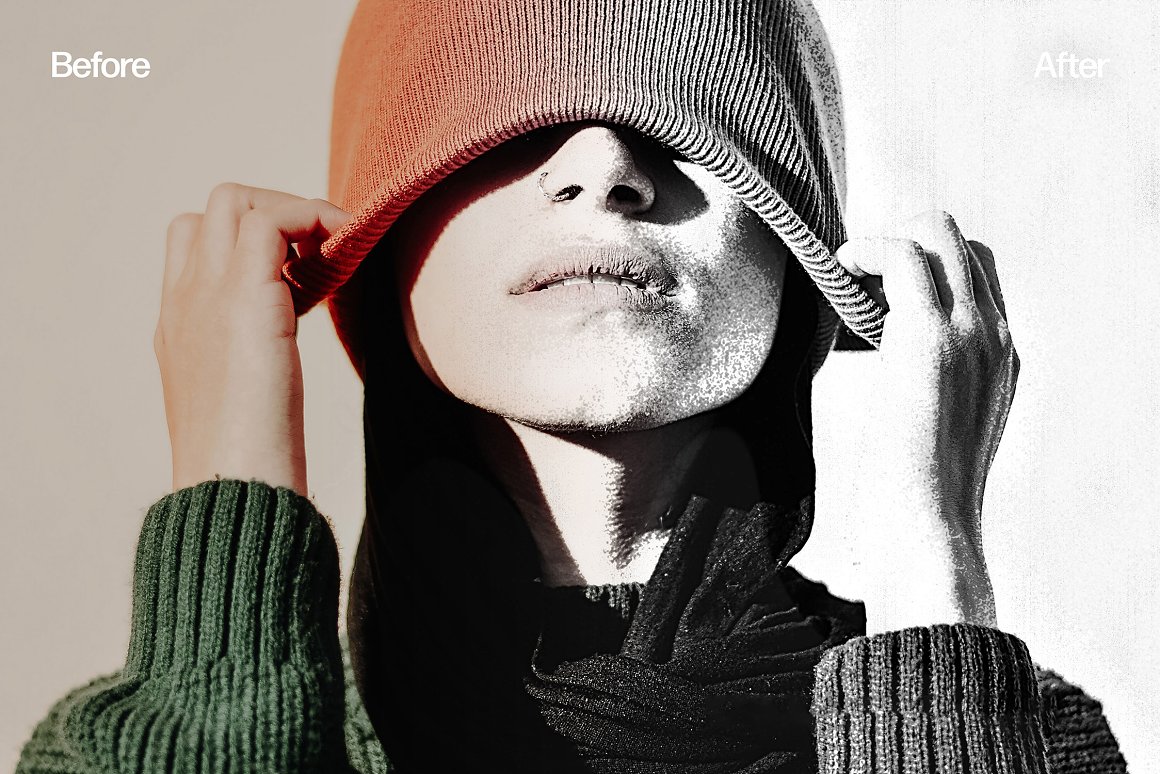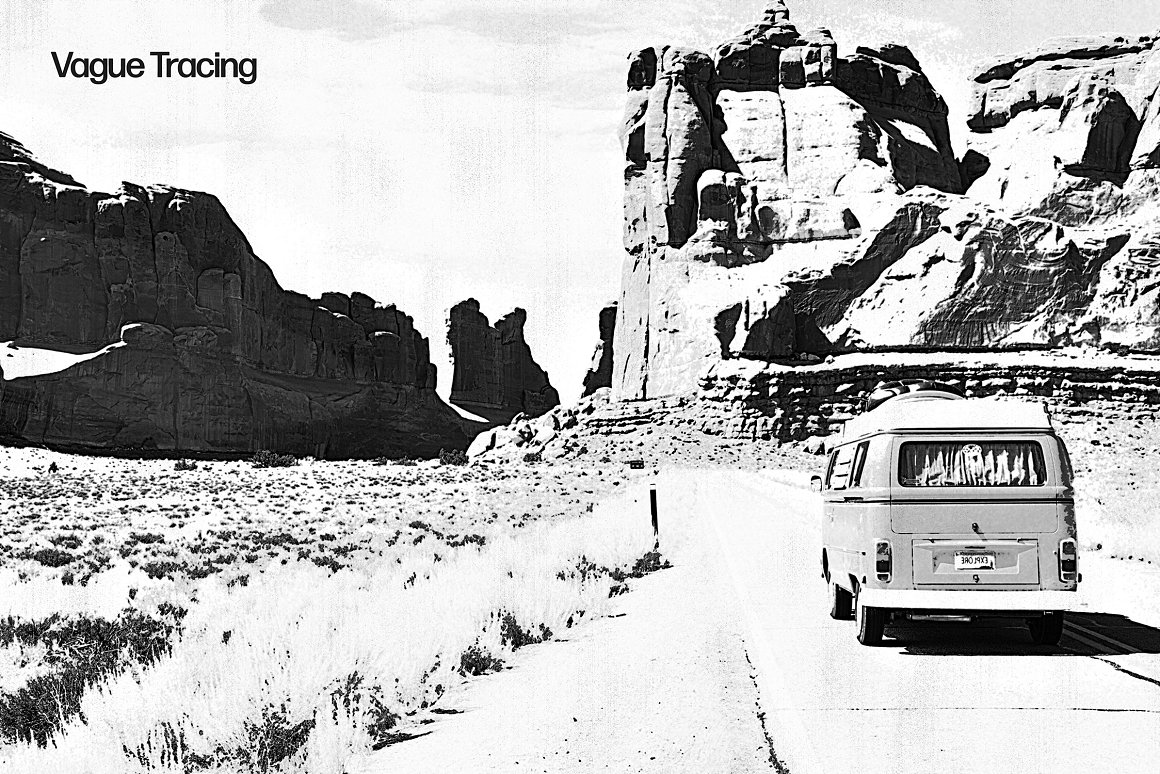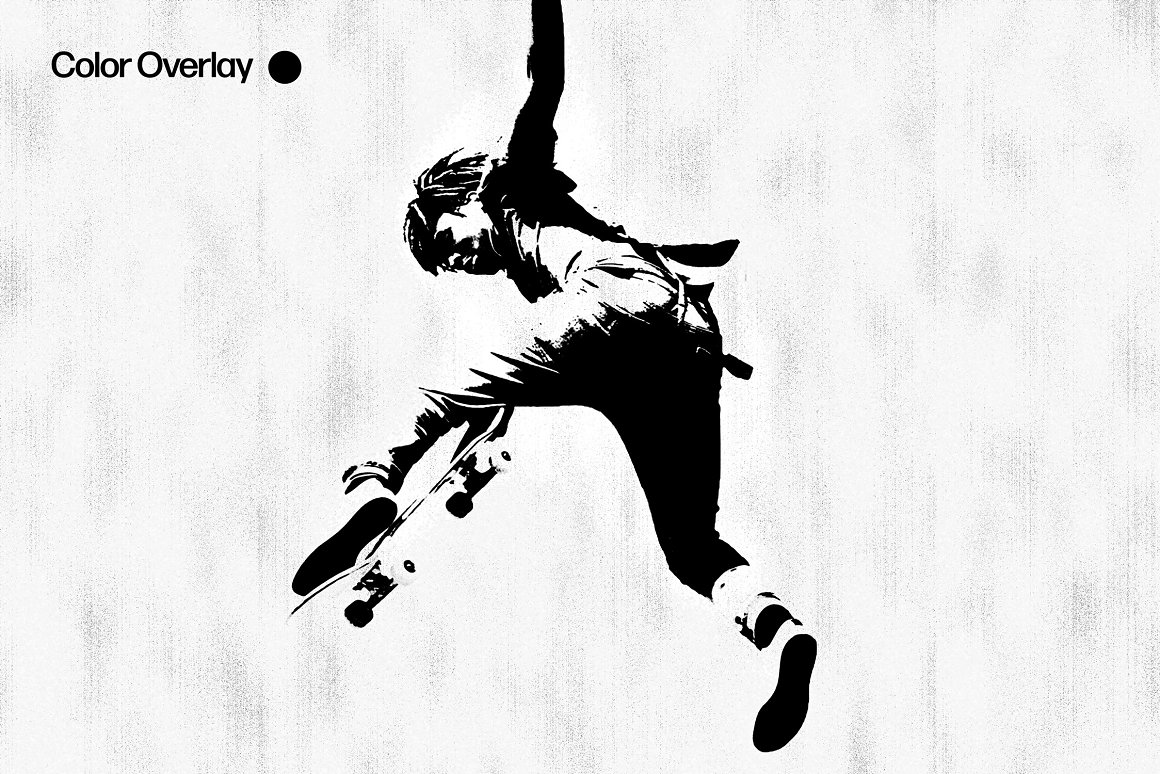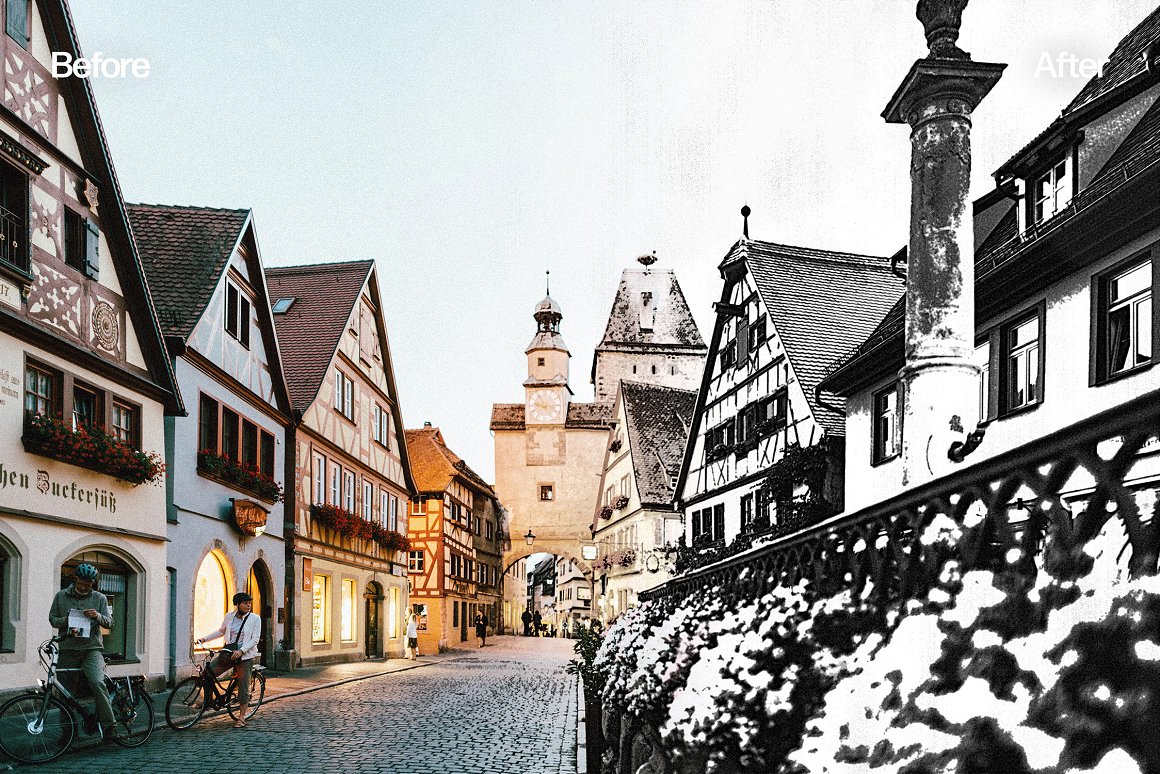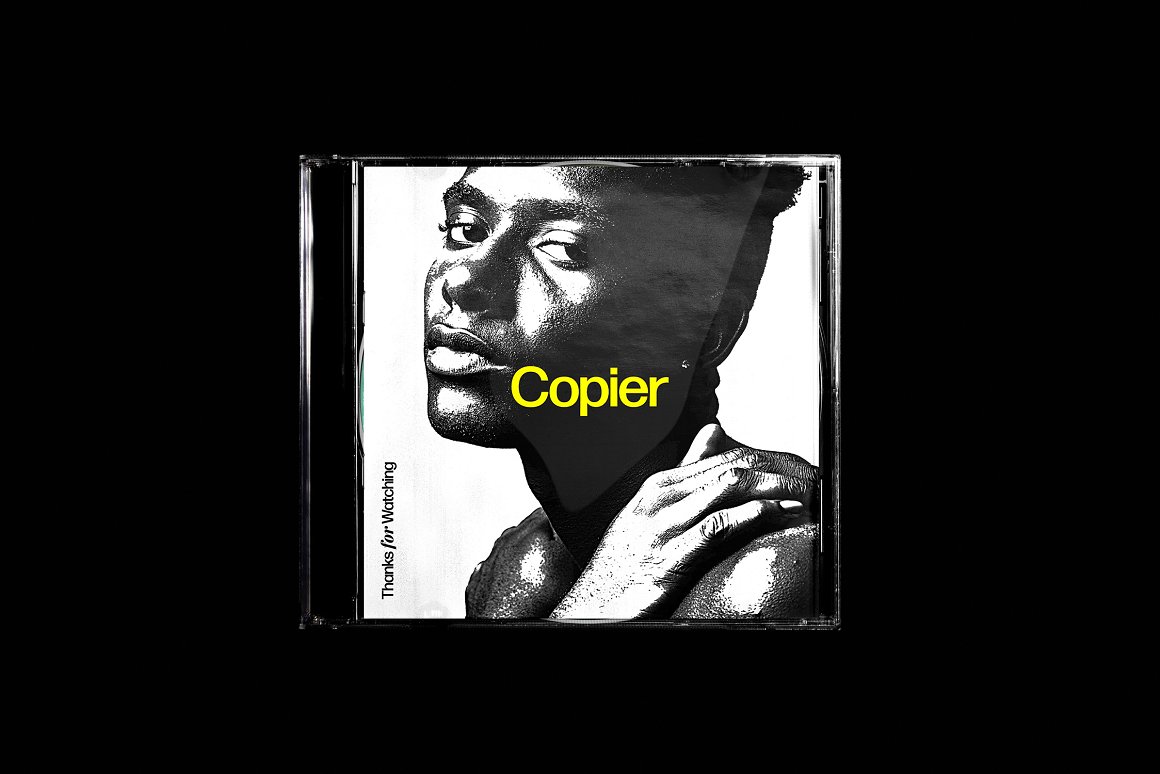 This bundle highlights:
11 various style effect templates for Adobe Photoshop!
extended commercial license (like all of our deals): use for unlimited personal and commercial projects + you can also use them in designs/products that you sell. You can use all these items as a part of your non-digital or digital designs ( posters, t-shirt designs, stickers, web templates…). You cannot resell these files directly, or within items/goods where they can be extracted in their original form (like vector shapes, elements, fonts… – they need to be flatten into background or object in your digital item for sale). License is only for 1 person – you'll need to buy 2 licenses if 2 persons will work with these graphics. Please read more about our exclusive license!
Pricing:
Normally, these 11 creative photo effect sets would cost you $243 (without extended license) & $1239 (with extended license), but for a limited time only, you can get these unique Photoshop effect templates for $24!
Deal Terms:
Delivered as an instant download, after completing your purchase.
All image results from these effects or templates can be used for both personal and commercial purposes, for yourself or on behalf of a client, on their own, or as part of your new design for sale.
Cannot be sublicensed, resold, shared, transferred, or otherwise redistributed on its own.
You cannot share these resources with others. This is a single user license (for 1 user on any number of devices)! You'll need second license for your colleague computer!