Need some winter, Christmas & cute style illustration or graphic set for your new web or print project? Whatever the case, this amazing and HUGE illustration or artistic graphics bundle with lot of hand drawn illustrations, graphic elements, compositions & patterns is great source for all print or branding designers. You'll find 11 big illustration sets in this bundle! These graphics are in hi-res PNG or JPG image format so all are great for your new web design or any print design projects. Enjoy 😉
All these cute & funny hand drawn graphics from Watercolor Nomads are ready for print or online use! MAIN USAGE: flyers, posters, greeting cards, branding, packaging, phone cases, bags and totes, wall art, fabrics, t-shirts, website backgrounds. Actually any place you love! Enjoy 😉
With this deal you get:
11 Christmas & winter style illustration & graphics sets in this HUGE mega bundle!
Ready for print or online use (you can work with PNG images in any graphic software)

Take a look at what you can get: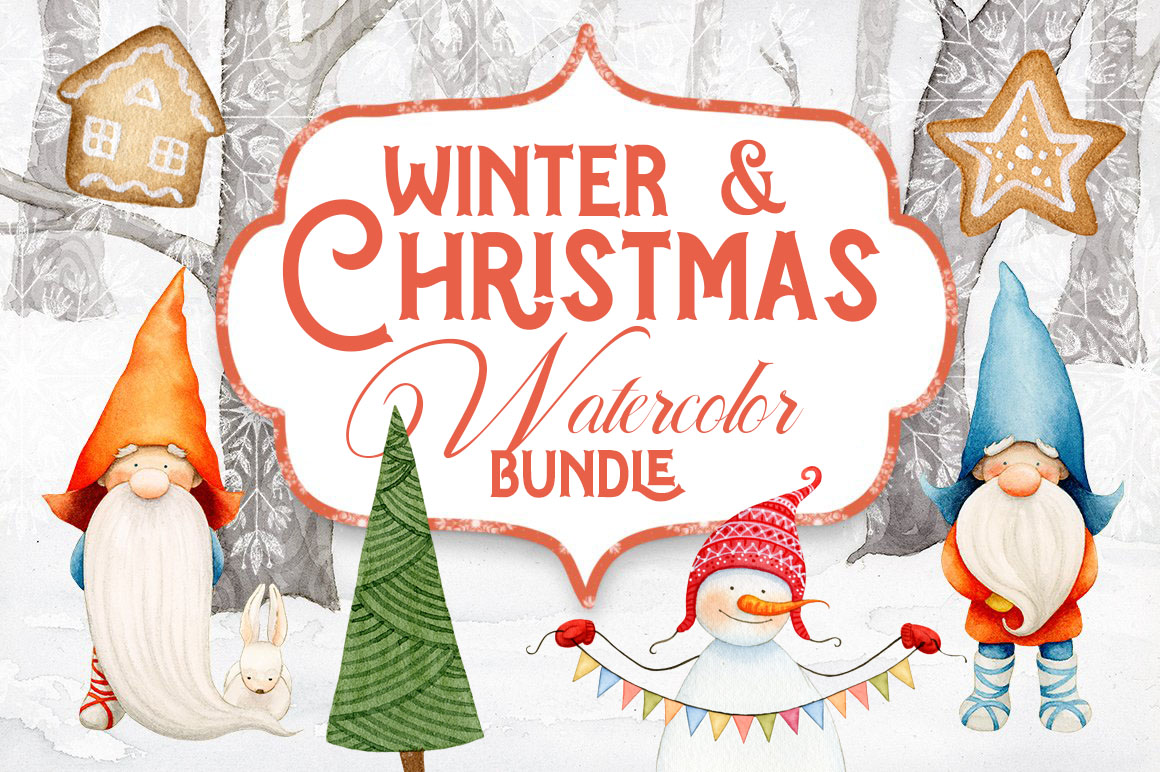 11 Christmas & winter style illustration & graphics sets in this HUGE mega bundle!
There are 11 BIG sets with lot of illustrations, graphic elements & patterns included in this HUGE bundle:
1. Christmas Gnomes Watercolor Winter from Watercolor Nomads
Yuletide is the time when in the North the Winter Solstice is celebrated. It is the Tomte and the Yule Goat that bring the presents. It is a magical time full of songs, love and good food! We've made this collection of watercolor clipart illustrations in an attempt to bring some of this northern magic to the Christmas holiday and all Winter celebrations through your designs. Enchant your designs with Yuletide! Bring them to greeting cards or ornaments, house decor or fabrics, clothing or anything else your creative mind can come up with!
Super easy to use with transparent background and really high quality
To make your design job really easy we have added 19 seamless patterns made with elements from the collection or drawn to complement them. The patterns are available as 12×12" jpg at 300 dpi, as PAT file that you can install in Photoshop or Photoshop Elements and also as a Master tile that you can multi-plicate to make a seamless pattern. If the holiday season has already got you and you'd prefer enjoying the cocktails rather than designing, we got you covered with 14 pre-made card templates! You can customize the layered PSD files or just use the flat JPGs and hand-write over them. Here is a list of what's inside this magical set:
a total of 106 illustrations + 19 seamless patterns + 14 greeting card templates!

8 Tomte illustrations
2 bunnies
1 dala horse
Yule goat
1 pig
1 elk deer
1 scene with Tomte, pig and houses
3 houses
1 Christmas tree with apples
1 lantern in two variations – with and without a glow
1 fire place
1 wreath
1 frame
1 sledge
1 flag
2 poinsettia flowers – aka Christmas Star flower
1 big banner
74 big and small elements – branches, nordic flowers, snowflake, burd, dala horse (see the pictures)
2 big snowy woods illustrations to be used as backgrounds
3 lettering quotes for Yule

14 pre-made greeting card designs – personalize and customize or use as are
19 seamless patterns – use with a single click from inside Photoshop or Photoshop Elements All illustrations, patterns and templates are 300 dpi.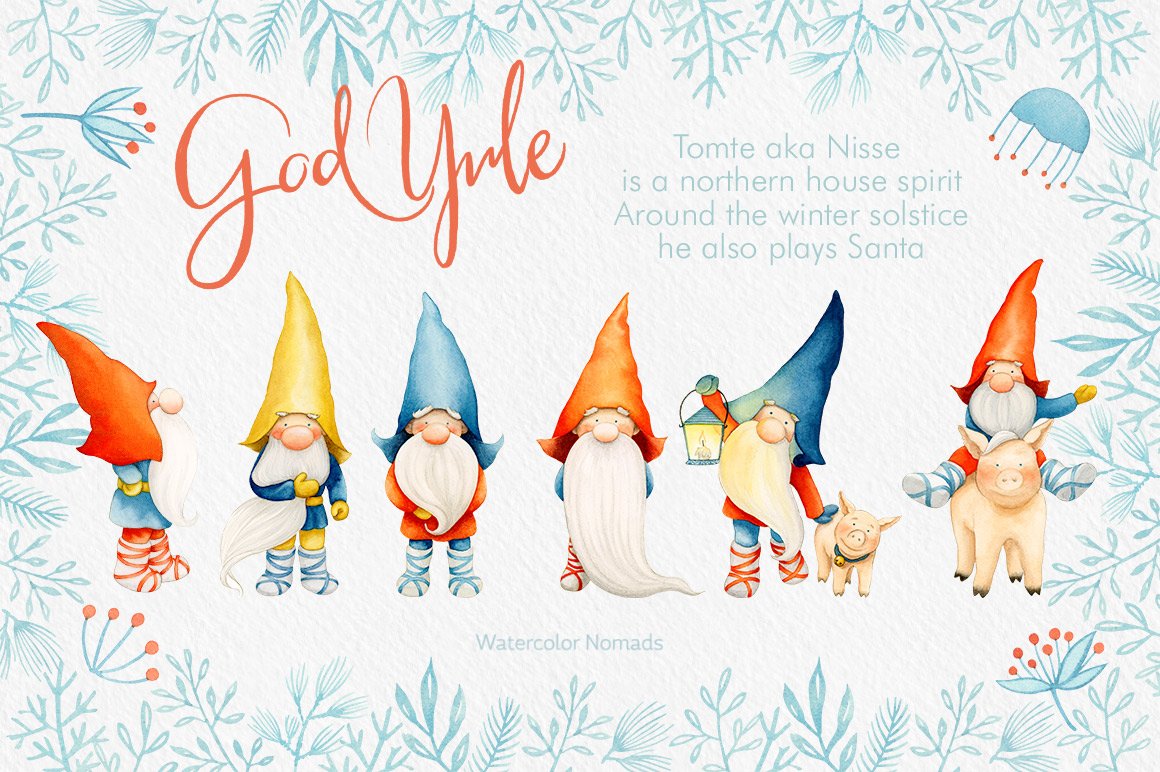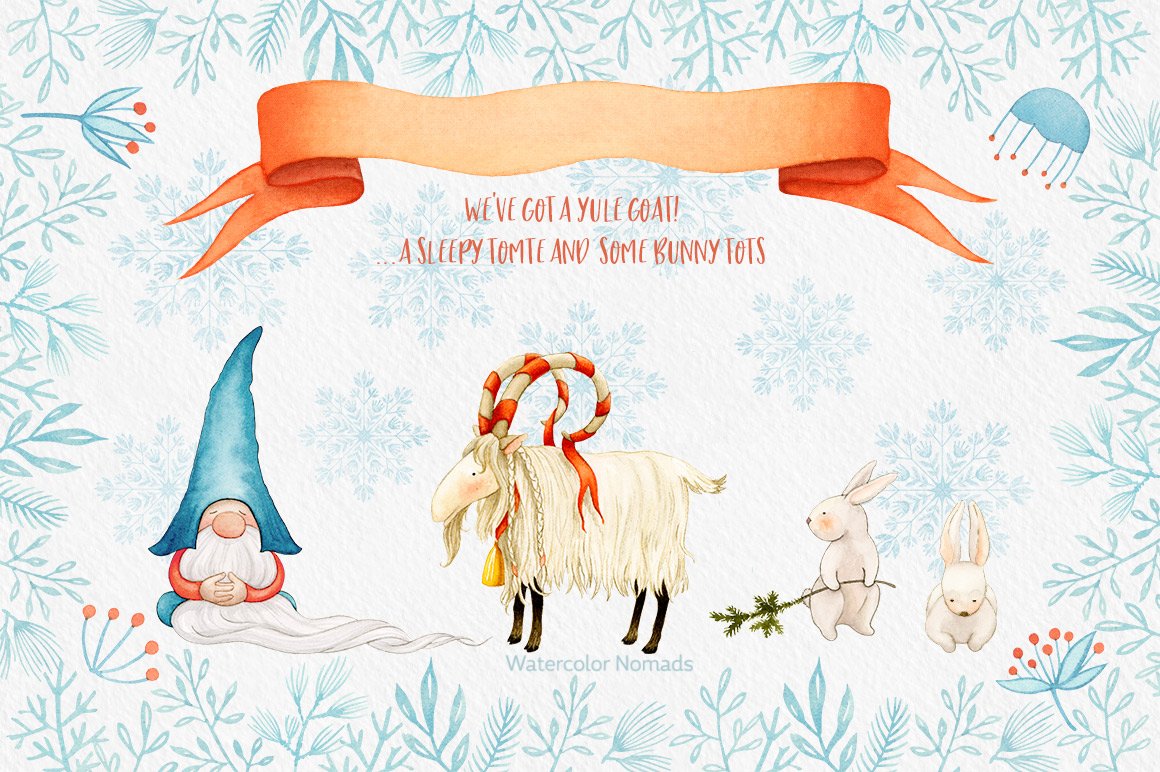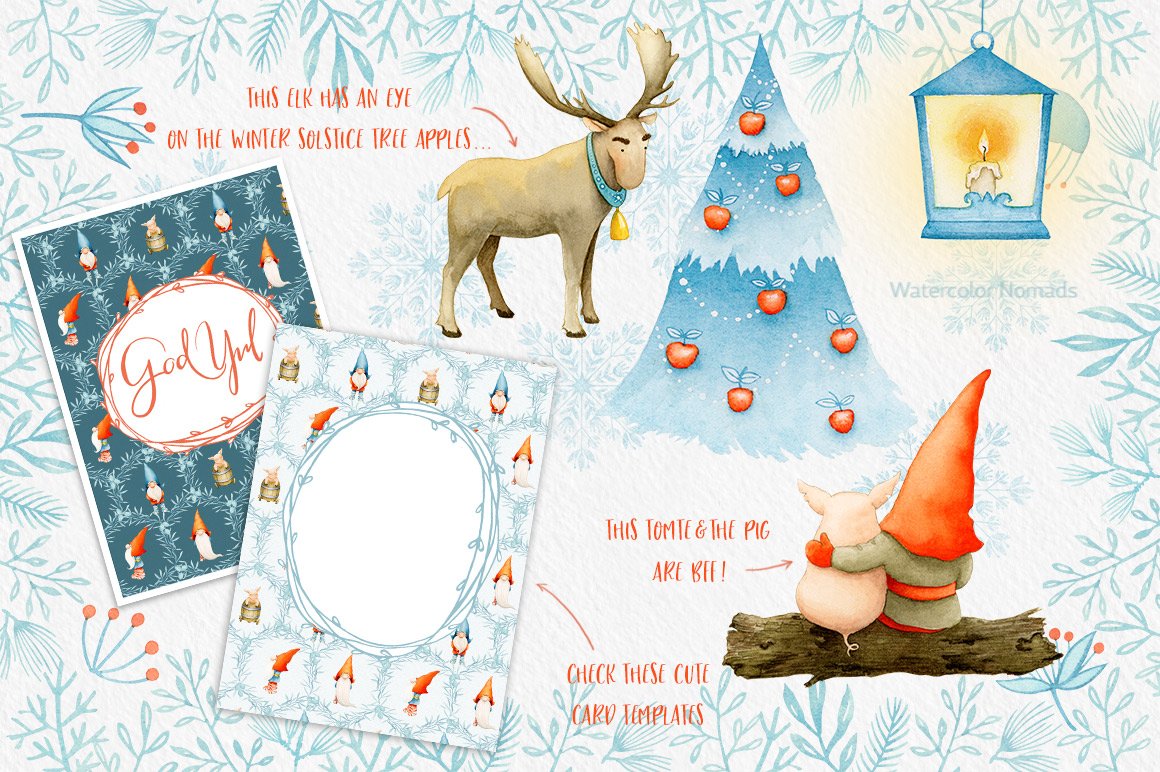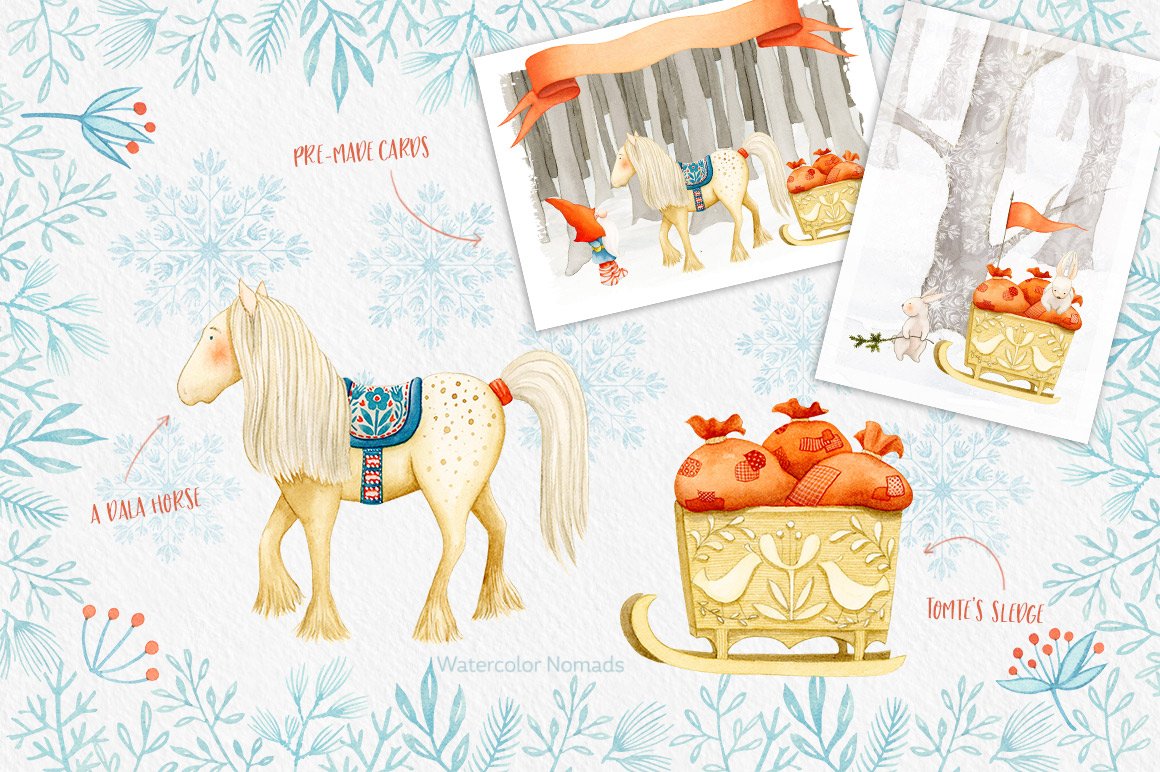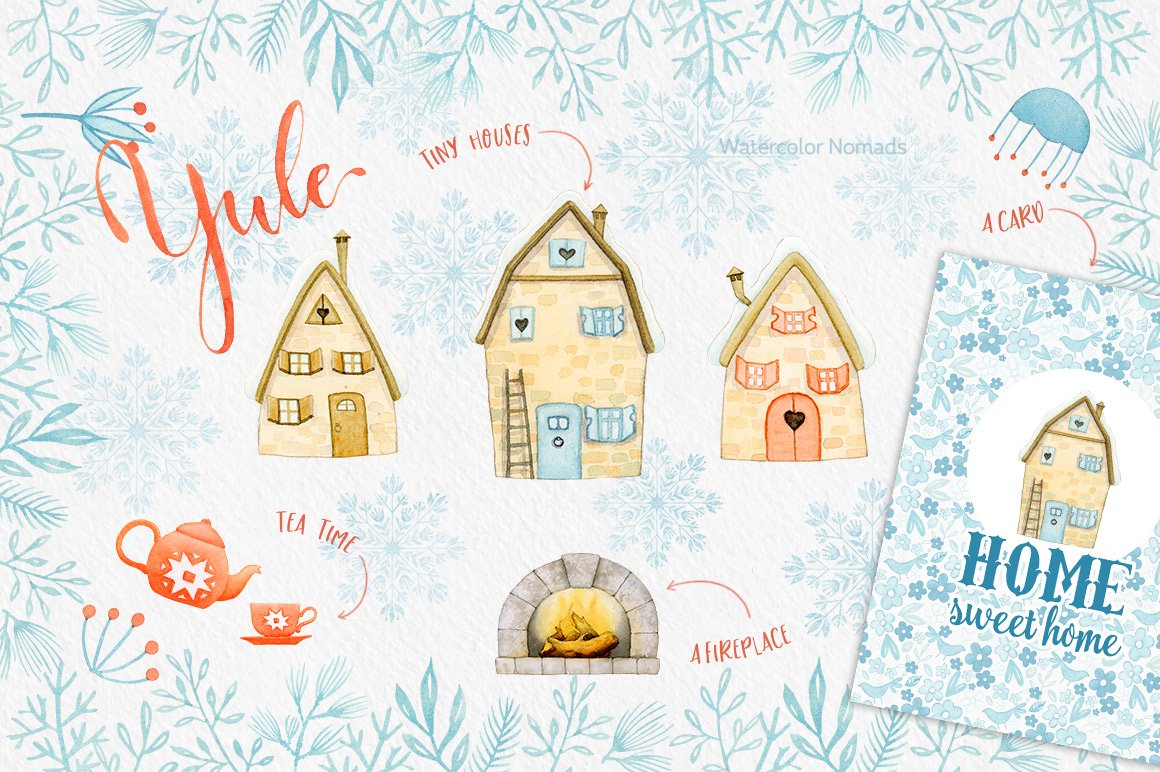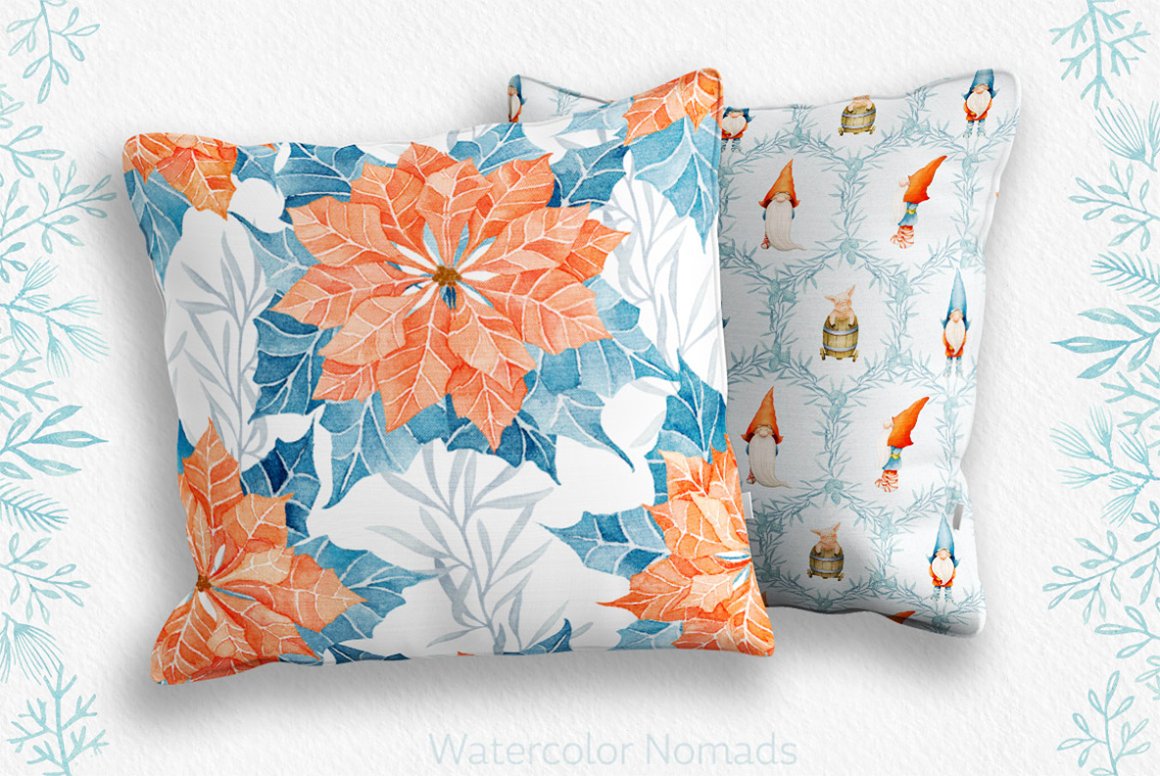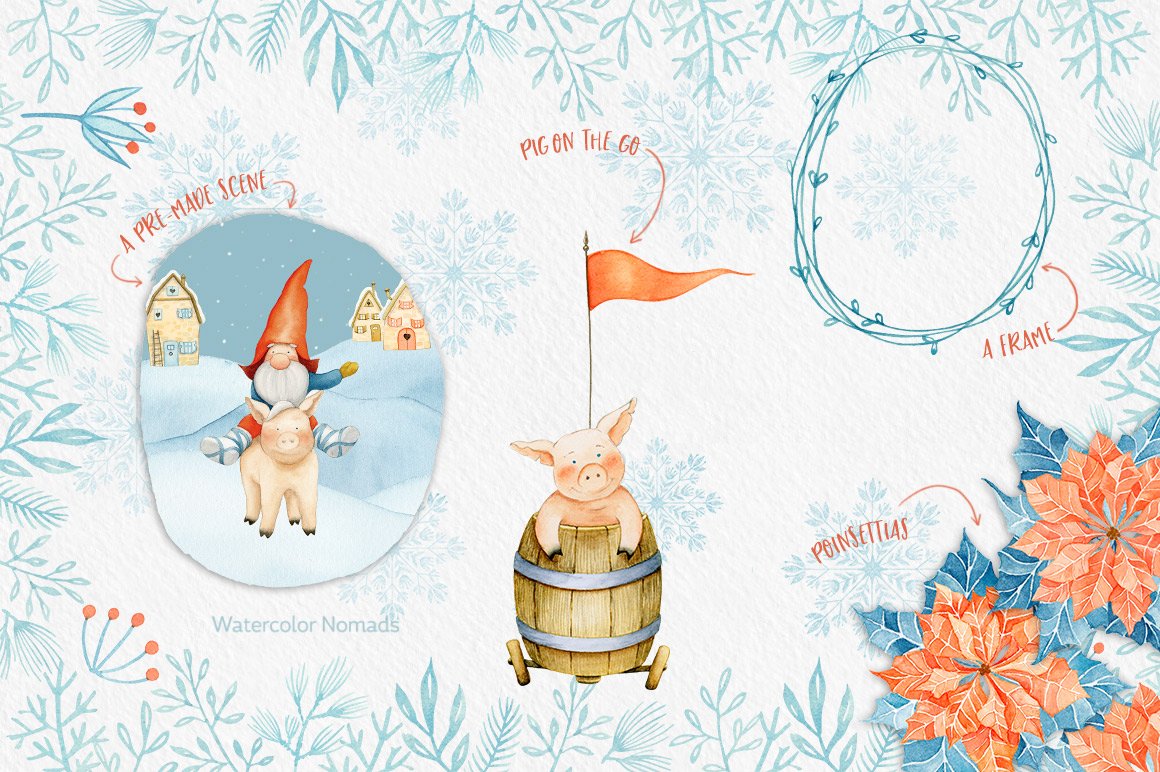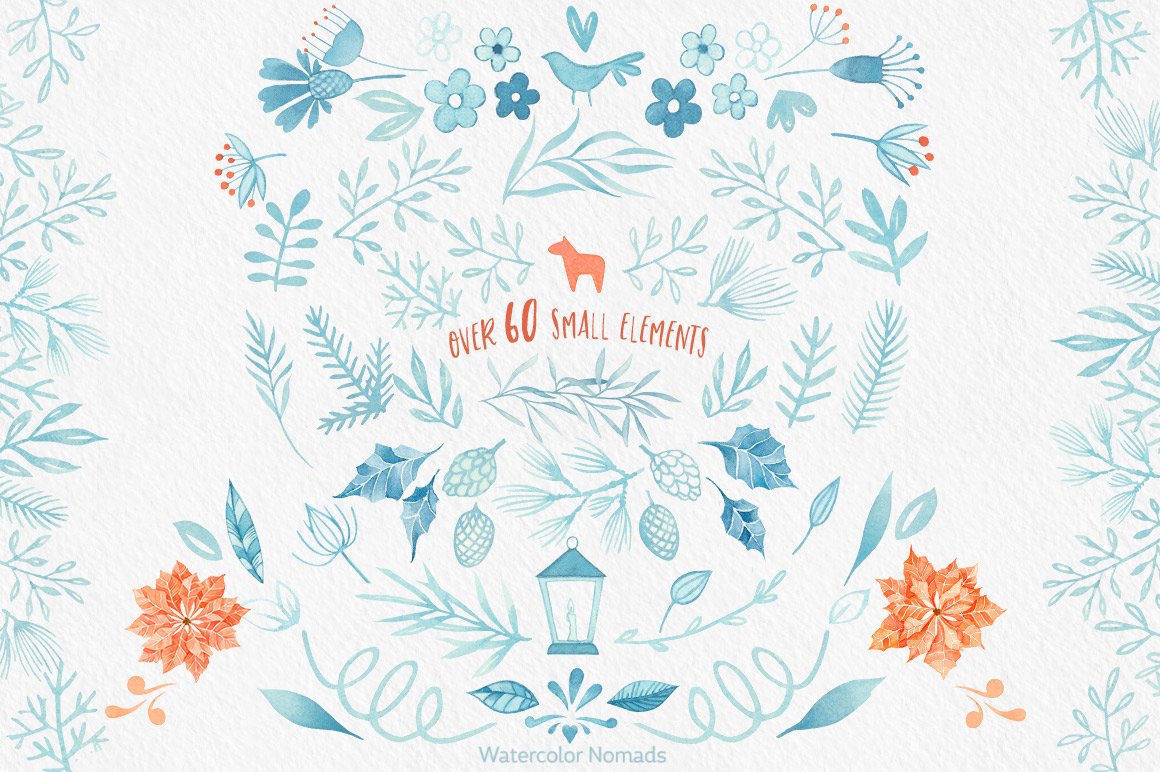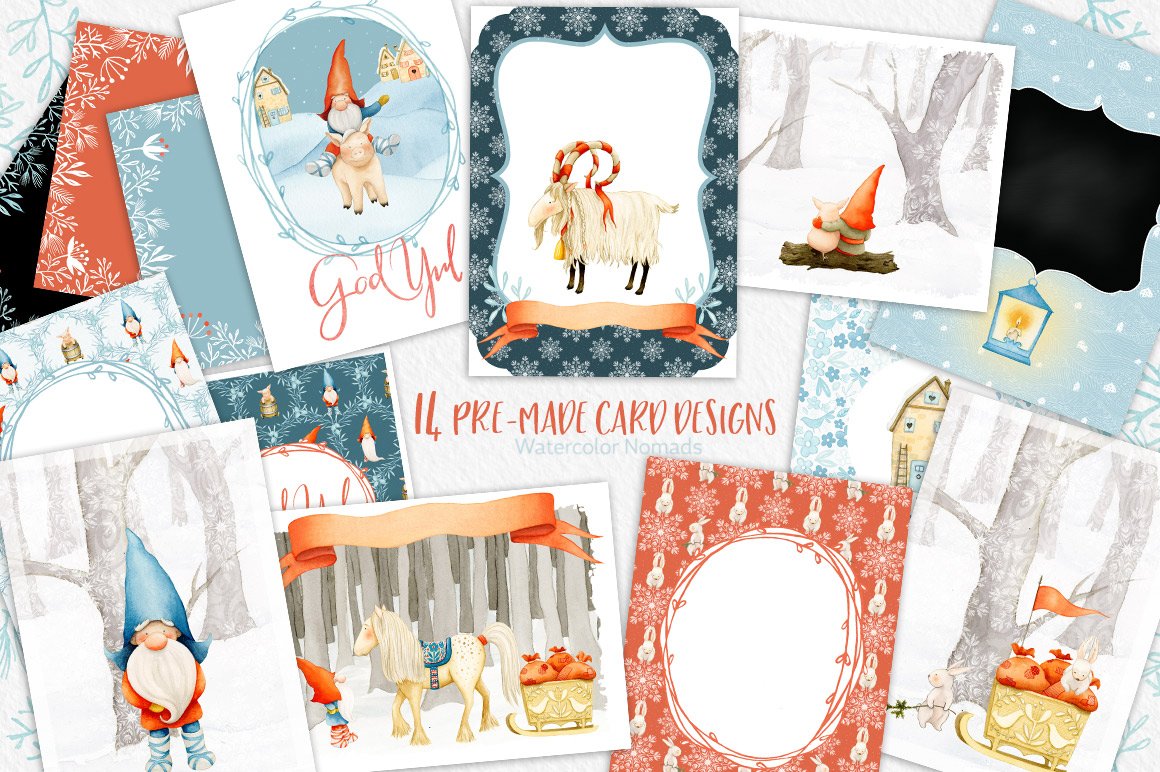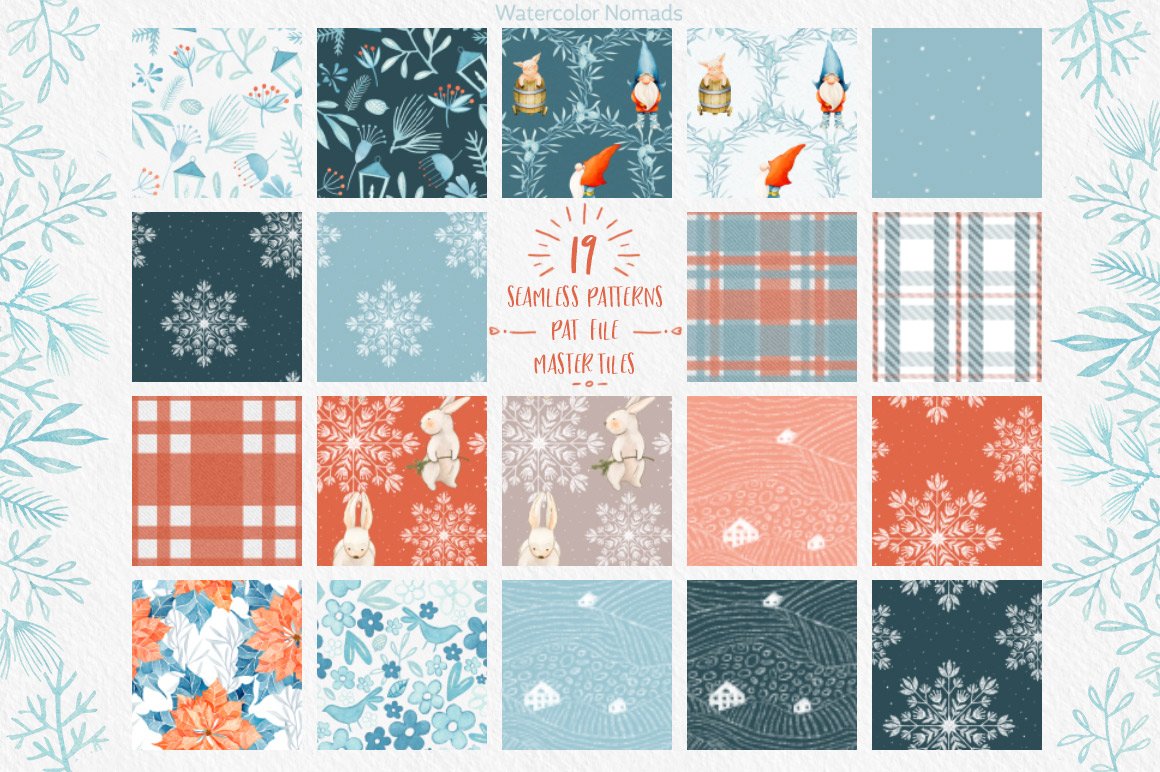 2. Winter Charm Vol 1 – Watercolor Deer from Watercolor Nomads
Winter Charm Vol 1 is all about the Deer and his friends squirrels.
Gentle colors and playful wintry mood characterize this collection. Perfect for all winter long projects, not just Christmas. We have included pre-made scenes and card templates to make your job easier.
What you get:
3 pre-made scenes with the Deer – transparent background PNG
5 Deer illustrations
5 Squirrel illustrations
3 big wreaths
1 pretzel laurel
5 blue chalk snow flakes
6 houses
3 snowy trees
3 snowy bushes
3 pine trees
8 branches
1 cup of coco
1 pretzel
1 ginger cookie star
1 pie
1 snow field
2 pre-made cards 5×7 inches with 1/4" bleed
8 seamless patterns – JPG files + master tiles + PAT file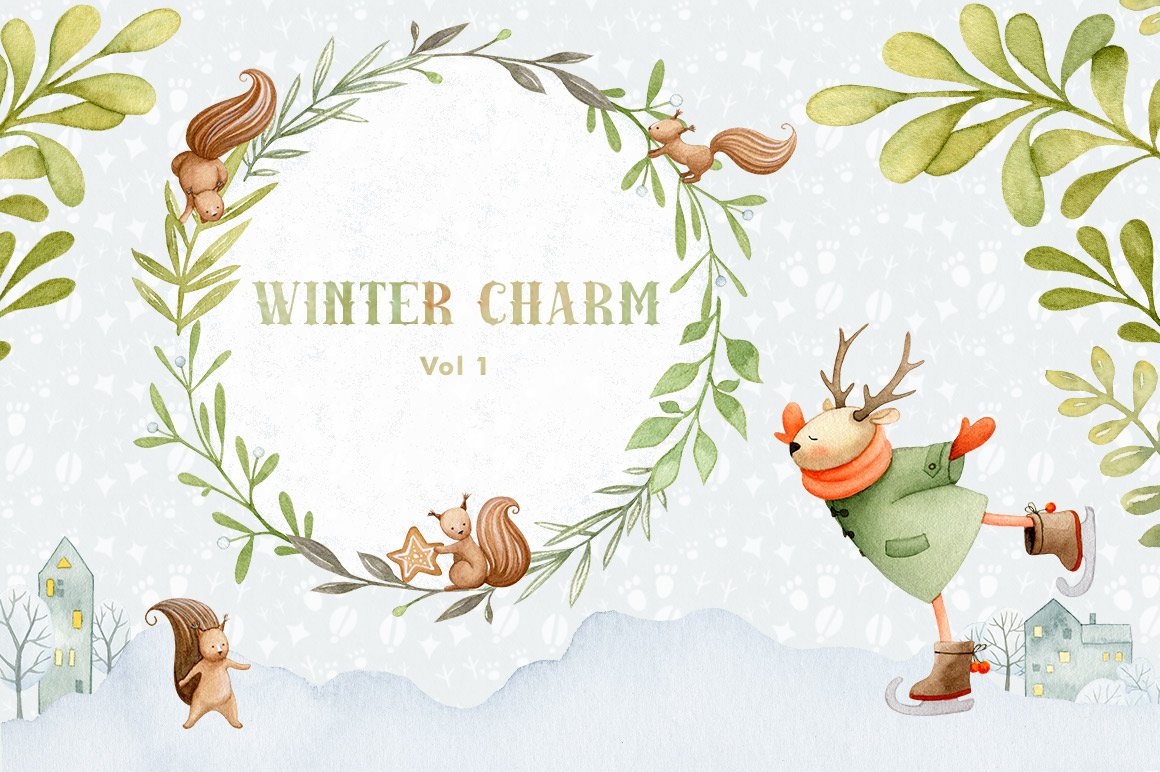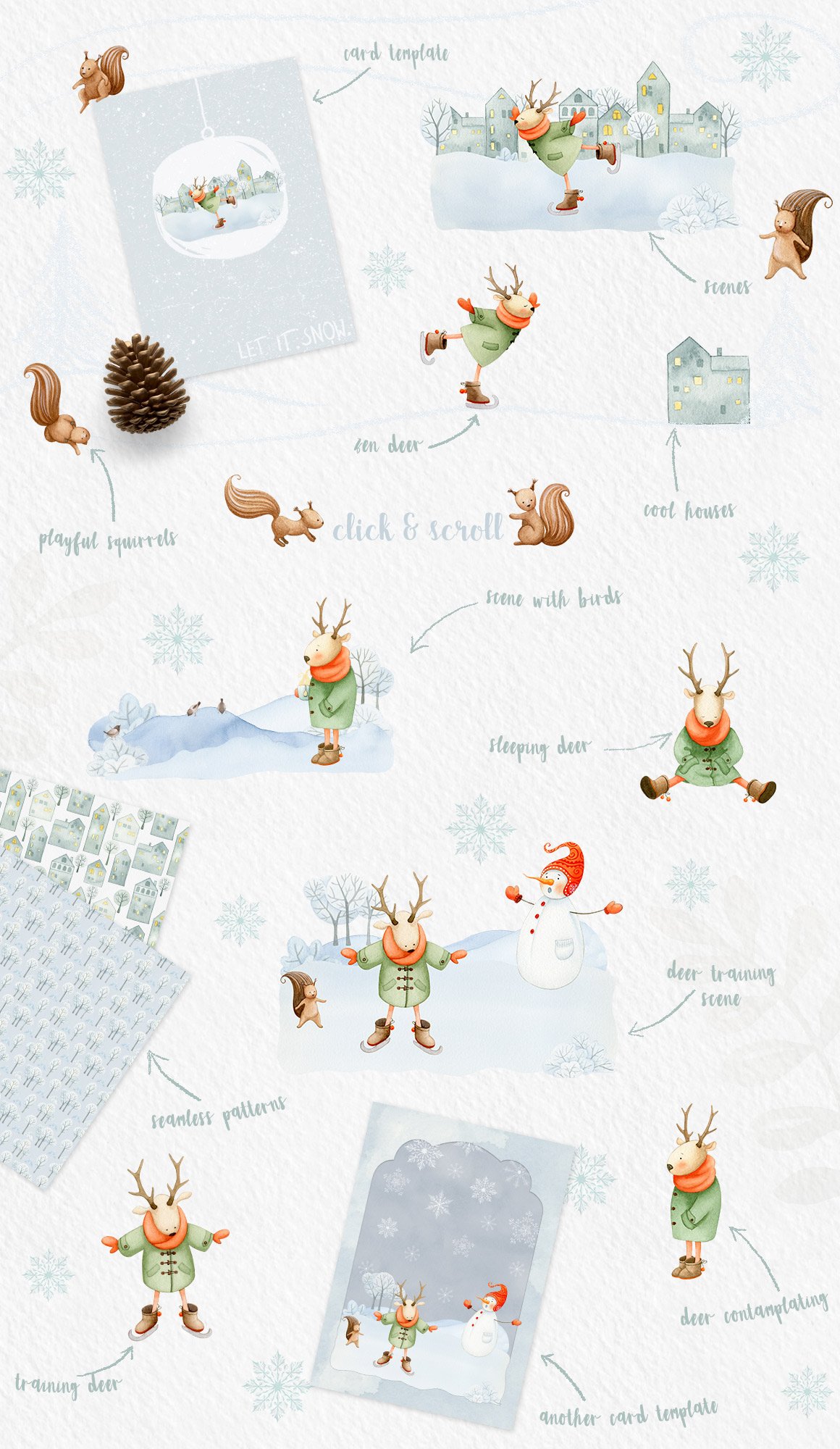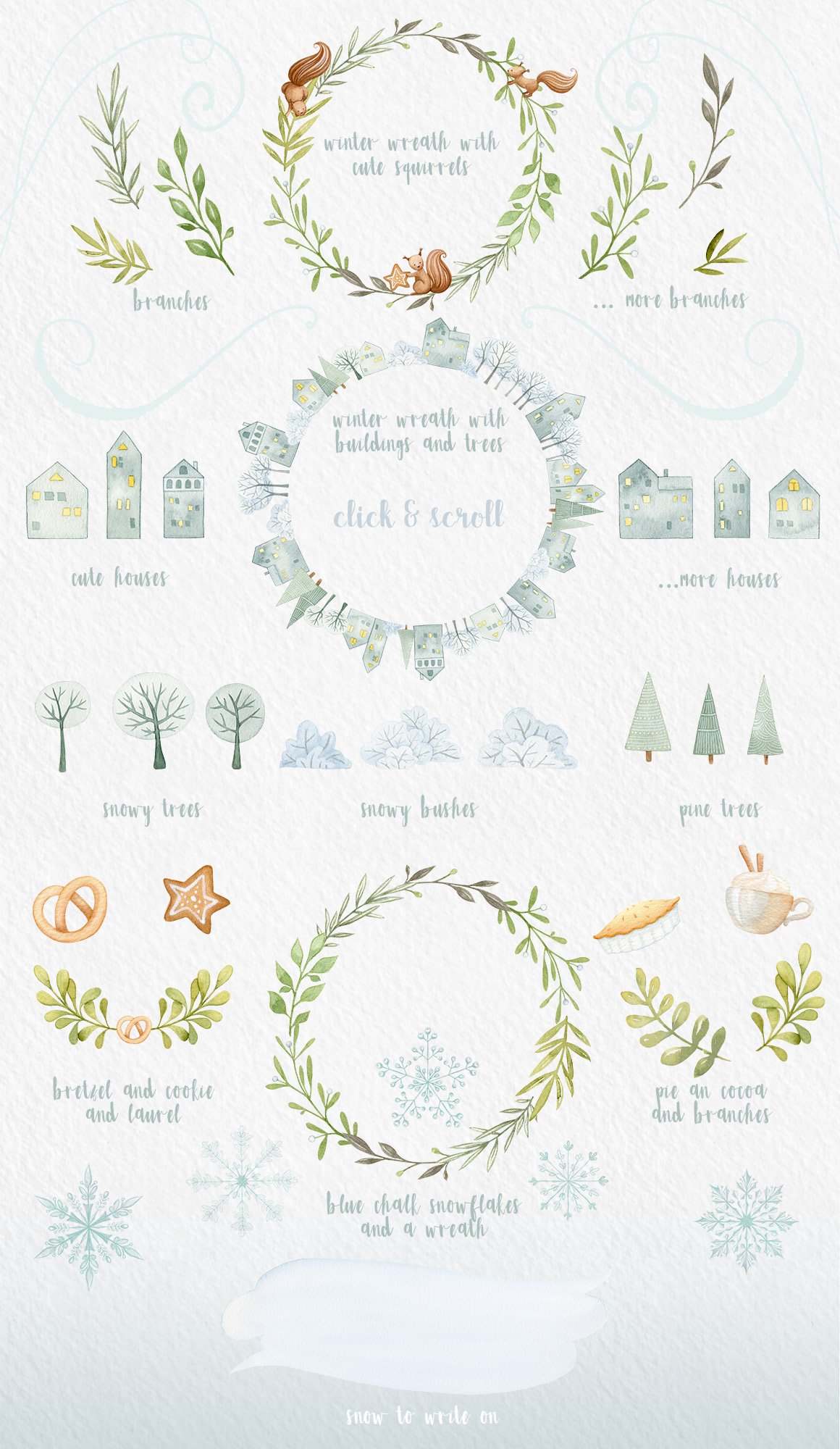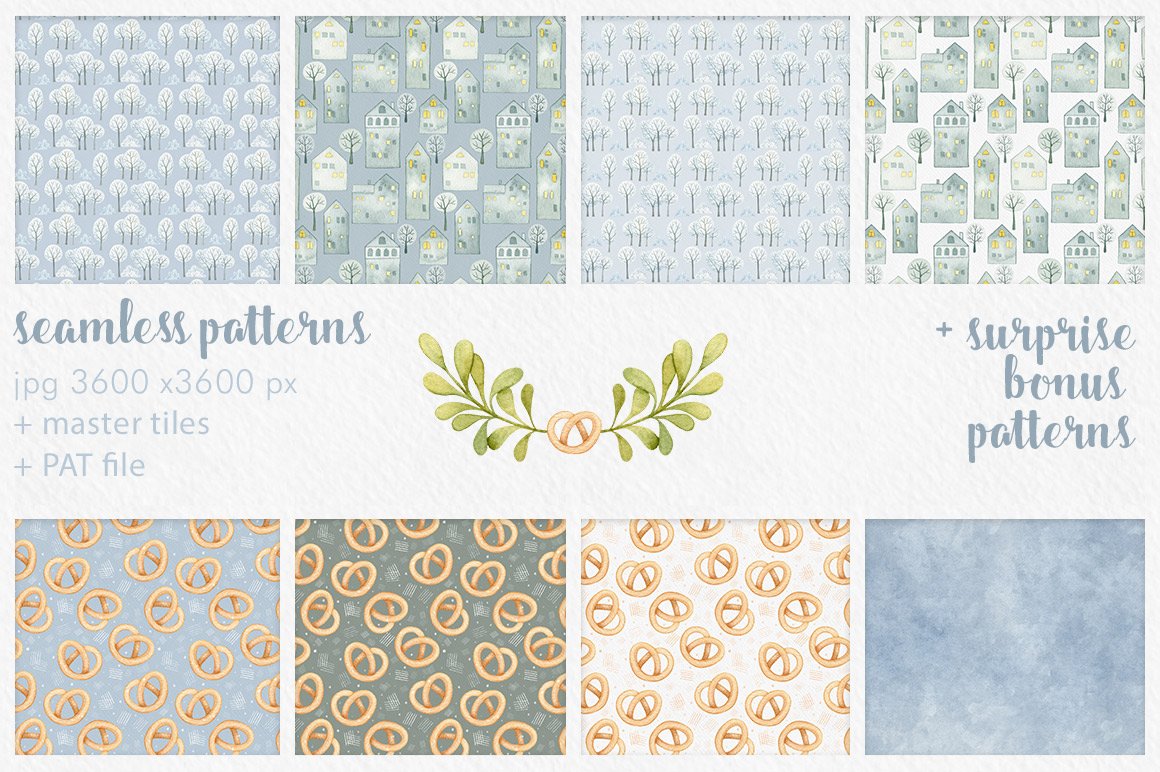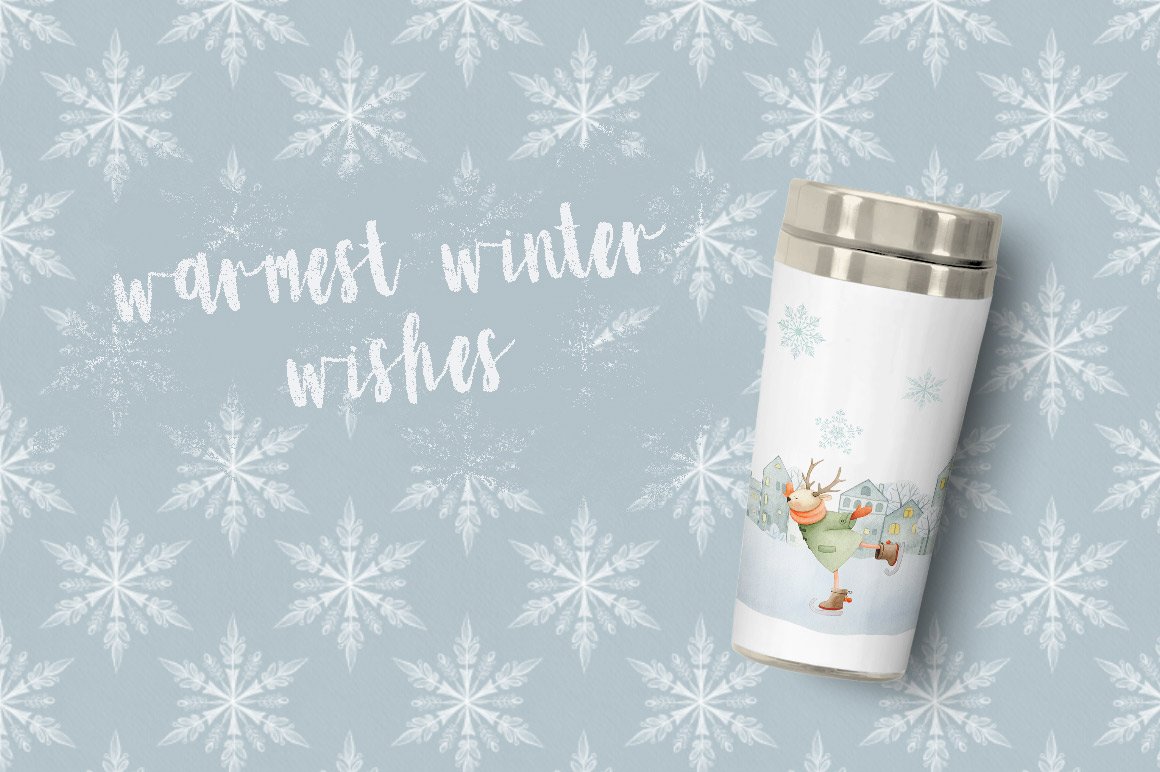 3. Winter Charm Vol 2 – Hello Bunny from Watercolor Nomads
Say Hello Bunny 🙂 This is the second volume of Winter Charm, that is following the Deer collection.
We got a fluffy, cuddly Bunny playing with the snow, reading books and feeding birdies.
Of course there is a full set of coordinating seamless patterns with a PAT file for Photoshop.
Check the list of all that is inside:
6 Bunny illustrations
1 chalk snowman with pie
1 pie
5 white chalk snowflakes
2 empty jars
2 jars with leaves inside
3 birds
6 houses
2 mini scenes with houses
3 poinsettia flowers
4 red leaf branches
3 green leafs
2 green branches
1 short red banner
2 snowflakes wreaths – white and blue
1 laurel with pie center
12 seamless patterns – 12×12" JPG + Pat file + master tiles
2 card templates – layered PSD , 5×7" with 1/4" bleed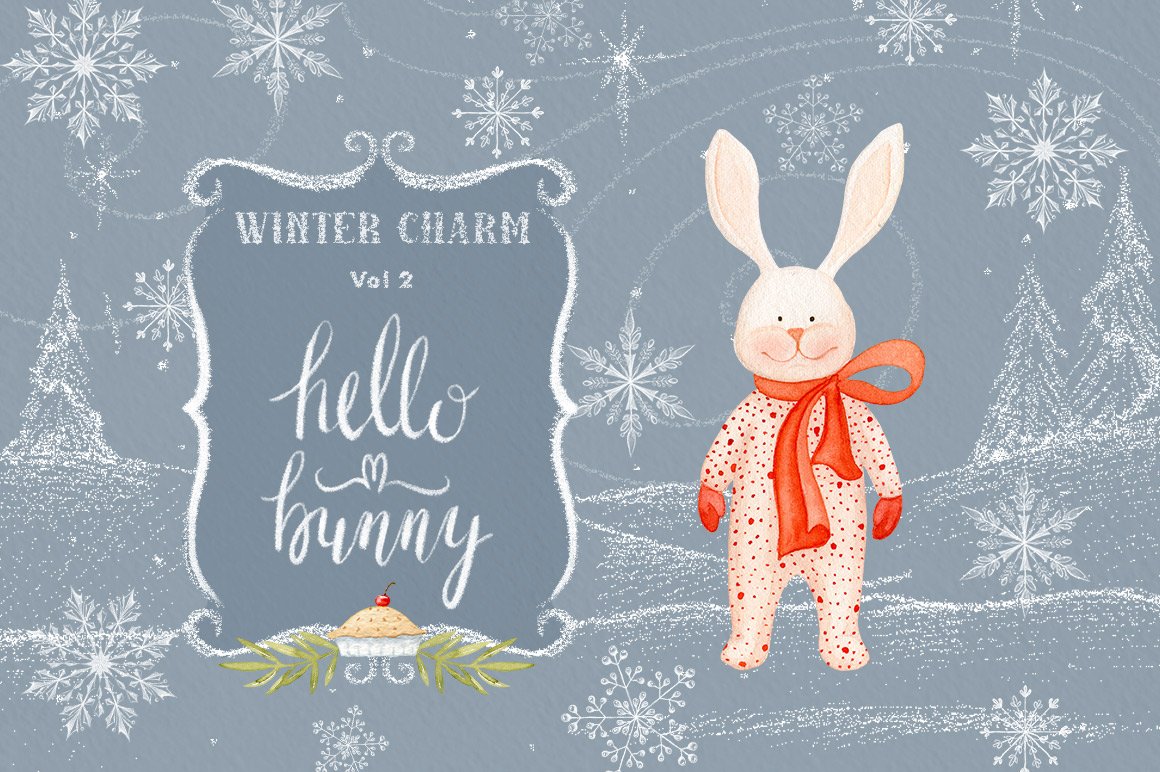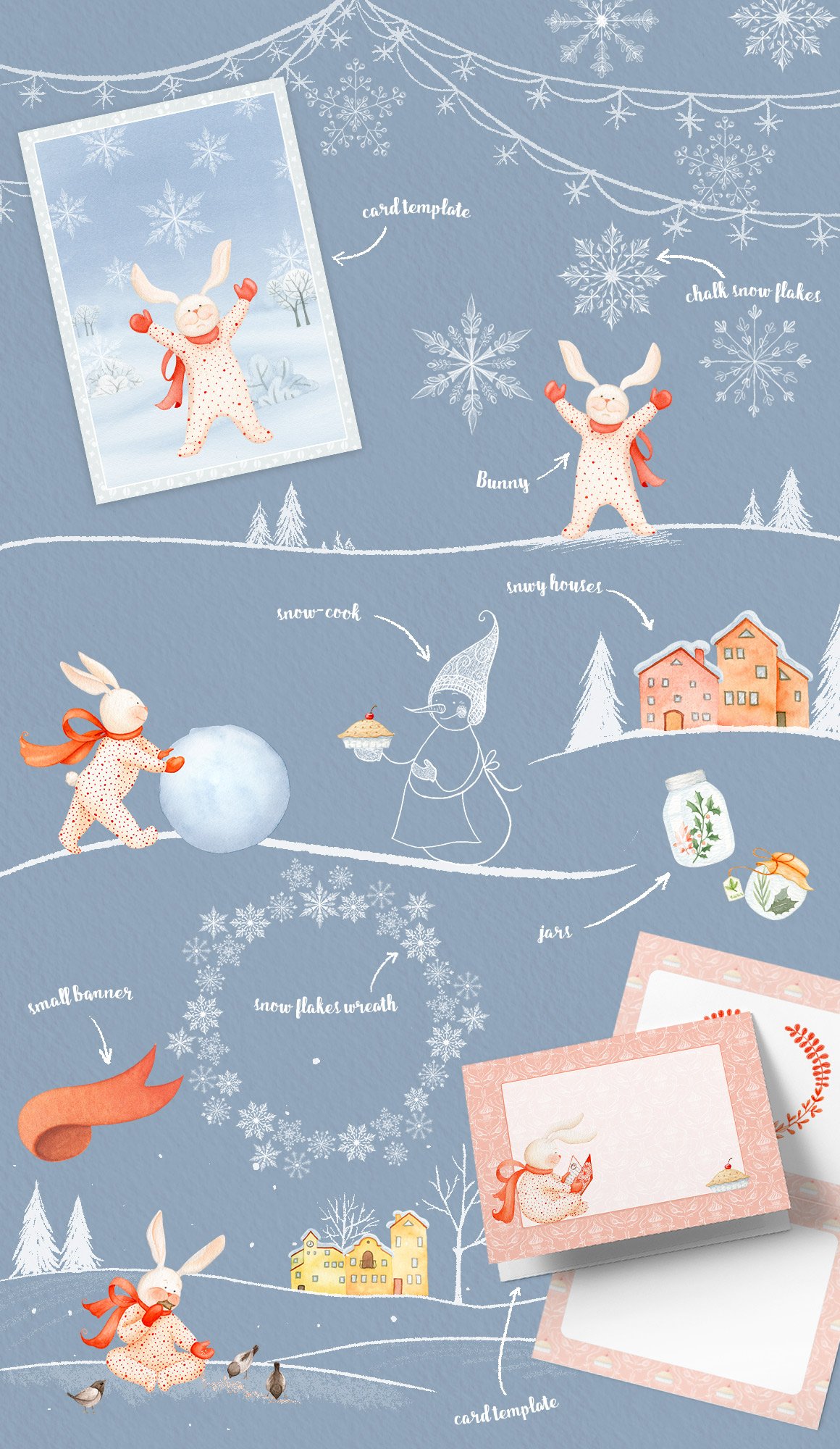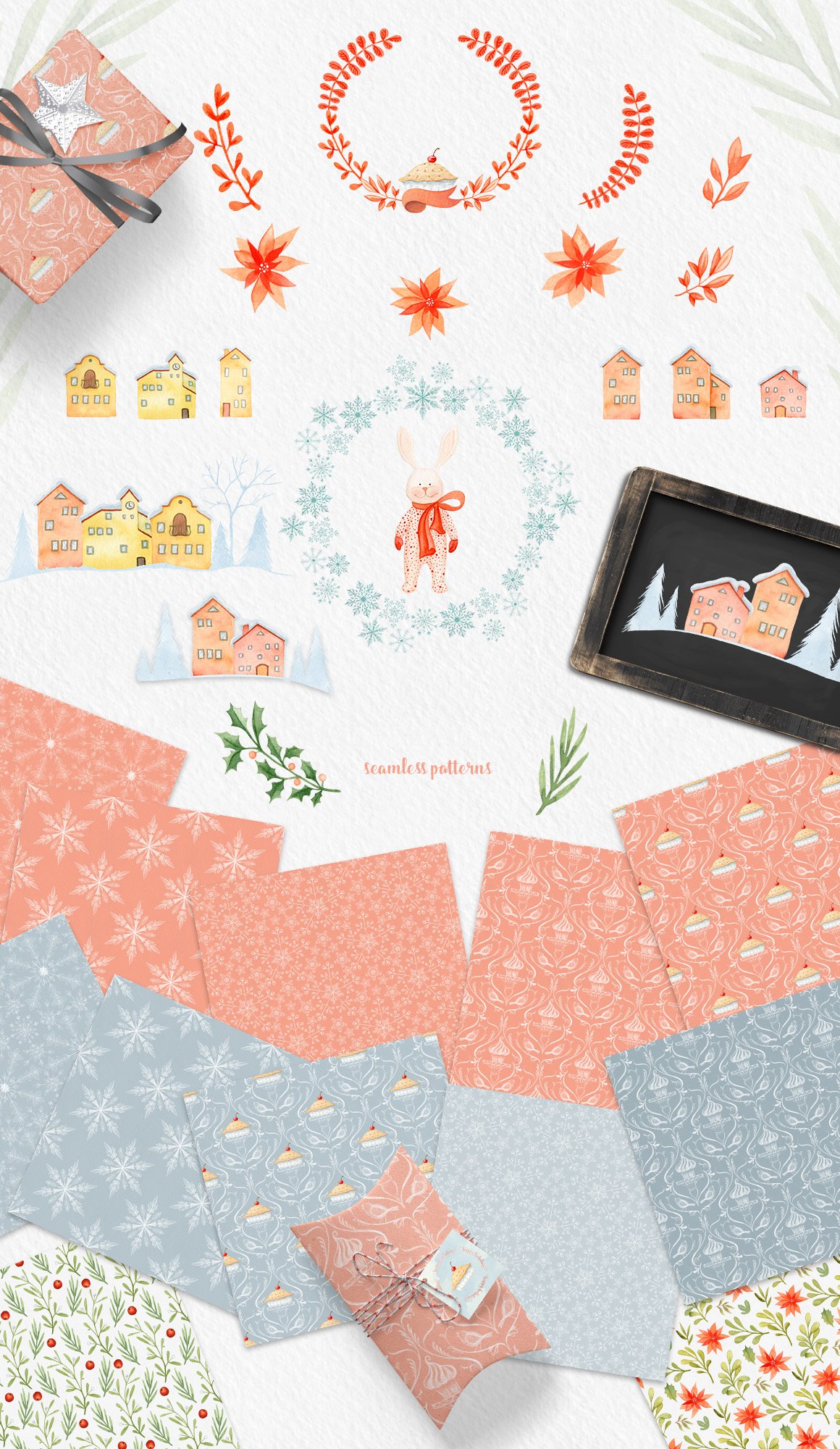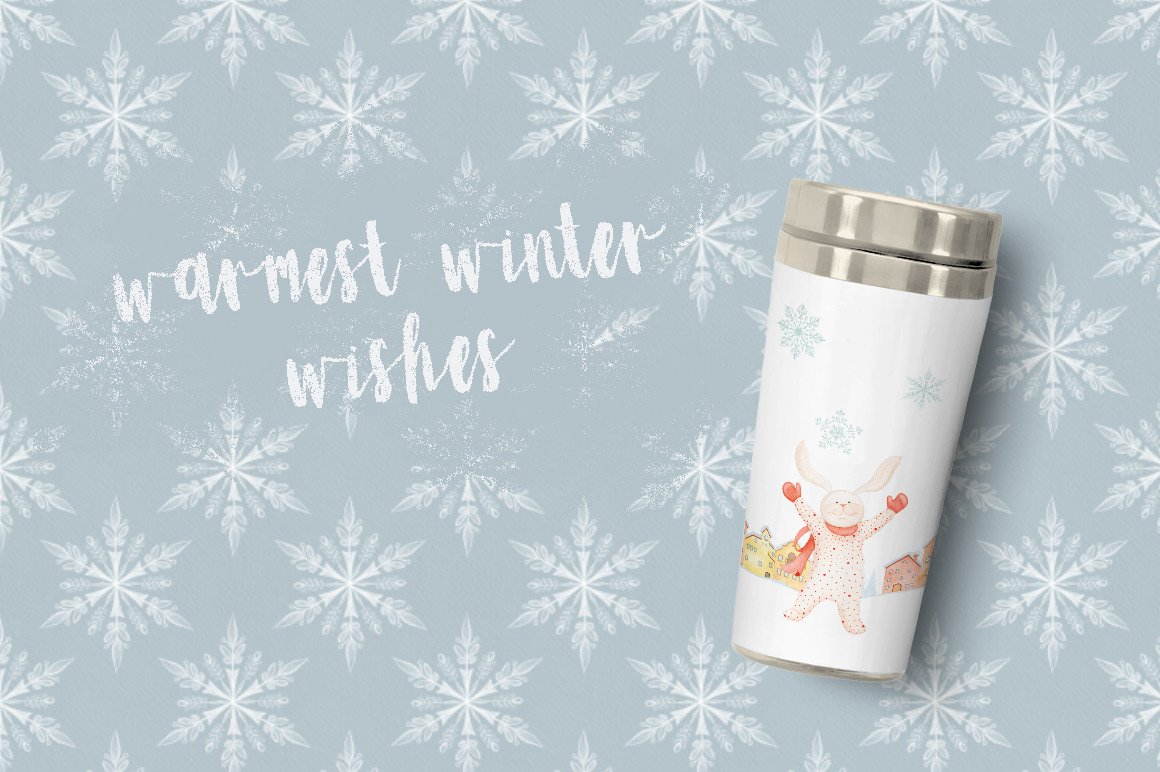 4. Winter Charm Vol 3 – The Snowmen from Watercolor Nomads
The Snowmen are here! A cheerful bunch of silly fellows, singin' songs and playing games
This is the third volume of Winter Charm 2016 watercolor clipart collection. We have some joyful illustrations for you!
What's inside:
51 elements:
8 snowmen with variations
8 pine trees

10 winter leaves and branches

8 gingerbread cookies
3 birds
and:
10 seamless patterns (JPG 12×12″) + PAT file + master tiles
5 wreaths
4 pre-made card templates in layered PSD format + JPG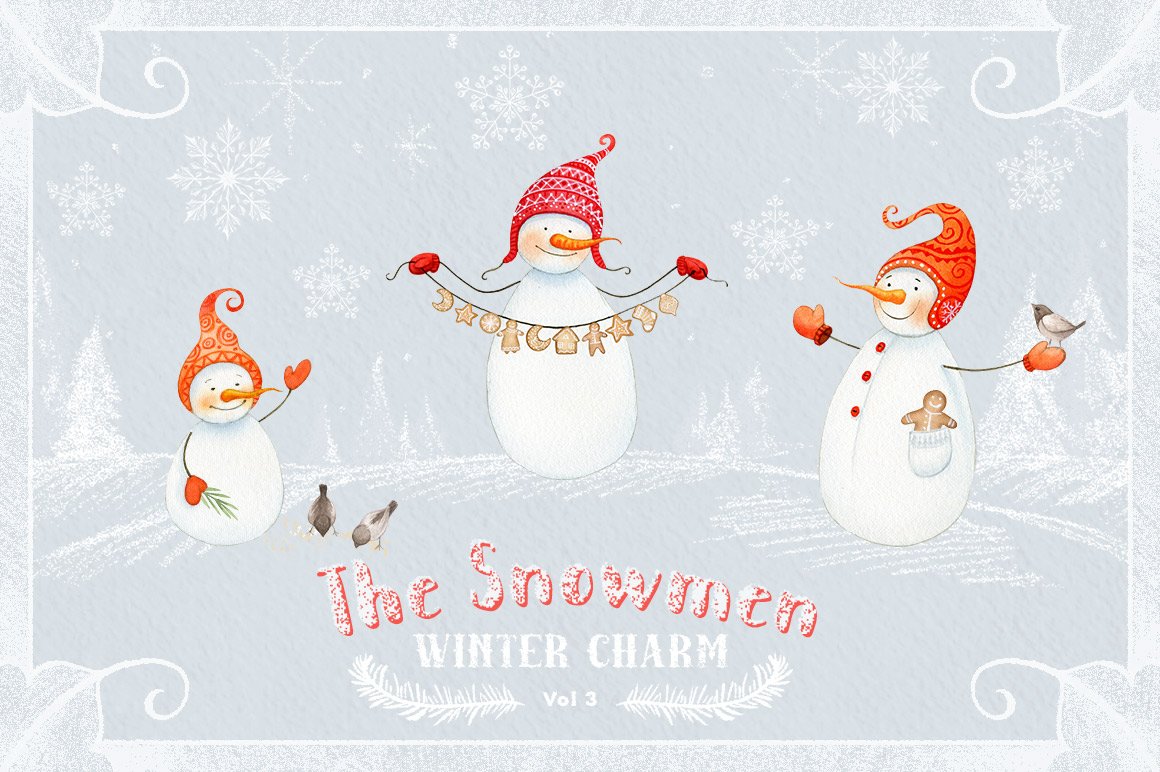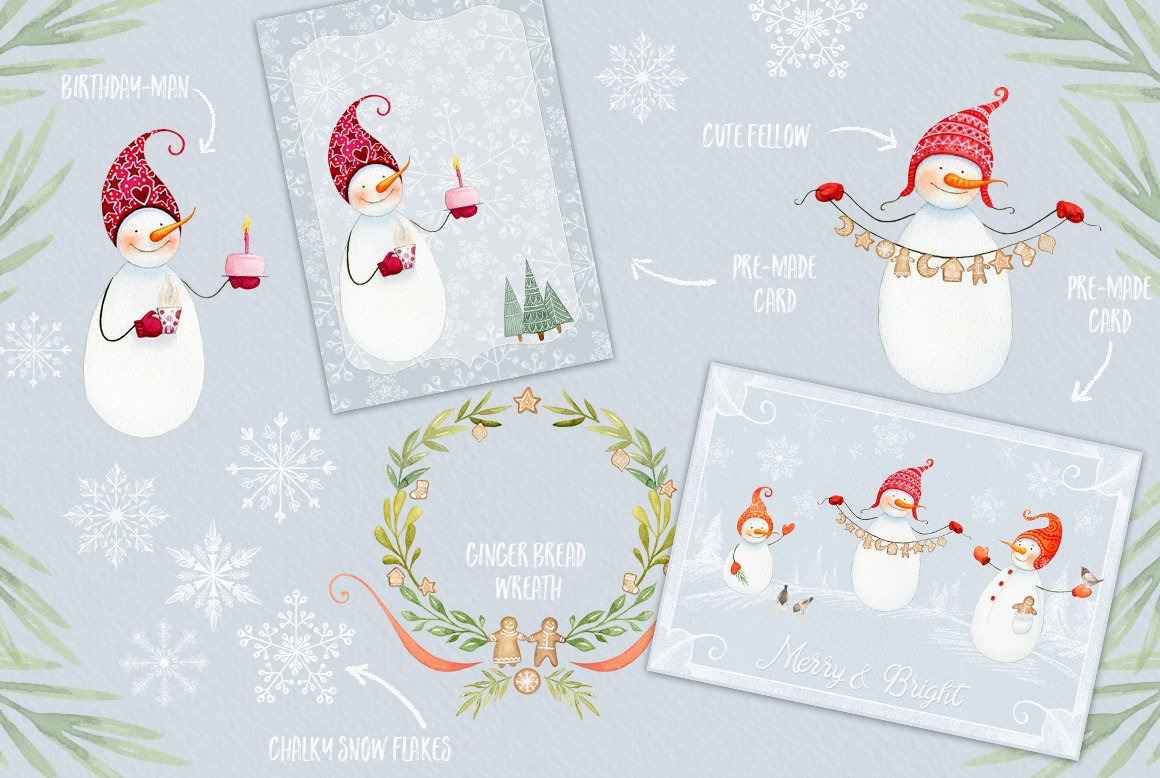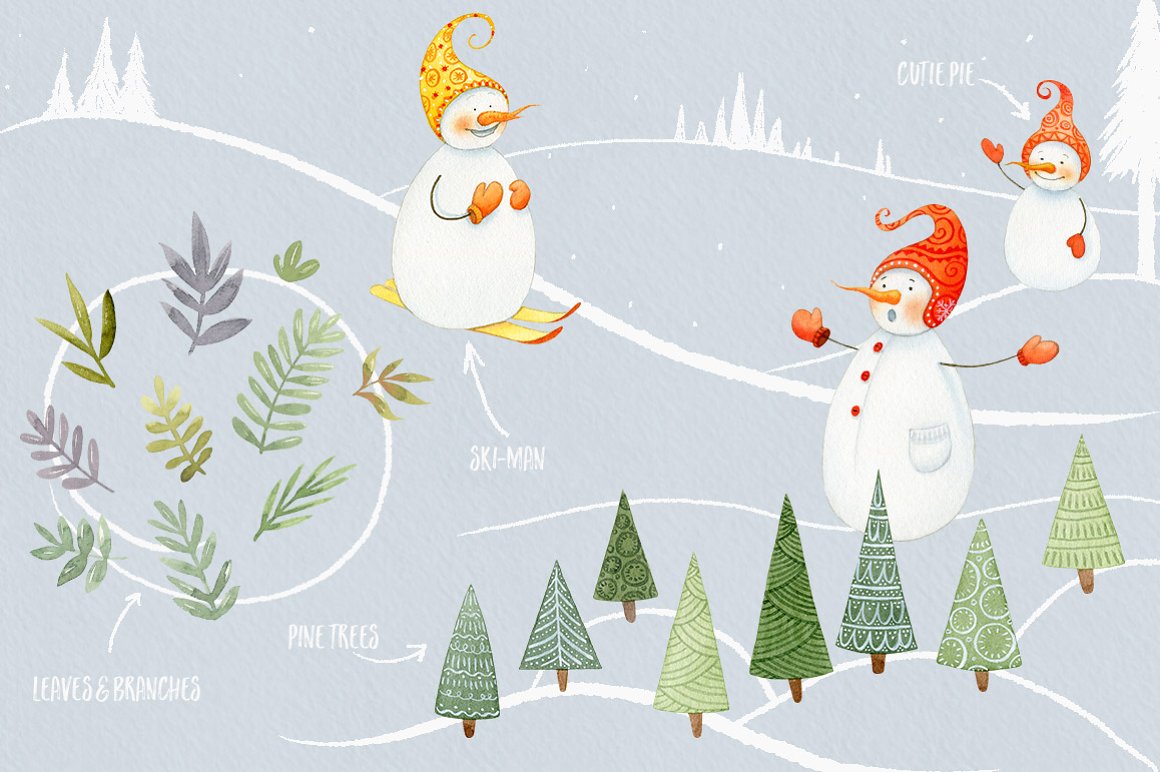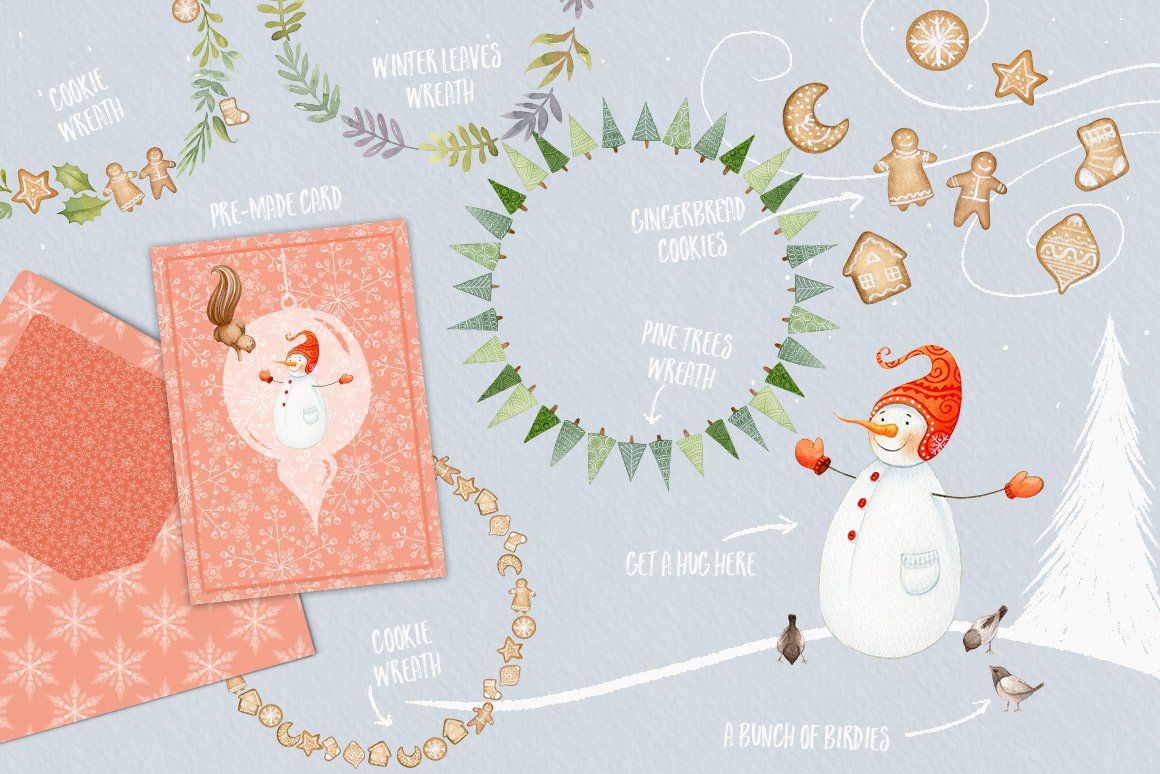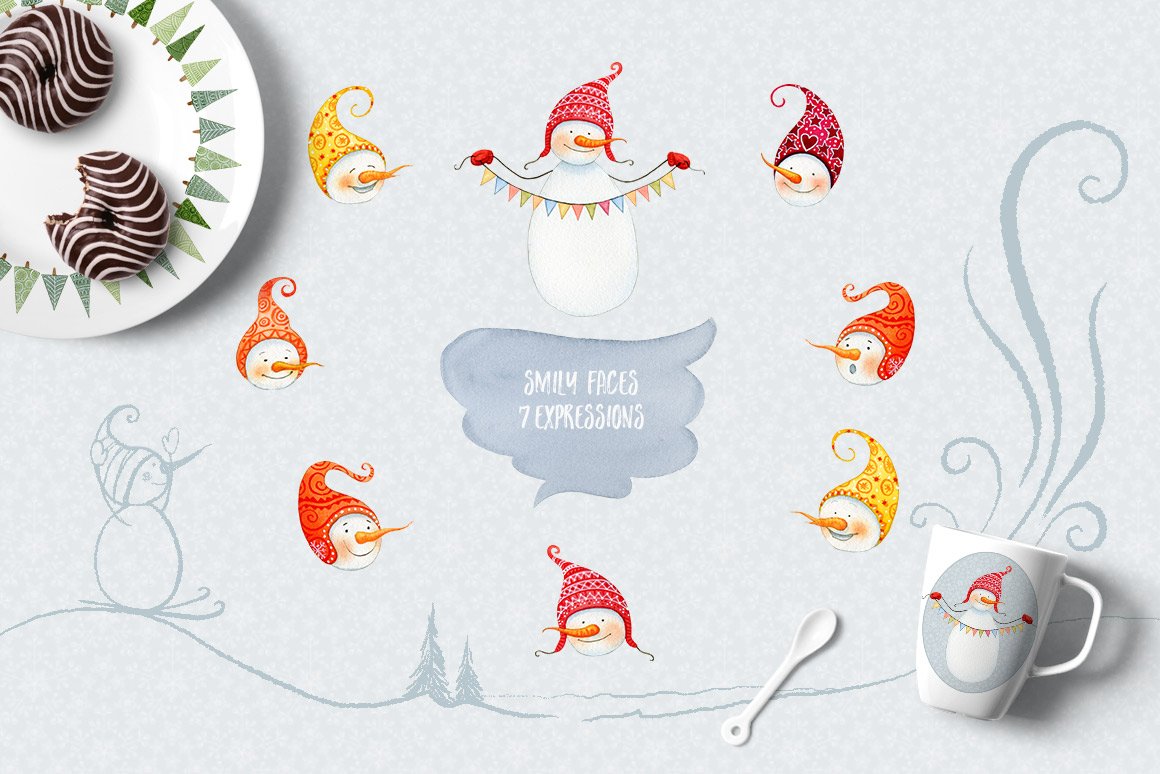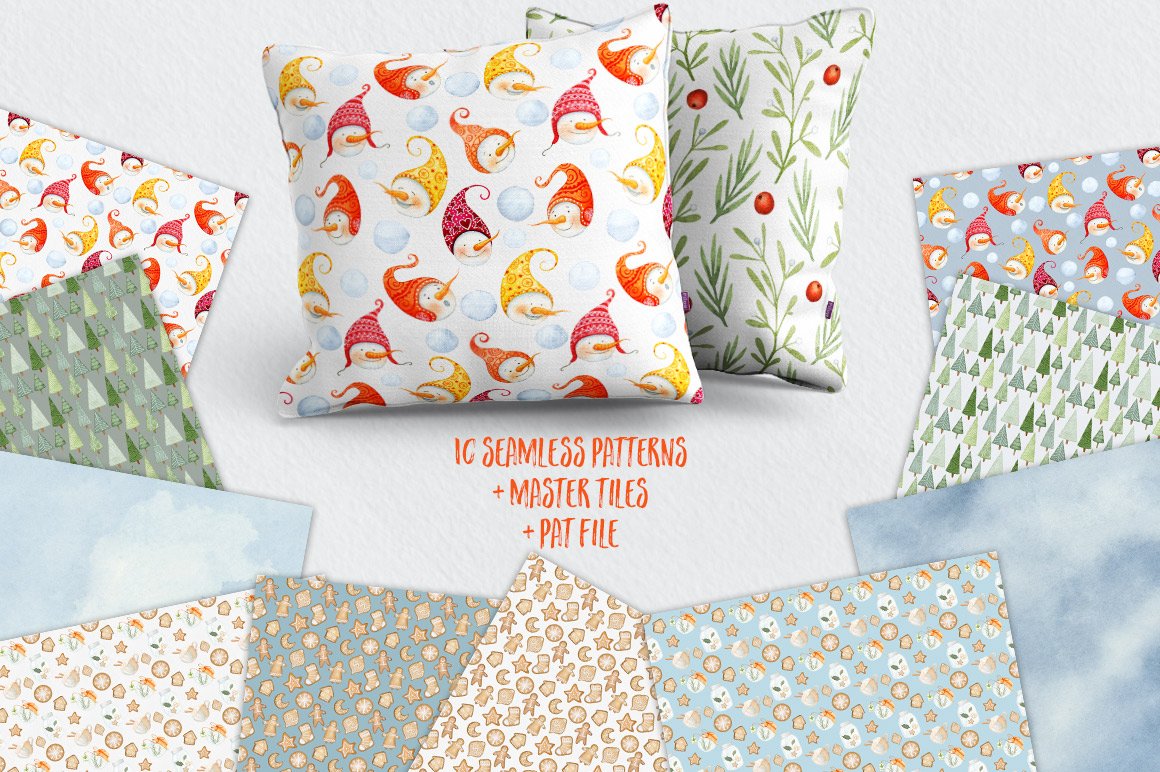 5. Watercolor Christmas Medallions from Watercolor Nomads
This big snowy collection is all you need to make all of your Christmas and Winter holidays projects. We have taken few fun animal characters and made a medallion portraits of each. Combine them with the patterns and borders and you have a powerful design pack for the season.
A total of 113 + 2 high quality hand painted watercolor elements, patterns, backgrounds and borders.
The collection includes
5 woodland animals in hipster clothing and 1 hot chocolate mug medallions, ready to take center place in a product design or greeting card. There is a bonus of two pet medallions for the dog and cat lovers. Biggest medallion is 2500px high and the smallest is app. 1100px.
14 patterns and watercolor backgrounds ensure you won't need to search for the appropriate background. Each pattern or watercolor background is 3600 px square.
10 long seamless borders – double or triple their length with no hassle.
82 design elements in color and white – branches, berries, leaves, snowmen, snowflakes and so much more. You can make thousands of design variations with so much elements and even make your own patterns and borders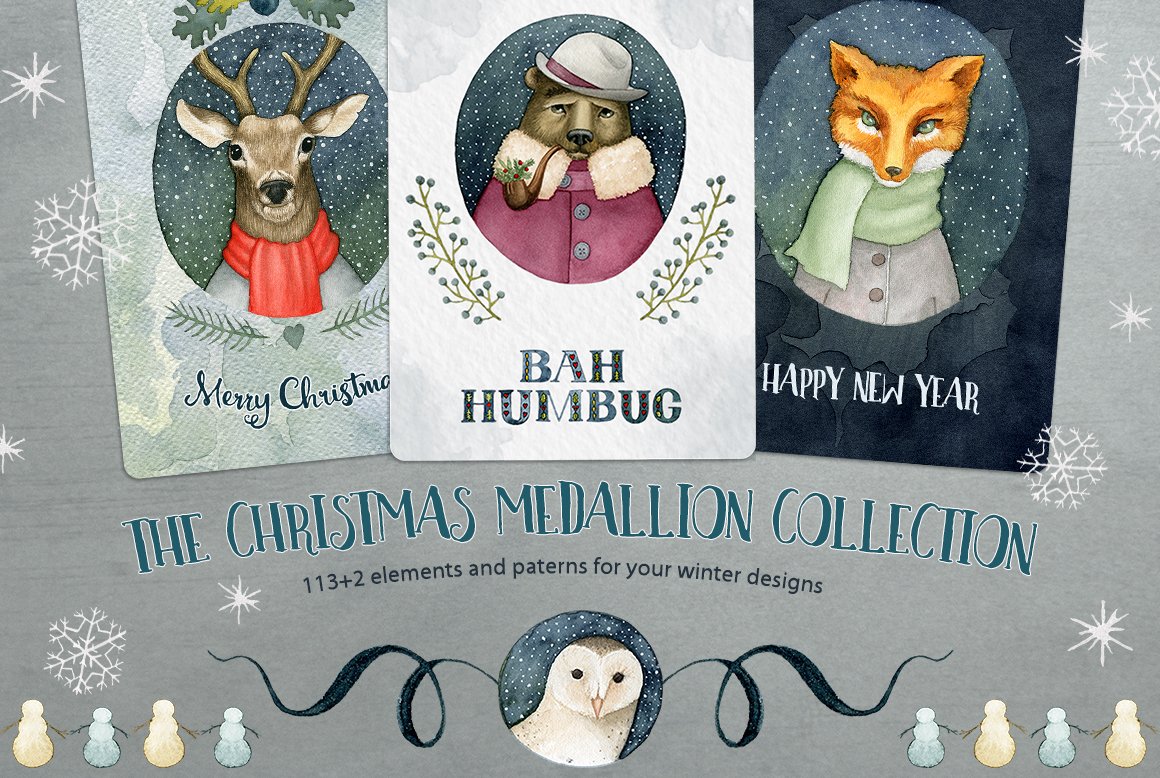 6. Gnomes Clipart – Christmas Carol from Watercolor Nomads
Christmas Carol Clipart Graphics Collection of singing nordic gnomes, piglets and enchanted Christmas eve night sky backgrounds. This collection was inspired by the quintet The Wilson Family, who are 5 brothers we discovered in the "Last Ship" concert by Sting. Check our blog for more about this 🙂
This collection includes 73 files:
5 singing gnomes
5 smiling gnomes
5 gnomes with neutral facial expressions
3 piglets
1 Christmas tree with a bunch of gnomes struggling to decorate the top of it
7 gnome presents
12 snowflakes
1 snowy gnome house with smoking chimney
1 snowy ground
2 scene backgrounds in blue
2 scene backgrounds in deep green
10 digital papers (12x12in)
10 master tiles to create seamless patterns
1 PAT file for Photoshop and Photoshop Elements
and a BONUS of 8 5×7 ratio backgrounds for creating greeting cards, party signs or decor.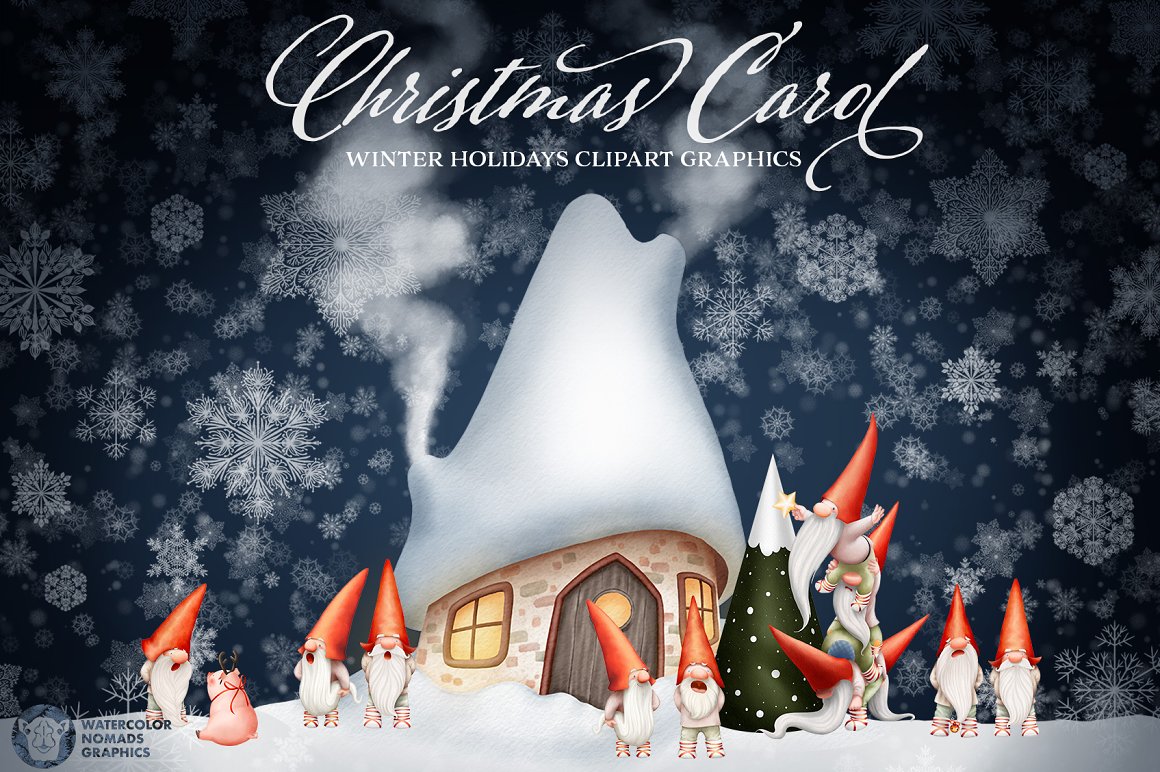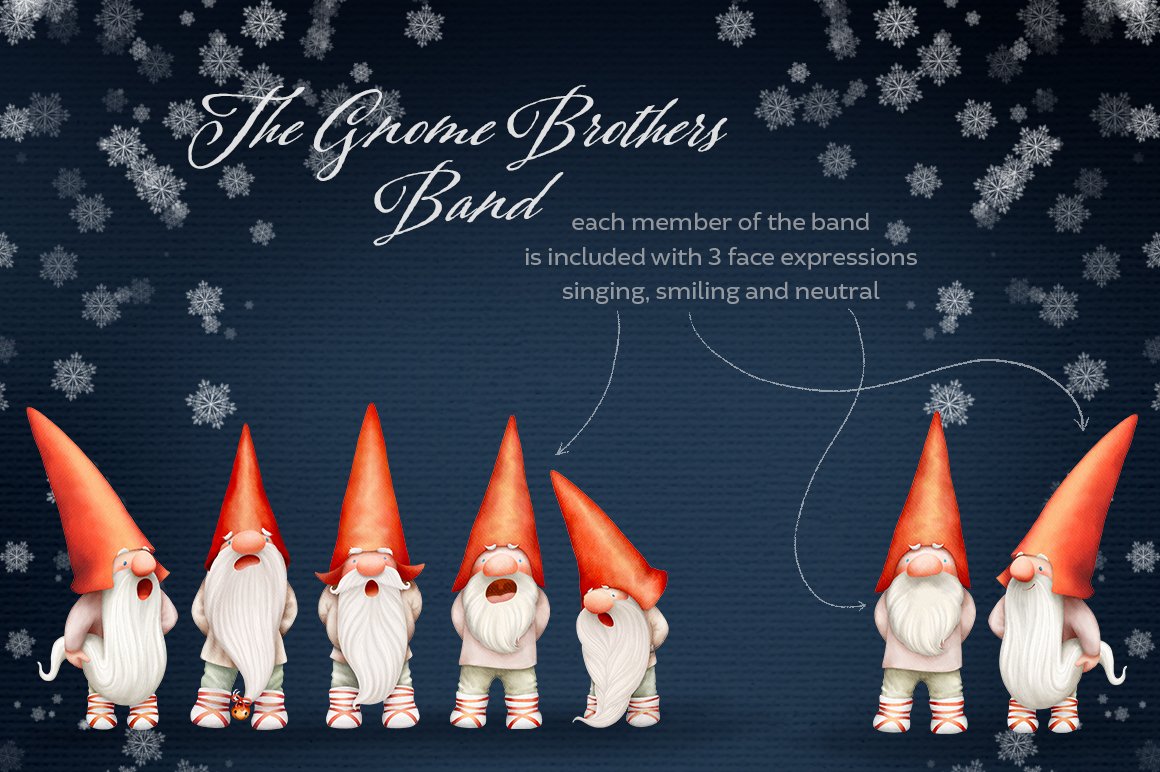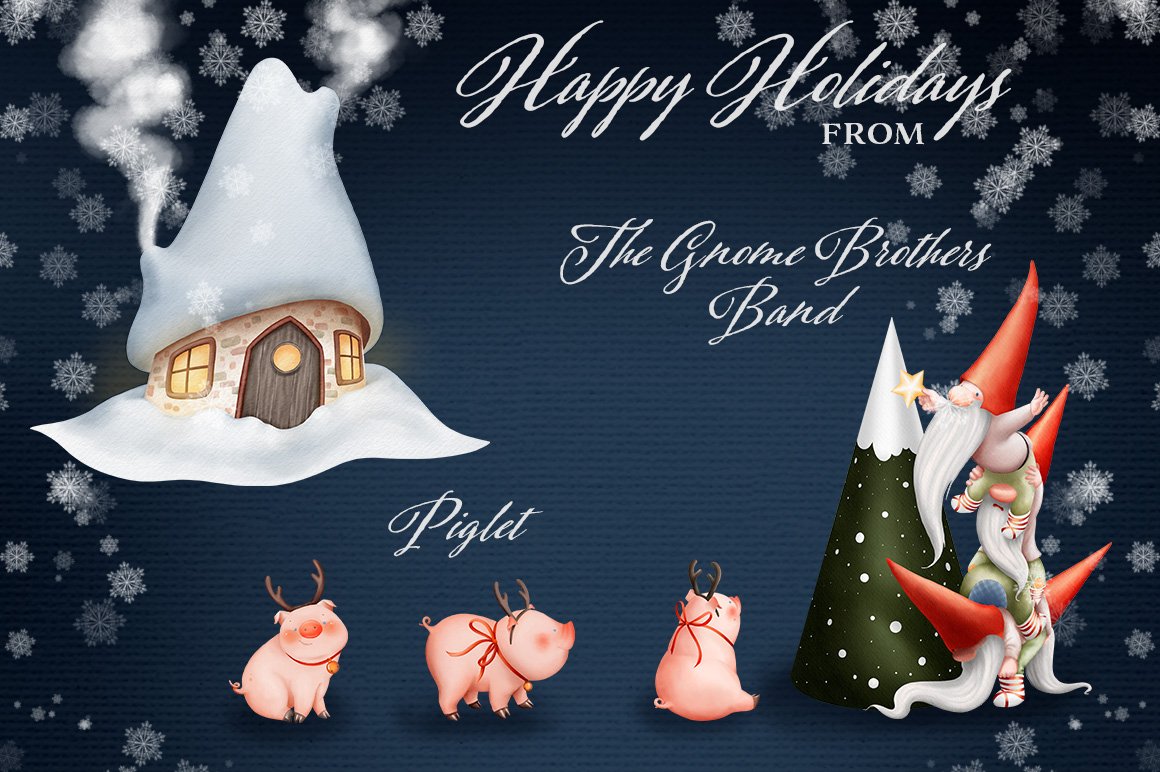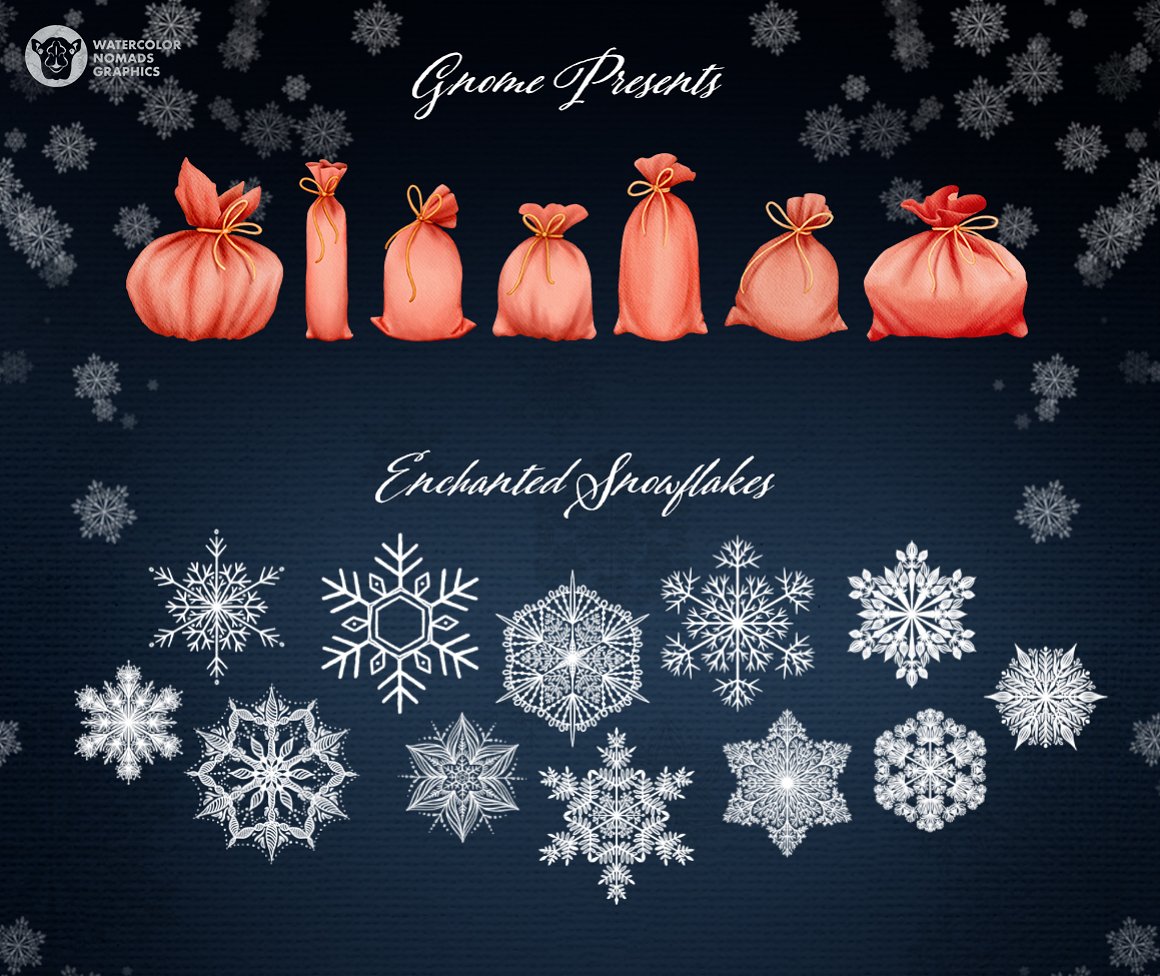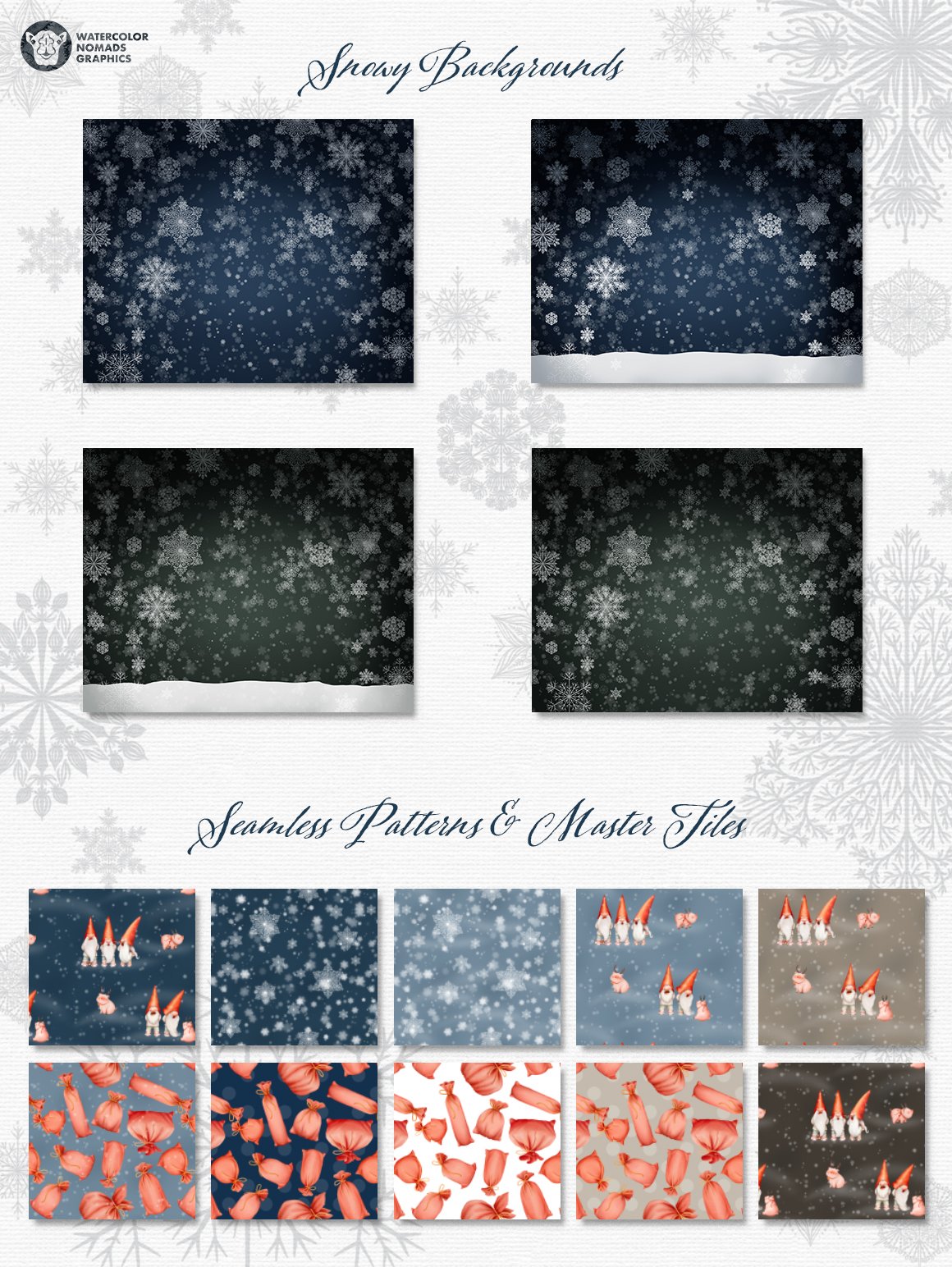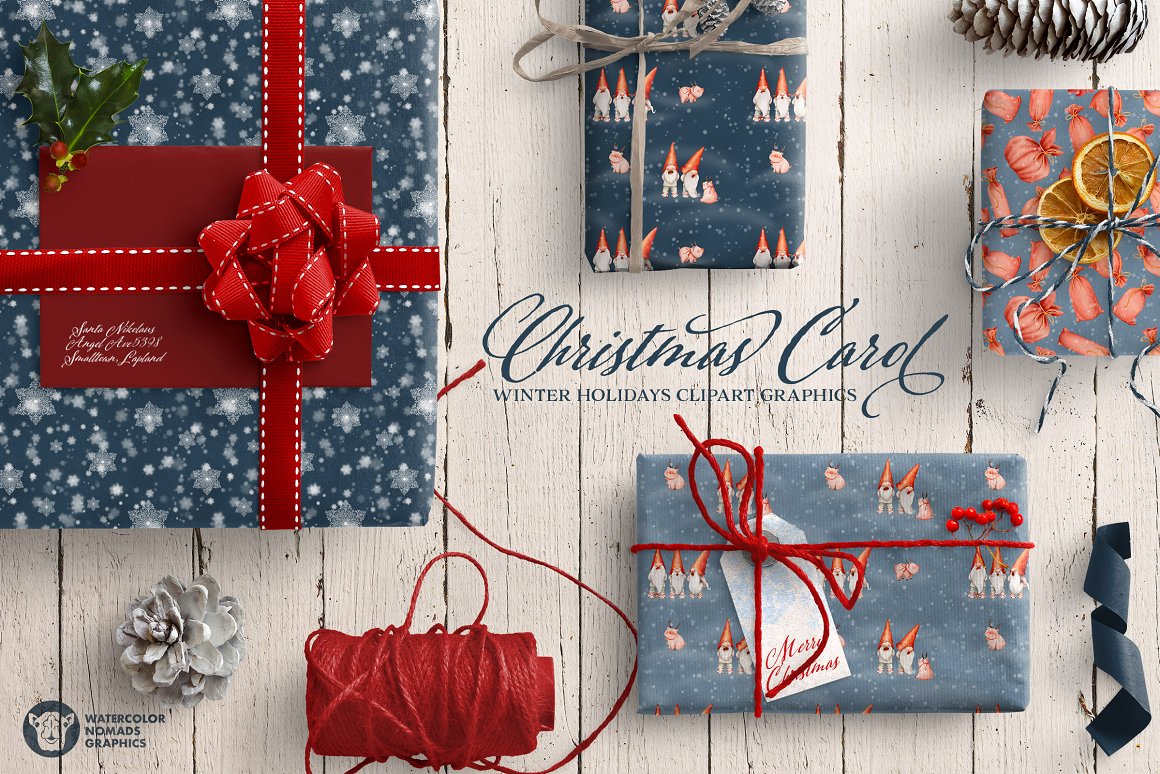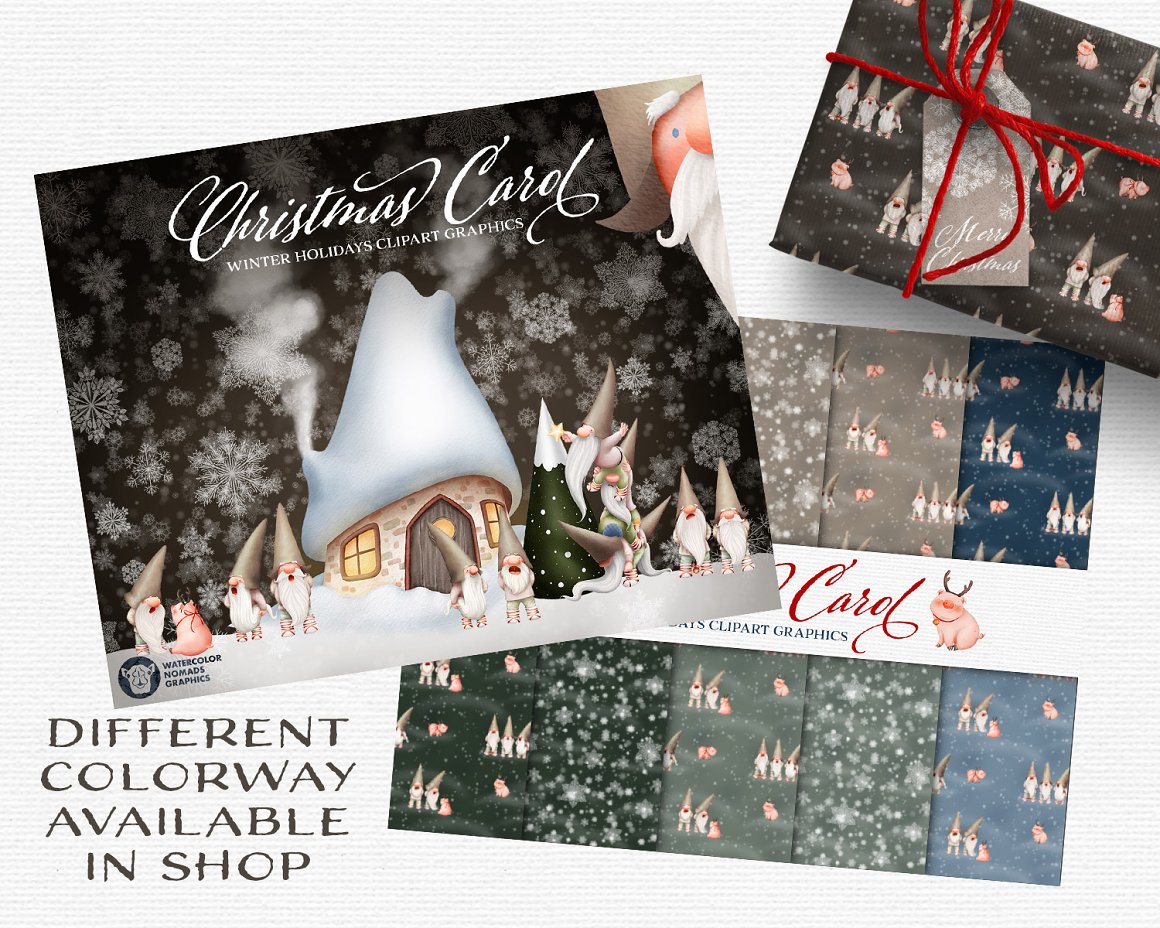 7. Watercolor Christmas & Winter Set from Watercolor Nomads
This watercolor collection of 68 Winter Christmas theme elements is almost all you would need for the design of countless Christmas and New Year greeting cards and stationery. Pair it with an awesome font from Creative Market and you're all set to go. The whole collection is hand painted watercolor converted to digital format with transparent background. All images are 300 dpi and the size of the smallest starts at about 100px while the largest goes up to a whooping 4300px. These elements are ready to use, but fully editable if you need to. In the spirit of Christmas we have included a nice bonus of 7 pre-made wreaths with various elements from the set. The size of the wreaths also varies, but it is on average around 2600px diameter. If printed at 300 dpi this means you have a 8.5 in wreath. You can make bigger or smaller wreaths using the plenty elements from the collection.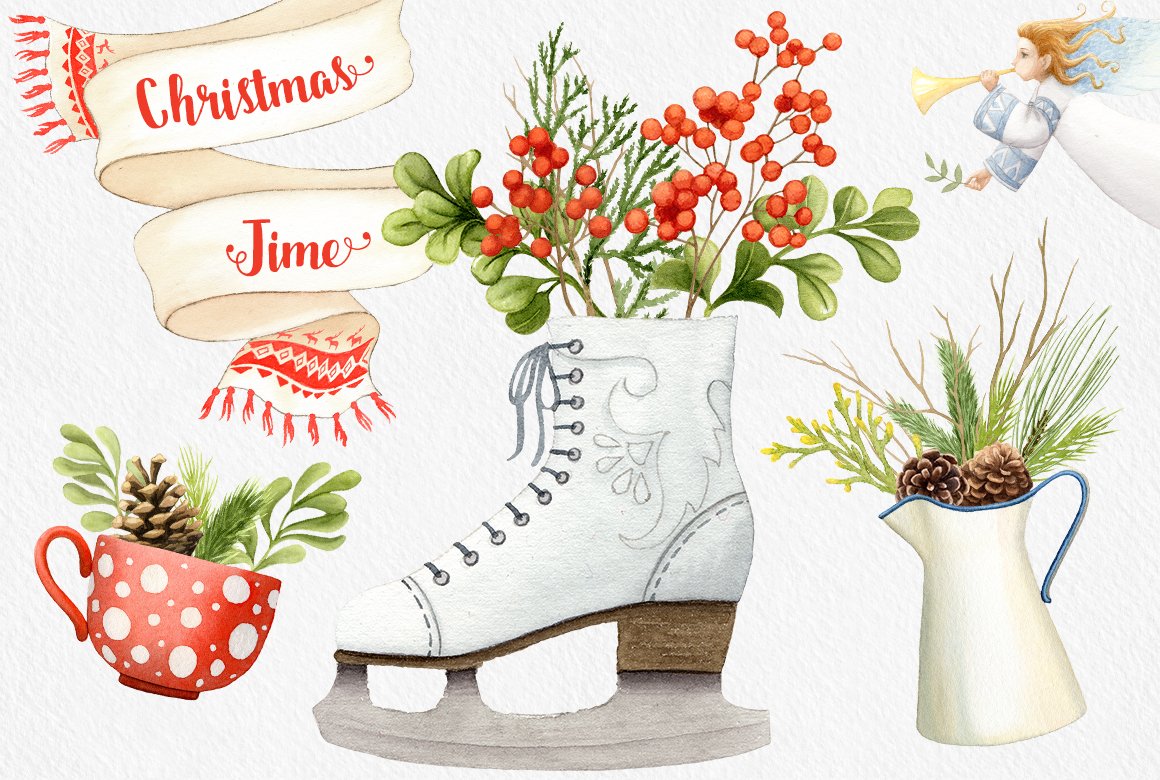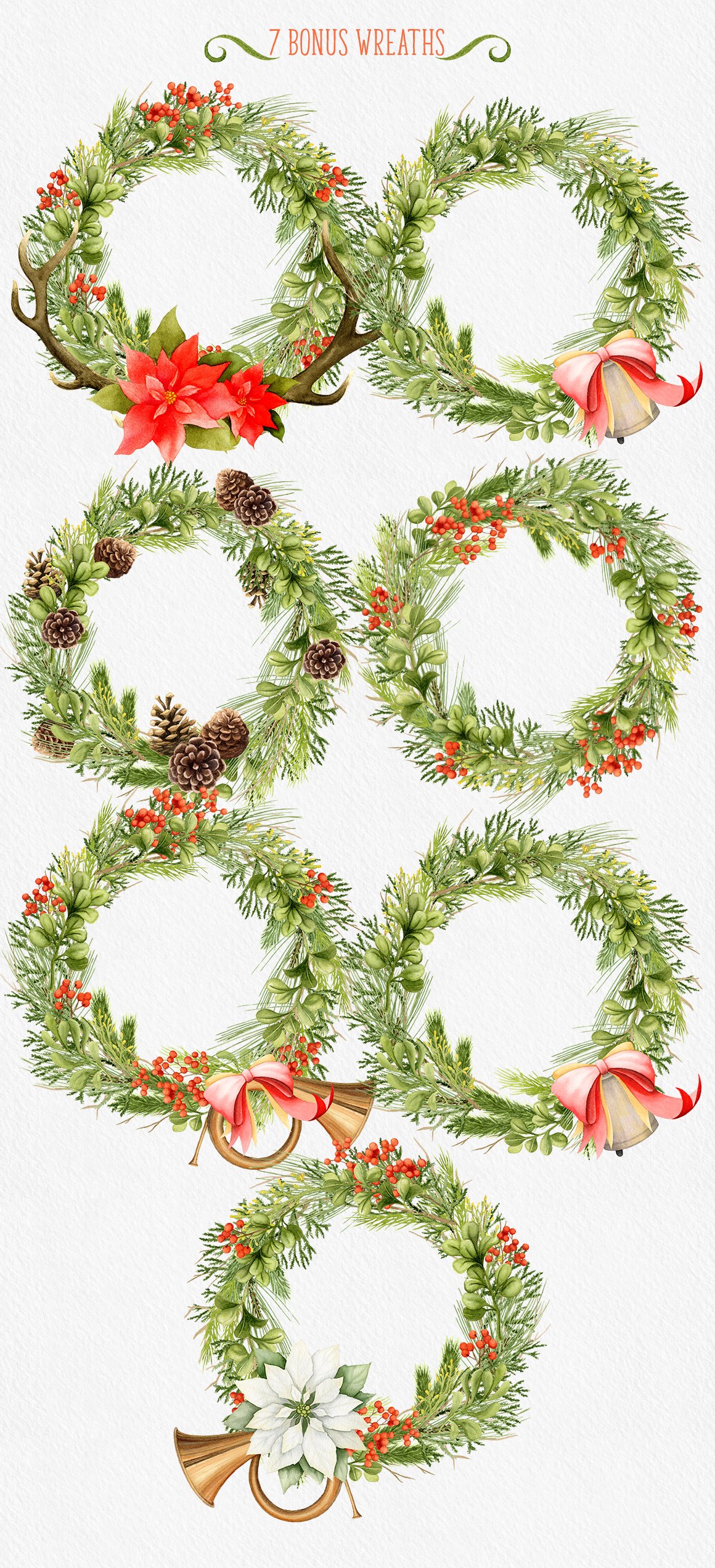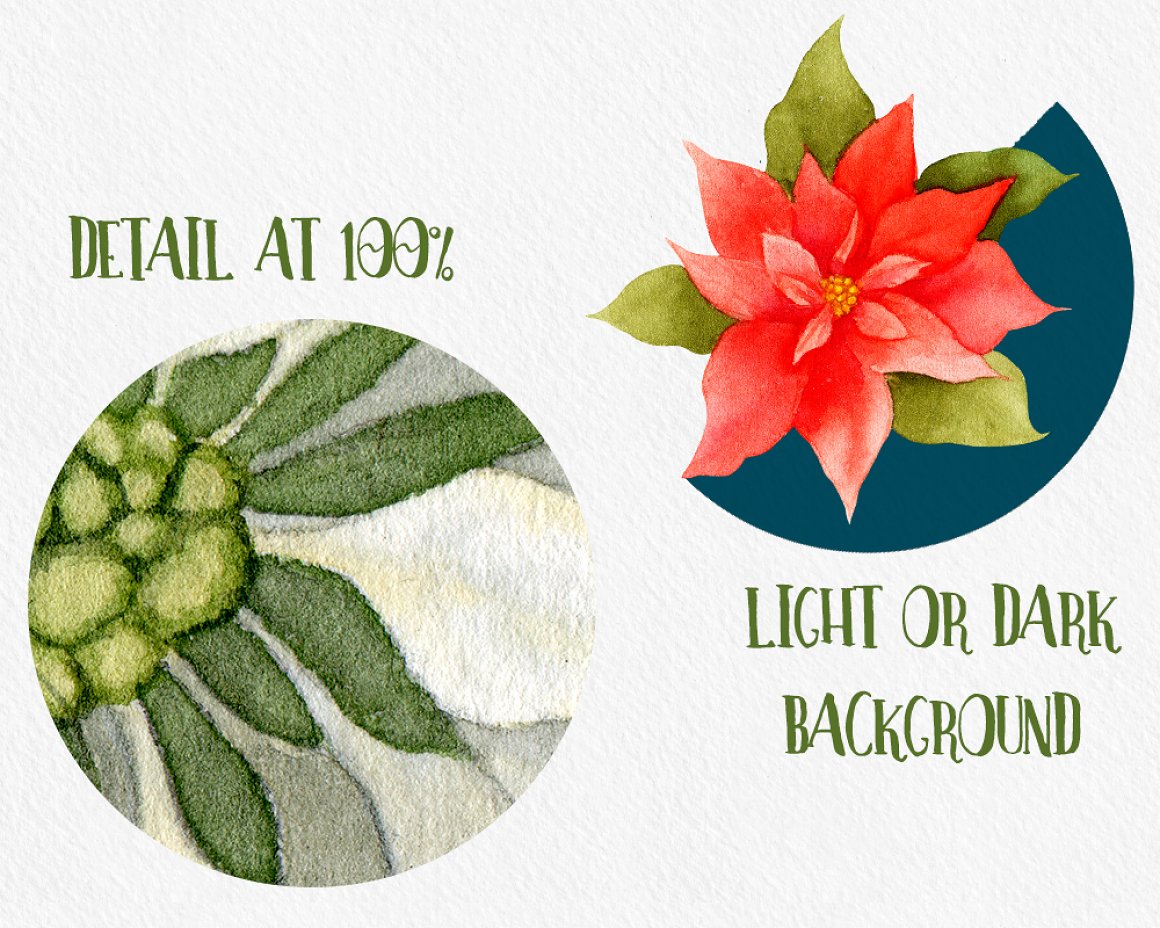 8. Winter Owl Watercolor for Christmas from Watercolor Nomads
Winter Owl is a non-traditional quirky Christmas graphics collection. Grey and mustard nuances translate the cold but soft weather of the starting season. Our main hero here is a fluffy Owl wrapped in a huge scarf. He's an awesome dude! A great set for paper and textile design!
Here's a list of what is inside the collection:
4 owls
8 branches & leaves
4 snow flakes
1 scarf banner
2 scarf nest banners
1 nest
1 pair of owl footprints 🙂
8 line drawings of Christmas tree ornaments
11 pattern Christmas ornaments
4 pattern clouds
12 pattern pine trees
4 laurels
6 wreaths
10 seamless patterns:

3600px x 3600px (not seamless) JPG files
10 master tiles – seamless JPG files
PAT file for Photoshop with all seamless patterns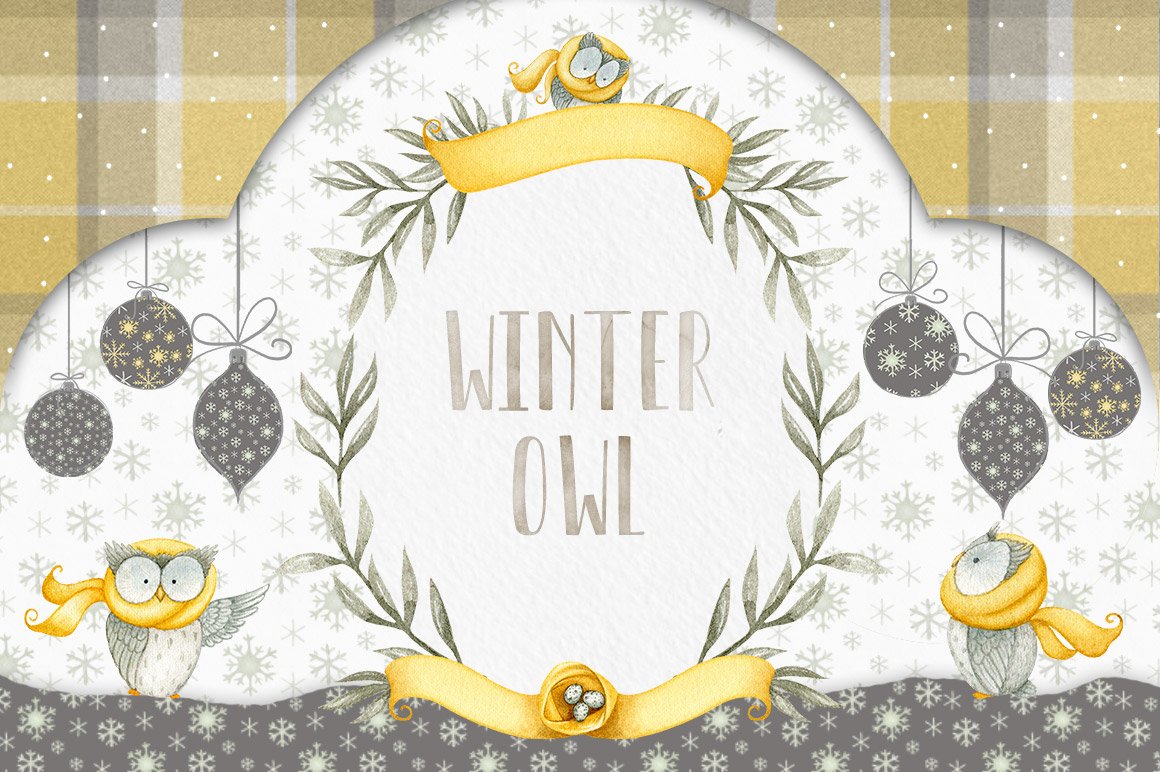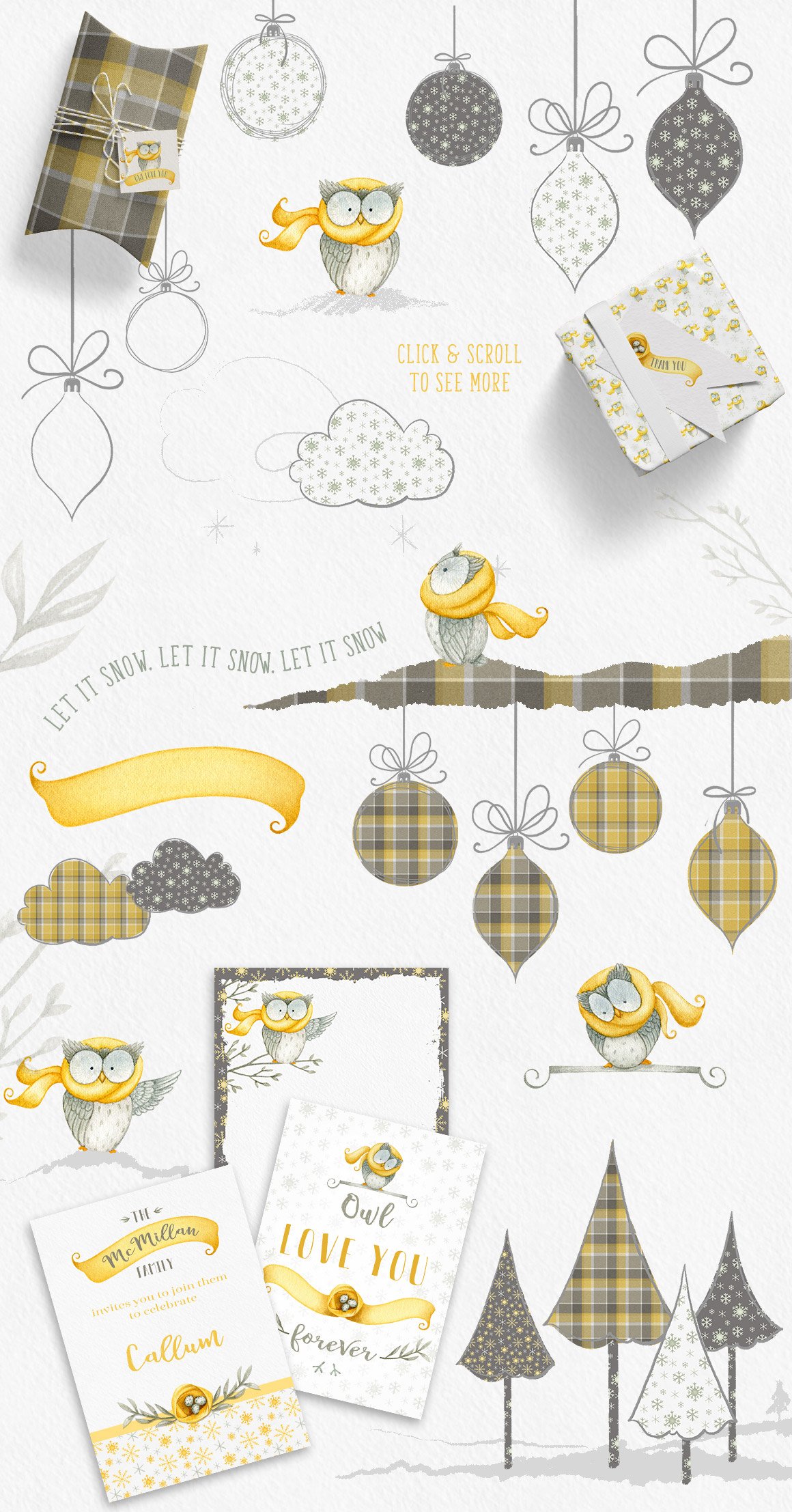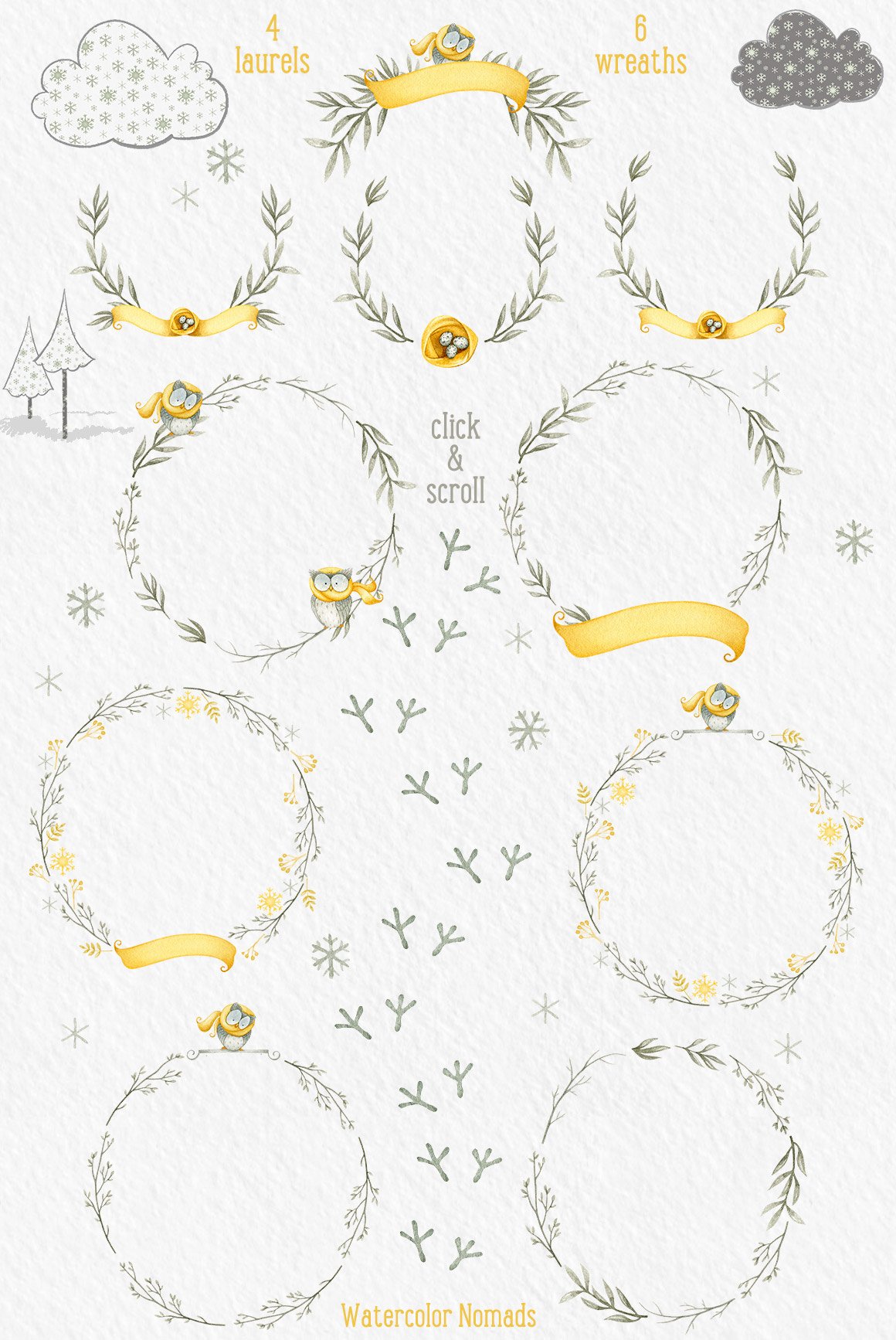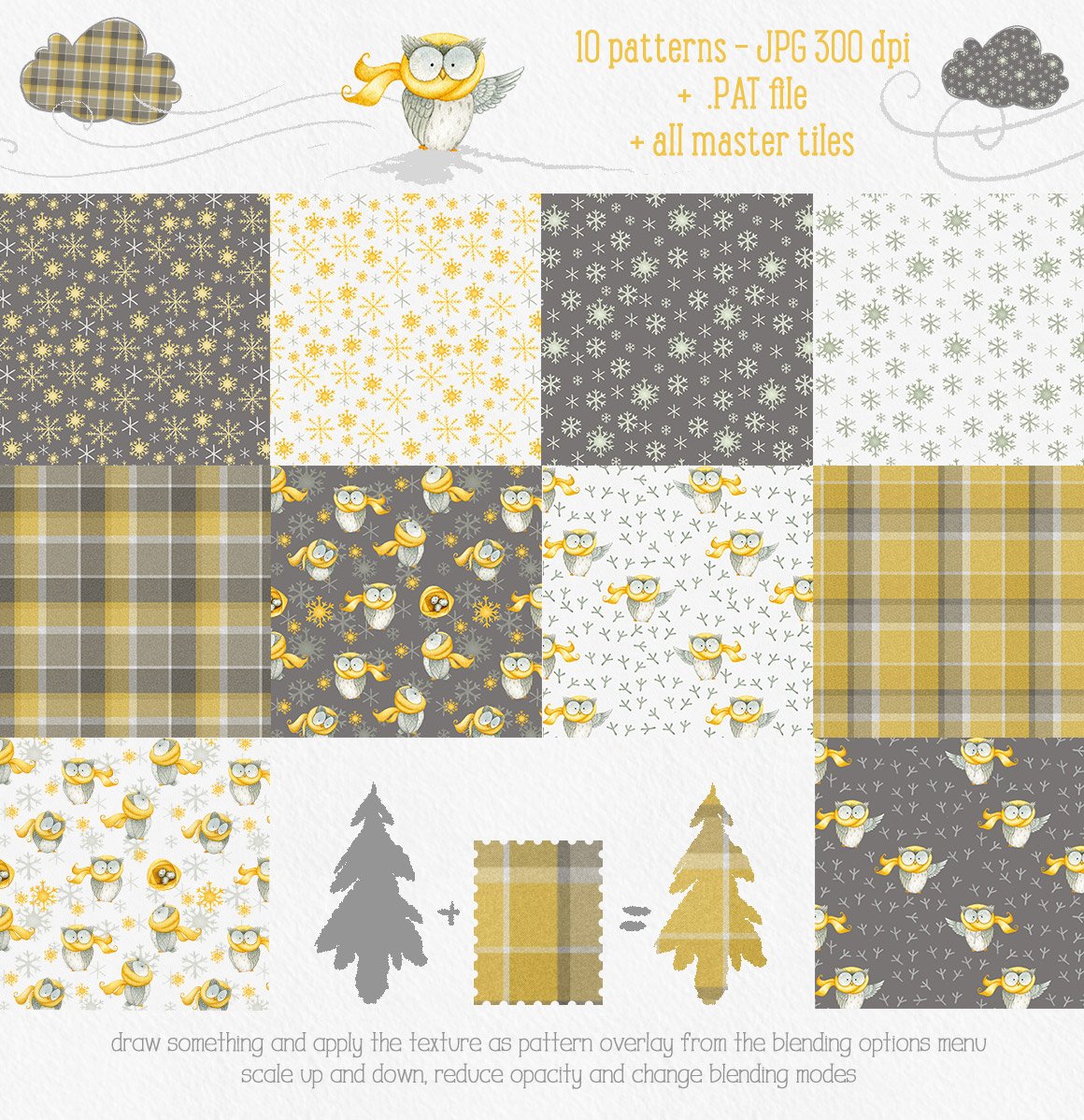 9. Penguin Party Watercolors from Watercolor Nomads
The Penguins are having a party! Rumors say it is a party for a birthday, but it could be just a celebration of the season. Who would celebrate Winter with that many presents, though… Anyways, who needs a reason to party?! Also, they bring all the stuff to decorate your space – patterns, buntings, wreaths etc. Even the presents and the fish!
What's inside the winter watercolor clipart collection – 65 High resolution 300 dpi transparent background png elements:
4 single penguins and 1 illustration with 3 penguins
3 scenes with penguins
6 present boxes
9 snowflakes
10 ice cubes
14 icy branches and leaves
1 silver bead
9 fishes
6 flags
1 bunting with flags
1 bunting with hanging fishes
4 card templates – layered PSD and JPG files – 5.25×7.25" (0.25 bleed for trimming), 300 dpi
4 wreaths
1 laurel
14 digital papers 12×12" / 3600px x 3600px – jpg files
14 master tiles to make seamless patterns – jpg files
PAT file for Photoshop – includes all seamless patterns (CS1 and up)
4 layered PSD and JPG card templates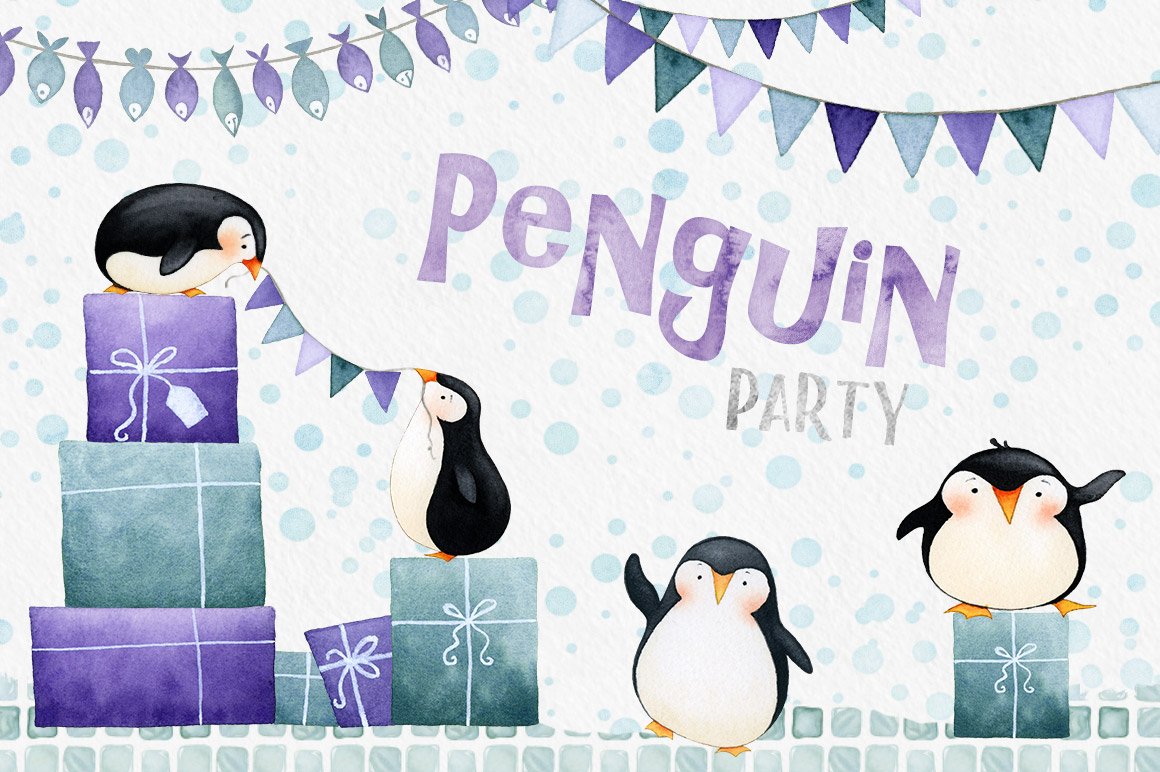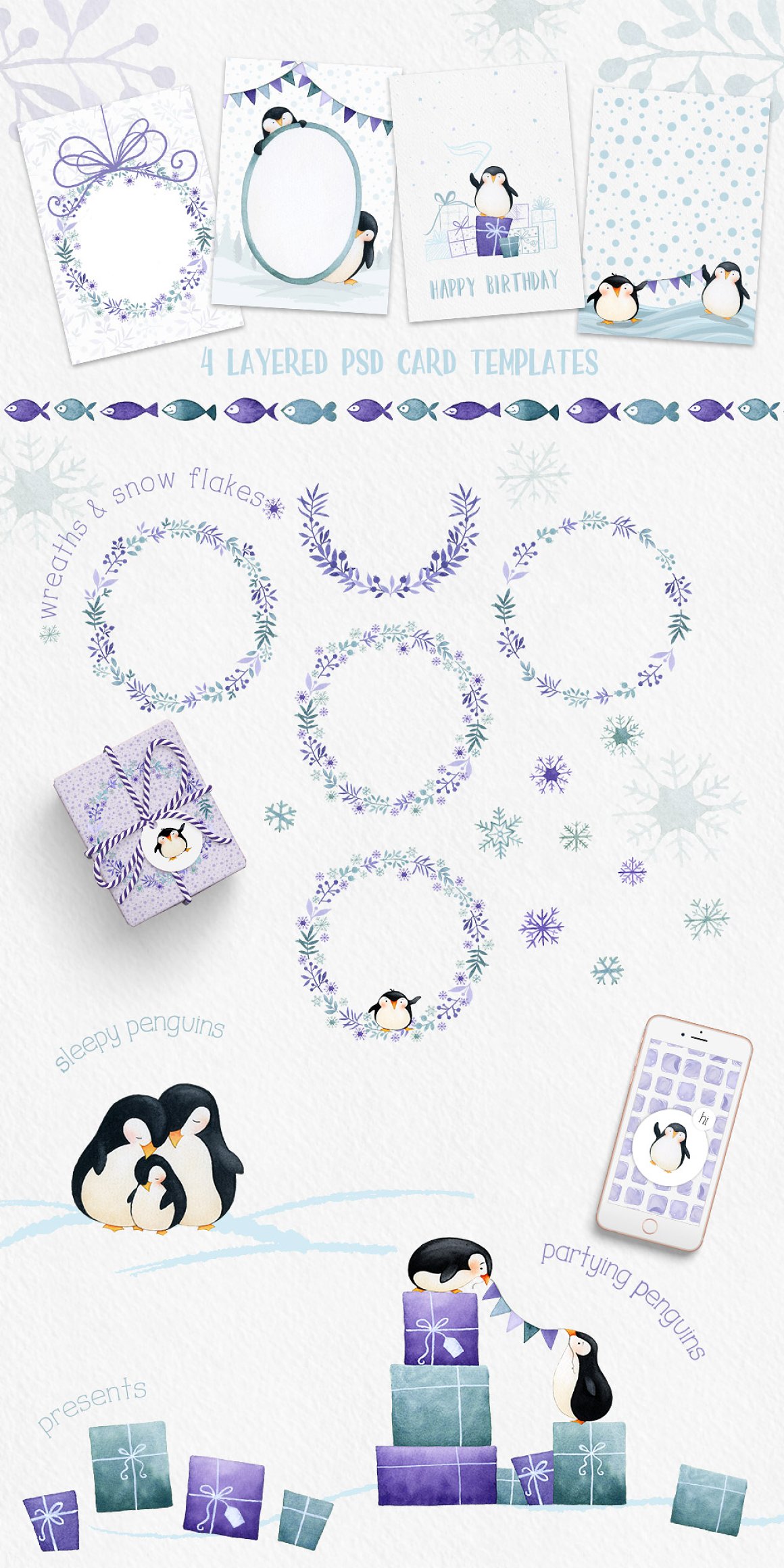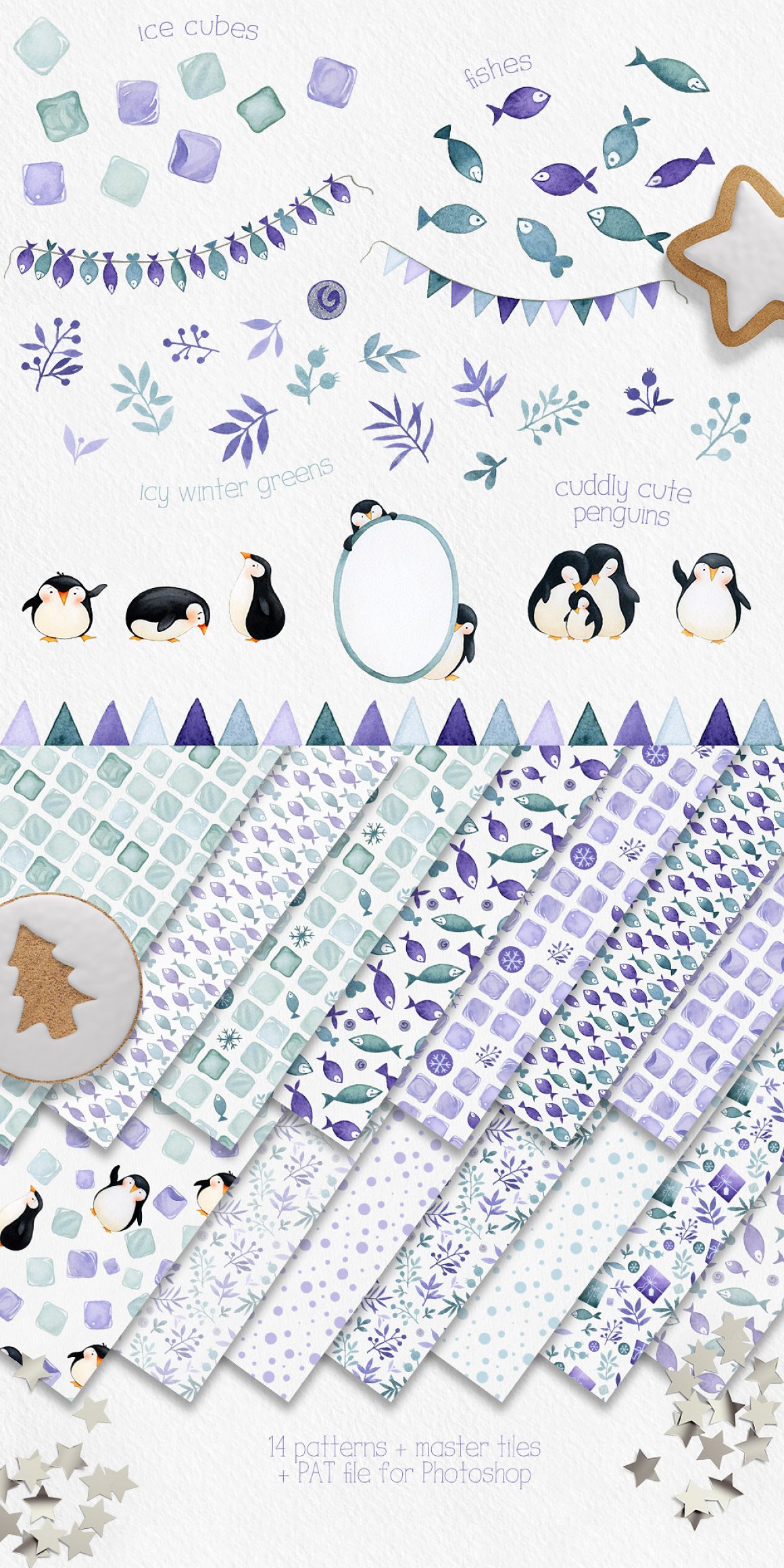 10. Watercolor Angels Clipart Collection from Watercolor Nomads
Sweet little baby angels set for the perfect baby products! Design with ease baptism and christening stationery and decor, baby clothing and textile, festive greeting cards, nursery decor and much more. When you purchase this set you get 73 PNG files with high resolution and transparent background – ready to use instantly.
Here's a list of what's inside:
11 angels / cherubs (size of angels 2300 to 7300 pixels)
6 banners
10 branches with leaves and berries
5 clouds – watercolor and gold
5 stars – watercolor and gold
6 wreaths – watercolor and gold
6 music elements
14 flowers and leaves
1 Christmas tree with star
1 pair angel wings
3 small pink balls
3 white ribbons
1 pinecone
1 bow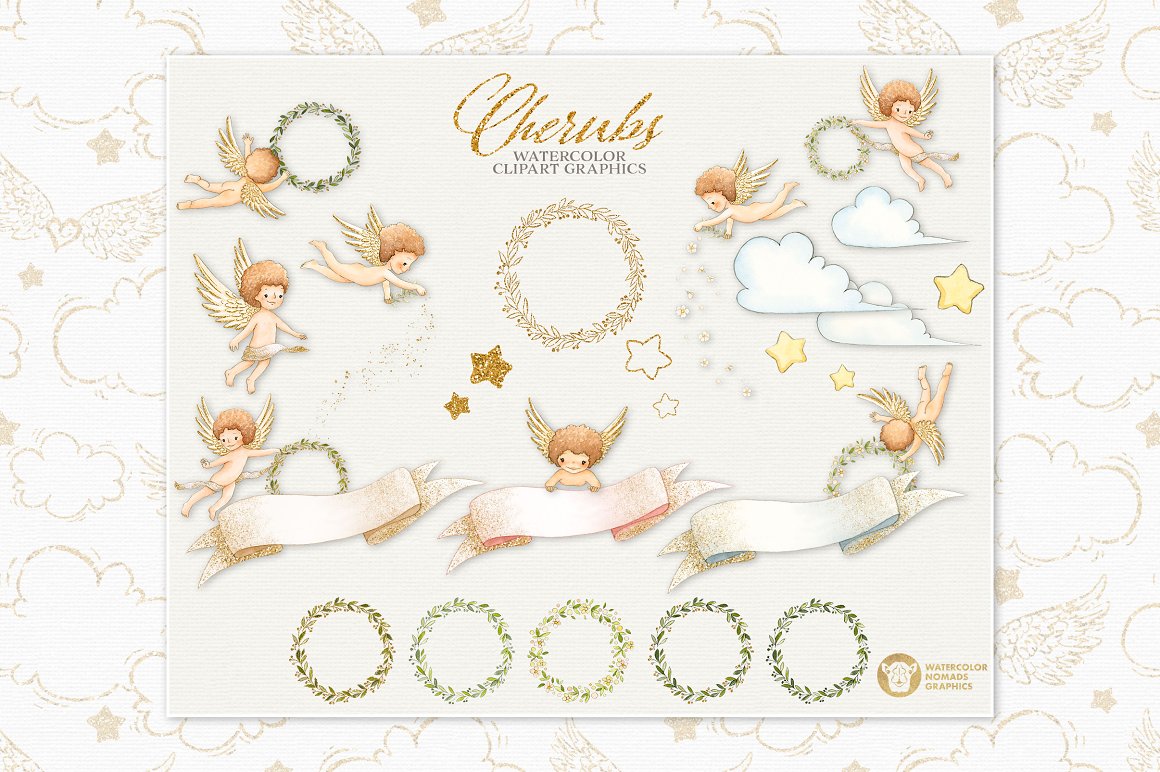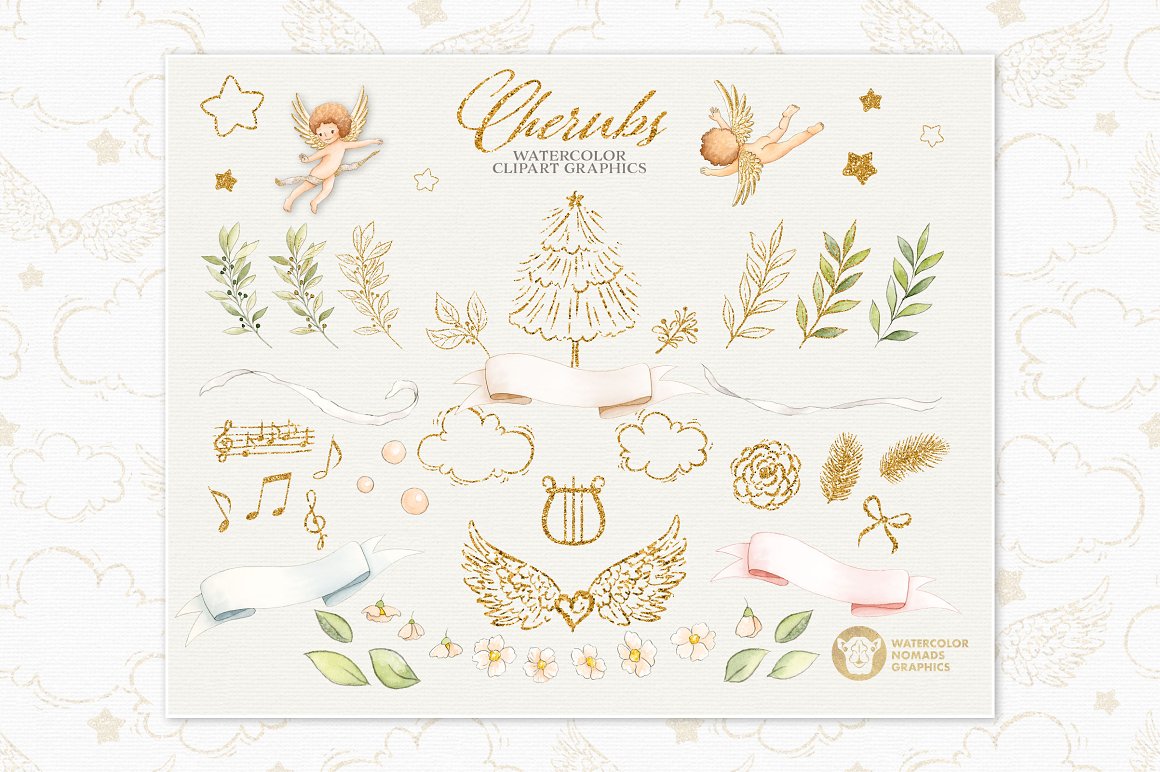 11. Watercolor Angels Seamless Patterns from Watercolor Nomads
heerful little angels flying around between fluffy clouds and stars – we have 27 new seamless patterns for all those moments when you are in the middle of a design and it is imperative to add a cherub, but you can't find any because they're tiny and fast. It's hard, but we've been there. This is the main reason we created this set. Use it wisely.
What you get when you purchase:
27 seamless tileable digital papers – 12×12 in/ 30×30 cm/ 3600×3600 px
27 Master tiles to tile your own endless patterns – 1200x1200px
PAT file with predefined patterns ready to be used in Photoshop or Photoshop Elements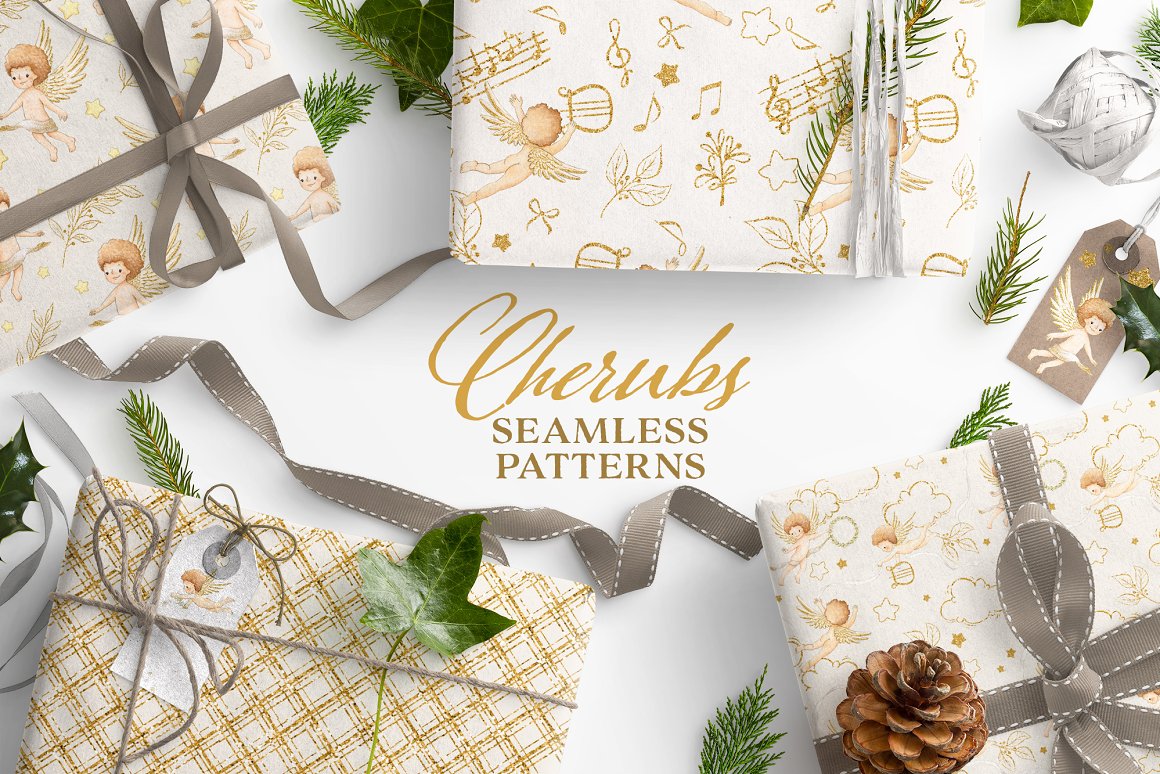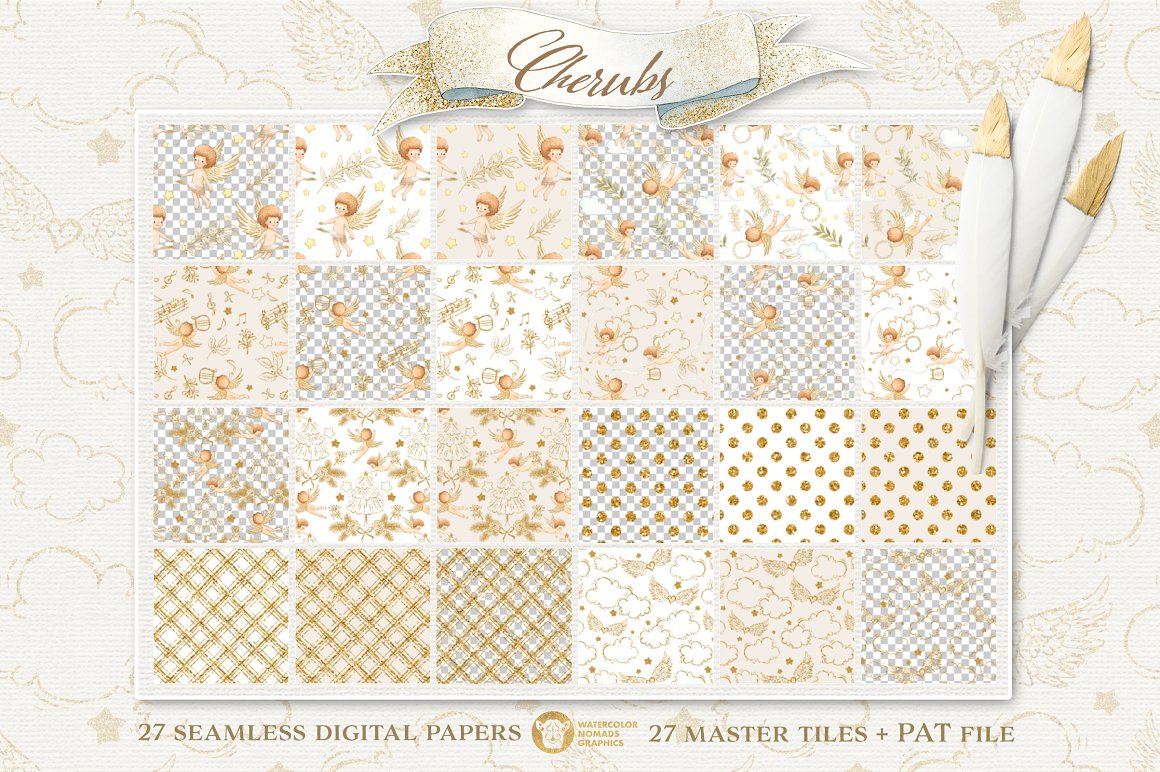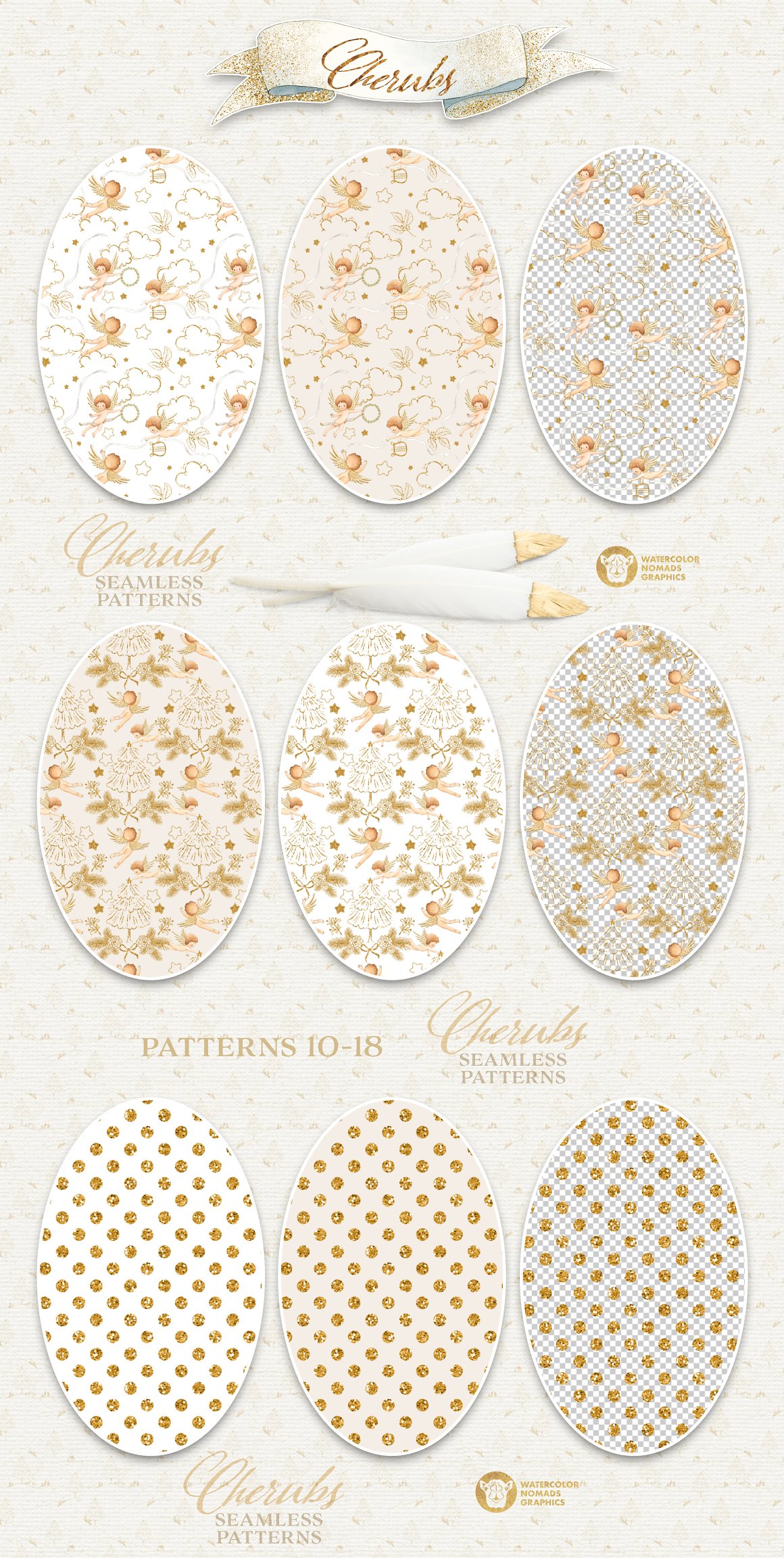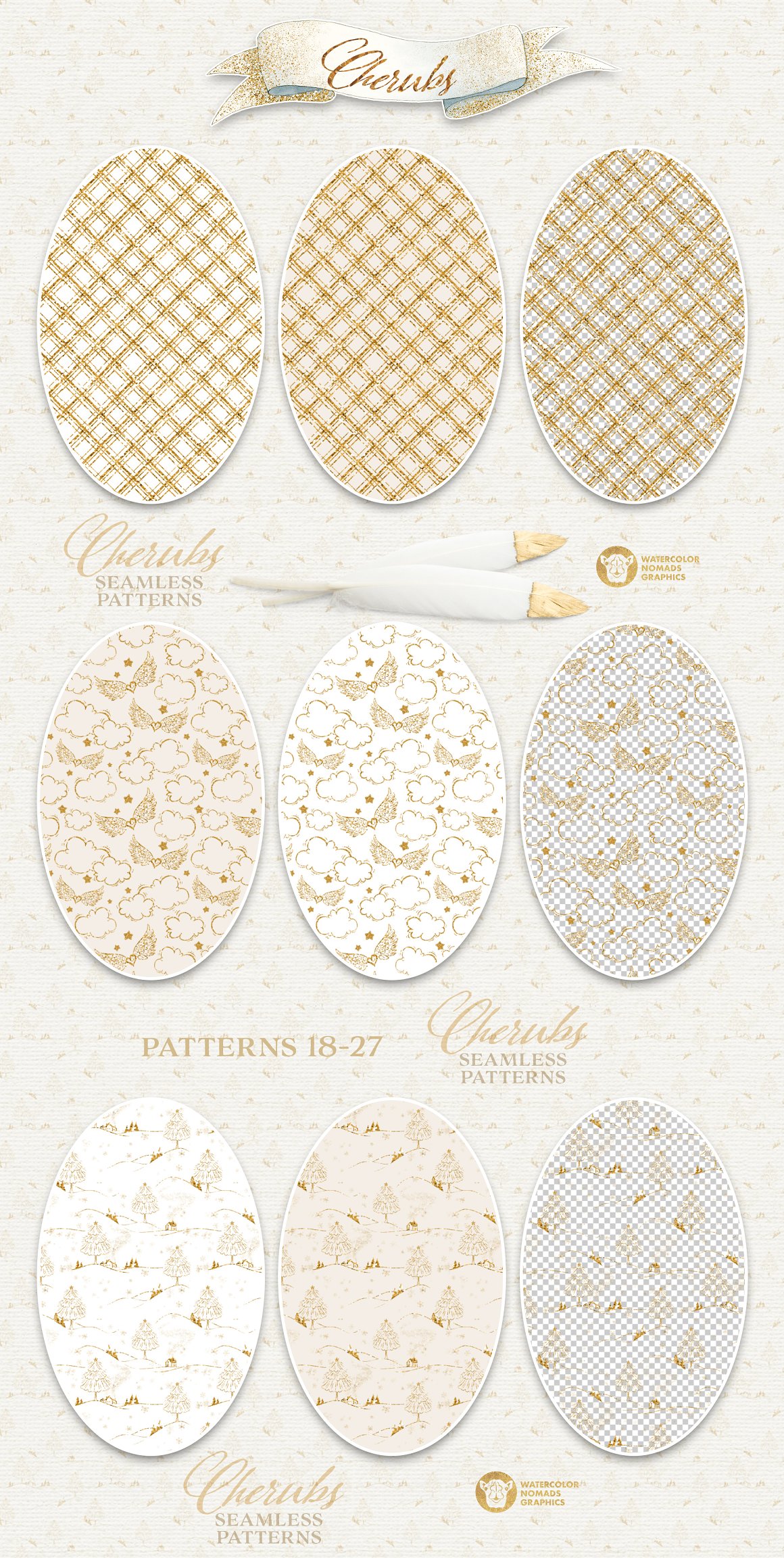 This Bundle Highlights:
11 Christmas & winter style illustration & graphics sets in this HUGE mega bundle!
extended license (like all of our deals): use for unlimited personal and commercial projects + you can also use them in designs/products that you sell. You can use all these items as a part of your non-digital or digital designs ( posters, t-shirt designs, stickers, web templates…). You cannot resell these files directly, or within items/goods where they can be extracted in their original form (like vector shapes, elements, fonts… – they need to be flatten into background or object in your digital item for sale). License is only for 1 person – you'll need to buy 2 licenses if 2 persons will work with these graphics. Please read more about our exclusive license!
Pricing:
Normally, these 11 big illustration or graphics sets would cost you aprox. $250 (without extended license) & $2500 (with extended license), but for a limited time only, you can get this HUGE collection for $24!
Deal Terms:
Delivered as an instant download, after completing your purchase – This bundle is HUGE so you'll recieve 8 download links into your email after purchase (one for each bundle with 4 sets)
All these graphics & illustrations can be used for both personal and commercial purposes, for yourself or on behalf of a client, on their own, or as part of your new design for sale.
Cannot be sublicensed, resold, shared, transferred, or otherwise redistributed on its own.
You cannot share these resources with others. This is a single user license! You need to buy 2nd license for 2nd person working with these graphics. Thanks a lot for understanding and support.